Dark academia fashion is trending big-time right now, but because this style is relatively new (at least in name), there aren't many stores that specifically offer dark academia clothing options. So today we're sharing our top favorite dark academia fashion brands with clothing you can actually wear in real life!
A quick Google search for dark academia fashion brings up a few general sites as well as some Reddit threads that point to used clothes suppliers. Neither of those are particularly helpful.
As someone who loved dark academia fashion long before it had a name (did anyone else try to dress like Harry Potter students during childhood?), I've spent quite a bit of time researching dark academia fashion stores.
What Is Dark Academia Style?
A great deal of dark academia fashion is inspired by 19th and early 20th century styles – especially English private school clothing. There are also some American prep styles from the early 1900s.
As the aesthetic focuses on vintage styles and emulates several historic periods, it creates a nostalgic feel.
So what pieces should you be including in your dark academia capsule wardrobe?
Typically, these are the main pieces found in the dark academia style wardrobe:
Turtlenecks (fitted and oversized)
Chunky cardigans
Pinafores
Sweater vests
Button down blouses
Balloon sleeve blouses
Peter pan collared shirts
Blazers
Grandpa trousers
Pleated skirts
Trench coats
Chunky oxfords/loafers
Lace-up boots (combat boots, brown leather boots, etc.)
In terms of colors, choose neutral/muted shades like beige, off white, brown, black, burgundy, gray, and navy. If you don't wear a lot of dark colors, then you may lean towards light academia style instead. The aesthetic and pieces are pretty much the same; the only different is the color scheme.
Checkered and plaid prints are popular patterns, as are corduroy, tweed, and wool fabrics.
I recommend getting a few of each of these basics so that you can mix and match to create lots of dark academia outfits. You don't need tons of pieces for a closet full of dark academia clothing! However, you do need the basics.
Today, I put together a list of my 11 favorite places to buy dark academia fashion pieces. These shops are all pretty affordable (some are insanely affordable while some are more moderate) and they all have great options.
Keep in mind that these are all affordable dark academia brands. Looking for more sustainable dark academia brands that may have a higher price point? Head to the end of this post for some great options!
I added details about the pricing of each store as well as my favorite sections to find dark academia fashion pieces below.
Without further ado, here are the top dark academia fashion brands to shop right now!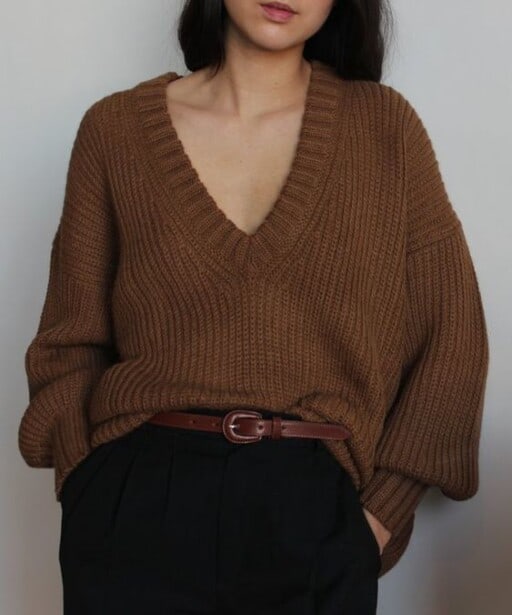 Uniqlo is one of my favorite places to shop for dark academia fashion. You can get everything from classic coats to sweaters, trousers, and accessories. If you're looking for this basic dark academia style pieces then you should definitely start with Uniqlo. It's easy to get sweaters, fitted pants, and tops that you can then build the rest of your wardrobe around.
I especially recommend checking out the blazers and trench coats. You need to sort through the other coats to get to them, but I'm still amazed by how affordable the outerwear is (usually well under $100 and sometimes under $50!).
The sweater collection also has some lovely pieces, including crew necks, turtlenecks, and sweet cardigans. Sweaters are a stable of the dark academia wardrobe, so you'll want a variety of sweaters in neutral tones. I like both tighter fit sweaters (like turtlenecks) and looser, English-inspired chunky turtlenecks. Having a few neutral V-necks at your disposal never hurts, too.
Pricing: Uniqlo prices are really affordable, especially for pretty decent quality items! If you need to buy a lot of pieces or you need a good coat or blazer on a budget, Uniqlo is a good place to start. Expect to spend anywhere from $30-$70 per item.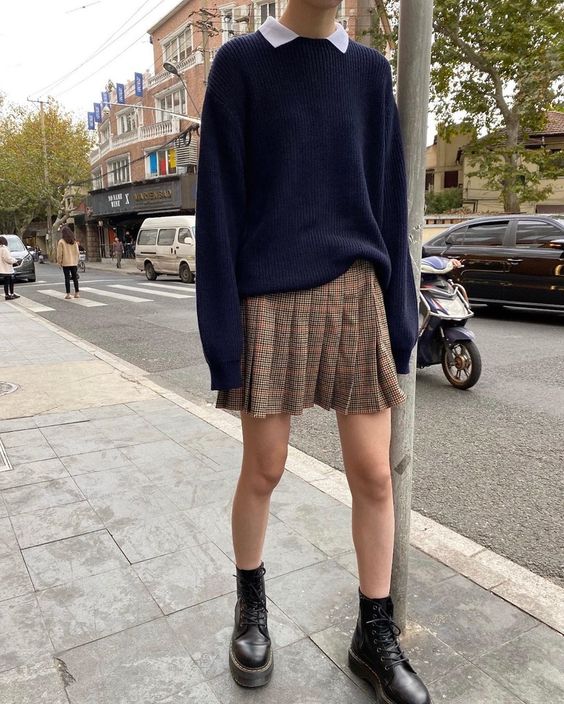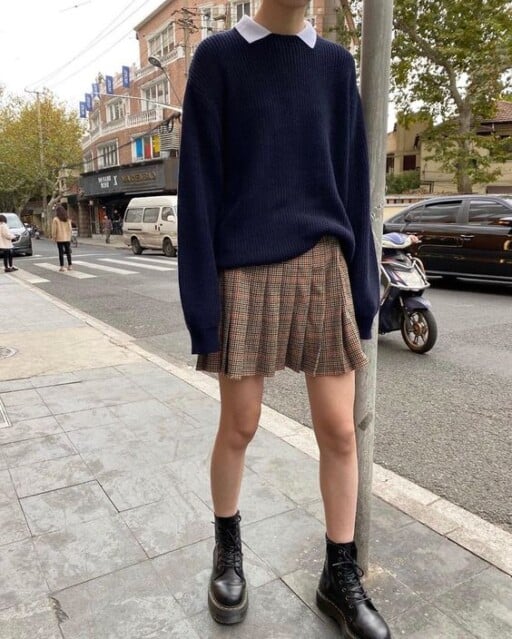 Brandy Mellville is hot on TikTok for a reason, and not just because it's a one-stop-shop for teens. There are tons of cute dark academia clothing finds on Brandy that are pretty affordable.
Dark academia style is all about layering the basics. While Brandy Mellville isn't the best place to find statement pieces, like a gorgeous tweed blazer or a frilly blouse, you certainly can find the basics.
When you're looking for dark academia fashion pieces at Brandy Mellville, I recommend checking out the cardigans, turtlenecks, sweater vests, and the collared shirts and dresses. BM is especially good for comfier pieces to wear at home that still embody dark academia style, such as oversized neutral sweatshirts that you can layer over a collared shirt. They also tend to have great corduroy pieces.
Pricing: For most people, Brandy Mellville is pretty affordable. You definitely won't get Shein prices, but you can get most pieces for anywhere from $20-$40. I recommend Brandy for mid-quality pieces that are seasonal or cozy.
Related: 15+ Affordable Cottagecore Fashion Brands For A Whimsical Wardrobe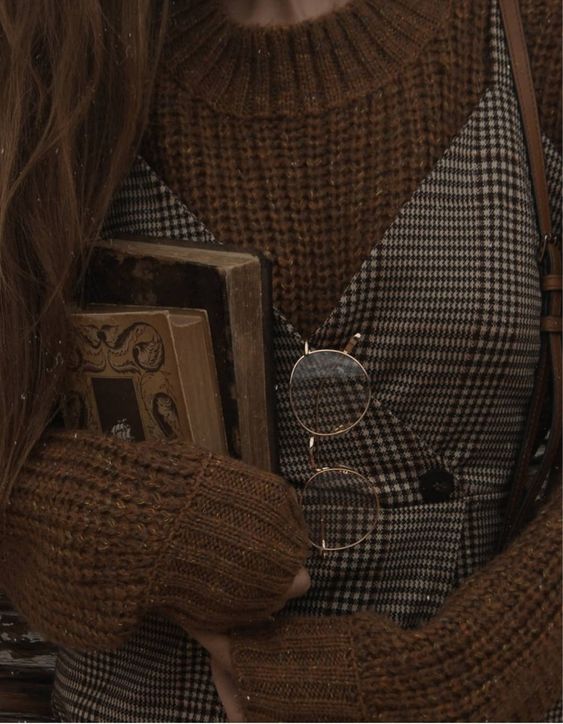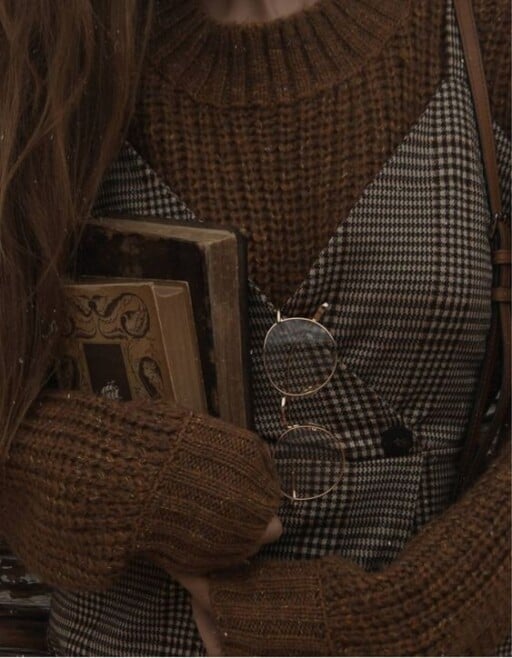 Ralph Lauren is a classic for a reason. The pieces do tend to be a bit on the preppy side, but as long as you steer clear of the ultra-preppy items and choose based on the academic vibe, you can find some really beautiful and high quality fashion items. Look at the wintery pieces especially; I find that they have great wool options. And any one of these pieces will be a high-quality addition to your dark academia style capsule wardrobe that will last for many years.
I especially love the blazers and feel that they're great investment pieces. Ralph Lauren also has some lovely tailored pants that are super classic dark academia fashion.
Pricing: Ralph Lauren is one of the more expensive stores on this list. Most items will be around $100, while more permanent pieces (such as coats or blazers) will be well over $200. I recommend Ralph Lauren for quality pieces that are timeless, if you want to make the investment.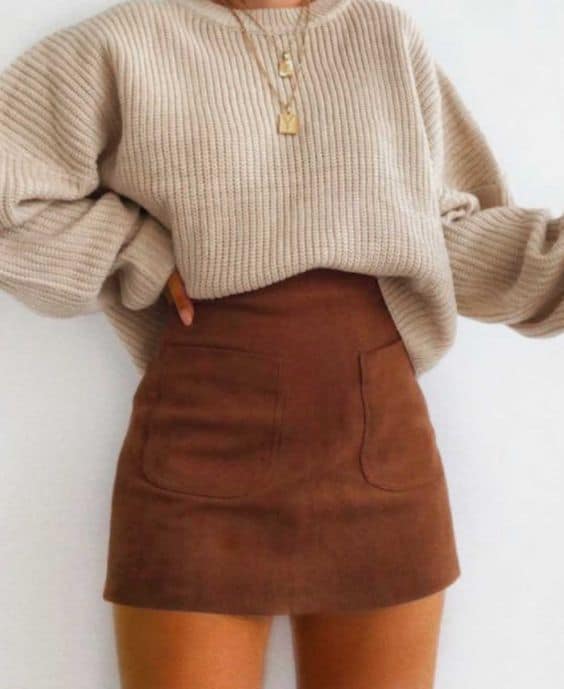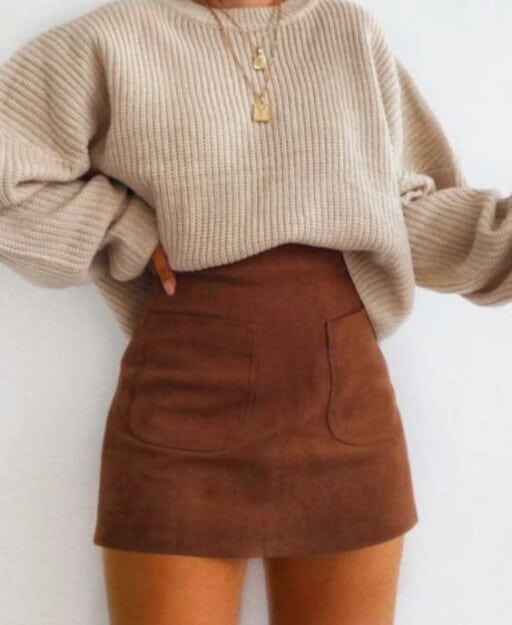 Urban Outfitters is a hit or miss for dark academia fashion pieces, but they do have some really awesome pieces at somewhat affordable prices, depending on what you consider to be affordable.
There's a blend of boho/eclectic and dark academia fashion pieces on Urban, so you do need to pick through a bit.
I personally love some of the corduroy and plaid tops, the cardigans, and plaid and dark skirts.
Pricing: Urban Outfitters is right in the middle, price-wise. You can find some great pieces for only $30, but most dark academia fashion pieces will cost you anywhere from $50-$100.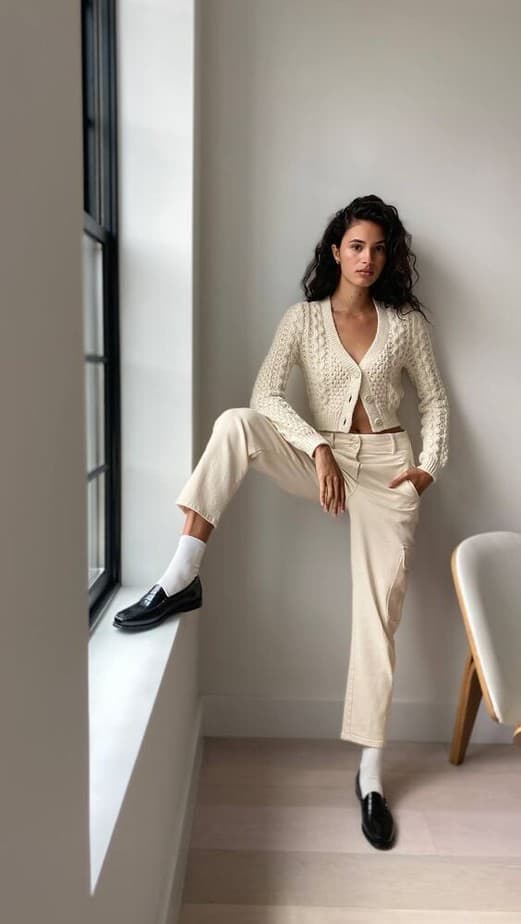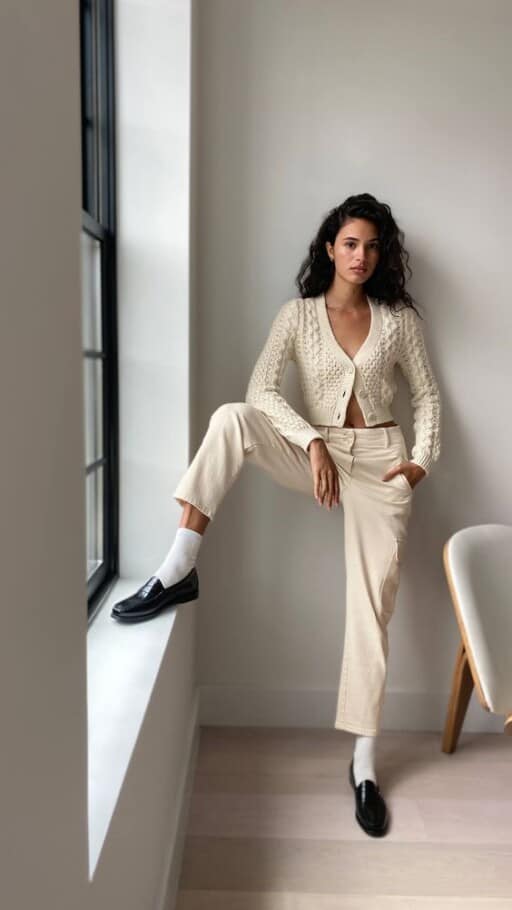 Aritzia is super popular right now for good reason. It is one of the more expensive dark academia fashion shops on this list, but almost every piece is 100% worth it.
You'll find edgy British-inspired dark academia fashion options and cozier pieces like button-up cardigans, soft turtlenecks, and ultra-comfy pants. The quality of the clothing just can't be beat. Even if you simply invest in a small sweater, you'll be shocked at how long it will last. And Aritizia definitely has that high-quality, soft feel that you see in dark academia style photos – it's just something you can't fake.
I also love shopping at Aritzia for neutral, high-quality skirts, stunning wool coats, and gorgeous silk blouses. You could honestly put together a full wardrobe of dark academia clothing pieces from Aritzia, but the only downside is that it is a bit expensive; most items are well over $100.
Pricing: As I said, Aritzia is much more expensive than other stores on this list for dark academia clothing, but it also has some of the sweetest items. I typically invest in a few key pieces per season.
Related: 18+ Idyllic Cottagecore Wallpaper Options | Cottagecore Wallpaper For Your iPhone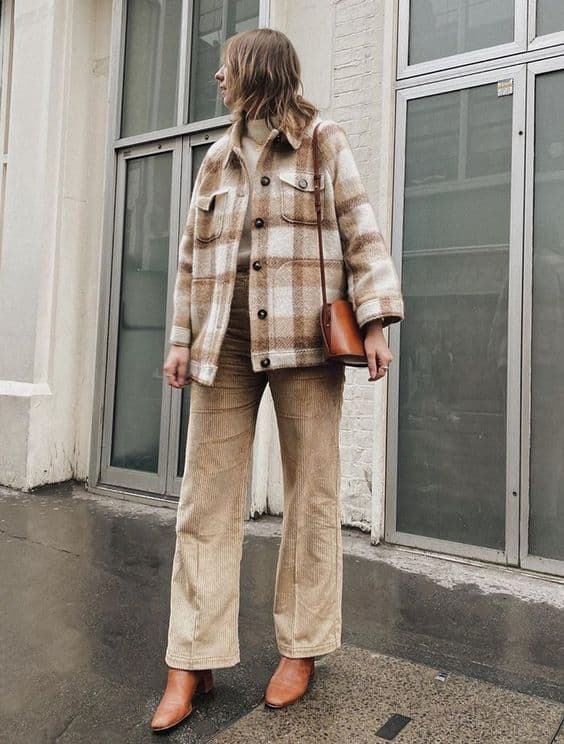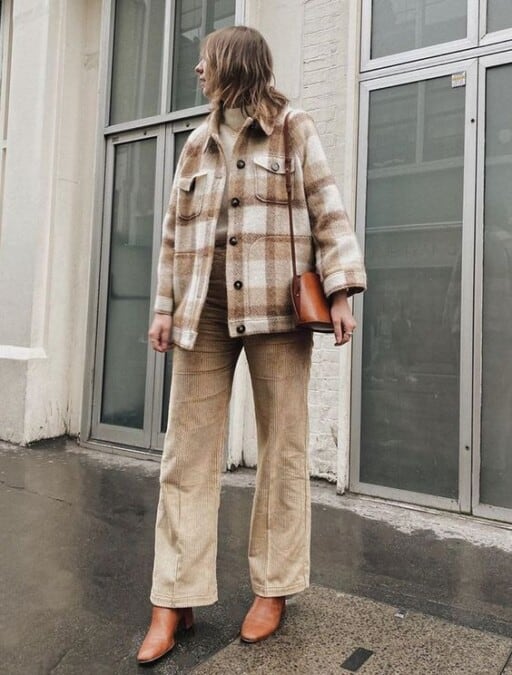 Topshop is one of my favorite stores right now! It's especially useful if you're looking for dark academia fashion pieces. It's relatively inexpensive as well as super trendy. Topshop recently merged with ASOS, but it's still the same brand, you simple need to shop directly on the ASOS website for dark academia clothing.
My only issue with Topshop items is that they can be a bit too trendy. You'll want to ensure that you stick to classier pieces (for true dark academia fashion) and only add a trendy piece or two per outfit. Topshop is a British brand so you can get that dark academia style from England but you can also get overly trendy pieces. Look for dark academia clothing that has a capsule wardrobe vibe; start with the basics and build out from there.
Topshop has some great coats (especially gorgeous long wool pieces) and great workwear options.
Pricing: Topshop is relatively inexpensive if you shop the sales. For a brand-new coat in the new arrivals section, you might pay well over $200, but you can find decent items in the sales section that are only $30. It's pretty variable.
Related: Top 35+ Trendy & Cheap Online Boutiques For A Stylish Wardrobe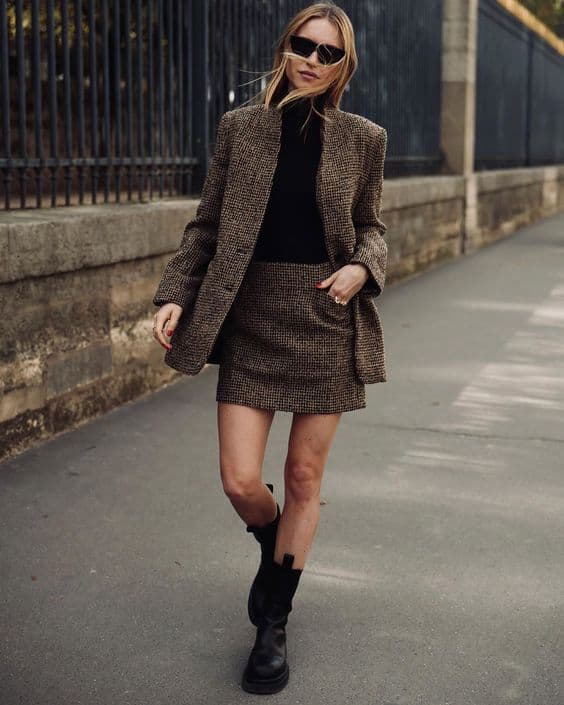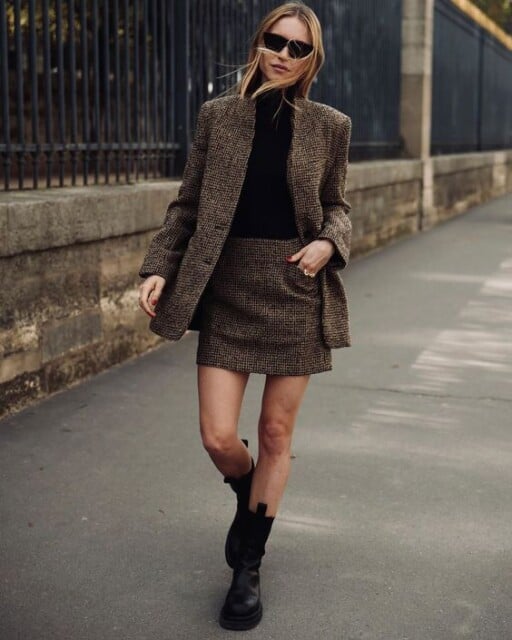 Mango is another one of my absolute favorite stores for dark academia fashion! I find that literally every piece of clothing at Mango is gorgeous and fits the dark academia style bill quite nicely.
The long wool coats are especially gorgeous at Mango and are relatively inexpensive for great quality. There are some gorgeous tweed coats available right now.
The cardigans and sweaters are sweet as well. I recommend opting for neutral colors as Mango tends to change up the colors by season.
Pricing: Mango prices aren't astronomical, but they aren't the lowest fast fashion prices either. You'll find that most items are $50-$100, except shoes and coats, which can be a bit more pricey.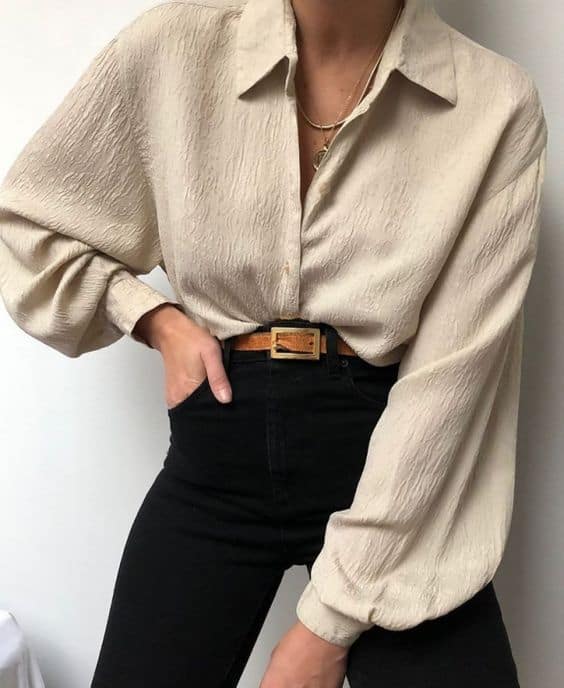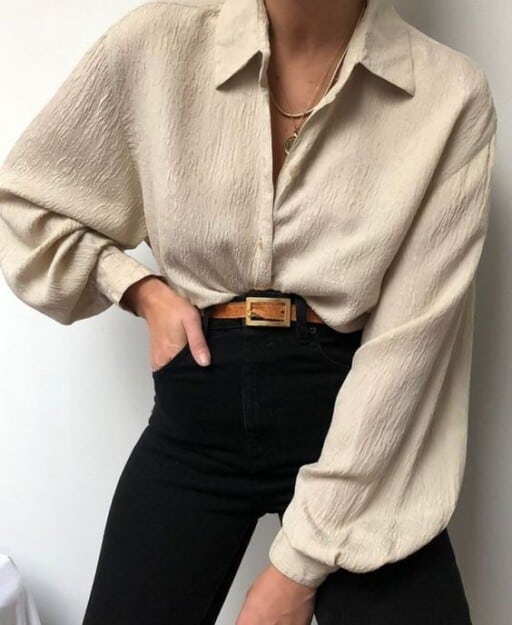 Nasty Gal is most well-known for ultra-trendy styles, but they have some low key dark academia fashion pieces that are SO affordable!
If you want your dark academia fashion to be ultra-affordable and a little trendier than normal, Nasty Gal is definitely your shop. You will need to sort through some seasonal pieces to find the classic items that fit the bill.
Now, I don't typically go to Nasty Gal for the basics such as tops and dresses. I find that they're edgy (bordering on punk) which doesn't really fit the bill of dark academia fashion.
Instead, I shop at Nasty Gal for blazers and coats (especially plaid), pants, and most importantly, shoes. Nasty Gal has the best insanely affordably shoes, including flats, booties, and boots.
Pricing: Nasty Gal is super affordable! You can find pieces for anything from $15-$50. I especially love the shoes since they're all well under $50. I just purchased 4 pairs of boots for $32 each!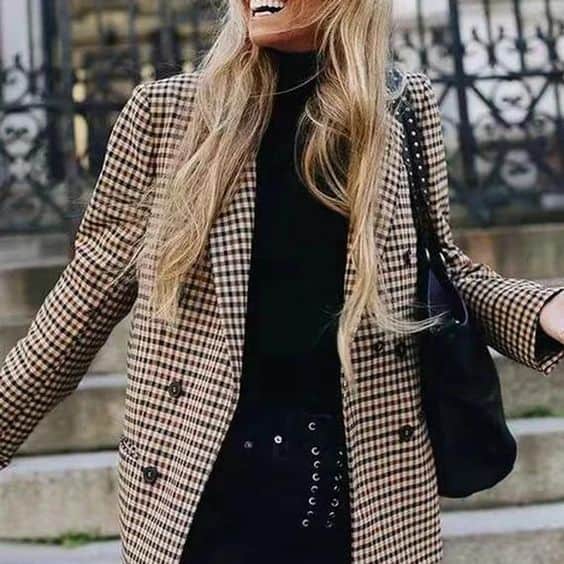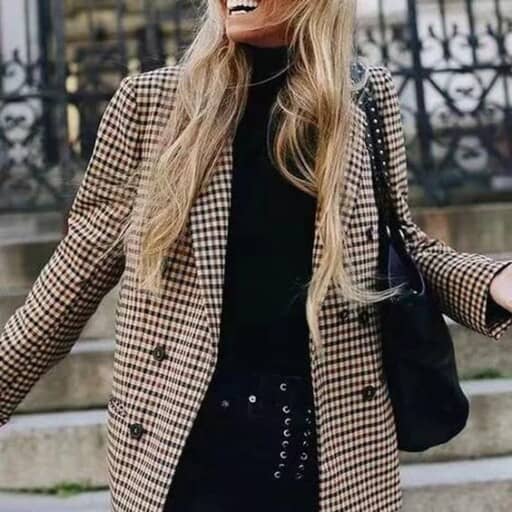 H&M is another one of my favorite shops for dark academia fashion. I love how all of the pieces are oversized yet are perfectly tailored. I also find that there are many neutral options in traditional dark academia fashion colors.
H&M offers a variety of cozy sweaters (including thick knits, turtlenecks, cardigans, etc.) that are all very traditionally academic in fabric and thickness.
I also love the blazers. They're affordable, oversized, and timeless. The skirts and pants are also great, although I do find that they're a bit on the looser side, so you need to be into that dark academia fashion style.
Pricing: H&M is very affordable for dark-academia fashion pieces. You can find the basics for $30-$40, while more expensive pieces, like blazers and coats, will be right around $100.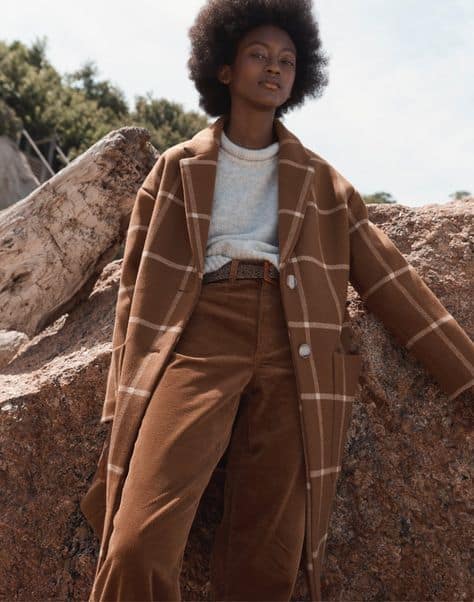 Madewell probably isn't the first store that comes to mind when you think of dark academia fashion, but they do have the cozy thing down pat. Dark academia fashion is all about warm layers, so I find that some Madewell pieces work quite well.
I tend to avoid Madewell if I'm looking for basics, but I find most of my dark academia fashion accent pieces here. I especially love the tops; they're just so darling and come in many neutral colors.
I also love the dresses. Madewell has so many gorgeous dresses in a variety of neutral flower prints. They work well under dark blazers or coats with lace up boots and tights for a classic look.
Pricing: Madewell is a bit more expensive but offers really quality pieces. Expect to spend $60-$120 on an item, but you can also expect that item to last you for some time.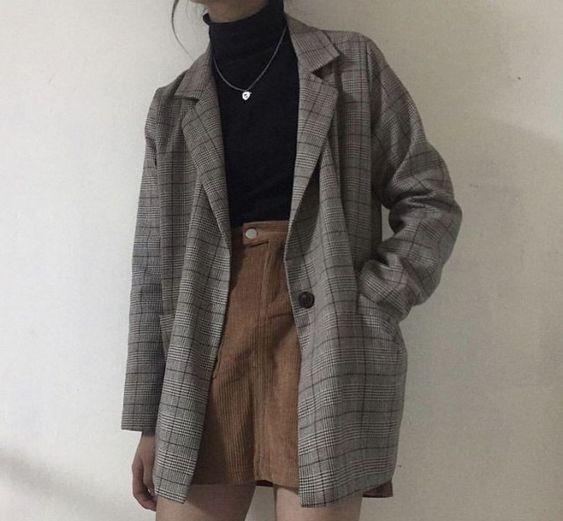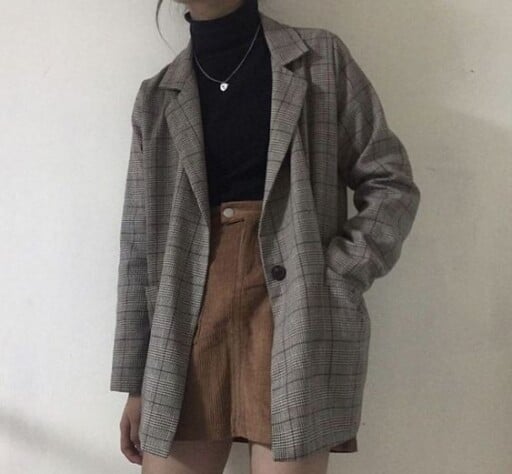 I know a lot of people try to avoid Shein, and I get it: fast fashion just isn't the best choice. At the same time, if you're on a budget, Shein has many dark academia fashion pieces (especially basics) that are just incredibly affordable.
I typically search academia using the search function. Right now, there are over 480 options available. Click here for a link to the search.
Now, I wouldn't go crazy buying everything on Shein. Because the quality can be hit or miss, I'm pretty picky about what I purchase. I also make sure that I get a large enough order to earn free shipping since I almost always need to make returns. I do find that I can get a few really cute pieces. I've found a great frilly blouse, plaid pants, and strangely enough, some lovely academic shoes on Shein. If you're looking for ultra-affordable dark academia clothing then Shein should be your first stop.
Click here for a post I recently wrote all about my experience with Shein.
My favorite academic pieces on Shein include sweater vests, cardigans, turtlenecks, dresses, and skirts. The skirts are especially darling (I love the plaid and tweed options) and most of them are under $10!
Pricing: Shein is by far the cheapest on this list. Most items come in at well under $20. Occasionally, you'll spend more, but you can easily place an order for 20+ items and only spend $250.
Click here to shop dark academia fashion on Shein.
Sustainable Options For Dark Academia Clothing:
Looking for more sustainable dark academia clothing? Here are my favorite options!
1. Poshmark
I find that Poshmark has some AMAZING items for dark academia clothing. However, you have to dig. Here are some of my favorite search terms:
Grandpa sweater
Fitted wool coat
Tweed blazer
You can also search by brand. My favorites are Mango, Ralph Lauren (you can find incredible deals on cable knit sweaters!), and Aritzia.
These are my 11 favorite stores for dark academia fashion pieces! Someday soon, I'm sure we'll have entire sections dedicated to dark academia fashion at most large stores and boutiques, but for now, this is what we've got.
This is my absolute favorite store on Etsy for dark academia clothing! They offer all sorts of cotton and linen pieces, so it's also wonderful for summer dark academia style. Plus, they have great winter options too, like corduroy fabrics. While these pieces do come from China, they're hand-sewn by a small business.
3. LA Relaxed
Looking for dark academia clothing basics? If you need turtlenecks, cozy pants, sweaters for layering, etc. then LA Relaxed is definitely your store. I build out a lot of my basics here and love how long these pieces last. Plus, since I work from home, I tend to err on the cozy side of dark academia clothing and find this store fits my lifestyle perfectly.
This dark academia clothing uses great products such as organic cotton and is made right in LA.
Related Posts: