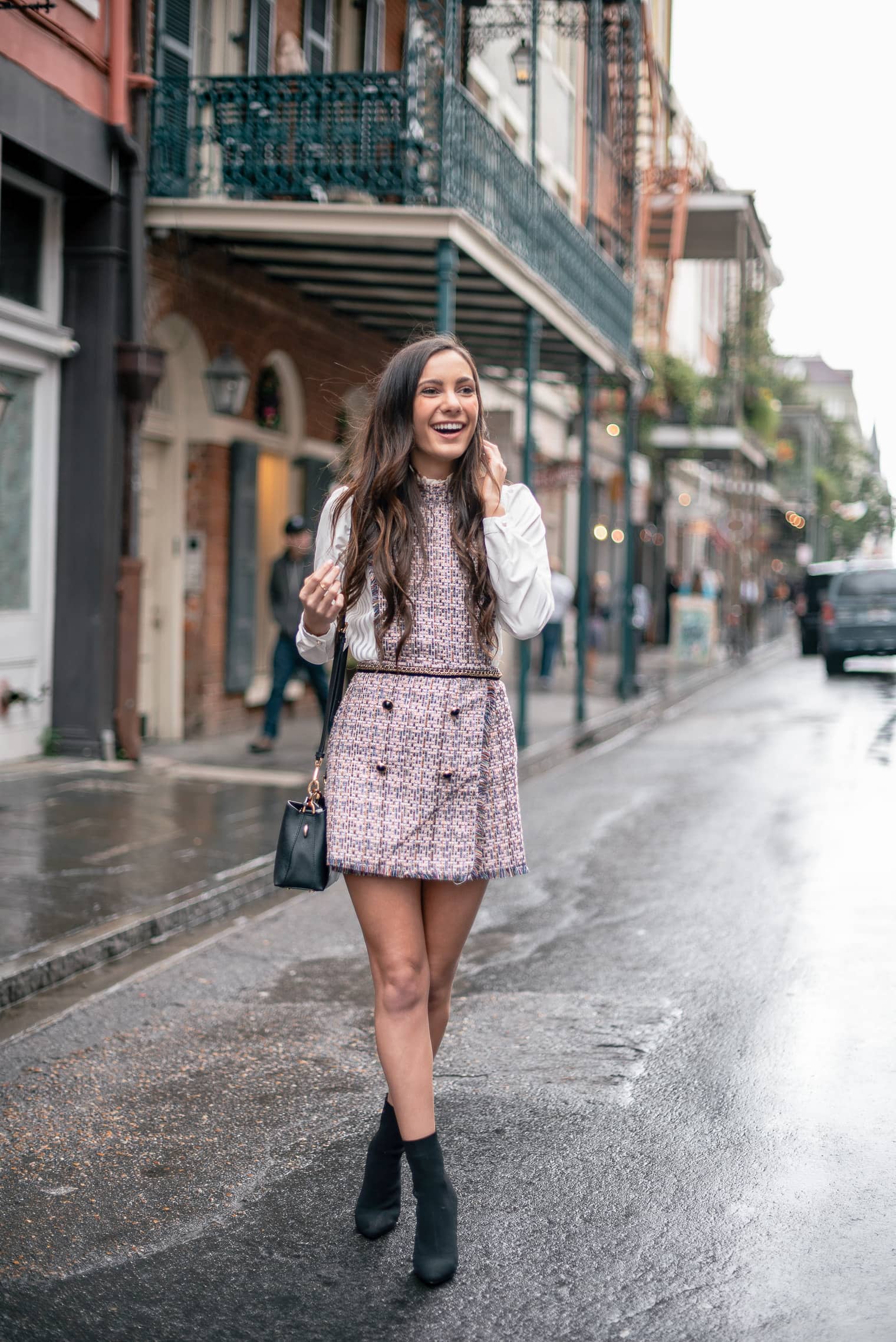 Pinafore // Blouse // Purse // Booties
It sounds pretty crazy to say that I've been ordering from SheIn for the last 4 years. I've been thinking about writing an honest SheIn review for some time (and have definitely contributed to SheIn reviews on the actual website) but after my last mass order, I decided that this post was long past due.
Have my orders always been successful? Not all of the time, but I've also found some amazing pieces that were insanely cheap. I still have some of them to this day.
Other pieces show up looking completely different from the photo on SheIn.com. Sometimes I can't even figure out exactly what I ordered because the item looks nothing like the picture on the site.
Size Guide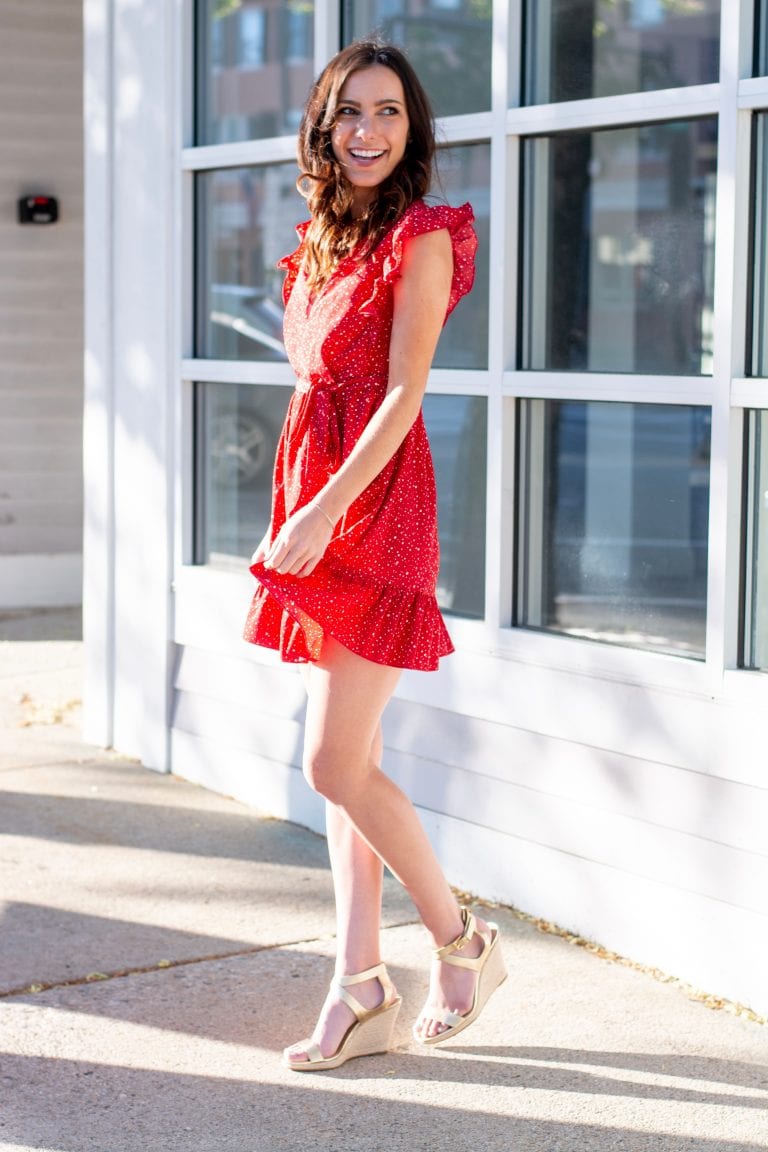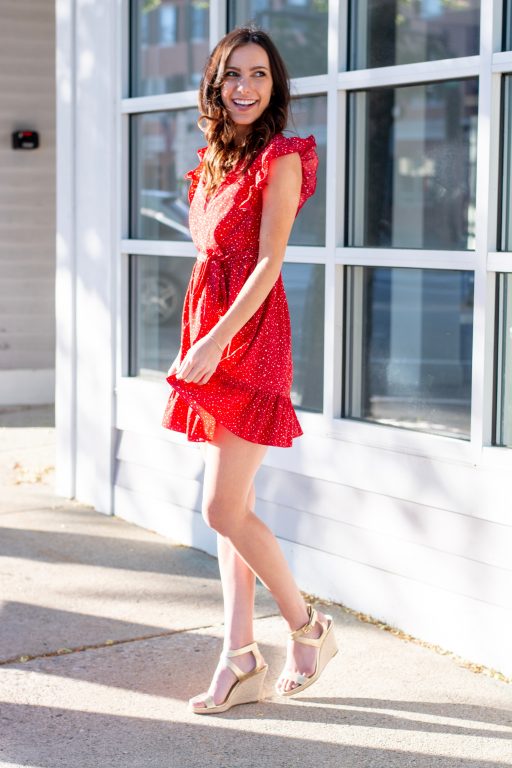 Sizing can be a little tough with SheIn. I'm right between an XS and a S, but it really varies depending on the item.
For example, I just ordered 3 bathing suits in a size XS. One of them fit perfectly (it was a bikini), but the other bikini was way too small on the bottom (although the top fit fine) and the one-piece I ordered wasn't long enough for my torso.
I always check the sizing guide if possible (and use a measurement tape that I keep laying around for accuracy) but it can still be a little tricky.
The problem with the sizing is that some items fit incorrectly instead of just being the wrong size. For example, I've gotten a shirt that fit perfectly but was way too snug in the armpits and also just received a top that was super cute (with adjustable straps) but was about 3 inches too short to look right.
Other times, I'll receive an item that fits perfectly and is super cute. The dresses tend to be a perfect length on me (and are easier to shop for, especially if they're flowy) and I always do well with pieces that have adjustable straps.
With bathing suits, I would lean towards the larger size if you're right in the middle.
For those of you who don't have a measurement tape handy, I recommend choosing the larger size for any piece of SheIn clothing. While the sizing isn't exactly juniors, the clothes are generally much smaller than other brands such as Ann Taylor or Express. In some brands, I'm almost always an XS; in SheIn clothing I tend to be a S more of the time.
Summary: The sizing is really hard to predict because the clothes are all over the place. I usually order my typical size; sometimes the piece is too big, other times it's too small. I recommend sizing up if you're unsure, especially with tops and sweaters (they can be super short).
Shipping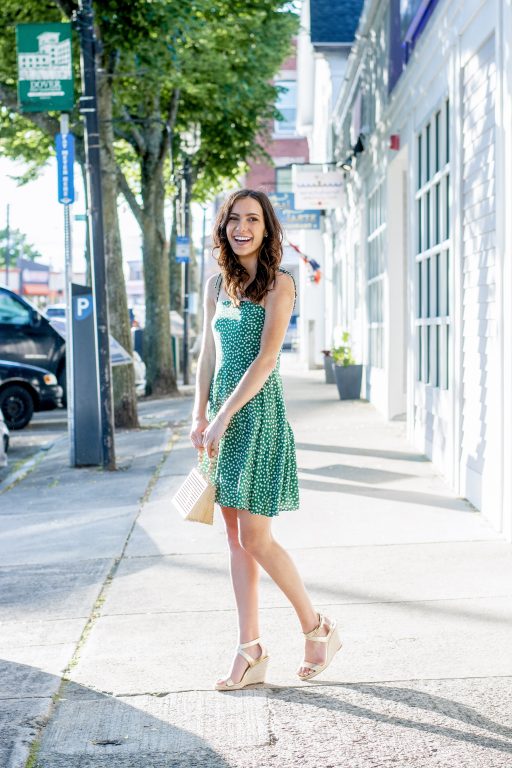 While many people claim that SheIn shipping is terrible because the clothes come from China, I can say that I've literally never had that experience.
My last order actually arrived in 3 days which was way faster shipping time than a pair of shorts I ordered from Abercrombie.
Some orders have taken a bit longer (5-7 days) but always arrive on schedule, give or take a few days. Similar to other online stores, I never order something if I need it within the next few days and make sure to plan ahead for any events or vacations.
Although it's never happened to me, I've heard (mostly from other SheIn reviews) that SheIn will offer a credit if the shipping time is exceptionally long.
SheIn often has shipping deals or free shipping over a certain price; I recommend taking advantage of that. They also offer free turns which is awesome since I almost always return at least 1/3 of the clothing.
Summary: Despite what I've heard, shipping time has never been an issue for me.
Returns
If SheIn wasn't great about returns, I 100% wouldn't shop here. My absolutely favorite thing about SheIn (and the highlight of this completely honest SheIn review) is the return policy and how easy it is to make returns.
You have 60 days to return a piece of clothing after you've received it, but get this: if you return clothing within the first 40 days (which is still more time than most stores offer), you get the return shipping free.
In my mind, buying clothing from SheIn is basically the same thing as trying something on in a dressing room. As long as you can afford to purchase a bunch of clothing, you'll definitely find a few pieces that you love and can easily return the rest.
Like I mentioned before, not every piece is amazing quality, but I'm able to keep up with seasonal trends at a really affordable price-point. I probably keep 10 new items from SheIn every season and combine them with the classic staples from high-end brands that I always have in my closet.
If you do plan on returning a lot of your order, make sure to only try each piece on quickly (so that the items don't become used) then put them back in their proper packaging with the receipt. Basically, I treat online returns the way I'd treat clothing in a dressing room.
I've had the experience of ordering from a Chinese company (the total order was over $300) and then being unable to return the items despite their 40 day return policy, so I love how reliable SheIn is. You don't even have to get in contact with them to print a return label; it's all right online in your account.
Summary: Luckily, SheIn easily accepts returns. Expect to return at least 1/2 of your order.
Clothing Quality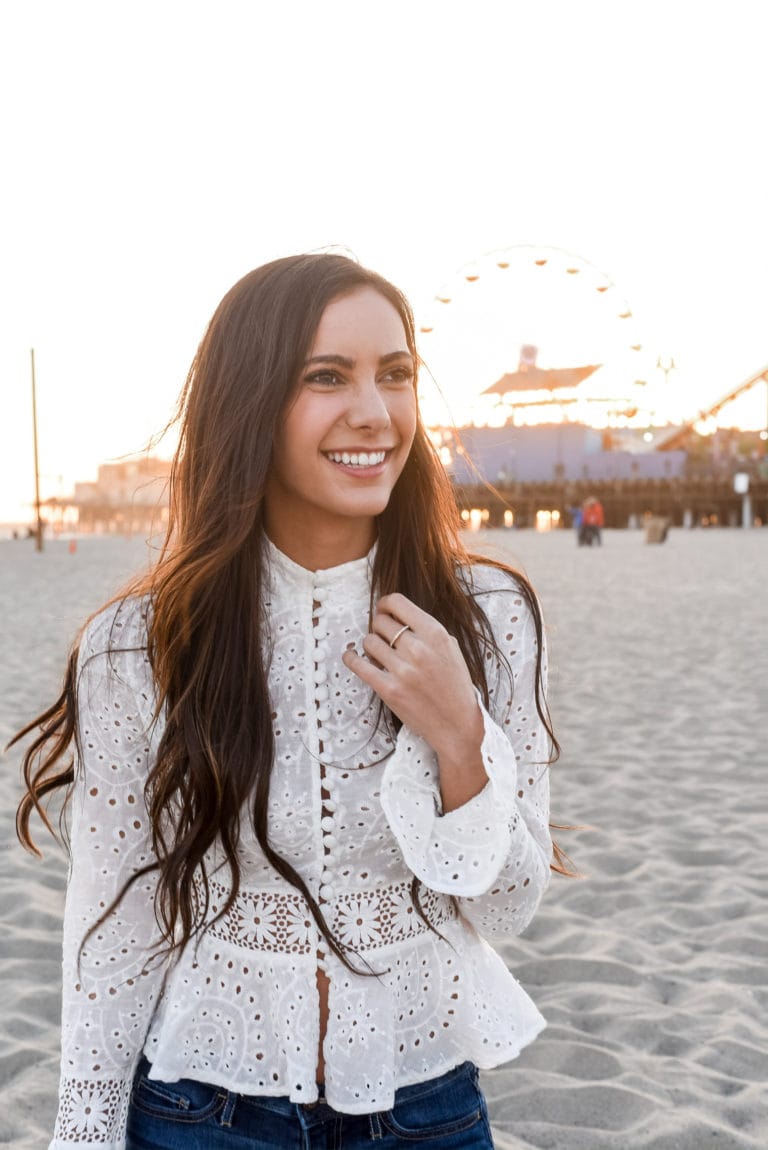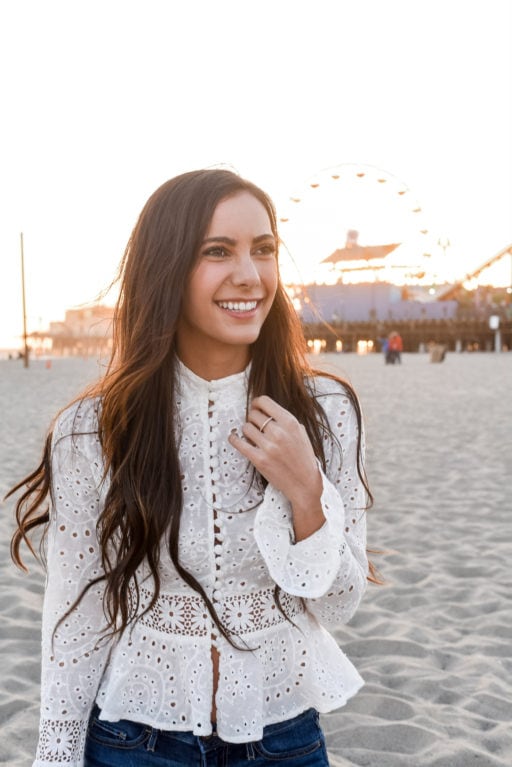 I said I was writing an honest SheIn review, so I'll be 100% transparent here: the quality of SheIn clothing is never amazing.
There are a few items that I still wear regularly even though I bought them three years ago; it happens. But for the most part, SheIn is best for buying trendy clothing that will last you a season or two.
The reason I don't care about buying items that aren't great quality is because most of the trendier pieces will be out of style by this time next year anyways.
SheIn clothing is almost always a hit or miss, so some items might be absolutely terrible quality and you'll need to (easily) return them. Other pieces will be decent quality and very wearable for a season.
I buy all of my staples elsewhere (my Longchamp bag, Madewell jeans, Steve Madden slides, designer bags, etc.) and then supplement with trendy clothing that have 5 stars in other SheIn reviews. I mainly use SheIn for seasonal blouses, dresses, sweaters, and accessories like bathing suits or headbands.
Let me give you an example from this past week. I bought a bathing suit coverup that's more like a lace shawl from SheIn. These pieces are super trendy and are all over Instagram so I knew I needed to have one, especially when the summer is just beginning. For reference, here's the shawl: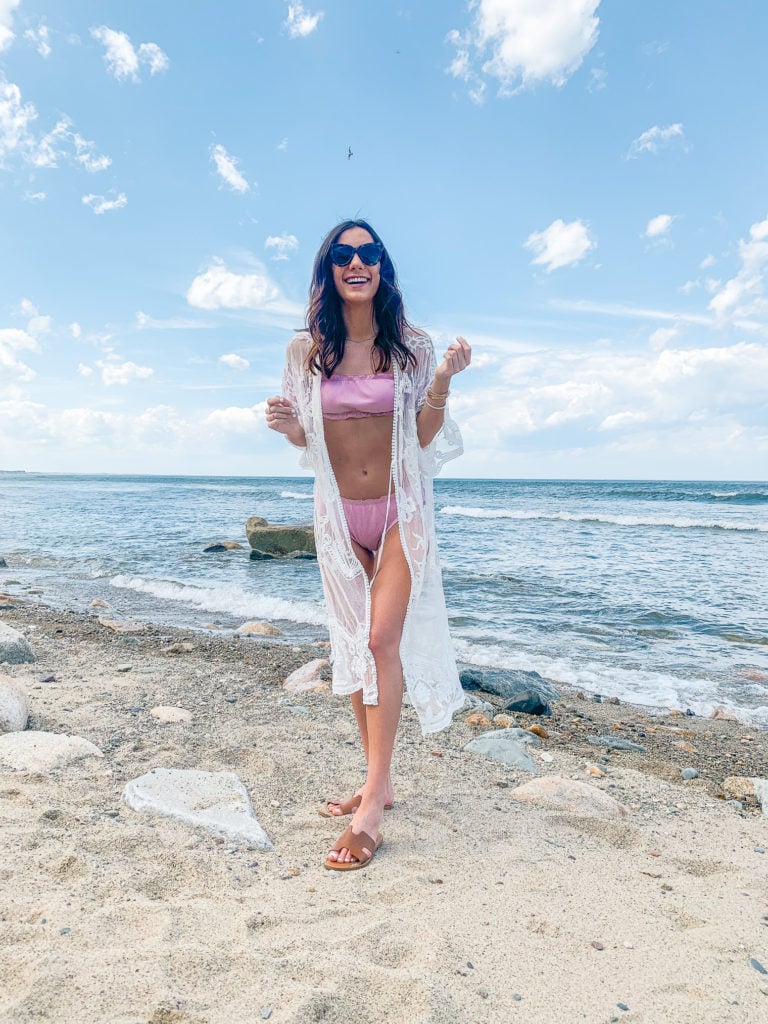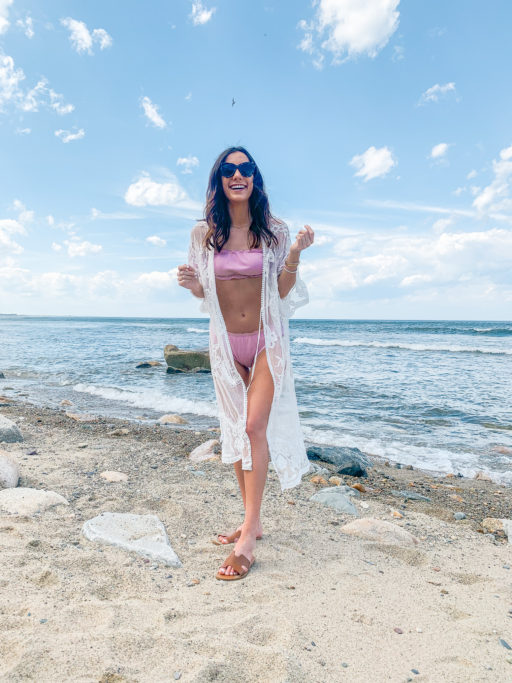 This item has a few good SheIn review testimonials on the site itself that looked legit and the quality of the shawl in the photos seemed decent. I went ahead and bought it.
It took 2 days to arrive and I was pleasantly surprised to find that the quality was really good. Now, this isn't to say that it wouldn't either get damaged or shrink in the wash, but I know that if I'm gentle with it, this shawl will easily make it through 30+ wears this season.
I also know that it probably won't be trendy (or I'll get sick of it) by next summer. Costing only $12, this shawl was cheaper than any other similar item I found at Target, on Amazon, or at any other budget store. To me, this is totally worth it.
Summary: Clothing quality is never amazing, but it depends on the piece. Some are absolutely terrible while others are wearable. I recommend placing a medium to large order and sending back anything that isn't up to par.
Order Tips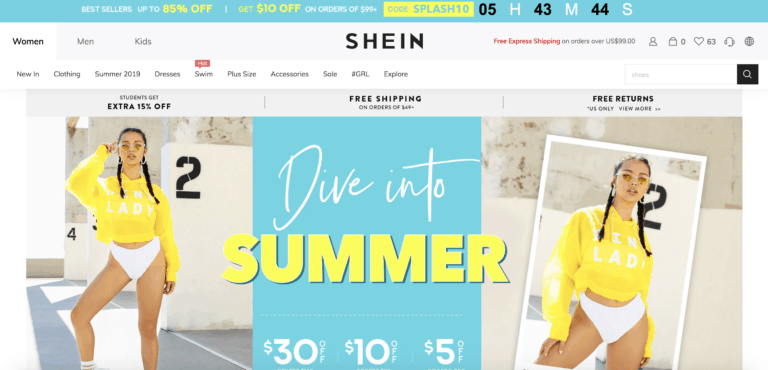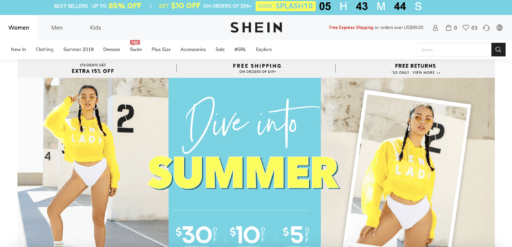 1. Make an account and save all of the items that you like to your cart. You can also heart them as a way to save them for later. I like to then sit on these items until there's a big sale with free shipping before ordering.
SheIn will sell out of some items, but some items will basically be on the site forever. That pinafore that I linked in the first photo up above? I bought it over 6 months ago and it's still available online.
There's new items being posted every day, so if a few of the items do happen to sell out, you can easily add new ones when the sale goes live.
I highly recommend making an account to save your cart. I can't tell you the amount of times I've added 50+ items to my cart then realized they were gone within 20 minutes because I wasn't logged in! Luckily, the SheIn website is really good about saving the items you've chosen in your cart indefinitely, as long as you're logged in.
2. Do your research on each item before buying it. When you're looking at an item on SheIn, you can sometimes scroll down and see photos of bloggers or real life people wearing the item. There may also be SheIn reviews about the specific item from buyers.
If I see the item on someone and it looks good, that's a clue that it'll be decent quality and fit in person. If there aren't any photos, that doesn't necessarily mean that you shouldn't buy it, but it's more of a risk if you don't plan to return.
I also carefully check out the photos of the item in the description before adding it to my car. If anything seems even a little bit off or low-quality, I don't buy it. There's literally thousands of options for every style on SheIn so you're sure to find something else that's better quality. Go with your gut before purchasing and you're bound to do better!
You can also check online SheIn reviews to see what items look good on.
Another great place to source items and check out each honest SheIn review is on Instagram. Bloggers will often do try-on hauls and save the results to their story highlights. I usually do at least one Shein try-on haul a season that I save to my story highlights on IG.
Should You Trust Blogger SheIn Reviews?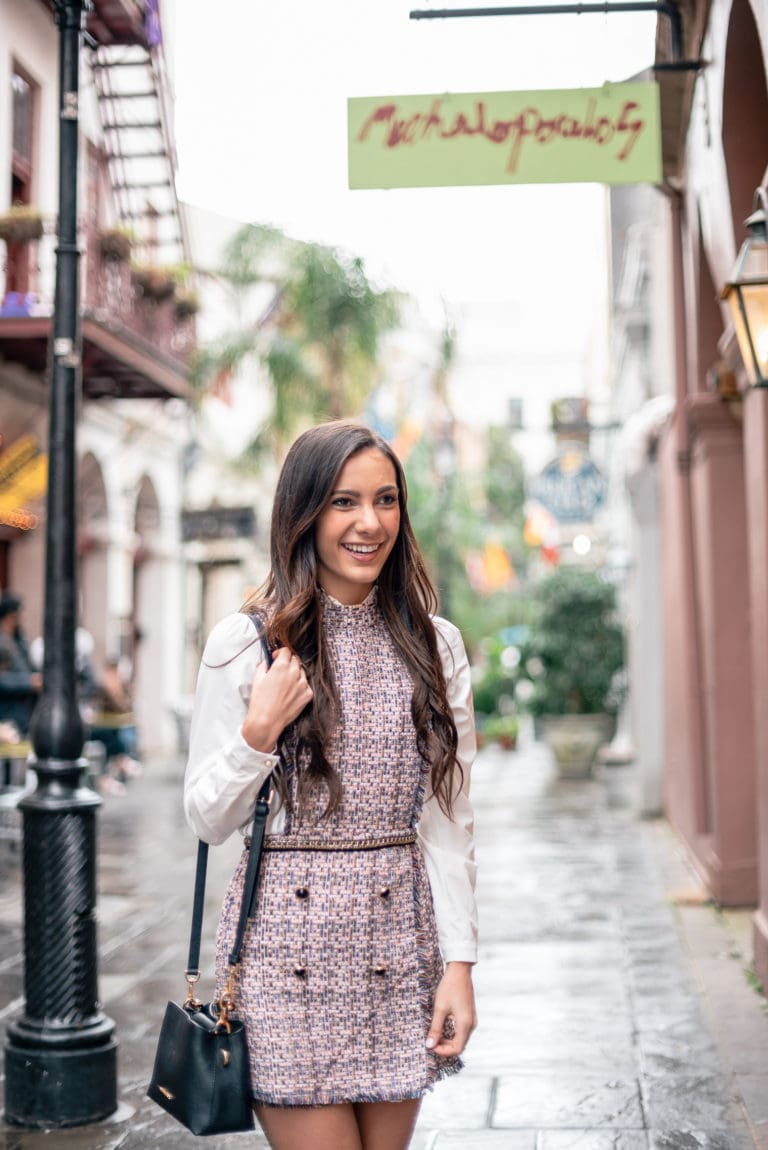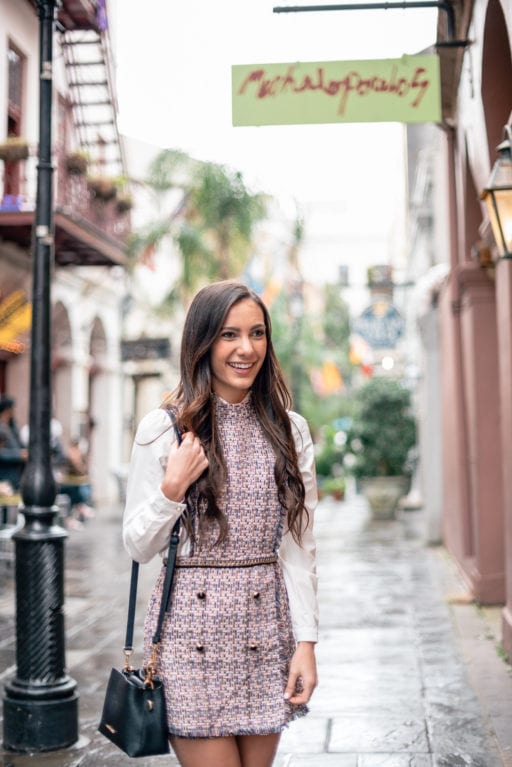 My answer for this is: sometimes. I've noticed that some bloggers (even when writing a sponsored post, which this one is not) will be honest about the quality of SheIn clothing and give good shopping tips within a SheIn review.
Other bloggers claim that every piece they got is amazing, which just can't be true.
It seems like the company is pretty fair and realizes that not every piece will work for everyone. I think that's one of the reasons why there's so many options on the website and such a great return policy.
Generally, SheIn reviews are pretty trustworthy, and most will talk about the site being hit-or-miss. That's definitely true, and if you have a few shopping tips to use (like those I gave above) then you're bound to be more successful.
Any of the SheIn reviews on the actual site seem to be trustworthy as well. If there's one item with only 2 stars consistently, you should probably steer clear, but items that have multiple 5 star reviews are generally good choices.
My SheIn Seasonal Favorites
I couldn't finish up this (super long) SheIn review without showing you some of the pieces I ordered. Trendy styles change really quickly, so I wanted to make it easy and share some of my favorite pieces from SheIn this season.
I made sure not to include any items that I've ordered and had to return; in my opinion, these are the best quality items (an opinion other SheIn reviews & reviewers agree with) for the cheapest price!

Found a few items you really love on Shein.com? Share them with me and I'll add them here!