The dark academia aesthetic is seriously popular right now. Many of us have always loved the dark academia vibe without really knowing exactly what it is, but the prevalence of the aesthetic on platforms such as TikTok has given this aesthetic a name and a structure.
Dark academia clothing is especially popular this season. While I love dressing in dark academia colors, the aesthetic is so much more than just clothing.
So, What Is Dark Academia?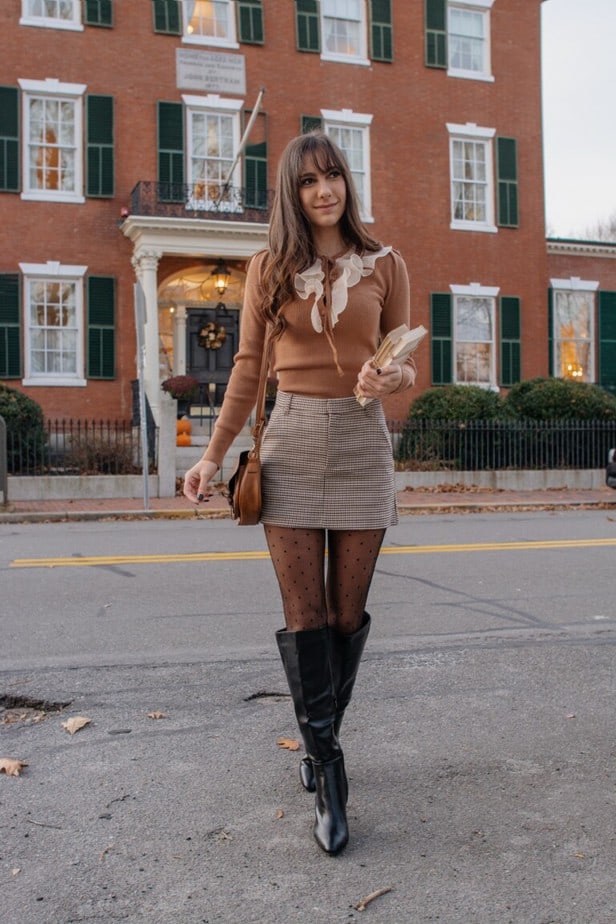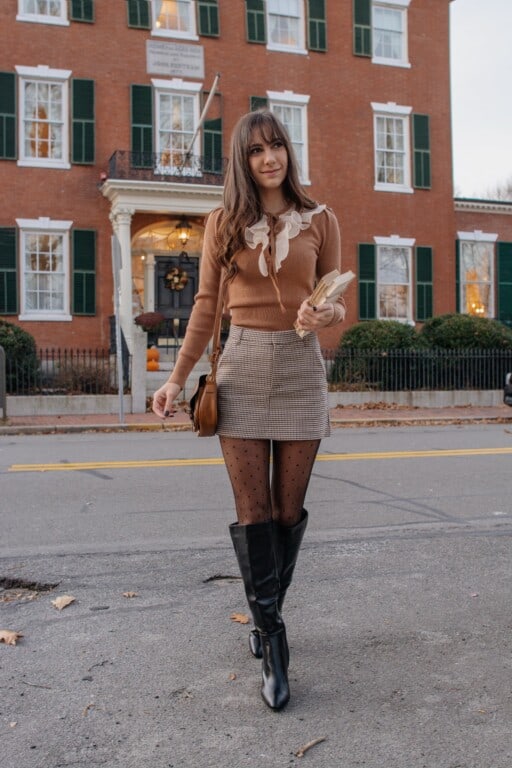 Dark academia is an aesthetic that is based on the passion for knowledge and scholarly pursuits. It encompasses many different areas of "learning" such as literature and classic works, philosophy, music, or even science.
Much of dark academia has to do with self-discovery. It's a moody theme because the dark academia aesthetic is all about looking within.
Personally, I also feel that the dark academia vibe means that you enjoy learning for the sake of learning. Not everything is measured in monetary value. Instead, you'll read and re-read the classics simply because they're great.
The dark academia aesthetic can be urban, suburban, or rural. It comes from the U.K., so you could theoretically be in the countryside, by the moors, or in the middle of London or Dublin and maintain the dark academia vibe.
Related: 28+ Harry Potter Outfit Ideas For Every Day Style
Dressing In The Dark Academia Aesthetic: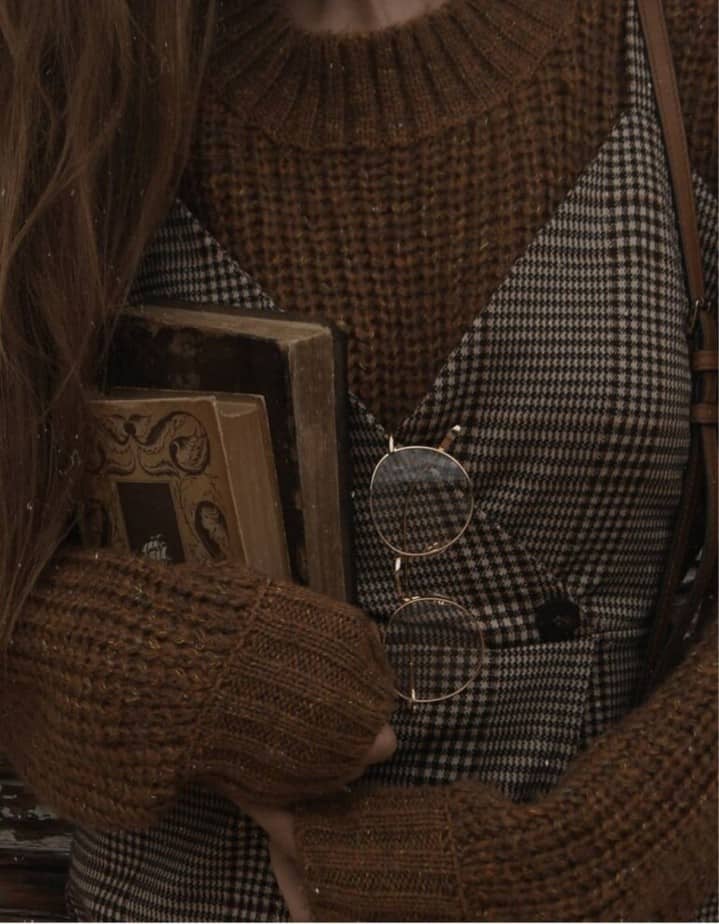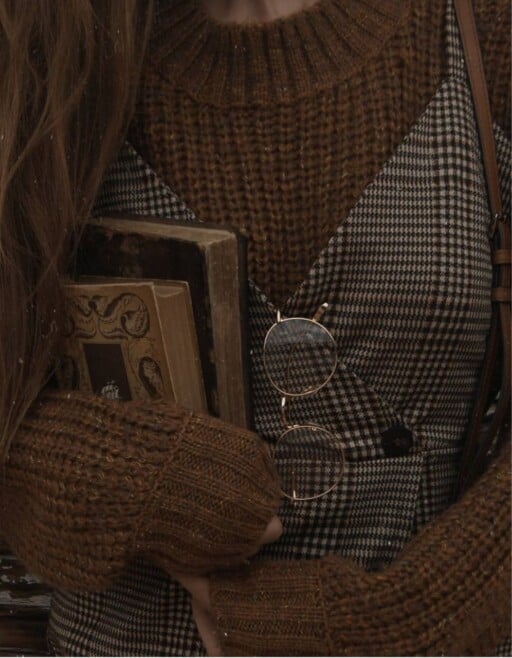 For me, a huge part of any aesthetic is dressing the part. Luckily, the dark academia aesthetic means that I get to wear super comfy, cozy clothes.
I especially love dressing in dark academia clothing during the winter. Dark academia pieces are all layered and keep me warm in New England weather.
Generally, the dark academia aesthetic is all about somber, muted colors, and the clothing style reflects that. You'll want to wear black, brown, and other neutral colors, but you can also mix in a pop of color here and there (I like to add dark green and maroon).
The dark academia aesthetic comes from the U.K., so many dark academia outfit pieces are very British. Beyond just the color scheme, you need very classic and scholarly pieces that you can mix and match.
Here are some staples of the dark academia wardrobe:
Button-up shirts (especially under a knit sweater or vest)
Turtlenecks
Long wool coats (plaid, solid, tweed, etc.)
Plaid skirts or pants
Tailored pants
Tights
Lace up boots
Oxford loafers
A hair bow
A vintage watch
Soft gold jewelry (rings, pendant necklaces, small gold earrings, etc.)
I shop at a lot of different stores for dark academia wardrobe pieces. I really love shopping at thrift stores or on Poshmark, but I also like to buy many of my clothes new.
These are my favorite 20 affordable fashion brands in the dark academia aesthetic that offer online ordering!
Check out this post on dark academia outfits for more inspiration.
The best materials to buy in the dark academia aesthetic are wool, cotton, silk, and linen. For every outfit piece that you purchase, think classic!
Dressing dark academia in the summer can be a bit tricky. I recommend wearing lighter, linen clothing and dresses that can seem almost cottagecore. Check out this post for more information about dark academia fashion in the summer.
Related: 15+ Affordable Cottagecore Fashion Brands For A Whimsical Wardrobe

Dark Academia Media:
If you're dark academia by default, you probably consume a lot of media. The aesthetic stems from a scholarly approach to life.
Even if your job isn't to be a scholar, you probably partake in such activities during your free time because you always want to learn.
Dark academia books are especially popular, but I also love dark academia shows and movies because you feel like you're really in the "dark academia world."
Dark Academia Books: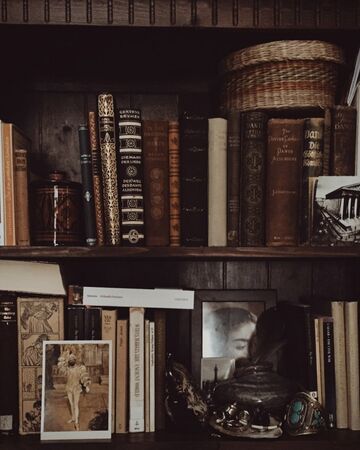 I included some dark academia books that are newer and some that are classics. All of these dark academia books give off that scholarly, cozy vibe!
Anything classic always works as well. The goal is to discover something new about either yourself or the world in general, so you can study anything from classic philosophy to new age spirituality and stay within the "bounds" of this aesthetic.
The pursuit of knowledge should last for your whole lifetime, so don't go crazy and try to fit in a bunch of books this year. This vibe is all about learning for fun, in the coziness of your own home, rather than learning because someone else thinks you should.
The Picture of Dorian Gray
Jane Eyre
Persuasion
Dead Poets Society
The Goldfinch
Ovid's Metamorphoses
Frankenstein
Catherine House
Catcher In The Rye
A Deadly Education
The Mary Shelley Club
If We Were Villains
Wuthering Heights
The Lion, The Witch, And The Wardrobe (or anything else by C.S. Lewis)
The Death of the Heart
Dracula
The Collected Poems Of Oscar Wilde
Anything by Edgar Allen Poe
Great Expectations
Vanity Fair
You can get a lot of these books, especially the classic titles, on Amazon free if you have Kindle Unlimited (or sometimes free in general).
If you want to go all out, order some of these in the leather bound editions (I usually search "book title leather bound) and add to your decor along the way.
Some of these dark academia books were turned into wonderful films that I'll list below.
Dark Academia Films:
There are so many great scholarly films, from the original silent films to modern movies that play on the dark academia aesthetic.
Here are some of my favorites!
Dead Poets Society
The Theory Of Everything
Enola Holmes
Pride & Prejudice
Handsome Devil
Mary Shelley
Becoming Jane
Harry Potter
Fantastic Beasts & Where To Find Them
Little Women
Jane Eyre
The Holiday
Cracks
Dorian Grey
Rope
The History Boys
Dark Academia Shows:
I also love shows with the aesthetic, mainly because you get to follow the characters for a bit longer than you do during a movie.
Normal People is the most recent dark academia show that I watched; I highly recommend it if you enjoy romance! It's set in Ireland and follows two kids through high school, college, and adulthood.
The Frankenstein Chronicles
The Magicians
Peaky Blinders
Normal People
Hannibal
The Chilling Adventures Of Sabrina
Anne With An E
The Crown
Gilmore Girls
Outlander
Howards End
Downton Abbey
Vanity Fair
Tess of the D'Ubervilles
Carnival Row
Sanditon
The Order
Dark Academia Music:
I typically feel that dark academia music is a little slow, folksy, and moody. I'm a huge Taylor Swift fan, so her two new albums (Folklore and Evermore) and the epitome of academia music for me.
Alternatively, if you're not into Taylor Swift, search up dark academia music on Apple Music playlists or on Spotify.
I find that a good mix of leisurely, vintage tunes and/or classical music fits the vibe for me. I also love movie and TV show soundtracks as well as vintage jazz music (especially on a record player).
Of course, this is a totally personal preference – there are definitely no hard or fast rules here!
Dark Academia Activities:
One of my favorite ways to incorporate this aesthetic into daily life is by doing small activities. These things don't need to cost a lot or take a lot of time, but they do set the mood!
One of the best things you can do to get into the scholarly vibe is to listen to music. I talked briefly about some of my choices above (just a few paragraphs up), but a lot of this is personal preference.
I also enjoy ambiance music on YouTube. Individual YouTubers make music videos with live backgrounds that are super cozy. You might enjoy hearing the rain or the crackling of a fire behind the music.
I really love the Harry Potter ambiance videos, but there are plenty of others as well (Victorian, vintage, a cozy living room, a classroom, etc.).
It's also fun to light candles everywhere in your home and dim the lights while you listen. Nowadays, I have candles placed all over my home that I light daily.
If you want to get out but maintain that scholarly vibe, try going to libraries, bookshops, and coffee shops. Sometimes, I bring my work to these places and am able to get things done while feeling the aesthetic.
Going to museums can be super fun for a date night or friend night out. Museums are super dark academia (learning for the sake of learning, right?) and there are small museums in almost every area in the world.
Sports can be slightly dark academia, but I do see a few sports "fitting in" better with the aesthetic than others. These include rowing, fencing, tennis, cricket, croquet, rugby, polo, skating, horseback riding, and archery. At the end of the day, any sport can have a scholarly vibe if you take the time to really study it.
Here are some other fun activities you can do for free:
Collect and dry flowers (hang them around your room or house until they're completely dry)
Read by candlelight
Make tea and drink it out of a pretty, delicate tea cup (you can find plenty at thrift shops or on Amazon)
Write in a journal
Read books that are out of your comfort zone (art, philosophy, religion, fiction, science, etc.)
Write poetry or short stories
Join a book club
Dark Academia Room Decor:
The dark academia aesthetic for home decor is, obviously, dark. It works especially well for rooms designated as a library or study.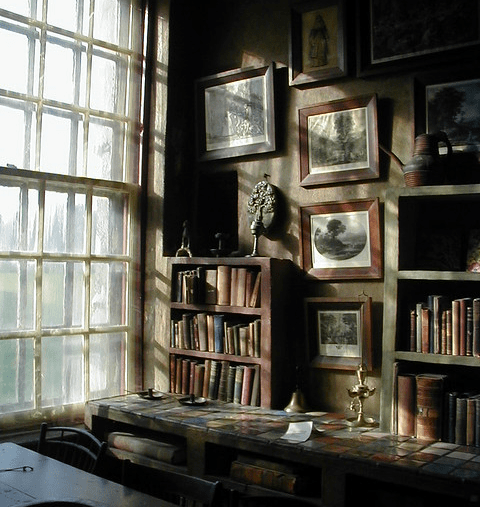 When you're decorating in the dark academia aesthetic, think Victorian mixed with Oxford. Pieces should be quality with lots of stained wood accents and deep colors.
There's many ways to make the dark academia aesthetic modern, even when you're decorating your house. For example, you can pain your walls and trim white but add in heavy bookshelves, old books, and candles.
Here are some things you can incorporate into your aesthetic that definitely give off the dark academia vibe:
Heavy wood (for any type of furniture)
Old clocks
Candles or lanterns (the more the better)
Old, neutral colored books
Greenery (I like a lot of plants mixed into the dark academia aesthetic)
Touches of dark colored velvet
Eclectic artwork, such as sketches, oil paintings, and vintage photographs
Vintage furniture
Brown, burnt orange, cream, or deep green blankets & pillows as accents
Candelabras
I recommend that you shop used for a lot of these dark academia items. Browse Facebook Marketplace or local thrift shops for pieces that are affordable and simple.
Alternatively, I find a lot of good-quality wooden furniture on Wayfair (especially bookshelves).
I get a lot of old books from Etsy. They're surprisingly affordable. I try to purchase books I actually like so they'll be put into use, but I admit, they also just look great on my wooden shelves.
You can also get a ton of smaller decor pieces that are super academic on Etsy. I shop on Etsy for sketches to hang on the wall, printable quotes, candles, coffee table decor, and more.
You definitely don't need everything on this list if you just want to add a few touches to your home.
Other Posts About The Dark Academia Aesthetic: