These delicious and darling spring dessert ideas will give you all the cottagecore vibes this season!
When it comes to parties, I tend to meticulously arrange every tiny detail before the upcoming event. But do you know what my favorite part is? Preparing the dessert!
That's why for today, as we head onto a fresh season of spring and blossoming flowers, I'll be showing you a list of the tastiest spring desserts you can make for your family and friends! These spring dessert ideas are just too cute not to share.
These delectable spring desserts add a sophisticated finishing touch to any springtime party. It won't just be the flowers that will give your home vibrance and fragrance this year's spring season, but your kitchen will be wafting with the most scrumptious scents of home-baked goods as well.
Springtime is a time of fresh fruit and berries in addition to the blooming of flowers after a dreary season of winter. As a result, some of the focus of these stunning spring treats is fresh, seasonal fruits. Once winter is over, I usually begin to think of fresh fruit sweets, meringues, strawberries, and rhubarb in everything. If you're like me, then this list of recipes will have all the spring dessert ideas you could possibly need!
Darling Spring Dessert Recipes
With desserts that are inspired by all the best elements of spring, you'll be welcoming the season with the tastiest treats! Don't let the appearance of some of these more complex recipes intimidate you, though!
Whether you're an experienced baker or a total newbie in the kitchen, all these recipes will provide careful step-by-step directions and readily available equipment that you can find anywhere in your kitchen to help you produce spring desserts that are sure to satisfy your family and friends' spring cravings.
So as the days grow warmer, make sure to finish off your dinner with a delicious springtime dessert!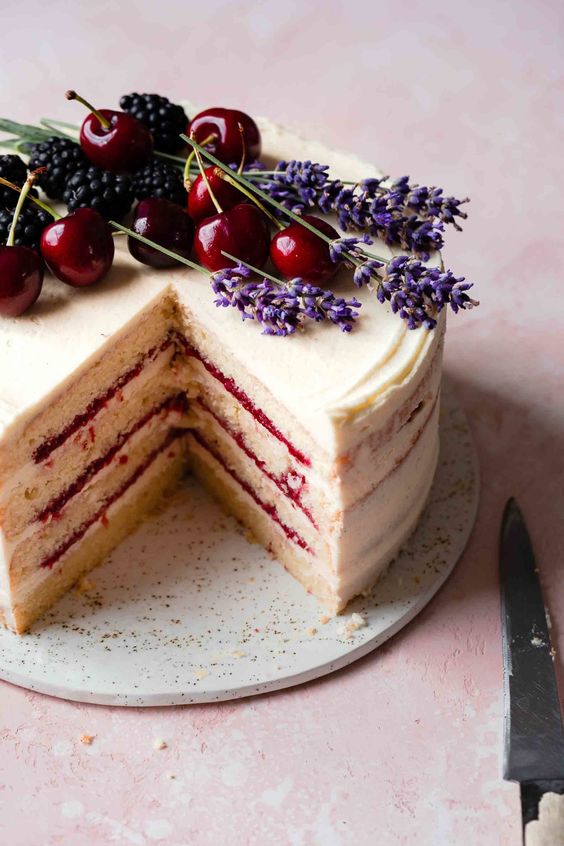 This moist cake with fresh cherries is utterly superb! The luscious vanilla cake is topped with a sweetened buttercream frosting that is so smooth and delicious, and the cherry filling is relatively easy to make as well. All you need are five, simple ingredients.

These sugar cookies are one of the easiest recipes on this list. Just prepare one batch of traditional sugar cookies and one batch of royal icing. You'll also need a rectangular cookie cutter, green and pink natural food coloring, powder or gel paste food coloring, and small round piping tips.

If this is your first time preparing chocolate mousses, think of it as a simple dark chocolate custard and whipped cream mixture that has been chilled for several hours. This recipe is utterly decadent and hard to resist!

The chocolate flavors of these cupcakes perfectly complement the lavender blackberry frosting, which is intensely sweet, fruity, and, of course, exquisitely floral! If you like chocolate and fruit, these cupcakes are sure to become your new favorite!

The combination of a decadent blondie and fluffy spice cake will result in the sweet and savory dessert of your dreams in this carrot cake blondie recipe.

If you're looking for a new go-to dessert for any springtime party, you should definitely check this Clementine Loaf recipe out! It is a moist, tender cake with ripe clementine flavoring and a creamsicle frosting.

Fresh, soft peaches are combined with a flaky, buttery crust to create this homemade peach crumble pie. You'll adore the flavor and texture of each bite, finished with a cinnamon-spiced brown sugar crumble!

For a quick spring dessert idea, make this vegan strawberry shortcake with cream biscuits, fresh strawberries, and coconut whipped cream.

A gorgeous tart with a base of crisp puff pastry, creamy yogurt, whipped cream, and roasted strawberries will be the highlight of any springtime event.

You'll become an instant lover of white chocolate and berries after trying this bundt cake recipe. The cake stores for several days, with a texture that is dense and delicate, and flavors that are both subtle and rich.

With a rich, fudgy brownie base, a silky smooth chocolate cherry cheesecake filling, and a delectable coating of dark chocolate ganache, these small cherry cheesecake brownies will be any chocolate lover's dream.

This exquisite green cucumber cake has a flavor similar to lemon sponge with a light, cooling cucumber undertone. It's a cake that embodies the spring season. In addition, the gin enhances the sweet frosting with delicate botanical flavors that go well with the lemon and cucumber in the cake.

These Peach Pie Bars are creamy, crumbly, and full of fresh, scrumptious peaches! It's definitely one of the best spring desserts you can serve to your family and loved ones!

This delicious, luscious honey-peach sorbet gets a zingy kick with a spritz of homemade margarita. So irresistible, you'll be making it all spring and summer!

Take some inspiration from the French and recreate these decadent and buttery soft pain au chocolates for your springtime party!

When it comes to spring desserts, this strawberry lemon cake is an utter must-have. With its fresh strawberry buttercream frosting, this cake is the prettiest and most ideal for spring.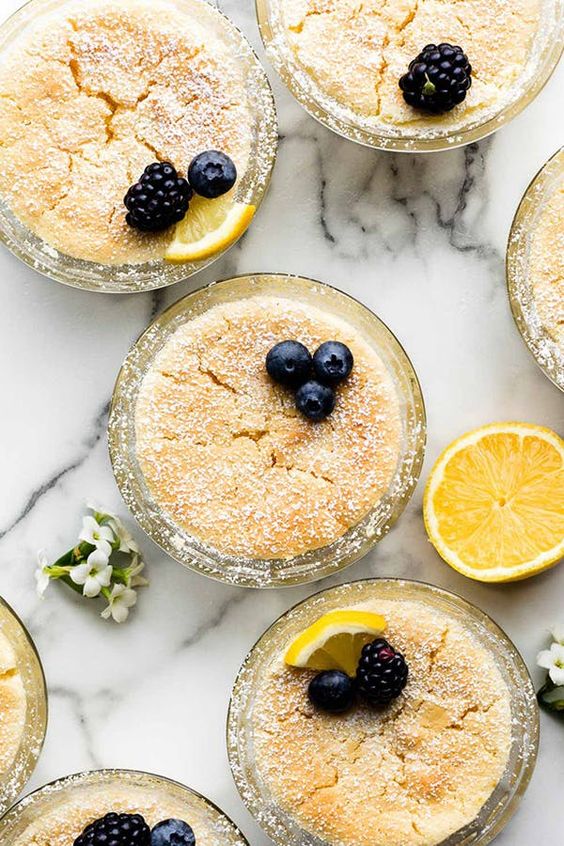 These special lemon pudding cakes are every texture lover's dream, with thick lemon pudding on the bottom and fluffy lemon cake on top.

Donuts with baked strawberry frosting make a delectable breakfast, snack, or dessert that is ideal for spring and summer. These baked pastries are sure to please any berry lover! They are filled with fresh strawberries and drizzled with a sweet glaze.

Light, moist, and utterly fresh, this key lime pie is a must-try for your upcoming spring party. If you're looking for spring desserts to serve your guests, you can never go wrong with this one!

Surprise your loved ones with a platter of scrumptious strawberry and mint scones! Not only are these bursting with sweet and refreshing flavors, but they will surely enjoy the smell of freshly baked goods wafting around your home as well.

The combination of lemon and lavender is delicious, and the sweet, tart icing is the perfect finishing touch. You can make it whenever you want or reserve it for Easter or your spring brunch.

Lemon curd, toasted coconut, cream cheese icing, and layers of delightfully moist coconut cake make up this delicious lemon coconut cake. It is delicate, moist, and buttery. Perfect for any springtime tea party!

Looking for easy spring dessert recipes that kids can decorate? The cream cheese not only adds delicious flavor to your traditional sugar cookie, but it also helps keep them soft.

These soft cakey sugar cookies, decorated with colorful sprinkles and creamy vanilla buttercream, are akin to delectable cupcakes but in cookie format. These are perfect for any springtime event!

Whip up this delicious yogurt mousse for your upcoming springtime events. It's not too sweet and is the ideal treat on a warm spring day!

Looking for spring dessert ideas in cookie form? These Lemon Curd Daisy Sandwich Cookies are almost too pretty to eat! Every fan of lemon spring desserts will adore these lemon curd cookies. Between two gluten-free lemon biscuits wrapped with lemon icing are mouthwatering homemade lemon curd and rich buttercream.

These Mini Apricot Meringue Pies have a stovetop filling and a fairly simple press-in coconut shortbread biscuit crust, per the recipe. Although the fruit softens, it retains texture. The meringue wonderfully unites the flavors of the apricot and coconut in a delicious way.

Do you know what's better than pie? Ice cream pies! Combining my two favorite spring desserts, how can I resist this sweet springtime treat? This is one of my favorite spring dessert recipes that doubles as a breakfast meal.

Fresh strawberries were used to make this luscious strawberry cake. What's more, this recipe uses only natural strawberry taste and a smooth strawberry cream cheese frosting. No mixes or food coloring are used.

Simply lay out readymade dough, place rhubarb slices in the center, and fold up the edges to keep everything together to recreate these cheater's small rhubarb galettes.

Who doesn't enjoy a rich, cheesecake slice? This miniature version is equally as tasty as its larger version and is really simple to recreate. You are welcome to substitute any seasonal fruit for the fruit, or you can omit fruit altogether and top your dessert with whipped cream and chocolate curls.

Spring desserts don't always have to be baked. Everything that makes strawberry shortcakes fantastic is preserved in a homemade ice cream cake variation, and it couldn't be any simpler. Don't have a food processor? No worries! Use a plastic bag and a rolling pin to crush the cookies.

If you love banana-flavored spring desserts, you certainly can't miss out on this Banana Pudding Icebox Cake recipe! Using banana pudding, storebought is fine, you'll be able to recreate this delicious treat!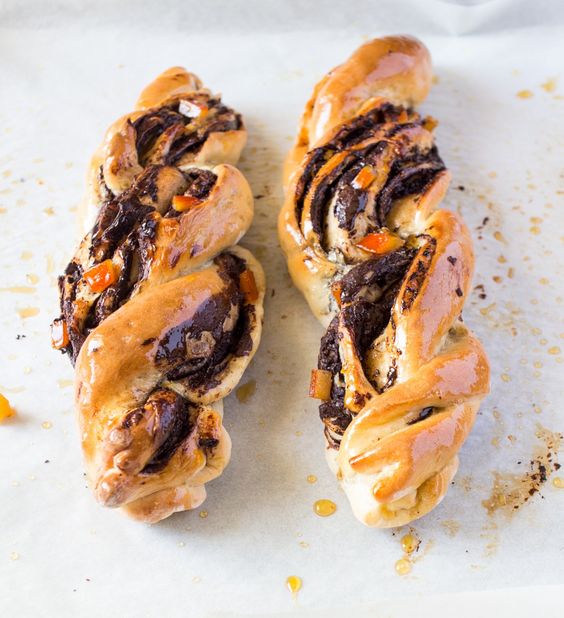 Looking for spring dessert recipes with chocolate? Don't be intimidated by this chocolate and orange twist recipe. Just wrap the two strands of dough packed with chocolate and orange around each other to recreate this chocolatey dessert.

Although the Strawberry Charlotte in question is not exactly like the original cake that originated in France, this is still a must-try this spring. The recipe uses a light vanilla cake with a strawberry mousse filling rather than layers of sponge cake. The cake looks even more amazing when it is lined with handmade or store-bought ladyfingers.

Looking for spring desserts with a spice of citrus? You can make a really moist, cider orange cake with this particular recipe. For the ideal springtime dessert, this cake is created with cinnamon, boiling cider syrup, fresh orange juice, and orange zest.

Looking for more unique spring dessert ideas? For a cake that looks just as good as it tastes, try out this Pistachio-Orange Cake! I can totally see this as an ideal accompaniment to any springtime brunch.

For optimum results, prepare this pie the day before you intend to serve it. Fun fact, rhubarb is sometimes referred to as a "pie plant" because it is used in pies so frequently. And while rhubarb can be used any season, this is one of my favorite spring dessert recipes because it reminds me of the old days!

Rich and indulgent, this chocolate tart is a treat that is guaranteed to please. It has three layers: a crumbly chocolate crust, a silky chocolate glaze, and a smooth chocolate ganache inside.

This classic blueberry cheesecake has the perfect balance of tartness and sweetness. Each bite is creamy and bursting with blueberry flavors.

Perfect for warmer spring days, this Homemade Peach Blueberry Pie is just utterly scrumptious! Beware, you might find yourself finishing this in one standing!
Hopefully, these spring dessert recipes gave you lots of ideas to make your season a bit more magical. Happy baking!