French fashion has been trending since the 1700s. As crazy as this seems when most of our trends only last a season, it isn't surprising that women across the globe have wanted the classic French style look for some time.
To most people, the French have the perfect balance of immaculate class and cheek. French fashion can be bold and ageless at the same time. Well-made French outfits never go out of style.
Many stores follow the general themes of French fashion, but there are a surprisingly small number of authentic French fashion brands. Today, I'm putting together a list of 45 French fashion brands that are all located in France (with beautiful clothing) in a variety of price ranges.
Here is how I set this pricing scale up:
$: Inexpensive (average piece under $100)
$$: Moderate (average piece ($100-$250)
$$$: Expensive (average piece $250-$750)
$$$$: Extremely expensive (average piece over $750)
The thing about French fashion brands is that they're expensive. You definitely need to have a bit of extra money in order to splurge on most of these brands. I did include some more affordable brands in this list, but they generally offer basic items or are priced just under $100 per item, which is still pretty expensive for some folks.
If you want French clothing but can't afford these French fashion brands, scroll to the bottom of the post where I made a list of brands that offer great French style pieces at drastically reduced prices.
Related Post: 20+ Affordable Dark Academia Fashion Brands
Here are my favorite 45 French fashion brands!
Style: Les Expatries is the equivalent of boho in the world of French fashion brands. If you dress a bit more plain or cozy, check this store out. The items are relatively affordable and are very high quality.
Price: $
Style: Zadig & Voltaire sells ultra-trendy yet clearly classic French clothing. Find anything from more traditional blazers, cardigans, and coats, to super trendy leather tops, velvet blouses, and fur-trimmed jackets.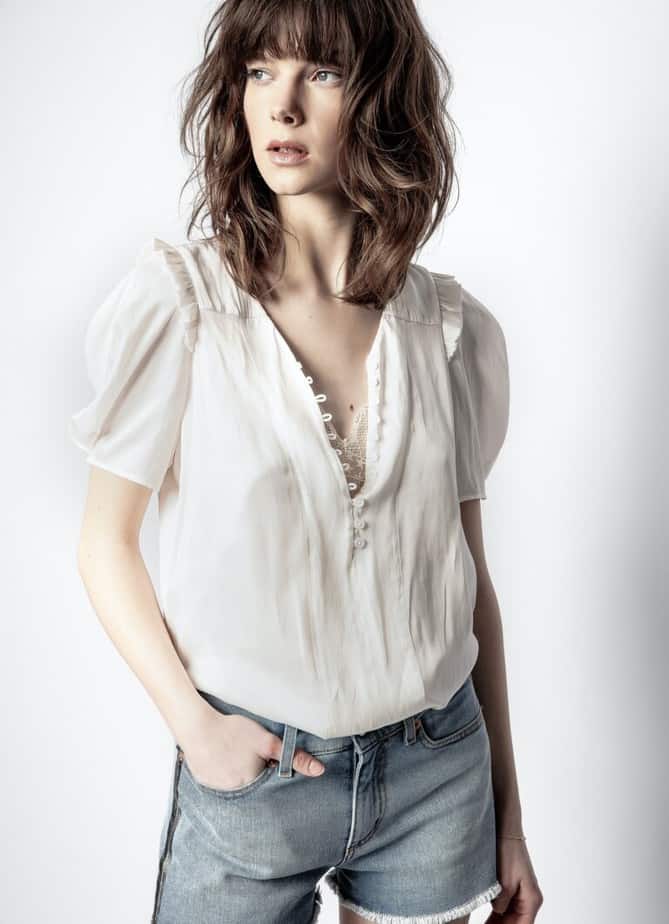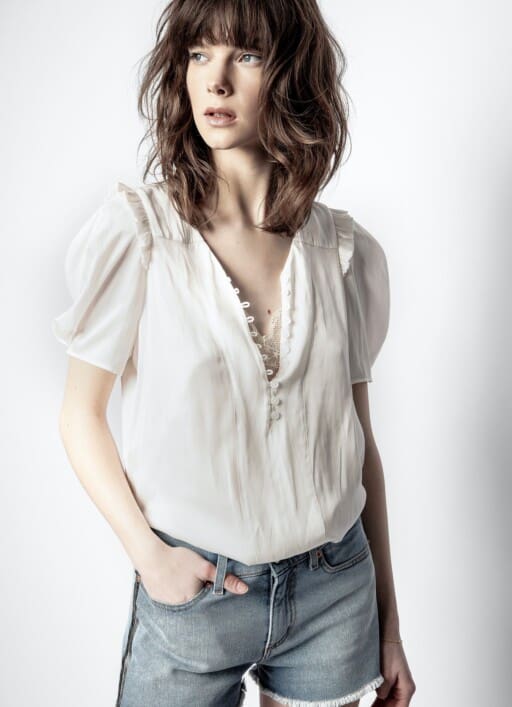 If I could afford it, my whole wardrobe would be from Zadig & Voltaire! This is really gorgeous French style that can't be topped.
Price: $$$
Style: Jacquemus boats modern, sleek items for any upscale woman. This is one of the French fashion brands that's a bit more curated. Jacquemus has limited collections available at a time, but every piece in the collection will last you for quite a while.
Price: $$$
Style: Sézane has become ultra-popular over the last 10 years for good reason. This is one of my favorite French fashion brands for affordable yet feminine French clothing.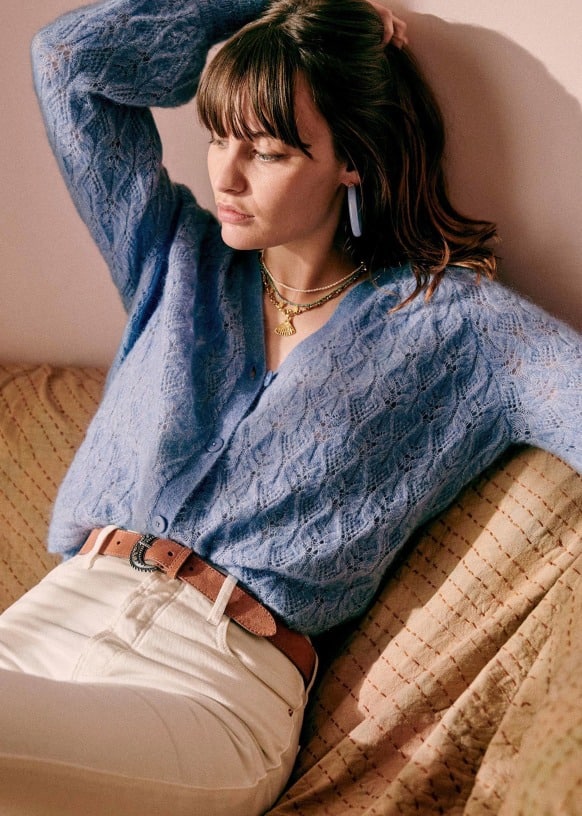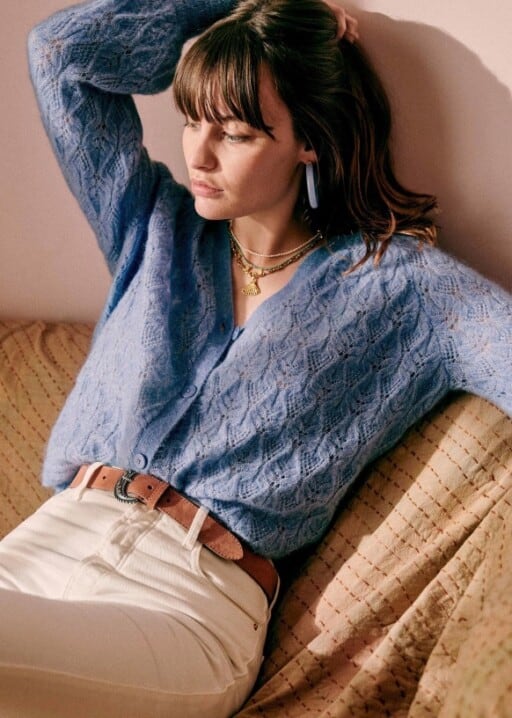 You can buy stunning knit cardigans with intricate designs, beautiful leather boots, and high quality frilly blouses that are sleek and understated. I really feel that Sézane has French fashion down pat.
Depending on your budget, this is one of the French fashion brands on this list that might be rather affordable or a bit pricey. If you find that these items are more than you can afford, I recommend investing in just a few key French style pieces (or 1 a season) since the styles tend to last.
Price: $$
Related: 15+ Affordable Cottagecore Fashion Brands For A Whimsical Wardrobe

Style: Isabel Marant Etoile offers minimalist fashion in simple colors with a hint of French flair. I especially love the button-up patterned dresses, flowery skirts, and embroidered tops. These are all classic pieces that will last for many seasons. Every French girl needs a few ruffle blouses in her closet!
Price: $$$
Style: The French know where to get their classic button-down shirts. Whether you wear collared shirts for work or you simply like the clean look in every day life, Marie Marot is definitely the place for high quality shirts.
Price: $
Style: Sandro is another one of my all-time favorite French fashion brands. I have honestly never seen more stunning dresses.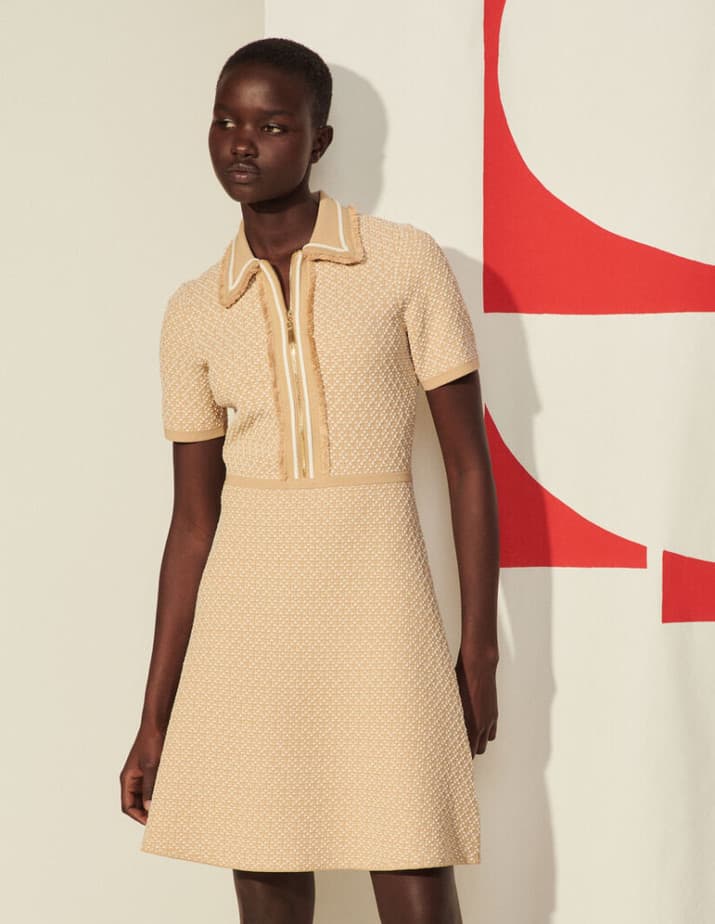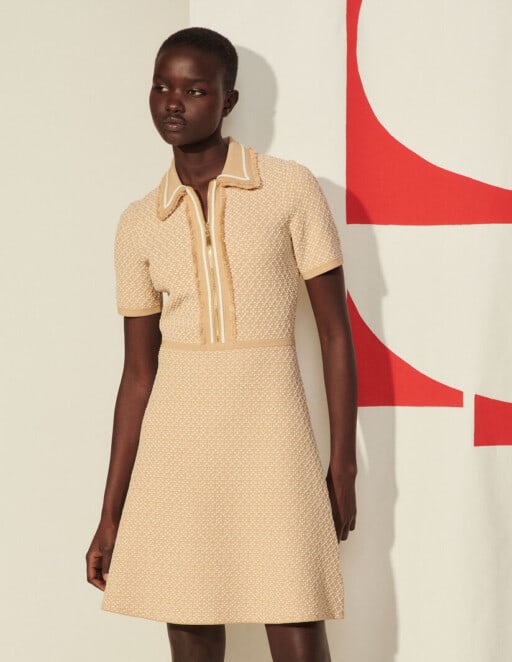 I recently purchased a black houndstooth jacquard dress with puff sleeves from Sandro. It was not only incredibly high quality, but highlights the body in a way that only French clothing can.
I also love the silk tops, tailored skirts, and ankle boots at Sandro. This is one of these French fashion brands that you simply must check out!
Price: $$$
Style: Saint James is definitely one of the more affordable French fashion brands on this list. Saint James has a distinctly nautical flair with preppy pieces that aren't seasonal.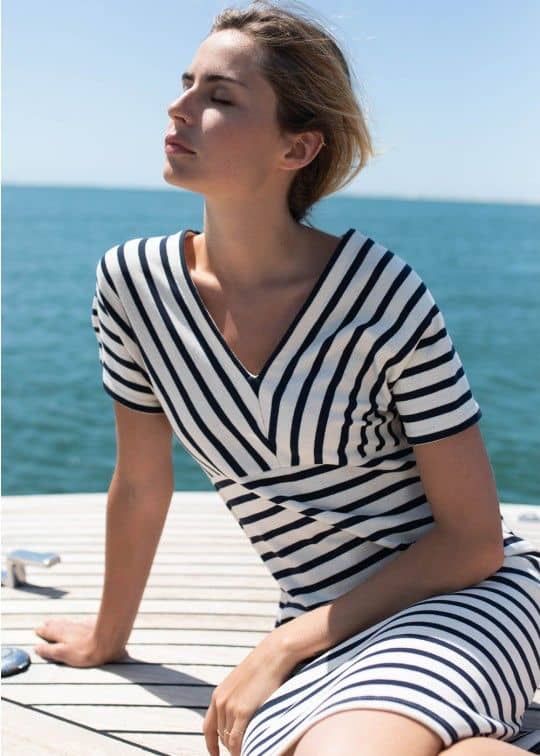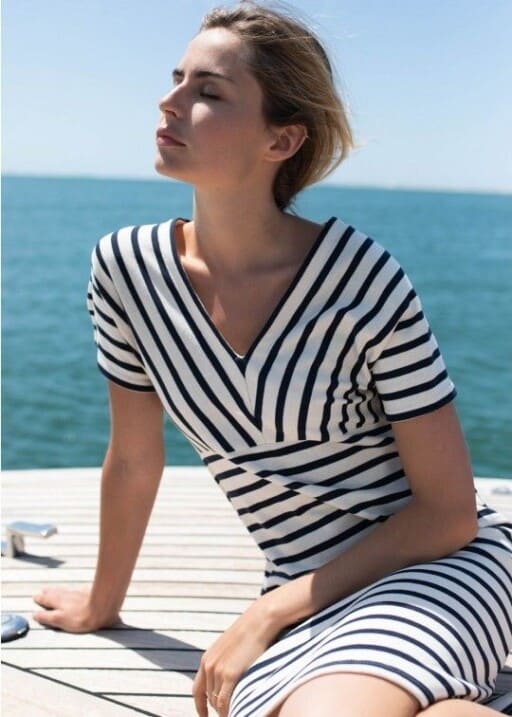 I recommend shopping here if you like cozy sweaters or simple shirts and don't want to switch your French clothing up based on quickly-moving seasonal trends. This is a great place to find entire French outfits that are trendy yet classic.
Price: $
Related: Top 35+ Trendy & Cheap Online Boutiques For A Stylish Wardrobe
Style: If you're looking for gorgeous linen pieces that are timeless and even a bit French-country, Atelier Camille is definitely your place! This is one of my favorite shops for light summer French style pieces.
Price: $$
Style: Maje is city-chic, with lots of stunning neutral places. This is a great place to shop if you want lots of layers, especially in the winter.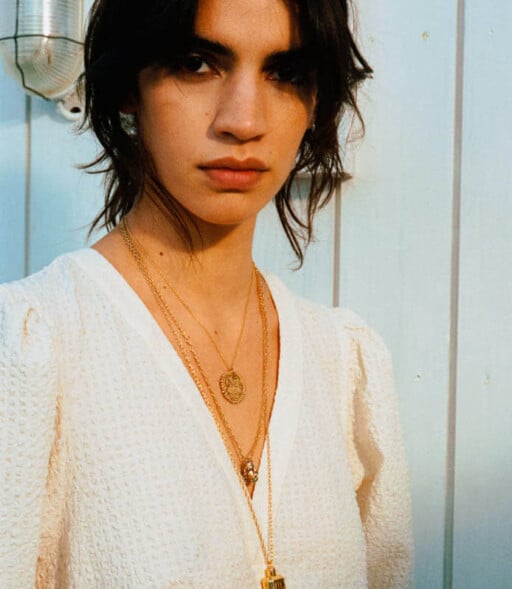 I love everything from the trendy coats to the edgy boots! The French style satin dresses are also gorgeous for any event.
Price: $$
Related: My Totally Honest Adore Me Review: Is The Lingerie Worth It?
Style: Claudie Pierlot sells a collection of beautiful neutral pieces that are all classic. This is one of the best French fashion brands to invest in long-term because many of these pieces will for years; Claudie Pierlot sells very classic trends in French style.
Price: $$
Style: Most of you have heard of the classic Longchamp bags by now. They've been popular for some time, and these trendy purses aren't going anywhere, especially in France!
Longchamp bags feel a bit more British in nature, but Longchamp is certainly a French fashion brand. These bags now come in a variety of colors and styles for all seasons. This is an essential piece of almost all French outfits!
Price: $$
Style: Veja sneakers are a must-have for any French woman. They're perfect with a simple outfit of jeans and a blouse or a flowery dress.
Price: $$
Style: Maison Labiche has grown from a very small French fashion brand and is now quite popular. This is the brand to buy your absolute plainest t-shirts and sweatshirts from. It's great for casual French outfits.
Price: $
31.
Style: Sessùn offers a variety of loose, feminine clothing that's super high quality. You will find gorgeous knit sweaters, wool coats, tailored pants, etc.
If you like dark academia style, this could definitely be the store for you. It tailors to the academic French woman who wears classic, sustainable clothing.
Price: $$$
Style: The Kooples showcases an ultra-chic yet conservative black & white theme. If you live in the city or dress extremely classy, this French fashion brand is for you.
Price: $$
Style: Chantelle is the French woman's go-to for bras, underwear, lingerie, shape-wear, and swimwear. These high quality underwear pieces are all relatively affordable but are made with achieving the perfect shape in mind.
Price: $
Style: Repetto is one of the best French fashion brands if you need shoes. Shop for high-quality ankle boots, classic French flats, darling loafers and oxfords, and sweet pumps at Repetto. This is a must for high-quality shoes to complete your French outfits.
Price: $$$
Style: Americans can only buy Roseanna items through the site I linked above. You can shop some of the most beautifully designed knitwear, blazers, leather jackets, and more classic French pieces at Roseanna.
Price: $$$
Style: Tara Jarmon is based in Paris, offering high-quality and trendy business-wear for the working woman. I especially love the silk pieces. Even the silk suits are classy and chic!
Price: $$$
Style: Rouje was founded by a French model (Jeanne Damas), so the focus is of course all on the off-duty model look. Head to Rouje for high end French basics such as darling blouses (many of which have the cutest patterns), tailored pants, linen bodysuits, and much more.
Price: $$$
Style: If you're going to a party, Iro is definitely the French clothing brand to shop at. From silk dresses to leather jackets and sheer blouses, Iro has quite literally anything you could need to look amazing at your next event.
Price: $$$
Style: Ba&sh is a bit on the expensive side, but it's one of the most popular French fashion brands right now, for good reason. It's basically an upscale, trendier version of Zara. You can find quite literally everything you need here, as well as some extra pieces just for fun, if you can afford it.
Price: $$$
Style: Celine is still one of the most classic French fashion brands and is very popular in Paris to this day. Every one should eventually have a pair of Celine sunglasses!
Price: $$$
Style: If you're in the market for swimwear, activewear, or even lingerie, Eres is the French brand to shop. The quality is quite literally incredible. You'll never want to go back to normal swimsuits and shape wear!
Price: $$$
Style: Chloé is a classic in France and will be for the foreseeable future. It's obviously one of the most expensive brands on this list, but many feel that it's worth it to save up for a piece!
Price: $$$$
Style: A.P.C. is known by most French women for its basics. You'll find every French piece you need such as a wool coat, knee high leather boots, simple turtlenecks, tailored pants, and plain crossbody bags.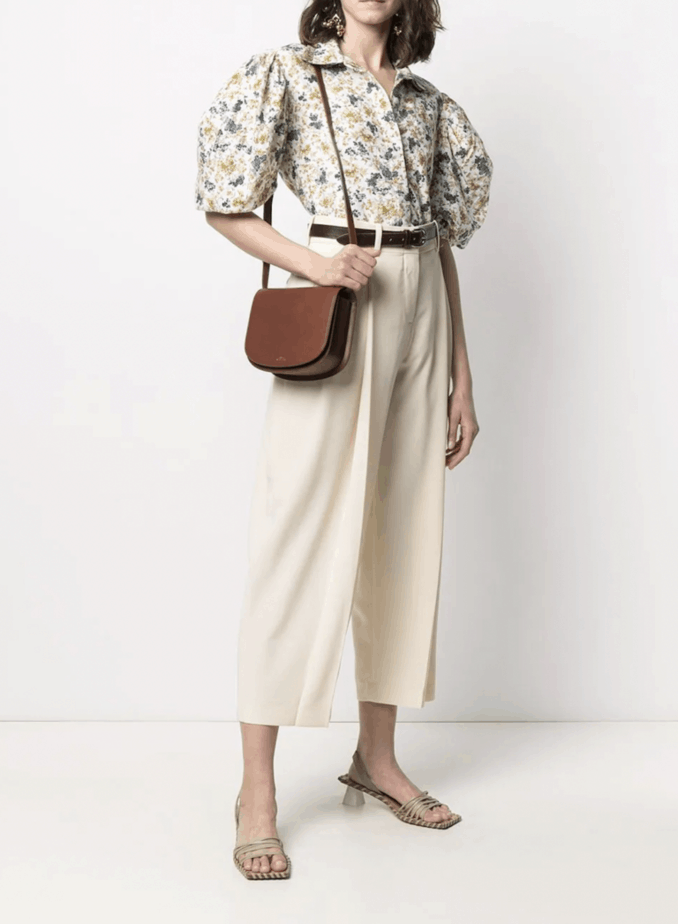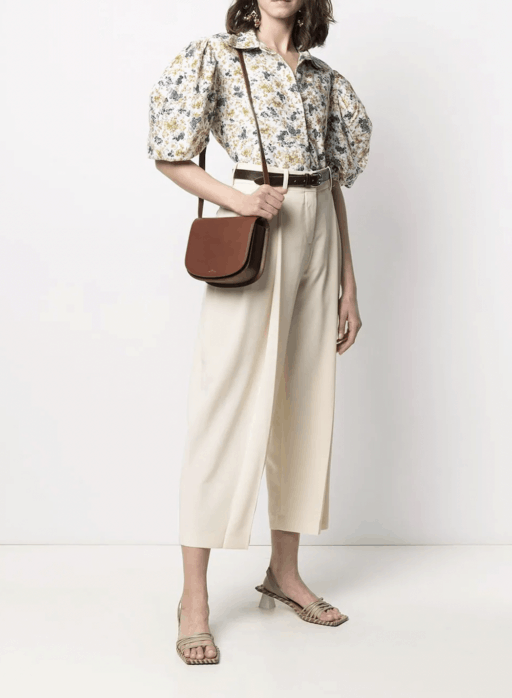 You probably won't find excessively feminine pieces here, but you will find everything you need to put together a capsule wardrobe. A.P.C. is super popular in France because there's such a wide range of lovely selections! This is a great place to find full French outfits.
Price: $$
Style: Petit Bateau is a one-stop shop for essentials. You'll find affordable leggings, t-shirts, gloves, and more everyday items on this French fashion brand's website.
Price: $
Style: This Paris-based brand offers ultra-sleek pieces like white t-shirts, crew necks, and sweatshirts made with trendy French slogans.
Price: $
Style: Etam is a gorgeous little French style shop for all things cozy! I especially love the knit and silk nightwear as well as the bras, the briefs, and the swimwear.
Price: $
Style: Musier is my favorite French fashion brand for winter essentials and full-on French outfits. If you can afford the prices, these pieces will last you for years. I especially love the tailored wool coats, black heeled boots, and faux fur pieces.
Price: $$$
Style: Réalisation has the sweetest girly French clothing. This is one of my favorite French fashion brands for summertime clothing. I shop here for flowery sundresses, corset blouses, silk skirts, and sometimes even event dresses.
Price: $$
Style: Annelise Michelson is one of the most popular French fashion brands for jewelry. You won't find full-on French outfits here, but the accessories are truly stunning. If you like simple gold pieces, check this store out!
Price: $$$
Style: French women shop at Ysé for stunning yet affordable lingerie. The styles are elegant and decadent and the prices are generally under $100!
Price: $
Style: Loulou Studio is designed by Chloé, but the clothing is everyday and extremely wearable. Shop here for gorgeous sweaters, knits, and blouses. The suits and blazers are also stunning.
Loulou Studio is one of the best French fashion brands for the everyday modern woman, especially the working woman. The French style clothing is designed to work with the modern woman's regular life.
Price: $$
Style: If you want incredibly stunning timeless pieces, look no further than Gaâla. This is by far one of my favorite French fashion brands to shop at online. The site is incredibly easy to use.
On top of ease of ordering, the clothing is truly stunning. This is where you'll find your most classic French-girl pieces. Shop for a linen dress with puff sleeves in the summer or a classic French trench, sophisticated black dress, and beret in the winter.
Gaâla is a bit pricey, but the clothing is truly worth every penny.
Price: $$$
Style: Parisians generally shop at Amélie Pichard if they're a bit funky. This interesting store carries all of the essentials, but most of them are in wild prints and colors.
Price: $$$
Style: Fête Impériale has really artsy, eclectic fashion that is top quality. If you're into interesting silk designs and colorful patterns, check these pieces out.
Price: $$$
Style: Modetrotter was originally as a boutique offering a variety of brands, but the store now has its own brands available as well. You'll find edgier French clothing that feels very urban.
Modetrotter is one of the few boutiques on this list that has tons of color in stock regardless of the season! This boutique is perfect for the Parisian chic girl who likes flashy nighttime attire. It is pretty pricy, but the quality makes the price worth it.
Price: $$
Style: Jonak is another super fun French fashion brand to shop for going-out and party shoes. If you love edgy heels, gold block ankle booties, and all things sparkle, check out Jonak: you won't regret it!
Price: $$
Style: I absolutely love this French fashion brand. Not only is it pretty affordable with many items under $100, but the pieces are just so fun and trendy. I get most of my blouses for events or even small dinners out at Parisienne et alors.
Price: $$
Style: This is another city-chic brand that offers all of the newest, edgiest styles. I love shopping for black block boots, long leather jackets, and metallic blouses.
Price: $$
Style: Clergerie is a fun shoe shop for all different types of footwear. You can find anything from classic black loafers and block heels to gold wedges with bright blue stripes. These shoes are pricy, but they're high quality and are made to last.
Price: $$$
Style: Leon & Harper is the place to shop for all natural tones. Whether you're looking for high quality leather crossbody bags with gold buckles or houndstooth blazers, Leon & Harper definitely has the classic pieces that you need.
Price: $$
Style: Jour/Né white literally means day to night, so the idea is that you can wear these pieces for a variety of functions.
Price: $$
Related: The 22+ Best Trendy Fashion Sites To Buy Ultra-Trendy Clothing
More Affordable French Style Inspired Brands:
As I said before, French clothing brands are generally a bit expensive. The French don't really do fast fashion, meaning that the prices are at least double compared to what Americans are used to.
If you can't afford these 45 French fashion brands, here are some French-inspired brands that you can try shopping at for similar styles.
Everlane: French outfits all need basics and Everlane is the best place to buy these pieces. I love the cotton t-shirts and jeans.
Abercrombie & Fitch: You probably wouldn't think of Abercrombie for French clothing, but they actually have great basic pieces, such as blazers, sweaters, skinny jeans, and linen dresses.
Keepsake: Although Keepsake is a bit more expensive than the other affordable French clothing options on this list, they have really beautiful pieces for the price. I definitely invest in a few French outfits from Keepsake each season.
Zara: Of course, Zara is a classic for European and French clothing. They offer trendy items that are still chic and plain.
Mango: I love Mango! They have gorgeous classic yet trendy French clothing that's relatively affordable.
Aritzia: Although Aritzia has only recently gotten super trendy thanks to TikTok, the brand stocks a whole variety of French clothing pieces. This store looks super authentically French style, but is relatively affordable, at least compared to some of the French fashion brands above.
Madewell: If you're looking for a mid-priced French style brand then Madewell will definitely work for you. I especially recommend the jeans and the sweaters.
Topshop: French style can either be classic or edgy; Topshop definitely offers pieces for edgier French outfits.
H&M: I personally love H&M for basic outfit pieces. French outfits all need good basics, such as cotton t-shirts, oversized blazers, and sweaters for layering. H&M is the best budget-friendly place for these French style pieces!
Chicwish: Although I love the basics as well as edgy French style, I'm also a fan of girlier, frilly French outfits. Chicwish is the perfect shop for this classic academic European look. Plus, the prices just can't be beat.