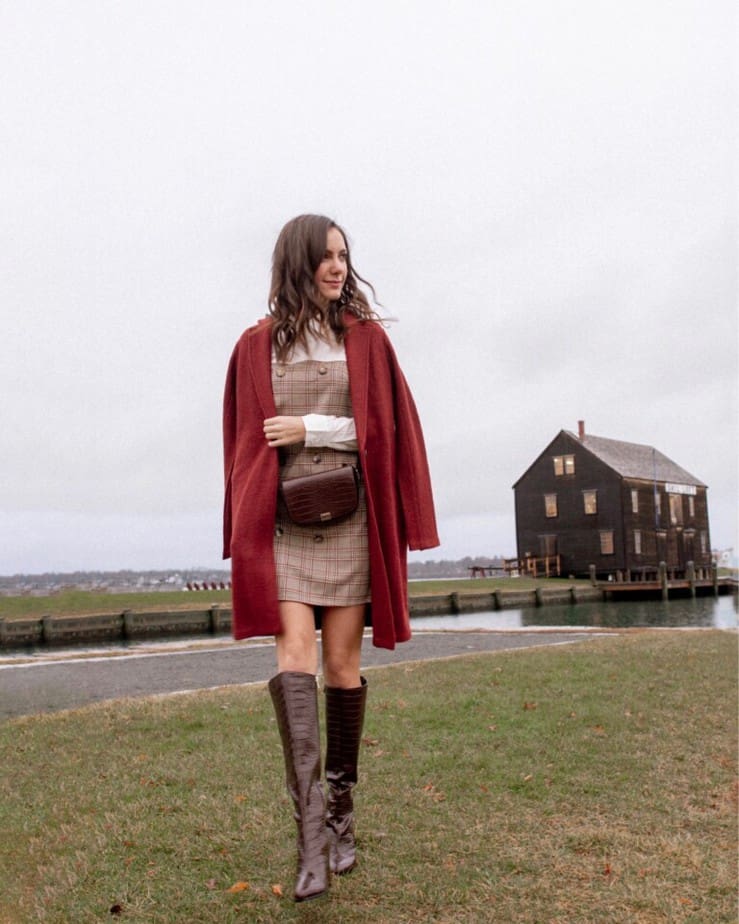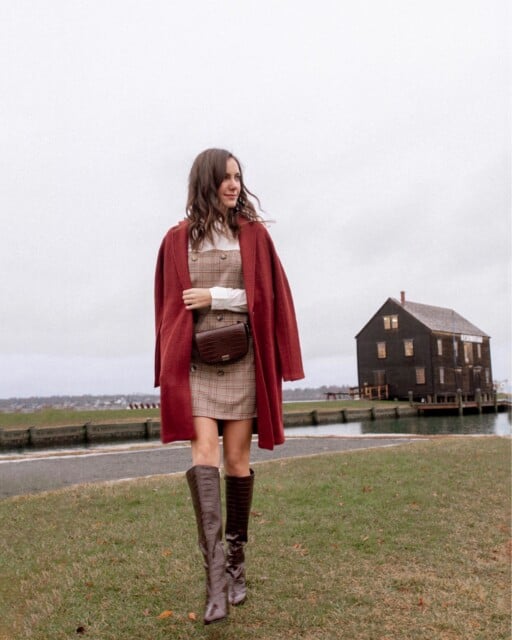 Between French girl fashion, dark academia style, and fashion in the U.K., we're overwhelmed by foreign trends. If you're anything like me, you know that you love something about how the British dress, but you can't quite pin down exactly what it is.
I've been a Harry Potter fan for years, and I recently realized how much I love the cozy style of dressing. Even though the movies use early 2000's style, so much of the clothing they wear is still relevant right now.
There is a clear different between trendy British style and classic British style. We're talking about Kate Middleton vs. British influencers here.
As a regular person, I like to incorporate a bit of both (as well as many other styles!) into my wardrobe. It's easy to get stuck in thinking that you need to pick one style, but I promise, that isn't the case!
If you're a fan of British style and want to incorporate elements of it into your wardrobe then read on! Today we're covering the 9 elements of classic British style to build into your closet.
Where To Shop For British Clothing:
I'll talk about places to shop for each specific item as we go through the post, but for now, here are some of my favorite all-around stores to find classic British clothing:
Brooks Brothers: The first go-to for all classic items!
Boden: Great for girlier British pieces, such as floral dresses or whimsical blouses for layering.
Crew Clothing Company: Classic yet feminine pieces for the full wardrobe. Also the most affordable on this list!
LK Bennett: Gorgeous tailored pieces like pants and dresses that will last forever.
Hunter Boots: The classic rainboots every English girl will own.
J&L Tweed: Great for classic British tweed bags.
Now let's dive into the 9 ways to curate a classic British wardrobe!
1. Invest In A Classic Trench Or Pea Coat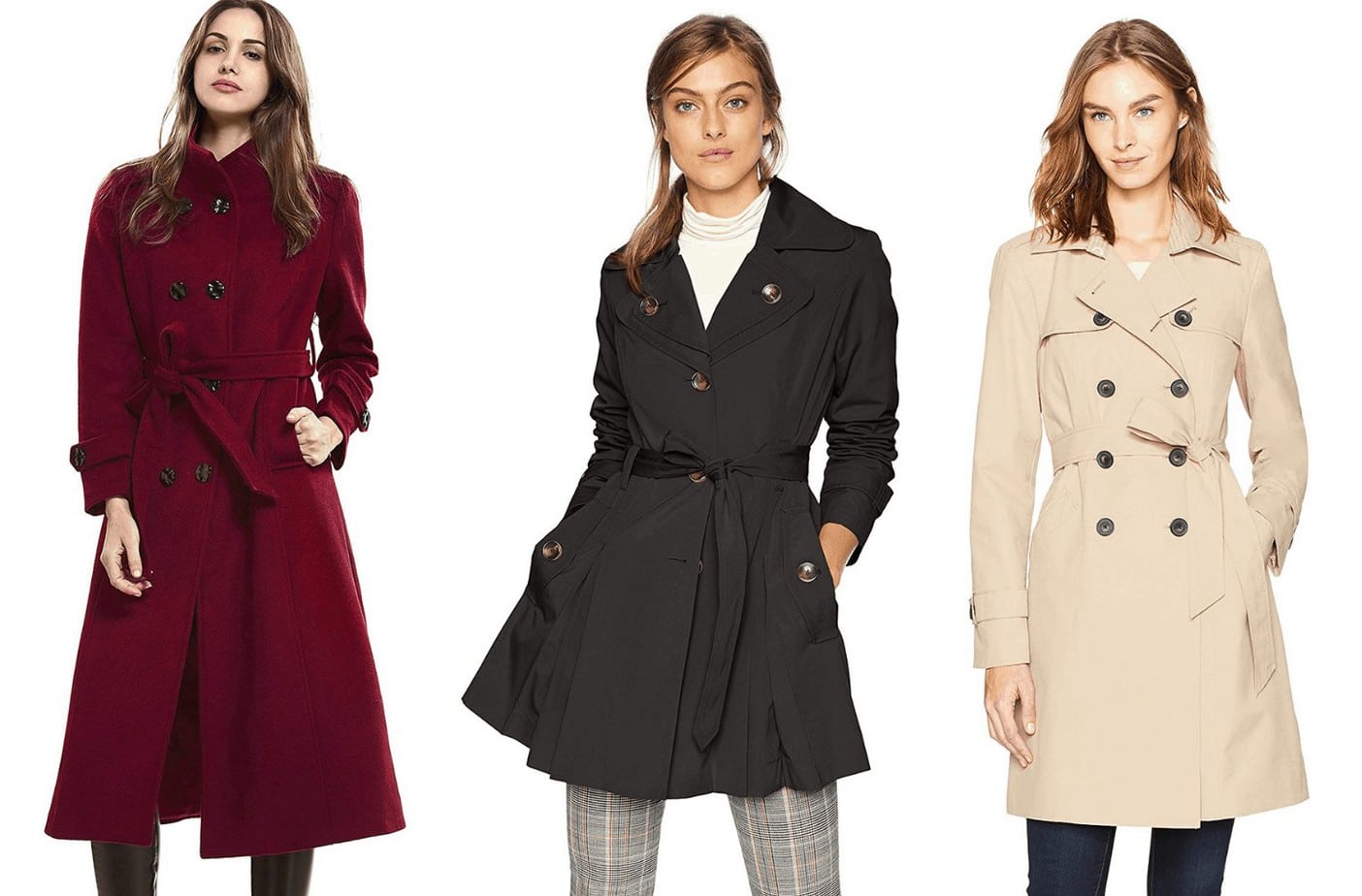 Ralph Lauren // London Fog // Salma's Apparel
I've always been a little in love with trench and pea coats, and probably have way too many, but a good coat adds a classic British style element to an outfit that you really can't get otherwise.
Fashion icons such as Grace Kelly, Jackie O, Katharine Hepburn, and Kate Middleton have all been photographed wearing really high quality coats. It's an essential piece of the British style wardrobe that you don't want to miss out on.
While there are a lot of gorgeous coats out there that cost a pretty penny, you can also get a good trench coat, and sometimes even a pea coat, for pretty cheap.
For affordable trench coats, check out this style on Amazon. I purchased it in both black and light tan. This is one of my favorite trench coats under $50! I find that it's true to size. I also love J Crew Factory coats – they're usually affordable and super high quality (my favorite is the wool pea coat).
If you don't mind splurging a bit, Banana Republic has some great coats that are beautifully tailored.
When you're first building your wardrobe, you definitely need to start with at least one coat. British style is all about layering, which you simply can't do if you don't have the layers. It's best to have at least one trench coat for the spring/fall and one wool peacoat for the winter.
2. Peter Pan Collar Dresses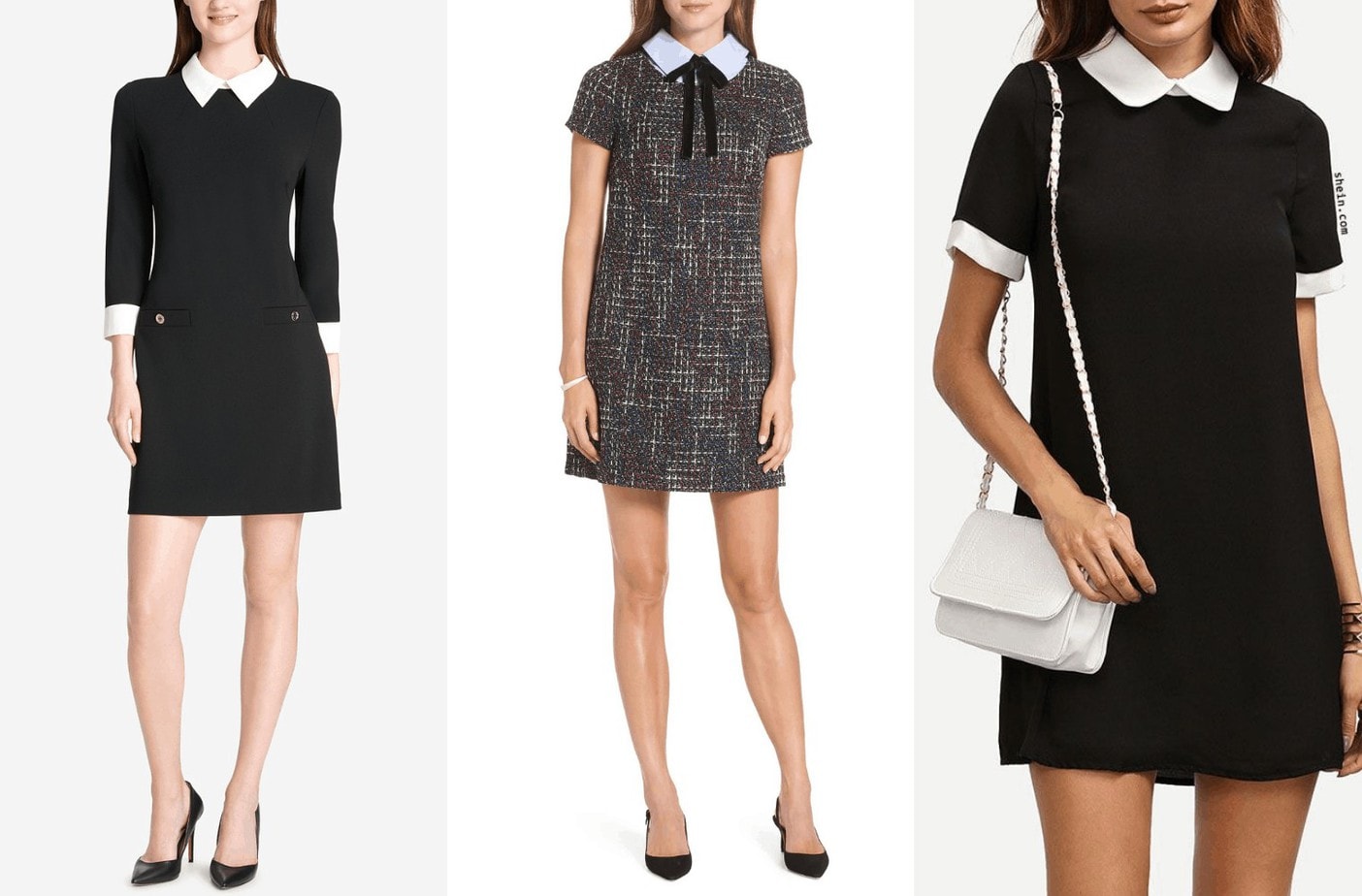 Sure, Peter Pan collars are a huge fad right now, but they've been around for quite a while and are actually considered classic, especially if you're trying to incorporate British fashion. A nice tailored dress is especially beautiful! You can pair it with trendier heels or simple pumps, or even boots. I love how the collar gives any dress a really classy edge, even if the dress itself is super cozy (mine feels like a nightgown but pretends to be upscale, so I obviously wear it all the time).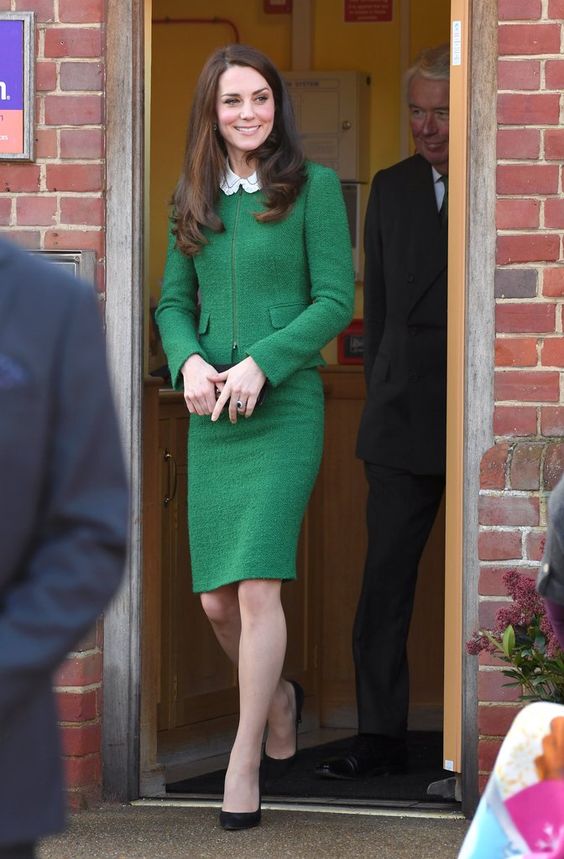 You can opt for a harsher more trendy collar with pointy square edges or go for the rounded and softer look (which comes off as more feminine and sweet and is more of a traditional British clothing staple). I like both for different types of outfits: the edgy look can go great with booties, sunglasses, and a clutch, while the rounded collar looks super sweet with a tailored coat, pumps or flats, and a classic bag.
Here are some of my favorite pieces with a peter pan collar:

3. Add A Bit Of Tweed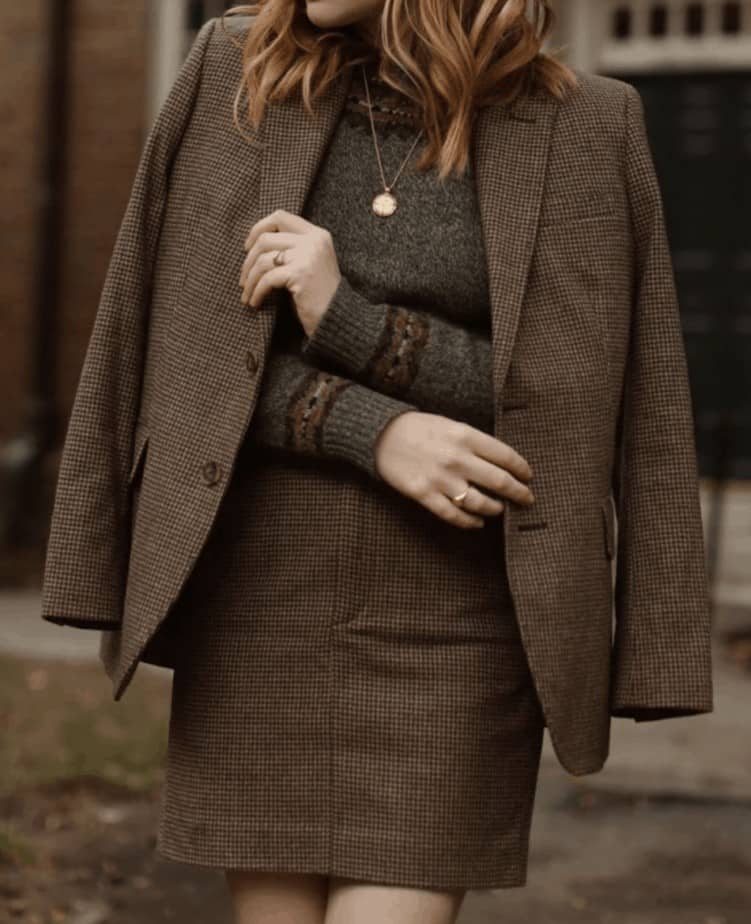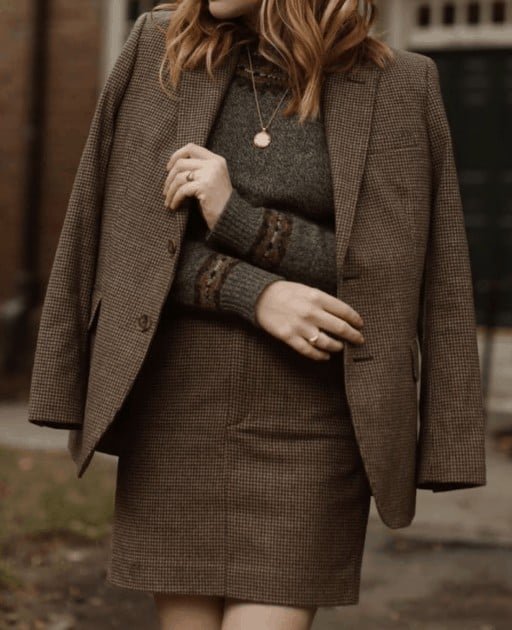 [this is from Pretty Little Fawn – check out her blog, she has incredible tweed inspo!]
Tweed is another staple of British fashion, whether we're talking about classic or trendy British style.
The fabric will come and go in typical trends, but when we're dressing British, tweed is always in. There are so many ways to incorporate tweed into an outfit. You can choose a tweed coat, a skirt, or a blazer. I even love tweed dresses.
The trick for British style is to make sure that your tweed is always impeccably fitted. You don't want to wear tweed pants if they're bunchy or too short.
If you like edgier tweed (such as black and silver), check out River Island. Nordstrom always has more classic pieces in stock.
Other good brands for tweed items include:
4. Sweet Floral Patterns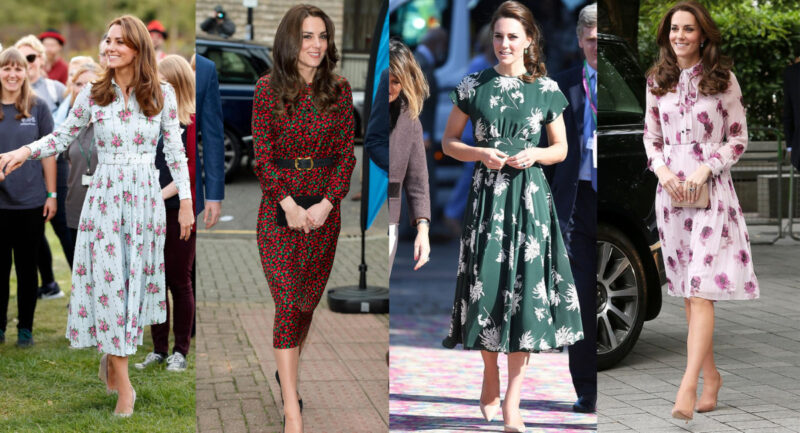 Although much of truly classic British style is very simple (i.e. no patterns), it's pretty common to throw in one flowery piece of clothing. I personally like wearing a flowered dress under a coat with a scarf or a flowered blouse with a blazer.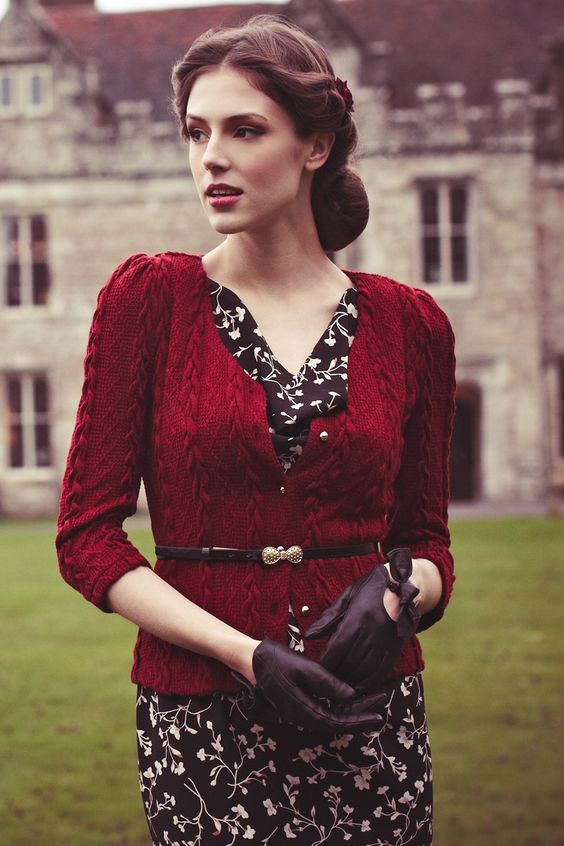 Sweet flower patterns work best for me (nothing too bright or crazy, which is right in line with traditional British clothing). A nice flowered piece gives a super classic and simple outfit a boho, more romantic touch that can soften it really nicely. I like a lot of the dresses and tops from Free People, ASOS, and PacSun for budget options.
These dresses can easily be styled for all seasons. In the summer, wear them with simple sandals or sneakers and add a small leather bag. During colder months, add layering, tights, and boots for the classic British vibe.
Unless you're going for a true "wild" English country vibe, you'll want to make sure that your floral dress is fitted rather than loose and boho. Some of my favorite places to shop for floral British pieces are:
5. Lots of Layers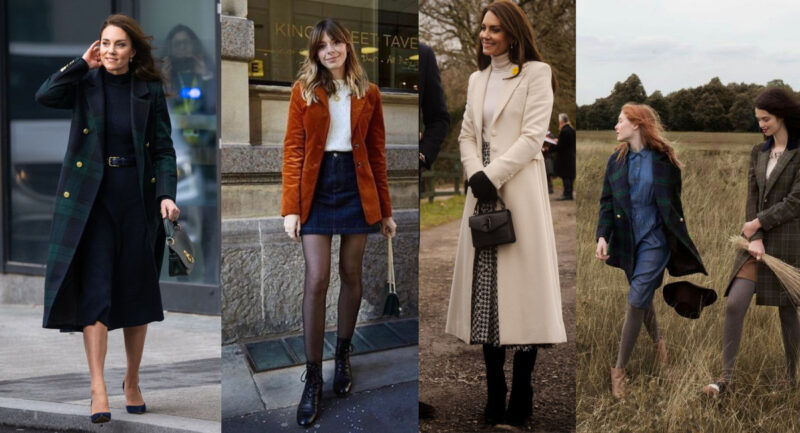 If you're into British fashion at all, then you can't go wrong with a ton of layers. I personally love this look because you can be cozy and warm while staying stylish. The trick (at least for classic British fashion) is to stick with neutral, dark colors and only wear one patterned piece at a time.
Layering different textures is also good – combine cotton with suede, leather, soft plaid, and of course knit fabrics for an aspect of British style. Ribbed tights or socks are always good and can go with a variety of shoes, from over the knee boots to flats or chunky booties.
6. Classic Boots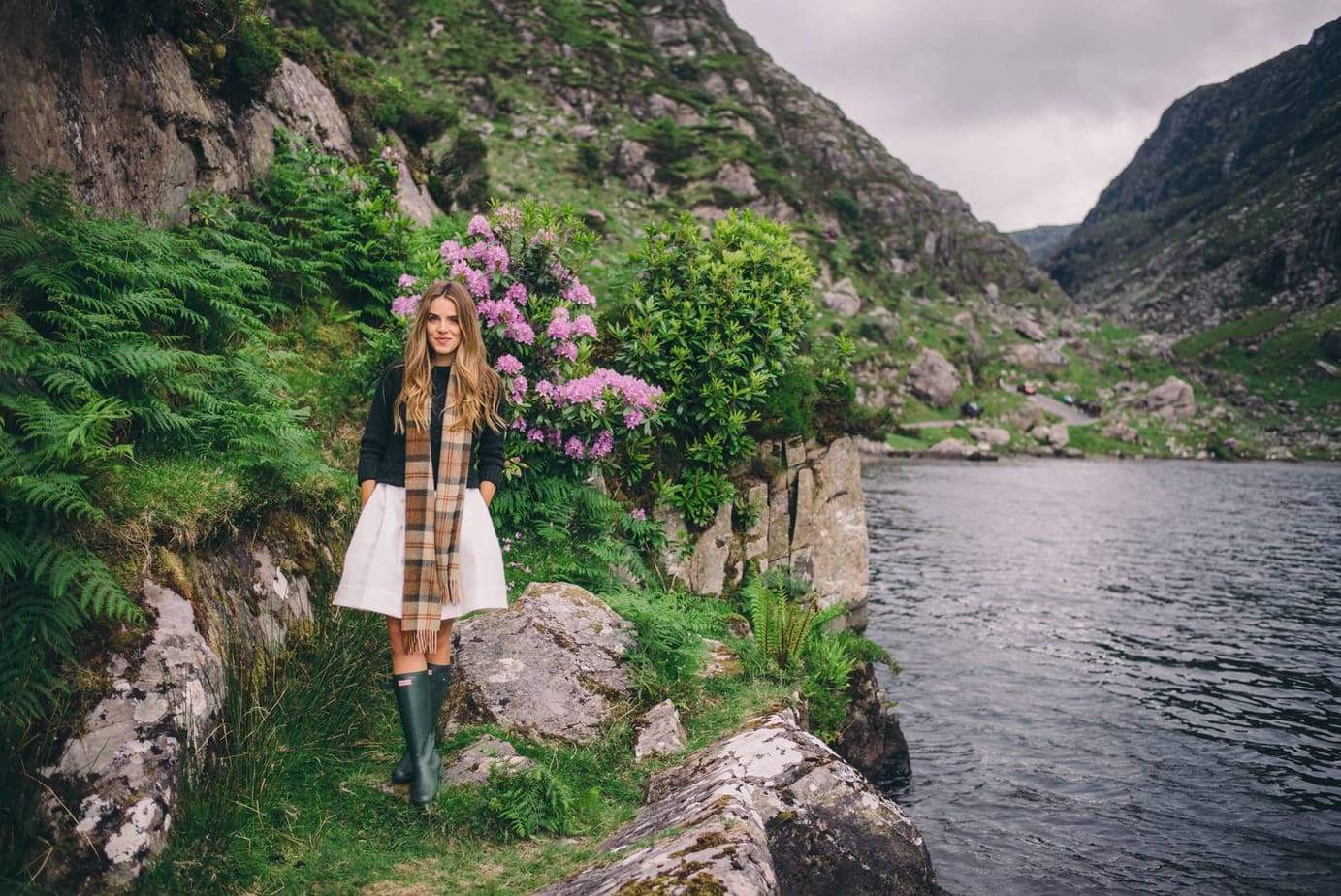 If you don't have a classic pair of "wellies" then you're missing out. The Wellington boot was a staple of British fashion traditionally made out of leather, but over time they came to mostly be made of rubber and used for any outdoor purposes (like trying to trudge through the snow from your house to get to the car, a problem I run into a lot around here).
Hunter Rain Boots are the most common type of wellies available now, and I definitely recommend investing in at least one pair if you haven't yet; black, navy, and olive green are all good classic colors that will go with many outfits.
Leather riding boots are a staple that can be great to throw into an everyday outfit as well. They aren't as expensive (unless you get a great pair) and probably won't last as long, but they add a nice earthly element that goes with jeans or a skirt and scream British style.
7. Leather Satchels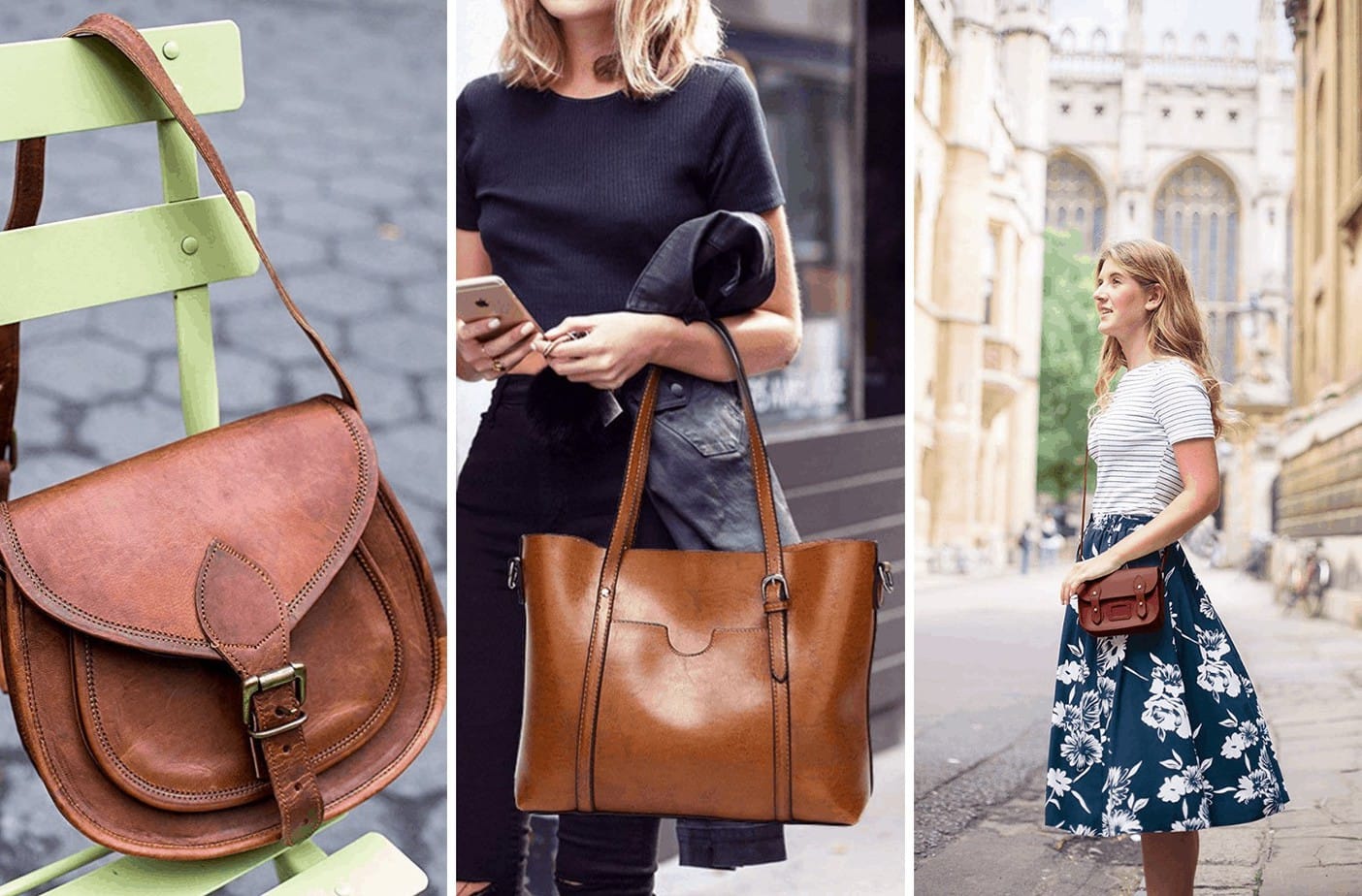 Leather Native // LoZoDo // Cambridge Satchel
If you've ever watched Harry Potter (I sincerely hope you have or will soon), then you probably know that Hermione Granger is almost never seen without a leather satchel. It adds a classic element to quite literally any outfit and is a huge British style staple. You can get them for a price that ranges from $15 to well over $500. Even if you don't have actual traditional British clothing, a satchel adds that air easily.
I'm pretty tough on my bags so I've yet to invest in a big name, but The Cambridge Satchel Company is very popular. Amazon has some great budget options (I've gone through a few to say the least). My favorite part of having a nice leather satchel is that it enhances the outfit but fits all of the stuff that most of my purses can't hold, since I bring quite a bit of makeup and my laptop virtually everywhere.
8. Neutral Blazers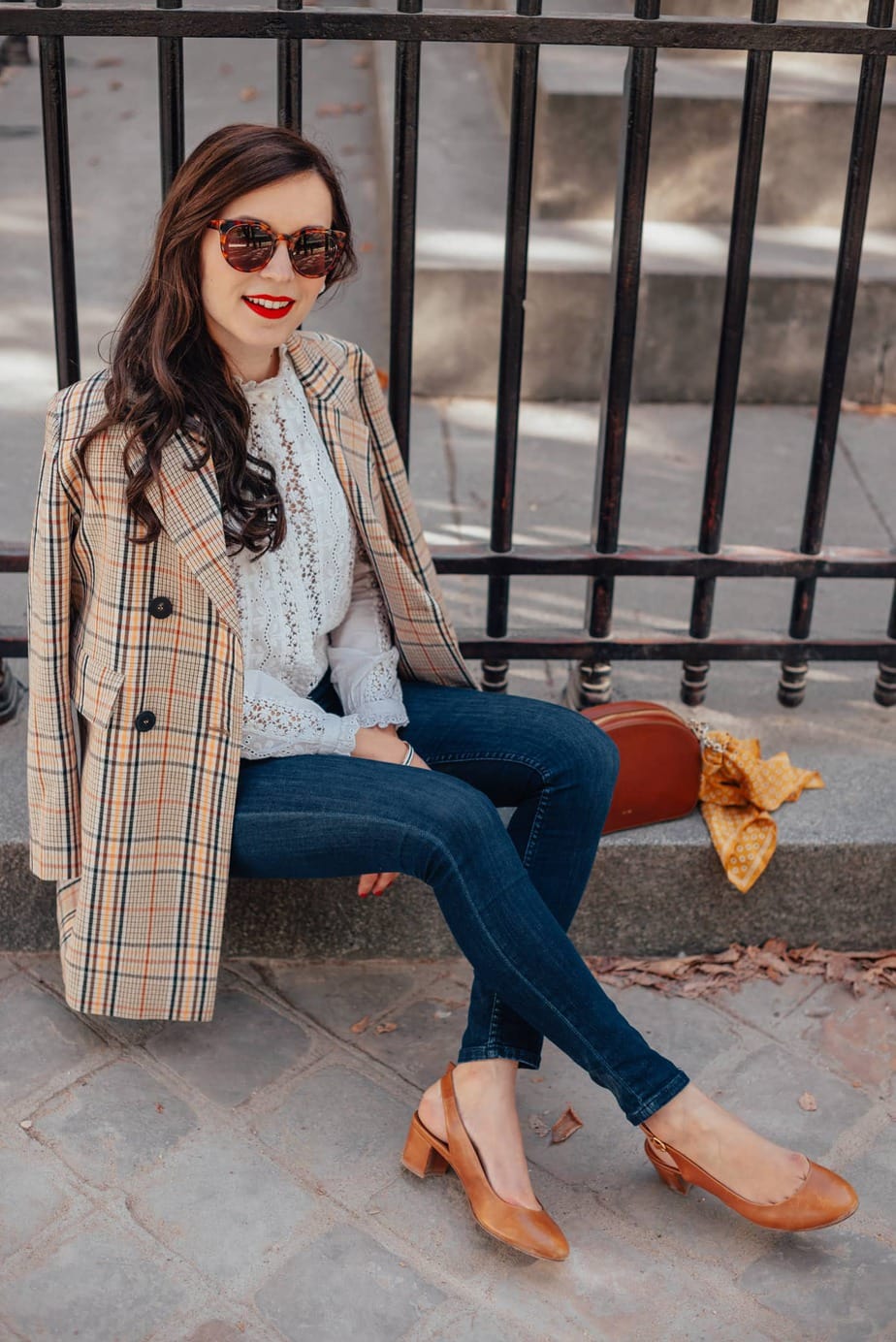 A fitted blazer is a must if you have any interest in traditional British clothing. Oversized blazers are in right now, and I do love how they add a trendy aspect to any outfit, but I wouldn't go overboard on buying a lot of them since it's just a fad. A classic, nicely tailored blazer never goes out of style.
It's worth it to not only invest in a few nice blazers but get them custom tailored to fit you perfectly. Brooks Brothers, Banana Republic, and J. Crew have the best classic items that will last a while; Express and H&M are good for cheaper or trendier options that still scream British fashion.
9. Anything In Dark Neutral Colors
If you're looking to invest in a really classic piece, then stick with darker, neutral colors that will never go out of style. Stay away from anything bright or overly patterned, and definitely don't go neon. When you're trying to add in British style, more often than not, a touch of color is enough to light up an outfit.
I tend to love a feminine, soft vibe mixed with classic pieces, so adding elements of traditional British clothing fits in perfectly with my style! Unless you want to be really classic (and also live in London) then I probably wouldn't incorporate all of these pieces at once, but almost any of these British fashion pieces are a great investment that will last you for quite a while!