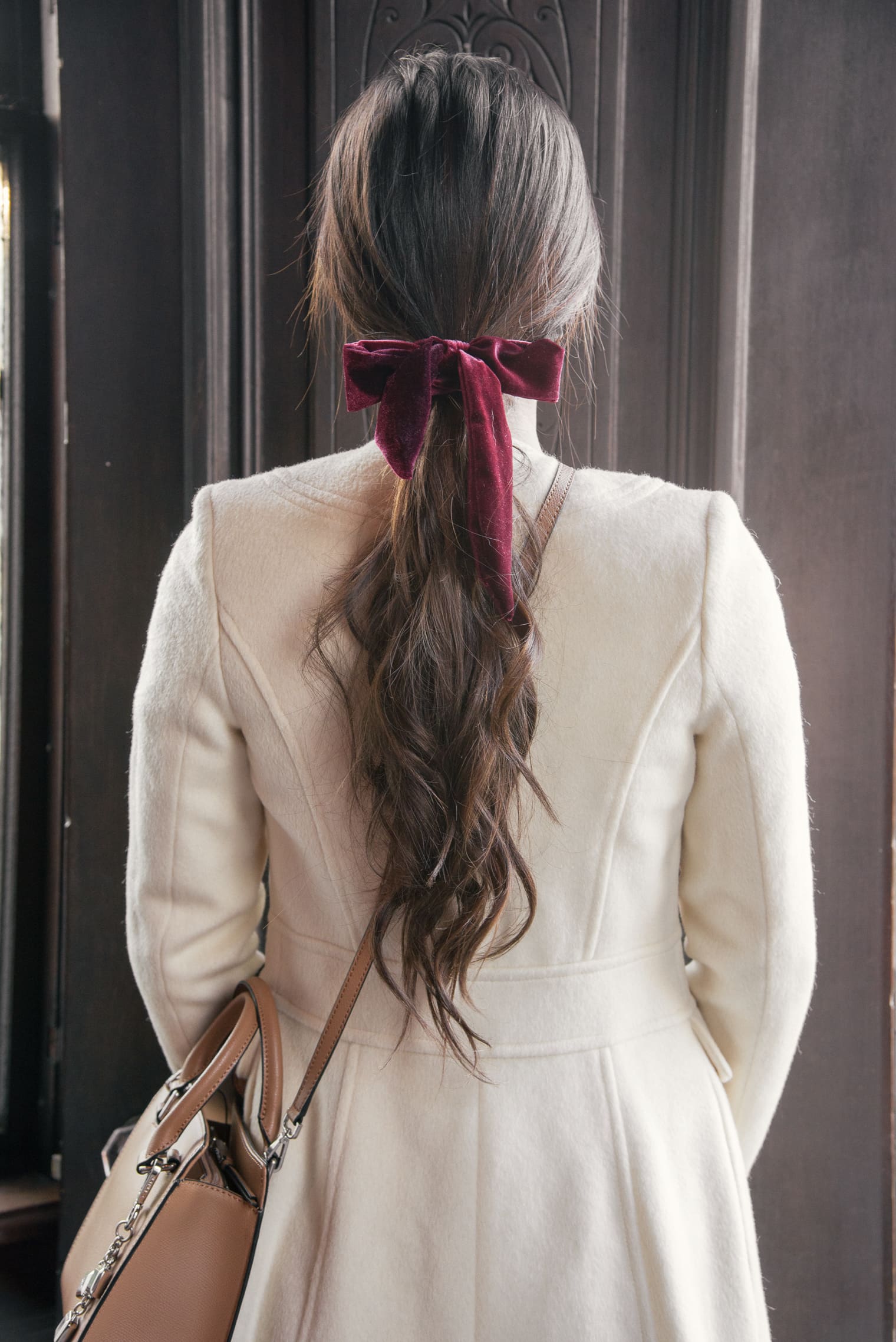 (clip in extensions)
Over the last 10 years, my hair has barely grown an inch. I've tried all sorts of hair masks and vitamins and even switched stylists tons of times with absolutely no results.
During college, I was completely fed up with my hairstyle, so I bit the bullet and got hair extensions for short hair. I've had them for the last 3 years and just recently took them out (my hair finally started growing!), so I'm really familiar with a few types.
Keratin hair extensions, tape in hair extensions, and clip in hair extensions are all drastically different in price, upkeep, durability, longevity, and so many other ways. I wanted to give really specific reviews on everything I've learned during my journey for long here!
For those of you considering instant length, here are my long-term thoughts on each type of hair extensions for short hair, plus thoughts on what hair to use, how to find a great stylist, what you should actually be charged, the easiest hair extensions, and some pics of how my hair used to look.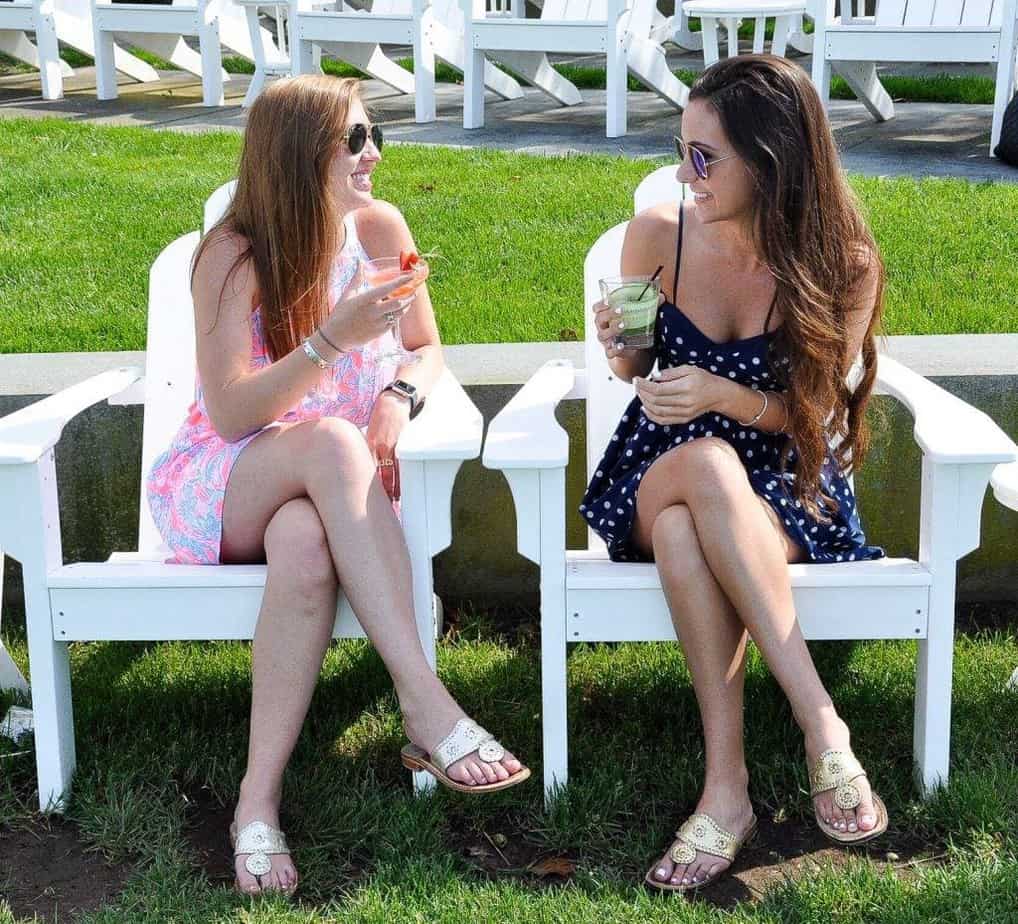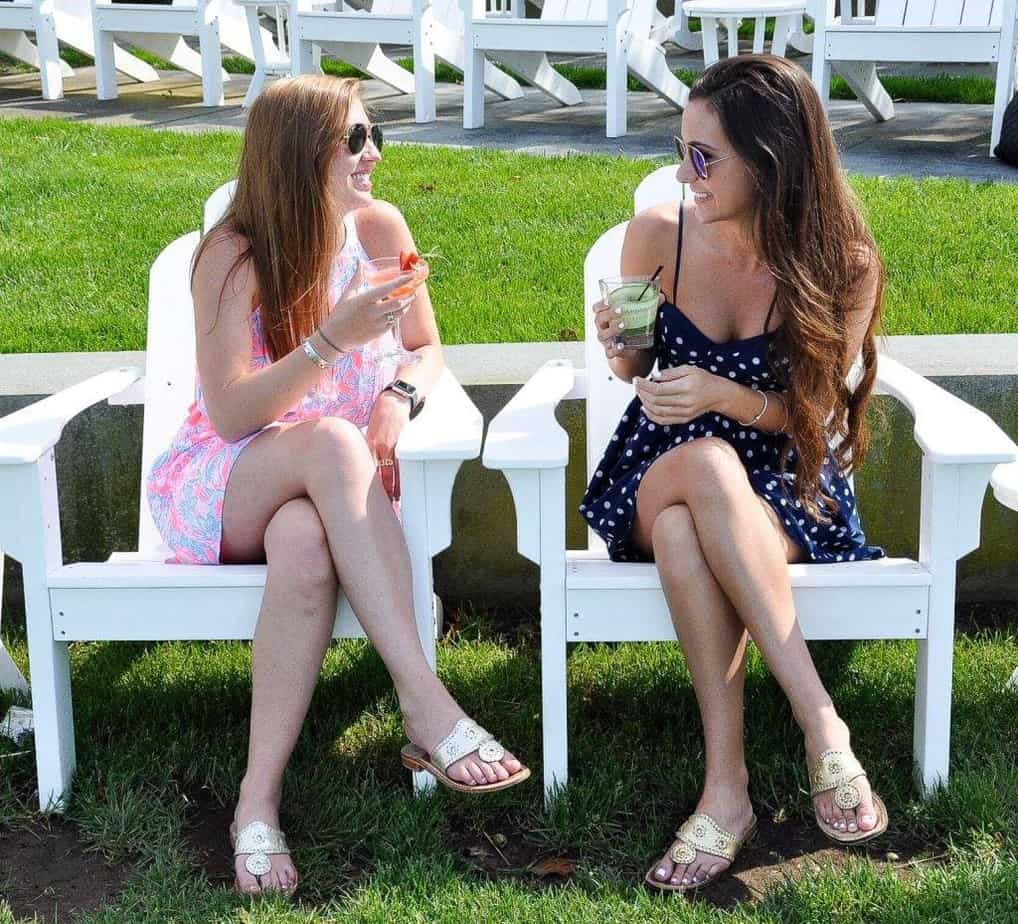 (tape in hair extensions)
Tape-In Hair Extensions
Definitely my favorite type, tape-in extensions have become way more popular in the last few years because they're pretty easy to install and don't damage your hair at all.
You basically buy a few packs (I use two) or order them through your stylist, then have them taped into your hair during an appointment that usually lasts about an hour.
They're all taped under a top layer of hair so the tape isn't visible. I also recommend taping the majority of the pieces towards the back of your head. It sounds like it would look off but this way, the extensions don't show on the side when you use a ponytail and look totally fine down as well.
The tape usually lasts about 4-6 weeks, depending on how much you wash your hair, and will either start falling out or your hair will have grown enough that the extensions are visible.
It's a really easy process to tighten them – it usually took my stylist about an hour. They're a bit of upkeep (although not a lot more than dyeing/trimming your hair) but are a way more permanent option.
Related: 20 Different Types Of Bangs For Every Hair Texture & Face Shape
The photo above shows my last set of tape in hair extensions, when I had really blunt hair. They're my favorite extensions for short hair because they're so easy to apply seamlessly!
Lastly, the tape in hair extensions cost is generally lower, although there are more charges every few months for upkeep (I'll discuss cost more towards the bottom of this post).
Pros: There's usually no damage to your hair, the extensions lay pretty seamlessly on your head, you can purchase the hair yourself, and the initial investment is often a lot less.
Cons: You have to re-purchase the hair every 4-6 months (it gets dried out, short, and stringy) and the tapes need to be retightened about every month, so you'll probably end up paying a lot over time.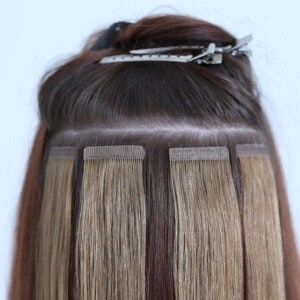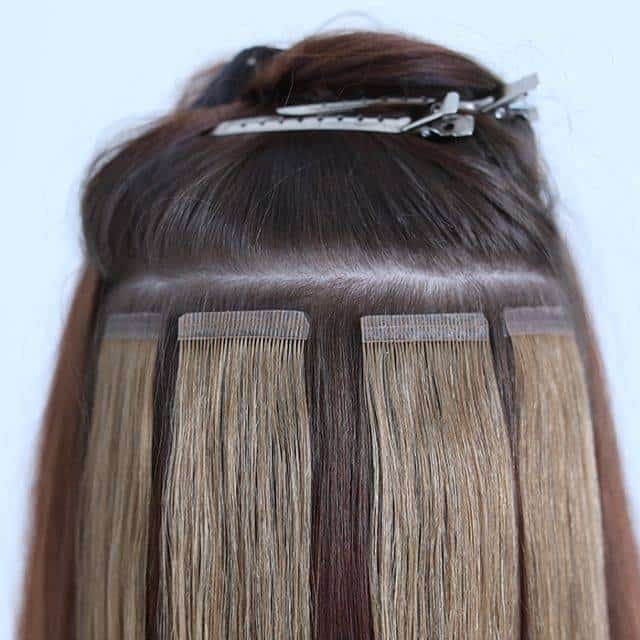 (tape in extensions)
Fusion/Keratin Hair Extensions
My very first extensions were Keratin bonded and I was completely obsessed with them. I realized later that even though the bonds lasted for almost 6 months, they did quite a bit of damage on my hair.
The breakage was visible for the next 6 months, which was not great because I already hated my short hair, so the fact that these hair extensions for short hair made it worse didn't help.
The process takes about 3-4 hours and is pretty pricey. The stylist will wash and dry your hair, then use a heated tool (similar to a flat iron) to bond each little strand of extension hair to a small piece of your hair.
If you need your extensions to stay put for a long period of time, Keratin Bonds are the way to go.
For example, I'd recommend doing keratin extensions before your wedding because they're sure to hold up throughout the festivities and honeymoon. If you're looking for a more permanent solution, keratin extensions will definitely do damage to your hair over time.
Pros: Fusion extensions last for about 6 months (during which time you literally don't have to do anything) and the bonds can't really been seen when your hair is up.
Cons: The bonds are so strong that they can do a lot of damage to your hair, you can end up stuck with bad/frizzy extension hair for 6 months if your stylist isn't really good, and the upfront cost is sometimes huge.
Clip In Extensions
My most recent hair extensions have been clip in extensions, and I was shocked at how much I liked them.
I first purchased Barefoot Blonde Hair in the Sweet Cola shade after seeing all the hype on Instagram.
I had absolutely no idea how to use extensions, but once I figured out that you have to snap the click in and out while applying them, I was hooked.
You can use as many wefts of clip in extensions as you'd like. Before I cut my hair into a blunt cut, I used less and it was very easy to hide my real hair length.
Now, I use almost all of the wefts, which makes for pretty thick hair, but it's worth it to achieve a truly seamless look.
You can order a color tester for free on the Barefoot Blonde Hair site if you're unsure. While I haven't tried other types of clip in extensions, I can easily say that the quality of these ones was comparable to any other real hair extensions I've gotten.
Not only are clip in extensions easier to use, but you get to take them out at night to sleep (thank GOD) and the hair extensions cost is significantly less. If you like having your regular hairstyle and using clip in extensions occasionally or even just during the day, I highly highly recommend clip in extensions!
Pros: Very affordable, easy to use and upkeep, amazing hair quality (tons of value), can be worn as little or as much as you'd like, look very similar to tape in hair extensions but have far less upkeep, can achieve any specific thickness that you'd like on a given day
Cons: Must be taken out at night, can't shower with them in your hair, less color choices available (mine matched perfectly but I definitely got lucky), no way to trim the bottoms so they're perfectly straight, difficult to put into a ponytail (you need the up extensions for that).
If you're curious about clip in hair extensions, check out my full review on Barefoot Blonde!
If you couldn't tell, tape in hair extensions and clip in hair extensions are by far my favorites. For more permanence and more upkeep, I'd go with the tape in extensions, otherwise clip in extensions are the way to go, but they're less permanent.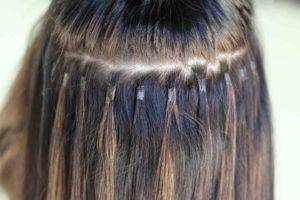 (keratin extensions)
Finding a Stylist
Be REALLY careful of stylists who tell you that the tape-in method will take over 3 hours – they take at most an hour and a half to install and shouldn't cost a ton since you'll be tightening them almost every month.
This even goes for hair extensions for short hair (some stylists will claim they're harder to do).
It's important to find a stylist you like for tape-ins since you'll be seeing each other so frequently. I recommend using Style Seat (there's a website and an app version) to find stylists who work on their own. Most salons will way overcharge for far worse results.
To get Keratin extensions, I went to a salon on Newbury Street in Boston that ended up being really great. I don't know that many stylists who freelance bonded extensions, although it's certainly worth a look on Style Seat in your area.
Otherwise, researching Yelp reviews for high end salons is probably your best bet. It'll be a little costlier, but I think it's worth it because the salon will most likely insist on purchasing the hair for you, so you want to make sure you have a quality product (it'll last for 6 months so this definitely isn't the time to skimp).
Obviously, you don't need to find a stylist for clip in extensions, but I do recommend reading some reviews before purchasing.
Buying the Hair
If you're looking to buy your own hair, I recommend Babe, although keep in mind that any extension hair is going to tangle a lot and be generally hard to deal with because it doesn't get the benefits of natural oils from your scalp like your own hair. Babe is the easiest hair extensions brand, but all of them are a little tough.
The best hair extensions for short hair will be a little on the thinner side and not super long. If you have short hair but want really long hair extensions, then I recommend asking your stylist to layer them so they look natural.
Hair extensions for short hair can be tough to blend in, so do some research on your hair type or even look up videos on Youtube to see how beauty bloggers do hair extensions for short hair.
ALWAYS purchase human hair – synthetic hair will melt almost immediately using a curling iron or straightener and is absolutely impossible to untangle after you shower.
Extensions can be really hard to dye, so try to match the color to your hair if possible, and ask your stylist to do a small trim so they blend in with your own locks. If you're going with a stylist who sells you the hair, ask him/her what brand is used and do a lot of research before you purchase.
Upkeep With Hair Extensions For Short Hair
Once you get used to them, extensions aren't the worst things to take care of.
Tape in extensions can be brushed relatively normally and heated tools don't really affect them, but you do have to be careful to not get any type of conditioner or oil near the tapes or they'll slip out. The top of your hair will get pretty dry. I would put a leave-in conditioner just on the outside top layer to avoid the tapes but keep some moisturization.
Clip in extensions act similarly and are also easy to deal with. You do have to wash them occasionally (I do it quickly in the sink and dry them off with a blow dryer on low heat) but I honestly wash mine once a month and they hold up.
Alternately, Keratin extensions can have basically any product slapped on them, but the bonds can't be brushed roughly or be touched by any heat tools, so you have to work around them in those areas.
Extensions are wayyyy more temperamental to season and temperature changes than even normal frizzy hair, so depending on where you live you might be in for a lot of daily maintenance. Check out this post for my tips on how to deal with hair (especially extensions) during the winter.
Price + Hair Extensions Cost
The hair and installation for tape-ins shouldn't cost more than $400-$500. Expect to pay anywhere between $40-$100 for each tightening, but not more than that.
Keratin extensions are more pricey off the bat ($500-$1000 total) but that's a one-time cost.
The hair extensions cost for clip in extensions is generally much lower. I paid about $175 for the hair at the time and have had absolutely zero upkeep so far.
I also purchased clip in extensions to wear with a ponytail or messy bun, and those cost about $120. It was still under $300 total for real hair extensions for short hair, so that's a win in my book!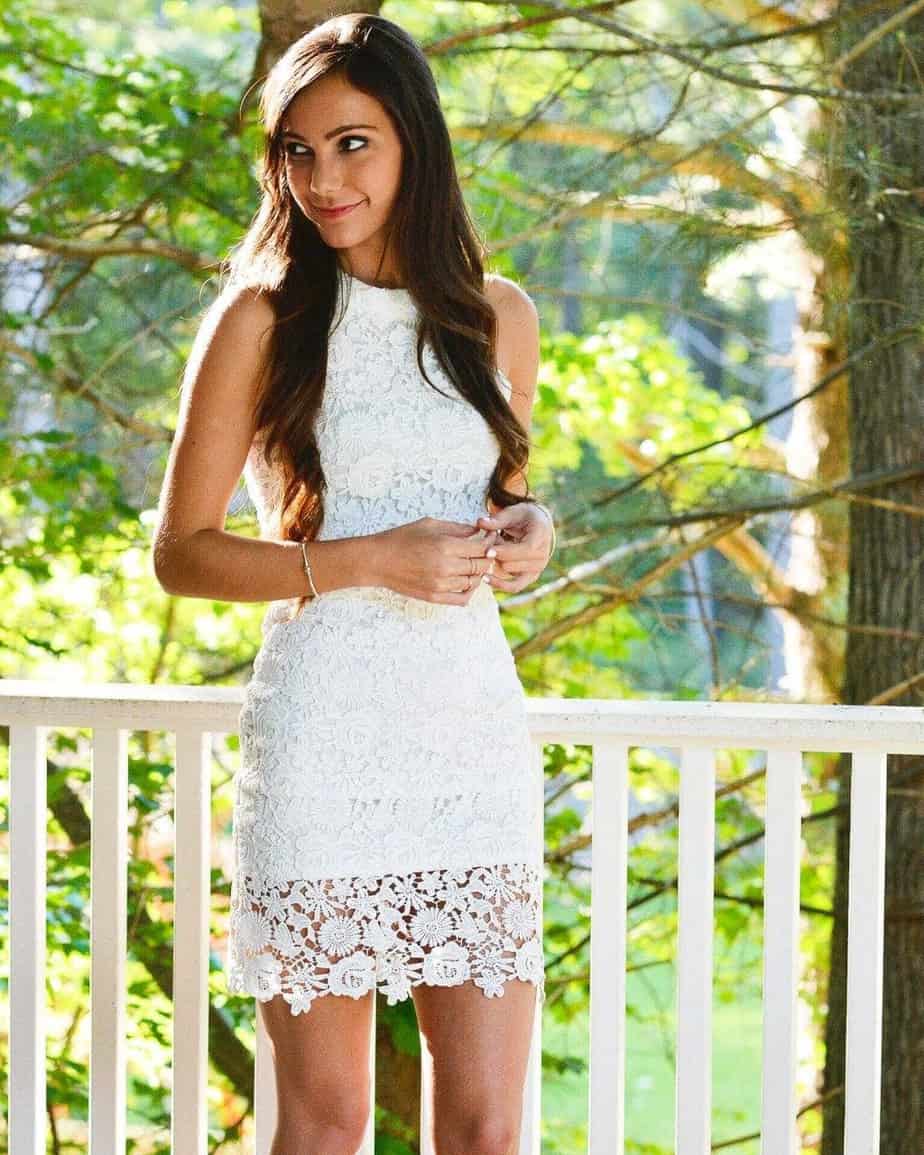 (keratin extensions)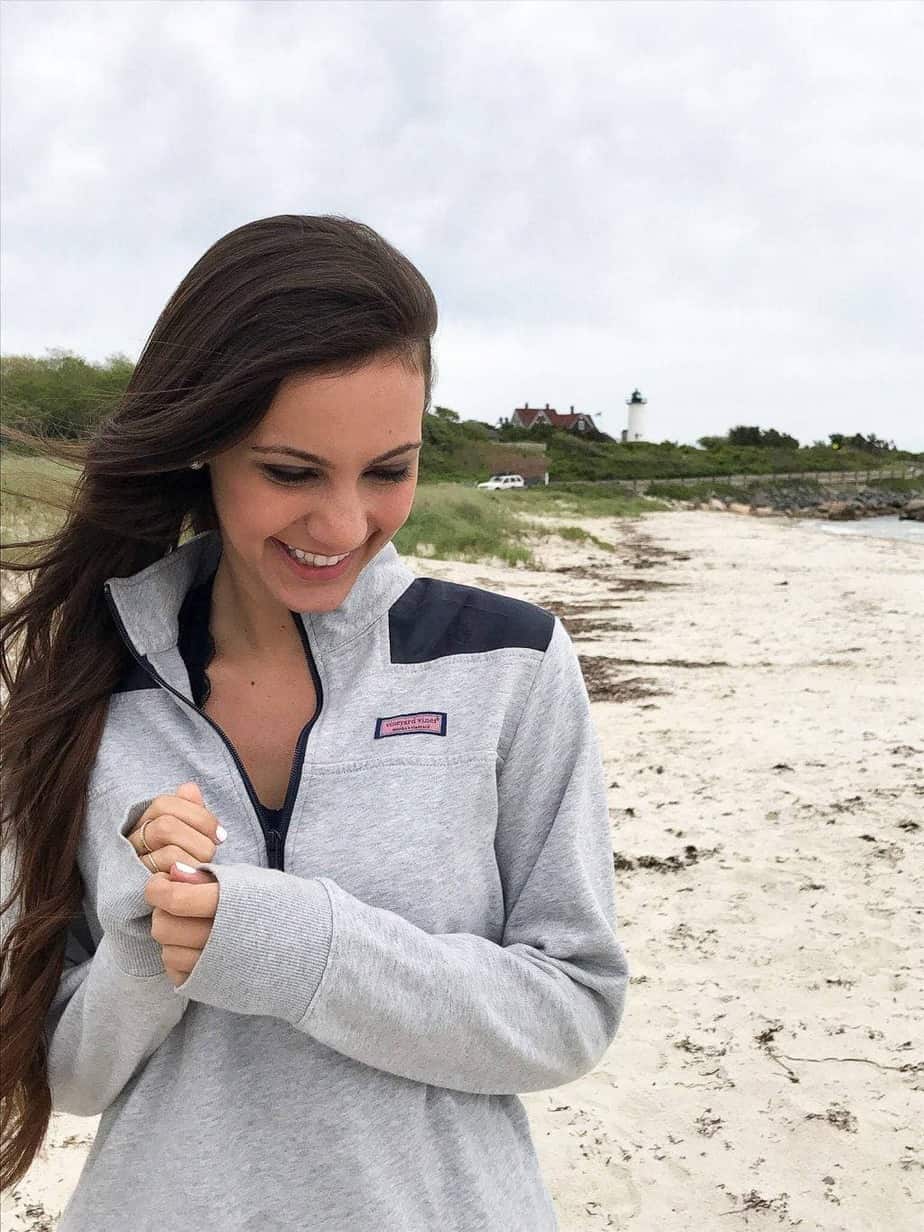 (tape in extensions)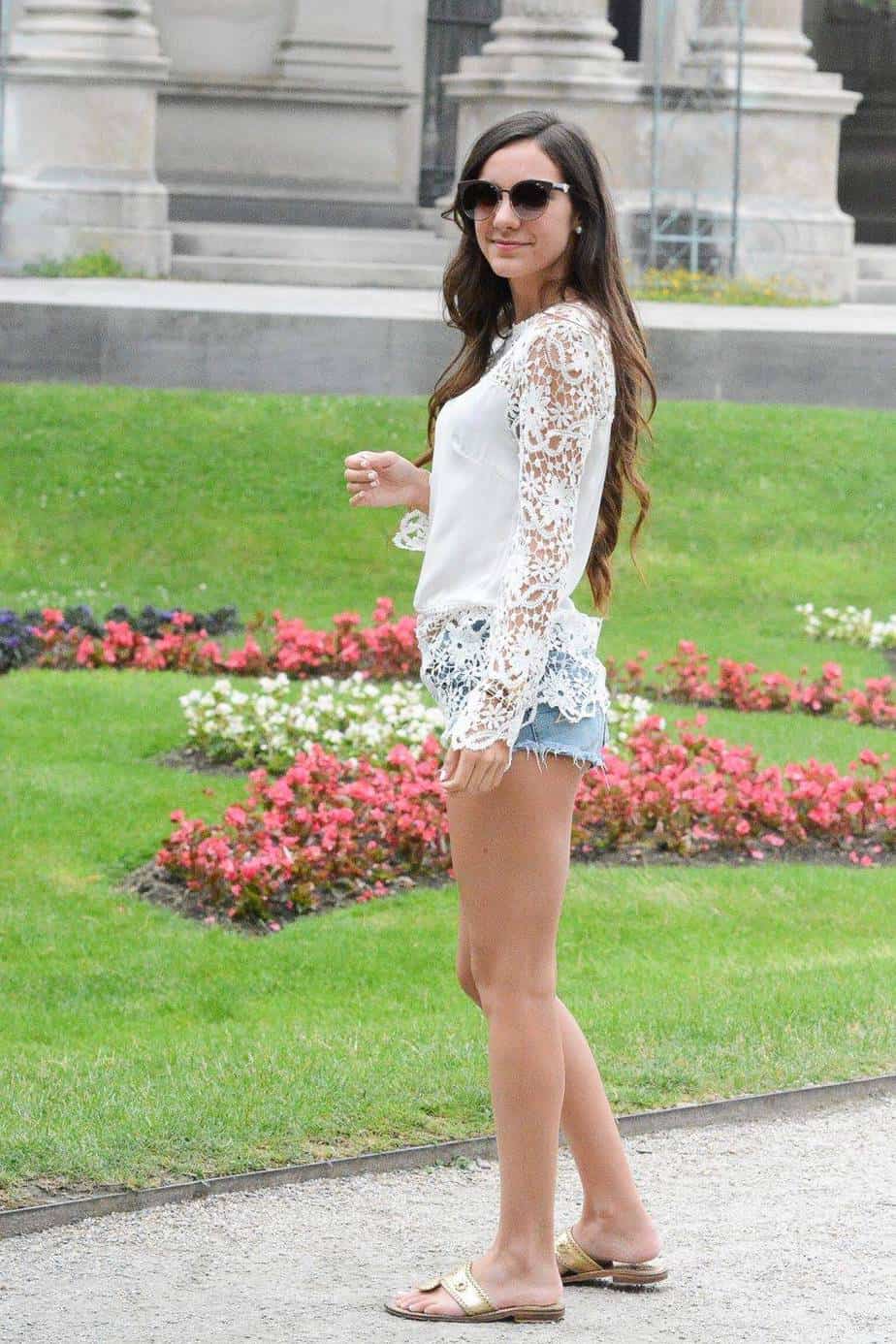 (keratin extensions)
Here are some of my favorite tools to use with hair extensions for short hair:
Double Sided Tape: great to have when tape in extensions falls out in a bad spot and you want to stick it back in yourself
Keratin Glue Remover: sometimes one strand falls out but leaves behind cement glue: this stuff gets it right out!
Extension Brush: you have to use a certain soft brush for extensions, and this one is as good as the expensive one you'll get from your hairdresser
Biotin Shampoo: the safest bet for extensions and amazing for your real hair too!
Moroccan Oil: only use this on the bottom of your tape-ins or they'll fall out, but it's pretty necessary since extensions dry out like crazy
So there you have it – all of my tips from my experience getting hair extensions for short hair. I love, love, love extensions and highly recommend both methods to anyone who isn't happy with their current hair length.
I do recommend doing a bit of research before deciding on a type and thinking about what works best for your lifestyle.
If you're able to find a good stylist/salon, the price can even be somewhat comparable to what you would otherwise spend dying/cutting your hair! I'm happy to answer any additional questions in the comments for via email!
Related Posts: