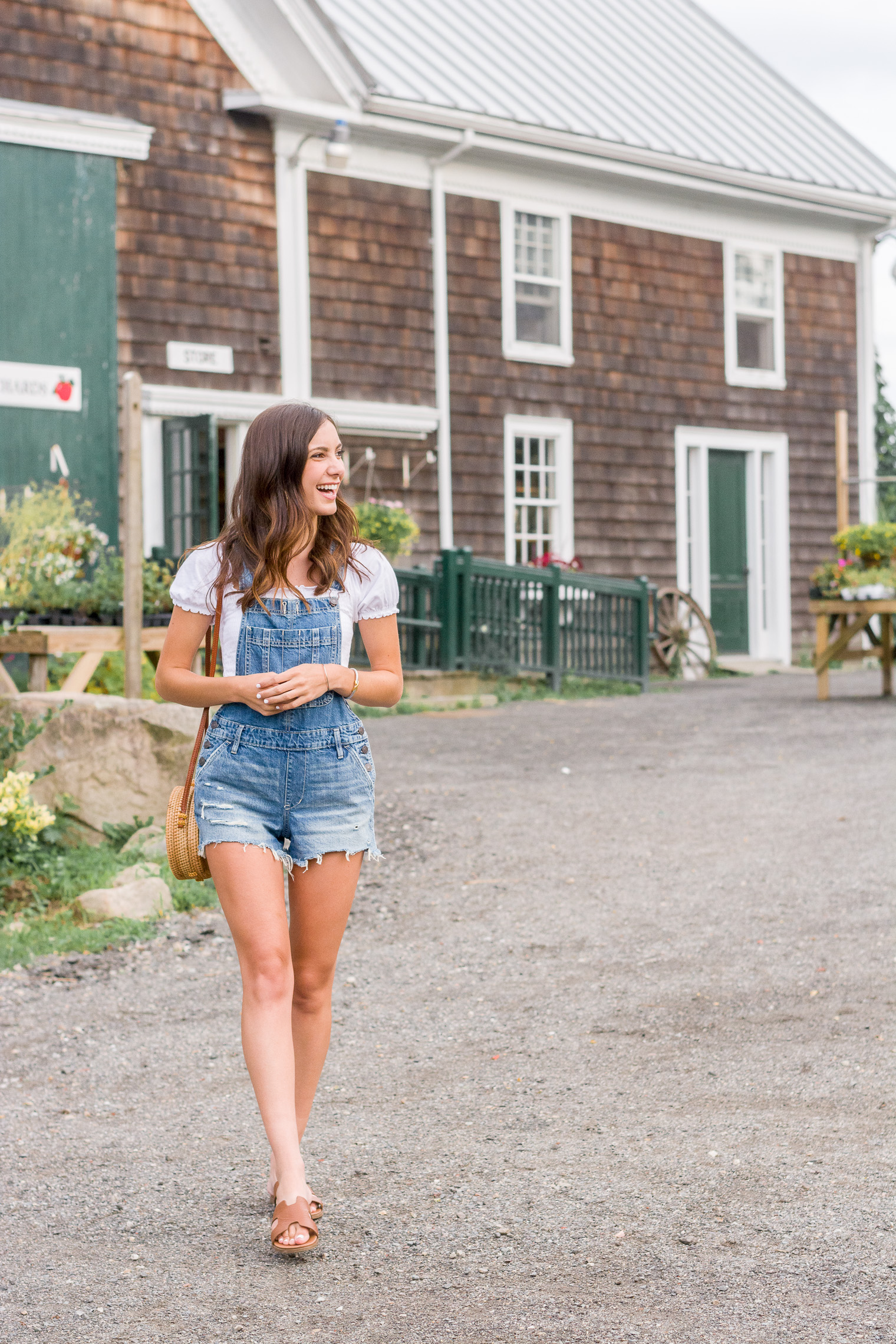 Overalls are a really specific item that I always avoided in the past. I didn't really know how to wear overalls, and I felt out of place wearing something that's less than typical.
This past year, I've been experimenting with how to wear overalls and have realized how much I absolutely love them.
Firstly, overalls are always casual, but they instantly make the outfit a little trendier than if you chose shorts or jeans.
They also give off the vibe that you know what you're doing fashion-wise.
Lastly, when I'm trying to figure out what to wear under overalls, it literally takes no time because almost everything in my closet can go under a good pair of overalls.
I wanted to put together a simple article that gives lots of examples for how to style overalls. I hope this helps you get an idea of not only what to wear under overalls, but also where you could wear each type of outfit.
Related Posts:
How to Wear Overalls Shorts

I personally find that overalls shorts are great to have in my closet during the summertime. They're on the casual side but can be styled in a variety of really cute ways.
If you're wondering how to wear overalls, I recommend starting with overalls shorts: they're the easiest to style multiple ways.
Upscale Neutrals
I have a ton of peasant blouses and love putting one in a neutral color under my overalls shorts. It makes the outfit sweet and sassy at the same time.
You could easily wear this outfit to a farm (where I wore it for a wine tasting) or a nice outdoor restaurant!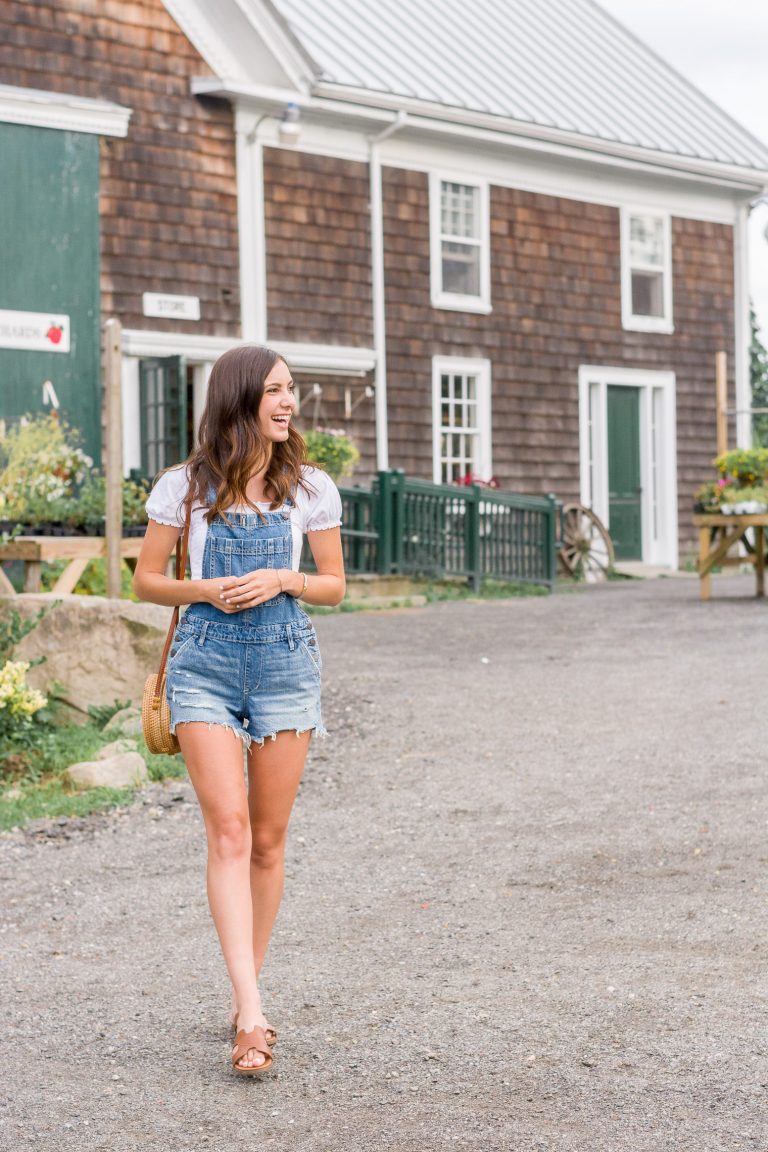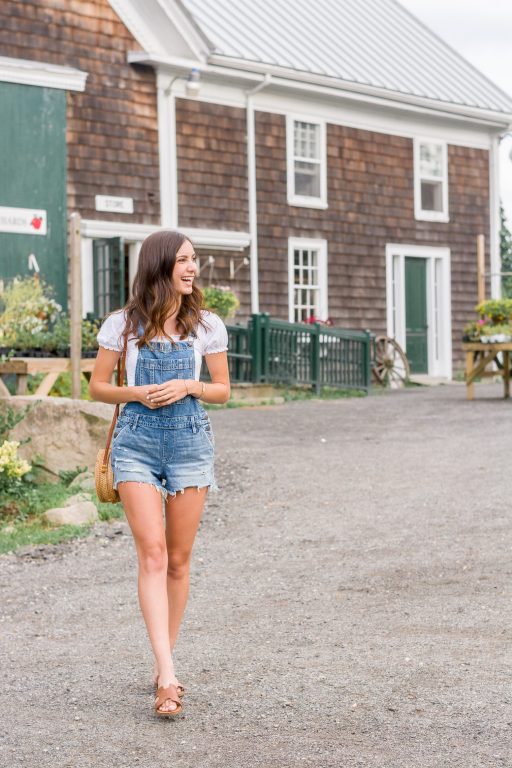 Most of the pieces in this outfit are really typical items that are on-trend right now. It's easy to find great neutral items in your closet and put together a simple yet pretty outfit.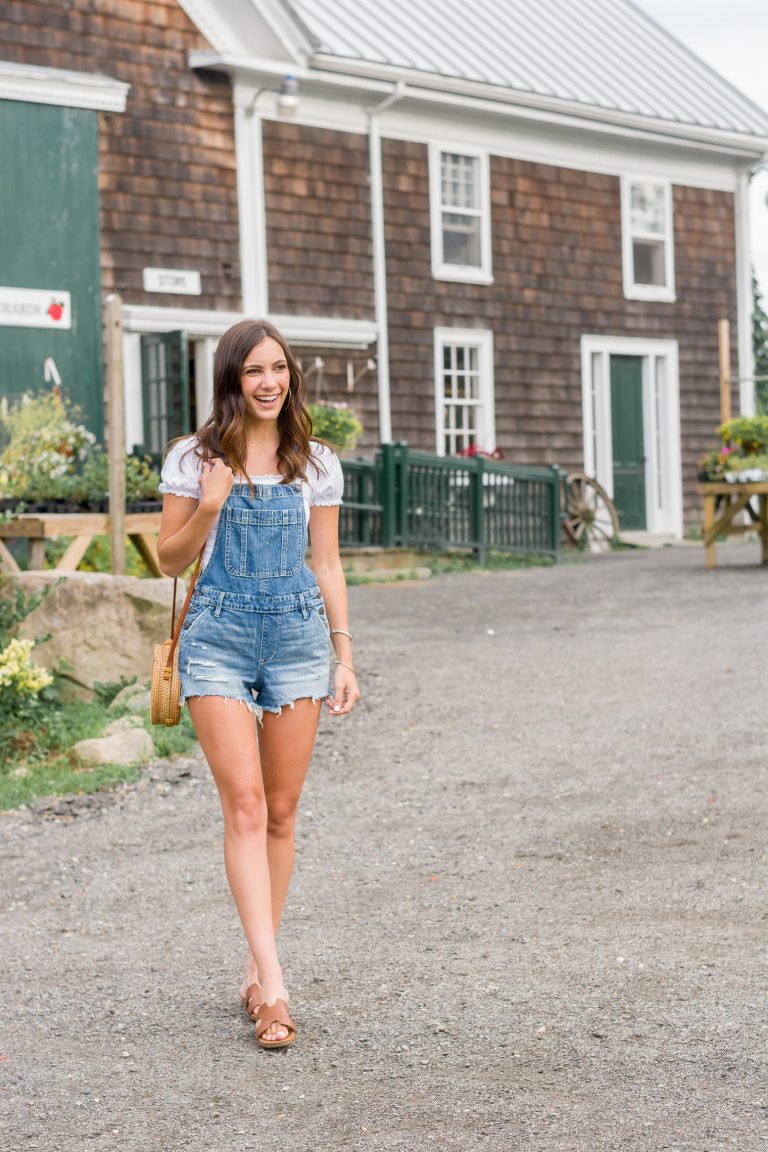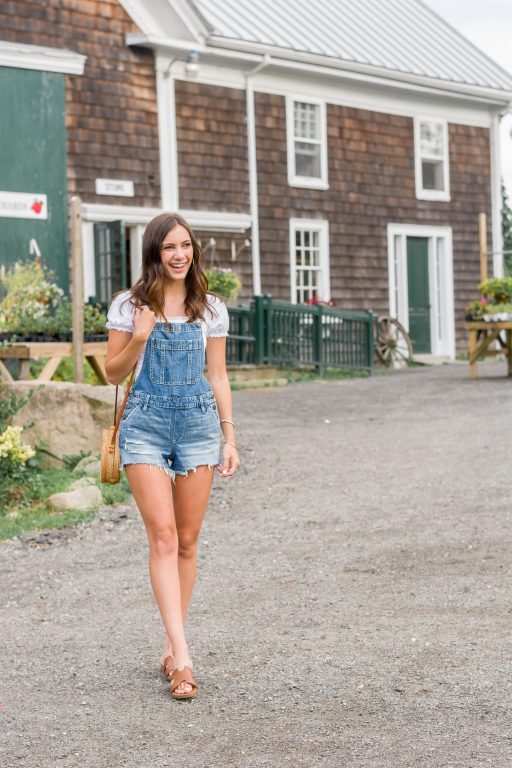 For a neutral outfit, I recommend pairing a pretty blouse with brown or tan shoes and a matching purse. Hoop earrings (or any earrings on the larger side) work well to add a little bit more of an upscale vibe to an overalls outfit.
Top // Overalls // Slides // Purse // Hoops
Boho Color
If you want a boho vibe that's a little more colorful, I recommend finding a colorful patterned blouse to put under the overalls shorts.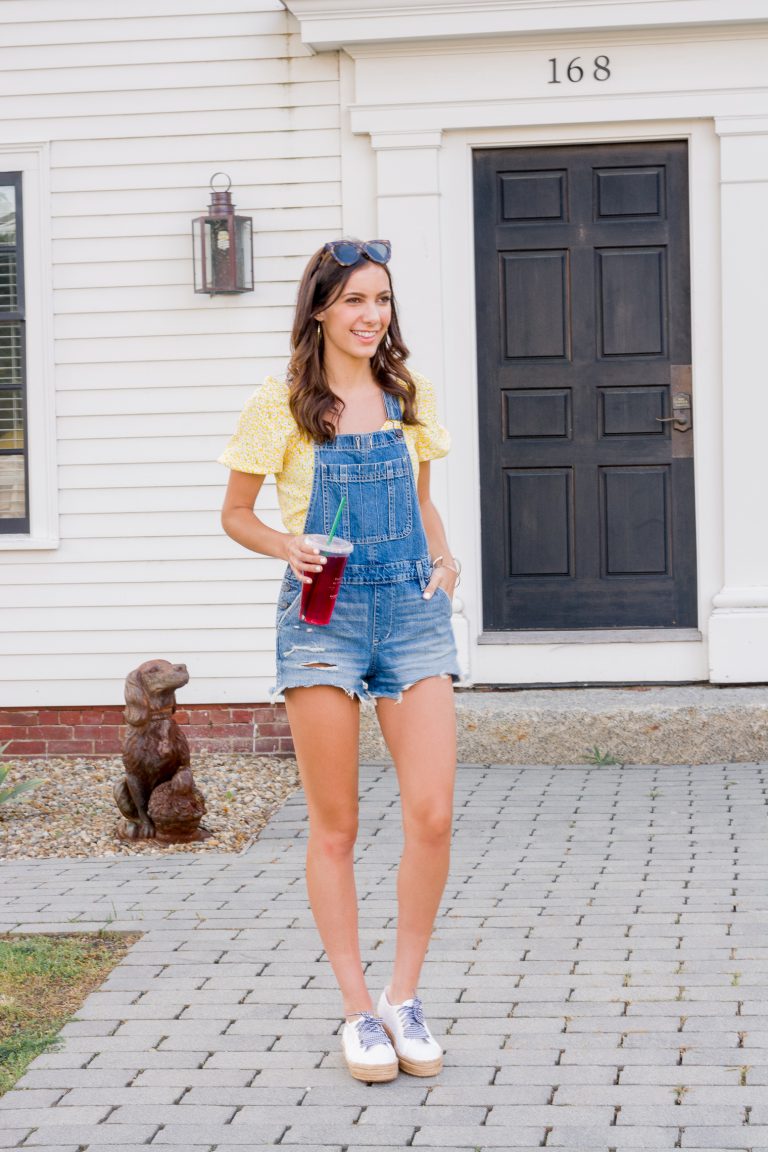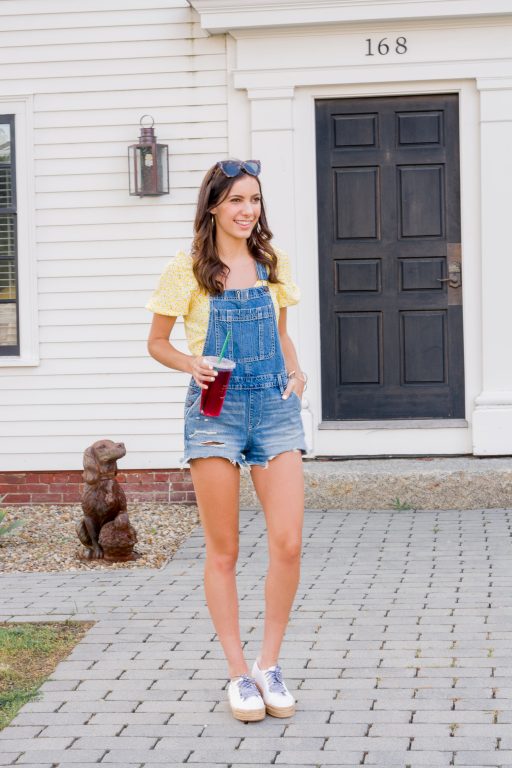 This flowery yellow shirt was perfect because it spoke to the prarie trend but was boho at the same time. These sneakers also made the outfit sweet yet casual.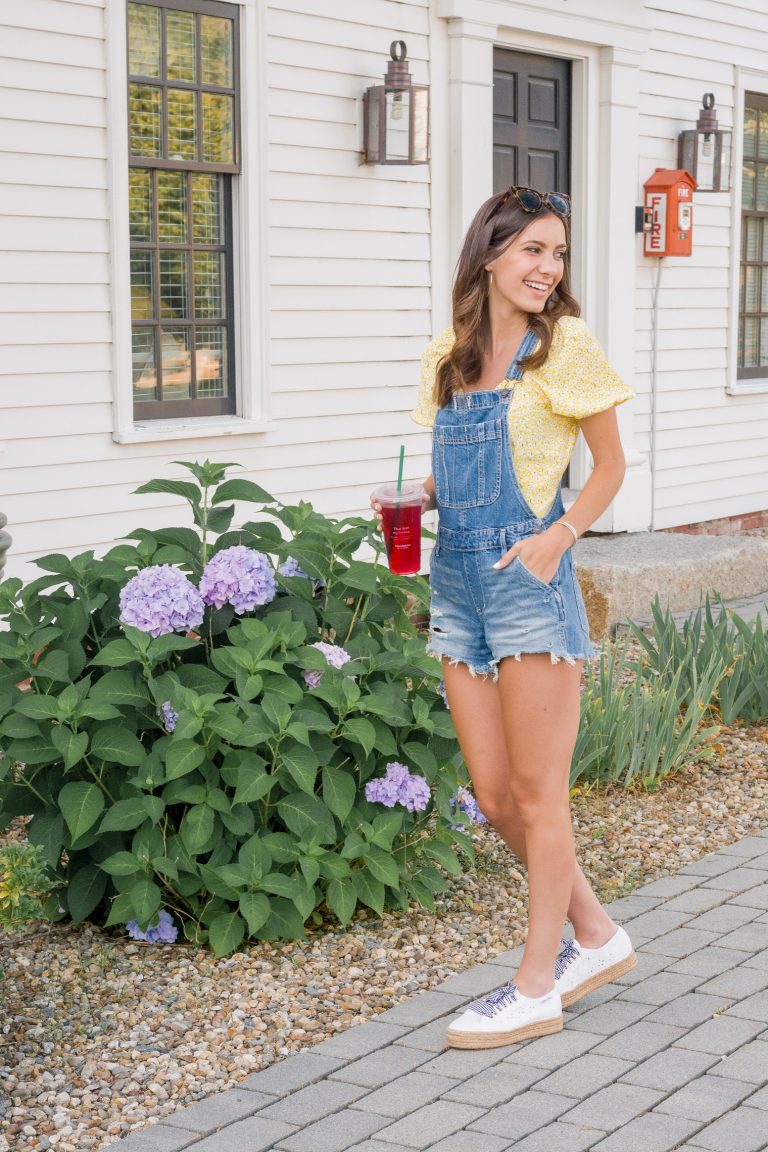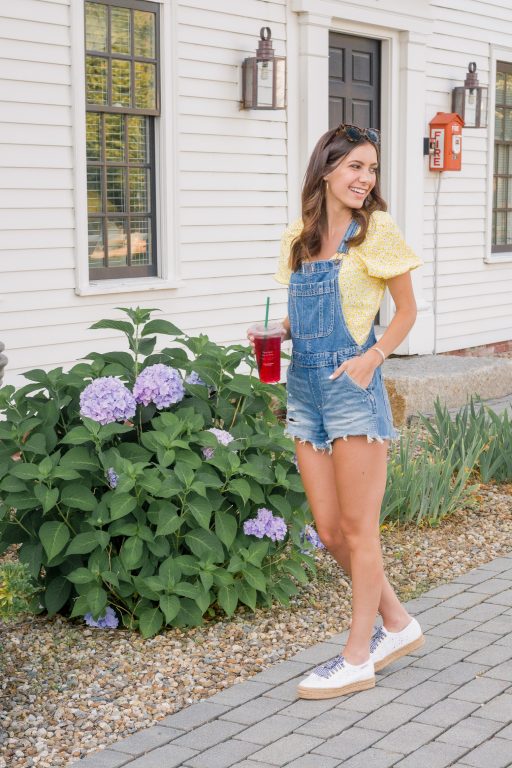 This is an easy daytime outfit that would be simple to replicate with items in your own closet.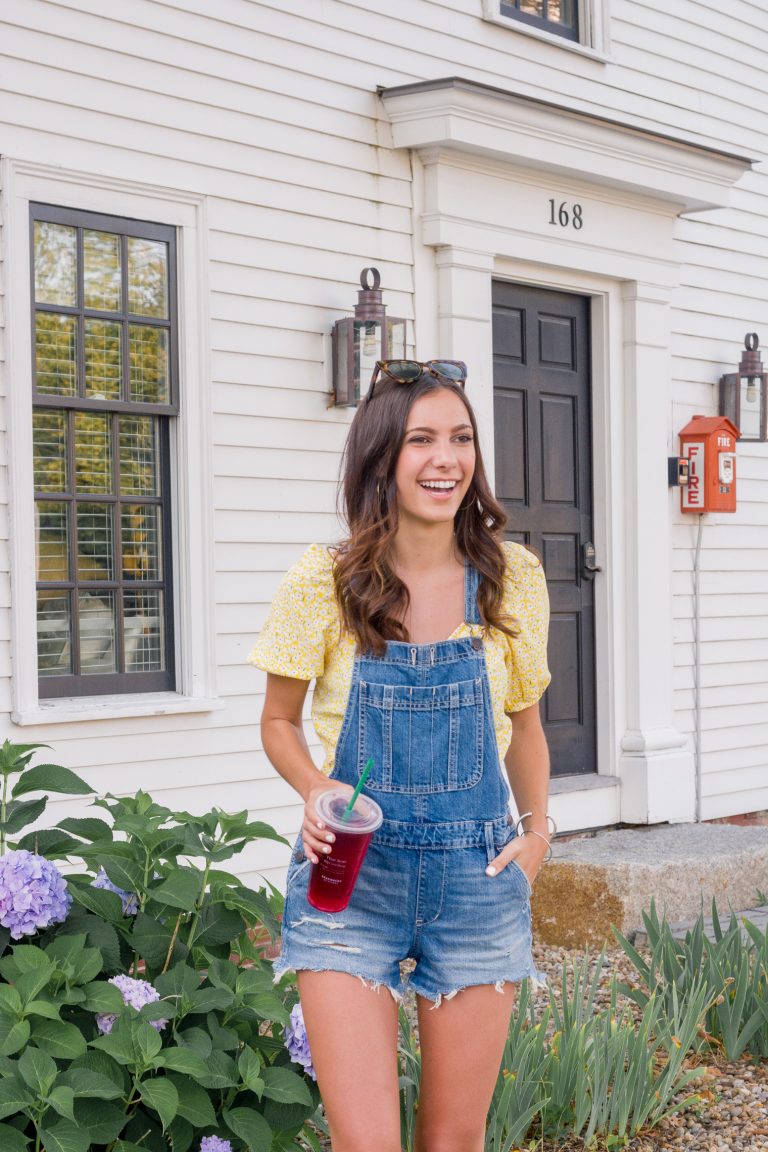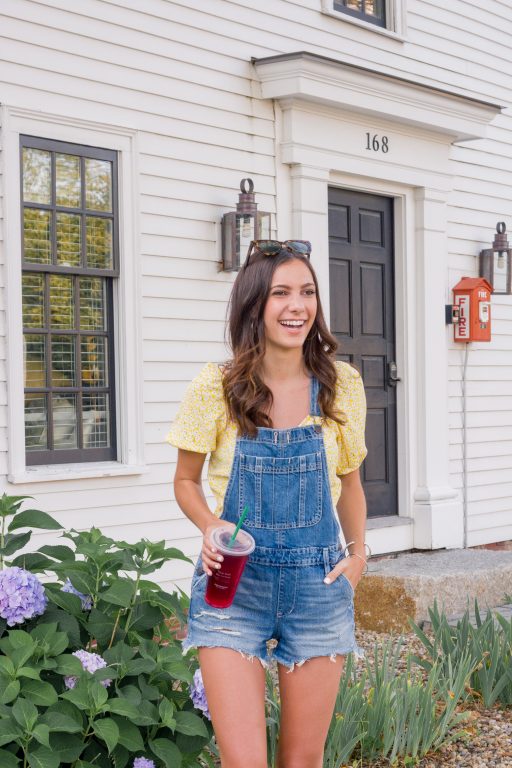 Overalls // Top (similar) // Glasses // Sneakers
Casual
A fun, casual outfit with overalls shorts is great for daytime or for any type of concert or tailgate. We always see at least one country concert during the summer and this is an easy go-to!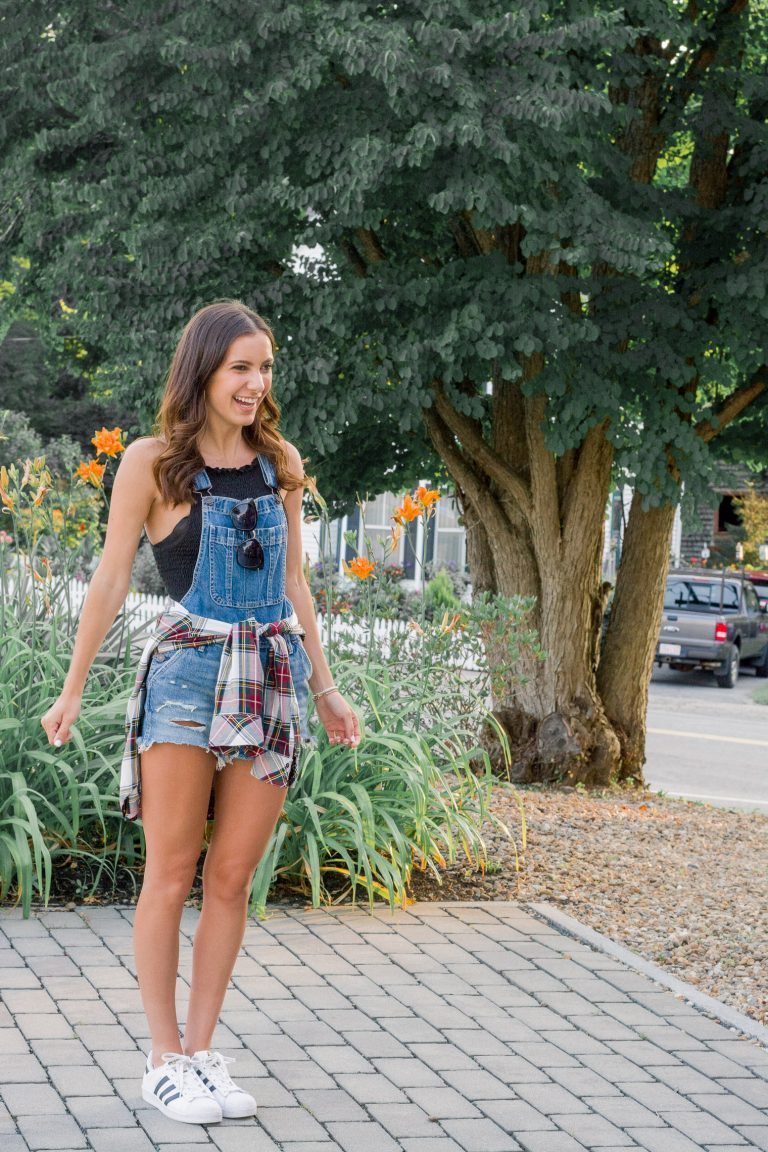 I paired these overalls shorts with a simple black cropped tank, a flannel tied around the waist, Adidas sneakers, and black sunglasses.
You can easily switch any of these pieces out for items you already own and create a really fun and on-trend concert or tailgate outfit.
I've also found that this look works great for any festivals, parades, farmer's markets, etc.
This is one of those outfits that you'll want to get a tan before wearing. You can also use a simple self-tanner at-home (my favorite is Loving Tan) or get a spray tan at a salon.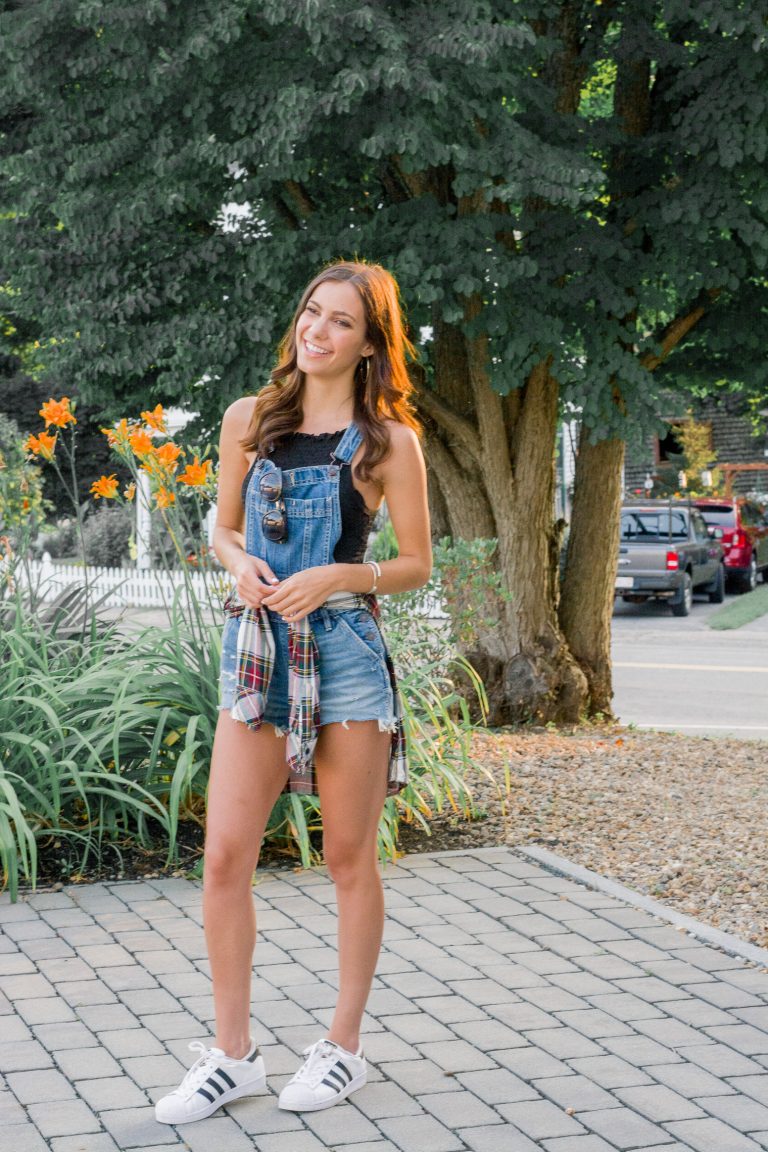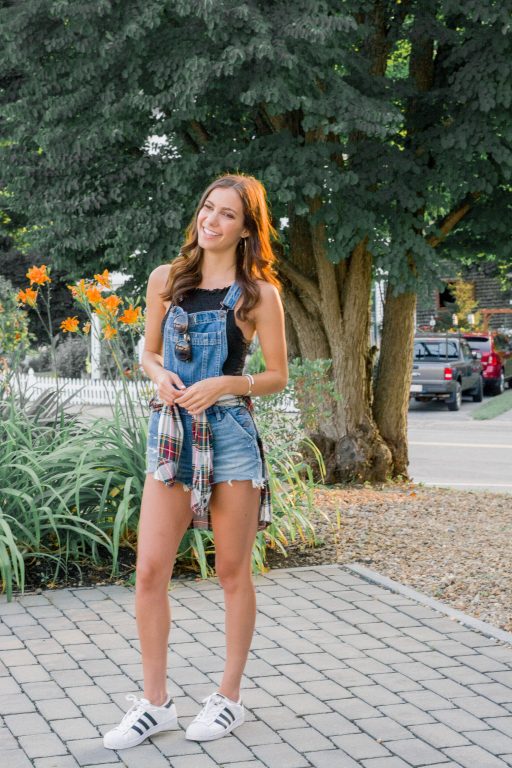 This is a great casual overalls outfit for any type of event! If you're wondering how to wear overalls for an event, I recommend going with some variation of this outfit look.
How to Wear An Overalls Dress
An overalls dress is super cute and a little more feminine than shorts. I love wearing a sweet overalls dress to dinner, to the outdoor decks in the summer, to brunch, or even to a more family-oriented event.
Unlike overalls shorts, there are so many ways that you can style an overalls dress for a lot of different seasons, mainly because you can wear tights with the outfit.
Over a Chunky Sweater or Sweatshirt
This is one of my favorite looks for any season that isn't summer. Grab your chunkiest sweater and throw it under any overalls dress and you have a trendy but super cozy outfit.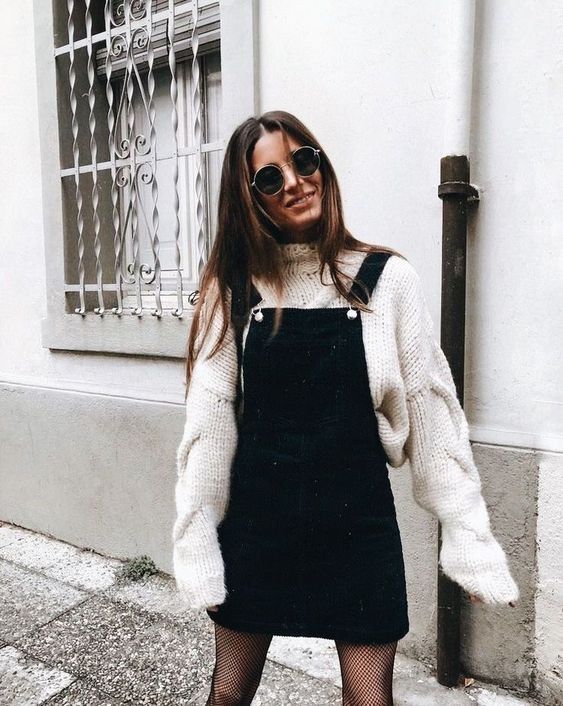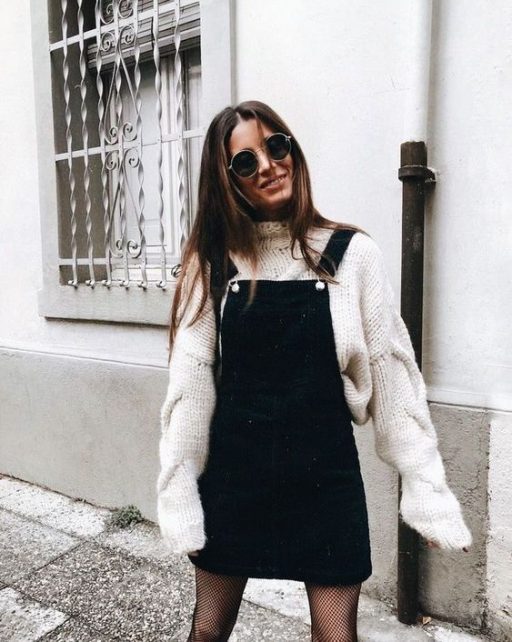 You can also pair an overalls dress with a sweatshirt instead. This makes the look a lot more casual but still cute.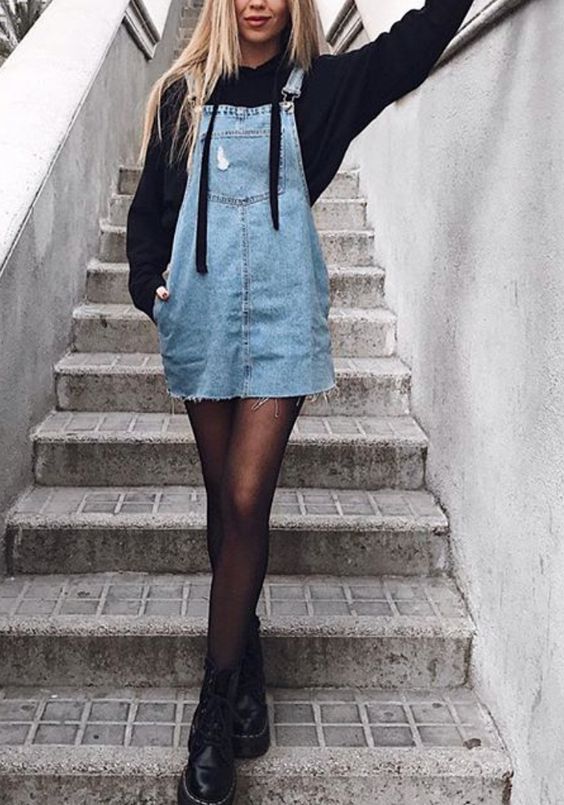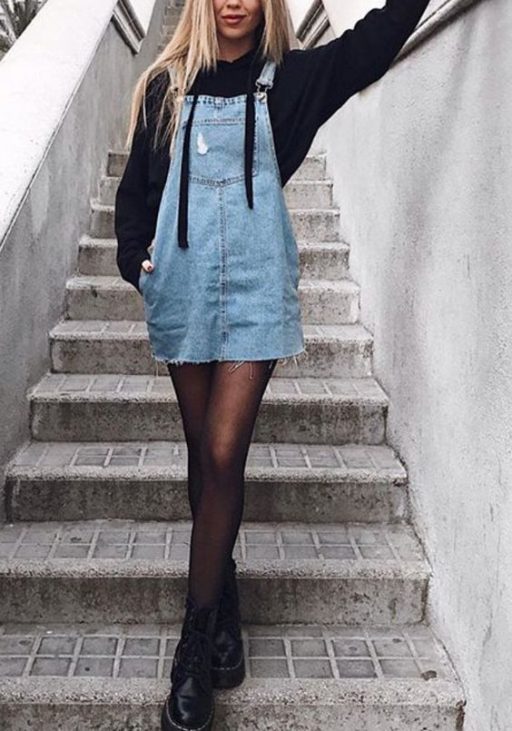 Both of these looks are shown with tights because each of the overalls dress is black, but you could do any color overalls dress, depending on what you're wearing it to and what season it is.
You can find my favorite overalls dresses here (black & blue).
Over a Tight Long Sleeve
For another casual look, try throwing on an overalls dress over a high-necked casual long sleeve shirt. The combo looks especially great if the shirt is super thin.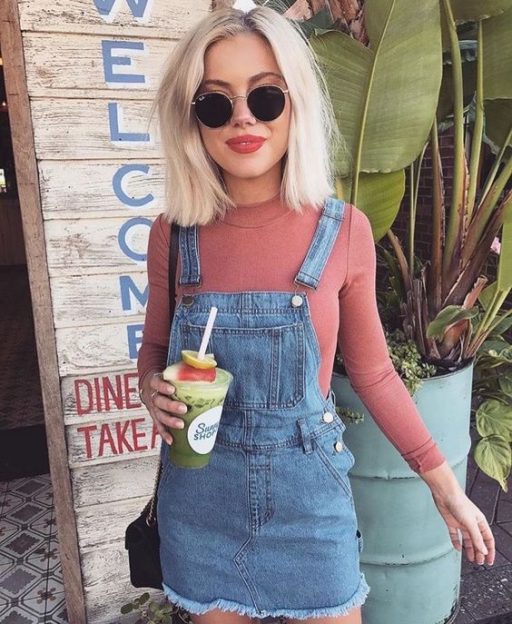 There are endless color combinations you could try for this look.
Over a T-Shirt
Similar to the long sleeve look, an overalls dress over a higher-necked tight t-shirt looks casual and comfy yet trendy.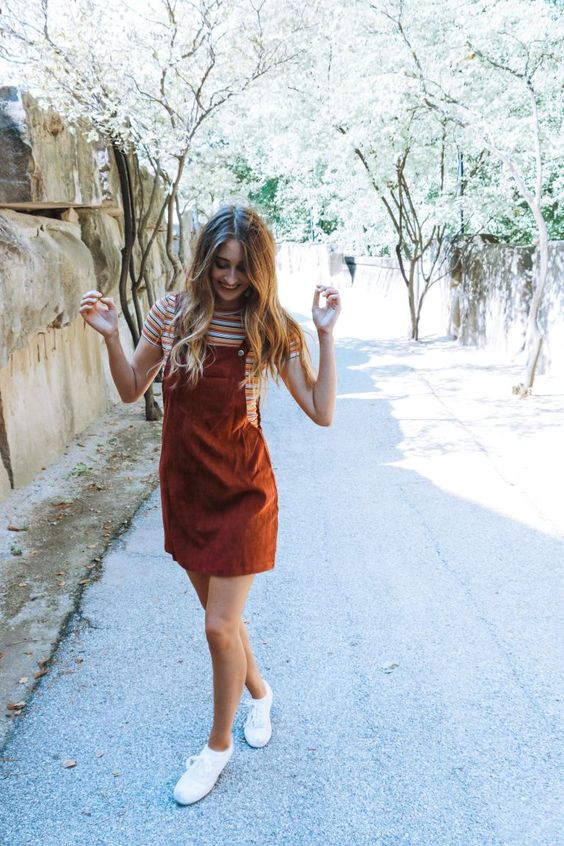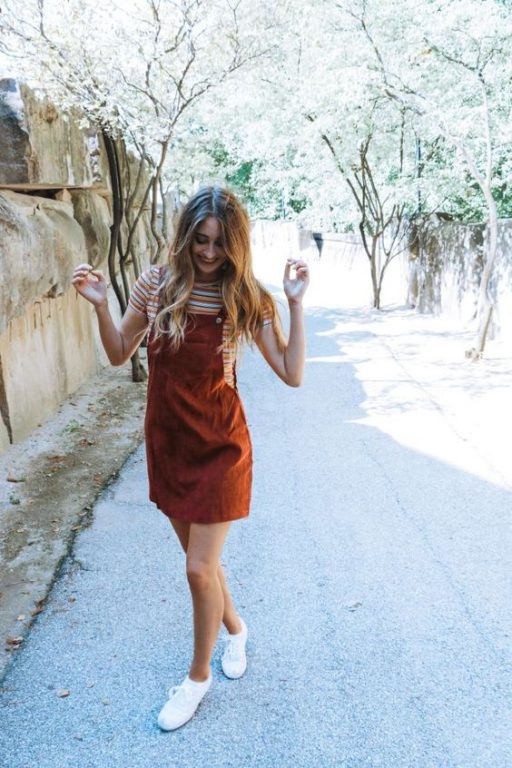 Sneakers always work well with an outfit this casual, but you could also do sandals or chunky boots with tights.
Over a Blouse
If you want your overalls dress look to be a little sweeter, more feminine, or fancier, try wearing it over any pretty blouse.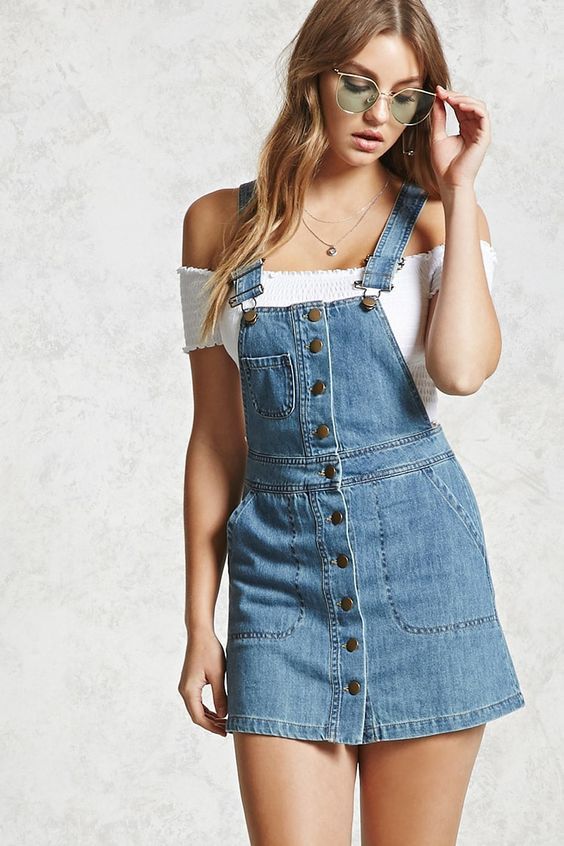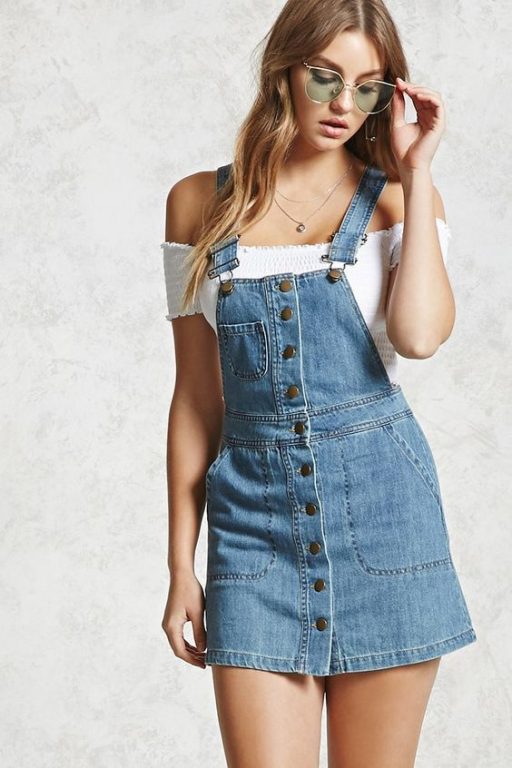 Again, this look would go with sneakers (to make it a bit more casual) or sandals (to dress it up a bit). This is a great outfit for a simple dinner date, mini golf, happy hour, etc.
How to Wear Overalls Jeans
These classic overalls jeans don't really go out of style, and for a good reason: they look great on.
Overalls jeans give off a nonchalant vibe, yet they can be styled tons of different (very trendy) ways.
Over a Chunky Sweater
This is a great fall and winter outfit that's cozy but super urban. It's also a good way to wear a sweater that you throw on all the time while making it look different.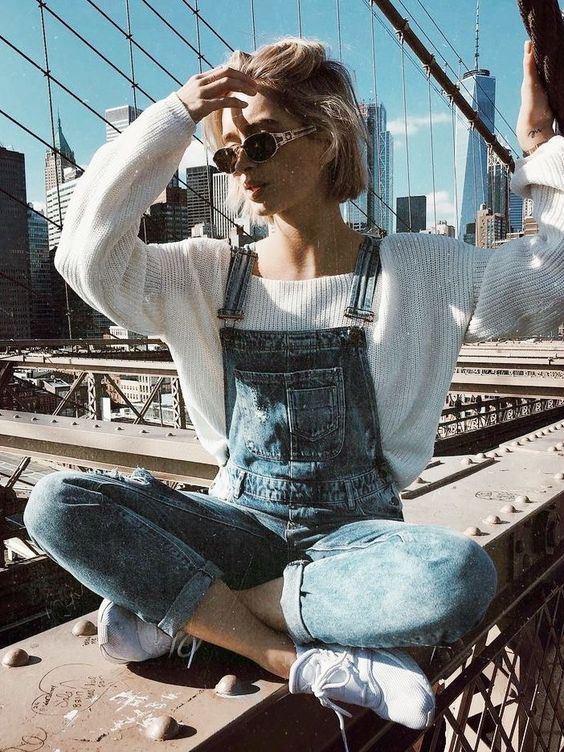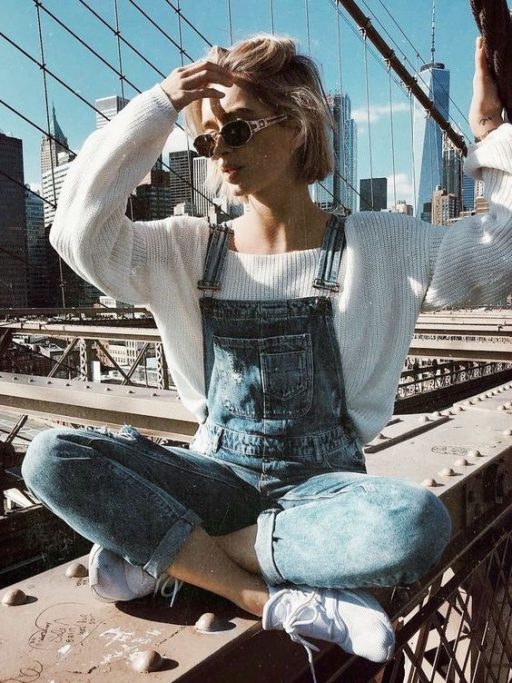 Again, you can use tons of different color combinations here. Sneakers work well, as do some booties.
With a Cardigan
This is one of the best ways to make overalls a little dressier. A fuzzy cardigan adds a softness that now allows you to wear booties, if you want to.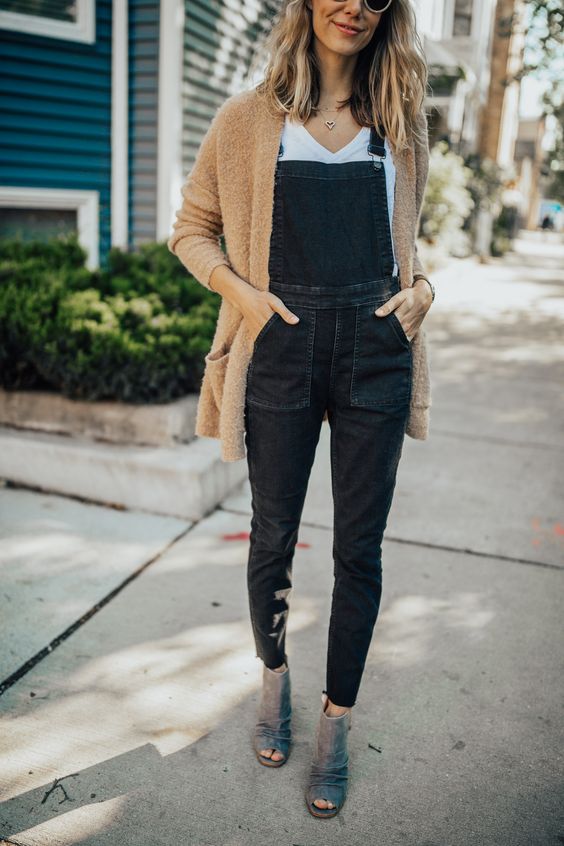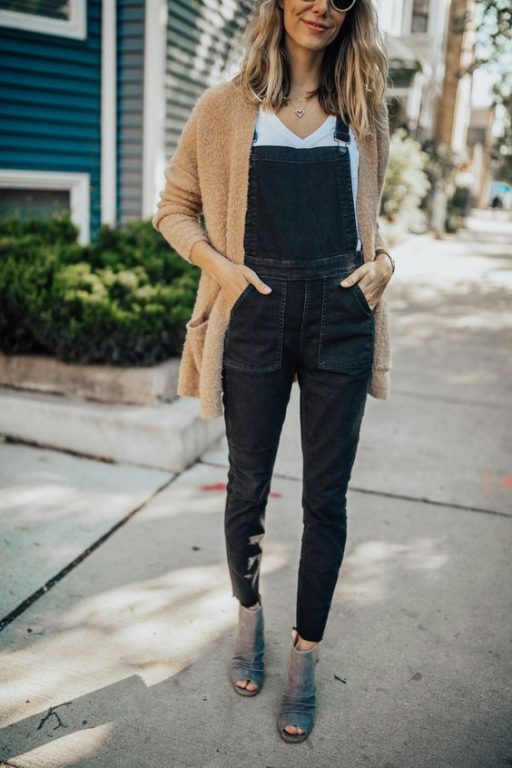 Over a Flannel
The classic overalls look never goes out of style. This is one of my go-to fall outfits that's insanely comfortable!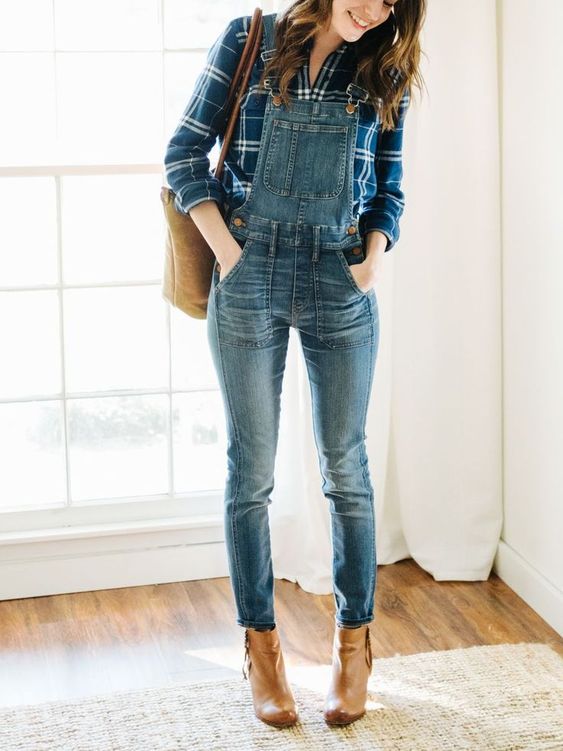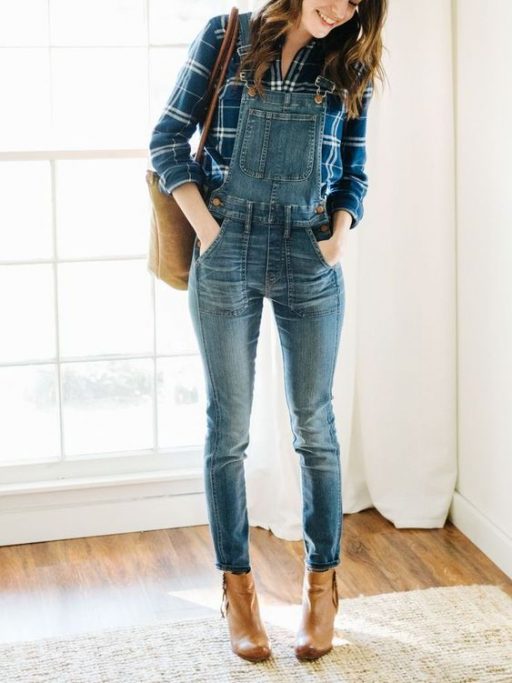 You can wear casual fall booties, sneakers, boots, sandals, etc. This look is very versatile and works well for fall and winter activities.
With a Tank
For a warm weather look, try pairing overalls jeans with a tank. It's a nice plain look that gives you a lot of room to accessorize.
Whether you're into bags, hair scarves, sunglasses, bracelets, earrings, etc., you can easily add a few fun pieces.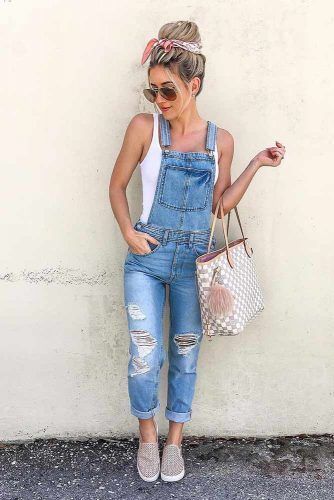 You can also keep the look on the plain side for a breezy summer feel. This is a great after-the-beach outfit to hang out in!
For an event, you could easily throw on some sneakers and tie a flannel around your waist.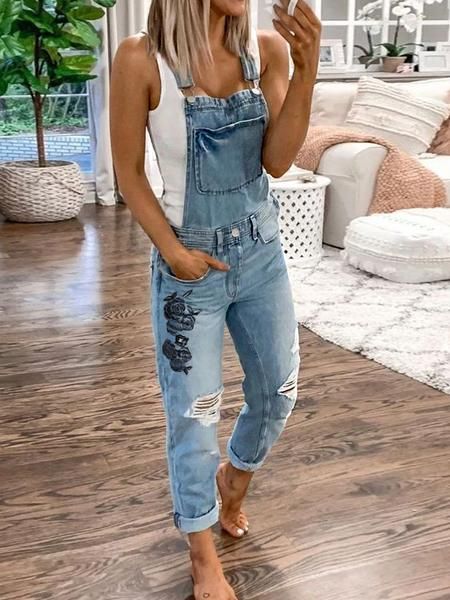 I hope this helps you get an idea of how to wear overalls! There are so many ways to style a good pair of overalls that it's never a waste to invest in them.
What I really love about wearing overalls is that once you have the actual overalls themselves, you can always pull pieces from your closet to create tons of different outfits.
Up next: