The first time my newly dyed hair turned brassy, I was horrified. Once the dye job is done, it's virtually impossible to undue, and every girl who dyes her hair will experience some seriously brassy locks at some point. I immediately wanted to tone it at home (without paying another hefty salon bill), but I was stumped between blue vs purple shampoo and how to choose.
Both blue and purple shampoo are super helpful for toning brassiness at home. Oftentimes they're much more effective than paying for a toner or a glaze in the salon.
I want to cover the whole blue vs purple shampoo debate, but first I have to give some background.
Hair Tones
Before you even get into a specific shampoo, you'll want to understand that different hair colors have different undertones.
Darker hair (any shade of brunette) generally has warmer orange undertones. This means that when brunette hair is lightened through a balayage, with highlights, etc., these warm orange tones will become more prominent.
For extremely dark hair, these underlying tones can be red.
Naturally blonde hair has yellow undertones. When blonde hair is lightened or colored at all, these yellow tones grow brighter.
Even every day styling using heat tools or products can cause these tones to appear more prominently. There's no way to specifically gauge one person's hair as every head of hair is slightly different, but these rules generally stand up.
When someone talks about "brassiness," that means any warm undertones, whether they're red, orange, or yellow.
Related: 20 Different Types Of Bangs For Every Hair Texture & Face Shape
How Do Blue & Purple Shampoos Work?
If you've ever looked at a color wheel, then you might know that opposite colors (those directly across from each other on the wheel) will neutralize each other.
If you want to neutralize a certain tone, then you should look to the opposite color on the color wheel and use a toner or shampoo in that color.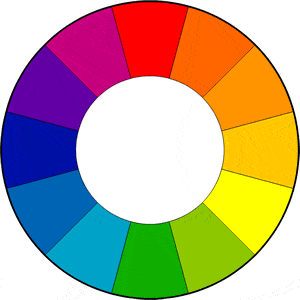 Blue vs Purple Shampoo: What's the Difference?
Although purple and blue are super close on the color wheel, they don't have the same exact opposite colors, and this makes a big difference.
So, blue or purple shampoo?
Blue shampoo will work to tone down brassy orange and red tones, but won't touch yellow tones.
Purple shampoo works great on yellow tones but won't do much for orange or red tones.
Lots of people wonder if you can use purple shampoo on brunette hair (or vice versa) and still see a difference.
While the purple shampoo will work to remove any slight yellow tones in the brunette locks, it won't remove the orange or the red. So, in some circumstances it can be beneficial to use both, but 95% of the time you'll want to stick with your opposite color.
What If You Have Multiple Undertone Colors: Blue or Purple Shampoo?
Firstly, try to see what undertones you have in your natural hair color. I personally have orange and yellow undertones, but the orange are more prominent. You'll usually be able to see one color that dominates.
If, however, you have bleached hair, then regardless of your original hair color you should use purple.
Because orange is my prominent tone, for every one time I use purple shampoo (to tone down any yellow brassiness) I use blue shampoo three times.
When to Use Blue or Purple Shampoo
How do you know when you should actually use it? Apply blue or purple shampoo too much and you'll find that your blonde or orange locks can start to look silver.
I'd start by using it once a week and see how it tones your hair. If you find that your hair is still brassy, then try using it twice a week.
Another option is to add a small amount of blue or purple shampoo to your regular shampoo, mix it up, and use that daily. This will gently tone your hair at a consistent pace without going overboard.
How to Apply Blue or Purple Shampoo
I typically use blue or purple shampoo (and conditioner) the same way that I use normal shampoo.
If you're really in need of fast toning, you can let the shampoo sit for 10-15 minutes then rinse and repeat the same process with the conditioner. For the most part, I find this isn't necessary, but this would help temporarily if you got a bad color job and have somewhere to go that night.
The Best Shampoo Brands
Here are some of my favorite blue and purple shampoo brands:
Kevin Murphy: this is my absolute favorite brand. It is super strong, but it's easy to dilute and tones any brassy colors perfectly.
Unfortunately, Kevin Murphy only sells angel wash for blonde hair, but if you have any yellow tones then I highly recommend it!
There's lots of options to purchase the blonde angel wash on Amazon.
The Perfect Brunette Toning Shampoo: this is my favorite shampoo for brunette hair! It's relatively inexpensive and is available on Amazon. It's also pretty strong and acts like a toner combined with a shampoo, so you don't need to use a lot of it.