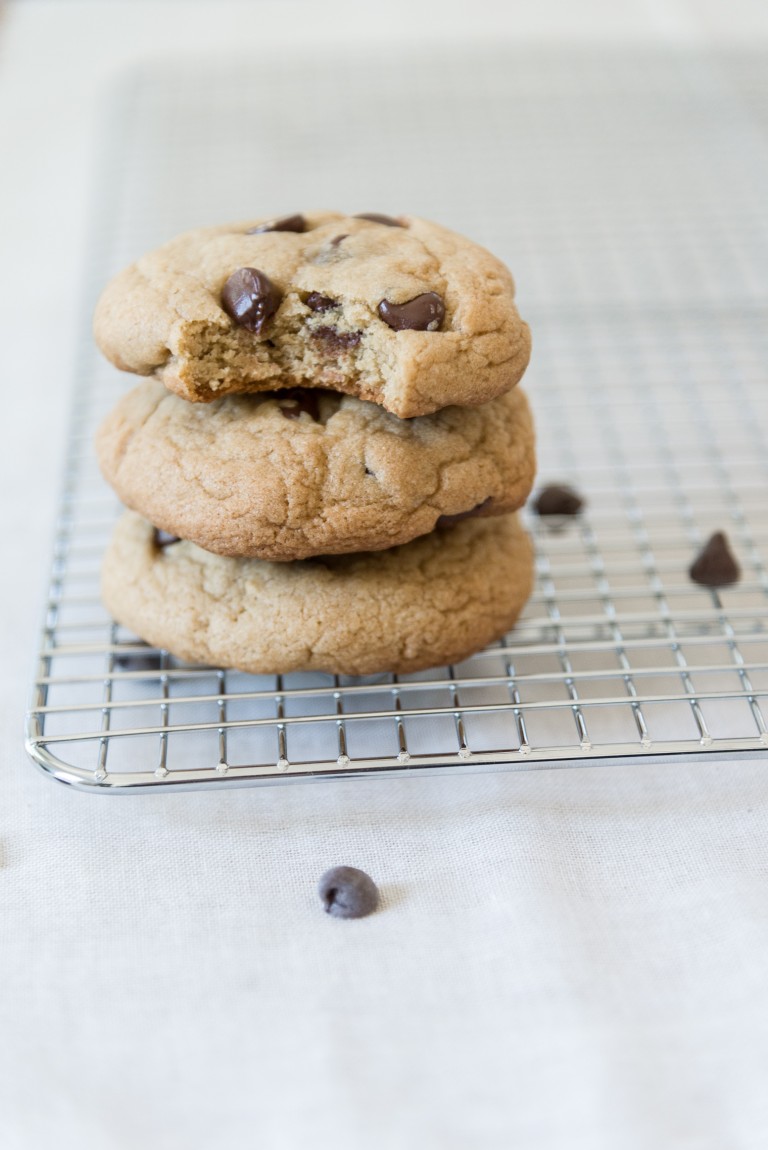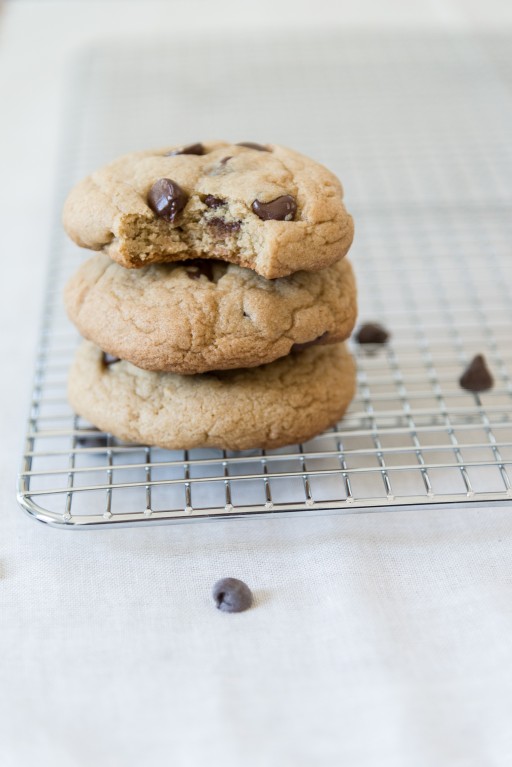 Who doesn't love a classic chocolate chip cookie? We grew up making our special version of the recipe every other week or so, and I remember it being so exciting every single time.
As an adult, I may not make chocolate chip cookies every few weeks, but I do enjoy a good batch of cookies once in a while. Between my boyfriend and I, they're always gone in under 20 minutes.
About a year ago, I realized that my body isn't a huge fan of dairy. While I'm not lactose intolerant, I do get headaches, other aches and pains, and a lot of puffiness. That alone is enough to get me to stop eating dairy, especially during a photoshoot week.
Right now, I try to steer clear of dairy products Monday through Friday, but sometimes you just need a little bit of chocolate on a typical Wednesday night.
After continually breaking my dairy fast, I decided to come up with some dairy free recipes that actually taste good.
I tried a bunch of different dairy free chocolate cookie recipes, and they were pretty good, but I finally combined a few different ingredients to come up with a recipe that I was really happy with.
In cookie dough form, you literally can't tell that this recipe is dairy free. I eat way too much of the cookie dough before the cookies even go in the oven!
There is a slight difference between these cookies and regular chocolate chip cookies, but this combo of ingredients is the absolute closest I've found to a regular chocolate chip cookie recipe.
Dairy Free Chocolate Chips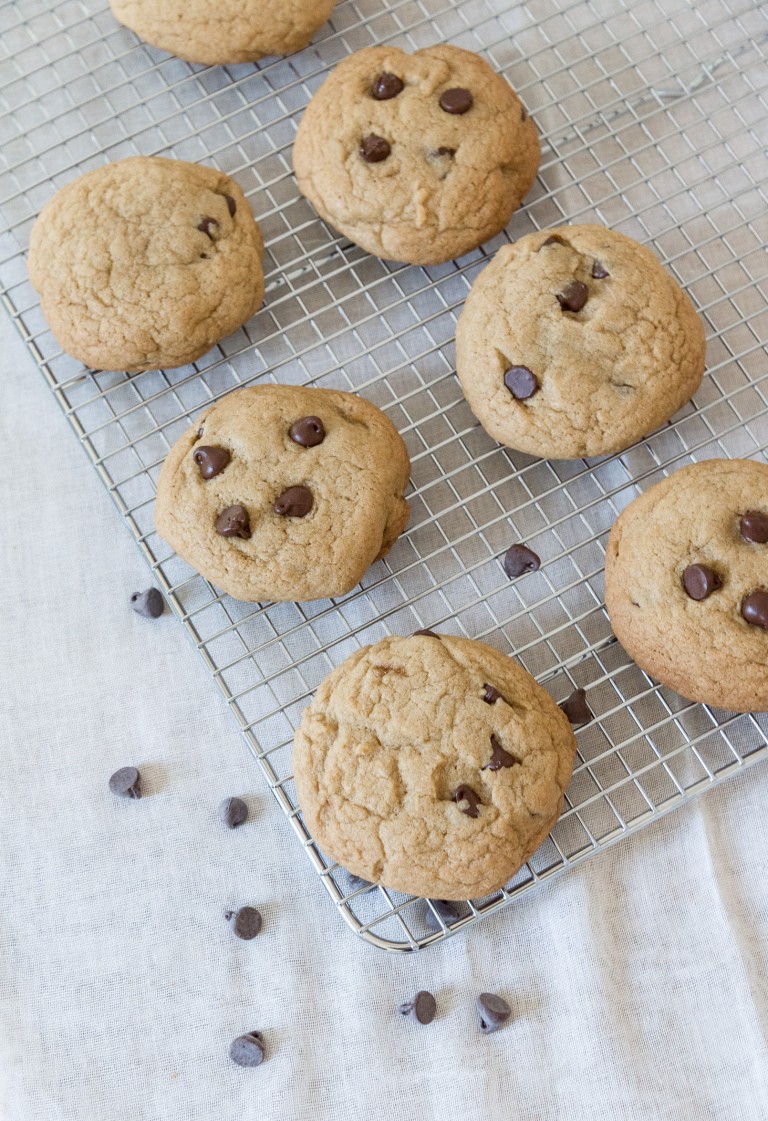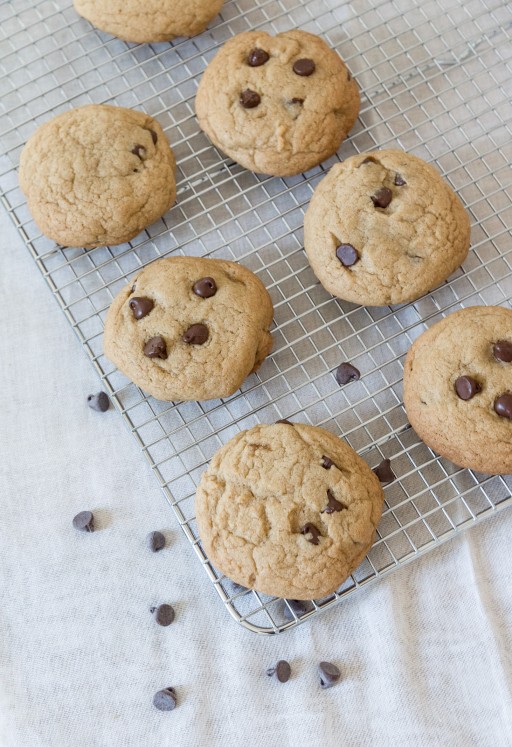 There are only a few ingredients that you need to substitute, and milk chocolate chips are one of the big ones.
Surprisingly, dairy free chocolate chips are really easy to come by. I get mine at Target, but you can also order them on Amazon.
These dairy free chocolate chips taste really good! You'll probably only need one bag, but I like to have them on hand for nights where I just want a bite of chocolate.
If you're okay with a little bit of dairy, then you could use regular chocolate chips or dark chocolate chips and just substitute the butter, but I prefer to have my dairy free chocolate chip cookies 100% dairy free.
Butter Substitute
A good butter substitute is hard to find, so I combined a few different choices for the best result.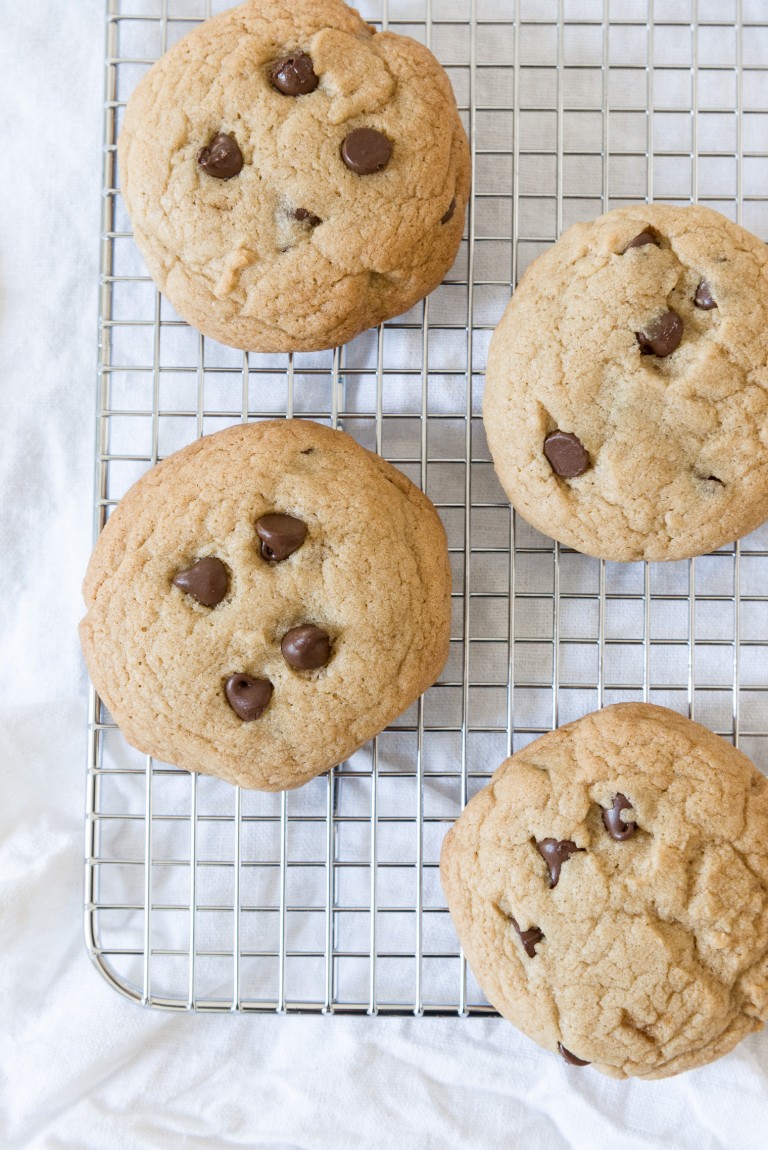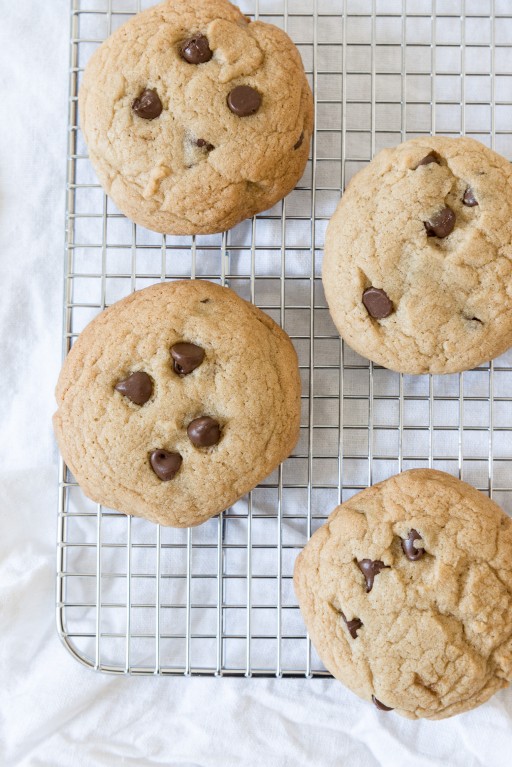 You want these cookies to be creamy enough that they're easy to eat but don't want them to feel greasy.
I've always been a fan of Earth Balance (a vegan butter substitute made out of oil or soy, depending on which option you buy) and actually grew up eating it. Surprisingly, I prefer it to regular butter now.
This vegan butter worked perfectly for the majority of the typical butter portion, but I chose to add in some coconut oil as well.
I found that just using vegan butter produced a batch that wasn't as rich; the coconut oil adds a lot of the creaminess that you'd get naturally with normal butter.
At the same time, you don't want to use too much coconut oil because the cookies will taste overly sweet and will have a strong coconut flavor. They're still super yummy but won't exactly be dairy free chocolate chip cookies.
If possible, I recommend using both in this recipe. It gives the cookies a creaminess that will totally fool you into thinking they contain butter!
What About the Milk?
I'm definitely a fan of dipping my chocolate chip cookies in milk, so that's one big problem I have with dairy free cookies. Luckily, there are literally a million dairy free milk brands out there made from a variety of plants and nuts.
My absolute favorite beverage for dipping these dairy free chocolate chip cookies is coconut milk, mainly because it's super thick and creamy.
If you go with oat, hemp, or almond milk, you'll find that the milk itself is really thin and that the cookies generally don't absorb the liquid very well.
I also love dipping these cookies in coffee, whether it's black or made with dairy-free creamer.
The Recipe
Here's the full recipe; you can print it out as well if you prefer to have a physical piece of paper. If you want to try this recipe but won't be making it today, pin it to save it for later!
Related Recipes:
Yield: 12-14
Dairy Free Chocolate Chip Cookies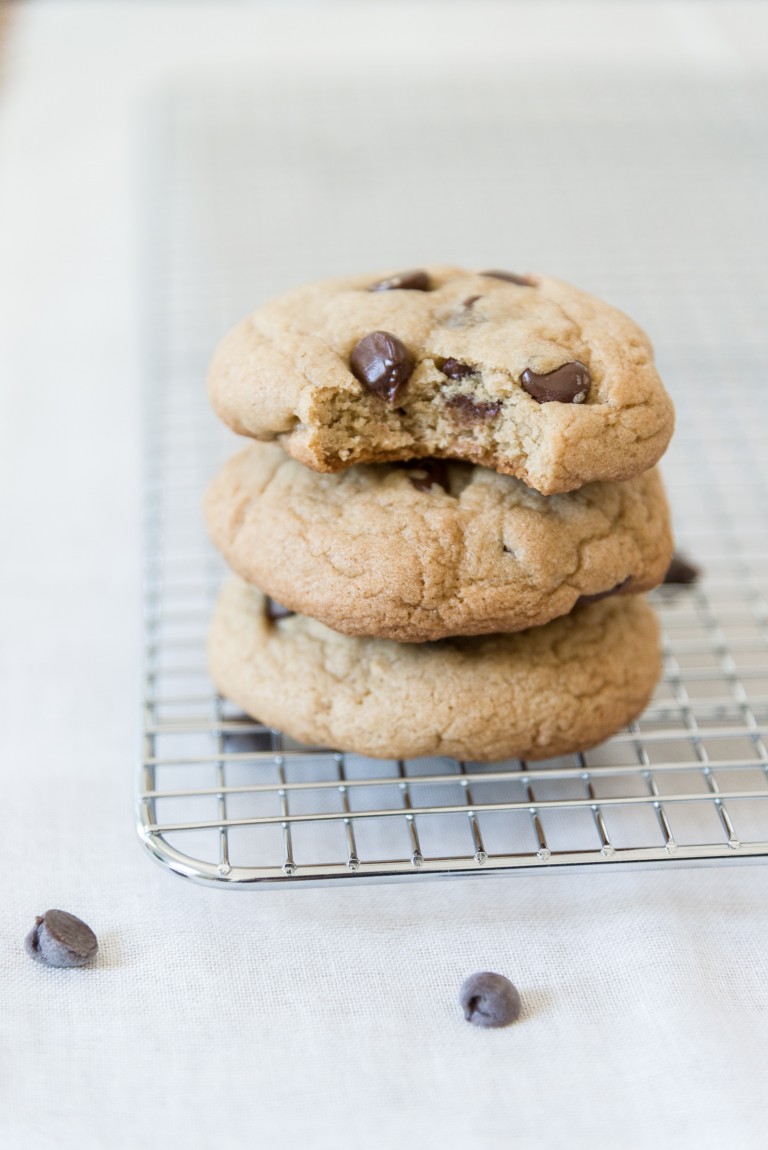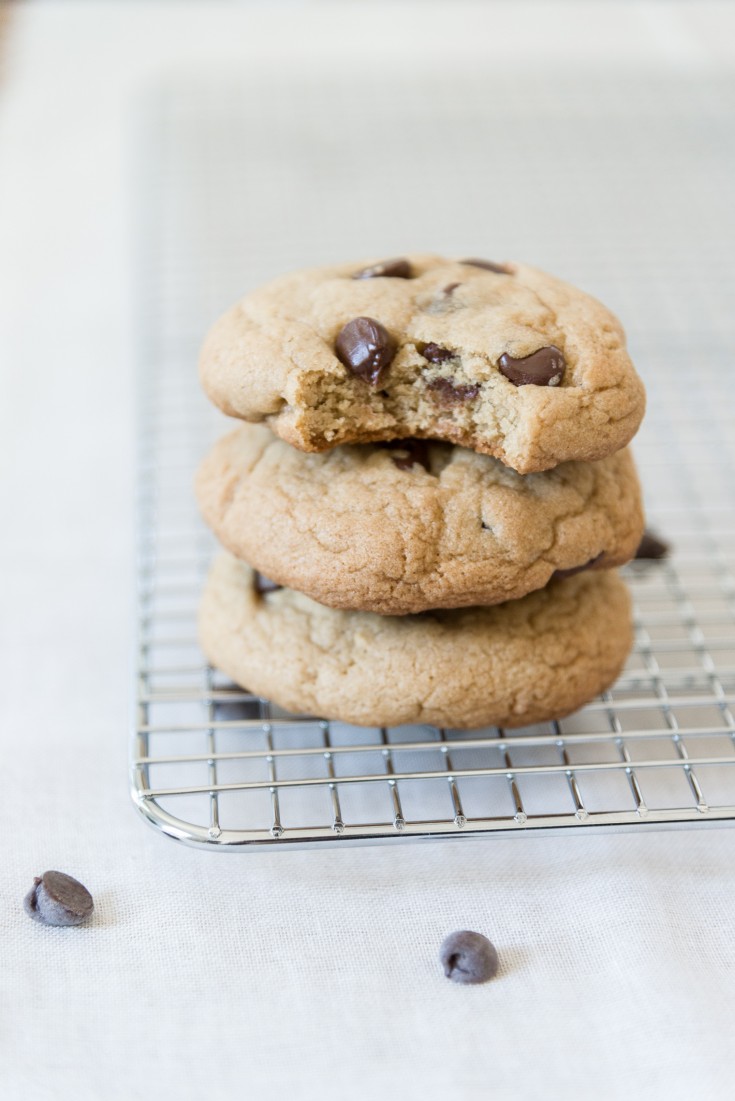 A delicious, creamy, dairy free chocolate cookie recipe that will fool anyone!

Prep Time 10 minutes

Cook Time 10 minutes

Additional Time 20 minutes

Total Time 40 minutes
Ingredients
1/4 cup coconut oil
1/2 cup vegan butter (I use Earth Balance original)
1/2 cup sugar (I use Dominos)
1 cup brown sugar
2 large eggs
1 tsp vanilla
2 1/3 cups all purpose flour
2 cups dairy free semi-sweet chocolate chips
Instructions
1. Preheat the oven to 375 degrees.

2. In a large bowl, beat the vegan butter and coconut oil on low-medium for 20 seconds. Slowly add in the sugar, brown sugar, and baking soda until completely combined.

3. Beat in the eggs and vanilla, then slowly add the flour until combined.

4. Hand stir the chocolate chips into the mixture.

5. Spoon cookies onto a pre-greased cookie sheet (I use Pam or coconut oil spray). These cookies were a small tablespoon of dough each.

6. Bake for 9-10 minutes. Remove when you see the edges barely start to brown. The cookies will still look a bit doughy/soft. Make sure not to bake too long - these cookies are extremely easy to overdo.

7. Set on a cookie rack to cool for 10 minutes or so. Enjoy!