I recently cut my hair to a medium/short length, and although I absolutely love styling it with a wand, I quickly realized that I needed more medium length hairstyles as easy go-tos. The problem I had is that a simple search on Pinterest brought me to about 4,000 medium length hairstyles that all looked the same.
I compiled this post to give readers a place to go where they can find 30+ easy but distinct medium length hairstyles that require few products. I've also included simple instructions about how to get started once you find one you want to try.
For most of these hairstyles, you'll need a few basic products. The most important is a good texturizing spray. Almost all of these looks call for a piecey, touseled look that's hard to accomplish without texturizing spray. Here's a full list of what you could possibly need to accomplish these looks:
Check out the hairstyles you want to accomplish before purchasing anything, since you may only need a few of these products or might instead need a bow or hair scarf. You most likely will need a wand, since they work different than a curling iron (a wand gets much hotter and is only held to the hair for half the time) but they're super cheap on Amazon for decent quality.
Related Posts:
I've started out with fully down hairstyles, added half-up hairstyles in the middle of the post, and finished off with fully up hairstyles (messy buns, ponytails, etc.). If you're looking for a specific style, feel free to scroll down to the specific section, otherwise check each area out for inspiration!
Fully Down Medium Length Hairstyles
1. Wand Curled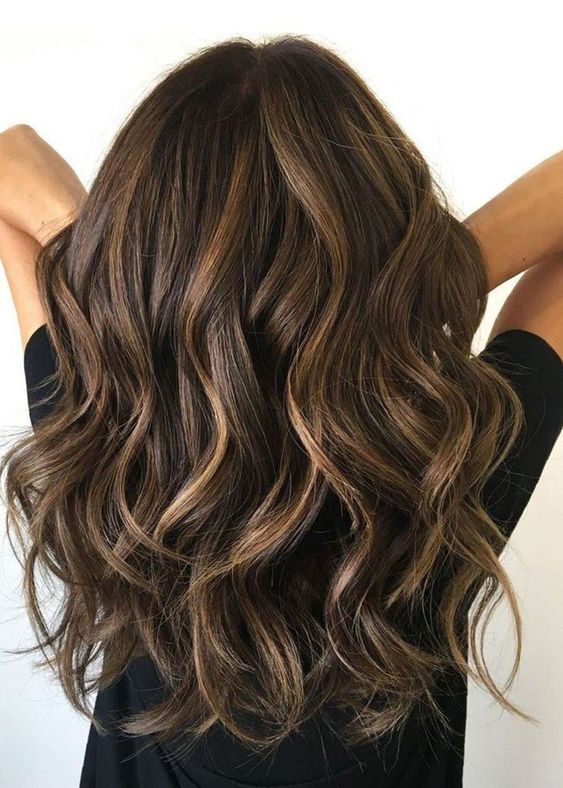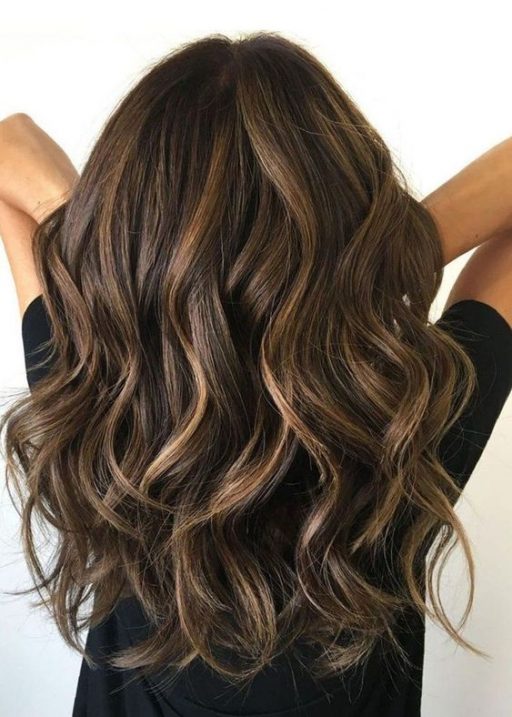 This is a classic, easy hairstyle using a wand. I recommend a larger wand (1″ or above) and some texturizing spray.
This is a great hairstyle because it's very trendy yet subtle. This is the style I tend to go for most days! The one drawback is that the wand is pretty damaging on your hair.
2. Tousled & Curled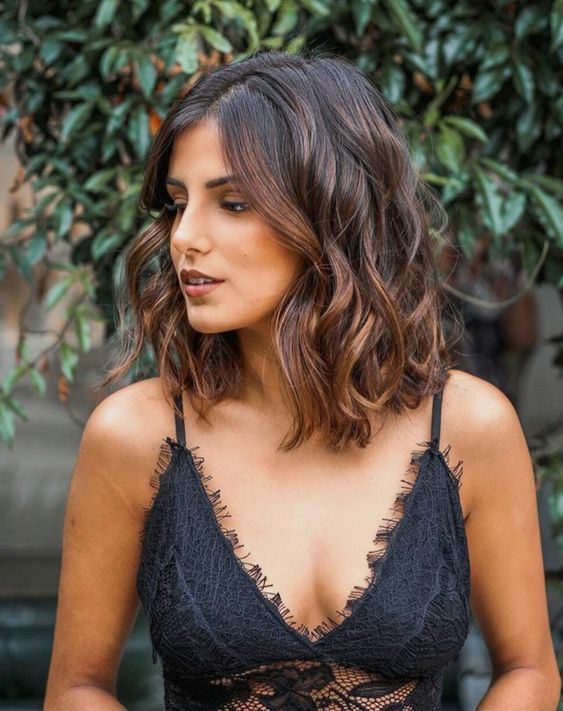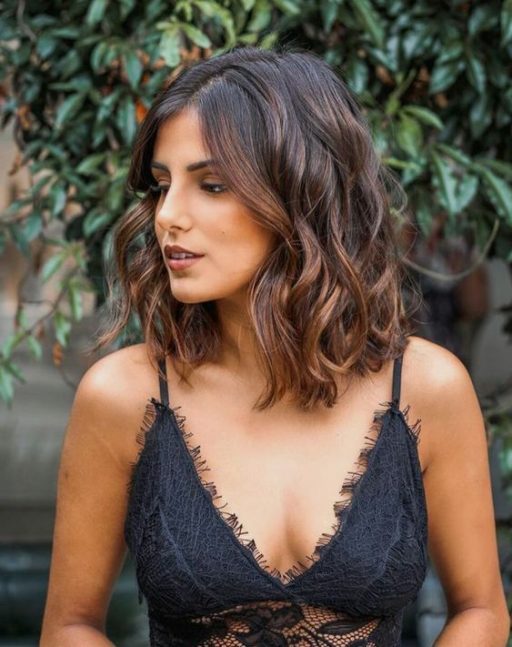 This look could be done with either a wand or smaller curling iron (depending on what you like better), but the trick is to curl each piece in a different direction but curl the front pieces away from your face.
You'll also want to make sure the curls start higher up on your head but don't curl all the way to the bottom of the strand.
3. Chunky and Messy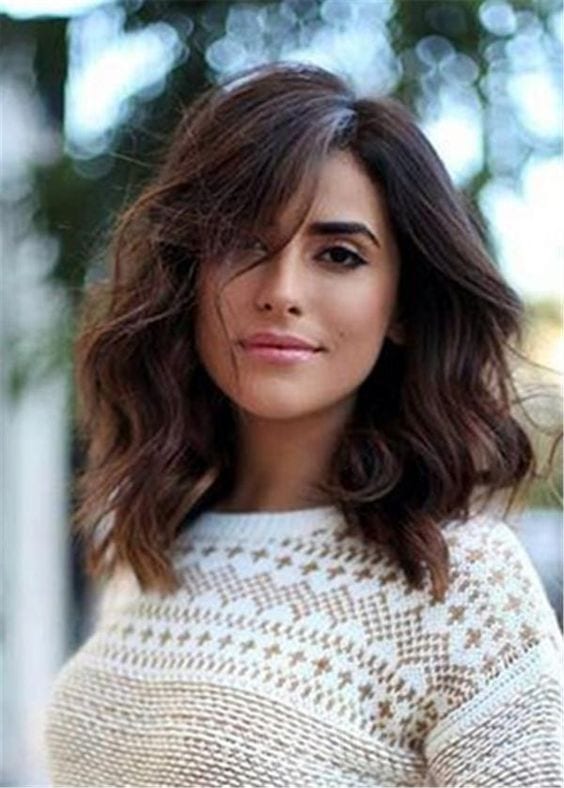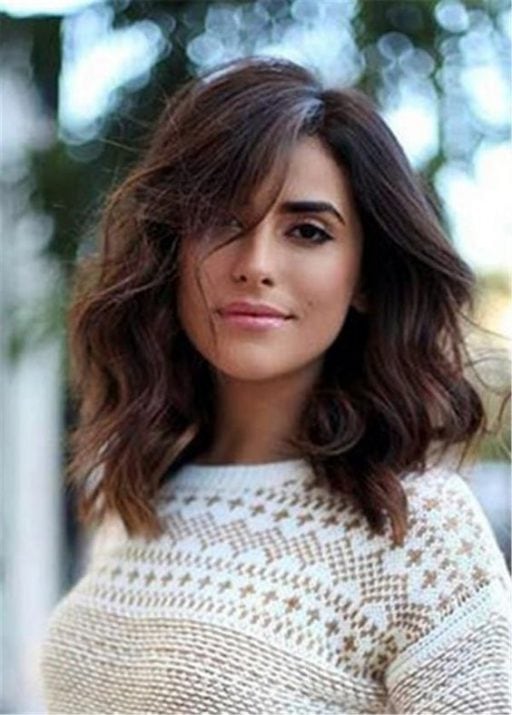 For this hairstyle, you can really loosely curl your hair with a wand, all in the same direction, and brush it through so it clumps together. You'll want a lot of texturizing spray and potentially some dry shampoo to get a big body.
4. A Side Part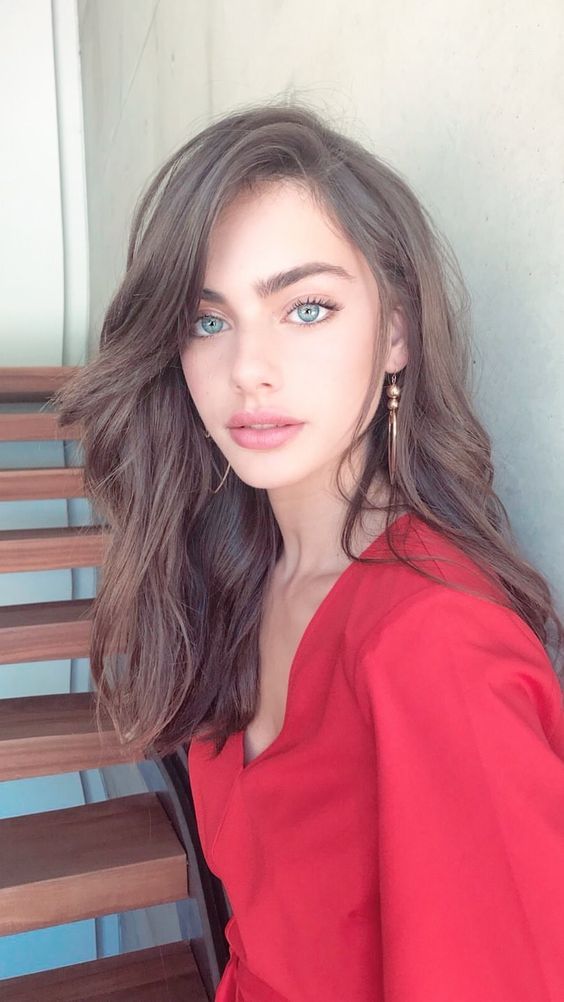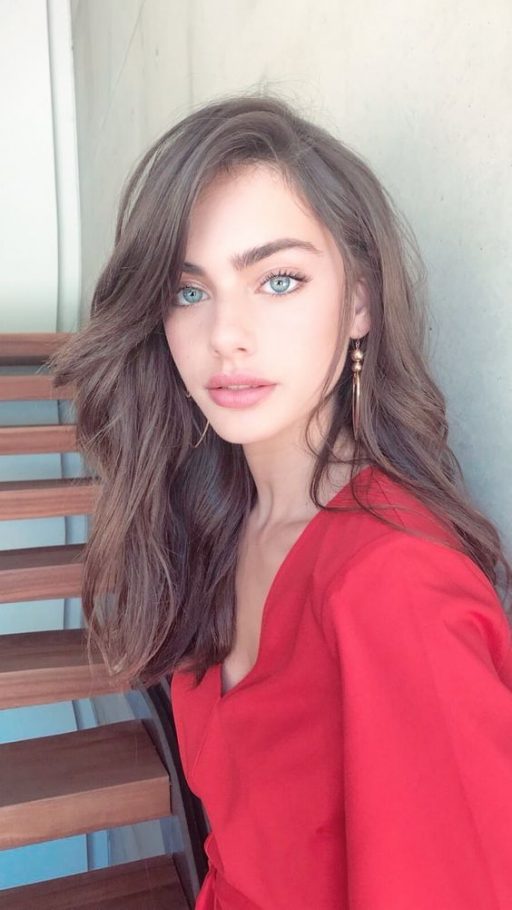 This is another tousled look that's easy to pull off with the side part. You can blow dry the front of your hair up (literally straight up) and spray it with some dry shampoo to get that volume in the front, then loosely curl the rest of your locks with a larger wand.
The great thing about this look is that it can't really fall out during the day, so it's perfect for a longer event.
5. Straight With Bangs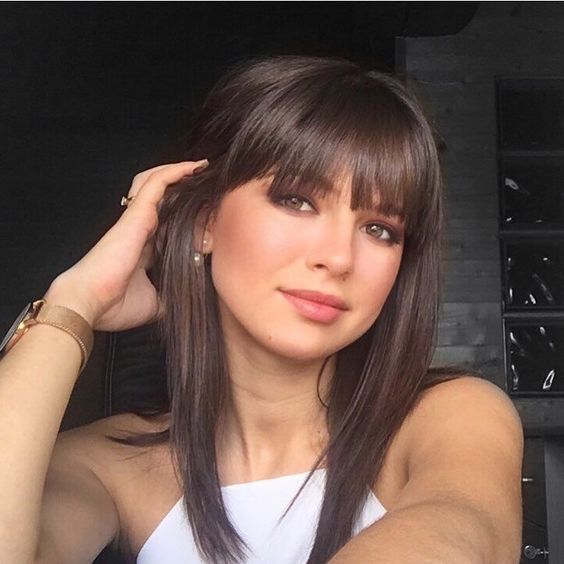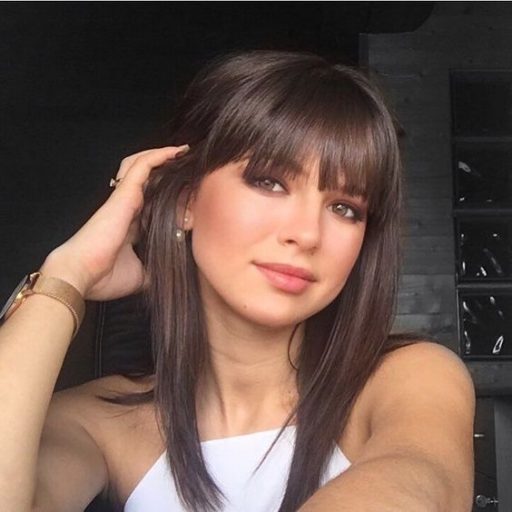 Obviously you have to have bangs for this look to work, but I personally love how well bangs go with straight hair. I do recommend using some Moroccan oil to make your hair shine like this and finding a good straightener that will make it flat enough. A good keratin treatment will also help you achieve these results.
6. Tousled Bangs With Waves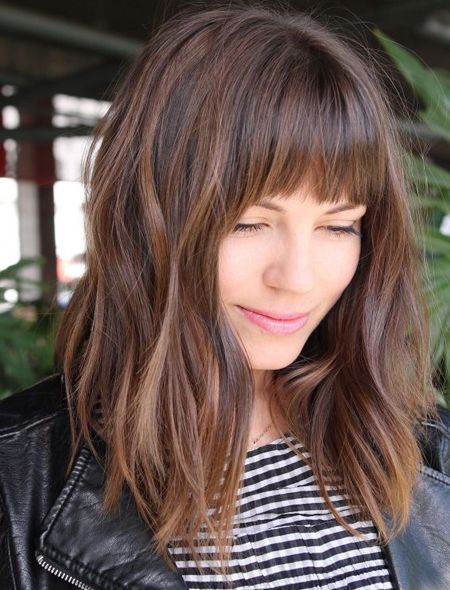 If you have bands, you can also gently curl your hair with a larger want and spray it with texturizing spray. This look is super in and takes virtually no work.
7. Thick Bangs With Volume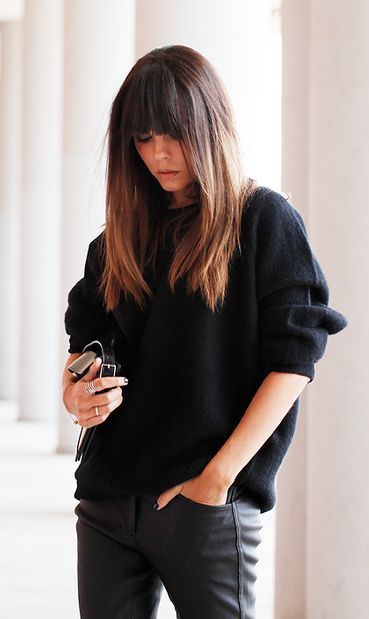 The different with this look is that the hair has more volume and is thicker. If you're one of those people who has thicker hair, then you may want to straighten the top while blow-drying the bottom so you don't lose it.
8. Tousled With a Hat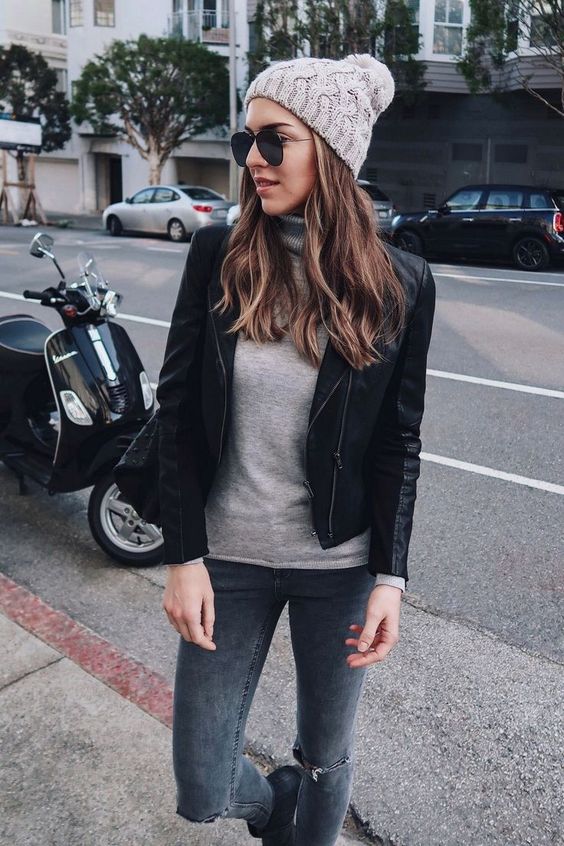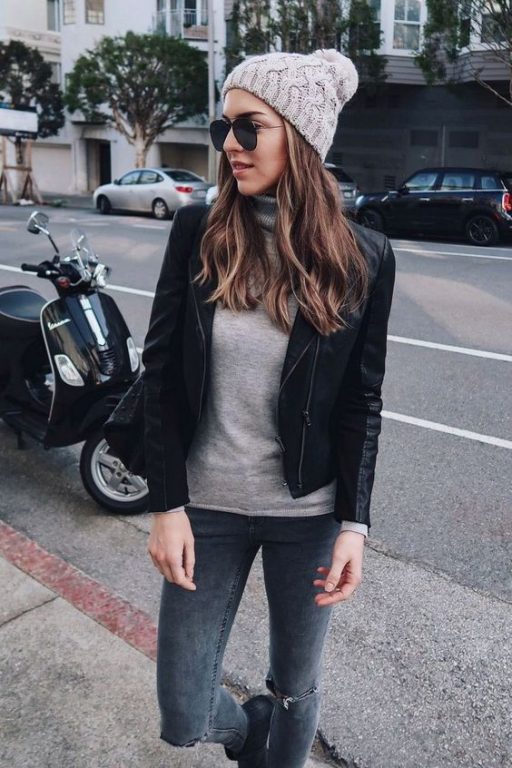 The great thing about a good winter hat is that you can only see the ends of your hair. If those ends look great, then it's easy for everyone to imagine that the top does too, even if you haven't washed your hair recently.
This is another easy wand look (with texturizing spray of course!) that can fall out during the day and still look great.
9. Traditional Wand Waves With Medium-Short Hair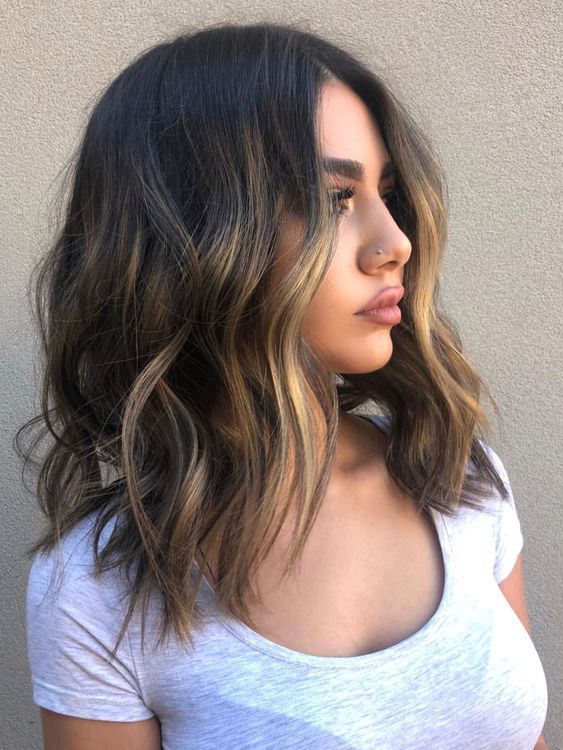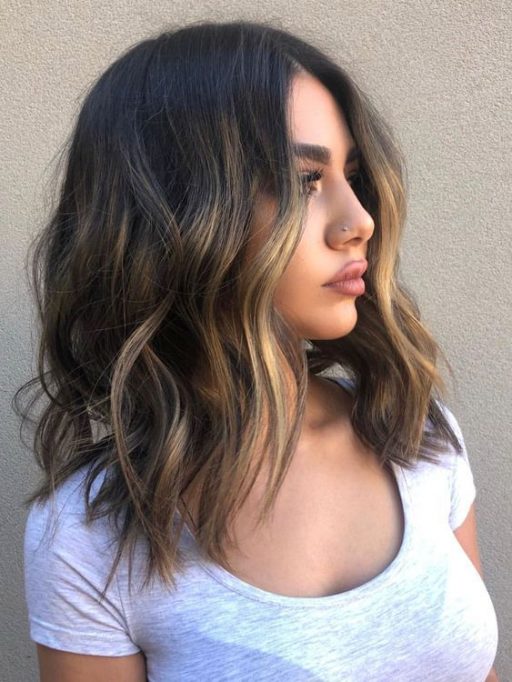 This is another messy hairstyle that's easy to reproduce with a good wand.
10. Blow Dried Bangs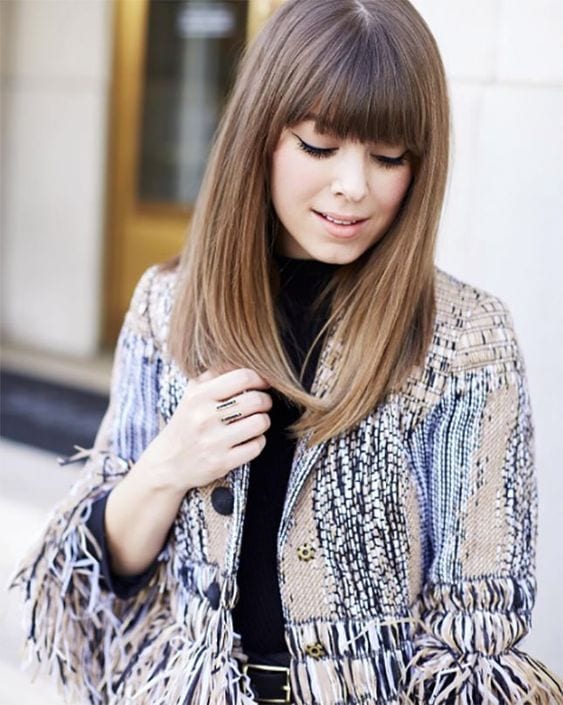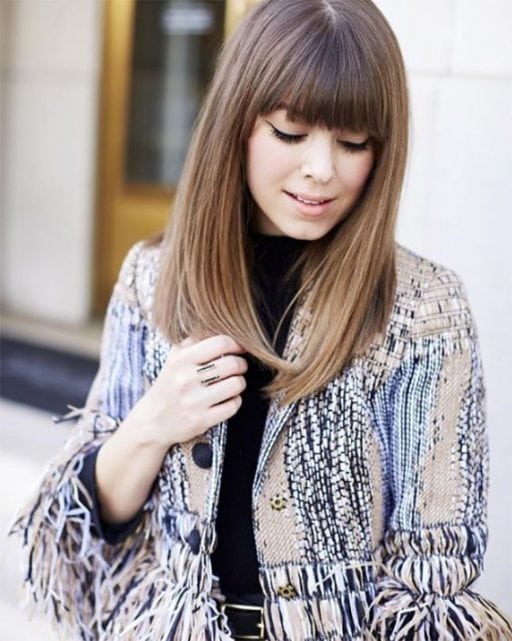 This bangs hairstyle is slightly different because it's done using a blow dryer and a round brush; the ends are gently flipped under.
11. Shorter Beach Waves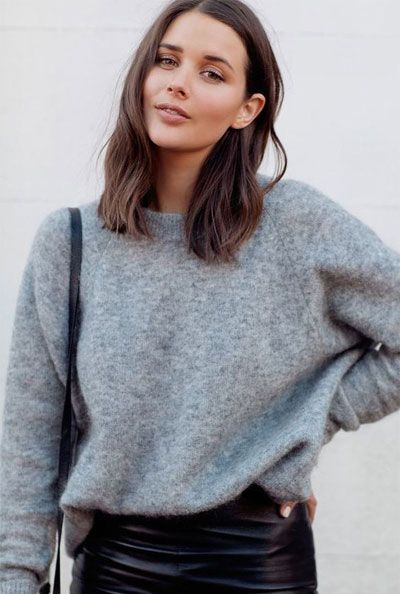 For this style, I recommend using a larger wand even though the model's hair is short. I'd also straighten the hair first (on the top) to get that flatter style.
12. Tousled Curly Locks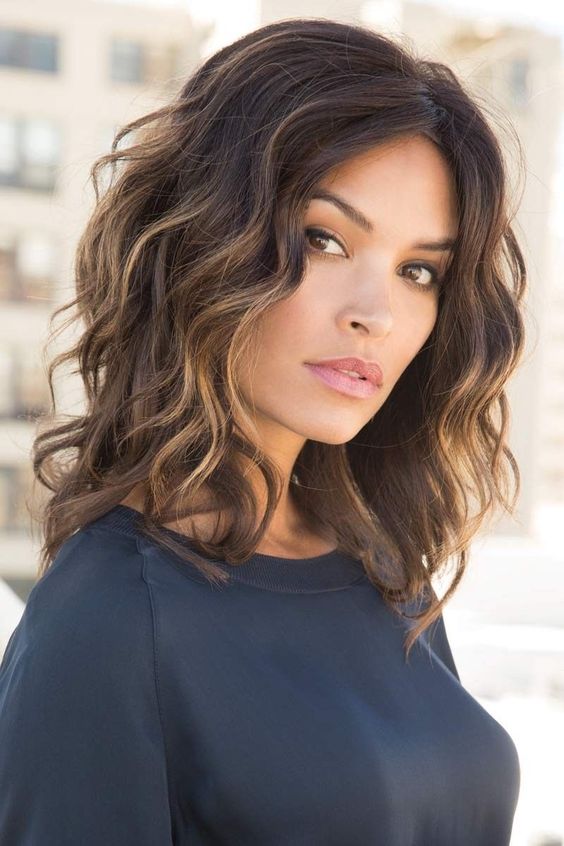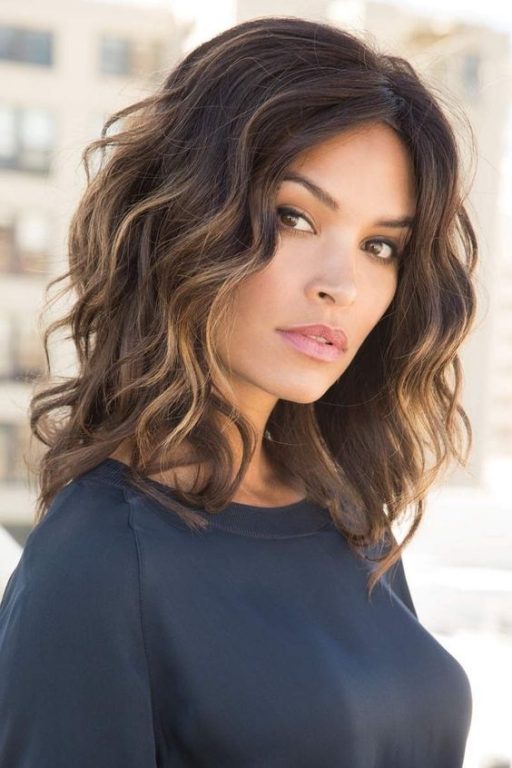 This look uses a much smaller wand (if you check out the one I linked in the beginning of this post you'll see a wand that has lots of different attachment sizes) and each piece is curled from the top to 1/2 inch away from the bottom. You could use some texturizing spray and tease the crown a bit to get that extra volume.
13. Volumized and Shiny Waves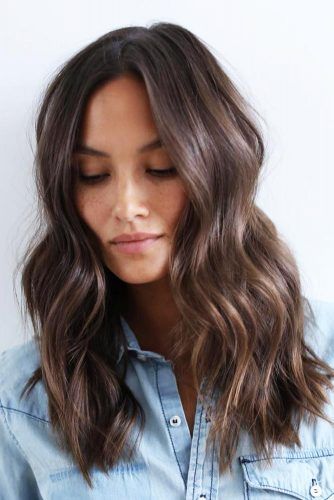 For this look, I'd use some Moroccan oil or a shine spray before using a large wand to curl each piece away from your face.
14. Teased & Messy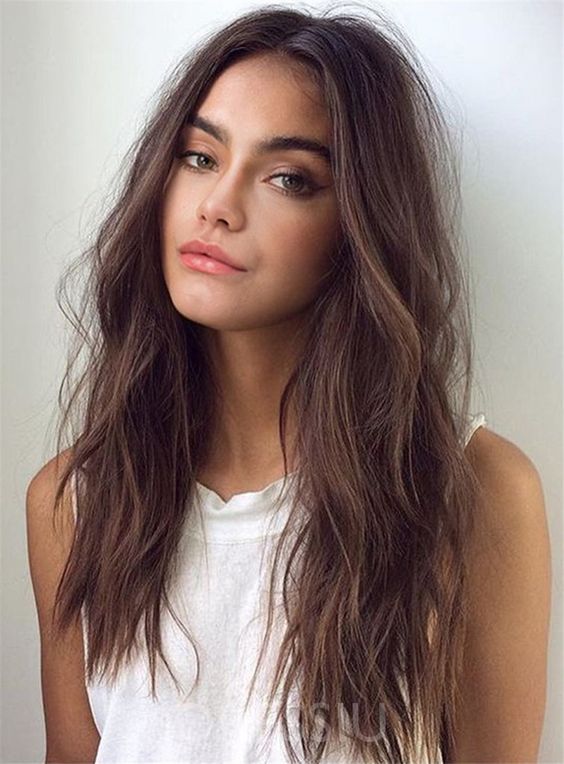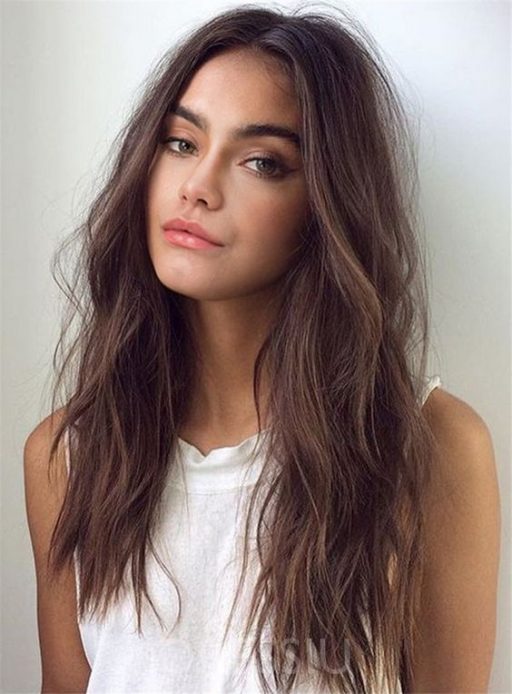 The great thing about this look is that it works with fine or thick hair. You'll want to use lots of texturizing spray and avoid overly brushing out your hair before styling. You can curl each piece really lightly with a large want, spray each section, and then tease it out a bit; teasing the ends works especially well here.
15. Teased & Chopped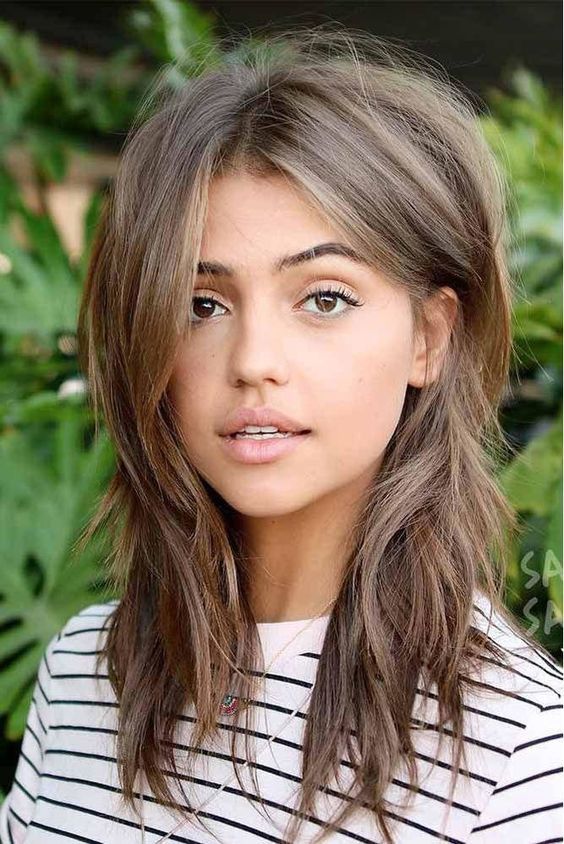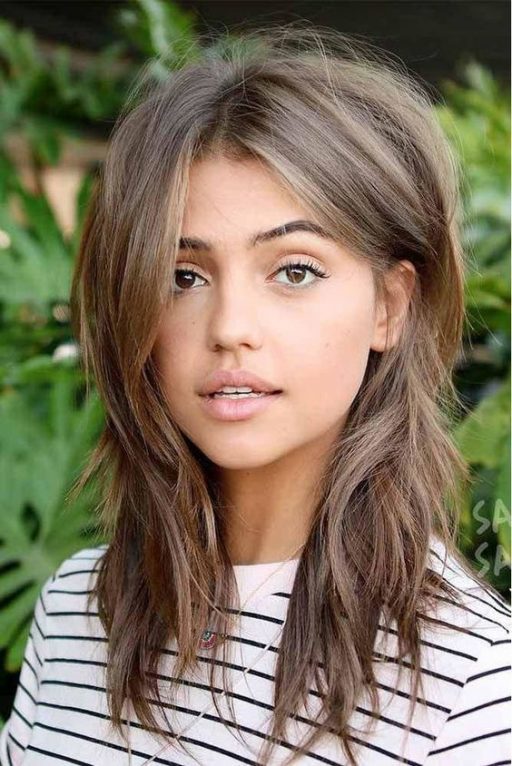 You have to have lots of layers for this look to work, but then all you'll have to do is gently wave each piece and tease the top. As always, texturizing spray will do wonders for the final product.
16. Messy & Texturized With a Center Part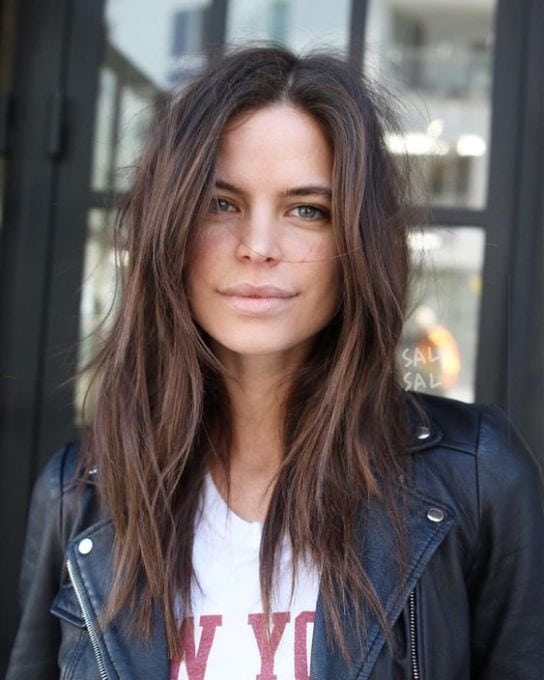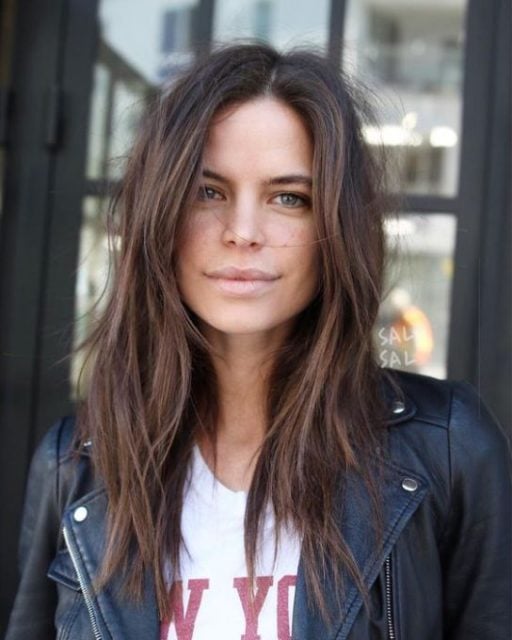 This is yet another easy messy hairdo that looks best with a middle part. It works great with any sort of wand or curling iron (as long as you barely curl each piece) and is great with a lot of teasing.
Half-Up Medium Length Hairstyles
1. Casual Half Up Velvet Bow Ponytail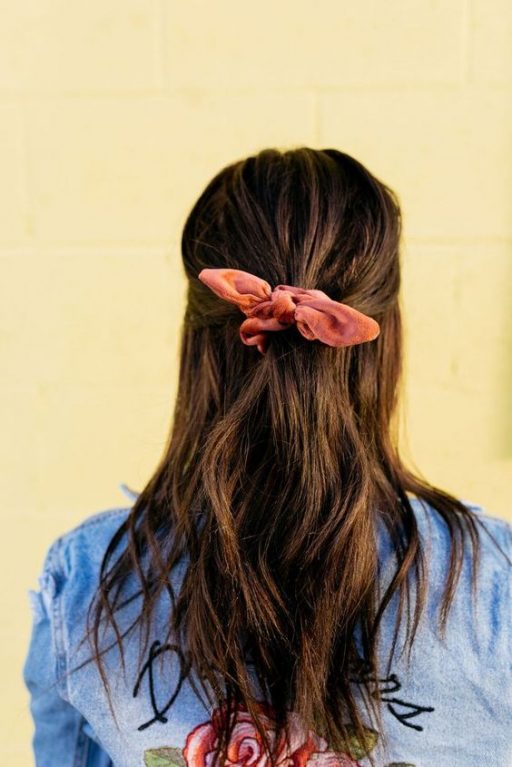 This is an easy look that works well with day-old waves and just needs a velvet ponytail bow.
2. Half Up Sideways Braid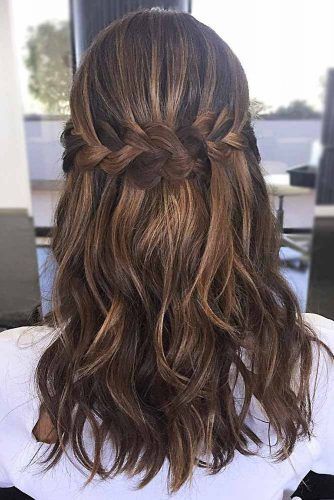 This look is a bit more complicated but is really pretty if you want to switch it up. If you're feeling ambitious, here's a great YouTube tutorial that will help you achieve this.
3. Half Up Teased Knot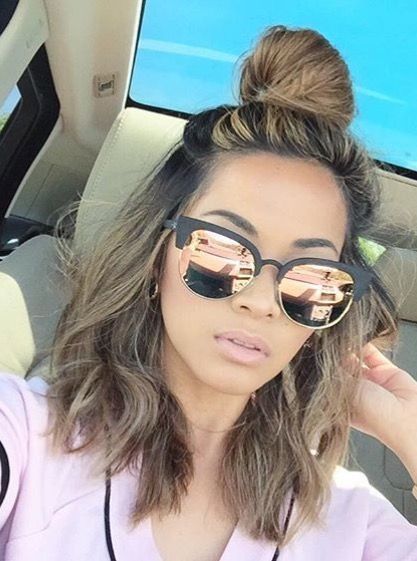 This is an easy high half up knot that you can do but twisting your hair through a regular elastic. It's supposed to be large, messy, and casual.
4. Half Up Hair Scarf Ponytail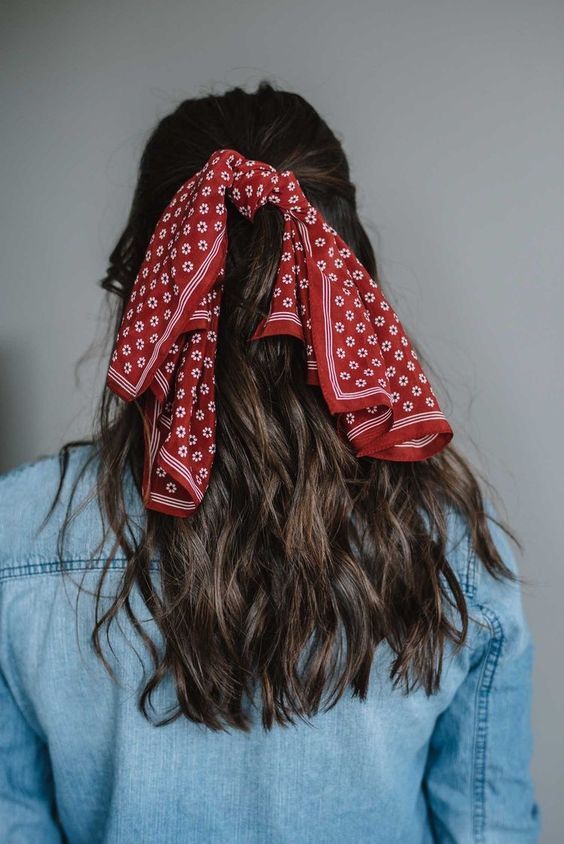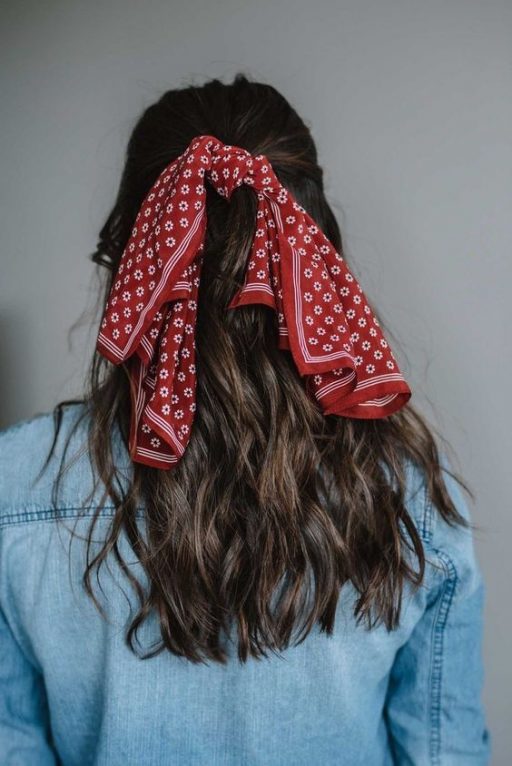 The curls here are down with a wand and not tased, but you can generally do anything you want on the bottom. The top is a simple half-up ponytail with a pretty hair scarf (the same type as a handkerchief).
5. Half Up Braid Updo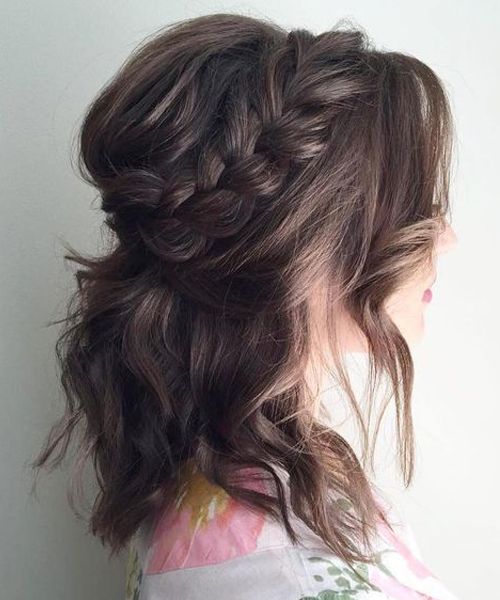 6. High Half Up Twist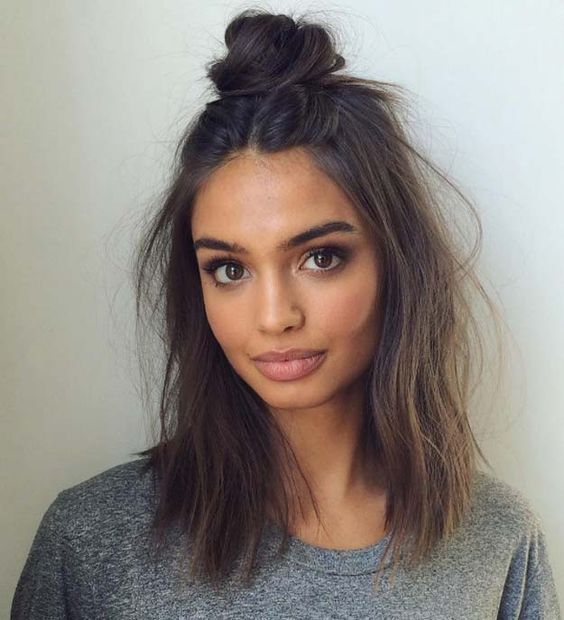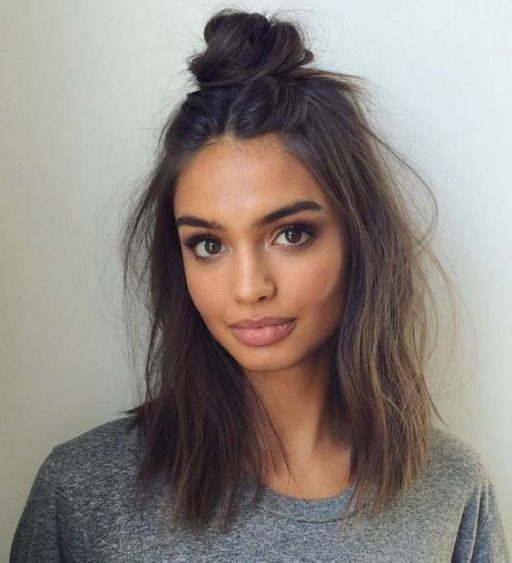 This is another easy half up twist. You can do some messy waves on the bottom with lots of teasing, part your hair in the middle, and twist up the very top layer into a bun that starts exactly in the center of your head. It'll fall during the day, so the higher the better.
7. Half Up Everyday Bun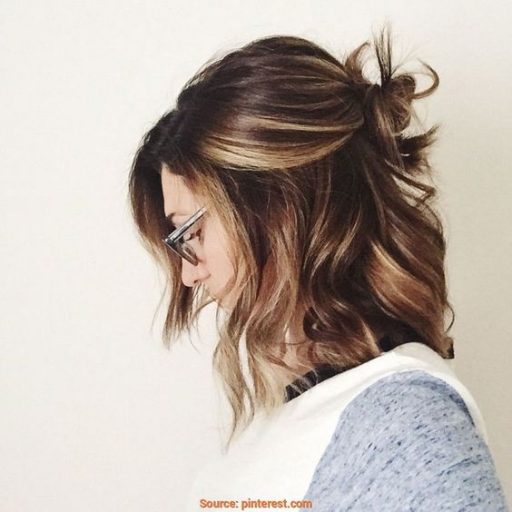 This is an easy bun that doesn't interfere with the part. Pull your top strands to the side and throw them in a messy knot in the back; even pulling the hair through an elastic a few times works well.
8. Half Up Knot With Bow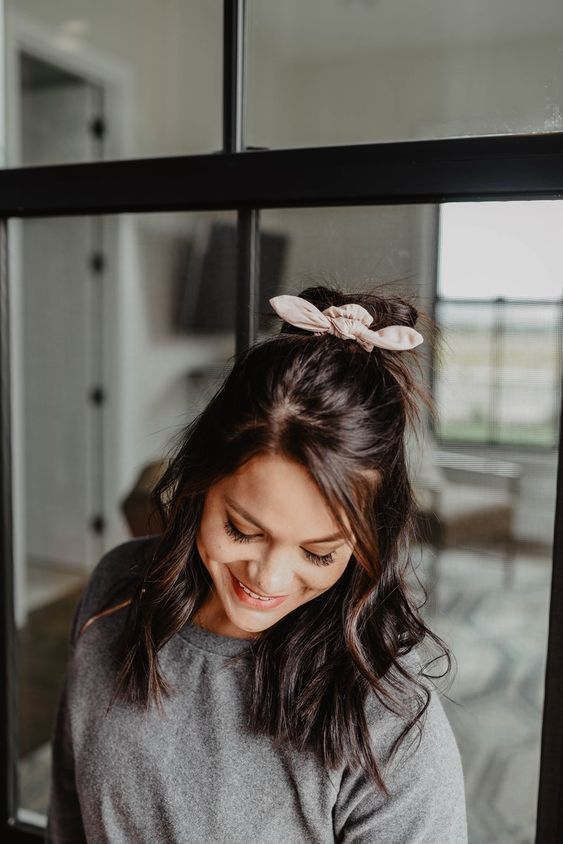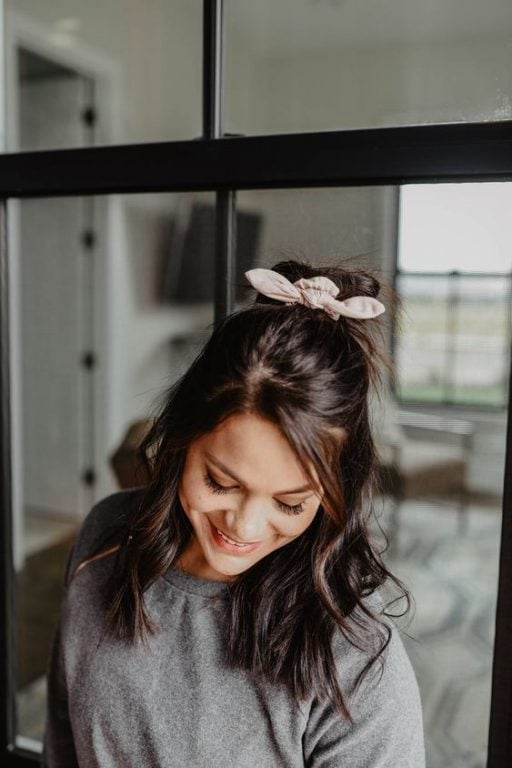 This is another of the easy half-up medium length hairstyles; twist the top half of your hair up into a knot then tie on a velvet bow.
9. Half Up High Messy Knot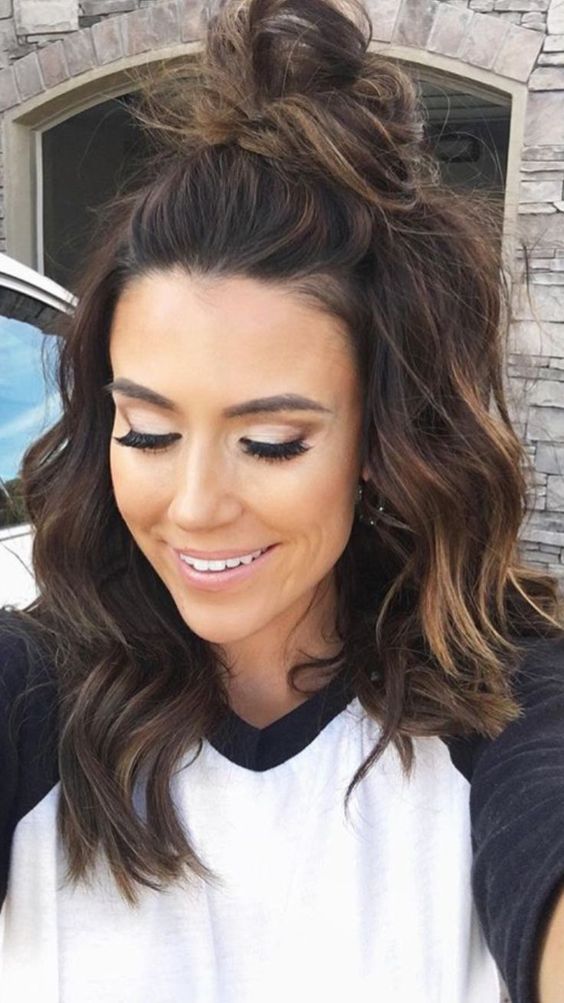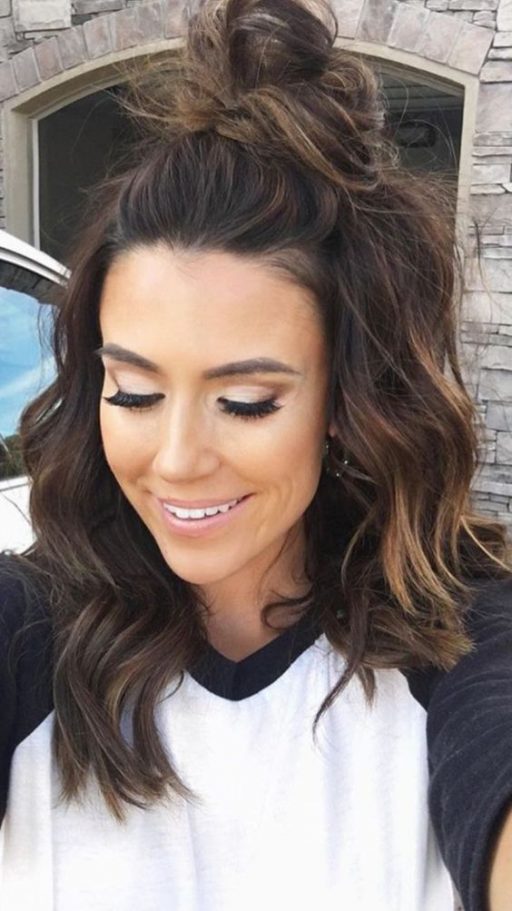 This half up hairstyle is done by first teasing the top of your hair then pulling it up tightly into a high half bun. There won't be any part left, and the rest of your hair will be curled in the same direction (away from the face) with a medium to large wand.
All The Way Up Medium Length Hairstyles
1. High Teased Ponytail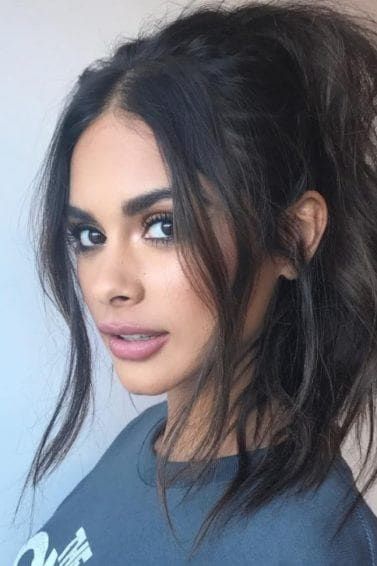 This look calls for teased hair pulled up into a high ponytail. Leave the front strands (the first 1-2 inches of hair) in a middle part. Texturizing spray always helps!
2. Low Teased Ponytail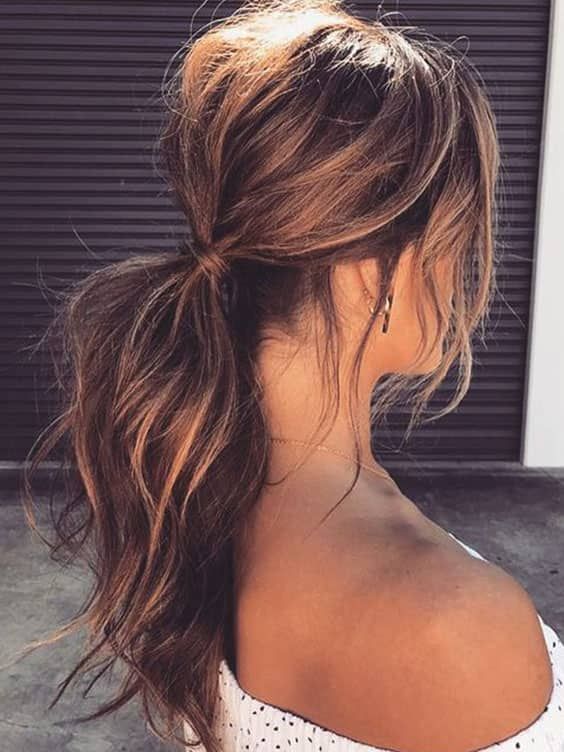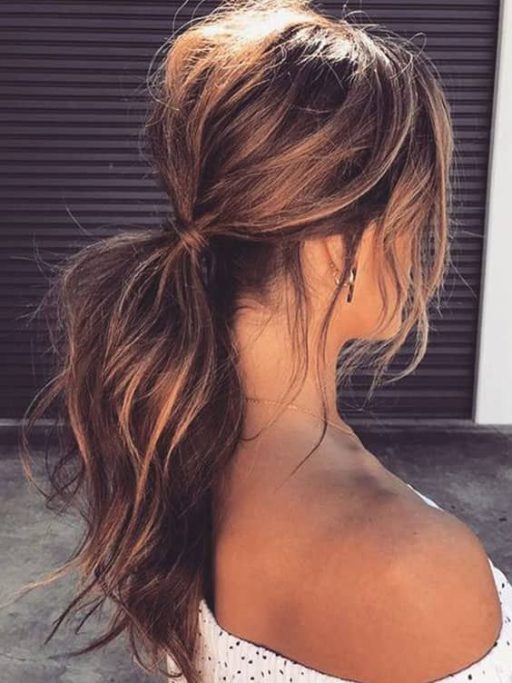 Tease and texturize your hair then pull it into a low pony. Take one strand and wrap it around the ponytail, then use a bobby-pin to secure it.
3. Middle Part Messy Bun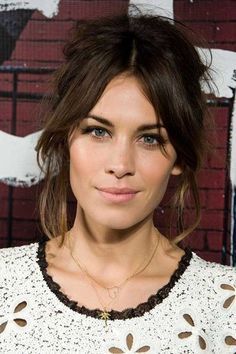 This look is super simple if you part your hair down the center, leave front pieces out, and twist the back into a messy bun. If you like the look a bit larger, you can tease the crown before tying the bun.
4. Medium Messy Bun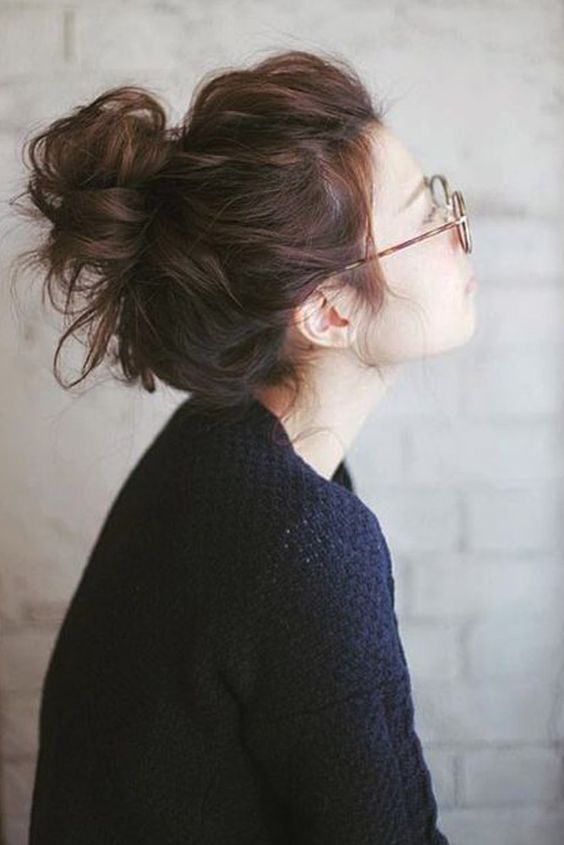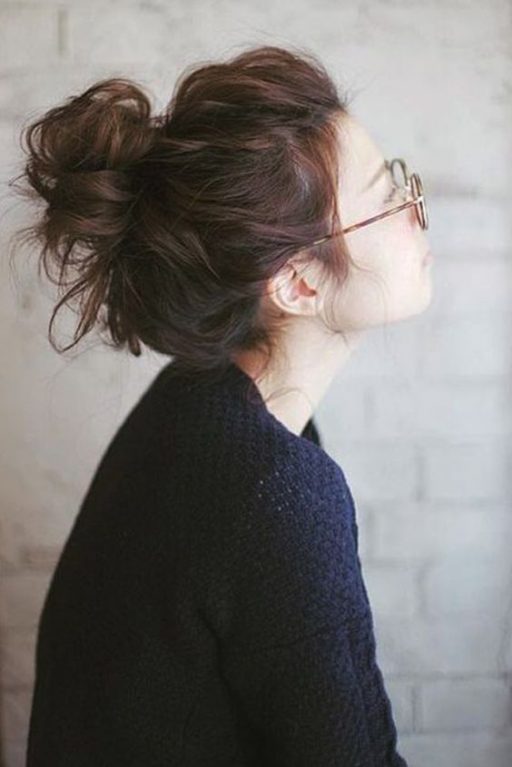 This medium bun is super messy and needs lots and lots of texturizing spray and teasing on the under layers. You'll also want to pull a bit out of the bun; don't make it tight by any means. Start with a high bun since it'll drop during the day.
5. Low Pony With a Bow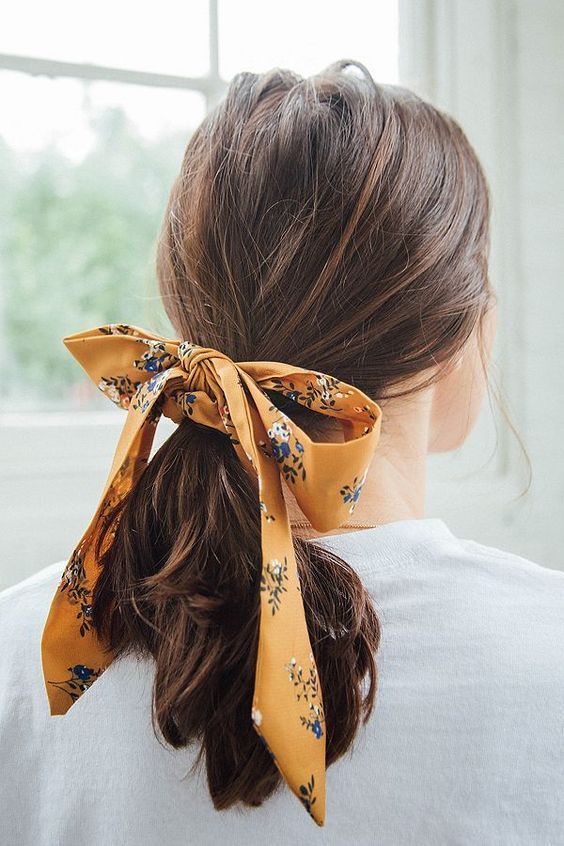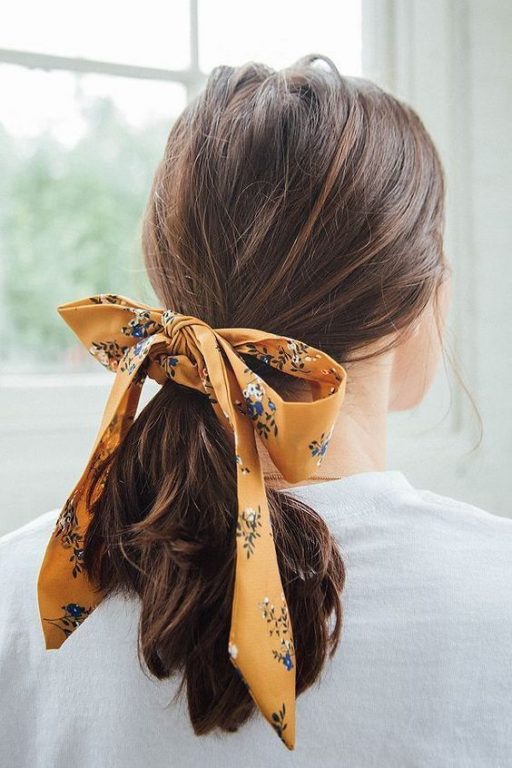 This is one of those medium length hairstyles that's extremely easy to accomplish. Blow dry your hair with a round brush and make sure to flip the ends using the brush. Gather your hair into a low, messy ponytail (keeping the part visible), then tie a long silk hair ribbon in a bow. It's a cute everyday look that's very unique!
6. High Messy Bun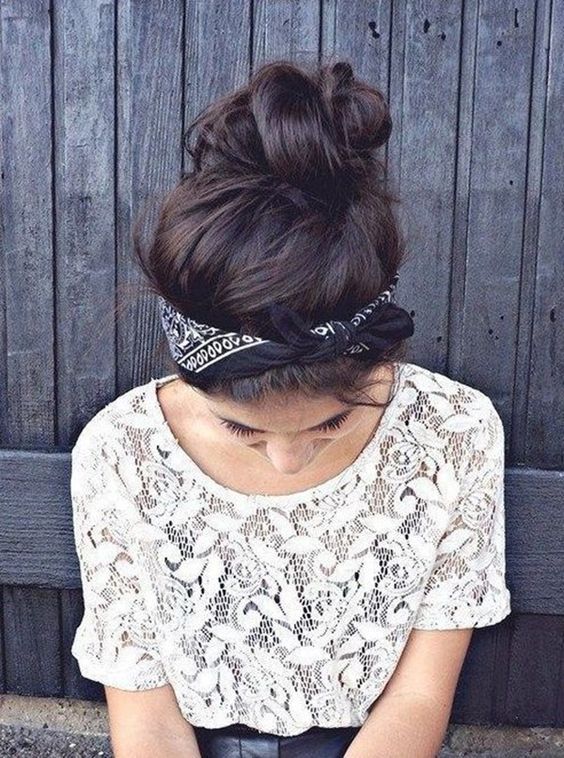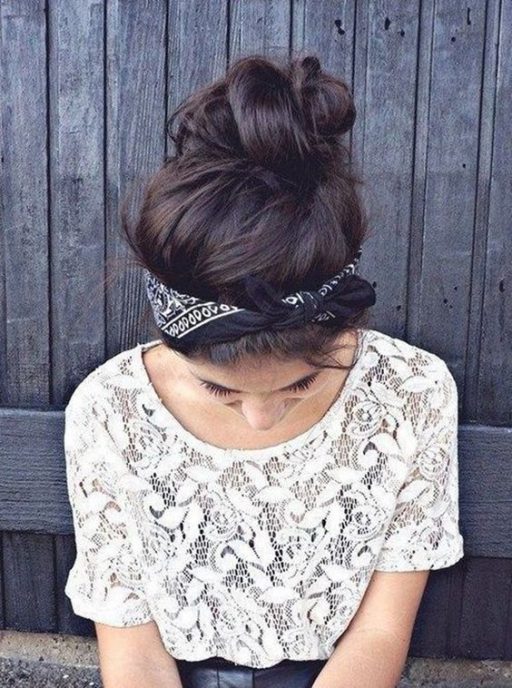 This high bun calls for thicker hair. If you don't have enough natural hair, you can buy a super cheap bun extension on Amazon to achieve this look.
7. Low Ponytail With Loose Front Pieces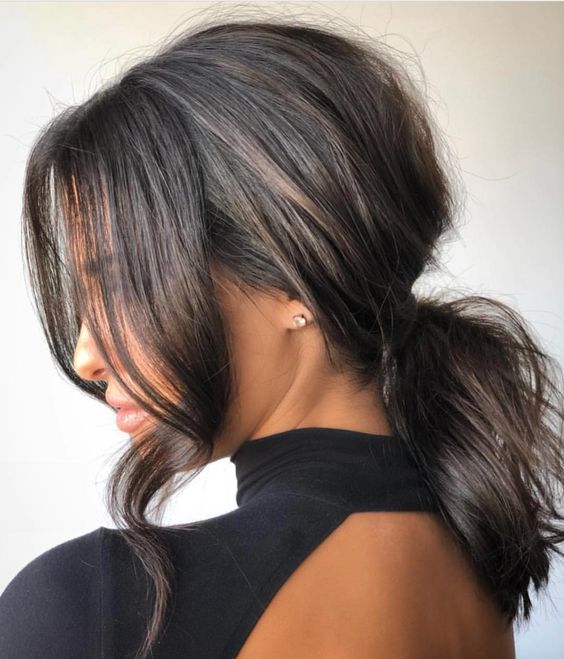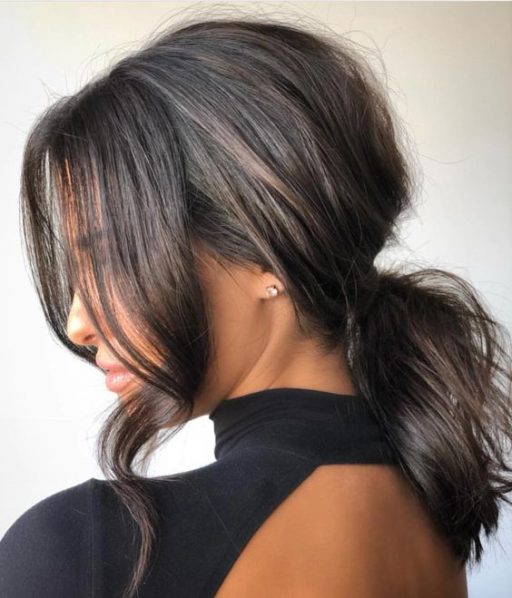 This low ponytail calls for some teasing, a middle part, and a piece of hair to be tied around the ponytail and pinned.
8. Super Messy Low Knot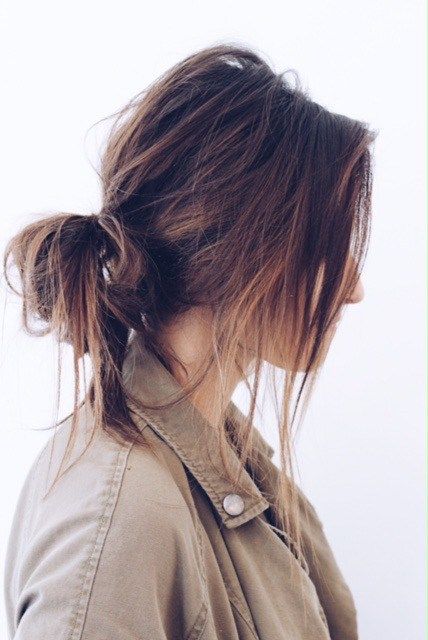 This has to be the easiest hairstyle on here. You can tie the hair back using an elastic and leave pieces hanging on the front.
9. Rolled Under Low Messy Bun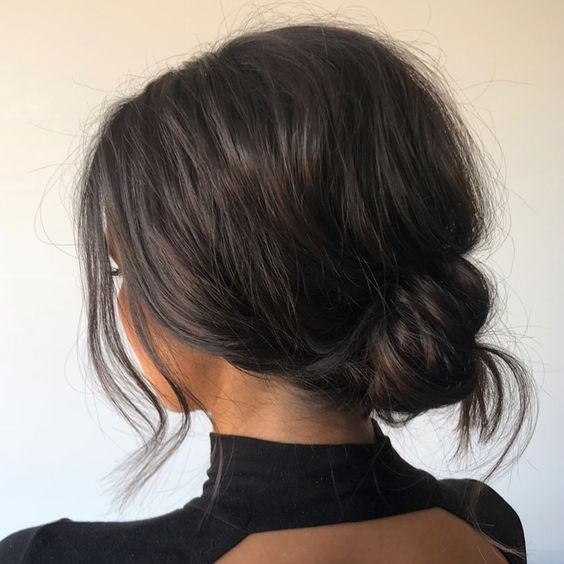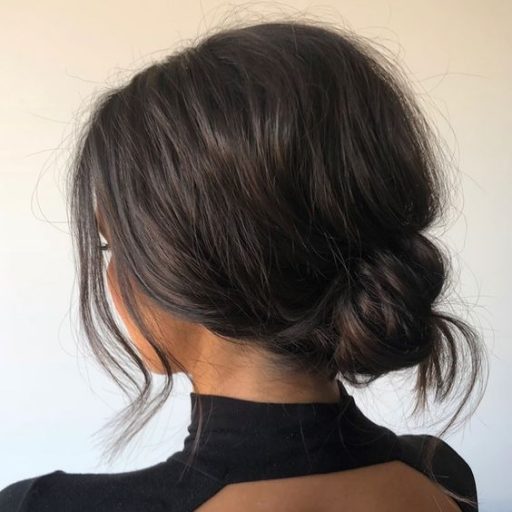 This is a messy knot in the back that is pinned under. It's a little more conservative, so it's great for workdays, but is still super cute and trendy.