I've always loved putting together boho outfits and playing around with boho style in general, but in Massachusetts, we only get to dress in boho fashion pieces during the warmer months. When I can take advantage of the weather, I definitely go for it!
To me, boho clothing represents summer, but in many areas of the world, you can incorporate boho style elements into your wardrobe all year round.
However, the boho look can be expensive. Most well-known boho fashion brands are all about sustainability. I personally love buying sustainable items, but higher end clothing can also be hard to afford on a regular basis.
Today I'm sharing my favorite 24+ boho fashion brands that work for a variety of budgets. Whether you want to spend $10 per item or $200, you'll find boho fashion brands on this list that are attainable and that have super cute pieces!
Dressing In Boho Style:
Boho style can be a bit confusing. It's a strange mix of natural wood pieces, French fashion ruffles, cottagecore style, and prairie dresses, all mixed with the edgy, sporty California look.
When you're dressing in boho clothing, make sure you choose things that are free and flowing. Boho style was literally created for the wild child. It's not about being constrained, so tight clothing isn't popular.
Unlike other styles, you can totally mix and match prints when you're planning boho outfits. In fact, the more the better. You want a really eclectic look with a whole mix of prints, jewelry, and accessories.
Boho style typically centers around earth tones. Shades of nude, brown, off-white, cream, and burnt orange are all popular. However, you can also mix in some pink, blue, green, or yellow tones, as long as they're subdued and natural. Neon is much more "festival" than boho.
Some of the staples of boho style are:
Printed kimonos
Maxi dresses
Floral prints
Prairie dresses
Fringe trim
Loose, frilly clothing
Flat, chunky sandals
Woven handbags
Lace accents mixed with cotton material
Long, flowy jewelry
Wood jewelry
If you're just starting out on your boho fashion journey, I recommend that you find a few key dresses as well as a top or two, plus a variety of accessories. It's also a good idea to have a kimono or a wrap for layering. Alternatively, you can go with a fringe coat or cardigan.
Hopefully these brands give you a place to start!
Boho Fashion Brands:
Here are my favorite 23+ boho fashion brands. There are a variety of price points on this list, so I included what I specifically shop for at each store. That way, you won't have to spend a good chunk of time sorting through the site for pieces that actually fit the aesthetic.
If you're looking for sustainable boho style summer pieces then you will love Christy Dawn.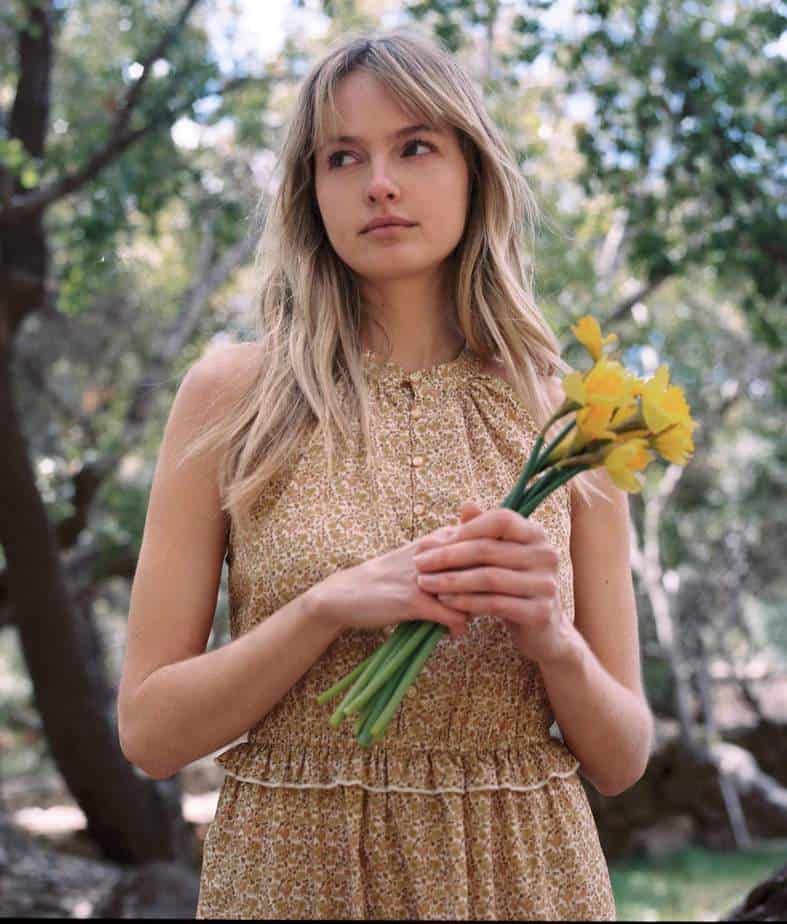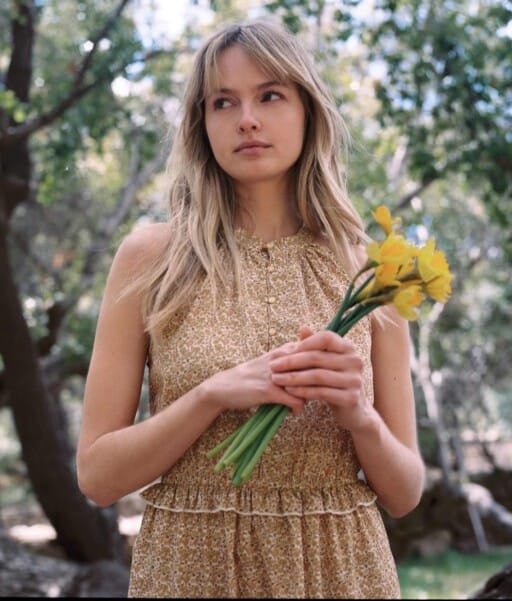 This darling boutique offers limited styles, including gorgeous printed dresses, cotton-ruffled blouses, and super cute jumpsuits and overalls.
I definitely don't buy my whole wardrobe here, but I do choose 1-2 pieces a season to add to my closet. The quality is truly unbeatable – everything from Christy Dawn is incredibly soft!
Plus, you can guarantee that you'll get top-notch customer service. Like I said, everything is limited; the staff puts all of their energy into making the most current collection successful.
Pricing: Expect to spend $200 per item. Christy Dawn is pretty expensive compared to other boho fashion brands on this list, but everything is sustainably made and lasts for quite a while.
Urban is the O.G. large store for boho outfits. You can still find some awesome pieces here.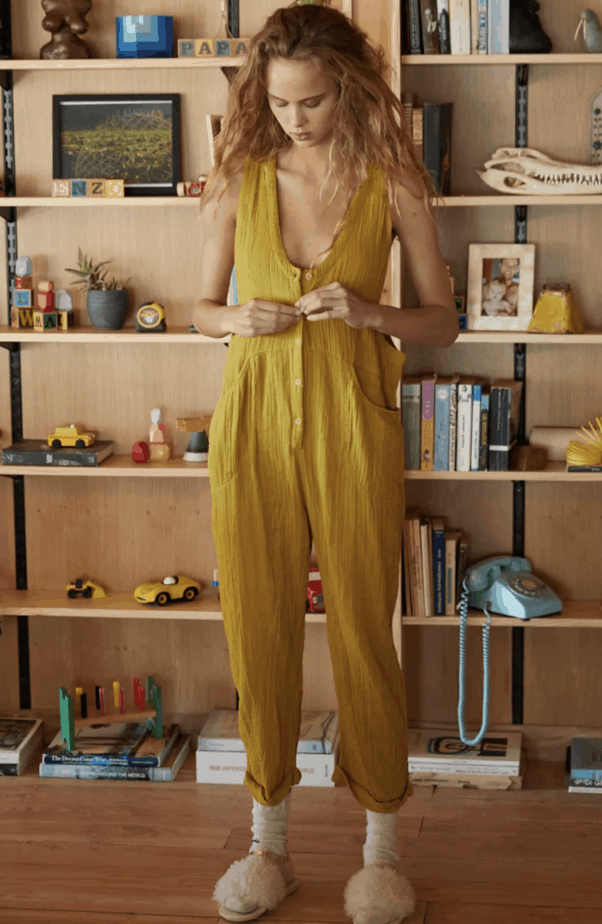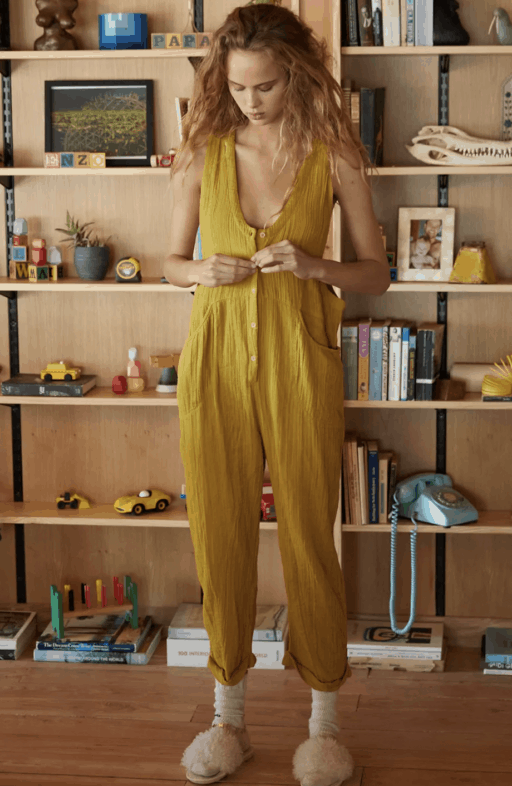 However, keep in mind that Urban Outfitters generally sells casual boho clothing. You can check out virtually anything in the clothing section, thought I tend to especially go for their flowy sundresses and wide-leg pants.
Be careful that you avoid the skater look. For some reason, Urban is getting a bit more edgy, but there are still some super cute boho pieces. It's more surfer/boho than prairie/boho.
Pricing: Urban Outfitters is even more affordable than it used to be. Expect to spend $30-$70 per item.
If you want legit boho style then Anthropologie is definitely the best place to shop. You can find some seriously gorgeous boho outfits here, complete with shoes and accessories.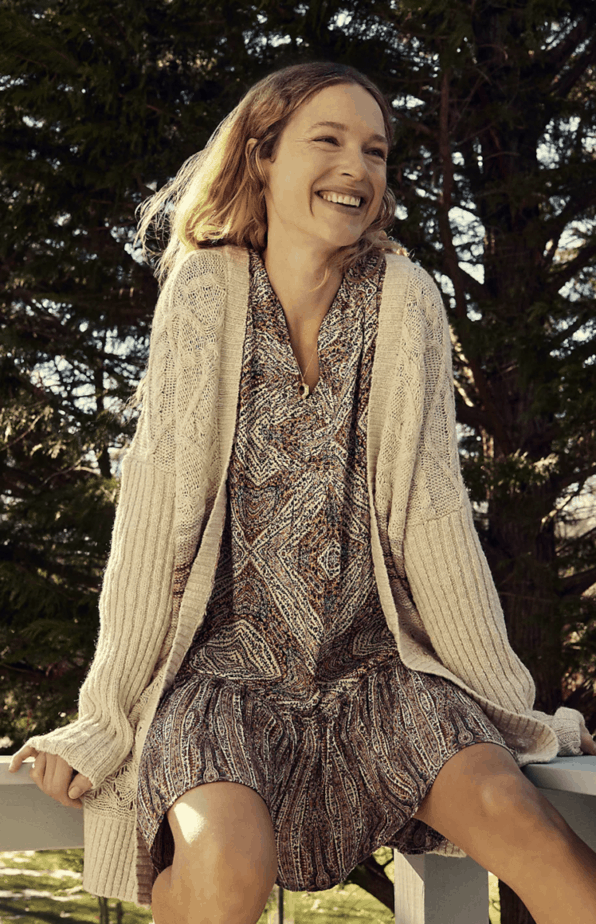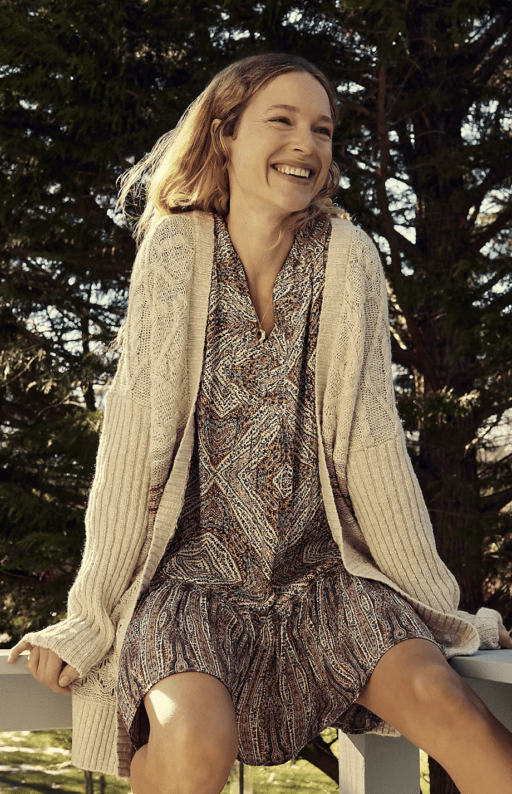 Although I love literally everything at Anthropologie, I especially recommend the cotton dresses, the flowy tops, the maxi skirts, and the darling shoes.
Their collections are known for their eclectic and vintage-inspired designs, and they often incorporate natural materials such as leather, wood, and cotton into their products.
Anthropologie also features a range of boho-inspired prints, patterns, and colors, which are perfect for creating a relaxed, carefree, and bohemian look. Whether you're looking for flowy maxi dresses, embroidered tops, fringe jackets, or colorful scarves, Anthropologie has got it all..
Pricing: Anthropologie is a bit more expensive than many of these other brands. You can find some items for $50-$70 while others are just over $100.
Although Lulu's is known for wedding dresses, you can actually find super cute boho clothing and various boho fashion brands here, too.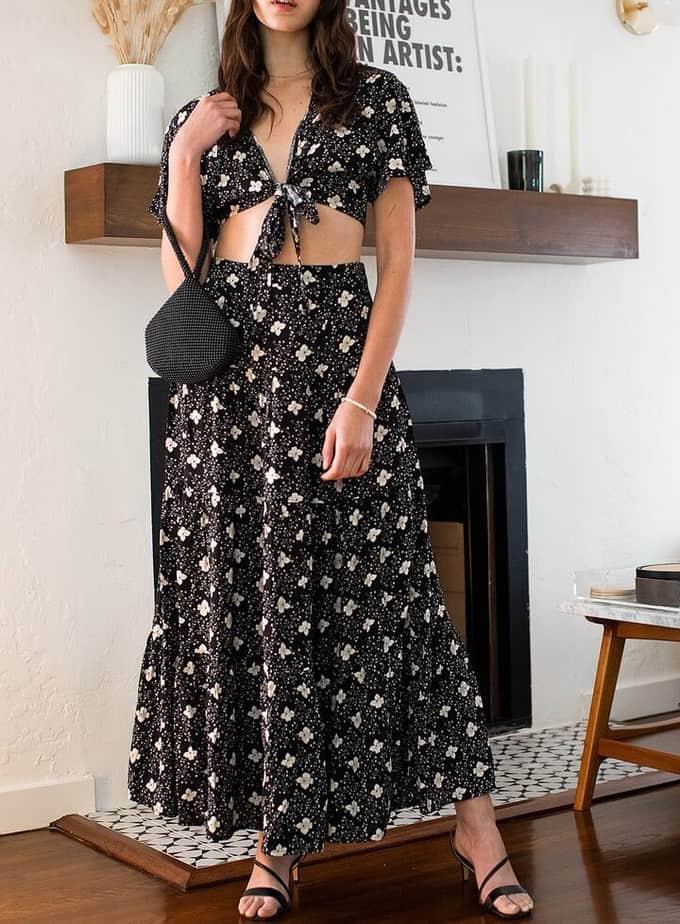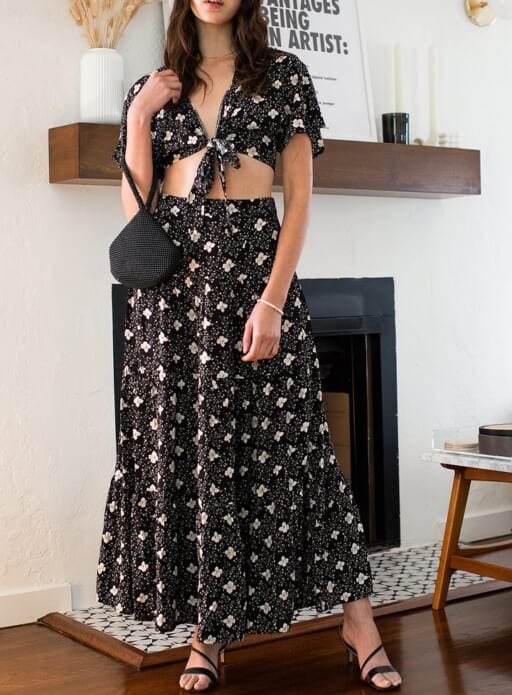 I recommend checking out the casual dresses for some boho style summertime options. The bestsellers section also has some great options including tops, dresses, jumpsuits, and more.
Not every single thing at Lulu's is boho style, so you will have to sort through, but it's worth it because the prices are so reasonable.
Pricing: Most items are under or around $50. I have found some super cute boho style tops at Lulu's for only $18 on sale, so make sure you check the clearance section.
Chicwish has many pieces that are girly or light academia style, but they also have some really gorgeous boho outfits if you don't mind sorting through.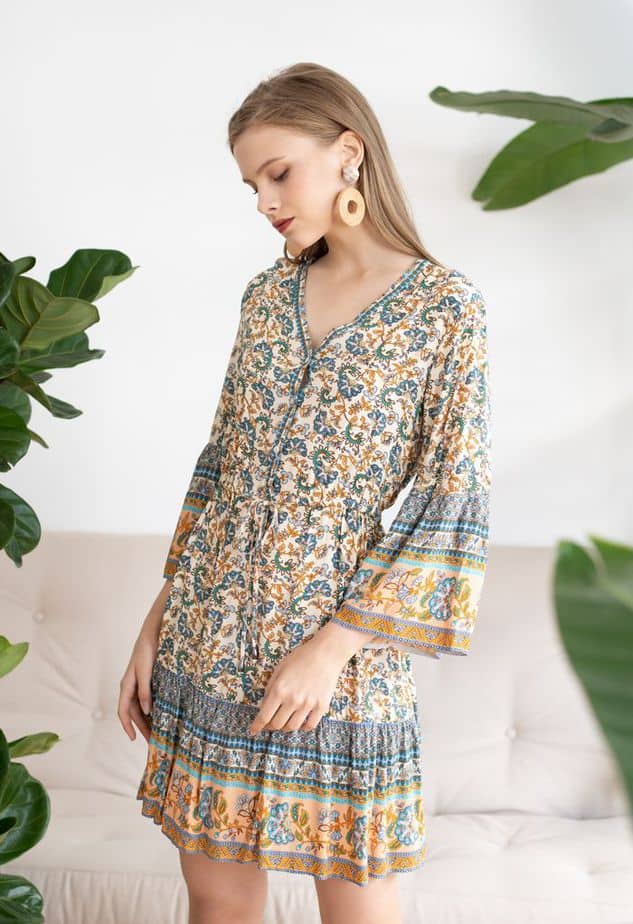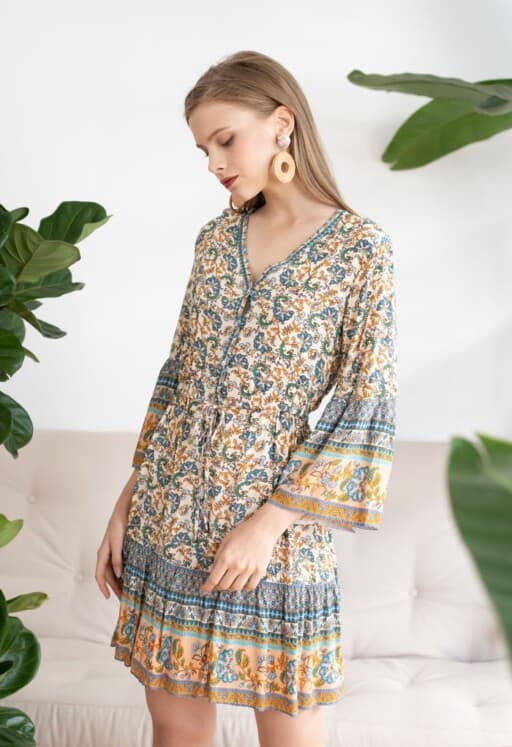 Literally all of the maxi dresses are perfect boho clothing for any wardrobe. I also check out the new arrivals because they sometimes have really cute printed tops or prairie maxi skirts that sell out quickly.
Pricing: Most Chicwish pieces are around $30-$40. They have a lot of sales and often offer free shipping. You can definitely find some awesome boho fashion pieces here, but you will have to sort through the other styles. It's the best online store for those of you who want to stay girly but add a few bohemian touches.
RELATED: A Totally Honest 2022 Chicwish Review + Haul: Is Chicwish Legit?
Even within boho style, there are variations and different types of styles. Petal + Pup perfectly encompasses the natural, linen boho style that's more hippie, less trendy.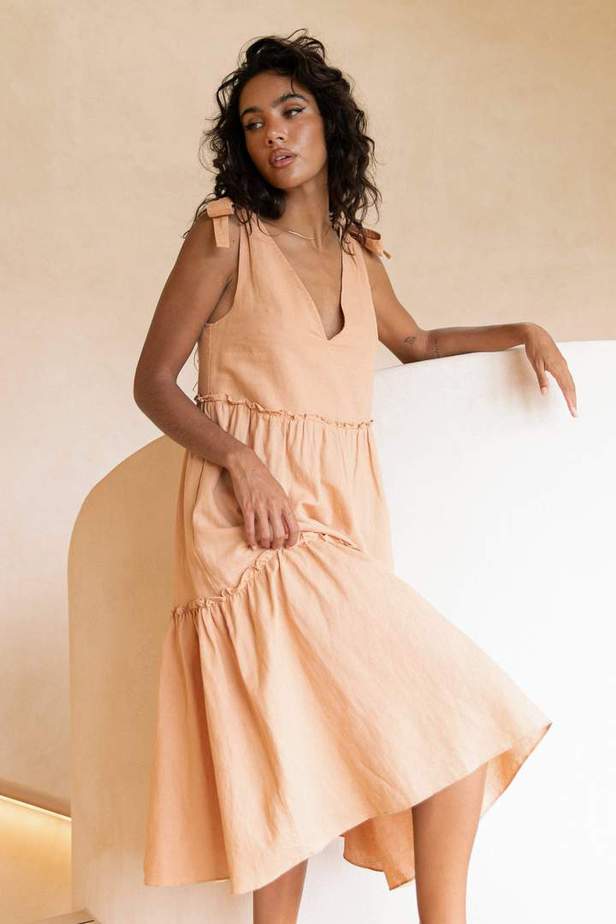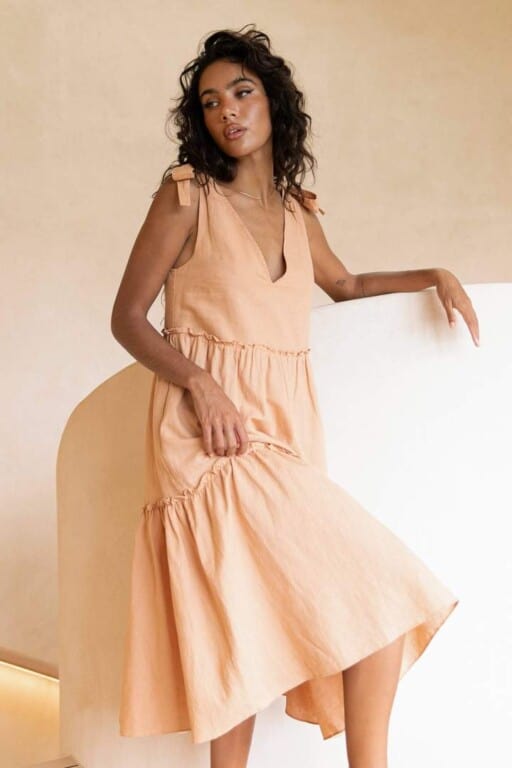 I really love the dresses at Petal + Pup. They're mostly made of cotton/linen and are very flowy, with a distinct open-air vibe. They're also crazy affordable!
However, you can also find some really beautiful tops. Check out the linen section as well as the floral pieces section for boho clothing options.
Pricing: Most pieces, even the dresses, are under $50. You can easily get free shipping (by spending either $100 or $150, depending on the deal of the day). I find that most items fit super well and are high-quality despite the affordable prices.
If you don't mind spending a bit more, then For Love & Lemons is a must.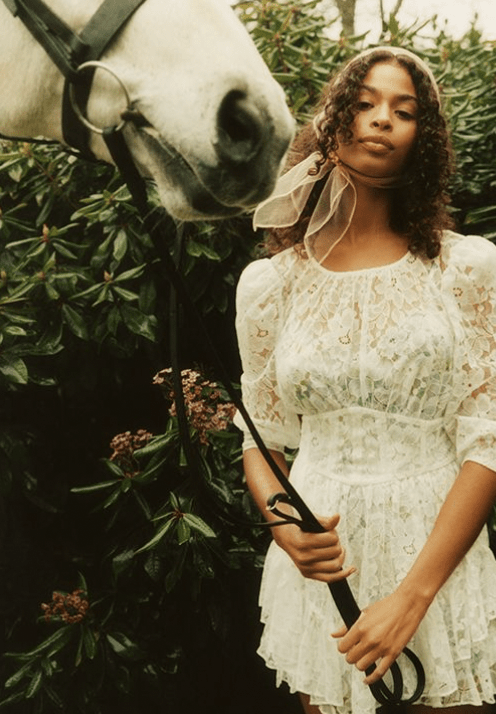 I really only shop for dresses and blouses from this brand. They're a mix of girly and boho style; the pieces are very feminine with an upscale hippie vibe, if that makes sense.
I absolutely love these pieces for special events if you still want slightly boho outfits that are dress code appropriate!
Pricing: Expect to spend $100-$200 per item.
Free People is another classic boho fashion brand that is even better than Urban (in my opinion) although it is a bit more expensive.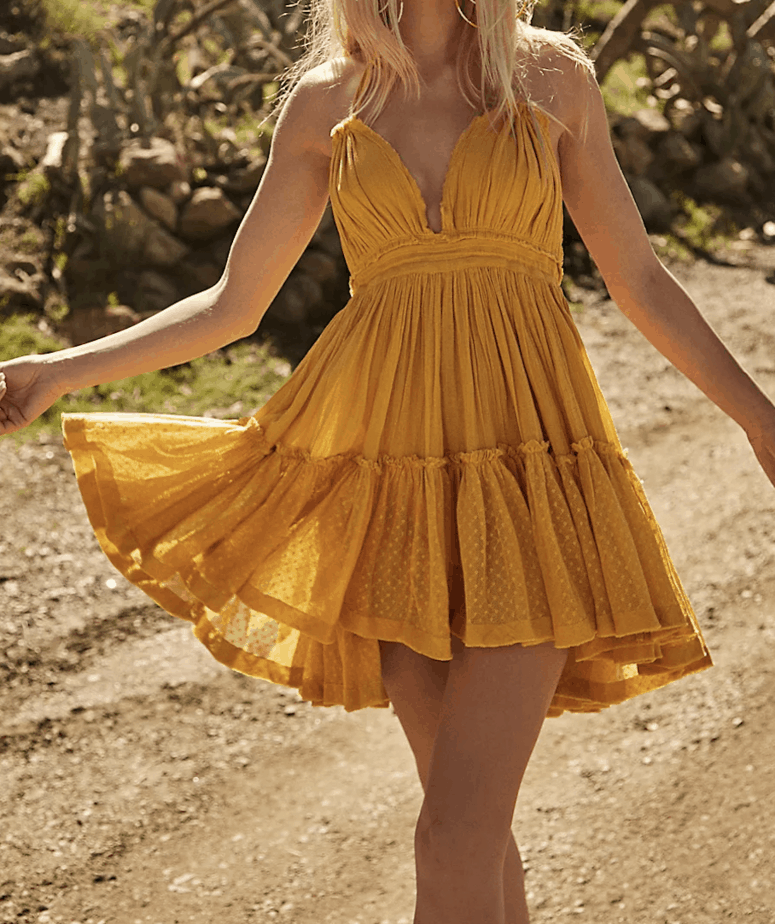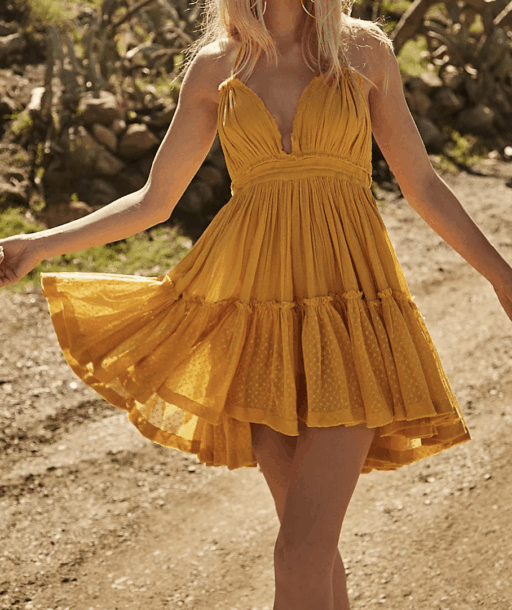 Basically everything at Free People is boho clothing. The brand was literally created for hippies. You can't go wrong! I especially love shopping at Free People for summer boho outfits.
Pricing: Expect to spend $75-$150 per item. The pieces are pricey but they're great quality with lots of intricate boho details.
Unfortunately, most of us can't afford Free People for every item in our wardrobes! There are some great similar-style dresses on Amazon for like $20, although there's a huge different in quality.
Click here to shop Free People.
Cleobella is all about the quality. These boho clothing pieces are extremely unique and have a muted, vintage California feel.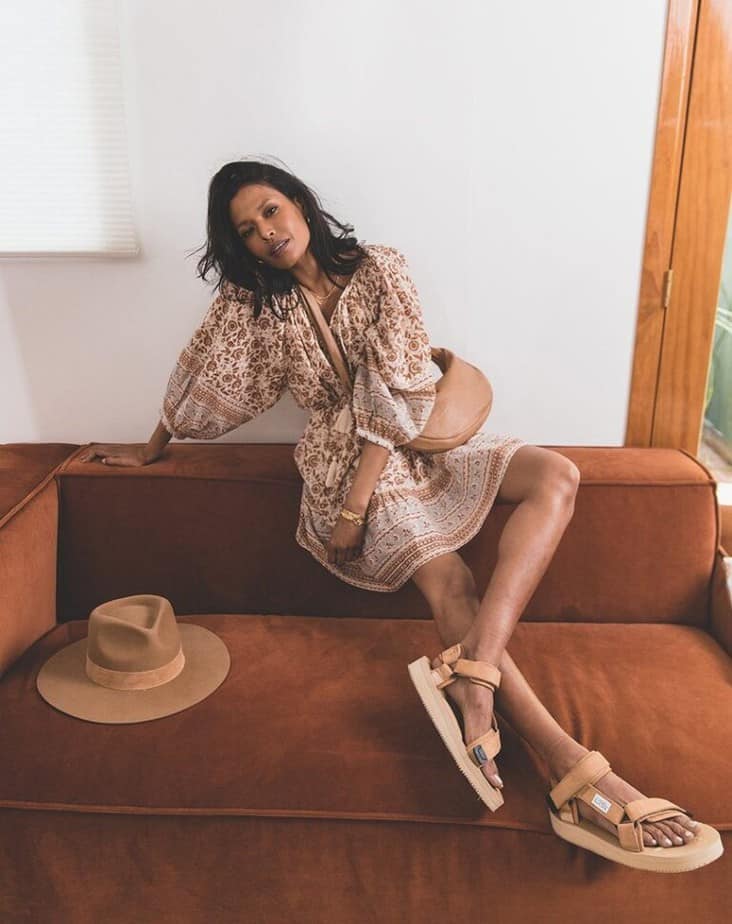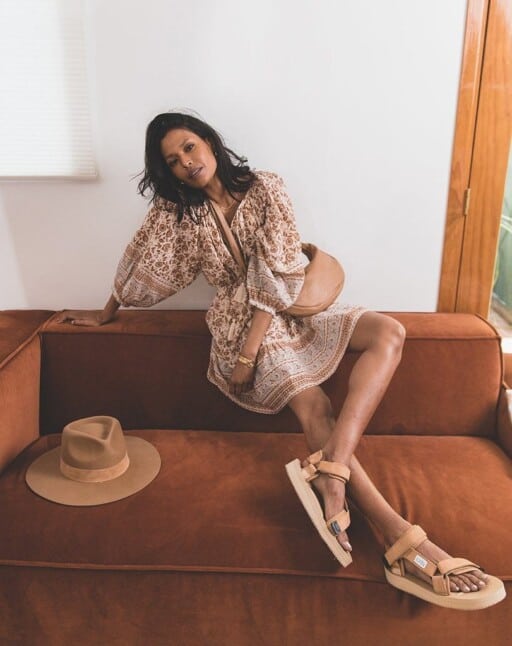 I'm in love with the patterned dresses. You can't find these types of pieces anywhere else. I also love the flowy boho tops and the cotton jumpsuits.
Pricing: Expect to spend $100-$300 at Cleobella. These are once in a while items for me, but they last for years and years.
Strangely enough, I find a lot of cute clothing on Etsy. Many of the items are handmade or are super unique, which is perfect when you're looking for boho fashion. After all, going against the grain is kind of the point.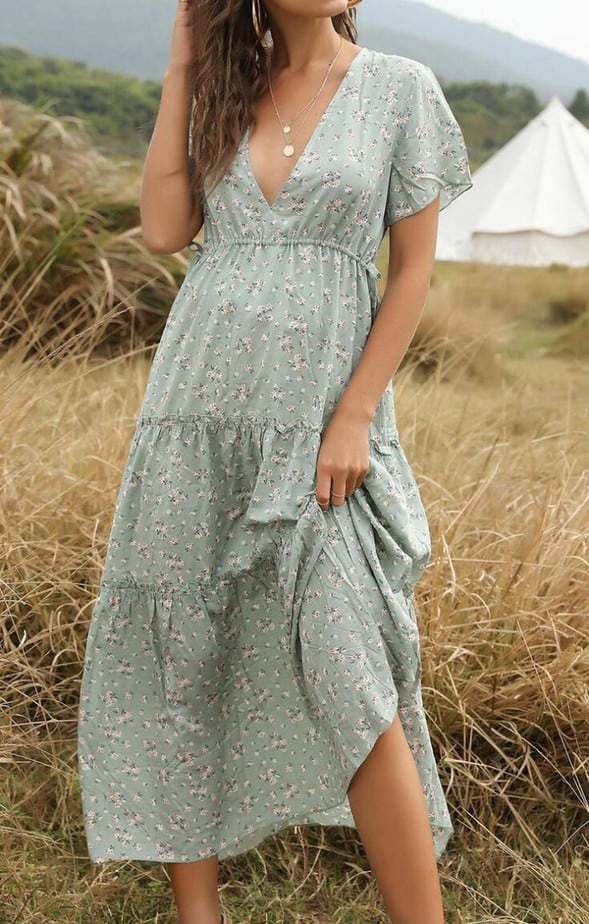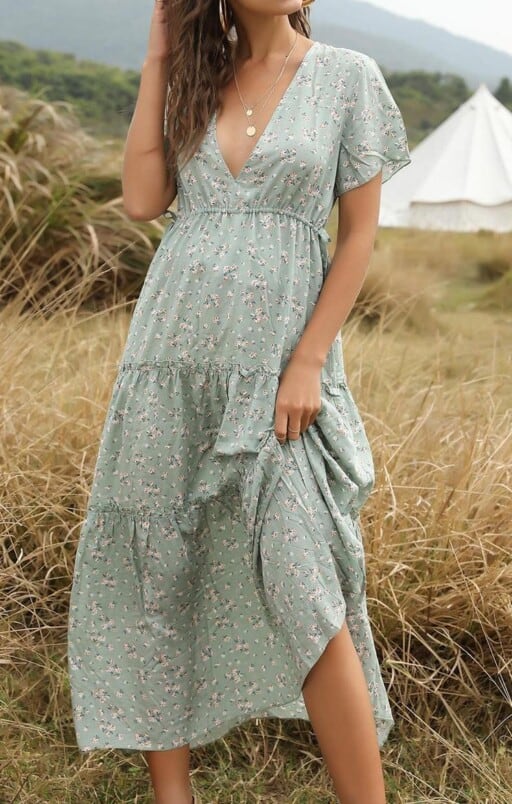 I do a quick simple search for boho pieces – there are so many awesome boho clothing items! You can find lacy white maxi dresses, patterned baggy dresses, wood earrings, hats, boho purses, anklets, and more.
I especially love Etsy for boho jewelry pieces and accessories.
Pricing: Etsy has variable pricing because each seller is different, but I generally like to spend $10-$50 per item. Make sure you check the shipping prices before you order as they can either be super high or super low.
I literally love everything at Spell. The prices are higher, but you get what you pay for.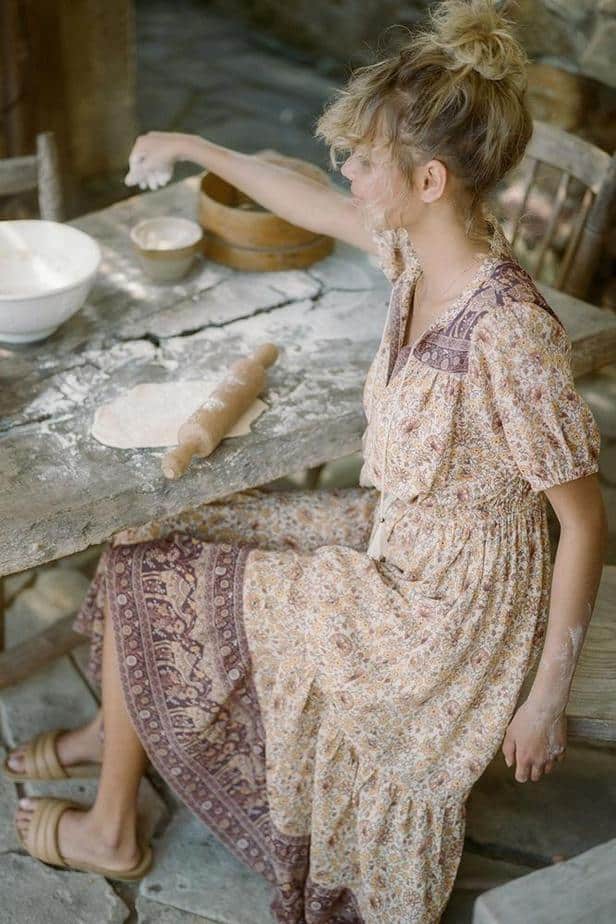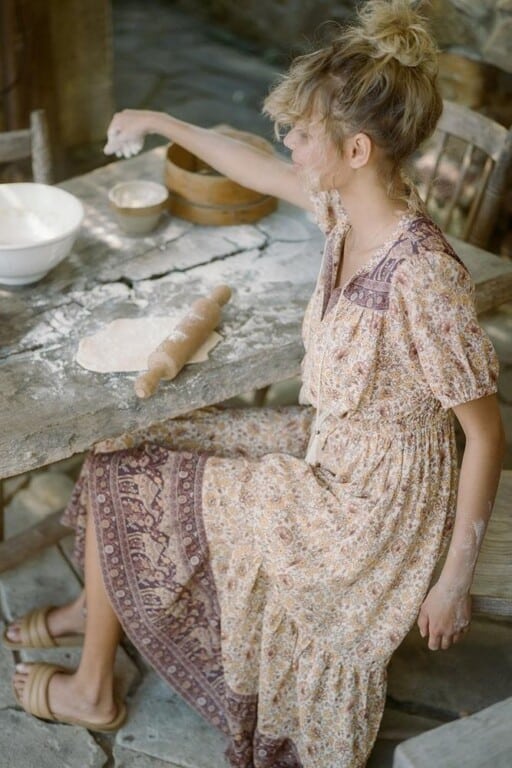 Almost every piece on this site would work to create perfect boho outfits! I love everything from the patterned tops and dresses to the loungewear and even underwear. Check out the best sellers to get a feel for the options.
Pricing: Like many other sustainable boho style brands, Spell is pretty expensive. You'll spend anywhere from $100-$250 per item, on average.
However, if you're cultivating a boho style wardrobe, I recommend that you mix and match more expensive, long-term pieces with shorter term, affordable items. Spell is great for the long-term finds.
Surprisingly, Amazon has some great boho fashion pieces. They're super affordable and can be really cute, depending on what you stumble across.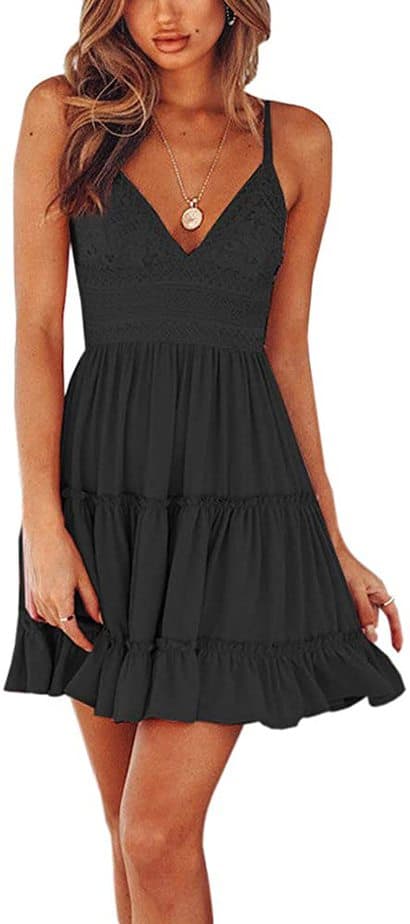 You can literally search the keyword "boho fashion" and find some great items. There's a whole mix of patterned dresses, jewelry & earrings, patterned kimonos, sandals, and more.
This store also has super cute boho outfits and accessories, all for incredibly affordable prices. I shop for fabric shorts, tribal printed dresses, hippie shirts, lacy boho bathing suits, and more at this store.
Once you find a piece you like, head down to the suggested items. This is how I find most of my Amazon pieces; they don't always have the greatest search functionality.
Pricing: Although Amazon has many different boho fashion brands, all of the pieces I listed above are typically under $30.
Shein carries virtually every type of clothing and style, as long as you know what to look for. They have a ton of boho clothing that's super cute and affordable!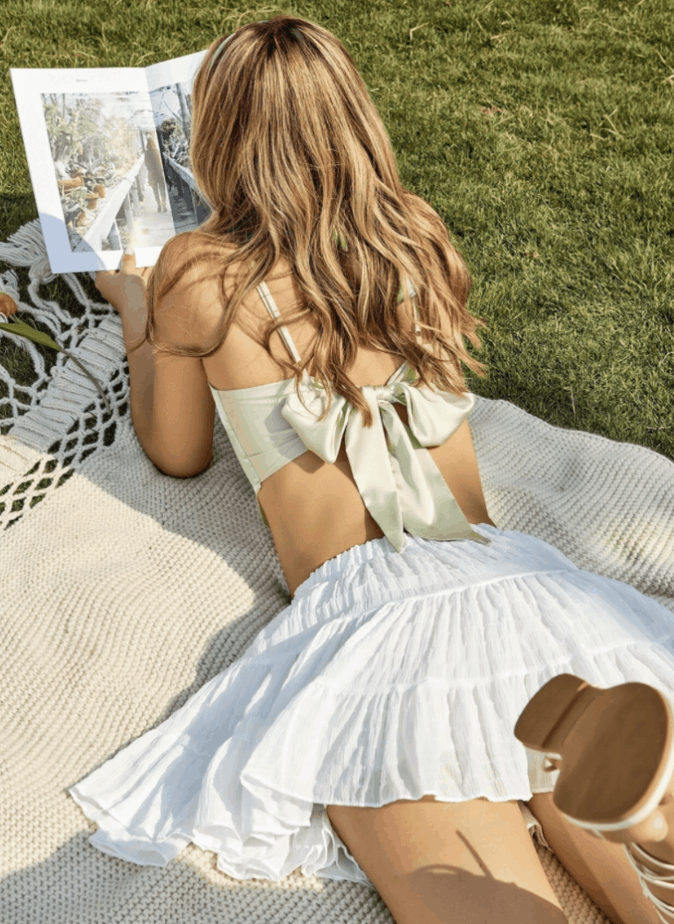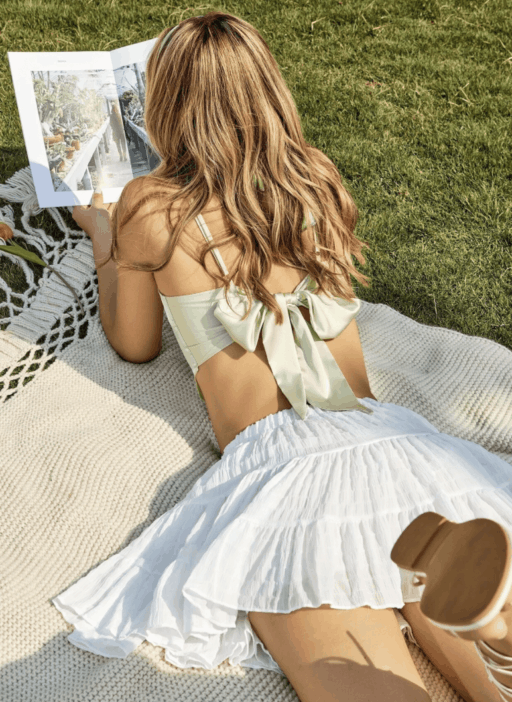 Search the keyword "boho" and you'll find a whole bunch of pieces including patterned maxi dresses, floral skater dresses, fringe hem shirts, floral crop tops, long boho earrings, and two-piece sets.
I recommend ordering your basics from Shein. If something looks like it might fit weird, it probably will. I have found the cutest items on this site, but I always get some things that don't look great in person, too.
Pricing: Shein is super affordable. Some of the items are under $10, plus they offer free shipping and free returns over a certain price. However, expect that about 1/2 of the items won't fit right (thus the free returns) and that most pieces won't last more than a season or two.
RELATED: A 100% Honest Shein Review UPDATED 2022: Is Shein A Scam?
This is one of the sweetest boho fashion boutiques. The items are unique and the prices are super low.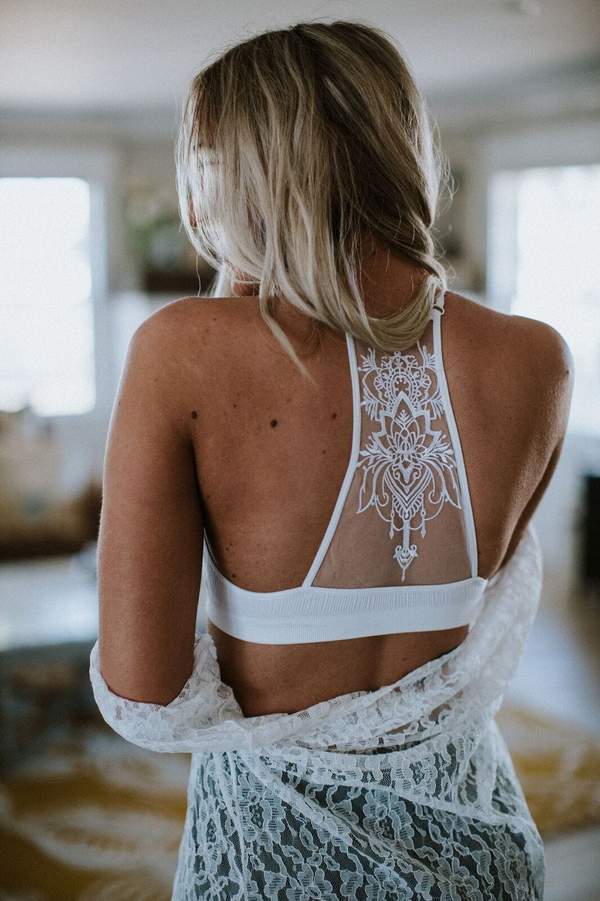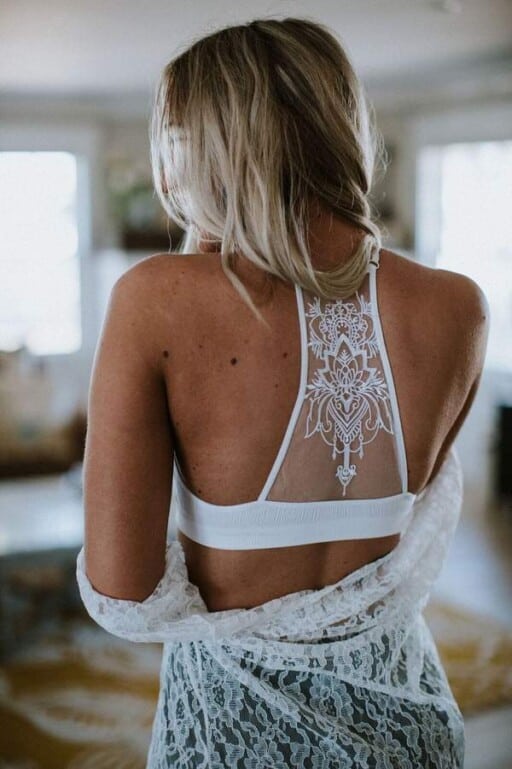 I recommend that you check out the "must haves" section for all of the most popular items. I especially love the lace design bralettes, the flowy boho tops, and the bell bottom pants and jeans.
Pricing: Most pieces are under $50. I get my tops here for under $30. A few items are over $50, but they're long-term pieces (like heavy jeans or coats). Plus, Three Birds Nest always has really great sales.
ASOS is another brand that has super cute boho style pieces if you know what to look for. However, because ASOS stocks so many brands, you do have to dig around the website a bit. There really isn't an easy search function on the site.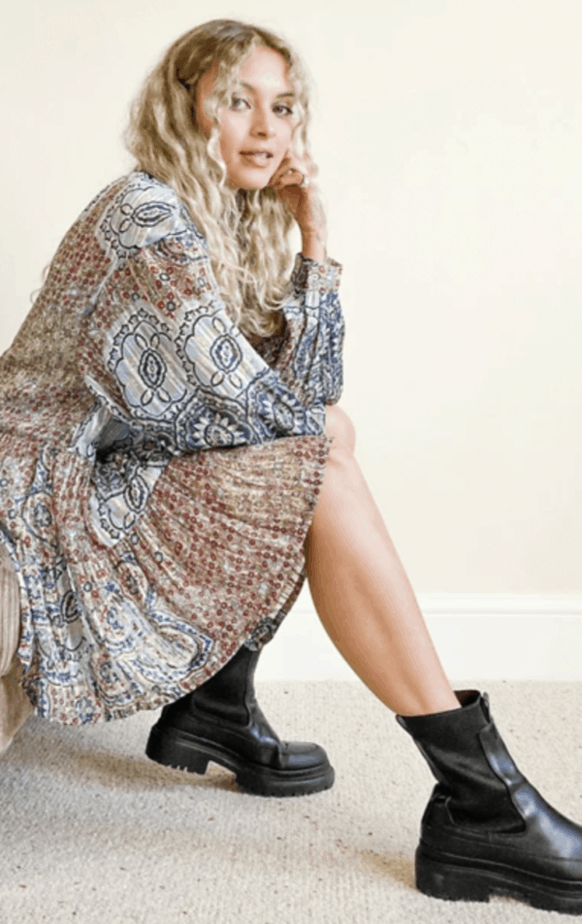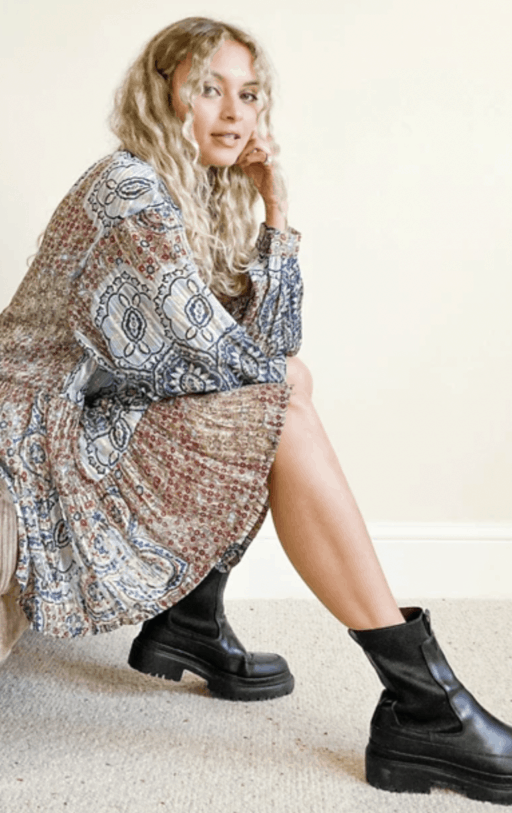 You can definitely find some really cute boho style dresses if you sort through. I especially like the floral dresses. I also love the flat sandals at ASOS; there are some super natural, boho fashion pieces.
Pricing: ASOS prices are variable because they carry so many different brands. I typically try to spend around $30 per item. There's always a massive amount of pieces on sale in the outlet.
Faithfull has an outdoorsy, French-boho vibe that's super upscale. It's less festival-style, more living off the land boho style.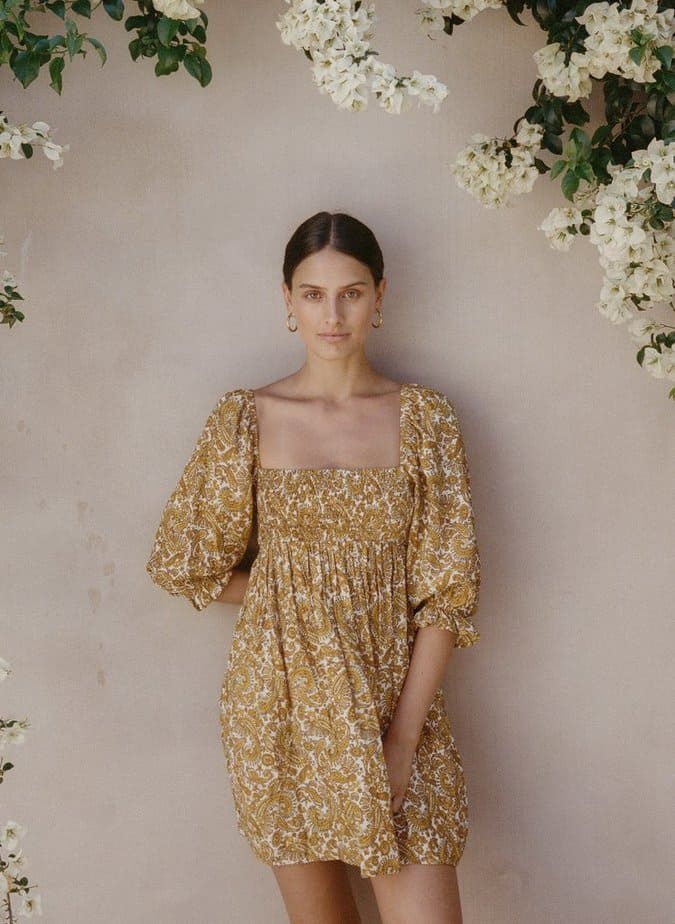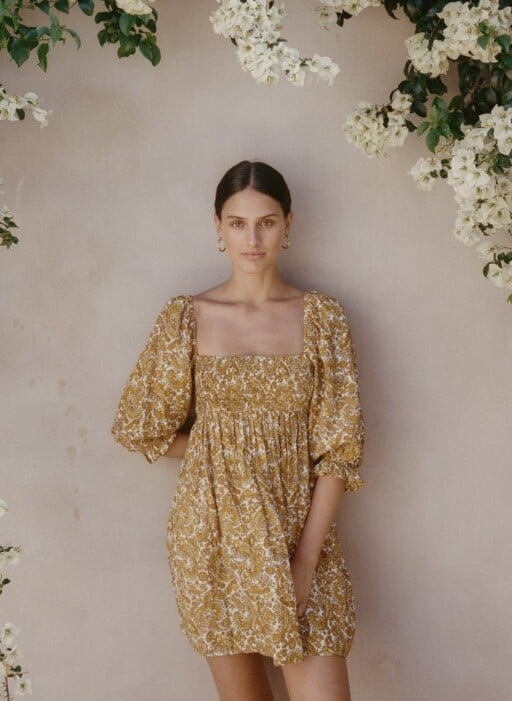 You can't go wrong with anything at Faithfull, but I particularly love the patterned dresses. I purchase at least one every summer. Faithfull definitely has more of the prairie vibe if you like the softer side of boho.
Pricing: Each item is $100-$250. These are splurge items.
Although Boohoo carries many different styles and trends, they do have a significant boho fashion section. There are some super cute boho outfits on Boohoo for well under $50!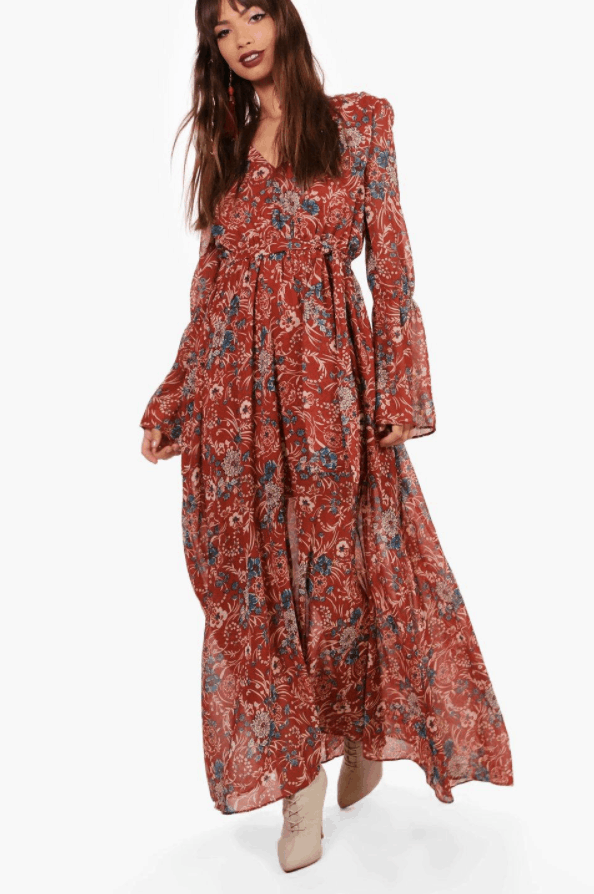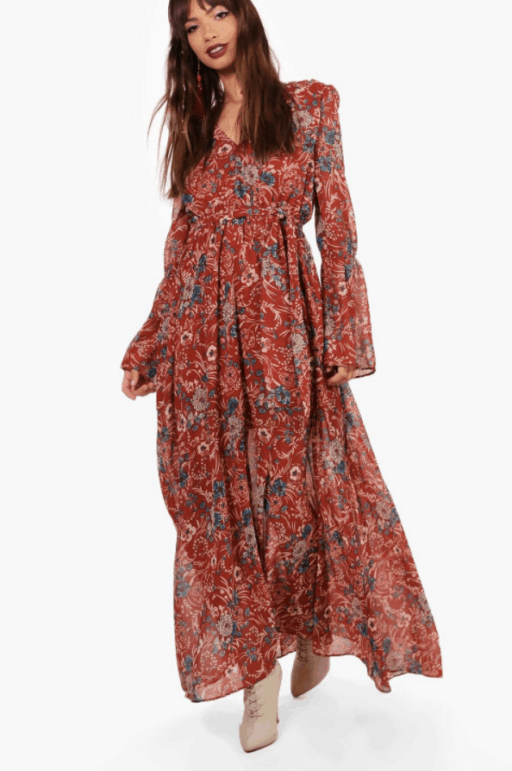 I simply search boho and find some great pieces. I also really like some of the maxi dresses and frilly blouses when I'm looking for more specific boho clothing.
Keep in mind that Boohoo is definitely fast fashion. Not all of the items look stunning in person, but it can be helpful to have this site on deck when you're short on cash. Plus, most boho clothing stores are insanely expensive, so it's nice to catch a break.
Pricing: Expect to spend $10-$25 per item.
If you're looking for trendier boho outfits then you'll love Red Dress Boutique. This online shop combines flowery, girly patterns with the regular trends that you see in street style.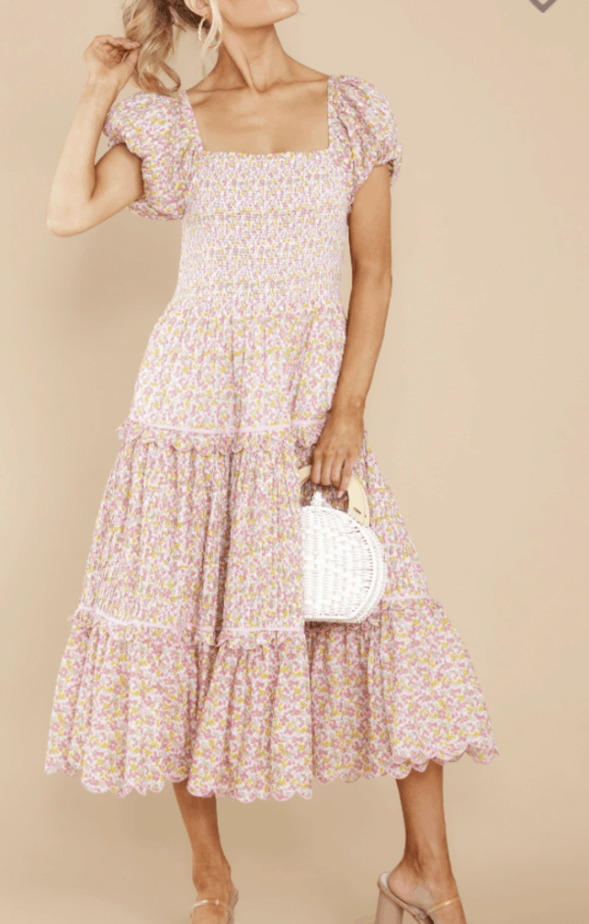 I especially enjoy the maxi and midi dresses at Red Dress. They also have some cute blouses and happy floral skirts. Red Dress isn't the first place I head to for boho fashion items, but they do have cute pieces if you want your wardrobe to be trendy, too.
Pricing: Red Dress has super variable pricing because they carry designers now, too. However, I tend to spend about $50 per item.
Although Shopbop sells a variety of styles, I particularly like going on Shopbop for boho outfits. They have just about everything you need!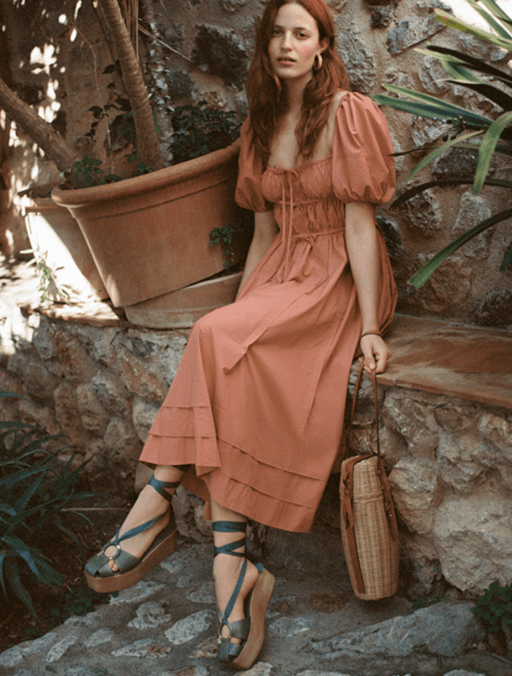 You will have to sort through because Shopbop carries many different designers, but most of them focus on boho clothing.
I recommend starting with the home page, as basic as that is. There's usually a good amount of boho clothing pieces to figure out which designers will work for you this season.
Pricing: Boho outfits at Shopbop can be a bit more expensive, but the pricing is somewhat variable based on the designer. Expect to spend $50-$250 per item. You can tailor the search to your budget if you prefer.
I recently stumbled across Magnolia Boutique and thought it was just too cute! The clothing is trendy but does have hints of boho style.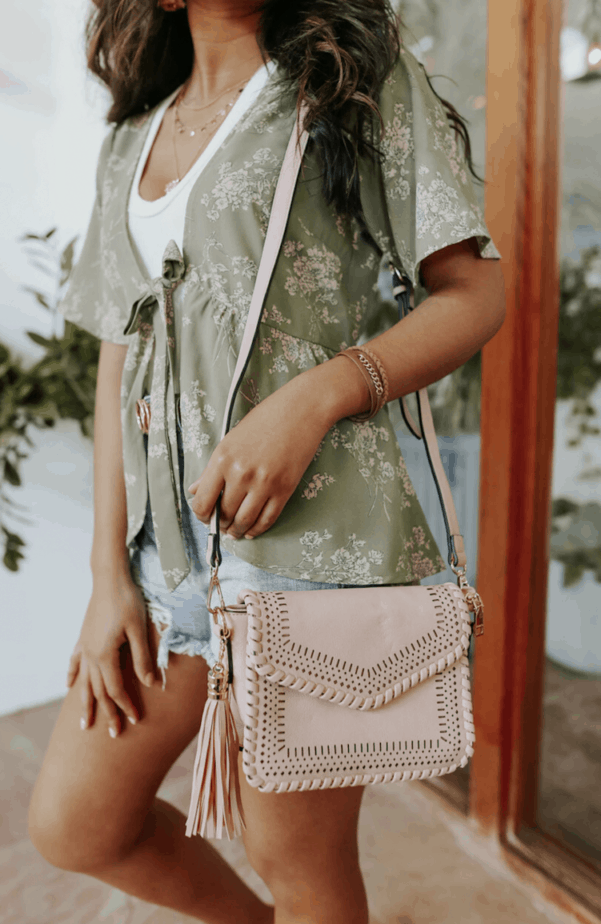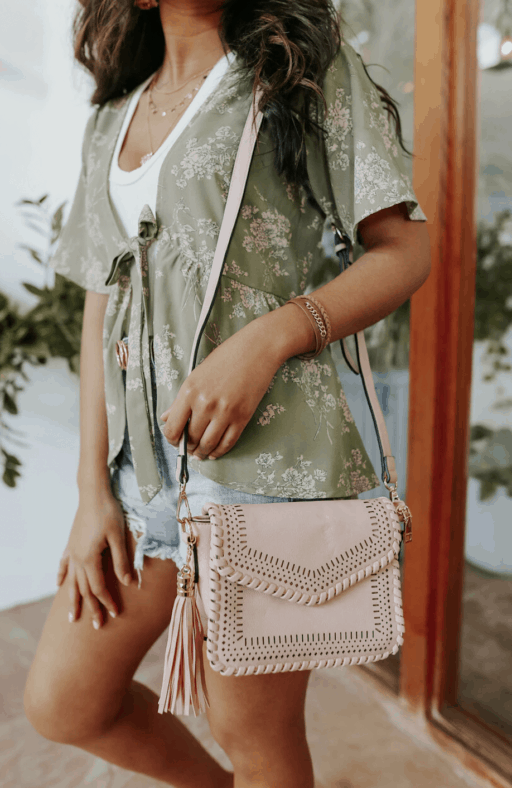 I recommend the floral dresses, for starters. There's a really great selection that's varied, with options for all seasons. I also like the cardigans and kimonos, many of which are super boho and really affordable.
Keep in mind that returns are for store credit only. This isn't usually a problem for me if I find items I really love, but some people just want their cash back.
Pricing: Most pieces are around $50. These boho fashion items are all super affordable, especially because the design is pretty unique!
Love Stitch is basically an online boho fashion brand with every single item you could need. Dresses, tops, fringe jackets, flare pants, accessories – they have it all.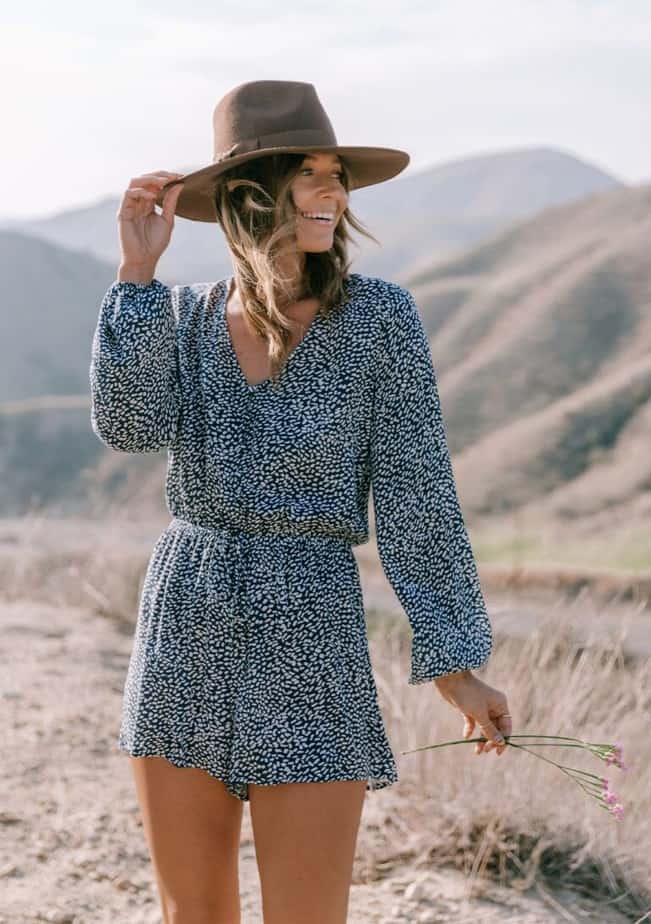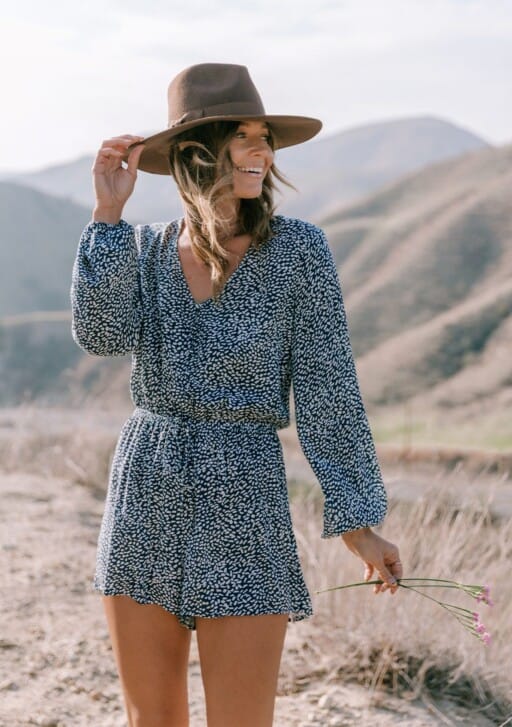 I typically start off with the dresses because I'm just such a dress person. When it comes to boho fashion, I'll always go for a flowy dress over anything else. It's classic (or as classic as boho can be) and is super comfy.
However, Love Stitch also carries super cute floral and lace tops, fringe cardigans for layering, flowy rompers and jumpsuits, and a whole bunch of kimonos. You can find entire boho outfits at Love Stitch!
I like shopping here for casual boho clothing. You'll find that the pieces are great for a warm-weather afternoon or evening.
Pricing: Most Love Stitch pieces are between $50 and $100. The site is pretty affordable and the selection is large.
Arnhem is a darling Australian brand that reminds me a lot of Planet Blue. I was devastated when they closed, so this is my new go-to for Australian-styled boho clothing.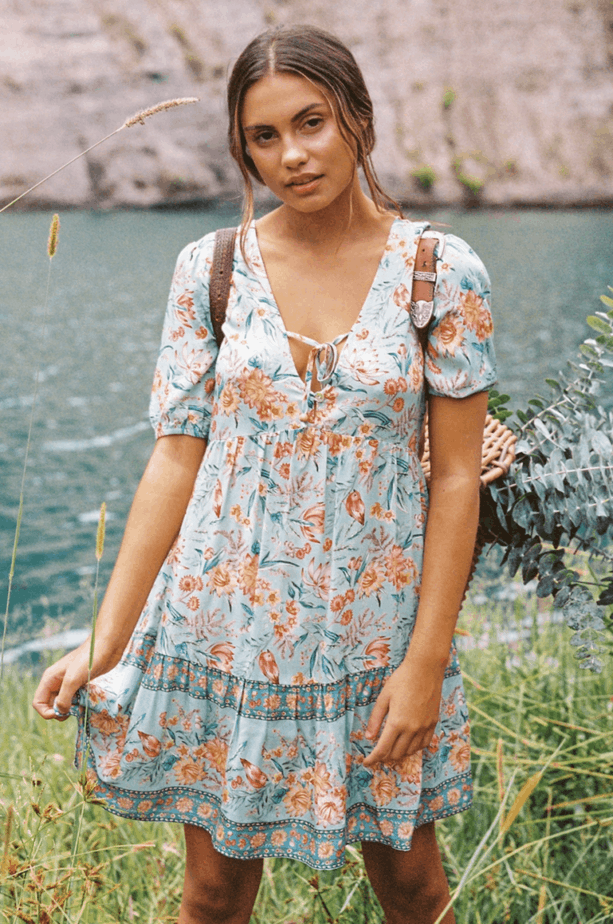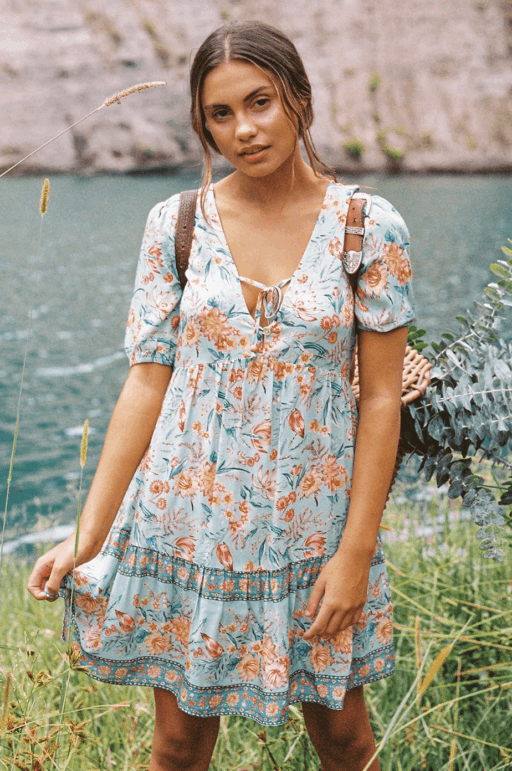 Literally everything on this site is super cute. I love the flowy mini dresses (they go great over a bathing suit in the summer), the oversized tassel tops, the bell-bottom pants (the site offers knit, jeans, and cotton pants), and even the patterned swimsuits. If you've never heard of them, I definitely recommend checking this site out!