If you've been reading Adore Me review posts then you probably know that there aren't many "blogger opinions" out there on the company. This is crazy to me, because Adore Me has one of the coolest models ever!
I was never really into lingerie or underwear. I basically wore whatever I had (I still have bras from high school) and only cared about what my clothes look like on the outside.
After trying Adore Me due to the super affordable pricing, I've realized how much I love having fancy underclothing.
Of course, no company is perfect, and there are a few drawbacks with Adore Me that I'll go over in depth. I wanted to write my own Adore Me review to give you the scoop, since I have tried all three types of packages and have lots to say!
How Does Adore Me Work?
When you start shopping on the Adore Me website, you have a few different options.
You can either sign up for a VIP membership, which is $39.99 a month, choose the Elite Box option, which is a subscription service (you'll pay based on what you keep), or shop for individual pieces like you would at a regular boutique.
I personally feel that the $39.99 VIP membership is the best bang for your buck. You get to pick out your own items (something that's really important to me) but you already know how much you're going to pay.
However, if you really like the StitchFix subscription box model then the Elite Box is probably for you. Alternatively, if you just want to shop for one or two pieces, you'll probably prefer the pay as you go model.
I'll go over each of these models in depth below in this Adore Me review!
Adore Me VIP Review:
I'll go over every type of package in this Adore Me review, but I have to admit that the VIP package is my personal favorite.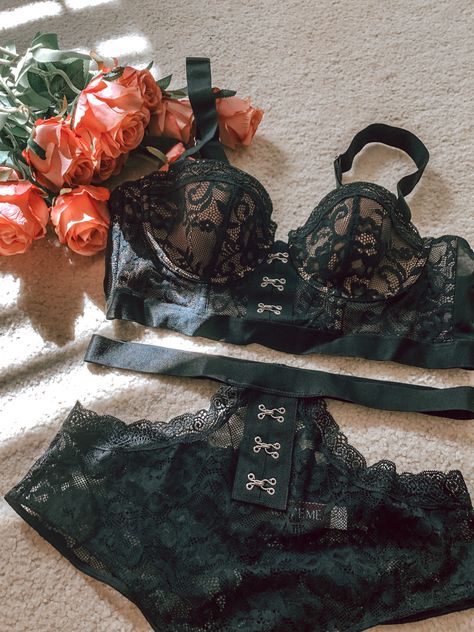 When you have the VIP package, you'll visit your showroom during the first 5 days of every month and pick out your items (you get email and text reminders to help you keep track of this).
You're charged $39.99 every month; this translates into credits that you can use for shopping at the showroom. You also get $10 off every set for being a VIP member.
With the Adore Me VIP package, you have the option to skip any month and you won't be charged.
I've read a lot of bad Adore Me VIP review posts that focus on the recurring charge. Some people don't like being charged monthly in case they forget to cancel.
Luckily, Adore Me changed up the program and now gives you the option to get a full refund if you forget to cancel in time! This is big for me because I never keep track of my subscriptions. I have asked for a refund once and got it within 5 days.
Plus, with the Adore Me VIP package, you can get your first set for only $24.95. Keep in mind that these are ultra-trendy, detailed pieces that would probably cost over $100 on Victoria Secret!
Lastly, you get free shipping and free exchanges with the VIP package.
I think that the Adore Me VIP package is worth it even if you only use every other month. You'll save a lot between the discounted sets and receiving your 6th set free.
Click here to learn more about how the VIP package works.
Adore Me Elite Box Review
If you're interested in the Adore Me Elite Box, you'll start off by taking the style quiz.
Your preferences will then get sent to a stylist who will pick out pieces and send you a curated box.
The styling fee costs $20, but your final price is determined by how many items in the box you choose to keep. Sometimes, depending on what you keep, the styling fee is waived.
You can receive many different types of pieces in your styled Elite Box, including lingerie, PJs, panties, bras, swimwear, and activewear. You're able to select what pieces you would like during the style quiz.
Once you receive your box, you have 7 days to try the pieces on and then return what you don't like.
Here's an example of what an Elite Box might look like for one month: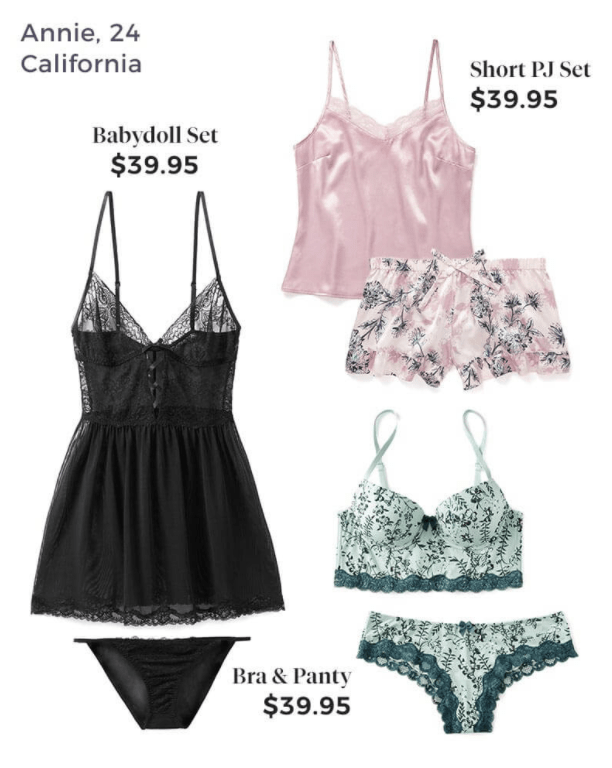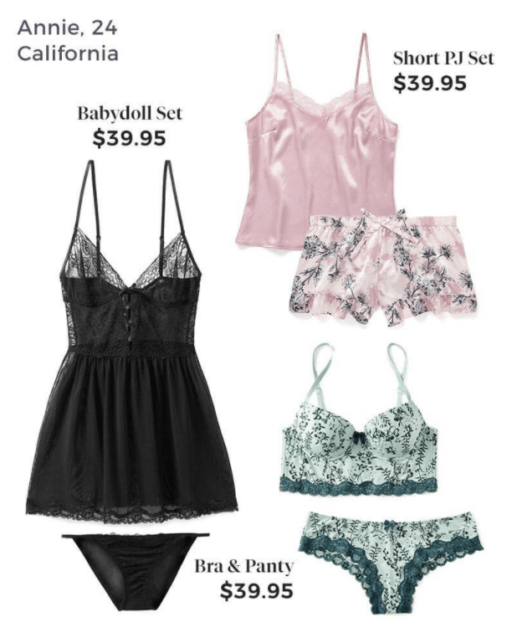 I tried the Elite Box for a few months, but it didn't work well for me because I'm really picky about my bras.
I loved receiving the other items (some of the bikinis I got were especially cute), but I kept exchanging the bras out for other pieces I had already seen, so I eventually switched over to the VIP subscription and started picking out my own items.
The Adore Me Elite Box is perfect for anyone who doesn't want the burden of picking out every individual piece. If you like having someone else style you then this is definitely one of the best lingerie subscription boxes out there!
Click here to take the style quiz or check out more about Elite Boxes.
Adore Me Pay As You Go Review
If you don't want any commitment then you'll probably be interested in hearing an Adore Me review of the pay as you go option.
I tried this method first to see if I would like the quality of the clothing. If you want to shop as you would at a regular online boutique, then the pay as you go option is super simple!
The whole process is exactly the same as shopping at another store. The only difference is that you won't get the large discounts you get with the VIP box, and you'll need to pay shipping for exchanges and returns.
This is definitely a good option if you only want pieces for one event, or you aren't convinced that signing up for the VIP package or Elite Box is right for you.
Related: The 22+ Best Trendy Fashion Sites To Buy Ultra-Trendy Clothing
Adore Me Review Of Clothing Quality
I can't write this Adore Me review without including a section about the actual quality of the items.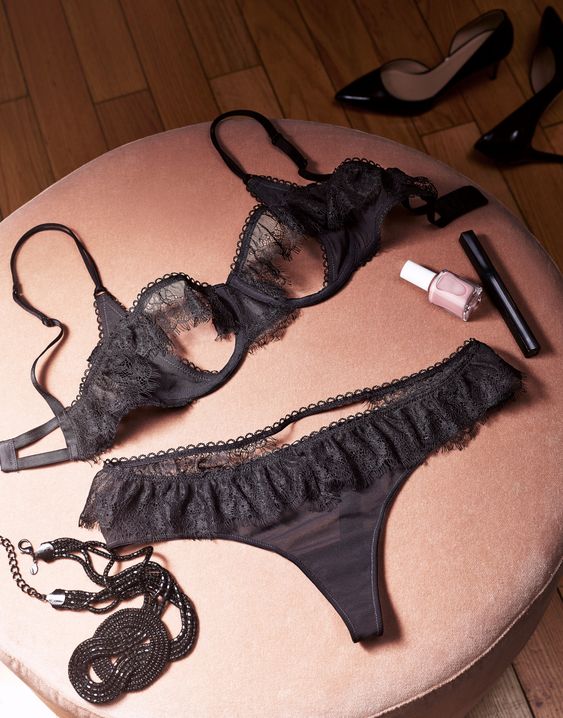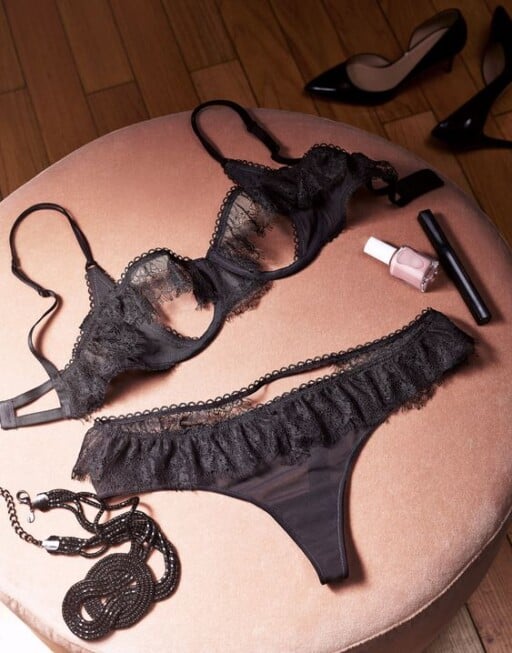 Because I always want to be honest in my reviews, I'll tell you the truth here: these are not designer items. Adore Me markets their items as comparable to designer, but I would say that they're definitely a notch down.
At the same time, they're good quality for the price. I think that the quality is comparable to an online boutique.
To be clear for the purpose of this Adore Me review, the quality is much better than Yandy or Shein lingerie. It's not even comparable! It just isn't on par with Dior, for example.
Adore Me lingerie is more comparable to Zara or H&M for clothing. It's pretty good quality and is ultra-trendy for a really good price.
Adore Me uses premium fabric and lace so the pieces always feel nice. I've never ditched a piece because it was itchy or uncomfortable.
I also find that the fit is generally good as long as you get the exact right size. I'll talk about Adore Me sizing a bit further down!
Obviously, this Adore Me review is about the lingerie first and foremost. It's how Adore Me started and is definitely what the site is known for!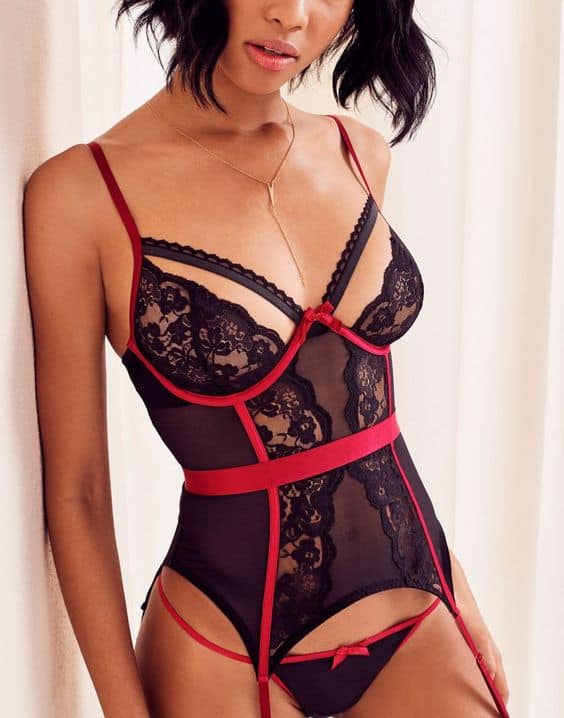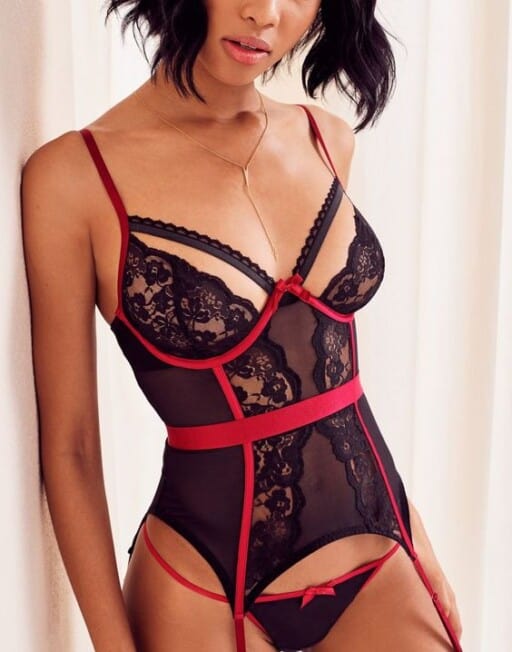 I'll be honest: while I like all of the other pieces, I really shop at Adore Me for the lingerie. It's sexy and highlights the best areas of the body, but it's pretty affordable.
I personally do not feel that lingerie is something you invest a ton of money in. You won't wear the pieces all that often, yet you still want them to be comfortable. I feel that Adore Me lingerie perfectly toes that line.
The site has all different kinds of lingerie for all body types, so there's really something for everyone. You can also exchange the lingerie for free if you decide a different type is better for you.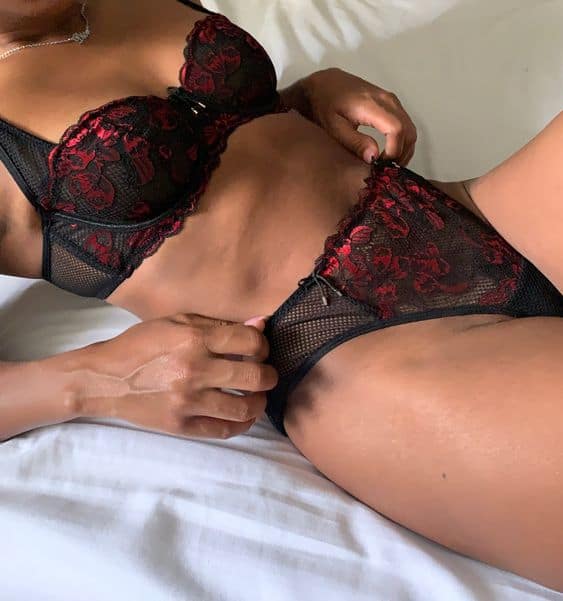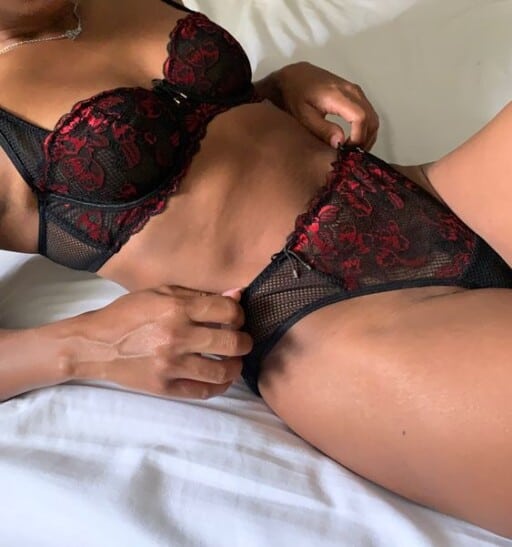 I also love the bras and panties! I often choose these sets in my VIP monthly package.
The bras are very comfortable and offer a lot of support. I will say that I typically shop at Adore Me for the fancier bras (not the comfy, daily support ones), but I've gotten all kinds and haven't had an issue with them.
The seasonal bras and panties are especially fun!I recommend purchasing two piece sets to save money.
Click here to check out the bras and panties.
I actually really love the Adore Me swimwear section. They offer plenty of traditional bathing suits (like the triangle bikini) but also have some super cute options, such as vintage suits or high waisted bottoms that just make you look amazing.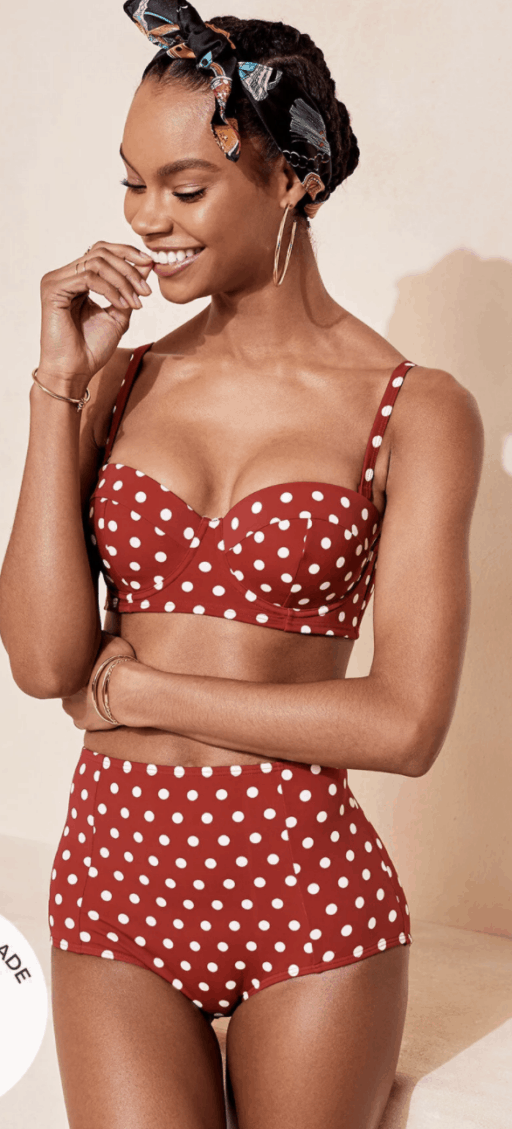 How cute is this swimsuit? All swimsuits are available in either the VIP subscription or in the Elite Box, but you can also purchase them separately without a subscription.
Check out all of the swimsuits here!
I didn't start shopping at Adore Me for pajamas, but I do like throwing a set into my VIP subscription box every now and then.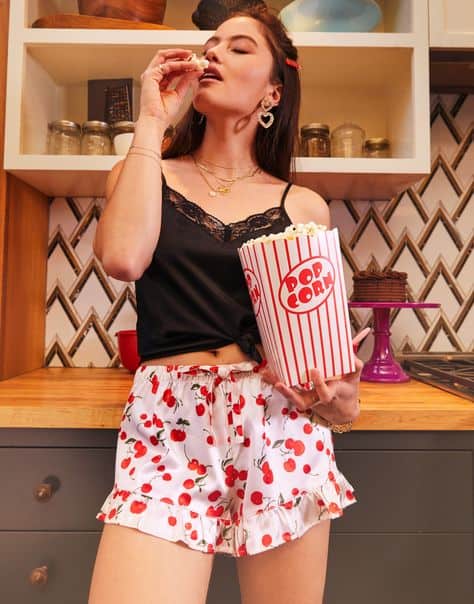 The PJs are cute and comfy; they're mostly things I would wear around other people. I find myself getting a few PJ sets before a vacation with my fiance or weekend away with my family.
Most of the PJ sets are only $24.95, which is super affordable.
Adore Me also offers a variety of robes, slips, nightgowns, and cozy loungewear pieces. I especially love the robes and slips, since (again) these aren't things I normally buy for myself!
I've only ordered activewear from Adore Me a few times, so I can't speak too much to the quality, but I've liked both of the sets I got.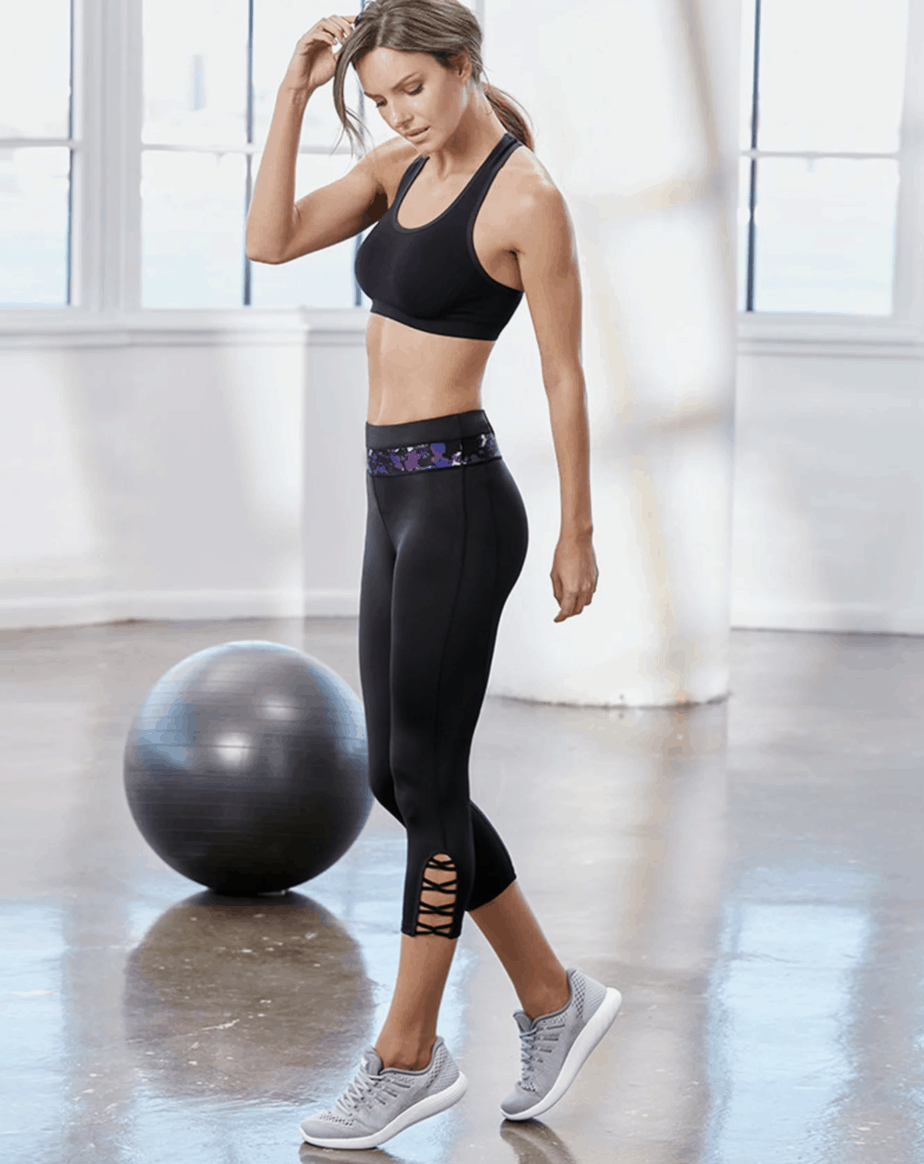 I find that Adore Me activewear is actually made to workout in; you won't find a lot of athleisure here. I do love the prices (especially compared to brands like Lululemon) and will throw in a set now and then when I'm stocked on everything else.
Adore Me Sizing
While I was writing this Adore Me review, I was most excited to talk about Adore Me sizing!
The Adore Me sizing plan is so inclusive. The goal seems to be that all customers should feel beautiful in their lingerie, so Adore Me products are made to support all body sizes and enhance your natural features.
Not every piece is available in every size, but I will say that there seem to be an equal amount of pieces for each size group.
Adore Me sizing is offered from XS to 4X. Bras range from 30A to 40DDD. If you have trouble finding your size at typical lingerie shops then you'll love Adore Me sizing!
Now, I know it can be a little tough to shop for lingerie online. There's always a risk that it doesn't fit, and when it comes to lingerie, the fit needs to be close to perfect.
Adore Me offers free shipping, free exchanges, and easy returns for a $5.95 fee. I have actually exchanged items many times and never had a problem, although it might take a bit to get your new item, so plan ahead if you need it for a special event.
Adore Me Customer Service
I have read a few Adore Me reviews that complained about the customer service.
I personally have not had any issues, but I also haven't used their customer service portal a lot. Most of my issues (returns, exchanges, etc.) were handled electronically and I can apply automatically for exchanges.
The few times I have spoken to customer service representatives from Adore Me, things went fine. I had an issue with the system malfunctioning for my address and they sorted it out quickly for me.
Regardless, take this with a grain of salt. Keep in mind that it might take a day or so to get a response since most of the communication is virtual.
Is Adore Me Legit?
Short answer: yes! Whether or not you end up loving the lingerie, I hope that this Adore Me review will reassure you that the company is very much real and will send out your items once you order.
So Is Adore Me Worth It?
For me, Adore Me is definitely worth it. I get new lingerie, bras, underwear, workout clothes, swimsuits, and pajamas every month for only $39.99, and I get to pick out what I want.
I really love the model because all of the Adore Me pieces are things I have trouble finding at other stores! I generally shop for these pieces at Victoria's Secret, but it's so expensive that I just can't make it a regular thing.
I hope this Adore Me review helps you decide if the service is right for you!
Adore Me Promo Code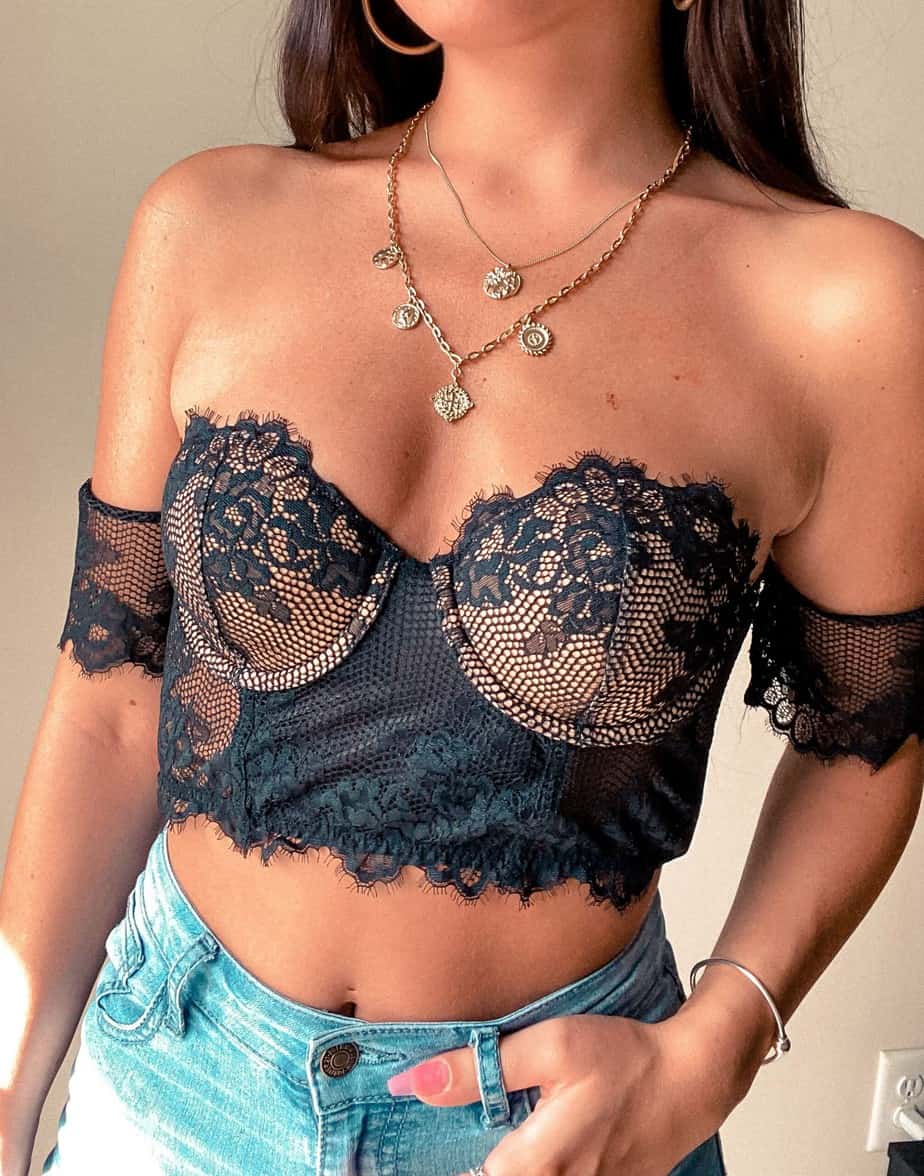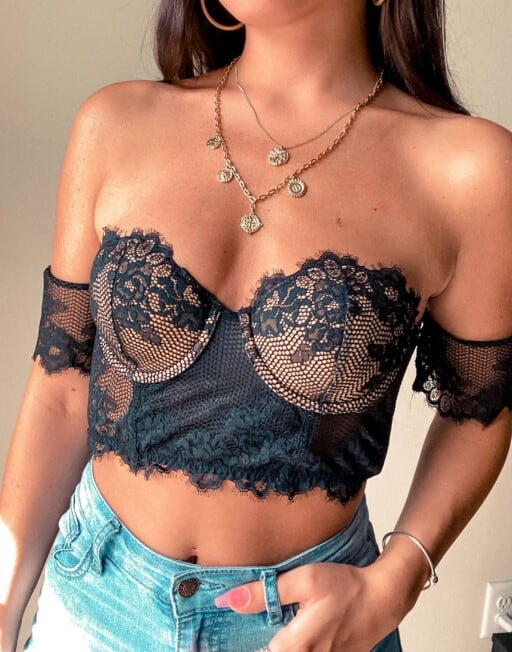 Is this even a real Adore Me review if I don't include a promo code?
Sometimes, the Adore Me site offers a promo that gets you one set for $24.95. This is a better price than any promo code out there, so if you see that offer, go with it.
Otherwise, try using the code SUNNY25 to get up to 25% off.