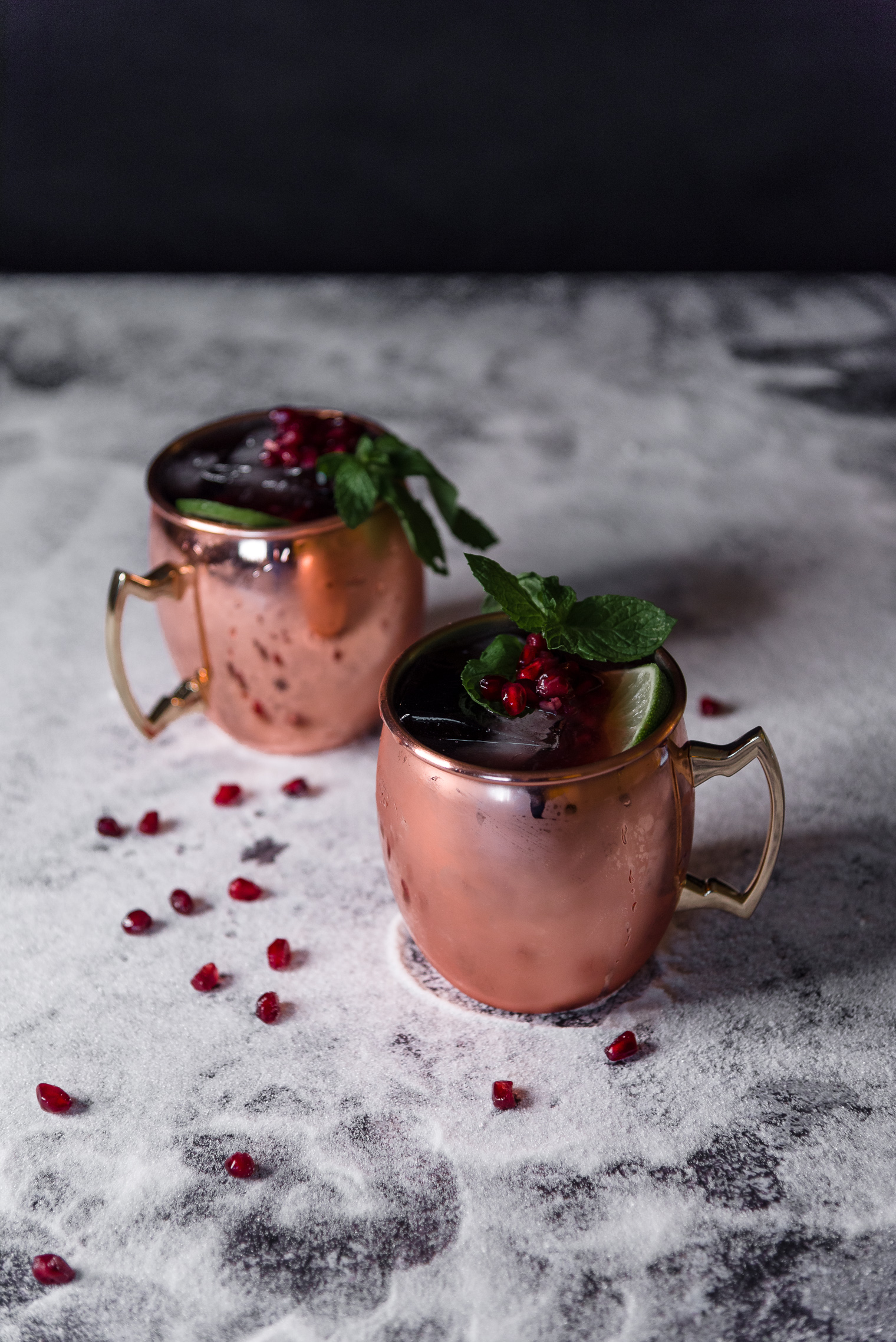 I love trying out new cocktails during the holiday season! There's so many delicious Christmas-themed flavors, from cranberry, raspberry, and pomegranate, to more poignant flavors such as gingerbread and eggnog.
A good Moscow Mule is one of my favorite drinks to order when out, and it's ridiculously easy to make a homemade Moscow Mule.
I put together this super simple recipe last weekend while my sister was visiting, and it was so tasty that we decided to whip out the camera and get a few shots!
To make this pomegranate Moscow Mule, We simply added a few extra ingredients and removed the simple syrup (it's sweet enough as-is). This is one of the best easy Moscow Mule drinks I've ever tried!
If you're looking for unique or different mule drinks, I definitely recommend trying out this concoction. It's great for a cozy night in, but is really easy to make in a batch for a party as well.
Related Posts:
Pomegranate Moscow Mule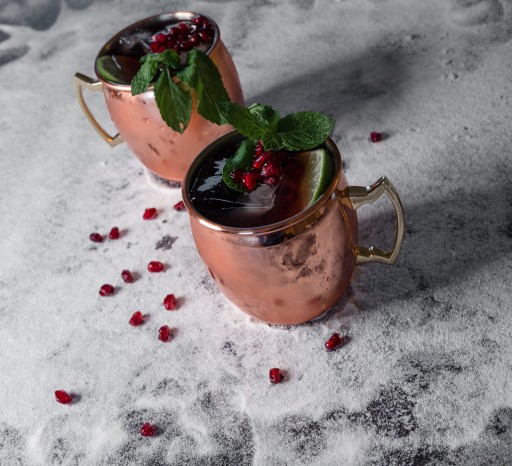 A few years ago, the classic Moscow Mule drink became super trendy again. You can get one from virtually any bar (with the copper tin and all), and they're almost always delicious.
I love making a good homemade Moscow Mule because it's so easy to get right! Even if you don't have anything to actually measure your ingredients, the recipe will still taste good.
This pomegranate mule one of my favorite different mule drinks, because it's so unique but super simple!
The Ingredients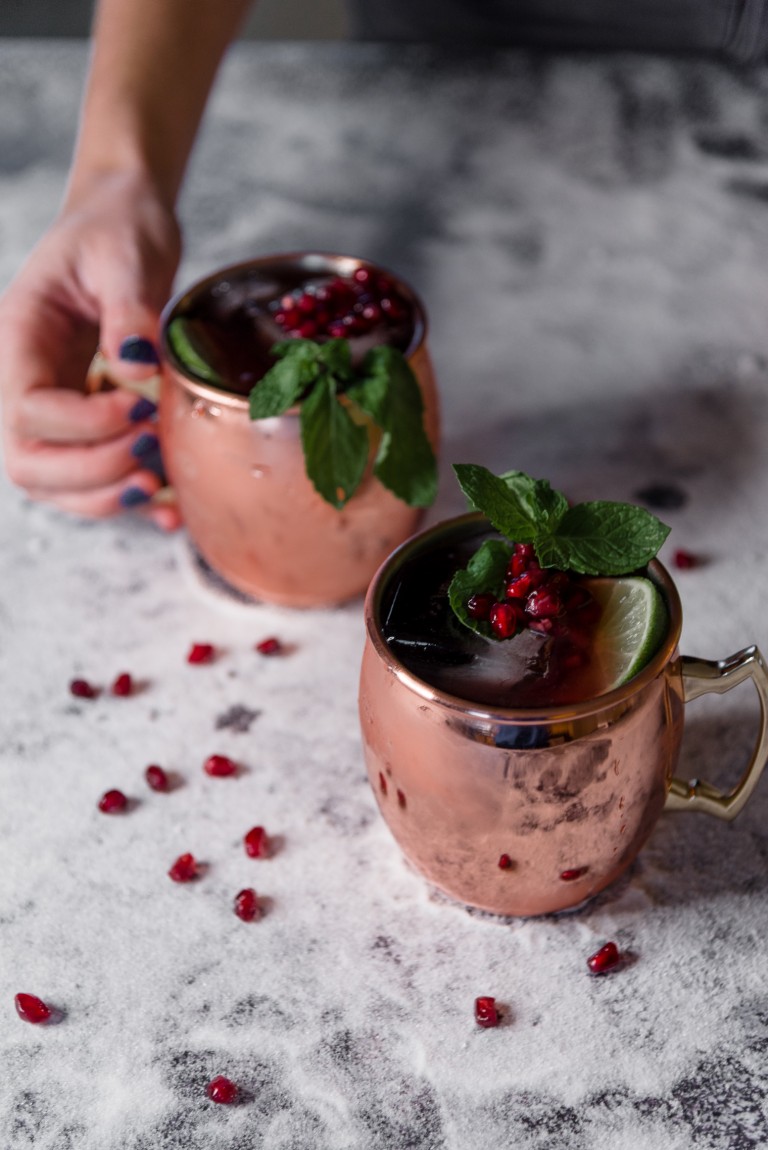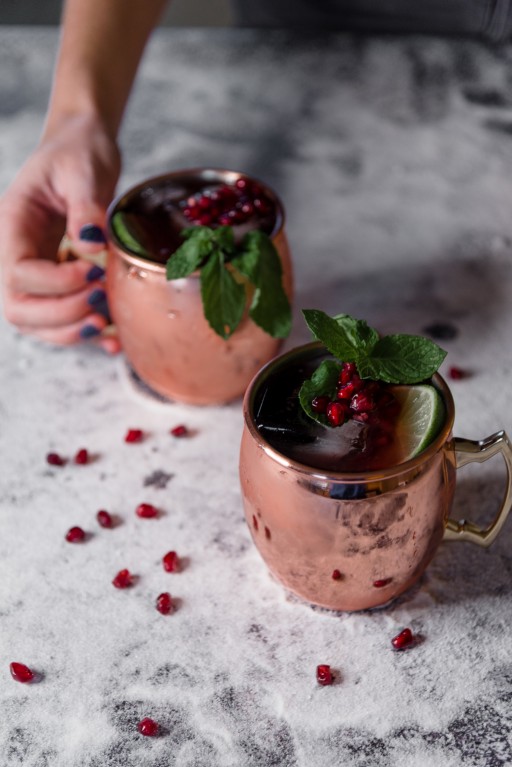 A typical homemade Moscow Mule includes lime juice, ginger beer and vodka. Depending on the lime juice, some recipes also call from simple syrup.
This Pomegranate mule is very similar, but calls for no simple syrup and the addition of pomegranate juice.
You'll need:
Fresh limes
Pomegranate juice (I get 100% juice, unsweetened, from Whole Foods; any unsweetened or pure pomegranate juice should work)
Vodka (I use Grey Goose unflavored, but any decent unflavored vodka will work)
Ginger beer
These are the main ingredients that you'll need to create the base drink, but I love garnishes that are a little extra. I use:
Fresh mint
Sliced limes
Fresh pomegranate seeds
There's no specific ice cube shape that you need to use; I've tried both huge square ice cubes and crushed ice. They both worked well.
I suggest keeping fresh limes, pomegranate juice, mint, ginger beer and vodka on hand during the holiday season. These ingredients make it super easy to throw together a yummy cocktail on short notice!
As far as ginger beer and vodka, I'm really not picky about what brands I use.
My ginger beer usually ends up being whatever is available at the liquor store (you'll find it in the non-alcoholic soda fridge). I typically get a simple vodka at the same time, most likely Grey Goose or Absolut.
The Materials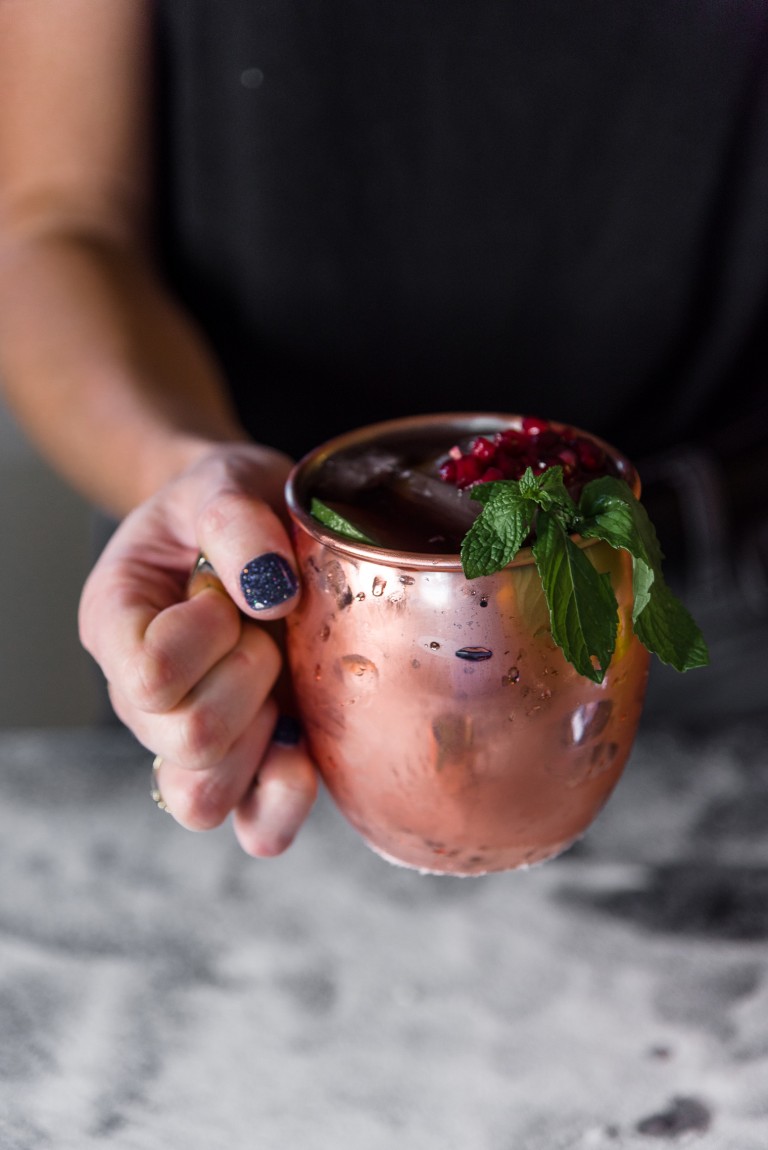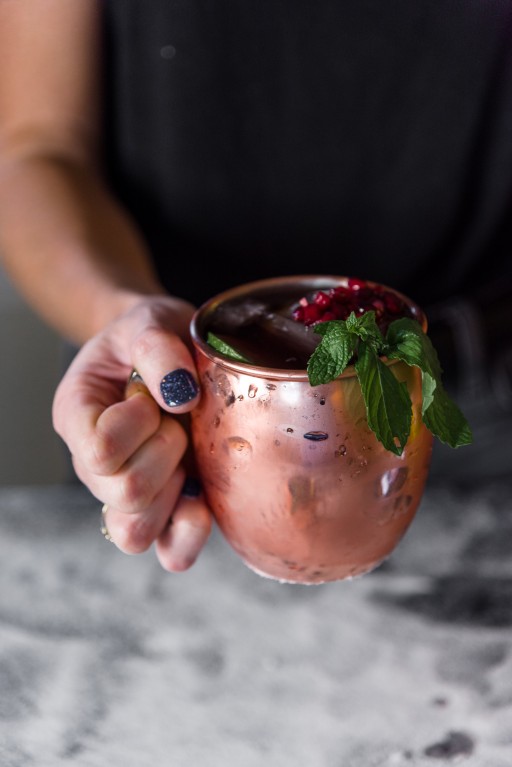 What I love about homemade Moscow Mule recipes is that they don't call for any fancy bartending equipment! You simple add the ingredients into a cup full of ice and you're good to go; no shaker necessary.
Besides the actual ingredients, the only materials that you need are Moscow Mule cups. I got mine from Amazon, but they're available at almost every Home Goods, TJMaxx, etc., and you can sometimes even find them at Target and Walmart.
You can also use specialty bartending measurement cups if you want to be really price, but it isn't completely necessary.
Here are some of my favorite Moscow Mule cups available on Amazon for super decent prices:
Note: some bartenders will keep these cups chilled in the fridge or freezer before actually making the pomegranate mule to keep it extra cold.
I occasionally do this, but you can also chill the glass using ice (in it) for a few moments before actually making the cocktail.
Make sure to check the directions on your cups before putting them in the freezer, as some cups won't hold up super well while completely frozen.
How to Make a Pomegranate Moscow Mule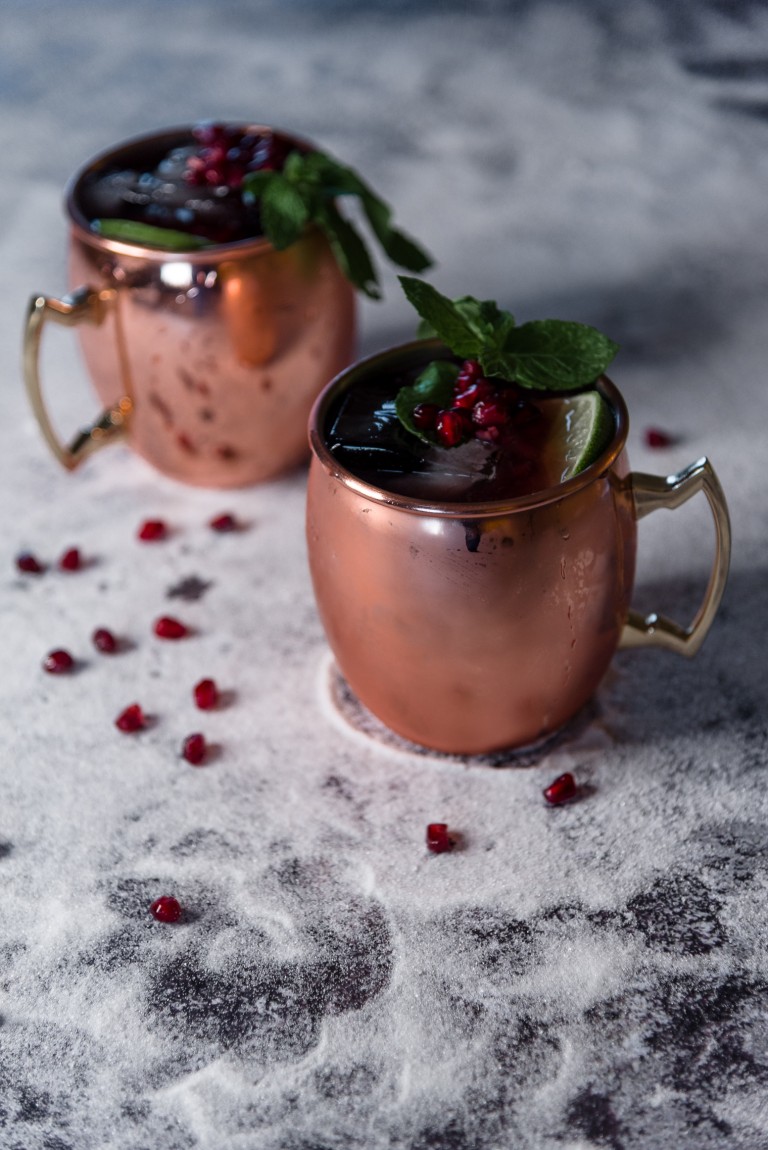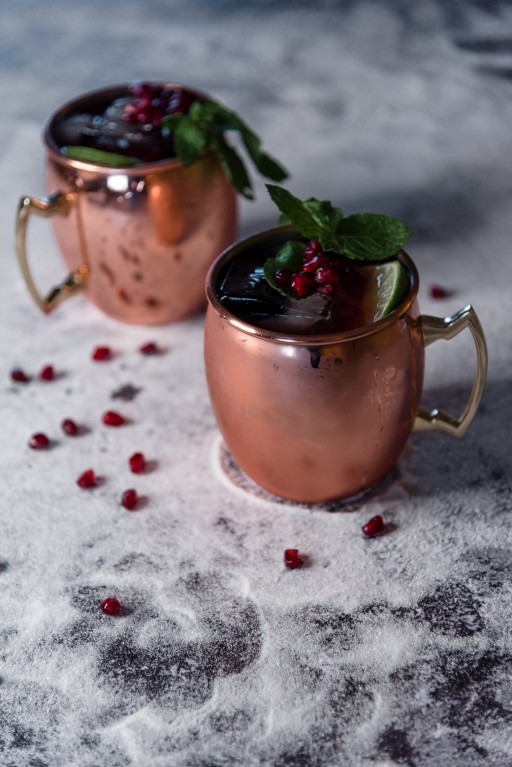 Firstly, you'll want to fill the cup almost halfway with ice. The trick is to keep this pomegranate Moscow Mule super cold.
The actual making of the cocktail is easy. Simply combine the ingredients directly into the cup in any order at all.
Give this pomegranate mule a quick stir, add your garnishes, and enjoy!
How to Batch This Recipe
This is one of the easiest Moscow Mule recipes to batch for a party or crowd. It's always a huge favorite!
I simply multiple the recipe by 10-20 (depending on the size of the pitcher) and put ice in a separate ice bucket.
I also like to have garnishes on hand so that guests can make their own cocktails. It ends up looking like a mini cocktail buffet, and is super fun to decorate!
Keeping the ice separate stops the drink from becoming watered down in the pitcher. You may want to consider purchasing Moscow Mule cups that are on the smaller size; this drink is pretty strong, as is any other mule!
Yield: 1
Pomegranate Moscow Mule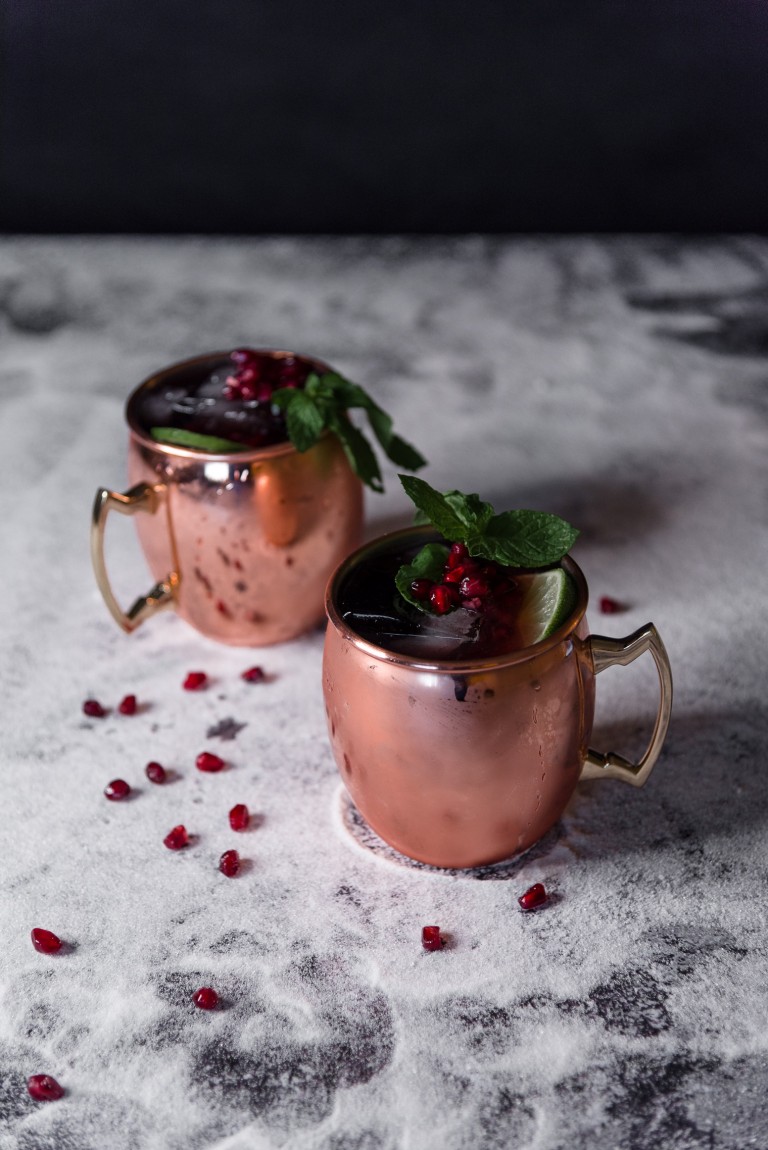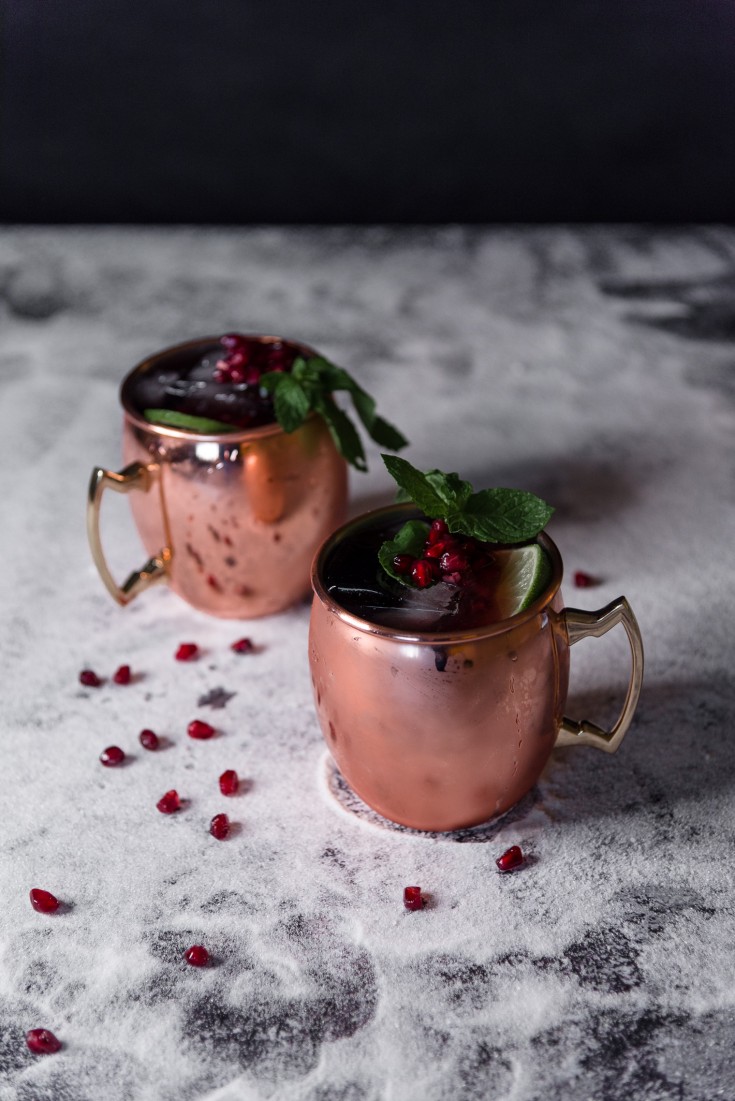 A simple twist on the classic mule to creative this delicious and fresh Pomegranate Moscow Mule! This is one of the best unique mule cocktails that's surprisingly easy to make at home.

Prep Time 5 minutes

Total Time 5 minutes
Ingredients
Ice
4 ounces pomegranate juice
4 ounces vodka (2 shots)
8 ounces ginger beer
1/2 a fresh lime
Optional garnish:
Lime slices
Fresh mint
Pomegranate seeds
Instructions
Fill cup halfway with ice.
Combine pomegranate juice, vodka, ginger beer, and jucie from 1/2 lime in the cup and briefly stir.
Add garnishes and serve.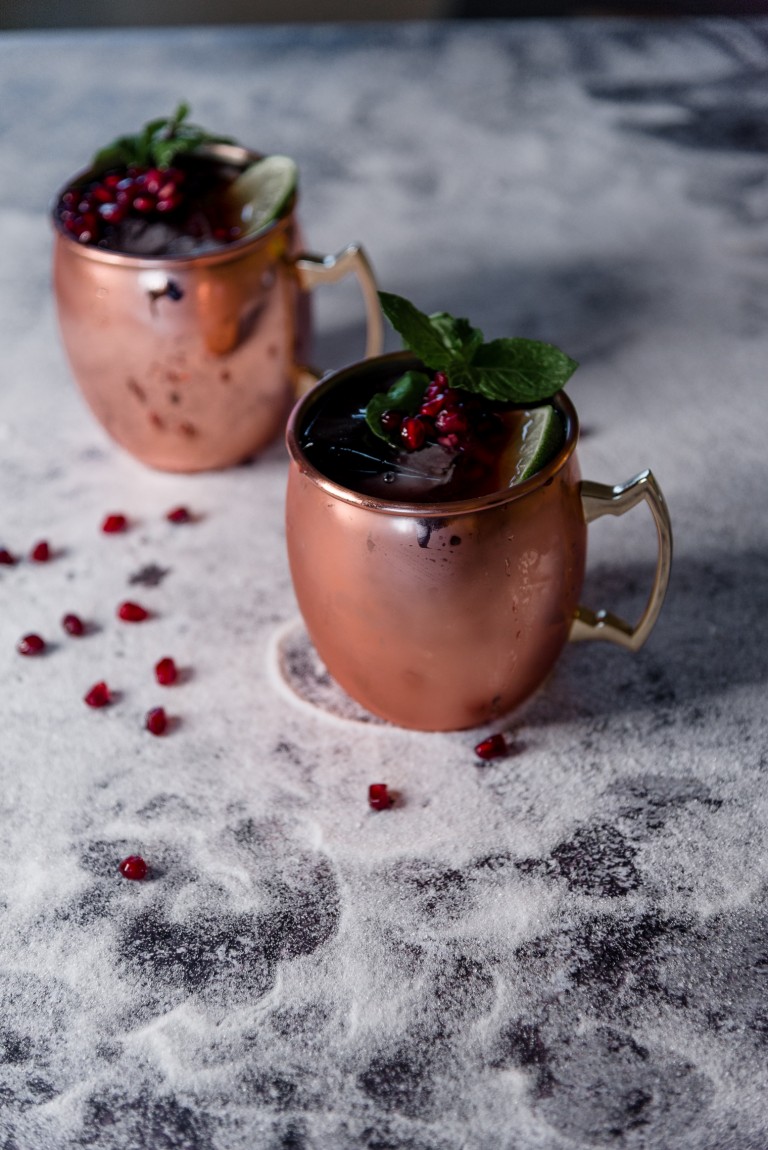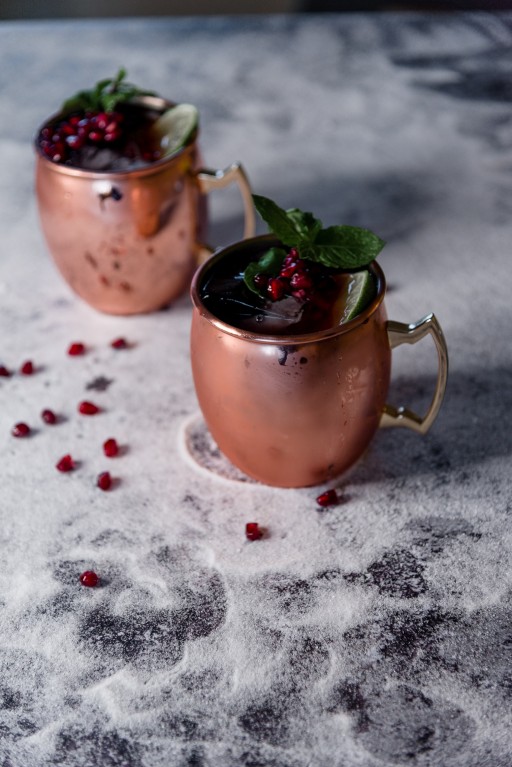 Enjoy this super easy Moscow Mule!

This is one of my favorite recipes of all time! I honestly love a good Christmas Cocktail, and this one definitely makes the list.
As I said before, fresh ingredients are absolutely essential. You literally cannot make this drink without fresh pomegranate juice and pomegranate seeds!
The actual creation of this cocktail is so much fun as well. My sister and I could not stop snacking on the pomegranate seeds!
There are so many times when this cocktail would work really well. We make it for a date night at home, a sister Galentine's Day (or Christmas gathering such as last weekend!), a small party at home, or even a hosted party at a location. I actually bring this drink all the time to Christmas parties after checking with the host, and it's always a big hit!
One thing you will want to be careful of is how much your guests drink. I would definitely warn them that it's super strong! One medium-sized glass filled to the top contains about 4 shots. Be careful!
Regardless, this is one of my absolute favorite homemade Moscow mule recipes of all time. It's such a fun drink that guys and girls alike are sure to love! If you're looking for different mule drinks, I recommend trying this one out or heading to my pomegranate drinks post.
One thing I do recommend is making this pomegranate Moscow Mule with friends. It's a lot more fun to enjoy with others rather than alone, which is a better occasion for wine or a simple beer.
This pomegranate mule can be enjoyed during any season! It's obviously a perfect winter cocktail or Christmas cocktail, but it can be equally as enjoyable in the summer.
What I love about this cocktail is how refreshing it is. It's perfect to sip while sitting on a porch in the mid of the summer heat!
It's a great spring drink because of the fruity flavors. You can also switch out the pomegranate for raspberry to make a fun and flirty spring drink.
This drink even works in the autumn season. Is there anything cuter than a copper Moscow Mule cup during the fall?
The one question I get asked a lot is how to bring this cocktail to a party. It's certainly not the same as bringing a bottle of wine, but it can be a lot of fun if the host/hostess is okay with it!
I recommend doing this one of two ways. Either you can make the cocktail ahead of time in a pitcher and add the ice in last second, or you can bring each of the ingredients separately and put it together at the party.
Another option is to combine all of the ingredients except for the ginger beer, and add chilled ginger beer to the final cocktails once you've arrived and set up.