This delicious French Martini cocktail is filled with fresh ingredients including pineapple, raspberry puree, and basil. It's a fun twist on the traditional French Martini recipe that's perfect for anyone who loves fresh herbs in a cocktail!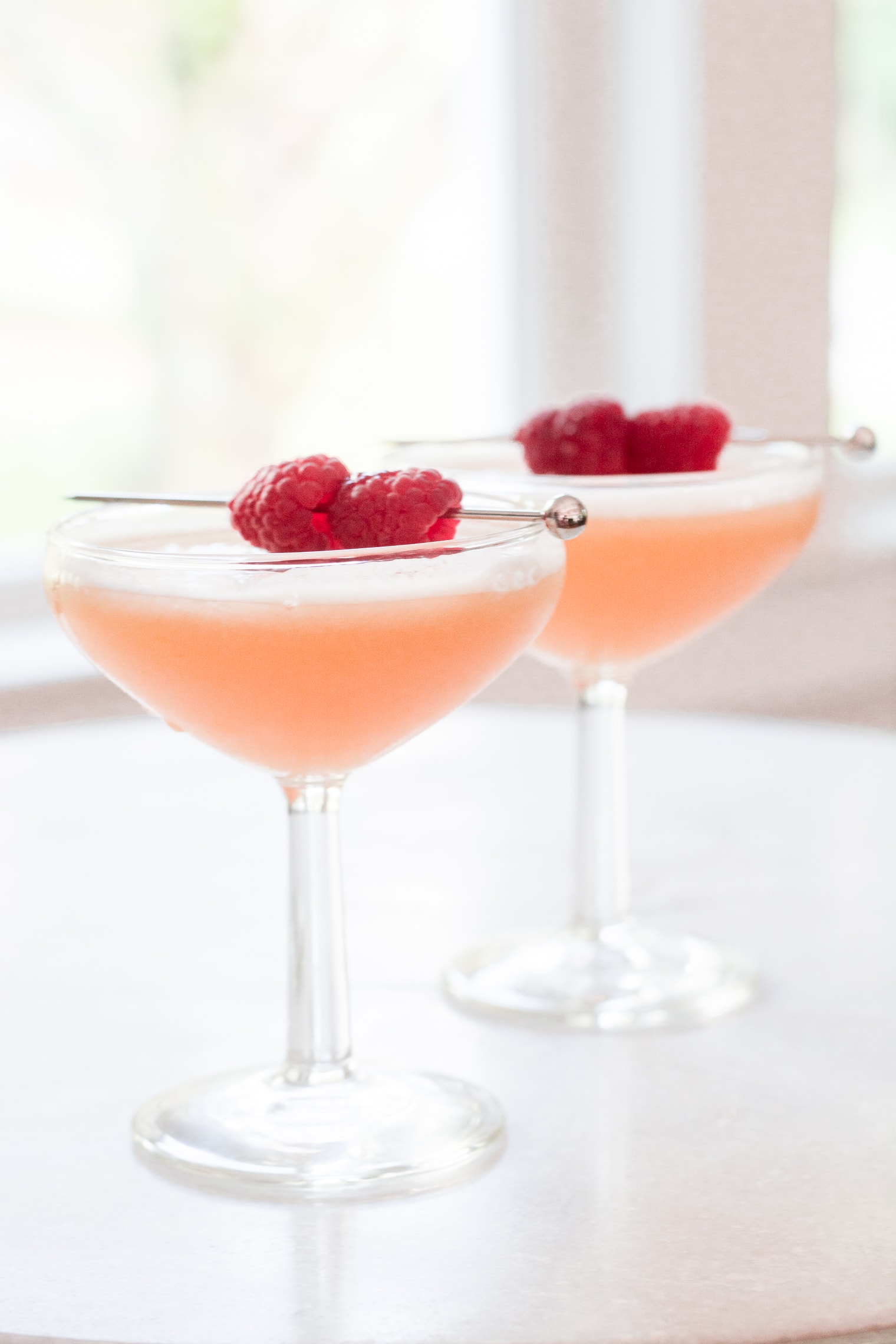 A good martini never goes out of style. When in doubt, I always whip out my shaker and put together some type of fruity martini.
While I love a cocktail packed with fresh ingredients, I never want it to be too sweet or too strong. It's a delicate balance!
This French martini recipe is a classic for a reason, and it's always been one of my favorite martini recipes. It's a simple mix that can be made a variety of ways and is really easy to make. A good French martini cocktail will definitely give off an upscale vibe, even if you want your night in to be a little fancier!
Not many of the French martini recipe ingredients are actually French (pineapples definitely don't make me think of France), but Chambord is the French ingredient that gives this raspberry cocktail its name. It was actually created by the Chambord marketing team in the 80's and quickly became a hit.
You can ask most bartenders for a French martini and they'll know what you mean, but I personally like making the French martini recipe myself. I find that this specific ratio of fresh ingredients is especially delicious!
French Martini Recipe Ingredients
What I love about this French martini recipe is that it's mostly fruit-based, so it won't be overly sweet unless you purposefully make it that way. You can easily change up the quantities of each ingredient; most bartenders have their own method of making the French martini recipe.
Chambord & Vodka
The French martini recipe is by no means weak. At the same time, it's pretty strong without actually tasting like straight alcohol. Chambord is an especially delicious addition as it's made from black raspberries, honey, vanilla, and herbs.
I usually use Grey Goose vodka to give this raspberry martini an extra French-like twist, but any decent vodka will work (I also like Ciroc or Titos).
You can use flavored vodka or unflavored vodka for this French martini recipe. I do recommend that if you choose flavored vodka, you make sure it's high end and doesn't taste like artificial sweetener. That's a quick way to kill this cocktail.
The classic French martini recipe is made with Chambord (black raspberry liquor), Vodka, and pineapple juice. I did use all of these ingredients, but I make a few adjustments that many higher end establishments follow as well.
Pineapple Juice
Firstly, I highly recommend making fresh pineapple juice! While you can easily use canned juice, fresh juice has a subtle flavor that makes the drink more upscale, plus fresh pineapple juice isn't packed with artificial sweeteners.
You can definitely taste test if you want to see a noticeable different, but in general, any pineapple juice martini will be way better and more high end with fresh ingredients.
I just juice a full pineapple using my at-home juicer, but you could use a blender as well. Some grocery stores actually sell freshly squeezed pineapple juice, which is a much better alternative compared to canned.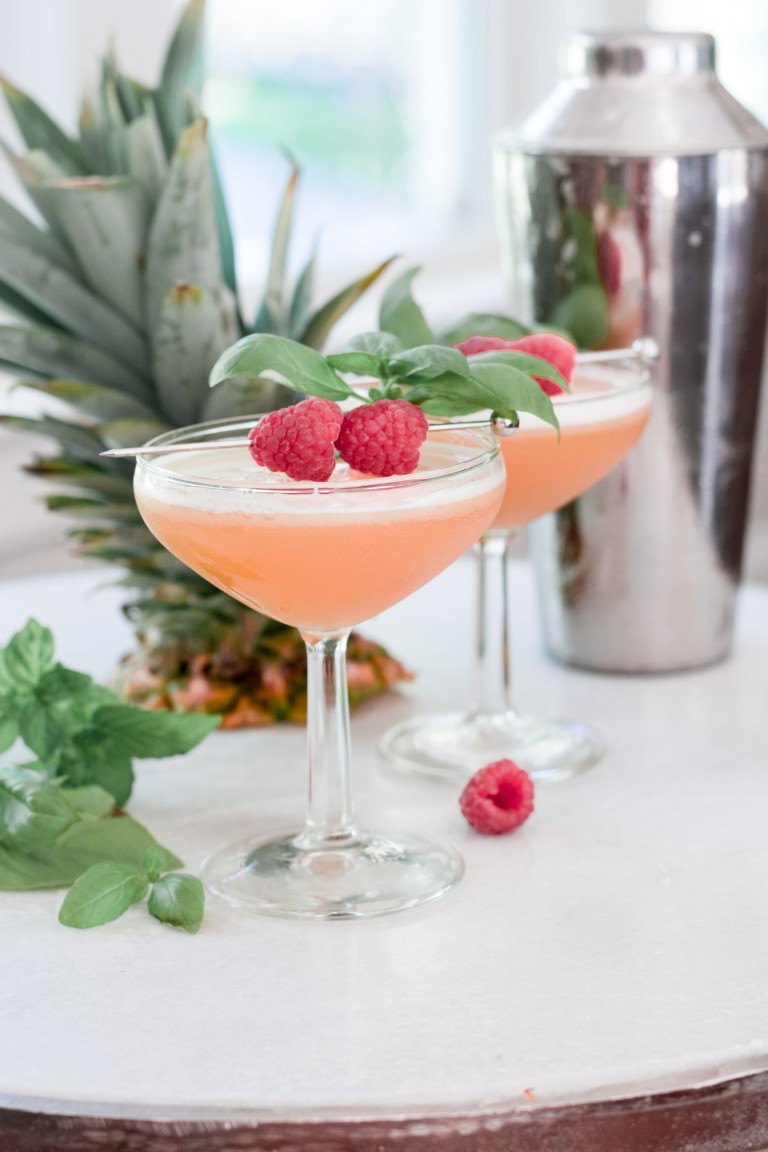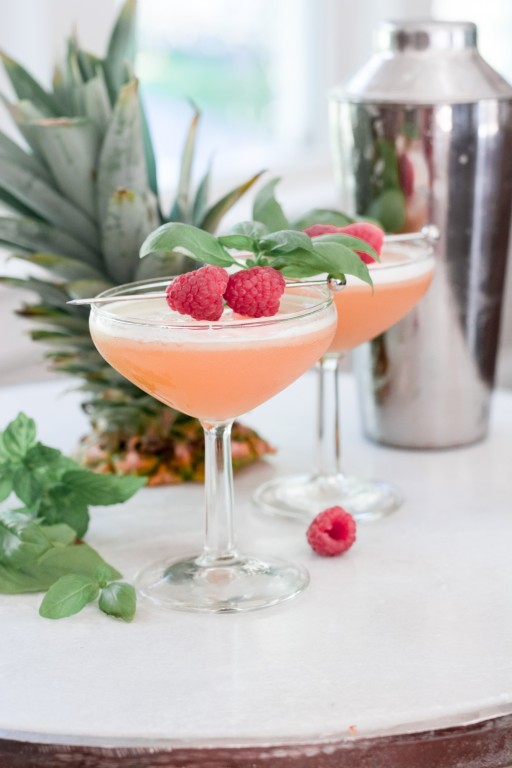 Pineapple juice generally lasts for 1-2 days in the fridge, but juicing one pineapple will make enough juice for four or five martinis, so I recommend just juicing the whole thing and saving the leftover juice.
There are tons of pineapple juice martini recipes that you can try out if you have too much leftover pineapple juice, but it's also delicious to drink in the morning!
Basil
While basil isn't one of the classic French martini ingredients, I added it and found that it made a huge difference.
I almost always want some type of herb flavor in my cocktails. The essence of herb flavors is subtle yet inviting and I find that even infusing liquor with an herb adds a great savory flavor to almost any cocktail.
I was initially hesitant about using basil with pineapple juice, but after trying it, I 100% recommend adding basil to your French martini recipe. It makes a huge difference.
Not only do I find that herbs are extra yummy in cocktails, but they're trendy right now. Go to a high-end cocktail bar in any city and you're sure to find that many cocktails on the menu now have herbs in the ingredient list.
This is a relatively new development, but I like to keep up with the trends, so I add basil to my French martini recipe. The choice is yours!
There's more instructions about how to muddle the basil down in the French martini recipe section.
French Martini Garnish
There aren't any specific rules about a particular French martini garnish, so I tried out a few different ideas. If you scroll through this post, you'll see that I at first garnished my martinis with just raspberries, then added basil later.
I liked having the simplicity of two raspberries on the drink, but also enjoyed letting my basil sit in the French martini and continue to infuse the drink while sipping on it!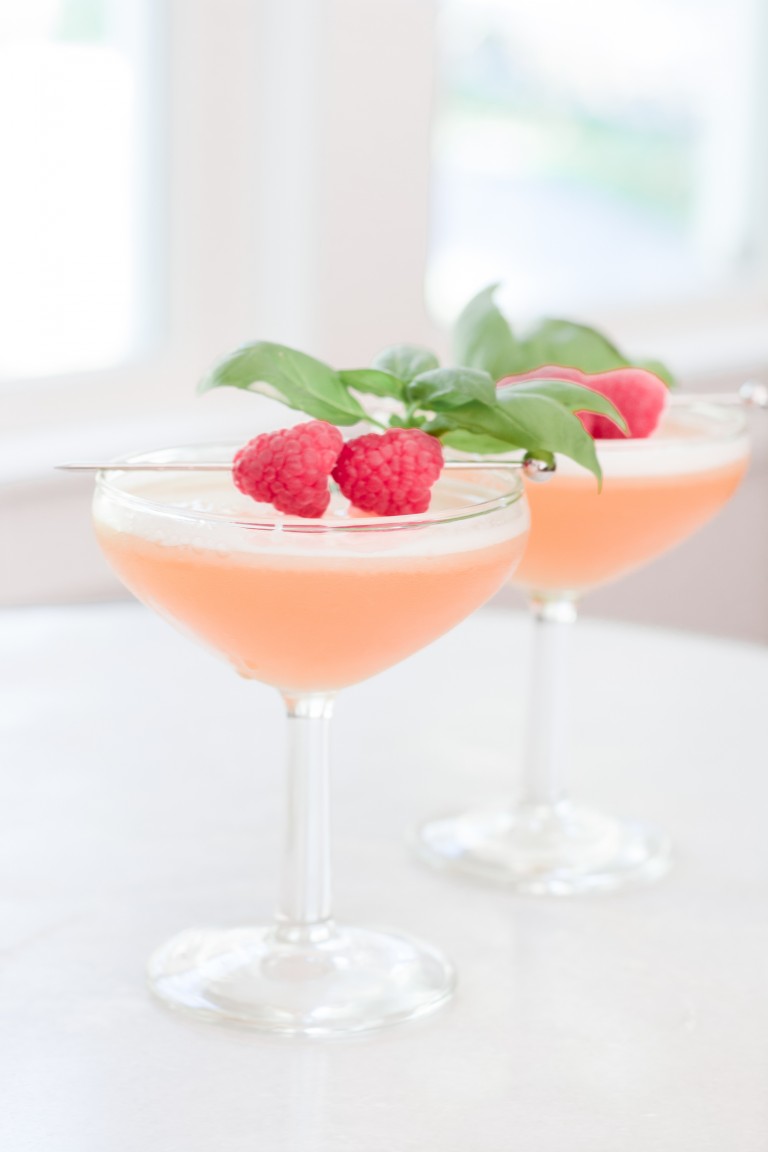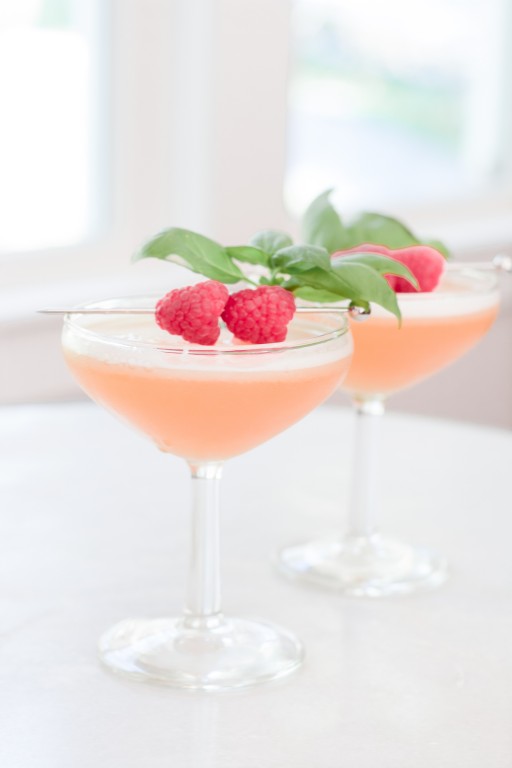 You can easily garnish your French martini with a chunk of pineapple as well, or nothing at all if you prefer your drinks smooth and plain.
There really aren't any rules as to how you should garnish a typical French martini cocktail. If you do some research, you'll find that the French martini recipe garnishes have always varied based on location and server.
I use these super simple cocktail picks from Amazon regardless of what garnish I choose. They've held up really well, haven't rusted, and are under $10!
How to Make a French Martini Recipe Frothy
What good is a martini if it isn't frothy?
My biggest pet peeve is when you're reading a recipe post and one essential piece is left out. In the case of this super simple French Martini recipe, a good amount of frothiness makes a world of difference!
First of all, you really can't make this French Martini without a shaker. It's literally impossible to get a good level of frothiness if you don't have a real shaker. You can certainly add all the flavors in, but it won't really be the traditional cocktail and certainly won't be made well.
I use a simple silver shaker from Amazon that is under $20 and comes with a measurement cup, but you can find a great one at Home Goods or Target as well.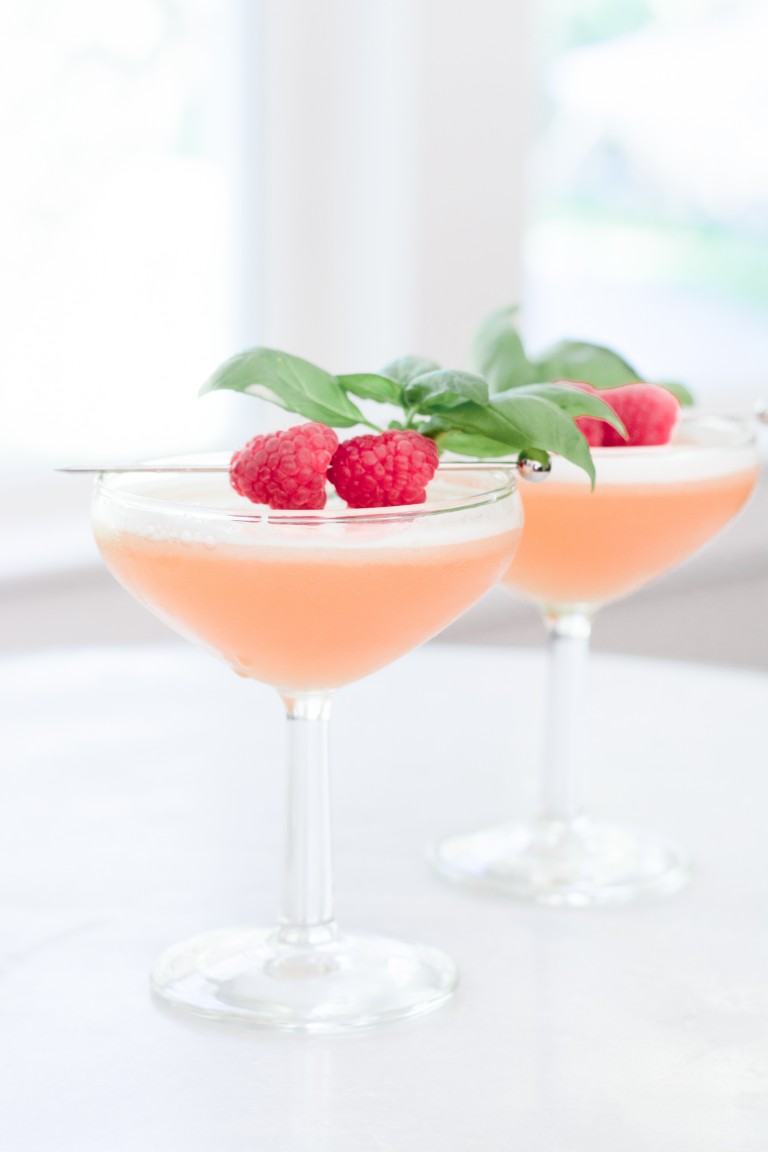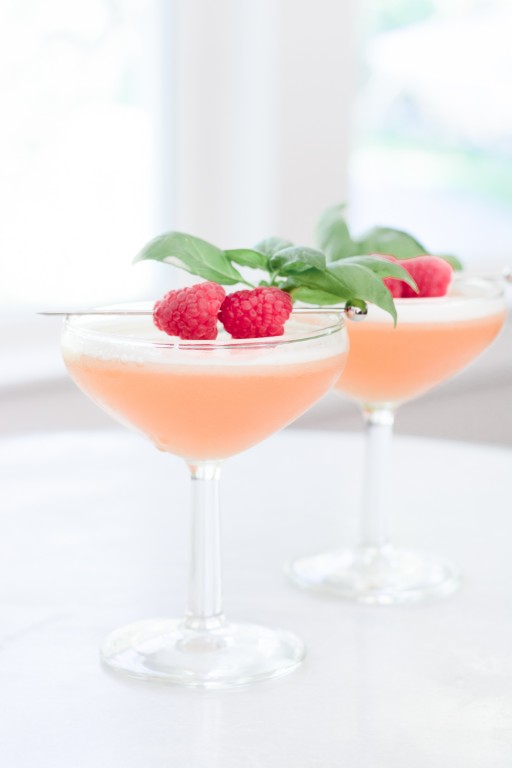 One you have all of your ingredients in the shaker with a good amount of ice, you'll need to close the top and shake it for a good while.
I always say that you shake it until your fingers start to freeze (you'll feel the shaker get incredibly cold) and your arm hurts. After that, I always shake it for 5 extra seconds just to be sure.
Lastly, don't actually pour the martini through the strainer on the top. Instead, you'll need to take the top off and move it slightly sideways so that there's a small hole between the cap and the edge of the cup. You can filter the actual drink through that space without pouring the ice and basil bits into the martini glass.
If you strain the drink through the holes on the top of the shaker, it will filter the foam out as well, so you want to strain it manually instead.
French Martini vs. Pineapple Juice Martini vs. Raspberry Martini
It can be kind of confusing why a French Martini actually has this specific name when it's basically a pineapple juice martini or even a raspberry martini with a hint of pineapple. So what's the difference?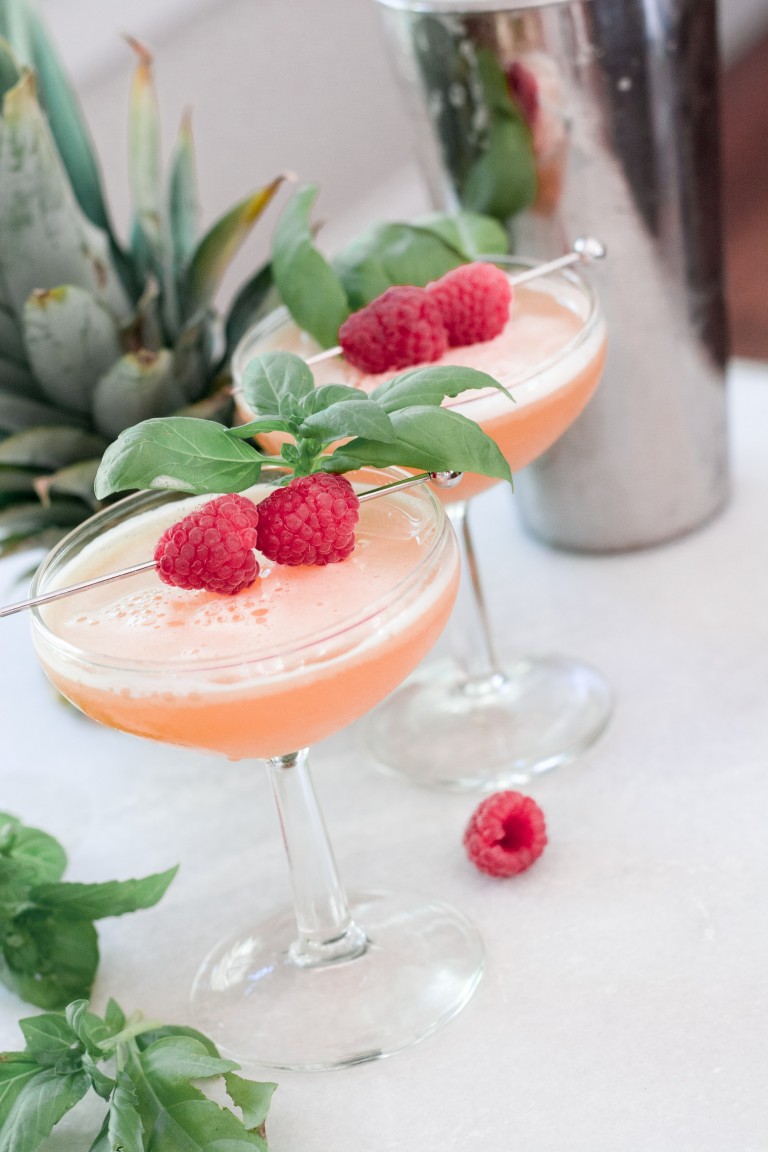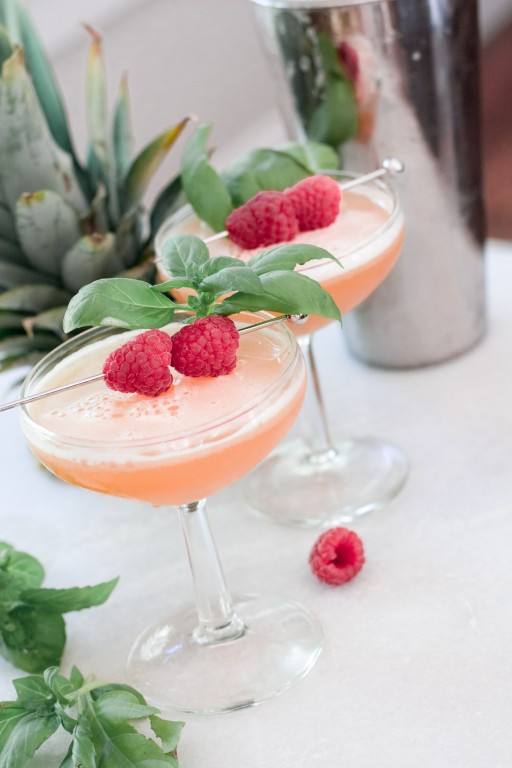 French Martini
A French Martini recipe is basically what I've been talking about this whole time, but it generally includes Chambord, vodka, and pineapple juice. There are many variations on the French martini recipe.
Regardless of how you choose to make it, the French martini recipe is the most classic and well-known recipe on this list.
Pineapple Juice Martini
A pineapple juice martini is a little more flexible. You can make it with pineapple juice (obviously), any type of liqueur (orange, raspberry, lemon, etc.), lime juice, lemon juice, cherry juice, or basically anything else you'd want to add. So a French Martini cocktail is a version of a pineapple juice martini, but is a specific cocktail rather than a category.
Raspberry Martini
Similar to a pineapple juice martini, a raspberry martini is more of a general category that can be made in a variety of ways. Some martini bars will use fresh raspberry puree, while others will use Chambord or a different type of raspberry liqueur.
A French Martini cocktail is a type of a raspberry martini recipe, but it's a little more specific, specifically because it has pineapple juice in it.
What Is a French Kiss Martini?
Strangely enough, a French Kiss Martini is the same thing as a French Martini. Sometimes a French Kiss Martini has a little extra Chambord, but the ingredients are generally the same.
This exact combo of ingredients can also be called a Flirtini, something that was super popular in the 90s but is more so known as a French Martini now.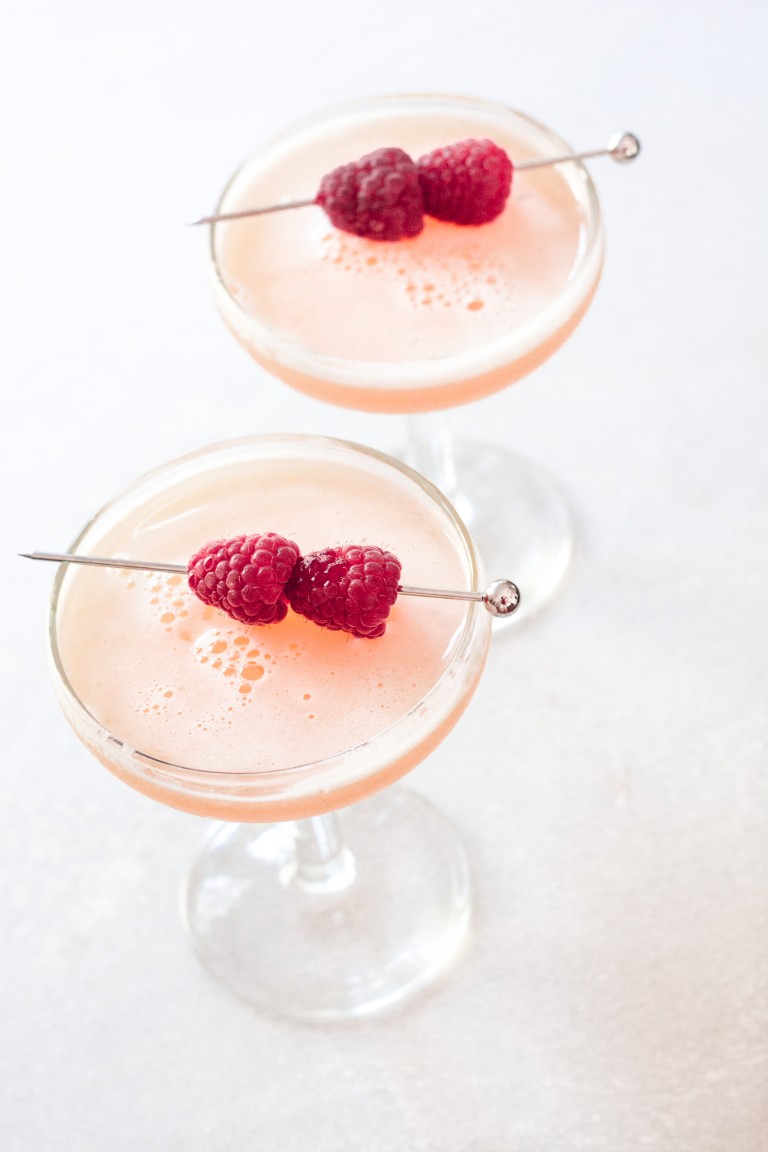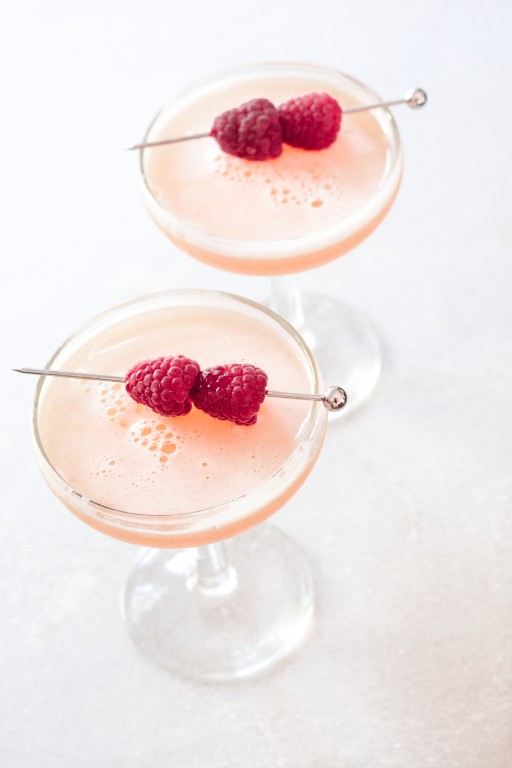 If you're ordering this drink out, what you call it will totally depend on the bartender, so it's good to have all of the names on deck just in case! I find that it's most commonly called a regular French Martini or a Flirtini, but isn't as commonly known as a French Kiss Martini.
The French Martini Recipe
Without further ado, here's the full recipe! Feel free to switch up these portions – this is just my personal preference after experimenting with different combinations.
I like my martinis to be very fresh and fruity without tasty overly sweet. I also like a medium amount of alcohol (I want to taste it without feeling overpowered with each sip). In my opinion, this recipe combo achieves that perfectly!
Yield: 1
French Martini Cocktail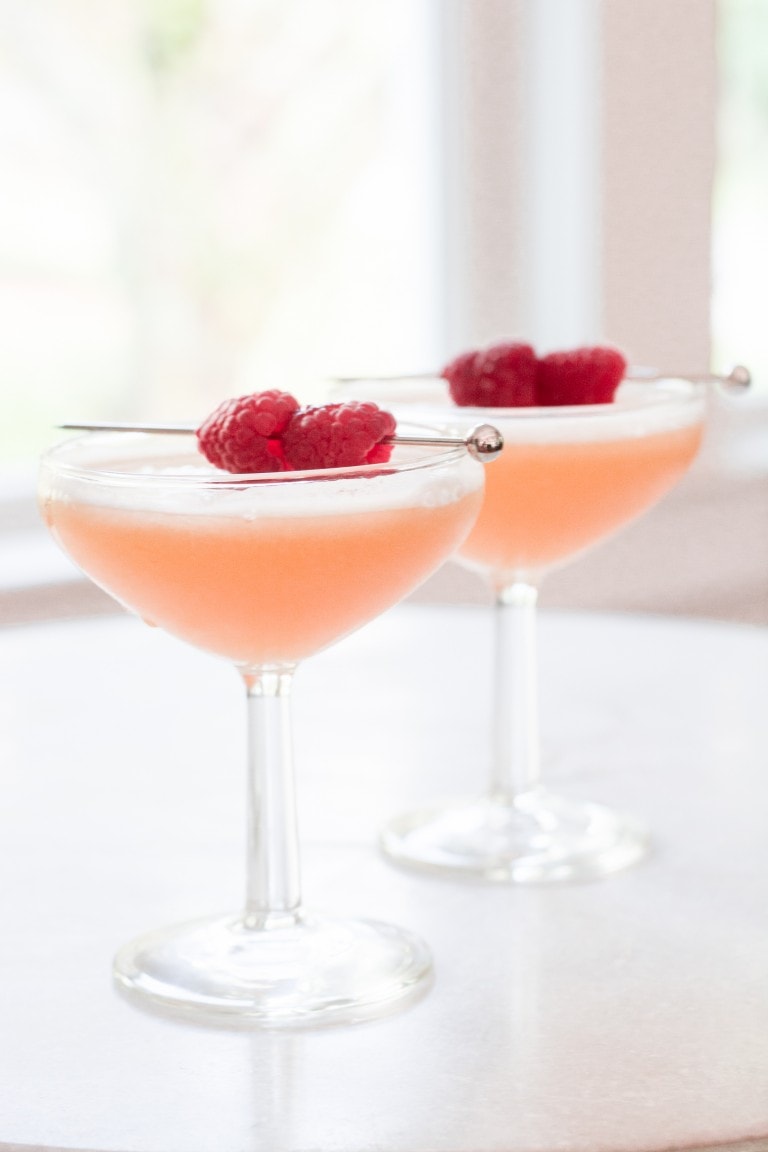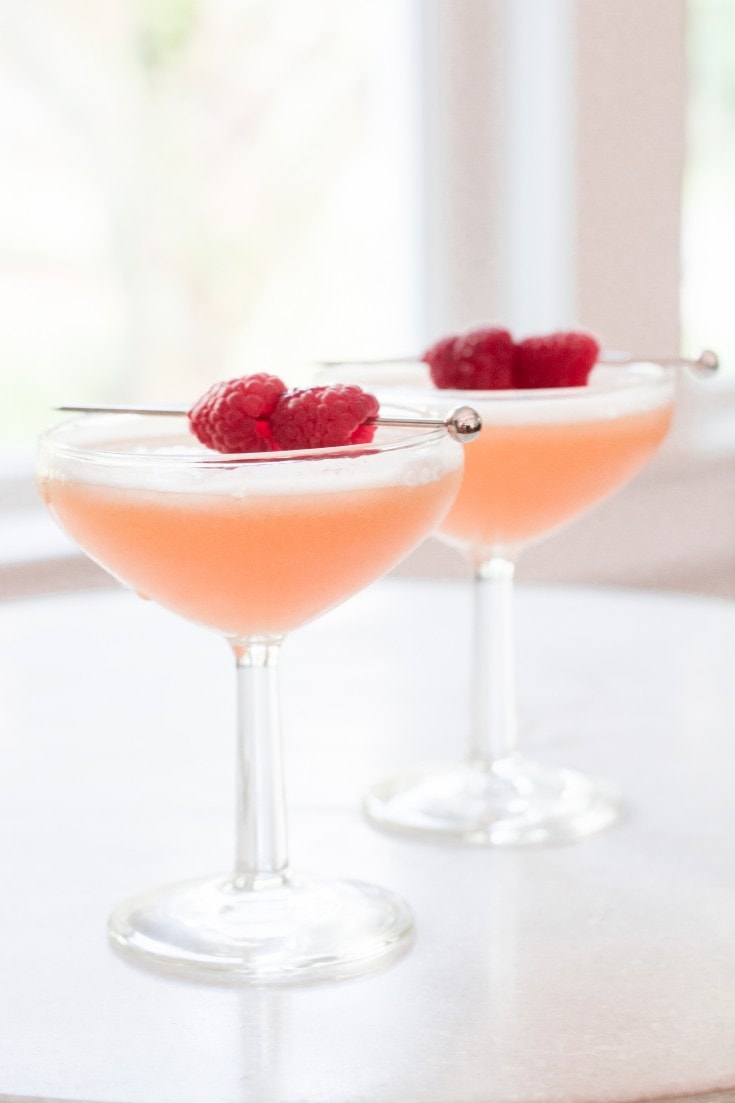 This delicious French Martini cocktail is filled with fresh ingredients including pineapple, raspberry puree, and basil. It's a fun twist on the traditional French Martini recipe that's perfect for anyone who loves fresh herbs in a cocktail!

Prep Time 5 minutes

Total Time 5 minutes
Ingredients
.75 ounces Chambord
2 ounces (2 shots) Vodka
2.5 ounces fresh pineapple juice
4 sprigs of basil
A pinch of sugar
Instructions
In a cocktail shaker, combine the basil, a pinch of sugar, and a tablespoon of water. Gently crush the basil with a spoon 8-10 times to release the flavors.
Add ice to the shaker (to fill it halfway) and combine the rest of the ingredients on top of the ice.
Shake the cocktail for 20 seconds, or until the shaker gets icy cold. Strain into a cocktail glass and garnish with raspberries or basil.
Notes
-If you want extra fresh raspberry puree, feel free to muddle a few raspberries along with the basil during step 1.

-I recommend using fresh pineapple juice (I juice a whole pineapple using my juicer and that amount makes 4-5 drinks) but you can use canned as well.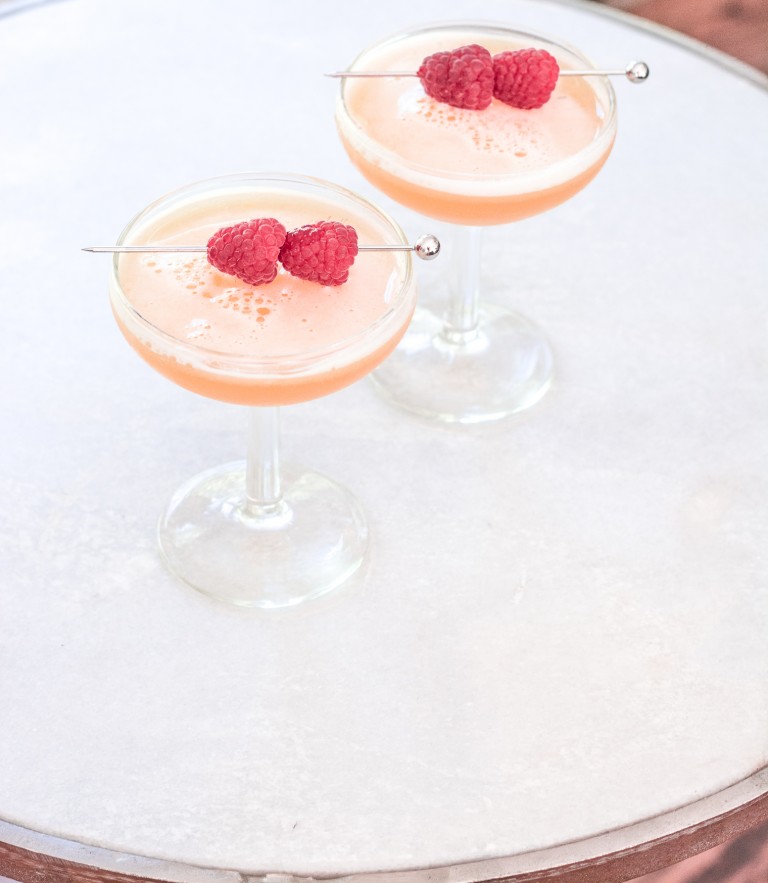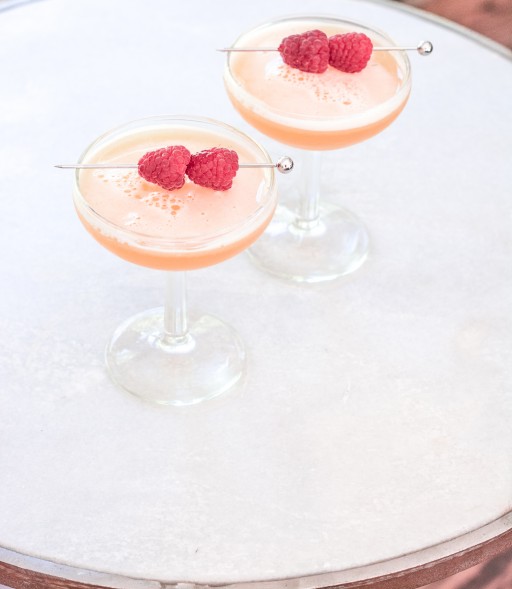 I found these martini glasses at Home Goods so I can't link the exact product, but I found these options that are almost identical at Home Depot; they're available for online shipping as well.
Cheers to a delicious, fresh cocktail!