This post has been sponsored by Nestlè Coffee Partners. All thoughts and opinions are my own.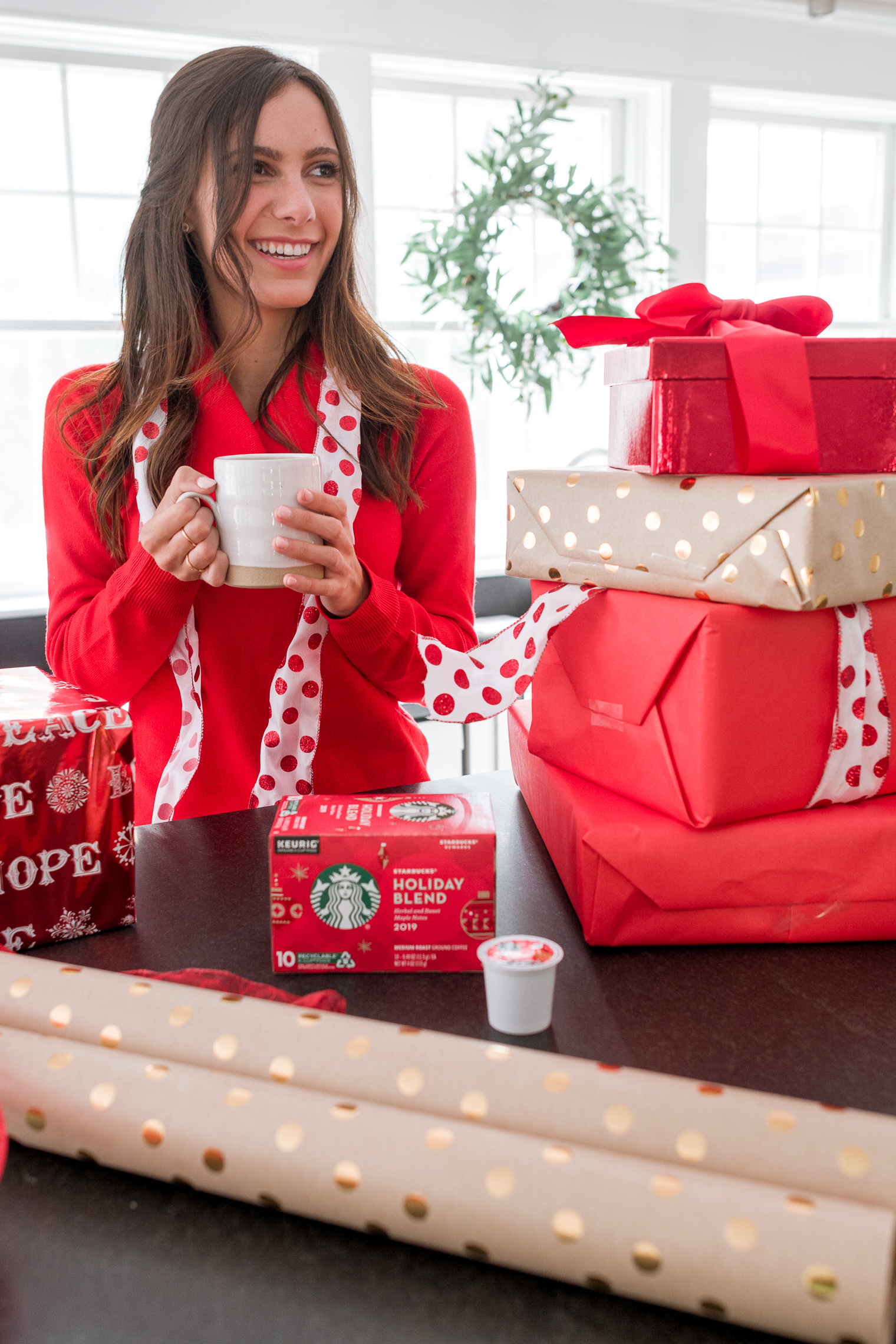 I honestly can't believe that we're already in the middle of the holiday season. Between cooking for 6 different dinners (with 6 different groups!), attending various parties, and trying to fit in some fun holiday activities, I can't help but feel constantly behind!
And then, there's presents. Over the last few years, I've really surprised myself by how much I've loved to give a great present. To have time to really purchase (or DIY!) thoughtfully for each family member and friend, I came up with a simple gift wrapping schedule. I make a mug of coffee using Starbucks® Holiday Blend K-Cup® pods from Shaw's and get to work.
Following this schedule forces me to not only purchase my gifts well ahead of time, but to actually have them wrapped and ready to go. And boy, does having it all done ahead of time make a difference.
While it's obviously good to start this schedule as soon as possible, I've tailored it for different time frames (one week, two weeks, and four weeks) depending on how much time you have left before your respective holiday. I'm going to talk a bit about how I get motivated to actually wrap my presents and how I create the schedule, but you can skip to the bottom of the page for a free printable as well.
I followed this schedule last year and had such an enjoyable and stress-free holiday!
First Off, The Motivation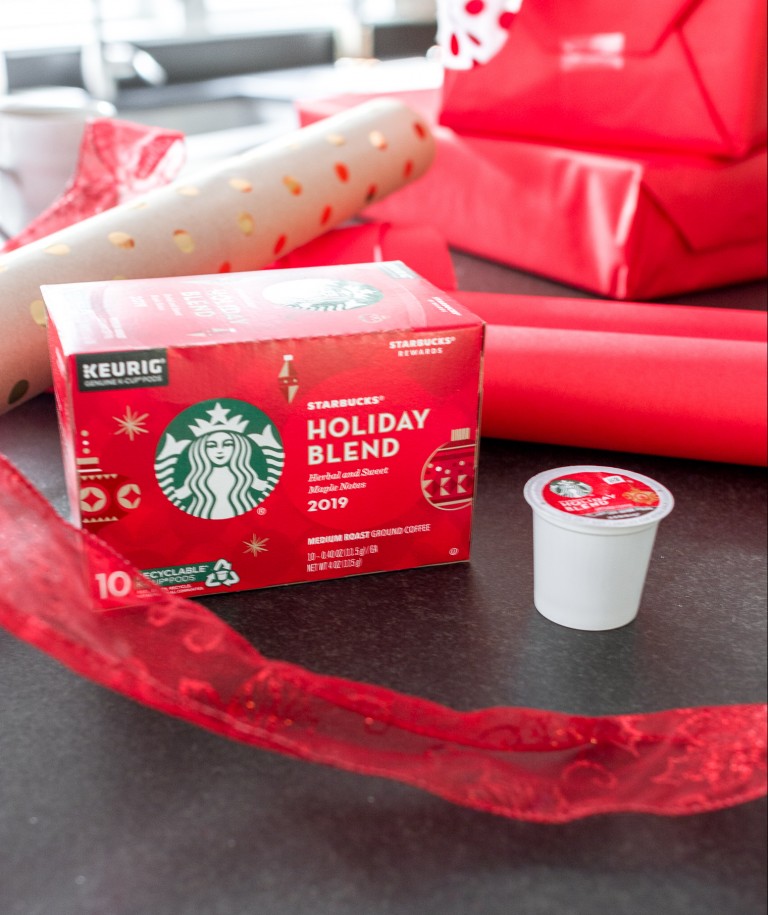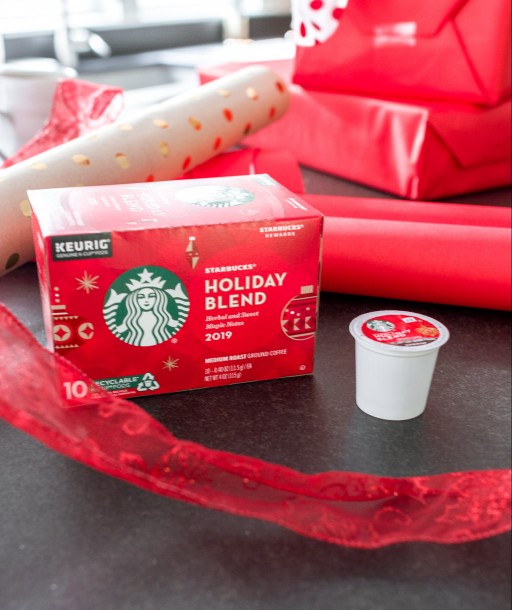 Every single holiday, I think I have plenty of time. When December 24th rolls around (I celebrate Christmas), I realize I have way overestimated how much I could get done in one month.
If you don't motivate yourself to actually create the schedule and then follow it, your presents will literally never get wrapped. I can't get started without a little motivation, but once I get going, I'm amazed and how smoothly the season goes!
Before any planning or gift wrapping session, I brew myself a cup of coffee using Starbucks® Holiday Blend K-Cup® pods. While I add a little milk, it's absolutely delicious black. Starbucks Holiday Blend coffee not only gives me the caffeine boost I need during the winter months (it's seriously dark at 4pm!) but the delicious herbal and sweet maple notes that are layered in the blend get me really excited for the gift giving season.
Giving a gift to someone that comes from the heart is an activity born out of love! It's so easy to get wrapped up (no pun intended) in the shopping, buying, spending, etc., but at the end of the day, I want to be excited to give a gift that I've personally picked out for someone I care about.
Starbucks Holiday Blend coffee definitely helps me get in the spirit to celebrate the season! Is it even December without a seasonal cup of Starbucks coffee?
It's the everyday, at-home moments when I need this extra boost of flavor (and caffeine!) to remind me that the holiday season is super short. Getting on schedule, especially with my gift wrapping, allows me to enjoy more of the holidays when they arrive!
Starbucks Holiday Blend is available in ground coffee and K-Cup® pods at your local Shaw's. Not only is Shaw's super easy to shop at (the checkout line is crazy fast), but the mobile app shows available coupons that make a shopping trip really budget-friendly.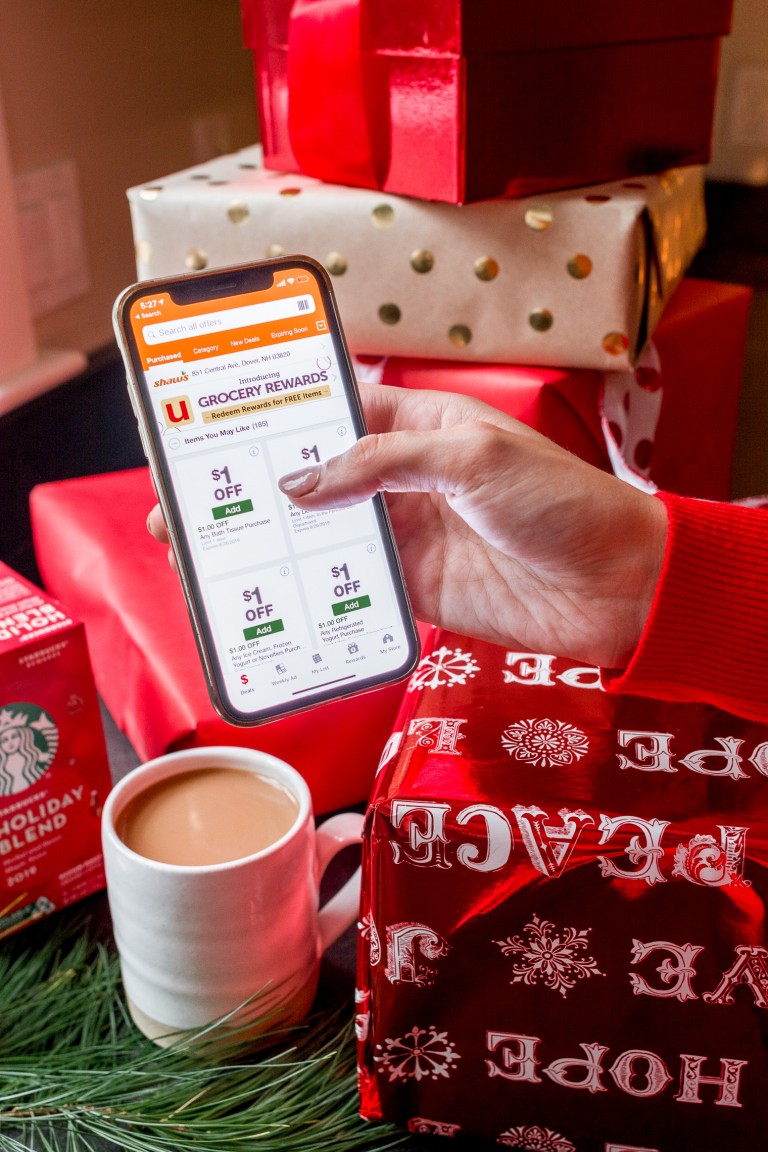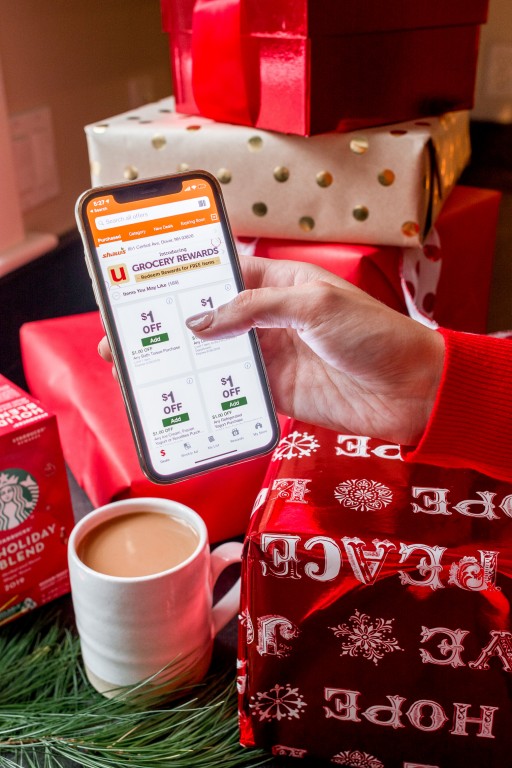 Secondly, Create The Schedule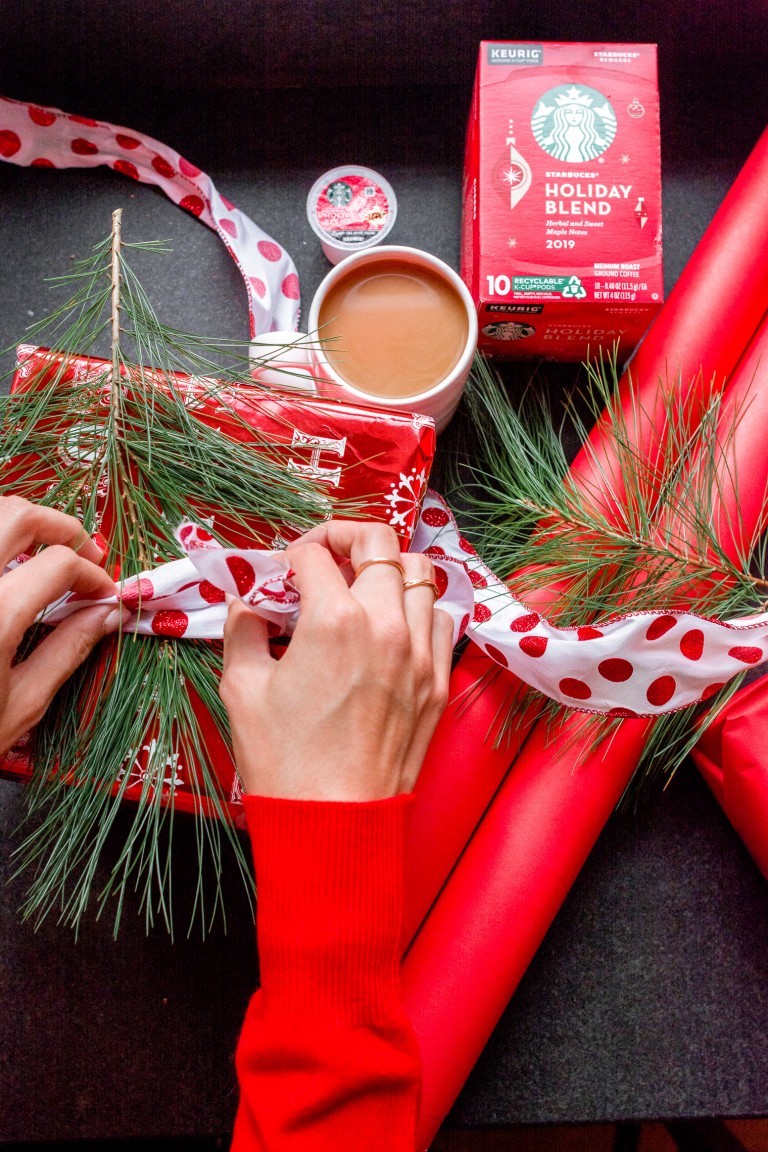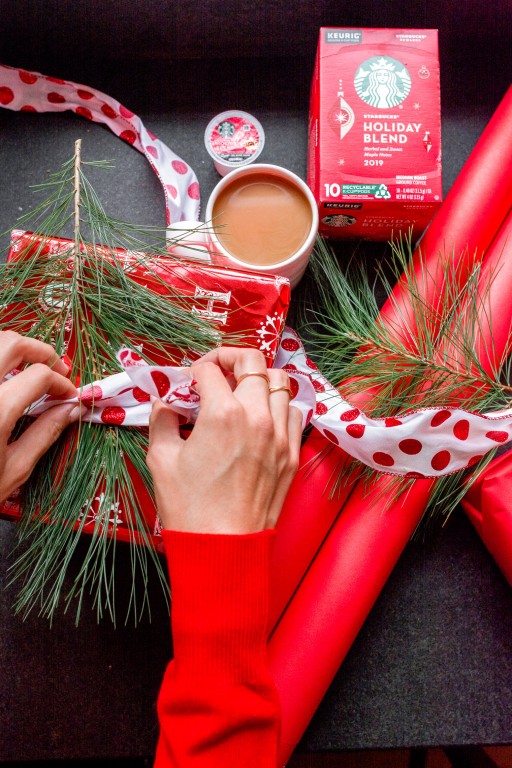 I've included a free printable at the bottom of this post, but you can easily make a schedule on a blank piece of paper as well.
The main thing is to list gift wrapping to-do items from start to finish and give yourself deadlines. Here are some to-do items that I usually find myself listing:
Purchase wrapping paper and supplies (boxes, gift bags, tape, scissors, ribbons, bows, name tags)
Set up a wrapping station (ideally somewhere permanent)
Organize stocking stuffer bins
Organize wrapped presents area
Brew a cup of Starbucks Holiday Blend coffee (how you like it!) to boost your energy before the wrapping process begins
Wrap a bunch of hostess gifts to have prepared for the season
Wrap for immediate family
Wrap for extended family/in-laws
Wrap for friends
Wrap for colleagues, teachers, etc.
Wrap for anyone who doesn't fit into the above categories
I like to give myself a deadline for each item on my printable. Some years, I need to reach a deadline every few days, while other years (when I'm super ahead) I do a few items each week in December.
I also let to set up a reminder in my phone so that I don't *just happen to* ignore the schedule until I'm a few weeks off track.
Lastly, Follow It!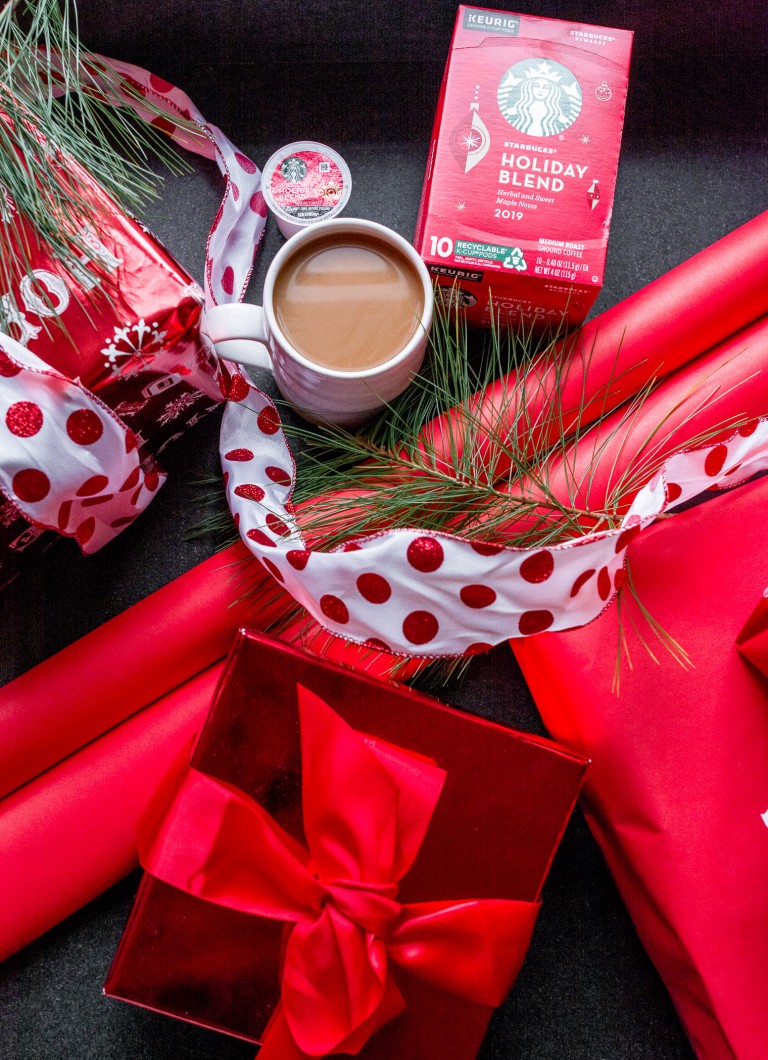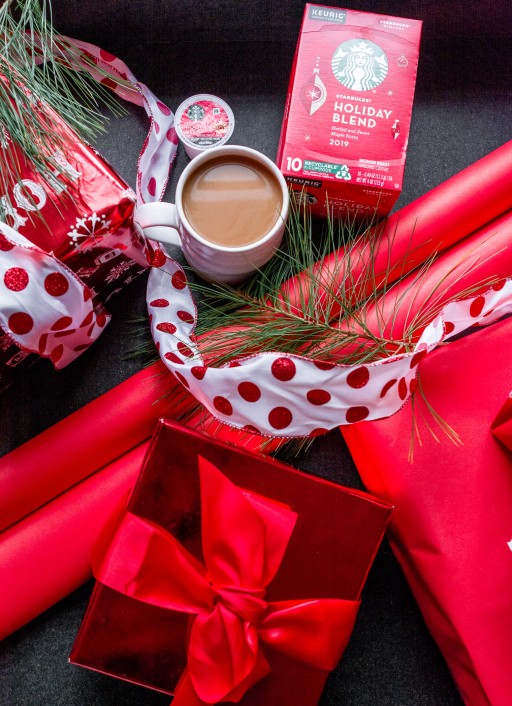 Obviously you need to actually stay on track for this to work. I recommend hyping yourself up by displaying your calendar in a prominent place and making some type of mark every day.
I definitely recommend setting this schedule as soon as possible! For those of you who haven't started your shopping yet, you may have to condense some tasks, but the sooner the better. Don't forget a delicious cup of Starbucks Holiday Blend coffee – it really gets me in the holiday spirit!
The main thing is to set up a good wrapping station that is easy to use. I use a simple folding table and keep all of my supplies stacked on one side of it.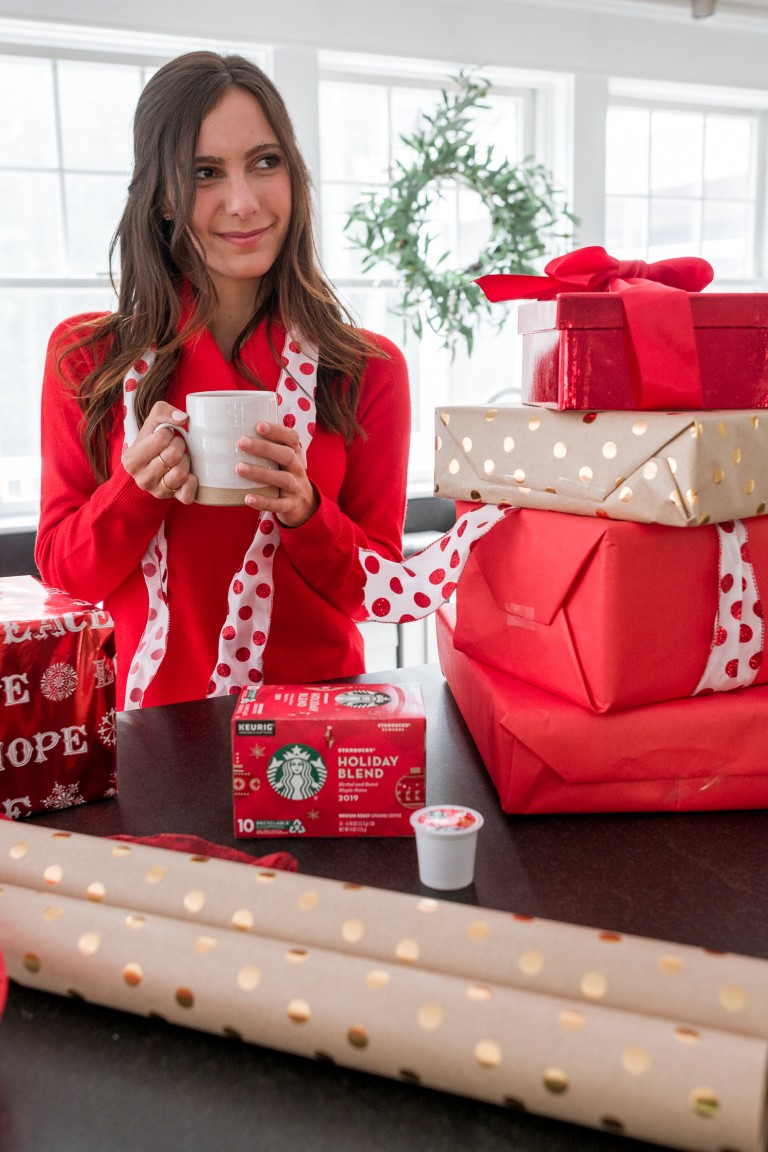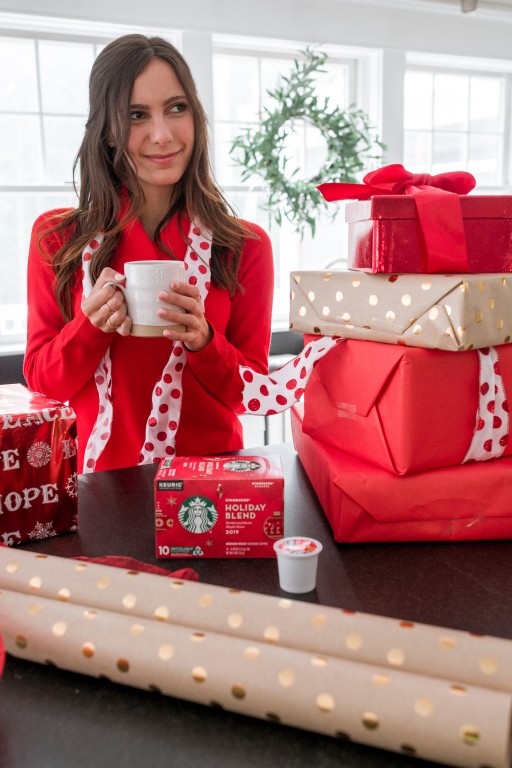 Click here for a free printable.
Happy holidays!

Keurig, Keurig Hot, K-Cup and the K logo are trademarks of Keurig Green Mountain, Inc., used with permission.