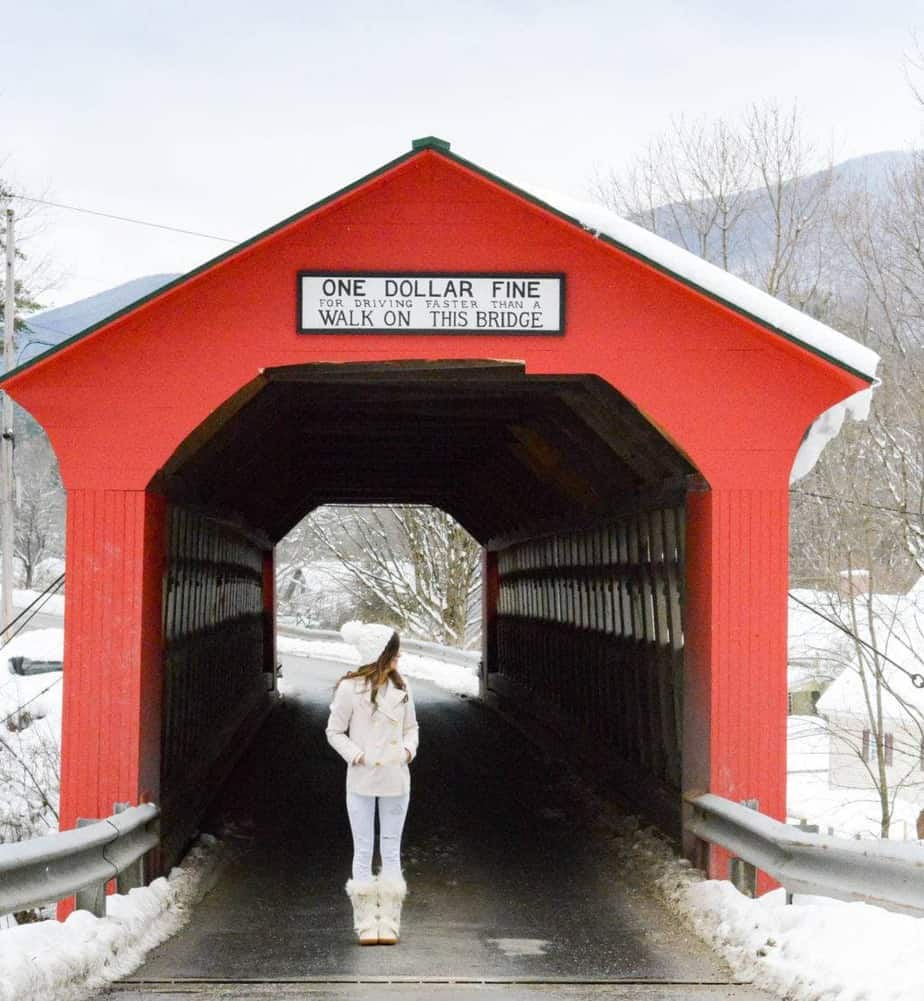 Being away at college in Miami for the last four years, my first year back in the cold has been tough enough, not to mention that we're literally in an arctic freeze right now!
Skiing is huge around here; I've spent quite a bit of time this winter figuring out how to get through the winter season as a non-skier. The upcoming few months can be the coldest and darkest of the year, but I've decided not to fight it and join it through New England winter trips.
There's literally TONS of amazing New England winter getaways, but here's a list of my absolute favorites.
North Conway, NH

North Conway really gets going in the winter with tons of restaurants, bars, and obviously plenty of winter sports. It's definitely a town that's happening with something for every age group while being pretty affordable; it's definitely one of my favorite winter getaways in New England!
Where To Stay
The Nordic Village Resort is a reallyyyy cool place to stay with near Mount Washington with outdoor hot tubs, tons of nearby restaurants, and even a midnight snack package, which (if you're anything like me) is a must.
The Red Jacket Inn is close to the mountain for skiers and has an indoor waterpark that's perfect for kids; Stonehurst Manor is a gorgeous historic mansion that's really breathtaking in the winter if you're looking for a pretty stay.
Eating & Drinking
Flatbread (mostly organic) Pizza has a really cute location in North Conway. The food is incredible, but the hippie/boho cozy vibe makes it totally worth the visit.
Muddy Moose is a casual pub-like restaurant with a woodsy mountain feel inside. It turns into a fun bar later at night, as does The Ghoullog, or Club 550 for all you peeps who don't drink beer.
Things To Do
North Conway offers all the traditional winter sports as well as outlets for those of you who'd rather shop than ski! Cranmore Mountain is good for skiing and has tubing, an indoor adventure zone, and even mountainside festivals on certain days.
Most inns offer sleigh rides and pools; tubing, snowshoeing, cross country skiing, dog sledding, skating, snowmobiling, and even horseback riding are all available. Told you, there's literally something for everyone. It's one of the best New England winter trips for any group!
Stowe, VT

For a trip to the beautiful winter town inside your snow globe, Stowe Vermont is magical. It's obviously great for winter sports, but for the less athletically inclined there's still a ton of fun restaurants, breweries, and nature activities.
It's always busy in the winter which makes it an awesome destination during the dead months! Stowe is a little more upscale but you really get what you pay for.
Where To Stay
The Trapp Family Lodge is an Austrian Sound of Music inspired resort with options to stay in a room, villa, or guesthouse, and even has an attached brewery.
Stowe Mountain Lodge has a prime location, with ski in/out options, incredible views, and comfy furnishings that can include a fireplace and balcony.
The Field Guide is a smaller, rustic inn that still manages to be high class. If you're anything like me and have a tough time leaving your puppies at home, they offer dog friendly suits.
Stowe is so huge that you really can't go wrong choosing accommodations! It's one of the best winter getaways in New England if you're going with a larger group and have a big enough budget to really enjoy it.
Eating & Drinking
Plate is centrally located, has a cool chic vibe (perfect for the Insta), and has seasonal eats that are trendy but yummy (their burgers are always especially amazing).
Crop Vermont Bistro and Brewery is a fun spot for food or drinks, and Matterhorn is the bar to be at later in the evening with live music on the weekends.
Things To Do
Downhill skiing is huge here with Mount Mansfield being Vermont's tallest peak, but the majority of vacationers also cross country ski, skate at Spruce Peak, indoor rock climb at Stowe Rocks, or check out the newer upscale spas that have recently been popping up.
Stowe isn't one of the worst winter getaways in New England for non skiers, but it isn't the best either. You non skiers can definitely keep yourselves busy while everyone else hits the slopes, but you wouldn't want to spend more than 3-4 days in the area.
Stowe is one of the classic New England winter vacations, so you should definitely hit it at least once!
For less intense, more relaxing winter getaways in New England, check out my winter guide to Manchester Vermont.
Bethel, ME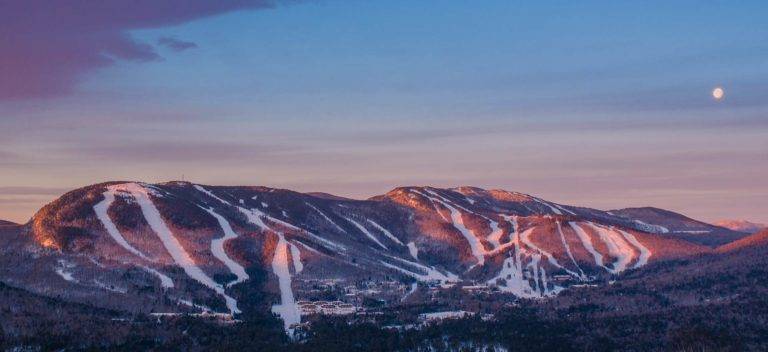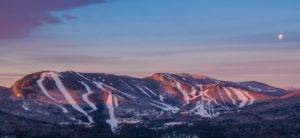 More commonly known as Sunday River, this is one of the winter towns I grew up going to annually. We'd stay at Sunday River Resort with a group of families in mountainside condos. After spending our days skiing, at night we'd cook together, watch football, and play cards.
Sunday River is a massive mountain if you're into skiing – I actually got stuck halfway down a trail one time (I won't lie, it was a blue trail, which reveals my skiing expertise).
It's one of the destinations you have to like some type of winter activity to enjoy. The downtown is basically nonexistent, but if you're into the super rural Maine in winter vibe, then it's the perfect winter spot.
Where To Stay
I've usually stayed at The Sunday River Resort, which is the big mountainside hotel. It has an outdoor heated pool that's incredibly fun to be in when it's snowing, and large private condos for a decent price, but the decor in the rooms themselves can be a little dated.
If you're looking to stay right in downtown Bethel, Holidae House is a quaint B&B with absolutely amazing home cooked breakfast every morning.
If you're going with a group of people, it can also be a really fun time to get an Airbnb since most of the hotels end up being condo-like rooms anyways.
Eating & Drinking
Food around Sunday River tends to be pretty rural and country. Sunday River Brewing Co., Matterhorn Ski Bar (in downtown Bethel – get the wood fire pizza), and The Foggy Goggle (they make an awesome Bloody Mary if you're into brunch) are all good options.
Things To Do
There's 7 mountains at Sunday River so there's literally something for everyone as long you actually ski. There's also a massive zip line, an ice rink, tubing, dogsledding, and sleigh rides.
Downtown, there's a small arcade and movie theater for kids, with a shuttle that runs back and forth from the resorts pretty consistently.
Keep in mind that Sunday River isn't one of the best New England winter getaways for non skiers, especially if you're traveling with a group and everyone else does ski (trust me, you'll get pretty bored). If you're set on visiting Maine in winter but don't ski, you might want to consider Portland.
Portland, ME

Portland Maine is a younger city with a lot more to do than some of these small winter destinations. It's got a lively vibe any time of the year, but I use it as one of my winter getaway spots when I'm not feeling athletic so I had to include it.
If you're looking for a winter sports destination, then this might not be the ideal spot for you, but if you want some classic New England city feels, then Portland is it! It's also one of the best New England winter getaways for non skiers. I head to Portland as my main destination if I'm wanting to visit Maine in winter.
Where To Stay
The Portland Harbor Hotel is right downtown and is super clean with a modern, nautical air – it's one of my go-to hotels any time of year.
The Press Hotel is a boutique resort that's also right downtown but is a little more minimalistic, with white rooms, marble bathrooms, and artistic food.
If you want more of a B&B feel, The Danforth Inn is really sophisticated and personalized with cute suites in different styles that include fireplaces!
Eating & Drinking
Duckfat is definitely one of the most famous little nooks in Portland, with a super small menu of easy food like sandwiches and fries that are honestly amazing and somehow gourmet. You can order then walk around until your food is ready so it's a really convenient place to stop in.
If you're in the mood for seafood, Eventide Oyster Co. has a huge variety of fresh fish and is known for its raw bar.
As far as nightlife goes, Bramhall has a speakeasy vibe that I personally love with some cool unique cocktails and a few bites. Breweries are pretty big in this area, and Shipyard Brewery in Portland offers a fun tour with beer tasting, but basically any joint in the area will have local craft beers.
Things To Do
If you really want to get a winter workout in, Smiling Hill Farm is a short drive away and offers cross country skiing. Otherwise, shopping in Portland is pretty cool – it's mostly a mix of fashionable boutiques and homemade New England items.
The West End is the Arts District with lots of museums, tours, and historical houses. The Portland Museum of Art has a lot of big names and can be an option for a super cold day. Portland is probably one of the only New England winter vacations on this list that actually has Uber, so take advantage of that! There's a venue that holds concerts worth looking into because some big name artists perform there.
Portland is one of the best city-like winter getaways in New England for those of you who like the urban vibe.
Check out my favorite things to do in Portland Maine for more details!
Stockbridge, MA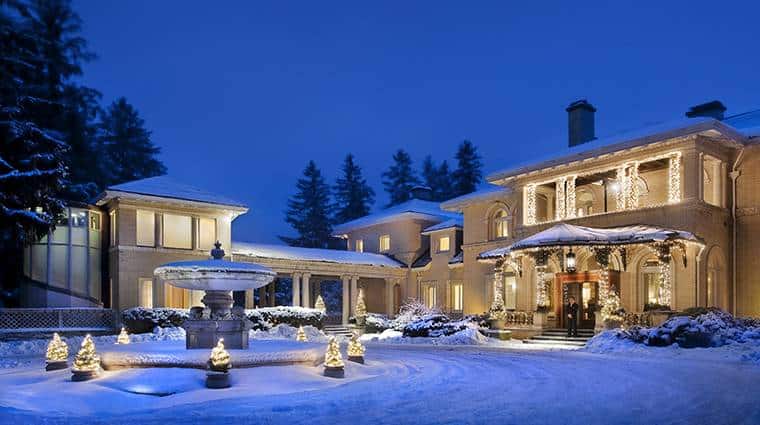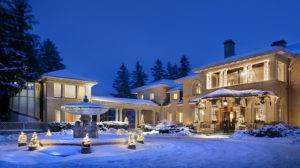 While winter isn't known as a typical time to visit The Berkshires in Massachusetts, it's literally perfect for a quiet romantic vacation. One of the favored spots there is Stockbridge, known for its friendly locals and the Norman Rockwell Museum.
Stockbridge is a great visit for R&R and is one of the best romantic winter getaways in New England.
Where To Stay
The Red Lion Inn has to be one of the cutest winter hotels ever – it's a collection of a bunch of different houses, so it offers super private quaint rooms, with the main house B&B room option as well.
The Wheatleigh Hotel is technically in Lenox, but is one of the coolest hotels ever so I had to include it; it's an old "cottage" built for a Count, with gorgeous columns, stonework, and massive grounds. The Wheatleigh is incredibly romantic and beautiful in the snow so I recommend it for the winter season!
Eating & Drinking
Nejaimes Fine Wine & Cheese is a super cute small wine bar in Lenox, with a personalized feel and a pretty good selection. Main Street Cafe is a classic with locals, and The Red Lion Inn has a white tablecloth dining room for a fancier meal, or a connected tavern for a more casual night.
Things To Do
The Hilltop Orchard has snowshoeing and includes wine tasting afterwards to warm up. There's a few different historical estates you can tour around the area, and Warner Hill (Butternut) is probably the closest (but still really low-key) mountain if you want to break up the quiet of Stockbridge with some activity.
In general, Stockbridge is one of the less well-known New England winter getaways for non skiers but is nevertheless great if you want romance or a peaceful trip. Nightlife is pretty chill – this is definitely the town to visit if you're looking to have a few relaxing nights by the fire with your favorite vino.
Cheers to filling up the next few months with some fun New England winter vacations!