Great Patio Makeover Ideas
If you are looking to improve your patio or simply construct a new patio, you might be in search of great patio makeover designs and ideas. It comes down to the construction you want to use, the cooking areas or seating areas you create for socializing and entertainment, ambiance through things like fire pits, and of course, lighting.
Patio Construction
Patios are now being constructed to look like natural stones, brick, marble, and wood for less of the cost by using concrete. This is done by pressing patterns into the concrete, engraving your laid concrete through saw-cutting and stamping patterns on top of your concrete patios. Concrete patios are now fully furnished and decorated amenities to your cooking area or pool area. By adding decorative options to your concrete, you can upgrade the value of your backyards and increase the investment that your home is. The color selection is as wide as your decorating possibilities so your concrete patio can be selected to match your outdoor furniture. You can create authentic looking slate, stone, or cobblestones.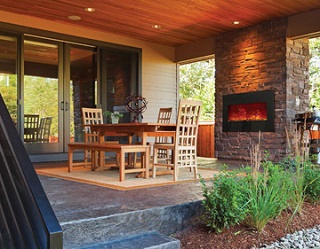 Outdoor Cooking Areas
Outdoor cooking areas remain one of the most popular trends today, especially because of technological advances like water resistant fabric and low voltage lighting for outdoors. That means that outdoor living spaces can be inviting, welcoming, and perfect to complement the outdoor fire pit you install. You can take advantage of every area of space in your yard by combining the openness of the outdoors with the coziness of indoor counterparts like chairs, pillows, and blankets.
Patio Fire Pit
With a patio fire pit you can do so much more with your outdoor space. You can transform your backyard the way you want it with fun designs.
Consider a stone circular above ground pit. With this design you can take advantage of any odd space in your yard, usually those spaces which are not a recognizable shape or have some odd segment of land available. You can use this space to lay a stone perimeter around the secluded area, with a fire pit in the center. This allows you to use the stone perimeter as seating around at least part of the fire pit, and have plenty of space for additional seating nearby.
Another idea is to lay large stones into a circular segment or square segment of your yard. On one half of the yard you can find a faux stone storage unit which looks like a large rock for all intents and purposes. This can sit at one end of the below ground fire pit and store excess wood. Here you can place outdoor patio chairs around the pit and relax.
Another option is to use brick. Some home owners have enjoyed the use of brick and stone to make a half circle of bench like seating with full backs surrounding the above ground fire pit. With a few decorative pillows you can make a cozy seating area with complete access to the fire for roasting. Of course, some people prefer a brick wall in a half-circle which builds up from ground level in the form of steps on either side. This half wall around one part of a below ground fire pit helps to block wind while trapping the heat generated by the fire and moving it toward the seating area placed opposite the wall. If your yard rests against a downhill slope, this is an ideal formation to offer the best view.
If your yard rests against a hillside, with an uphill slope, the rock wall with a half-circle seating arrangement can be built into the hill, activing as a barrier to landslides and allowing you a beautiful view.
Other people enjoy making a stone path from their back door to the semi secluded corner of the yard where there exists a small stone circle segment built into which is a below ground fire. This design is ideal for people who enjoy roasting marshmallows and other fun treats over a fire because it allows people seated around the stone perimeter to catch the tips of the flames perfect for that golden brown roast.
Patio Home Entrances
Most patios are built with an enclosure and they usually have separate entrances. This entrance typically leads directly into the house. For that reason, when you are considering patio upgrades it's important that you also bring your security some improvements as well. A residential locksmith can help you secure the doors to and from your house that leads directly to the patio even if you have something like a sliding glass door. They can also help you to install security features and systems around any exterior doors like doors or gates in the fences that lead directly to your patio.