Manchester Vermont is located right in the Green Mountains. It's perfect for a romantic getaway, a relaxing/rejuvenating weekend, shopping, or folks who are into outdoorsy action!
The "small town" vibe is definitely there. Some of the downtown shops close before 4pm on the weekends and restaurants close around 9.
However, the scenery is absolutely beautiful, and there's so many options for things to do in Manchester VT (unlike ski lodges where if you don't ski you're basically sitting around the whole time). It's a breathtaking location any time of year!
Manchester Vermont is a small town located in Northern Vermont about equidistant from New York City and Montreal. It's hometown America at its best- quintessential rural New England charm on the edge of Lake Memphremagog with farming, hunting, fishing, skiing nearby.
If you want to escape the hustle of city life and spend some time with nature, this might be just the place for you.
Getting To Manchester VT
There's no easy way to get to Manchester Vermont, at least from Massachusetts. The drive took about 4 hours, 3 of which were windy, mountainous backroads.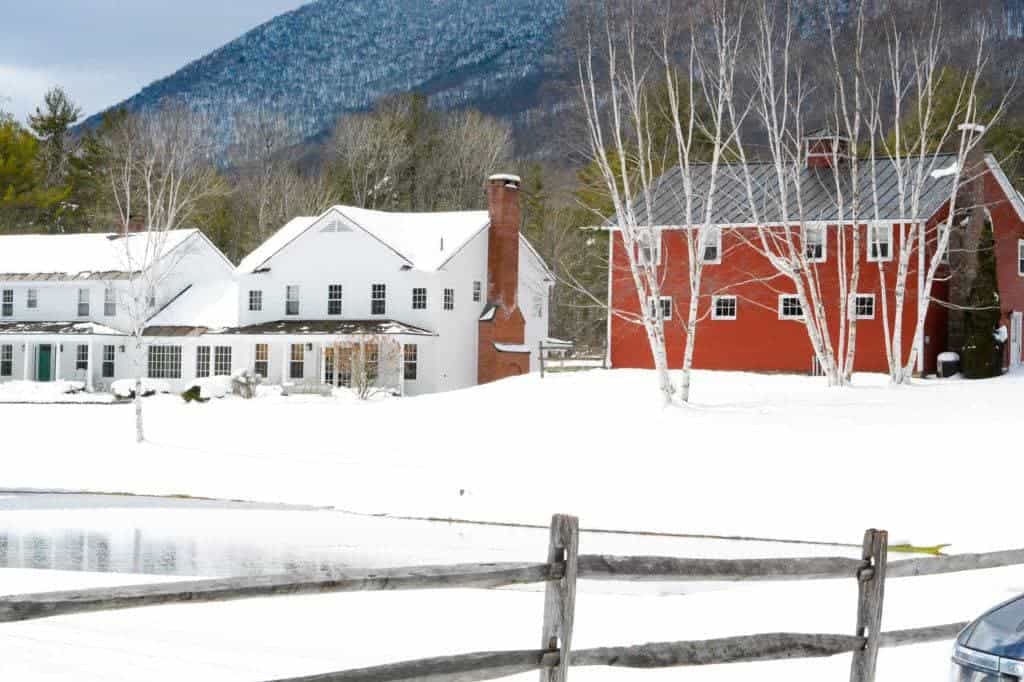 We drove up late on Friday night after work, and it actually started snowing on the way. Not the most relaxing few hours for the driver!
Definitely learn from my mistakes and plan accordingly; if you're not used to driving in these types of conditions, drive to Manchester Vermont in the middle of the day in clear weather.
The roads get a bit treacherous at night. Otherwise, the drive isn't too bad, though you may lose service during certain points.
Manchester is a really easy trip from Boston, New York City and Montreal— the Manchester Airport (5 miles away) has flights on Jet Blue and United.
There are two buses daily from Burlington , which takes about an hour each way to get here, and you can rent cars at both airports as well.
As for getting around town, there's no public transportation but plenty of taxis if you don't want to deal with driving or parking…and it's walkable enough that if your bags aren't too heavy it might be more fun than dealing with traffic/parking/etc anyways!
Manchester VT Hotels:
There are actually quite a few hotels in Manchester Vermont. Here are some of the ones I've stayed in and personally loved!
One of my favorite hotels in Manchester Vermont is definitely the Kimpton Taconic. It's super upscale and pretty large, with great views and a woodsy vibe, but it's still affordable.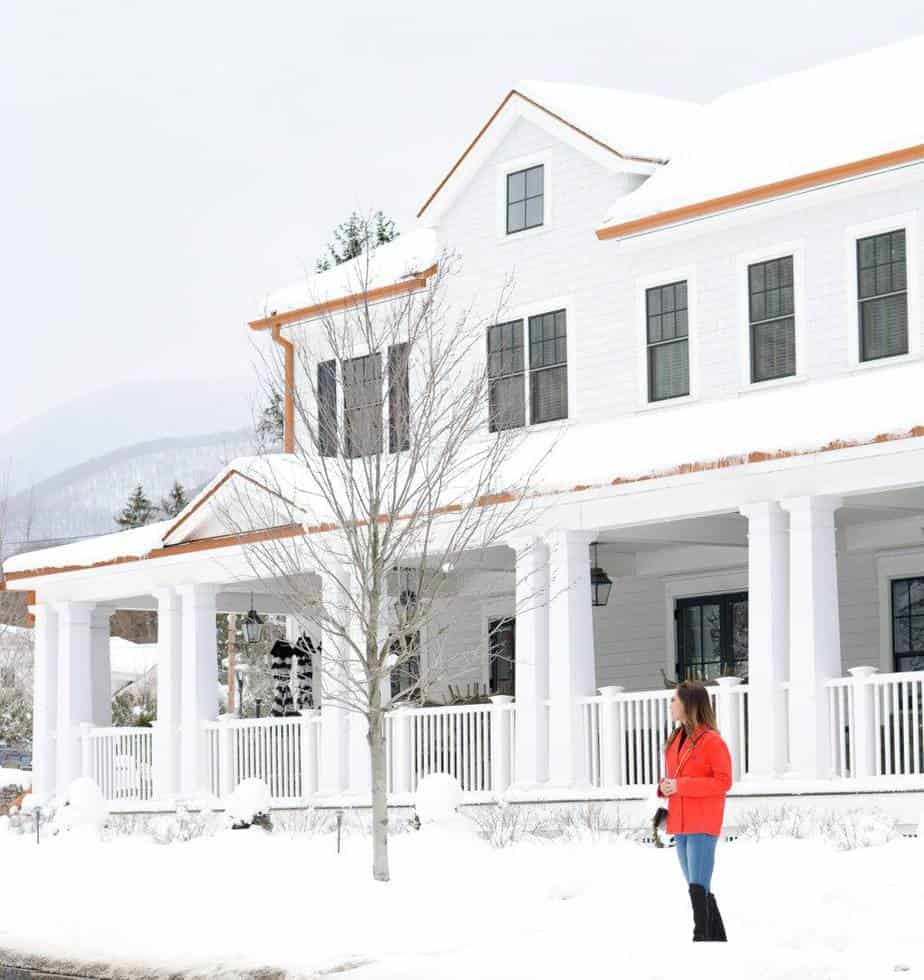 The beds are comfy, the hotel is filled with fireplaces, the fresh pine smell is super rustic and cozy, but there's somehow an upscale vibe that feels just about as trendy as Vermont can get.
I spent most of my time in the hotel reading in the library room (there's actually tons of good books and comfy chairs, and it was pretty quiet during my stay), hanging out by the outdoor fire pit, and saying hi to the MANY dogs staying there – it's possibly the most dog friendly hotel I've ever heard of.
Related: 24+ Fun & Affordable Things To Do In Salem MA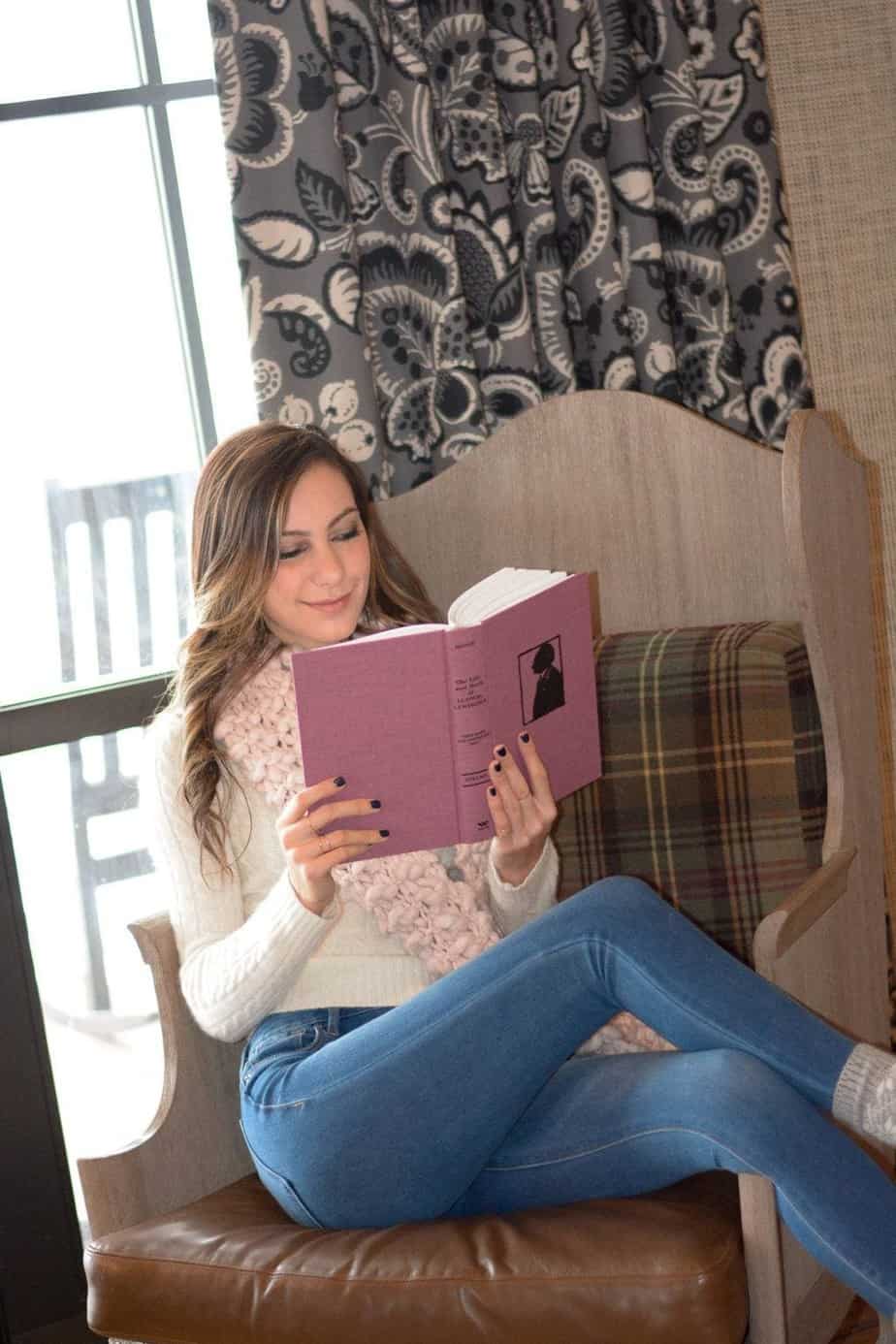 As an added bonus, the staff was over the top friendly! It really felt like walking into a family owned resort. They went out of their way to accommodate us (they rushed up toothpaste as soon as I realized I forgot it) and seemed to be available 24/7 for literally any issue.
The Kimpton Taconic is definitely one of the better upscale hotels in Manchester Vermont. If you want a true Vermont vacation yet want to be a bit pampered, check out the Taconic.
The Kimpton Taconic Hotel is a budget-friendly hotel in a perfect location for exploring the state of Vermont. The hotel is minutes from famous attractions such as Historic Downtown Manchester, Six Flags New England and the Appalachian Trail.
Click here to check out the details.
Another great option for hotels in Manchester Vermont is the Equinox Resort. This is a well-known Manchester VT resort that's a bit more opulent, though it isn't as new as the Taconic.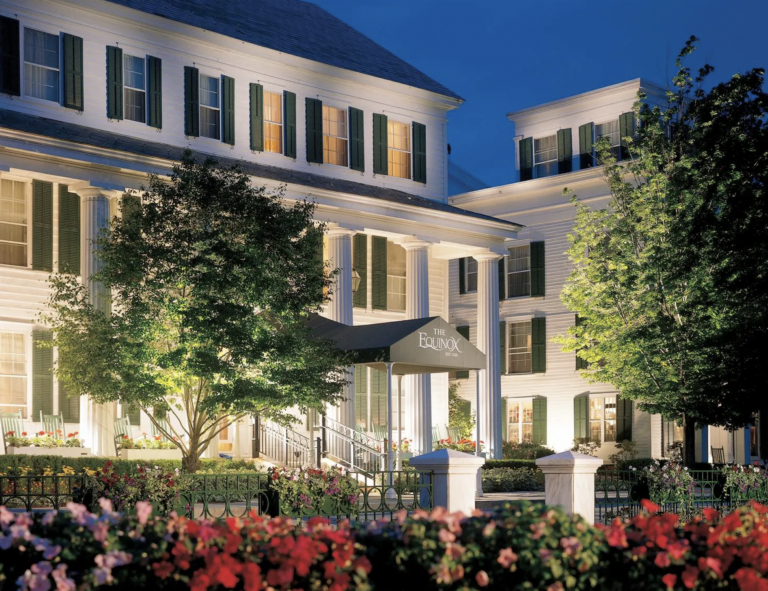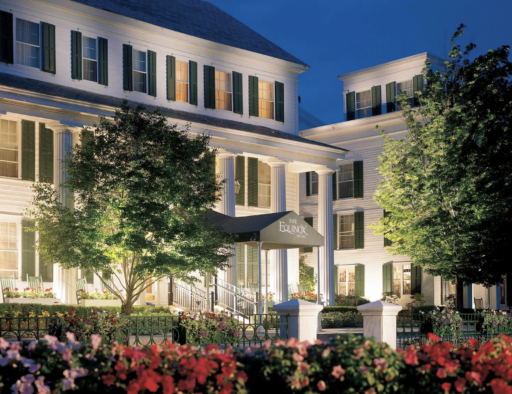 The Equinox Resort is situated on over 200 acres of land, with beautiful trails and a golf course. The resort consists of traditional New England inns and cottages.
It also offers more luxurious lodging options such as the Saratoga Springs or Essex Ridge Lodges, as well as a horse ranch that features both trail rides and skiing.
This luxury golf and spa resort is perfect for someone who wants a truly relaxing vacation. The resort offers 5+ restaurants and bars, as well as an outdoor fire pit.
The rooms themselves are gorgeous! Many of the units have fireplaces and are decorated in opulent, vintage decor, however the spa is really what the Equinox is known for.
Click here to check out the details.
The Wilburton Inn is a bit further out from downtown. It's a gorgeous mansion with a lot of property.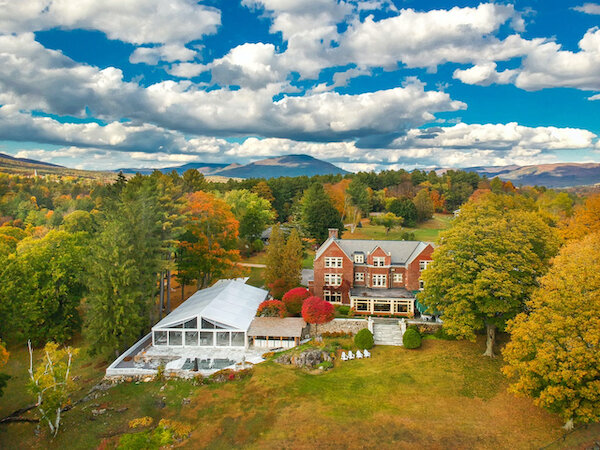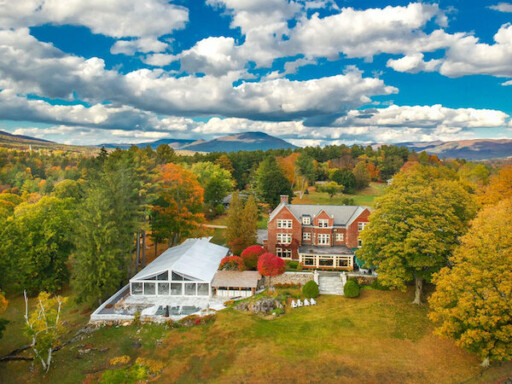 The Wilburton Inn is a bit more affordable than the previous hotels, yet it's still super upscale. I think this is a great option for anyone who needs to save a few dollars but still wants a great vacation!
The views are truly why people come to the Wilburton. This inn might have some of the best views in all of Manchester Vermont!
However, expect to have a quiet vacation in, unless you're up for driving to the downtown. Uber is scarce in the Manchester VT area.
Click here to check out the details.
Hotel Mountain View:
Hotel Mountain View is located on the outskirts of Manchester area close to the University of Vermont, Lake Champlain and downtown Burlington. It also includes a seasonal outdoor pool, indoor pool as well as hot tub.
This Manchester VT hotel is often used as a site for conferences and meetings. The hotel has many amenities such as tennis courts and complimentary water. It also offers free breakfast buffet daily. Hotel Mountain View has been rated as one of the best hotels in Vermont by many locals!
Manchester Vermont Restaurants:
Surprisingly, Manchester Vermont has quite a few fun restaurants. However, you definitely need to know where to go.
In the winter, many of the downtown Manchester VT restaurants close quite early, so you should check the hours ahead of time.
The Copper Grouse Restaurant in Manchester, VT is located near the University of Vermont and downtown Burlington. The restaurant serves dinner as well as Sunday brunch.
Okay, so I'll be honest – I ate quite a few meals at The Copper Grouse in the Taconic. But this wasn't just because it was right downstairs – it's seriously some of the best food in Manchester VT.
The Copper Grouse Restaurant has been serving exceptional meals since 1983. Widely regarded throughout the area for its culinary expertise, The Copper Grouse consistently receives high ratings in reviews from locals.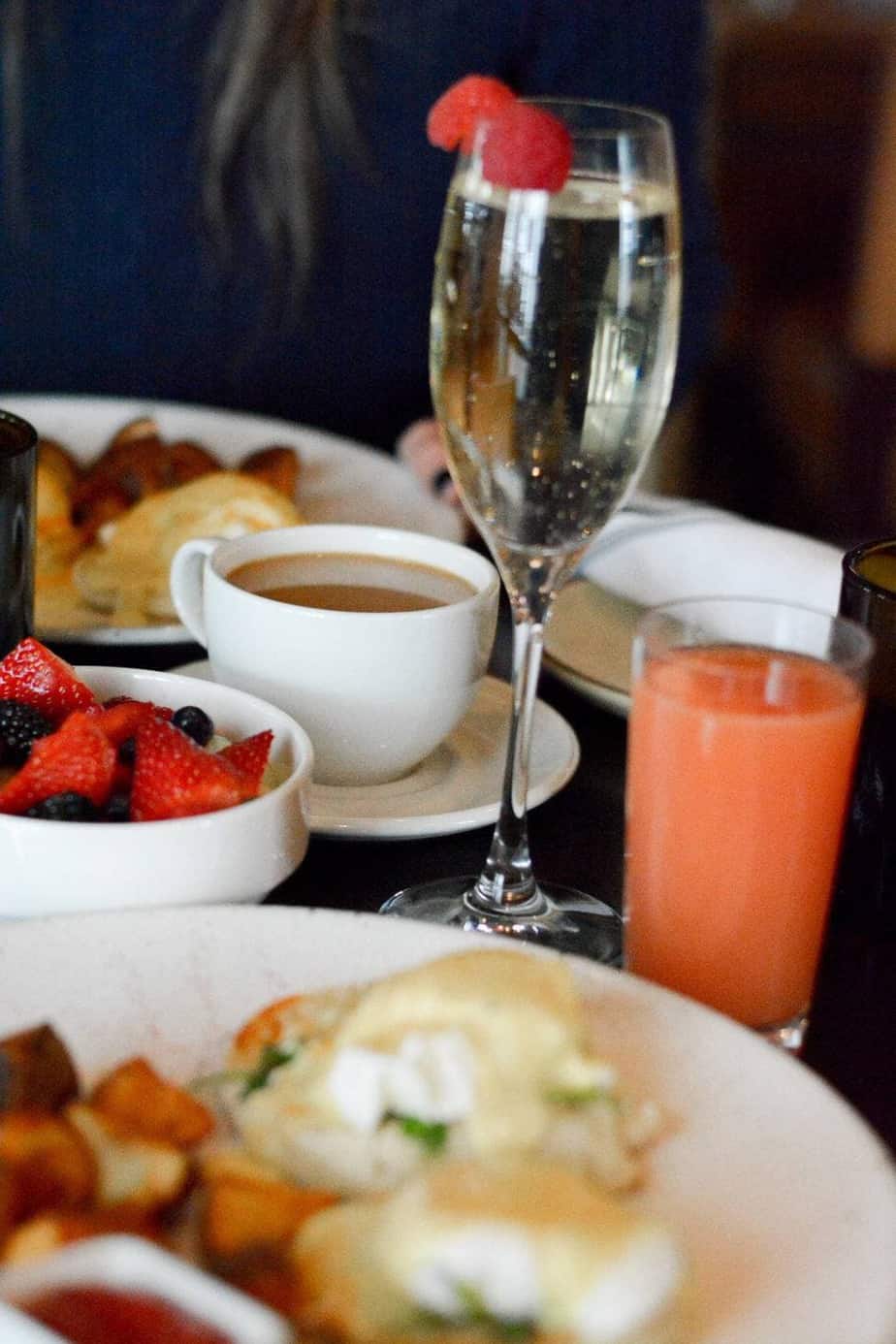 The Espresso Martinis are AMAZING and there's a huge selection of wine. I tried the Canelloni, the House Salad, and the Cheese Board (a selection of local cheeses, meats, and fresh bread – try it!).
I ordered Eggs Benedict for brunch on Sunday and it was – no joke – the best Hollaindaise sauce I've ever tried. I'm super picky about my Benedict, so based on that alone I 100% recommend it.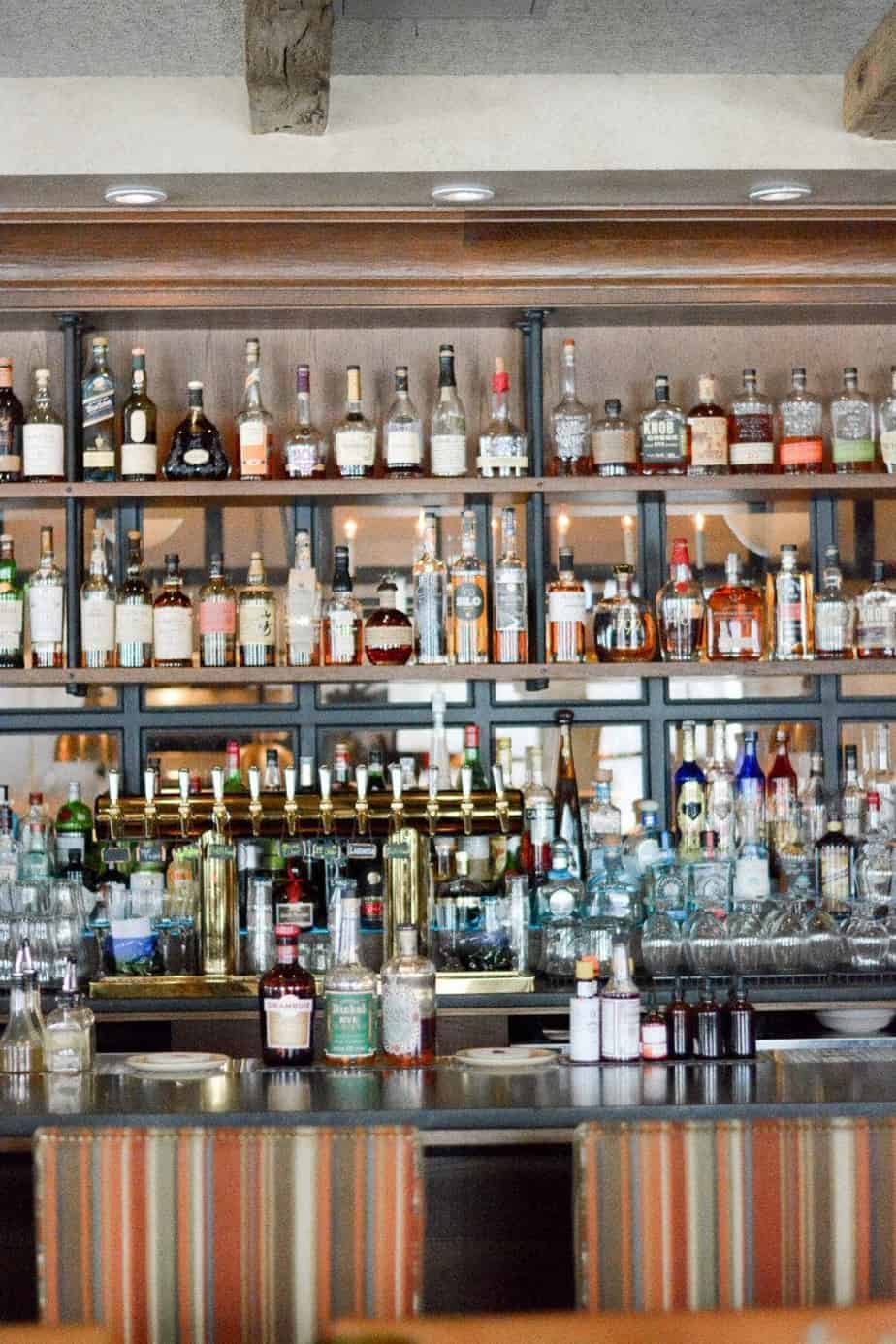 Overall, we loved the Copper Grouse because unlike many other restaurants in Manchester VT, it's open almost all the time! The hours are amazing.
Check out their seasonal specials, grilled swordfish steak, fresh catch seafood platter or steamed mussels with spicy tomato sauce for some yummy choices.
Click here to check out reviews.
While The Perfect Wife is the upscale restaurant portion serving fresh Manchester Vermont food (such as Duck, Filets, and fresh Fish), The Other Woman is the tavern portion of the building. Both are great!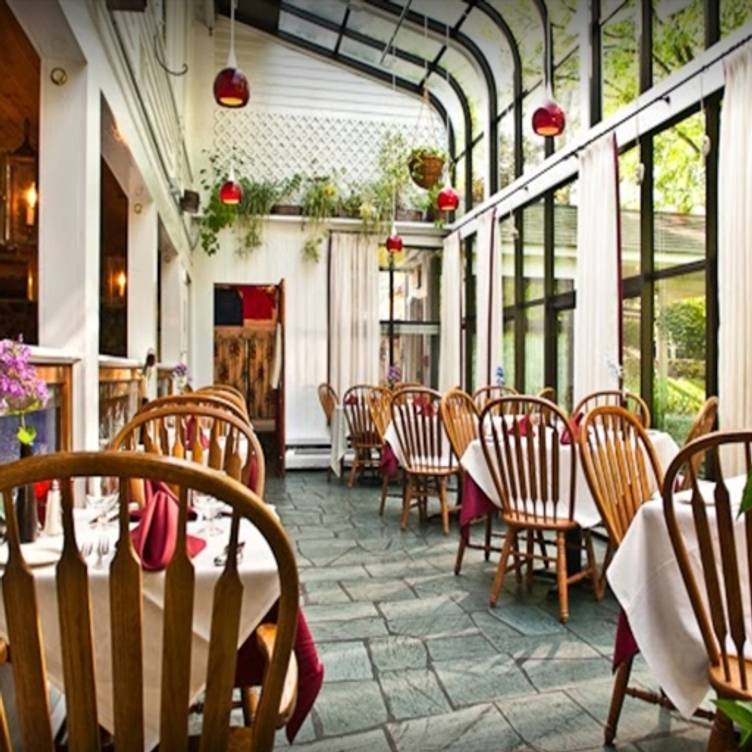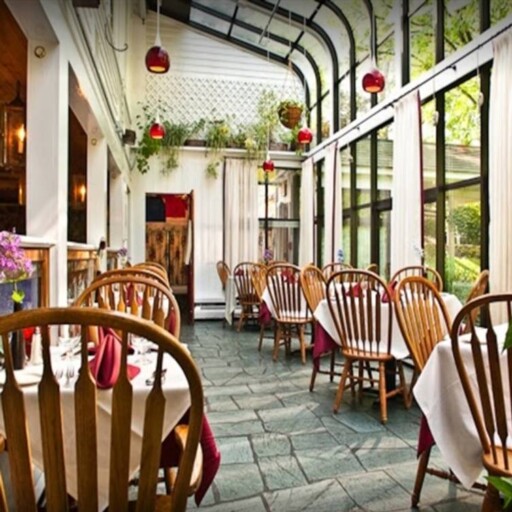 The tavern serves more casual fare such as sandwiches and burgers, with a pretty extensive drink list.
There's oftentimes popular Vermont live music on the tavern side as well. It's a cool mix for a night out!
Only open for dinner, the Chop House is one of Manchester's best steakhouses.
There's a gorgeous woodsy vibe inside with a large fireplace. The food is high-end with an emphasis on meat (of course) and seafood.
Although I've only been to Seasons in the winter, the outdoor patio and fire pit look like they'd be awesome in the summer! They're open year-round for lunch and dinner.
The menu is a mix of casual sandwiches and burgers and more gourmet "seasonal" fare – I was a fan of the mushroom raviolis.
A super local little breakfast spot, Up for Breakfast has some really yummy classic omelets, pancakes, and breakfast sandwiches, all for a great price. It's a great nook to check out if you want to really get into the Manchester culture!
The Only Game in Town – Woodstock Pizza
Since 1972, "The Only Game in Town" has been serving pizzas to the hungry clientele of Manchester Vermont. Rolling Stone Magazine named the chicken wings from here as the best in all of New England!
River Street Pub & Brewery
This bar and grill is famous for their delicious brews and burgers. Their most popular burger is called "The Juicy Lucy" which is a bacon cheeseburger with cheese stuffed inside it! It's served on toast instead of a bun.
This restaurant can be packed at any time of the day or night, so be prepared to wait for a table if you go during peak hours! The River Street Tavern is famous for having a very relaxed and casual atmosphere.
Things To Do In Manchester VT:
There are so many great things to do in Manchester VT! If you aren't sure where to start, I recommend that you head downtown.
The Manchester Vermont downtown area is really adorable and boasts a bunch of different restaurants and shops. The small-town New England feel is something you can't miss!
Overall, Manchester VT has one of the prettiest little village greens you'll ever see (the kind where the town hall is located), a "downtown" (really just three blocks) with shops and restaurants, and a really nice mix of small-town living and contemporary architecture.
Shopping:
The Manchester VT outlets are on of the biggest draws around here! There's all your traditional New England Preppy stores like Kate Spade, Vineyard Vines, Patagonia, and Brooks Brothers, as well as a lot of trendy brands and household goods stops.
If you're looking for things to do in Manchester VT, shopping will be your most popular answer.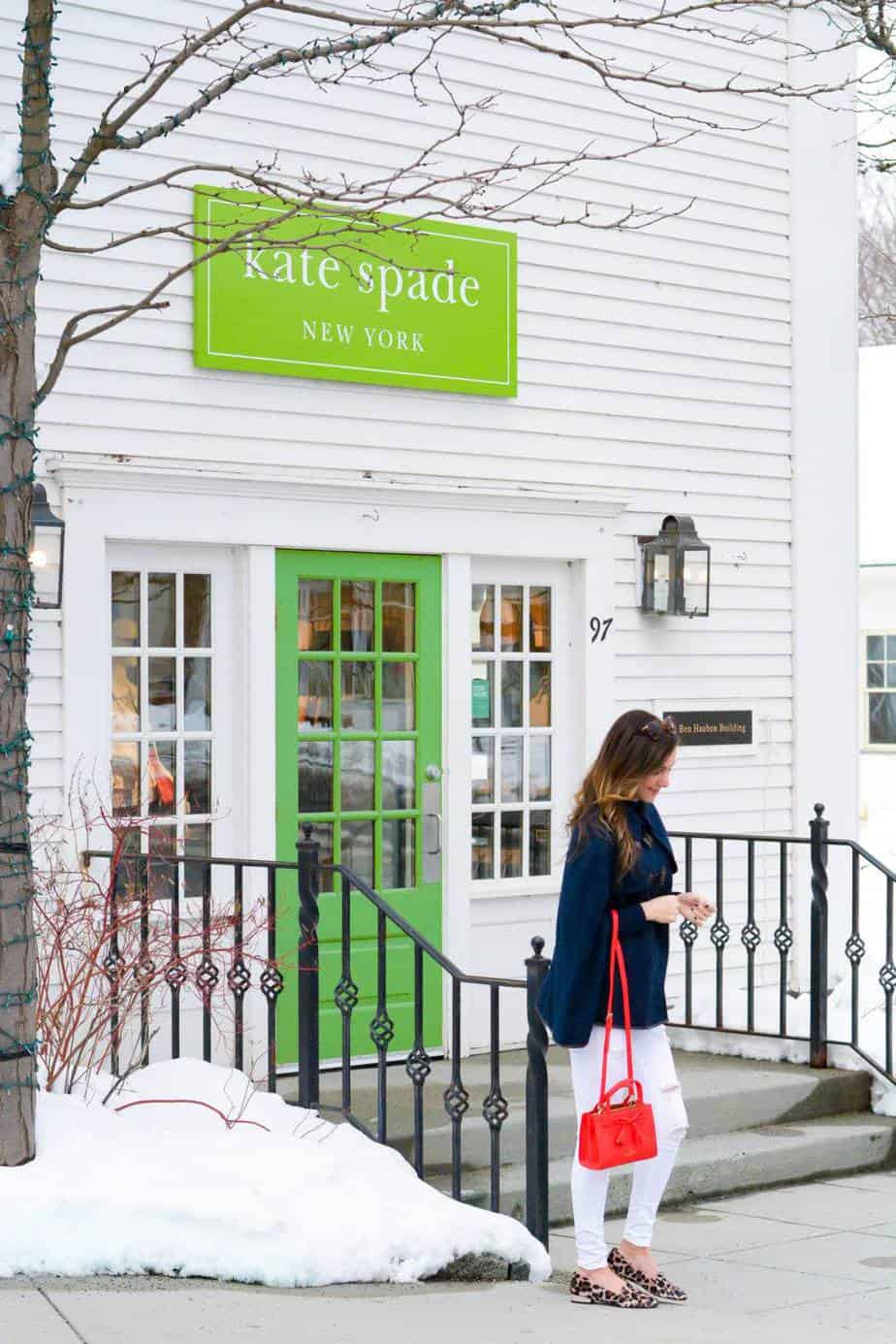 The prices were actually really good, even compared to outlets near me. I love that this is such a big activity here – Manchester is one of the best New England winter getaways for non skiers like me.
Skiing:
The second main attraction in Manchester is skiing. There are many different ski slopes that are near the town.
Bromley is only a few minutes away and Stratton Mountain is about 19 miles from downtown Manchester. There's a few ski rental shops right in the downtown as well. Most Manchester hotels (including the Taconic) have ski packages that can save you quite a bit.
Even though none of the Manchester VT hotels are exactly on a mountain, it still seems like skiing is one of the best most popular things to do in Manchester VT, probably just because it's Vermont.
The ski season begins in December and ends in March. There are also several cross country skiing areas located close by.
Hiking:
I hiked in Manchester Vermont this past weekend and had the time of my life. The trail itself was very scenic, and it reminded me of what I imagined Vermont to be like from watching movies. Charming, tranquil, beautiful.
There are a few good hikes that I recommend to anyone who's planning on coming out here for a visit:
The Equinox Preservation Trust is apparently the mountain to hit if you're into hiking. There's a lot of wildlife and it's super close to downtown making it easy to do even just for a morning.
I didn't get a chance to go, but it's very close to downtown Manchester VT (like most of the Manchester Vermont hotels) so it's easy to get to.
Newton's Ridge Trail is the one that I did and it was great! It's about 5 miles long but there are trails that branch off so you can shorten your distance depending on how much you want to do. It was breathtaking at certain points and not too difficult even for someone who isn't much of an outdoors person like myself.
Dill Field is a short little hike of about 2 miles that goes over some bridges and through different forest areas until you get to the rock formations. The whole time that I was hiking, I kept thinking, "who in their right mind would build something like this?" And then I got to the end of it and saw how beautiful it was, and I understood why. You have 360 degree views of Manchester Vermont from up there!
Manchester Pond is actually very complicated to find so someone who isn't an experienced hiker/backpacker might not enjoy themselves with the amount of effort involved, but if you go during daylight hours and start out early in the morning you should be fine. There are two trails here that branch off, one that goes around the pond and another further up to a saddle. The trail isn't too difficult but it can get slippery so I wouldn't recommend doing this hike in inclement weather.
The Shelter Rock hike is going to be a little bit longer than other hikes that you might want to do while you're here since it's about 7 miles long overall, but if you have the time then definitely try hiking out there! You'll get some great views of Manchester Vermont from various places along the way.
Specialty Food Shops & Farm Stands:
There is a small shopping center in Manchester, VT. It's an interesting mix of a wide variety of shops and services from the standard convenience store to the local butcher shop and cheese shop, all located conveniently within about half a mile of each other.
Tucker Brook Farm
This farm sells its own milk directly off their site along with dairy products such as yogurt, cottage cheese, cream and butter. They also sell meat (your basic beef products) and they do catering for events.
Crisp Mountain Beef
Crisp Mountain Beef is an artisan butcher that makes sausage from locally sourced meats with spices they make themselves. They offer free cooking classes on how to cook your steak using only salt and pepper as necessary seasonings. Cost: $20 per person, reservations required. Oh, and their meat is worth every cent.
Breadworks
This is a make-your-own sandwich shop that also sells its own bread products. The sandwiches are pretty much the same as Subway prices, but quality is a step above Subway's #6… #1 being Subway of course.
They offer many options with regards to what you can put on your sandwich or wrap, including vegetarian selections such as hummus in lieu of mayonnaise and artichokes in lieu of chicken breast. In addition to their store front location, on Memorial Drive they have a delivery service for businesses in the area that want to order lunch for their employees (call ahead ordering).
The Green Thumb
This place offers fresh vegetables, herbs and plants that are super yummy and fresh!
The Hydrangea Company
This cute little spot sells all kinds of hydrangeas, from the basic blue or pink to the more advanced purple and maroon varieties. They also sell colors that match these hues like peach and yellow (but those are just pinks with different names). The store is quaint, but don't let its size fool you; they have a great selection of plants for sale.
Bedford Hill Farms
This is one of Manchester's three bakeries. Bedford Hill Farms specializes in sour cherry pies. It's not the only place that sells sour cherry pies, but it is one of the few places that sells fresh sour cherries year round (not just during peak season).
The Mercier Orchards & Produce Stand
This orchard specializes in apples, both cider and eating apples. They also sell cherry pie filling (they make a mean sour cherry pie), jams and jellies, gourmet popcorn, maple syrup and sugar on snow (just like you would except sugar to be served if you were at a ski resort lodge). The store itself is small but packed full with all kinds of goodies.
Sugar Maple Farmhouse Baking Company
This place has the largest selection of baked goods (besides Bedford Hill Farms) in Manchester Center, VT. Custom cakes are a specialty here along with other pastries and desserts that will make your mouth water just from looking at them on display (samples are encouraged).
Festivals:
The Vermont Summer Horse Show Festival is huge in Manchester! There's also an annual road race and a fly fishing festival in the summer season.
The Manchester Music Festival is a big event is August showcasing a variety of artists in different genres and multiple cuisines.
In the fall, there's tons of Maple festivals, plus the foliage itself is enough of a reason to visit. There's quite a few day-long Christmas festivals in December as well.
The Hildene Estate is a historic house museum in Manchester, Vermont. The estate was originally a country home of Robert Todd Lincoln, Abraham Lincoln's oldest son. It was built in 1887.
The Hildene Estate is Abraham Lincoln's only child's home that offers inside and garden tours. The house and grounds are really beautiful (and historical) any time of year but the flowers are especially amazing in the spring!
One of Vermont's prettiest and largest falls, the area has a really straightforward trail that's great for families. It's incredibly beautiful!
Try to visit after a rainfall if possible to get the best effect. It's definitely one of the coolest things to do in Manchester VT if you're interested in nature. I think this would be a great activity after the Manchester VT outlets to balance out the day (you get shopping and nature).
Once you get outside of town, there's enough to do to keep you busy for months— the attractions include hiking in the Green Mountains, skiing at Bromley Ski Area or Burke Mountain Resort, boating on Lake Memphremagog (the largest lake in Vermont), downhill and cross country mountain biking at Kingdom Trails near Mt Mansfield State Forest, kayaking/canoeing on Norton Pond…and one of my personal favorites: playing disc golf at Camp Stark.
There are also numerous state parks nearby including Bolton Valle, Charlotte –Ware River, Mount Snow, and Smugglers Notch.
Manchester Vermont definitely surprised me by how gorgeous yet cozy it was! It's way up there on my list of favorite New England winter getaways.
The Manchester VT outlets were especially fun and are a great additionally activity to get away from the traditional skiing destinations. If you haven't been, put it on your New England travel list for sure.
Visiting Manchester VT During The Seasons:
According to the locals here, there is no bad season for visiting Manchester Vermont. With the area's fresh air and gorgeous trees, you can experience the best of all seasons in one day.
From April to June, the weather consists of warm days with cool nights making it ideal for hiking and cycling.
Come July and August when summer arrives full swing, Manchester VT becomes a place that is great for canoeing or rafting on Deerfield River while having fun under sunny skies.
Autumn is also another season where time slows down as leaves start turning brown releasing their fragrance into the air making your stay in Manchester VT an unforgettable experience.
Lastly, winter is truly peaceful and is perfect for anyone who wants a cozy vacation with a little side action if you're a skier.
In addition to all the natural beauty there are many fun events held year round including music festivals, farmers markets and art openings just to name a few.
The music festival in town hosted by the Woodstock Vermont Arts Center takes place on the third weekend of July and features a wide variety of musical acts from all over the country. There are local restaurants, breweries and art galleries for people to enjoy when they come into town for this event.
Another popular event is the Rockin 4 Rhett benefit concert that benefits children with cancer who live locally to Manchester. This event is held at Mcvean's Pub and had a large turnout last year with praise coming from concertgoers about how great it was that they chose to host such an amazing even.
Parking In Manchester VT
Parking is very limited in downtown Manchester. There are two parking garages, both within easy walking distance to the center of town (the Opera House, Stearns Block, etc).
Sunset Street Garage: This garage has the most parking spots; the downside is it costs $2 for every 30 mins of use. The bottom floor is also used as a hardware store.
Sunset and Whetstone Building Parking Lot: This parking garage is smaller but is much cheaper, if you're able to get a spot, and is still close to downtown.
Nelson's Alley: This one-way street that leads into the lot can be tricky to navigate if you're unfamiliar with it . It's another small lot that tends to fill up quickly especially during events at Memorial Auditorium next door.
Otherwise, you can definitely find lots of street parking in the area. I recommend getting a hotel within walking distance, since Ubers and taxis are super scarce.
Fun Facts About Manchester VT
Not convinced? Here are some of my favorite facts about Manchester Vermont that will definitely make you want to book a trip!
The town of Manchester Vermont is a small town with a population of just over 3,000 and covers an area of 5.8 square miles. The major geographical landmarks in the town are the surrounding mountains and the West Branch River.
The land was originally home to Native Americans from more than 10,000 years ago until settlers moved into the region in 1831. It's a relatively new town and is still small and quaint!
Manchester Vermont has an abundance of natural beauty that includes lakes and rivers, maple sugar woods, cedar swamps, and old-growth forests.
In addition to Manchester's picturesque landscapes, it also has many different hiking trails that are perfect for long walks or hikes. There are six mountain peaks within walking distance from downtown Manchester Vermont which provide breathtaking views of the countryside.
Overall, we loved visiting Manchester Vermont!
Manchester VT has been attracting vacationers for more than a century, first becoming a getaway spot for wealthy Americans from the East Coast and then later on attracting Canadian visitors.
It's still a popular summer vacation destination due to its proximity to Montreal & New York City – although there are year round residents here too!
There's lots of activities and attractions in the area including mountain biking, skiing (mountain and cross-country) boating, hiking , fishing…and endless autumn leaf peeping.
The town is small with few chain stores or restaurants but has plenty of local shops and eateries worth checking out in "downtown" Manchester (really just three side streets).
If you're looking for a small town vibe, Manchester VT is a great place to visit during any of the four seasons.