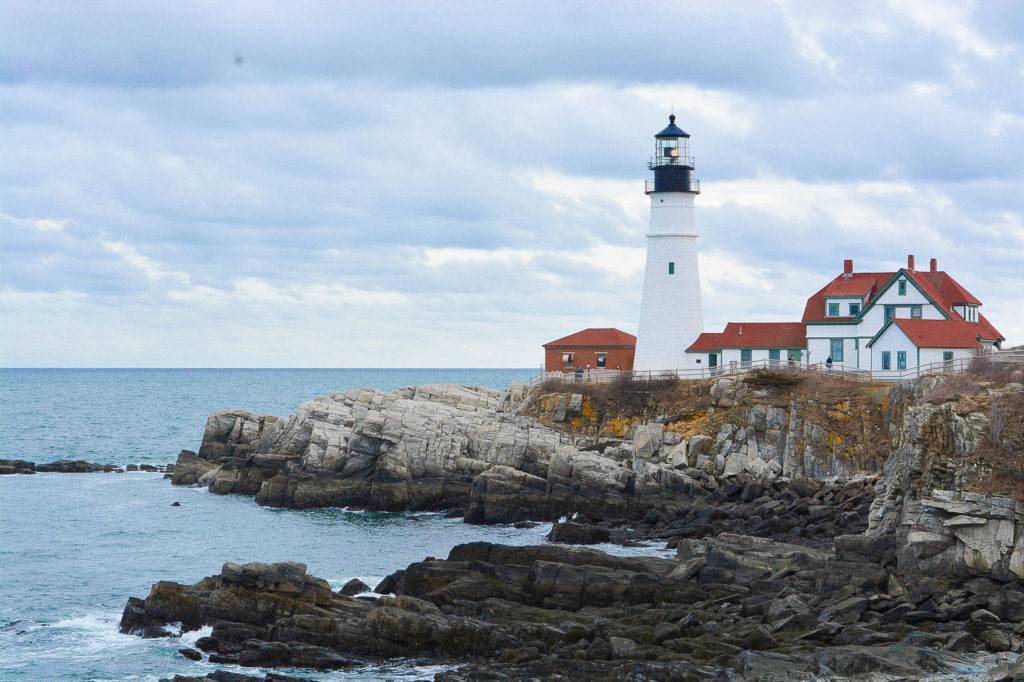 If you're looking for a quintessential New England area with a big restaurant scene and nightlife, Portland Maine is the perfect place. There's amazing cuisines, neat local activities, and it's super convenient to get to for a quick getaway on the Amtrak.
The last time I visited I didn't really plan out an itinerary. Luckily, I got the chance to find some really cool spots and try awesome food and drinks!
It's easy to go away and spend a ton of money, but we made a goal to be frugal and actually managed to accomplish this is Portland Maine. Luckily for us, Portland is within driving distance, so we didn't have to splurge big-time on transportation or a hotel.
Even if you can only go for the day or the afternoon, I highly recommend checking out all of the super cool free stuff that Portland has to offer. While the summer is of course easier for those of you looking to get in a free afternoon, sightseeing in Portland is fun any time of year.
Whether you're looking for affordable or free things to do in Portland Maine, there are tons of options!
Related: 13+ Luxury Airbnb Cabin Rentals To Visit This Year
Portland Head Light
My first stop during my most recent visit was obviously Portland's most famous lighthouse. It's a little bit outside of the actual city in Cape Elizabeth, but the drive is 100% worth it.
The lighthouse itself is on a cliff and houses a museum and seasonal gift shop.
You can do the cliff walk (a path that winds around different parts of the cliff to see the lighthouse from many points of view) and climb down to the bottom if you're feeling adventurous.
Fort William is also right next to the lighthouse if you're interested in checking that out. I went on a pretty grey, muddy day, and the view was still literally gorgeous, so I recommend it any time of year!
This is one of my favorite free things to do in Portland Maine.
If you're checking out Portland Head Light during the summer, consider road tripping to Bar Harbor – it's really gorgeous and has some awesome trails to hike!
Brewery Tours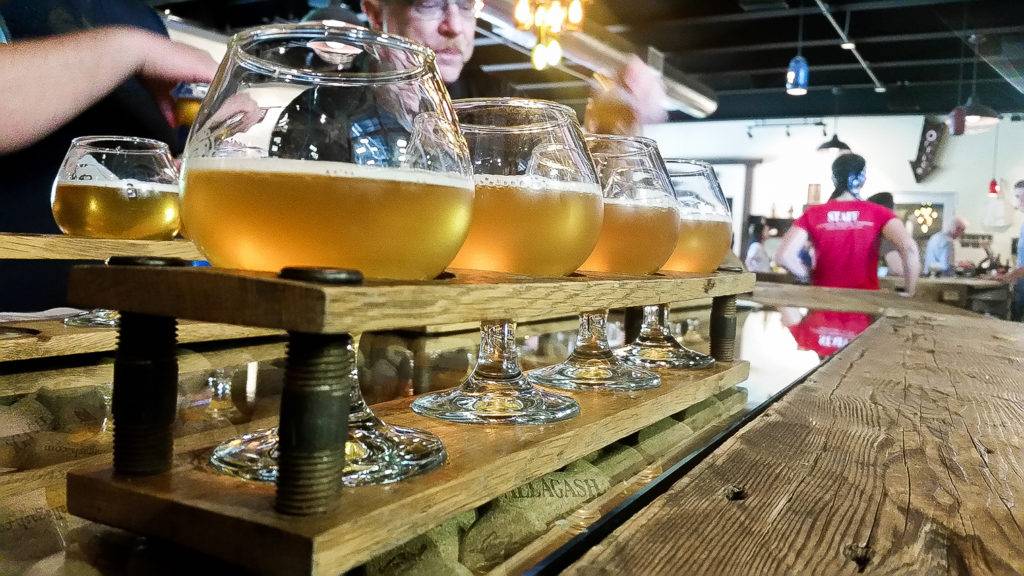 The most famous (and probably the best) in the area is Allagash Brewing Company. The tours fill up really quick, even during the off-season, so if you're stopping by on the weekend make sure to book your tour ahead of time.
Brewery tours are relatively cheap and are a great way to spend a full afternoon for $5-10.
You actually learn a lot on the tour if you're into the intellectual side of beer and get to taste 4 different brews if you're not! It's one of my top fun things to do in Portland Maine.
Old Port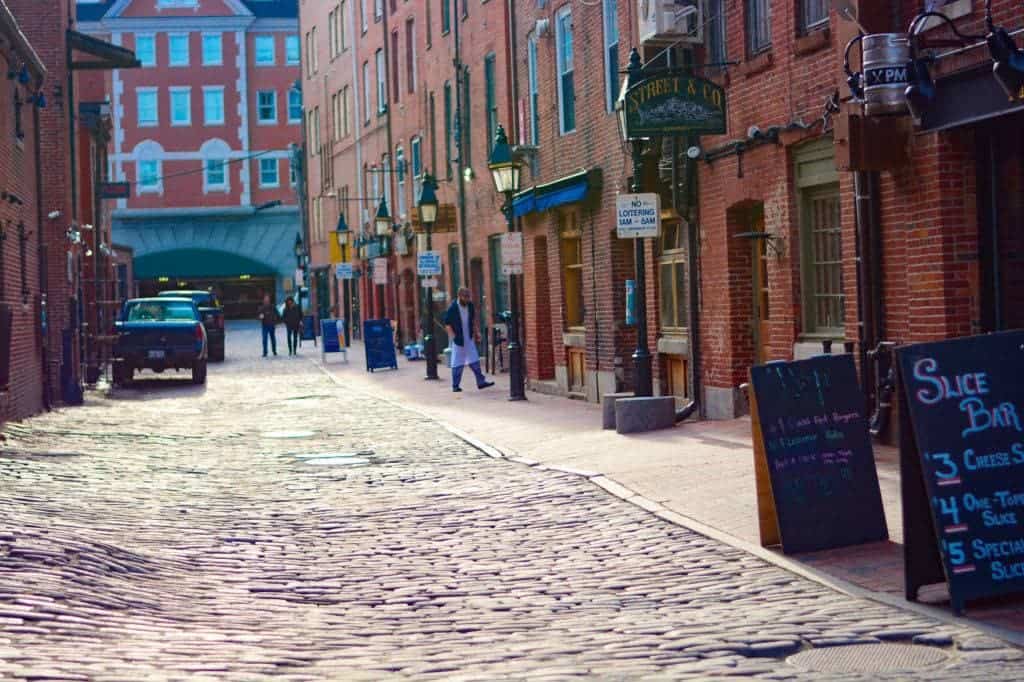 Although most of these activities are near or in Old Port Portland Maine, I recommend setting aside some time to just walk around and explore the area. It's so quaint and New England but there's a enough there that you could spend a full day checking it out.
We found tons of cool side streets with all sort of eclectic shops, food tours, coffeehouses, historical sites, and even a psychic. It's very quintessential New England while still being fun and even slightly trendy!
Sightseeing in Portland is of course 100% free, and it's actually a great place for sightseeing if you're not familiar with the area. The Portland Maine architecture is really varied and you can find cool brick buildings, oceanfront areas, and interesting stone European-styled statehouses.
Donuts and Coffee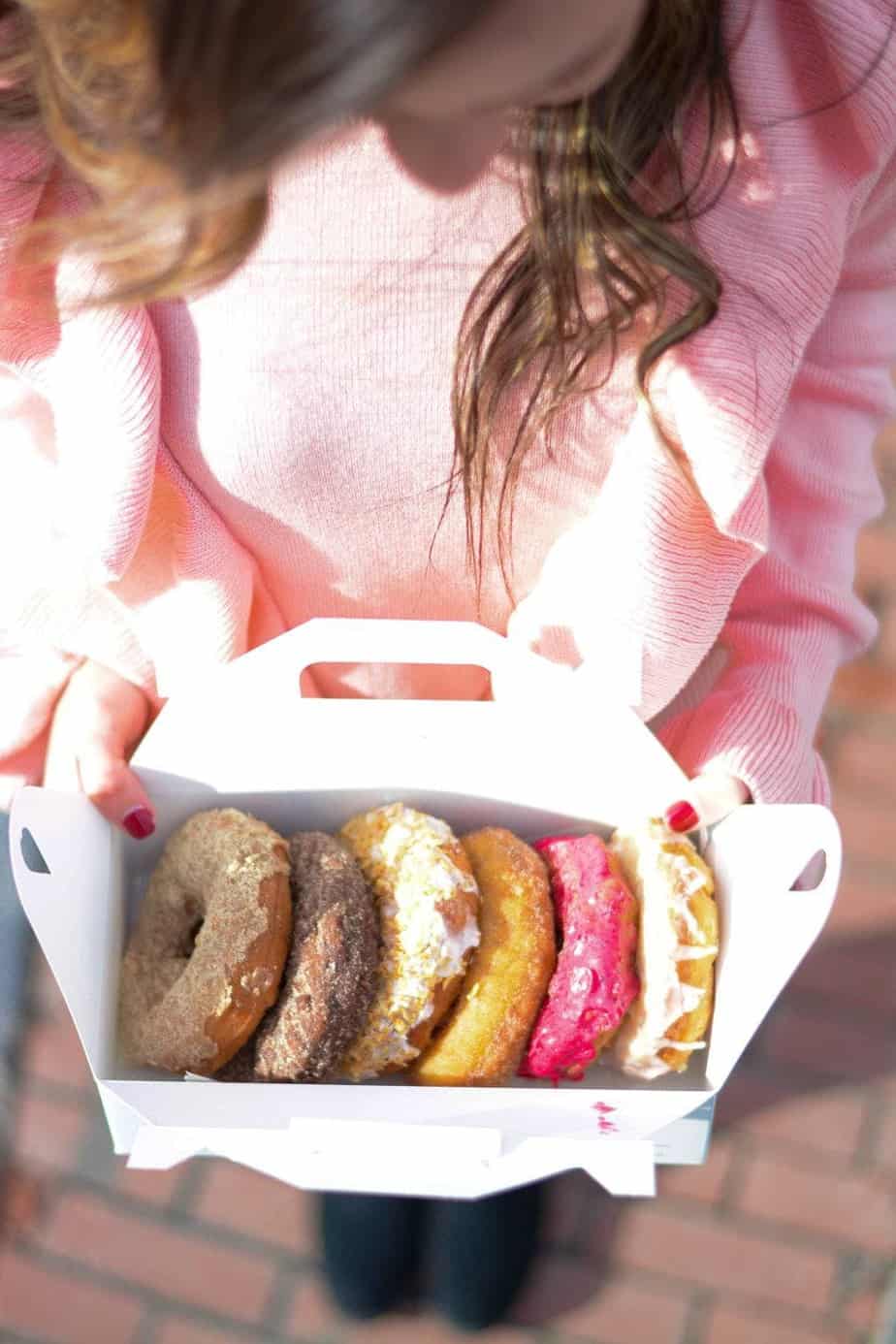 Bard Coffee was recommended to me quite a few times as the best, and it way exceeded expectations. The inside is filled with windows but is still super cozy and the general vibe is hip but welcoming.
I got a latte with a pretty design on the top. There's free wifi which definitely makes it a great place for getting some work in! Coffee is pretty affordable here and you can hang out in the shop for a bit.
The Holy Donut is also crazy famous in Portland for having the best donuts of all-time. I'm not a donut aficionado but even I loved them; the coffeecake was especially amazing.
The place was packed so make sure you leave enough time to wait in line.
Eating donuts is one of the most famous fun things to do in Portland Maine – you have to try it at least once! If nothing else, you'll get a cool Instagram out of it. We grabbed a box of donuts and headed down to the marina to munch on them by the water.
Arts District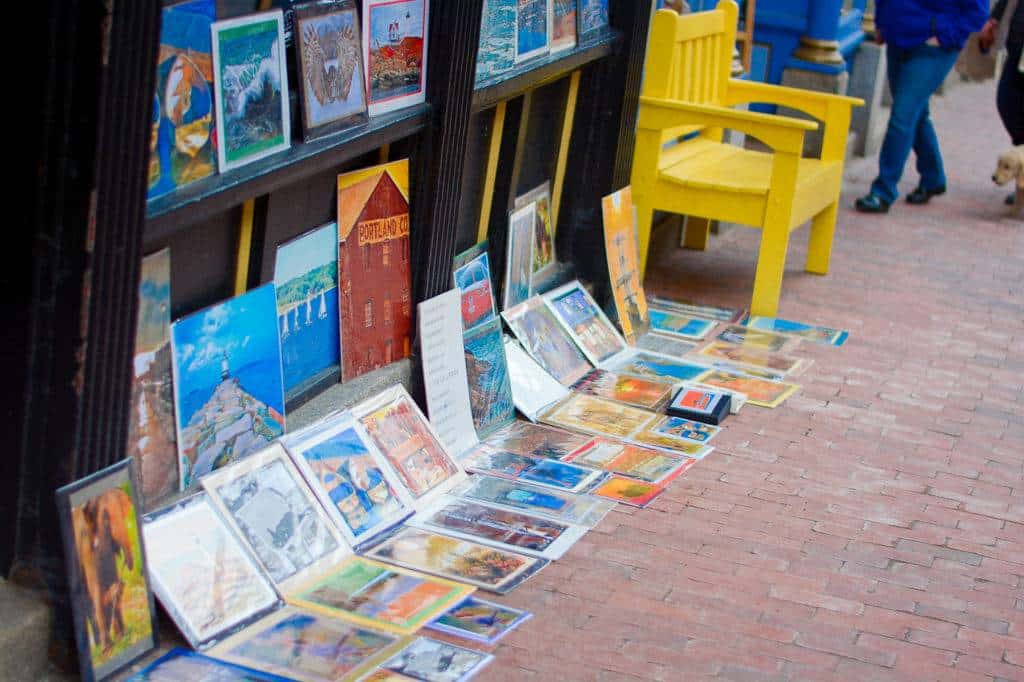 There's randomly a ton of art in Portland. The Portland Museum of Art is pretty popular, along with a bunch of smaller museums and galleries.
There's also a lot of street artists set up which is really cool to find in such a cold city.
Cute cafes are the main thing for food here and all types of live music can be found on weekend nights including Indie, Jazz, and Rock Bands. Shockingly, this goes all year (even in February!). I'm not sure how the street artists manage to stay warm; musicians outside actually play their instruments for hours in the cold.
Regardless of the temperature you visit Portland in, this is one of the best free things to do in Portland Maine! The artwork is really eclectic so you can browse for hours without getting bored.
Shopping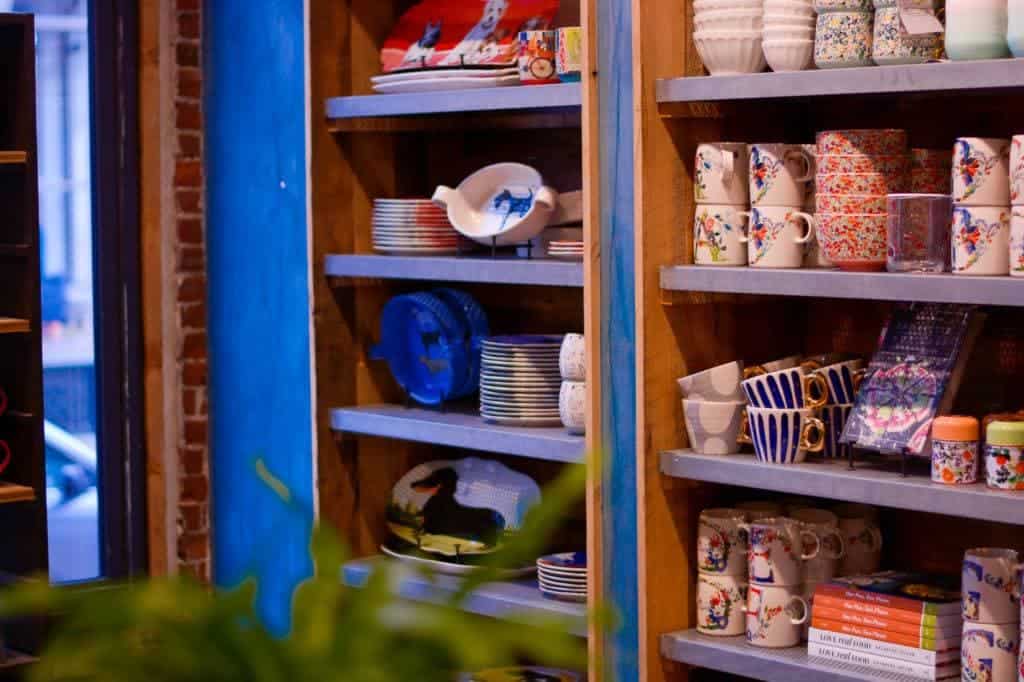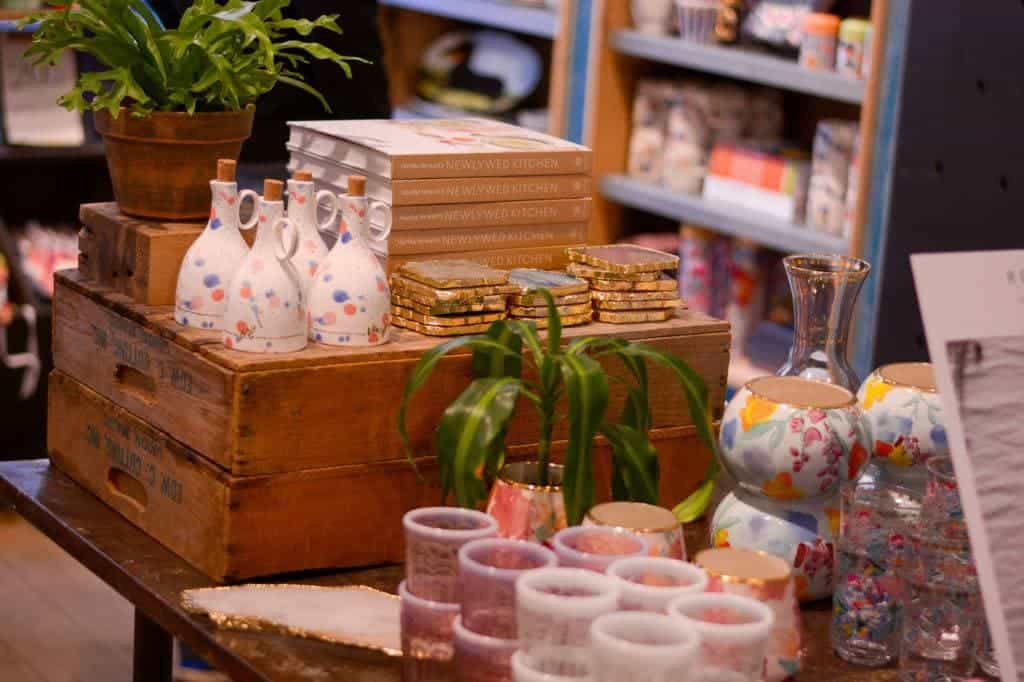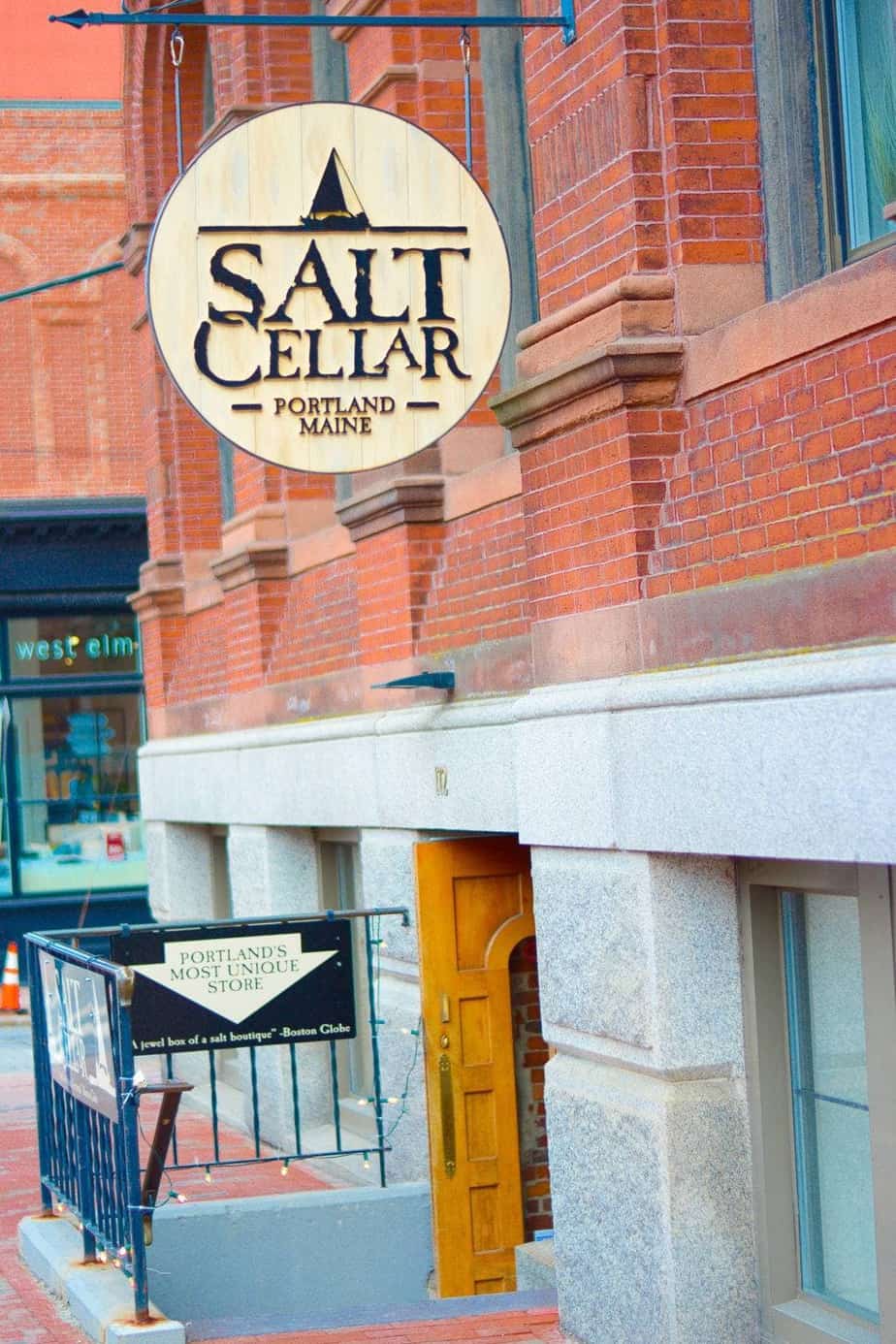 Okay, so shopping isn't exactly free, but we did find lots of great deals within walking distance of downtown Portland.
The shops around Portland are a really varied mix. You can find traditional stores, boutiques, preppy shops, foodie haunts, etc. Shopping is definitely known as one of the most fun things to do in Portland Maine, at least to me!
Congress Street is the best spot to go – you can walk down it and find a ton of good shops.
The Salt Cellar is really cool – they sell items made of salt for literally anything you could want (I got pure salt Tequila shot glasses but there were cutting boards, bath scrubs, salt lamps, etc).
The Black Dog is perfect for preppy brand lovers, and Blanche + Mimi is a wicked adorable home decorating spot that sells completely unique, Anthropologie-ish items.
There's plenty of cute window displays if you want to check out the shopping scene but need some free things to do in Portland Maine.
The Harbor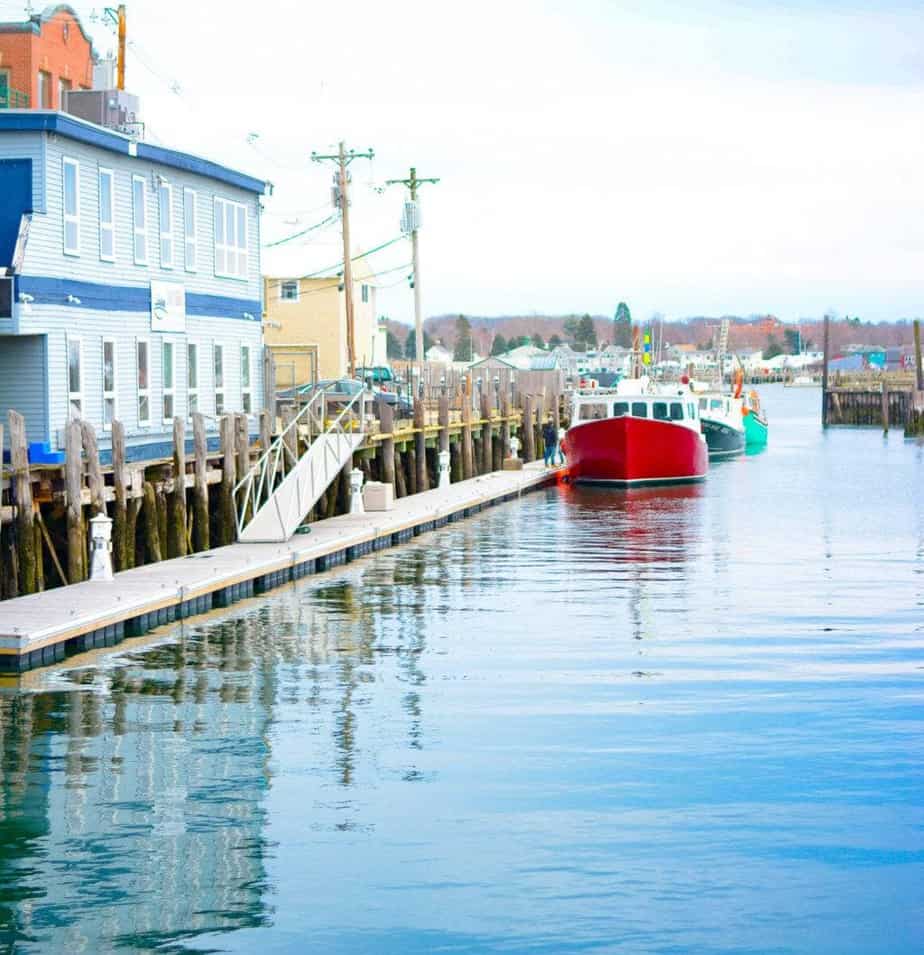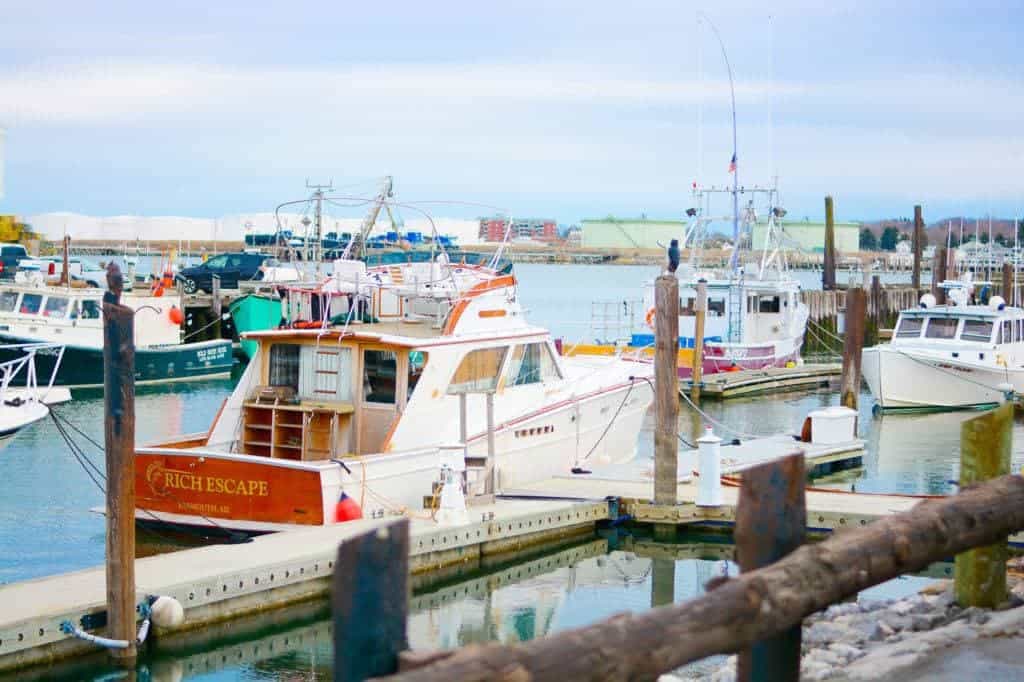 The Harbor is right next to Old Port Portland Maine and is a cool place to just walk around and explore. It's a must see in Portland Maine!
There's so many little side streets that lead to individual marinas with tons of restaurants right on the water. It's very nautical, preppy, and old school, but really hopping in the summer (and serene in the winter).
You could theoretically spend the whole day hanging out near the harbor. There's lots of cool boats to check out as well as a bunch of lighthouses and famous spots up and down the coast. This is a great free activity, especially in the summer.
Portland Architecture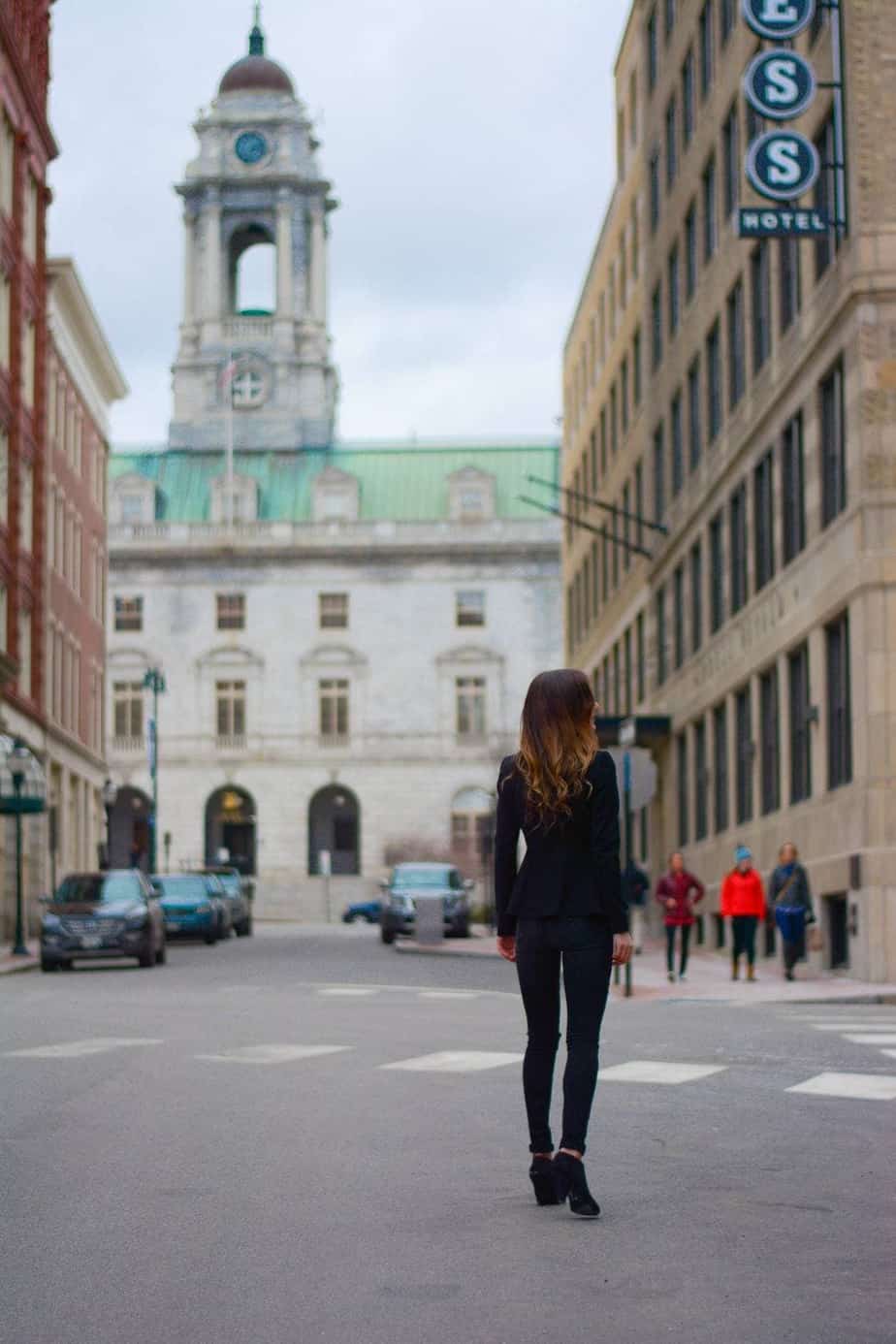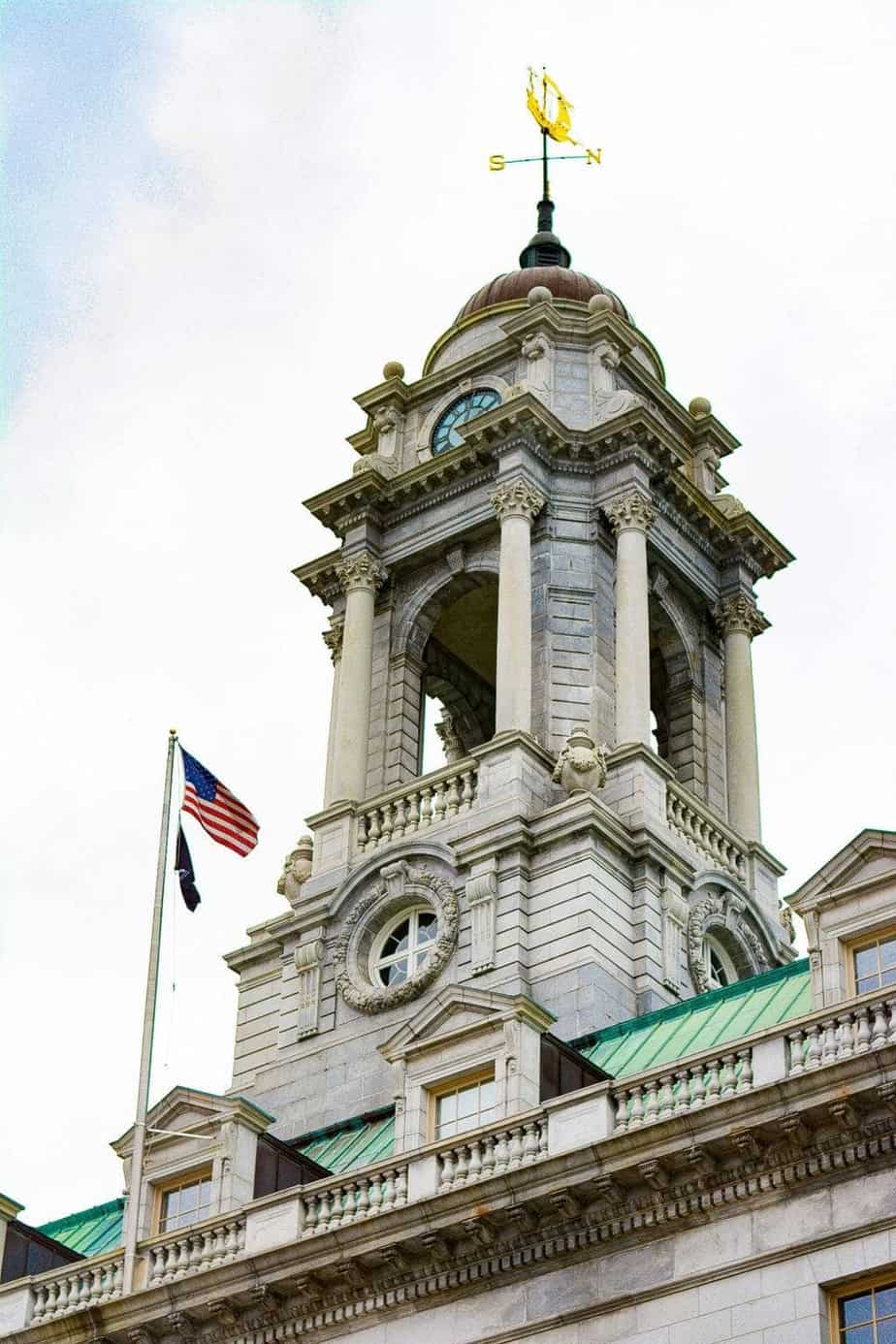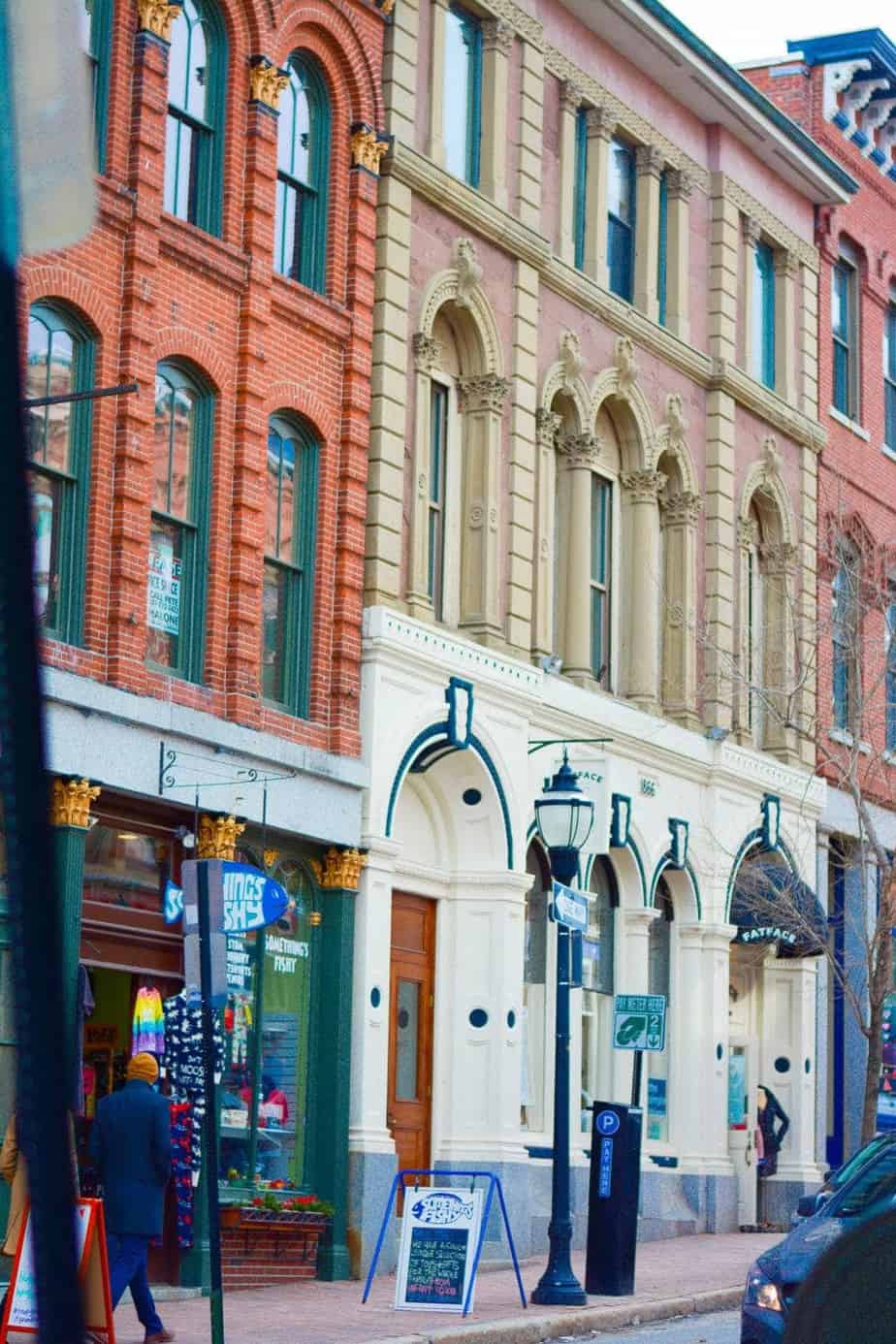 Although architecture wasn't originally on my list at all, Portland is truly beautiful, and checking out the buildings was actually one of my favorite free things to do in Portland Maine.
The architecture is an eclectic mix of classic New England brick sections and more romantic, Victorian stone buildings. The City Hall building is especially cool. This architecture is a must see in Portland Maine, and it's pretty hard to miss.
I recommend spending at least one afternoon sightseeing the downtown and checking out the architecture all at once.
If you've never been to Portland, it definitely won't be what you expected! My first visit was a really pleasant surprise; I was picturing a much more rural town and was surprised by how large Portland is. Compared to "bigger" New Hampshire cities, Portland's buildings and sidewalks are huge.
February brings cabin fever blues and my getaway to Portland (which was only a little more than an hour from home), was the perfect cure. This cute little city is bookmarked for for future visits!