This delicious lemon crumb cake has a scrumptious homemade blackberry filling. It's a light, blackberry lemon cake that is perfect for any happy occasion!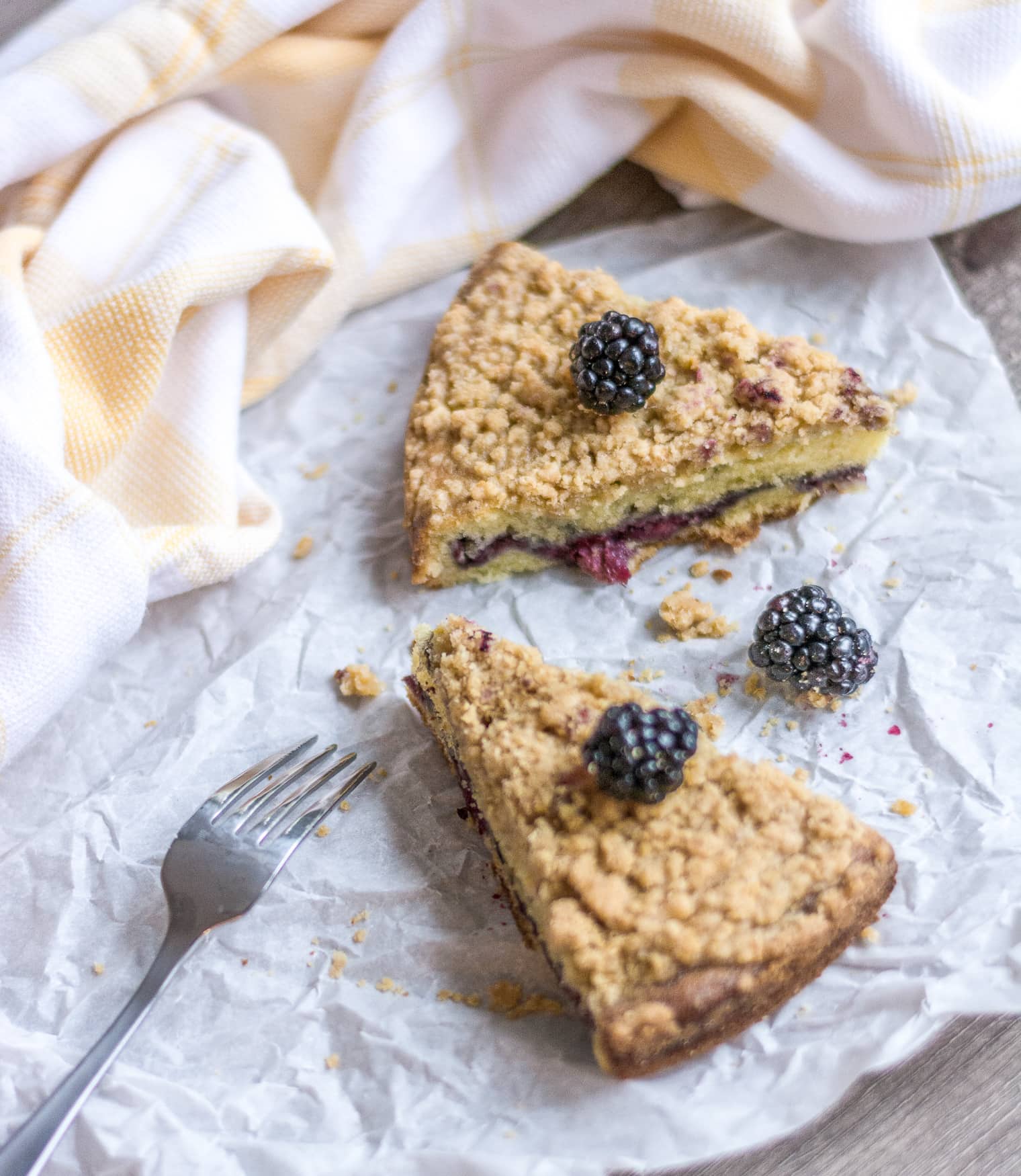 I absolutely love any cake with a streusel crumb topping, but this lemon cake is a bit special to me.
Something about combining a sweet crumb topping with the slightly bitter lemon flavor creates the perfect concoction.
A crumb cake is insanely close to a coffee cake, so the best thing about this recipe is that it can be eaten for breakfast or for dessert.
I personally love this blackberry lemon cake because of the mix of flavors. A lemon blueberry cake feels pretty typical to me and can be way too sweet, but this blackberry lemon cake is a perfect medley of sweet and sour flavors.
This lemon crumb cake is light and happy! I personally enjoy eating this lemon crumb cake recipe during the spring or summer because of the warm-weather flavors, but it's honestly yummy all year round.
It's compact and is easy to eat, so it goes great with tea! I absolutely love this recipe for an afternoon gathering or garden party. Is there anything more elegant?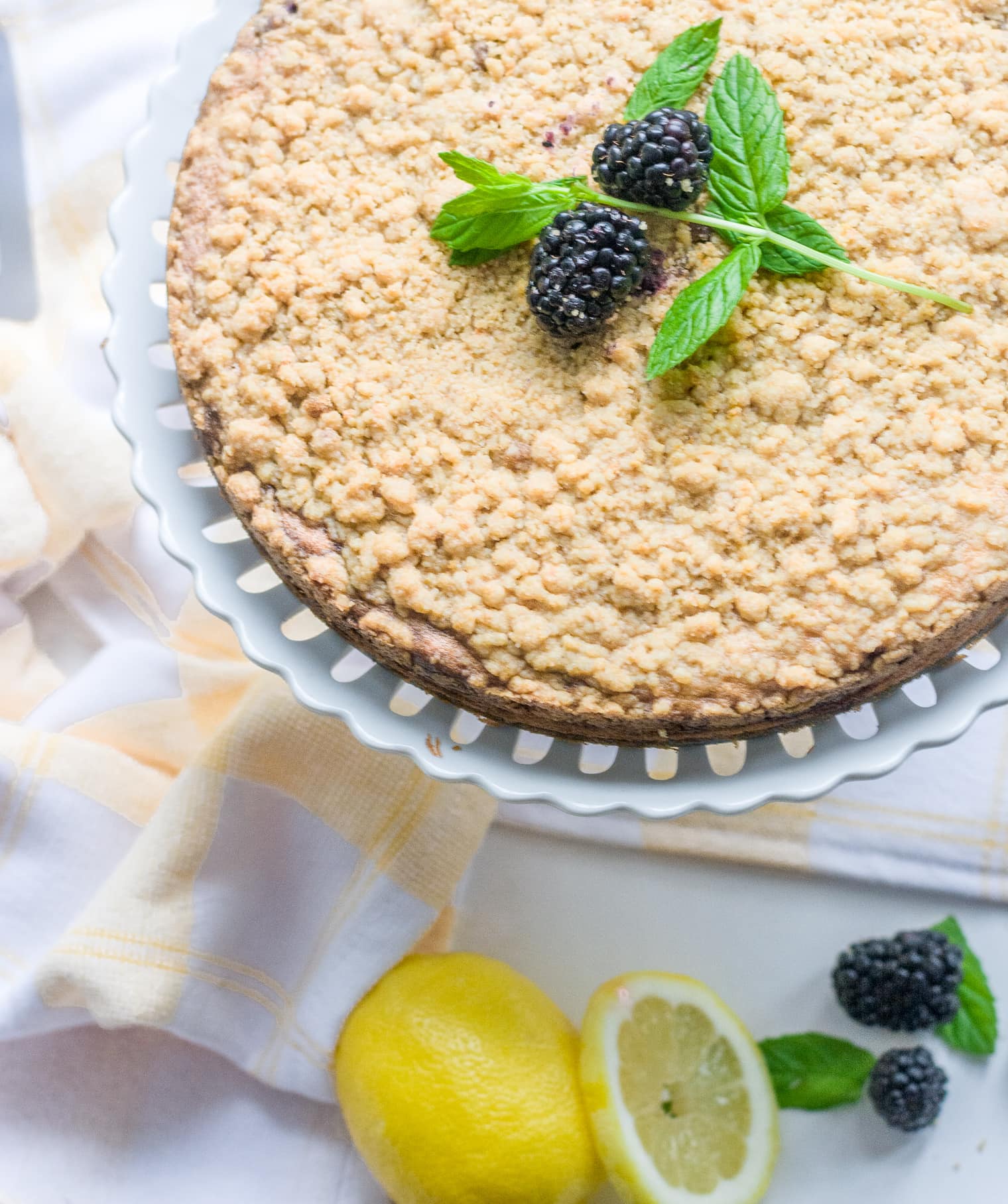 You can easily make this lemon crumb cake recipe in a square pan as well if you wanted lemon crumb cake squares for easier eating.
I recommend pairing this lemon crumb cake with a spritzer or summer cocktail, or a yummy tea (or iced tea!).
Crumb Cake vs. Coffee Cake:
Technically, this is a lemon crumb cake, but it honestly tastes a bit like a coffee cake, too. The actual recipe can be used as either!
I made this in a round pan so it ends up looking a bit more like a dessert cake. I really do love this lemon crumb cake for dessert because it's super sweet and pairs perfectly with after dinner tea or coffee.
However, if you wanted to make it coffee cake style, I recommend using a loaf pan. It's a lot easier to slice and serve, plus it just feels more like breakfast.
This blackberry lemon cake is one of my favorite recipes to have on hand when I have overnight guests! Everyone loves a surprise piece of cake in the morning.
Lemon Zest vs. Flavor
I absolutely think that you need real lemon zest for this recipe. You probably won't need more than one lemon, so it's worth it to grab a lemon and get the real flavor.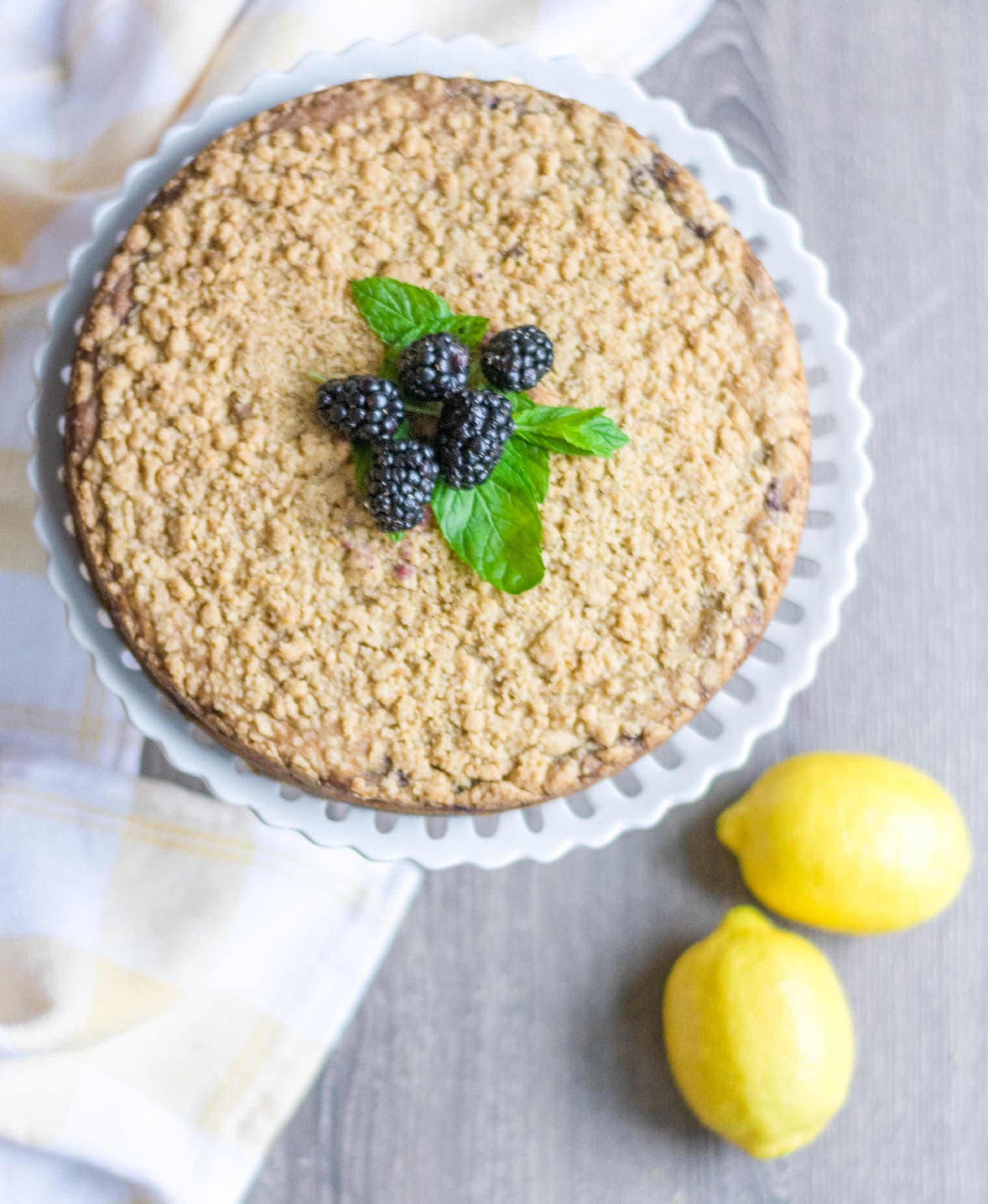 The hardest part of this recipe is the amount of lemon zest it requires. You'll need about 4 larger sized lemons to get enough zest.
You'll also want to use a fine zester so that you don't get large chunks in the cake. Finer is certainly better!
You can use bottled lemon flavoring if you really have to but I would not recommend it. I tried using lemon flavoring once and it tasted a lot more like I bought it at Stop & Shop.
For a gourmet, artisan, homemade taste, real lemon zest is always best.
Blackberry Cake Filling
Most lemon crumb cake recipe descriptions call for blueberries, so I wanted to try something different and use blackberries instead.
I find that blackberries add a special summer flavor, so I especially love working with this blackberry filling during the warmer months.
On top of the actual weather, blackberries are much more gourmet and unique.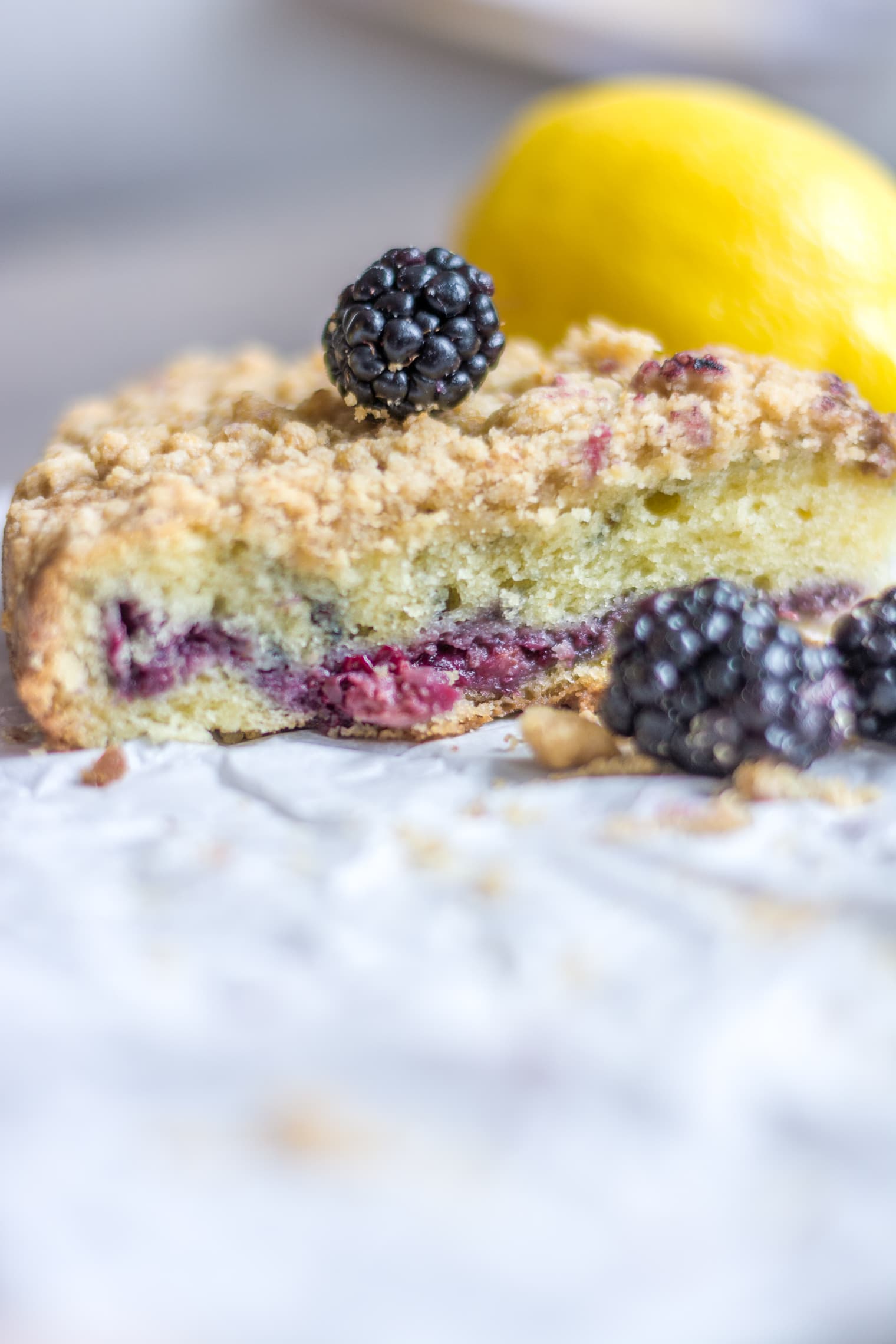 I used fresh berries for this blackberry lemon cake filling and I think it really makes a world of difference!
Obviously, fresh blackberries aren't available everywhere during all seasons, but I do recommend trying to get fresh blackberries if possible.
Otherwise, you can still use frozen and will still love this cake. Make sure to defrost them ahead of time if you are using frozen.
This blackberry cake filling is the easiest thing to make in the world. I only used one small packet of blackberries for the whole cake, but if you wanted to have a thicker layer, you could use two packets.
Blackberries are kind of strong, especially compared to other berries, so less is more. Plus, the cake is pretty thin (which I prefer), so I recommend keeping the blackberry filling on the thinner side.
I combined the blackberries in a bowl with 1/4 tsp lemon juice and 1 tsp powdered sugar. Using a spoon, I mashed it up until there were no big chunks left but it the filling wasn't soupy.
Think of it like muddling the mint when you're making a mojito. You want the blackberries to absorb the sugar and release juice before adding other ingredients.
You want the blackberries to be decently mashed so that there aren't clumps in the cape, but I like leaving a little texture for a heartier filling.
It's kind of an art, although there really are no wrong ways to do it. If your blackberry filling comes out super fine, it'll still be plenty yummy!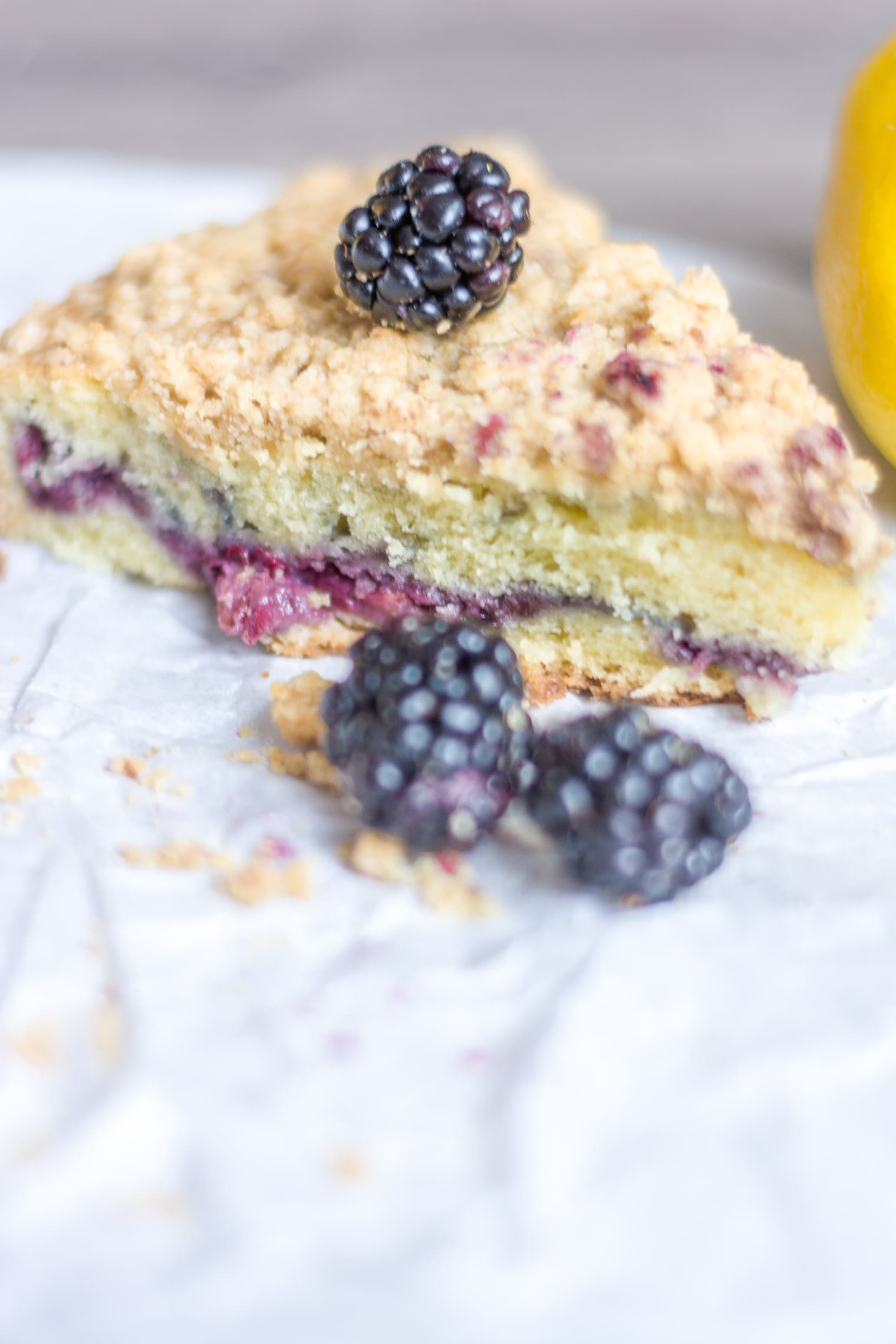 The great thing about this cake is that it can be a little messy. I layered half of the cake batter into the pan then covered it with the blackberry filling, leaving some space around the edges.
I then covered the blackberry cake filling with the top half of the batter. Some of the blackberry cake filling runs through, but this is completely okay – there aren't any specifics for this cake and it comes out just as tasty!
I actually prefer that this cake looks a little disheveled. Not only is the messy look "in" right now, but it gives it a distinct homemade feel. No one will mistake this lemon crumb cake for a $5 store bought version!
Lemon Crumb Cake Recipe Ingredients
This lemon crumb cake recipe does call for a good amount of ingredients. I have tried to cut out some of these ingredients over the years and it simply isn't the same.
I personally want a rich flavor when I'm making this cake. The balance of a rich top crumble with the light blackberry filling is just exquisite.
You'll need a good amount of butter, sugar, and eggs to start off.
For flavoring, I use vanilla extract (anything you have around your house will work perfectly) and fresh lemon zest. As I mentioned above, make sure you source enough lemons since you need a lot of zest.
To make the cake filling even ticker, I add 3/4 cup of sour cream. This makes a huge difference!
I know some lemon crumb cake recipes use cream cheese, but I find that this actually makes the cake a bit heavy. Sour cream gives that scrumptious, creamy lemon taste without weighing the batter down.
To finish the actual batter, you will need all purpose flour, baking powder, baking soda, and salt. I use regular ingredients that I have in my cabinet, but you can substitute for gluten-free flour if you prefer (I recommend spelt).
Next, you will need ingredients for the blackberry filling. You'll of course need blackberries that should be combined with sugar, and fresh lemon juice (which you can take from the same lemons you use for the zest).
The blackberry filling is one of the easiest parts of this lemon crumb cake! It's one extra step to put these ingredients together but it makes a huge difference.
Lastly, you need to put the streusel topping together.
For the streusel topping, you will need white flour, brown sugar, salt, lemon zest, and cold unsalted butter.
Again, make sure you have enough lemons for the zest. You need 1 tablespoon for this streusel topping alone!
I also recommend that you use super cold butter. Ideally, you'll take the butter out of the fridge right before you make this topping.
The streusel topping can be a bit tricky because it has to be combined all at the same time. You can definitely practice if you have extra ingredients.
Commonly Asked Questions
Sometimes, something goes wrong and you have no idea why! Here are the most common issues and how to troubleshoot.
What if this cake comes out super flat?
So this can be a bit tricky, because this cake is likely to be flat if your baking powder or baking soda is old.
It might be kind of surprising to realize that baking soda can definitely go bad! Sometimes, it'll go bad even before the expiration date.
To test baking soda, fill a small bowl with vinegar and sprinkle a bit of baking soda into the vinegar. When they're combined, the mixture should fizz right away.
If it doesn't fizz, then the baking soda is bad. You should definitely replace it before attempting this vegan banana bread recipe.
You can do a similar test for baking powder. It won't fizz at much, but it should still fizz a bit or it's definitely bad.
What if the lemon flavor is too strong?
If you use fresh lemons and fresh lemon zest then this lemon crumb cake isn't likely to be too strong.
More likely, if you run into this issue, you used bottled lemon juice. This can easily cause a lot of problems because it's so sour. For this reason alone, I recommend using fresh lemons when at all possible.
What if I don't have a large enough pan?
Don't worry about the pan size! This lemon crumb cake is really versatile.
If you have way too much of this blackberry lemon cake filling, simply split it up into two pans. Regardless of the pan you use, the batter should reach 3/4 of the way up the pan when you're completely done with the recipe. This includes the crumbly topping.
How To Serve This Lemon Crumb Cake
You can serve this yummy lemon crumb cake recipe in so many different ways!
First of all, I love me a good crumb cake, because it's similar to coffee cake. That means I can eat it for breakfast and not feel guilty!
When serving this cake for breakfast, I recommend pairing it with tea or coffee. I especially love eating it with an iced lavender latte in the summer.
Of course, this lemon crumb cake is classically served as a dessert. It's delicious by itself and is super delicate if you have little dessert plates, but it's also really yummy with a small scoop of vanilla ice cream.
Although some people eat this lemon crumb cake with coffee during dessert hour, I must prefer it with an after-dinner tea. My favorites are herbal teas like lavender or raspberry as well as a light caffeinated tea.
Of course, this cake also works well as a snack. We love bringing it on summer picnics! There's nothing better than nibbling on this lemon crumb cake in the great outdoors, wearing a white cotton dress and sipping on pink wine.
You can gift this blackberry lemon cake easily because it lasts so long. Everyone loves a good lemon crumb cake!
I recommend gifting it either in a small cake box tied with a ribbon or gently wrapped in paper. It's much easier to give if you bake it in a loaf pan, but I personally think it looks a bit prettier in a round pan.
Making This Lemon Crumb Cake Recipe Ahead
This is one of my favorite recipes to make ahead of time. I had a few friends over for brunch three weeks ago and made this lemon crumb cake recipe a few days before.
It tasted just as delicious on Sunday morning!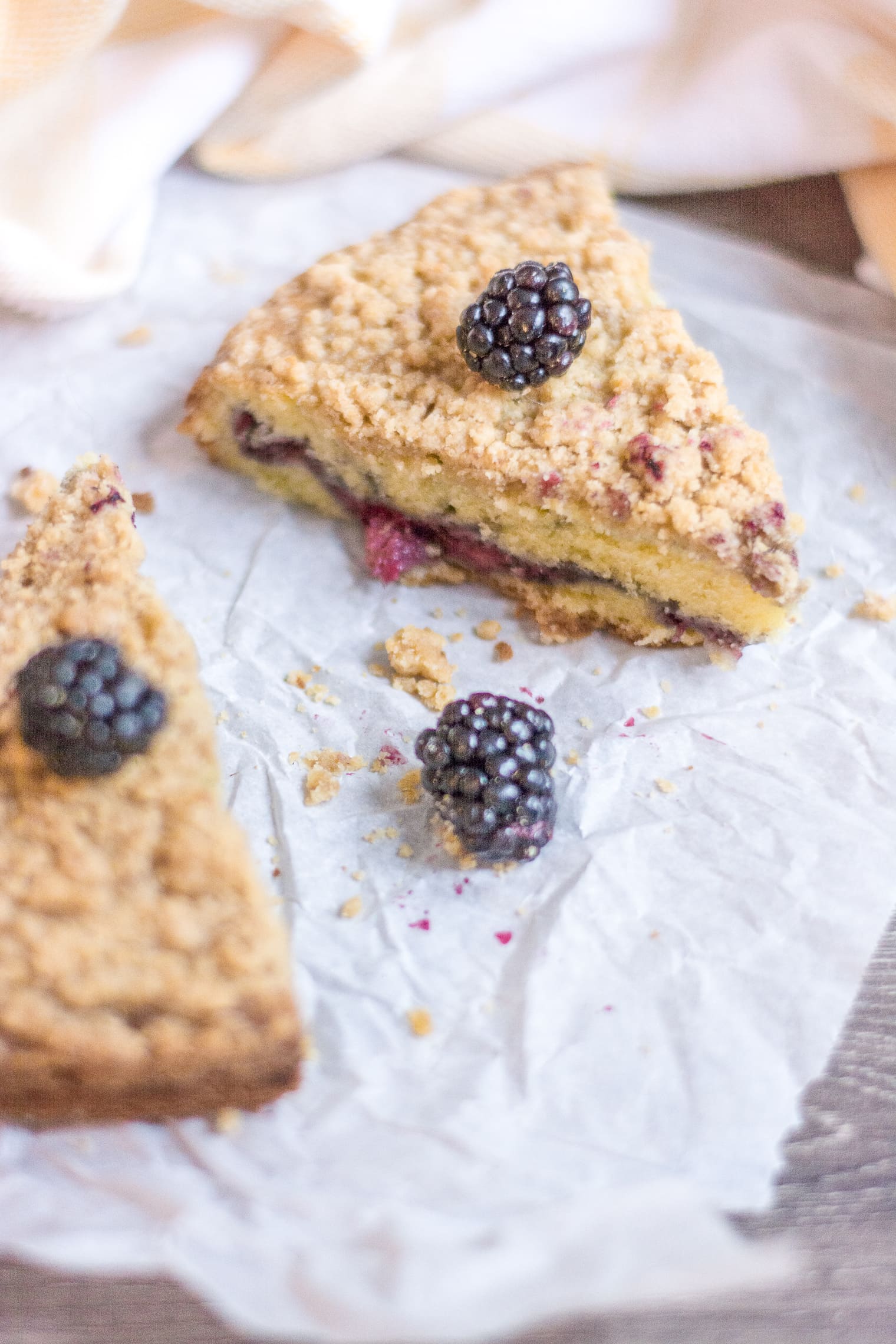 The filling is super soft so this lemon crumb cake doesn't harden up much over time. It can easily last for 3-4 days at room temperature.
If you don't mind storing this lemon crumb cake recipe in the fridge, then it can save for up to a week. I recommend covering it with saran wrap as tightly as possible or putting it in a ziplock baggie (preferable).
It will shrink a little bit over time so it won't look as pretty. If you're making this lemon crumb cake in coffee cake loaf form then this won't make a difference at all.
Lastly, you can even freeze this cake! It definitely isn't my favorite recipe to freeze because I like my blackberry filling to be super fresh, but it does work.
Again, it's much better to freeze this lemon crumb cake recipe if you make it in a loaf pan because you don't need to worry about how "pretty" it looks.
Just pop this lemon crumb cake in a freezer bag and place it gently in the freezer. Make sure it's totally cool before freezing if this blackberry lemon cake has just come out of the oven.
Related Posts:
Lemon Crumb Cake Recipe:
Yield: 1 cake
Lemon Crumb Cake Recipe With Blackberry Cake Filling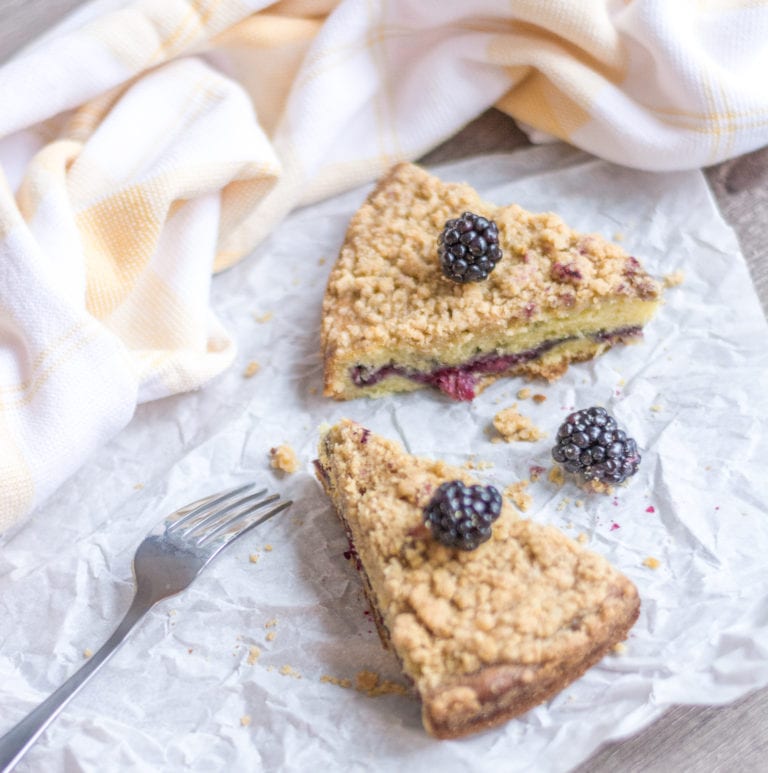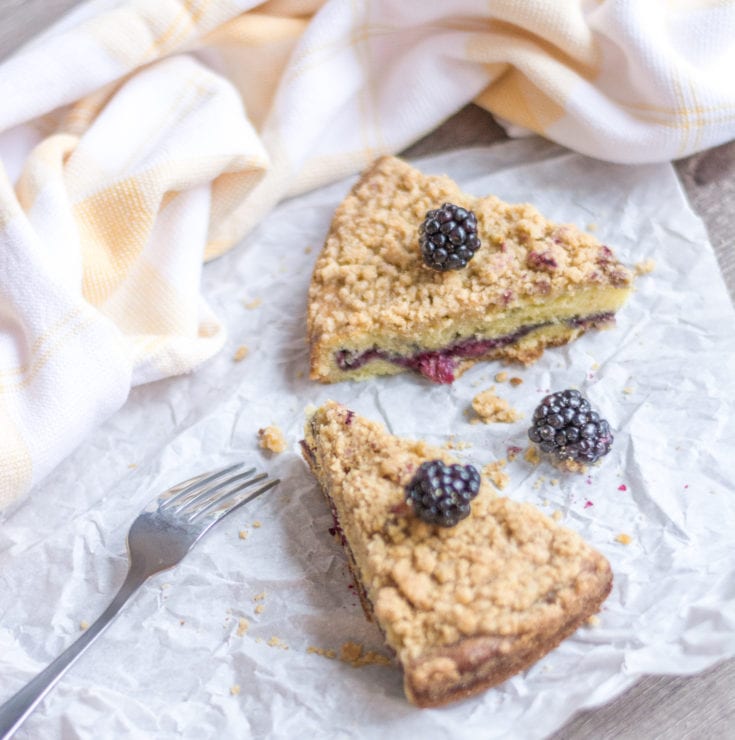 Prep Time 10 minutes

Cook Time 40 minutes

Total Time 50 minutes
Ingredients
Lemon cake:
6 tablespoons butter (unsalted, 3/4 stick)
3/4 cups sugar
2 large eggs
1 teaspoon vanilla extract
1/3 teaspoon grated lemon zest
3/4 cup sour cream
1 1/4 cup all purpose flour
1 teaspoon baking powder
1/4 teaspoon baking soda
1/2 teaspoon fine grained salt
Blackberry cake filling:
1 carton blackberries (about 1 or 1 1/4 cups)
1 teaspoon sugar
1/4 teaspoon lemon juice
Streusel topping:
3/4 cup white flour
7 tablespoons brown sugar
1/2 teaspoon salt
1 tablespoon lemon zest
6 tablespoon cold unsalted butter (cut into smaller pieces will help)
Instructions
Preheat the oven to 350 degrees Fahrenheit. Butter and flour a 9-inch round baking pan.
Make the streusel/crumb topping. In a medium sized bowl, combine the flour, brown sugar, salt, lemon zest, and butter pieces. Use your hands to crumble the butter and mix the ingredients together until the crumbs are pea sized or less and completely mixed. Place the crumb topping in the fridge.
Cream the butter and sugar in the bowl of an electric mixer fitted with the paddle attachment on high speed for 5 minutes. Change the speed to low and add the eggs, vanilla, lemon zest, and sour cream.
In a separate bowl, sift together the flour, baking soda, baking powder, and salt. With the mixer on low speed, add the flour mixture to the batter. Cream on medium-high for an additional 2 minutes until slightly whipped.
Make the blackberry mix. In a separate bowl, combine the blackberries, lemon juice, and sugar. Use a spoon to mash the blackberries until there are no large pieces left and the mixture is slightly soupy.
Spoon 1/2 of the batter into the prepared pan and flatten out with a knife. Spread the blackberry mix across the top until flat, leaving a 1/4 inch space along the edges. Top with the rest of the batter and spread until smooth. Don't worry if some of the blackberries mix with the top layer - it will be covered by the streusel.
Crumble the topping over the batter evenly. Bake for 40-45 minutes or until a skewer/toothpick comes out clean. The top will be very barely browned.
Cool completely and serve with fresh blackberries and tea.