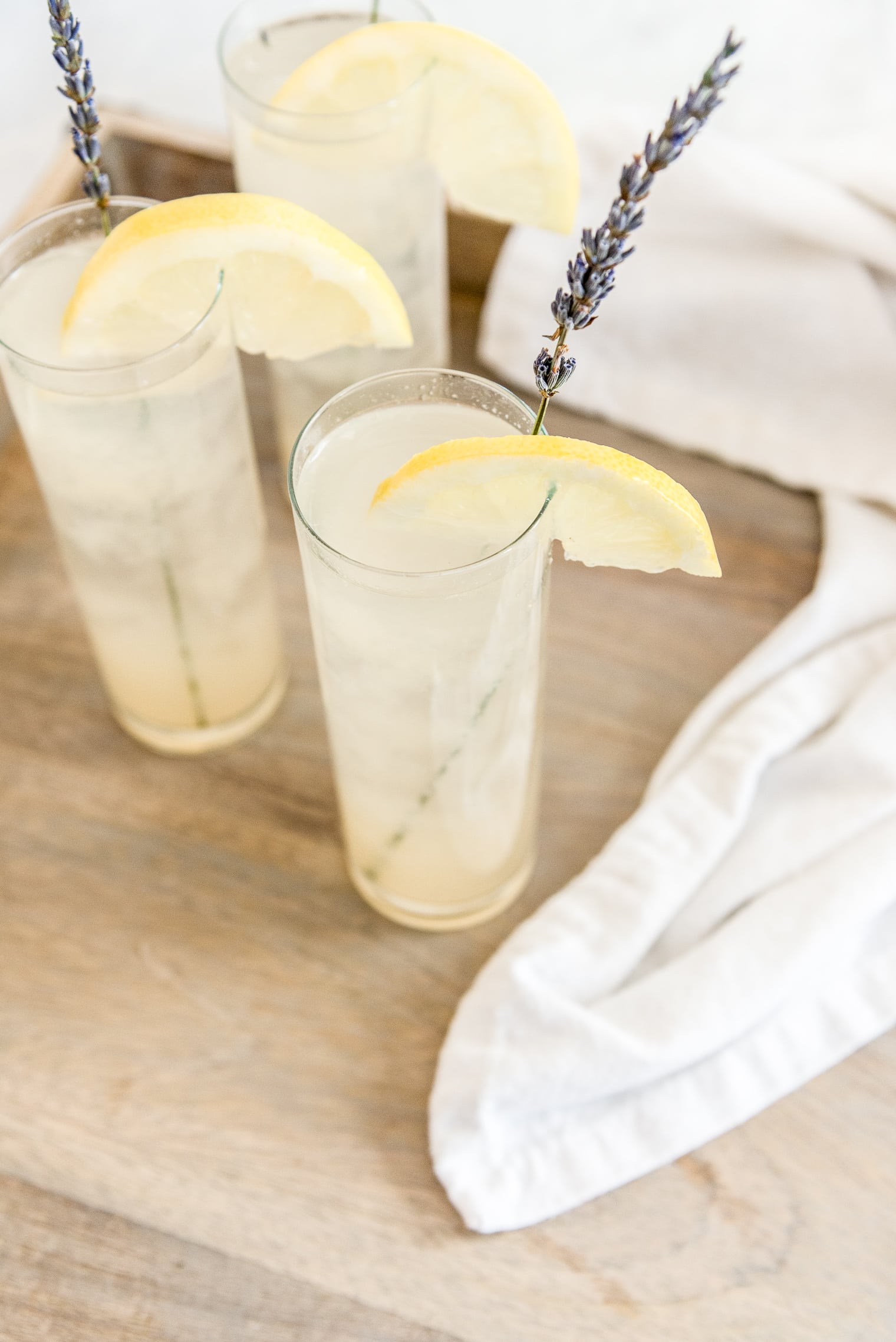 I try to make a new cocktail every week, and I'm going to be honest: they aren't always top notch.
This isn't one of those times! This lavender lemonade cocktail is light, fresh, and low-calorie, not to mention delicious.
It's super easy to make this lavender cocktail sweeter or less sweet. I love making pear cocktails for this reason! Pear juice is really sweet, so it's a great way to customize a drink that is perfect for you.
In my opinion, the lavender in this lemon pear juice cocktail is what makes it feel so upscale. Lavender is such a delicate herb that adds a sweet essence to any drink without overpowering the other flavors.
A lavender cocktail is perfect for the warm weather months!
Incorporating the Lavender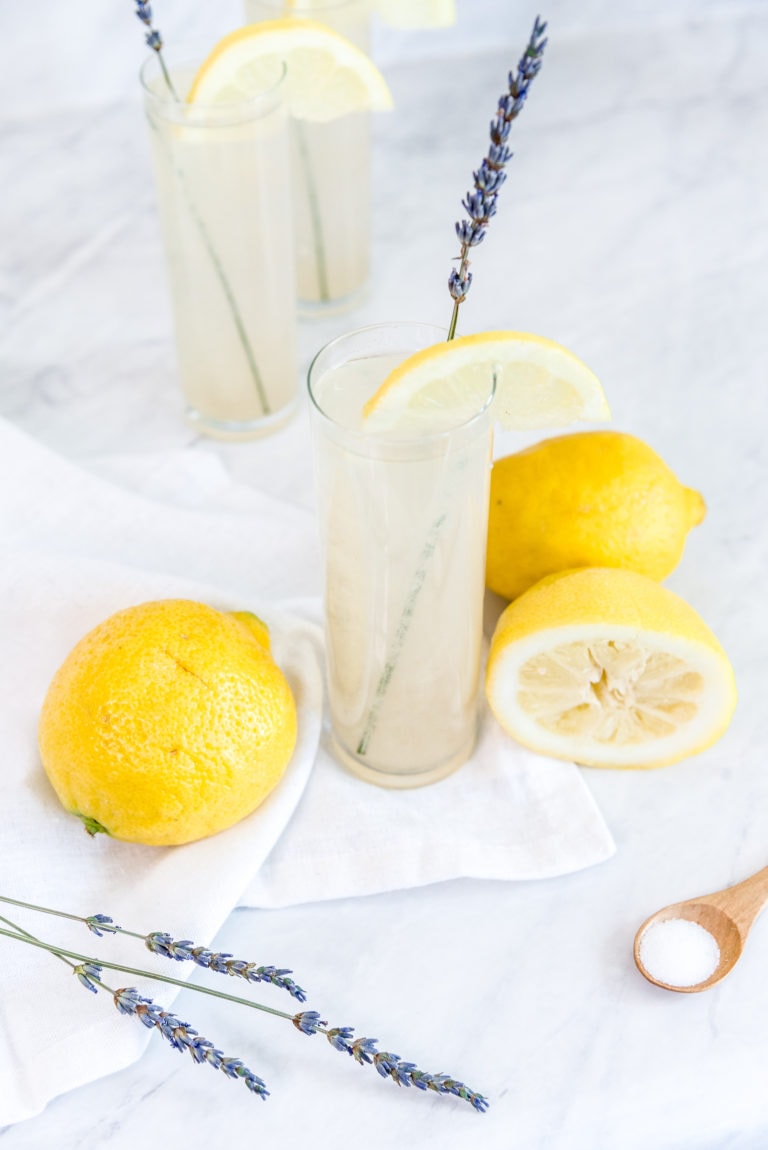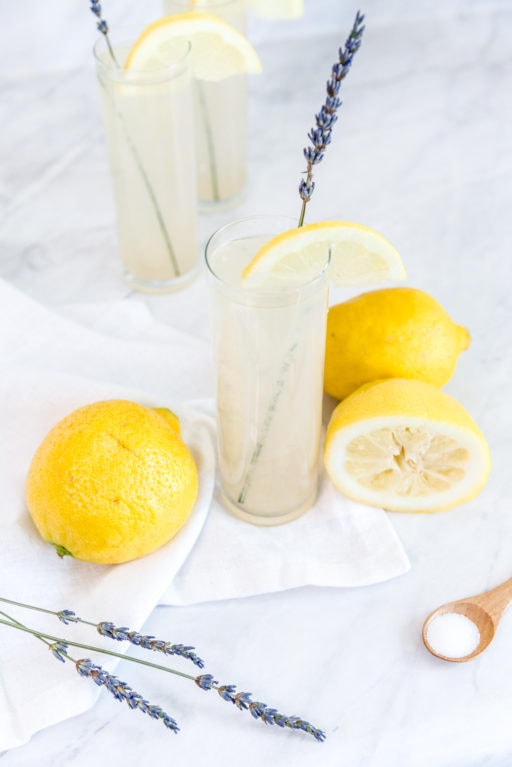 I find that the easiest way to incorporate lavender into this lavender lemonade cocktail is to make my own lavender simple syrup.
It's insanely easy to make! The whole process takes about 5 minutes and all you need is sugar, water, and fresh or dried lavender.
I actually order dried lavender from Amazon. This is the bundle I usually go with, but there's lots of options available.
I use dried lavender and find that the flavor is super strong and delicious, so I don't know that fresh is necessary to make a light and delicious lavender cocktail.
Check out my full post on how to make lavender simple syrup here!
Juicing the Pear
Pear cocktails are becoming more common. Pear juice cocktails are generally light and flavorful with a French twist.
You can use pear puree for pear cocktails, but I prefer to juice the pear. I love my juicer and find that the process takes about 30 seconds, so for me this is the easiest way to go!
This pear juice cocktail calls for about 1/2 of a pear (juiced) to achieve a medium level of sweetness. If you like your cocktails on the sweeter side, then juice 3/4 of a pear; for a less sweet cocktail juice 1/4 of a pear.
Lemons vs. Lemonade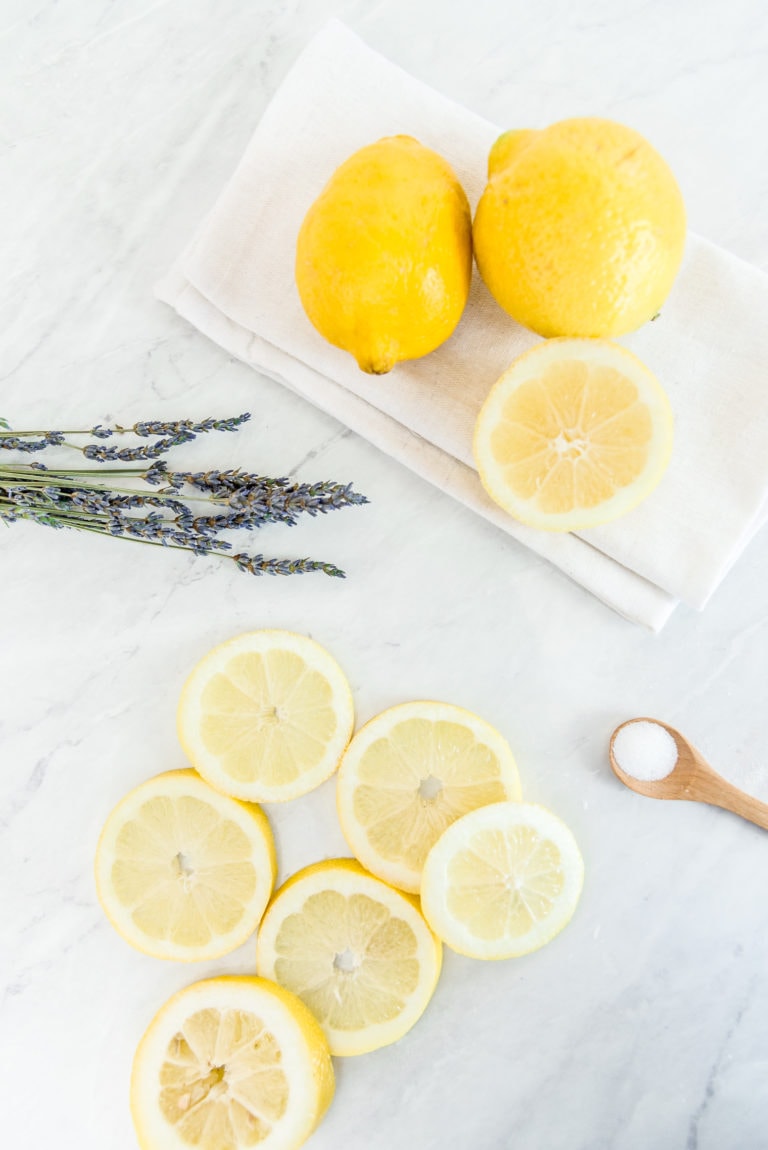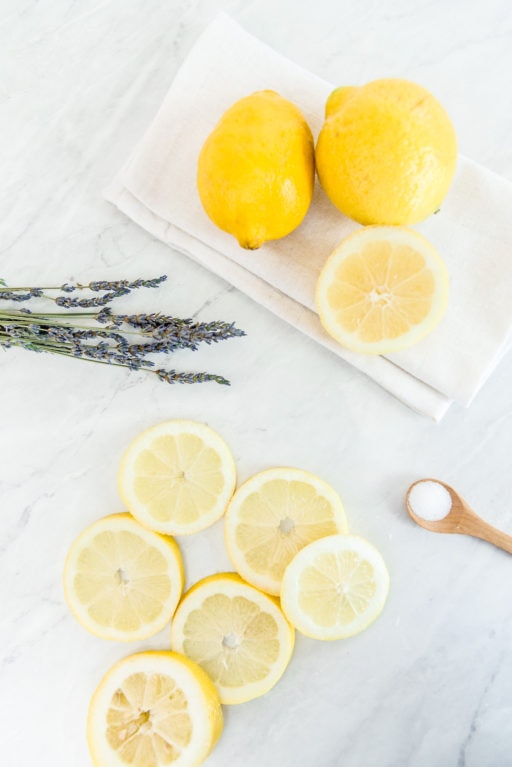 While I think you can get away with dried lavender, I always use fresh lemons to make this lavender lemonade cocktail.
Pre-made lemonade is way too sweet for me, and although I've never tried making this drink with lemonade, I don't think the result would be remotely close to how this drink usually turns out.
You actually don't need a ton of lemon juice to make one glass of this lavender lemonade cocktail; it's pretty bitter so about 1/2 lemon per glass works.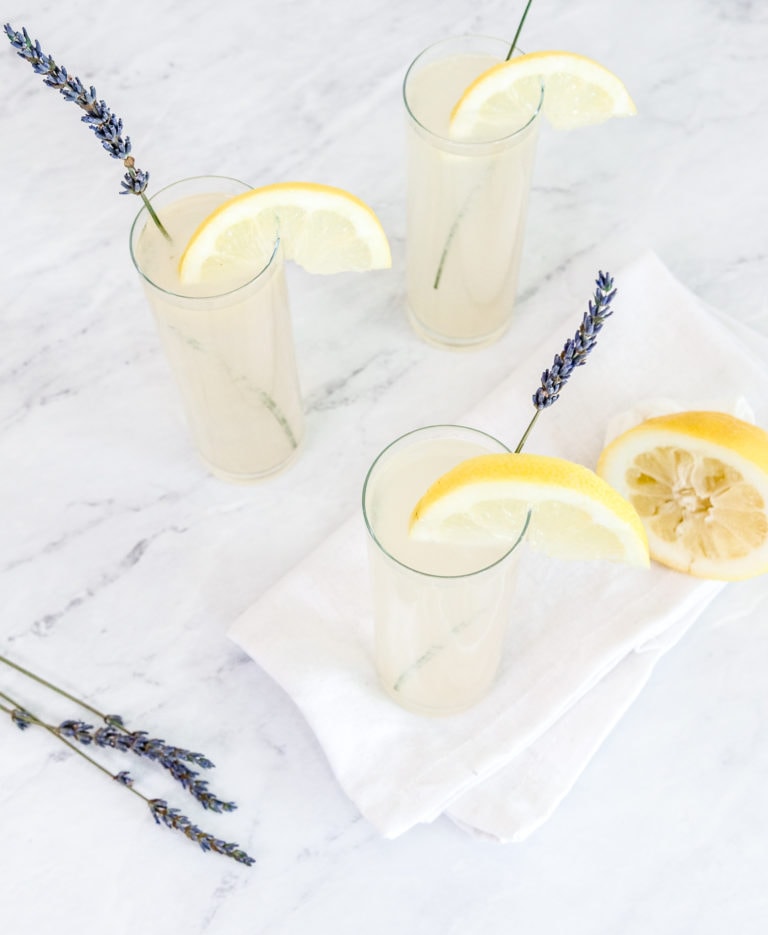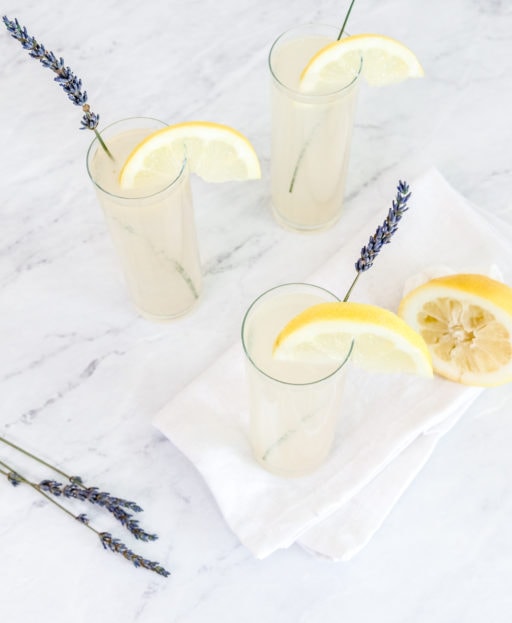 The Modern Love is my best blend of lemonade, lavender, and pear juice! It's a delicious summer drink that feels French in nature and is easy to customize.
It's also really easy to make in batches. If you want to make a pitcher, then multiply this recipe by 6-8.
If possible, I recommend making individual glasses and shaking the mixture over ice then straining. It's especially light and delicious when served straight up!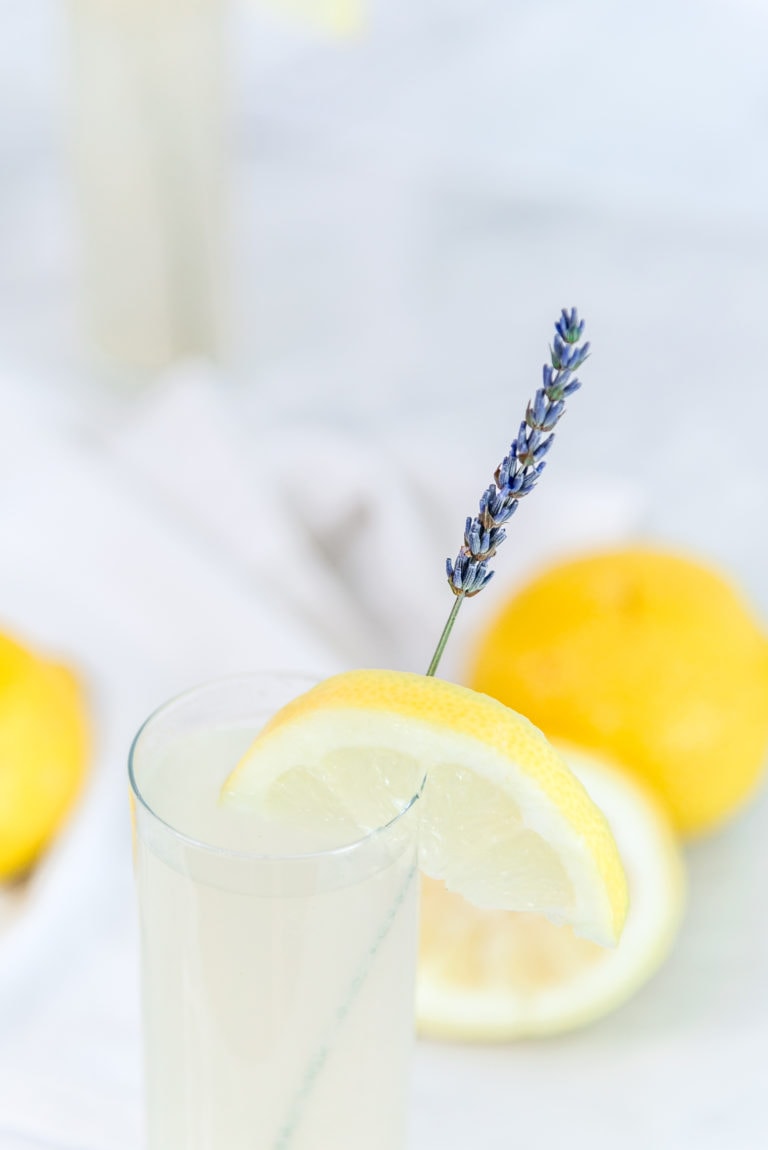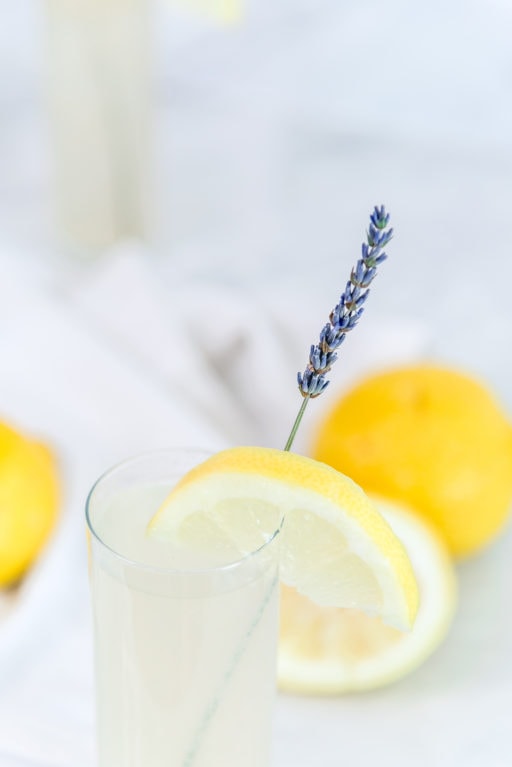 Scroll down for the full recipe, or click here for my lavender simple syrup recipe.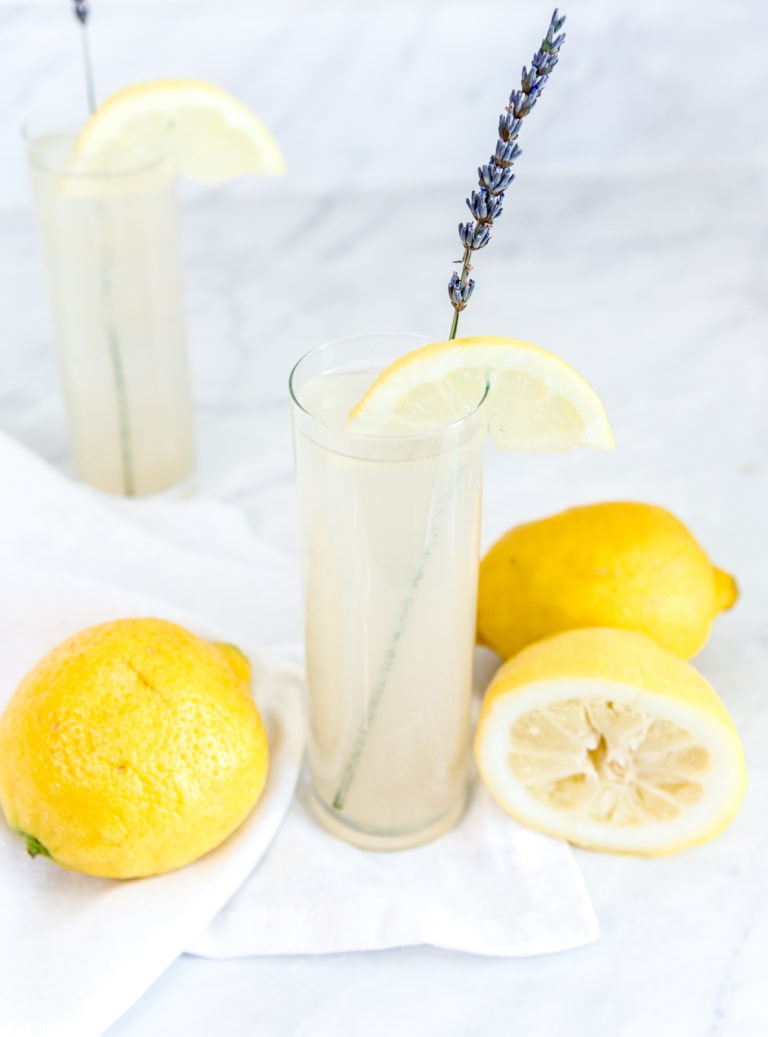 Yield: 1 Glass
Modern Love
Prep Time 10 minutes

Total Time 10 minutes
Ingredients
2 ounces vodka
1/4 cup Lavender Simple Syrup
1/2 squeezed lemon
1/2 juiced pear
Instructions
Shake or stir all ingredients over ice. Strain into a highball glass.
Garnish with a lemon wedge and lavender flower. Serve immediately.
Let me know what you liked or didn't like and what drinks you'd like to see on the blog this summer!
Related Posts:

Check out the full lavender lemonade cocktail recipe above for a delicious pear juice cocktail! Pear vodka cocktails are my favorite; it'll be a bit sweeter if you choose to specifically make a pear vodka cocktail with flavored vodka.
Pear vodka cocktails scream spring and summer. This pear juice cocktail is infused to create a lavender drink that is upscale and delicious. A lavender cocktail is also perfect for the spring and summer, but is really delicious any time of year.