A delicious spiced plum cake recipe made with fresh plums, cocoa, rum, and almonds. This plum cake is perfect for the warm weather months or the holidays and can be made gluten-free with just a few adjustments.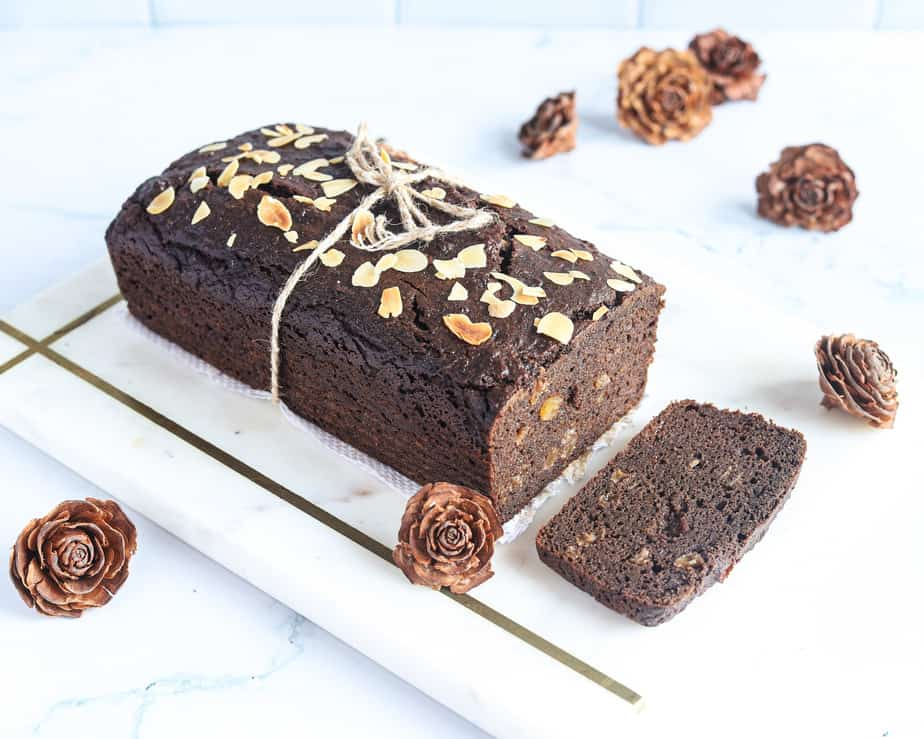 As much as I love plum pudding, this plum cake recipe ranks far above pudding for me. Not only is plum cake easier to make and serve, but it's light and delicious.
Unlike pudding, this spiced plum cake won't weigh you down. It's light and fruity! I find that it's the perfect dessert or appetizer.
Adults and kids both love this plum cake recipe. It's a classic that's good to learn how to make because everyone will enjoy it. This plum cake can be served so many ways so it works well for any group!
This plum cake recipe can be easily modified for different times of year. I especially love serving this cake during the summer (with fresh peaches and a spritzer) as well as during the holiday season.
Scroll down a bit more more specific topping and pairing ideas based on the time of year! But, don't forget that this plum cake is delicious all on its own. You really don't need to pair it with anything to experience the wonderful, moist taste of cake.
What You'll Need To Make This Plum Cake Recipe:
This plum cake recipe calls for basic baking ingredients with a few additions. You can easily substitute many of these items out if needed.
First of all, you will need spelt flour and coconut sugar. I like to use these specific types of flour and sugar, but you can substitute for regular flour and sugar if you prefer; use the same amounts and follow the directions the same.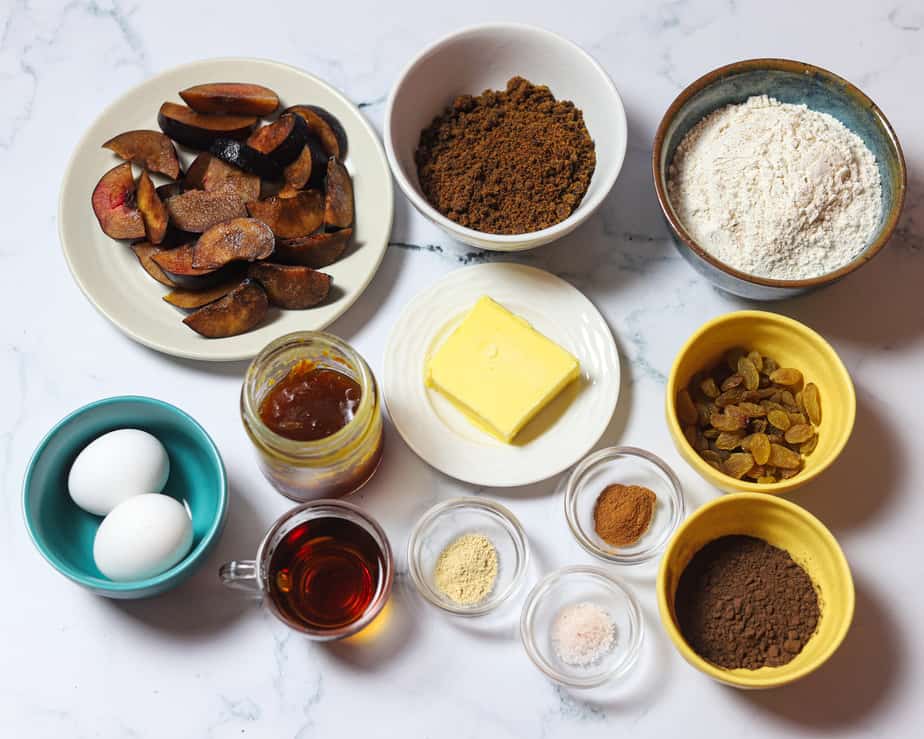 You will also need eggs and butter. For nuts and fruit, you will need raisins for the cake and almonds to sprinkle on the top.
The almonds are totally optional, but I really enjoy the crunch and do recommend them. Sliced almonds are best.
You will also need chopped fresh plums. I 100% recommend fresh plums over frozen plums. I'll go into more detail on how to use both in the next section.
You'll need marmalade, unsweetened cocoa powder, cinnamon, ground ginger, baking soda, baking powder, and salt.
Lastly, you will need either dark rum or mild coffee for a non-alcoholic version. I recommend using dark rum for the taste but this is optional. I'll go into more detail on the differences a bit further down!
Fresh Plums Or Frozen Plums?
I have tried this spiced plum cake recipe with both fresh and frozen plums. Fresh plums are tough to come by, but they really make a huge difference.
If you can't source enough fresh plums then I recommend that you at least use half and half. The taste of fresh plumbs makes this recipe taste super homemade and original.
Fresh plums also make this plum cake recipe a lot more moist. I have a thing against dry plum cake recipes, having had one too many in my life, so I wanted this cake to be as moist as possible.
I find that fresh plums is the #1 factor when you're trying to make this plum cake recipe moist. You just can't get the save level of texture without them!
Keep in mind that you can also top this plum cake with fresh sliced plums. This not only makes it super pretty (especially in the summer!) but gives it an even fresher taste.
The key to choosing fresh plums is to make sure that they're pretty firm. You don't want your plums to be overripe or this plum cake recipe will be much tougher to put together.
You will especially want firm plums for the cake topping if you choose to add sliced plums. Not only will it look prettier if the plums hold their shape but it will taste a bit crunchier which is super yummy.
Making This Plum Cake Recipe Gluten Free:
I actually always make this plum cake recipe gluten free because I think it tastes much better with spelt flour!
The spelt flour makes it much smooth than regular flour and you really can't taste the difference.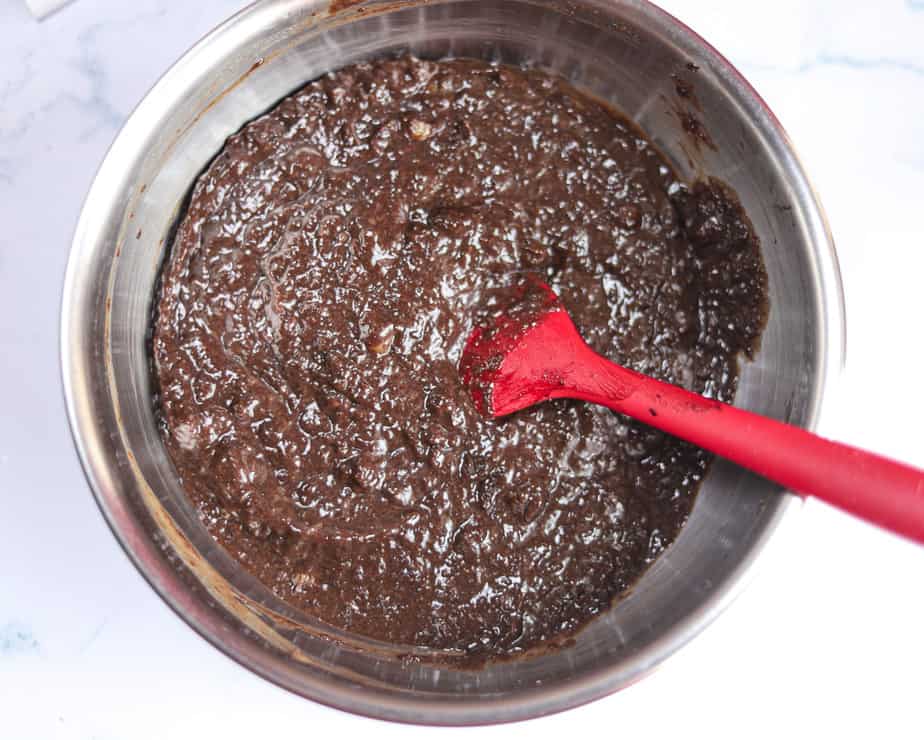 If you did want to make this recipe with regular flour you could easily swap it out. The taste is very similar.
The only difference is that regular white flour will add about 30 calories per slice. Otherwise, you use the exact same amount and follow the directions exactly.
This plum cake recipe isn't vegan because of the eggs and the butter. If you wanted to switch them out for vegan substitutes like coconut oil you certainly could.
Otherwise, I use vegan ingredients.
I also used coconut sugar instead of regular sugar. I find that it gives this plum cake recipe a really yummy, sweet flavor that isn't overpowering. It simply adds to the fruitiness.
I especially recommend that you use coconut sugar if you're making this cake during the summer! The added coconut flavor is just too yummy.
Rum Versus Coffee?
You can use either dark rum or mild coffee for this recipe. If possible I recommend using rum because I find that a slight rum flavor adds another dimension to this cake.
I like to use Goslings or Bacardi black rum. No need to get anything super expensive!
If you don't want to use rum or can't have alcohol in this recipe then mild coffee is a good substitute. Make sure that it's not too strong (don't use Starbucks!) or it will overpower the flavor of the plums.
I simply make a bit of light breakfast roast coffee using my Keurig while I'm baking this plum cake recipe.
Cake Or Bread?
This is definitely a plum cake recipe, but it looks a bit like a bread. I compare it to a banana bread but find that it's a bit more dessert-like.
This plum cake is super moist and sweet. It doesn't really have the classic crumbly bread qualities, especially when you make it with spelt flour.
You can easily add toppings onto this plum cake recipe to make it look more like a dessert. I recommend adding sliced plums on the top (before or after baking: both are yummy!). You can also sprinkle powdered sugar over the top for a pretty, cake-like look.
I typically don't recommend baking this cake in anything but a loaf pan. The recipe is made specifically for a loaf pan and might come out a bit too thin in a regular pan.
Even though I consider this plum cake to be a cake, you can still serve it as an appetizer because the pieces are easy to hold and bite.
Plum Cake Recipe In The Summer:
This recipe is super yummy for the summer. It might be surprising if you're used to eating plum cakes during the holidays, but a good plum cake recipe is a must-have in the south!
There are a few ways to make this plum cake recipe feel super summery. First of all, I recommend using fresh peaches. They make the cake a lot more moist which is something you especially want during the summer.
You can also slice up a few peaches and place them along the top of the cake.
If you wanted to, you could easily serve this plum cake with peaches or apricots instead. The recipe is the exact same – just substitute the fruit.
While I personally enjoy this cake the most when it's made with plums, it's also super yummy with peaches, especially if you're going for a really summer vibe.
Lastly, I recommend serving this plum cake recipe with a yummy summer cocktail. I especially enjoy a raspberry spritzer or a peach bourbon cocktail for a smokey, southern flavor.
Plum Cake Recipe For The Holidays:
This is also a super yummy recipe for the holidays. Plum pudding is a popular Christmas dessert, but I like this plum cake more because it's easier to make and to serve.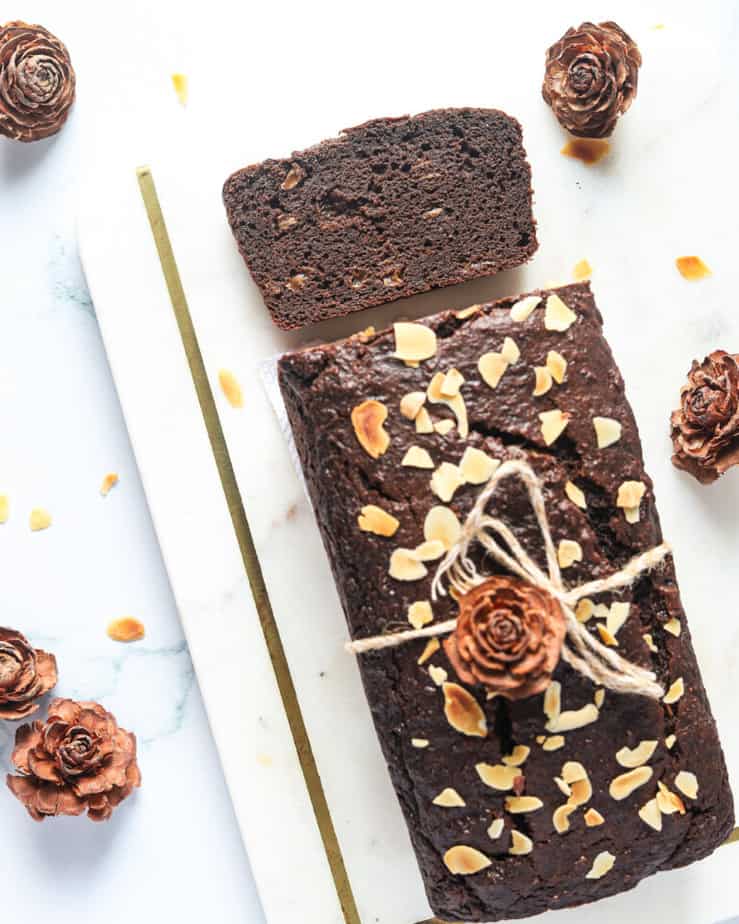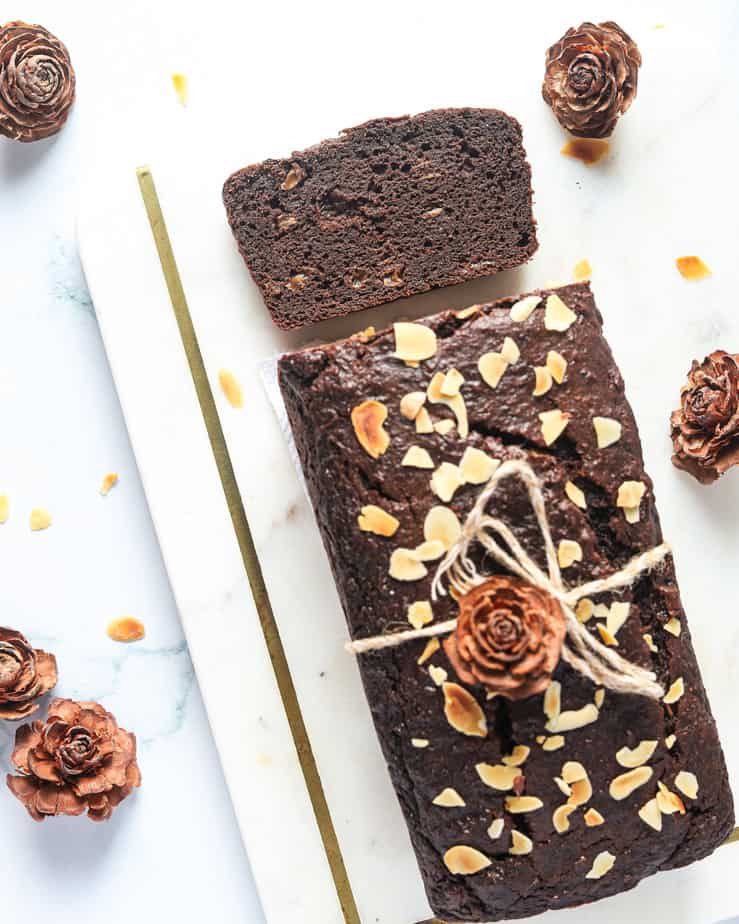 Theoretically, this plum cake can be served as an appetizer, a snack, or a dessert. It's one of my favorite easy desserts to set out while we're having after dinner cocktails.
I recommend serving this cake as I pictured it with almonds over the top. It goes really well with a pomegranate cocktail or a glass of wine.
If you do want to serve this plum cake as an appetizer, you'll find that it goes great with goat cheese, arugula, prosciutto, and chicken.
BTW, this is a great appetizer or dessert to bring to a party! It holds up well over time and goes with just about anything holiday-themed.
It's also a great choice for a hostess gift if you want to steer clear of the more basic wine gift. I like to package it up in thick, holiday paper and tie it with a ribbon.
How To Store This Spiced Plum Cake:
This plum cake recipe can be stored for up to a week in the fridge. I like to make it when I know we'll eat it at some point and love having it on hand when guests come over!
You can reheat it quickly in the oven if you prefer it warm. Make sure to cover the cake before reheating it and don't reheat it too often or it'll dry out.
I like to store this plum cake in a sealed baggie to make it keep for the longest period of time. Otherwise, it probably lasts for 4-5 days. You'll notice when it starts to get crusty and old so don't worry about eating bad plum cake.
You can also freeze this plum cake which is super useful, especially during the holidays. Set it up in a baggie and pop it in the freezer after it has cooled.
This plum cake recipe should last for 1-2 months in the freezer. Make sure that you don't defrost it more than once.
I will say that it doesn't taste as amazing after it has been frozen. The fresher you can serve this plum cake recipe, the better.
How To Serve This Plum Cake Recipe:
I talked about a bunch of ways to serve this plum cake recipe above, but I do have a few more thoughts!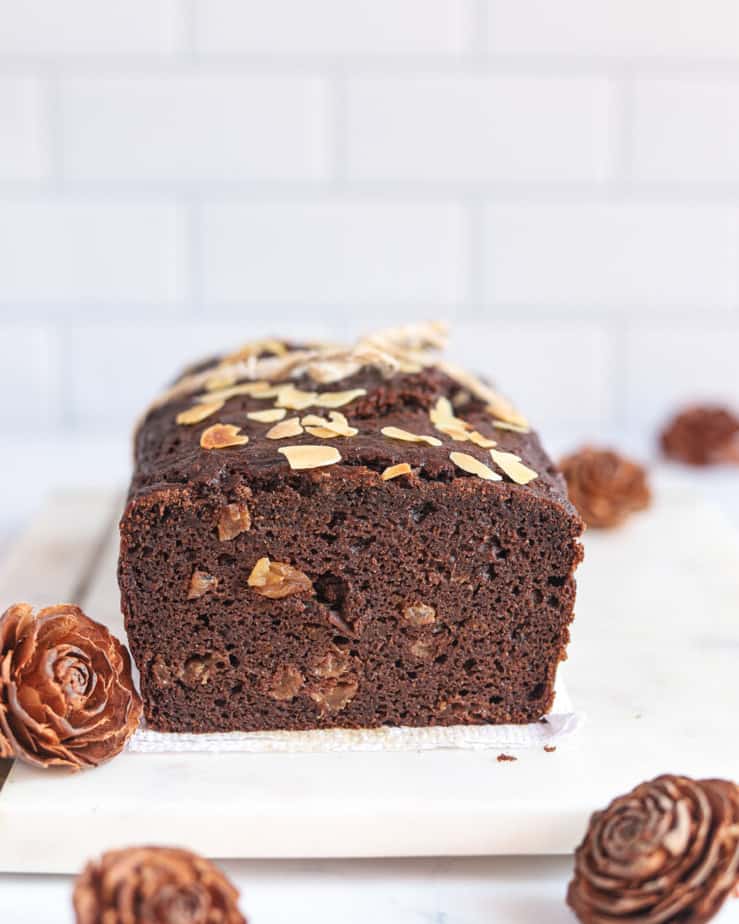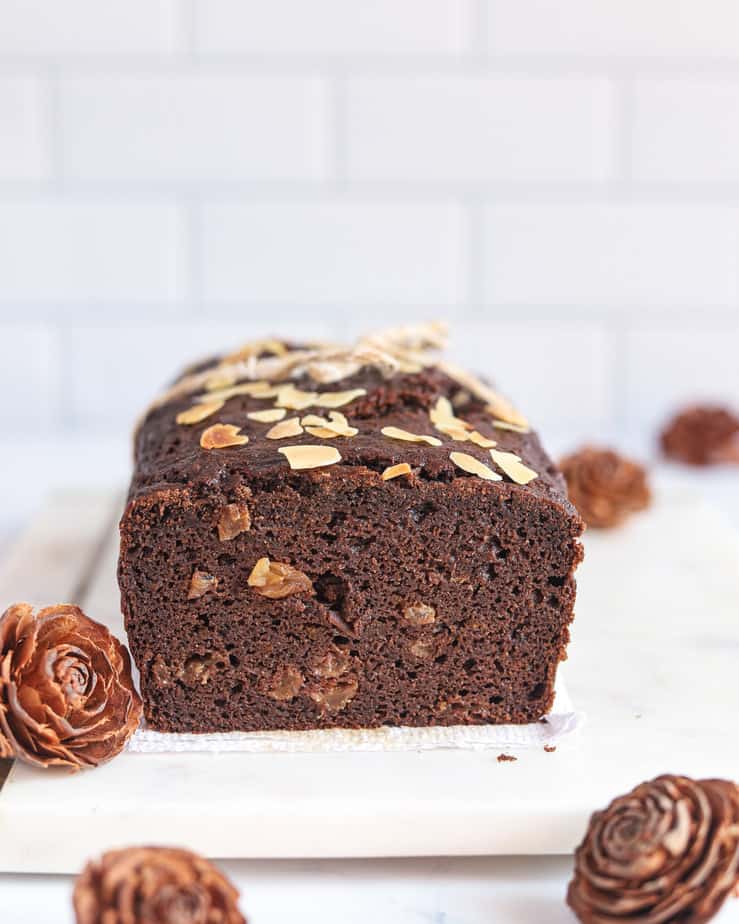 First of all, how you serve this cake depends completely on the time of year.
In the spring, this cake can be topped with plums or berries and served with a spritzer or light crackers and cheese.
In the summer, this cake goes well with fresh summer drinks and light food.
In the fall, I like to serve this cake with cider or smokey drinks. It has a distinct fall feel and is super yummy with apples or other fall fruit.
In the winter and during the holidays, I like serving it as an appetizer with cheese and crackers or as a dessert with a pomegranate drink.
This cake isn't too sweet so it can easily be served with a variety of salty appetizers. It's also the perfect dessert if you want to pick and don't want to sit down for a formal dessert.
Lastly, it's always yummy with a scoop of vanilla ice cream or an after-dinner coffee!
Related Recipes:
Spiced Plum Cake Recipe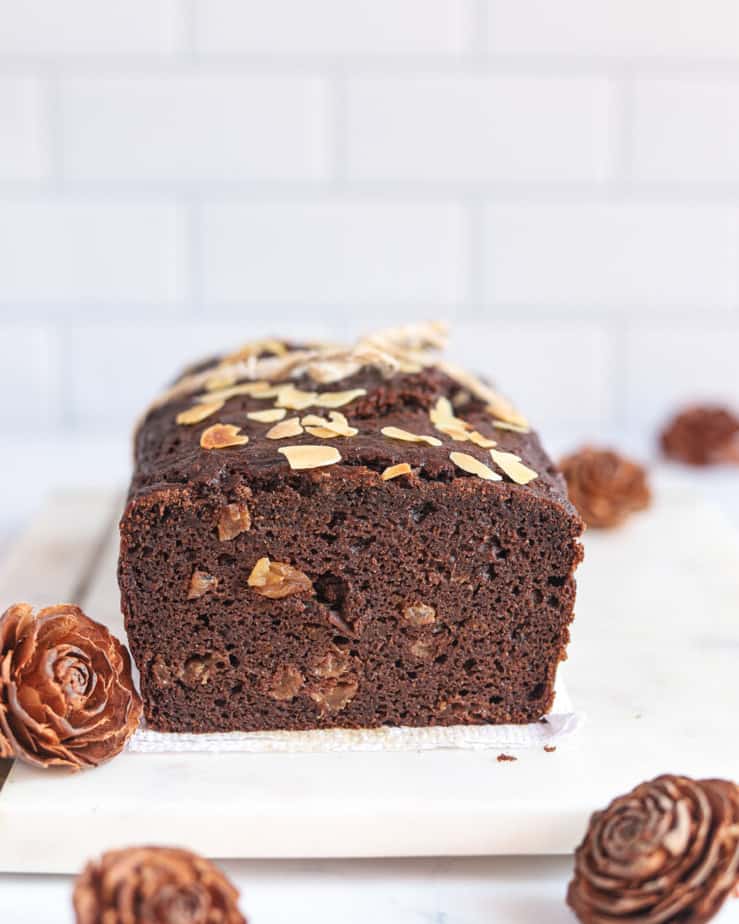 A delicious spiced plum cake recipe made with fresh plums, cocoa, rum, and almonds.
Total Time
1 hour
15 minutes
Ingredients
1 ½ Cups Spelt Flour
¾ Cup Coconut Sugar
⅓ Cup Raisins
2 Large Eggs
100g Unsalted Butter
1 ½ Cups Chopped Fresh Plums
1 Tbsp Marmalade
¼ Cup Cocoa Powder
¼ Cup Dark Rum (¼ Cup Mild Coffee for a non-alcohlic version)
1 Tsp Powered Cinnamon
1 Tsp Ground Ginger
1 Tsp Baking Powder
½ Tsp Baking Soda
¼ Tsp Salt
1 tbsp Thinly Sliced Almonds (for sprinkling on top, optional)
Instructions
1. Finely chop the plums and the raisins or process it in a food processor to break it into smaller pieces.

2. Take the plums in a pan and add the coconut sugar.

3. Place the pan on low heat and cook the plums until it turns tender.

4. Now take it off heat and add in the marmalade, cocoa power, butter and the spices and mix with a spatula until it is evenly combined.

5. Now take this out in a mixing bowl and let it cool to room temperature.

6. Crack one egg at a time into the bowl and mix until it is mixed evenly.

7. Now add the rum or coffee and mix it thoroughly.

8. Shift in the spelt flour, baking powder, baking soda and salt into the bowl and mix until all the dry mixture is combined to form a uniform batter.

9. Take out the batter in a greased and lined 8 inch loaf pan or into an 8 inch baking pan and sprinkle some thinly sliced almonds on it .

10. Bake it in a preheated oven at 170 degrees Celsius for around 50-60 minutes, until a skewer inserted in the middle comes out clean.

Let the cake cool to room temperature and enjoy!
Nutrition Information:
Yield:
10-12
Serving Size:
1 slice
Amount Per Serving:
Calories:

278