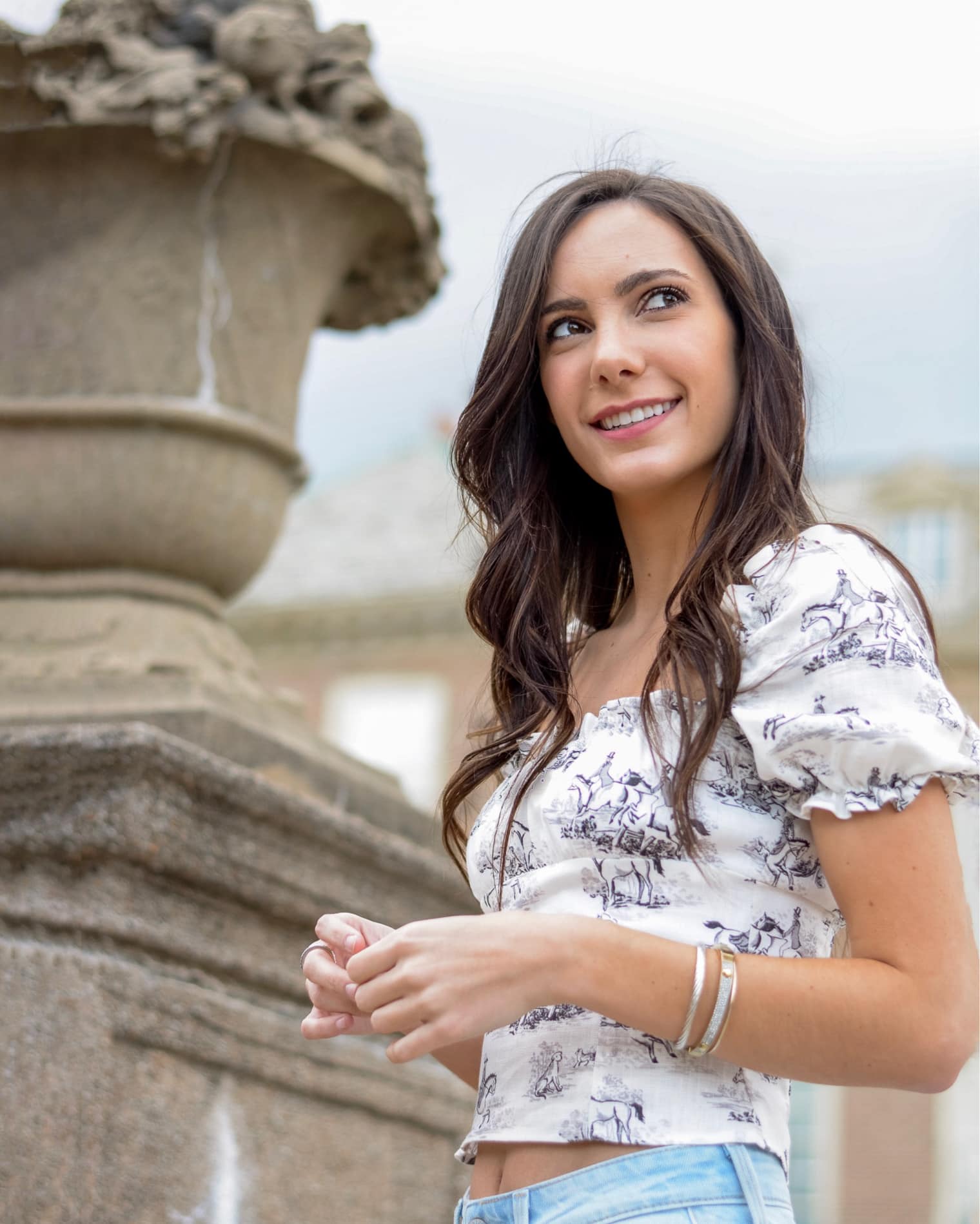 Clothing is one of those expenses that hurts a little every time you fork over a big chunk of change. Yeah, we all want to look on trend, but it just seems insane that we have to buy so many new pieces every season. That's probably one of the reasons why I so frequently get asked about how to get free clothes.
There's lots of ways to get clothing for a deep discount, but this isn't going to be one of those posts that's title tells you how to get clothes for free then goes on to offer discount codes. Every single method I'm listing below actually allows you to get 100% free clothes.
The one thing you have to remember about getting free clothes is that they might not always be the exact style, size, and/or condition you'd prefer. You might have to be a little flexible when it comes to free clothes!
My method is to make a separate account (I use a separate Paypal folder but there's tons of ways to go about this) and put all of my cash-back money there. I use it specifically to get free clothes, and I can only get as much as I have in the account.
So, without further ado, here are my favorite ways all about how to get free online and in person!
Ibotta
Ibotta is one of the best coupon and cash-back apps out there. The app is insanely easy to use!
You can search for products you're interested in purchasing through the app then get cash back, which I put towards free clothes. There are certain tasks you'll want to perform after you buy the item, and the more you perform, the more cash back you receive.
There's so many product options (both in-store and online) that you can use the app for basically anything. I always use it to buy groceries, beer, and wine, and save a big chunk of change just from those purchases.
Unlike Ebates (check out my review of Ebates a few lines down), Ibotta takes a bit more work.
You have to actually purchase the product, provide proof of purchase, and then complete tasks like answering a question or poll and providing a one sentence review, but there's literally unlimited options for items to purchase and you can save a ton of money.
I've gotten in the habit of using Ibotta for specific purchases (mainly food) and submitting the info as soon as I get home. In this way, I make at least $100 a month cash back and use it to purchase free clothes.
Click here and use my referral code (lykjxw) to get some extra cash back offers for free clothes!
Swagbucks
Swagbucks is a great site to use if you have a few extra minutes on your hands here and there. I'm currently filling in a few days a week as admin at my Dad's business, and there's a lot of downtime, so I pull out my phone when there's no customers and complete some quick tasks for extra money.
You can watch videos, take mini quizzes, sign up for emails, and do tons of other things to earn Swagbucks.
You can redeem points for many different gift card options, but I personally prefer exchanging 2500 SB for $25 Paypal cash. I wait until I have enough to get $100 Paypal cash and then cash out and add it to my free clothes fund!
There's also options to make Swagbucks from routine activities that you might already do, like using Postmates, Hulu, and Audiobooks. I switched my subscriptions over using Swagbucks and immediately started making $15 or so a month for doing nothing.
Swagbucks is a great quick and easy way to earn money (without making any purchases) whenever you have a few minutes of free time. Click here to check it out and sign up!
Ebates
You've probably heard a ton about Ebates but might not have actually used it. I read about it on blogs for years; I always thought it was kind of a scam, but now I can't believe I didn't start using it earlier.
I downloaded the Chrome extension and get cash back at tons and tons of stores, even when I'm shopping for routine items online.
Basically, Ebates earns a commission for items you purchase through them, but they share it with customers so that you get a portion of the comission sent to your Paypal after you make your purchase.
Because I never used this before (and easily lived without it), I consider this extra money. It goes to my clothing fund and helps me get tons of free clothes!
I generally make $100-$200 extra dollars a month through Ebates, which is about 4 decent clothing items. That's definitely enough to update any wardrobe for the next season. I save 5% on Amazon; if you know me then you'll know that I'm on Amazon literally every day, so depending on the month I get up to $300 in cash-back dollars.
If you're wondering how to earn free clothes online specifically, this is the method I 100% recommend.
Click here to use my referral link and get a $10 credit towards shopping!
Poshmark
I love Poshmark! While I don't exactly sell full-time, I do have over 200 items in my inventory and currently make about $100 a week.
This $100 (made from selling old clothes and clothes that I haven't worn but probably never will) goes right back towards buying clothes on Poshmark.
I usually don't even cash out the money and just use it as Posh credits to make offers on used designer items that I really want. This is basically a clothing trade, except I get to pick from thousands and thousands of items and can get things in great condition.
This past month, I bought a Vineyard Vines beach bag, a Lilly Pulitzer from Target blouse, and a pair of super cute Aqua (Bloomingdale's) chunky heels that I've been wanting forever.
It's really easy to get started on Poshmark and list a few items. All you need is your phone to take the photos and a few details about the item (size, color, etc.) to list it.
I keep all of my items listed indefinitely and don't do much to promote them. However much I sell is how much I get to buy. It's a great system for getting rid of your old clothes that would otherwise be taking up space! Plus, you get to cash those credits in for free clothes.
Posh is one of my favorite ways to get free clothes online! I literally do 99% of this without leaving my house (with the exception of walking one block to the post office to ship my items).
A lot of you wondering how to get free clothes online might already be on Poshmark but aren't taking full advantage of it. I recommend listing every piece of clothing you don't wear often in case it sells! The more listings you have, the more you'll make monthly.
Click here and sign up with my code CHASINGDAISIES to get an immediately $10 credit on Posh!
ThredUp
I LOVE ThredUp for so many reasons. If there's one place to look for used designer items, ThredUp is it. Plus, you don't even have to leave your house. Again, that's a huge perk in my book.
I recently wrote a post about how to best use ThredUp and thrift at other similar stores for amazing items (you can check it out here for more information), so in this post I'll only talk more specifically about how to get free clothes using ThredUp.
You can ship used clothes to ThredUp (check out the site for specifics about what brands and conditions are acceptable) and get credits for each item. I usually make $3 for a decent item.
I then use those credits to purchase a few items that I really like on the site, or cash out and use the money to purchase from a different site.
This is a super easy way to make some free money! While you won't make as much as you might on Posh (where I can generally sell an item for $20), it's way less work and is almost instantaneous.
You can ship a bundle of items in the same box and get the payout about a week later without having to do anything else. If you're short on time and want to get rid of some clothing, this is a great way to go about it!
Click here to get a free $10 credit towards purchases once you sign up. You can easily use that $10 to buy at least two decent items!
Stitch Fix
If you're wondering how to get free clothes online without lifting a finger, Stitch Fix is a great option.
I generally don't hold a Stitch Fix subscription. I find that the clothes aren't always to my taste (I'm super picky about patterns and fit) and are pretty pricey compared to some of my Shein and Amazon finds.
However, Stitch Fix is 100% worth it if the clothes are free.
The referral program is the way to go. You get a $25 credit every time someone creates a new account and orders their first fix. They don't even have to keep any of the items for you to get this payout!
Two or three referrals can get you a few cute designer items for free. At the very least, any referral will get you a free fix with no $20 fee if you don't keep the items.
There are a few easy ways to get referrals:
Take cute photos and post them on Pinterest with your referral link. The more you pin, the better. Any pin can go insanely viral out of nowhere. Try it out!
Share your fix outfits on Facebook and Instagram and include your referral code. I know it can be awkward on personal accounts, but I generally think that adding the referral link at the end of a caption won't seem overboard to anyone if it's done tastefully.
Actually wear the clothes. If your friends/family like your outfits and ask you, then that's an organic way to get a referral.
Click here to sign up for Stitch Fix and get started!
Facebook
Facebook Marketplace is literally a godsend. I buy so much stuff on there, from furniture to clothes.
My favorite part is the free section. Local people post new items every day, and you can get anything from a bunch of new jeans someone has no use for to a used designer purse.
One person's trash is another person's treasure, and that's almost too accurate for the Facebook Marketplace. I use my Facebook app (there's a section specifically for the Marketplace that you can customize) and check it for a few minutes a day just to see what's out there.
I actually got a free haul last month from the Marketplace that included two Abercrombie skirts, an Express jean jacket, and a few Brandy Melville dresses. Not bad for only costing me gas!
If you searched how to get free clothes online, then Facebook Marketplace is the easiest place for you to start.
Craigslist
Similar to Facebook Marketplace, Craigslist has a free section where people generally list clothes they no longer want or have use for.
I've found that Craigslist is better for larger hauls and diamonds in the rough. Occasionally, there are insanely expensive designer items being offered to the first person who responds. There's also a lot of scams to wade through.
Facebook tends to be normal everyday people getting rid of a few items, while Craigslist is either a big hit or miss. It's still worth it to check for the occasional amazing find!
Offer Up & Let Go
Both of these sites – Offer Up and Let Go – have free sections that function similar to the Facebook Marketplace and Craigslist.
There aren't as many items posted daily, but the items posted are similar to those on Facebook; there's usually a few decent items that you can quickly grab.
Clothing Swaps
A few years ago, three of my friends and I organized a clothing swap. Not only did we get a bunch of cute items, but it was so much fun!
It's best to organize a swap with friends who are around your size so that everyone can easily wear what is swapped. Everyone brings 5-10 items and picks out 5-10 items to take home. Anything not chosen goes back to the original owner.
There are tons of different ways to do a clothing swap (you can Google it for a few ideas) and it's a great way to get free clothes. When I did it, I got 4 new tops and 2 dresses that I still wear today!
Luckily, my friends and I have pretty similar style (and love the same brands) so it was successful for everyone.
This is one of my favorite ways to get free clothes and have a fun girls night! Don't forget to include some yummy appetizers and wine.
Yard Sales & Estate Sales
I go to yard sales and estate sales all the time and often find a ton of free items. The owners generally just want to get rid of their stuff, especially small items (like clothing, shoes, and purses) so you can walk out of there with a bunch of free clothes at least half of the time.
Estate sales are especially known for having lots of free clothes. Usually, someone has inherited the estate who has no need of the clothing and just wants to get rid of it.
I've found an insane amount of free designer clothing and purses at estate sales. Estatesales.com, estatesales.org, and estatesales.net is a great place to search for events around you.
So there you have it: at least 13 ways to legitimately get free clothes!
I try to use my clothing fund to buy affordable clothing and get the most out of each dollar. My favorite shops are Amazon, Shein, and Target. Click here to read honest Shein Reviews of my latest purchases.
There's seriously trendy stuff on each site that's usually under $30! I just got the cutest bathing suit on Amazon for $12. Happy shopping!