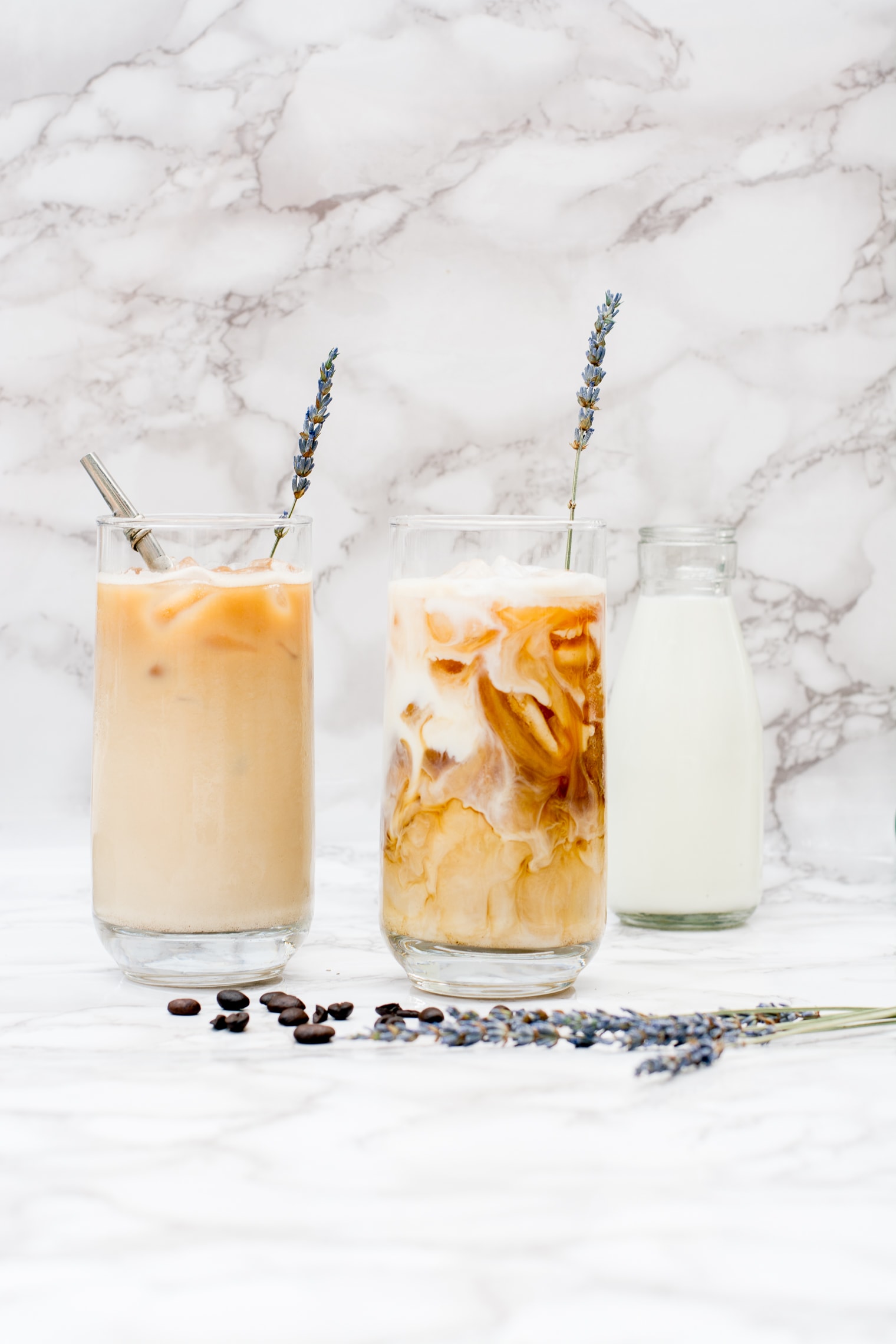 A lavender latte might not be the first thing that comes to mind when you're searching for an iced latte recipe, but trust me when I say that it's uniquely delicious.
I first discovered the lavender latte at a coffee shop in Portland Maine and instantly loved it. I decided to recreate it as an iced coffee recipe instead.
I recently published a super easy lavender simple syrup recipe, and was happy to find that this exact simple syrup can be combined with a regular iced latte recipe to create this absolutely delicious lavender latte.
This is the perfect summer iced coffee recipe! I plan to sit out on my porch and sip it during the afternoon hours when I need a little caffeine jolt.
It's also a great coffee drink to serve if you're having guests over for a brunch, to work, or even just for a quick few hours.
I personally love herb flavors in almost everything, but lavender adds something soft and feminine that most other herbs don't. You can literally add lavender to anything (and I often do), but lavender adds a special softness to an iced coffee drink that makes me go ahhh.
How to Make Iced Coffee
Let's start with the basics. If you don't have cold brew coffee at home, how do you actually make iced coffee?
In this example I made this drink as a latte. I used my latte machine to brew espresso, then left the espresso in the fridge for about 15 minutes. After that, it was ready to pour into a glass (over ice) and then add milk.
If you don't have an espresso machine, you can also get espresso K-cups or pods (depending on what type of coffee maker you have).
How to Make This Lavender Latte Dairy-Free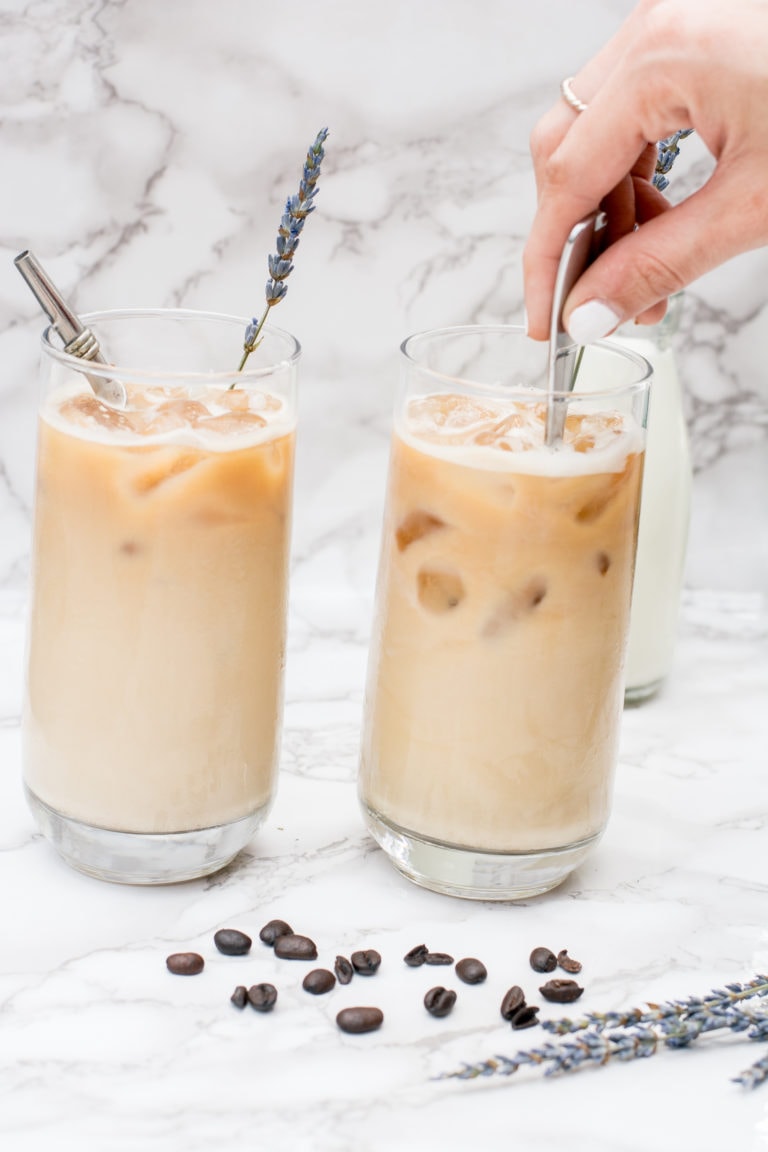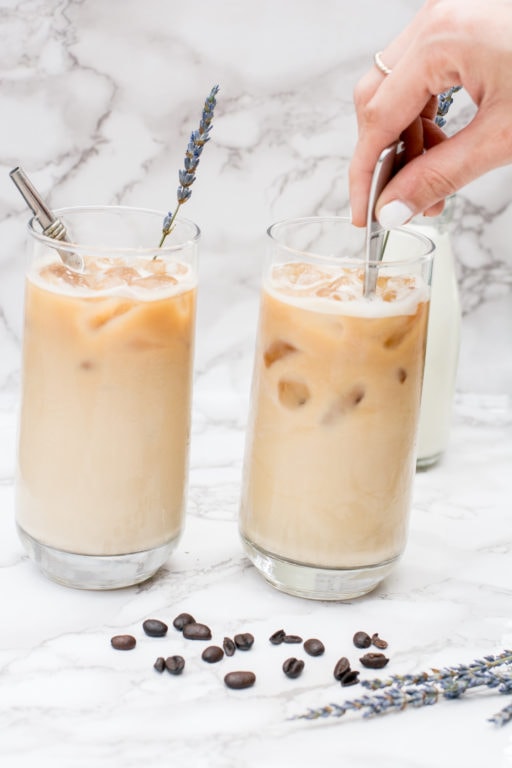 This is literally the easiest latte in the world to make dairy-free. All you have to do is follow the exact directions but switch out the milk for a dairy-free substitute at the very end.
I personally like Coconut Milk for this recipe because it comes out just as creamy, but if you don't mind a lighter iced latte, then almond milk or oat milk work well too.
Where to Get Lavender
It's actually insanely simple to get lavender. Dried lavender works really well (and has the most amazing smell ever when you open the box) so I tend to buy it in bulk and use a few stalks every week or so for a new recipe.
I got my dried lavender on Amazon; it was even available with Prime shipping! The cost was about $25 but this one bouquet will literally last me for 6 months, making a recipe every week or two weeks.
You can also used flavored lavender drops, but I recommend getting dried lavender if possible; the flavor is much more subtle and realistic. It's hard to fake!
I love making the simple syrup for this recipe; the smell of lavender fills up the kitchen and makes everyone feel a little happier! It's so easy and quick that sometimes I'll make the simple syrup ahead of time and use it for my coffee in the morning.
Glassware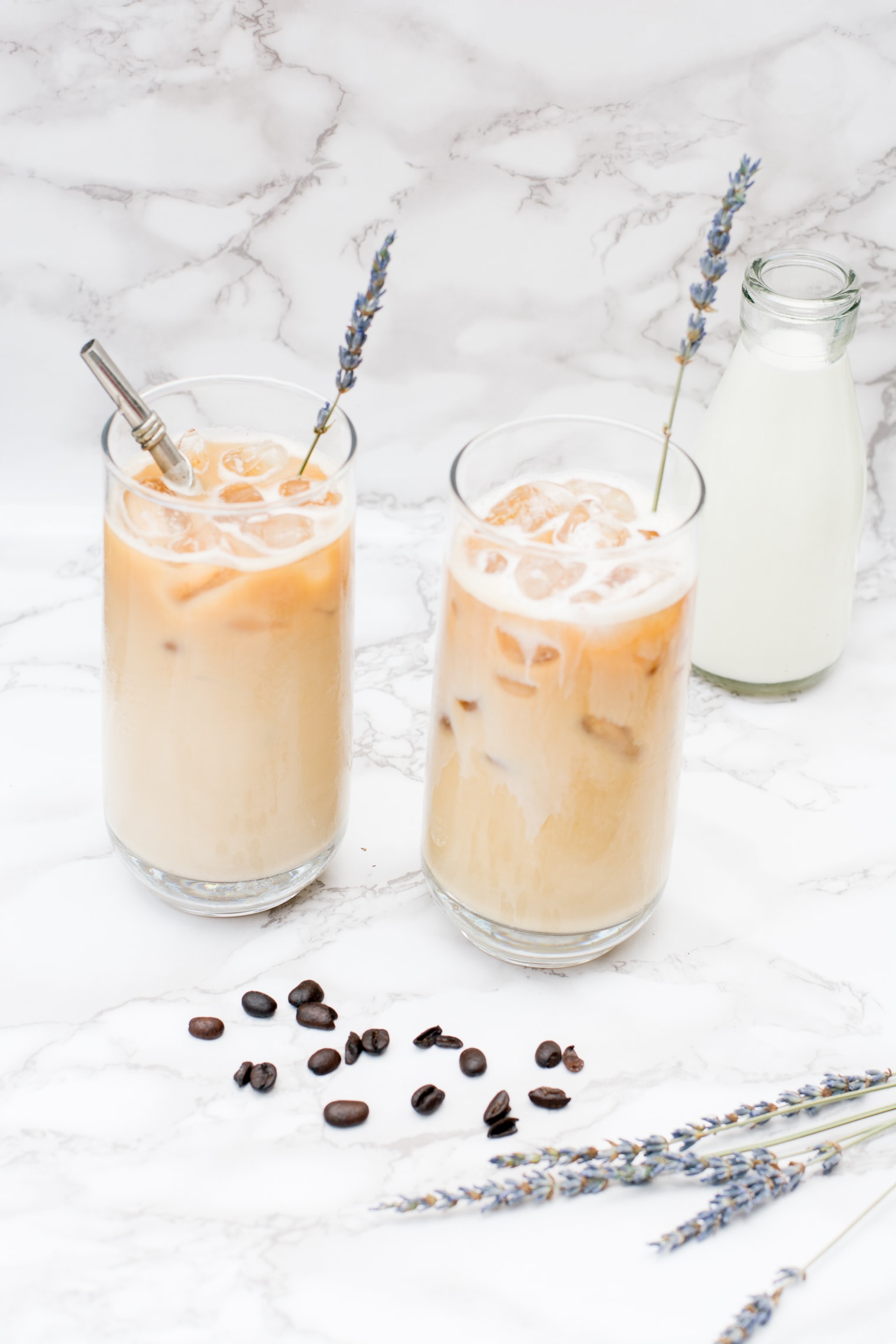 I use these glasses often for iced latte recipes and iced coffee recipes. They're very sturdy and do well with heat transitions (going from hot coffee to cold). They're also really cute when I have the girls over and make lattes!
These are from the Amazon basics set linked here.
The Recipe
Yield: 1
Iced Lavender Latte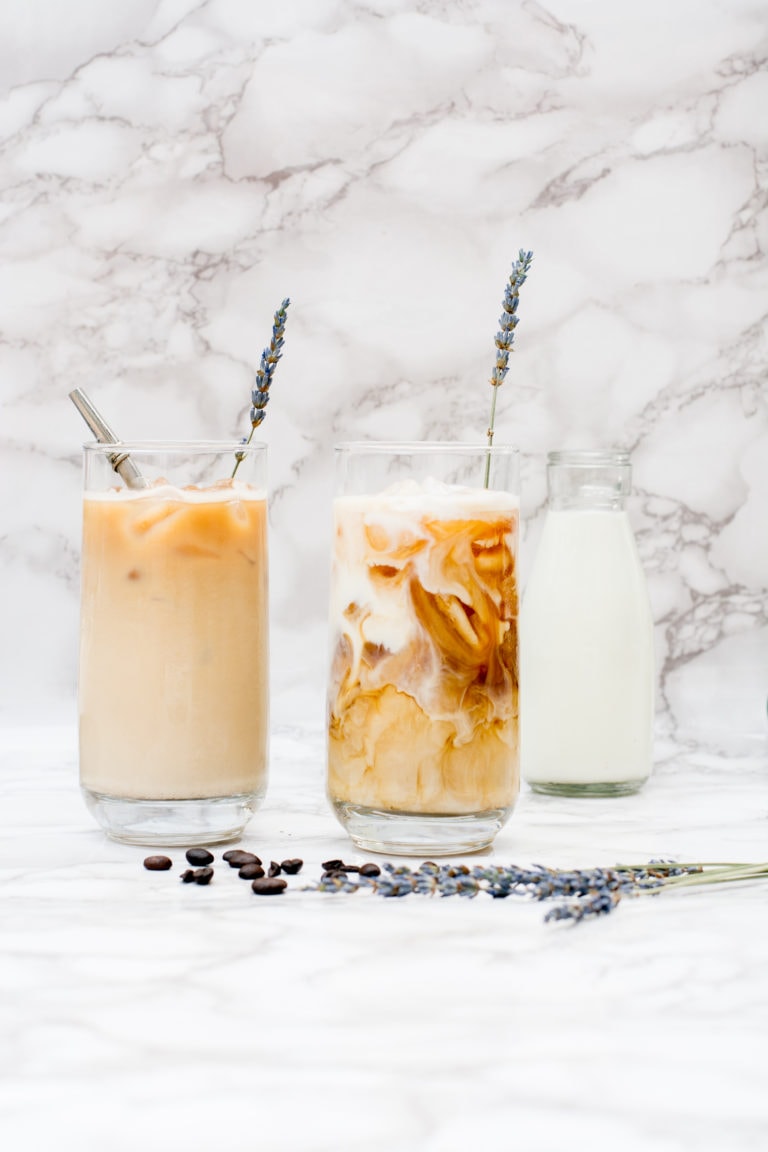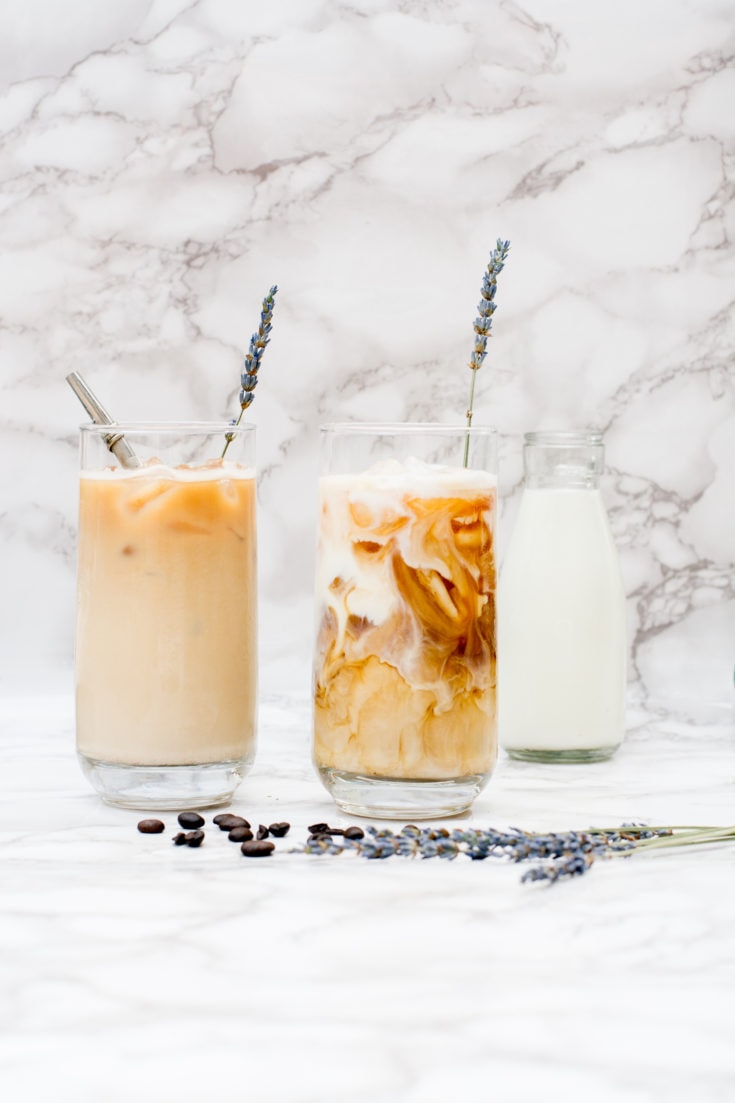 Prep Time 10 minutes

Cook Time 10 minutes

Total Time 20 minutes
Ingredients
4 sprigs of lavender
1 cups of water
1/3 cup of sugar
1 cup espresso
2 cups milk (as needed
Instructions
In a small saucepan, simmer the lavender sprigs, water, and sugar, stirring occasionally. Remove from the heat after the sugar dissolves and just before the water boils.
At the same time, brew 1 cup of espresso and place it in the fridge for 10-15 minutes.
Pour the espresso into a glass over ice. Add milk up to 7/8ths of the glass as needed.
Add in lavender simple syrup, starting with 2 tablespoons and taste test. As more as needed. More syrup makes the latte sweeter.
Notes
If you're using lavender flavor drops, skip step 1 and simply add the flavor drops to your finished recipe.

For this recipe I used whole milk, but you could easily substitute with skim milk, almond milk, coconut milk, oat milk, soy milk, etc.

You can easily make this iced coffee recipe hot as well by simply not adding ice.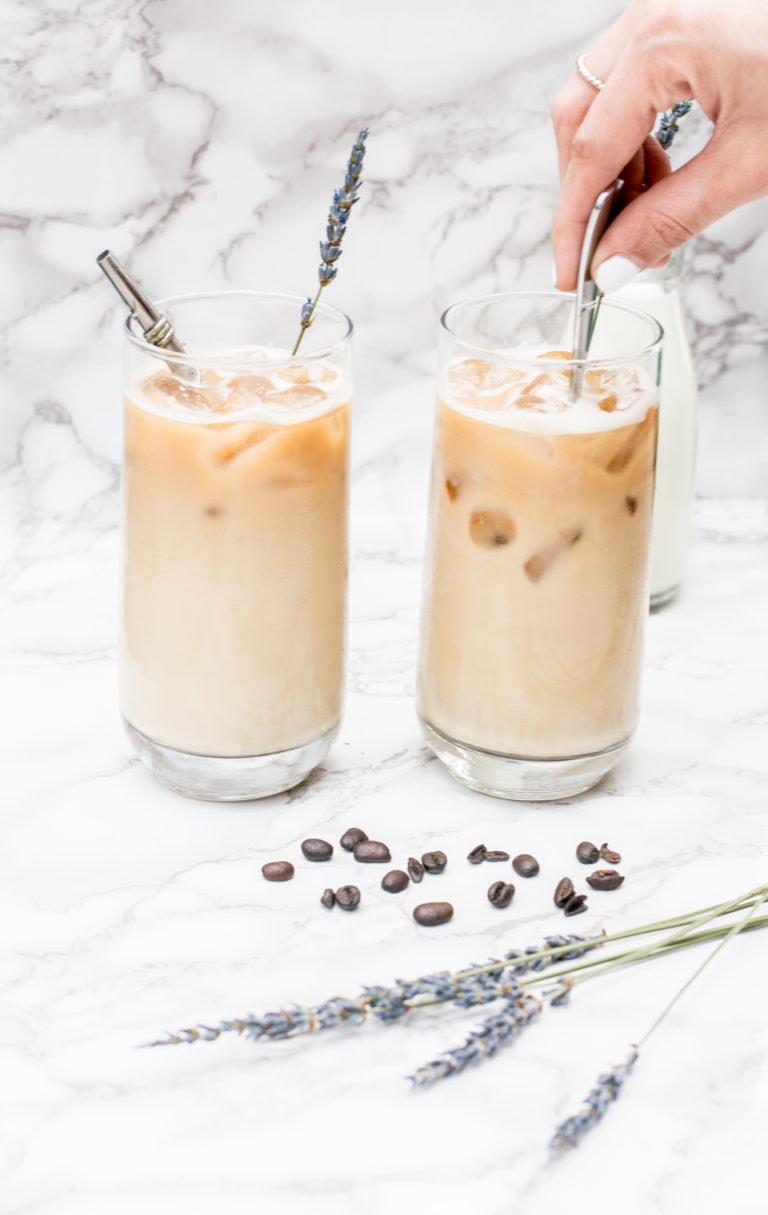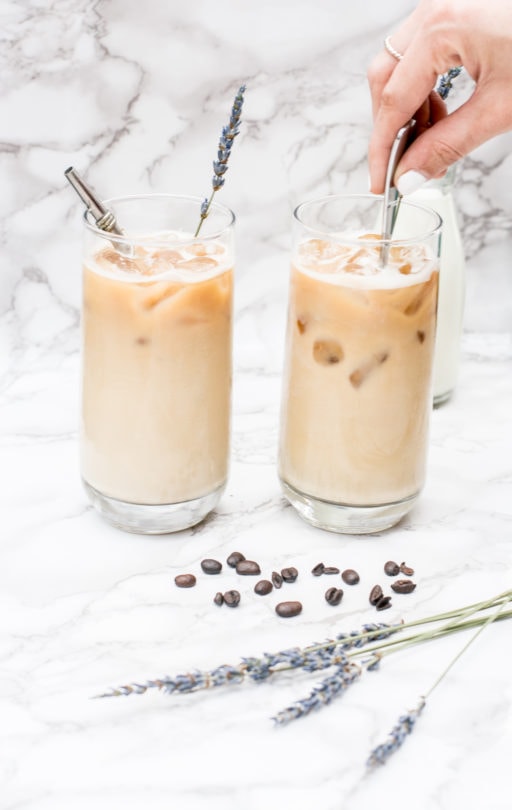 Related Recipes: