This post has been sponsored by Faultless Brands. All thoughts and opinions are my own.
I'm the kind of person who won't wear something that's wrinkled. This past weekend, we were away at my family's summer house and I somehow forgot an iron, a steamer, and wrinkle spray. I couldn't wear most of my clothes and ended up sticking to t-shirts only. Clearly being wrinkle-free is super important to me!
As someone who is this firm about ironing everyday blouses and dresses, you can imagine how stressed I was once I entered the workforce.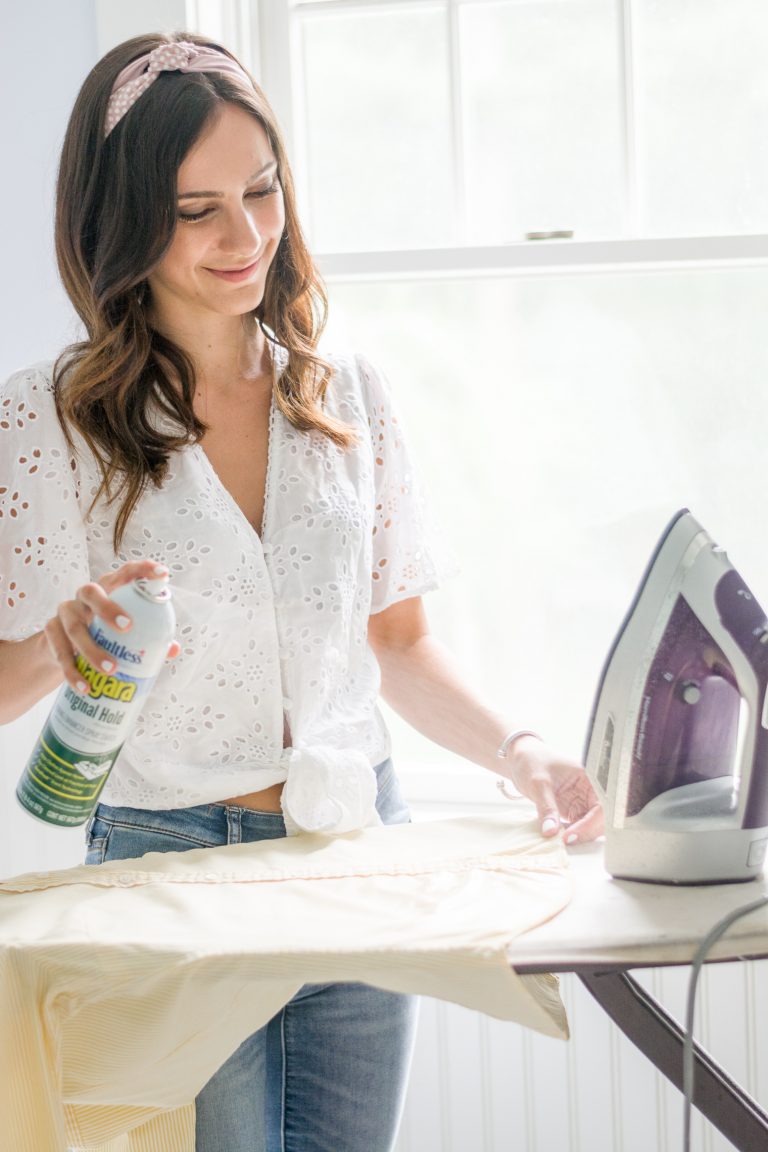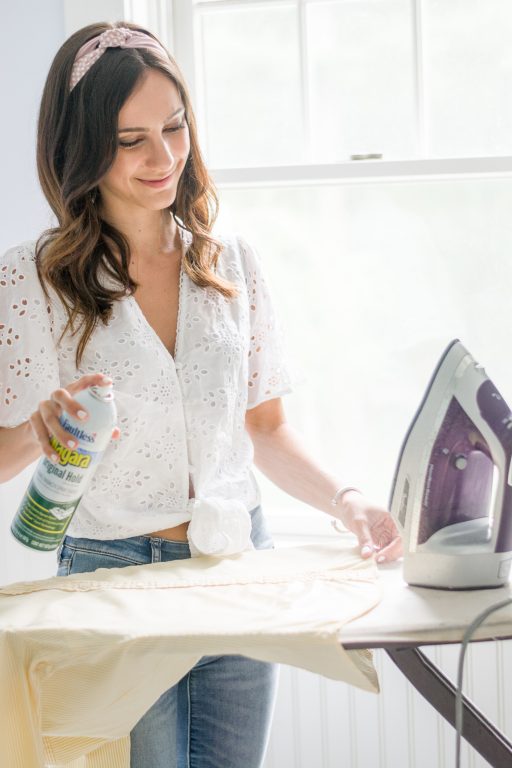 My boyfriend works at a medium-sized company in Boston and dresses up four out of five days. This means that we have lots of collared shirts, suit and khaki pants, and other dress items to wash. Even though I work from home, I do have to dress up for meetings once or twice a week. Work wear prep was something that we (quickly) realized we had to become more diligent about.
I'm a huge DIY person to save expenses. I do my own gel nails at home, re-did my whole kitchen in contact paper, and even dye my own hair. So clearly I wanted to find a way to prep my own work clothes at home as well. The best way was to learn how to use ironing spray.
While we could send our clothes to the dry cleaners, not only is it a lot of (unnecessary) money but we just don't have the time to drop clothes off and pick them up every single week. Enter: Faultless® Niagara Original Ironing Spray. If you're interested in purchasing before reading the rest of this tutorial blog post, click here to learn more!
What Is Ironing Spray?
Generally, ironing spray is a synthetic combination that makes ironing easier and faster. Using ironing spray helps your shirt look professionally laundered and stay stiffer for much longer.
Ironing spray can also protect fabrics from stains and from getting new wrinkles during the day. If you primarily sit in a desk chair, you'll find that ironing spray keeps your shirt from wrinkling. A regularly ironed shirt will definitely have some creases before lunch.
Ironing spray also extends the life of the fabric because it keeps it from fraying over time.

Unlike traditional starch, Faultless Niagara Ironing Spray is safe to use on all washable fabrics—including synthetics. I find that I use it most often for cotton and linen materials, but it works just as well on other fabrics.
Faultless Niagara Ironing Spray is my favorite ironing sidekick to use because it's super amenable on many different fabrics and is easy to wash out, but it keeps clothing stiff and wrinkle-free during the day.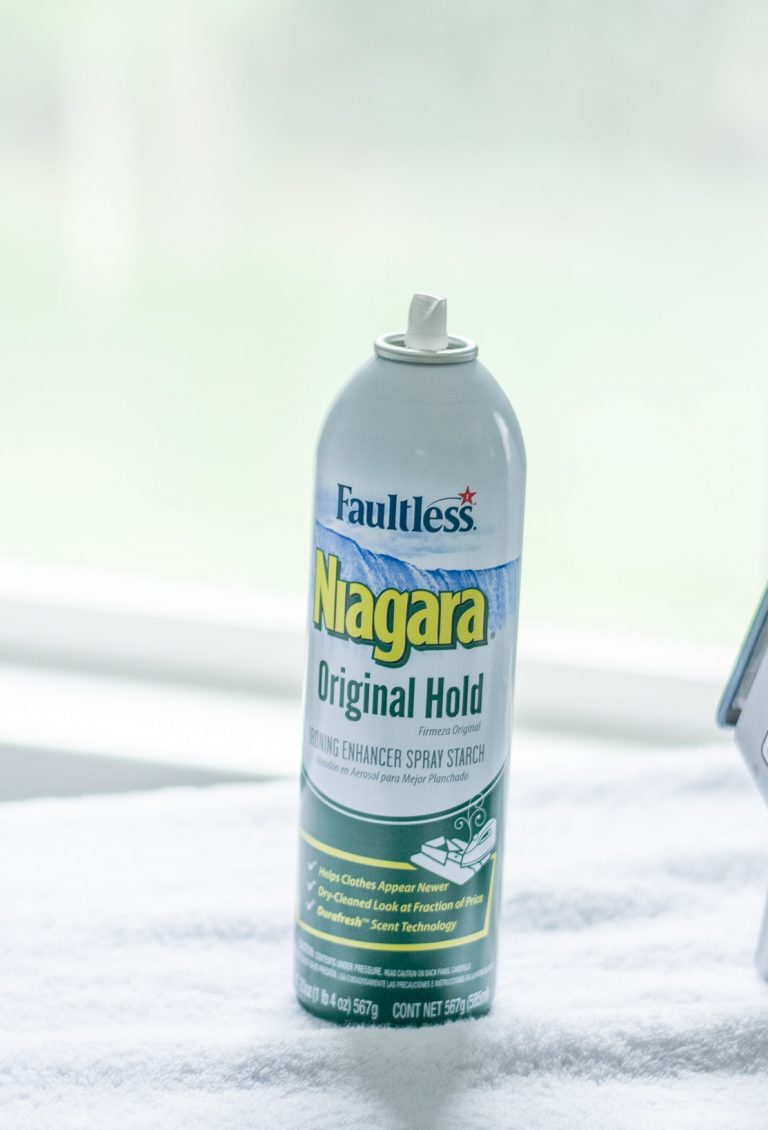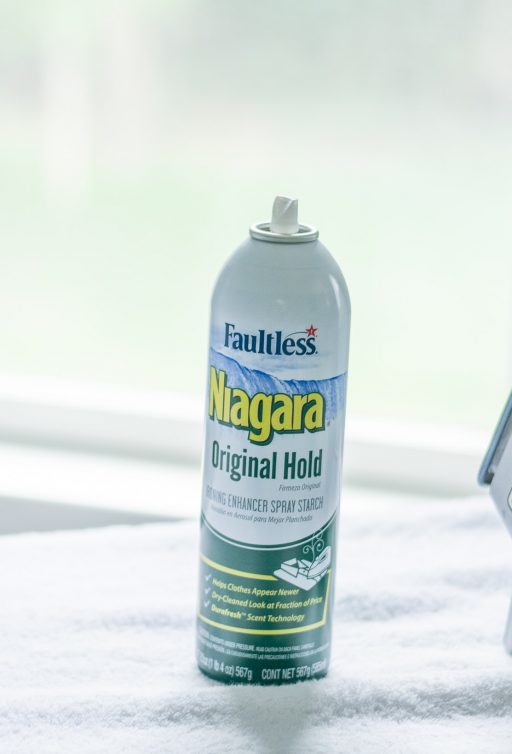 Why Use It?
Clearly ironing spray has a lot of benefits. I use it every week when prepping my boyfriend's clothes, but I also use it on my own clothes (even if they're not necessarily workwear) when I know that an item has the potential to wrinkle during the day.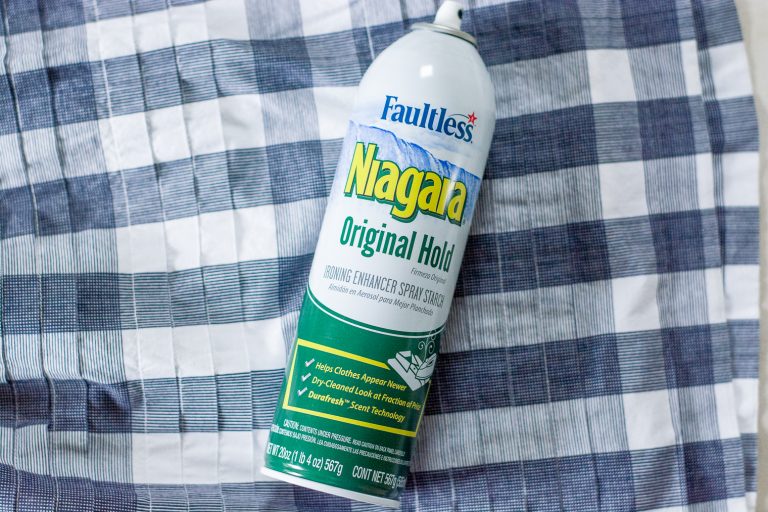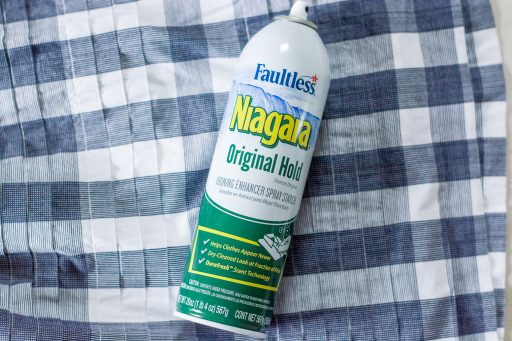 For example, I love using ironing spray on clothes that I'm packing for a road trip because they're more likely to stay nice and stiff even though we'll be in the car for 8+ hours.
For men, I find that ironing spray works great to hold up their clothing during the workday. This is especially true for guys who tend to sweat a lot because ironing spray keeps each item stiff and stain-free.
Faultless Niagara Ironing Spray is actually used by professional dry-cleaners so if you don't mind taking a few extra minutes to prep your clothes, you're literally getting the same quality without the professional price. As someone who just won't schedule in a half hour to drop off and pick up clothes, I find that I actually save a lot of time in my book.
I'm currently a renter, so I often have a limited amount of closet space. Ironing spray keeps clothing really crisp and wrinkle free, even if they're stuffed in tightly. I'll iron my work clothes for the week, hang them up and let them dry, store them in tight spaces, and I won't have any problem with wrinkles when it comes time to wear an item.
How to Use
Ironing Spray
Using ironing spray is really easy. You'll need some simple materials to get started:
An iron
An ironing board
Faultless Ironing Spray
If you've used ironing spray on the item before, then you should wash and dry the item so that you have a blank slate to work with.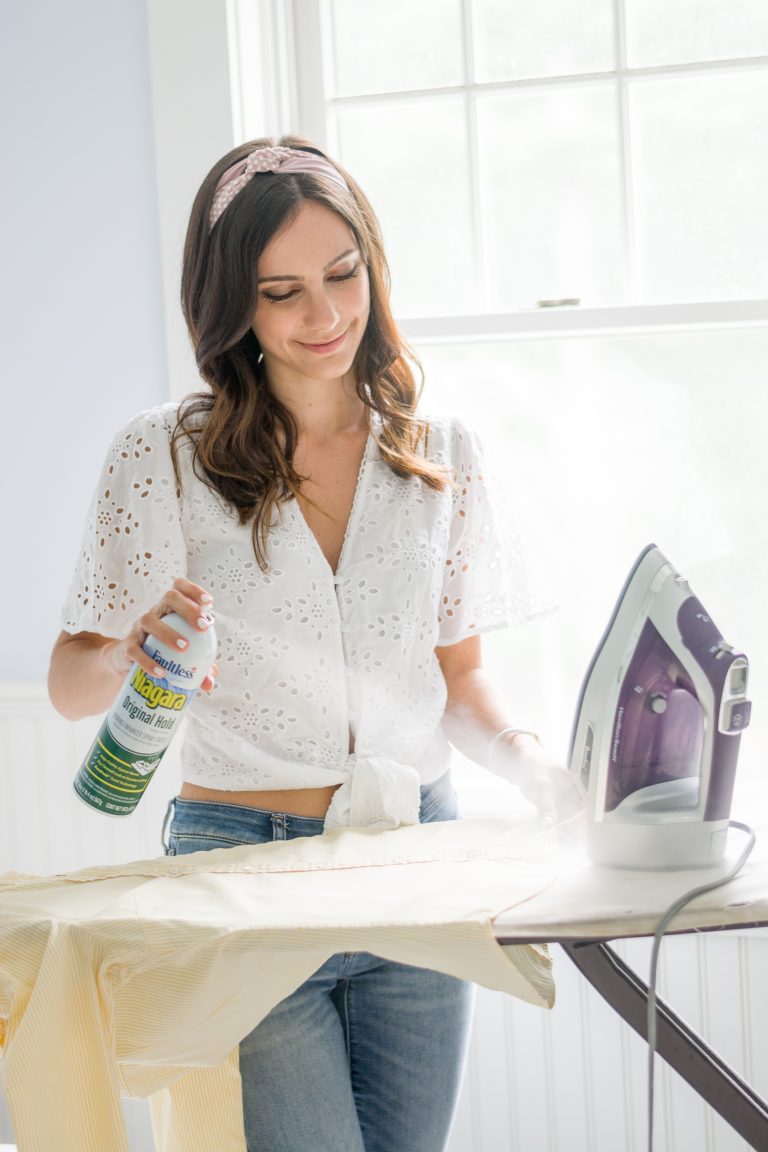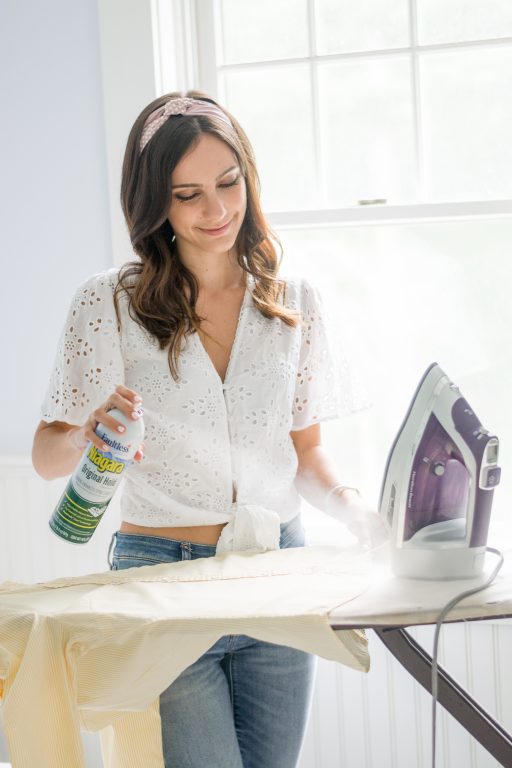 Lay the piece of clothing on an ironing board and spray ironing spray evenly across the item. Set the iron to the appropriate temperature for the material-type and gently iron over the spray.
Most washable materials can be starched with great results. There are a few fabrics you won't want to use ironing spray on. These include:
Silk and silk-blends
Wool
Cashmere
Wool-blends
Unlike other sprays, Faultless Niagara Ironing Spray is safe to use on synthetics. Since about 1/2 of my closet is synthetic fabrics, this is a huge plus for me.
You can even use it on jeans and hang them up in the closet so that they're ready to go when you need them. I love using a tiny bit of ironing spray on my mom jeans, which tend to wrinkle the most.
If you're looking for more specifics on how to iron particular fabrics, check out this post on the Faultless site that gives some great details.
How to Iron a Collared Shirt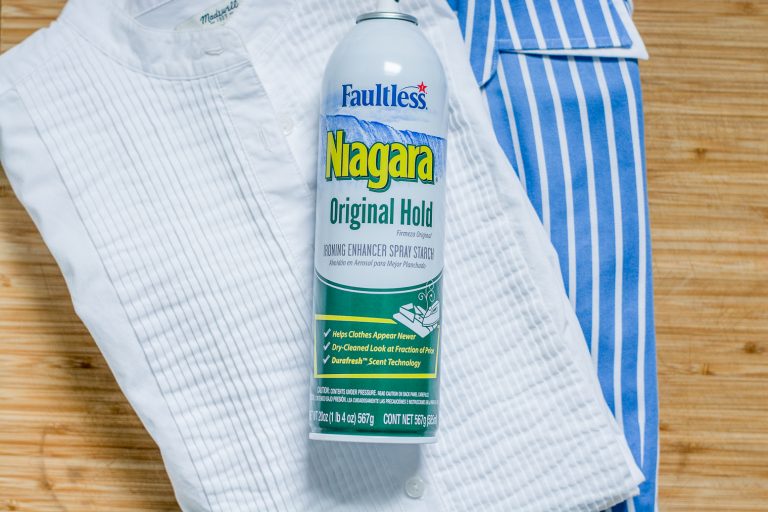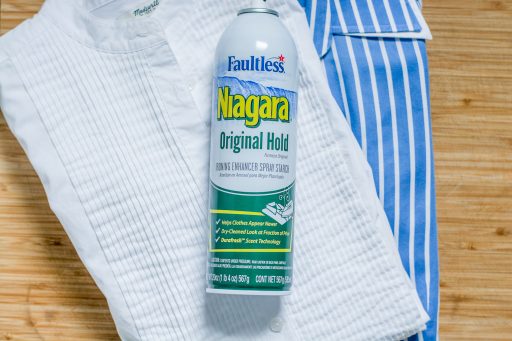 You can use ironing spray to iron a dress shirt the same way you normally would. I like to start with the collar, move to the shoulders, then iron the sleeves and cuffs, and finish up with the body.
I recommend spraying each area with ironing spray once it's actually lined up on the ironing board. You can then iron it as normal and move on to a different section.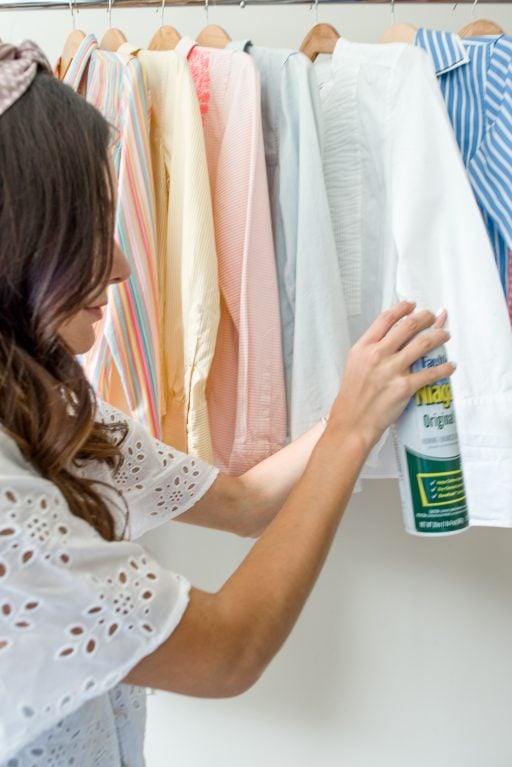 Hang a collared shirt up right away and let it dry before wearing it. Make sure to let the shirt actually dry (I hang mine on a door handle until it's 100% dry) before storing it in a closet where it has the potential to wrinkle.
How to Iron a Skirt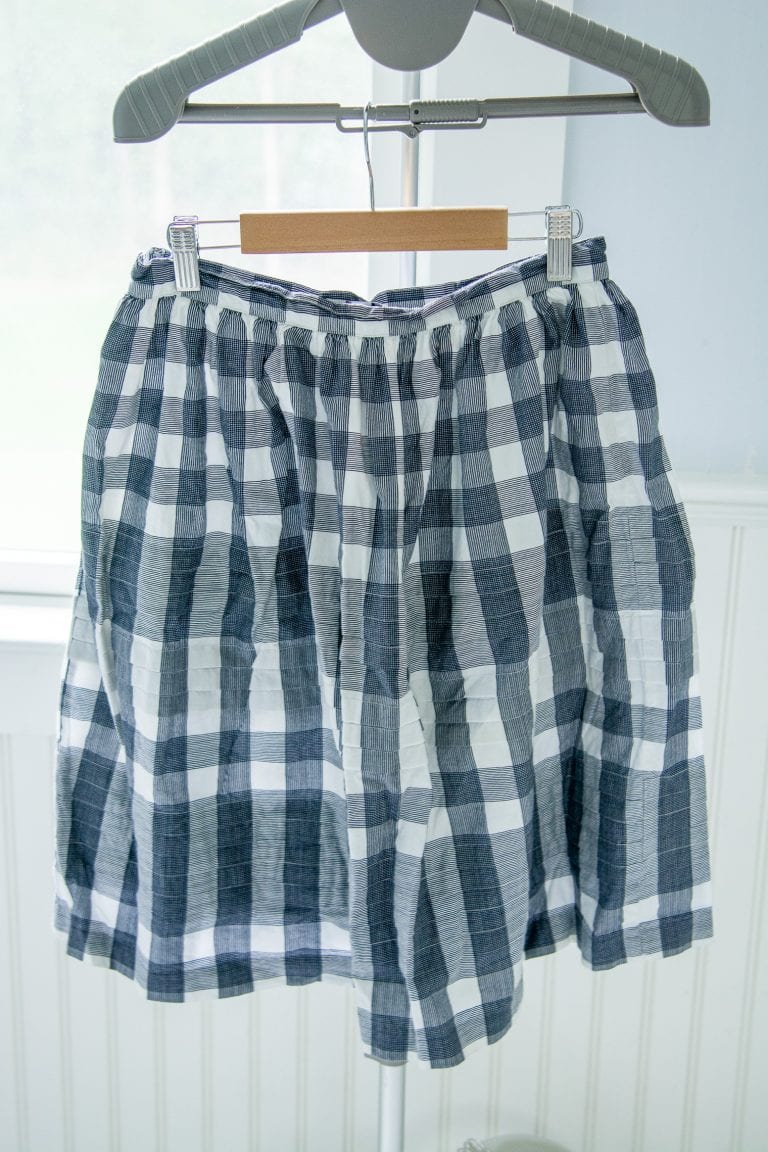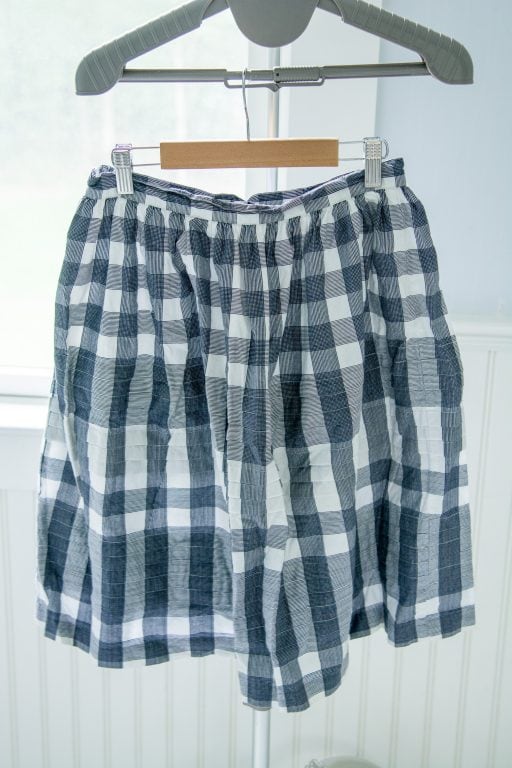 This is one of the trickiest skirts to iron in my closet. It's made of cotton, but it's extremely wrinkle-friendly and has these little tiered layers that makes it time consuming to work with.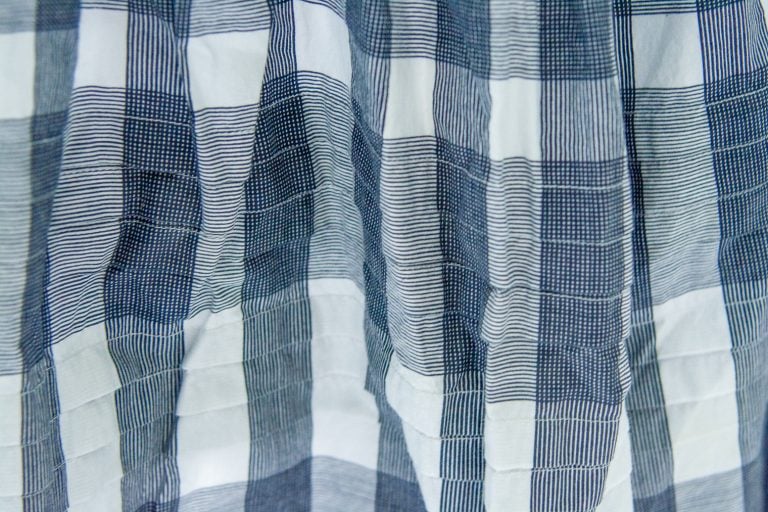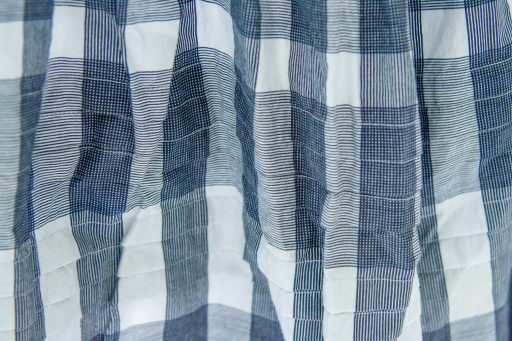 The issue is that I love wearing it in the summer with a white cotton top. It's long enough to be professional but still gives off a carefree summer vibe.
This is one of those items that really needs ironing spray. Without it, the skirt wrinkles as soon as you sit down—even after spending half an hour working on it that morning.
I use ironing spray with the skirt the same way that I do for any other piece. I lay it down on the ironing board, spray the ironing spray evenly across one side, and gently iron it (in the same direction as the tiered layers). I then repeat this with the other side, let it sit for a few minutes, and it's ready for wear.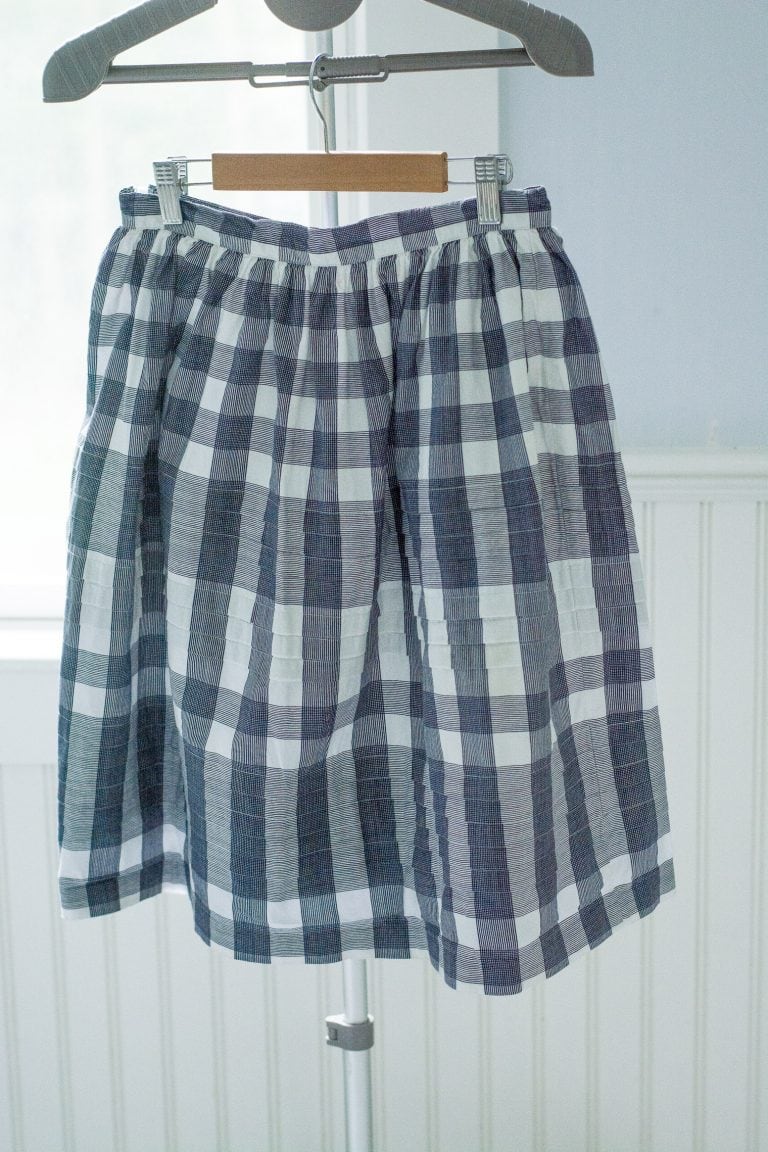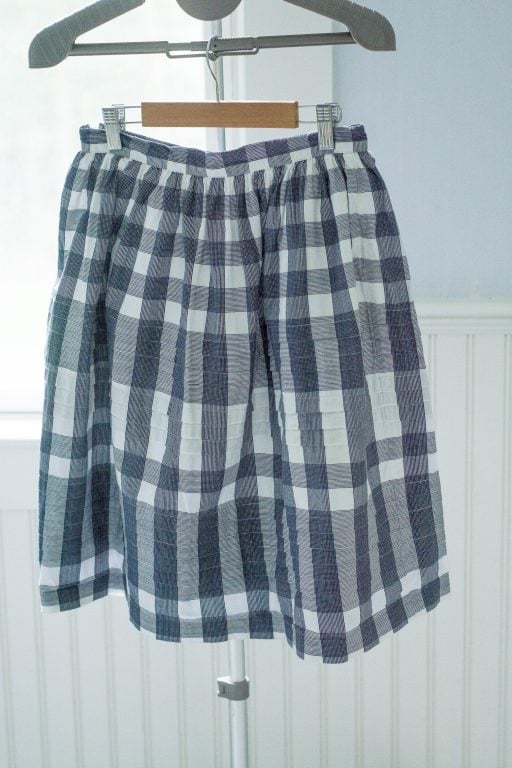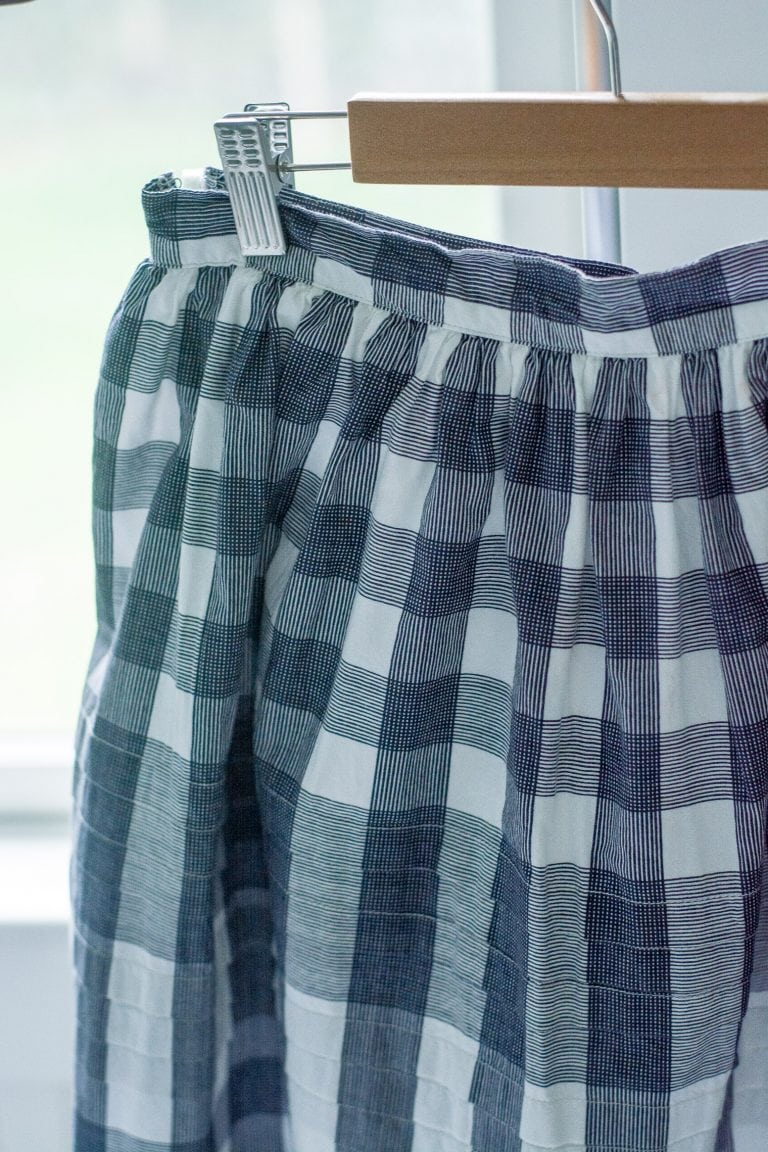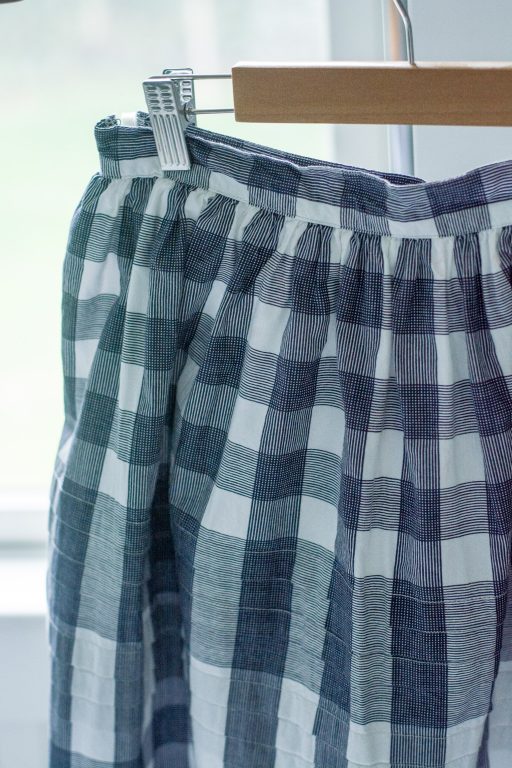 How to Iron Other Items
As you can tell, using ironing spray is super easy. You can almost picture that you're substituting the iron's steam or water with ironing spray and go from there.
You'll want to iron each other item (a dress, pants, etc.) the same way you normally would but add in a quick spray before pressing the iron down. The main difference is that after you're finished ironing an item, let it sit for 5-10 minutes or long enough to dry completely before wearing it.
You can use ironing spray to press clothing well ahead of time and hang it up in the closet until needed. Ironing spray keeps clothing nice and still, so an item will still look great days after you've ironed it.
So there you have it: all of the easy ways to use ironing spray for everyday clothes and work wear prep. I love ironing spray, particularly for work wear, and highly recommend ordering a can to try it out.
It's much much easier to do yourself than sending your clothes out, and I actually enjoy knowing that all of our work clothes for the week are prepped and hanging in the closet.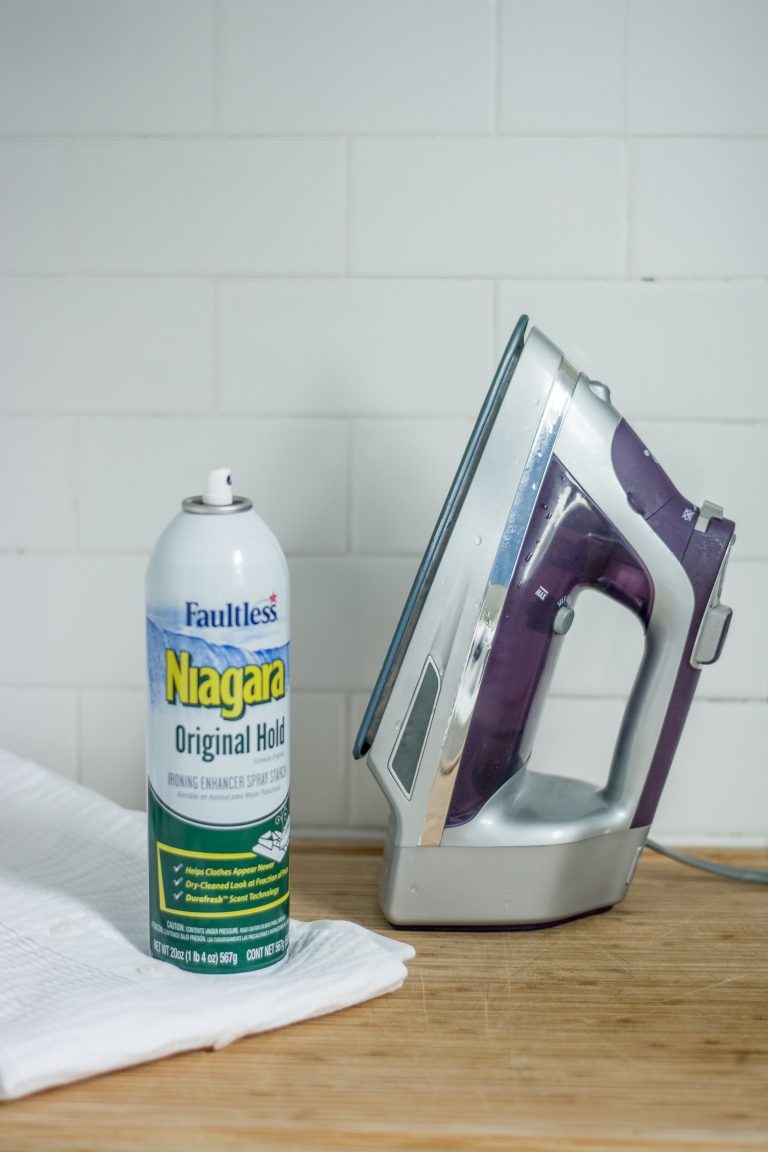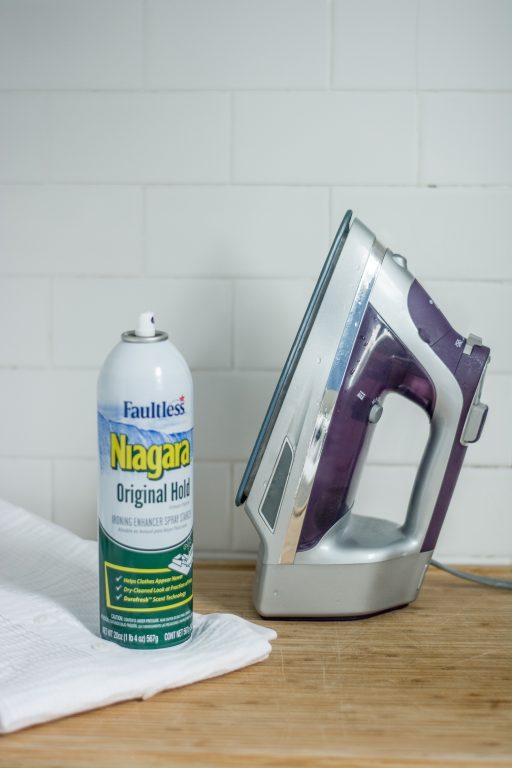 Niagara Ironing Spray is available in most areas but just in case it's not around you, the same company also makes Faultless and Magic Ironing Sprays. You can find them all on faultless.com.