There's something so vintage and romantic about New Year's Eve. Even though we only get a week leading up to it, it's such a fun time to go all out.
This year looks a little different of course, but I'm still finding ways to get myself in the New Year's Eve mood.
I'm focusing a lot more on decorating, crafting cocktails, playing music, etc., and less on my actual plans for the evening.
Today, I'm compiling my favorite New Year's wallpaper options, many of which really show the aesthetic that I love during the last month of the year.
I think that these New Year's wallpaper backgrounds are so fun and really get you in the NYE spirit!
I included a bunch of different wallpaper options. You'll find everything from vintage champagne glasses to sparklers and computer-generated collages.
Most of these wallpaper backgrounds will work perfectly for a smartphone or iPhone, but I included different download directions below.
I hope you love these New Year's wallpapers as much as I do!
How to Save on the Phone:
Press and hold the photo that you want and click save to iPhone. This should work on Androids as well!
You might need to crop some of these wallpaper options a bit depending on the size of your phone screen but they all look great even when adjusted.
Once you've saved the photo to your camera roll, you can go into settings and change your wallpaper.
How to Save on the Computer:
Right click and click save to desktop (or whatever folder you prefer). Once the photo is saved to your computer, you can go into settings and change your wallpaper.
Note: The sizing is slightly different on each phone and computer so you may have to crop these photos slightly to fit your phone.
How To Choose A Wallpaper That Works:
Keep in mind that you can use any of these wallpaper options for your home screen, your lock screen, or both.
I like to set a different photo as each screen so I get to pick out two wallpaper options.
I also find that a muted wallpaper works better for my home screen so that I can see my apps, while any wallpaper works well for the lock screen.
If you do find a bolder wallpaper that you really want to use for you home screen, try adding a muted overlay on the photo using an editing app like Canva or Tezza.
Don't worry if you need to crop these wallpaper options to fit your phone. Every phone has slightly different dimensions, but these options should all look good on most smartphones.
Lastly, I recommend saving a bunch of options so that you can see what you actually like once you're in your settings. Wallpaper downloads always look a little different when they're actually on your iPhone.
New Year's Wallpaper For iPhone:
Feel free to save as many of these wallpaper options as you'd like.
Some of them are fun to use even after New Year's Eve is over.
Enjoy these NYE wallpaper options!
Pink Tulle: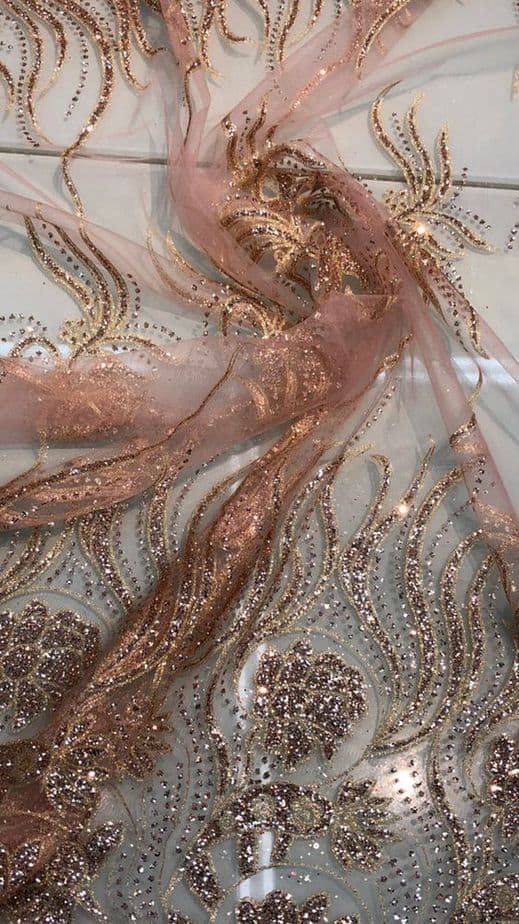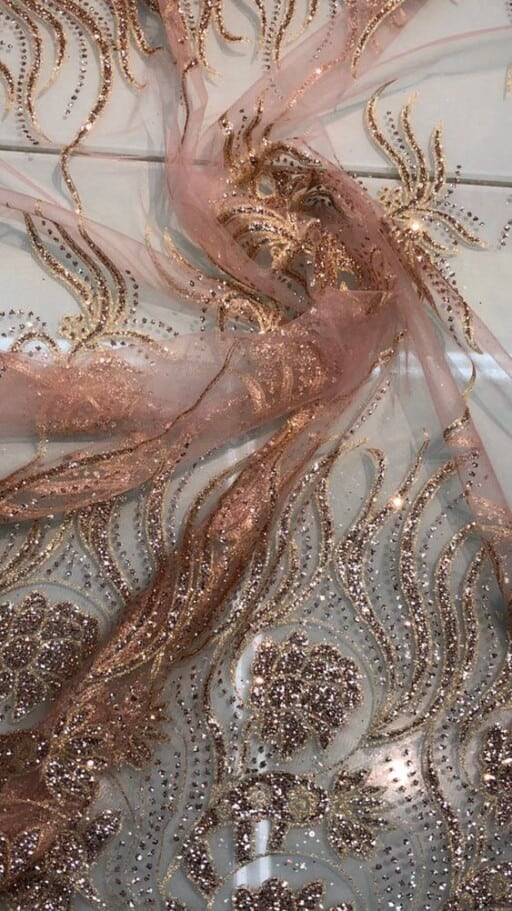 This reminds me so much of my early ballet years, but it also looks a lot like a masquerade. I'm so in love with the pink and gold color combination of this wallpaper, the daintiness, the feminine vibe, and how it sparkles so beautifully.
Related: 25+ Free Classy & Boujee Wallpaper Options For iPhone
NYE Photo Collage: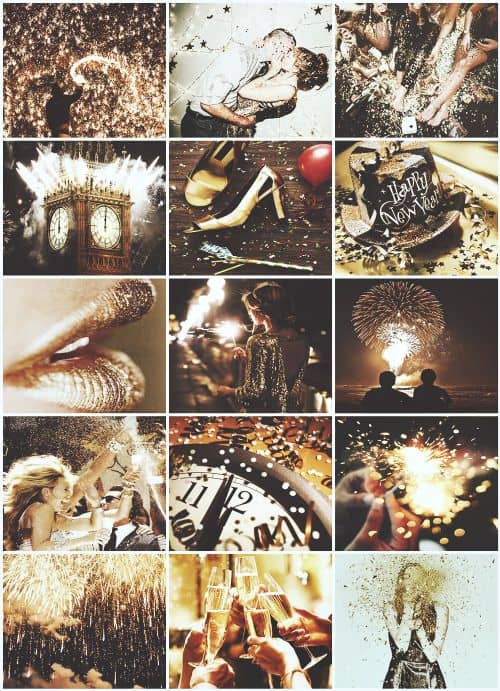 This is a really fun and festive photo collage, especially for your lock screen! To make things personal, you can even opt to recreate one of your own by using your very own photos. You can use photos throughout the year so you can reminisce all the good times you had or you can create a collage from a specific event like your New Year's Eve party.
Related: 40 Stunning Black and White iPhone Wallpaper Backgrounds For Free
Streamers: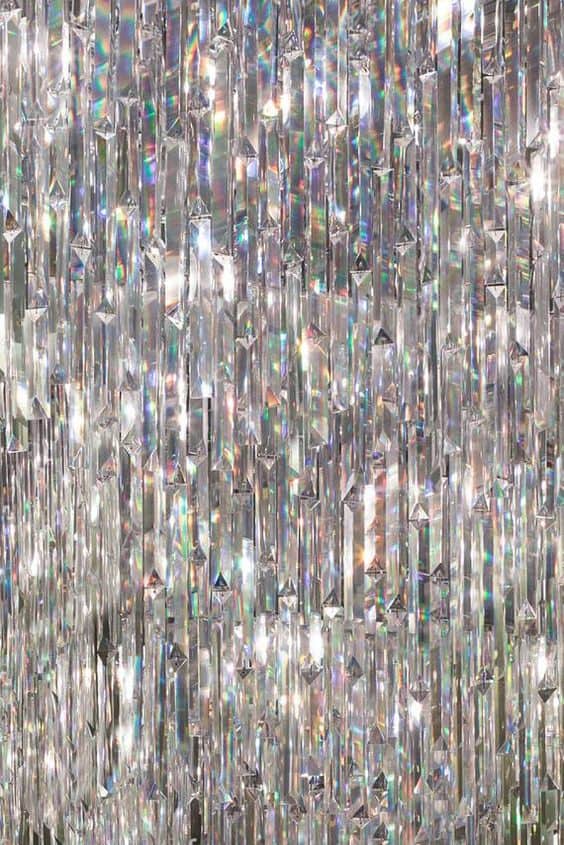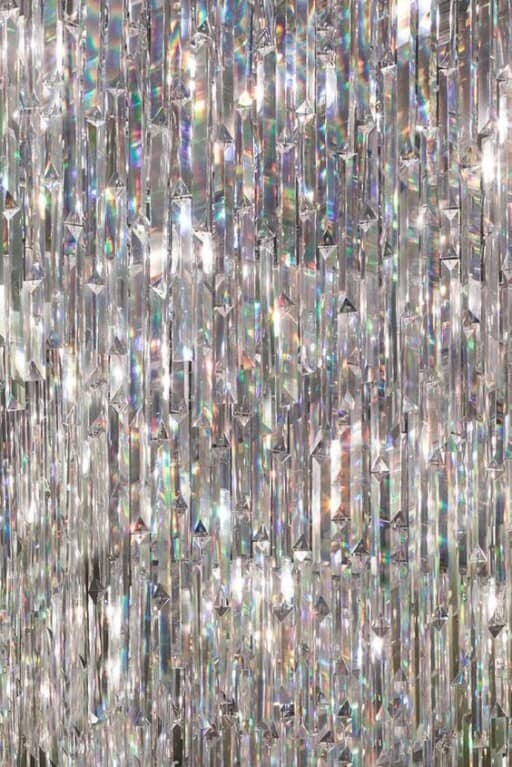 I love this NYE wallpaper for my home screen. It's fun and festive but you can easily see the names of your apps over the wallpaper. Not to mention, the iridescent shine of this silvery background just instantly makes things look so glam and gorgeous!
Related: 42+ Inspirational Wallpaper Quotes For iPhone
Fancy Toast: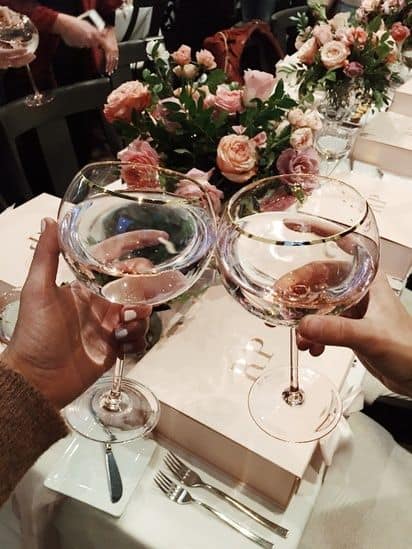 If you like a classier New Year's Eve night out then this wallpaper is definitely for you.
It's surprisingly muted and works well on any screen! It also has a very romantic aesthetic! Just look at those two hands clinking glasses together, the stunning dinner setup with those lush roses. This one's definitely for the hopeless romantics at heart!
New Year's Kiss: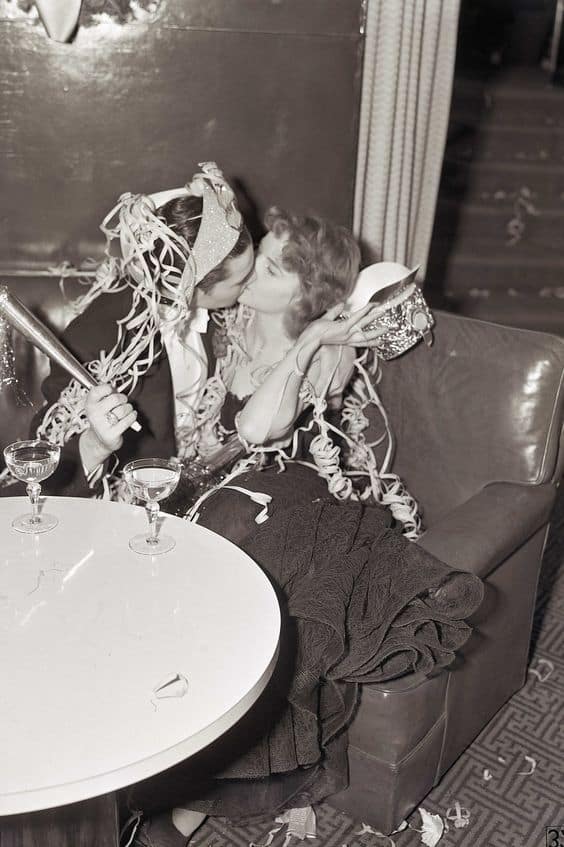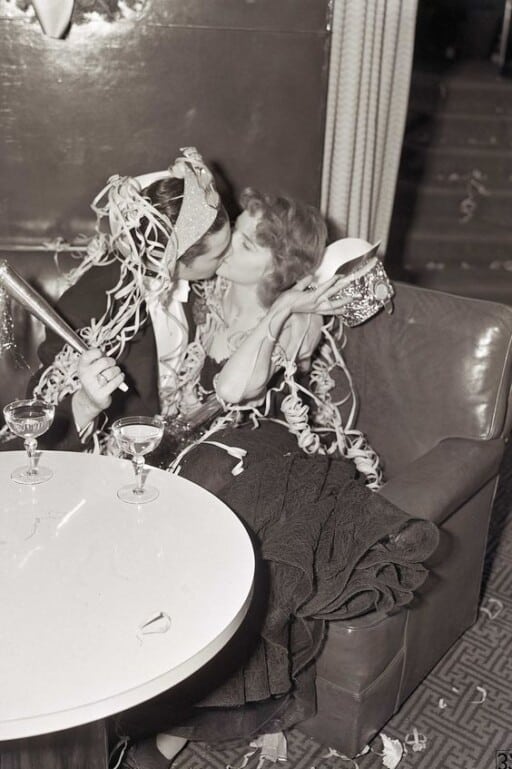 I love all things vintage, especially during the New Year, so I'm obsessed with this wallpaper! The black-and-white aesthetic makes things more nostalgic and also quite romantic if you ask me.
Merry Go Round: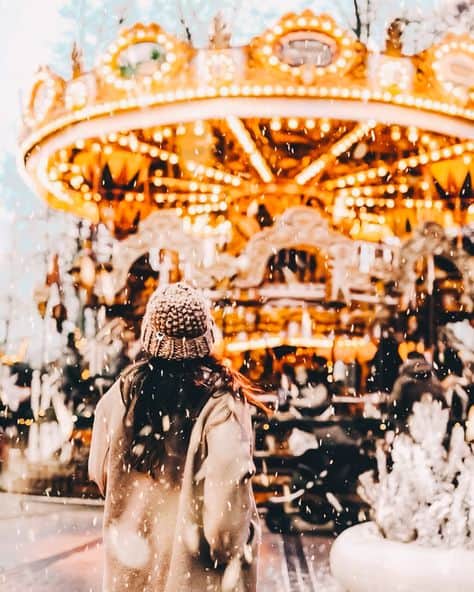 This is a happy and wintery wallpaper that makes you feel like a kid again. It's also great for those of you who want to start traveling again. Not only is this wallpaper gorgeous, but it makes you look forward to the sights and new places you could be going to in the next months!
Gold Stars: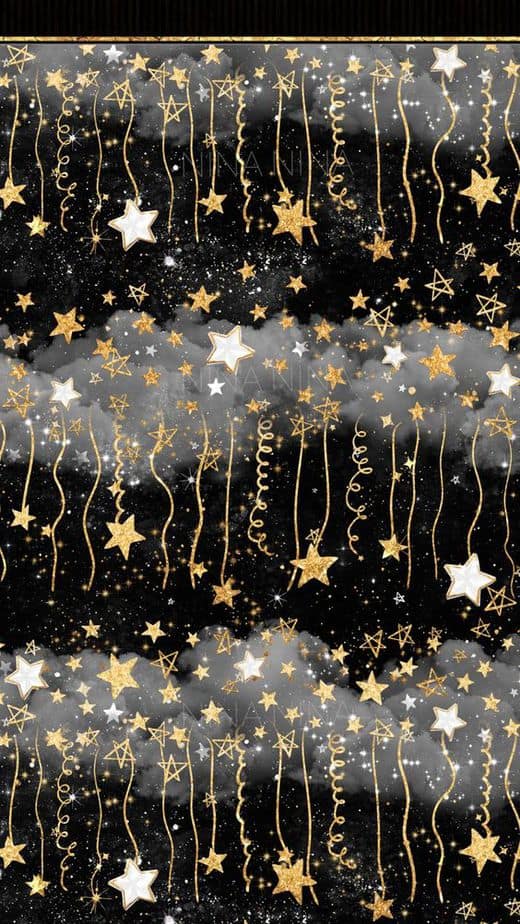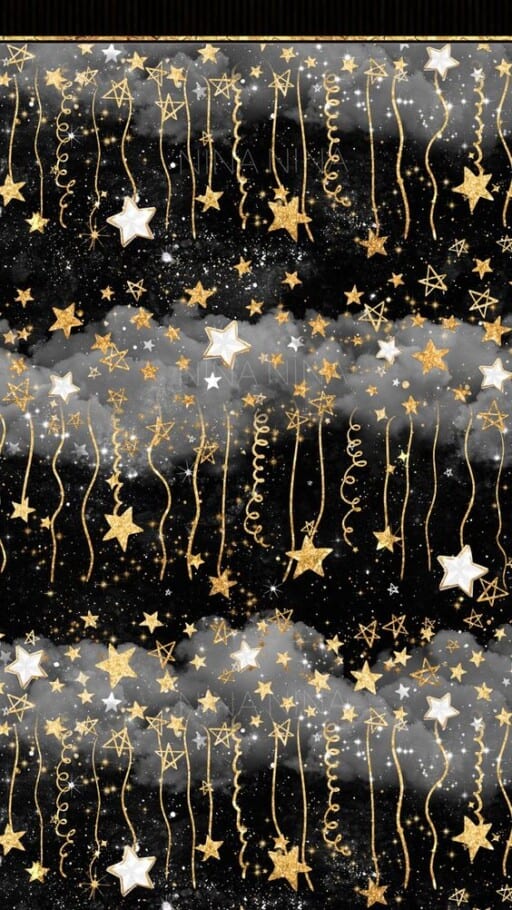 This is a really easy wallpaper to use because you can crop it as needed to fit on your phone. It's also really festive! It has a simple black and gold starry design with little hints of silver stars. If you don't like wallpapers with people in them, then this festive pattern is definitely for you.
Related: 25+ Free Classy & Boujee Wallpaper Options For iPhone
Vintage NYE Party: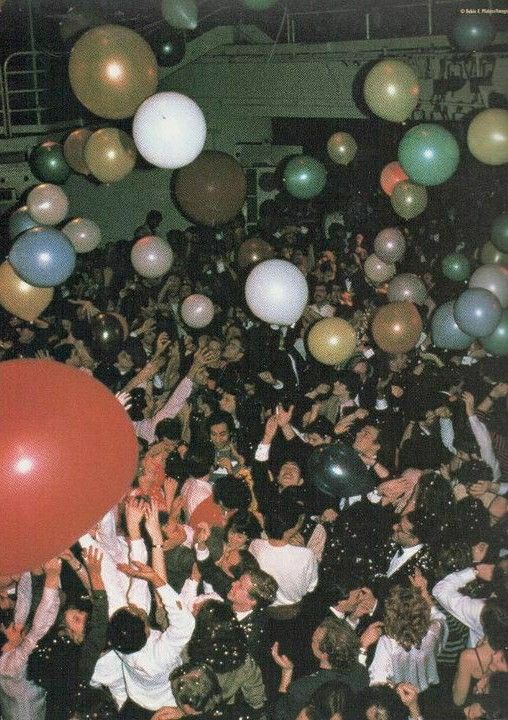 Just as I've said before, I love vintage-style photos so this one speaks to my heart and is probably one of my favorites on this list. I love how festive it looks and it makes me look forward to my own New Year's Eve celebrations. It's also a little nostalgic because, before the pandemic and everything, people partied without a care in the world.
Gold Sparkles: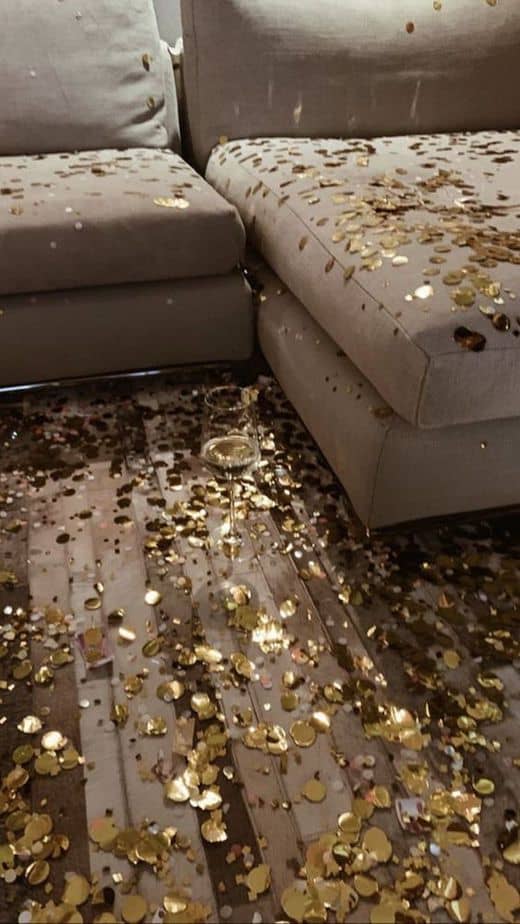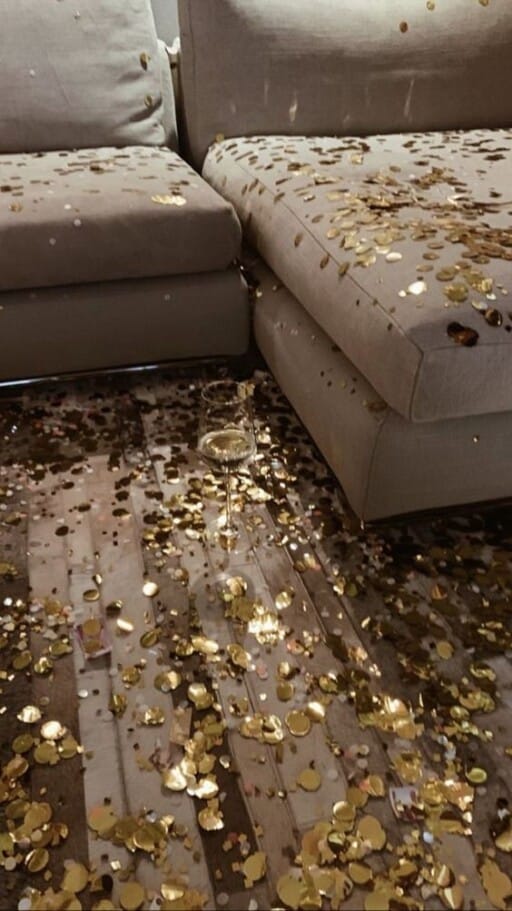 If there's anything this photo reminds me of, it's that the party from last night must have been very fun and successful! I love how the gold confetti drapes everywhere, giving the whole picture such a magical feel, and you just know that everyone was happy from the celebrations of the night before.
A Cozy New Year: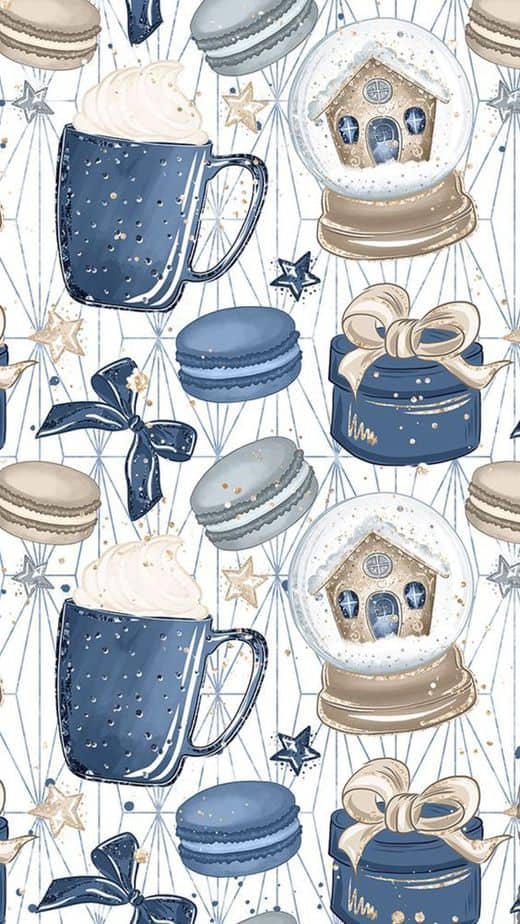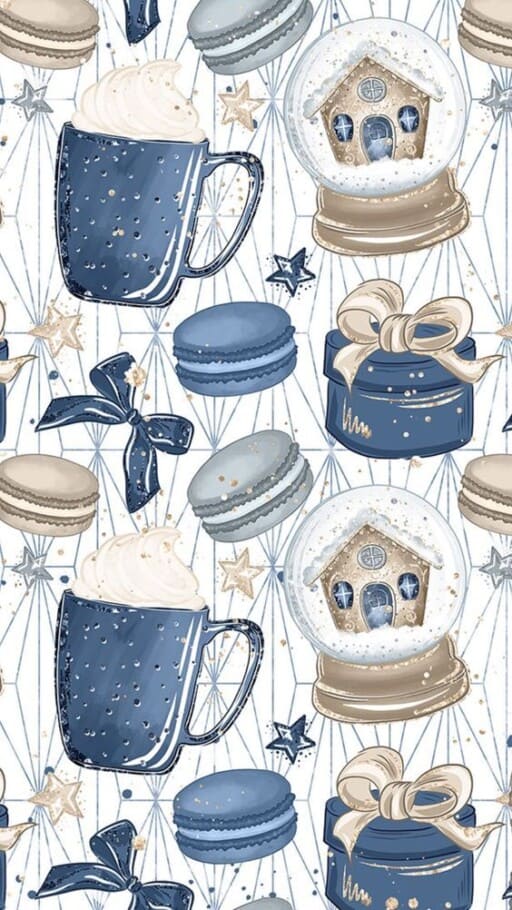 If you're looking for something cozy with your New Year's wallpaper this year, then you might love this background for your phone! It has everything that will surely make things a lot cozier as we go through this frigid winter season.
From delicious macarons, hot cups of cocoa, and snowglobes, to even gift boxes, just seeing this wallpaper makes me want to lay by the fireplace with my fuzziest blanket.
Fireworks: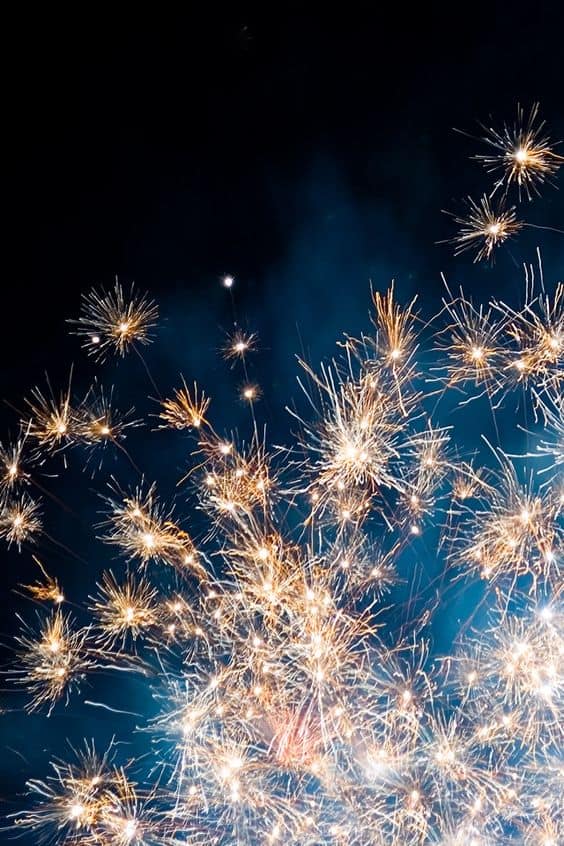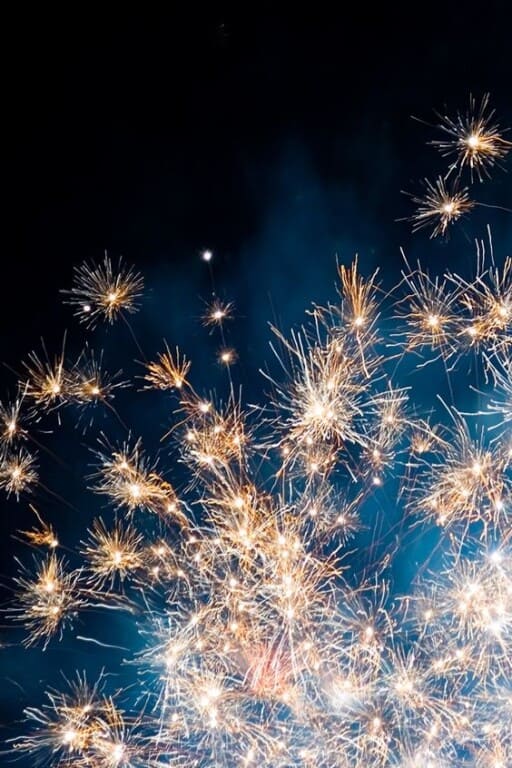 A fireworks-themed wallpaper is a very quintessential element during the New Year. I don't think a New Year's celebration ever passes by without these gorgeous fireworks lighting up the sky. So you should definitely brighten up your phone as well and make things more festive by using this as your wallpaper during this occasion!
Champagne Toast: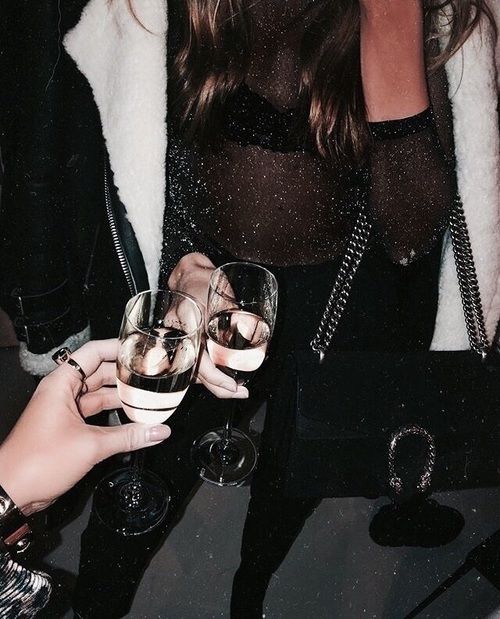 Here's another wallpaper that's going to make you look forward to your New Year's Eve celebrations. I just love how festive and wonderful this time of the year is. It reminds me of new beginnings and the journey ahead I'll be taking with my friends and loved ones.
Sparklers: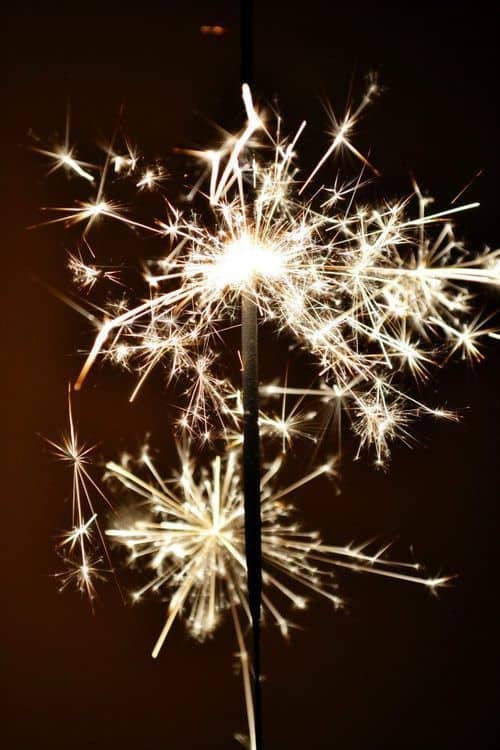 Sparklers are mini-fireworks that you can hold in your hands. They're just utterly magical and they're fun to use during the New Year celebrations! So why not use them for your wallpaper as well, right? This will make your background a lot more festive!
Related: 50+ Free Dark Academia Wallpaper For iPhone Options
XO Balloons: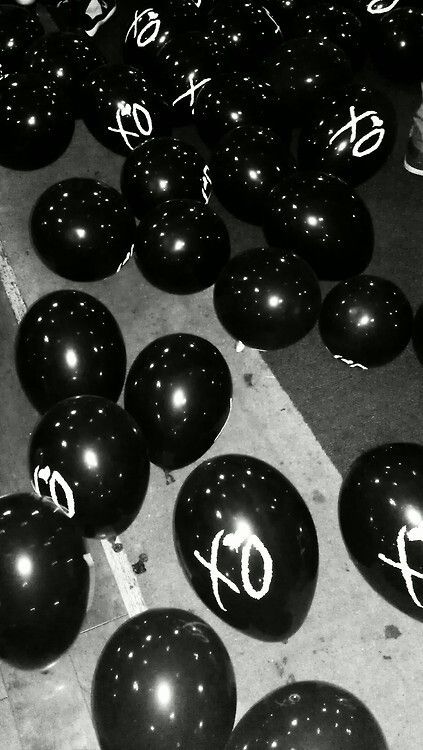 You can never miss out on having balloons at a party, especially when it's a New Year's celebration. So why not incorporate it into your phone's wallpaper as well? These balloons look so chic and I love the edgy aesthetic thanks to the black and neutral color scheme.
Pink and Black: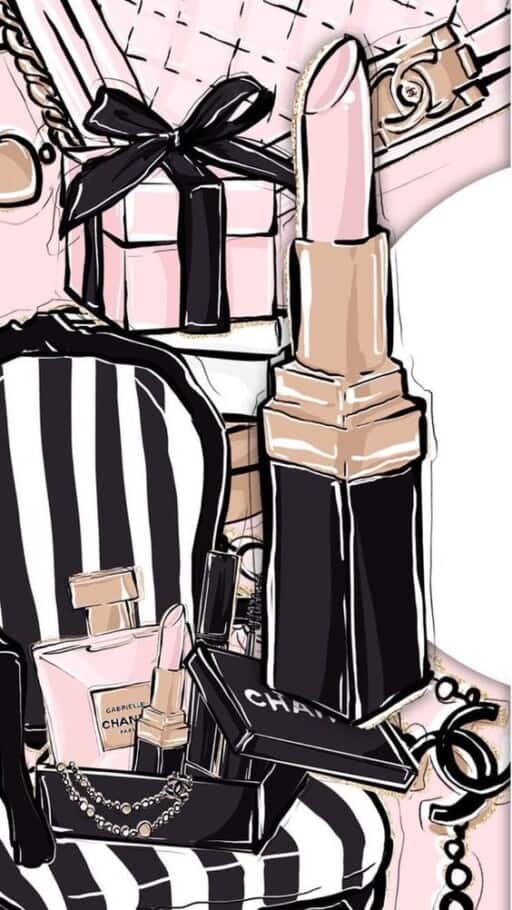 For something more feminine, and girly, but still want to retain a sense of classiness, this wallpaper is for you. I love how the black and pink color palette gives this a soft, classy vibe that reminds me somewhat of the iconic girls in Gossip Girl. If you love Chanel, you might like this too!
Sparkle Outfit: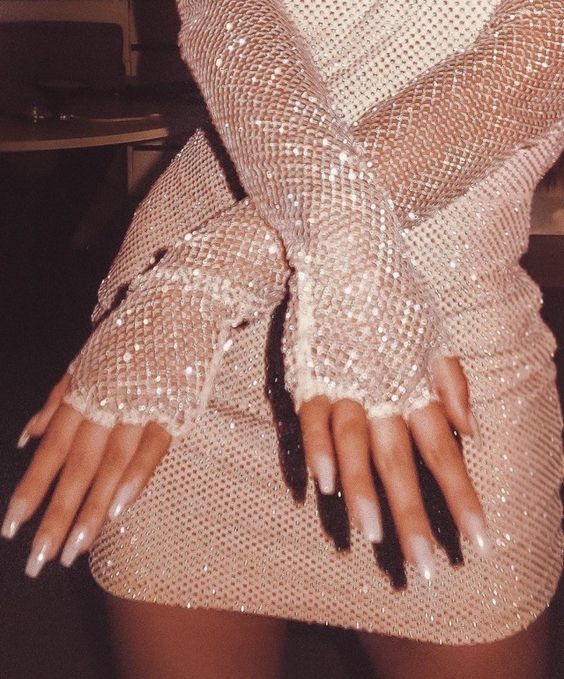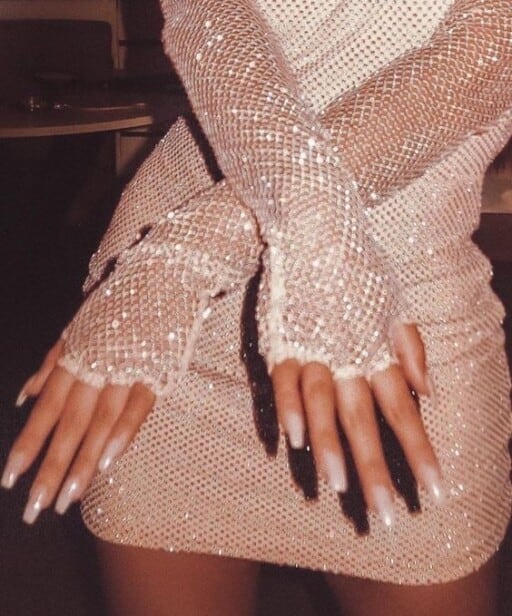 For some holiday outfit inspiration this New Year's Eve, why not opt for this glamorous wallpaper? I love the sparkly minidress in this photo, and it only makes me even more excited to plan what to wear for my own New Year's Eve party! Perhaps, I'll do something sparkly and sexy as well.
Pink New Year's Eve: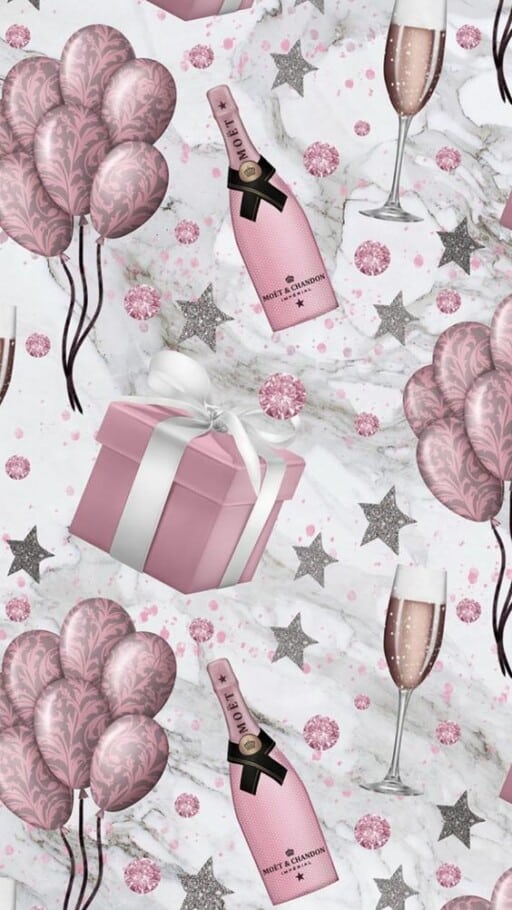 If you're going for a pink-themed New Year's Eve celebration, then you should not definitely leave your phone's wallpaper out! Make your wallpaper go along with your pink color scheme so it matches! I personally love how feminine and festive this feels altogether!
Hello New Year: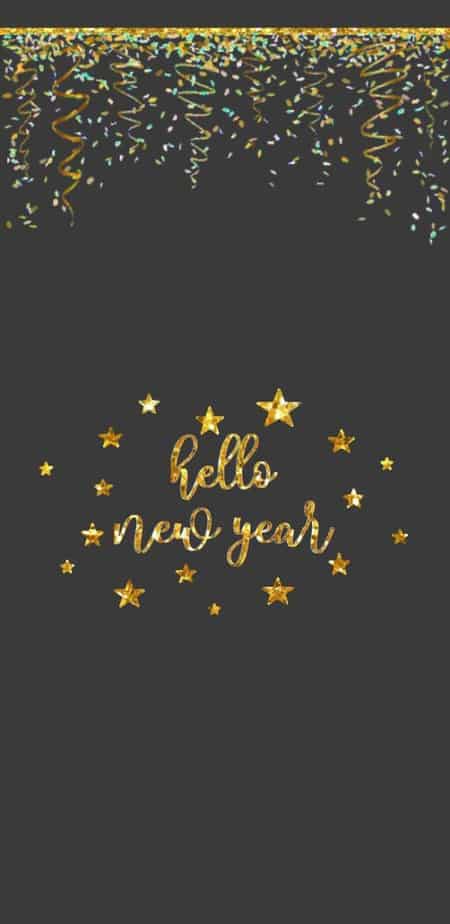 Greet the coming New Year with this fun and festive wallpaper! I love that the upper part has little streamers and how the stars and sparkles surround the cheerful greeting. The solid base color will also make it easy for you to see your apps on your phone because the design isn't too cluttered or busy.
NYE Drawing Collage: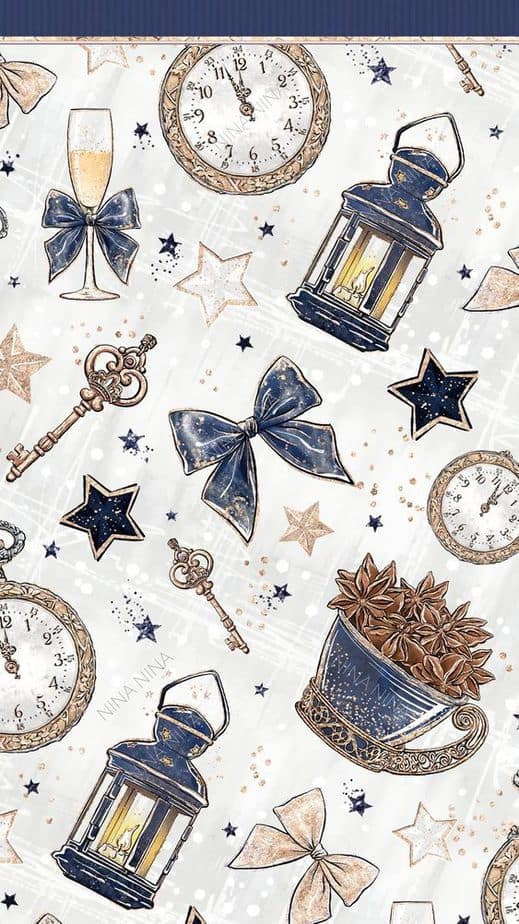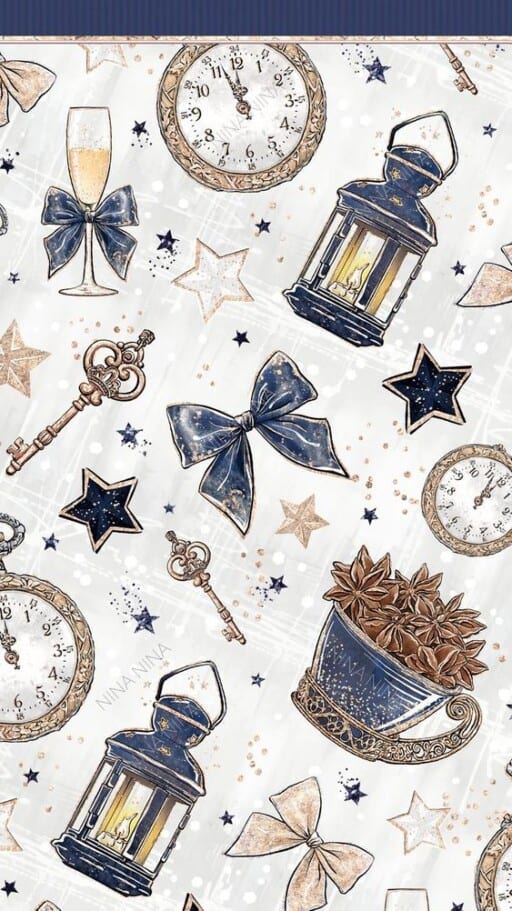 If you're looking for an NYE collage that looks classy and royal, this is the wallpaper for you. I love the vintage feel of this photo and how the blue, gold and beige color scheme makes it look even more majestic. It's just utterly stunning and so elegant!
NYE Photo Flat Lay: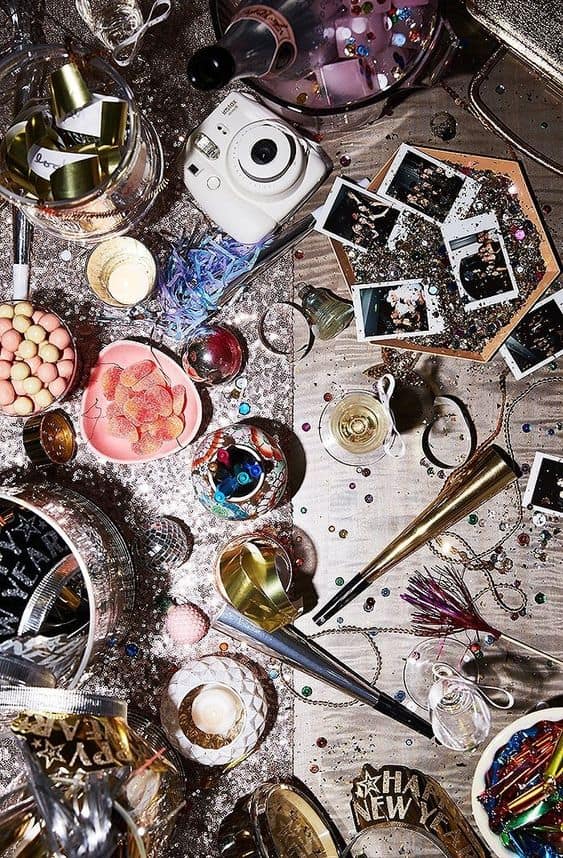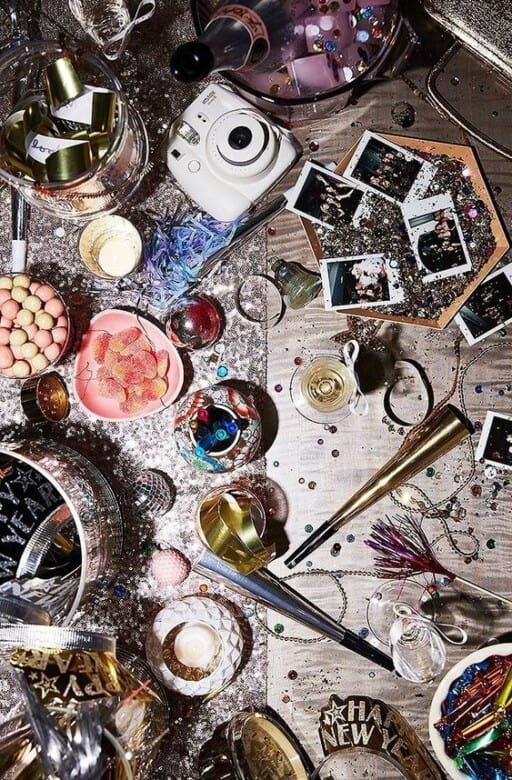 Here's another favorite wallpaper of mine for New Year's Eve. It makes me so pumped and excited for what the New Year brings! This flat lay gives me such joy for some reason. It's so festive and it reminds me of how fun planning a party can be and how it gets better once the celebration starts!
Fire Hearts: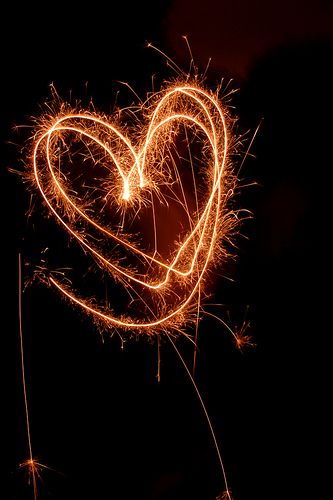 These fire hearts look incredibly cool! They also have a certain romantic vibe to them that will perfectly fit on your phone if you're planning to spend a quiet and intimate New Year's Eve celebration with your significant other. This can also stay as your wallpaper even after the New Year is over thanks to its rather versatile theme.
Sparkler: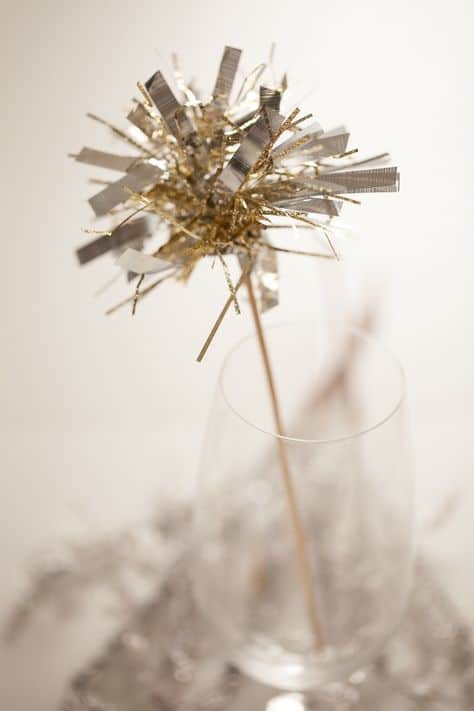 Who doesn't love using sparklers for New Year's Eve? They make things more festive and fun at every celebration so why not put them as your wallpaper as well? This will make you excited and look forward to using these things once the countdown starts.
Happy New Year: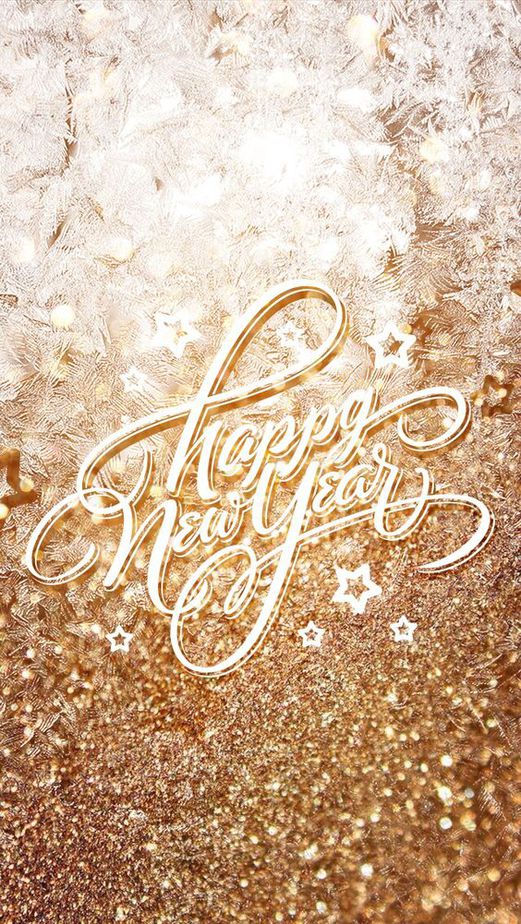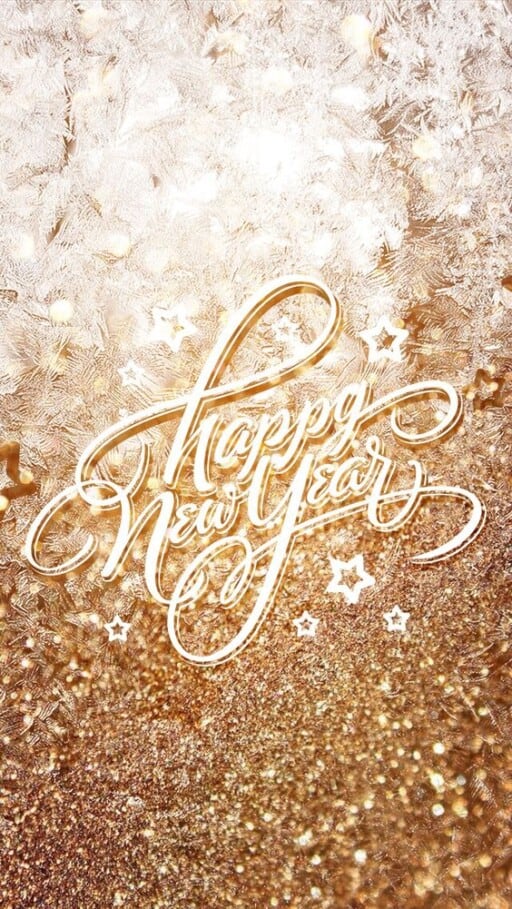 Simple yet magical, this wallpaper is quite straightforward. But I love how golden it is! I love the gradient effect of the wallpaper, and how the color depends on the base. It's filled with so much sparkle and shines!
NYE Ball: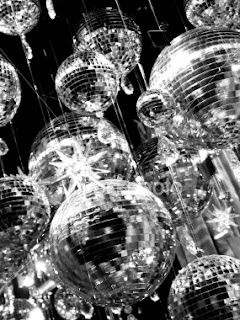 These particular New Year's Eve disco balls remind me of the giant ball during NYE in New York City. Those times were always so fun and festive, and I think it's utterly magical how so many people come together to celebrate this amazing milestone we have achieved!
Sparkle Shadow: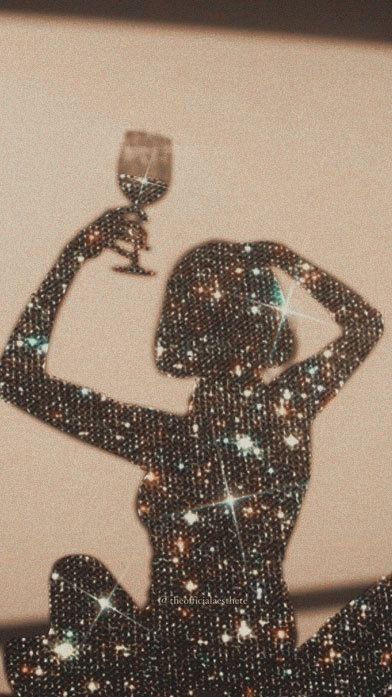 For something fun, sparkly, and a little bit mysterious, this wallpaper might be for you. It's actually another favorite of mine on this list! I love the overall aesthetic and how it gleams in the background of my phone!
New Year's Eve Silhouette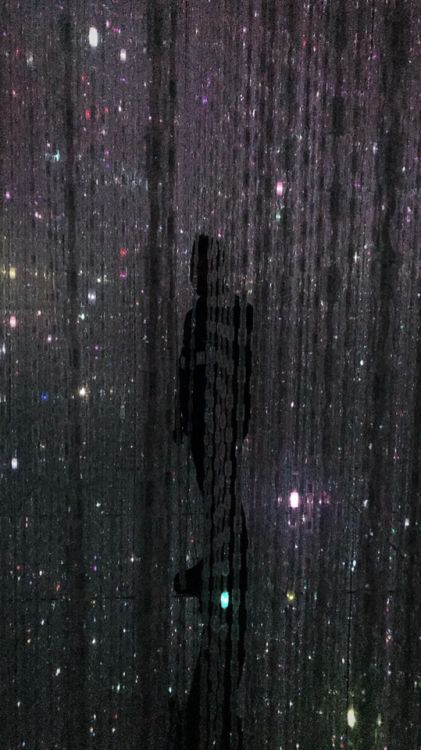 Here's another mysterious phone wallpaper you can use for New Year's Eve! It's a bit more understated than the last and it would be easy to navigate your apps because the background would be a bit dimmer, letting your apps shine through.
Blurry Celebrations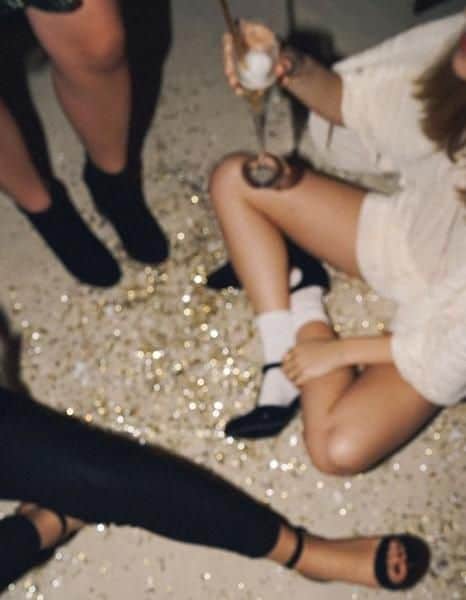 These kinds of photos make me so nostalgic! It reminds me of how awesome New Year's Eve parties are and I cannot wait to celebrate it!
Black & White New Year's Party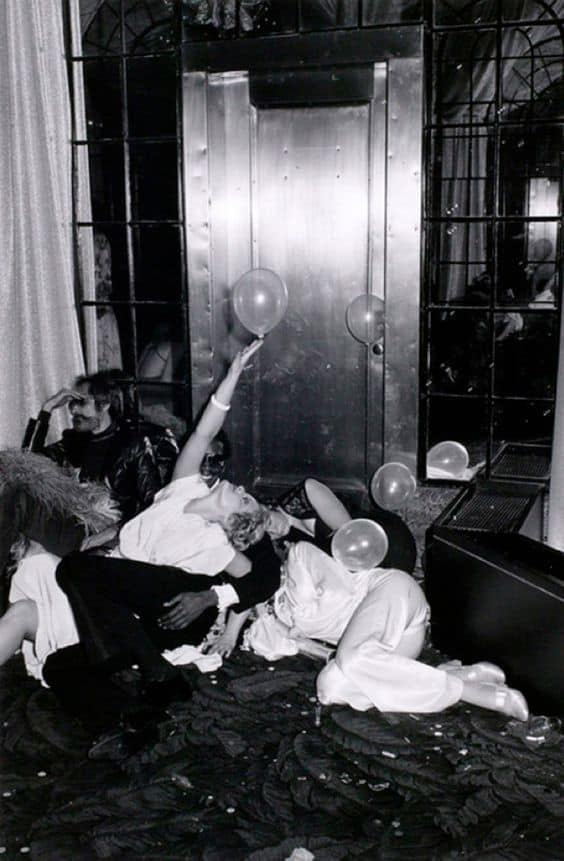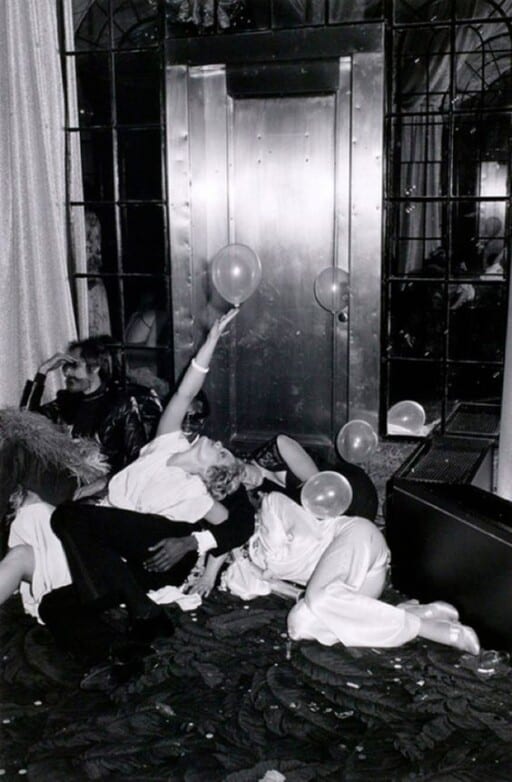 If there's one thing this photo reminds me of, it's that the party doesn't stop even when it's over! The black-and-white aesthetic makes this wallpaper feel a bit more vintage too!
Coffee-Colored New Year's Eve Balloons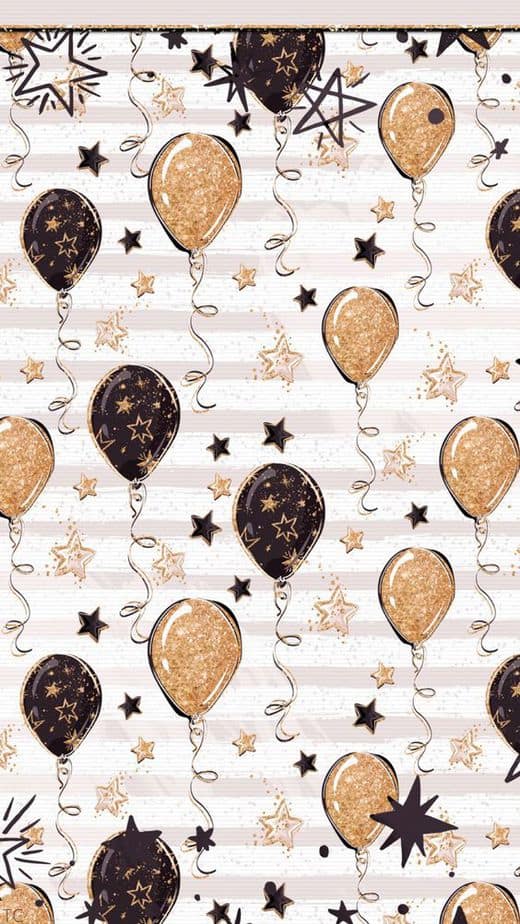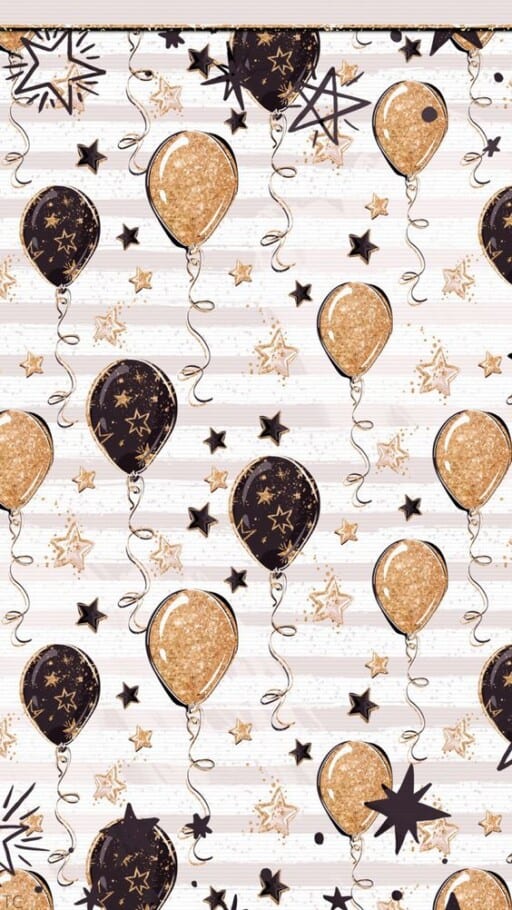 If you're looking for something quirky and a little youthful, this wallpaper is for you! I love how the color palette of this photo reminds me of different coffee variations too but still looks quite festive.
New Year's Eve Lights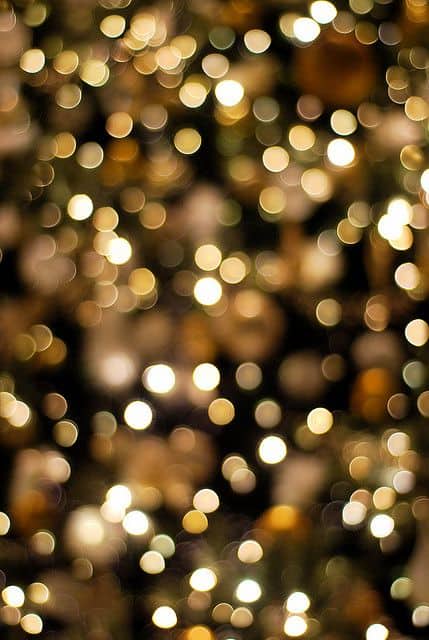 If you want something subtle but still bright and festive, these New Year's Eve lights would instantly make your phone look magical!
Gold Feathers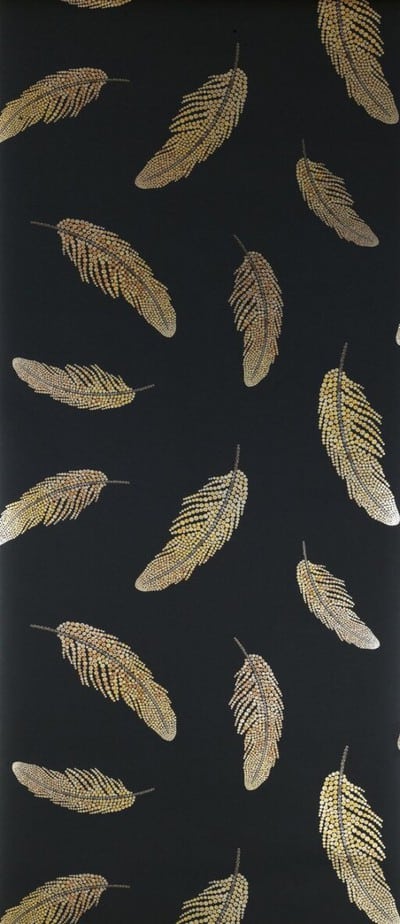 I love the subtle gleam on these feathers! Not only are these patterns trendy, but they're also festive enough for your New Year's phone wallpaper without being too much.
New Year Friends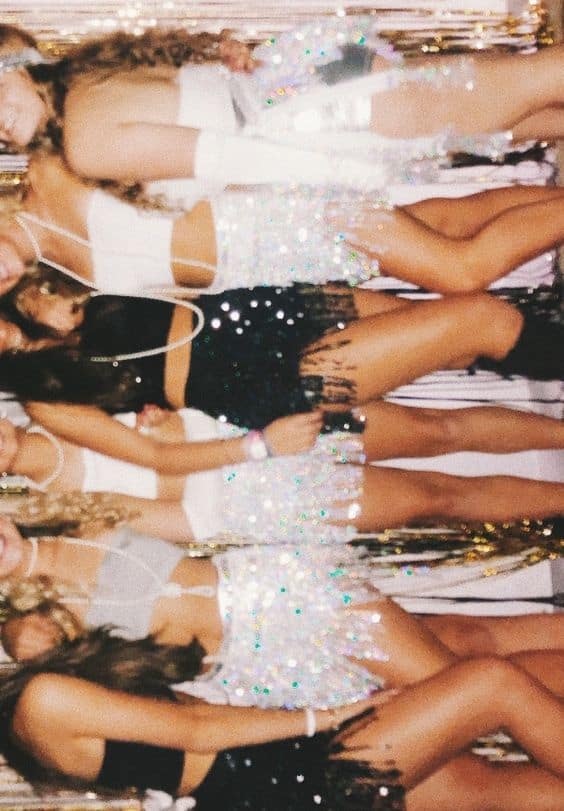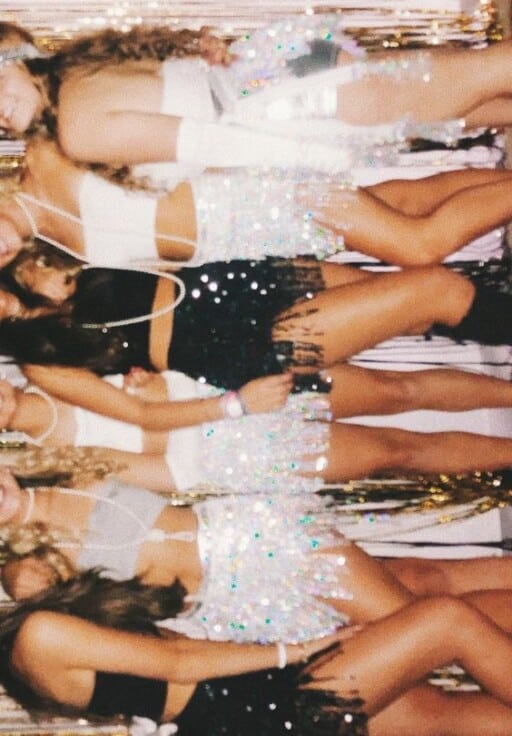 This wallpaper is sure to make you miss your friends this New Year's but it also makes me excited to spend this wonderful time with them and the year ahead.
New Year Countdown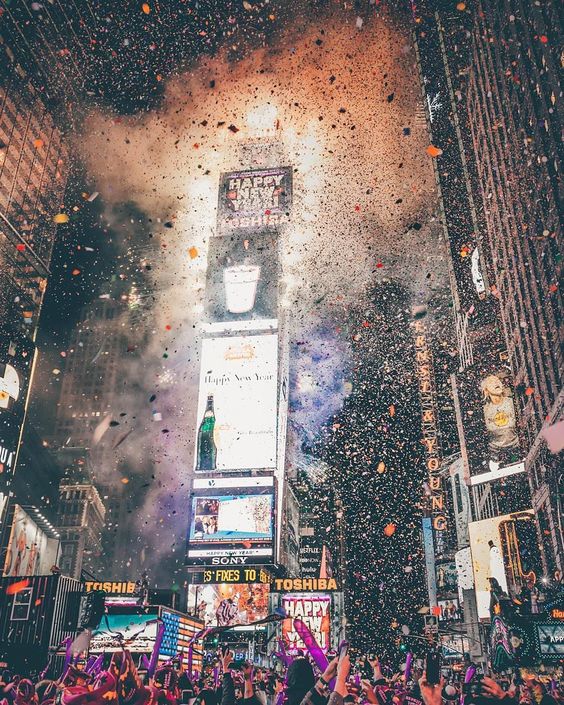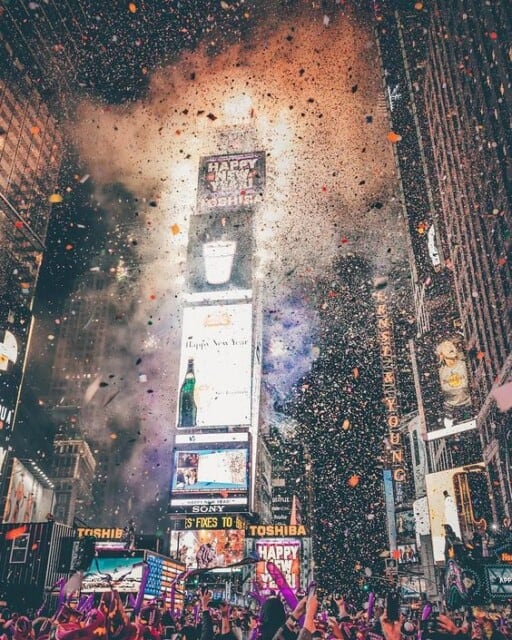 What better way to celebrate the New Year than by tuning into the countdown celebrations happening in NYC this year?
Confettis & Glitter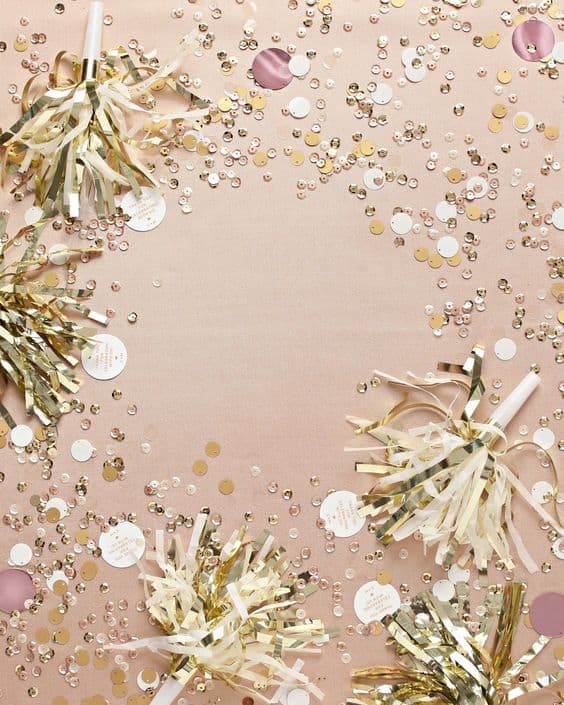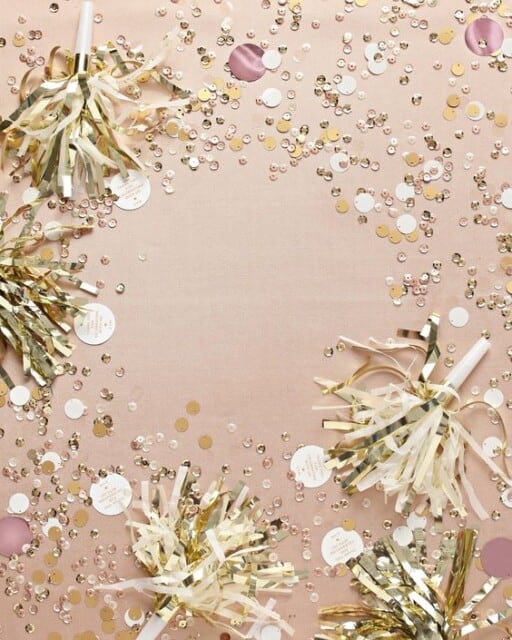 I love how this wallpaper makes your phone instantly so festive and fun! It just instantly puts anyone who sees in a good mood for New Year's Eve!
New Year's In Paris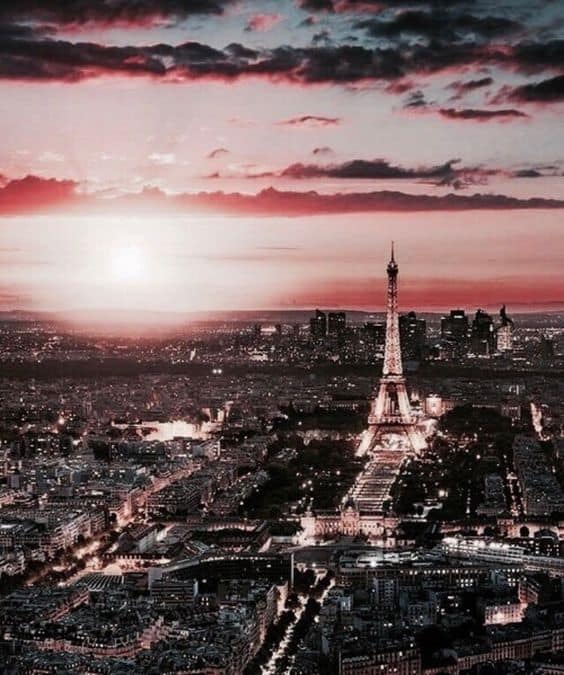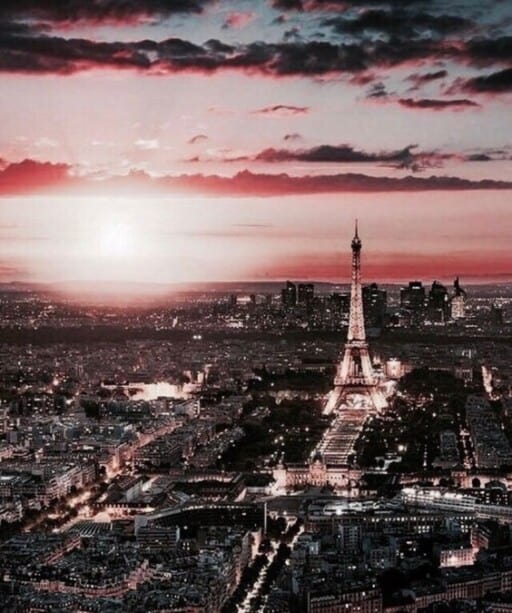 Make this shot of Paris City an inspiration or a goal for your New Year's Eve wishes. Who knows, maybe you'll get to travel here sooner than you think!
New Year's Toast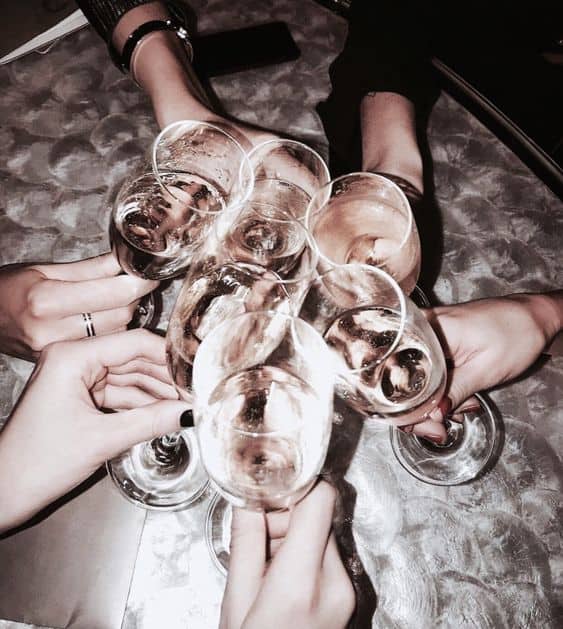 Celebrate the New Year with a toast with your friends! You can either use this photo as your wallpaper or recreate it with your own loved ones.
Twinkling Chandelier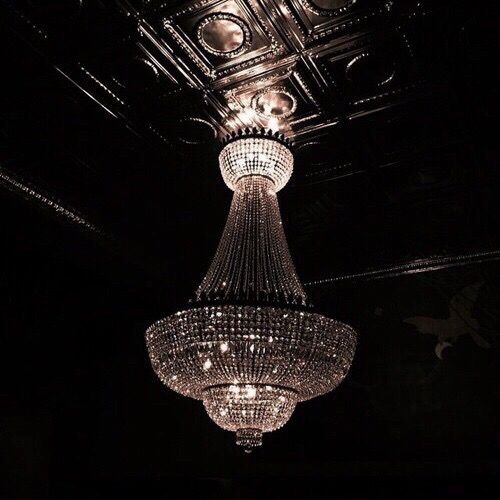 This gorgeous chandelier is utterly stunning! It would fit so well on any phone as wallpaper!
New Year's Prep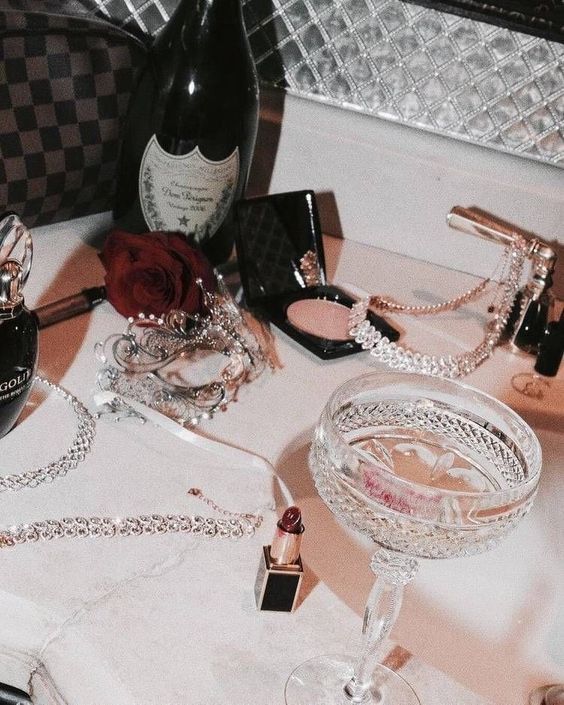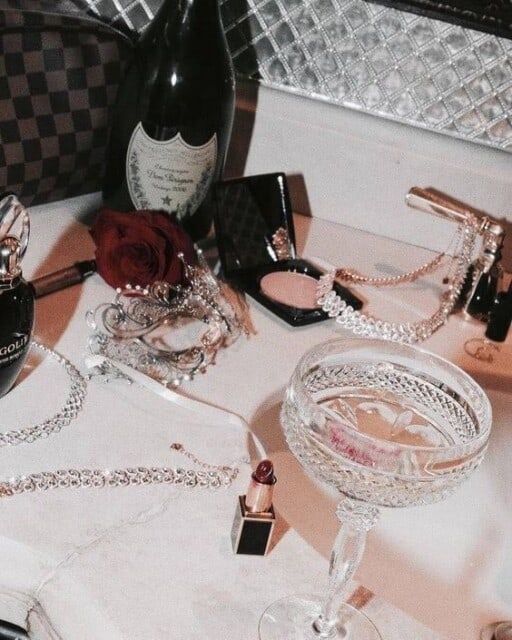 I love the overall glam and classy aesthetic of this photo! It reminds me of how bougie people would prepare for any party.
Femme Fatale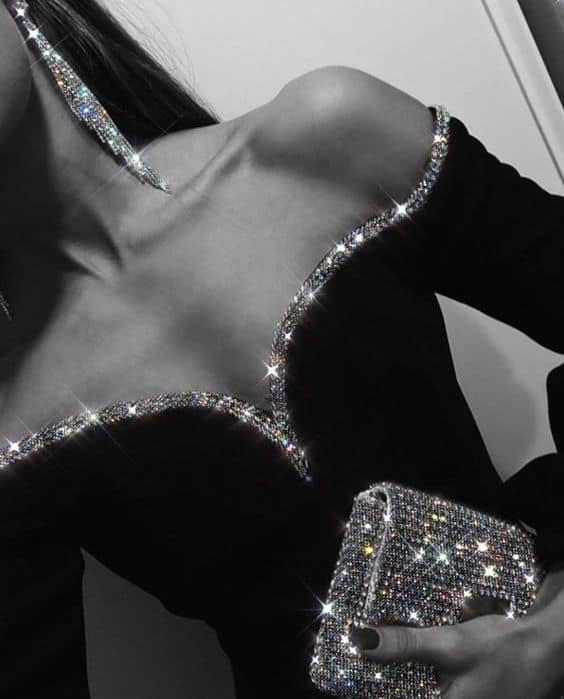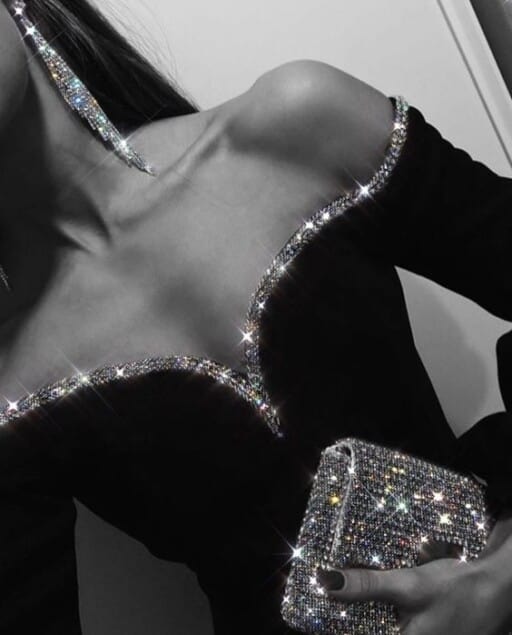 For any baddie or femme fatale reading this list, this is the wallpaper for you! You can even take inspiration from this photo outfit for your NYE parties.
Starry Sparklers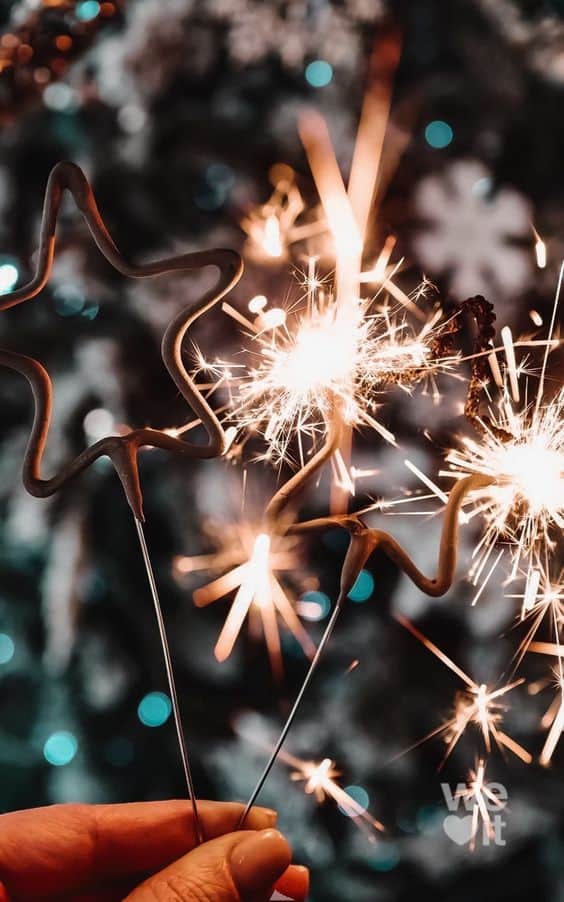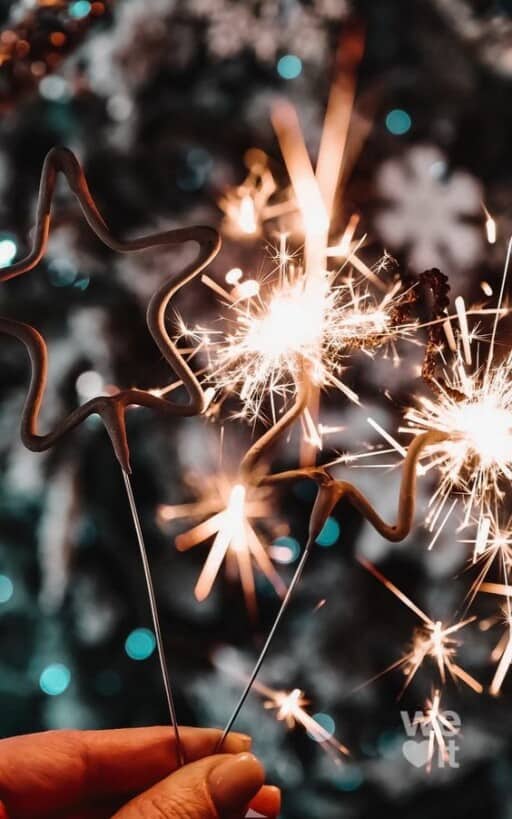 These star-shaped sparklers truly add more of a festive cheer to this NYE-themed wallpaper. It's just utterly gorgeous to look at!
Fur & Diamonds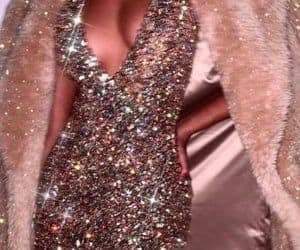 Here's another outfit you can take inspiration from for your NYE party. Use this as your wallpaper for a glam aesthetic for your phone.
Dance The Night Away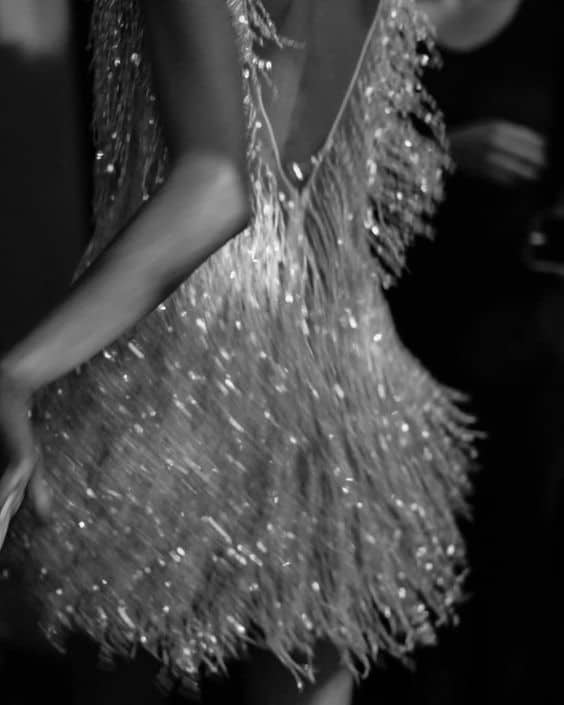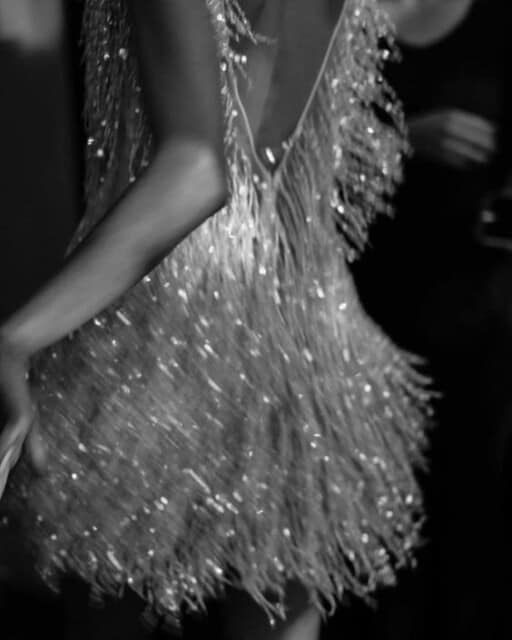 I love the movement in this photo! It looks so lively and vintage!
Afterparty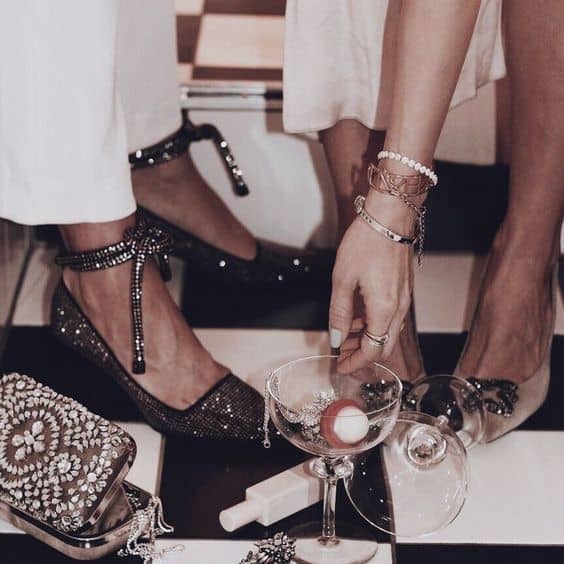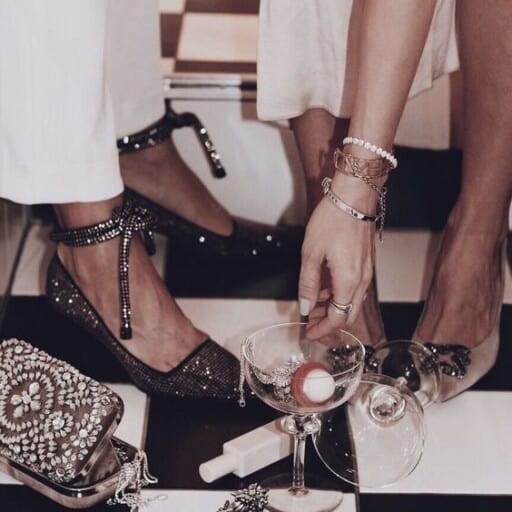 Afterparties are just as fun as the actual party and you can use this photo for your wallpaper to use as your reference!