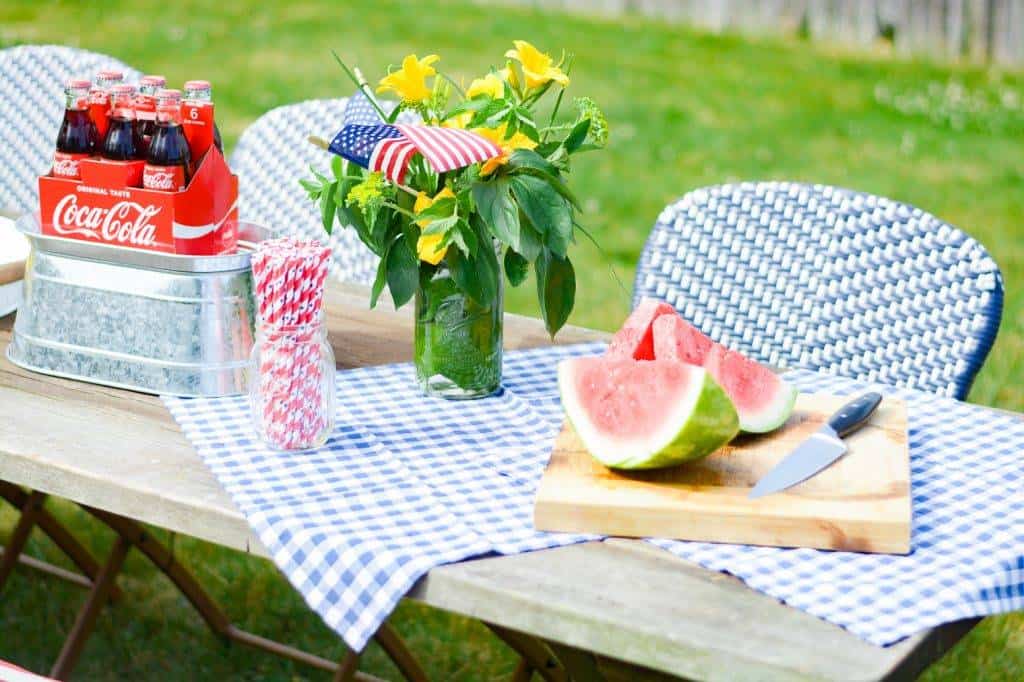 Independence Day cookouts are one of my favorite traditions! They're relaxed and summery events while still feeling festive.  A cookout is relatively easy to plan and throw, there's a lot of little details that are easy to overlook and can make or break the event from the guests' perspective.  I've included almost every aspect of hosting an outdoor 4th of July (or Memorial Day) party, which can be time consuming to plan and expensive to deliver, but trust me: the end result is worth it.  If you're looking to do something smaller, shorter, or most cost effective, there's definitely ways you can cut things out and still make it look beautiful.
Related Posts:
Preparation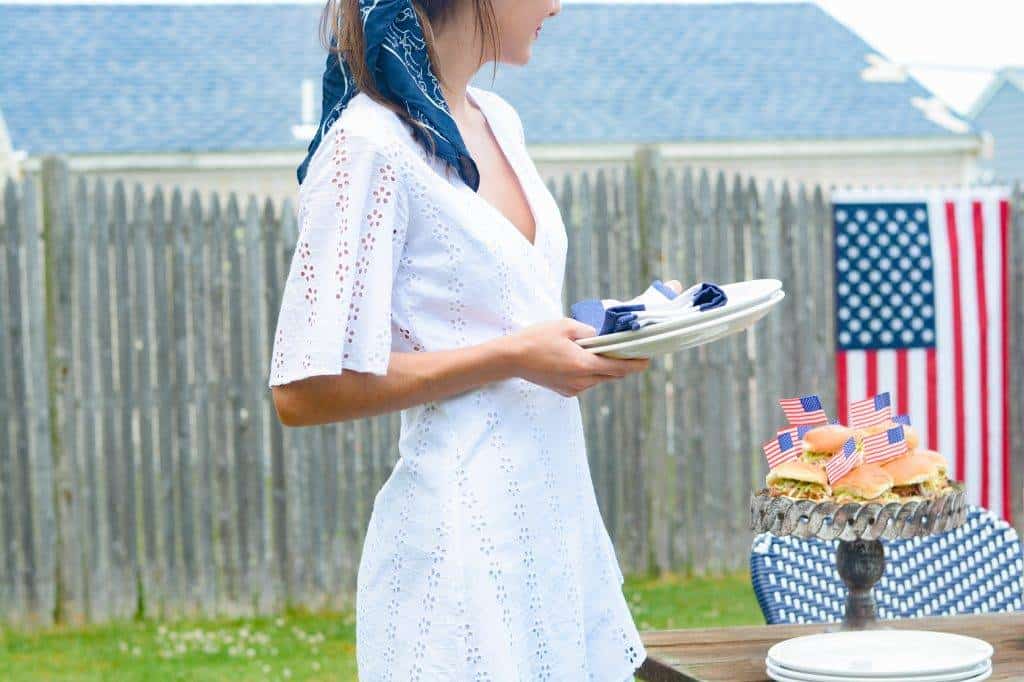 1. Invitations
Before the day of the cookout, you (of course) have to invite your guests.  Think about how many people your yard (and house if it rains!) can reasonably accommodate and how many mouths you want to feed.  The most common way to invite friends and family is typically Facebook, but over the phone or texting works as well for a smaller gathering.  A cookout is super casual, so your method of inviting should reflect that.  Ask guests to let you know ahead of time if they'll be attending so you can get a head count.
If your cookout is BYOB, make sure to mention that.  Generally, if you don't say anything, attendees may tend to bring drinks, desserts, or host gifts.  I find it's easiest to ask guests to bring desserts, appetizers, beer, or (weirdly enough) ice!
2. Setup Correctly
The layout of your cookout is super important! If you don't have a good setup, trust me: your guests will notice. Typically for a cookout, I like a buffet style.  It's way more casual and relaxed, and allows your guests to munch throughout the afternoon.  If you do choose a sit down, I recommend keeping your party smaller and eating on the earlier end, especially if your cookout is actually occurring on the holiday.
For a buffet: I like to set up the buffet table as well as tables and chairs for seating in the yard, because it's more casual and gives guests room to mill around.  Keeping the grill and some additional seating on your deck/patio leaves another section to hangout.  Make sure to have chafing dishes (for warm food) and bowls of ice (for pasta salad and colder foods) ready for the buffet table.  Ideally, you'd want to leave the food out for a few hours since guests probably won't flock to the buffet right away.
For a sit down meal: the benefit of a more formal meal is that you can have super cute place settings, but it's much easier if you can keep the guest list to 10 people or under.  Have your dinner table set up ahead of time and make sure to have extra silverware and napkins at hand.
A huge part of any cookout is having enough coolers and ice! Seriously, coolers are pretty cheap (you can even order them on Amazon using Prime) and not having enough room can cause a party to go downhill – no one likes warm beer.
If you want to have a fire pit later in the night, place it far enough away from the house that it isn't a hazard and make sure you have enough seating.
Lastly, borrow as much as possible (I definitely don't have tons of chairs and tables on hand all the time!), give any lawn or water games their own area away from the food/seating, and place the music in a location where it can be heard both near the grill and the seating area without being too loud.
3. Plan for the Weather/Season
In New England, the weather is always crazy, but make sure to plan accordingly depending on where you live.
Heat: shade is essential! Basically everywhere in the U.S. is hot around the 4th of July, so find ways to cool your guests down.  Obviously the easiest way to do this is to start the cookout later in the day, but sometimes that's not an option or it may still be hot out.  Some hosts use a roll out patio/deck cover such as a permanent awning or shade sails.  If you're lucky enough to have a shaded lawn then make use of it, otherwise you may need to invest in some coverings or outdoor fans.  Lastly, have sunscreen on hand in case your guests forget!
Cold: New England weather is wacky, so we've actually had chilly summer holidays.  If you know it's going to be freezing by some weird chance, patio heat lamps can be a great addition to a party, as well as a bonfire.  Have blankets available to guests if possible.
Rain: There's always a chance that it might rain during your cookout, which is a huge issue – you're having an outdoor party! The option of an awning or tent over your patio/deck is awesome if you can afford it, otherwise make sure you can (somewhat) mimic your setup and hold all of your guests indoors.
Bugs: Mosquitos are awful around this way, so we always make sure to have buckets of bugspray (more is always better) as well as Citronella candles and even a mosquito magnet (which works throughout the season).  Plan ahead for your guests based on your own location and seasonal problems.
Decor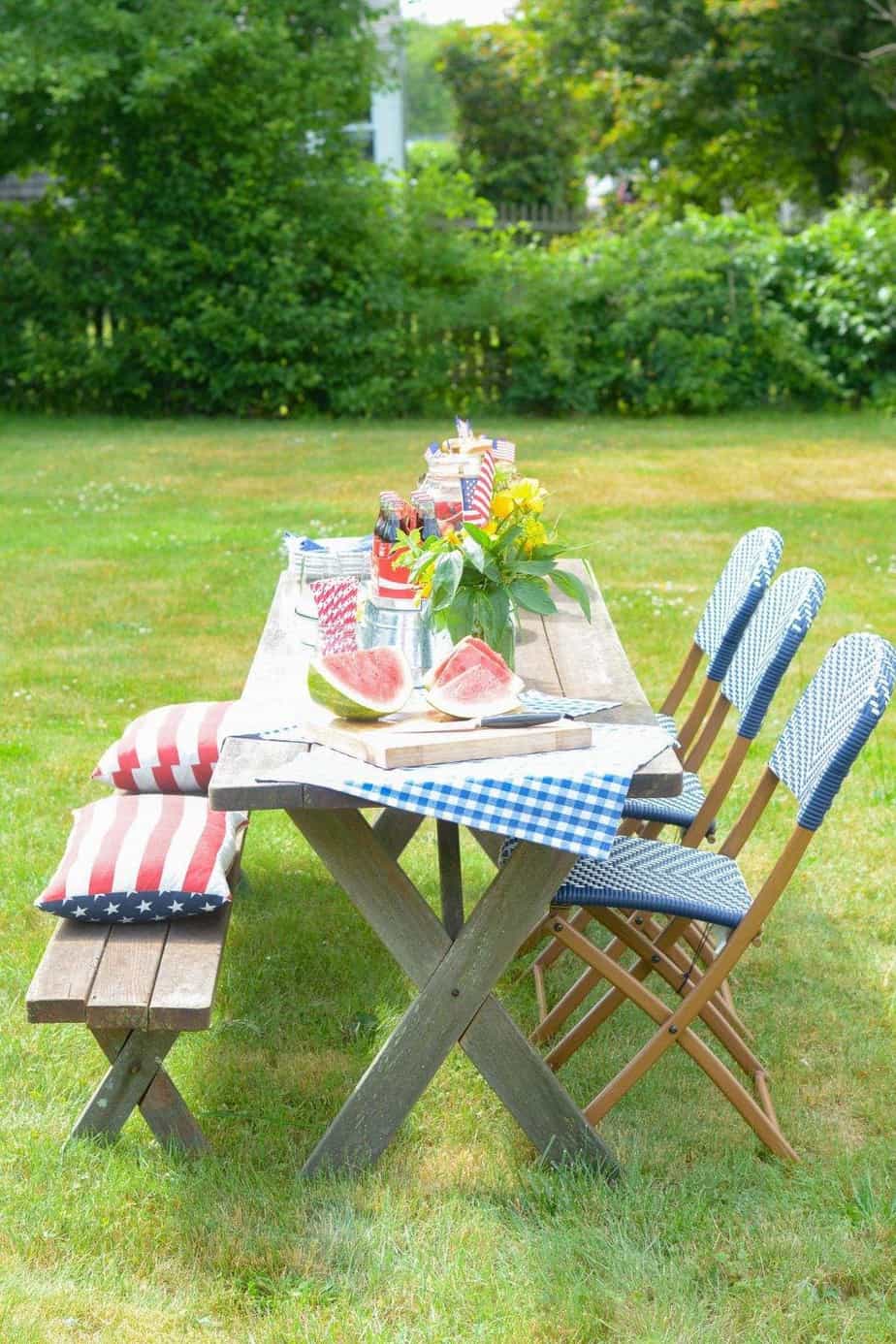 I like to keep my 4th of July decor somewhat subtle and understated (maybe it's a New England thing) but depending on your audience, it can be fun to go all out as well.  For a full list of everything I used, scroll to the bottom of this post. A typical list of items for a great cookout includes:
Tableware: If you choose to use tablecloths (I didn't), some great options are available with Amazon Prime.  I used white plates that I actually have in my summer house since they fit the theme perfectly, but paper or plastic plates work well too.  Plastic utensils are usually easiest (although I used these), and and paper napkins are good for larger parties (I used these napkins as well as these in navy and white that I found on Amazon – they were too cute not to use both!).  For glassware, I used wine glasses that I already had which you can buy in bulk, or it's easy to get a bunch of plastic cups for bigger crowds.
Flowers: I was running out of time and actually picked the flowers I used out of my garden (hydrangeas weren't blooming yet) – those bouquets always turn out surprisingly nice! Otherwise, Trader Joes and your local florist will probably have good options.
Other Decor: Some fun items include a flag and/or mini flags, sparklers (which are fun for kids later in the night as well), banners, cuzies, balloons, and outdoor lighting (think lanterns, string up lights, or spotlights for the yard). These American Flag pillows are really cute too!
If you're into DIY, there's a million super cute ideas on Pinterest such as decorated mason jars, flag centerpieces, and streamers! Decor is (clearly) visual, so I recommend just browsing Pinterest and putting together a bunch of pieces you really love.
Food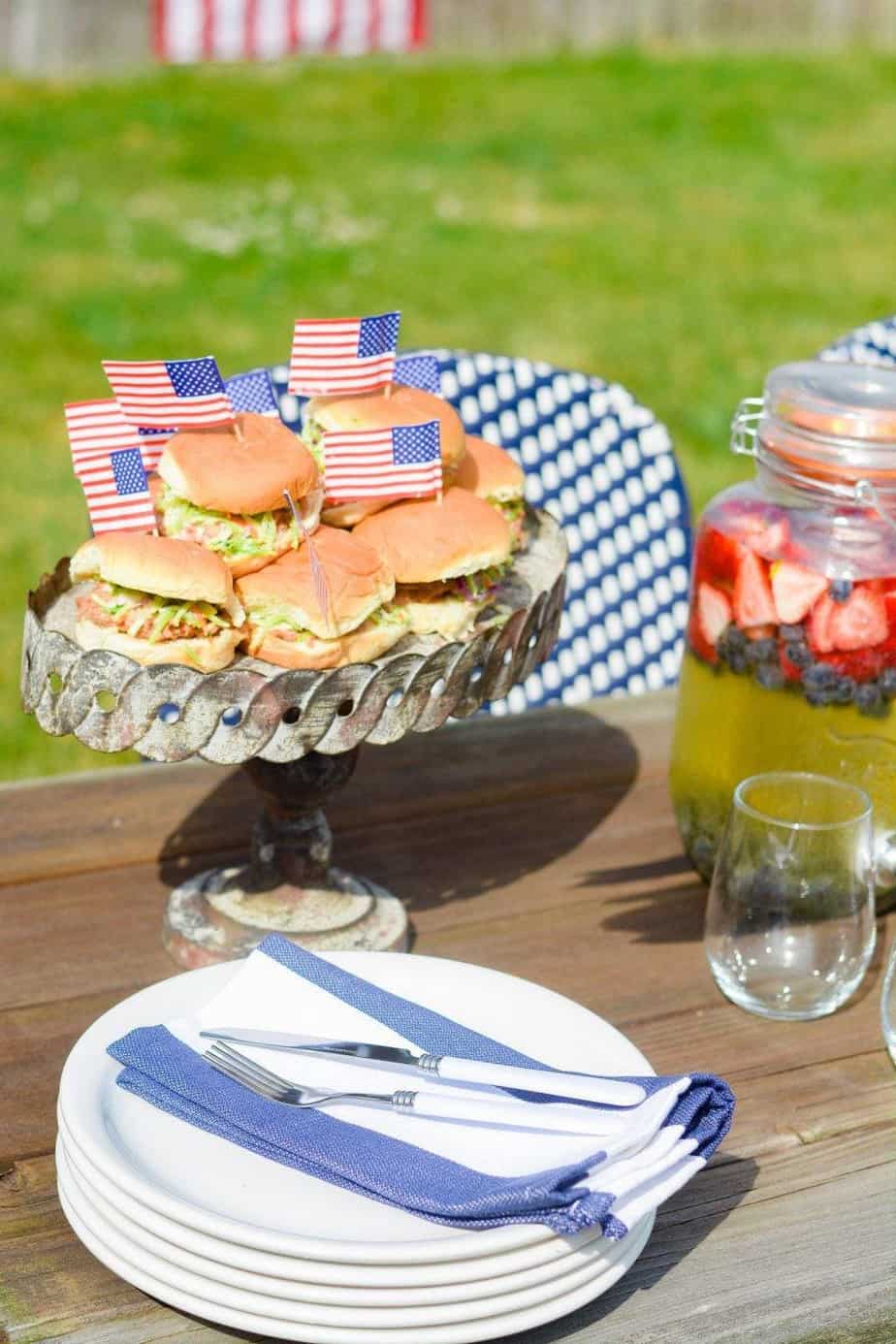 What would a cookout be without food? Let's break it down into 3 easy sections that just about any summer party should have:
1. Appetizers
Since this is a casual event, appetizers can be super easy, but make sure to have food out as soon as your guests arrive! I recommend going with really simple options.  If you theme is more Mexican, nachos are always great, or if you stay more Southern like I did with pulled pork, popcorn can be really fun.  You can even rent a machine and make it extra fun for guests!  If you're out of time and need to make it really doable, tell your guests to bring appetizers and throw out a few bags of chips at the beginning of the party.
2. Main Course
For food at a cookout, quantity and quality is important.  Make sure to have enough food to feed everyone! If this means planning for a few extra guests and having leftovers, do it! I really can't stress this enough.  For the main "dish," I typically do either cookout food (burgers, hot dogs, sausages and peppers and onions, ribs, chicken wings etc.) or pulled pork sliders – I love these because you can have everything ready ahead of time and they're really buffet friendly.  If you're feeling ambitious, grilled pizzas or steaks can be a tasty addition.  For a bigger group, variety is key: not everyone will like the same meats.  Think about how long it takes your grill to get going and plan ahead so that guests aren't hungry!
Have at least one vegetable side such as a garden salad or grilled veggies, as well as at least a few other sides (some guests may be vegetarian).  I love a good pasta salad, potato salad, coleslaw, corn on the cob, tomato salad, and mac and cheese.
3. Dessert
Sweets aren't usually the main event at 4th of July parties, but they're nice to have! I served a cherry pie – other good options include decorated brownies, a flag cake or cupcakes, Rice Crispies, and just about any other dessert you can think of (decorated is always fun!).  Red white and blue fruit (strawberries, blueberries, melon, etc.) is a nice addition as well.
Drinks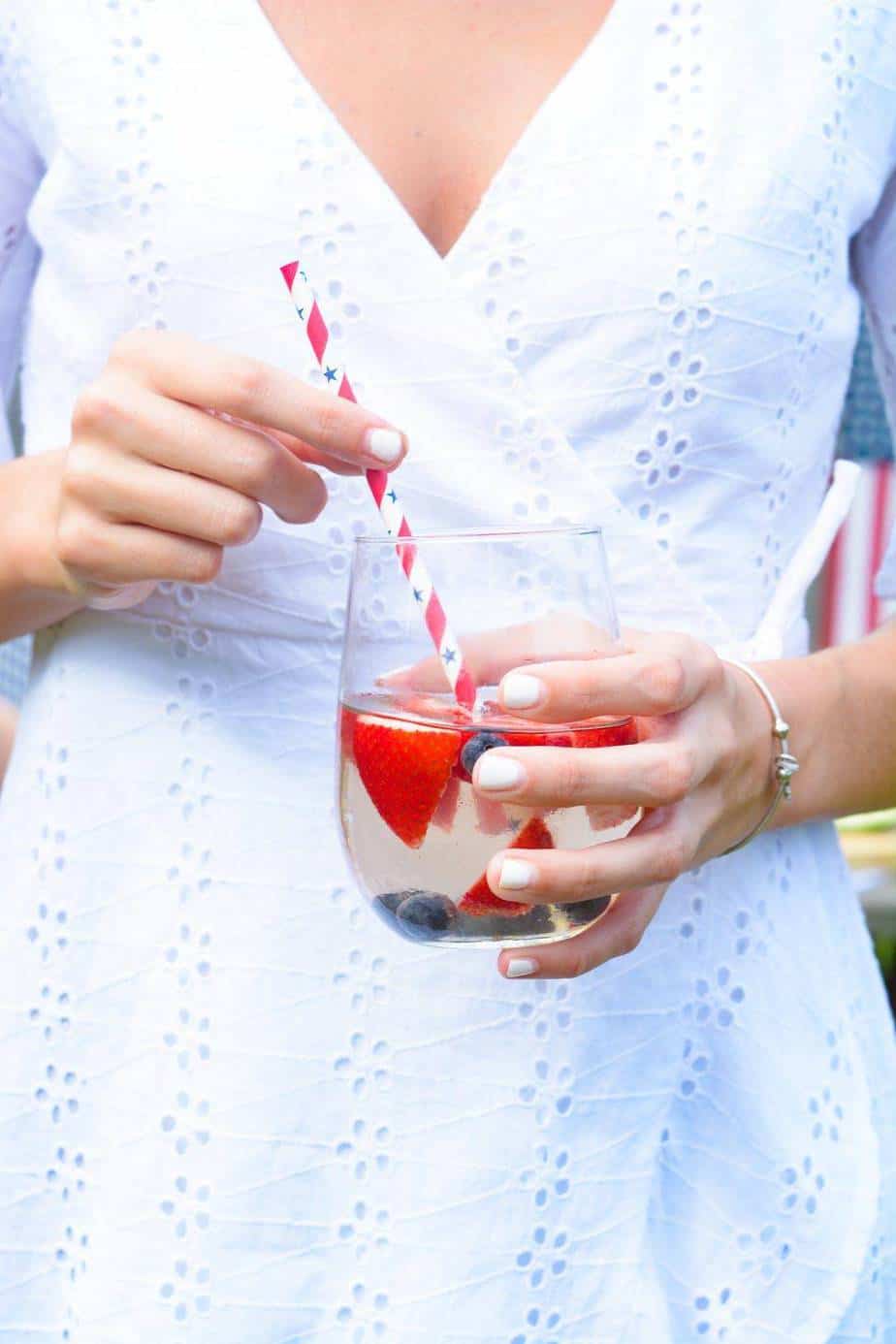 Every cookout needs good cold drinks!  Firstly, you must have a lot of beer.  I'd get a ton of light beer and a solid amount of heavier IPAs.  Something like Spiked Seltzers are also nice for guests who don't like beer.  I made a Red, White, and Blue Sangria, but if you'd rather stick to something easier, grab a bunch of wine bottles and throw them in a cooler.
Some type of mixed drink or punch is always a fun addition, although it's not strictly necessary.  I used my Sangria as the mixed drink, but many people like to make a fun Patriotic Themed Layered Martini, Patriotic Punch, Ocean Water Punch, and even alcohol infused fruit bombs like cherries or strawberries.
Non-alcoholic drinks are also important.  La Croix or Sparkling Waters are always well-liked; having something fun for kids too (like juice boxes or soda).  Make sure tons of water is available.  I usually designate a cooler to mini Poland Springs, but you can also have pitchers of ice water and plastic cups.
Entertainment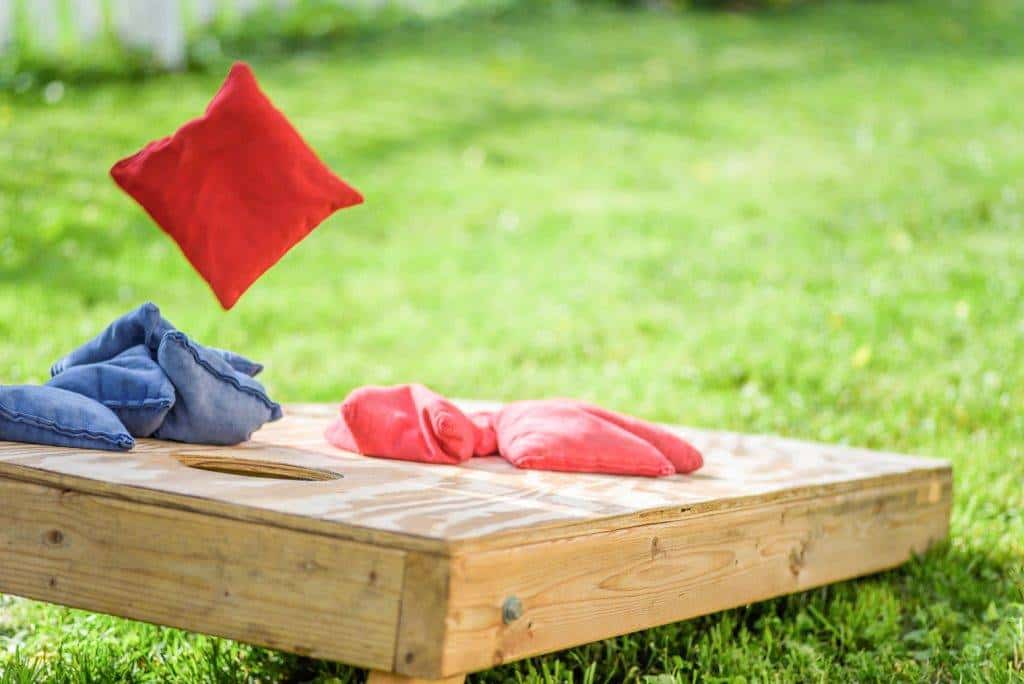 While you don't strictly have to provide any entertainment at a casual cookout, it can be fun to have some extra things to do besides eat and drink.
1. Games
My favorite (and easy!) games for cookouts include Cornhole and Jenga.  If there's a lot of kids attending, having a football, soccer ball, or basketball/net around can be an easy way to entertain, and a slip and slide (or pool if you have one) is great on a hot day.
2. Music
Unlike games, a good playlist is pretty essential for a relaxed cookout vibe.  I typically put together a mix of current music, easy listening (hints of country or acoustic), and the oldies.  Whatever your preference for music, make sure to include the classics!  My favorites are:
Born in the U.S.A. – Bruce Springsteen
Sweet Home Alabama – Lynyrd Skynyrd
All Summer Long – Kid Rock
More Than a Feeling – Boston
Proud to be an American – Lee Greenwood
Teenage Wasteland – The Who
Wouldn't It Be Nice – The Beach Boys
Sweet Caroline – Neil Diamond
Build Me up Buttercup – The Foundations
Don't Stop Believin' – Journey
Chicken Fried – Zac Brown Band
Wagon Wheel – Darius Rucker
Courtesy of the Red, White, and Blue – Toby Keith
Home – Dierks Bently
I make a playlist of 200-300 songs and throw it on shuffle (or just play it through if you set up the songs in order).  I use an Alexa, but many people use a Google Home or have a surround system set up outside.  If you really want to keep your own playlist going for the whole party, hide the music setup or some guests may jump in and change it up!
To mix in games and music, renting a karaoke machine can be a ton of fun with a good crowd (and a decent amount of drinks!).
Here's some more pictures of my decor and table settings: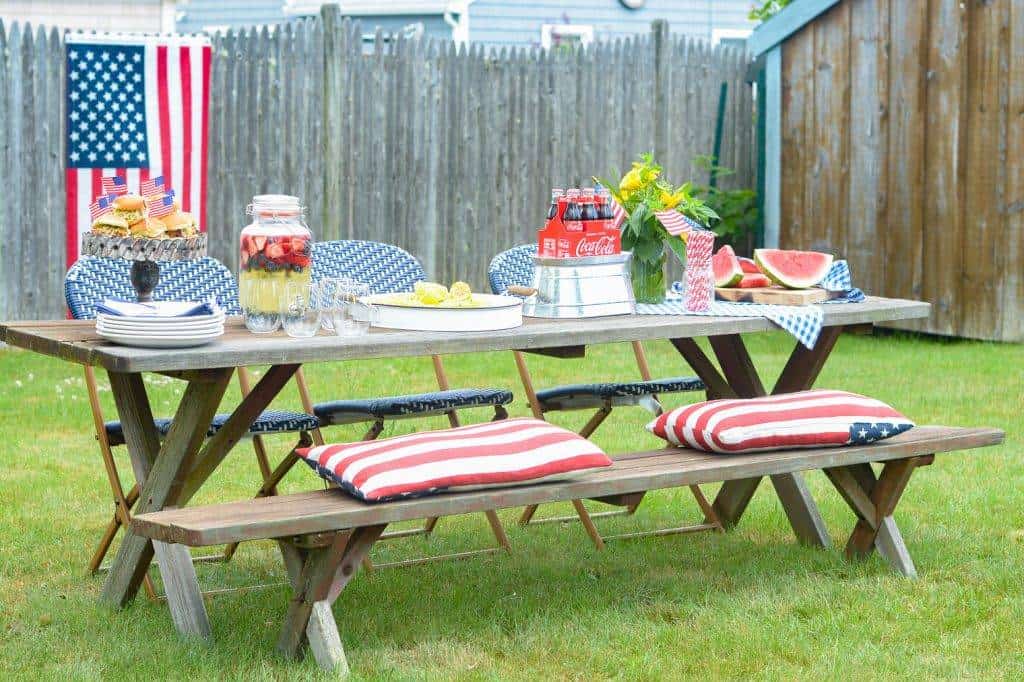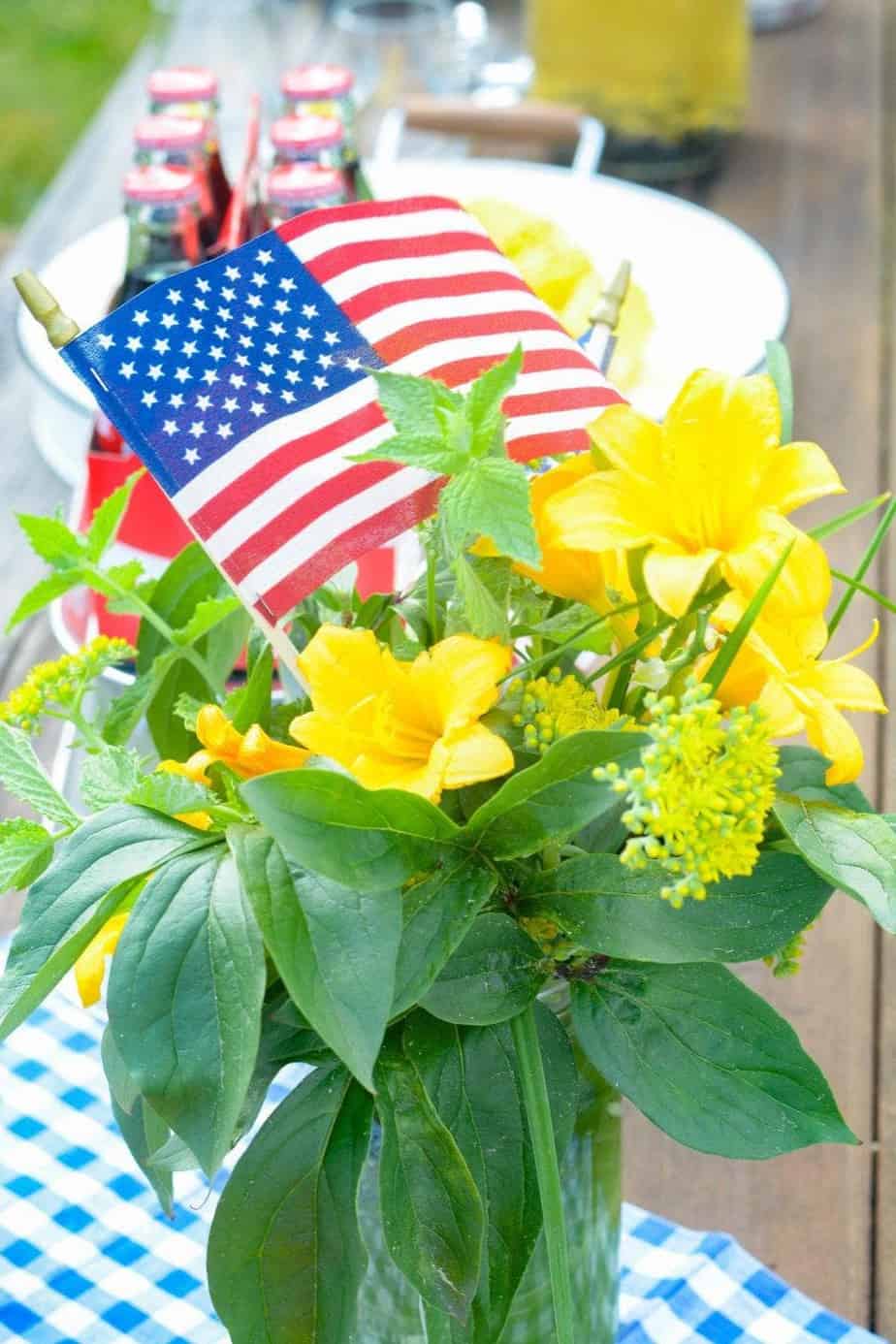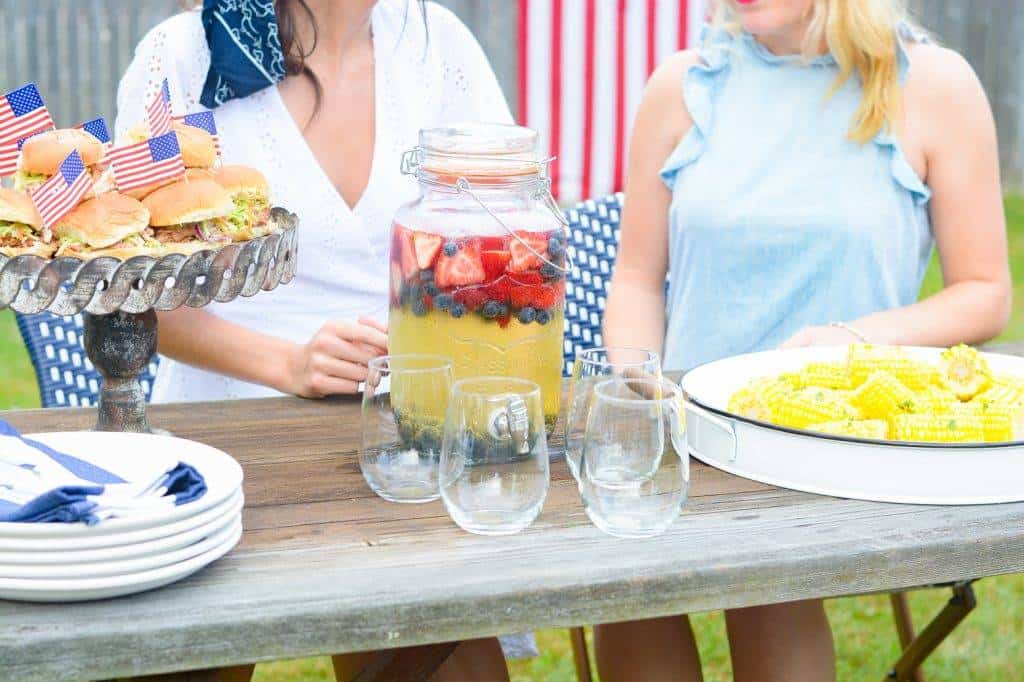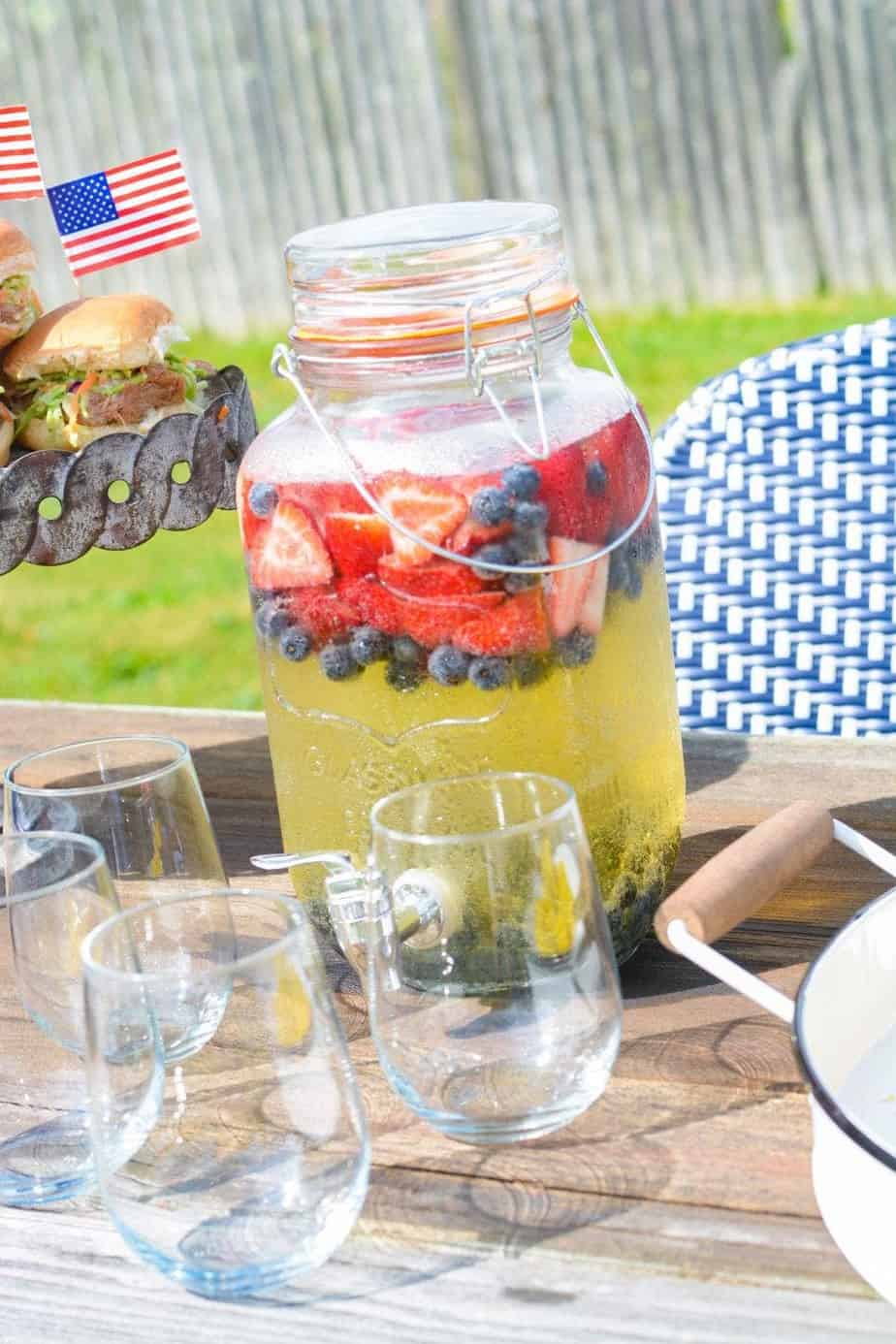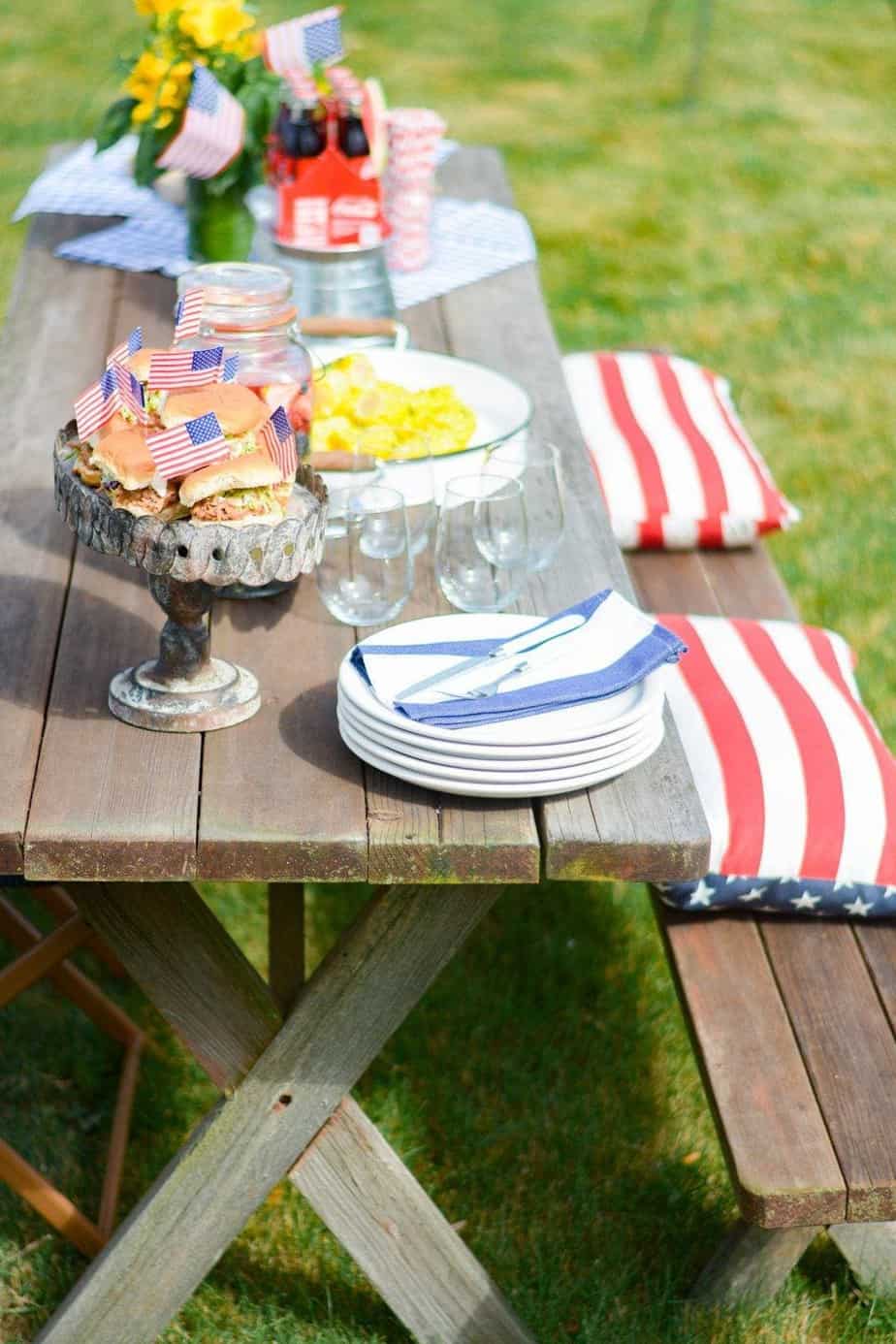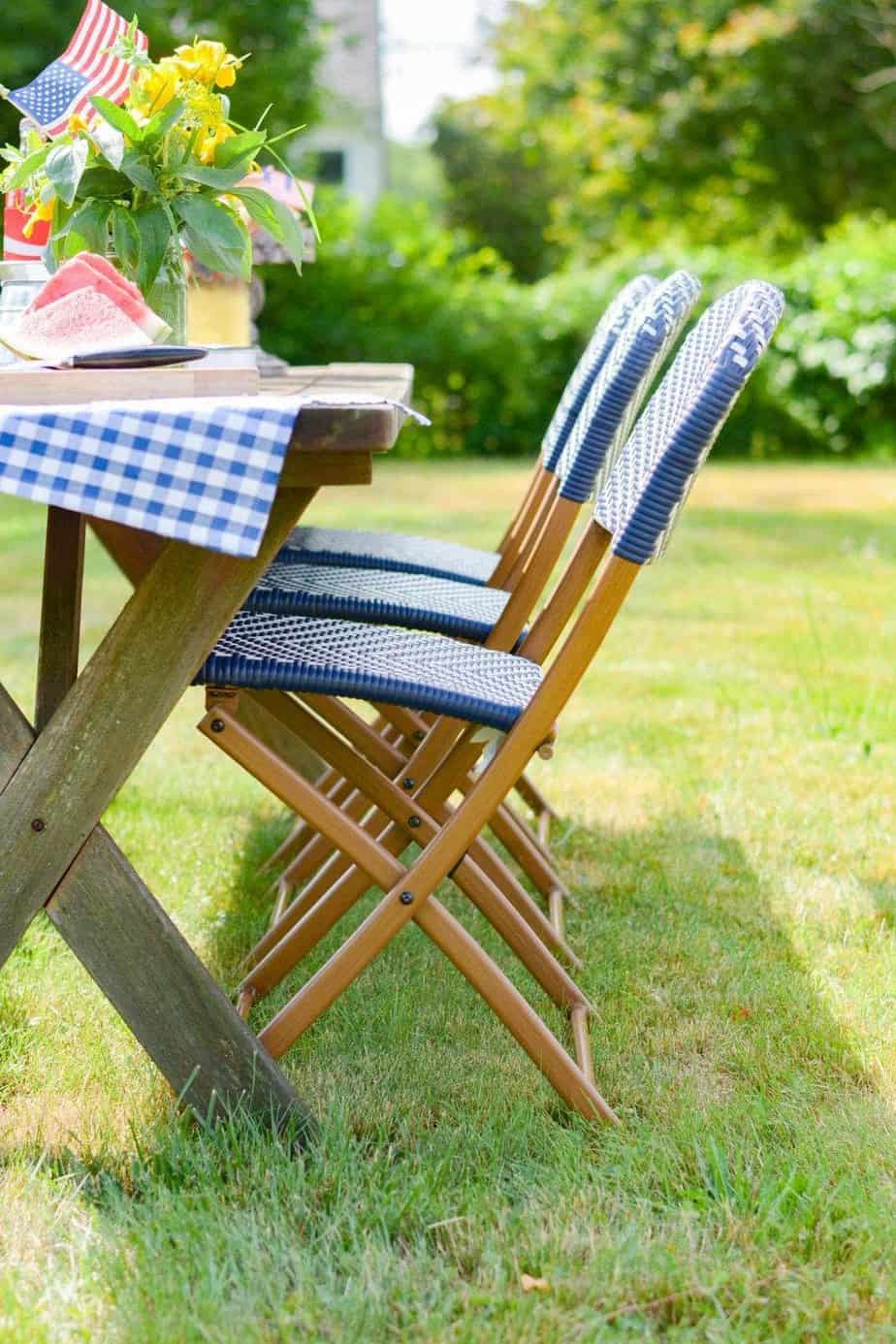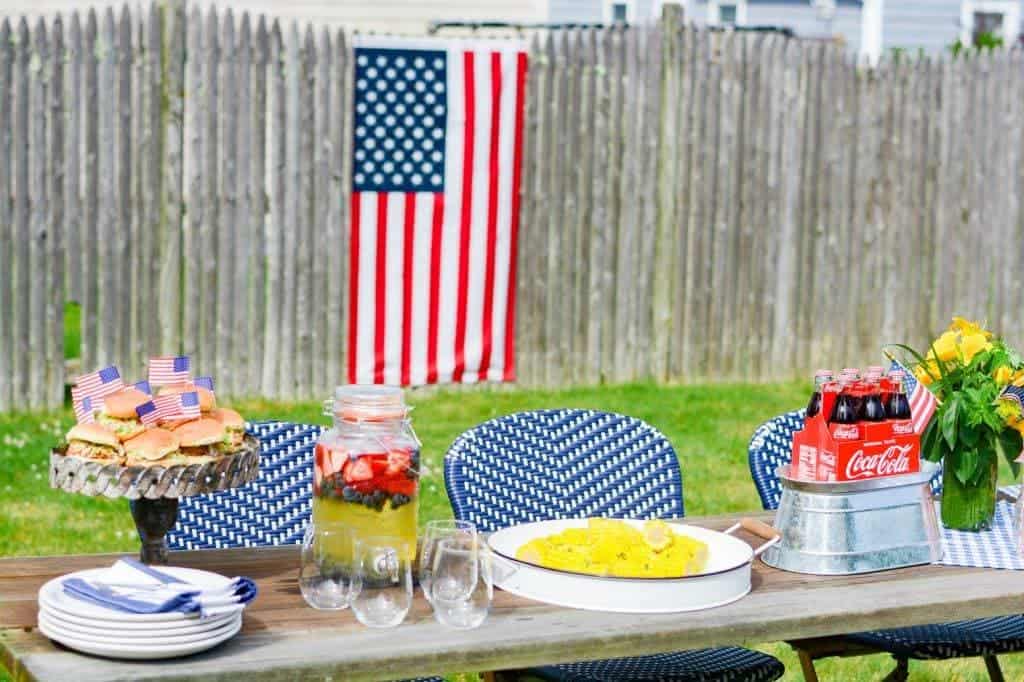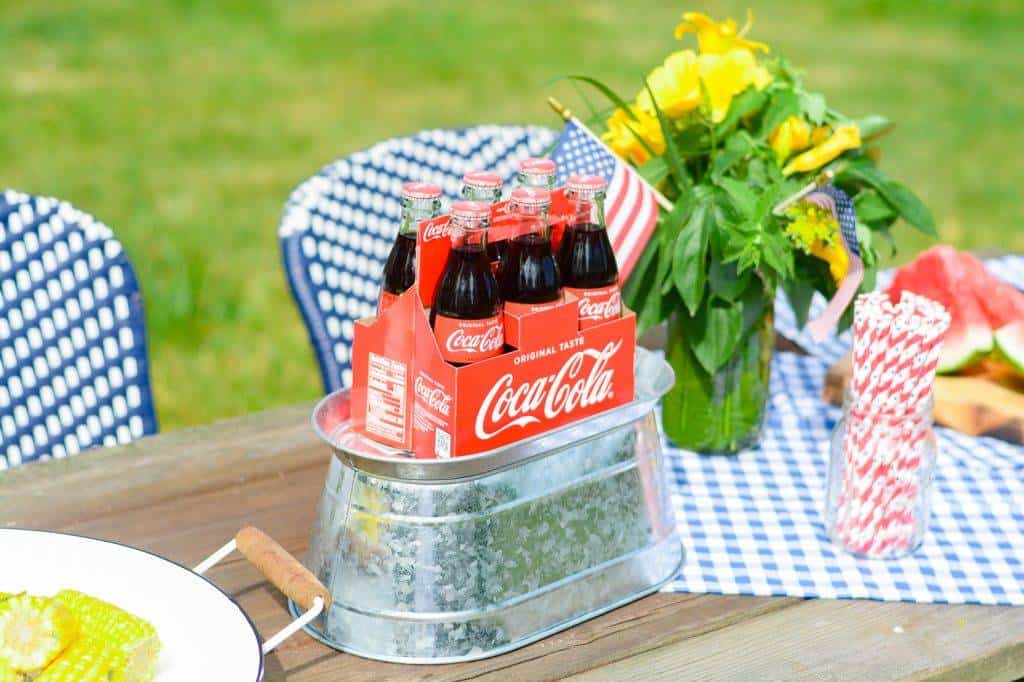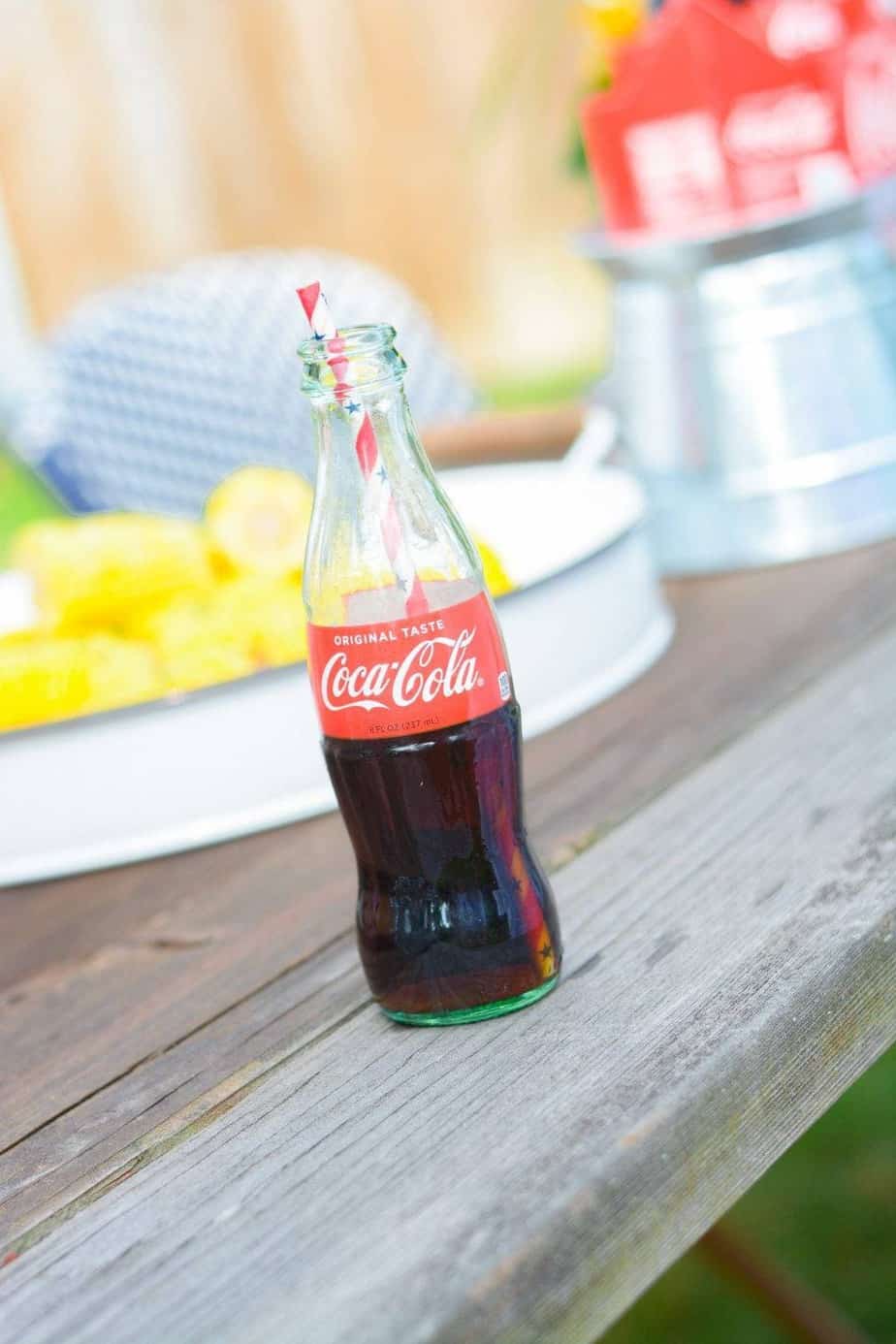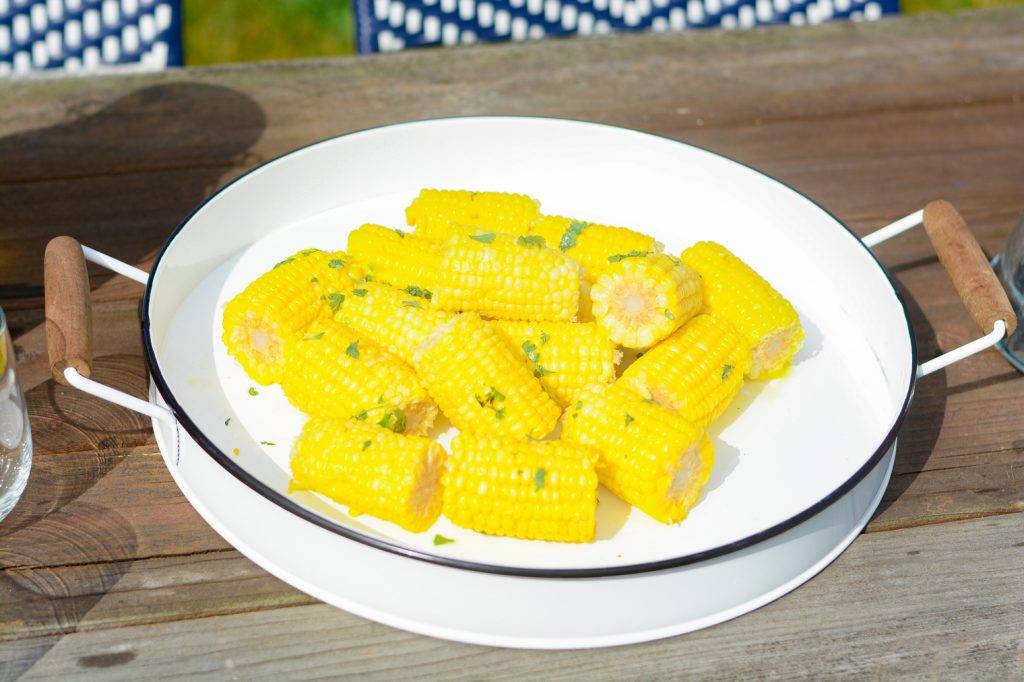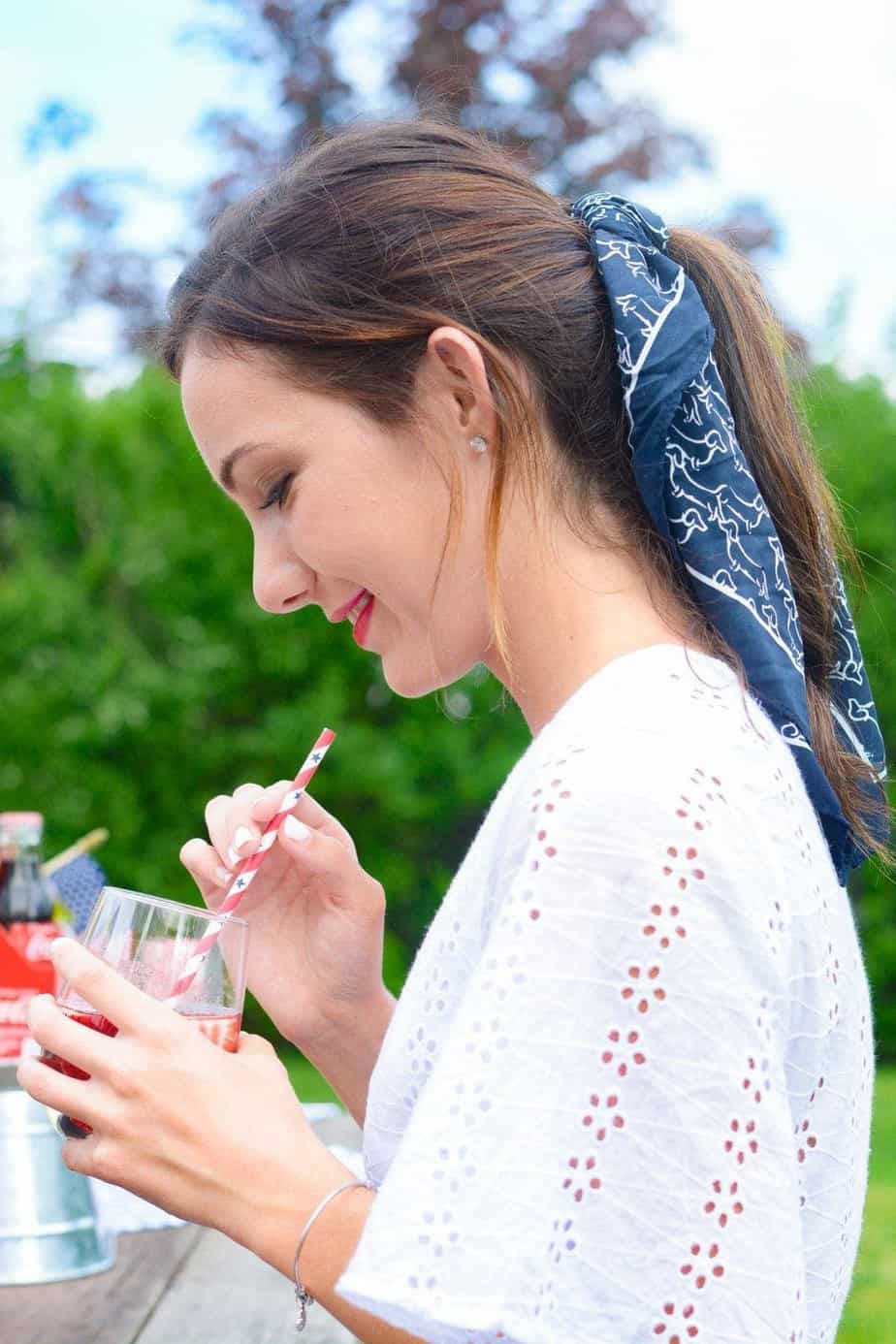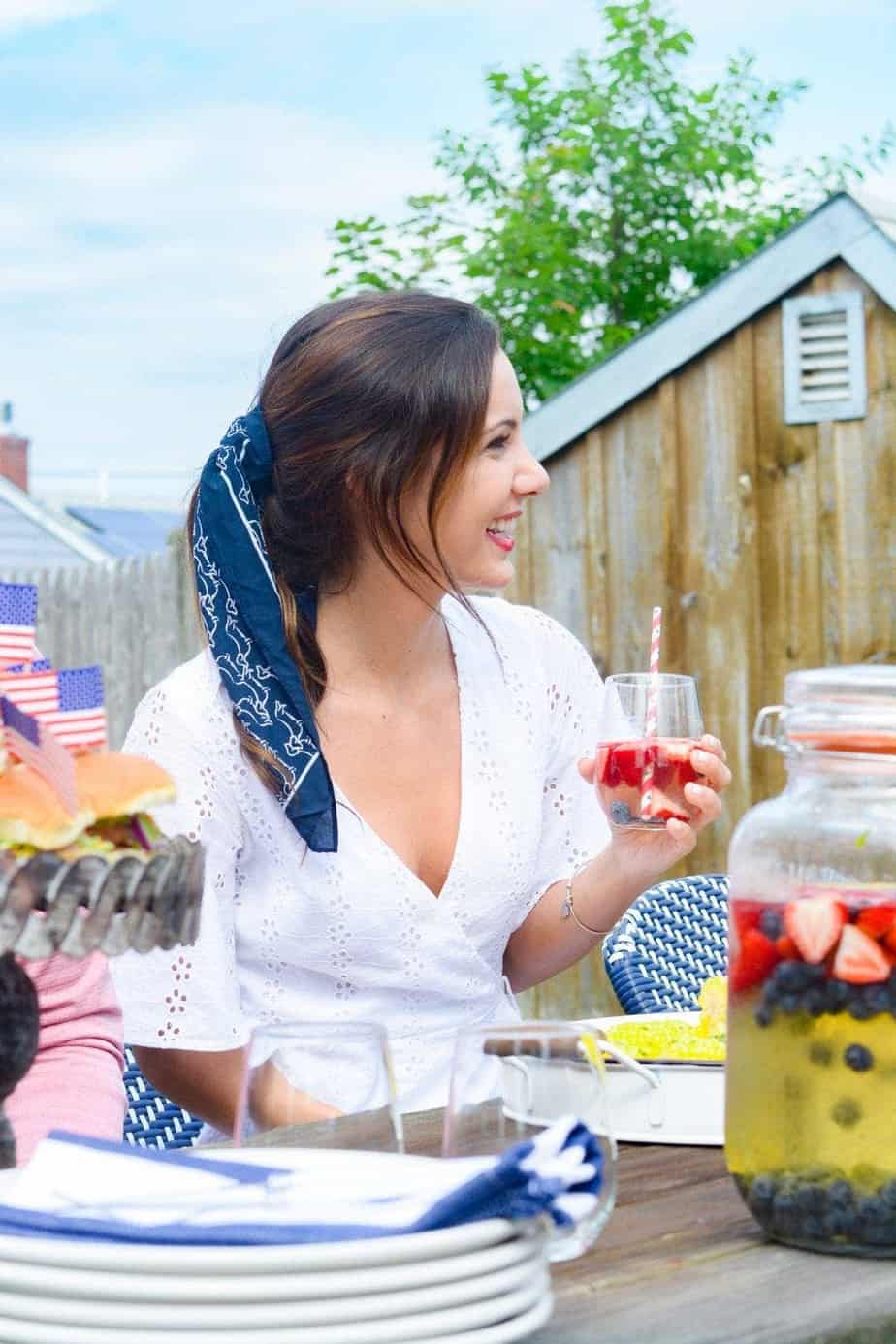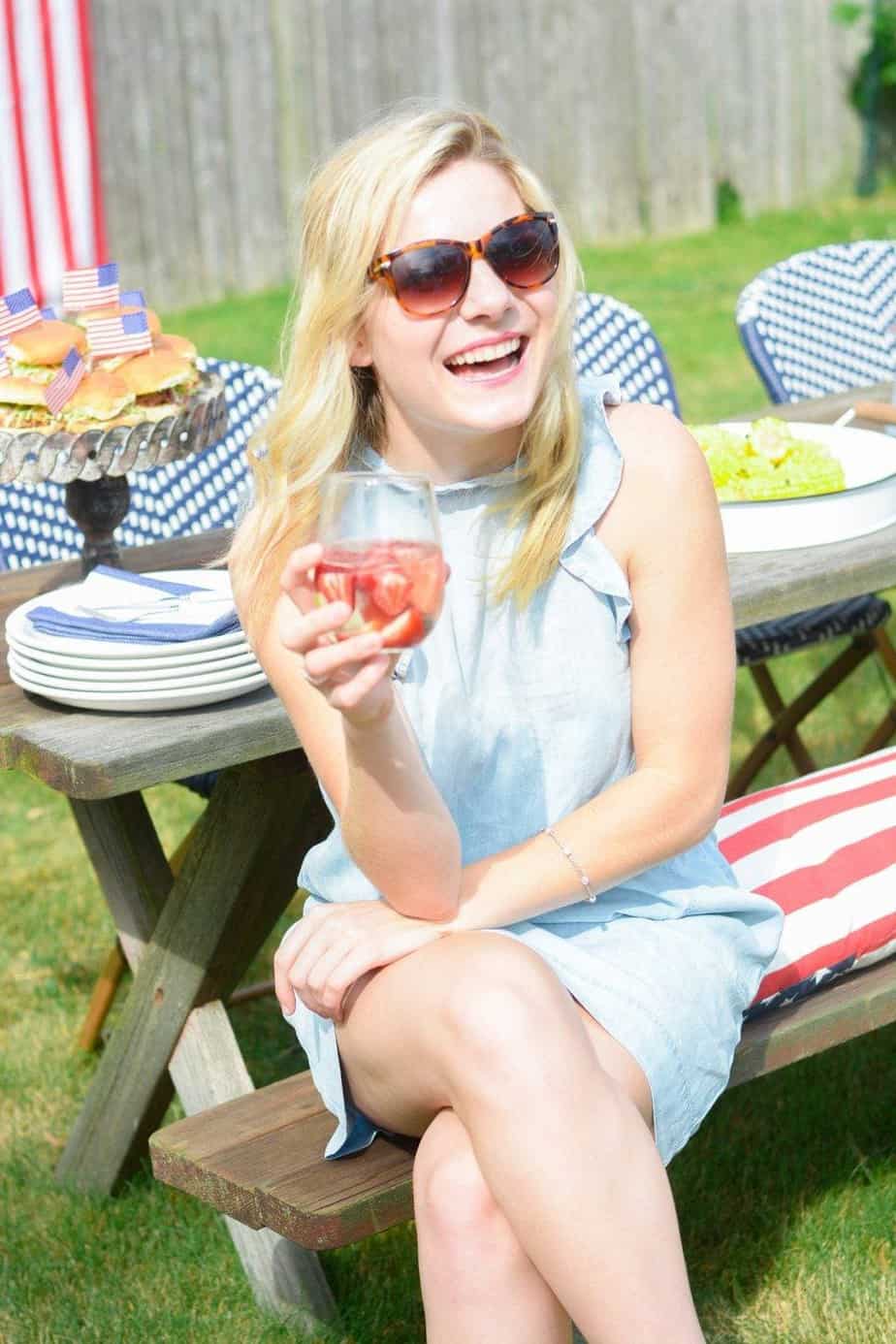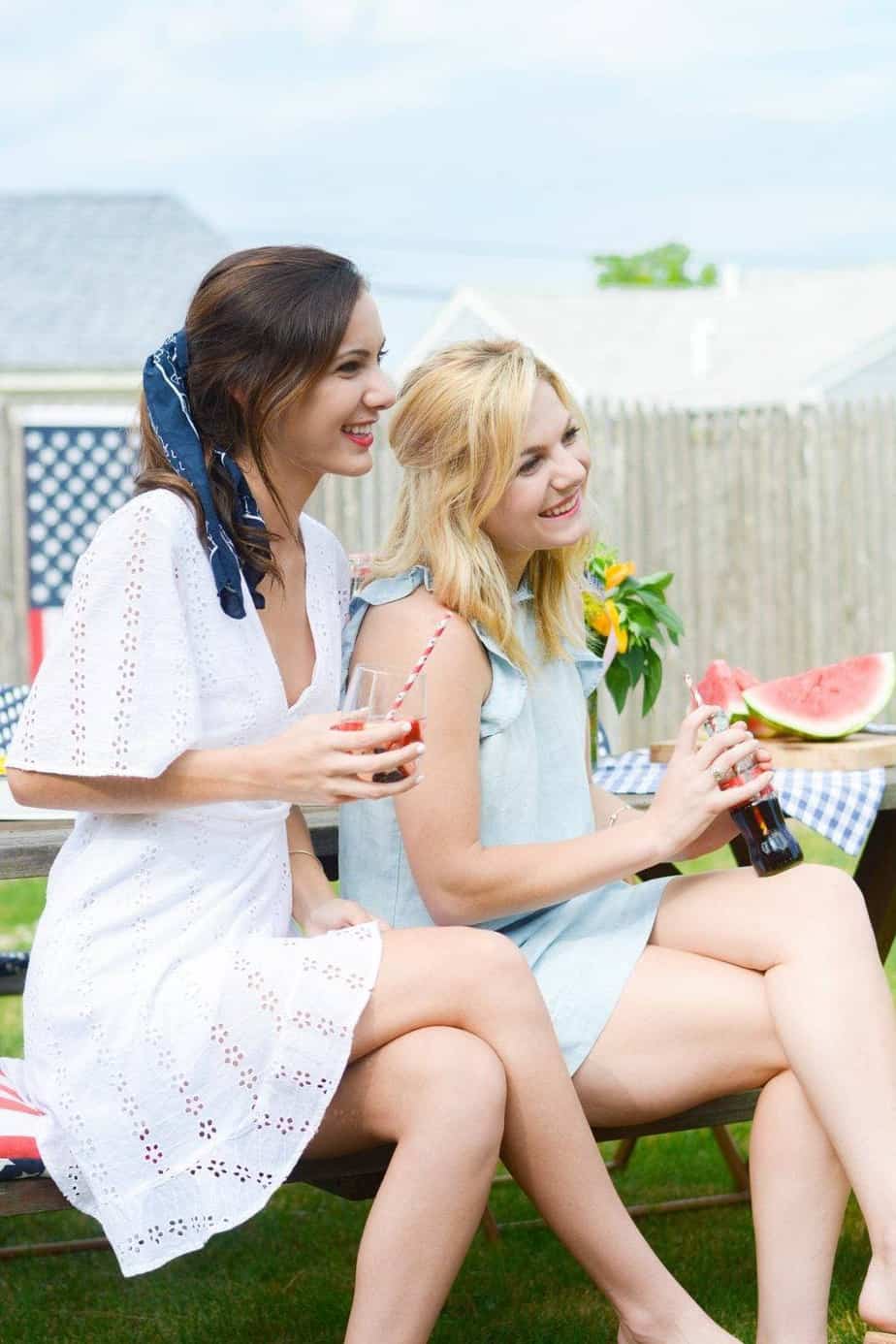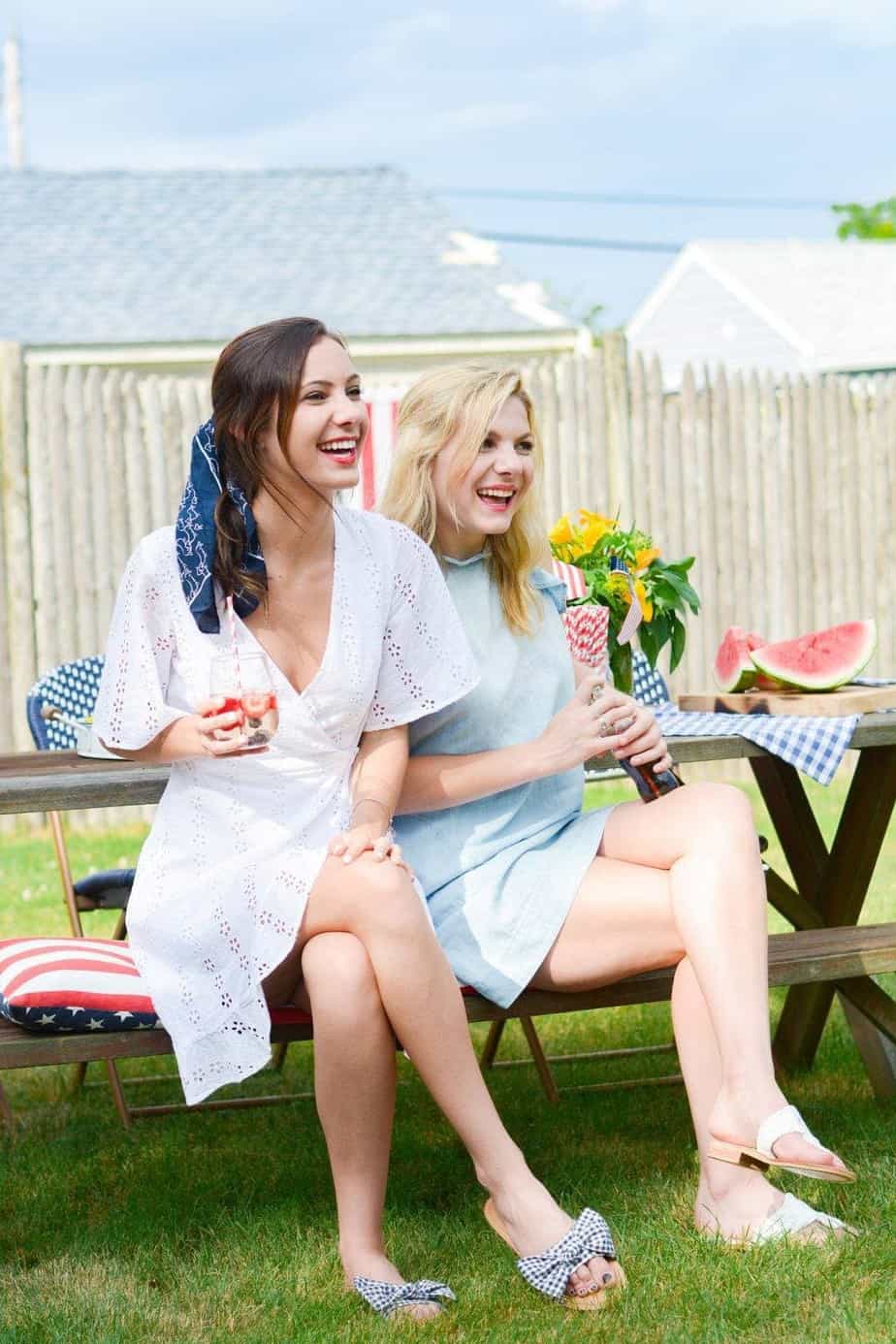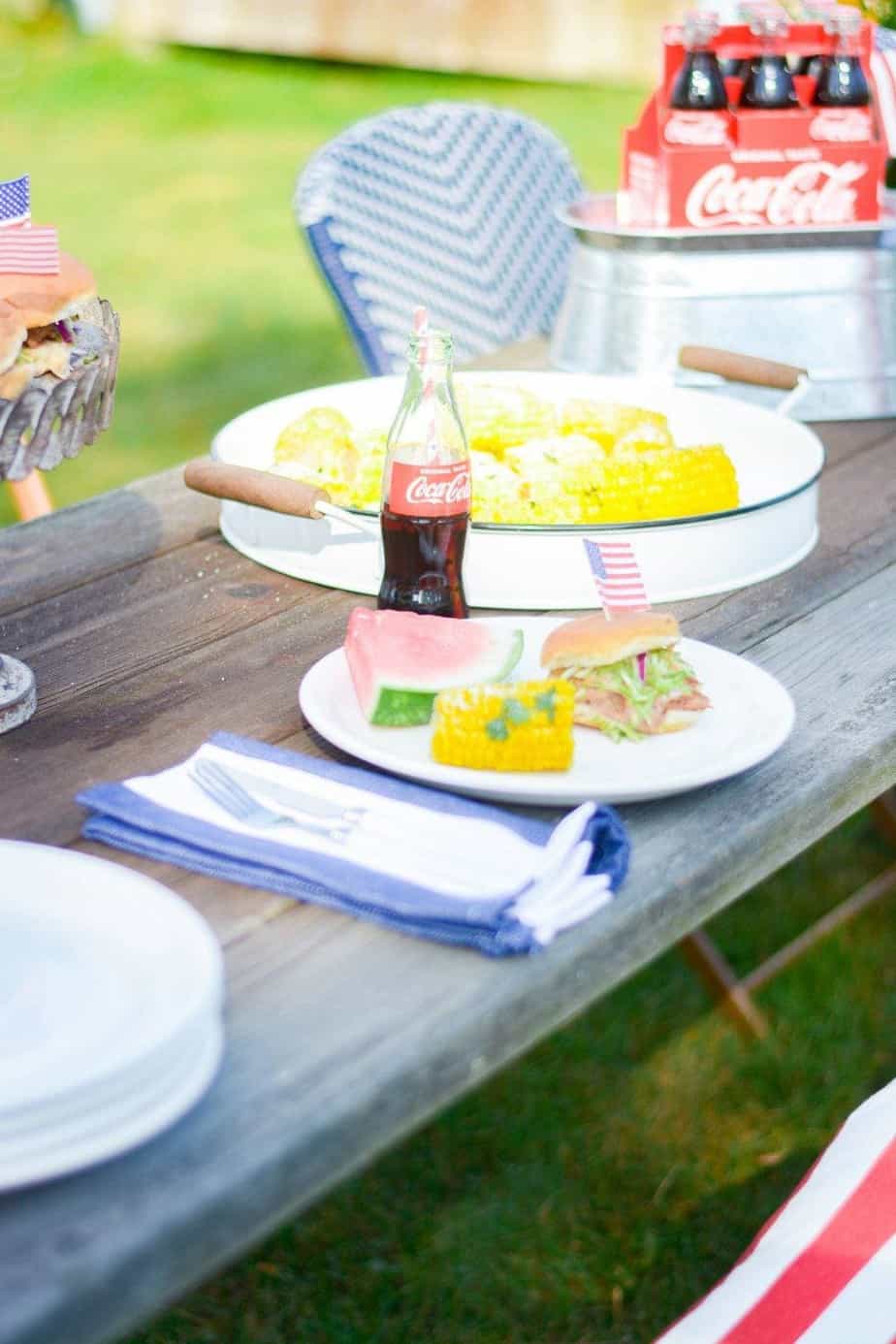 Chairs: Target | American Flag Cushions: Wayfair | Plates: Target | Napkins: Amazon (checks) and Amazon (stripes) | Silverware: Lands' End | Sangria Dispenser: Pottery Barn | Wine Glasses: Wayfair | Straws: Amazon | Metal Tin: Pottery Barn | White Tray (used for corn): Home Goods (similar) | Sliders Tray: Home Goods (similar) | Vase for Flowers: Amazon | American Flag (large): Target | American Flags (small): Amazon | Coke Bottles: Jet | My Dress: Japna (similar) | My Hair Tie: Target | My Shoes: Old Navy | My Bracelet: Etsy | My Earrings: Banana Republic | My Lipstick: Sephora | Sam's Dress: Anthropologie (similar) | Sam's Shoes: Jack Rogers | Sam's Ring: Pandora (similar) | Sam's Bracelet: Pandora (similar) | Sam's Lipstick: Sephora
This guide generally follows my own personal tastes for throwing classic style cookouts, but modifications can be made to basically any portion of it, depending on your guest-list, food preferences, weather, etc. Happy 4th!