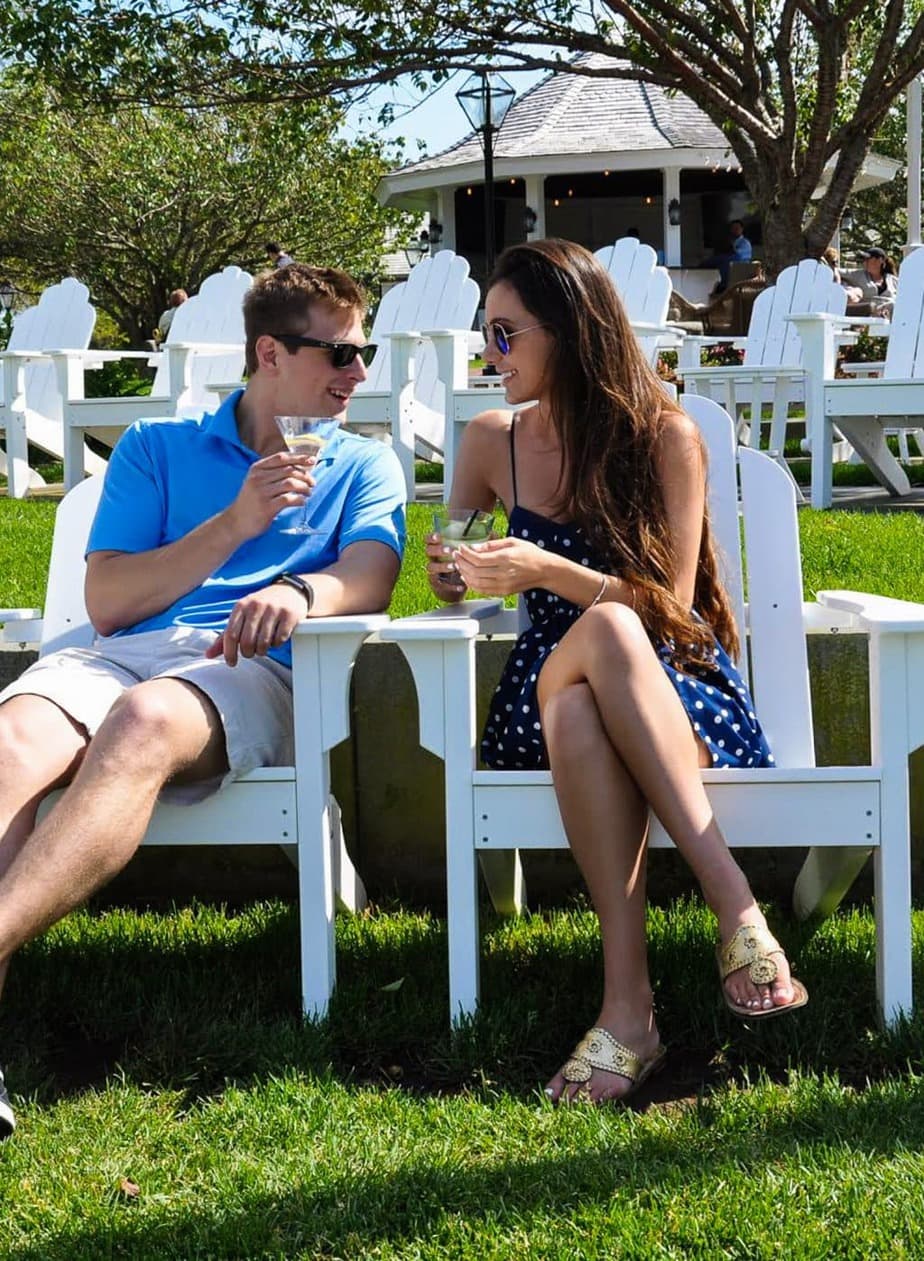 Dress: J. Crew Vintage (Similar, Similar, & Similar) | Glasses: Ray-Ban | Shoes: Jack Rogers | Jewelry: Cape Cod Jewelers | Nail Polish: Gellen Classic Colors | His Polo: Tommy Bahama | His Shorts: Vineyard Vines | His Glasses: Ray-Ban
Summertime can be stressful – you have to pack a million things into a few months and have fun doing it. There's so many fun summer date ideas that I can never fit them all in during one season, but with a little planning ahead, it's possible to have a bunch of fun date nights (and days) and have a blast doing it!
1. The Brunch Date
This is one of my favorite go-to summer date ideas.  You get to sip on a Bloody Mary or Mimosa, wear a cute sundress, and ideally sit outside.  And come on, who doesn't like breakfast food? There's something for everyone. Because brunch in the summer can be super popular (for good reason), see if you can make a reservation ahead of time (I use Open Table or go directly through the restaurant).
2. Go Sailing
Channel your inner Jackie O for a day of sailing on the water! In New England, sailboat rentals are readily available for decent prices, and other areas have similar programs. I've gone through Chatham Sail before and rented a super tiny sailboat, or you can actually charter a boat with a Captain to take you out for the day.  It's a perfect opportunity to wear a classic but cute sailing outfit: my favorites are any Sail to Sable Dress, KJP's Polo Dresses, and of course, Vineyard Vines.
3. Patio Hop
Kind of like bar hopping but a huge upgrade, especially if the weather is nice (mid 70s makes for a perfect day). We like to get a drink and a small appetizer at each patio (basically an outdoor restaurant) until the sun sets. If you go during happy hour, even better! You can make reservations ahead of time through Open Table if you think it might be busy, or just wing it and see where the night takes you.
4. Hike
I'm not athletic at all, but I have to admit that hiking is a shadily fun date. You get to dress up in comfy (but cute!) athletic clothes (my favorite pieces are Zella or Athleta Leggings and Nike Sneakers) and spend the day working out without realizing it. Pack a portable speaker (make sure to charge it) and some yummy food and drinks. If you don't hike a lot, pick a super small mountain that has a decent view. I promise, it's actually a great time.
5. See a Baseball Game
It seems like a cliche summer date idea, but seeing a baseball game is always a good time. You get to wear a cute shirt and baseball hat, eat hotdogs, and goof around with your date. If you like baseball, even better, and if not, you'll at the very least get some cute pictures. For cheaper tickets, check out the minor leagues or local teams, or stay on the lookout for deals to your major league team.
6. Find a Drive-in Movie Theater
Map a drive-in theater close to you, throw on some cozy clothes, buy some junk food (my go-to is sour cream and onion chips), and curl up under a blanket to watch whatever movie is playing. Ideally you have a truck or some type of vehicle where you can open the back, but if not it's still an enjoyable night. Sometimes there's even multiple screens and a snack bar with hot dogs or pizza.
7. Attend an Outdoor Concert
This can be anything from a local artist in the park to scoring Kenny Chesney tickets. If you're looking for something more casual and smaller, Eventbrite always has a good array of selections, or you can check Ticketmaster and Stubhub for bigger, ticketed concerts. There's something super fun and even romantic about seeing an artist you both like.
8. Go to a Rooftop Bar
They're trendy for a reason: who doesn't want to sip on a high end cocktail while enjoying an awesome view? My absolute favorite is Boston is Envoy, but there's even rooftop bars in obscure towns in New Hampshire, so I'm sure you can find one in your area. They can range from super casual to incredibly ritzy, depending on your mood. A rooftop bar is 100% the perfect time to wear that romper you've been eyeing.
9. Have a Picnic
My favorite spot for an afternoon picnic is Castle Hill (see my post on my most recent visit here) but you can picnic basically anywhere. Some options include a local park or wildlife reservation, the beach, a dock, or even your backyard. I usually use a pretty simple basket I got from Bed Bath & Beyond (although the Canterbury Picnic Basket from Williams Sonoma is supposedly the way to go if you want to splurge) and throw together an easy meal.  Ideas include fried chicken, pasta salad, Bruschetta, basically any type of sandwich (my favorite is a chicken/pesto/Mozzarella panini), strawberry salad, wraps, etc. I also love throwing together a homemade Sangria or Margarita, depending on the food.  Don't forget a picnic blanket!
10. Check Out a Farmer's Market
Typically a daytime activity, farmer's markets are a lot of fun! You can of course buy some fresh produce, but there's also food stands and other vendors selling cool things like honey, baked goods, dog treats, flowers, plants, herbs, essential oils, pottery, soaps, homemade jellies and salsas, fresh pesto, etc. If there's any type of taste test at a stand, I'm there. I'm a dog parent and hate leaving my pup at home – a farmer's market is a great opportunity to bring your pup on a date, plus you can wear a cute sundress and get a fun Insta. There's bound to be a market in your area on the directory here.
11. Grill Outside
Literally all you need is a grill, some hotdogs or hamburgers, and a good summer playlist. If you want to make it cute, you can get outdoor furniture and place settings and make some yummy sides. I love stringing up outdoor lights for extra ambiance. There you go: you've got a whole date right at home that'll isn't lame.
12. Find a Summer Festival
Again, this can be as huge or as small as you want. Around here, we have a super tiny Strawberry Festival (but don't be fooled, it's actually a blast – I've never eaten so much Strawberry related food in my life) and then we have the massive feasts in the North End, plus everything in between. You can Google festivals in your city and you'll find some fun stuff. I try to do at least one a summer, because they're so seasonally dependent and so much fun!
13. Go Fishing
My dad is a fisherman, so I might be biased, but even if you absolutely hate everything about catching fish, the best parts of fishing are the quiet moments in between. You can listen to music (I use this waterproof speaker), munch on snacks, and talk. It's a way to chill out while technically doing something. Whether you live close to the ocean, a lake, or a pond, there's bound to be something easy to catch that you can throw back.
14. Hang Out at an Outdoor Brewery
I'm kind of obsessed with breweries all year round, but I especially love the ones that open up a patio in the summer. If you go on the right night, there's sometimes live music, a food stand or truck, outdoor games, and a super relaxed but festive atmosphere. It's an uncomplicated date that's still off the beaten path!
15. Go Swimming
I can't even swim and I love these dates, so this one is seriously for everyone. Head to a local pool, a watering hole, a lake, or the beach. Pack a bunch of snacks, sandwiches, drinks, and a cute bikini, and you've got a super awesome day on your hands.
16. Take a Weekend Road Trip
I'm sure there's some fun summer destinations close to you, so why not dedicate a weekend to checking them out? You can grab discounted hotel rooms (one for each night) in two different locations and check out the surrounding towns. I love doing this up in Maine because there's so many adorable coastal towns, but look for popular lake spots (we have Lake Winnipesaukee) as well. Don't forget to pack a cute weekend bag and make a summer playlist for the car! There's a bunch of seasonal deals available, especially for last minute travel.
17. Go Food Truck Hopping
Kind of like patio hopping but more casual, find an area around you where there's typically some food trucks set up, or even better, a food truck festival. Sample one thing at each truck and rate them. Personally, I think early afternoon is a perfect time for this date. A lot of festivals will have local artists and bands playing live music. You don't have to dress up at all and can just enjoy being outside!
18. Find a Flea Market
I'm getting really into DIY using old furniture, so I love checking out the local flea market on a Sunday morning. It's a fun activity right before or after brunch. You can sometimes find some super cool stuff, plus it's completely free!
19. Attend a Polo Match
Saved the best for last! Even if you know absolutely nothing about Polo, going to a tournament is always a blast. You can live out your Pretty Woman dreams or pretend to be Blair Waldorf, all while tailgating, making friends, and saying hi to the many dogs in attendance.  Google Polo around your area for smaller venues, or look on U.S. Polo Association for larger events. This is definitely the time to go all-out outfit wise. Almost any Lilly Pulitzer dress is a good choice. If you want to go a little less flashy, or are unsure how dressy a specific match is, a cute sundress will work (I'm a fan of KJP, Lauren James, and Merona from Target). For shoes, flats like Jack Rogers or straw wedges are best. Don't forget to bring a full array for tailgating (sometimes even a full picnic depending on the event) and your pup!
Have any tried and true additions to my summer date ideas? Let me know in the comments. Happy summer!