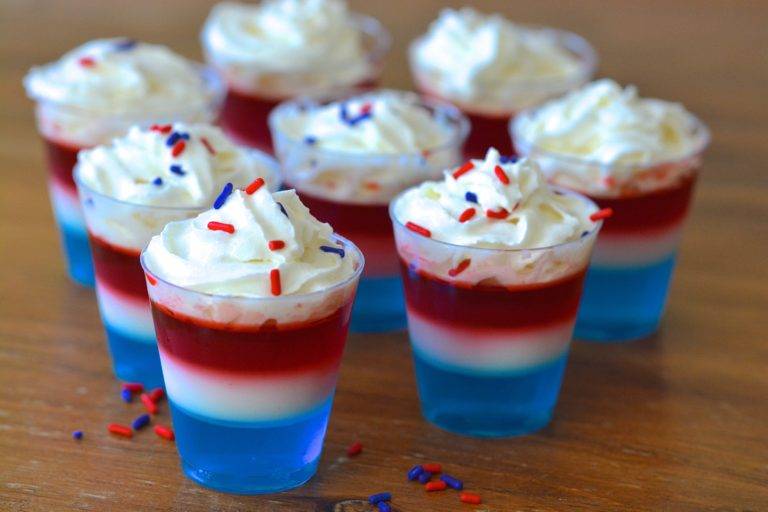 The 4th of July is one of my favorite holidays, and not just for the super cute outfits! Everything is colorful and summery. Each year I try a new red white and blue drink recipe. This year, I thought it would be a challenge to try and add jello shots to our post-fireworks party! The colors ran a little bit but most of the batch came out cute and great tasting, so I thought I'd share with you guys.
Ingredients:
• 30 tall shot glasses (any bendy plastic is best)
• 1 pack each of red (cherry flavored), blue (berry flavored), and unflavored (or white) jello or gelatin
• A corresponding juice that matches in color for each jello (think pink punch, blue berry juice, and sprite or coconut milk)
• Flavored vodka (I used cherry)
• Whip cream
• Red white and blue sprinkles
1. For the blue layer, boil one cup of the juice then stir in the jello packet. After about 2 minutes, remove the mixture from the heat and add one cup of vodka. Pour into 1/3 of each cup. Put the cups in the fridge for at least 3 hours.
2. Repeat these steps for each layer, but make sure to let the jello mix completely cool before pouring it, or the hot liquid will melt the layer below it (resulting in a sort of horrible brown mixture – trust me, it wasn't pretty). Each layer should be completely chilled in the fridge before you add the next.
3. Top with whip cream and sprinkles, then enjoy this super festive treat!
Serving size: 30 shots
This was my first time making these, and let me tell you – based on my taste tests, these guys are strong! I'm planning on having these in their own cooler with beer and seltzers available so no one goes to crazy. There's tons of different ways you could top these – whipped cream like I did, American Flag toothpicks, or even red white and blue straws! The nice thing about these jello shots is that they actually hold up pretty well in the fridge, even for a few days. These will definitely be a huge hit at my party! Let me know in the comments if you happen to try them or share your favorite red white and blue recipe. Happy 4th everyone!
xo,
Alex