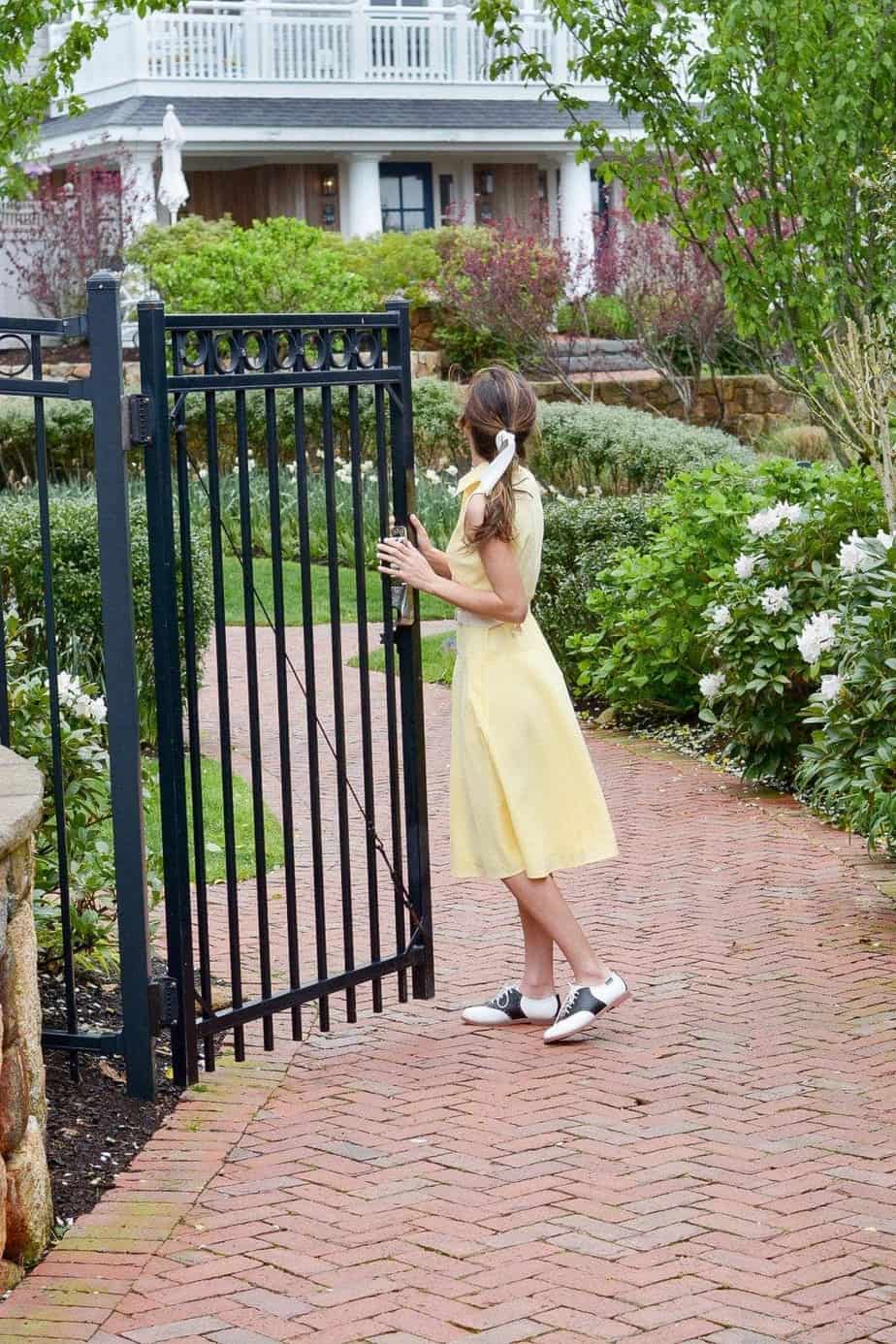 After staying at The Wequassett in Harwich last weekend, I've 100% found my new favorite resort on the Cape.
The location is ideal, the architecture is gorgeous, and the food was absolutely delicious, but the top takeaway for me from the weekend is that I've never experienced better hospitality. Every single employee was not only over the top courteous, but the staff truly went out of their way to make the resort feel like home.
Related Posts:
If you're planning a visit to Cape Cod, The Wequassett is a must try.
The Room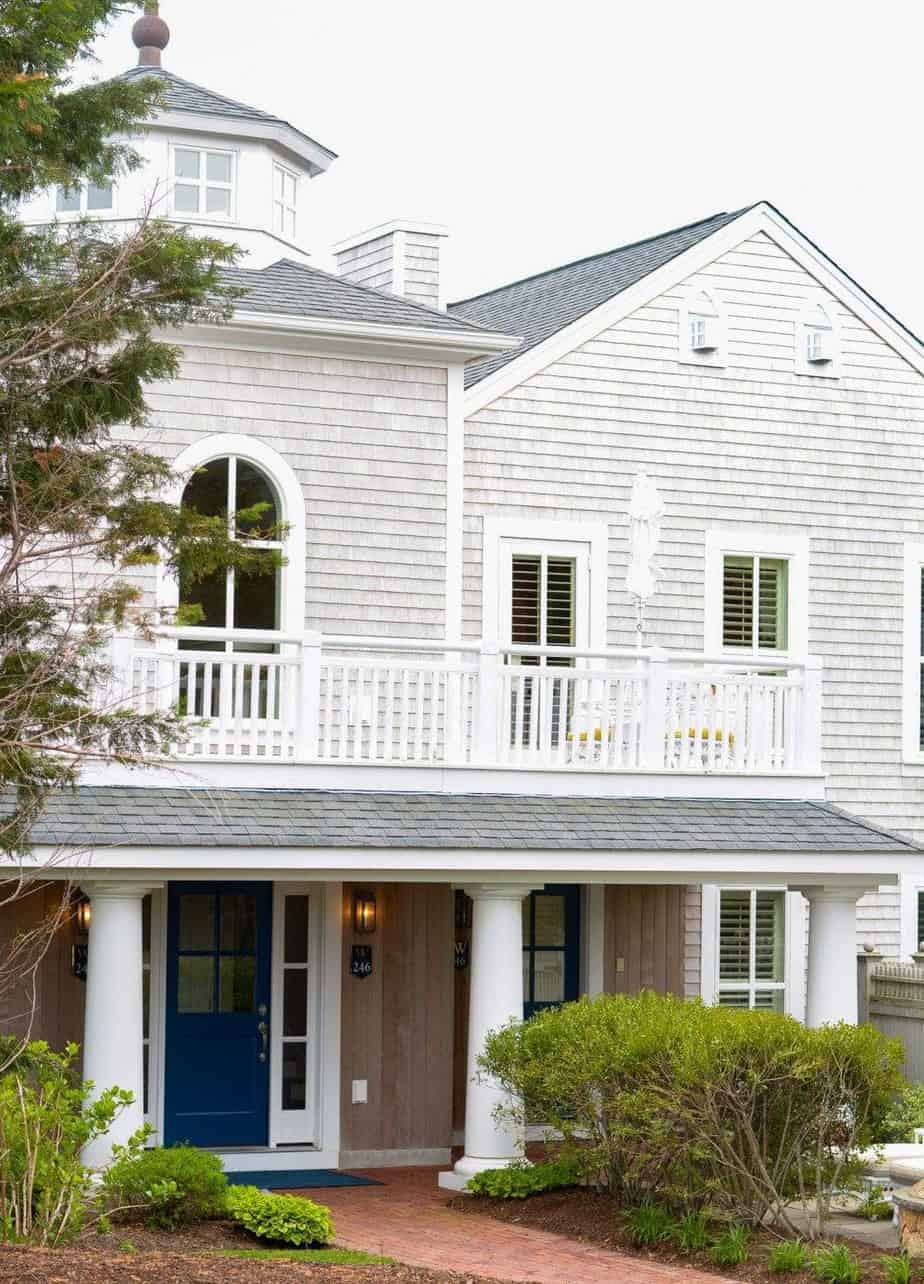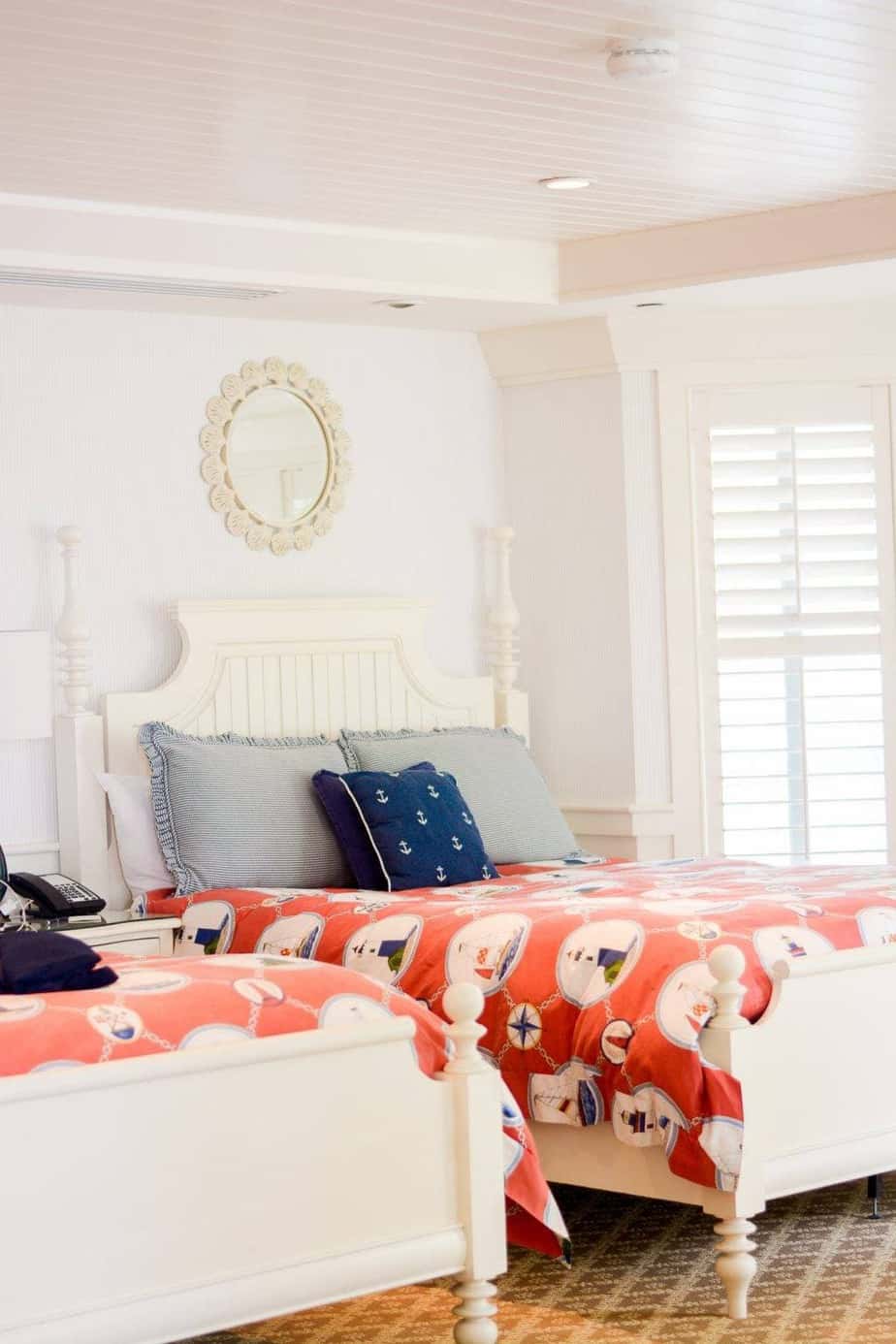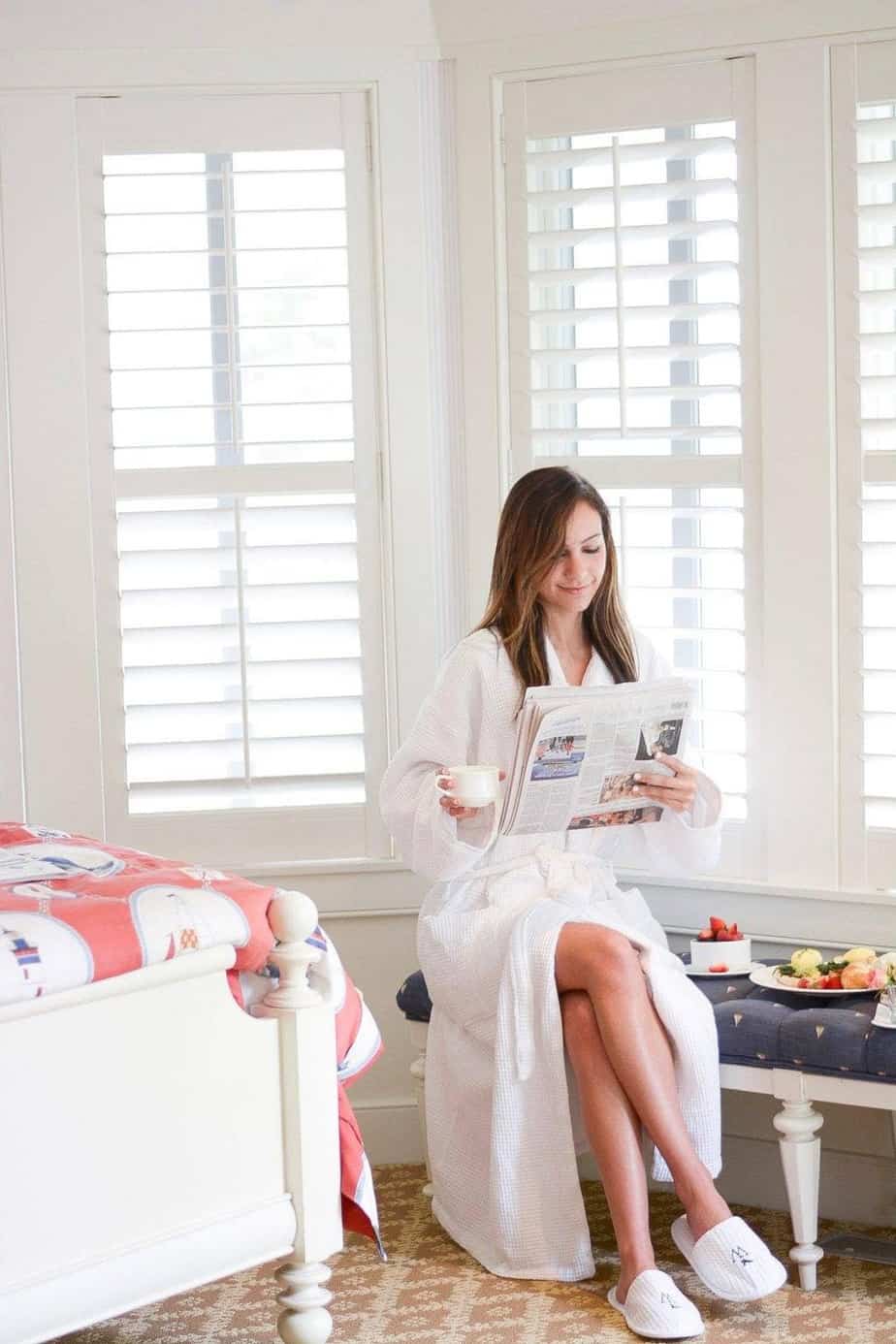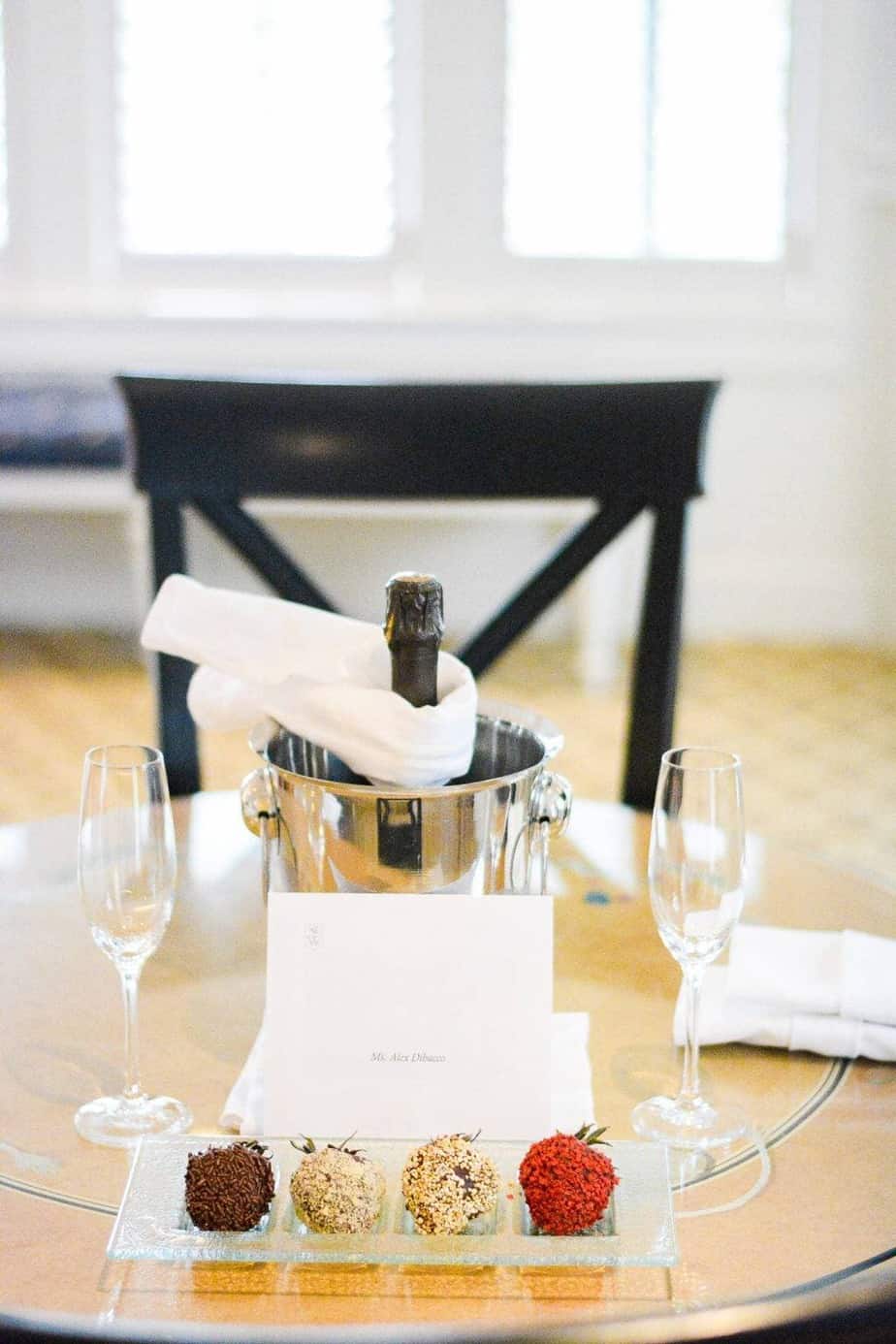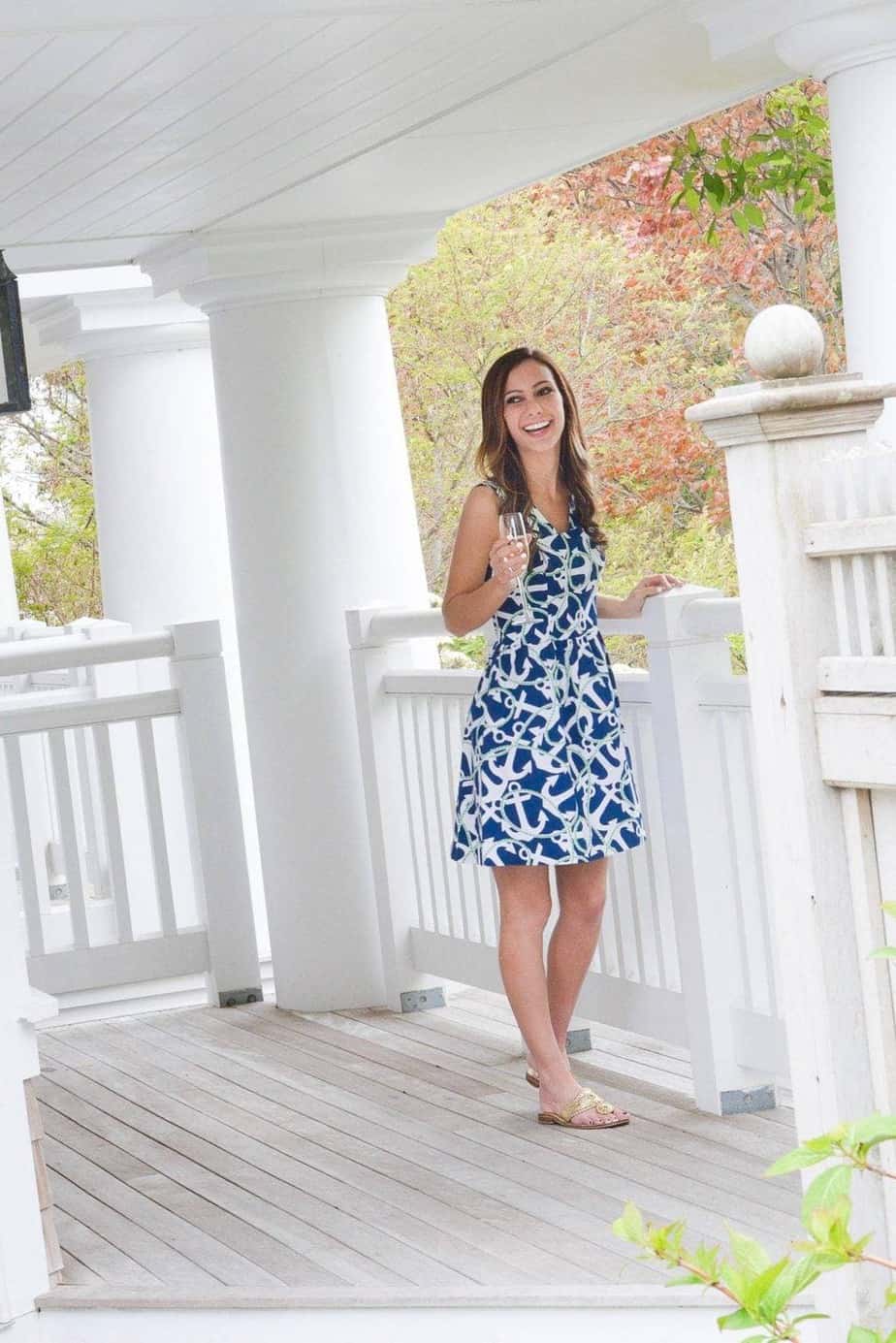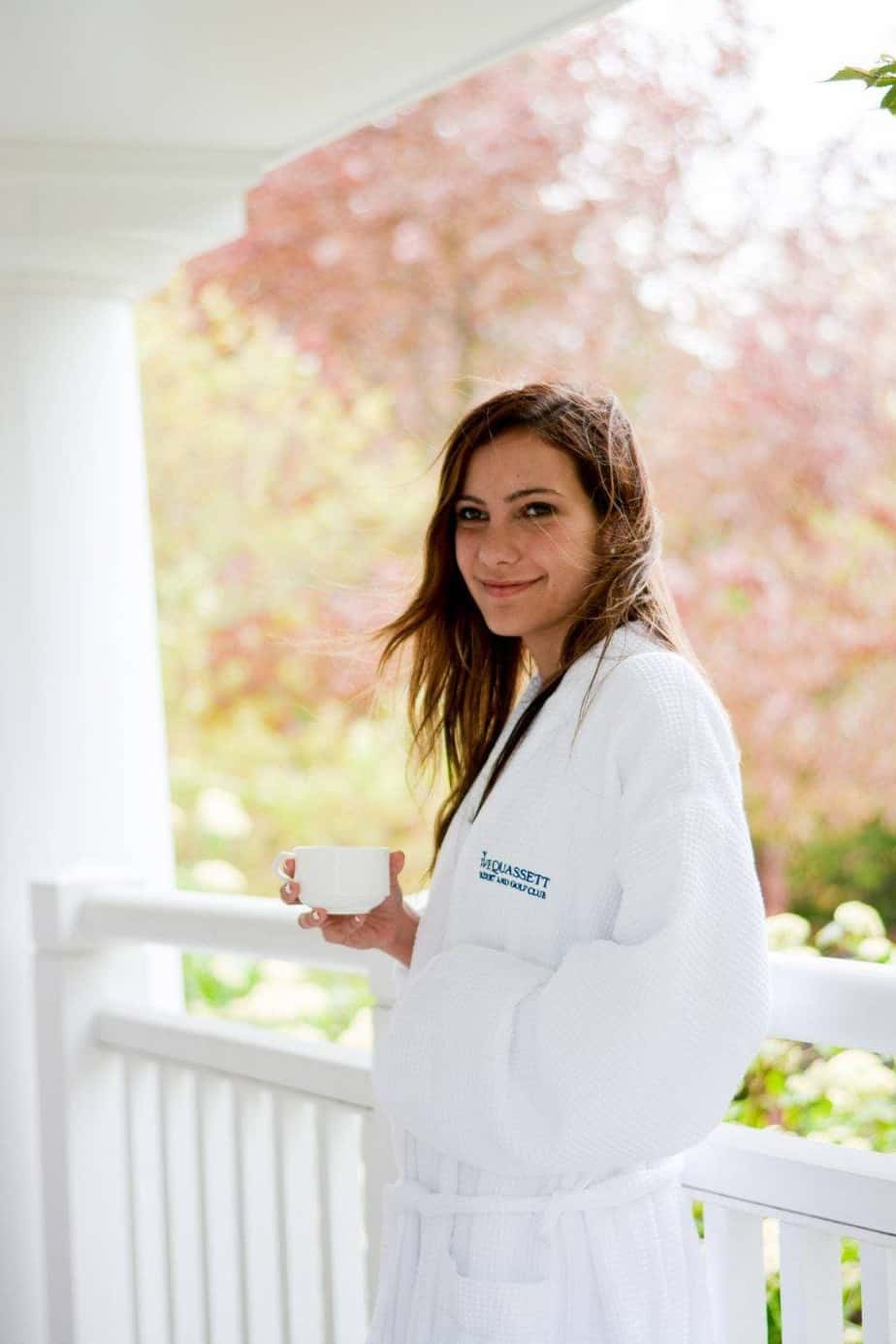 The layout of the resort is reminiscent of upscale Cape Cod style carriage houses. We were able to park right in front of ours, and followed the beautifully manicured brick path (surrounded by lush greenery and flowers) to our room.
It was located on the first floor, but had a gorgeous white balcony off the back where I drank my coffee each morning. Our other private outdoor area featured a hot tub, super cute yellow and white table and wicker chairs, a lounge area, and even a remote controlled fire pit!
Everything is so well-taken care of. You really feel like you never have to go anywhere for anything.
The room itself had possibly the most adorable decor ever. Not even kidding, I want to re-do my own bedroom in this theme. Every detail was immaculate, from the soft nautical inspired coverlet to the gorgeous blue and white sailboat printed wallpaper in the bathroom – it was blogger heaven.
There was a full minibar (with the most affordable prices I've ever seen in a hotel), a TV, cozy waffle weave bathrobes, a daily newspaper of your choice, turndown service made for a princess (housekeeping left slippers for us each night as well as bottled water and chocolates), and even an indoor gas fireplace that gives off a good amount of heat.
Part of our stay was slightly rainy, so we spent a chunk of time in the room, and I honestly couldn't have asked for a cuter place to pass the time. Seriously, I can't say enough good things about it!
The Hotel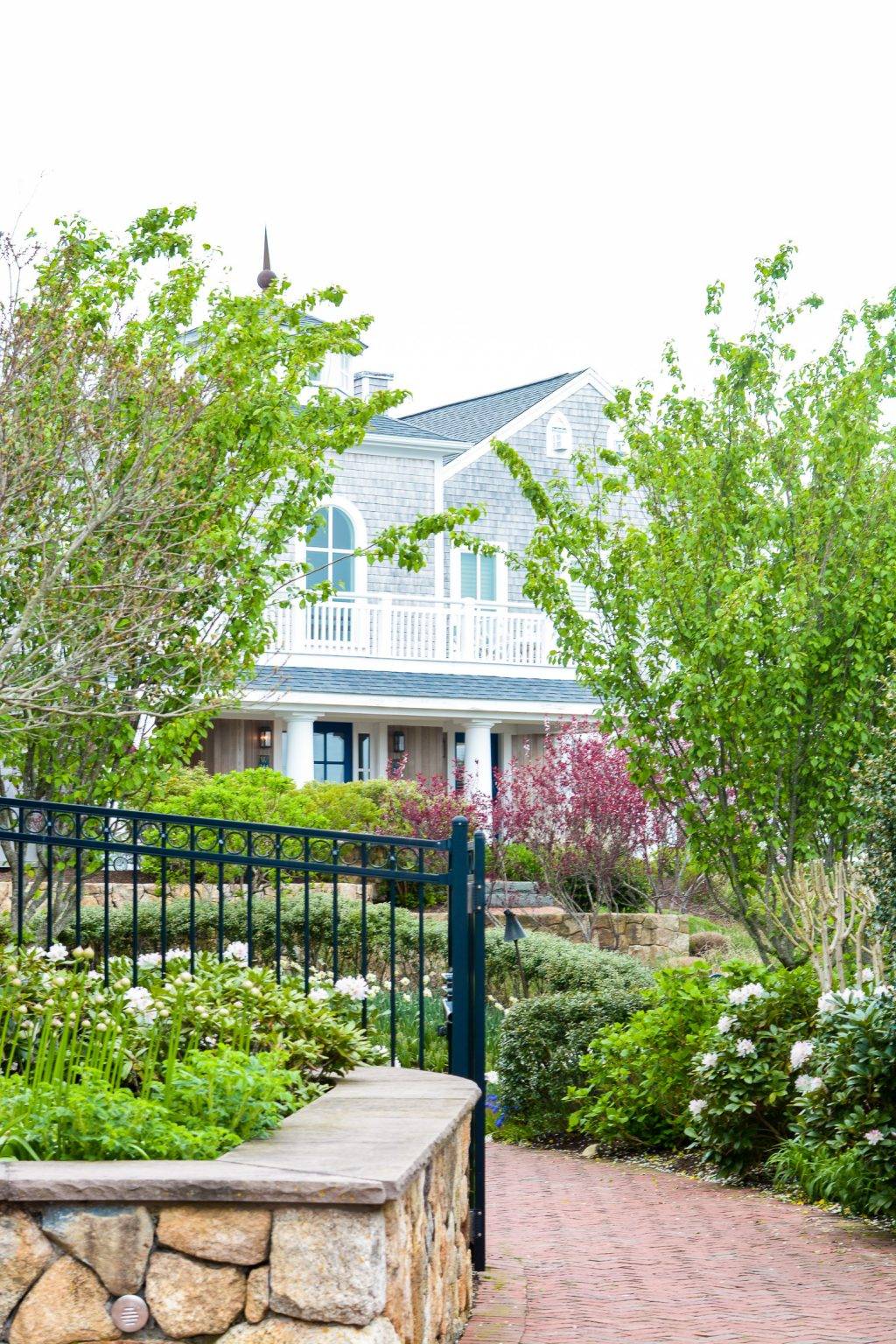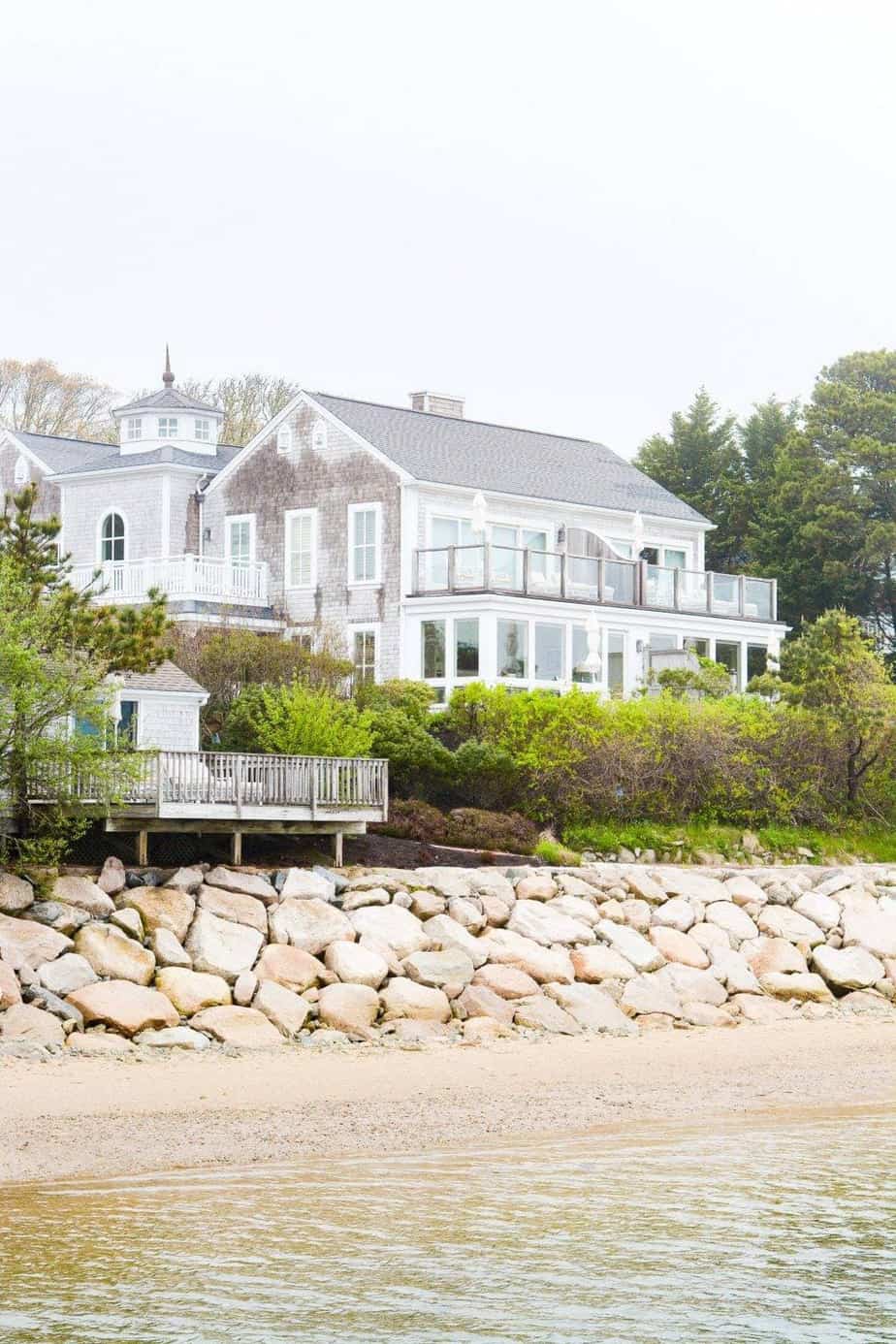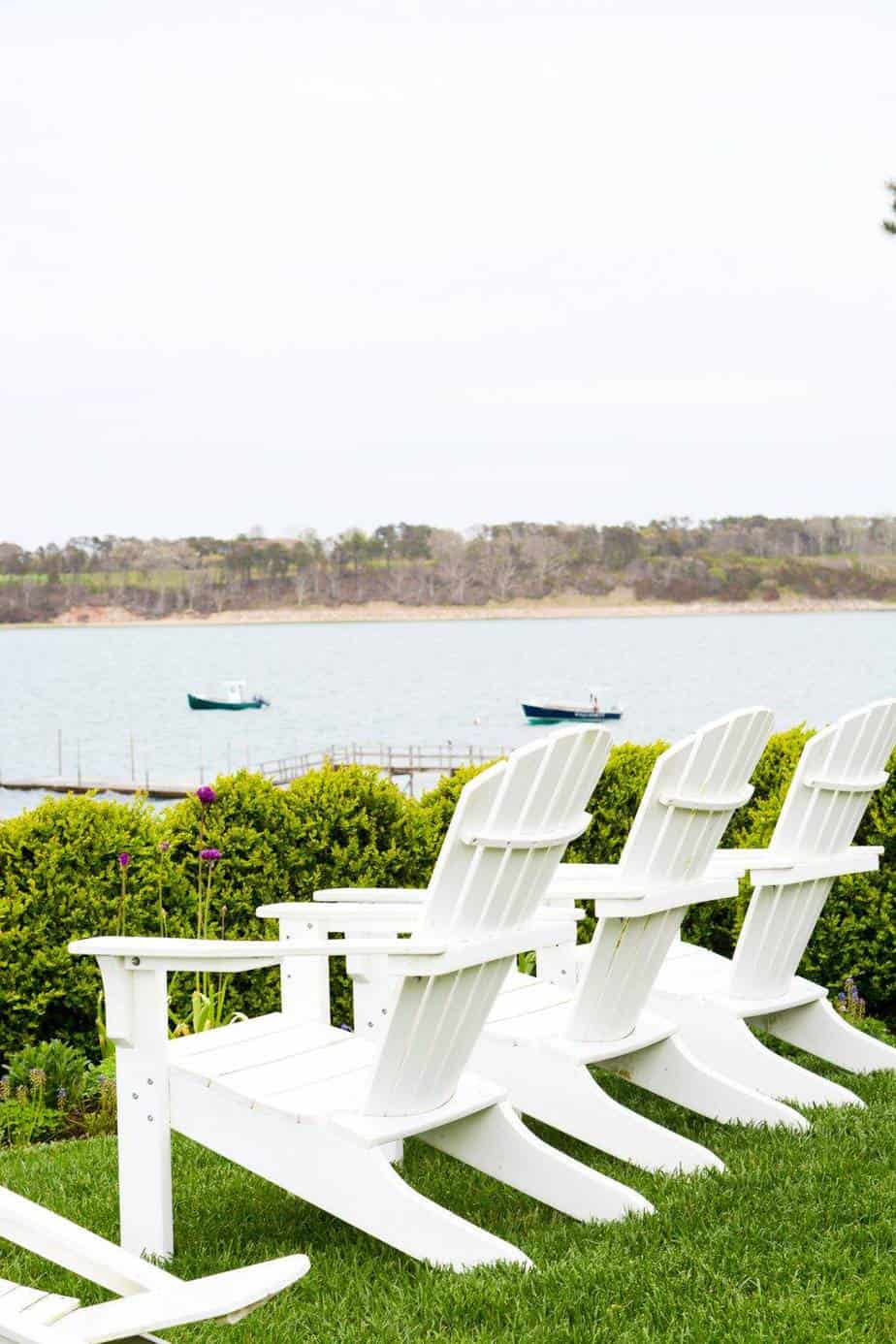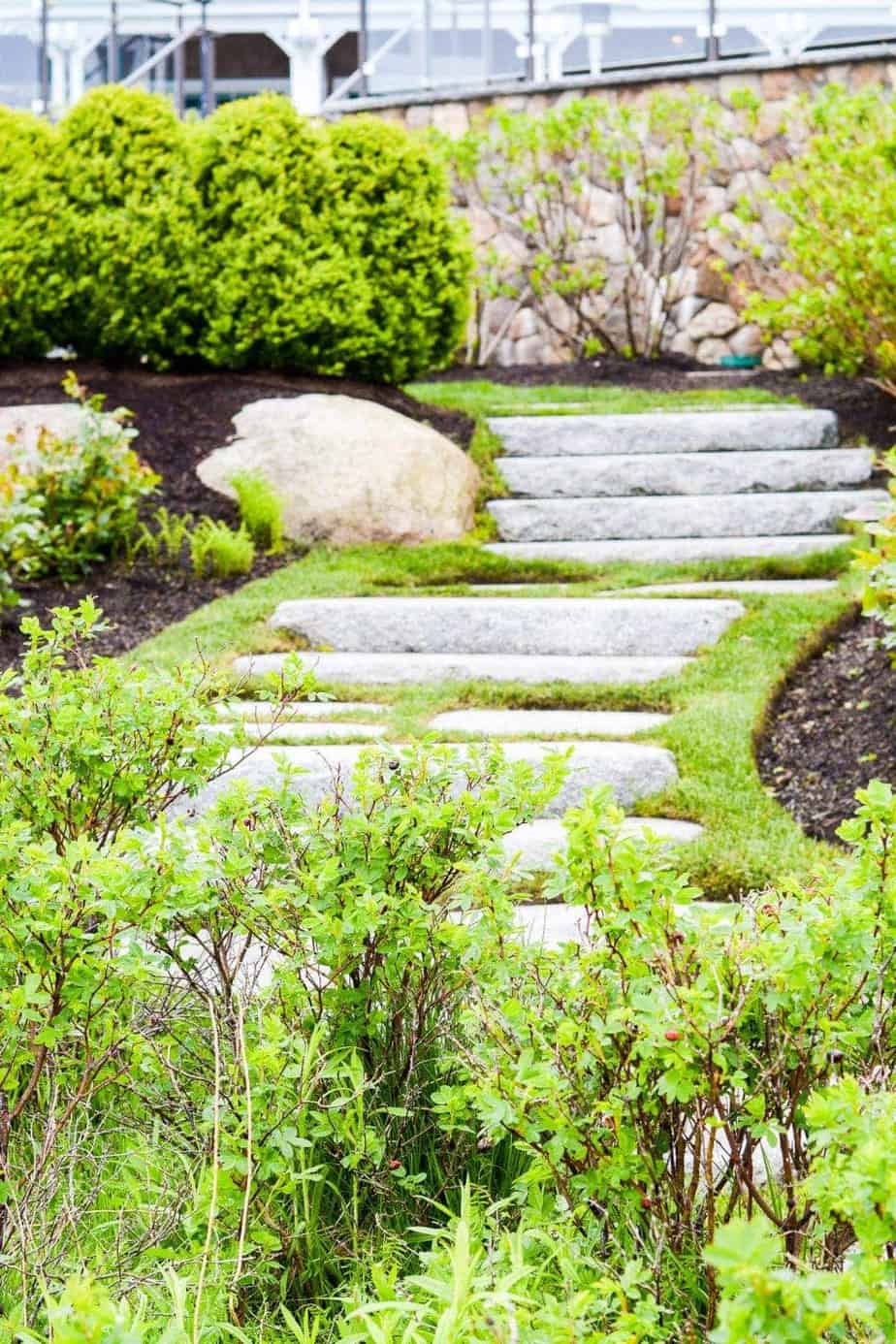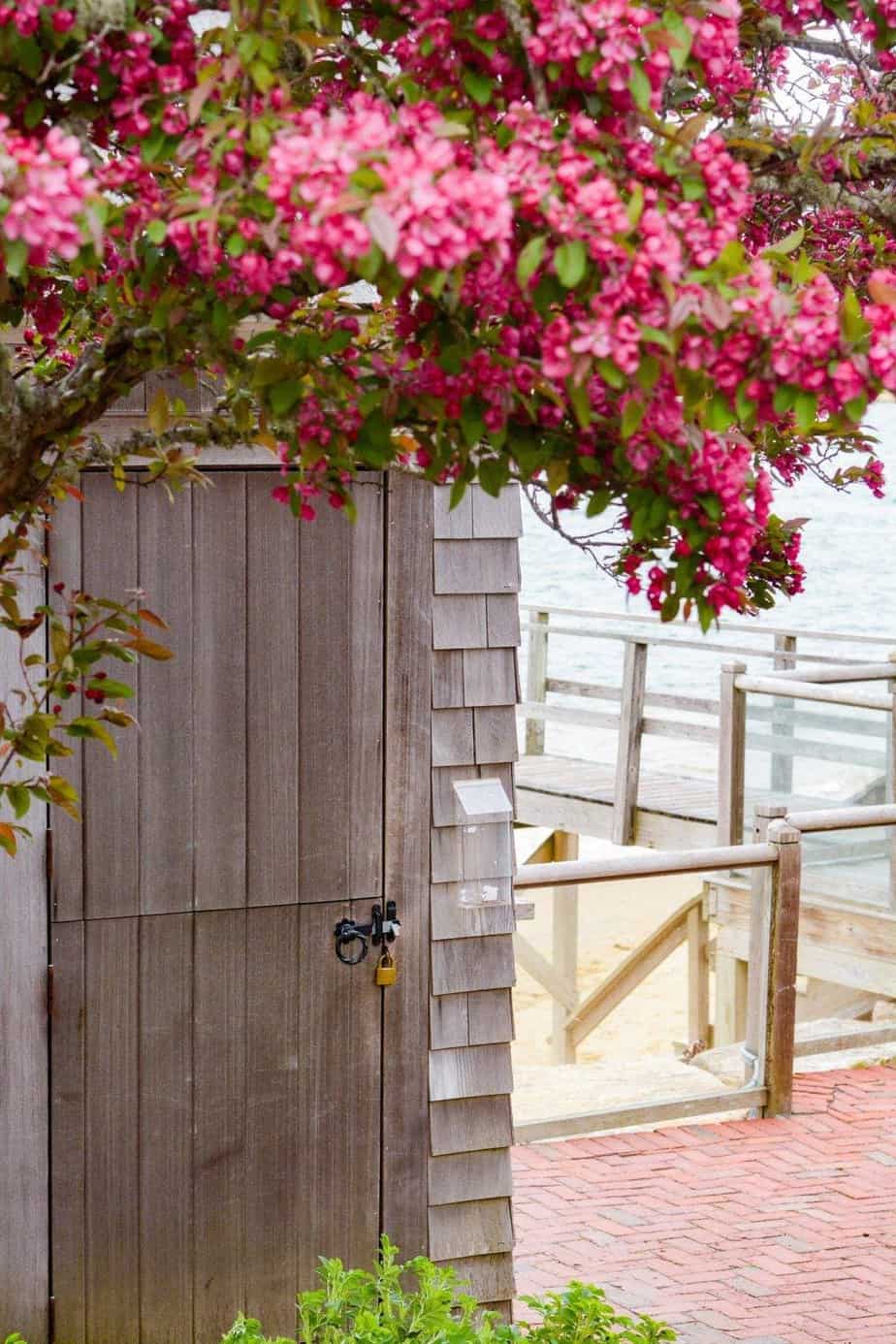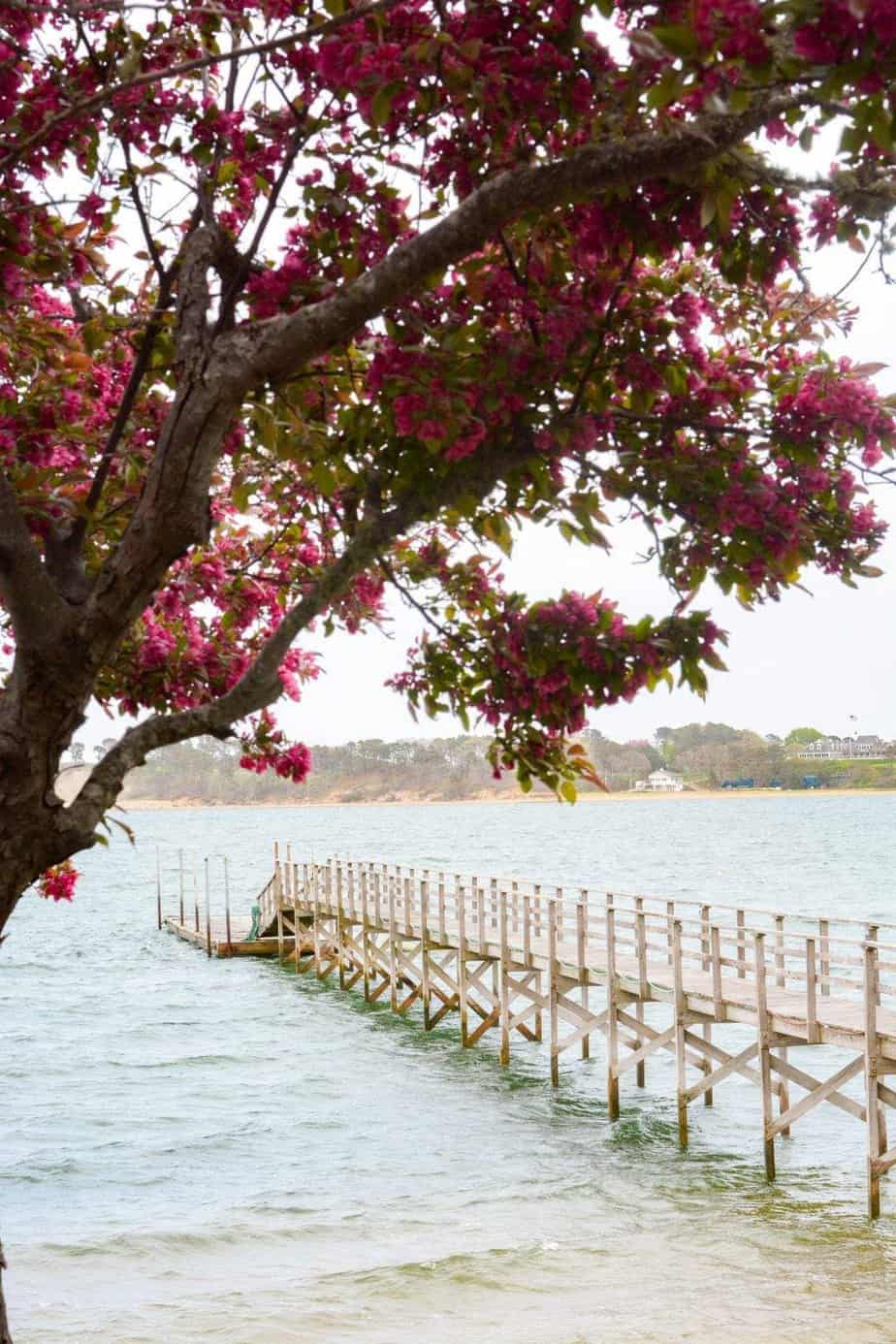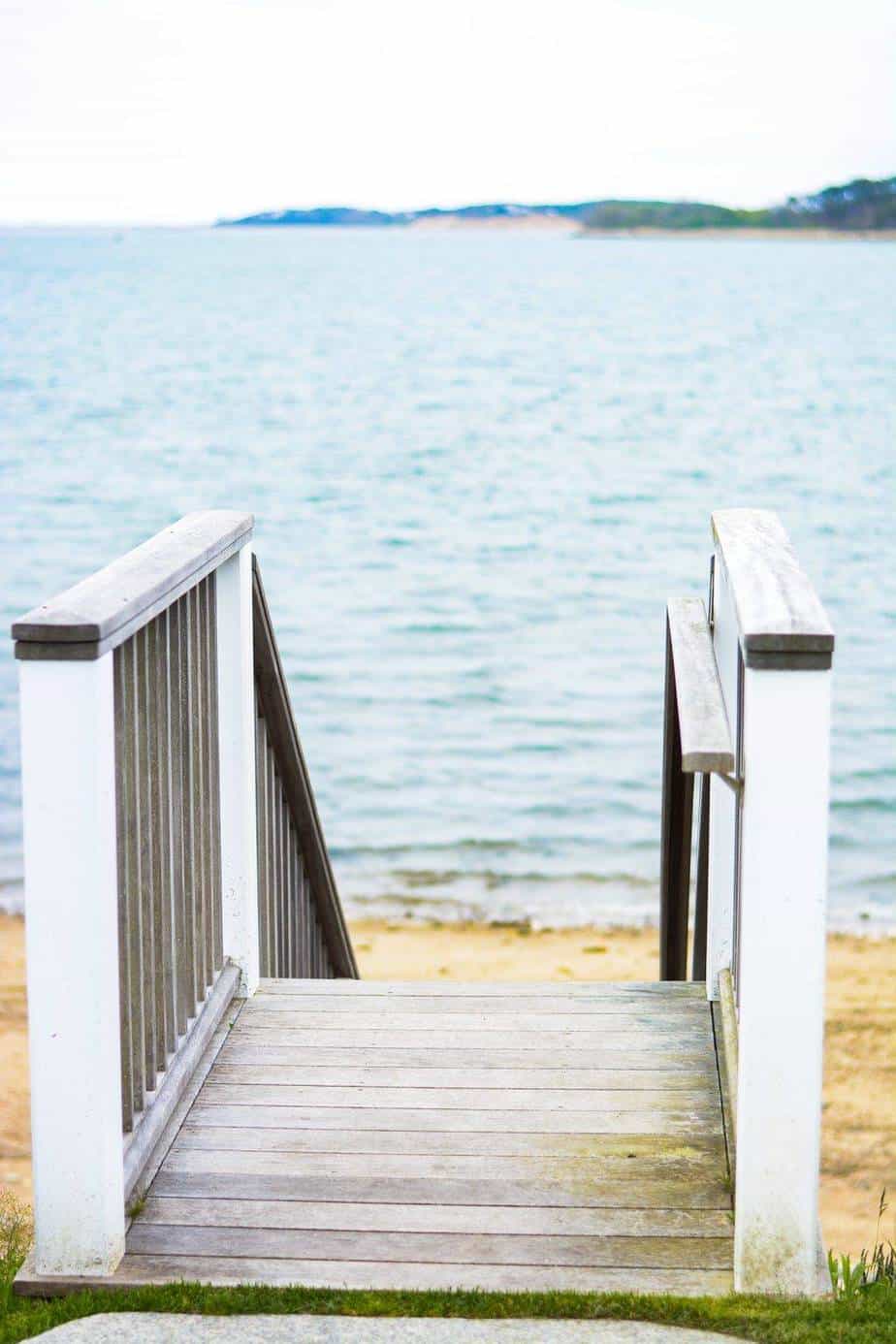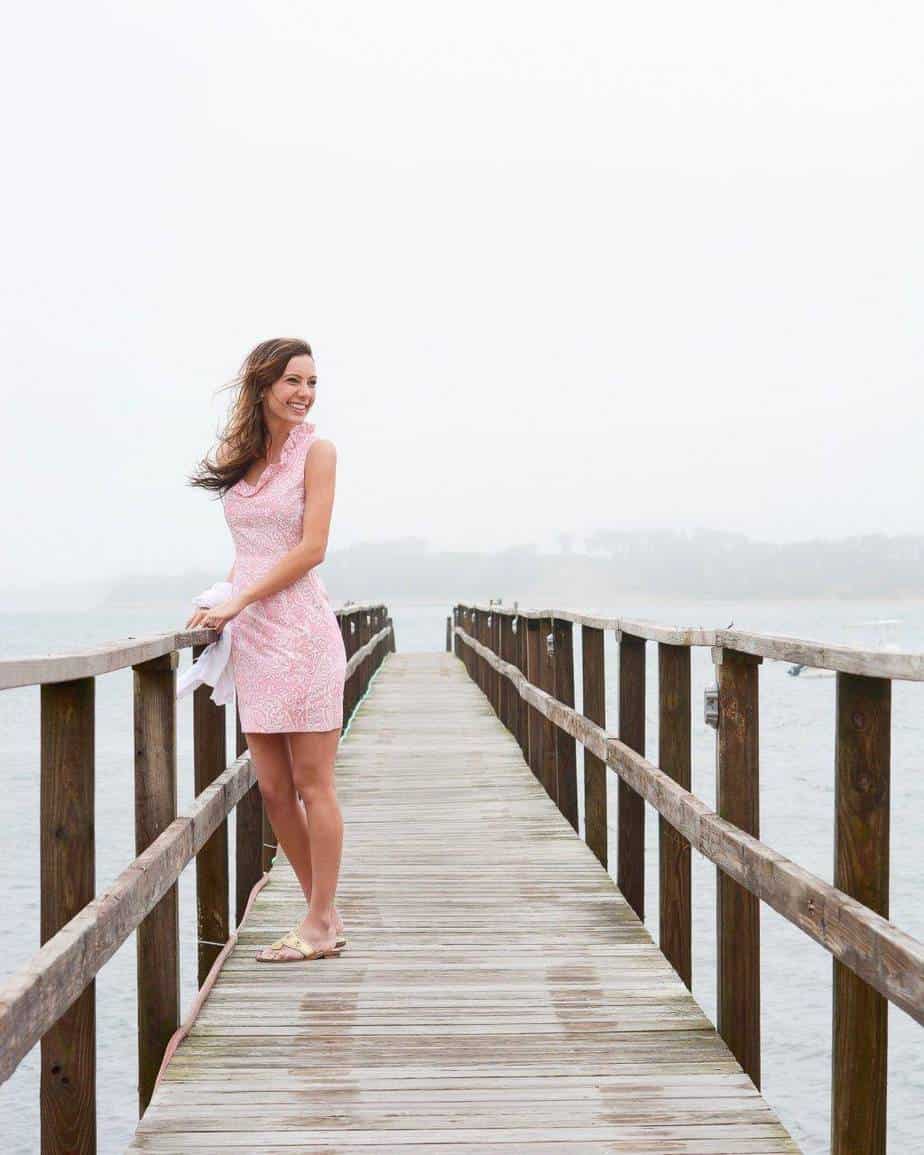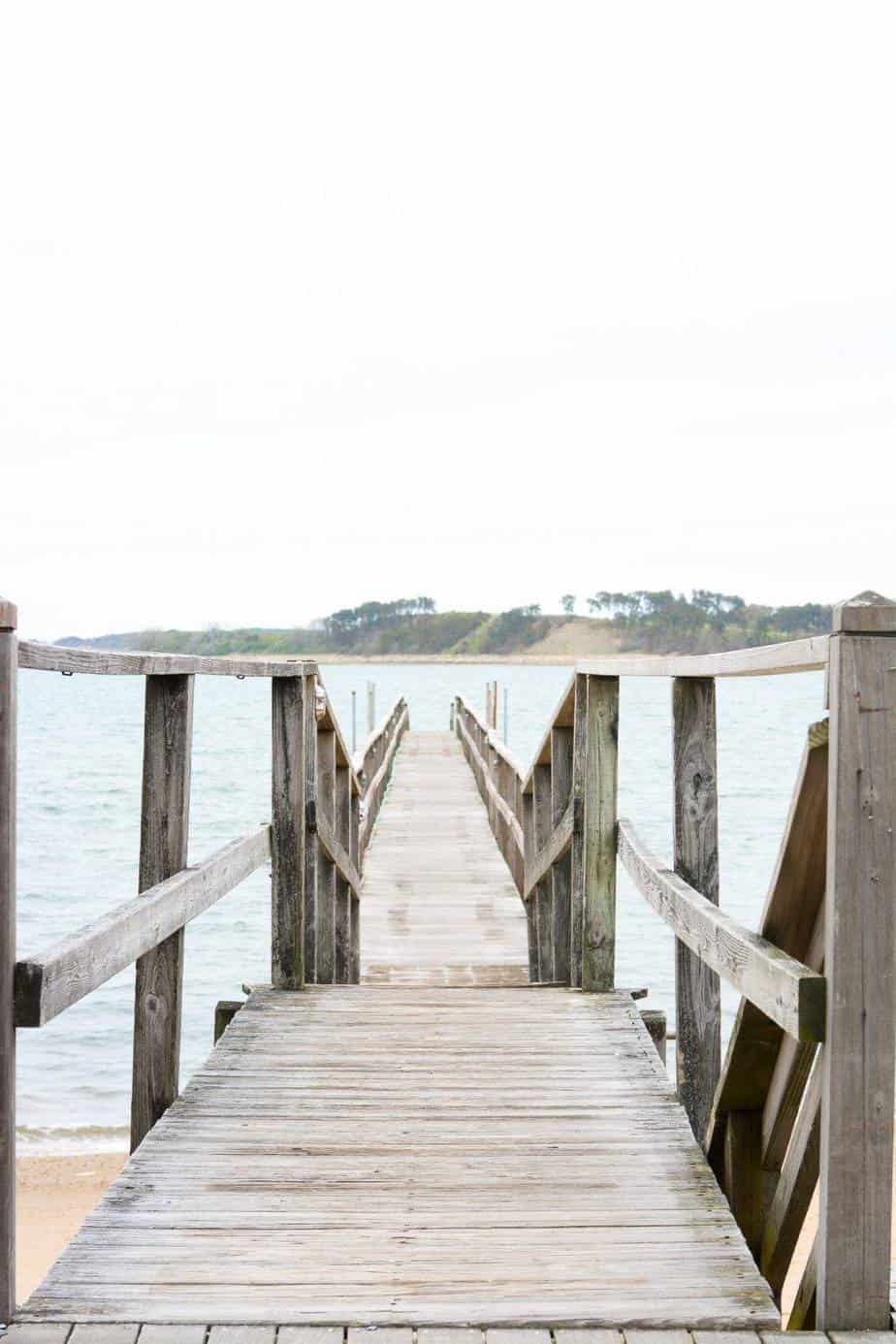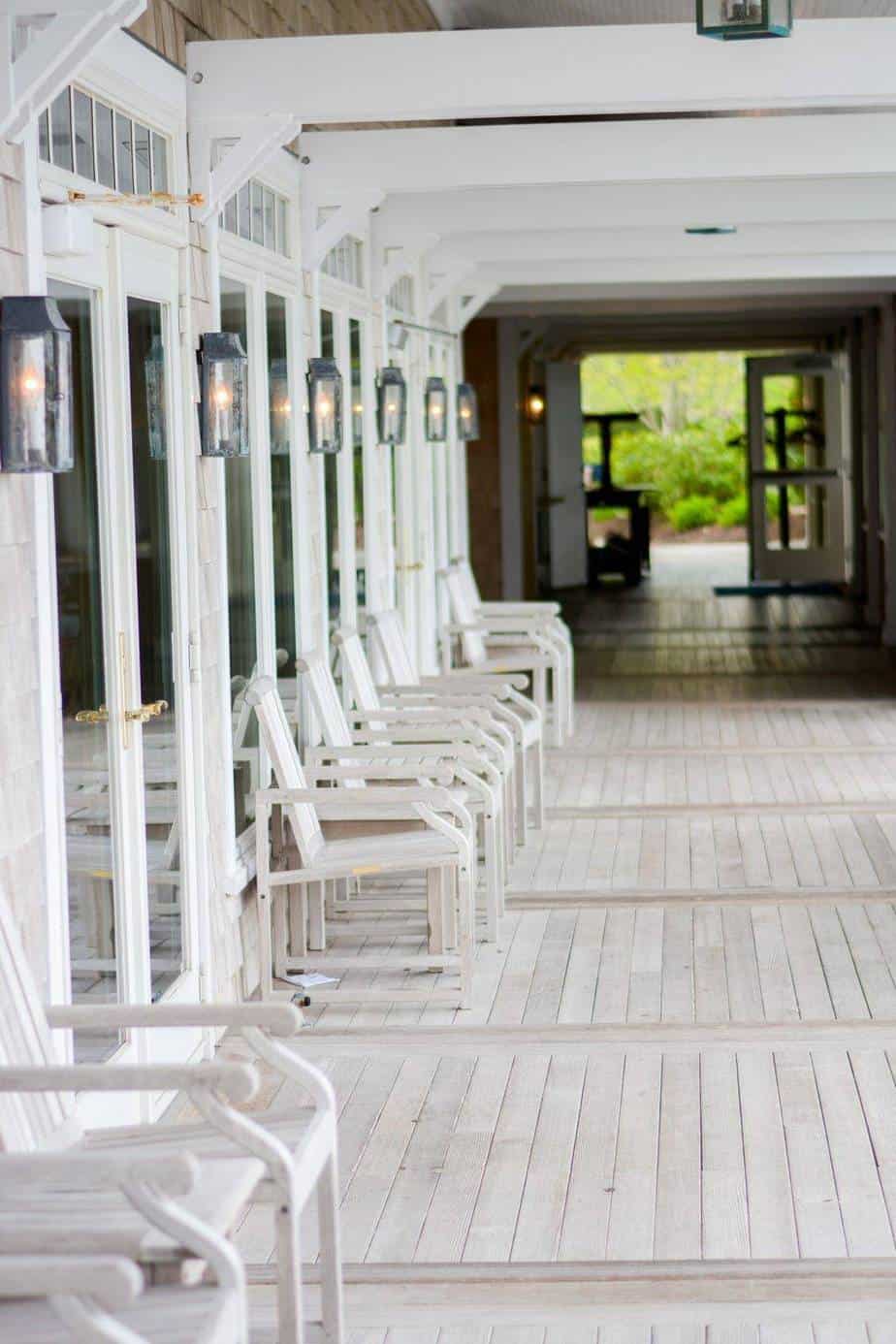 The resort entrance is tucked away (we actually missed the turn the first time around), and when you pull in, you're in a whole different world.
The Wequassett is huge, with tons of different adorable cottage style homes that are not only architecturally gorgeous in classic but modern Cape Cod styles, but are held to a super high standard concerning upkeep.
Everywhere you look, there are beautiful gardens. I can only imagine how the resort would look at the height of Hydrangea season.
Throughout the resort, there are so many places to perch and gaze out at the water. My personal favorite was the Adirondack chairs up on a grassy hill overlooking the ocean.
The dock was also really cool – I walked all the way out in the fog and felt like I was a character in The Great Gatsby. There's a huge function room with waterfront views as well.
A few weddings were hosted during my stay, and they looked absolutely stunning. The Wequassett is really the type of resort that you never have to leave, because there's so many beautiful things to see and activities to do.
Dining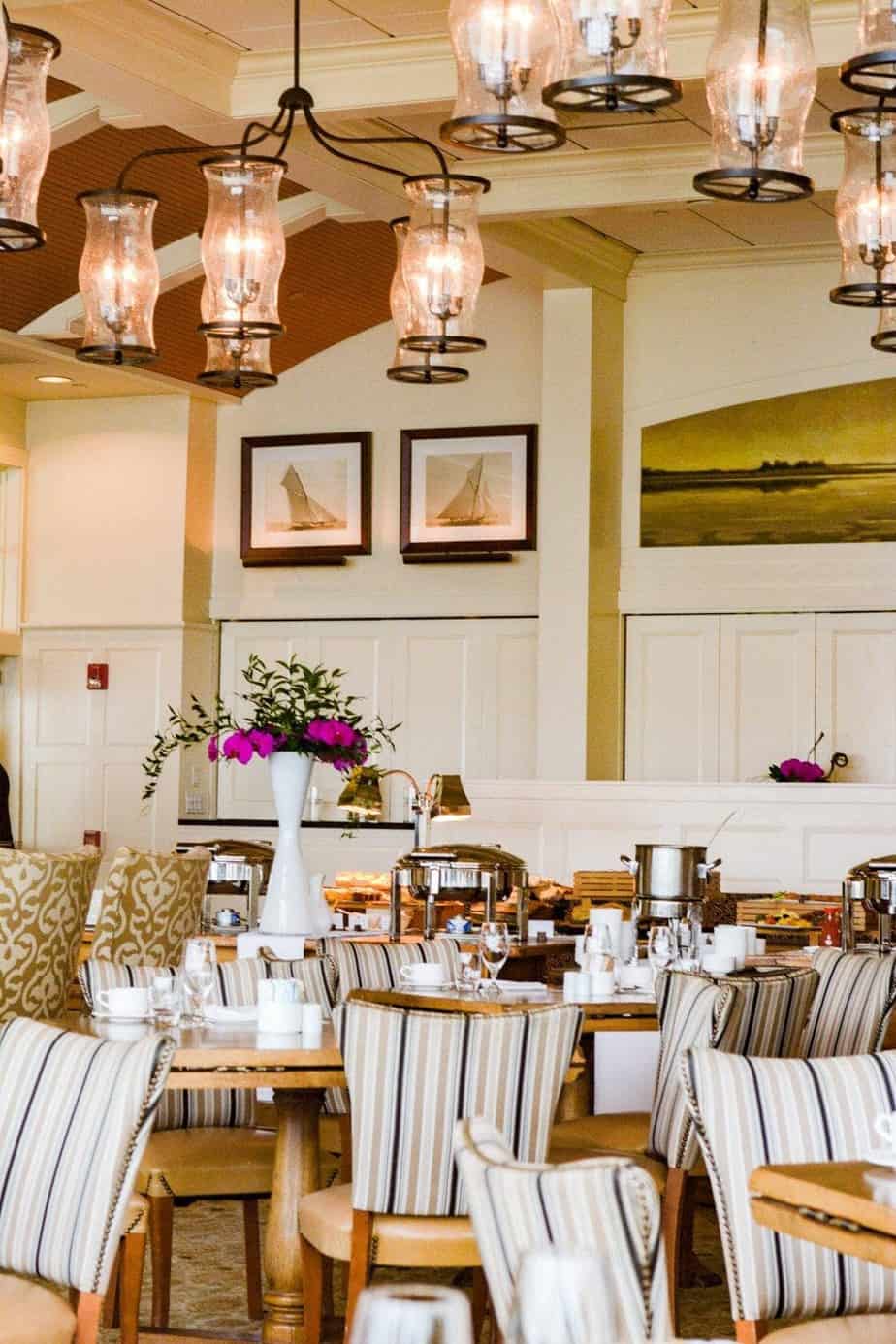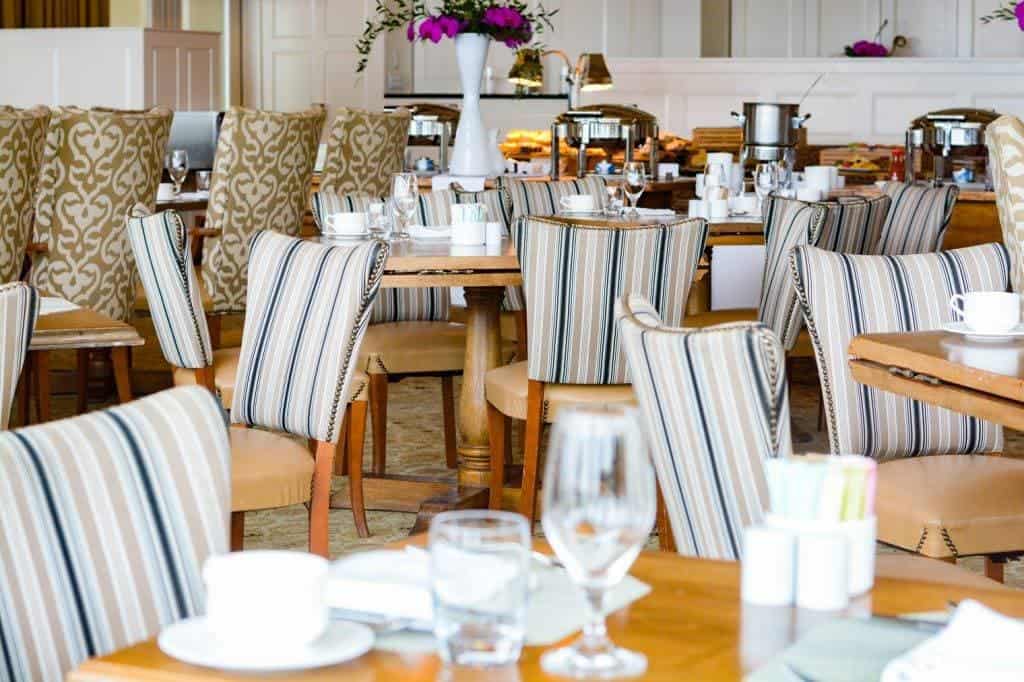 There's a five different restaurants at The Wequassett, and I was lucky enough to experience most of them. The pictures above are from 28th Atlantic, the main fine dining establishment.
From the wood beaded ceiling to the plush Persian style carpets, no detail is spared. Floor to ceiling windows allow for a spectacular waterfront view, and all of the servers we had were incredibly thoughtful and courteous. The Daisy Chain was the specialty cocktail (I had to get it just for the name) and is mixed to perfection!
Thoreau's has a super different vibe but is similarly great. It's a darker, warmer setting, with comfy leather chairs and a fireplace. It was ideal to hangout here on the colder night during our stay! A
gain, the servers and bartender were not only incredibly professional, but so friendly. We had some great conversations!
We tried breakfast both at 28th Atlantic and in-room dining. The Eggs Benedict were phenomenal. Like I've probably said before, I try these everywhere and am the first to rave when a restaurant gets the hollandaise sauce right.
There was a grand buffet with an array of fresh fruits, pastries, and warm prepared options. The chef at the omelet station was spot on!
Lunch and dinner were similarly amazing at both locations. If I had to pick something to eat every day, I'd choose 28th Atlantic's Lobster Carbonara.
Although it's technically an appetizer, a bartender at Thoreau's mentioned that many seasoned guests request it as a meal-size portion. The dish had a gorgeous pea, sweet corn, and lobster sauce that was thick but not overbearing.
The pasta was bucatini, and I swear I've never had better homemade pasta. I come from a super traditional Italian family, so that's saying a lot.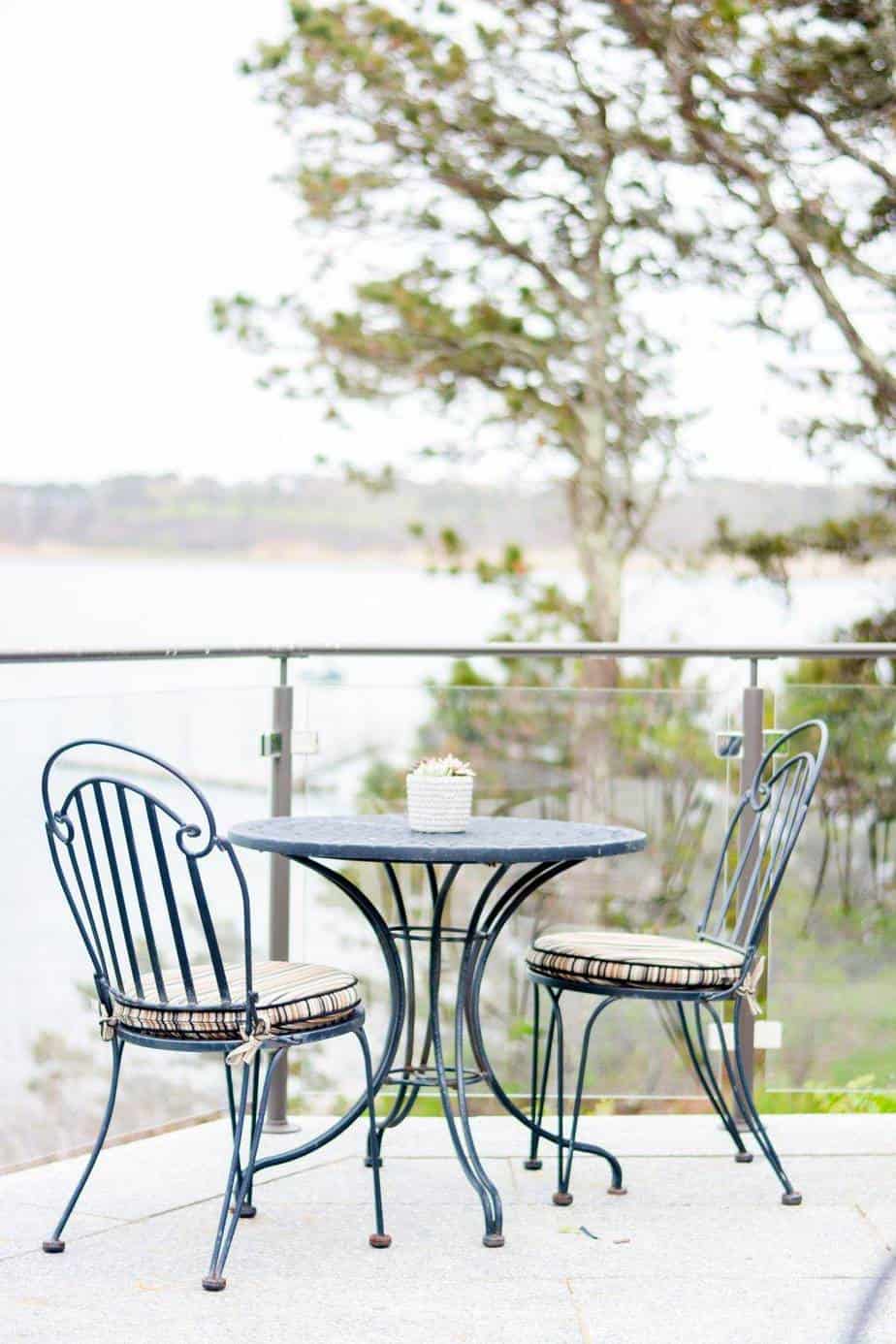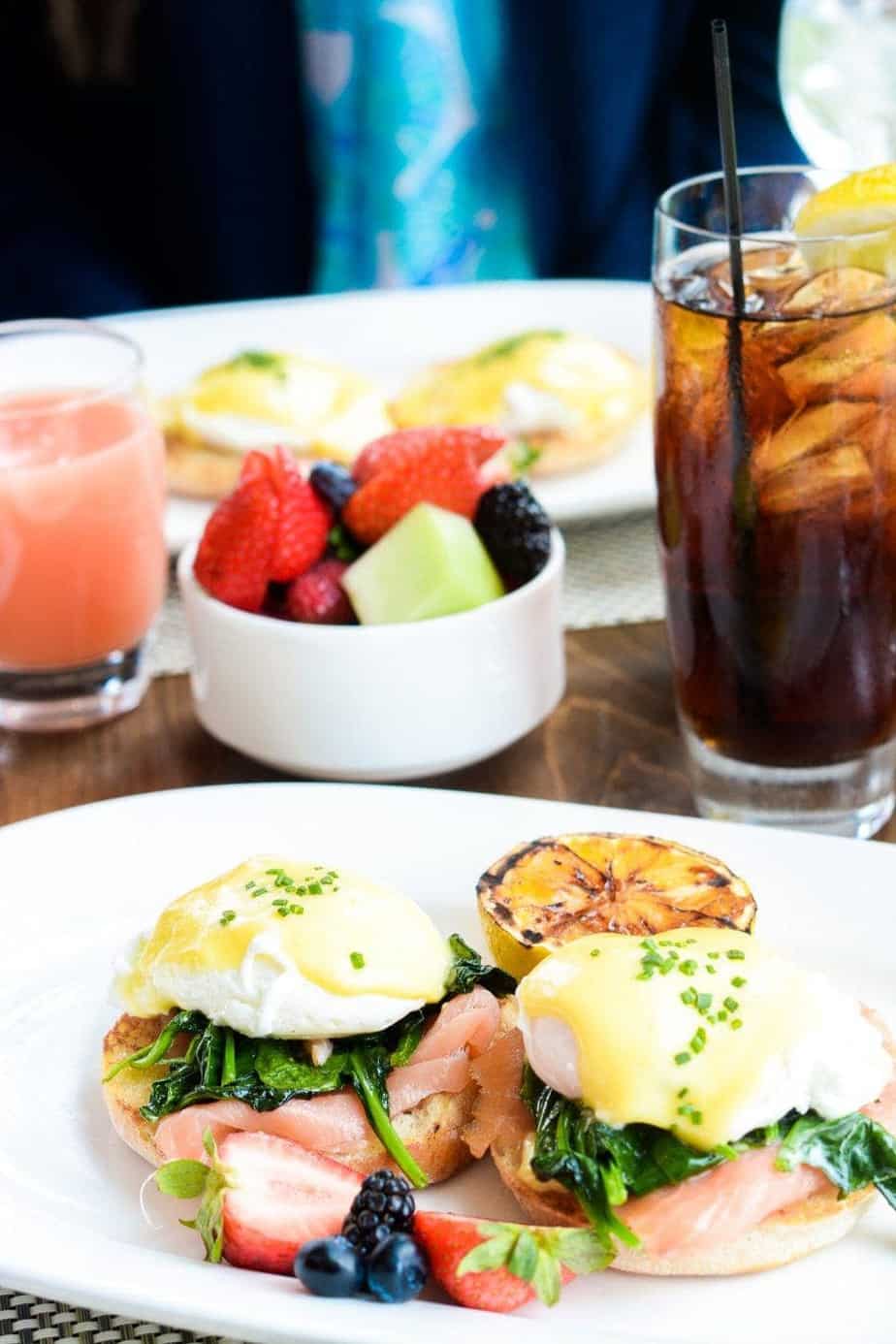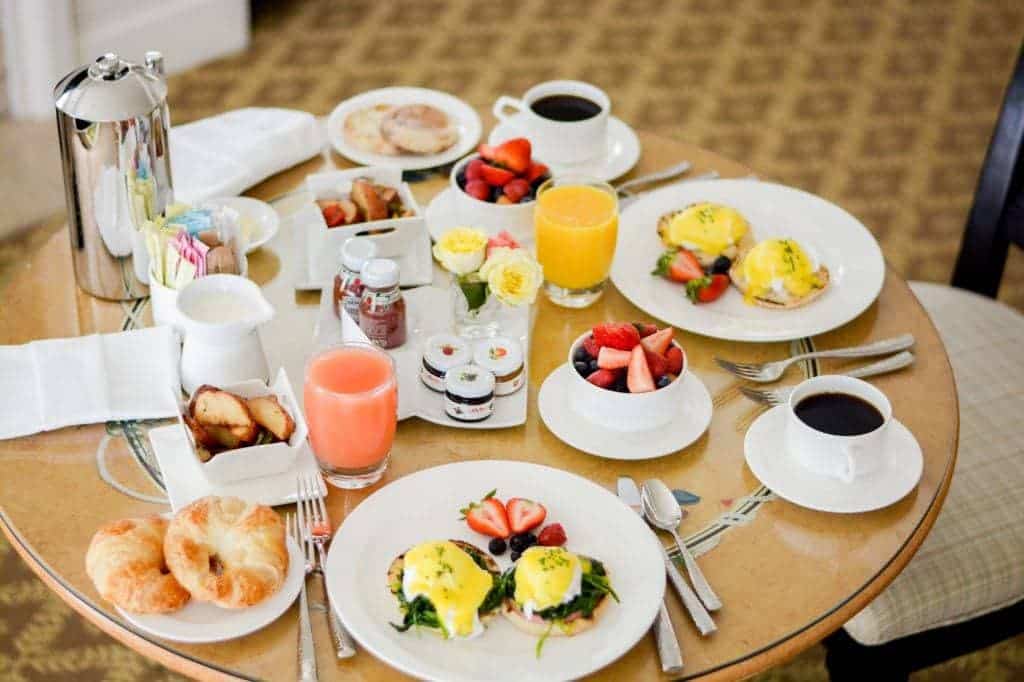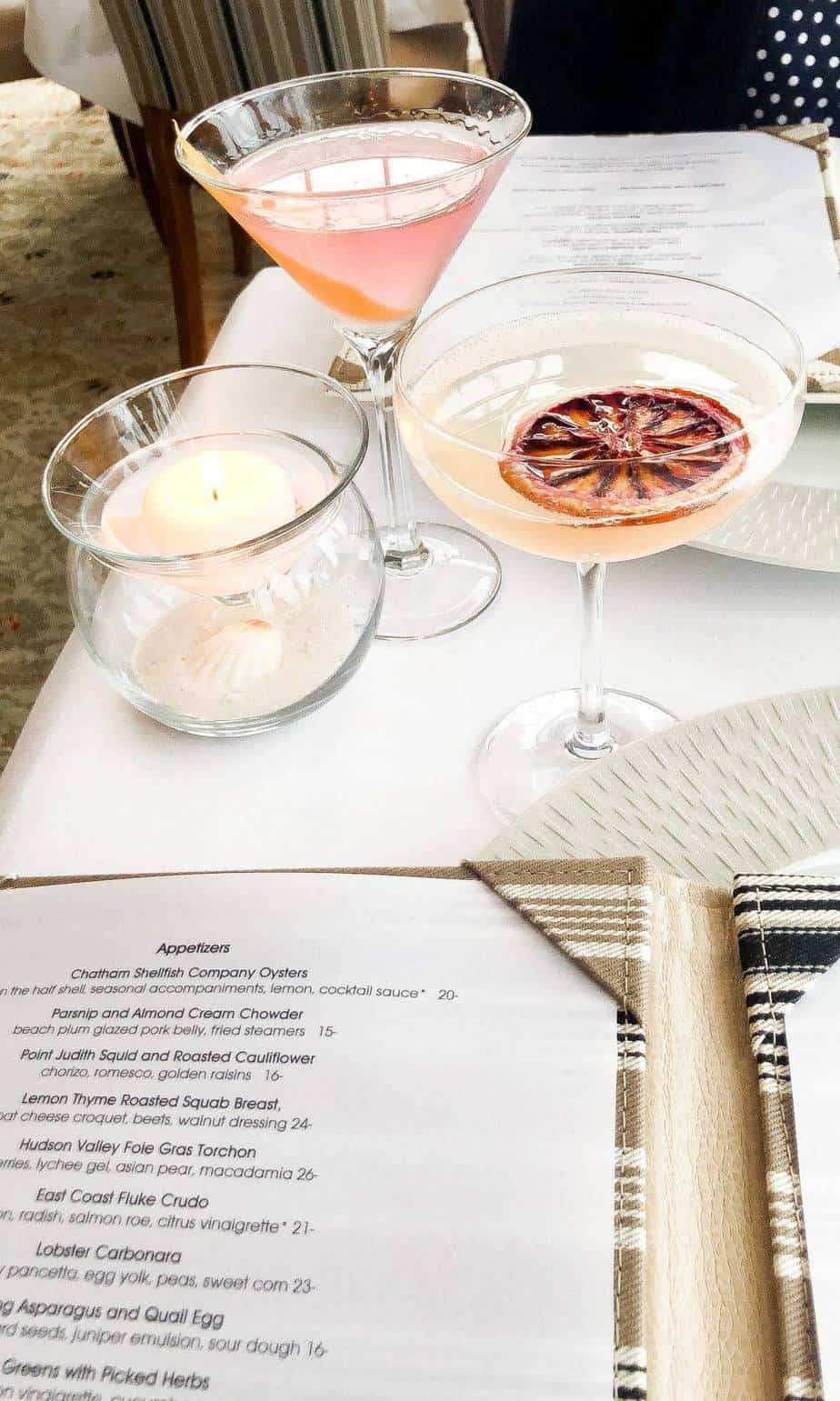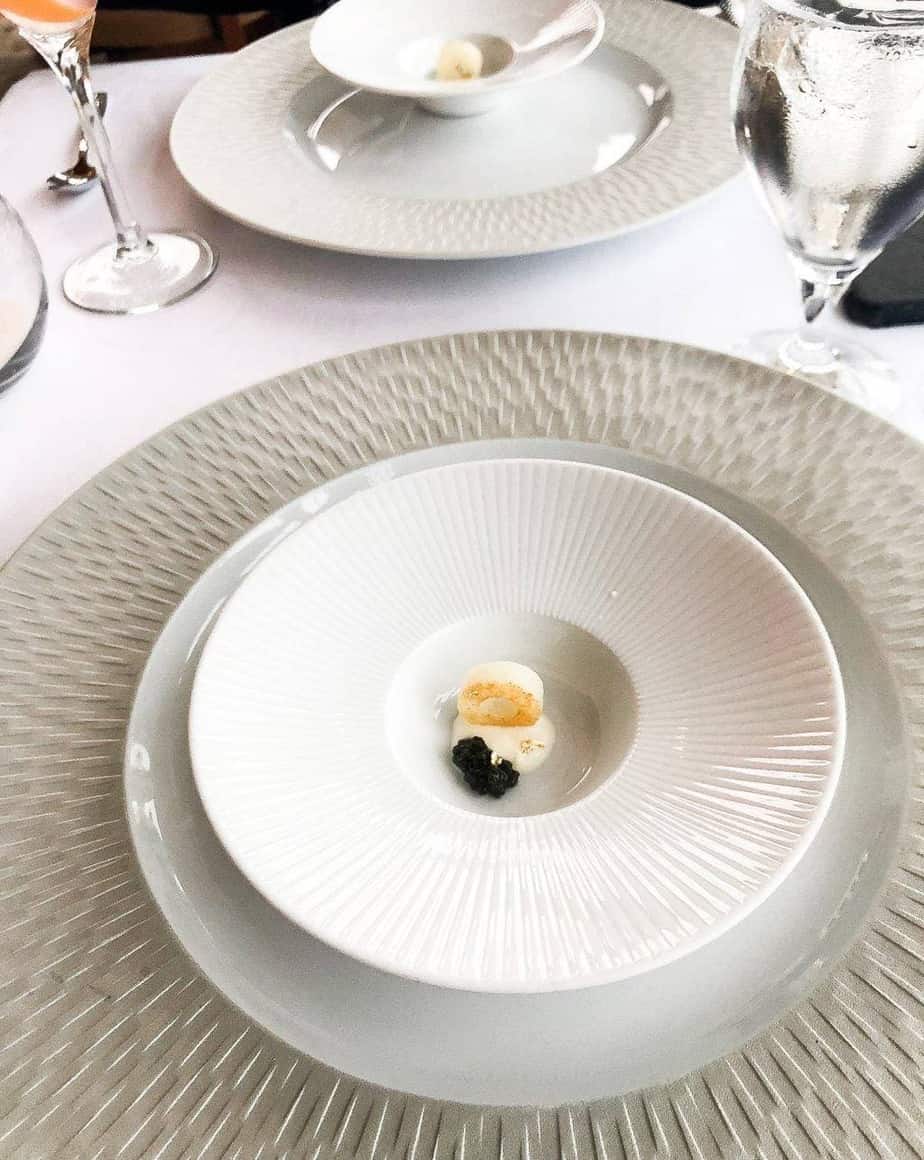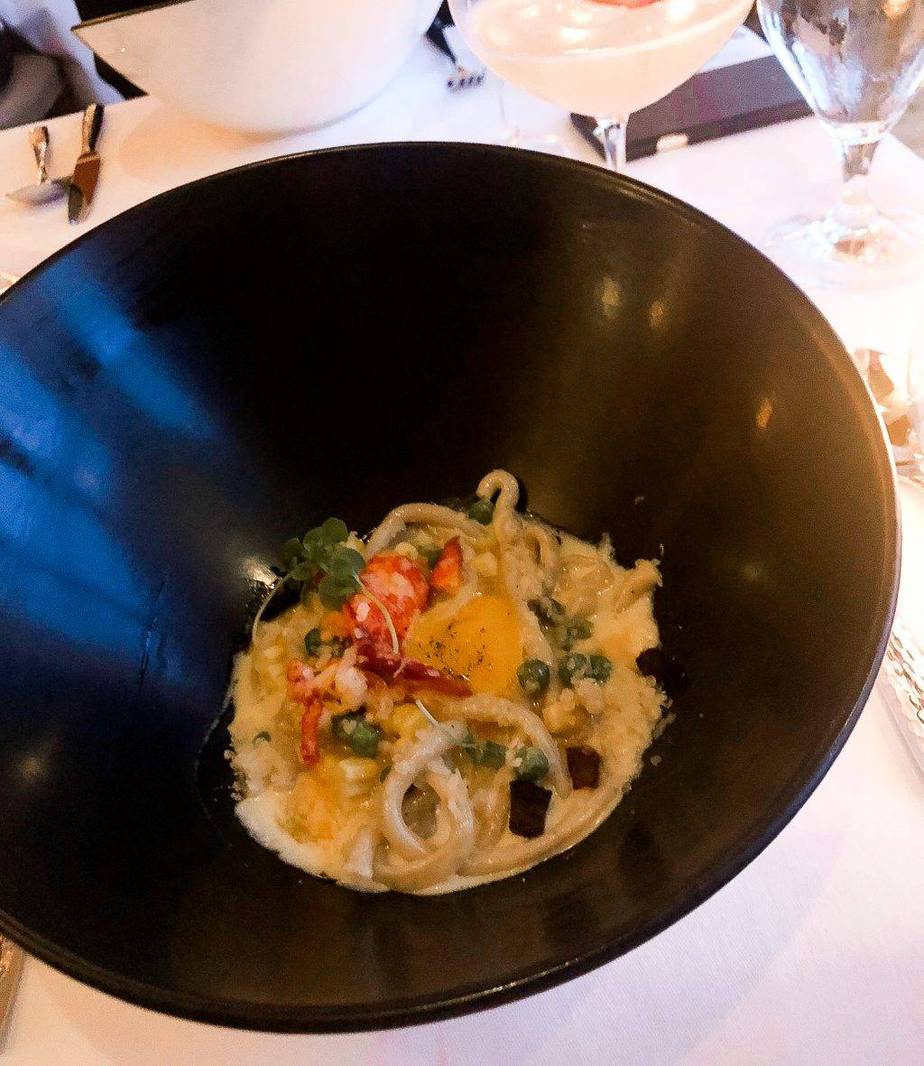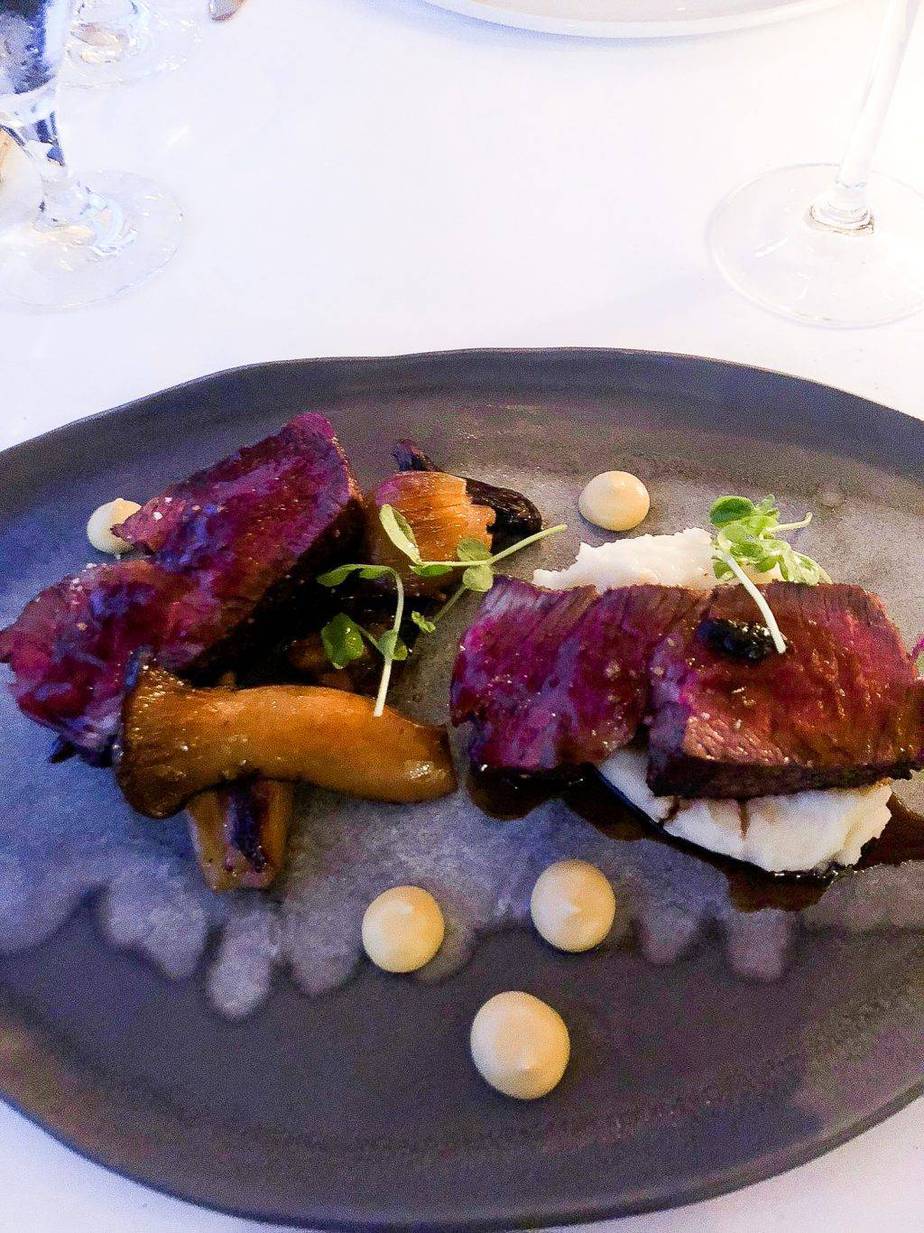 Things To Do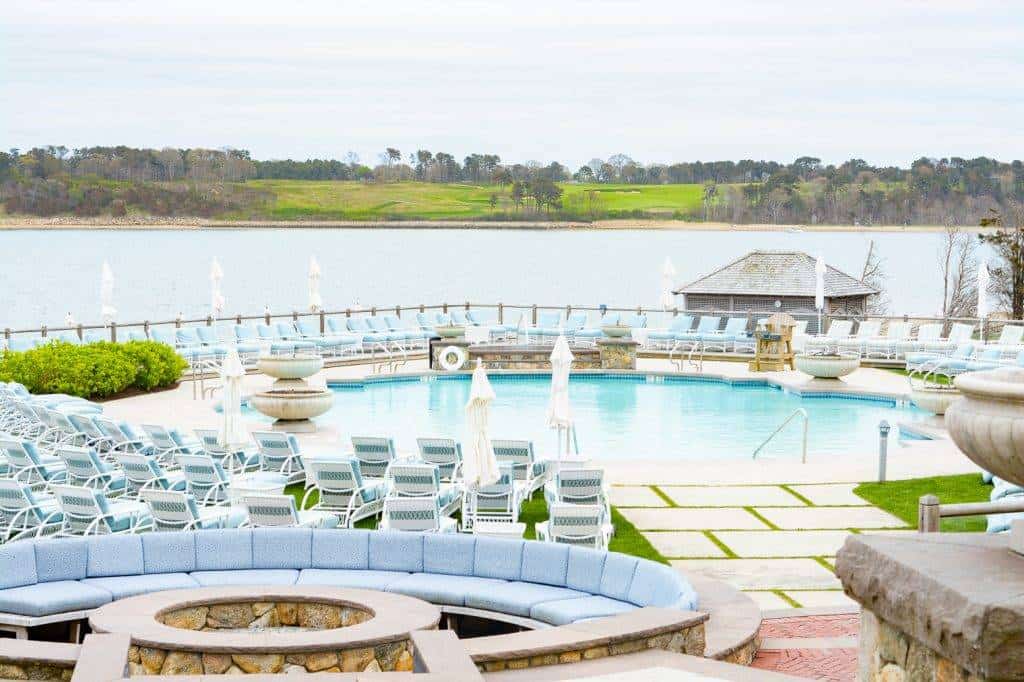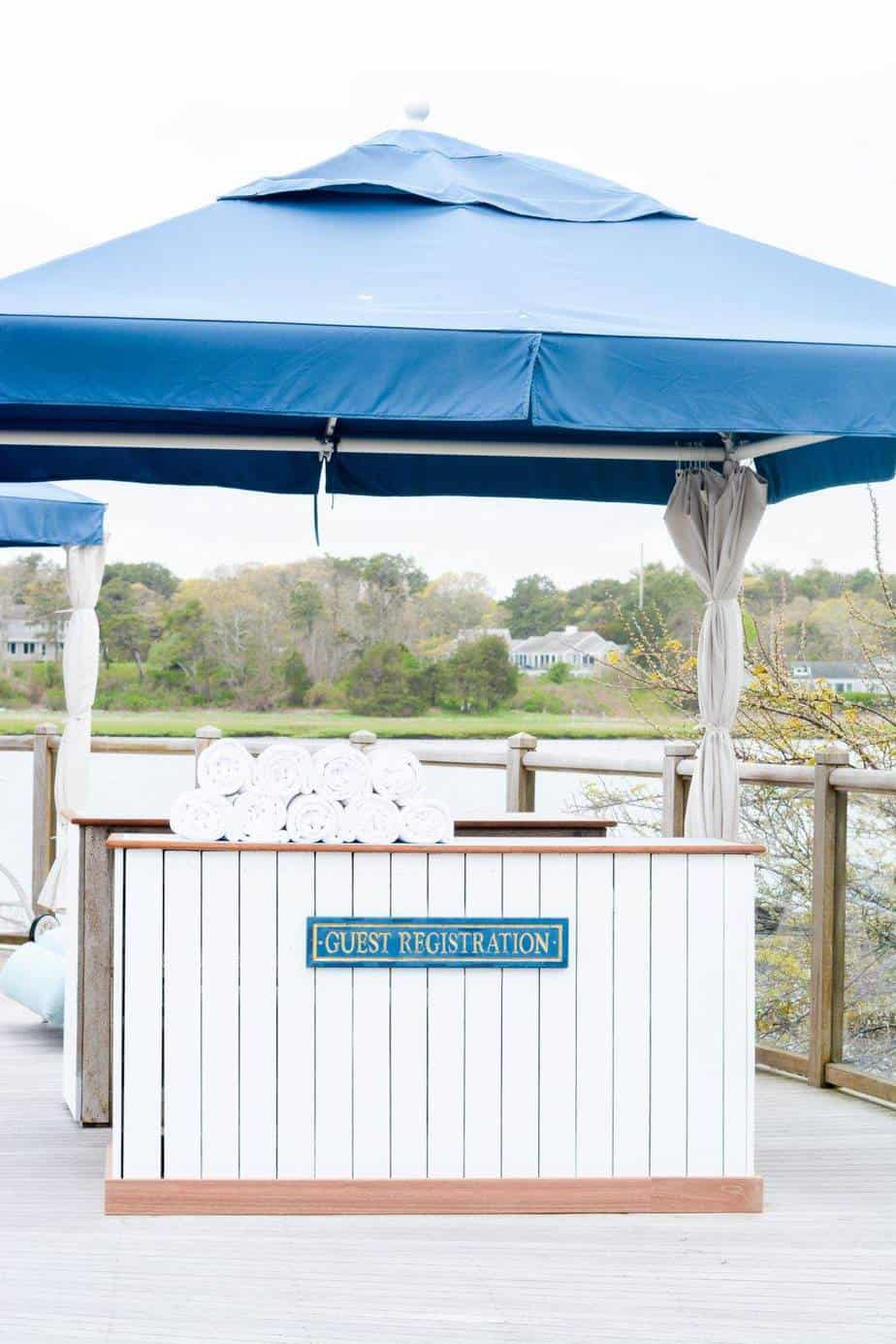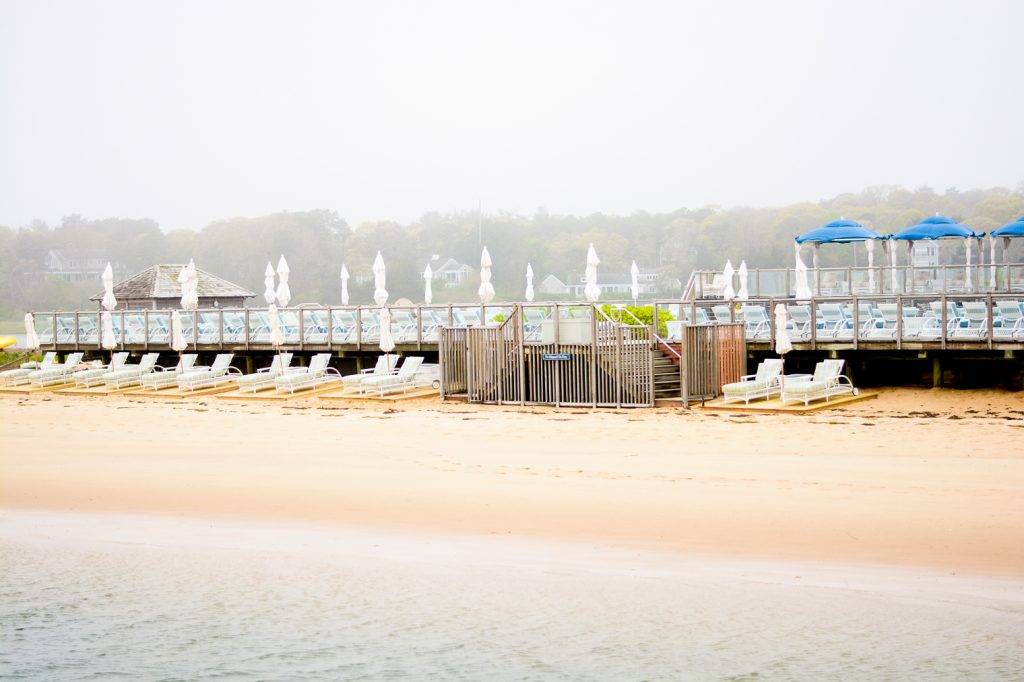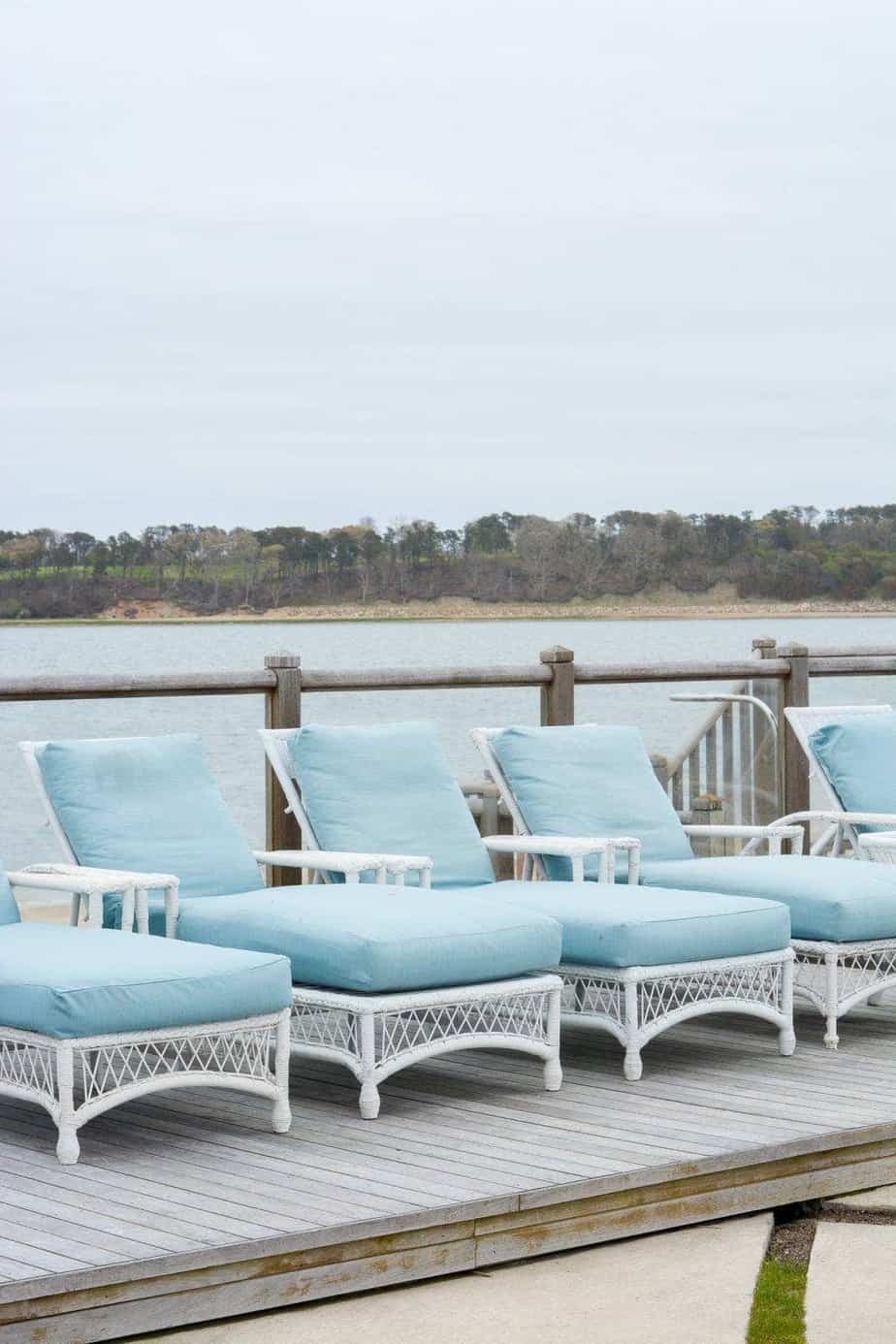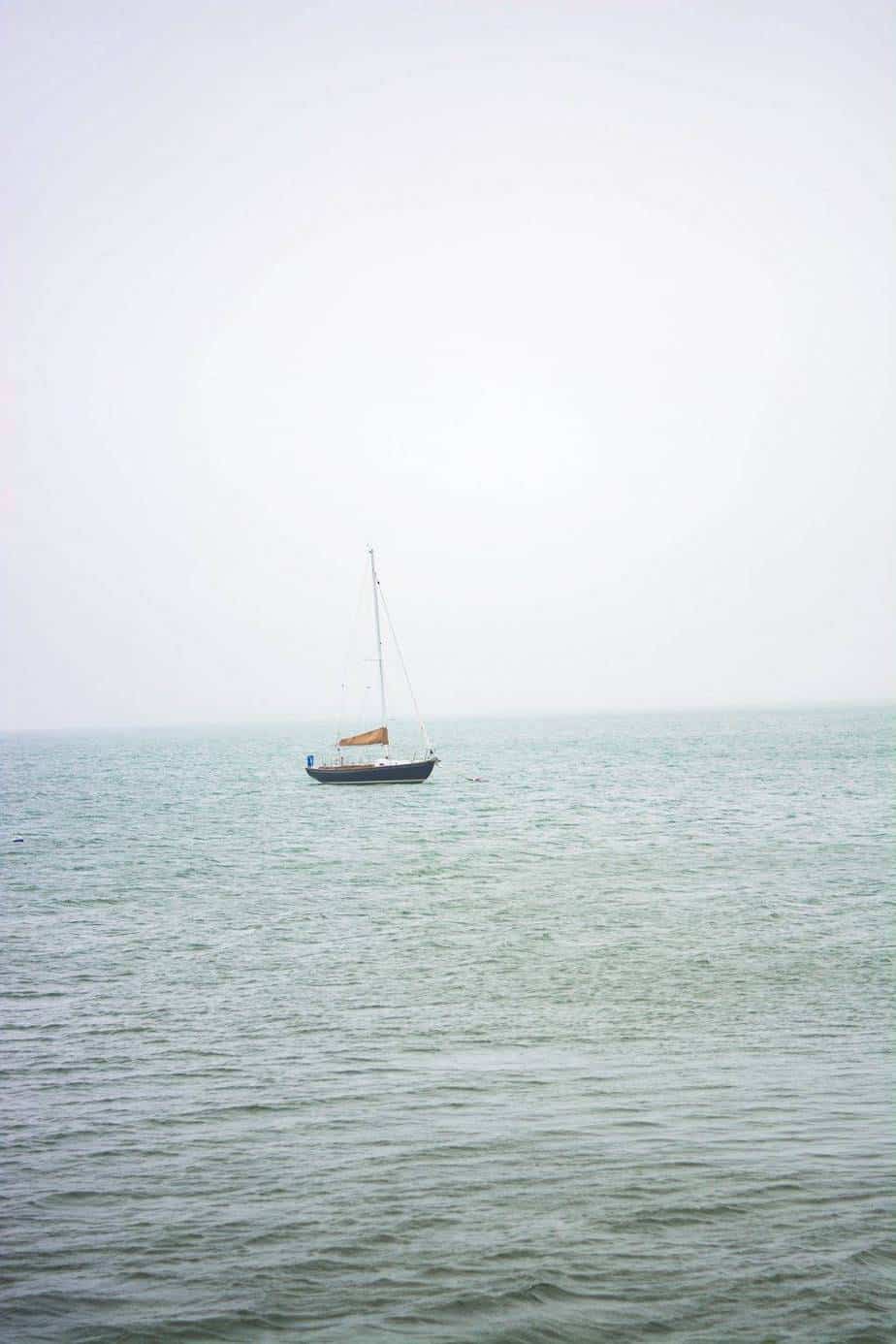 There's a ton to do at the hotel, from eating at one of the 5 restaurants to golfing and water sports. A stand is set up during the day for boat rentals and other water activities, but my favorite area was definitely the pool. Mostly surrounded by water, the pool itself is huge and features a hot tub on one side with a fountain on the other. It's heated, so you can swim almost anytime. The outdoor bar near the pool is lively. I visited in May, and I can only imagine how fun it would be at the height of summer!
There's a fitness center conveniently located off the pool (I probably should have started with that – oops!). For the more athletically inclined, in addition to golf, there's lots of nearby walking, hiking, and biking trails available. Personally, I'm definitely planning on trying a boat rental next time I visit! While the resort itself is gorgeous and any time of year would be beautiful, it really is a summer paradise for the classic Cape Cod experience. If you've ever been or plan to go, tell me all about it!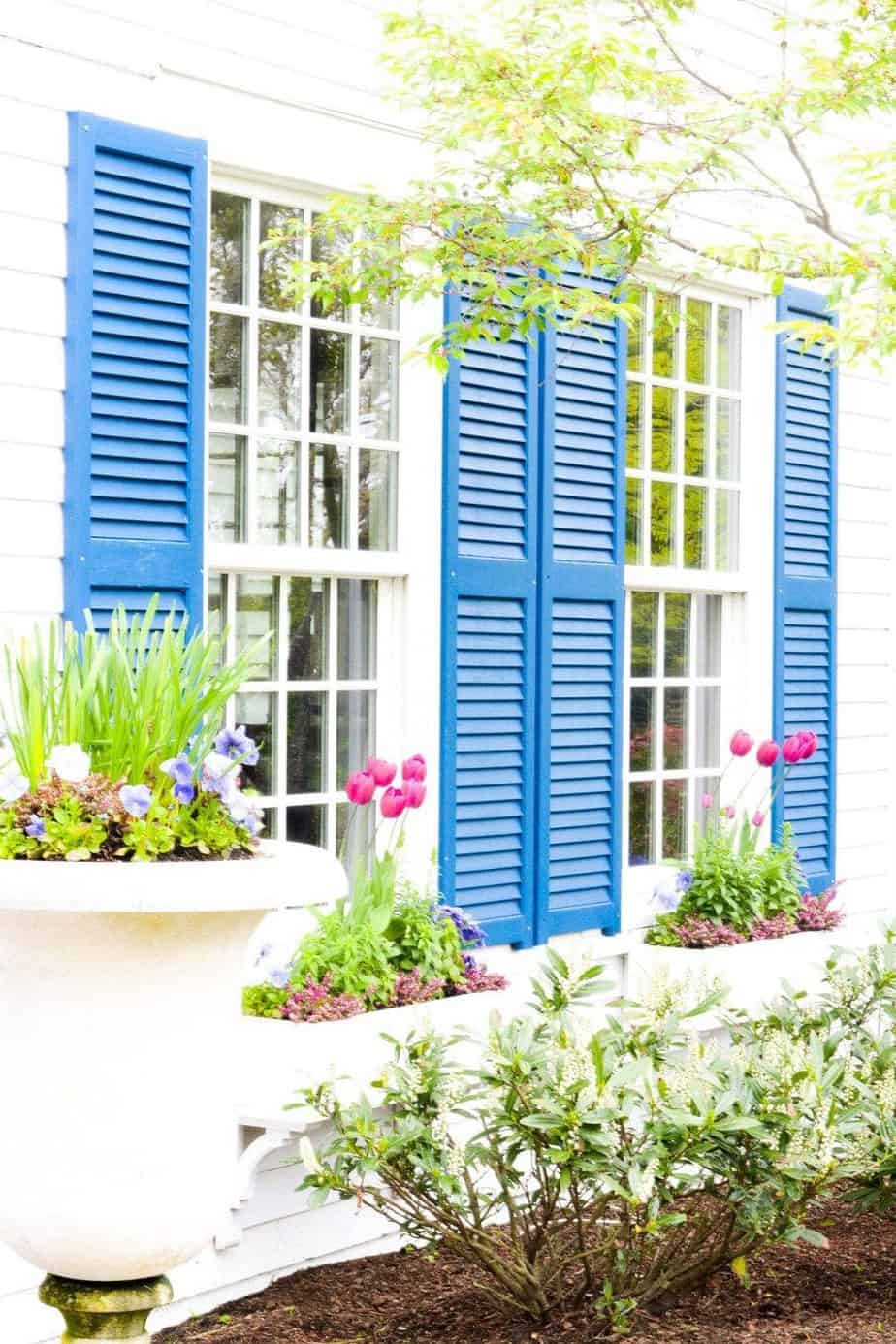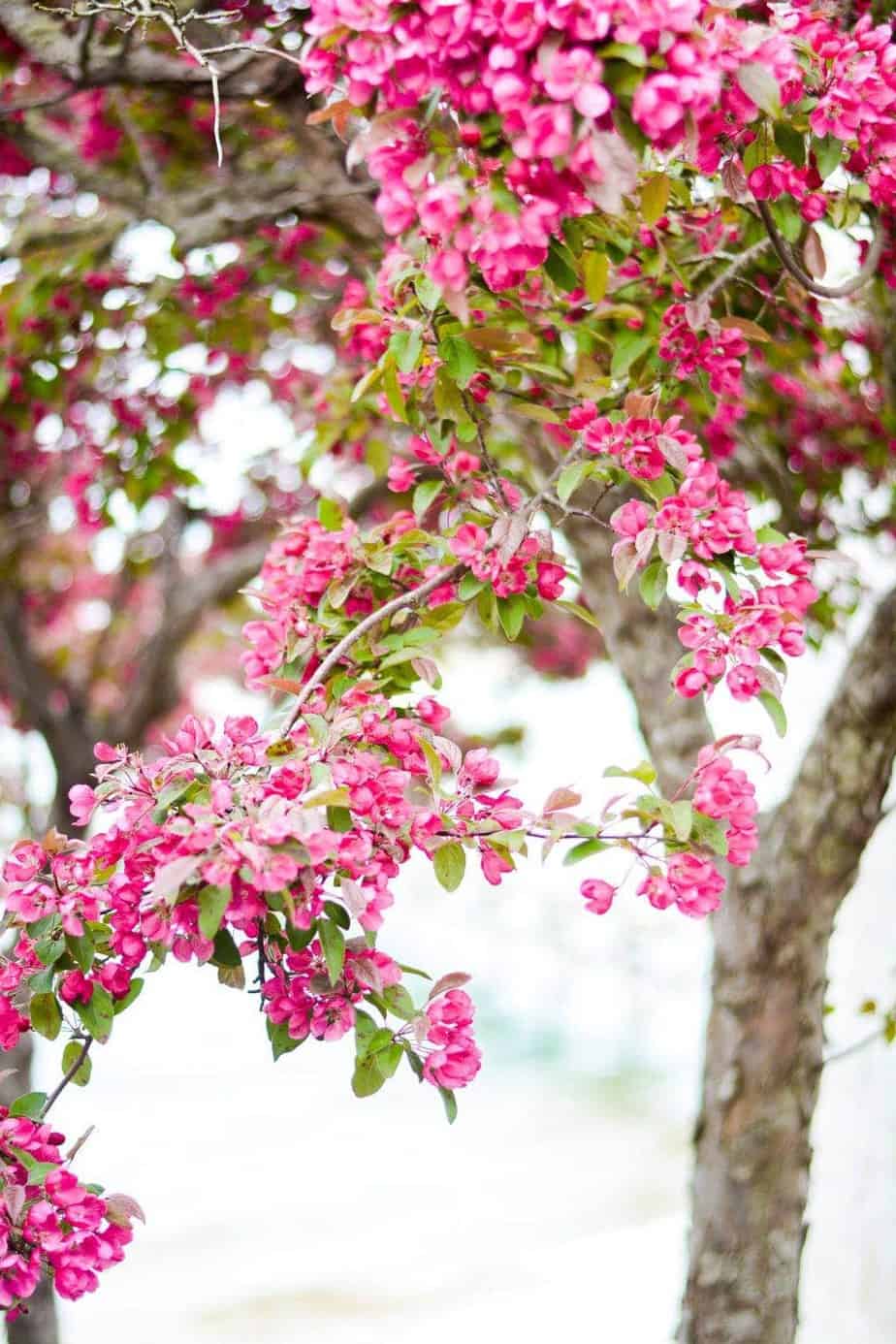 So so many thanks to The Wequassett Resort & Golf Club in Harwich, MA for generously hosting me! If you're interested in staying at The Wequassett, visit their website at https://wequassett.com/. All opinions and images are my own.