As someone who grew up in Massachusetts, I've always known my favorite towns on Cape Cod. I go to Chatham for a classic preppy vacation and Provincetown for outdoor parades and a great lobster roll, but those of you who haven't spent a lot of time on the Cape might not automatically know what Cape Cod towns you want to visit.
If you've never been to Cape Cod, then the first thing you should know is that you'll 100% need a car, unless you plan to go to one spot and stay there. Many people have the misconception that the Cape is a small community. In actuality, it's over 65 miles long.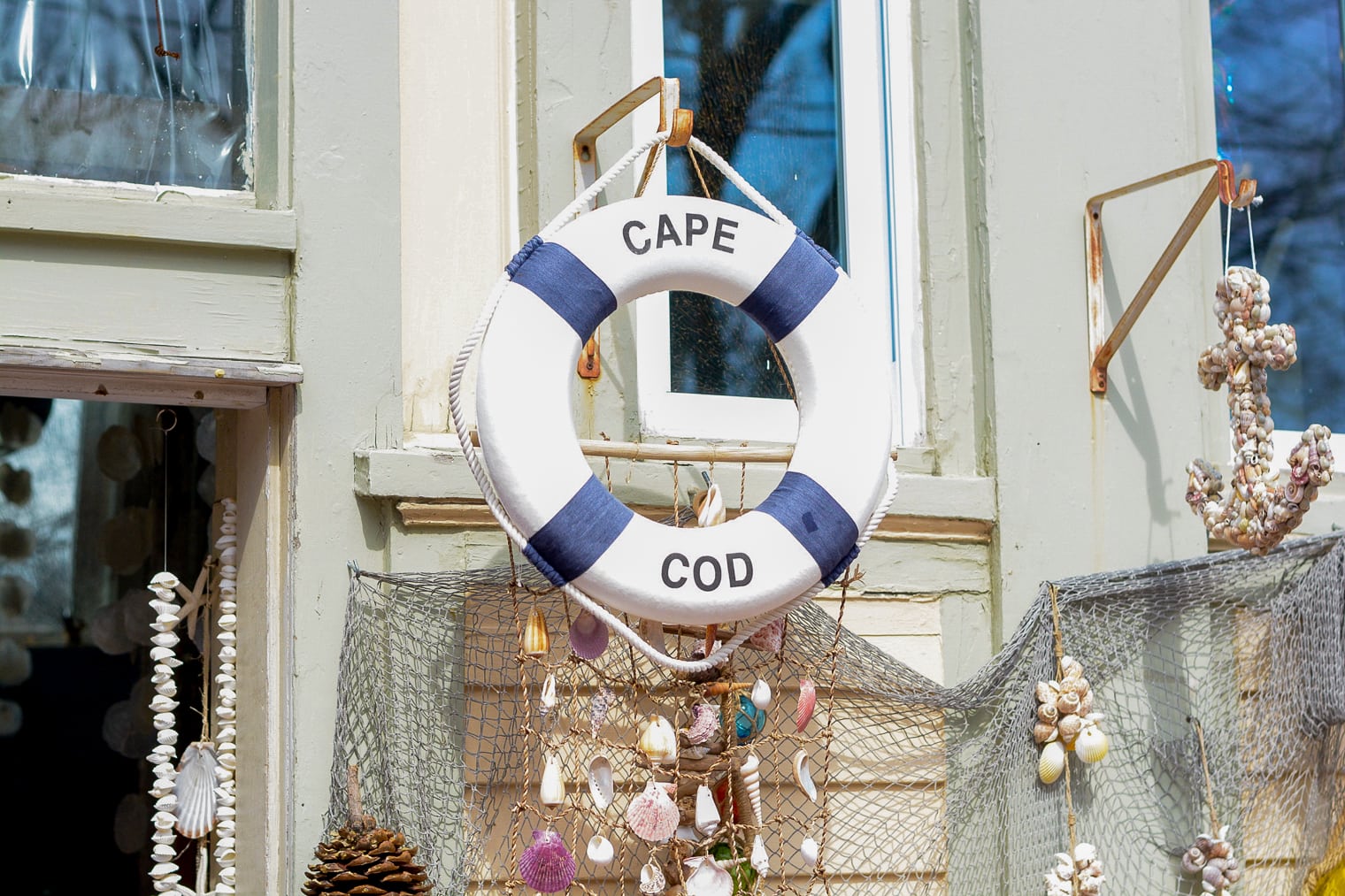 Even though the Cape is huge, all of the towns on Cape Cod are technically a part of Barnstable County.
Each Cape Cod town is very distinct and has a specific flavor. You'll want to plan where you're going ahead of time, because you won't necessarily get to see each of the towns in Cape Cod unless you plan on driving all day!
The more I've talked to friends outside of the state, the more I've realized that this misconception could put some serious strain on a vacation, especially if you haven't read up on the towns and have no idea where to go.
I also realized that there aren't a lot of guides out there that actually lay out the differences between each town.
I'm sure you're looking for more than just a few sentences about the best beach in each town, so I'm hoping this will give you a specific idea of where you'll want to go and what you'll want to do there!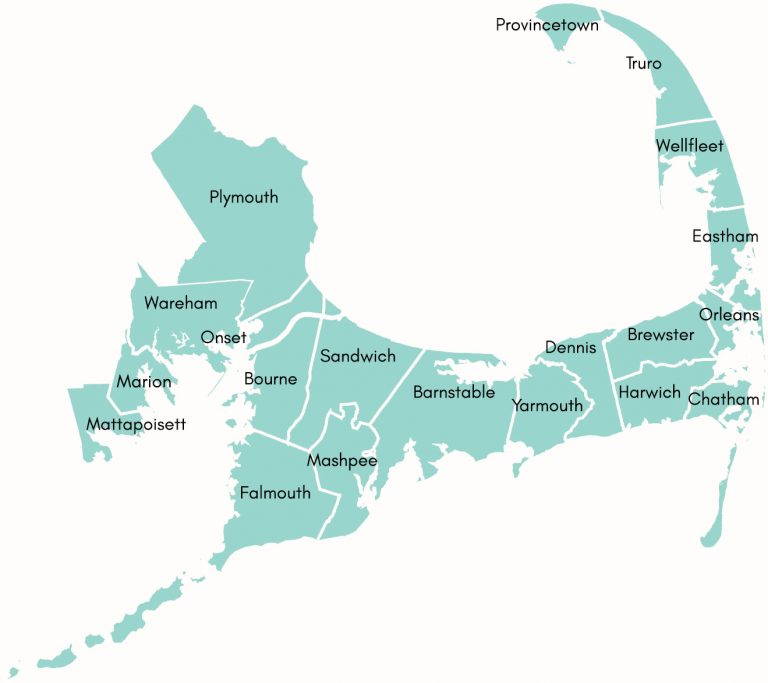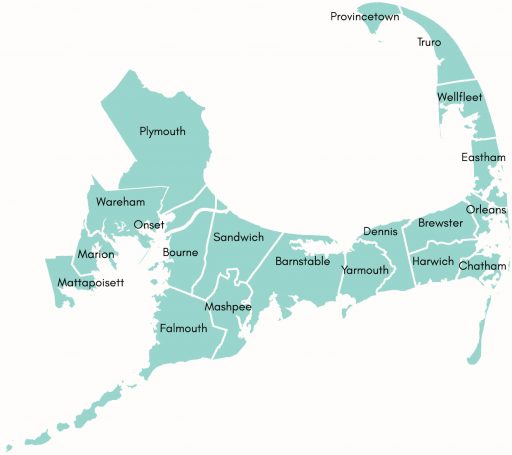 Bourne
At the very beginning of the Cape sits Bourne, a town best known for surrounding the Cape Cod Canal.
Buzzards Bay, Bournedale, and Sagamore Beach are on the north side of the Canal; a few more rural villages (Gray Gables, Monument Beach, Pocasset, and Cataumet) are on the south side.
While there aren't many hotels or much of a downtown in Bourne, there are plenty of vacation rentals and a few beaches for those of you who don't want to cross the bridge.
Bourne is a perfect place to visit families. It has many beaches that are also very safe for children of all ages. There's plenty to do in this small cape cod town: golfing, fishing, biking, kayaking, running on the Arts Center Trail, and even whale watching.
The Cape Cod Canal stretches for 7+ miles throughout Bourne and is great for running, biking, fishing, boating, and picnicking.
The Bourne Bridge and the Sagamore Bridge are how you'll make it across to the rest of the towns on Cape Cod.
Highlights:
Bourne Bridge
Riverside/canal bike trail
Easier to get to without lots of traffic
The beginning of Cape Cod
Falmouth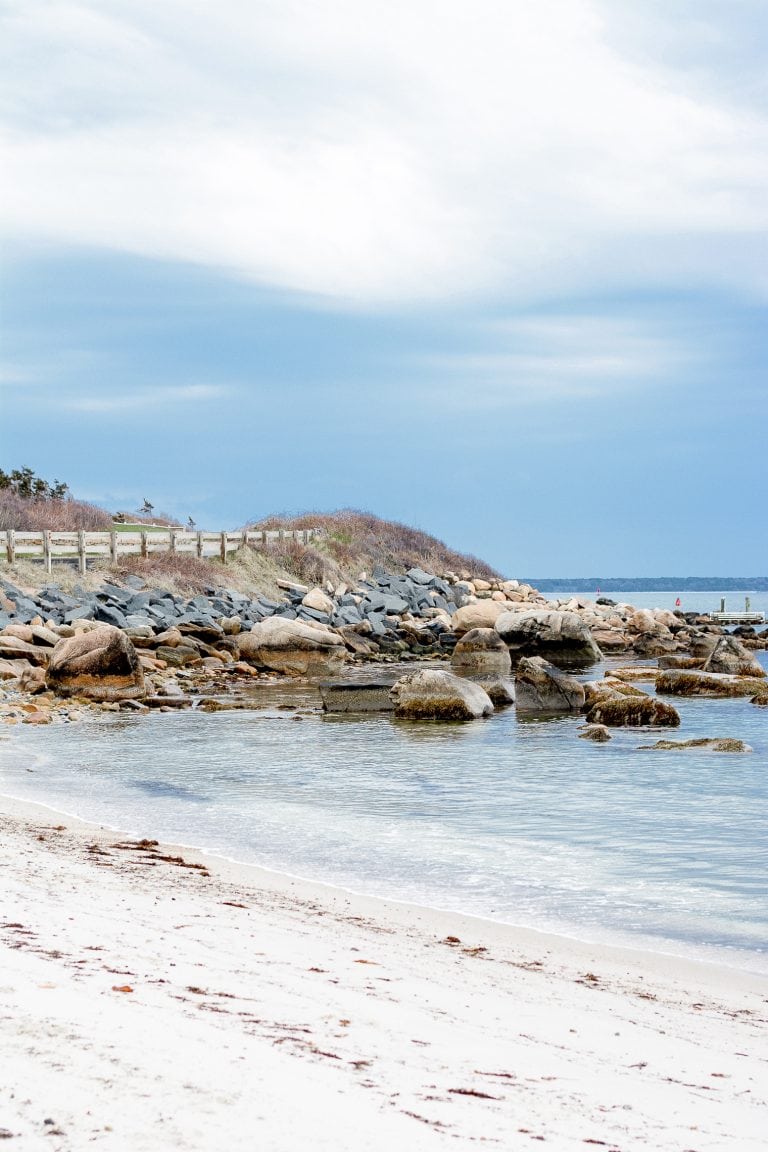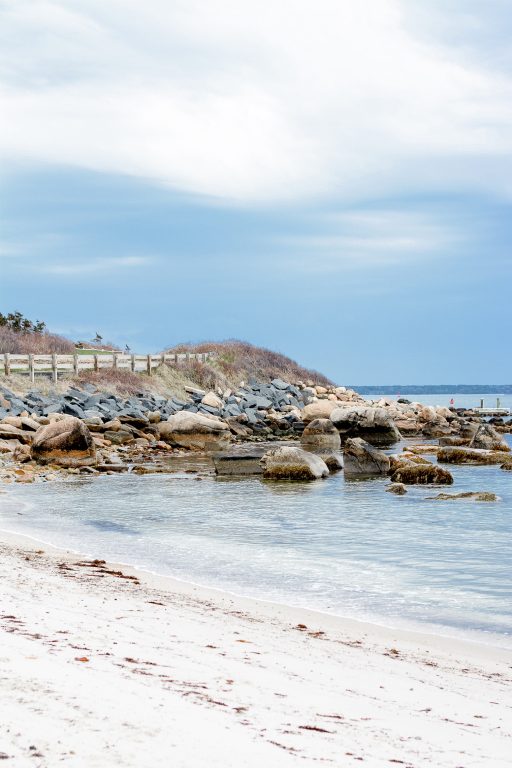 My fiance grew up in Falmouth and is super partial to it (seriously, don't get him going – he can talk about the town for hours!) but I have to agree that it's one of the most well-rounded towns on Cape Cod.
First off, Falmouth is one of the easiest Cape Cod towns to get to. There isn't usually a lot of traffic (with the exception of traffic on the bridges) because it's right across the way.
Falmouth is a beautiful and historic Cape Cod town that has a great sense of history. The first settler in the area was Capt. John Smith of Pocahontas fame, so you can find representations of him in town, like his statue on the water's edge.
There are many restaurants to try, some with patio seating right on the banks of Buzzards Bay and others which serve lobster rolls to rival any on the coast. You'll find a wide range of accommodations for all budgets, including charming bed and breakfasts and luxurious hotels.
Main Street is cute and historical without being over the top. You'll definitely experience a New England vibe that doesn't feel too elitist, unlike some other traditional New England towns.
Shopping is plentiful, and you'll find preppier stores like Lilly Pulitzer and the Black Dog alongside trendy boutiques, high end galleries, knick-knack shops, and even fun activities for kids like candlepin bowling.
The Nobska Lighthouse is pretty famous and is worth a stop. Old Silver Beach is a super famous beach within Cape Cod towns as well.
Woods Hole is a separate area in Falmouth that's right on the water and has a ferry to Martha's Vineyard as well as a free aquarium, a big marina, and lots of restaurants and shops right on the water.
A popular location for those who are interested in marine biology or other nautically scientific fields, Woods Hole is a great Cape Cod town to visit! It's right on the water so if you're into boats then this could be a great place for taking one out while you're vacationing.
Overall, Falmouth is one of the best Cape Cod towns for a little bit of everything. The nightlife is fun and there's lots for young adults to do but there's also many family-friendly activities. The vibe is upscale but approachable, and you can fit in whether you're boho or preppy.
Highlights:
Super close to the bridge and easy to get to
Lots of waterfront areas for beaching, boating, and water activities
Multiple "downtown" areas
Upscale but very approachable
One of the most well-rounded towns on the Cape
Sandwich
Sandwich is a quiet but beautiful town with a small center. If you want to stroll quietly through nature, hit up antique shops, or check out the Sandwich boardwalk, then this is the best place to be.
A small and cozy town any time of the year, Sandwich is perfect for those of you who want a super peaceful Cape Cod experience.
The Heritage Museums & Gardens are one of the main attractions in Sandwich, showcasing gorgeous blooms through the summer. There's over 100 acres of grounds that you can walk!
Highlights:
Quiet and remote
The Heritage Museums & Gardens with colorful blooms
The Cape Cod Canal
Antique Shopping
Mashpee
Although Mashpee isn't what visitors consider a typical Cape Cod vacation, the town does have a great shopping center.
There are well-known stores like Vineyard Vines (the first actual brick-and-mortar location), Talbots, and Williams Sonoma, as well as local brands such as Puritan Cape Cod and Setting the Space Interiors.
Cape Cod Coffee is also based in Mashpee and is definitely worth a visit! While I don't recommend staying here, Mashpee is a great town to spend an afternoon on a rainy day.
Highlights:
Lots of amazing shopping
Well-known and loved Cape Cod coffee
Perfect for a rainy afternoon
Hyannis
Hyannis is a town that caters to tourists. It has a lot of shopping, including outlets for top name and designer brands. You can also take an excursion out into Nantucket Sound on a whale-watching boat or go deep sea fishing and catch your own dinner!
Although Hyannis is probably the most well-known of the towns on Cape Cod, it isn't a spot I'd really recommend.
Hyannis first became popular for hosting the Kennedy family, and still has a museum to commemorate, but other than that it's basically a strip mall.
Main Street does have a lot of shops and restaurants, but it won't have the classic Cape Cod feel that you're probably hoping for. If you do stop by, Main Street is really the only attraction you'll want to check out.
Hyannis is a type of center for all of Cape Cod, so it has some fun attractions like the Cape Cod Melody Tent, which offers live performances during the summer.
The main setting in the movie Jaws (the original with Roy Scheider), Hyannis is definitely a town that draws people who want to be near the ocean as it's only ~5 miles from the beach.
It also has plenty shops and restaurants. If you're into boats then there are plenty available for charters in Hyannis. For those of you who enjoy being near the water but not necessarily on or in it, this is an excellent cape cod town to visit!
Highlights:
Historical with a museum dedicated to JFK
Lots of shopping and restaurants
The Cape Cod Melody Tent
A hot spot for visitors due to the information center and ferries
Dennis/Yarmouth
Dennis is known as one of the most traditional, All-American Cape Cod towns.
West Dennis and Dennisport have a more vacation-like feel that you probably imagine when you think of Cape Cod. There's lots of seaside hotels, lobster shacks, and water-sports.
Dennis Village and East Dennis are much more relaxed and well-suited for vacation rentals rather than hotels.
There are lots of fun dinner options in the area. Both of these towns especially bloom in the summer. There's 16 beaches in Dennis alone, as well as two additional freshwater beaches!
If you love being near the water but also want to visit some stores then South Dennis may be a location you'd like to consider staying at during your next vacation. South Dennis has plenty of shopping plazas where you can find whatever you may be looking for, as well as restaurants and other conveniences that make for convenient living while here on your vacation!
Whether you want to hit the beach, go fishing, participate in some water spots, head to a vintage cinema, eat some fresh New England seafood, or just spend a family vacation exploring a traditional Cape Cod town, this is the best spot to do it.
Yarmouth is located right next to Dennis and is much more of a residential town, so if you stay in Yarmouth, you're likely to spend a lot of your time in Dennis.
If your mode of transportation is a boat then this would be an excellent location to spend your vacation as Yarmouth Port offers both docking services as well as other vessels for charter. The fishing is considered to be great in this Cape Cod town as well!
West Yarmouth is an especially interesting spot to visit. This Cape Cod town may not have as many shops and restaurants as some of the others but what it does offer is convenience when it comes to getting around.
West Yarmouth doesn't allow motor vehicles so all transportation has to be by horse, bicycle or walking which makes visiting the different places much easier! There are people who love this because it's truly a walking town (rather than driving) and is great for those who want to get some exercise while staying in West Yarmouth, plus it just feels historical. I mean really – no cars?!
Highlights:
A bustling area with a lively waterfront
Tons of fresh seafood restaurants
Over 16 beaches with many water activities available
The best place to stay for those wanting a lively vacation or families
Chatham/Harwich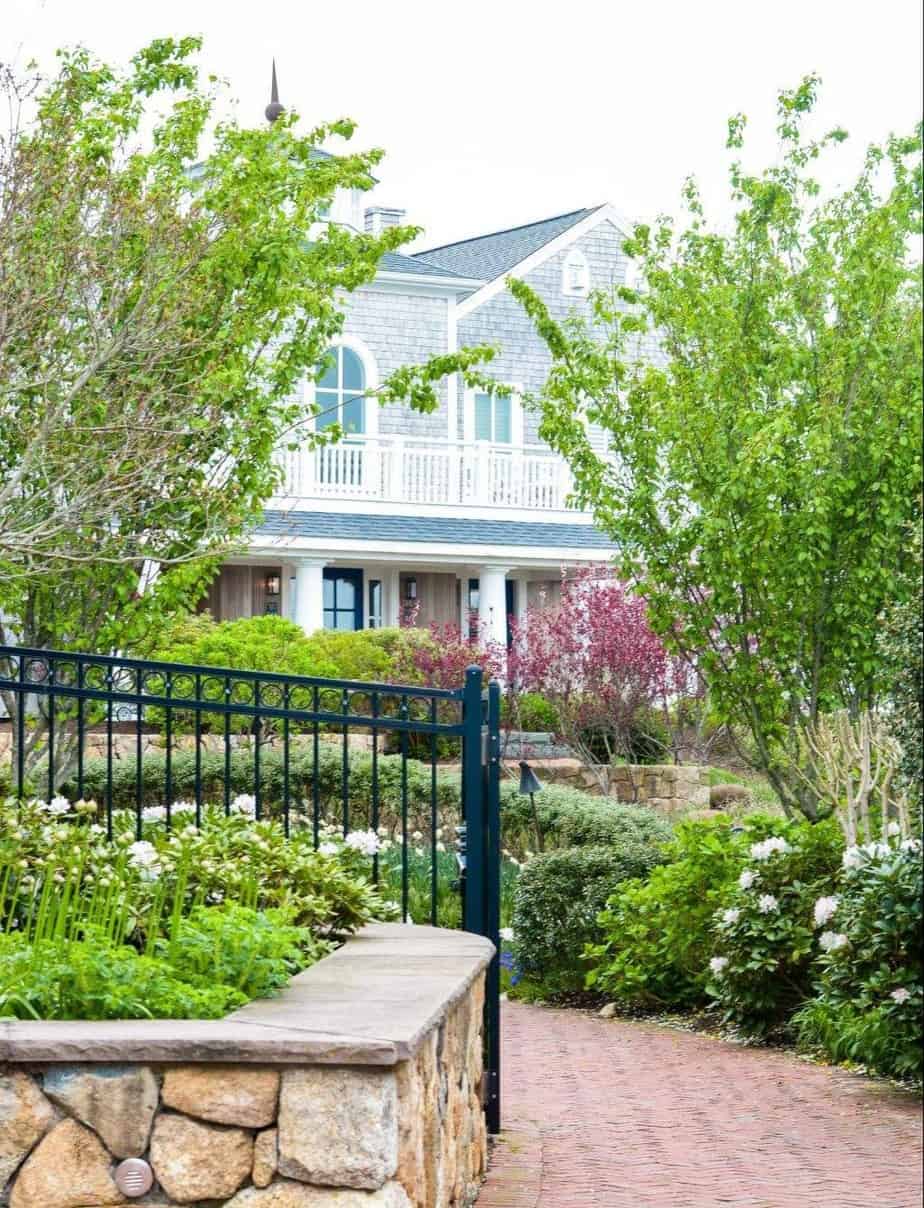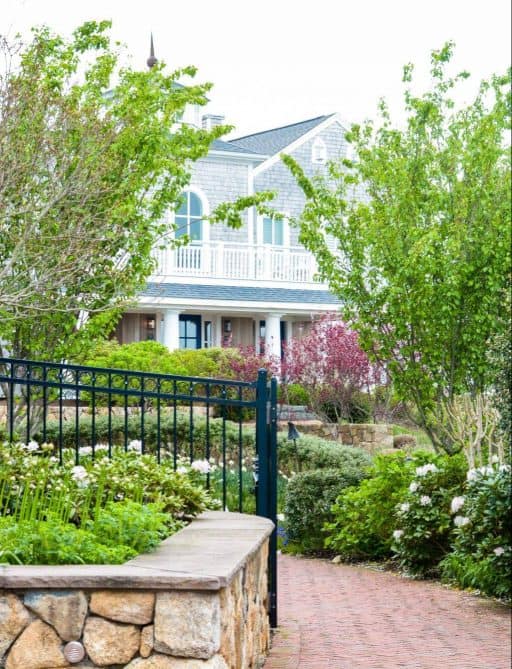 Chatham is one of my favorite towns on the Cape. It's bustling but small and quaint, and it has a distinctly old world preppy feel that I sometimes want to experience in the summer.
If you're after true New England prep that's reminiscent of the Kennedy family, head to Chatham, not Hyannis. Times have definitely changed and Chatham is the place to be for classic yuppies.
This town is located at the southern tip of Cape Cod. You'll find it east of Boston and south of Plymouth. Chatham is known for its beaches, shopping areas, and restaurants.
Chatham is home to one of the oldest lighthouses on the east coast! There are many charming bed and breakfasts available here, catering to all budgets just like in Falmouth. It's also home to an art colony in the summer months so you can view local artists' work on display at galleries throughout town.
If you're visiting in the summer time then you can catch some live music on several street corners including the intersection of Main St. and Congress St. This area also has a great view of the ocean even if there is a thick layer of fog over it!
The community is small but super upscale. Some popular landmarks include the Chatham lighthouse, the Fish Market, the Chatham Bars Inn, and the Wequassett (you can check out my full review of the resort here).
Chatham has a super cute downtown with really high end stores like Mahi Gold, Vineyard Vines, Lilly Pulitzer, and other preppy spots.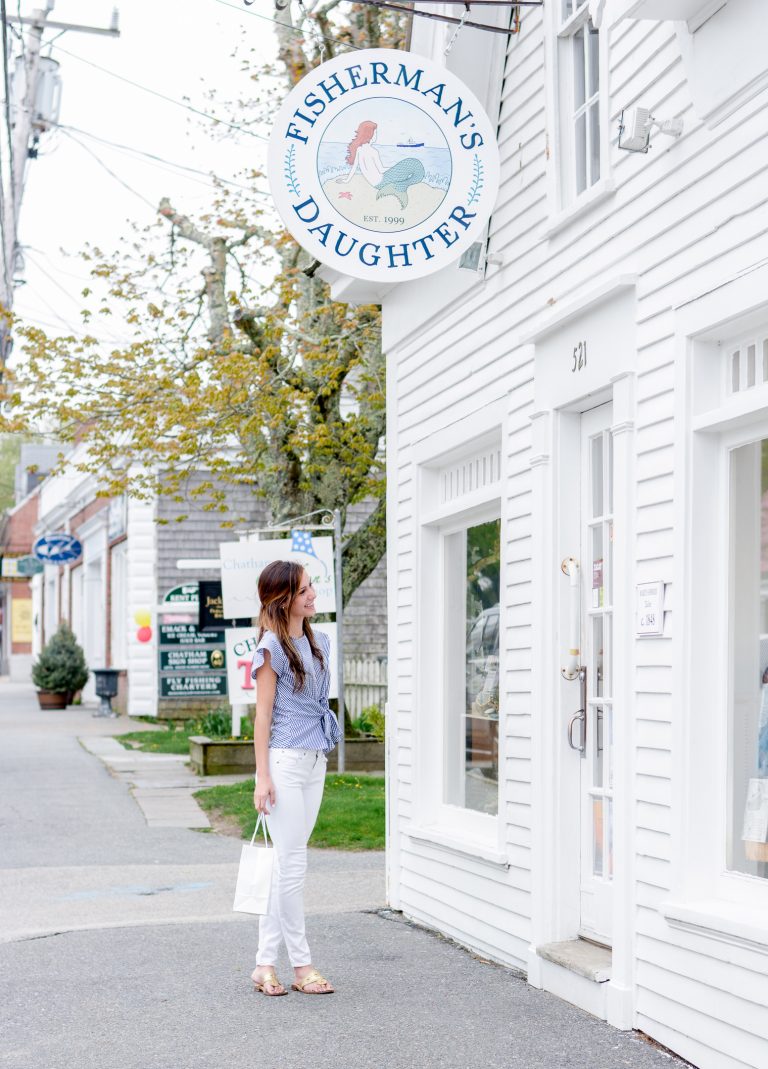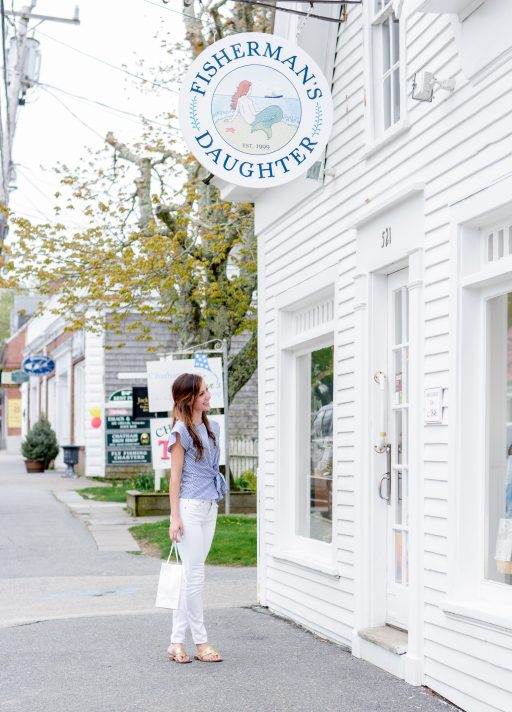 The Chatham Candy Manor is always fun for kids!
There are some cool events around Chatham in the summer, such as live music in the park on Friday nights and the Cape Cod Baseball League games, but there won't be constant entertainment.
If you're looking for the true classic Cape Cod vacation, Chatham is your spot.
Harwich is a town located at the northern tip of Cape Cod, along the coast of Massachusetts Bay. It was founded in 1641 and still retains some of its original buildings from that time period.
There are many quaint shops on Main Street, including several which specialize in handmade goods like jewelry or pottery. The downtown area is also home to restaurants like Chatham Gourmet Bistro where you can enjoy delicious seafood meals with a breathtaking view over the bay.
Highlights:
Small but bustling
Quaint, old-time preppy feel
A modest downtown with classic boutiques and stores
Limited restaurants, but the ones that are available are well-known
Stunning hotels and plenty of homes for rent
Related: 33+ Preppy Style Fashion Brands For Every Budget

Orleans
Orleans is one of the smallest towns in Cape Cod and is super quaint. It is mostly known for Nauset Beach, which stretches all along the town of Orleans.
There are exceptionally gorgeous beaches in Orleans (including Nauset Beach) as well as stunning forest areas.
The small center has a bit of shopping and a few galleries as well as amazing fresh seafood. There are occasionally live performances in the super tiny but cute theater district.
Orleans also boasts a good amount of World War II history for any of you who want to dive deeper.
This Cape Cod town isn't necessarily made for those who are going to be spending time on or near the water but it definitely has a lot to offer for vacationers.
There are plenty of shops and restaurants as well as some touristy sites that you can visit while visiting this cape cod town! Families will love walking around downtown Orleans taking in all that it has to offer.
Highlights:
Very small and quiet
Beautiful beaches and forests
Well-known for Nauset Beach
A little but sweet downtown
Known for residents, not tourists
Eastham
Eastham is also quieter and more residential, but it is known for Nauset Light, a gorgeous well-known Instagram spot and the inspiration for the Cape Cod Potato Chips logo!
Over 300 years ago, the Pilgrims actually had their first meeting with the Native American tribe in the area, so there's definitely a good bit of old history in Eastham.
There aren't many lodging options besides AirBnB, so you'll end up having more of a local experience if you stay here.
Highlights:
"Frozen in time"
Historical significance from the time of the Pilgrims
Nauset Light is a well-known landmark
Very residential and quiet
Not many hotels in the area
Wellfleet
Tranquil and beautiful, Wellfleet is one of the best Cape Cod towns for those who enjoy absolute solitude.
There is a super small downtown area that has insanely fresh seafood, including some great raw dishes.
The biggest draw for tourists is the drive-in movie theater that's located in Wellfleet. It's a rare throwback to Grease that's hard to find in other areas of New England!
Highlights:
A great vacation for a solo traveler in need of peace
A small downtown area
Fresh, raw seafood restaurants
The famous drive-in movie theater
Truro
Although Truro is quiet and remote, it's also well-known for having the absolute best beaches on Cape Cod. Truro is a town located in Barnstable County, on the outer cape. This makes it more rural and less densely populated than other towns like Falmouth or Hyannis.
Truro is bordered by Provincetown and Wellfleet, meaning it's far out on the arm of the Cape and will take a few hours to drive to from the bridge.
Truro is mostly known as the best place for a quiet, relaxing beach vacation. The town also offers a lot of other outdoor activities such as hiking. If you're staying in Truro but want a little extra excitement for a night, it's a quick jump to the next-door town, Provincetown.
Although Truro is on the quieter side, there are some activities available that are mostly fun for adults, such as a vineyard tour and wine tasting, galleries, sunsets on the Bay, and a few excellent restaurants.
Truro sits right on Nantucket Sound; there are some beaches along the sound created by sandbars which are excellent for swimming. Truro has many of the charms of Cape Cod but at a slower pace, making it an ideal vacation destination for families with children as well as couples looking to relax after working all week!
There's plenty to do while visiting Truro, including strolling lazily down Main Street, window shopping and dining out at local restaurants like The Lobster Pot .
Highlights:
The beaches!
Truro vineyards
A great spot for a quiet vacation with a few fun options
Right next door to Provincetown
Provincetown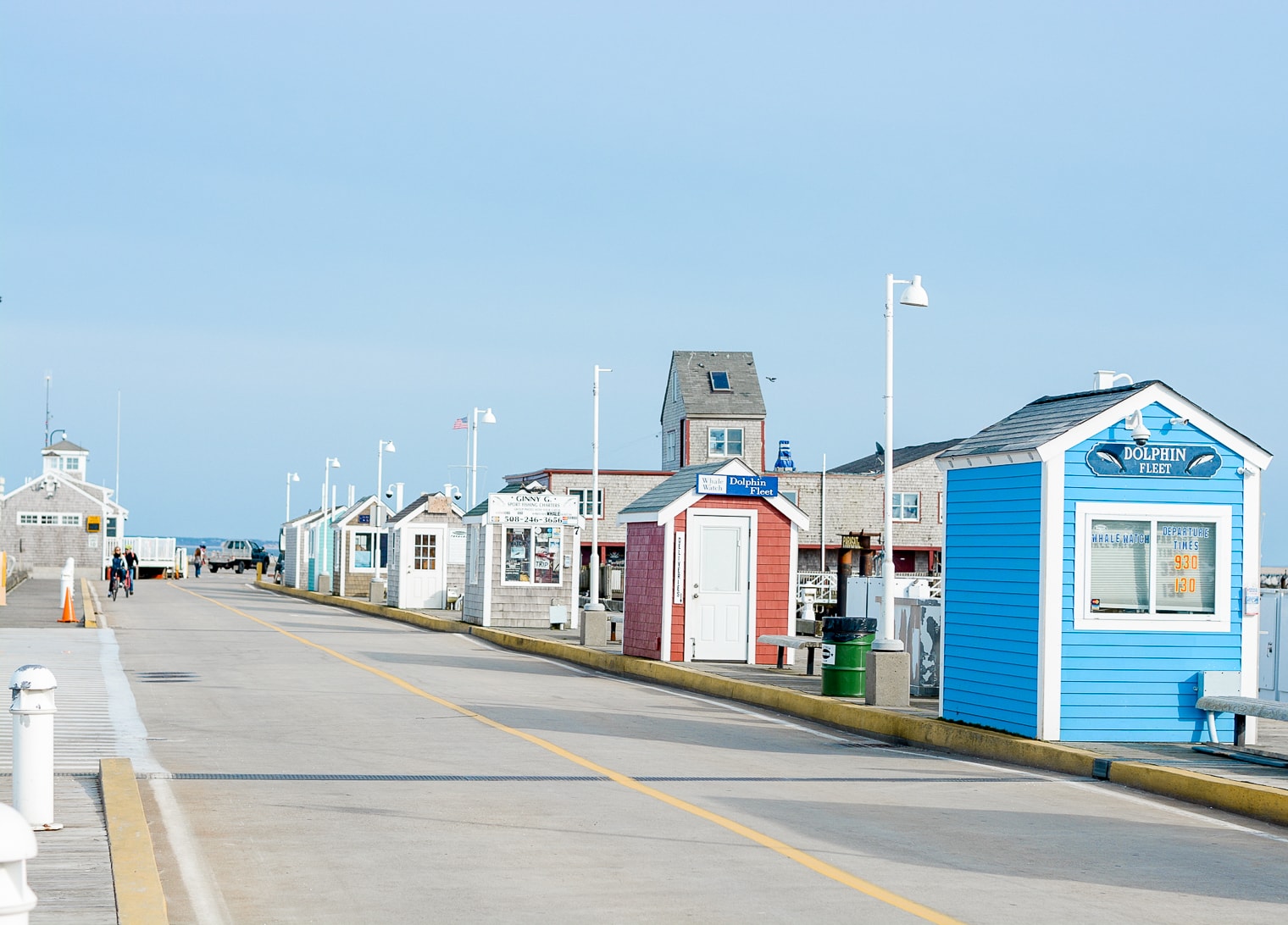 Provincetown is a unique town that's hard to describe. I grew up thinking it was called P-town (my dad is a fisherman) and it's still nicknamed this.
It's located at the far northern tip of Cape Cod. It's about 63 miles from either the Bourne or Sagamore Bridge. While the drive takes a while to get all the way out there, it's totally worth it!
There's a huge LGTB community in Provincetown, but it's really very inclusive and friendly towards everyone; Provincetown is great for kids as well. Literally everyone is welcome!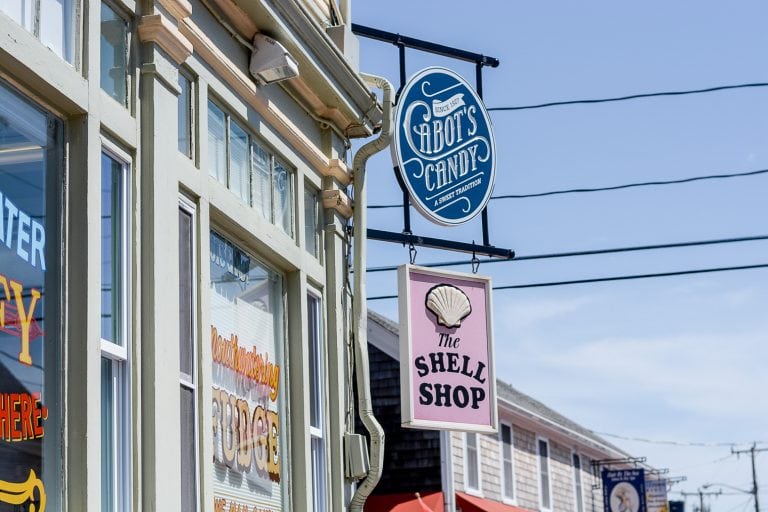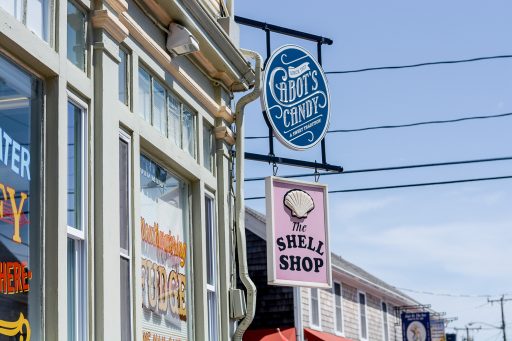 There are lots of daytime activities as well as super vibrant nightlife. The downtown is packed with cute, tiny shops, restaurants, and bars.
The vibe is very free-spirited and fun! It's a totally different feel from many of the classic Cape Cod towns listed above.
There are lots of art galleries, interesting shops (I personally love the candy store and Puzzle Me This for a good game), constant parades, and absolutely amazing seafood.
Provincetown gets insanely packed in the summer but dies down in the winter to a huge extent. While it's still beautiful and full of history, you won't experience the same vibrant excitement.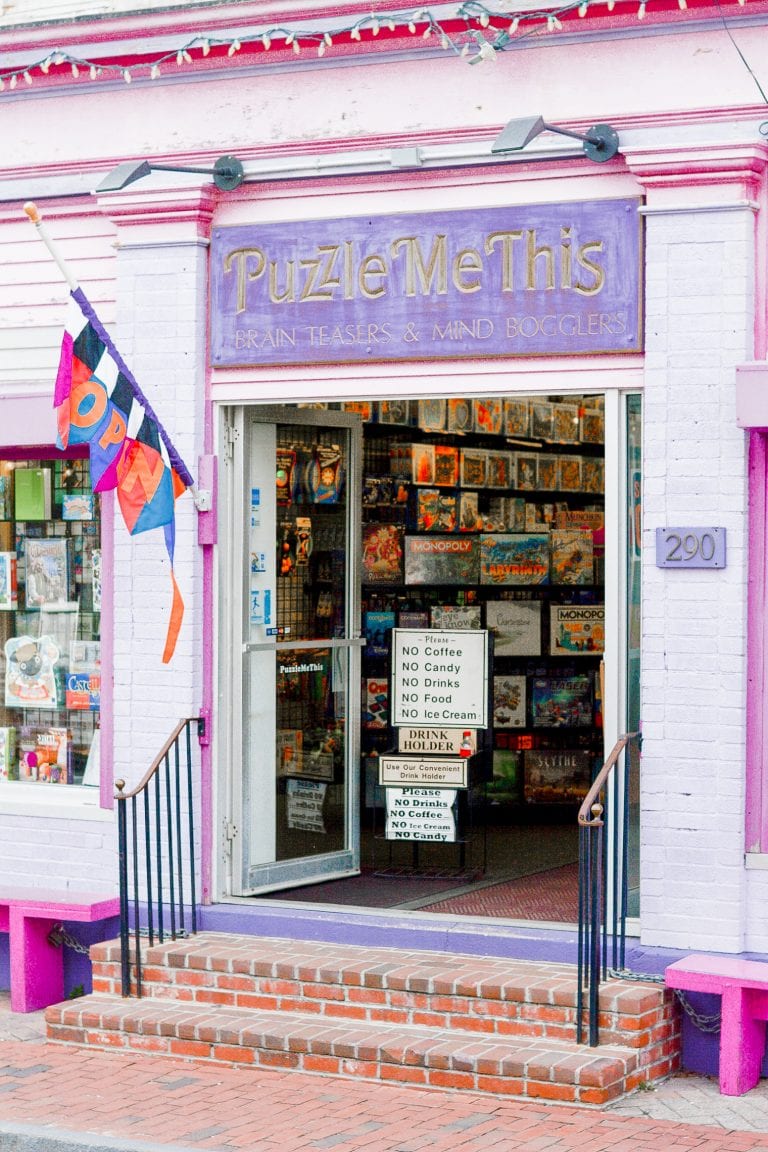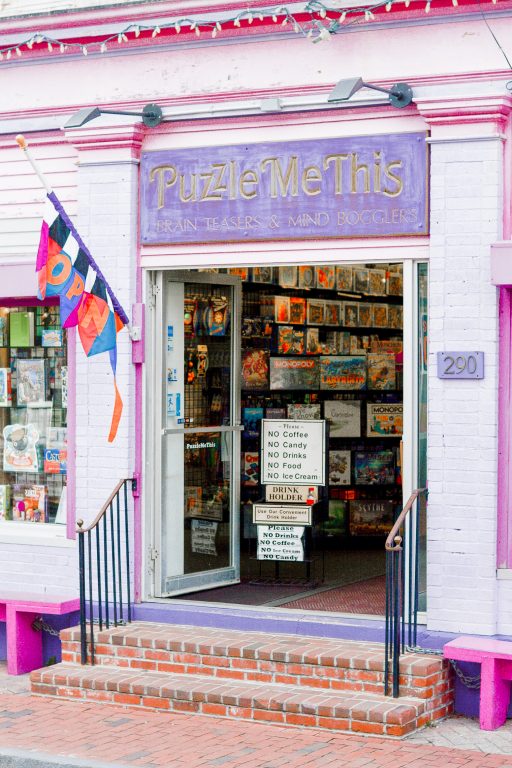 Commercial Street is the main drag where you'll find hotels, shops, restaurants, and all of the parades and festivals.
On the water, there's tons of cute lobster and surf shacks that offer amazing views as well as the best seafood around.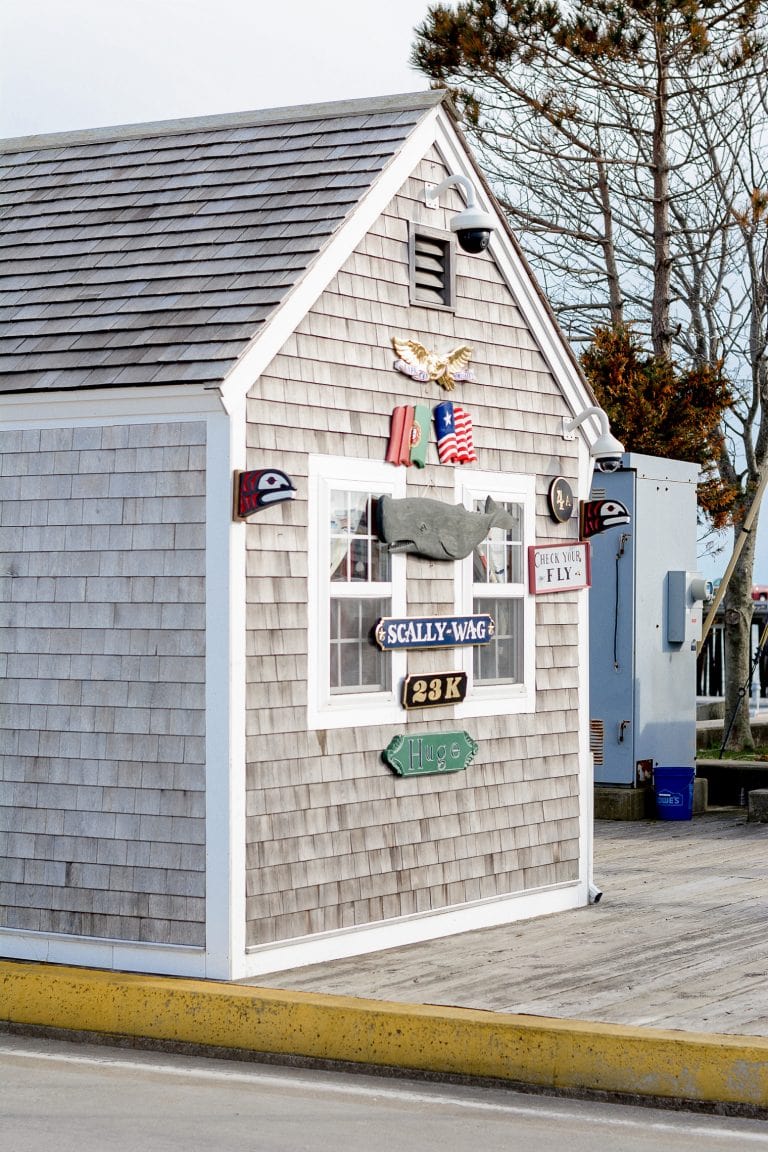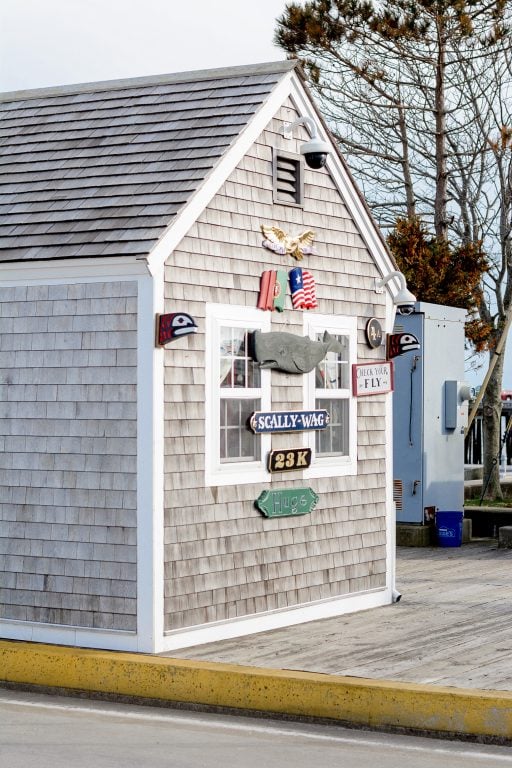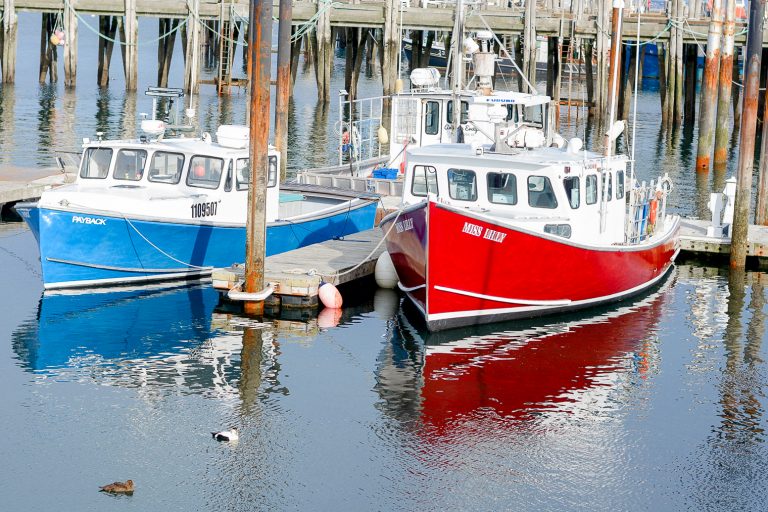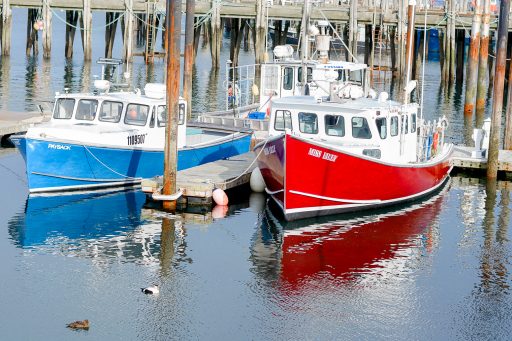 I sometimes think that the vibe is Provincetown is the most vacation-like in New England. You'll hear music or see an outdoor deck that looks like Key West, but the buildings will have shingles and sport quintessential New England Decor.
Provincetown is a town located at the very tip of Cape Cod, on the outermost edge where it almost joins up with Martha's Vineyard. In fact there are ferries that cross over to the neighboring island in the summer months.
It was one of the first vacation destinations for American artists and writers back in the late 1800s and has retained some of its old-world charm from those days. You'll find many galleries featuring fine arts like paintings, porcelain sculptures, or even hand carved furniture!
There are several unique shops selling adorable gift items as well as excellent restaurants specializing in seafood that you can enjoy eating right on Fisherman's Wharf.
If you want a super fun, interesting vacation, then I highly recommend Provincetown. It's one of my favorite Cape Cod towns for sure!
Highlights:
Inclusive for everyone!
Really alive and fun: lots of parades and festivals
It gets super packed in the summer
Lots of places to stay, restaurants, shops, bars, etc.
All the way out on the tip of Cape Cod
Transportation:
Please be aware that not all towns have parking available on the street and that in some cases you may need to use a public lot or private lot for your vehicle. You can find these by looking at the green signs on the side of the road, usually found every mile or two. Sometimes you will find parking available in town garages and sometimes by the beach.
When traveling to Cape Cod, having a car is recommended, though not necessary. Many of the towns feature public transit systems as well as taxis if needed.
The Cape Cod Canal system is a very important tourist attraction. It allows ships to bypass the treacherous waters of Cape Cod and continue on their journey.
The traffic before and after this area can become very congested, especially during the summer months! Plan to sit along the bridge for at least an hour.
It's hard to say which of these destinations are better than others because they all have their own unique character and appeal.
Cape Cod is a popular vacation destination for New Englanders because it offers many things that cities like Boston and Providence do not: the Cape includes beautiful scenery, sandy beaches where you can enjoy swimming or build sandcastles with your children, shopping opportunities galore, and plenty of restaurants serving delicious seafood. It really is a special place.
I hope this guide helps you figure out where you'll enjoy visiting! Feel free to reach out with any additional questions before your travels!