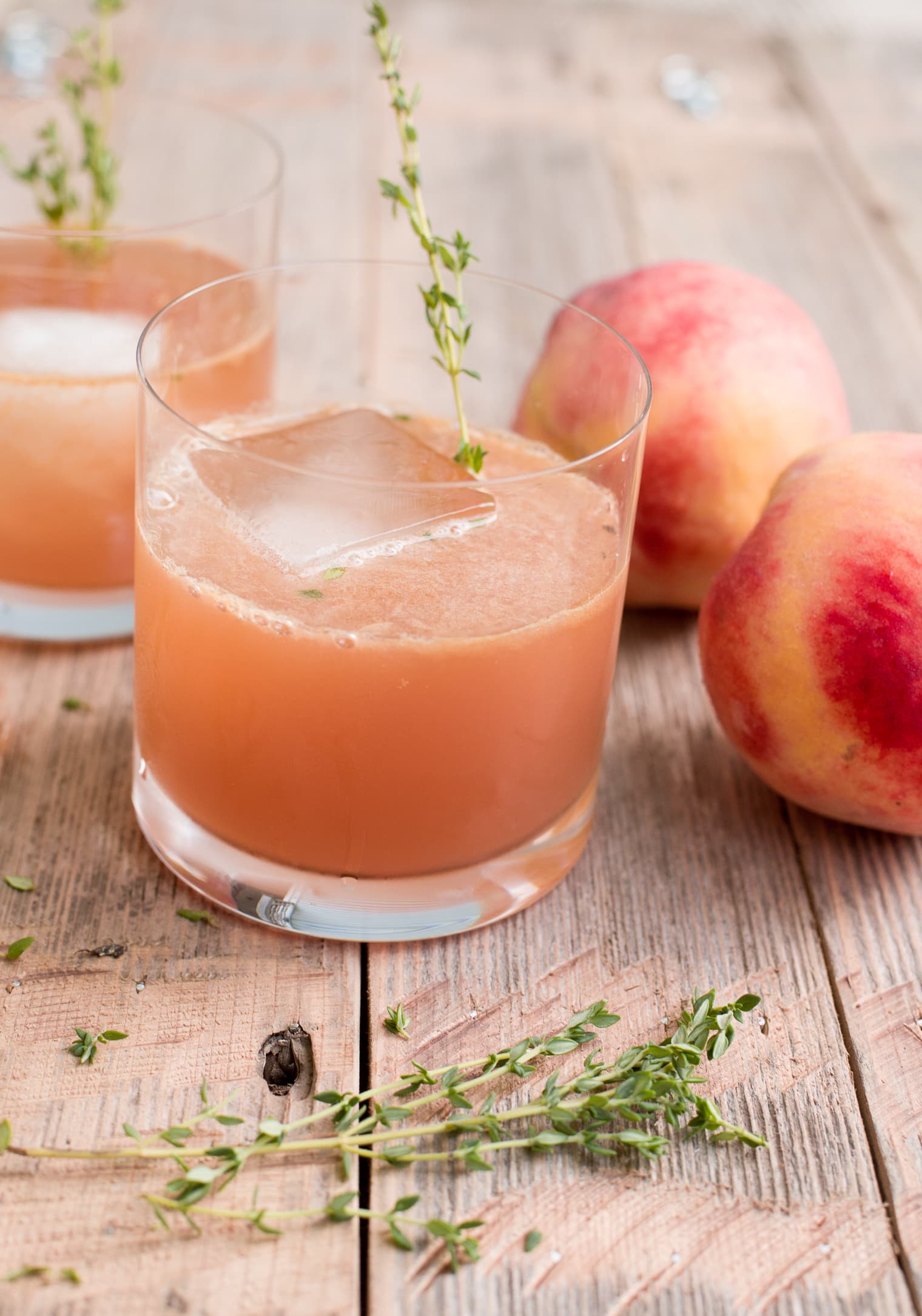 This easy peach juice cocktail recipe seems almost too simple, but with the perfect balance of flavors, it really is heaven in a glass.
I love throwing these 4 ingredients together on a summer night when we have guests over and sit out on the patio. I've never known someone to dislike this peach cocktail!
As someone who doesn't love bourbon, I still keep this drink as a simple go-to. Even in the winter, we love to make it and cozy up inside with a blanket and a good board game.
While fresh ingredients are always better, you can easily make this peach juice cocktail with frozen/dried as well. I've included more specifics about each of the 4 ingredients below, or you can scroll to the bottom for a printable recipe.
The Peach Juice
This peach cocktail recipe really needs fresh peach juice to live up to it's full potential. Something about the sweetness of a ripe peach just can't be recreated with Peach Schnapps or other artificial flavors!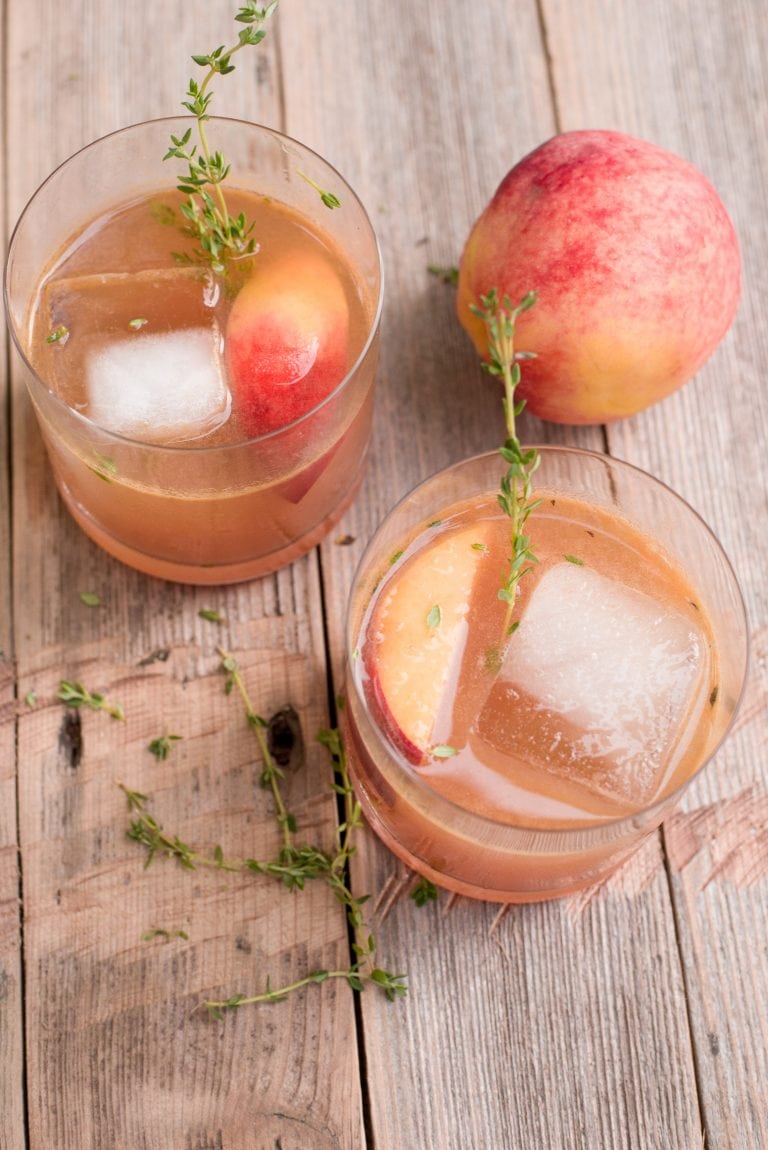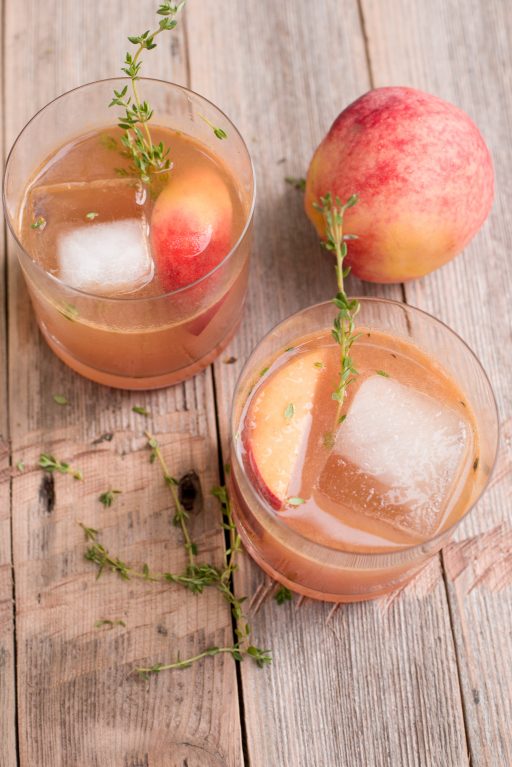 If you have a juicer, it's a simple process to juice a peach (I leave the skin on to make it easy) and use that amount for one glass.
If you don't have a juicer, you can also cut around the pit, throw the peach into a blend for 15-20 seconds, and then strain it to get out any large chunks.
I've tried these peach cocktails both ways and found that they taste very similar. You really need the essence of the fresh peach; the texture doesn't make a huge difference.
If fresh peaches aren't in season, you can also use frozen and achieve a similar result.
To really get that fresh peach flavor, I like to slice or cube a few peaches and add them into each cocktail. This not only gives the drink a prettier look, but allows the peach to continue to infuse itself as you sip on this peach cocktail.
The Thyme-Infused Bourbon
Thyme infused bourbon is super simple to make. You can use the original bottle that the bourbon comes in and simple place a few sprigs of fresh thyme (although dried thyme works as well) into the bourbon a few hours before using it.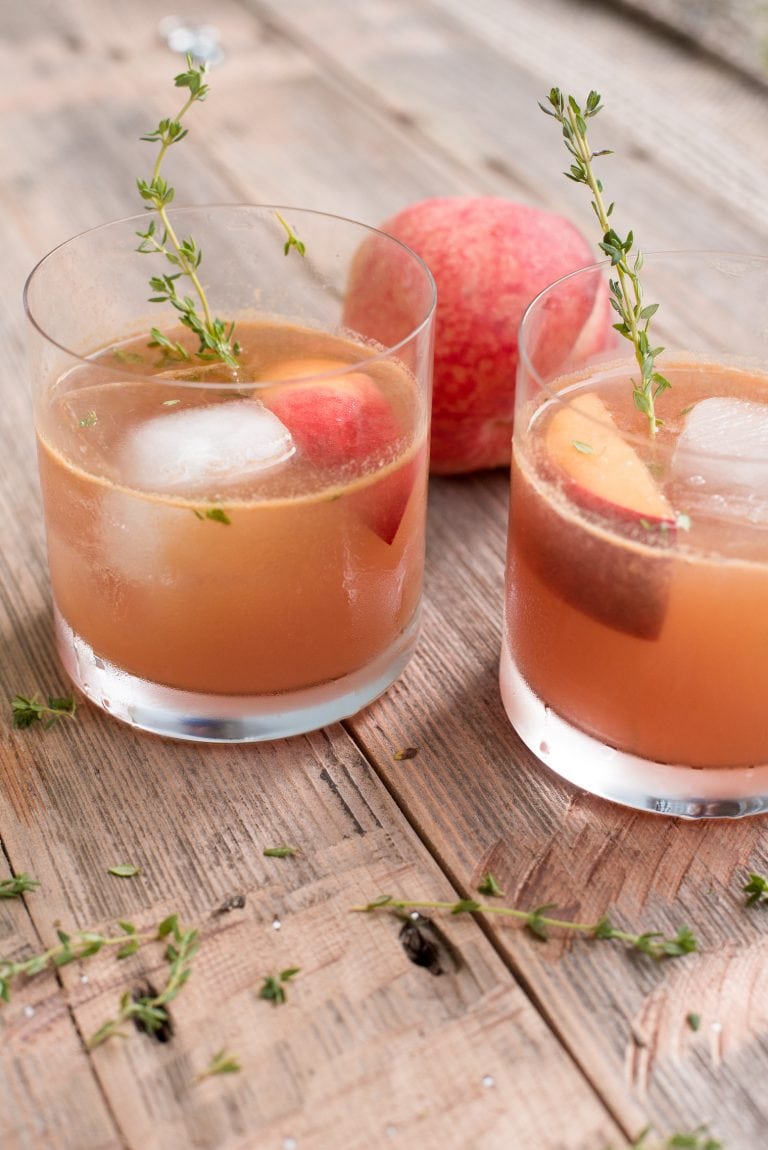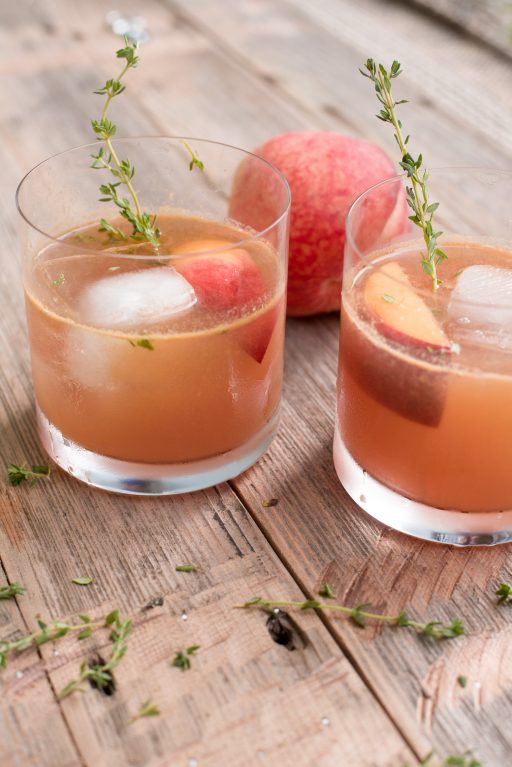 To make the process go faster, try gently crushing the thyme leaves before infusing it. Even if you just throw a sprig of time into a bottle of bourbon a half hour before putting together this recipe, the flavors will make a huge difference.
I like my thyme-infused bourbon flavors to be subtle. I find that if I leave the sprigs of thyme in the bourbon for longer than 12 hours, the flavors in the peach cocktail are too strong and can easily overpower the peach.
If you're wanting to substitute vodka for bourbon, then I recommend infusing the vodka as well. Otherwise, the recipe can be made exactly the same, and will taste similar to a peach juice cocktail in martini form.
The Lemon
Again, while you could use store-bought lemon juice, I highly recommend the real deal. I don't have a lemon juicer, so I literally just squeeze half a lemon into a 1 oz measuring cup while making this recipe.
I do strain any pulp clumps or seeds out, but otherwise I actually enjoy the somewhat rough texture of fresh-squeezed juice.
You'll want to be careful when adding the lemon: it's a delicate balance. With too little lemon juice, the drink will taste somewhat flat and boring, while too much will make it very acidic.
Start with 1 oz and taste test. If you like your drinks more on the acidic side, then you make want to add another 1/2 oz.
The Ice
I actually purchased large square ice trays on Amazon because I wanted this specific look.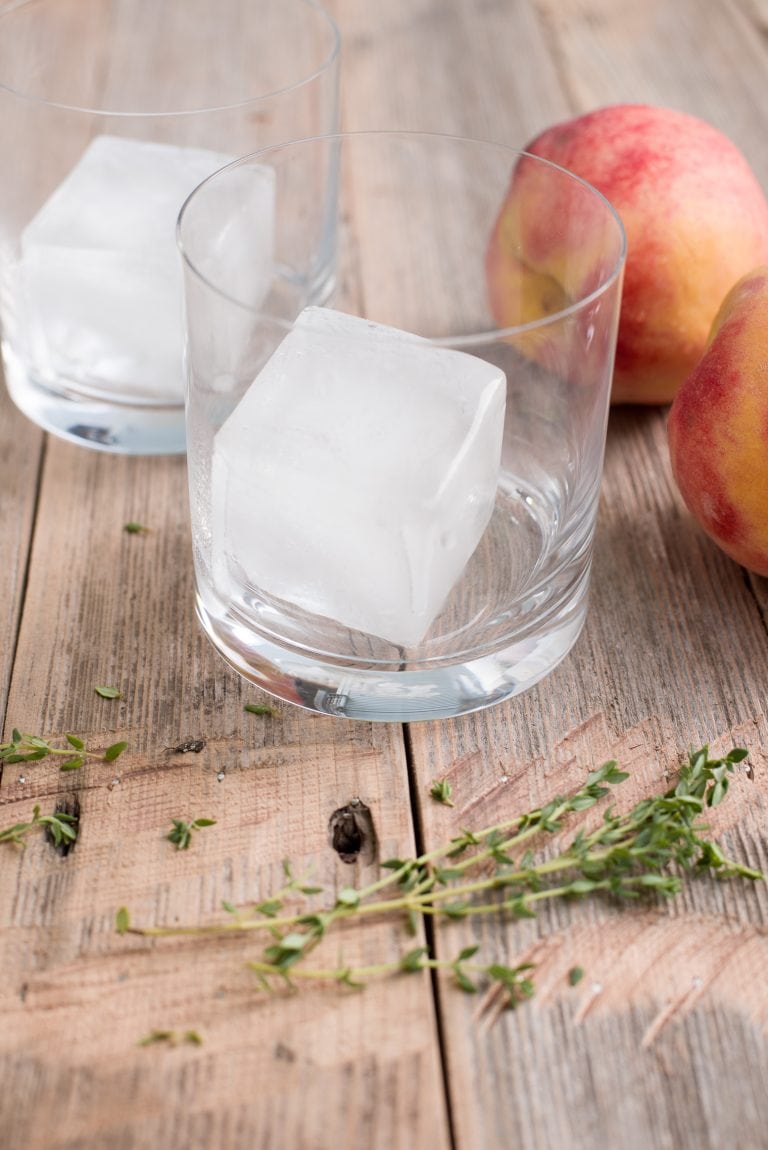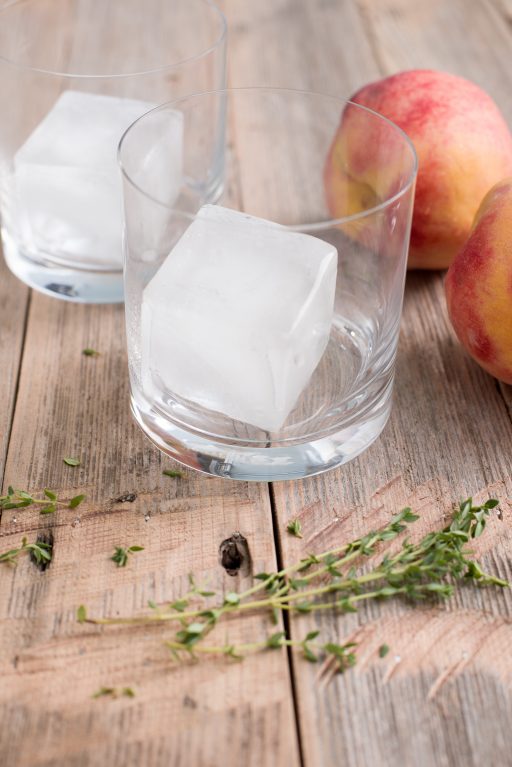 While these ice cubes are by no means necessary and don't change the taste of the drink enough that you'd notice (unless you're a huge cocktail connoisseur), they do add a little something extra.
You can find these ice trays here.
I always use regular ice from my refrigerator in the shaker. You can easily use regular ice in the glass as well – it's completely personal preference.
The Glasses
I also purchased these glasses specifically to use in cocktails such as these types of peach cocktails. I find that the glasses really do make a huge difference for me!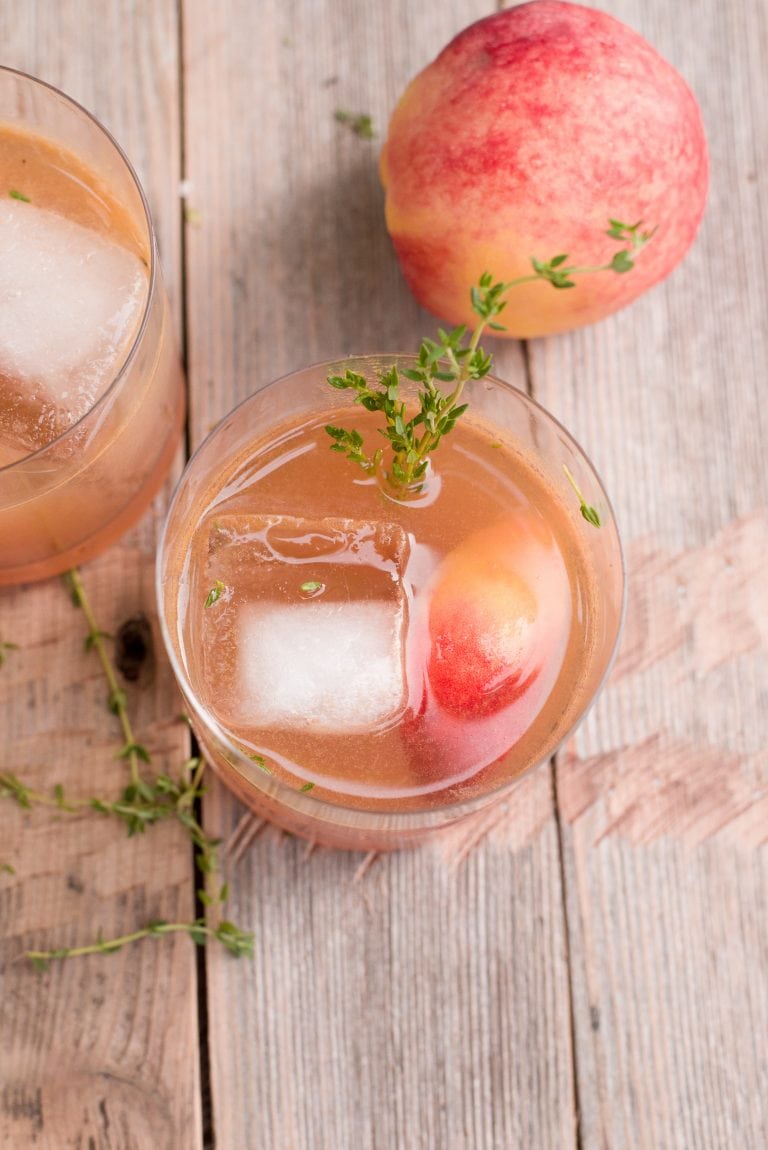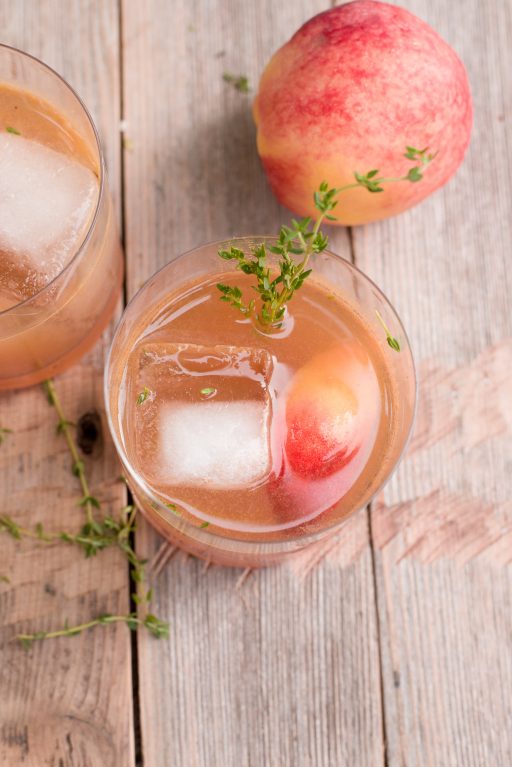 I love to throw together peach cocktails on a summer afternoon and serve them in this type of glassware on a pretty tray.
Although I purchased this set at Home Goods, I did find a similar set on Amazon.
Whether you buy new glasses or have a set, I recommend using something that you really love! It somehow makes the drink taste that much more delicious.
Pairings
I tend to this of these peach cocktails as more of appetizer or dessert drinks.
They go great with a summer platter and munchies in the afternoon, but also have a sweet, rich flavor that works well as a summer dessert drink.
Yield: 1 glass
Peach Bourbon Smash: A Peach Cocktail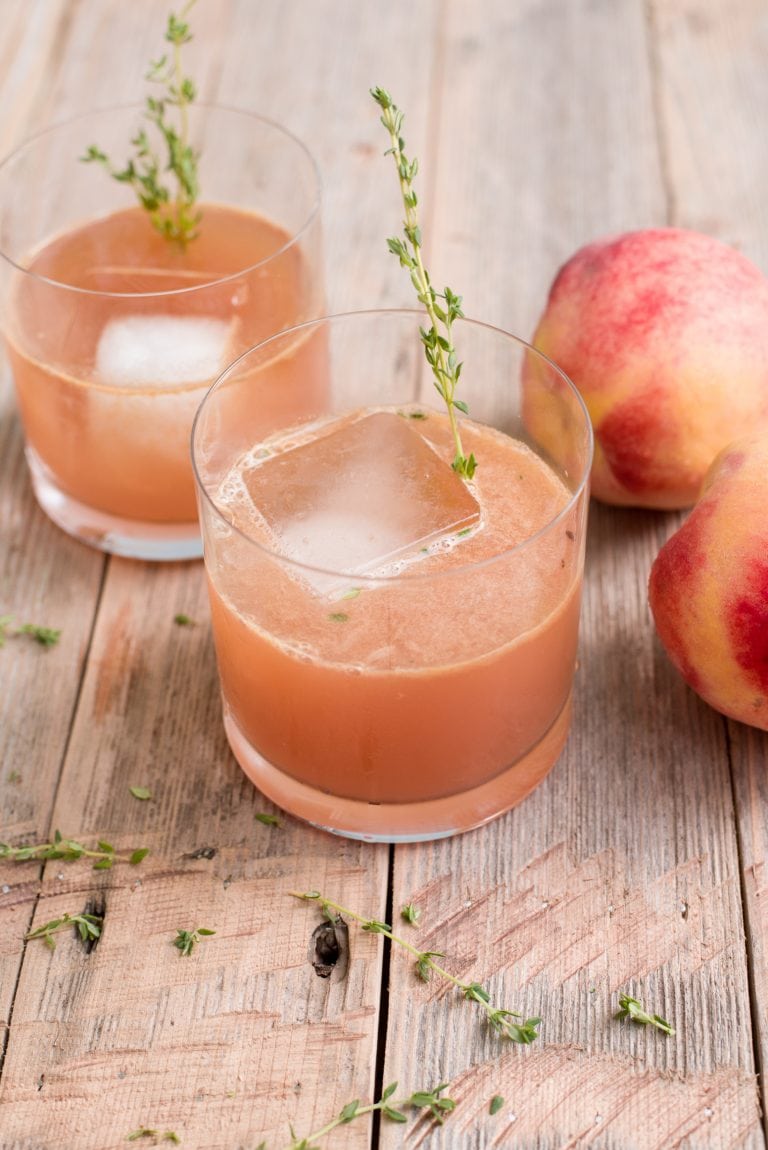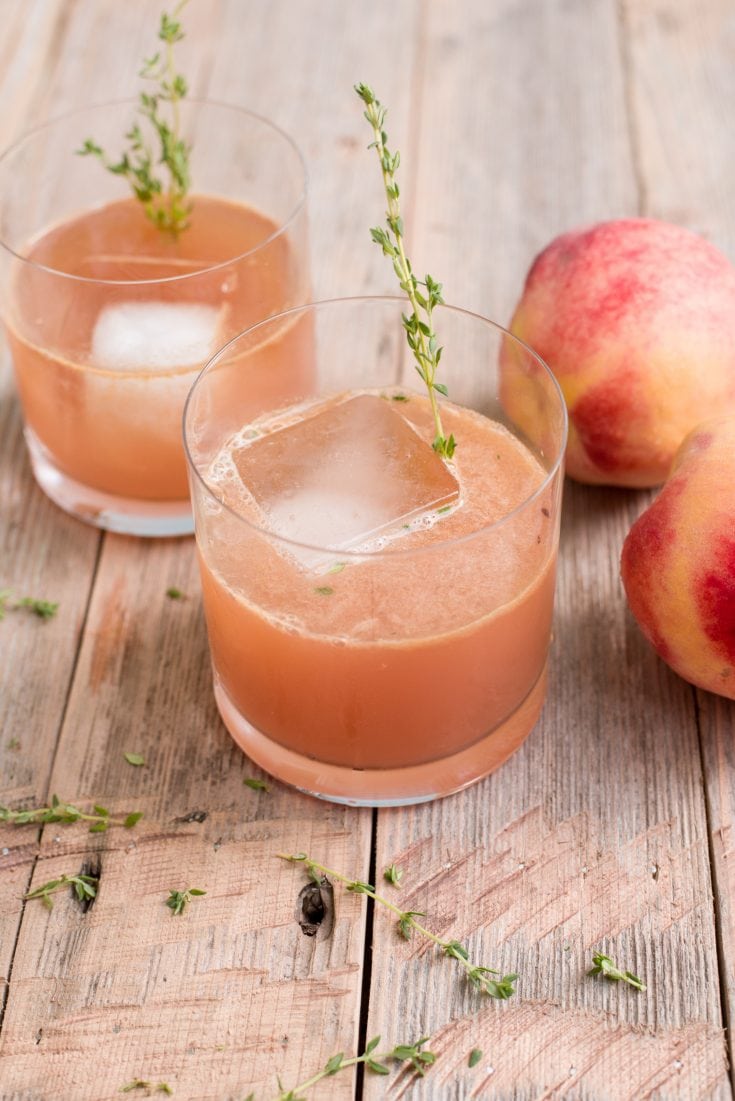 Prep Time 5 minutes

Total Time 5 minutes
Ingredients
2 oz thyme-infused bourbon
2 oz fresh peach juice (about 1 peach is needed per glass)
1 oz fresh lemon juice (about 1/2 lemon is needed per glass)
Ice
Instructions
1. Juice one peach and set aside. Squeeze a half a lemon and set aside.

2. Fill a shaker with ice and combine the bourbon, peach juice, and lemon juice. Shake for 2-3 minutes or until foamy.

3. Strain and pour into a glass over fresh ice Garnish with a sprig of thyme or a slice of peach.