An easy 4 ingredient peach bourbon cocktail with fresh peach juice and thyme. This fresh peach cocktail is the perfect blend of flavors for any cocktail lover.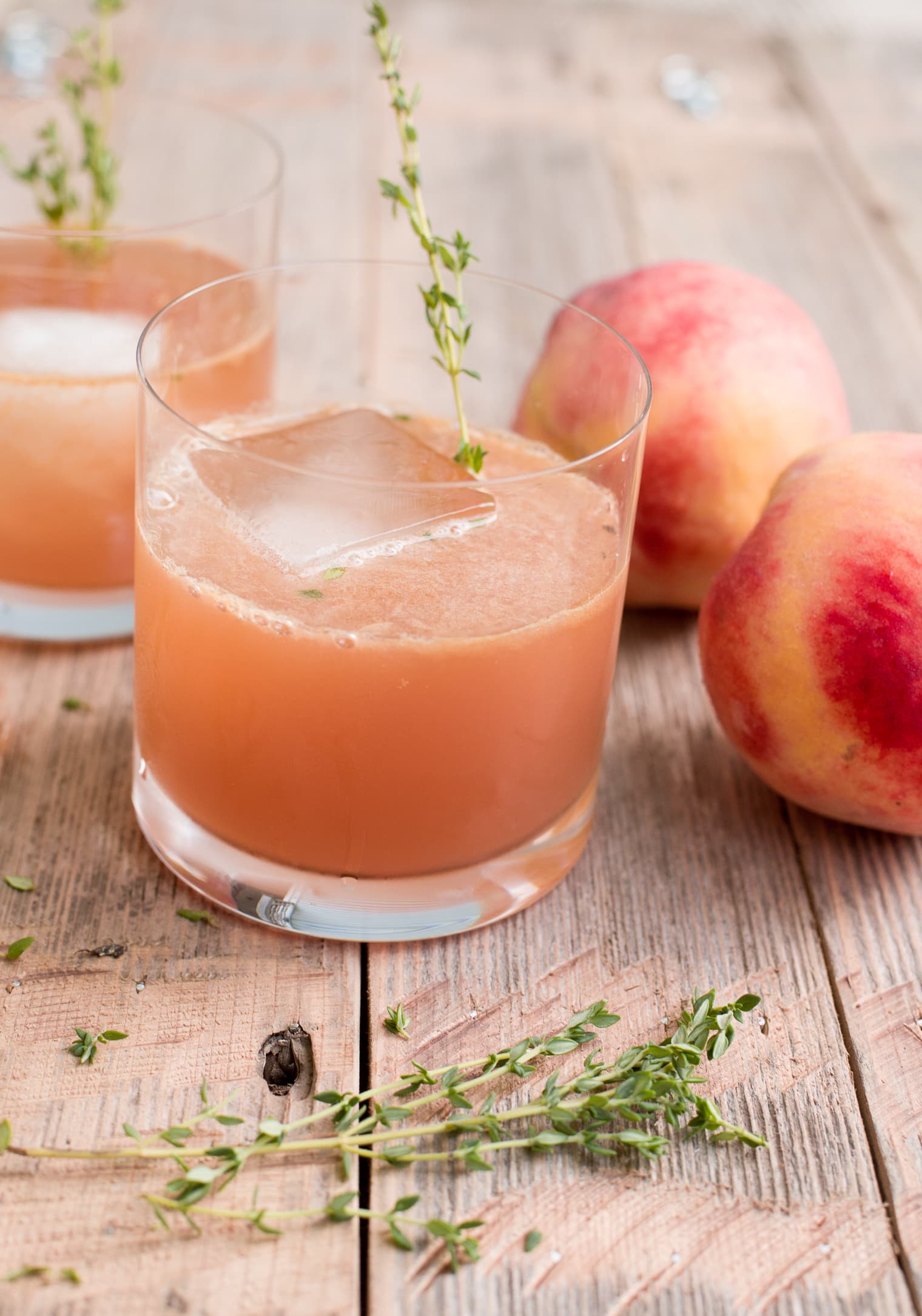 This easy peach juice cocktail recipe seems almost too simple, but with the perfect balance of flavors, it really is heaven in a glass. If you haven't tried a fresh peach bourbon cocktail then you don't even know what you're missing!
I love throwing these 4 ingredients together on a summer night when we have guests over and sit out on the patio. I've never seen someone dislike this fresh peach cocktail; even people who aren't bourbon drinkers love it.
As someone who personally doesn't love bourbon, I still keep this drink as a simple go-to. Even in the winter, we love to make it and cozy up inside with a blanket and a good board game.
This peach bourbon cocktail is the only way I'll drink bourbon because it just tastes amazing!
While fresh ingredients are always better, you can easily make this peach juice cocktail with frozen/dried as well.
I've included more specifics about each of the 4 ingredients below, or you can scroll to the bottom for a printable recipe.
The Peach Juice
This peach cocktail recipe really needs fresh peach juice to live up to it's full potential. Something about the sweetness of a ripe peach just can't be recreated with Peach Schnapps or other artificial flavors!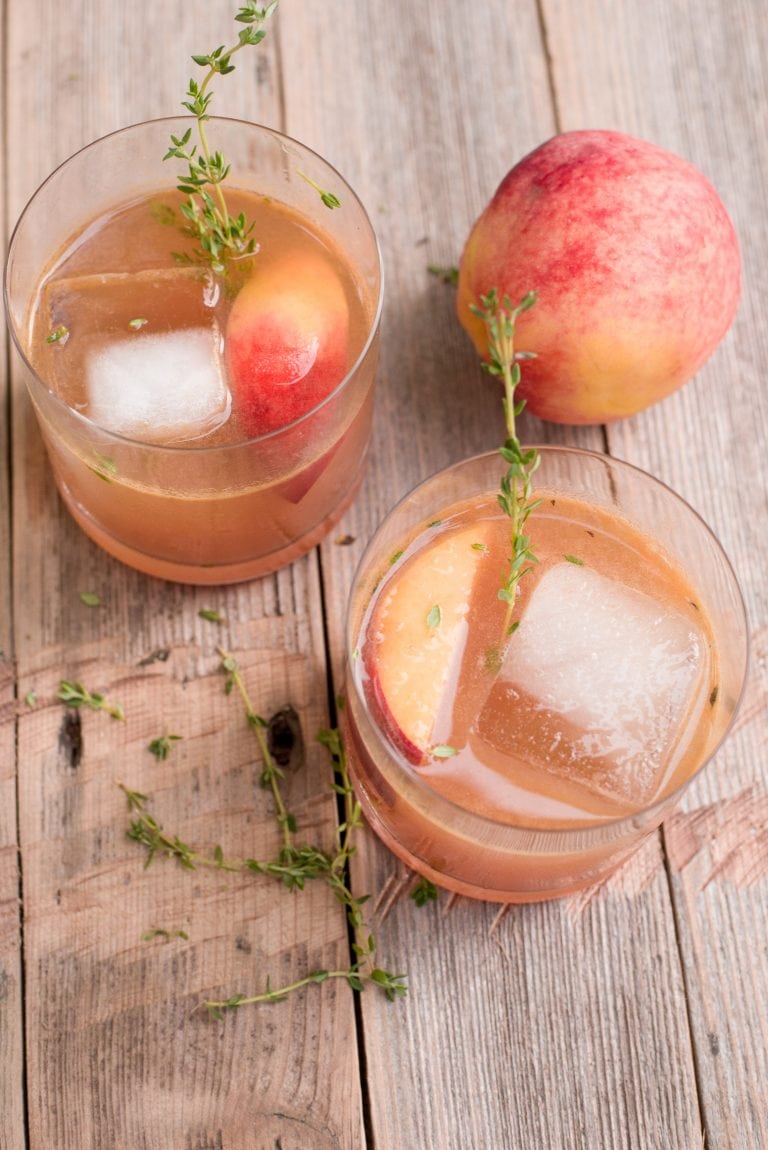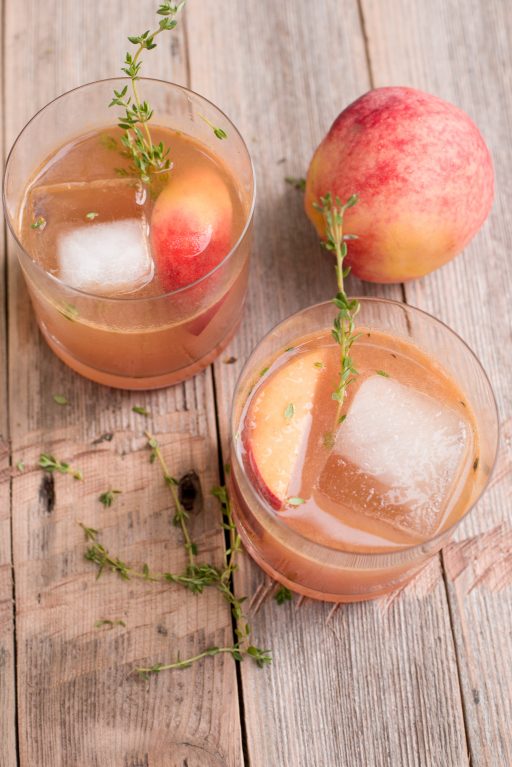 If you have a juicer, it's a simple process to juice a peach. I leave the skin on the peach to make it easy; it tastes just as good.
One peach is the perfect amount of juice for a single cocktail, so juice as many peaches as the amount of peach cocktails you want to make.
If you don't have a juicer, you can also cut around the pit, throw the peach into a blend for 15-20 seconds, and then strain it to get out any large chunks. I definitely recommend straining it because I like this drink to be relatively smooth.
I've tried these peach cocktails both ways and found that they taste very similar. You really need the essence of the fresh peach; the texture of how you juice the peach doesn't make a huge difference as long as you strain the juice if you use the blender method.
If fresh peaches aren't in season, you can also use frozen and achieve a similar result. It's not as good (there's nothing like a fresh peach juice cocktail) but it still has a wonderful blend of flavors.
If you're using frozen peaches, I recommend blending them up (you'll need about 1 cup of frozen peaches per peach cocktail) then straining them before making this cocktail.
To really get that fresh peach cocktail flavor, I like to slice or cube a few peaches and add them into each cocktail. This not only gives the drink a prettier look, but allows the peach to continue to infuse itself as you sip on this fresh peach cocktail.
I put my peach slices directly in the peach bourbon cocktail instead of on the glass.
Keep in mind: you don't necessarily need to chill the peaches beforehand because you will shake the cocktail over ice.
Which Bourbon To Use?
There are so many (pretty expensive) bourbon choices out there. Ask any bourbon lover what they recommend and you'll get a really passionate response.
Generally, a good bourbon made from a mash bill containing at least 51 percent corn, distilled in the US, and aged in charred oak containers. The bourbon also has to meet certain proof requirements at the end of the process.
Other than those basic requirements, it comes down to what you like.
If you want something super budget friendly, the yellow label Four Roses is a good option. It's available in most parts of the US (and some parts of Europe).
Maker's Mark is a good brand for slightly more expensive bourbon but it still won't break the bank. It has a smooth, smokey flavor that is perfect for this peach bourbon cocktail.
Obviously, a classic bottle of Jim Beam is always good, too. If you think you'll make this fresh peach cocktail a few times then you might want to invest in a decent bourbon.
Because this fresh peach cocktail has only a few ingredients and is such a delicate mixture, the bourbon really does make a difference, but you can't go wrong with any of the brands listed above.
Making Thyme-Infused Bourbon
Thyme infused bourbon is super simple to make. I'm loving infused spirits right now and find that infusing your spirits beforehand (even for just a few hours) makes a huge difference.
If you want this peach juice cocktail to taste super gourmet then I definitely recommend infusing the bourbon.
You can use the original bottle that the bourbon comes in and simple place a few sprigs of fresh thyme (although dried thyme works as well) into the bourbon a few hours before using it. It's literally so simple!
If you want it to be super tasty/more infused then throw some thyme in your bourbon bottle a day ahead of when you plan to make this peach bourbon cocktail.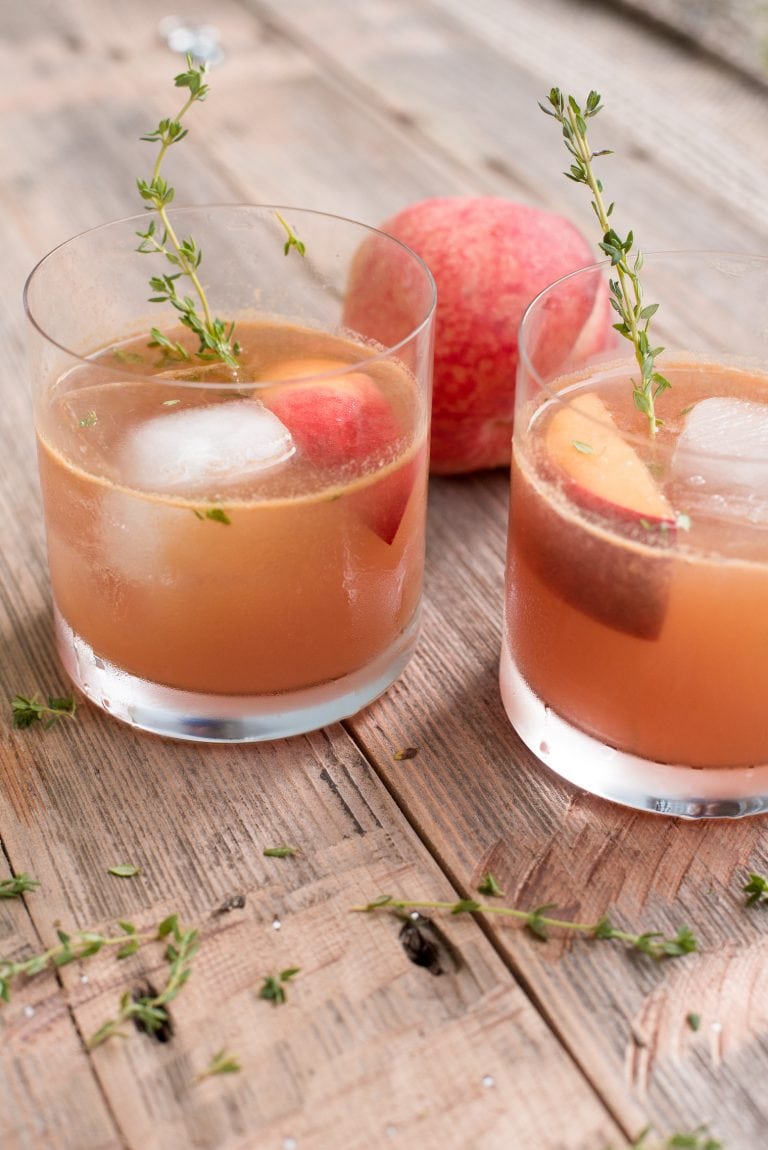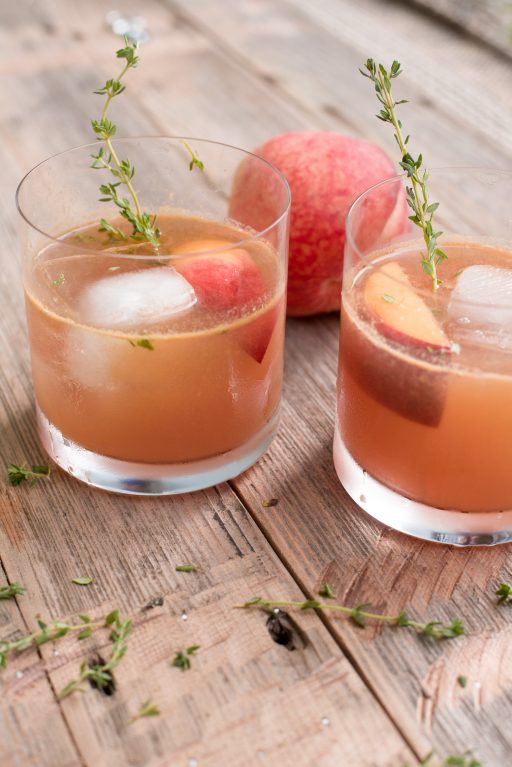 To make the process go faster, try gently crushing the thyme leaves before infusing the bourbon. Even if you just throw a sprig of time into a bottle of bourbon a half hour before putting together this recipe, the flavors will make a huge difference.
I like my thyme-infused bourbon flavors to be subtle. I find that if I leave the sprigs of thyme in the bourbon for longer than 12 hours, the flavors in the fresh peach cocktail are too strong and can easily overpower the peach.
Of course, this depends on your own tastes and the cocktail you're making. Peach is a gentle flavor so I go gentle on the time, but if you were working with stronger ingredients (such as lemon lime in a cocktail) then you would need to infuse the spirits for a longer time period.
If you're wanting to substitute vodka for bourbon then I recommend infusing the vodka as well. Otherwise, the recipe can be made exactly the same as this peach bourbon cocktail. It will taste similar to a peach juice cocktail in martini form.
The Lemon
As always, I love fresh ingredients. While you could use store-bought lemon juice, I highly recommend the real deal.
I don't have a lemon juicer, so I literally just squeeze half a lemon into a 1 oz measuring cup while making peach juice cocktail.
I do make sure to strain any pulp clumps or seeds out. I don't mind a bit of texture, but this peach cocktail is meant to be smooth and sophisticated, so I don't want clumps of lemon or peach in my drink.
You'll want to be careful when adding the lemon: it's a delicate balance. With too little lemon juice, the drink will taste somewhat flat and boring, while too much will make it very acidic.
Start with 1 oz and taste test. If you like your drinks more on the acidic side, then you make want to add another 1/2 oz. Less lemon and more peach will make the drink sweeter.
I really think you need the lemon to cut through the bourbon taste. The lemon is what makes this fresh peach cocktail taste like a cloud because you literally can't taste the alcohol.
The Ice
I actually purchased large square ice trays on Amazon because I wanted this specific look. There's something really classy about large ice cubes.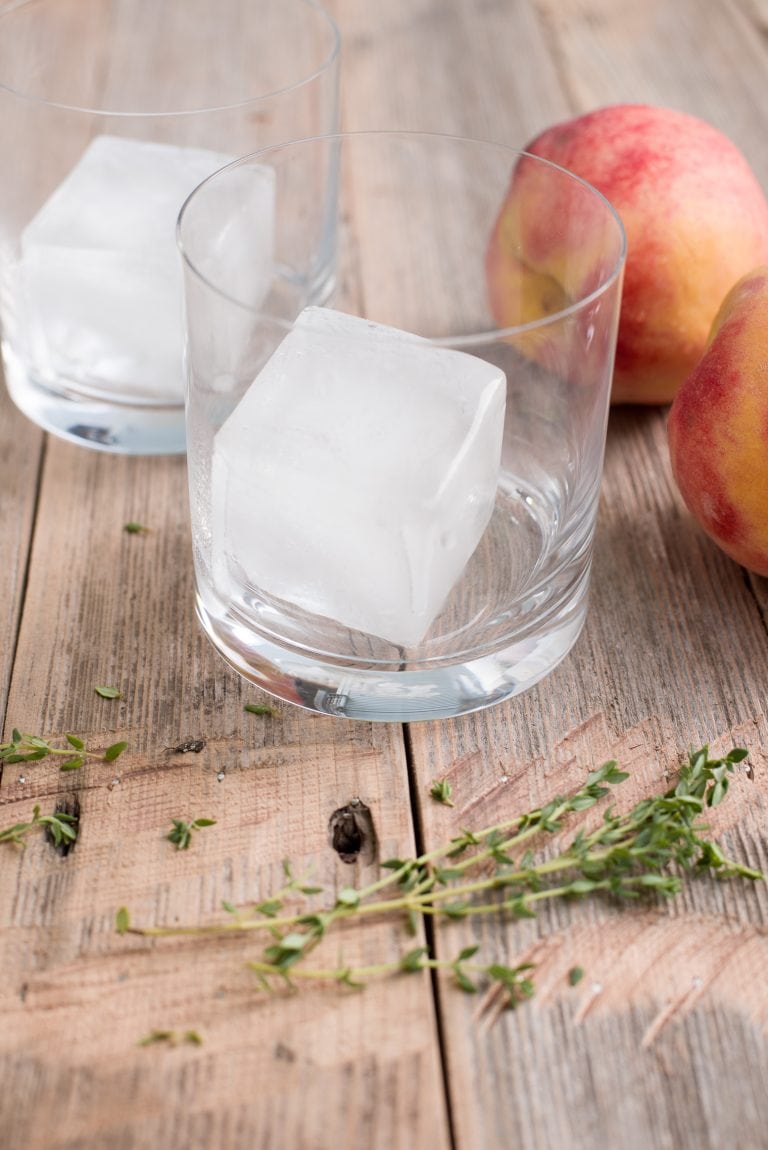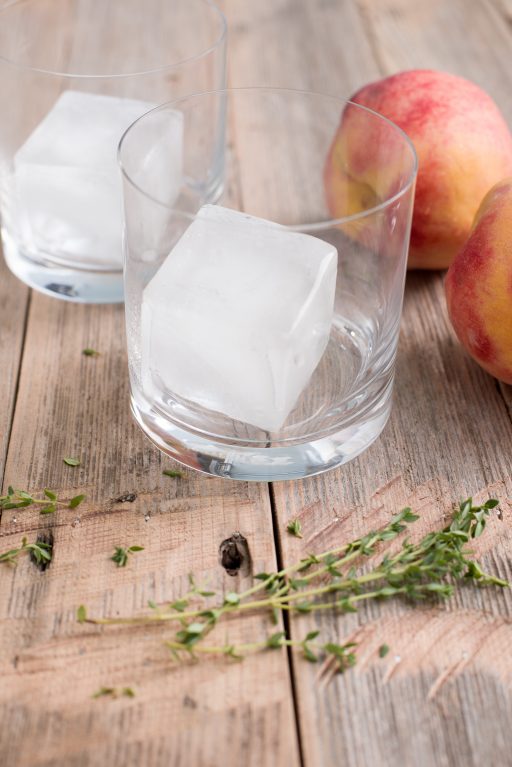 Theoretically, large ice cubes are better because they melt more slowly. This means that your peach bourbon cocktail doesn't get watered down as quickly.
In reality, you probably won't notice the difference unless you're a cocktail connoisseur. I find that even though I don't care too much about the actual melting of the ice, I just love the look!
You can find these ice trays here. You could also use large circular ice trays or just regular ice if that's all you have. Feel free to make this peach bourbon cocktail however you'd like!
I always use regular ice from my refrigerator in the actual shaker when I'm making this cocktail. I just don't see the need for large ice, plus it literally wouldn't fit in my shaker.
You can easily use regular ice in the glass as well – it's completely personal preference.
The Glasses
I also purchased these glasses specifically to use for flat cocktails like peach cocktails. I find that the glasses really do make a huge difference for me!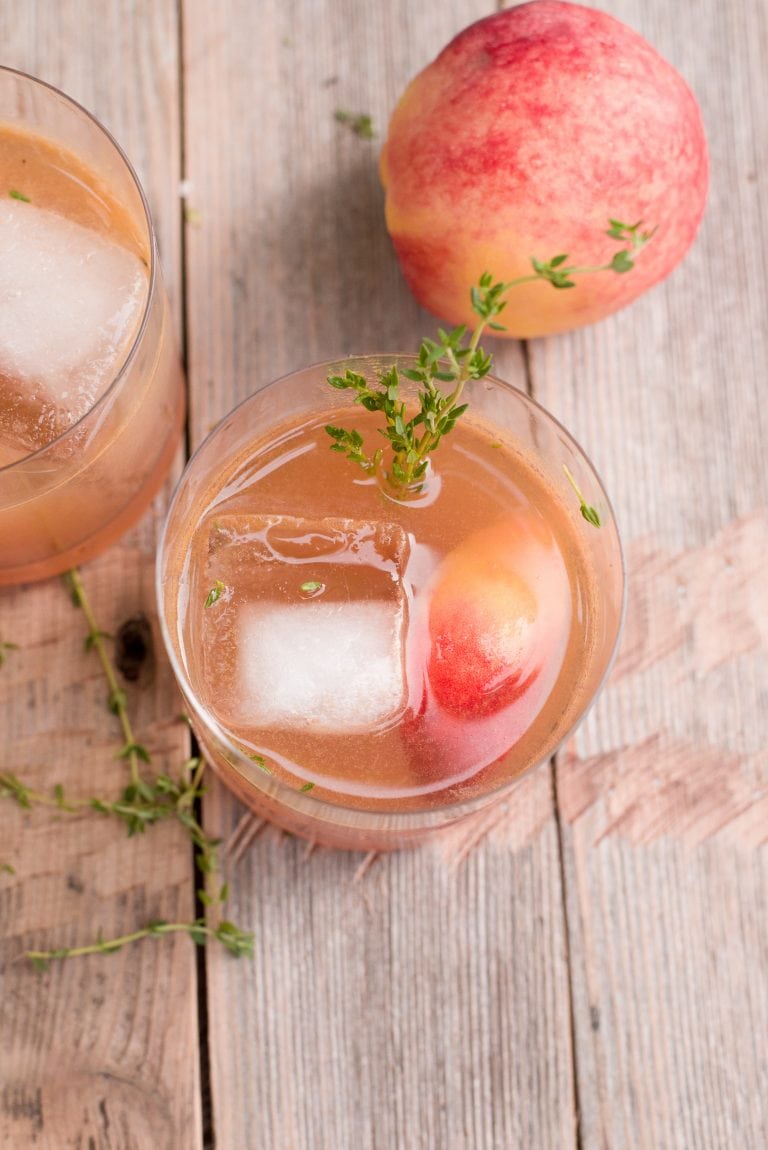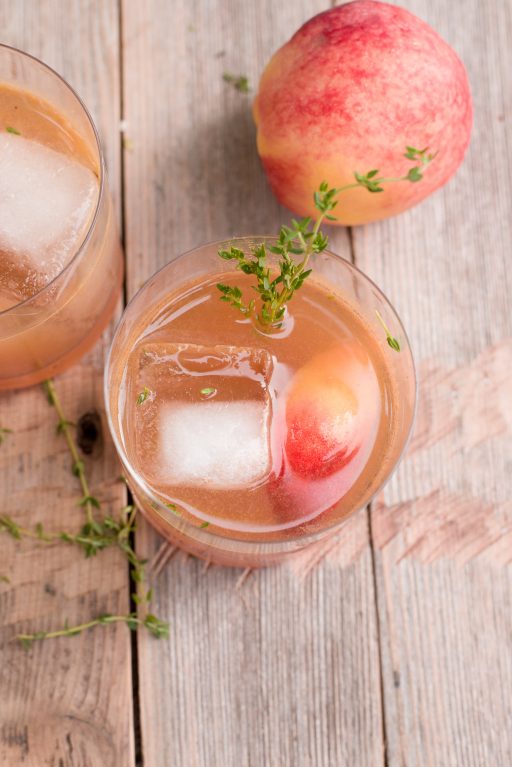 I love to throw together some yummy peach cocktails on a summer afternoon and serve them in this type of glassware on a pretty tray. It makes an afternoon at home feel much more like an event.
Although I purchased this set at Home Goods, I did find a similar set on Amazon. If you want to save money, keep your eye out at Home Goods or TJMaxx; they're sure to pop up eventually.
Whether you buy new glasses or have a set, I recommend using something that you really love! It somehow makes the drink taste that much more delicious.
I think this peach bourbon cocktail would also be really fun in a mason jar (if you're feeling super southern) or a tall skinny glass topped with peach slices.
What Is A Smash Cocktail?
I love a good smash cocktail. It's a summer staple!
A "smash" is a super flexible cocktail that is open to your interpretation. It's a mash up of many ingredients.
Typically, a smash contains a fruit or herb that's seasonal, sugar or simple syrup, and a spirit. These three ingredients are strained then served over ice.
Even though a smash is typically a flat cocktail, some people do add a splash of soda water to the final product, one the cocktail is strained over ice. This all comes down to personal taste.
You can make a good smash any time of the year, but I find that a smash is best in the summer with really seasonal fruits and herbs. However, a good winter smash (with cold-weather ingredients like pomegranate) can actually be really warming.
This peach cocktail smash is served flat (without soda water), but feel free to add a splash of fizz if that's to your liking.
Peach Cocktails Pairings
I tend to think this of these peach cocktails as more of appetizer or dessert drinks. I'm definitely a wine with dinner kind of person and I hate to muddle this beautiful peach flavor with a heavy meal.
This fresh peach cocktail could definitely be enjoyed on its on! There's nothing better than sitting on my porch or patio and sitting on this light mixture.
If I'm craving something sweet, this fresh peach cocktail hits the spot, but it isn't filled with many artificial flavors or sweeteners.
These peach cocktails go great with a summer platter and munchies in the afternoon, but also have a sweet, rich flavor that works well as a summer dessert drink.
Blue cheese works well when paired with peaches or peach cocktails. I recommend a yummy blue cheese platter with crackers and honey.
This fresh peach cocktail will also go well with grilled chicken, crab cakes, or fresh salad mixtures (especially with blue cheese dressing). It's best served at the beginning of the night (I like to sip on this peach cocktail during twilight) when you can still appreciate the flavors.
When I'm entertaining, I typically serve this fresh peach cocktail with a tossed salad. I use a lot of dark greens and spinach, fresh fruit, nuts, and a blue cheese dressing, then I top the salad with grilled chicken. It's light and pairs perfectly, plus it just tastes like summer.
I generally don't serve this fresh peach cocktail with other super sweet desserts because there's just nothing sour to balance out the taste. You can't really appreciate the natural peach flavor when you're munching on super sugary pie or chocolate cake.
However, this peach bourbon cocktail does work well with after dinner snacks like popcorn or crackers and honey.
The Fresh Peach Mocktail:
If you have kids or non-drinkers around and want them to be able to enjoy this delicious cocktail too then there's an easy way to do that!
Simply leave out the bourbon and add an extra half of a peach. Shake this peach cocktail then strain it over ice. If you don't have enough juice for a good mocktail, feel free to add some apple juice as well.
I find that the mocktail version of this fresh peach cocktail tastes better with a splash of soda water. Make sure to add a good amount of muddled thyme since you won't get the thyme flavor from the bourbon.
The Peach Bourbon Cocktail Recipe
Here's the full recipe for the peach bourbon cocktail. If you're a fan of peach cocktails, feel free to print this recipe out and add it to your collection.
Yield: 1 glass
Peach Bourbon Smash: A Peach Cocktail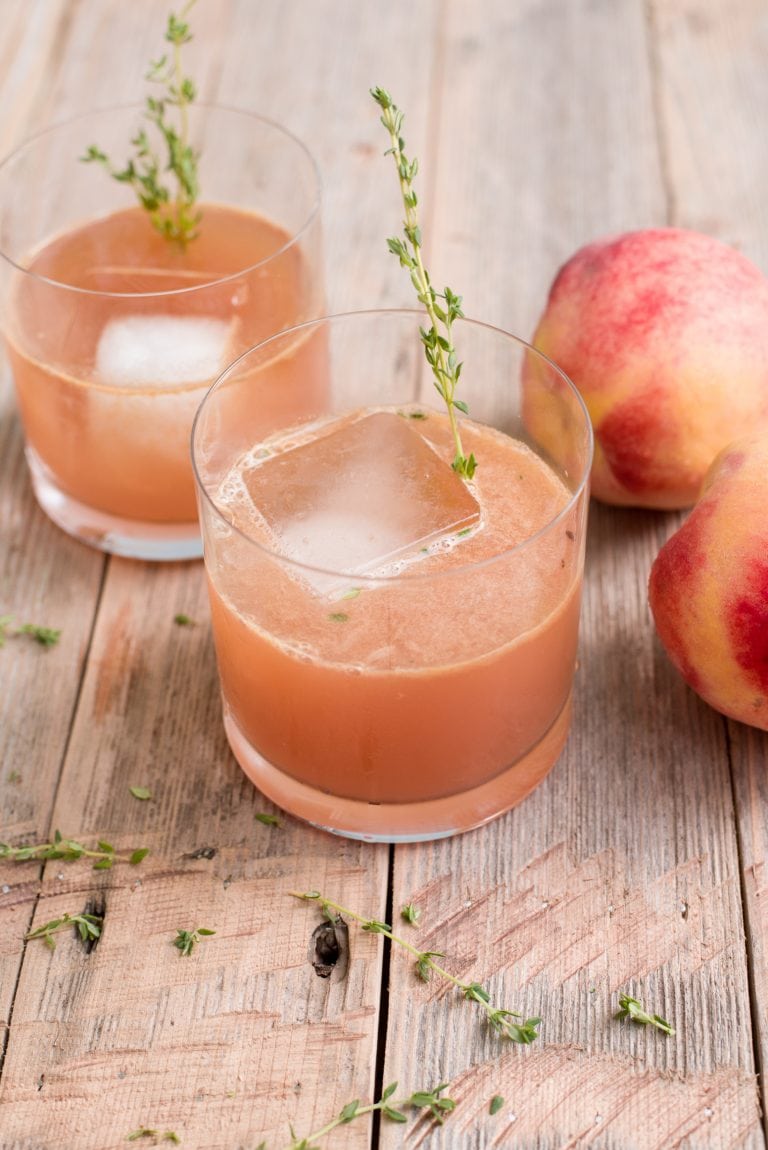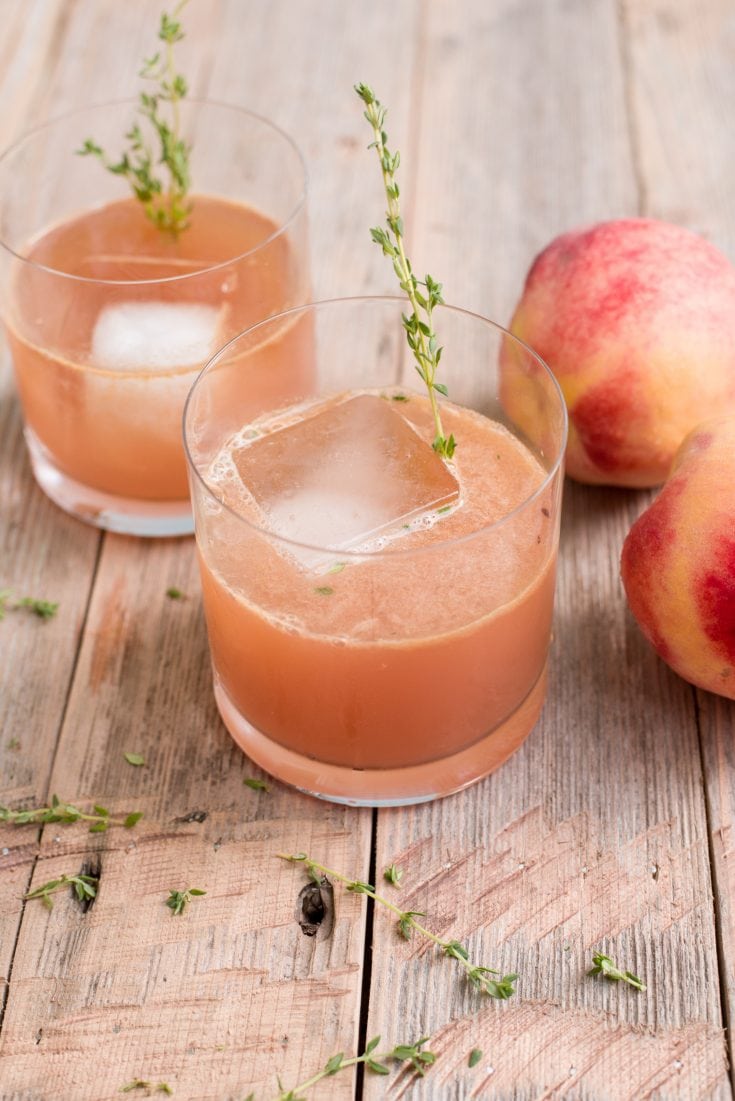 Prep Time 5 minutes

Total Time 5 minutes
Ingredients
2 oz thyme-infused bourbon
2 oz fresh peach juice (about 1 peach is needed per glass)
1 oz fresh lemon juice (about 1/2 lemon is needed per glass)
Ice
Instructions
1. Juice one peach and set aside. Squeeze a half a lemon and set aside.

2. Fill a shaker with ice and combine the bourbon, peach juice, and lemon juice. Shake for 2-3 minutes or until foamy.

3. Strain and pour into a glass over fresh ice Garnish with a sprig of thyme or a slice of peach.