A creamy Rocky Road fudge recipe filled with marshmallows, graham crackers, and lots of chocolate.
Fudge has always been really special to me, ever since I was a little girl. There's something about being a kid and tasting fudge for the first time…it's hard to believe it's real!
As an adult, I still love fudge because just a tiny bit satisfies my sweet tooth. Fudge is so decadent that you don't need or want more than one piece.
This Rocky Road fudge recipe is one of my favorite types of fudge! It's creamy but has a bit of a snap due to the graham crackers. It's also incredibly easy to make!
I'll go over some tips for making and storing this Rocky Road fudge recipe here, but if you just want the recipe itself, feel free to skip to the end of this blog post. The recipe card is printable, too.
Rocky Road Fudge Ingredients:
This has to be the easiest fudge I've ever made. The recipe requires only a few ingredients and most of them are things we tend to have on hand.
I find that almost everyone loves these ingredients! Because of the taste and texture, this fudge is always a hit with adults and kids. It's a great holiday recipe, too.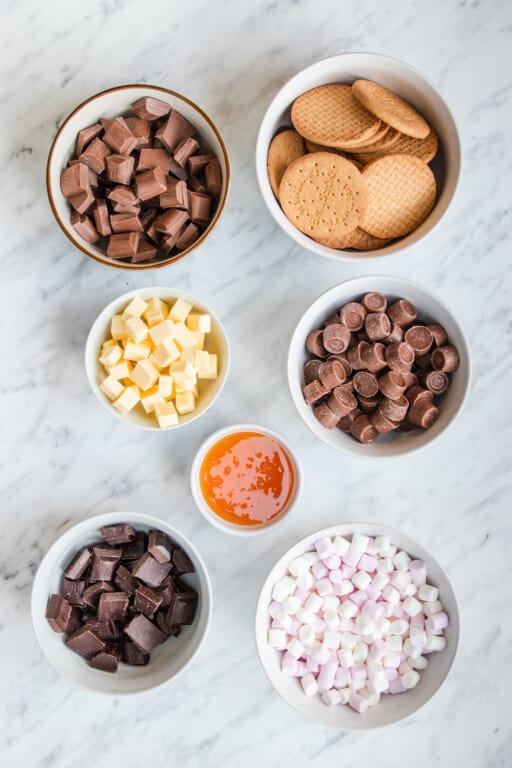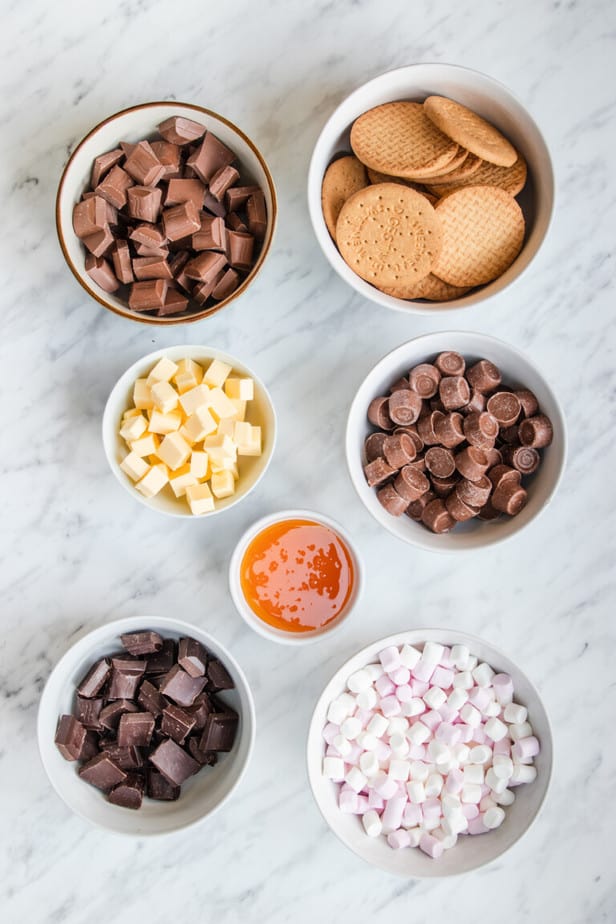 Obviously, you need a good amount of chocolate for this Rocky Road fudge recipe. I use both dark chocolate and milk chocolate.
You can use any type of chocolate that you prefer. I tend to use Hershey bars and break them up, or baking chocolate. Make sure that your chocolate is sweetened (unsweetened is not the flavor we're going for) or semi-sweetened.
You'll need golden syrup, also known as light treacle. This is a special type of liquid sugar that's useful for baking.
You can easily make your own golden syrup for this Rocky Road fudge recipe or you can have it delivered right to your doorstep from Amazon.
Rolos are also an important part of this recipe. These are just a specific brand of chocolate candy with caramel in the center, in case you totally forgot from childhood. I know I did until I saw them in the store and decided to add them.
For some reason, the Rolos make a huge difference in this recipe. This fudge literally melts in your mouth. I know naming the brand seems super specific, but I promise – you'll want to have the exact type of chocolate.
Most convenience stores or grocery stores will carry Rolos. They're also available on Amazon.
Lastly, you'll need unsalted butter, mini marshmallows, and graham crackers. You can also use digestive biscuits if you prefer.
Making This Rocky Road Fudge Recipe:
This Rocky Road fudge is super easy to make. The only thing I should mention early is that you need to have enough time for the fudge to cool.
Chilling the Rocky Road fudge takes 4-5 hours, but the prep time is only 20 minutes.
This is a great dessert to throw together when you're having guests over later. It's yummy and easy but looks rather fancy!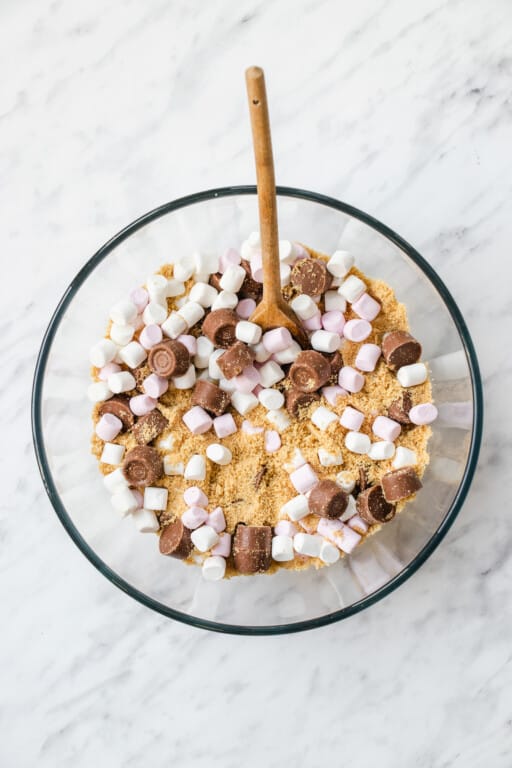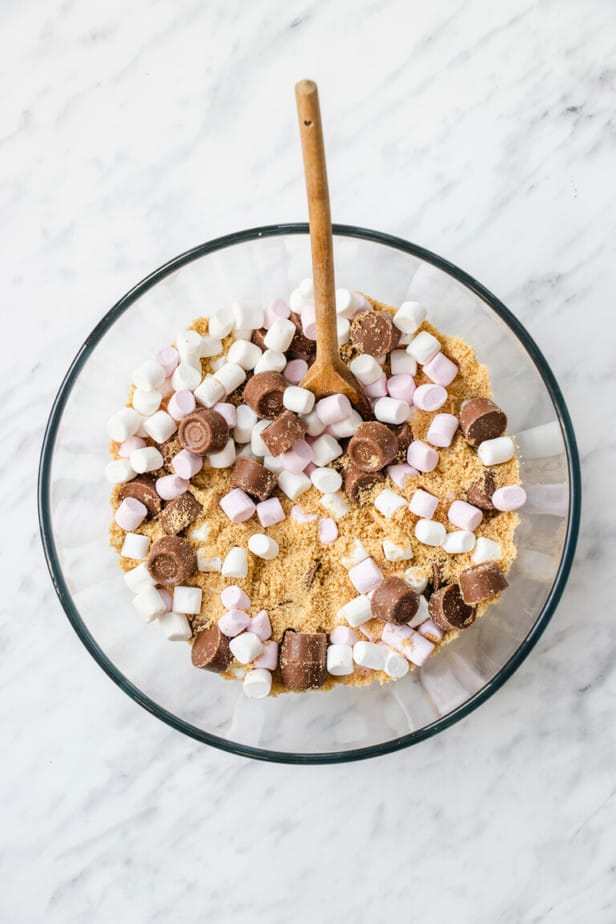 I typically melt my chocolate in the microwave while I add the butter and golden syrup to a saucepan. I find that using the microwave makes the recipe prep go way faster, but you can melt your chocolate separately on the stovetop if you prefer.
You will need to use a food processor to crush up the graham crackers. They should be super fine before you mix them with the other ingredients.
Once you've melted everything, add all of the ingredients to a bowl and mix with a wooden spoon. Keep in mind that the Rolos should not be melted.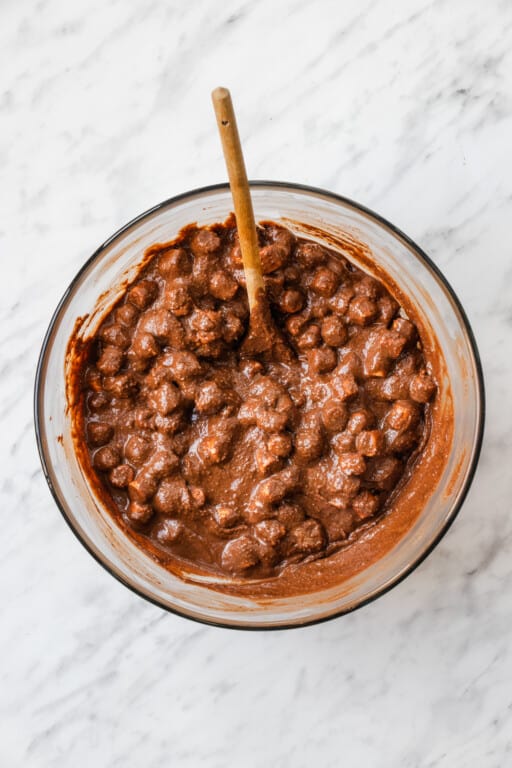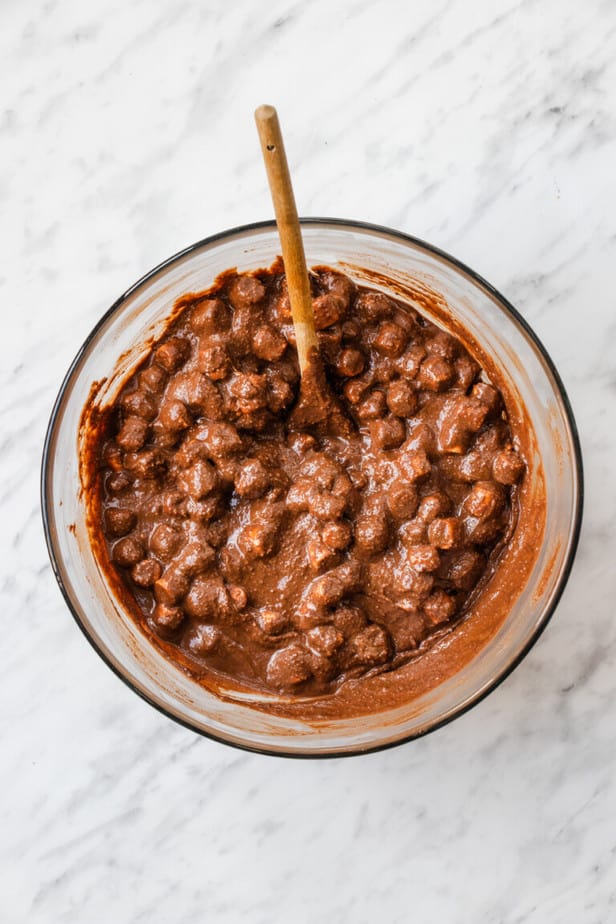 Once your Rocky Road fudge mixture is evenly mixed, you can pour it into a lined baking tin. I use a 9″ square tin, but you can switch those measurements up if you desire.
Because fudge can be a bit finicky, I definitely recommend using a good lining paper. Don't try to substitute with a spray or with plastic wrap; it's almost impossible to get your fudge out at the end if you don't use a high-quality lining paper.
Spread the mixture out evenly then push the remaining Rolos into the top of the mixture.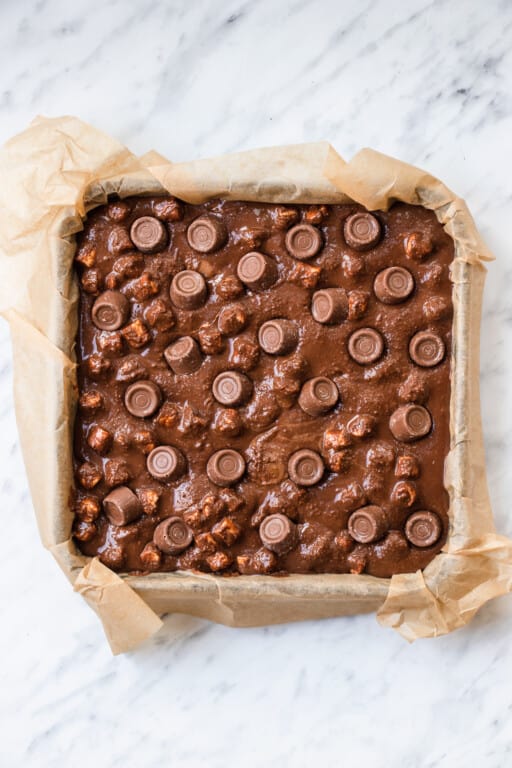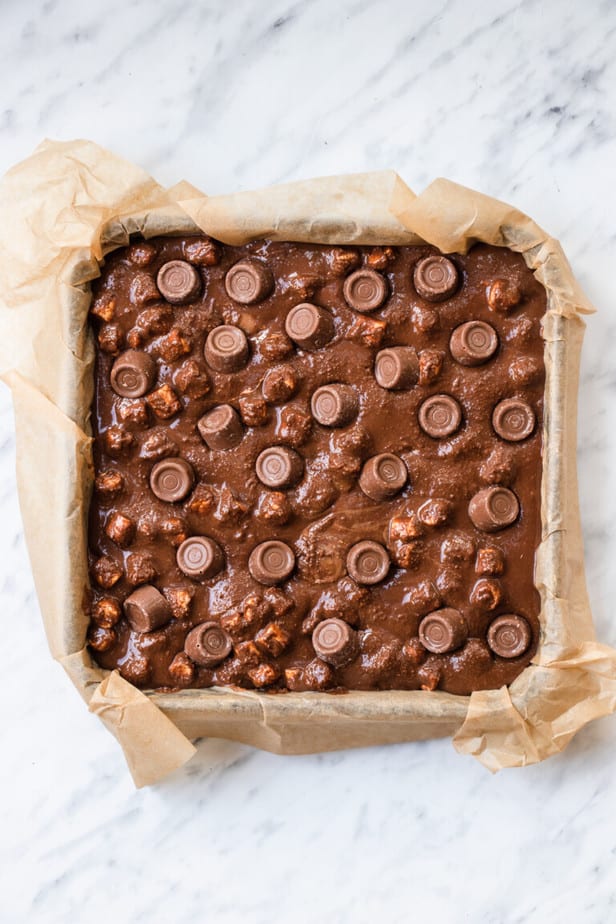 Now, you need to refrigerate this Rocky Road fudge recipe for 4-5 hours. You definitely won't want to skimp on this part; 4-5 hours is really the minimum time needed.
To check if the fudge is ready, poke a toothpick through one of the pieces. If you feel any give or softness at all, it needs to stay in the fridge for a bit longer.
You also don't want to leave the fudge in the fridge for too long; I wouldn't recommend going for longer than 8 hours.
Once the Rocky Road fudge recipe is ready, remove it from the fridge and cut it up immediately. I find that cutting the bar into 16 pieces works well for a slab of fudge this size.
Unless you're serving it right away, you want to store it in an airtight container. You can either refrigerate the Rocky Road fudge or leave the container out at room temperature, just make sure the fudge is covered.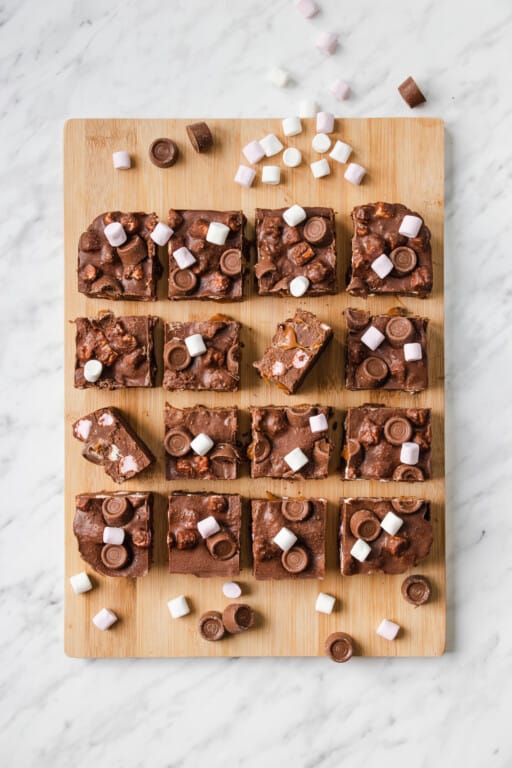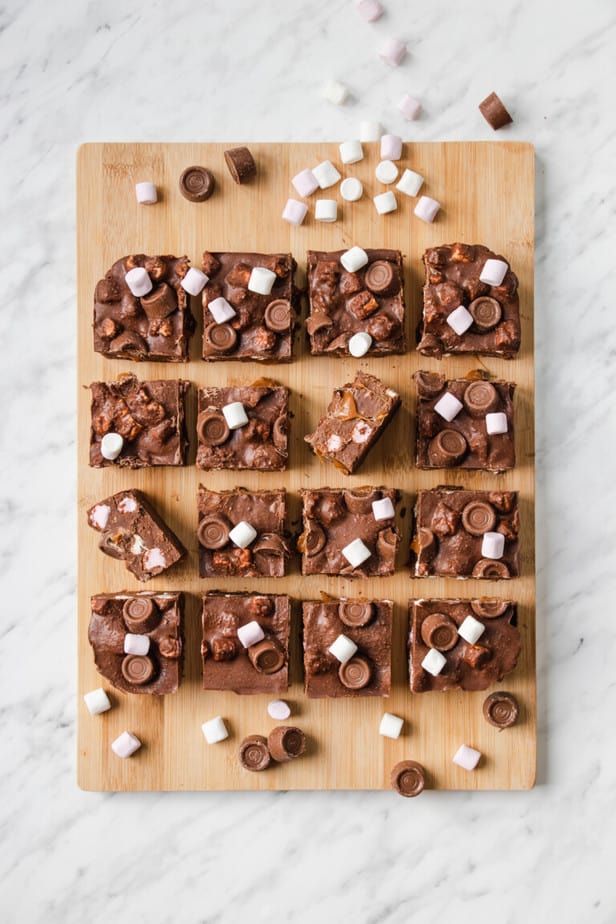 Storing This Rocky Road Fudge:
Fudge is one of the easiest desserts to store. It doesn't get soggy or dry and it lasts for much longer than other desserts.
In the refrigerator, this fudge will last for up to two weeks. You'll notice it start to get kind of crusty when it's near the end of its life, but it doesn't really go bad.
You can also freeze this fudge for up to 2 months. I love freezing fudge before a holiday! It doesn't take long to defrost in the fridge, so I enjoy having a treat available when I want it.
I also like having some fudge on-hand in case I need to gift someone with a last minute present. Everyone loves fudge, especially an interesting fudge dessert like this Rocky Road fudge recipe!
If you want to gift this fudge, I recommend cutting the bars up into 16 pieces (like the photo above) and stacking them in a cute gift box or Tupperware container. Add a ribbon and you're good to go!
Fudge is a great birthday or holiday gift because it isn't really seasonal. However, I do find that this Rocky Road fudge is always a hit around the holidays.
It's a great recipe to bring to a party as a guest, but is even a fun appetizer to put out with cheese and crackers when you're hosting.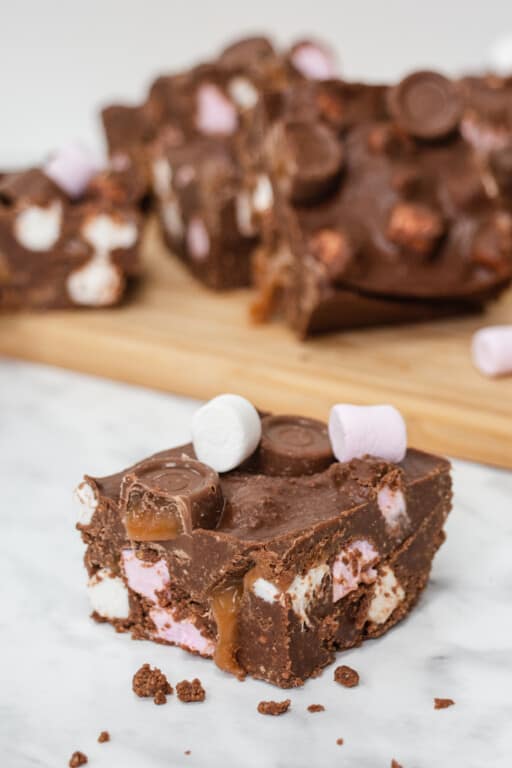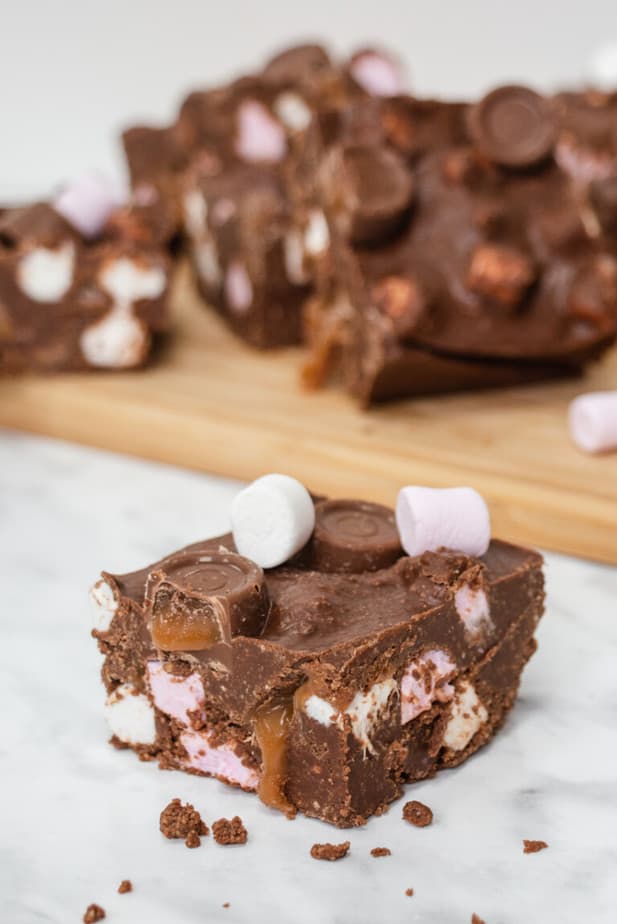 How To Make Rocky Road Fudge Gluten-Free:
If you're looking for a gluten-free fudge recipe then there's a super simple way to adjust this Rocky Road fudge.
You simply need to switch out the graham crackers for gluten-free alternatives. Schär, Pamela's, and Kinnikinnick crackers are all gluten-free and are sold at most major stores.
Gluten-free wafers can also be used in lieu of graham crackers if you can't find a gluten-free alternative. The fudge will still taste amazing; I've tried this recipe with many types of crackers and it's always yummy.
The crackers should always be run through a food processor, regardless of what type you choose. Don't mix them in until the cracker mixture is super fine.
Make sure you do use something to add that crunch or this Rocky Road fudge recipe just won't be the same.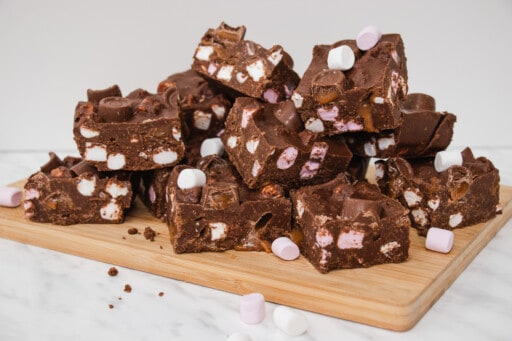 Adding Nuts To This Rocky Road Fudge Recipe:
If you're a huge fan of nuts then you can definitely add them to this recipe. You'll want to add any type of nut you desire (crushed walnuts, peanuts, cashews, etc.) into the bowl when you're mixing all of the ingredients together.
I wouldn't use more than 1-2 cups of nuts, but you can eyeball it. You probably want there to be half as many nuts as there are marshmallows.
Sometimes, I like to throw just a handful of walnuts into this Rocky Road fudge recipe. It adds a little extra crunch and flavor (and I'm obsessed with walnuts) but doesn't really change the flavor of the recipe.
If this is your first time making fudge then I recommend using the standard recipe without nuts.
This specific Rocky Road fudge recipe already has a lot of ingredients in it, including the graham crackers, Rolos, and marshmallows. It's easy to add too much extra stuff and overpower the chocolate. You still want that creamy flavor.
Fudge recipes are always a delicate balance!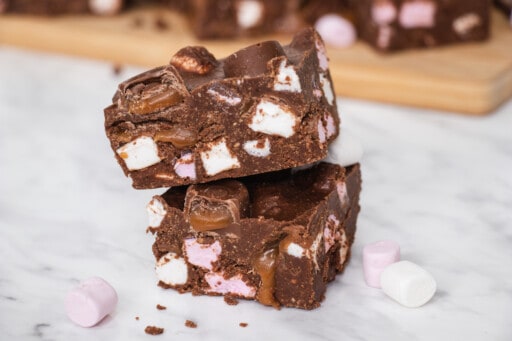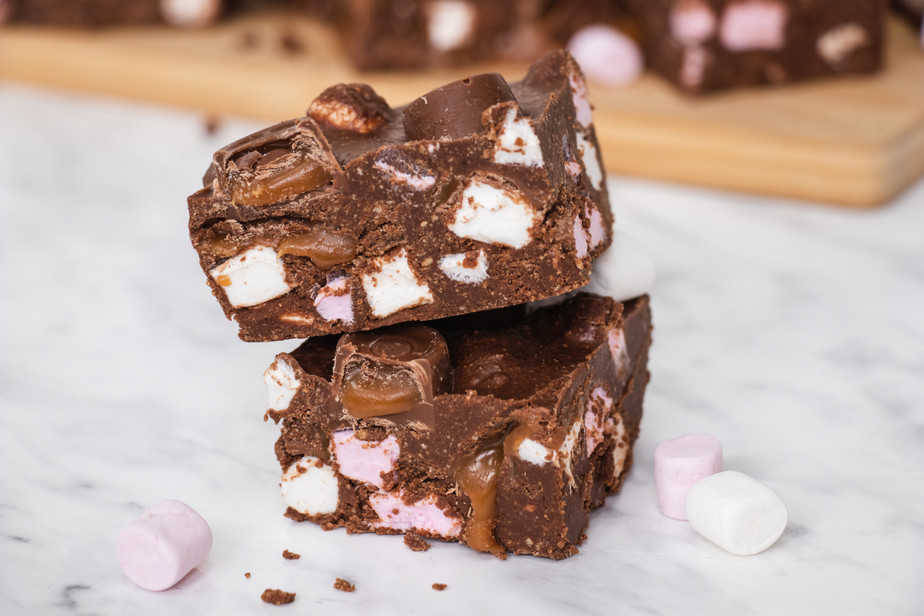 How To Double This Recipe:
The thing about fudge is that you never want it to be too thick. Try to keep your fudge under 1.5 inches thick.
You can easily double this Rocky Road fudge recipe, but you'll need either a larger pan or 2 pans in order to maintain the same level of thickness.
This recipe can also be made in batches; you can put aside half of the mixture while the other half sets in the fridge. The "unset" ingredients will last for a few days if needed.
Don't worry about melting the chocolate or the mixture on the stovetop; you can easily double the ingredients and get the exact same taste.
Related Recipes:
Rocky Road Fudge Recipe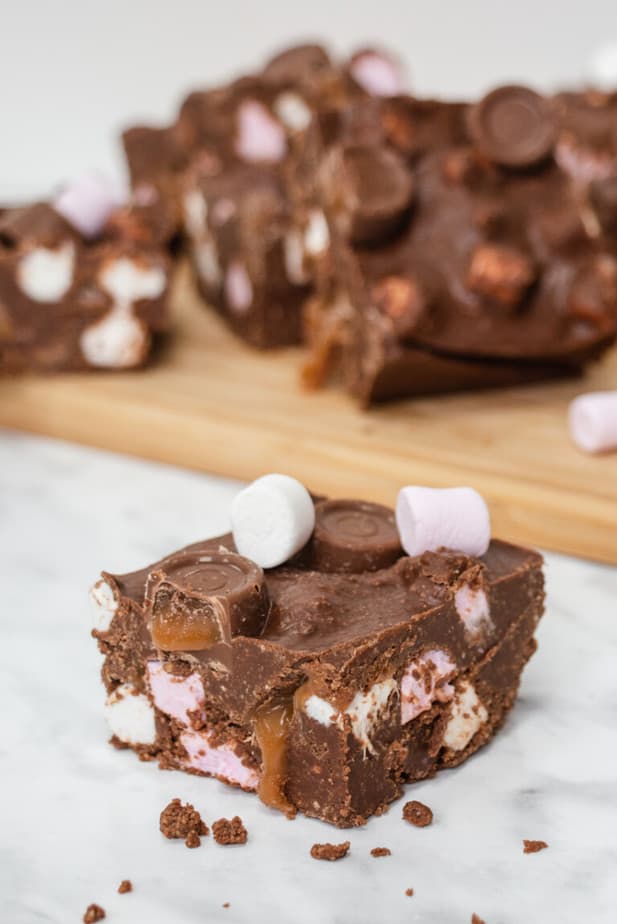 A creamy Rocky Road fudge recipe filled with marshmallows, graham crackers, and lots of chocolate.
Additional Time
4 hours
30 minutes
Total Time
4 hours
50 minutes
Ingredients
1 3/4 cups milk chocolate
1 1/4 cups dark chocolate
1/3 cup golden syrup
1/2 cup unsalted butter
3/4 cup mini marshmallows
1 3/4 cups digestive biscuits/graham crackers
2 1/3 cups rolos
Instructions
1. Grease and line a 9" square baking tin.

2. Break the milk and dark chocolate into squares and microwave in 30 second bursts until completely melted. Set aside to cool.

3. Cut the butter into chunks and add to a saucepan with the golden syrup. Melt together over a low heat. Set aside to cool.

4. Whizz up the digestive biscuits/graham crackers in a food processor until broken down into crumbs.

5. Transfer the crushed biscuits into a large mixing bowl. Add the mini marshmallows and 300g of the Rolos. Mix together with your hands.

6. Pour in the melted butter/syrup mixture, followed by the melted chocolate. Mix with a wooden spoon until well combined.

7. Transfer the mixture to the lined baking tin and make sure it's spread out evenly.

8. Push the remaining Rolos into the top of the mixture.

9. Refrigerate mixture until completely set – about 4-5 hours.

10. Slice the Rocky Road fudge into 16 squares and store in an airtight container at room temperature. It will keep well for up to two weeks.