Curating a French wardrobe is like mastering an art skill. The French look has its own principles, values, and rules that are progressively learned, step by step. And if you're looking for outfits to wear in Paris or are trying to figure out what to wear in Paris for your upcoming trip, then you want to figure out how the French dress quickly.
"A wardrobe that feels true to your style and past passing trends" is the main goal. Basically, you want to dress timeless. To dress like a local in the city of love, one should focus on finding pieces that compliment one's body shape and skin tone than on flashy clothing that screams "I am a tourist!"
Self-expression is one of the matters in Paris fashion that have been given so much thought. The art of incorporating your creativity should only be subtle but memorable. Of all concepts, a Parisian woman prioritizes elegance and timelessness.
Today, I'll be going over every aspects of the classic outfits for Paris so that you know what to wear in Paris (and what to pack!) for your upcoming trip.
Reasons To Blend In
Aside from looking stylish and chic as you arrive at the grounds of Paris, there are actually practical reasons why you should make an effort to blend in with your Paris outfits.
1. People won't treat you like a tourist.
When you look like a local, you become less intimidating and more approachable. Locals will also become a lot friendlier. Try learning just a bit of French before your trip to make things even easier. In my experience, numbers, yes/no, and phrases for buying/bargaining are the most helpful to learn. Simple greetings are helpful as well.
2. Avoid being pickpocketed.
If there is one most practical reason you should try to blend in with the locals, it is to avoid being pickpocketed! Paris may be a lovely city, but it does not exempt daily crime from happening. Even if you do blend in, always be mindful of your belongings. Don't keep your cash in one wallet, but distribute it, so it doesn't all disappear in case you get pickpocketed. It's helpful to integrate a crossbody bag into your Paris outfits, too.
What NOT To Wear In Paris
Here are some of the pieces you won't find in typical Paris outfits. And I'm not saying you can't wear these things (wear anything that makes you feel good!) but only that you won't see Parisians donning these styles.
1. Don't Wear Tight Clothing
Although Parisians are subjectively sex-positive, they remain conservative in their way of dressing. If you've been to Paris or any parts of France, you'll notice that not many people wear crop tops or mini skirts, unlike here in America. Styling around classic and basic silhouettes is their utmost priority because, for them, elegance and mystery are sexy.
2. Don't Wear Stilettos
If you're visiting Paris to travel and tour the city, the last thing you want to wear on cobblestone roads is thin heels. Even if you are a "pro," you will stumble and fall. You might damage those precious shoes anyway.
Alternatively, you can wear sneakers, thick kitten heels, ankle boots, and/or loafers. Luckily, most classic Paris outfits incorporate these shoes instead of ultra-high heels. Again, the appeal is in the mystery of the natural look.
3. Don't Do Heavy Hair & Make-Up
While Parisians are less likely to leave their house without make-up, they never overdo it. They avoid any contouring, heavy coverage, or anything that conceals the slightest details of the face (again, unlike us here in America where the Kardashians made pounds of makeup popular). The only reason why Parisian women would wear make-up is to appear properly groomed. Make-up gives a notion that you care for whatever you're showing up for.
4. Don't Wear Sweatsuit/Comfort Wear
Parisians care about looking presentable wherever they go. So, it isn't a surprise that sweat suits or comfort clothes are the last things that they would want to wear outside. Running simple errands is not even an excuse to wear a sloppy outfit, at least to Parisian women. Unless you're going to work out or go to the gym, there's no reason why you should go out in your sweats or your leggings. While I love my athleisure here in New England (seriously, I'm always in leggings), this look doesn't work for most outfits for Paris.
5. Don't Wear Shorts
One of the less obvious pieces that women avoid wearing in Paris is shorts. As mentioned earlier, Parisians tend to be quite conservative in dressing despite being sex-positive. The closest you can see them in shorts would be in a pair of skorts — a skirt designed for flexibility and ease. Some Parisians will also wear long, high-waisted fabric shorts that are perfectly tailored. Think classic and high-end. You're less likely to find short jean shorts (like the kind popular in America during the summer) in most Paris outfits.
Essential Pieces To Have In Your Parisian Wardrobe
Here are some of the pieces you need to dress like a Parisian.
1. White Button Down
A white button-down is versatile and easy to style. If you're on vacation, a button-down is a must-have. You can wear them on formal day-outs, at the beach, or even at night! It's the way you tuck, knot, or wear them that makes them a flexible shirt. Most outfits for Paris incorporate a white button-down. When you're figuring out what to wear in Paris, start here!
2. White/Grey/Black Tshirt
If you plan on bringing casual shirts to Paris, focus on the basics! Drop the ones with big, vulgar graphics — you won't find sayings or logos in many Paris outfits. Staying elegant and timeless is key to mastering the local Parisian look. Simple t-shirts in white, grey, and black can also be reused countless times, which is a huge plus.
3. Khakis
Khaki bottoms, khaki jackets, khaki bucket hats — anything in khaki can look good with everything! So if you have a couple of khaki items in your closet, bring them out to add to your Paris outfits. Plus, khakis are wonderful neutral pieces that are popular with most Parisian women.
4. Trench Coat
A trench coat is a stylish cover-up during 60-degree weather. Personally, I like wearing a trench coat before and after I walk to the local gym whenever I need to release a bit of steam during my trip. This hides my halter and tights ensemble that I would rather not be seen with while walking the streets of Paris. However, a trench coat can really add to any Paris outfit at all. It's a Parisian classic!
5. Straight Leg Denim Pants
If there's one thing you should always have, no matter where you're going, it's a pair of straight-leg denim pants. Straight-cut pants are practical, comfy, and chic. You'll definitely see Parisian women sporting these jeans.
6. Mariniere Top
A Mariniere (or marine top) is a classic Parisian piece. It is a horizontally blue striped blouse that usually comes with ¾ sleeves. It does give a matured aura to a look, but it does well in adding an elegant and familiar element to any outfit.
I would wear a Mariniere top with black trousers and a khaki trench coat.
Here are a few examples of the Mariniere top in case you're not sure what it is: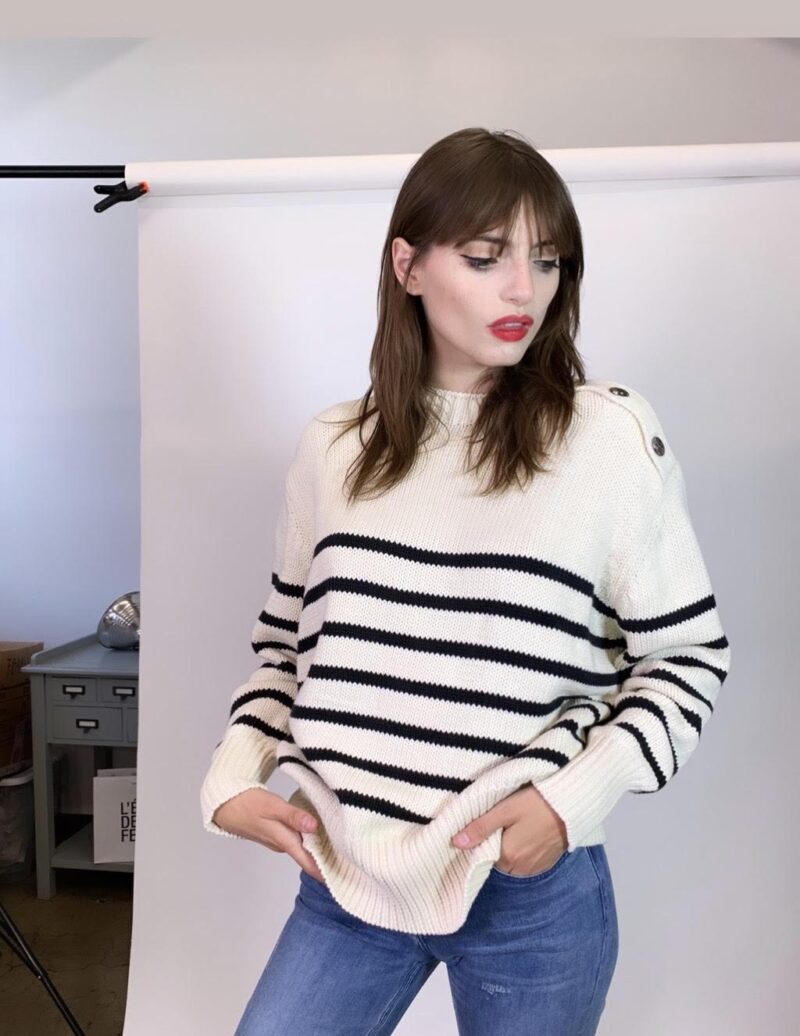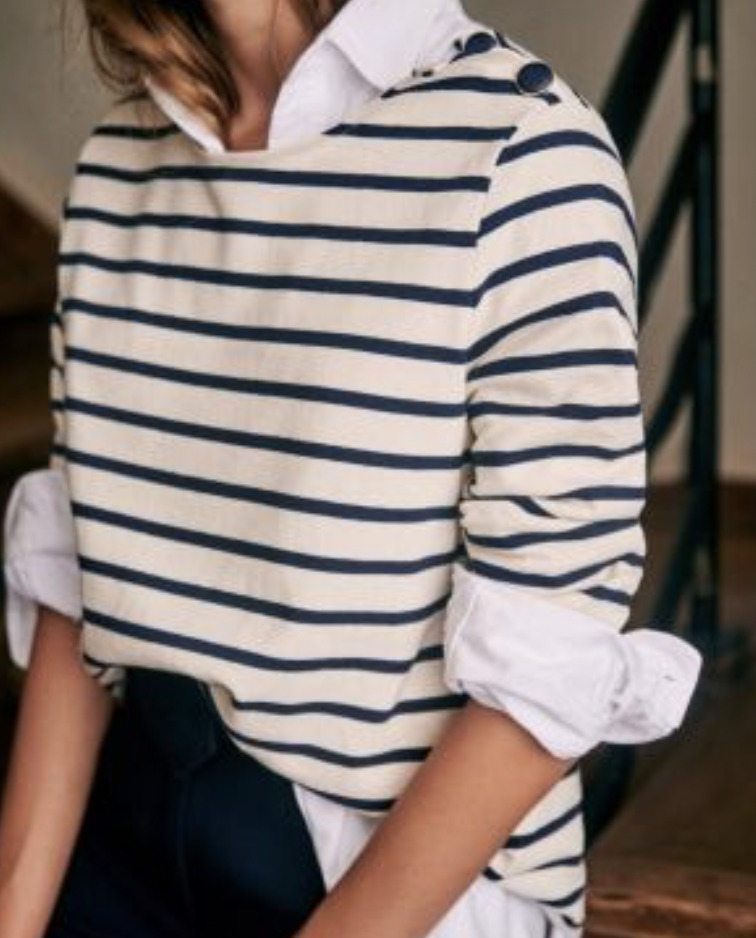 7. Blazer
A blazer is elegant and edgy no matter how you wear it and is a classic found in many outfits for Paris. Blazers not only keep any outfit sharp but balances masculine and feminine elements as well. Blazers can be worn dozens of ways, but the way I wear them as a tourist is with a belt, a short skirt, and a pair of booties. To complete the Parisian look, I finish off with a beret hat.
8. Denim Jacket
Just like its bottom counterpart, a denim jacket is a classic piece. And there's something absolutely charming about a denim jacket. It transforms any outfit by adding a bit of character and structure. Adding a denim jacket to a flowy dress, for example, neutralizes the outfit. A denim jacket can also be paired with a full denim ensemble for an all-out edgy look.
9. A-Line Skirt
A-line skirts are elegant, timeless, and feminine, plus they're a classic in Paris outfits. While they are not as short as mini-skirts seen today, A-line skirts define the body by cinching the waist and balancing the volume of the upper body. For some body shapes, A-line skirts allow the gaze to focus on the lower part of the body, making the torso appear petite. Having one handy during your Paris trip can help because it's so versatile and works for many different Paris outfit combinations.
10. Midi Skirt
Midi skirts are a woman's best friend. Free-flowing midi skirts suit all seasons For summer in Paris, I would wear this alone with open-toed sandals, a classic (and safe bet when you're wondering what to wear in Paris). For colder months, I'd wear this with ankle boots. To get the most out of your investment, get a black one! You won't regret it.
11. Maxi Skirt
Maxi skirts are great for brunches and quick croissant runs before the day starts. I particularly like wearing maxi skirts when I read a book by the hotel poolside. Outside, I keep it simple by wearing a knotted white top and a pair of sandals. This is a great piece for all Paris outfits because it's flowy, timeless, and elegant, but it's still comfortable.
12. Trousers
Keeping a pair of trousers in your Paris wardrobe is a must! If you ask me, Parisians wear trousers more than denim jeans. If they wear jeans, they only wear classic unbleached pairs. Other than that, trousers are the go-to for outfits for Paris.
13. White Sneakers
If you're traveling to Paris for a vacation, white sneakers are the most versatile pair to bring. They can be worn to the airport, on tours, and to most adventures in the city. Plus, they look good on any outfit! Every Parisian owns a classic pair of white sneakers.
14. Loafers
If you want to wear shoes other than sneakers with your outfits for Paris, loafers are your best option. Steer clear of heels or anything that can put you off balance on cobblestone roads. You might also want to consider bringing shoes that have thick soles if you'll be doing a lot of walking.
6 Important Tips When Styling Paris Outfits:
Here are some of my biggest tips for your outfits for Paris, especially if you're purchasing clothing specifically for your trip.
1. Invest In Quality Basics
Because most Parisian outfits are centered on basics, it's worth investing in good quality pieces that can last long. Plus, basics can be worn repeatedly regardless of your style. Checking the fabric and the elasticity of the fabric is a great way to assess pieces.
2. Choose Neutral Colors
Neutral colors are versatile and timeless. You can buy a piece specifically for your Paris trip, but be able to wear it countless times – even if you dress differently at home. Black, white, beige, olive, khaki – these colors can be worn with almost any outfit.
3. When In Doubt, Wear Black
If you're still doubting whether you'll blend in with your Parisian outfit or not, wear black! Parisians love wearing black. Aside from its timeless look, it produces a nice and sexy body silhouette that Parisian women are known for.
Black is also a symbol of elegance and class. Because for Parisians, less is always more. Some Parisians feel that white is almost as flashy as red, so they wear white in small doses – the primary color of any Parisian outfit can always be black if you're unsure.
4. Avoid Flashy Logos
The French, in general, despise people who show off their wealth. This only means that the person is not genuinely wealthy or is simply a 'show-off.' If possible, keep the logos on your shirt small and subtle. This applies to bags and purses as well. Parisian outfits should always be simple and classic.
5. Keep It Light
Working with a smaller suitcase can encourage you to only bring the basics and the good quality pieces for your trip. Plus, it can keep you from paying extra for luggage. It's a win-win!
If you're going to Paris during the cold months, you can minimize your coats/jackets by picking versatile colors (khaki/black/beige) to match all of your Parisian outfits. One pair of walking shoes and sandals for unwinding, and you're good to go!
Ultimately, when you're wondering what to wear to Paris, less is more. Find basics that can be worn many different ways and plan out your Paris outfit combinations ahead of time.
So now you know the basics of what to wear in Paris. However, outfits for Paris change drastically depending on the season. In this next section, we'll talk about Parisian outfits for each season with examples!
What To Wear In Paris During Spring
Finding outfits for Paris for spring can be confusing. The sun is out, but it's neither too hot nor too cold! If you're wondering what to wear in Paris during the spring, then you need to know that the trick is dressing in layers and wearing lighter material clothing.
Temperatures in Paris during this time of year bounce from 41 °F to 70 °F. This means you have to prepare clothes to keep you from the cold without overheating. Safe bets for spring Parisian outfits include maxi and midi skirts, turtlenecks, and layering dresses. A go-to jacket like a denim jacket is also helpful.
For day trip Parisian outfits, you can wear a belted top, an A-line skirt, and close-toed shoes. If it's a cloudy day, you can skip the skirt for a pair of lightweight trousers and water-resistant ankle boots.
For Paris outfits for spring during a night out, you might consider wearing a satin midi slit dress with a faux fur jacket. If it's not that cold, you can skip the faux fur jacket for a lighter cover-up, like a matching shawl.
Here are some gorgeous Parisian outfits that work well for spring.
What To Wear In Paris During Summer
Visiting Paris during the summer is the best! Longer days, good weather, and lesser rainy days — what more can one ask for in the city of love?
Picking out Paris outfits for summer can be pretty overwhelming. There's just a lot to choose from: dresses, flowy skirts, and feminine tops. With all this in mind, don't forget that Parisians dress conservatively. Keep it simple and elegant by choosing colors in a neutral and earthy palette. If you want a bit of color, you can add hints of spring with some accessories.
Look to earthy accessories but pair them with classic, chic, flowing pieces. Make sure your fabric is super high-end for your Parisian summer pieces.
For night-out Parisian outfits, balance is key! If you're wearing a short skirt, you can pair it with a long-sleeved top. If there is more coverage in the lower body, you can wear something more revealing, like a deep v-cut blouse.
Here are some gorgeous Parisian outfits that work well for summer.
What To Wear In Paris During Fall
Wondering what to wear in Paris during the fall? Luckily, there are tons of gorgeous options.
If your fashion forte is layering, fall is the best season for you to be in Paris! Like spring, Aautumn temperatures can oscillate from warm to cold depending on the weather. This gives you the opportunity to try on various styles and different outfits for Paris during your stay.
Working with the season's colors is one of the best ways to style your outfit since fall features earthy and muted tones. A khaki trench coat, an olive green top, brown or black trousers, burnt orange knitted sweater are the pieces that you might want to consider bringing along. Don't forget to layer with different fabric choices.
Fall can also mean unpredictable rain showers. Have a pocketable rain jacket if you plan to be outside the whole day. Bringing a pair of water-resistant boots can also come in handy. Boots made with calfskin, Nappa, or full-grain are the best choices for fall Paris outfits. Avoid wearing suede boots as they can be more vulnerable to moisture.
Here are some gorgeous Parisian outfits that work well for fall.
What To Wear In Paris During Winter
Wondering what to wear in Paris during the winter? We've got you covered!
If you're not a fan of crowds, you'll love visiting Paris during the winter. Winter in Paris can get pretty cold, so wearing a couple of layers is crucial to stay comfy. Although the weather can be a bit harsh, there's no reason to put off a stylish fit. And don't worry too much about what to wear in Paris: during the winter, there are just as many gorgeous options because Parisian women love their coats!
Trench coats, fur coats, duster jackets, thermal tights, scarves, berets – these are just some of the things that you will need during your winter stay in Paris.
One of the small essentials that I particularly found useful is a pair of wool hiking socks. They keep your feet warm, and the superior quality of a good pair reduces the chances of getting unbearable blisters. Most people don't realize that investing in feet products is important because your feet are the ones that take you to places. When your feet get easily tired, you leave no room for spontaneity – which is an important element in trips.
Other clothing you might want to consider bringing is thick trousers, velvet midi skirts, knitted cardigans, and basic inners.
If you're planning outfits for Paris in the winter, you'll definitely want to invest in a few high-quality coats. Remember, quality is what matters here, not quantity!
Here are some gorgeous Parisian outfits that work well for winter.
Where To Shop For Parisian Outfits:
If you're planning a trip to Paris and don't yet have the essential pieces, these are my favorite places to shop!
Sezane: While Sezane is pretty expensive, it's also a Parisian outfit classic for a reason. These pieces are incredibly appropriate for all outfits in Paris, plus the quality is amazing, so anything from Sezane will last you forever. I recommend investing in basics that you'll wear over and over again.
H&M: If you're looking for the basics that you need for Paris outfits, check out H&M. They carry basics that are perfect for all seasons (t-shirts, sweaters, trousers, shorts, etc.) and are the most cost-effective place to shop for Parisian outfits.
Everlane: French outfits all need basics and Everlane is the best place to buy these pieces. I love the cotton t-shirts and jeans for all Parisian outfits.
Madewell: If you're looking for a mid-priced French style brand then Madewell will definitely work for you. I especially recommend jeans and sweaters for your Parisian outfits. They also have gorgeous blouses that are perfect for Paris outfits in the spring and summer.
For true French fashion brands instead of just French-inspired clothing, check out this post.
READ MORE: The Ultimate French Girl Style Guide