It is rare for me to watch a show solely for the outfits. Don't get me wrong: I love beautiful fashion in a show, but I need a good plot and characterization to go along with impeccable style. While Emily in Paris started out pretty slow for me, it was actually the outfits that kept me hooked until I began liking the characters.
And wow are there a lot of varied Emily in Paris outfits to watch. Emily Cooper is one funky girl and her outfits clearly reflect this.
On Dec. 22, 2021, Netflix aired the second season of "Emily in Paris." Lily Collins plays Emily Cooper, who works at Savoir, a French marketing company. The seemingly average Instagram posts she makes on Instagram make her famous in Paris. She makes a whole bunch of French friends and attracts more than a few suitors.
But for me, the real focus is the fashion. I definitely wouldn't wear all of the Emily in Paris outfits, but then again, I live in New England. But something about Emily's outfits just makes me happy. They're upbeat, chic, and extremely unique.
Who Styles The Emily In Paris Outfits?
Patricia Field is the stylist for all of the Emily in Paris outfits and she has more than a little experience under her belt.
Given that Field dressed Carrie Bradshaw in Sex and the City, which made her a cultural fashion icon, it's no wonder the outfits in Emily in Paris leave such a mark. Emily's eclectic wardrobe has managed to capture a similar kind of mismatched perfection, with looks that feel like every piece was chosen randomly and worn with enough confidence to work.
In many ways, I can see Field's style through both shows. Carrie and Emily are both trendy and chic but also put a unique twist on every outfit. They don't care if they're dressing a little different and they love mixing various styles into one look.
The Best Emily In Paris Outfits By FAR:
Here are my absolute favorite Emily in Paris outfits from seasons 1 and 2!
i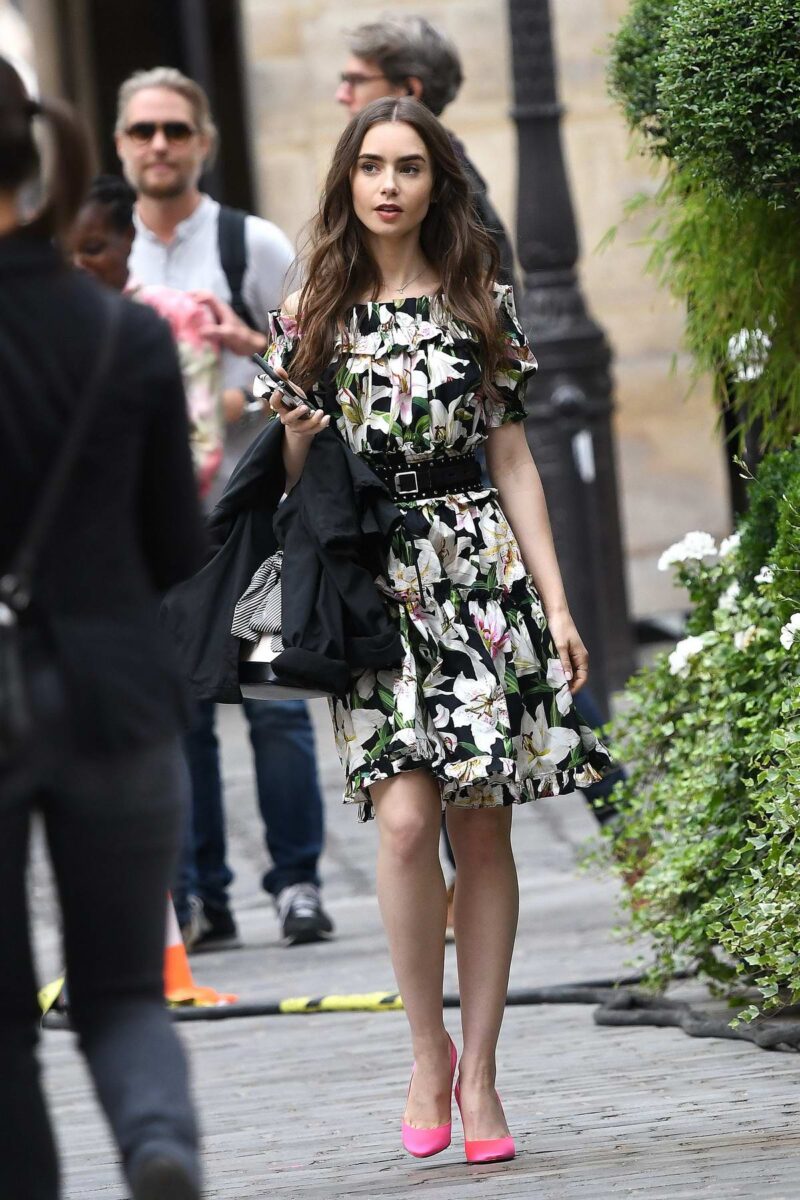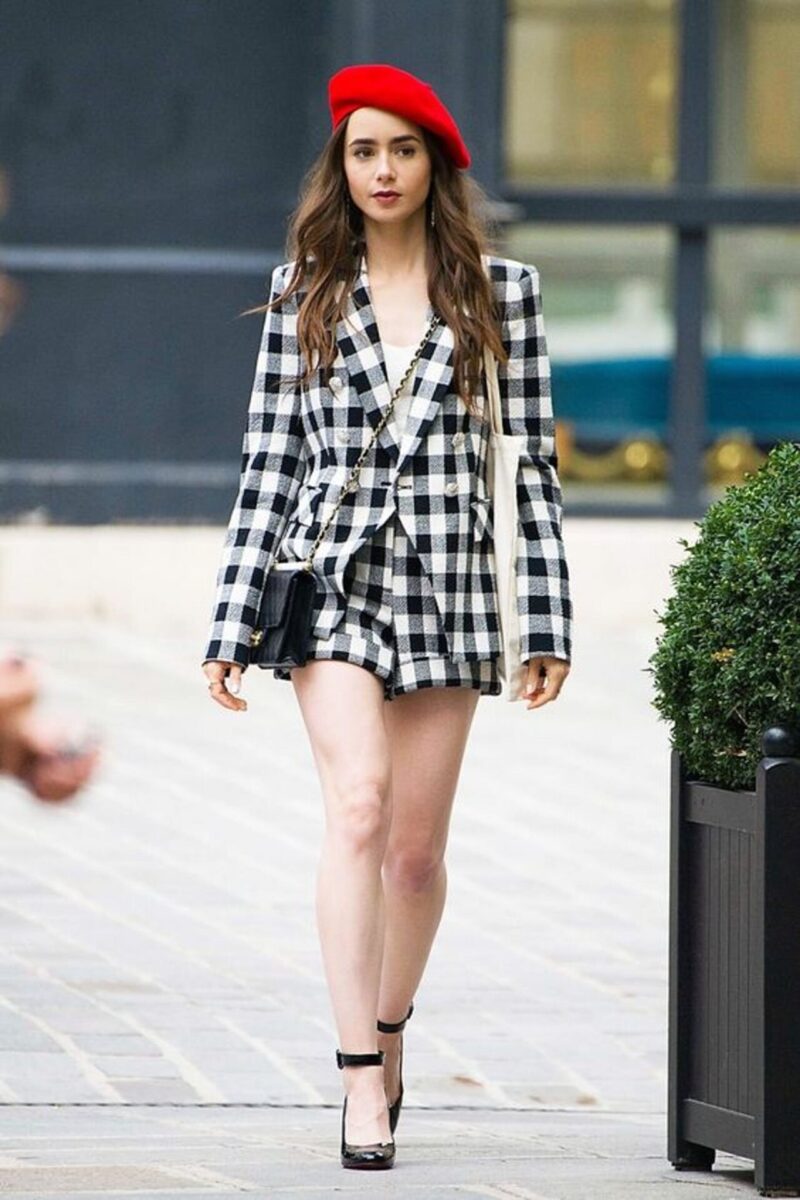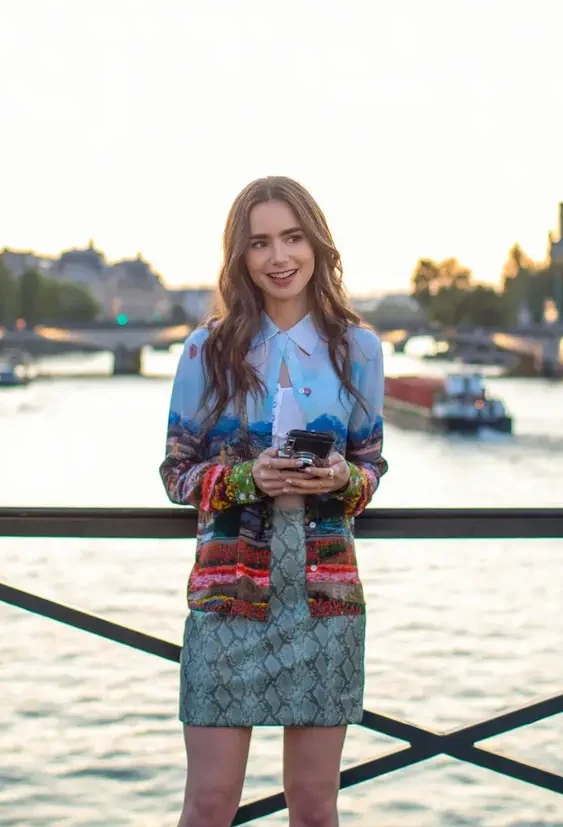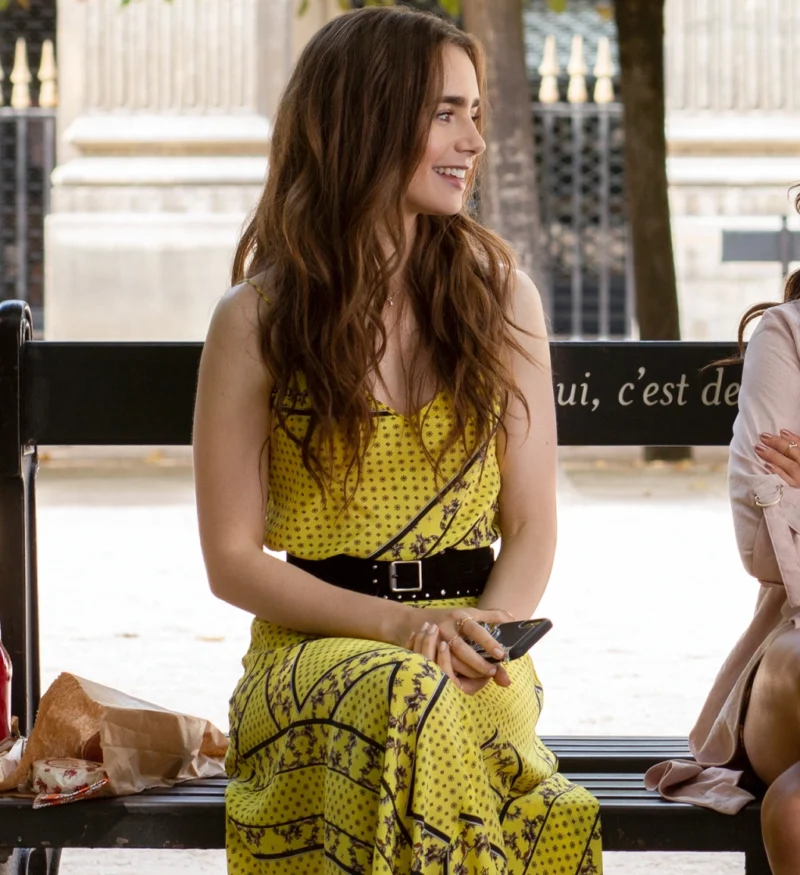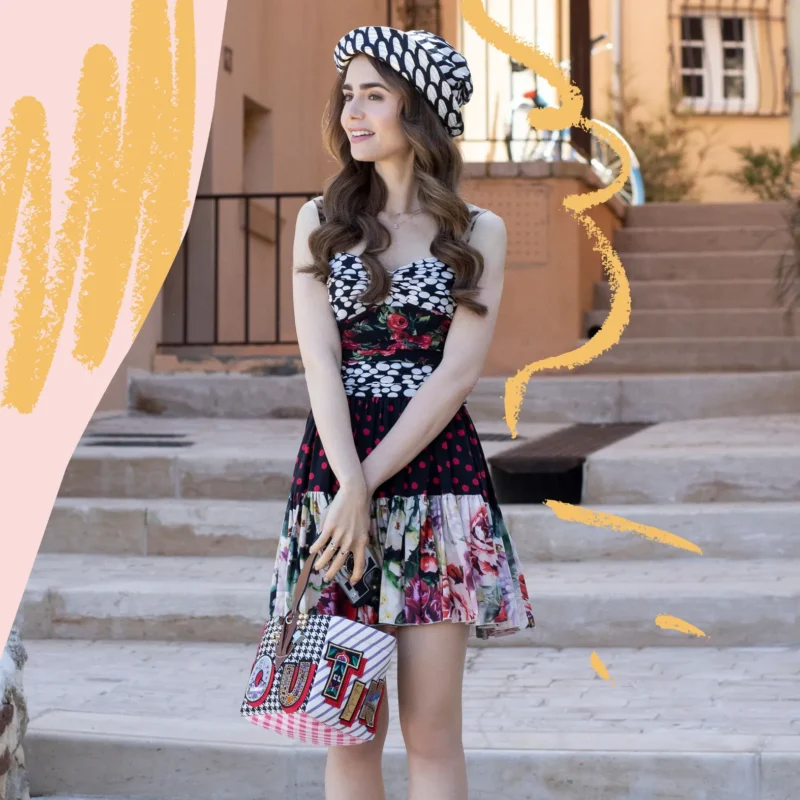 Even though this might be Emily's most daring look to date, at least it gives her a reason to pair patterned accessories with a patterned dress as soon as the weather permits.
Camille (Camille Razat) invites Emily to have lunch in episode five. She wears a yellow blazer, a checkered tank top, a multicolored skirt, and lavender knee-high boots. Her look is completed by a small crossbody bag from Dolce & Gabbana.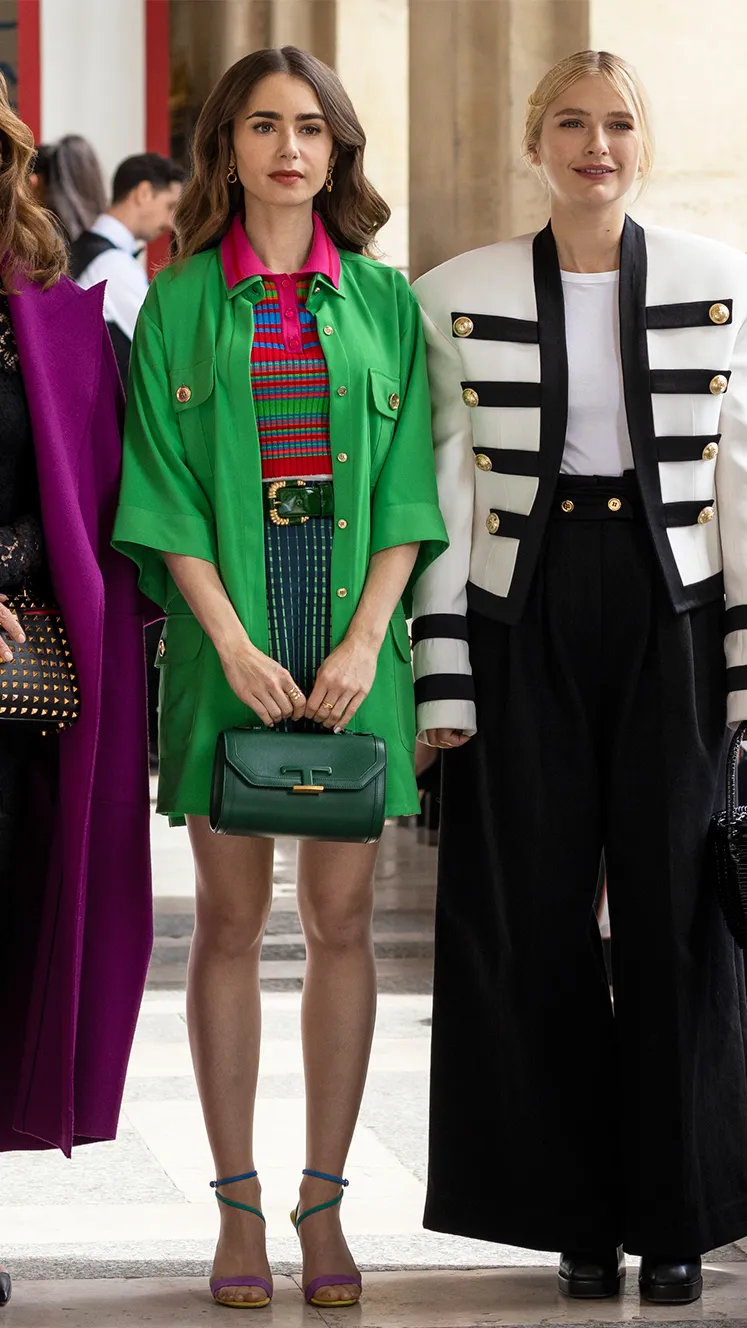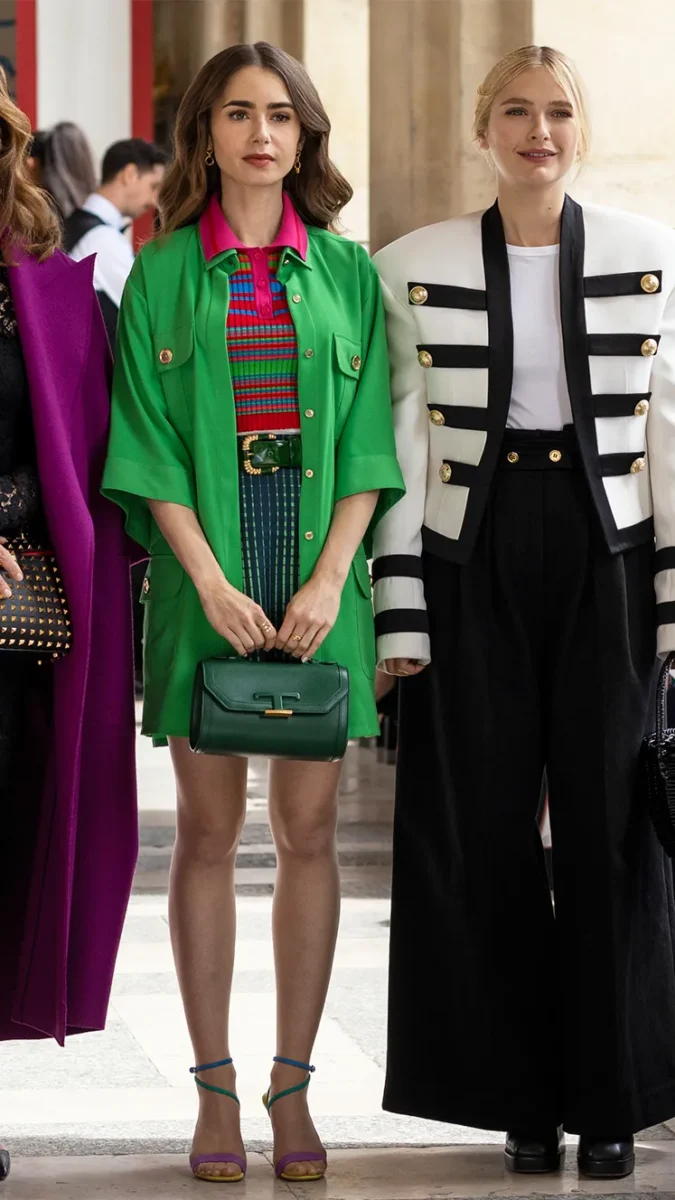 The first episode of Season Two begins with Emily walking into the office in striped Versace polo shirts and strappy multicolored heels; this outfit is layered with a green Elie Saab coat.
Don't be afraid to wear colors inspired by watermelon, as Emily did in Season 2. This outfit features a striped top and plaid skirt. Despite mixing two different prints, the outfit works because her skirt, top, and belt are all in the same green hue. It results in a look that pops on screen.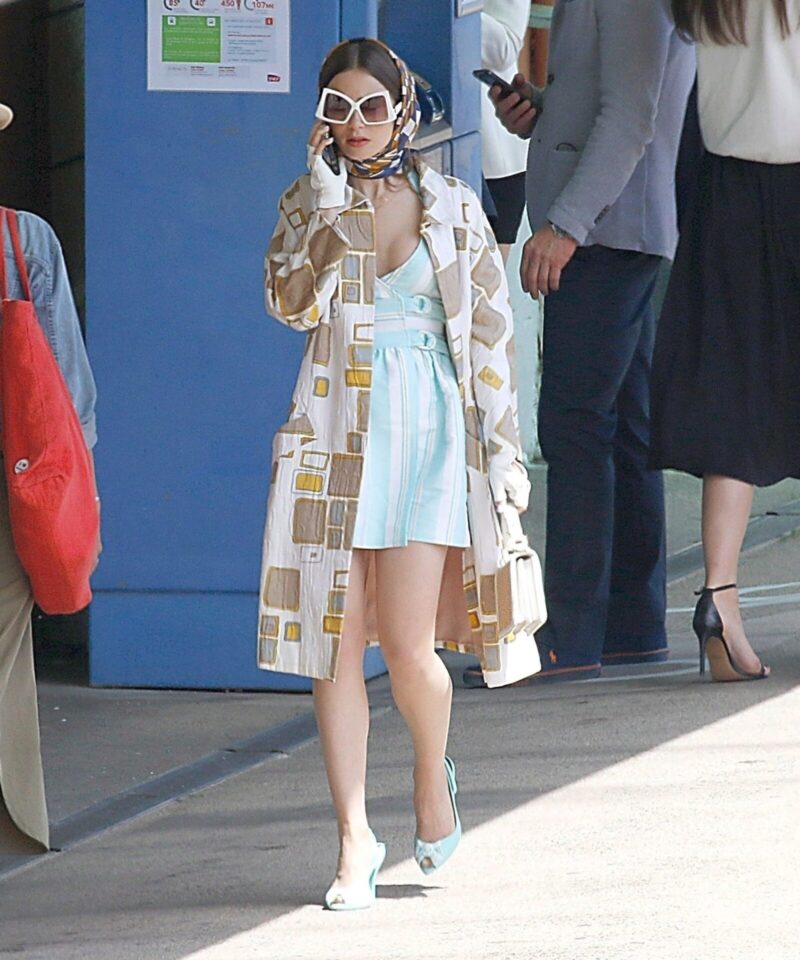 After Mathieu Cadault (Charles Martins) stays behind in Paris, Emily steps off the train by herself in the south of France. Despite her predicament, she looks stylish in a long coat, a headscarf, fingerless gloves, and large sunglasses.
The costume consultant told Page Six that Field also loves the costume. "She takes the railroad from Paris to the French Riviera, and gets off the train and she's wearing this silk coat – really pretty, with a light print on it – and the white fingerless gloves," she said. "I was really happy with it."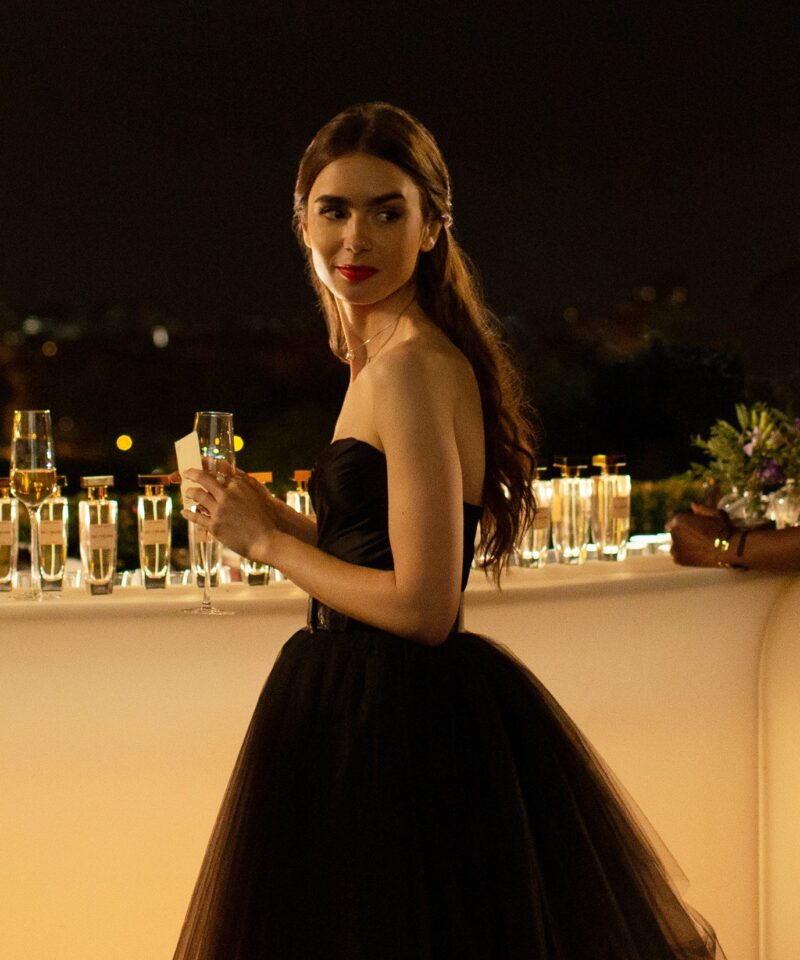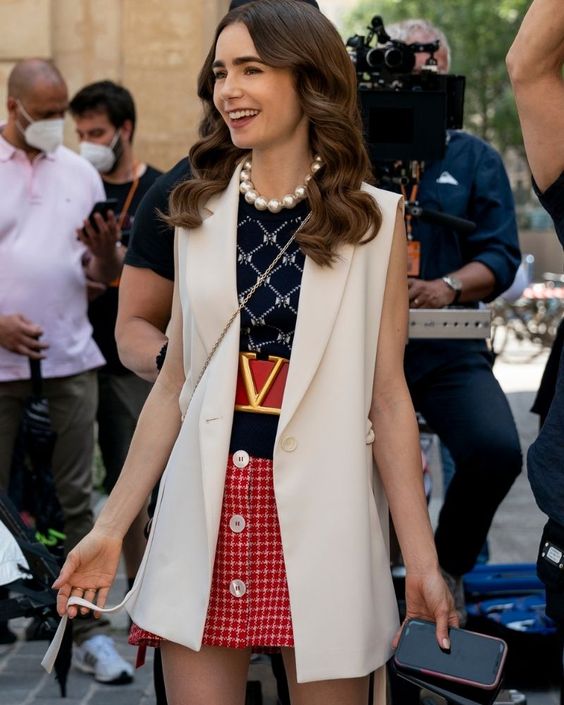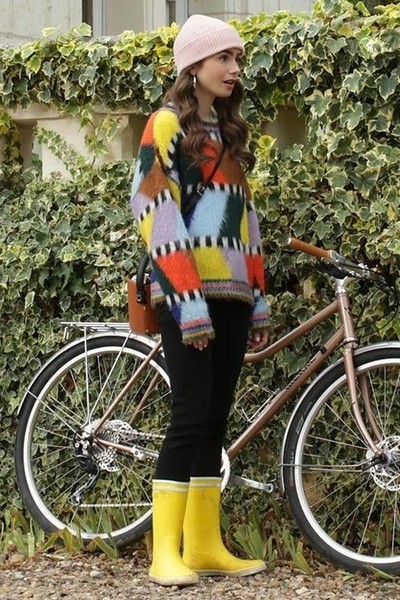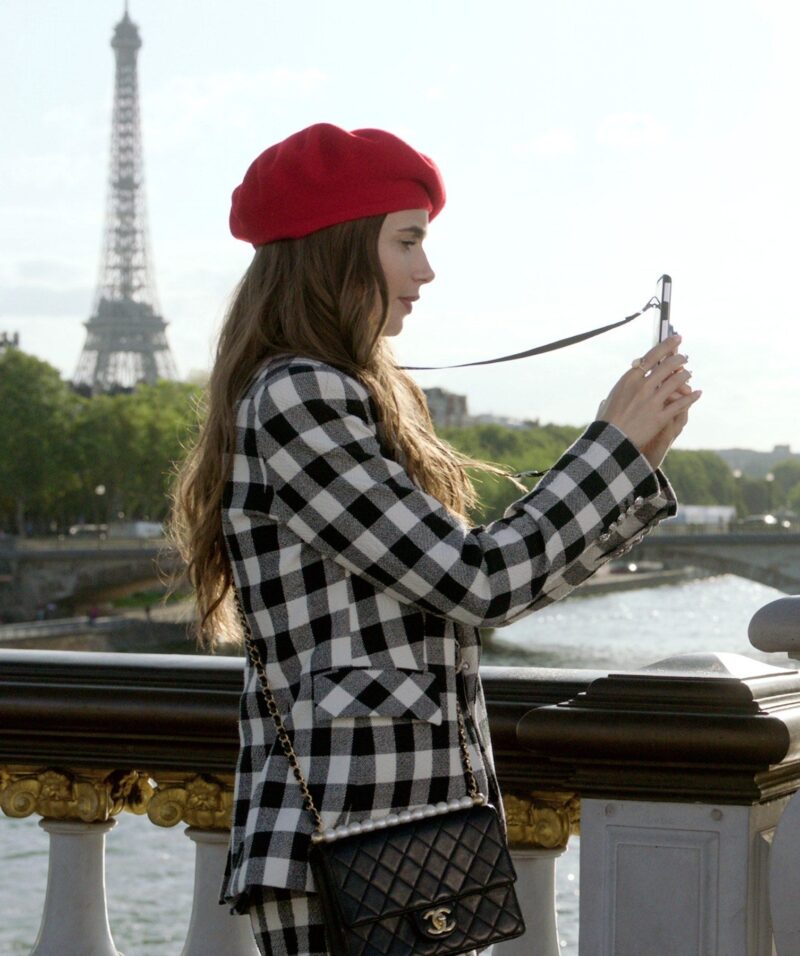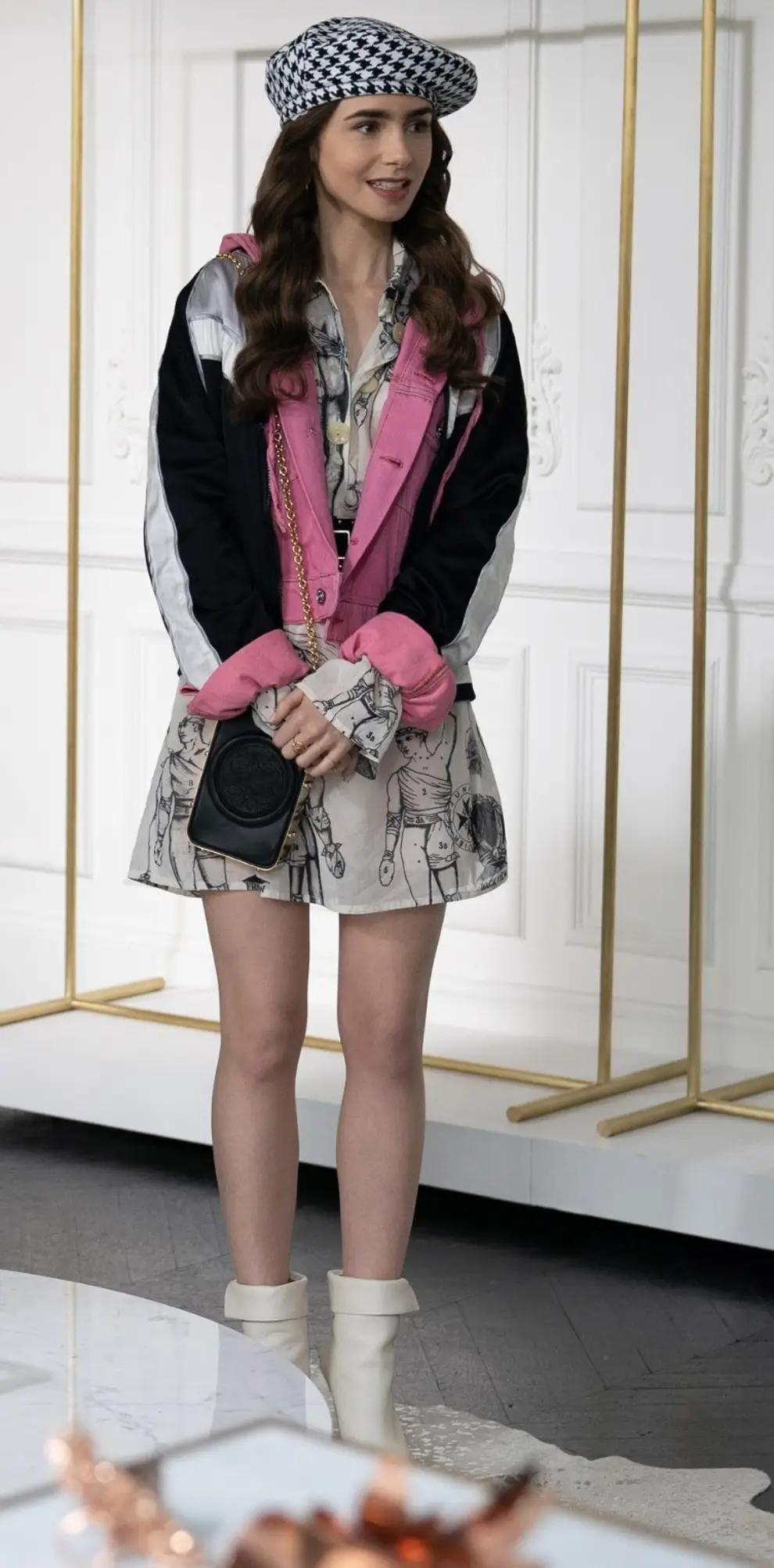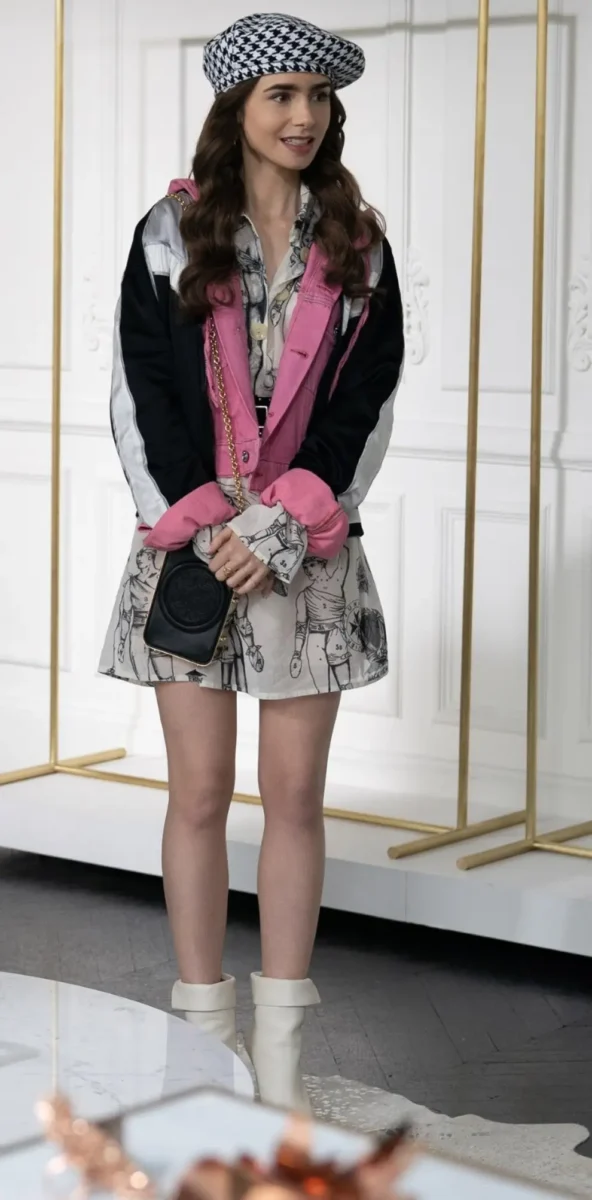 \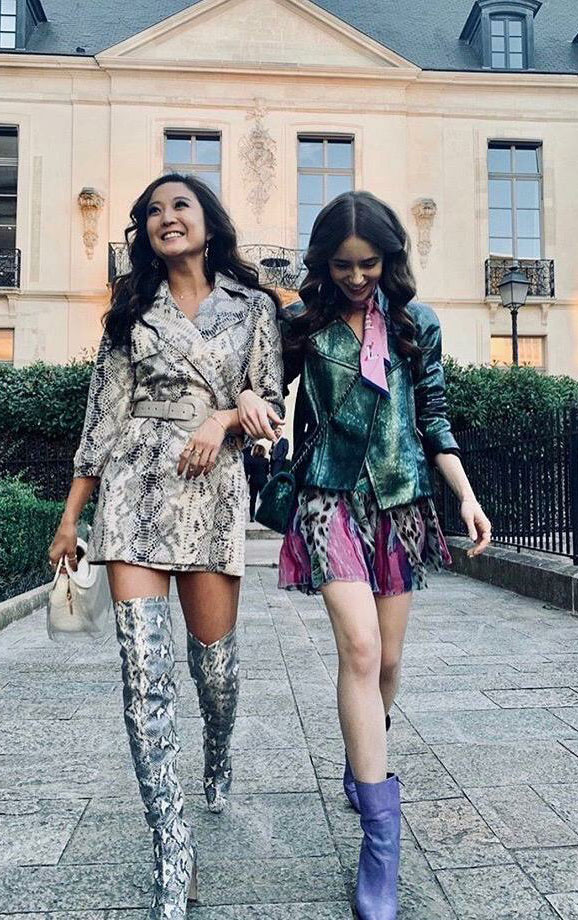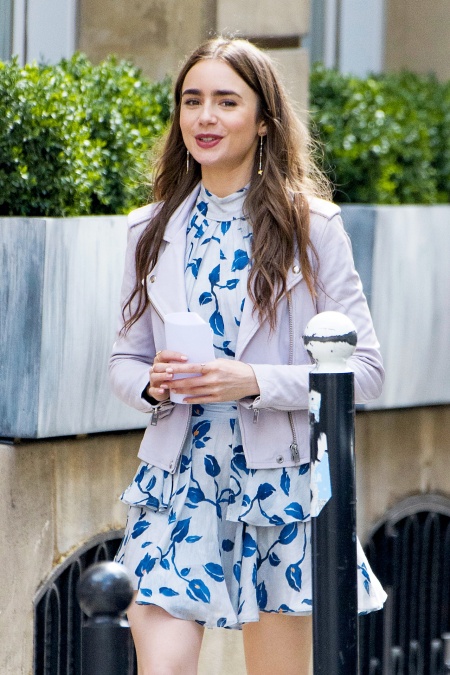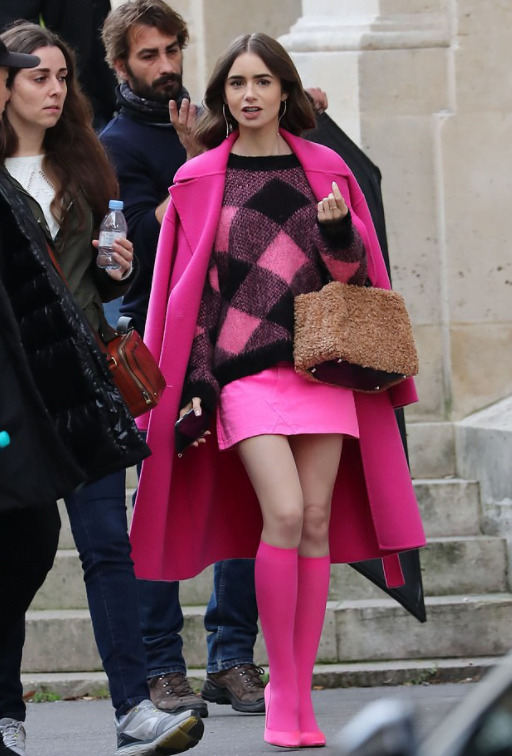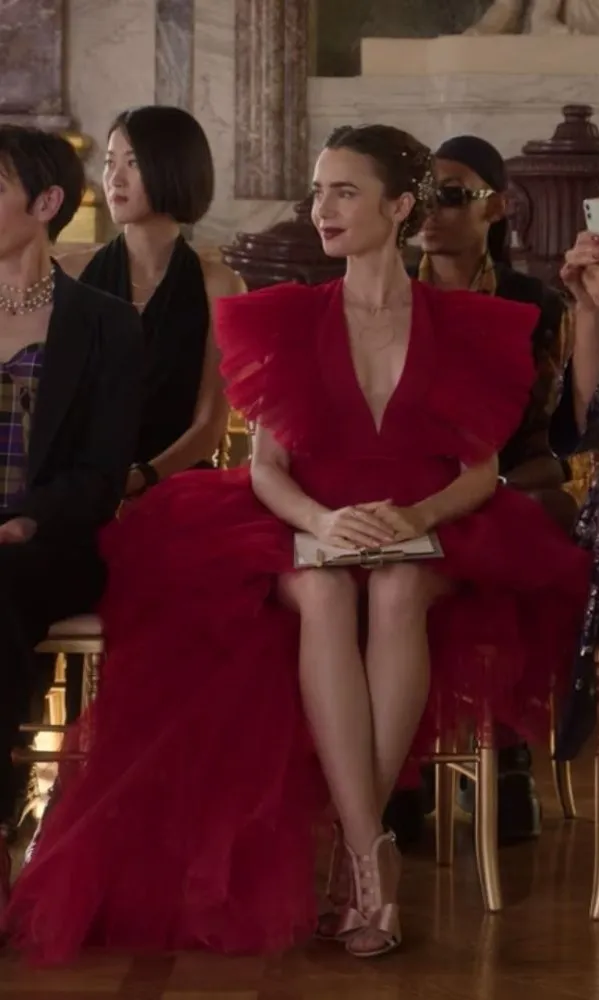 One of Emily's most stunning and dramatic costumes was saved for season two's finale. As the episode concludes, Emily attends Grégory Elliot Duprée's (Jeremy O'Harris) fashion show while dressed in a high-low gown from Giambattista Valli x H&M 2019.In an interview with Vanity Fair, Field described the bright red garment as a "modern take on Marie Antoinette".
Since the event is being held in Versailles, a court that once belonged to the young monarch, the dress certainly fits the scenery. This is one of the Emily in Paris outfits that just screams French history.
Emily's most memorable fashion moment in season two revolves around the dress' deep V neckline and flowing train, as well as the hair embellishments and her heart necklace. Everything in this outfit is just flawless!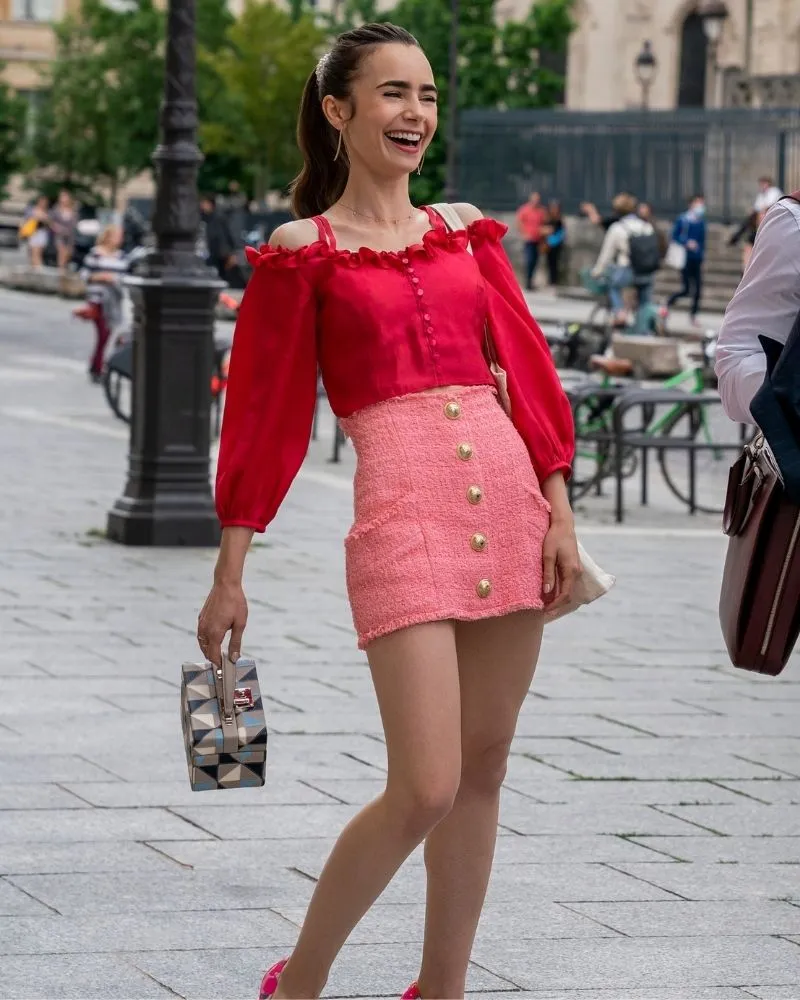 I love this cute little Valentine's day number. It's extremely Parisian but is still somehow upscale.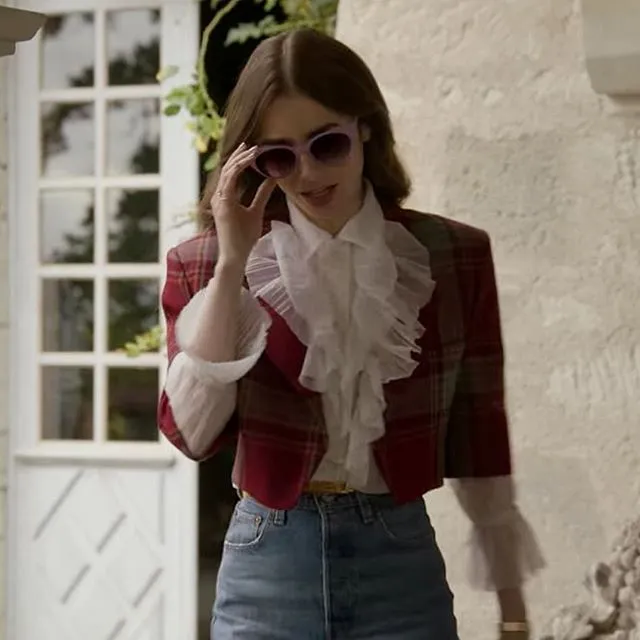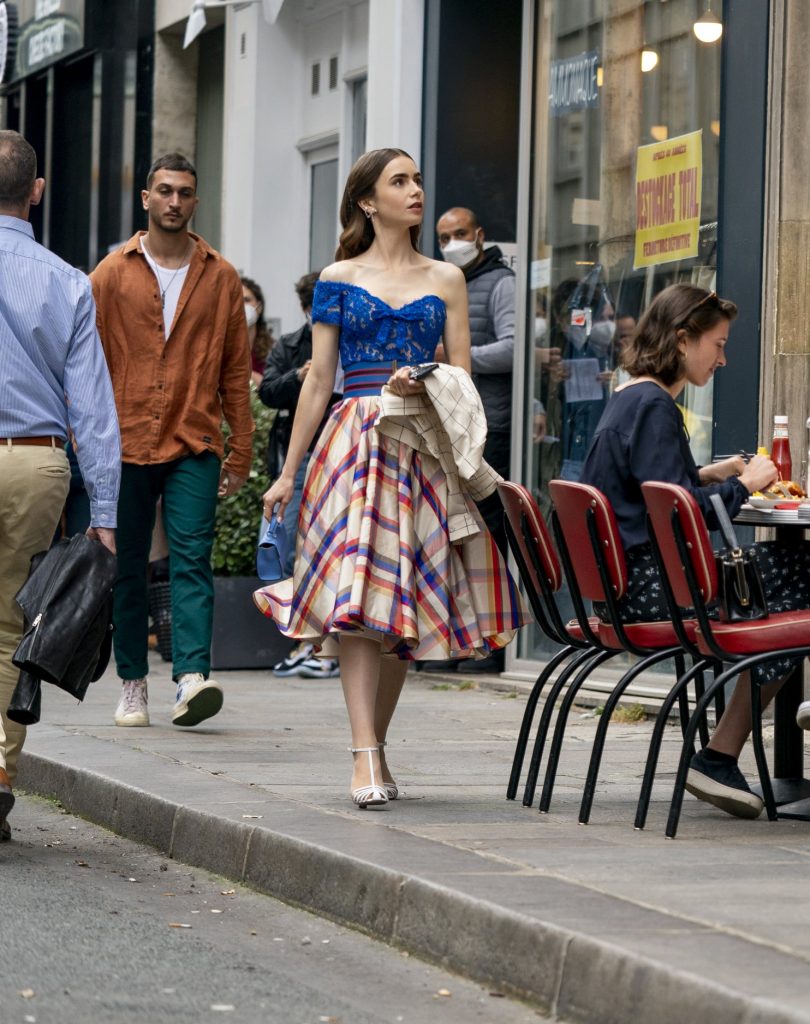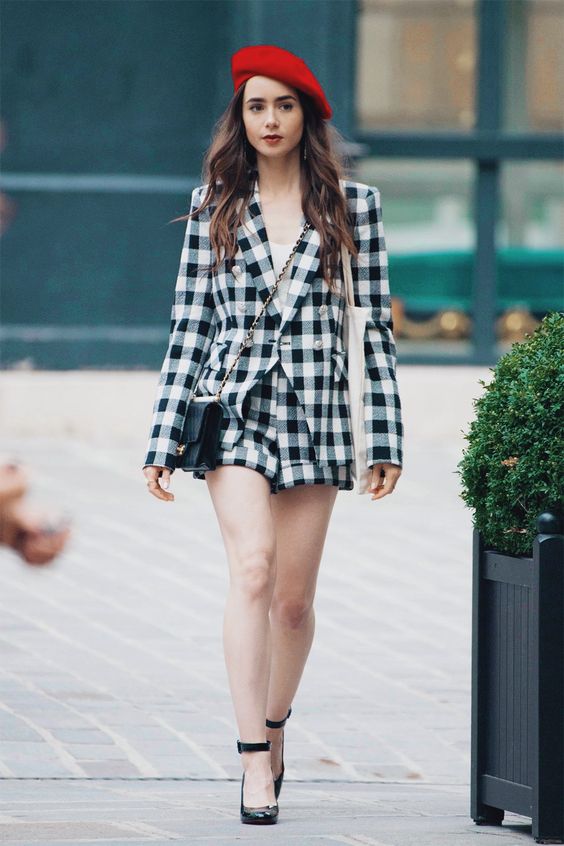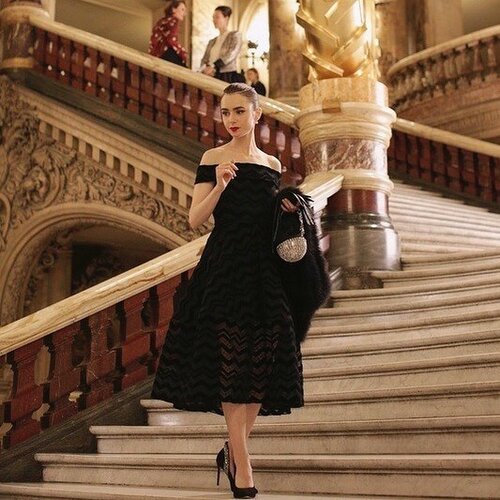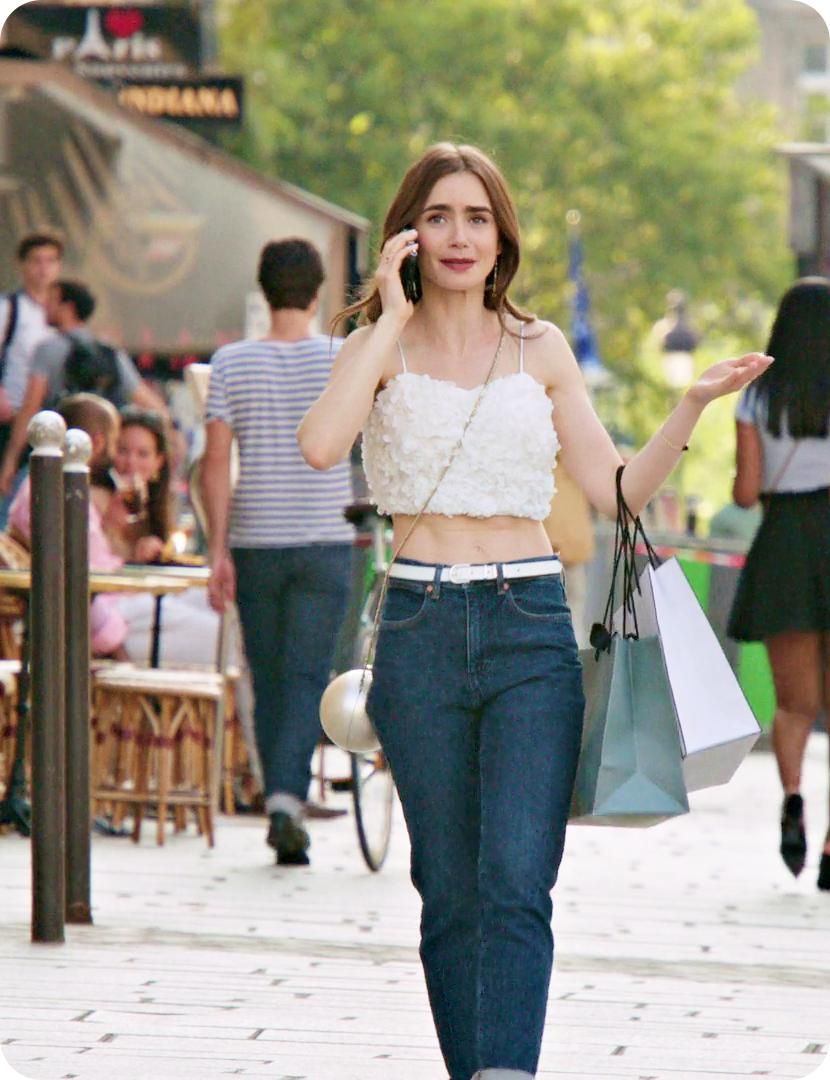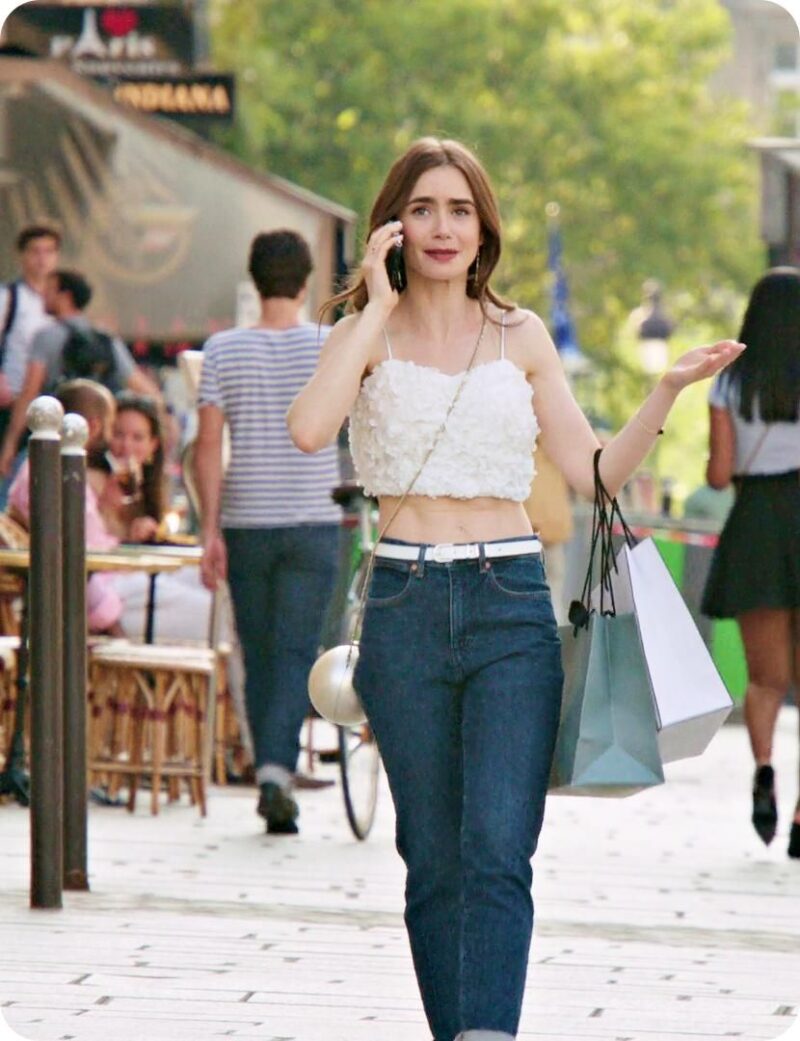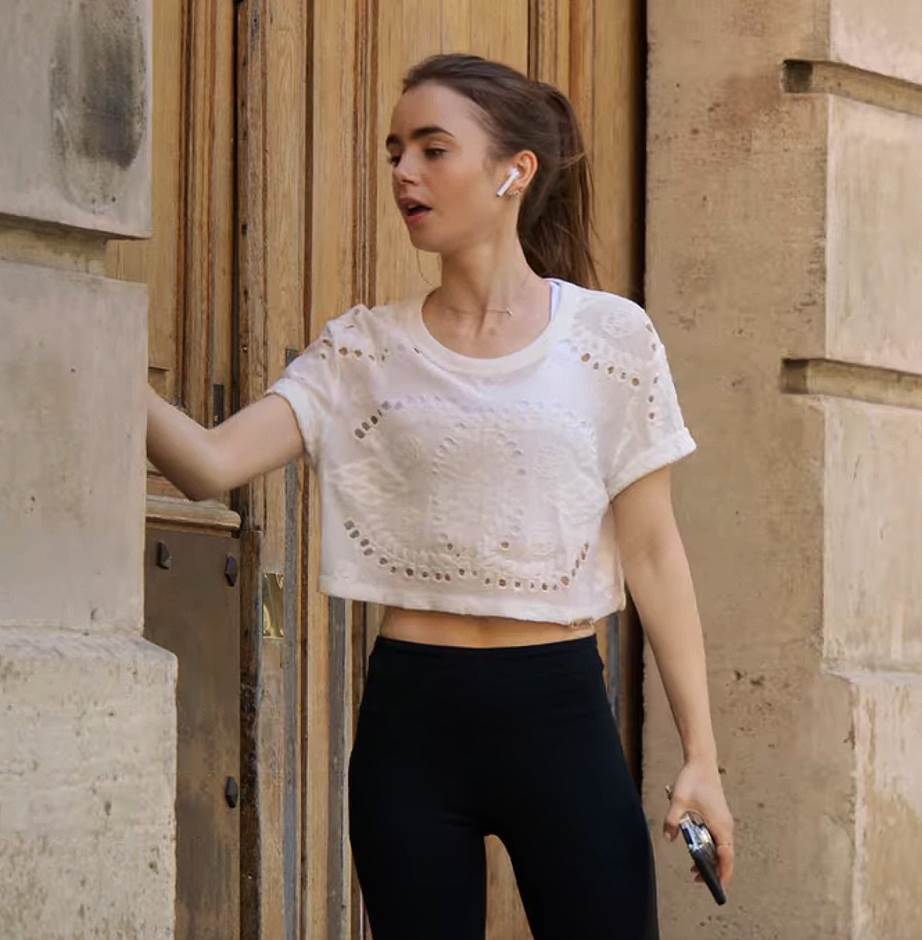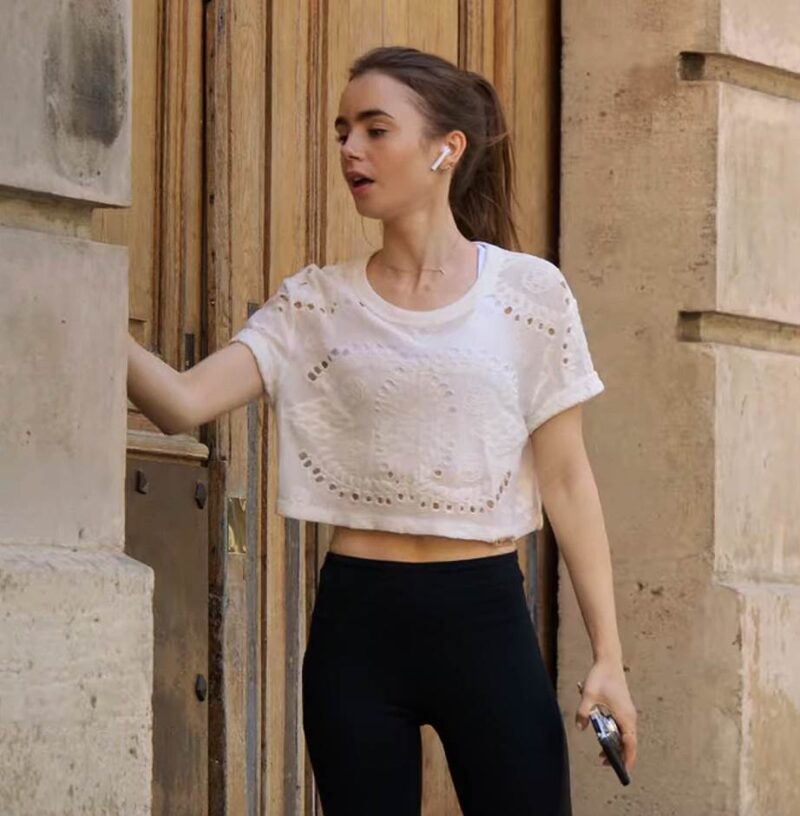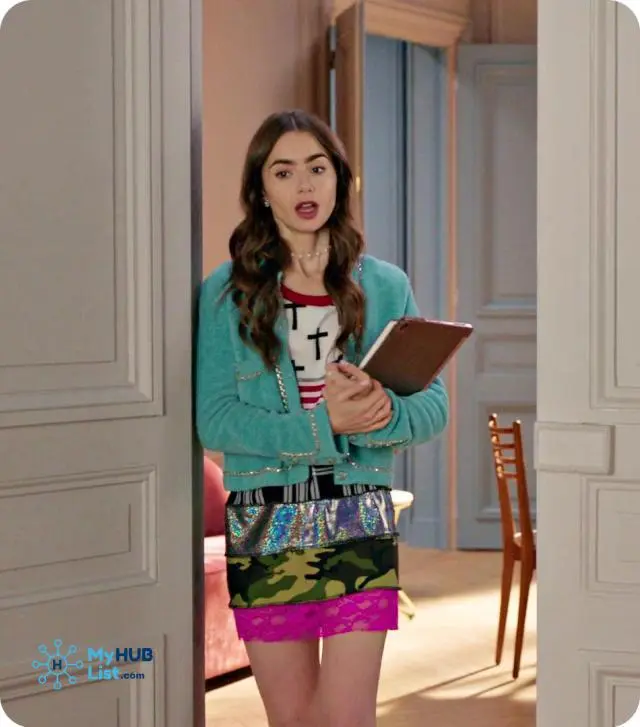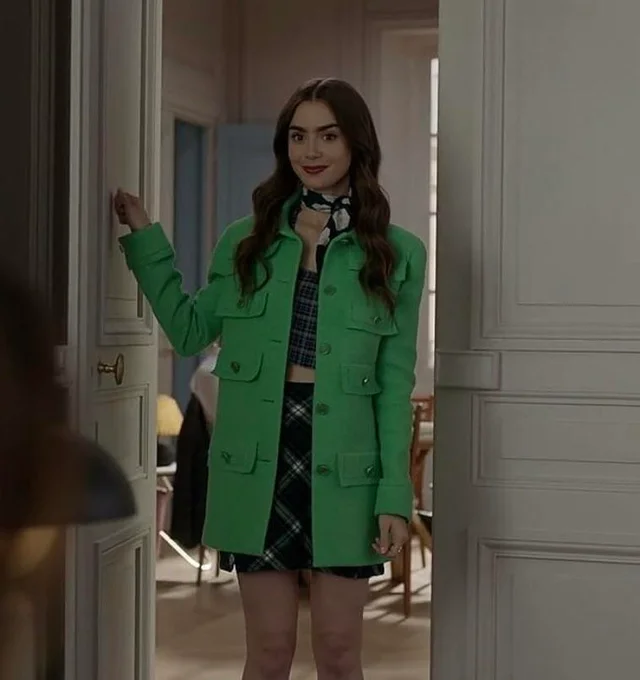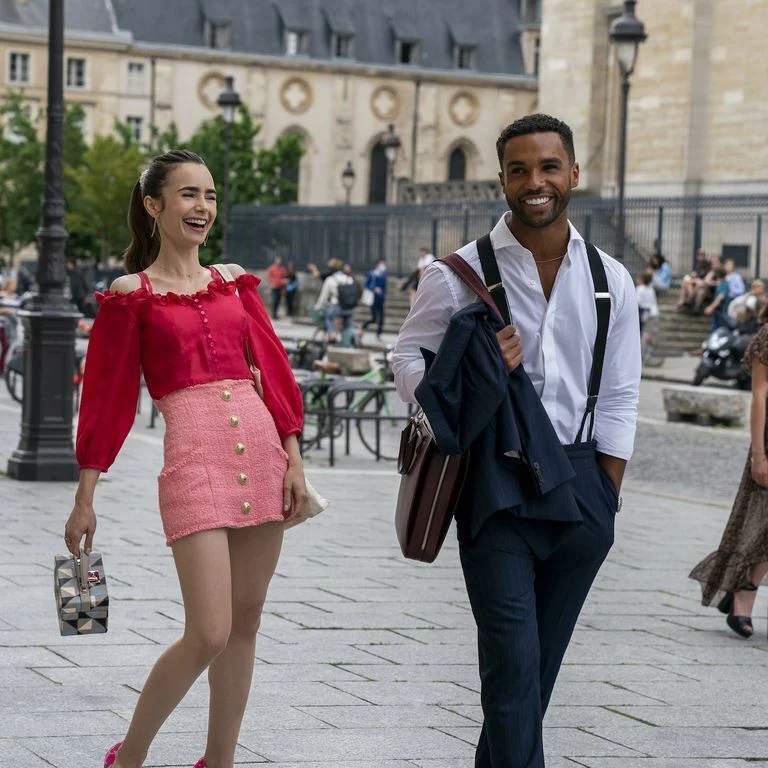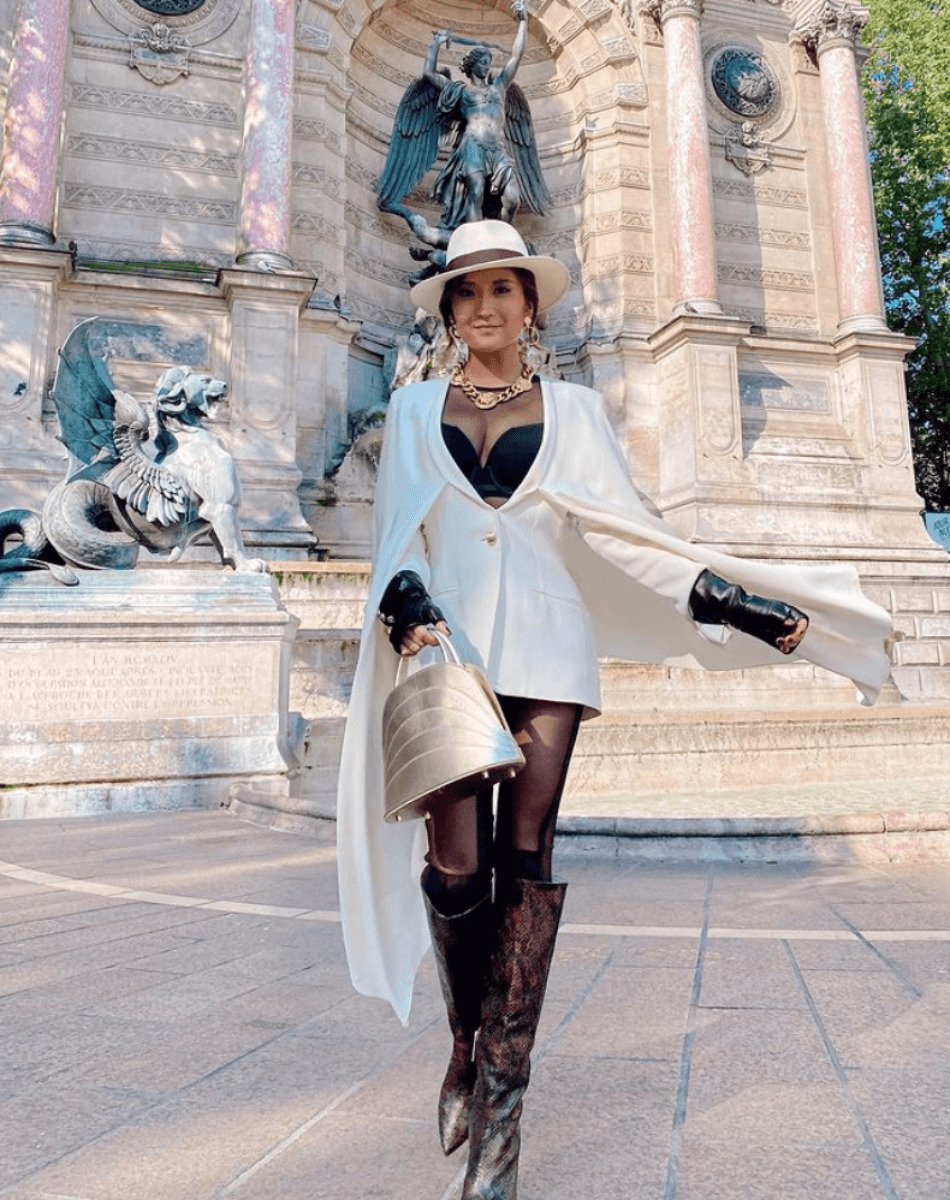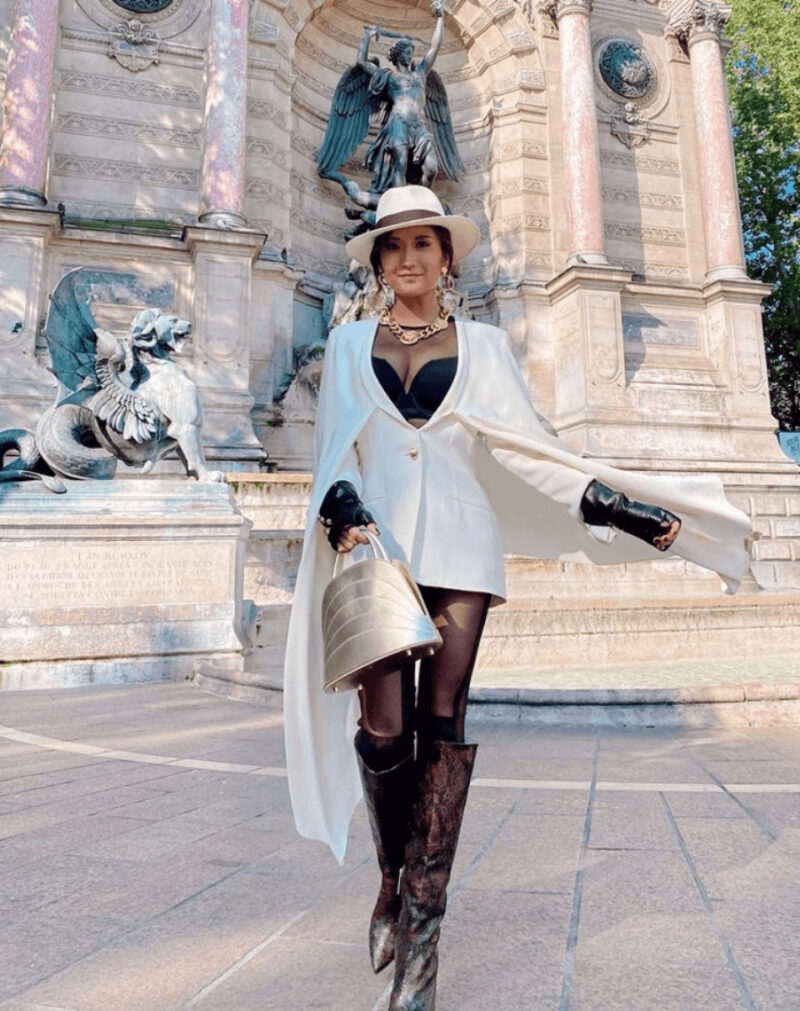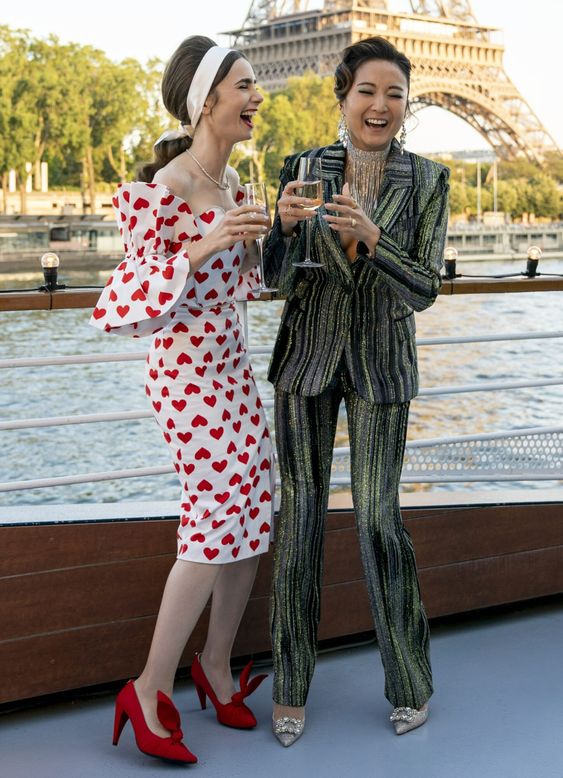 Emily stole the show in the mid-length heart-print dress, designed by Georgia-based designer Anouki, at the Baton Rouge-themed party for Chopard.
Fitoussi created and designed the red overcoat Emily wears in just two days, as reported by Vanity Fair. Field considered removing the detachable puffy sleeves so Emily's coat would fit over the dress, but Field ultimately designed the coat Emily wears to fit in only two days!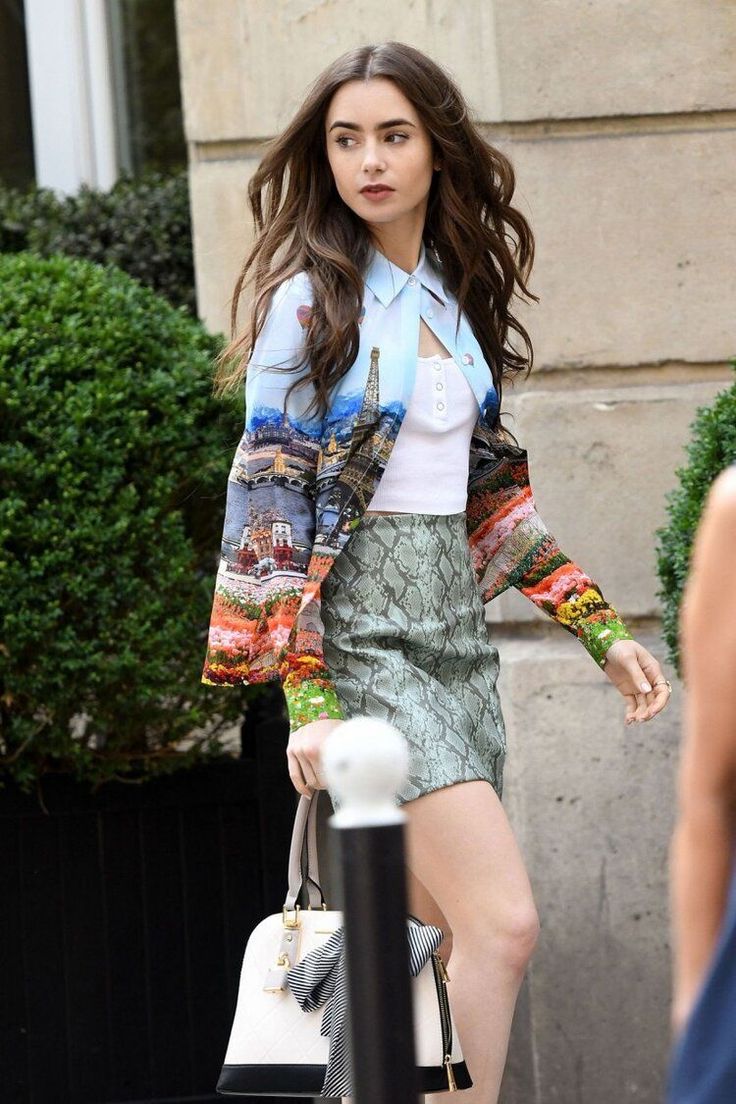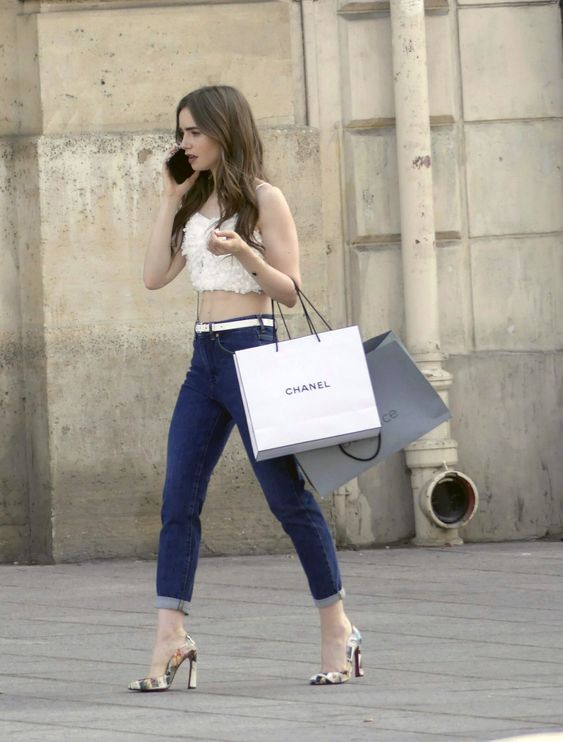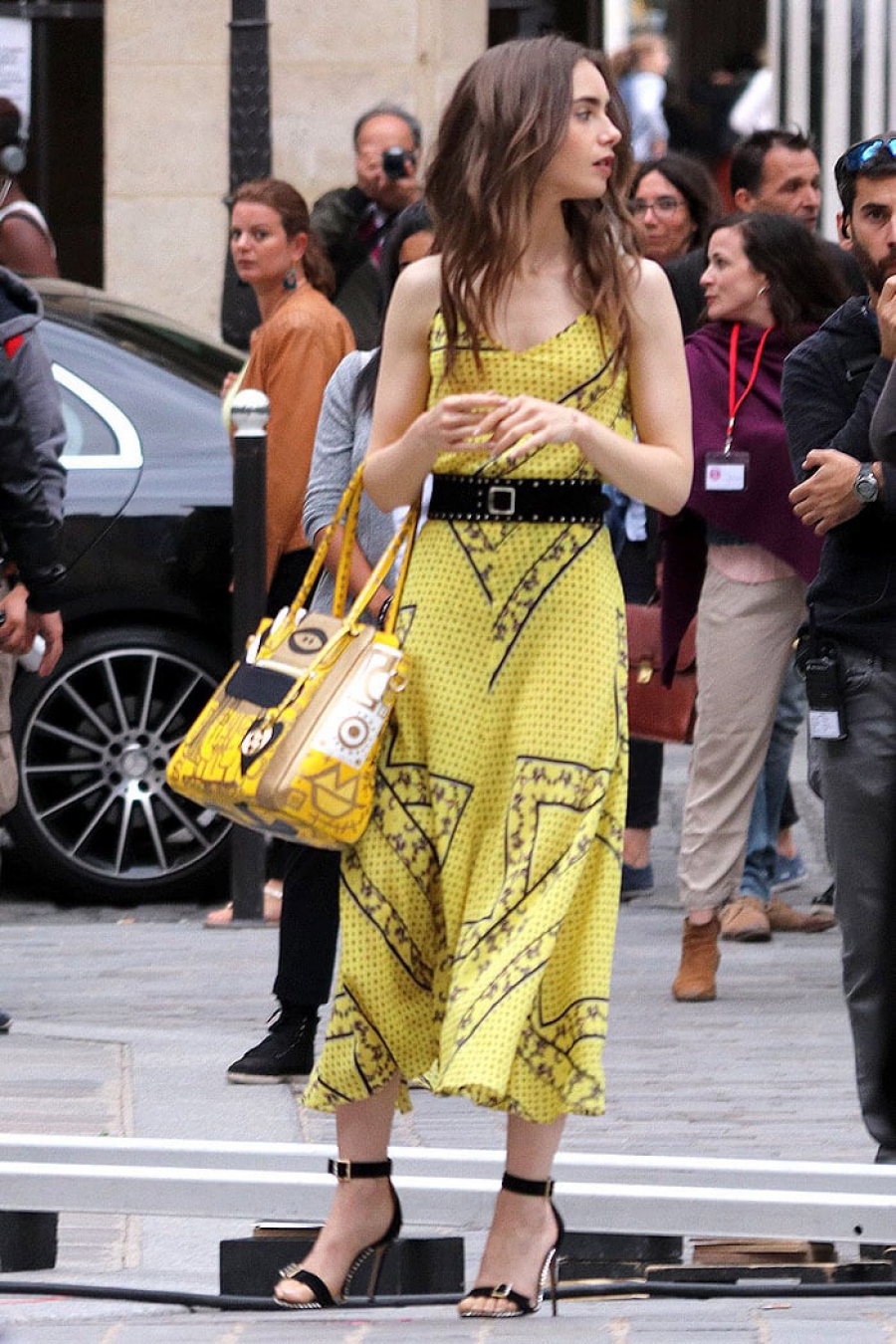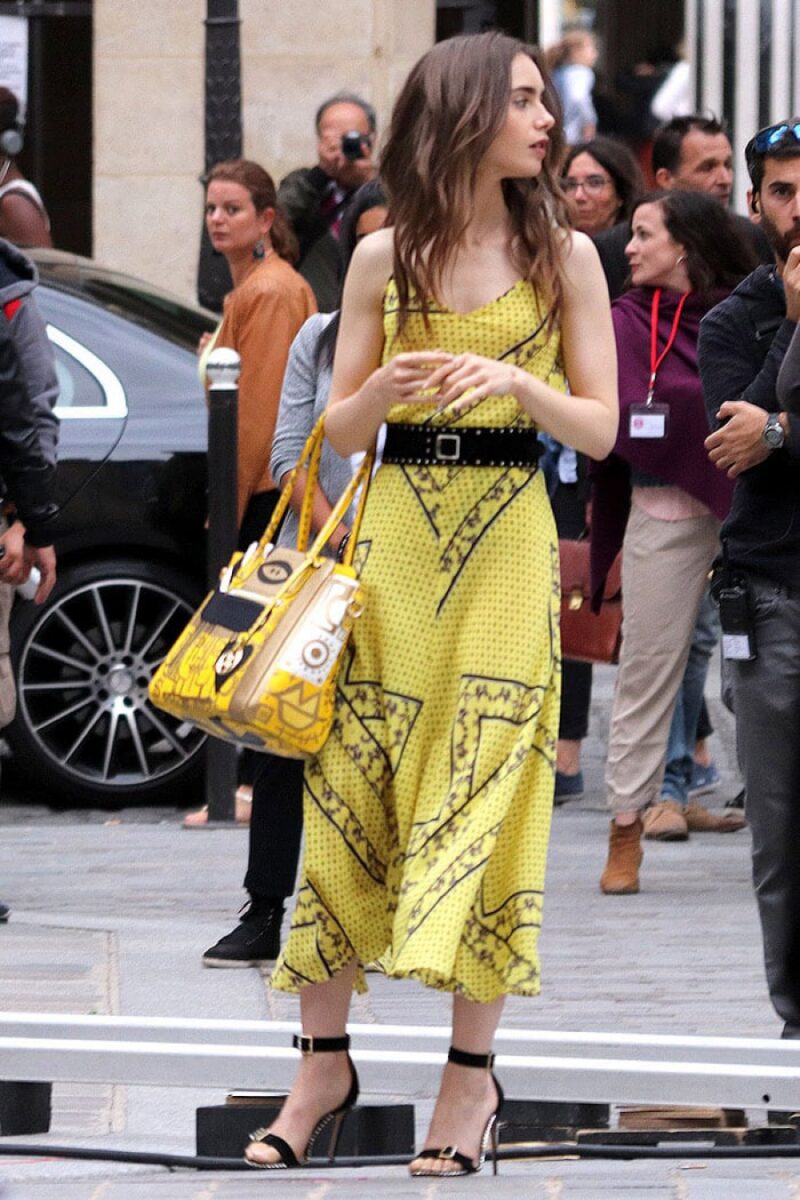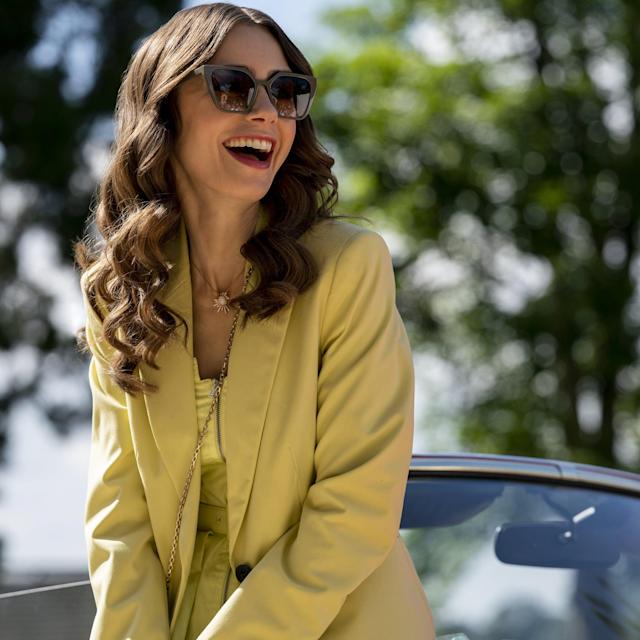 This is one of my favorite Emily in Paris outfits. The monochrome look is just so stunning. Emily looks extremely sophisticated in this piece!
The combination of a blazer and mini dress creates an elegant attire option you can wear to a dinner party, an engagement party, or even a wedding. If yellow isn't your shade, opt for pale pink, green, or neutral hues.