What do you wear when it's neither too cold nor too hot? Typically, 60 degrees is a temperature that falls during autumn and spring, a time when you have to create strategic 60-degree weather outfits to avoid having to strip off layers while you're out.
Does this mean you should break out your thick coats and keep the tank tops in the bottom drawer? Not quite. While tank tops and basic shirts cannot be worn alone as your 60-degree weather outfits, these make the best base for not-too-hot-nor-too-cold weather. It's all about layering!
Whether you're reading guide about what to wear in 60-degree weather this for a trip or simply looking for a variety to add to your spring/fall closet, I guarantee that you'll find smarter ways to dress up for this weather in this article.
The biggest issue with 60-degree weather outfits is that the weather can change on a dime. Because it's that weird in-between temperature, you can be sweating one minute and freezing the next. So it's important that you choose the right fabrics and layer correctly so you can look comfortable and chic.
Let's hop in!
Tips For Dressing Up In A 60-Degree Weather
Here are our top tips for what to wear in 60-degree weather.
Wear Light to Medium Weight Fabrics

Wearing light fabrics such as cotton, rayon, silk, and merino wool can help you from stripping out layers while you're out. These fabrics are also bearable and light, which is suitable for mild temperatures. It's better to work with lightweight fabrics and layers.
Wear A Foundation Layer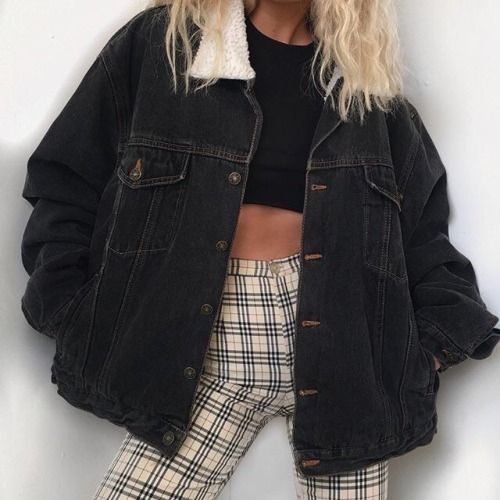 A foundation layer gives you the flexibility to strip out pieces of exterior clothing when the temperature gets unbearably warm. So you want to wear a foundation layer that's cute and chic! Which is another tough part about figuring out what to wear in 60-degree weather: you basically need two outfits since you're layering.
A lightweight shirt or a tank top is ideal for that first layer. Or consider a really lightweight long-sleeve crop top or sweater (but seriously, ultra-lightweight). Add on a windbreaker, a denim jacket, or a blazer to complete the fit.
You want that base layer to be something that you'll still be warm enough in if you take off the outer layer. It's just a step down, not a full-on summer shirt.
Cover Up Your Bottom Half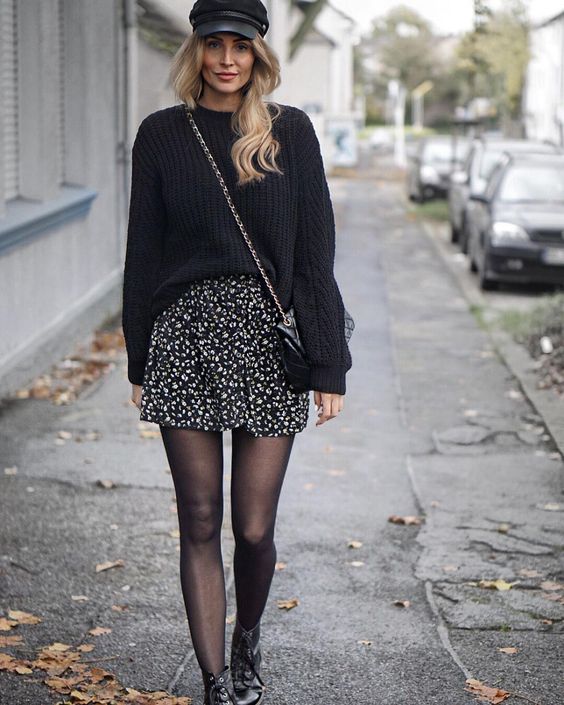 While it seems inviting to wear a short skirt or shorts in the spring, you'll get cold quick. To pull off short skirts in your 60-degree weather outfits, you can wear tights underneath or wear a pair of knee-high boots to compensate for the exposure. Basically, you don't want your legs to be cold: 60-degrees is just a little too chilly for totally bare legs. Trust me, I've tried it!
Cover Your Feet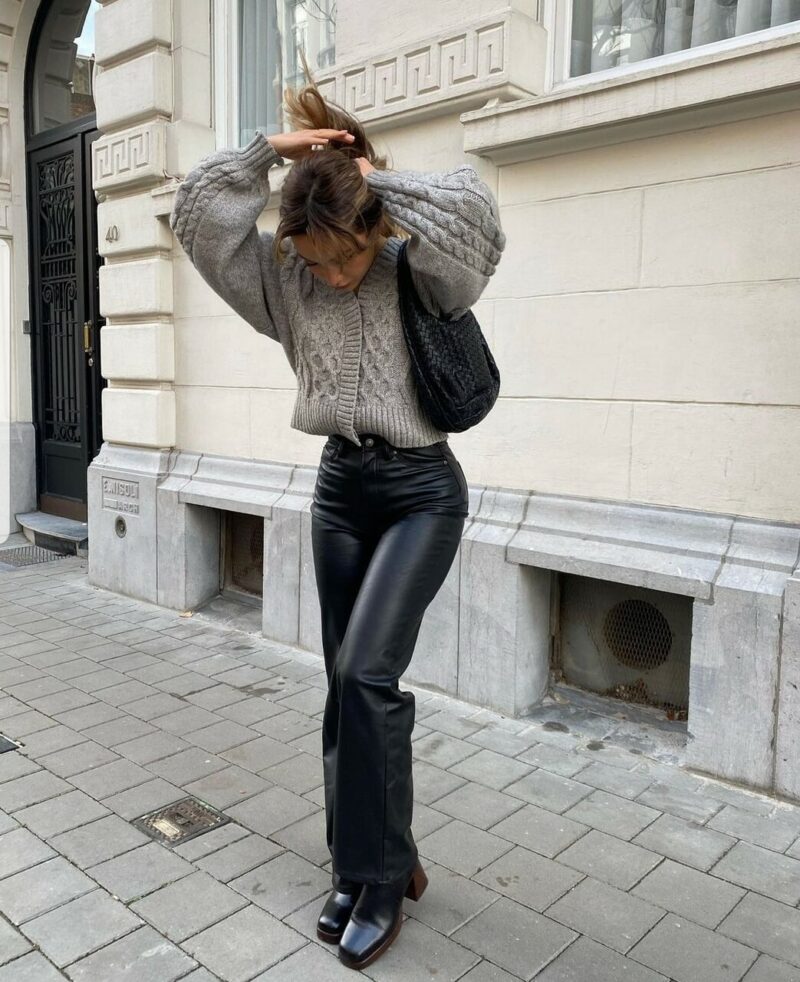 Your feet are one of the most sensitive parts of your body which is why you should be careful about choosing the right footwear. A 60 degree weather is not a walk to the beach type of weather, and when you're feet are cold, you'll be cold.
Choose oxfords, loafers, mules, closed heels, sneakers, or anything that keeps your toes secured. Fur boots or shoes with thick lining is not necessary and you'll probably overheat. For 60-degree weather outfits, think spring shoes such as chunky sneakers or lighter combat boots.
It's All About The Jacket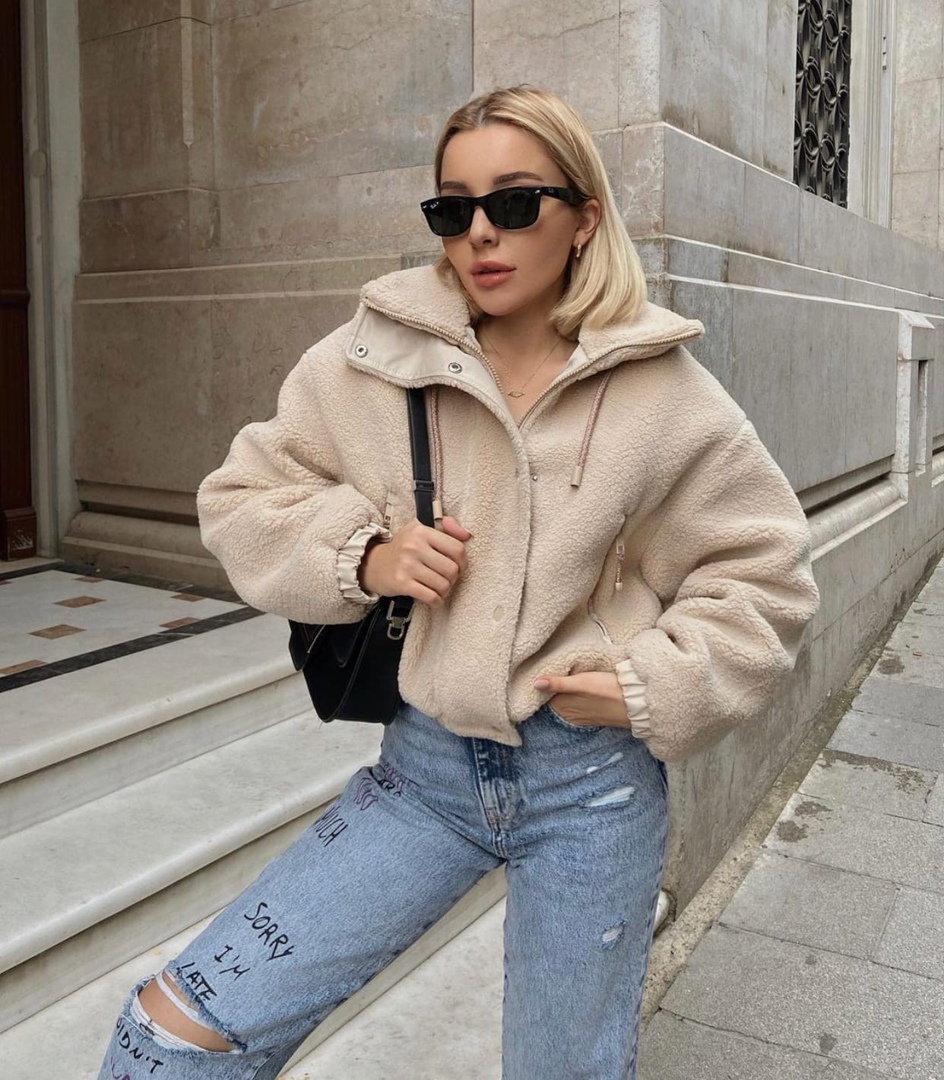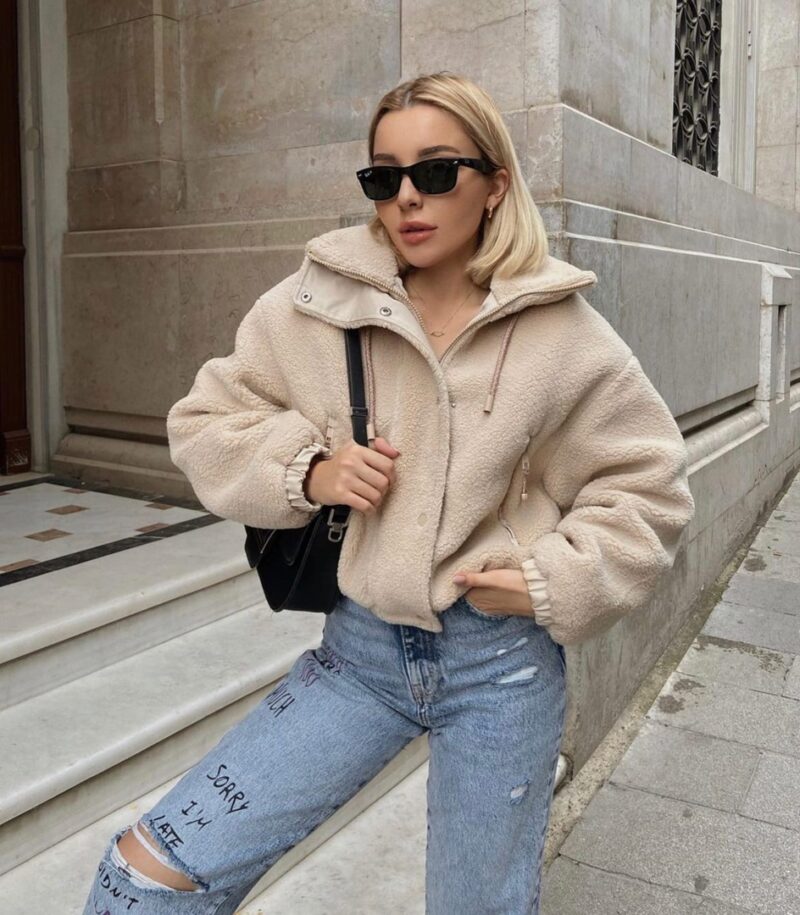 When you're wondering what yo wear in 60-degree weather, the first thing you should do is choose a jacket. You'll want a lightweight spring jacket such as a corduroy jacket, jean jacket, windbreaker, super light trenchcoat, shacket, or blazer.
I recommend choosing the jacket first because this will be the piece you're wearing the most. If you scroll through the photos in this post featuring 60-degree weather outfits, you'll notice that they almost all feature a lightweight spring jacket. Once you have the jacket, you can build your outfit around it. If you're wondering what to wear in 60-degree weather, the jacket is the place to start!
Express Your Creativity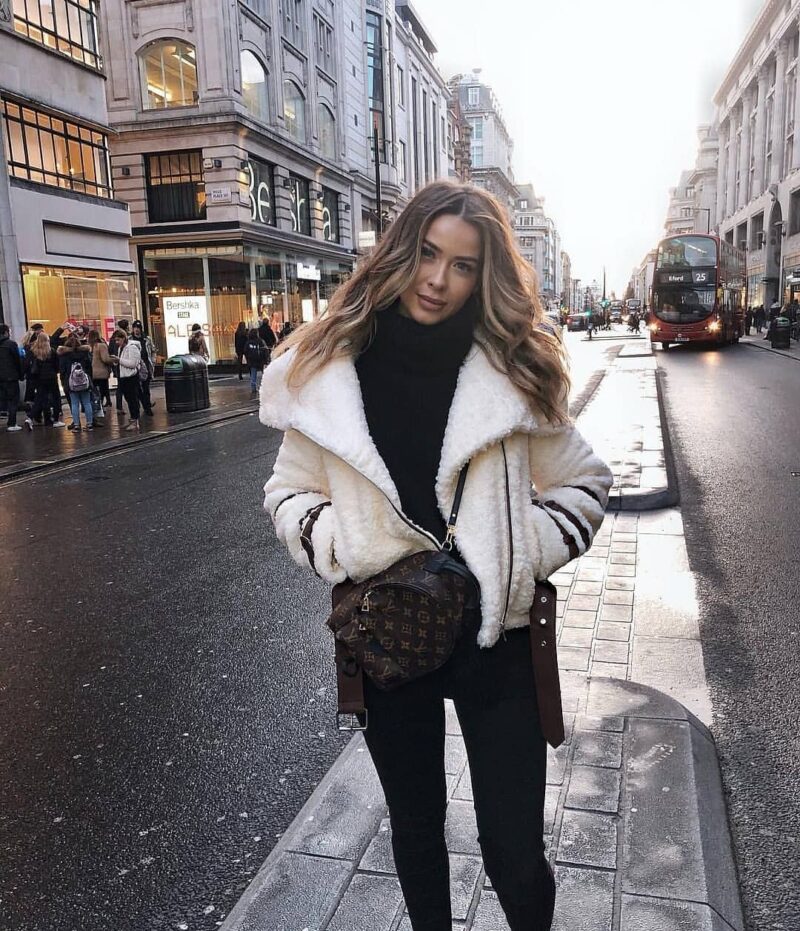 Still not over that pretty sundress? Don't worry — more layers means more chances to wear it differently!
Drop the perception that layers keep you from showing your best assets and use it to your advantage instead. And luckily, layers are crazy popular right now. The cold months are the only times when you can dress in a variety of colors, fabrics, and prints. Don't waste it!
I'll share a bunch of 60-degree weather outfits for inspiration later. Check out the way some of these outfits are layered to provide a trendy but still warm look.
Invest In Layering Pieces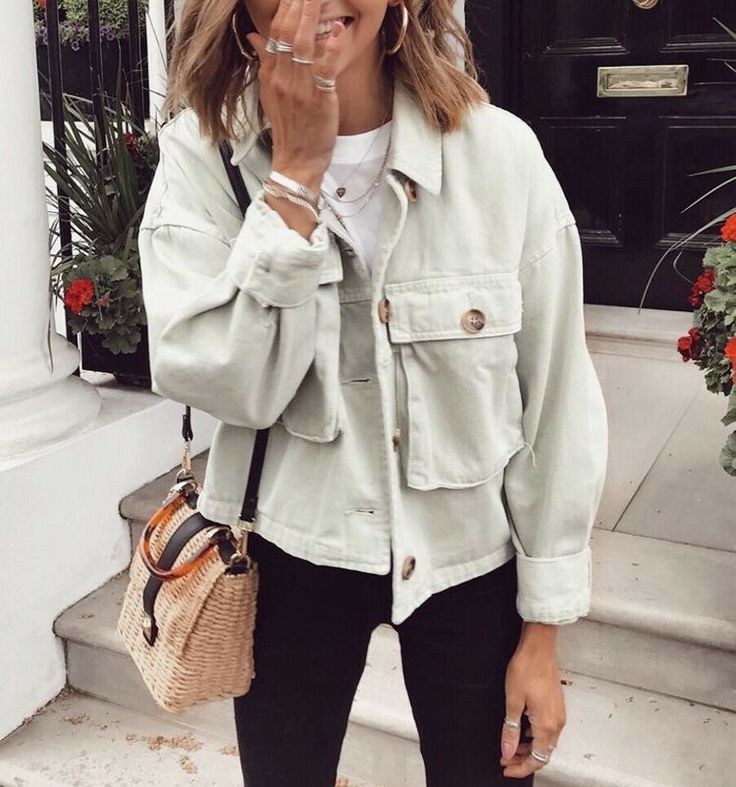 A good quality basic white tee can get you places! When layering, you will be using a white t-shirt — a lot. So on your next shopping trip, make sure to pick something that can stand several wears. You don't want a sloppy shirt by the end of the season.
You should also consider investing in a few lightweight crop tops, a black turtleneck, and an oversized blazer. These are all great 60-degree outfit pieces.
What To Wear In A 60-Degree Weather
Okay, so now that we've covered what pieces tend to work for 60-degree weather outfits, let's put together some outfits start-to-finish.
60-Degree Weather Outfits For Traveling:
Sweater Dress + Neck-tied Knit Sweater + Knee-high Boots
One of my favorite fall travel outfits is a sweater dress because it's easy to pack and easy to put on. Plus, no more decision fatigue while you're on vacation.
Since it is already the whole outfit, all you have to do is put on your boots, grab a bag, put on your cardigan sweater and you're good to go. To match your cardigan with your outfit, I like to play color blocking. You can also make use of it as a scarf and put it on in case it gets cold.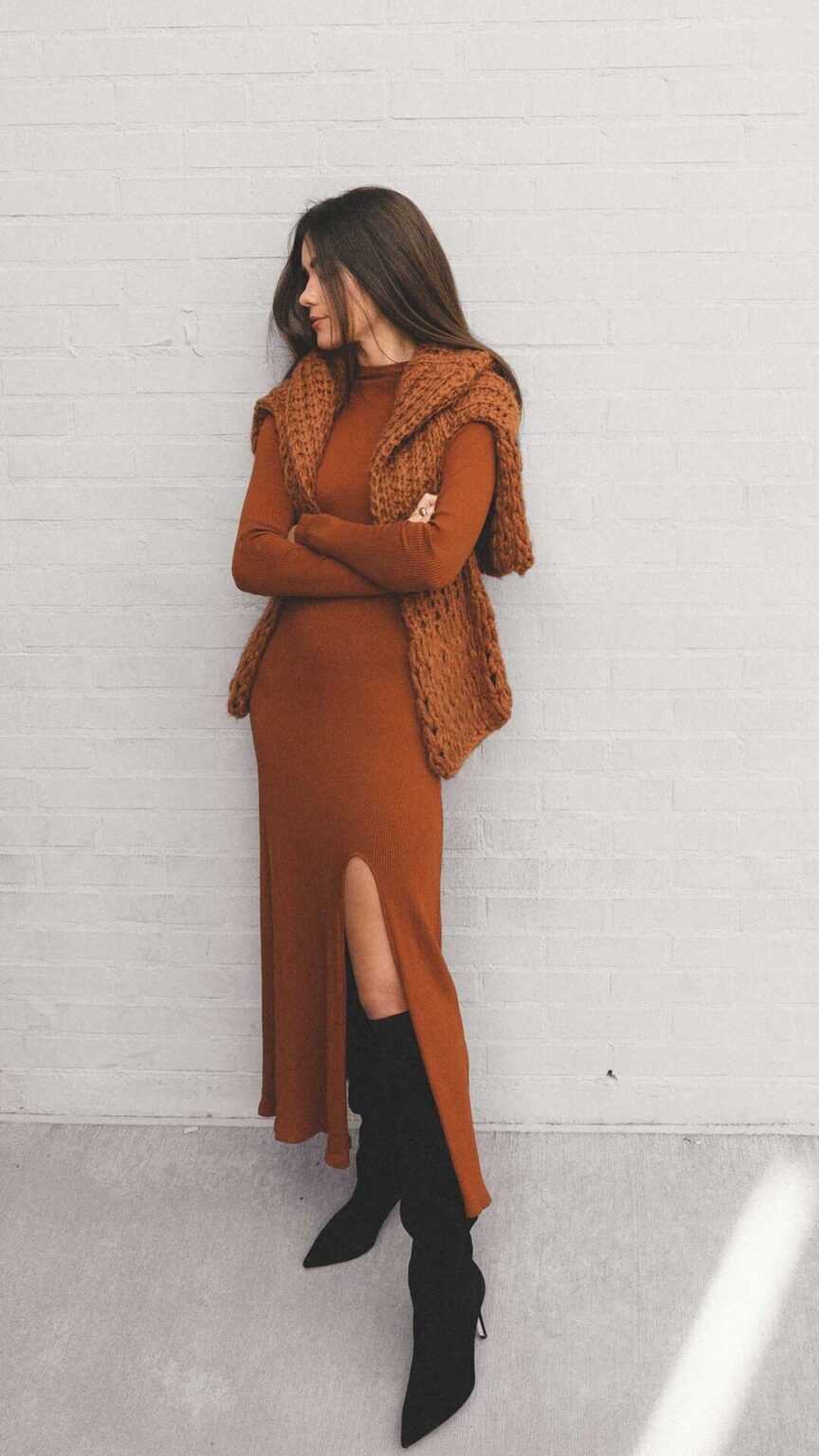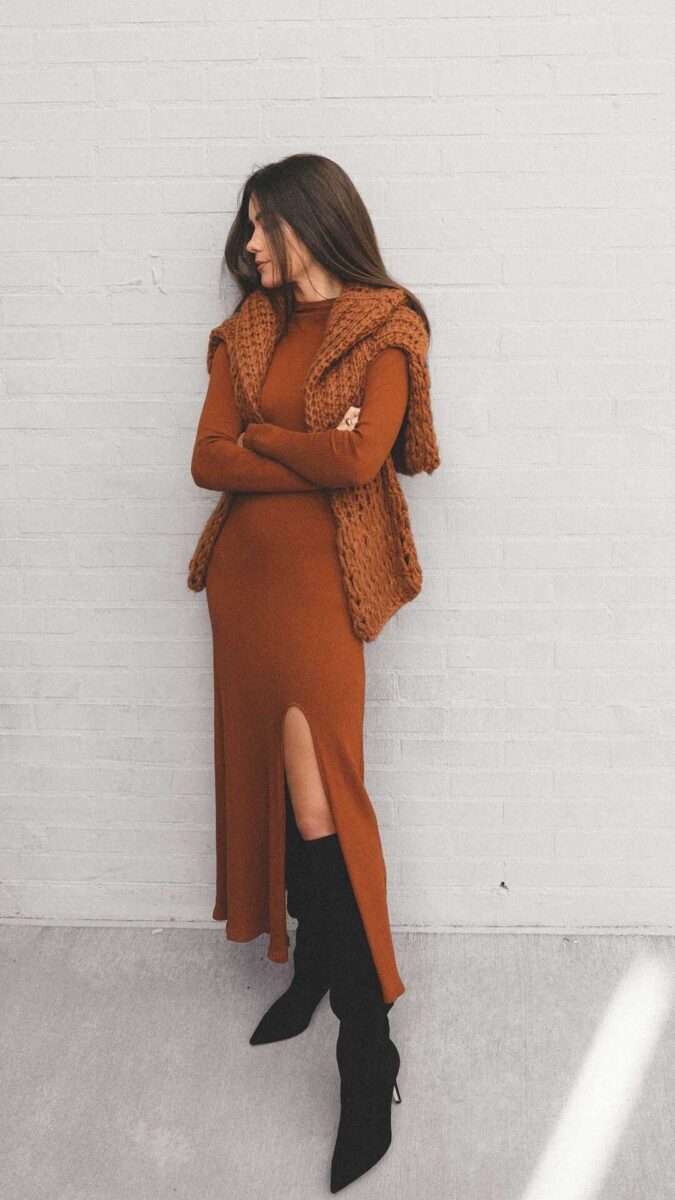 Leather Jacket + White Top + High Waist Bleached Denim Jeans + Ankle Boots
Investing in a good white top is crucial! If you're on a long trip, you can benefit from a white tee more than once.
I would wear a white tee with a leather jacket, bleached denim jeans, and ankle boots — perfect for shopping and late night market trips! If you don't have a leather jacket, you can always switch it up for a good old denim jacket.
This is a great outfit (with lots of variations) for going-out during this weather, too.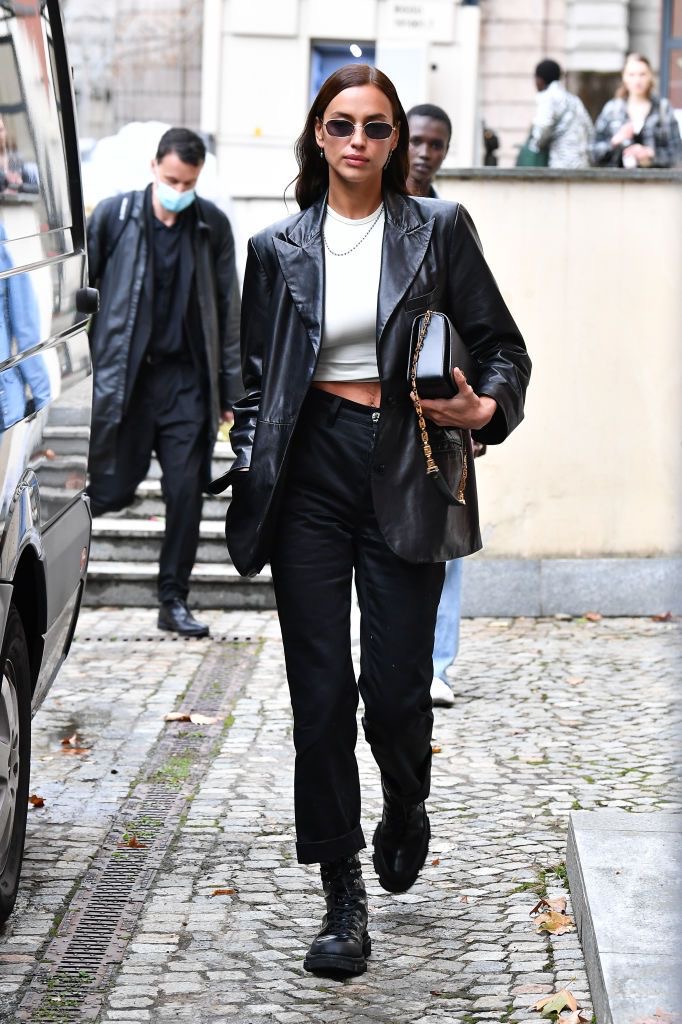 Knotted White Tee + Floral Maxi Skirt + Ankle/Knee-high Boots + Leather Jacket
Another way you can play with a white tee is by transforming it into a crop top. There are a couple of ways to do this: by tucking it with a hair band or by doing a classic knot. Pair it with a flowy floral maxi skirt, leather jacket, and boots to protect yourself from the cold.
If you want to turn the outfit to country-style, switch the jacket with a denim jacket. And if by chance the weather is not too cold, you can take the jacket off. This outfit is perfect for brunches and day trips!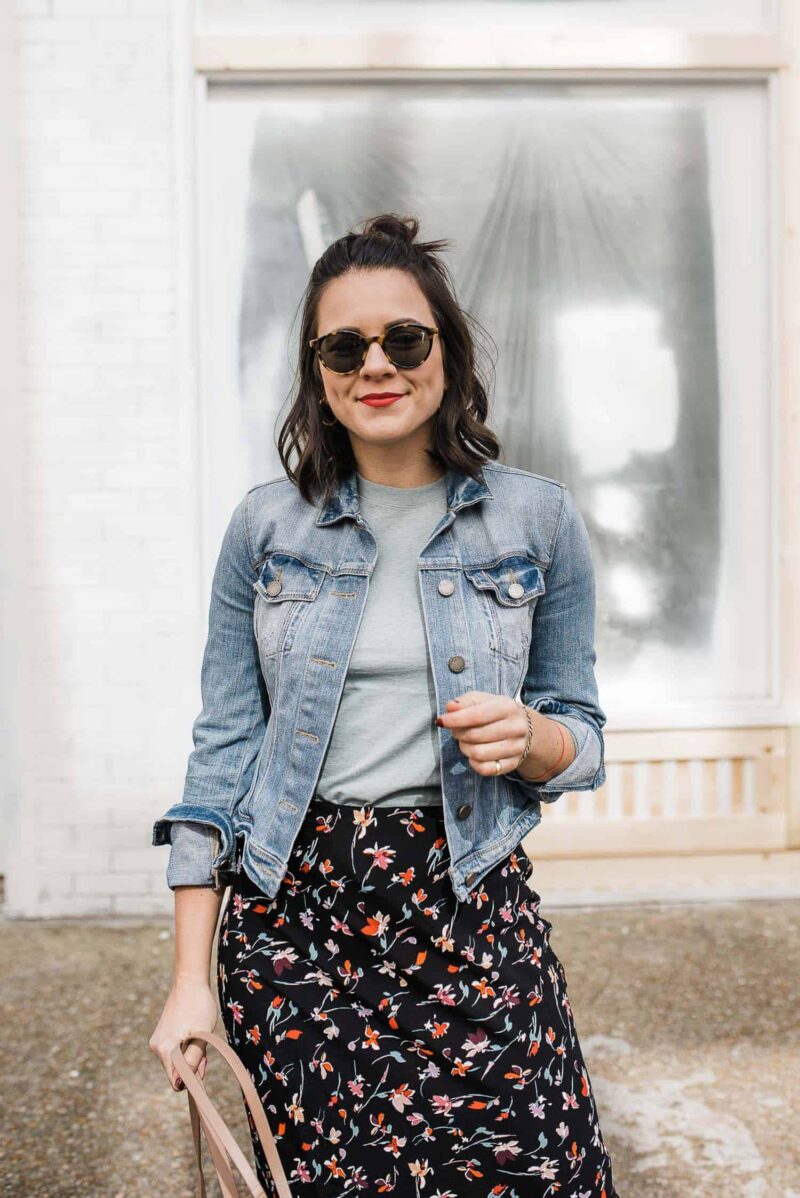 60-Degree Weather Outfits For Work
Turtle Neck Top + Trousers + Vest + Ankle Boots
There's no reason why you shouldn't explore layering when you're dressing for work! Layering can boost your creativity and help you stir an interesting impression among your peers/clients. Not overdone nor too simple is the goal.
A long-sleeved turtle neck top paired with a neutral-colored vest, trousers, and ankle boots can do the trick. If it's still too cold to go out in a vest, you can add an undershirt to keep the warmth without throwing off the whole look. Add a black leather tote bag to store your laptop and you're good to go!
Collared Blouse + Oversized Blazer + Short Pencil Skirt + Knee-high Boots
An easy 60-degree work fit? We got you! If you have a collared blouse, a hand-me-down blazer, a short pencil skirt, and knee-high boots, you're off and ready to run the busy streets.
If your work does not permit short skirts, which is well understood, you can put on thermal tights and switch your footwear with ankle boots to give the look balance. An oversized blazer can also be switched up with a long coat, if that is more accessible to you.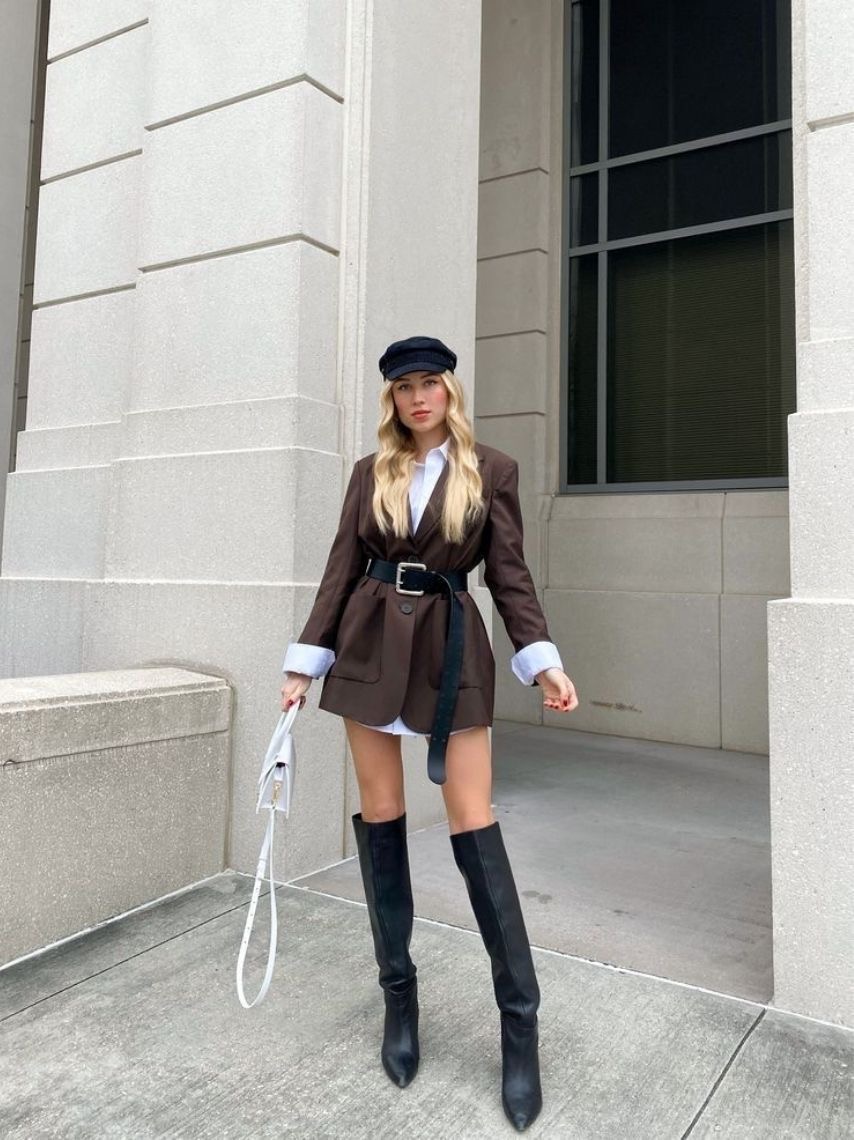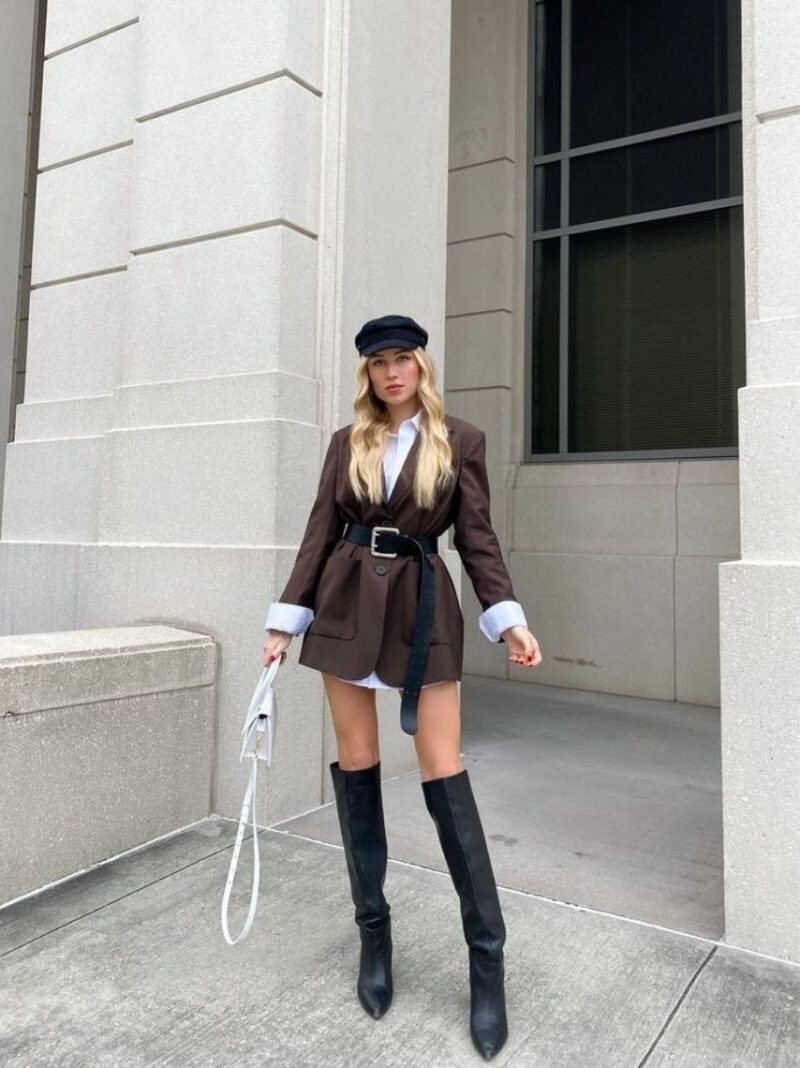 60-Degree Errand Day Outfits
White Tee + Denim Jacket + Denim Pants + Canvas Sneakers
Denim never fails to be a good workwear fabric, no matter what type of errands you're running. When you're out 'adulting' in 60-degree weather, you have to make sure that you're comfortably dressed and ready for unexpected circumstances without forgetting to be stylish.
A sloppy outfit is not what you want your colleagues or your friends to see you with. This ensemble can make you look smart even when you're just running errands.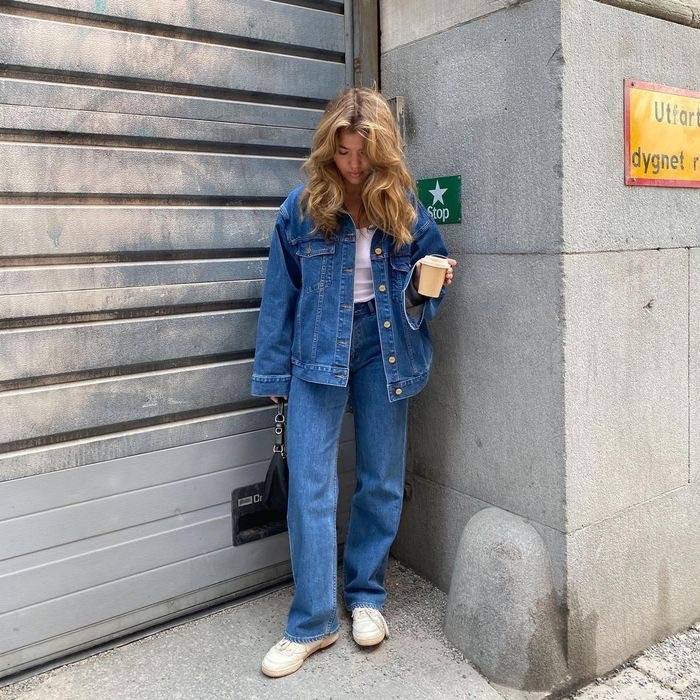 Leather Duster Jacket/Coat + Sweatsuit + Chunky Boots
So let's say you're just off for a simple, no-brainer errand — like a trip to the grocery store or the pet supplies shop. You have your favorite sweatsuit on, it's almost freezing cold, and you're not ready to take that off yet. Instead of stripping off your favorite sweatsuit, why not make an outfit out of it?
My solution is simple: just add a leather duster jacket (or a coat) and a pair of chunky boots or white chunky sneakers. A puffer vest is also a good stylish alternative to a coat. Trust me, with this ensemble, nobody will suspect you didn't change out of your home clothes!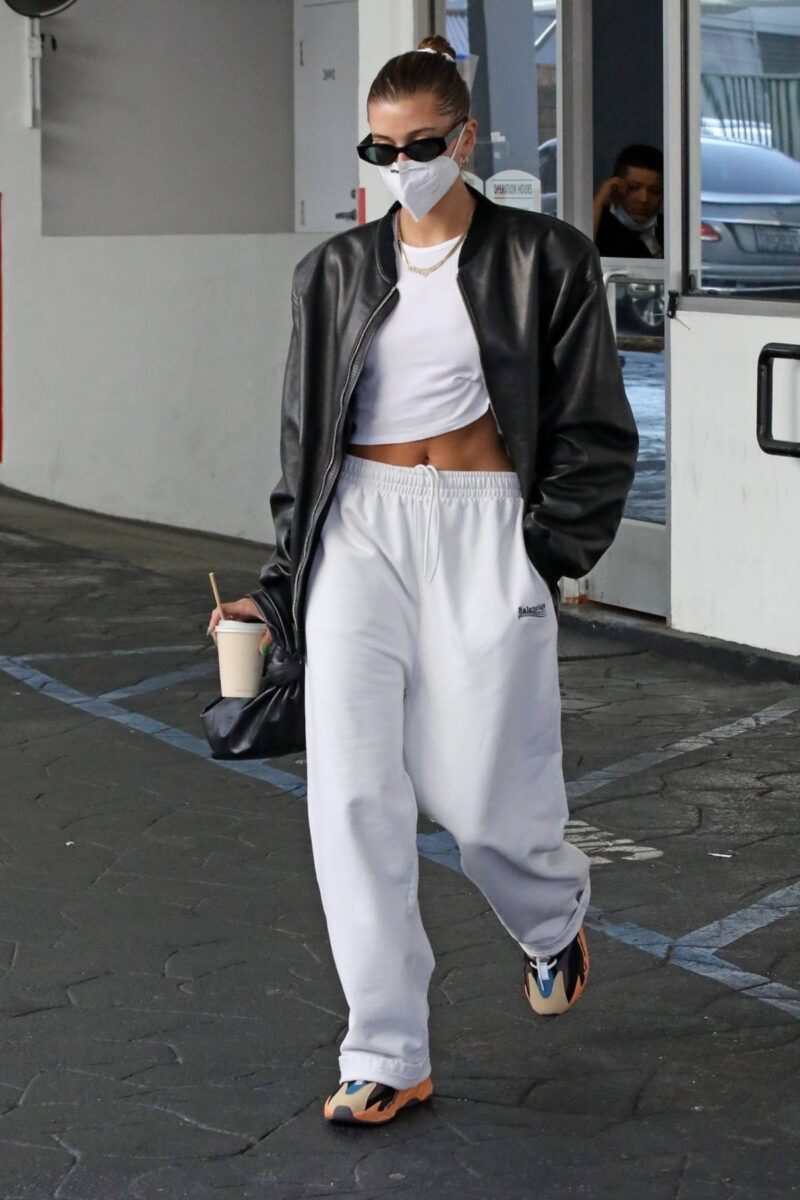 Workwear Overall + White/Black Top + Sneakers/Chunky Boots
When you're off for errands, the last thing you want to happen is to drain yourself out even before you step out of the door. Save your time and energy by putting on a jumpsuit and an undershirt (white shirt) for cute and easy 60-degree weather outfits.
Put on your most comfortable pair of shoes, may it be chunky boots, white canvas sneakers, or running/sports shoes.
My favorite workwear jumpsuit/overall is Carhartt's Relaxed fit Bib Overall.
There are so many different ways to wear overalls for really unique 60-degree weather outfits!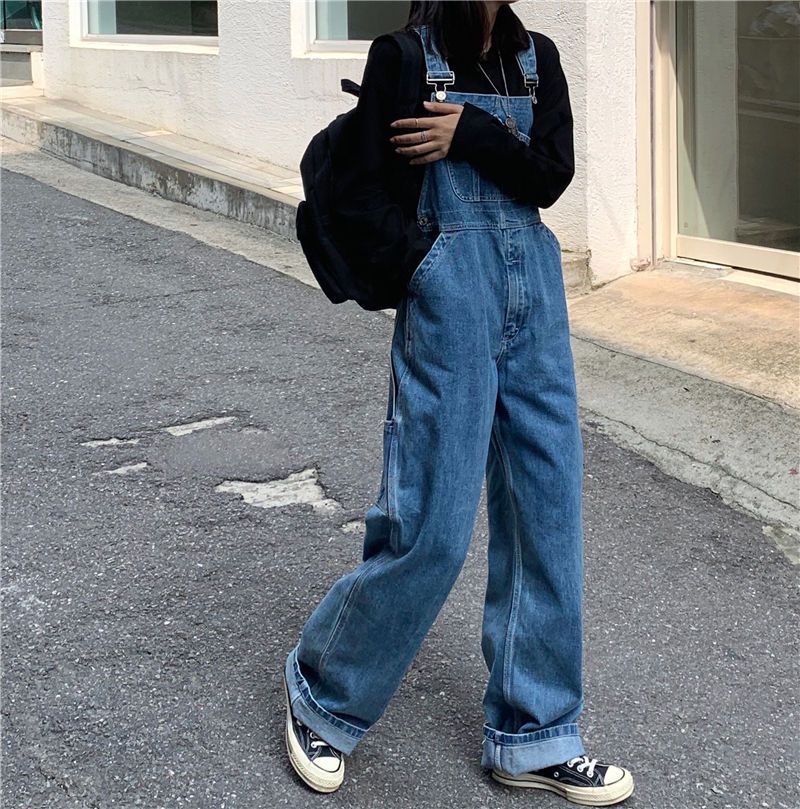 60-Degree Weather Outfits For All Things Daytime
Halter Crop Top + High-Waisted Bootleg Jeans + Trench Coat
Spring and Autumn are the best seasons to bring out your favorite trench coat, especially if you're not over wearing your fits from the warm months. When you have a trench coat on, you can basically wear anything. For me it's a halter crop top with high-waisted bootleg jeans.
Why the wide leg? A wide leg can spice up the silhouette of a trench coat outfit. I love how the whole outfit looks like a double overlapped triangle!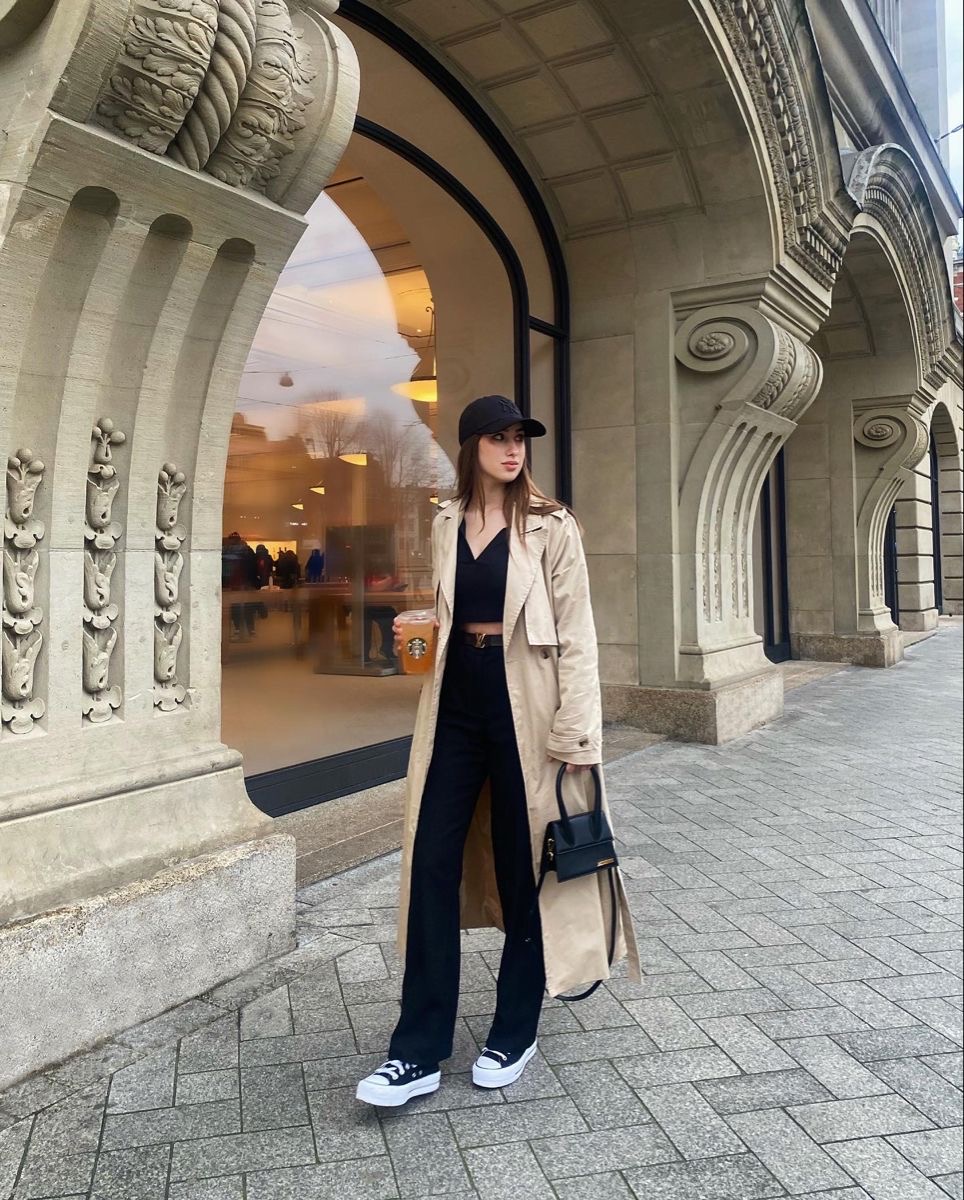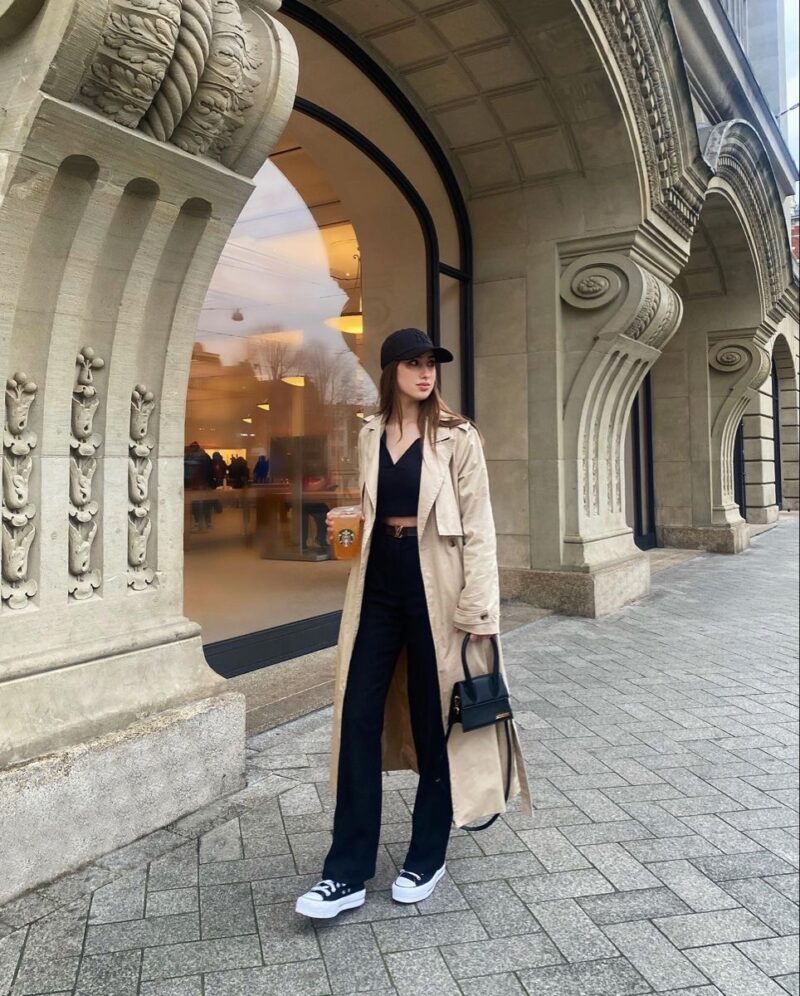 Thermal Leggings + Shacket + White Shirt + Loafers
Hangover from last night? When you're out for breakfast in a dizzy state, the last thing you want to think about is what to wear. A shacket, thermal leggings, and a nice pair of loafers can make you smart and sophisticated even without the extravagant layers. You can wear a white shirt beneath your shacket for that maximum warmth and comfort.
This 60-degree outfit is also perfect for those lazy days when you have to look dressed and tailored. If you want to bring in a little effort, you can add a couple of gold/silver accessories or a silk scarf to complete the fit.
Ruffled Blouse + Blazer + Midi Skirt + Ankle Boots
Feeling like a modest fashionista today? Don't hesitate to mix and match! A ruffled blouse goes perfectly with a blazer just as a classic button down shirt does — only more cheerful! To make it interesting, add a midi skirt to the fit. This can be a pleated A-skirt, a pencil midi skirt or a flowy maxi skirt depending on your preference.
I like to finish this off with ankle boots for that comfortable yet stylish coverage. If you're feeling fancy, you can tie a printed silk scarf to your handbag for a nice accent.
Blazer + A-line Pleated Dress + Belt (Givenchy style)
The blazer, A-line skirt/dress, and belt is a Tik Tok-famous ensemble, gaining traction after fans dig up outfits from VIP guests in Givenchy fashion shows. Wearing it for a me-time brunch out would be like an effort to romanticize your life, to make a spectacle out of mundane things like getting breakfast.
If you want to add a bit more drama to the outfit, you can wear a silk scarf over your head and a pair of your favorite sunglasses. Now, you're ready to face the day!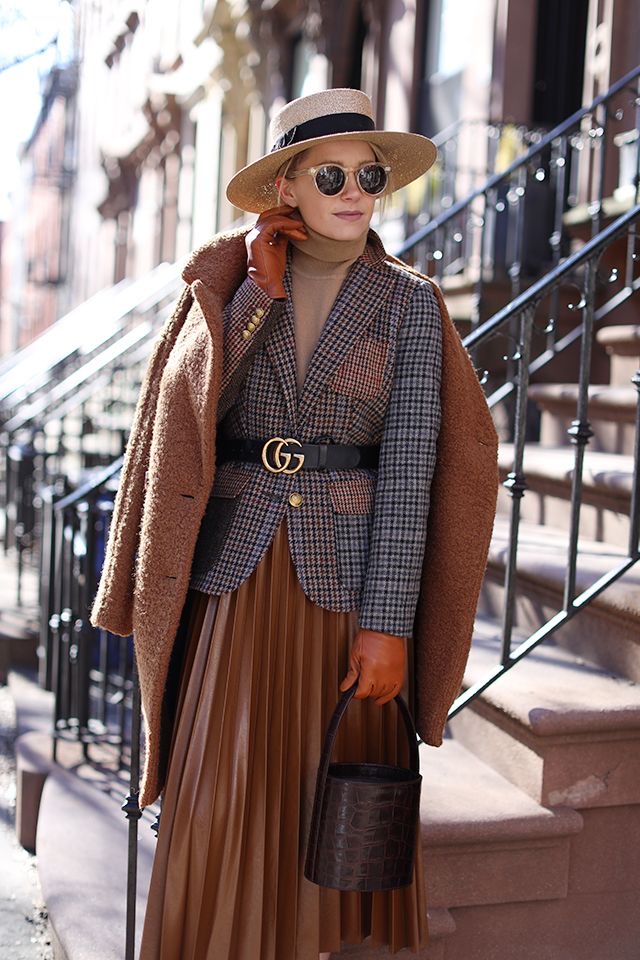 60-Degree Chic Outfits
Silk Tank Top + Denim Jeans + Shaggy Fur Jacket + Stiletto Heels
Thinking of what to wear for your birthday in a cold-but-not-too-cold, warm-but-not-too-warm weather? You must be an expert by now, but there's no reason why you shouldn't discover new [outfit] possibilities!
If you're used to covering yourself completely, that's okay. But if you wish to show off a bit of skin or play with silhouettes, a silk tank top covered by a shaggy fur jacket can instantly make you the star of the show. Pair it with denim to look a little casual and stiletto heels to finish off the look.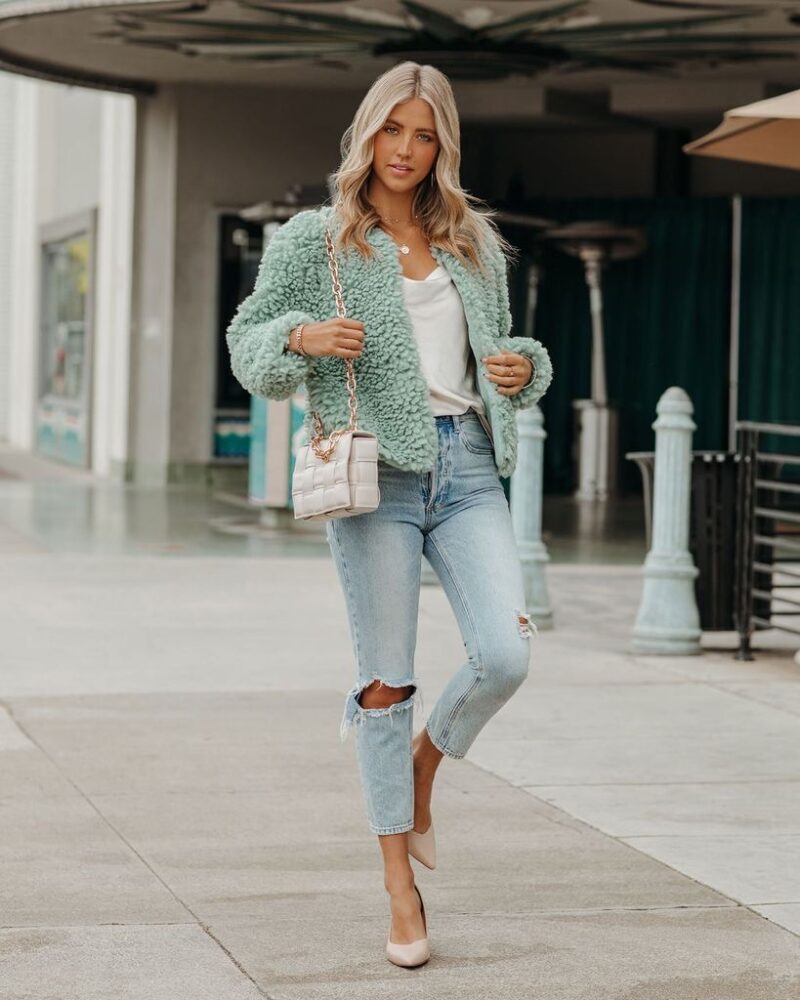 Turtle Neck Long-sleeved Top + Suede Mini Skirt + Knee-high Boots
A classic, no brainer, fall ensemble would be a turtle neck long-sleeved top, a suede mini skirt, and knee high boots. If the weather is any colder, you can add tights underneath your skirt. Nobody will notice a thing!
Ideally, I also wear tights if I don't have knee-high boots lying around. It gives your legs ample coverage to survive the cool breeze of fall. The best colors to incorporate into this outfit would be earthy tones and neutral colors.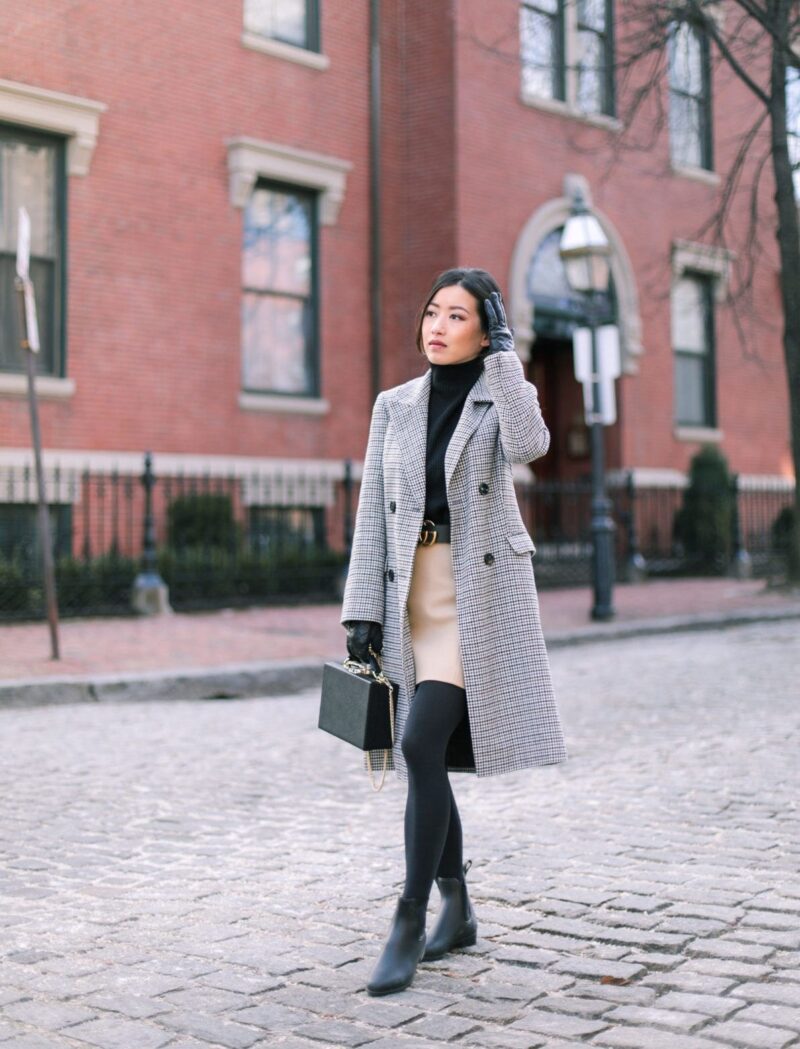 60-Degree Night Out Outfits
Silk Dress + Fur Coat + Knee-high Boots
It's tricky to dress out for a night out in 60-degree weather. There has to be balance — a sort that compliments your body without compensating comfort and warmth. Since this kind of weather is not exactly winter, you don't have to cover everything just yet. Consider wearing a silk dress and knee high boots.
Cover up with a fur coat (not the cropped type) to keep warm. You can freely take this off once you get to your destination if the interior temperature allows. Night clubs usually get hot as the night progresses, so you won't have to worry much about the place not having a heater.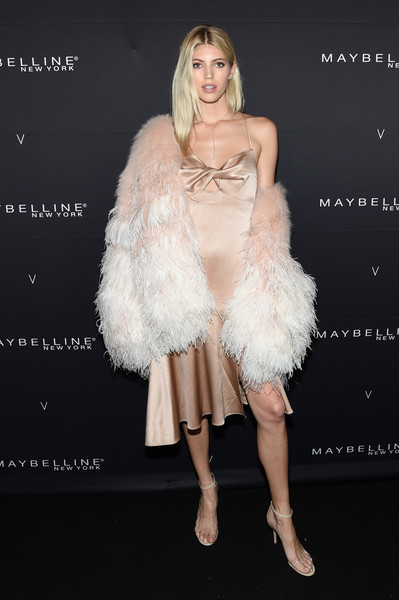 Black Lace Bodice + Black Blazer + Denim Jeans
Want to show a bit more skin? A black lace bodice or a corset-type top is your best friend. It may be the last thing you would think about, especially having to walk the breezy streets before reaching your destination.
But as mentioned earlier, clubs get hot with all the dancing and the commotion going on. A black blazer that you can easily take off is practically enough. To make it more casual-looking, finish off with a pair of denim jeans.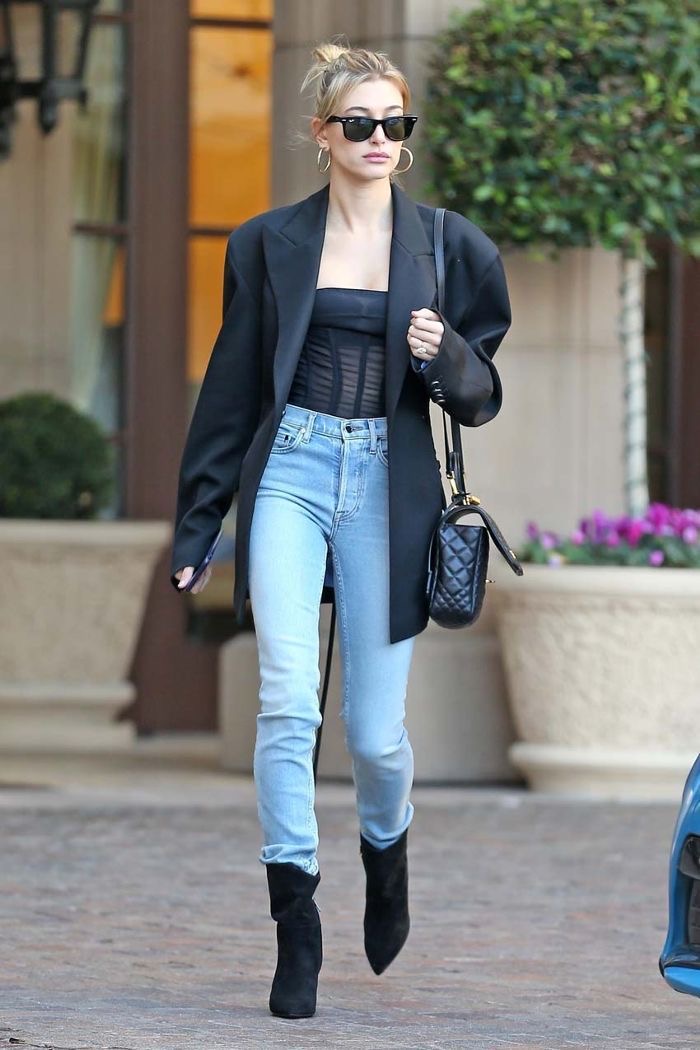 Tube Bodysuit + Jeans + Leather Jacket + Knee-high Boots
Want to keep it simple but elegant? Nothing can do basic better at night than a sexy, unassuming tube bodysuit. Think Kim K. style. To give it a bit of spice, you can play with the colors instead.
For example, a nude or beige shade for your bodysuit may look great with a pair of burgundy knee-high boots. Or if you're feeling bold, you could go all-black from head to toe, finishing off with chunky combat boots for a change.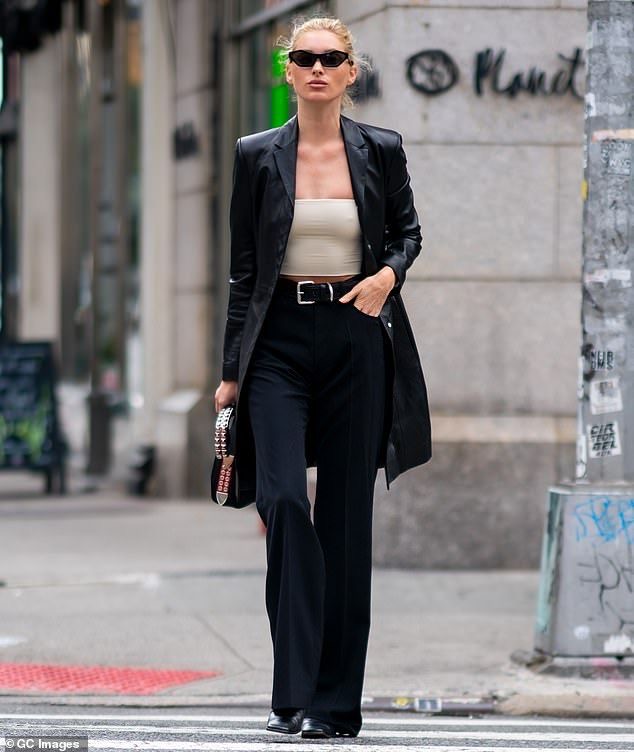 60-Degree Running/Workout Outfits (Morning, Night & Rainy Days)
Morning: Breathable Fitted Long-sleeved Top + Breathable Leggings + Running Shoes Of Choice
If you ask me, the best time to go for a workout or a run is when it's 60-degrees outside. It's not too hot nor too cold. A little breeze can benefit sweaty pits! Kidding aside, understanding the weather and the mechanism of your body is important in picking out the suitable outfit for running.
In the morning, you might prefer to wear a breathable fitted long-sleeved top paired with leggings or shorts. If you plan to run in the earlier parts of the morning, leggings are the most ideal.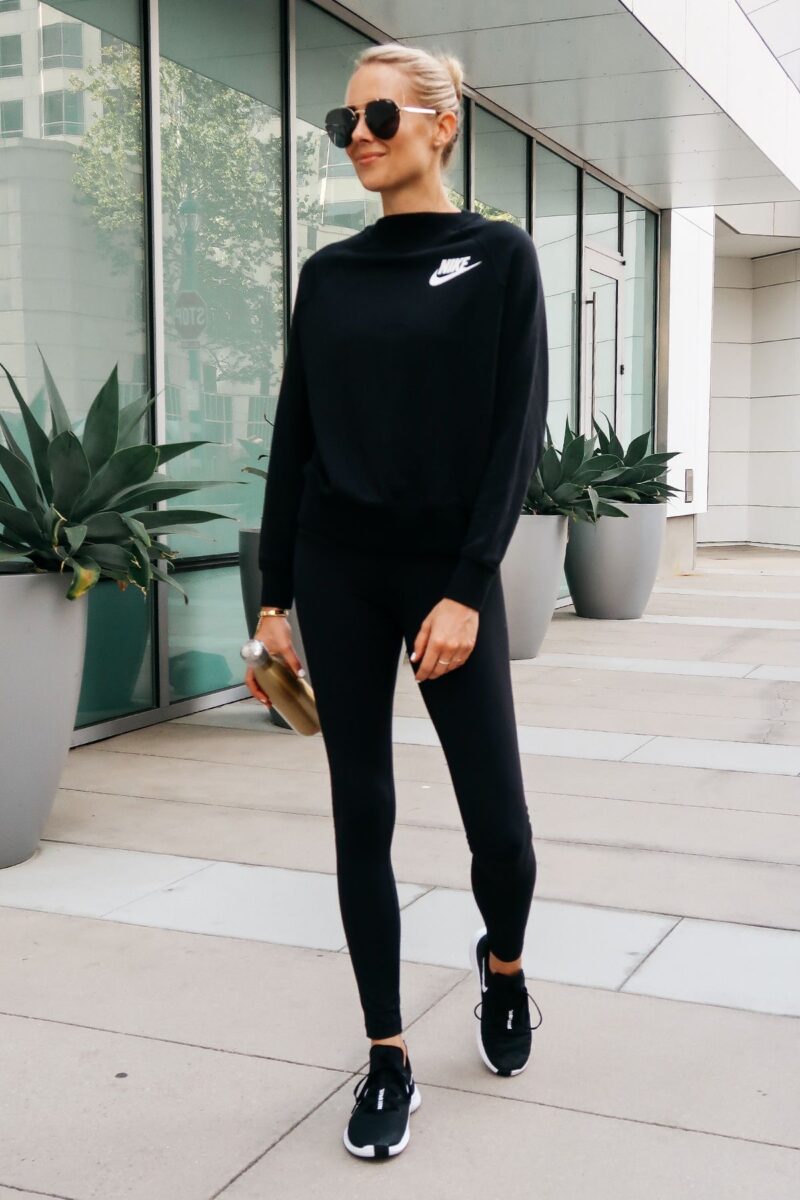 Night: Breathable Dri Fit Shirt + Windbreaker Jacket (Preferably with reflectives) + Leggings + Running Shoes
Running at night is different from a fall or spring morning. You might notice that the temperature drops during the night, often unpredictably cold. Naturally, a thorough feel from your window or a quick weather check before deciding what to wear is a good idea.
If you think the temperature has dropped or if the wind is colder than it was in the afternoon, it's time to bring out your light windbreaker. And, since you're running at night, make sure you're wearing safety reflective.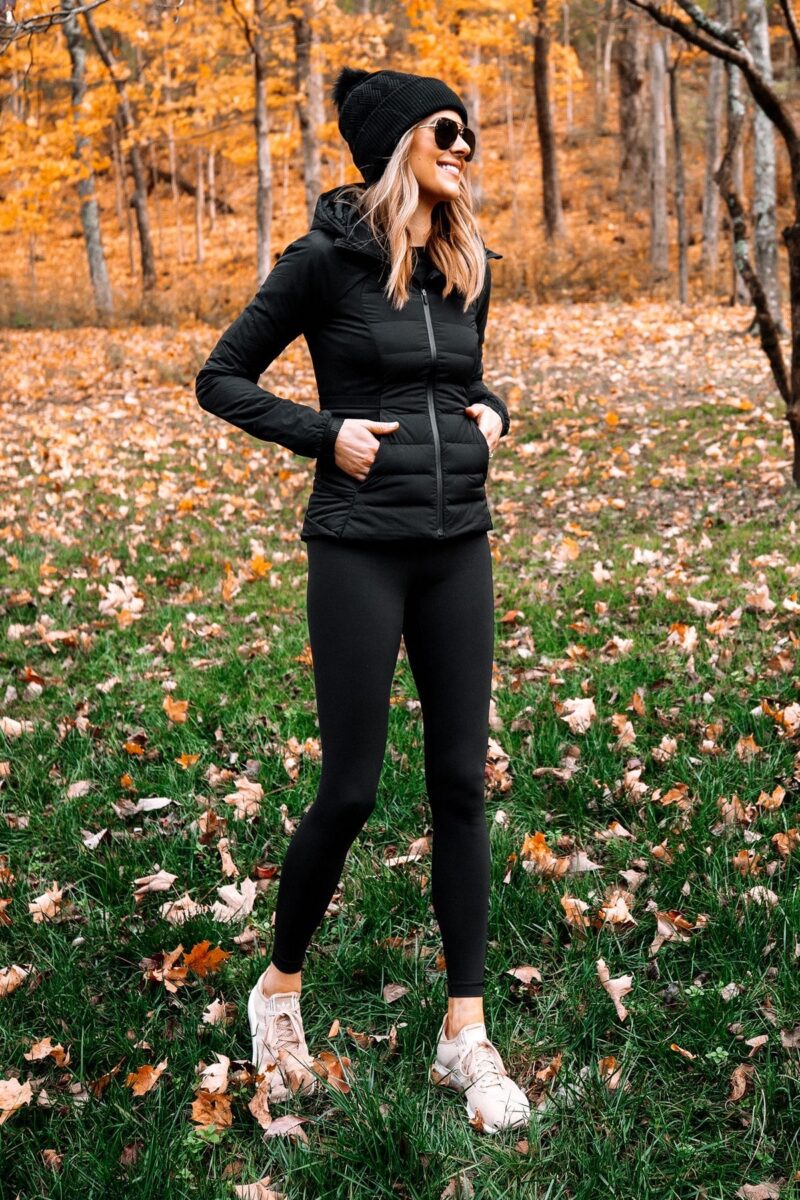 Rain: Breathable or Long-sleeved Top + Light Rain Jacket + Quick Dry Leggings + Gore Tex Trail Running Shoes
Running rain or shine? Nobody can stop you! For a rainy run, you will have to wear a slightly heavier fit.
You can wear your windbreaker for a lighter alternative, but it will not protect you from getting wet. But no matter what, do not wear a cotton shirt. This will weigh you down faster than wearing a breathable top with a rain jacket. If possible, make everything quick-dry.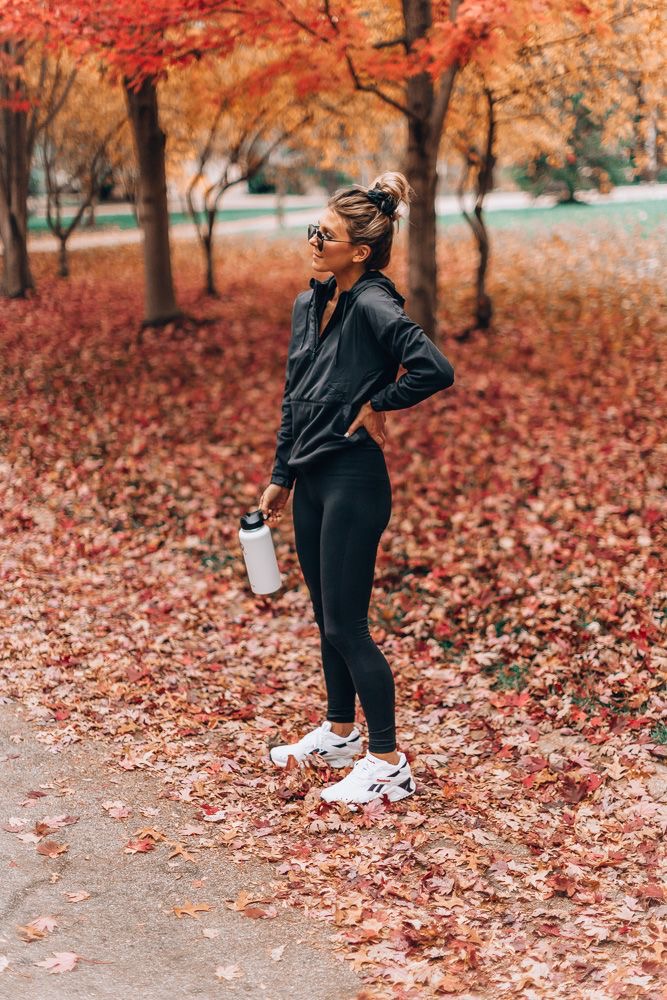 If you like running rain or shine, you can check out What To Wear Running: The Ultimate Guide For Every Temperature.
Hopefully, this guide helped you figure out what to wear in 60-degree weather. This temperature feels really tricky when choosing an outfit but it doesn't have to be! Remember to layer, find a cute jacket, and dress based on the event you're going to.