This shop has been compensated by Collective Bias, Inc. and its advertiser. All opinions are mine alone.The following content is intended for readers who are 21 or older. #JackLinksDad #CollectiveBias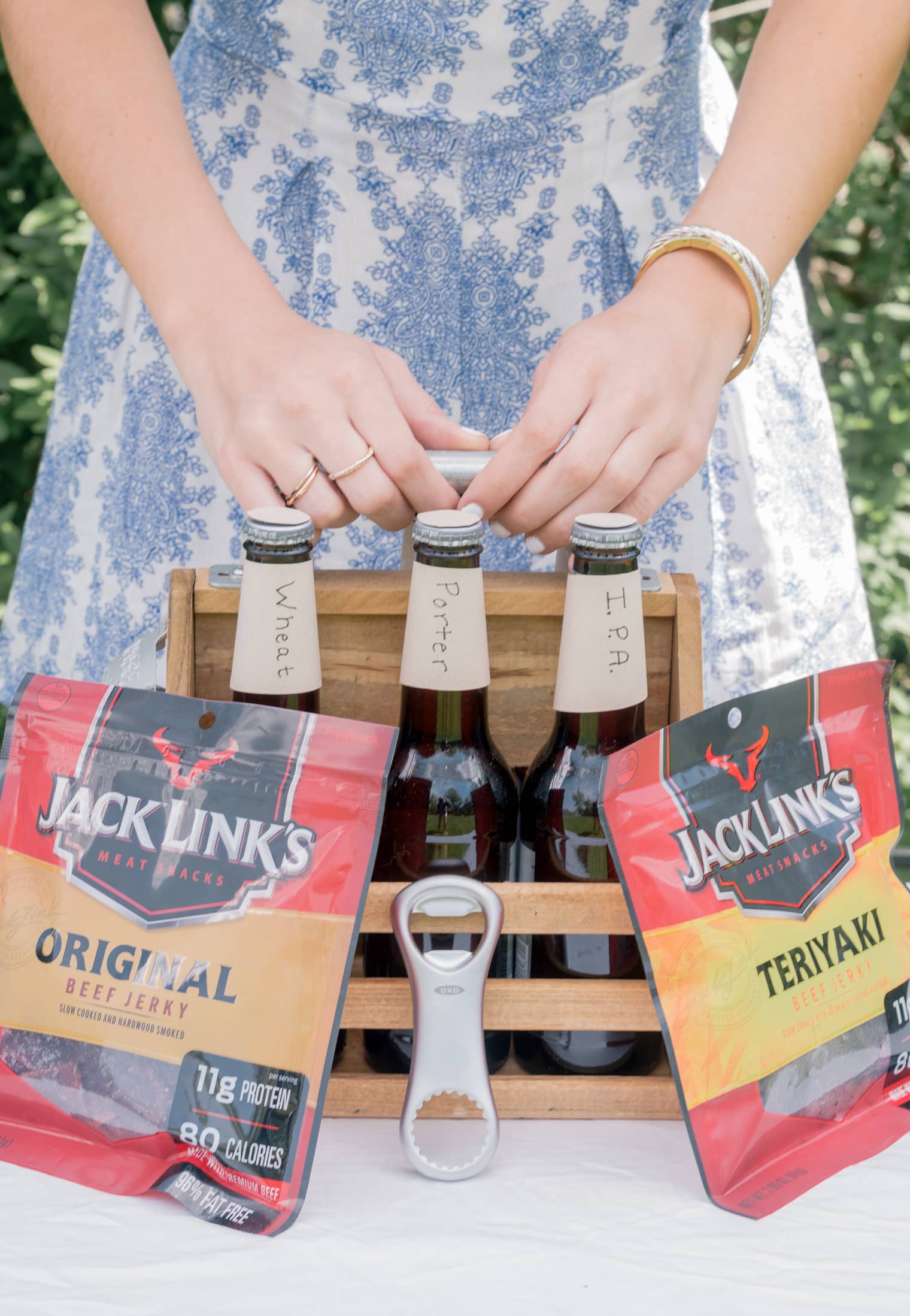 I've never been more stressed in my life than when I have to buy a present for a guy.
Whether I'm buying for my boyfriend, dad, or brother, they're all just as difficult when it comes to gifting.
My dad is mainly into sports and fishing, my brother loves video games and lifting weights, and my boyfriend likes skiing and anything space-related.
All of these things are great, but the problem is that I don't know much about any of them, and would probably give an super basic gift that won't be used very often.
Gift baskets for men are especially difficult. There aren't lots of things that guys would actually appreciate receiving, especially in gift basket form.
Depending on what the guy you're buying for is into, there's only a few simple things you could include in a man gift basket. Some of my favorite types of gift baskets for men are:
An outdoorsy man gift basket filled with camping supplies or snacks and gadgets for a guy who likes to fish, hunt, hike, etc.
A variety of toolbox gift baskets for men that are filled with tools you know he doesn't have (such as a measuring tape, hammer, snacks while working, etc.). This is an especially useful man gift basket for a guy who just moved and doesn't have a lot of tools or is in need of specific items
A collection of sports items representing his favorite team
A craft beer gift basket. If the guy likes beer, it's hard to go wrong with this one, which is why it's one of my favorite beer gifts to put together.
So, in an effort to actually get my dad something he'll use that isn't sports-related for this Father's Day, I created a DIY craft beer basket.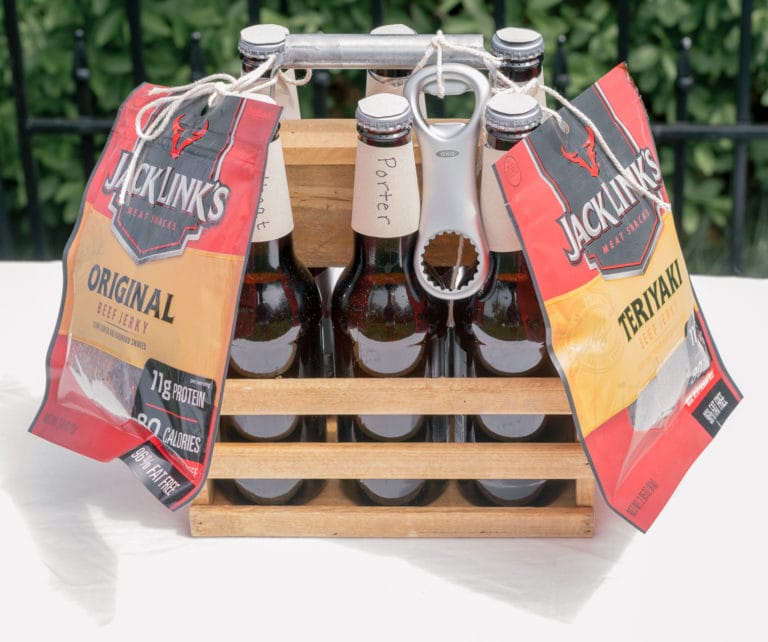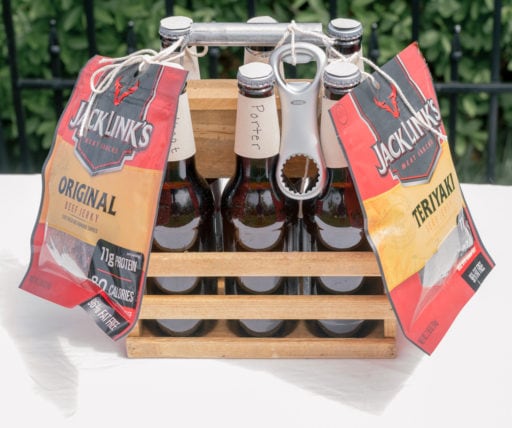 I thought that this super simple DIY beer basket might be useful to anyone else who struggles with gifts baskets for men! In my experience, beer gifts are always welcome, and this is a cute way to put something special together.
How to Put Together a DIY Beer Basket
Let's be real: a true beer lover can almost never have too many beer gifts. This beer basket took under an hour to source and put together; all of the pieces are from Target!
I kept it pretty simple and grabbed a wooden case from Target that holds 6 beers. It makes for a nice simple beer basket that is easily transported to a party or event.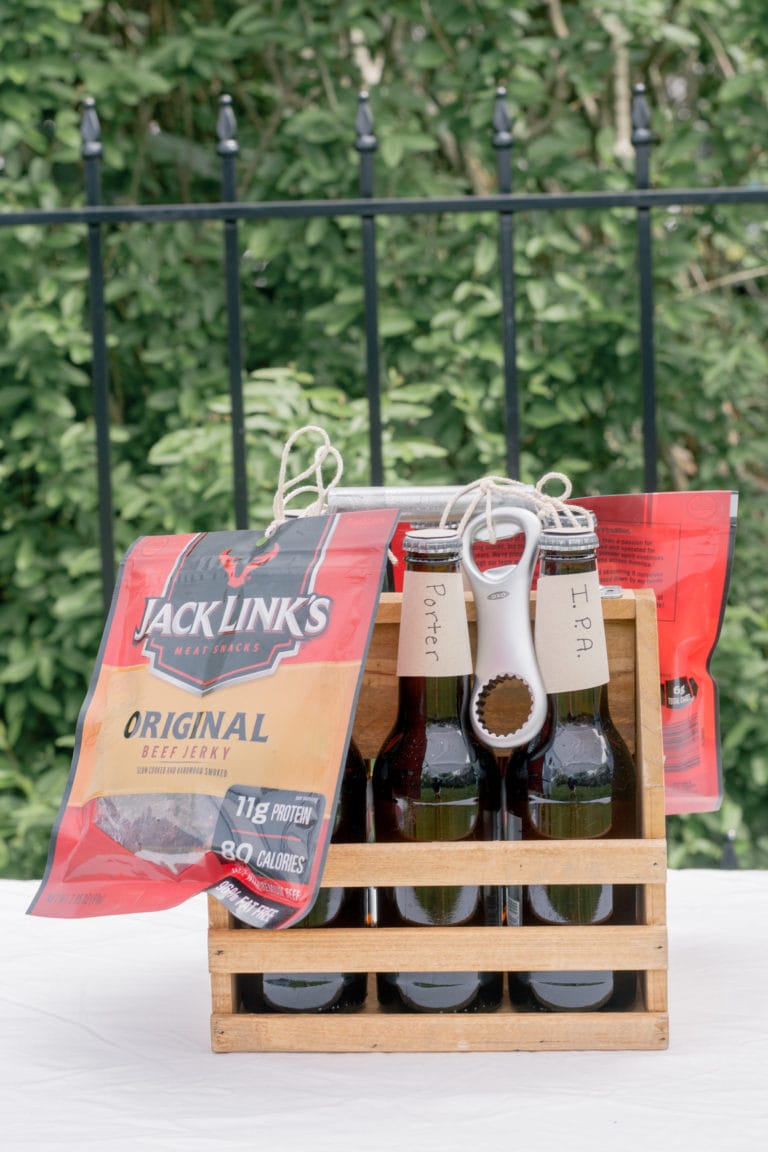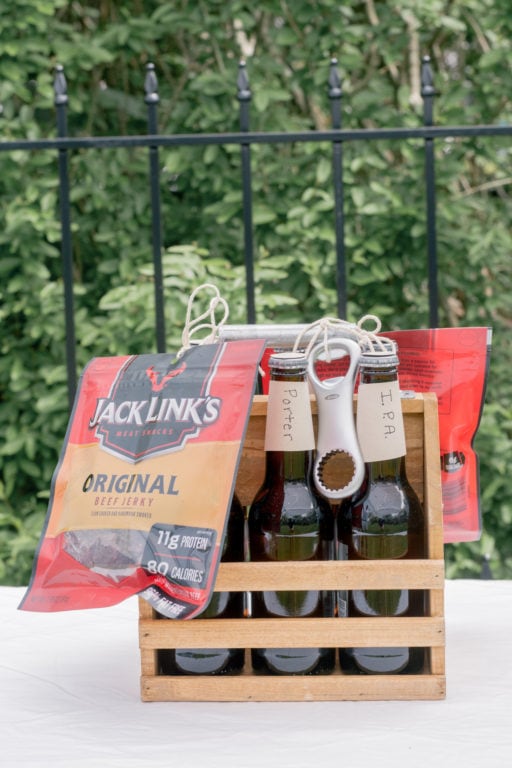 I then chose one beer of each of the general types to create a craft beer gift basket:
IPA
Lager
Stout
Pale Ale
Brown Ale
Porter
Wheat
If you don't know much about beer, then try to think about if you've ever seen this guy drink craft beer (maybe from a local brewery); in this case you'd be better off grabbing a few different local brews and creating a craft beer gift basket.
On the other hand, if you've only ever seen this guy drink light beer, then grab a variety and add on a few extra beer tools to create a different type of beer basket.
I know that my dad will have fun trying each of these types of beer, but you can easily tailor the type to the guy you're creating beer gift baskets for.
You could even just include one type of beer if you know that's all he likes; you don't necessary have to create a craft beer gift basket!
Because the labels didn't match and threw off my aesthetic, I cut and taped brown paper onto the sides and tops and wrote out each beer type with a black marker.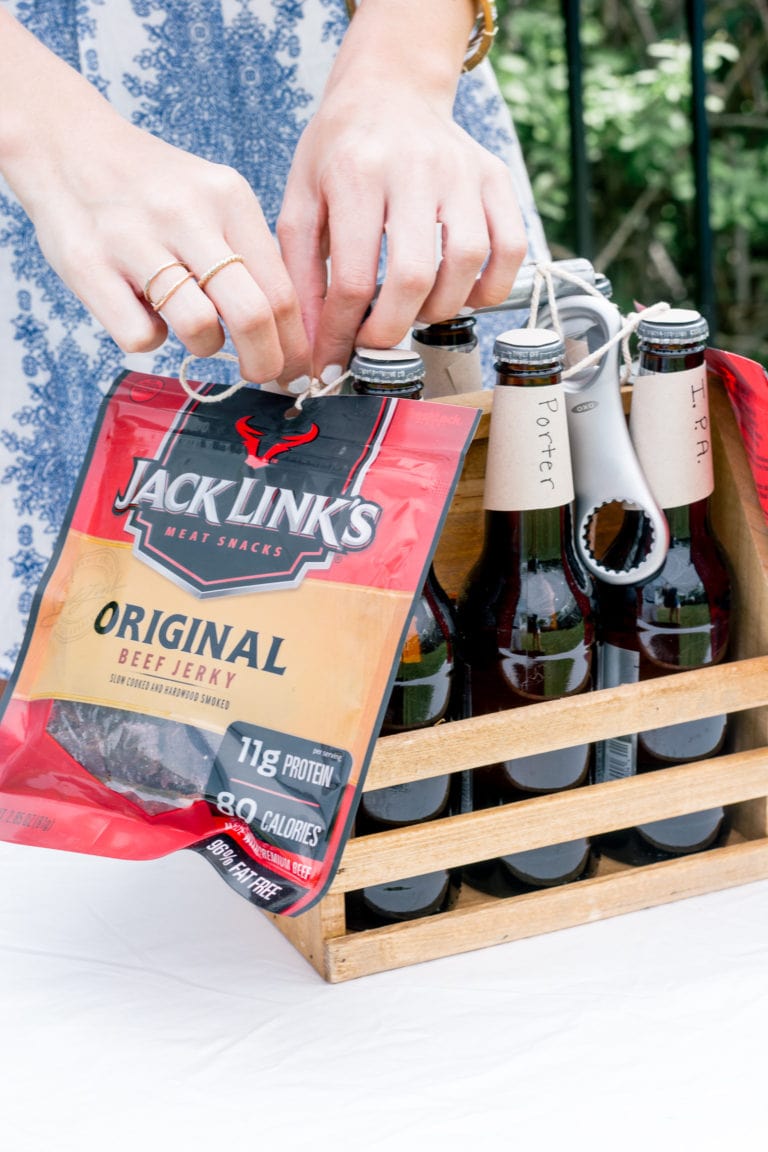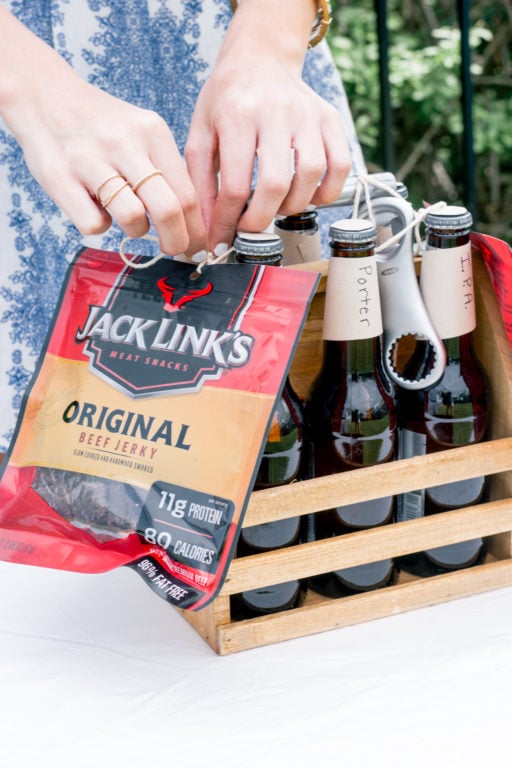 This step definitely isn't necessary but did make the beer gift basket look a little prettier!
I used twine to tie Jack Links® Beef Jerky onto the each side of the basket. I also tied a heavy duty beer opener onto the beer gift basket; I found all of the pieces for this basket at Target.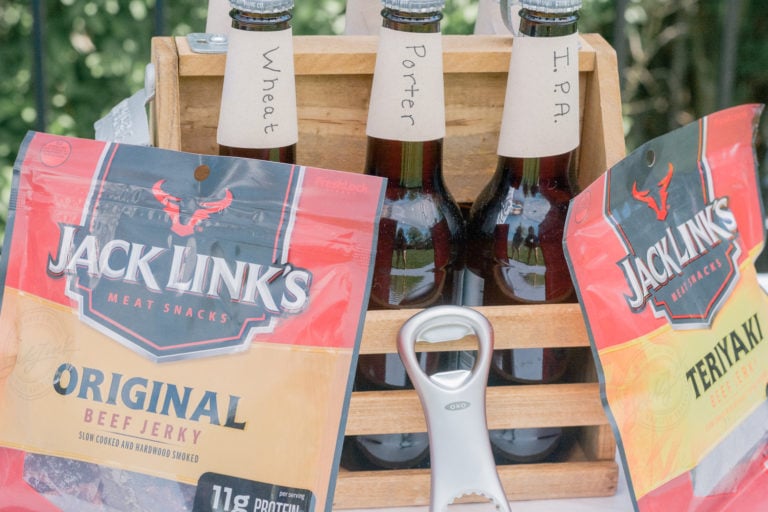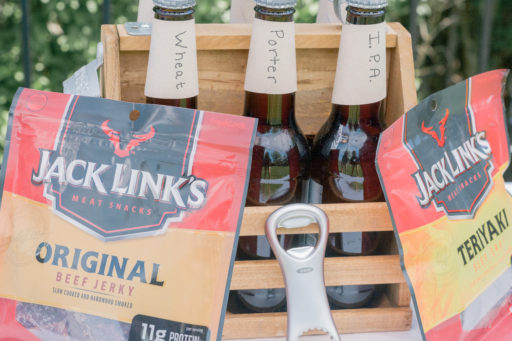 My dad loves Jack Links specifically in the Original Beef Jerky and Teriyaki Beer Jerky flavors so I attached those, but I plan on using Peppered Beef Jerky for future baskets as well.
I'm sure that the beer + jerky concept would be a huge hit with any guy!
Jack Links Beef Jerky are made with 100% real beef. They're great for road trips or outdoor snacking but are delicious (especially according to all my dad, brother, and boyfriend) for everyday snacking.
Click here to get 10% off Jack Link any size from 5/26 until 6/16!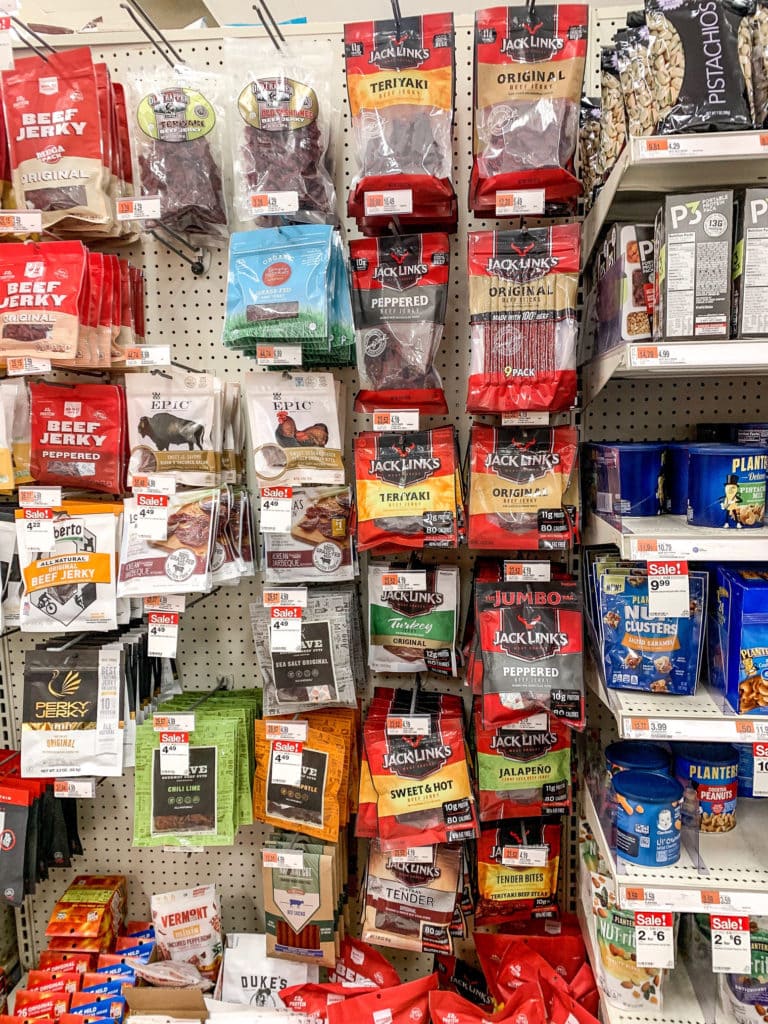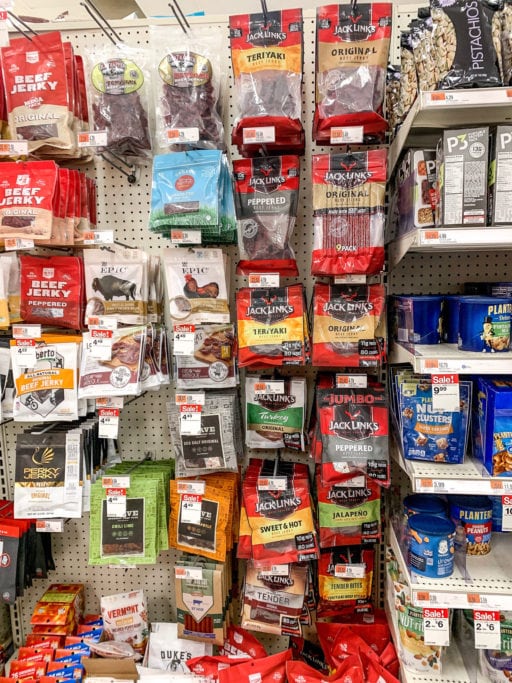 Beer Gift Baskets (Beer Gifts)
I love creating a fun craft beer gift basket (or any beer gift baskets) for any guy in my life. I find that every guy loves beer gift baskets! Beer gifts are always accepted and are perfect if you're simply not sure what to get a guy.
Go for a classic craft beer gift basket and you won't regret it! Beer gifts can come in a variety of ways but as far as gift baskets for men go, this beer basket is manly and is sure to be something he'll love.
Beer gift baskets are so easy and can be made a variety of ways. Do some research into your guy and see what type of beer gift baskets he may like.
This is one of my favorite gift baskets for men. If you're worried that your man won't like a man gift basket, then check out a few different beer gift baskets for men. He'll for sure think it's masculine!