Kennebunkport Maine is super cute any time of the year, but I especially love a quick visit during Christmastime! The Kennebunkport Christmas Prelude is one of the biggest events, but there's lots of additional things to do around Christmastime that are unique to December.
Plenty of visitors flock to Kennebunkport Maine in the summer but don't realize that quaintness of the winter months. Sure, you can't exactly go to the beach, and you'll need to bundle up a bit (it's Maine) but there's a small-town New England vibe that lends itself perfectly to Christmas. Kennebunkport Maine was actually voted the #2 Christmas town in America by HGTV!
If you want to get in the Christmas spirit, Kennebunkport Maine is a great place to start! Here's some of my absolute favorite events and things to do during Christmas in Maine.
The Christmas Prelude in Kennebunkport Maine
The Kennebunkport Christmas Prelude is famous for a reason! It runs from the end of November to mid-December and has a huge variety of events during these two weeks.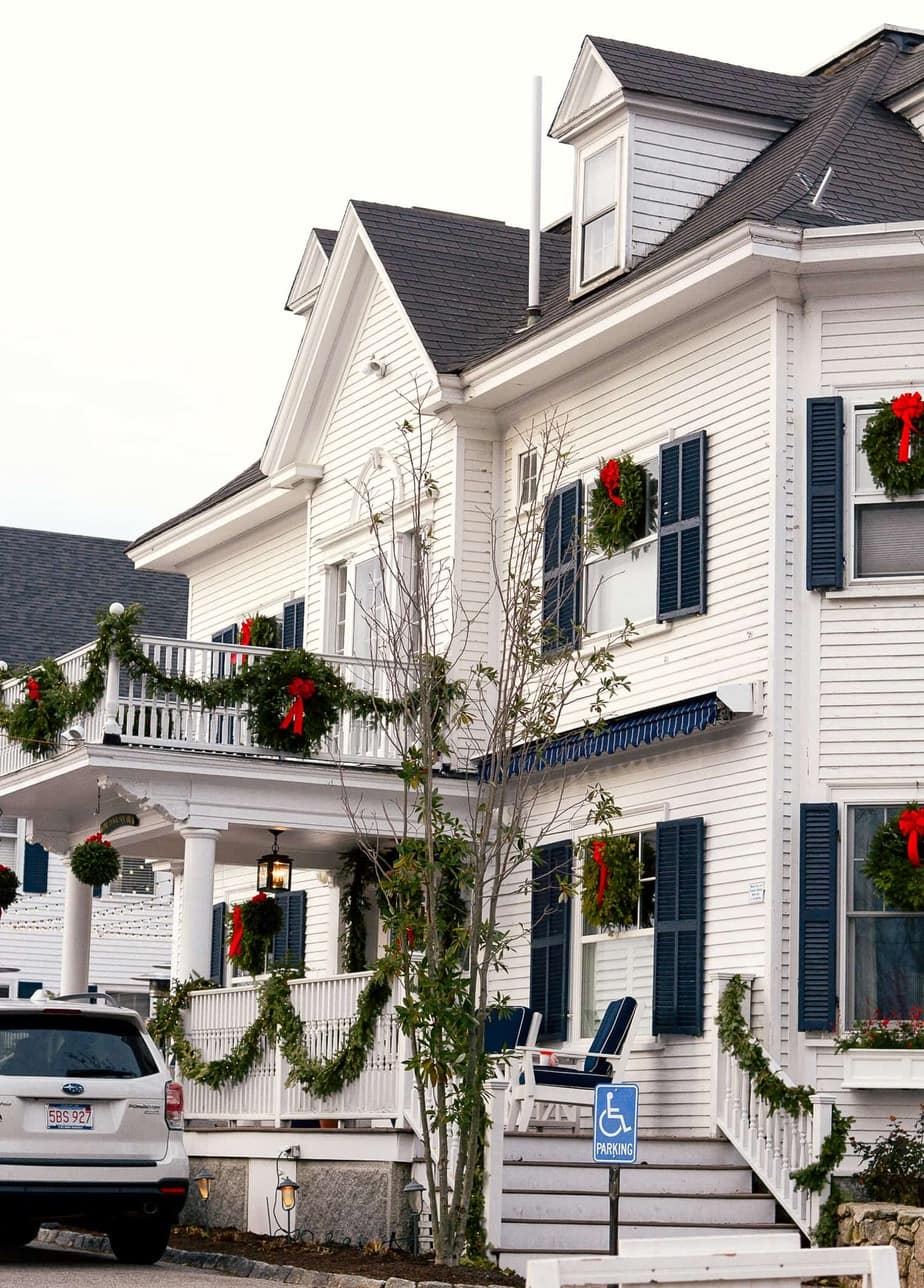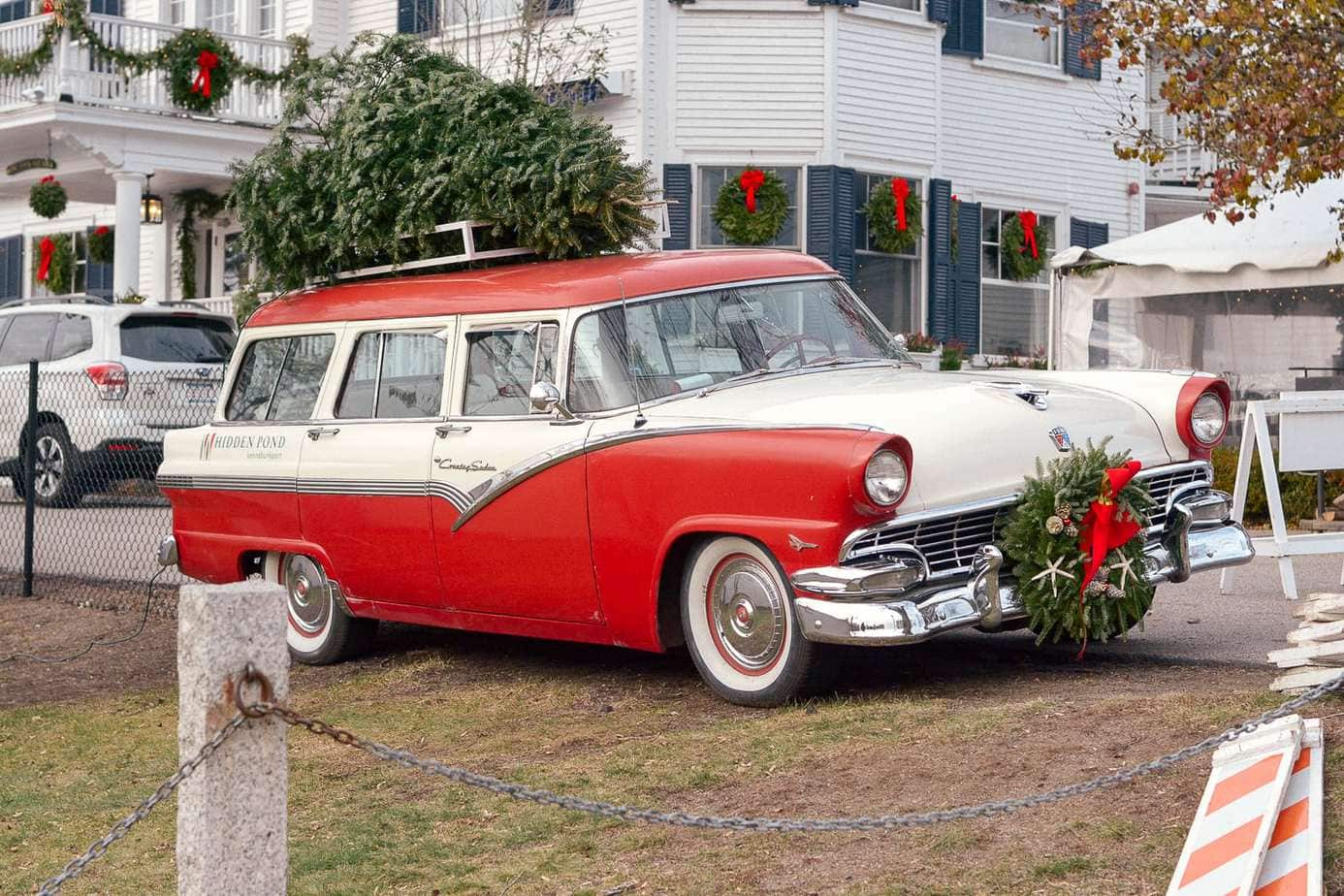 There's a bunch of big events on the kickoff day, so that's a great time to head up to Kennebunkport – you won't want to miss this first day! It's typically a weekend packed of activities, and the main tree lighting usually happens on that first Friday night.
There's way too many events to list, but some of the best are:
Christmas house tours
Fish chowder suppers
Prelude trolley rides
Beer tastings and brewery crawls
Spiked cider bars
Caroling parties
Game nights
A live Nativity
Bonfire nights
Live Christmas music
Christmas karaoke
Specialized breakfast events
Holiday gift fairs
DIY craft seminars
There's seriously so many things to do that you couldn't fit it all in even if you live in the area! Check out more info on the best events at the Kennebunkport Christmas Prelude here.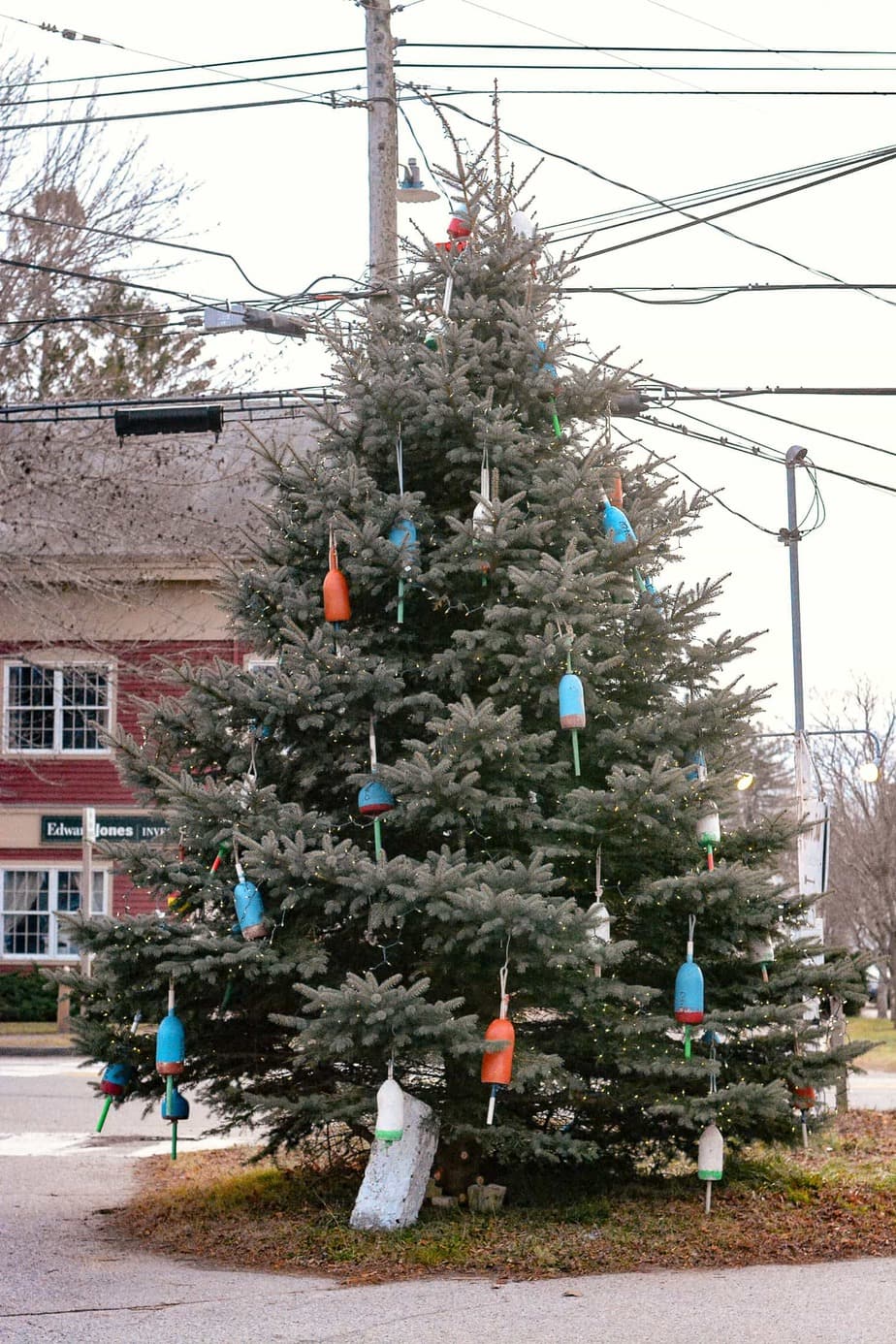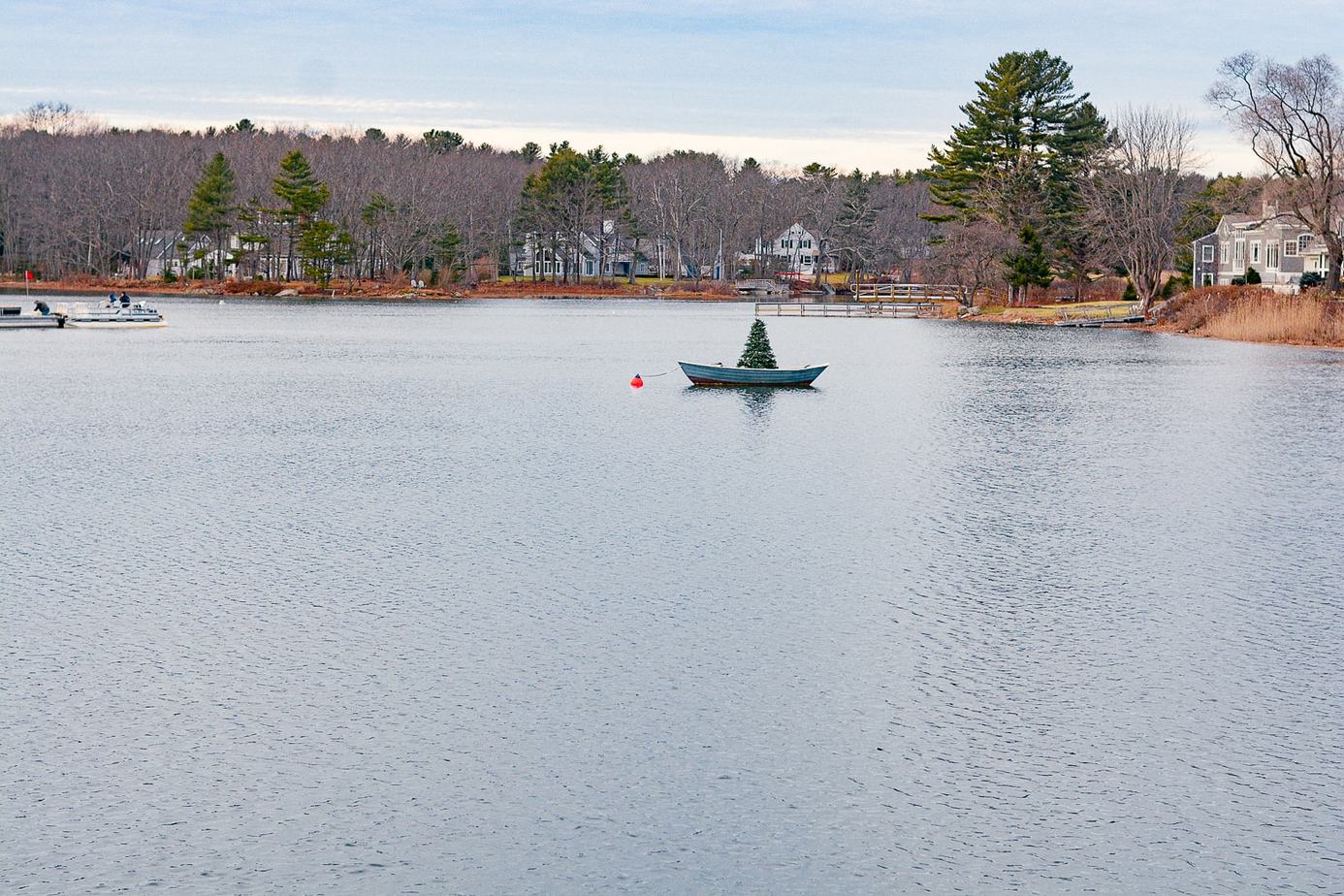 Fire & Ice Events at the Nonantum Resort by the River
A great addition to the Kennebunkport Christmas Prelude is the Fire & Ice events. They're held at Nonantum Resort by the River, and while they're technically part of the Prelude, these events are ticketed.
If you're interested, make sure to buy tickets in advance because (despite the somewhat cheap prices) they sell out super quickly.
These events are usually two nights only (Friday & Saturday during the last weekend of the prelude) from 5-10pm and are 21+. A big portion of the proceeds go to charity.
These events are held outside and include ice bars and sculptures, massive bonfires, tons of local food and brews, and different live music each night. The hotel is gorgeous and has tons of Adirondack chairs for guests to sprawl on.
There's also an indoor portion (it gets pretty cold out) with warm food, live music, and dancing. If you want an event that's a little more structured, these Fire & Ice nights are a great way to end the Kennebunkport Christmas Prelude!
Shopping in Kennebunkport Maine During Christmas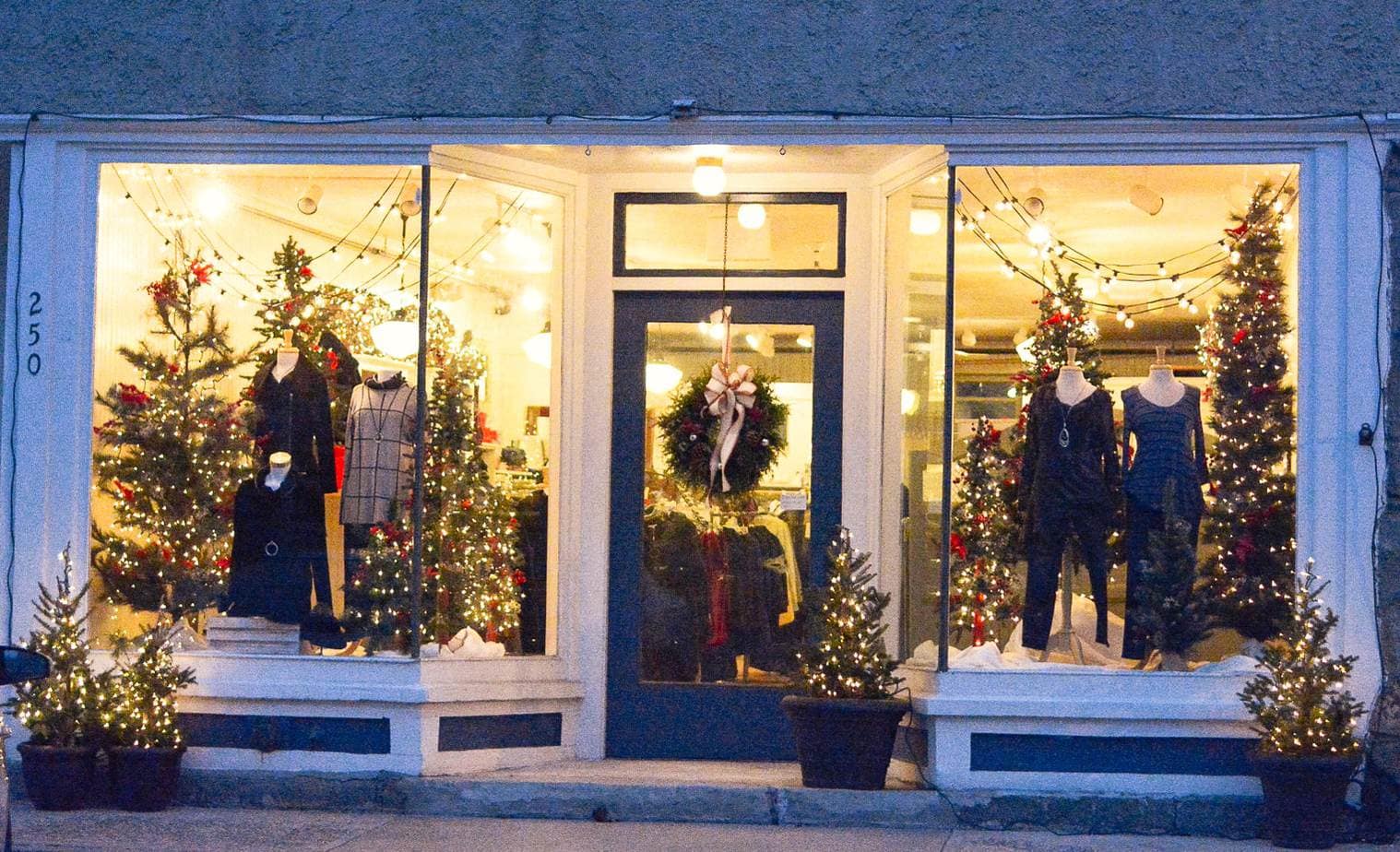 Shopping is always fun in Kennebunkport Maine, but it's especially great when you're quite literally freezing in December. The stores aren't too far apart, so you might only have to wear one coat.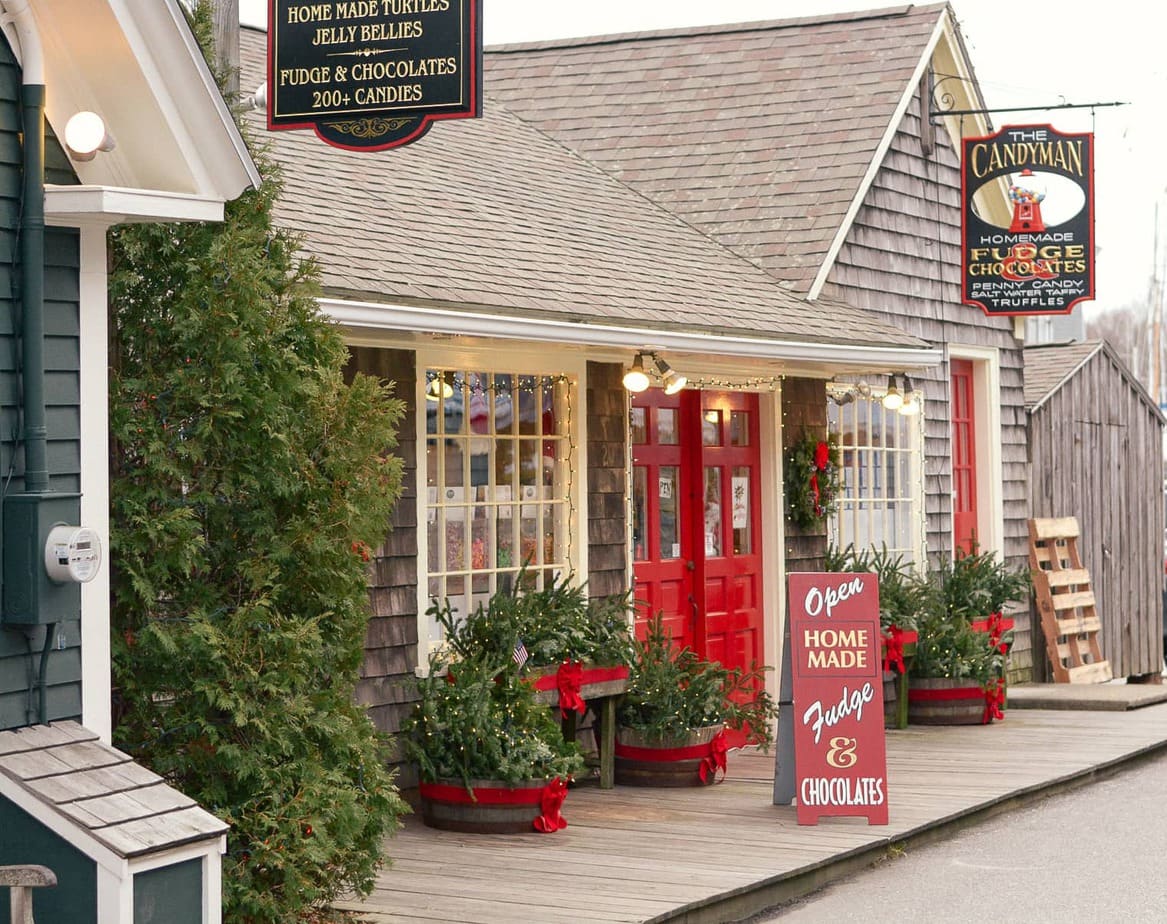 There's tons of different types of stores but here are my favorites for the season!
1. Daytrip Society
This is a great spot for high end, name-brand gifts and souvenirs. There's great travel gear, bags, jewelry, cards & prints, home decor, and fun eclectic items. Daytrip Society is easy to get to so it's worth a quick visit!
2. Main-ly Drizzle
The Main-ly Drizzle sells a huge variety of gourmet olive oils and vinegars. The store itself is super cute and the packaging is tasteful, making it a great stop if you're buying for yourself or need to stock up on Christmas gifts.
3. Minka Home
Minka has all sorts of sustainably made products by local artists. You can find gorgeous jewelry, home products, etc. that are mostly one of a kind.
4. Scalawags Pet Boutique
I personally love buying stuff for my pups so this is one of my favorite stops. There's lots of Maine themed outfits, toys, and pet accessories, as well as a bunch of cute preppy and more general stuff. There's also lots of pieces that represent Christmas in Maine. I got a plaid coat for my little dog that's super warm (I think, he's the one who wears it) and very New England! Scalawags is a great easy stop!
5. Farm + Table
Farm + Table is a little off the beaten path but it's way worth it. The gifts are so well-made and unique! It's very popular on Instagram (it's a great spot for a pic) and you can find some really cool stuff if you need to do some last minute Christmas shopping.
6. The Candy Man
A classic candy store is a necessary stop, especially in a small New England town. The Candy Man is a great choice and has a huge variety of stuff!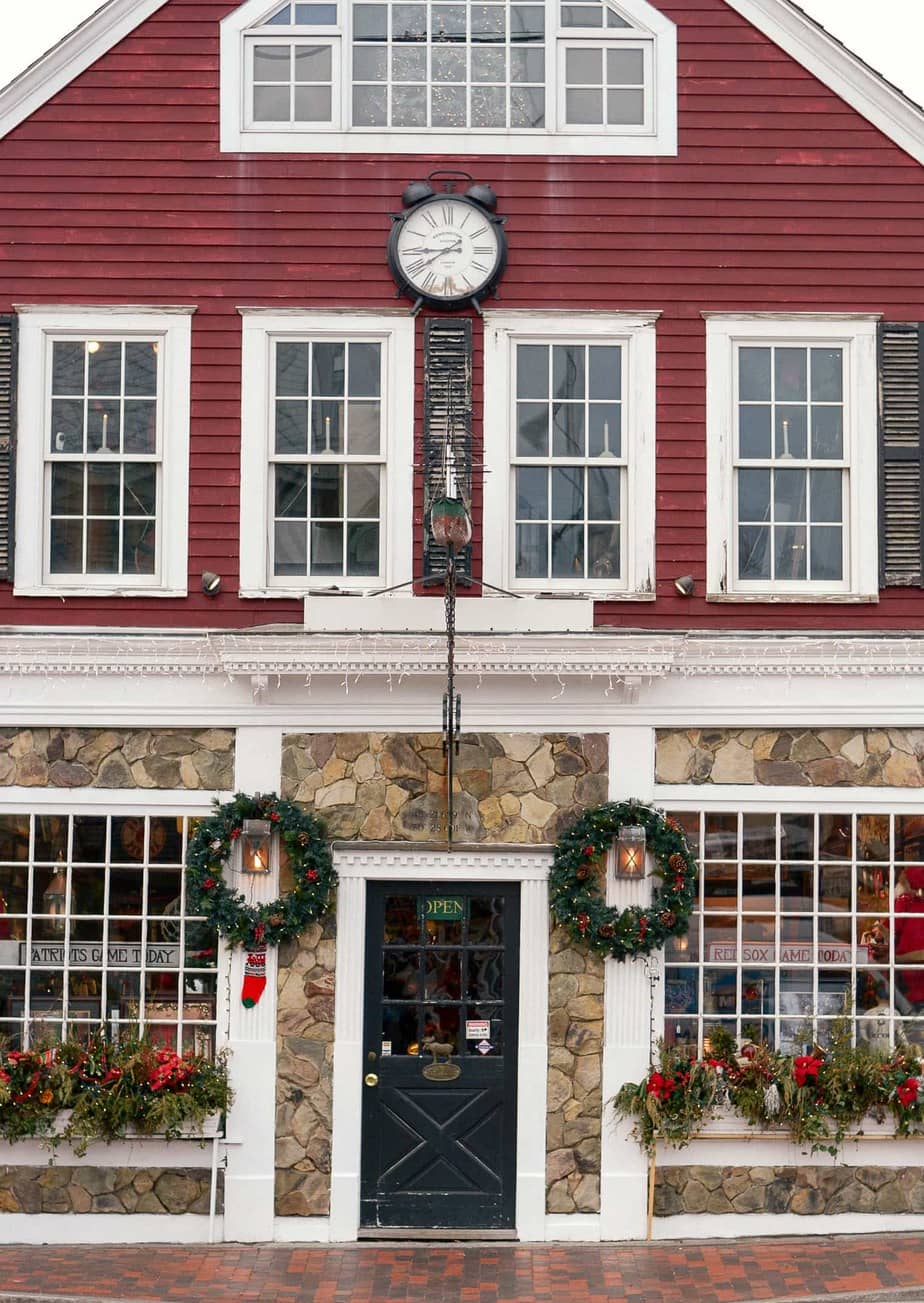 Eating and Drinking in Kennebunkport
Food and drink are pretty big in Kennebunkport Maine, and it's a great excuse to stay inside during the winter season! Christmas in Maine wouldn't be the same without a stop at a local brewery.
Whether you want coffee, lobster, gourmet meals, or beer, there's something for everyone.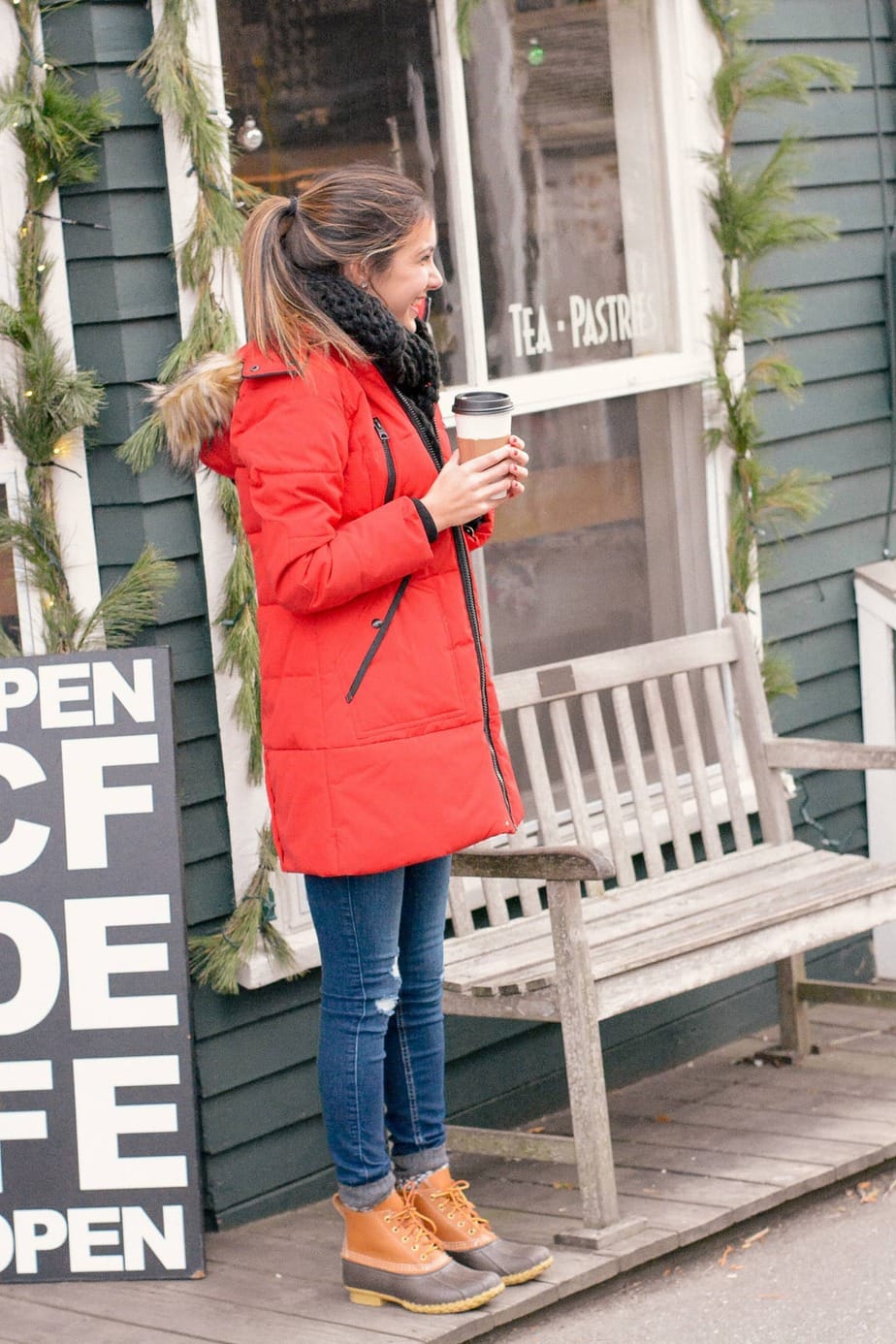 1. Earth at Hidden Pond
Located in the Hidden Pond lodgings, Earth is a farm to table all organic restaurant that's quite literally amazing. It's one of my favorite spots in all of Maine! Many of the cocktails are herb infused which I really love, and the staff is spectacular.
2. Old Vines Wine Bar
Maybe you're not a beer person, but you can still enjoy yourself at Old Vines Wine Bar. It's a more casual and cozy bar (it slightly resembles a pub), but has great choices for both wine and food. There's also an outdoor fire that's often going and lots of Christmas lights both inside and out.
3. Allison's Restaurant
Allison's is located right in the center of Kennebunkport Maine and is well-known for having some of the best seafood around. Whether you want a lobster roll or some fresh fried fish, this is a good place to get classic New England food any time of year.
4. Salt & Honey
Known for having innovative food, Salt & Honey is a great choice for any meal. The breakfast is highly rated, but the fish tacos are especially amazing for lunch and dinner. It's cozy but well-decorated, with a mixed industrial vibe that's current and trendy.
5. Ports of Italy
If you're anything like my parents and only eat Italian food, Ports of Italy is the best around. The lobster ravioli is amazing! It is a little on the pricier side (with small servings) but the food is really well made so I think it's worth it. Keep in mind that the choices are a little more unusual (you probably won't find your typical spaghetti and meatballs without a twist).
Other Winter Things to Do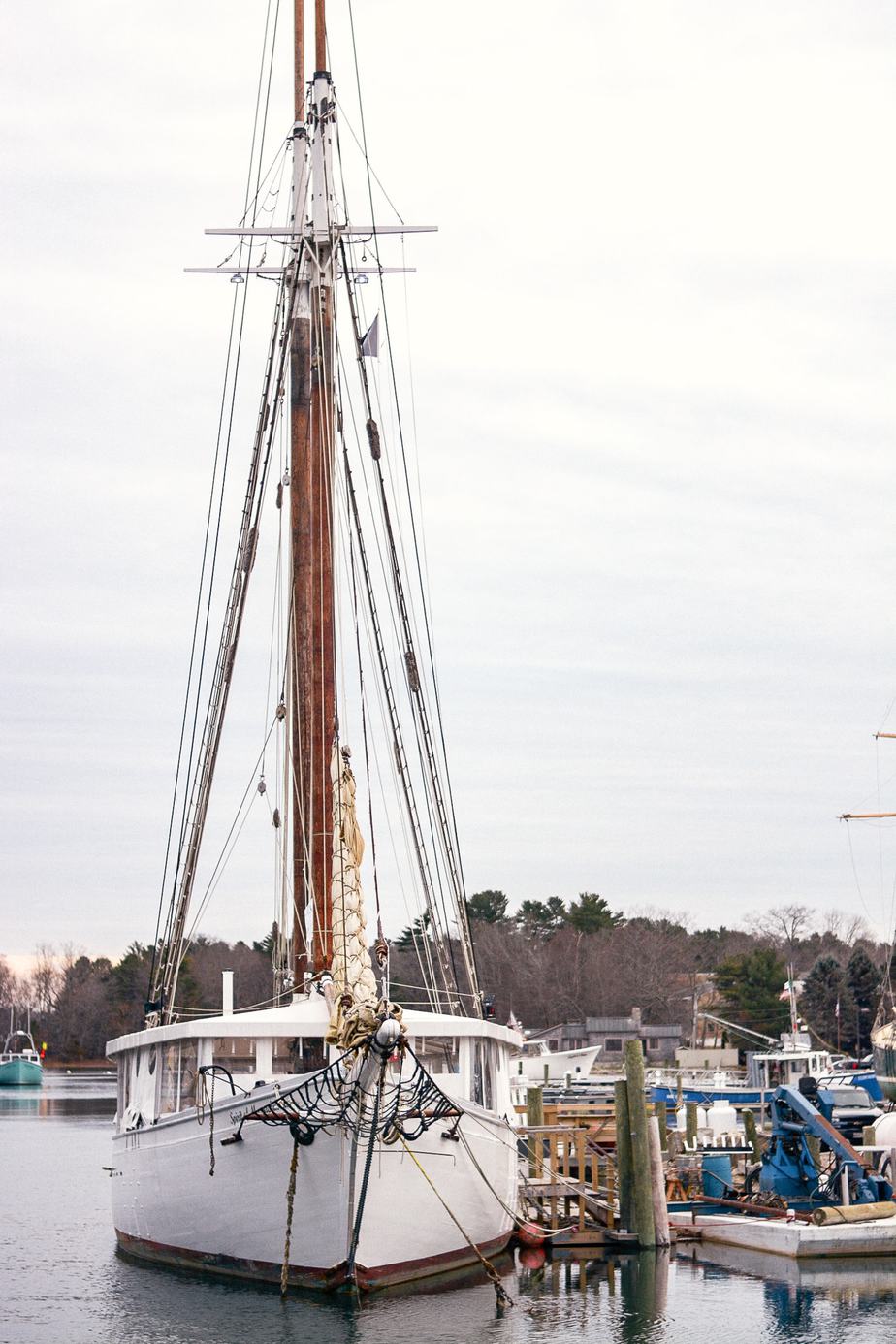 1. Bowling at Garden Street Bowl
If the weather is bad, bowling at Garden Street Bowl is always a great option! There's ten well-lit lanes that you can reserve ahead of time, and a connecting kitchen and taphouse that's known for having some great brews. There's also a champagne lounge with great views.
2. Cross-Country Skiing
There's a bunch of different areas to go cross-country skiing around Kennebunkport; it's pretty popular. Harris Farm and Smiling Hill Farm are nearby options that tend to busy (but not so much that your space is crowded).
3. Ice Skating
The Waterhouse Center is open all winter starting in November and is a hotspot for kids, families, couples, and singles in Kennebunkport. It's a great, well-known rink if you have time to kill!
4. Visiting the Wells Laudholm Farm
The Wells Laudholm Farm is a huge amount of protected land (over 2,250 acres) that serves as a special heaven in Kennebunkport Maine for wildlife. You can walk the grounds or, if there's enough snow, go skiing (cross-country) or snowshoeing. Free equipment is provided! It really gives you a feel of what Christmas in Maine is like for residents.
For more winter travel guides, check out my post on winter getaways in New England and trip to Manchester Vermont.
Thanks to Visit Maine for collaborating with me. Some food and activities were offered on a partnership basis, but as always, all opinions are my own.