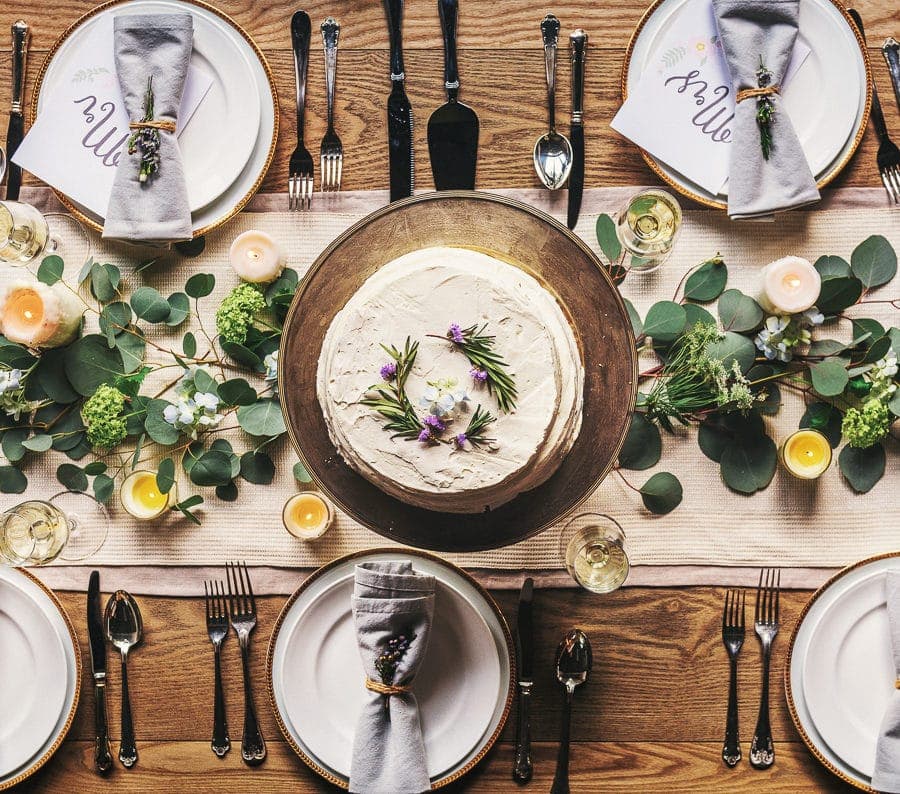 I love throwing parties. There's something so fun about being able to set things up how you want, choose your own guest list, and not have to leave your house to have a fun evening. At the same time, hosting a party at home (or really anywhere at all) can be incredibly stressful. Like nervous breakdown stressful. Not only do you have to plan and execute everything by the time the party starts, but you have to somehow not blow all of your savings to host a party.
Party food on a budget is something I've always found difficult, so when I moved into my new apartment and wanted to start having bigger gatherings, I decided it was time to do some research. I set a cap for each party I host and make a point to never exceed it. This has forced me to find some cool ways to cut costs that don't make the get-together look cheap.
Large parties are especially tough. It's really easy to spend thousands of dollars overnight, something my wallet definitely can't afford. I've worked really hard to find ways to cut costs that don't take away from the quality of your party decor, food, and entertainment. Check out my favorite tips for hosting a party on a budget!
Related Posts:
1. Go to Your Local (Large) Dollar Store Instead of a Party Supply Store
Hit up your local Dollar Tree to get basically any party supply when you're hosting a party on a budget. My Dollar Tree is huge and has an entire section dedicated to party planning. You get can the same type of quality you'd get at a party store for about 1/20 of the price. I stock up on heavy plastic plates, cups, utensils, streamers, serving bowls and plates, balloons, and even cool drink-ware like champagne or wine glasses. Depending on the store, there can also be nice centerpieces that actually aren't cheesy.
You can even get real glasses for under $1 each, balloons, cloth table-covers, napkins, real silverware sets, etc. There's all different themes if you go to a good party store, so you can get items for anything from a child's birthday party to an engagement party.
Planning ahead is key here. Make a list of everything you'll need (scour Pinterest to have the exact plan in your head) and be really specific. Don't leave anything up to chance or you'll get to the store and have absolutely no idea what to buy. Needing key items means that you'll literally only buy those items and can most likely get them for $5 or under each.
2. Keep the Alcohol Budget Down
Your liquor budget can get out of control real quick if you don't plan ahead. One of the most important tips I have for hosting a party on a budget is to keep your alcohol budget as low as possible! I find that there's two ways to stay in budget:
Firstly, you can serve just one liquor recipe that's cheap and includes an affordable alcohol like champagne or Rose. Make sure to let your guests know ahead of time that they'll need to bring other drinks if they don't want the cocktail. Have coolers and ice available so that guests can put their drinks somewhere.
Or, you can stock up on budget wine and beer and tell your guests to bring anything else they'd like. Light beer is best (figure out where to get in cheapest in your area), and if you're near a Trader Joes, you absolutely have to grab a huge number of their wine bottles. Look for the $3.99 ones – they're really good and so affordable!
If you're having an afternoon or nighttime party, plan to spend at least $100 on alcohol. With good preparation, this can be one of your biggest expenses.
3. Ask Guests to Bring an Appetizer or Dessert Dish (Party Food On a Budget)
This is a pretty common practice and can be a lifesaver. If you have a lot of guests, you can have a huge amount of appetizers and desserts without shelling out an extra cent. Make sure to mention any theme you may have (although keep in mind that not everything will adhere to your theme), and if you're worried about everyone bringing the same thing, set up a list on your Evite or make a Google Doc ahead of time. Guests will oftentimes fill up on appetizers, especially if there's a ton of different options available, so this is a great method for hosting a party on a budget.
You should always have extra food available (chips and dip are a classic for a reason) just in case a lot of guests show up without anything or with weird concoctions. Trader Joe's has great easy dips that you can put on a plate (making them look semi-homemade) and serve with cheap but hearty bread crackers for a nice classy look.
4. Cook the Food Yourself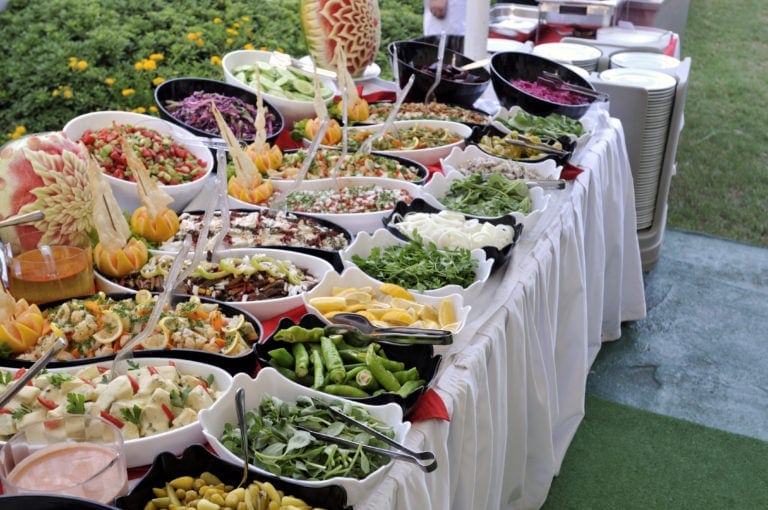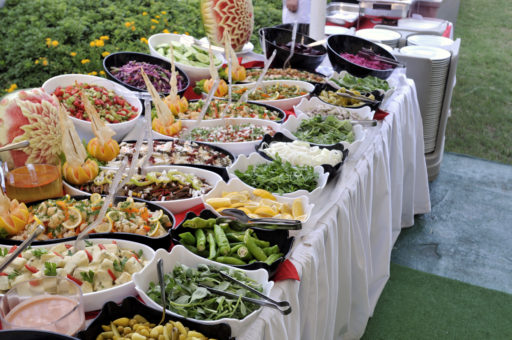 You can save a ton if you're willing to put the work in food-wise and stick to a party food on a budget list. Think of foods that are 1) high volume, low cost and that 2) can be prepared ahead of time. The pulled pork, chili, and coleslaw mix is always a good option, and so are pasta dishes that you can put in warmers and leave out. You can sometimes get large pasta boxes for $1 at Trader Joe's. Otherwise, look for deals at your local food store.
If you plan your party at the right time, you won't actually have to make a full meal (e.g. between lunch and dinner and after dinner) and can instead focus on great appetizers and a nice cocktail. When trying to create party food on a budget, variety is always good. If you have a bunch of cheap options, it will look like you put quite a bit of work into the food, but people will actually eat less since they'll end up tasting each item and will fill up more quickly.
If you're really tight on money, having a dessert and cocktail party is the absolute best way to do party food on a budget. You can make it chic and themed (so it won't just seem cheap) by getting some cute decorations and asking each person to bring a different dessert to taste-test. The only thing you'll have to take care of is a cocktail, maybe some wine, and one centerpiece dessert that can easily cost under $30 to make.
5. Set up a Water Station
Bottled water and soft drinks can be another big expense, but you have to have a few non-alcoholic options. Set up a Gallon Beverage Dispenser (they're pretty inexpensive and really cute on Amazon) with ice water and another with lemonade or iced tea. If you want to make it cute, make a station with nice plastic cups and cute decorative straws.
If you get bottled waters (even the small kind), that can easily be an expense of over $50. You're better off stocking up on large ice trays (it's a one-time cost if you host a lot) and making a ton of ice ahead of time so that you can have these water stations ready. Buying ice is also a cheaper option that's less work.
6. Borrow What You Can
Don't waste your money buying anything new if you can borrow from friends or family. Ask around for speakers, food warmers, coolers, chairs, or basically anything else you might need. You can really easily save over $700 to host a party this way! If you host all the time then you might want to invest in a few items, but most likely you wouldn't actually need a lot of this stuff again. Borrowing is way cheaper than even renting.
You can even borrow smaller items like platters, vases, and water pitchers. Family and close friends will most likely be happy to lend you a few items, especially if you show your gratitude and don't ask them to help with a lot of the cooking or cleaning.
7. Check the Thrift Store For Extra Items
You can actually find a lot of great stuff at your local Goodwill or thrift store, like cake platters, sheet pans, muffin tins, etc. Give it a good scrub and spruce it up with spray paint if the item is a little worn and you've got a great piece for your party (that most likely costs under $3). If you want something more unique, check eBay – you're still likely to get a lower price than buying brand new at the store.
8. Send an Evite With the Specifics to Set the Guests Expectations
I love Evite for sending invitations. It's super casual, easy to customize, and best of all, free. There's templates for all kinds of events, from simple birthday parties to reunions, large scale getaways, and wine tastings. There's even an option for a potluck invitation. A good way to save money without offending anyone is to be really specific in the invitation. Let your guest know if you'll only have one generic drink (and if they should bring their own beer) or if you'll only be serving an array of appetizers instead of a main meal. This way they'll show up prepared and everyone will be on the same page for the event.
Evite is also great for niche parties (such as a dessert tasting night, one of my budget-friendly favorites) because you can make the invitation look fun and themed to get guests excited. You can give a super detailed explanation about the setup, which especially helps if you need to let people know that they should eat beforehand.
9. Buy in Bulk at a Discount Store Like Costco or Sam's Club
Discount stores are so great for large parties. You might have to purchase a membership (if you don't have one) but it's very worth it. Buying in bulk isn't an issue since you'll actually use everything you buy. You can get anything from paper towels to actual food and even beer, depending on your state. A trip to Sam's Club is always one of my first stops when I'm hosting a party on a budget. Don't forget to make a super specific list beforehand so you don't waste a trip.
If you're able to cut back on costs, that just means you'll be up for hosting a party on a budget that many more times a year! Happy planning!