I only moved to Salem MA a few years ago and now I don't think I can ever move away. The city is relatively small for some, but there are so many cool things to do in Salem that it feels big.
Between the tours, the witchy shops, the restaurants, and the parks and beaches, I can't decide what I like best! I'm including all of my favorite activities in this post so you can get a sense of what might work for you.
Things To Do In Salem MA:
Here are my favorite things to do in Salem MA for both locals in tourists!
I tried to include a bit of everything, so you should find some activities that interest you, whether you want to go on a bunch of information-packed tours or would rather catch the sunset and sip on a cocktail.
24. Tour The House Of Seven Gables
The House Of Seven Gables is one of the most famous landmarks in Salem so you probably want to stop by, even if you only have a few minutes.
You can purchase tickets for the Garden Experience (the gardens are large and are super pretty) or you can opt for a semi-private tour that includes the interior of the house as well.
If you want to learn about life in the 1600s then the tour will definitely give you some insight! The house was originally made famous through the writings of Nathaniel Hawthorne, although he didn't actually live here.
The house has a witchy look that makes it a great spot to snap a photo.
23. Visit The Witch House Of Salem
The Witch House was the home of Judge Jonathan Corwin during the Salem Witch Trials and is actually the only remaining building with direct ties to the trials. This is one of the best things to do in Salem MA for history lovers because it gets deep into the history of both the time period and the trials.
You can purchase tickets for $9 online. The tour is 100% self-guided and includes both floors as well as the Pioneer Village.
22. Grab A Drink At The Hotel Salem Rooftop
This is by far the best outdoor bar in the area! If you're looking for chill things to do in Salem MA then you should definitely head to The Roof for a cocktail.
The Roof is located on top of The Hotel Salem and is literally right in the middle of the downtown area, so the view from the top is wonderful, especially during sunset.
There's a bar area if you just want to pop in (it fills up quite a bit once the sun goes down) but there are also tables and chairs with couches to lounge on. You can put your name in ahead of time down by the street during the busy season.
The Roof doesn't offer a super full menu, but has a variety of eclectic apps (the guac, queso, and chips are my favorites) and yummy mix-and-match taco selections. The drinks are also insanely good. It's a little pricier up here but it's worth it for the view!
21. The Witch Dungeon Museum
The tour of the Witch Dungeon Museum includes a full reenactment of the original witch trials that's spookily good.
This is one of the best things to do in Salem MA if you're on a budget but still want to get the full historical experience. Tickets are only $13 for adults and the tour is well over an hour long.
I always recommend the Witch Dungeon Museum for tourists and locals alike because it's less well-known but equally as cool as some of the larger attractions!
20. Stroll Down Chestnut Street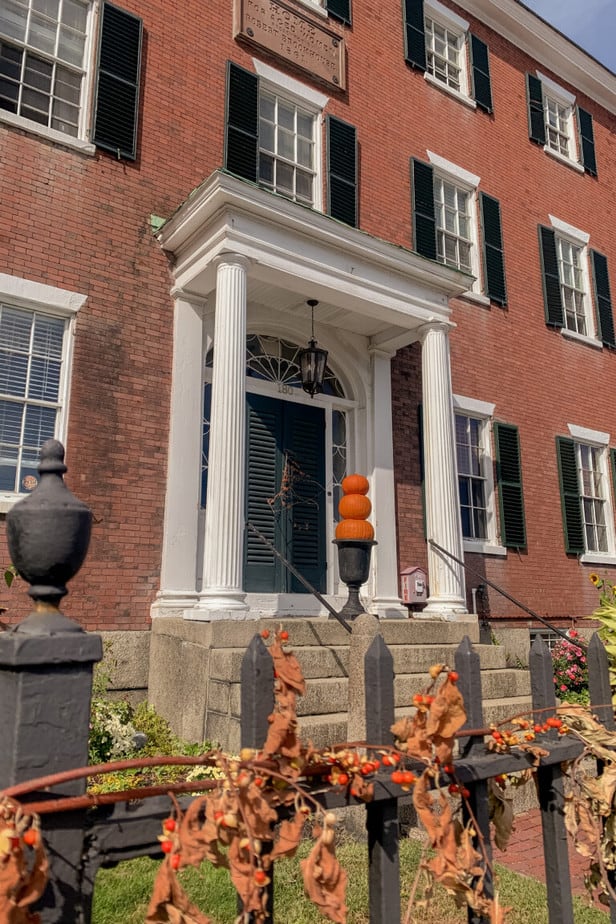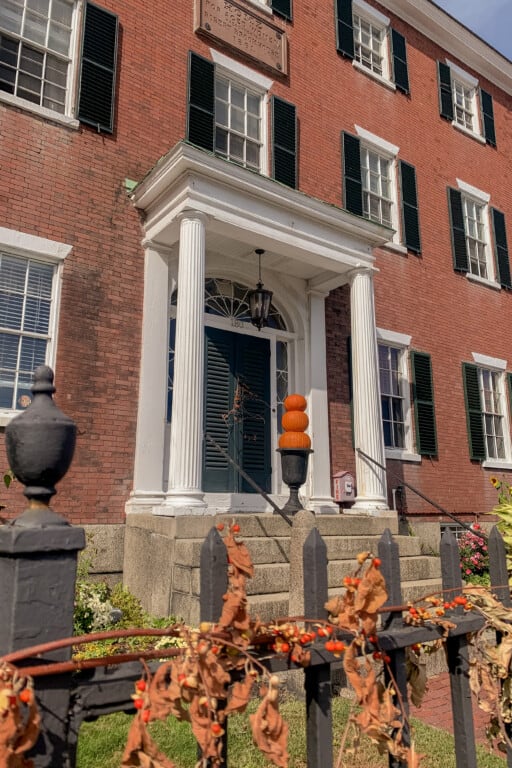 If you're someone who likes to walk and stay active while visiting then I highly recommend browsing Chestnut Street as one of your things to do in Salem MA. Chestnut Street is a few block away from the downtown area and is one of the wealthiest areas in Salem.
It's also the historic district, with a variety of historical houses (mostly Federalist style) that are truly stunning. The street is especially gorgeous after a snowfall or during the autumn when the leaves are changing, but I still recommend it any time of year.
19. The Salem Witch Board/Ouija Board Museum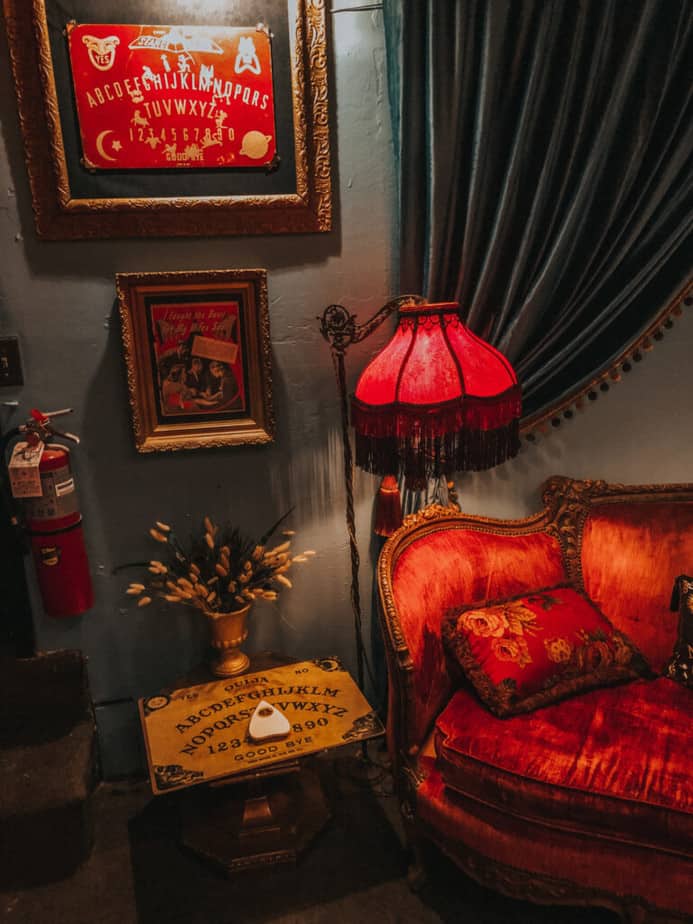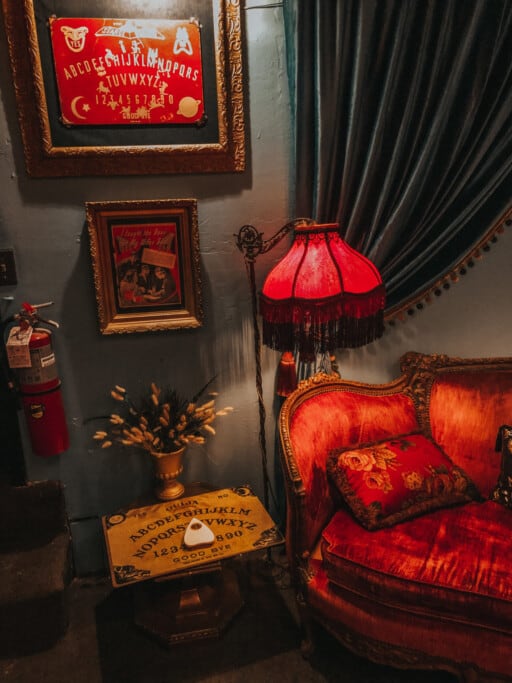 Okay, I had to admit that I love the Witch Board Museum. It has only been in Salem for a few years, but it's a must-see if you're into all things spooky.
The museum is pretty small (it's only one rectangular room) but is absolutely packed with all types of Ouija boards that are thought to be haunted. There's also a cute velvet couch area and an Ouija board set up to use, if you're feeling daring.
This is one of my favorite things to do in Salem because I like real witchy/psychic stuff. The vibe in the room is heavy, but it's also cool because it feels more legit than some of the haunted houses.
I will be honest: some kind of creepy stuff has happened in this room, especially when we tried using the Ouija board. You definitely don't want to go in feeling afraid!
The museum open from 11am to 6pm and can get a bit crowded on the weekends. Tickets are $10 a person. Check out the Instagram here for more information (the museum doesn't have a website).
Related: The 28+ Most Haunted Places In The World & In America
18. The Satanic Temple
The Satanic Temple is an actual Satanic Temple, so I find it a little scary but also kind of cool. Check out the events and exhibits on the site before you visit and see if there's anything worth seeing.
The Temple also has an art exhibit that is open during business hours. It's worth a walk through if you're in the area.
The prices to check out the exhibits are usually either super cheap or free!
17. Go On A Ghost Tour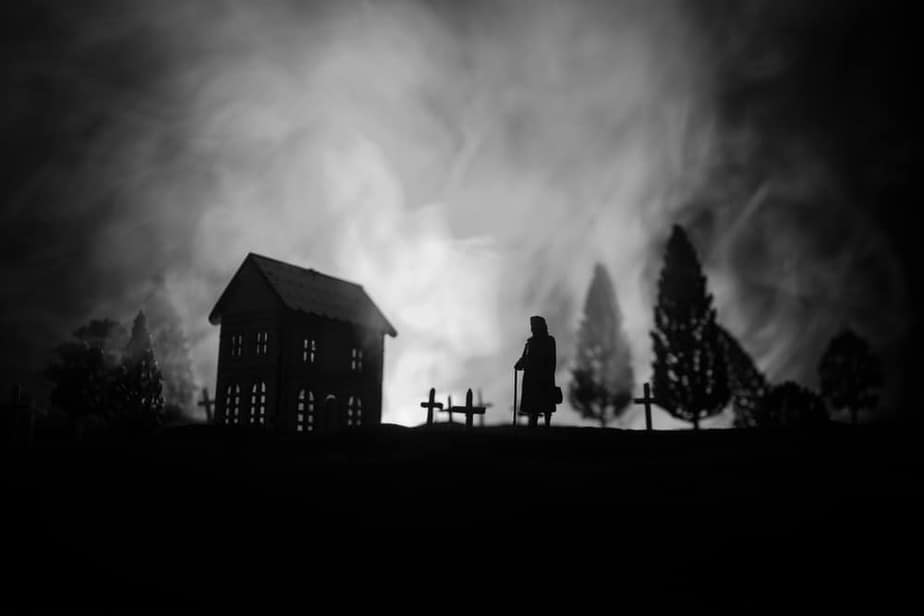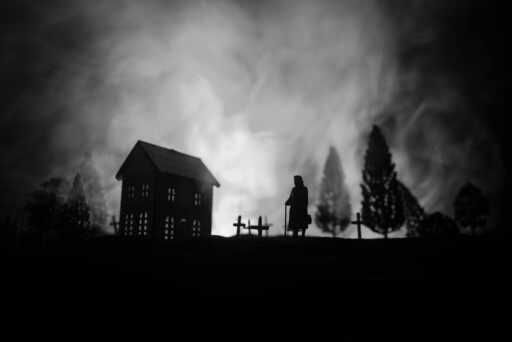 Ghost tours are some of the most famous things to do in Salem MA. You almost can't come to the area as a tourist and not do a ghost tour.
There are different ghost tour companies that will all tell you slightly different information. The Salem MA website lays out the different types of tours you can choose from.
They're all pretty good, but I prefer the tours that run at night for an extra spook factor. The daytime tours are more historical and less scary, so they're better for kids and history buffs.
This is my favorite nighttime ghost tour in Salem. This is a good mid-afternoon tour that's a bit cheaper and is perfect for kids/families.
If you're going on a longer tour, remember to dress for the weather! Most tours will happen rain or shine, so you want to be prepared.
16. Shop At The Essex Street Pedestrian Mall
The Essex St Mall is especially fun during October when the Psychic Fair is happening, but it really is fun to walk through any time of year.
I like to enter through Omen (one of the larger witchy stores that most tourists will love) then walk through the mall, checking out the different stores and window displays.
There's a movie theater and an escape room in the mall plus a bunch of interesting shops and restaurants. There's also a photography store where you can do a time-period dress up photoshoot.
15. Tour The Phillips House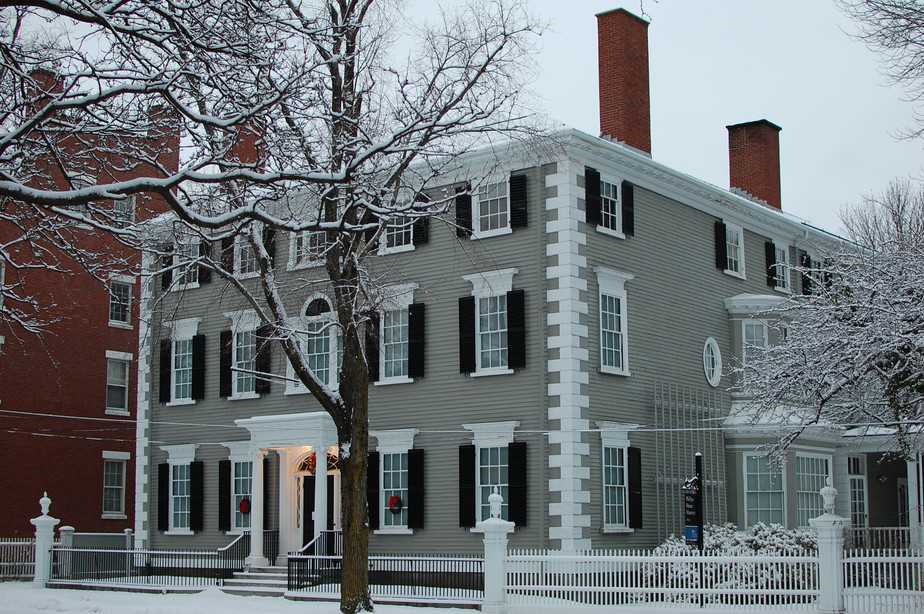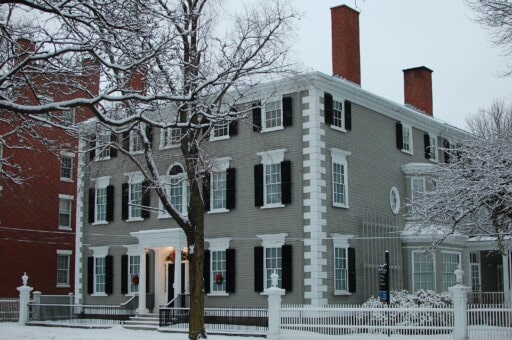 The Phillips House is a classic Federalist mansion located on Chestnut Street, one of the prettiest areas in Salem. You can get a tour of the house (and check out the authentically decorated rooms, straight out of the 1800s) or you can walk by and enjoy the exterior.
This is one of the best things to do in Salem MA for history buffs!
14. Visit The Ropes Mansion Garden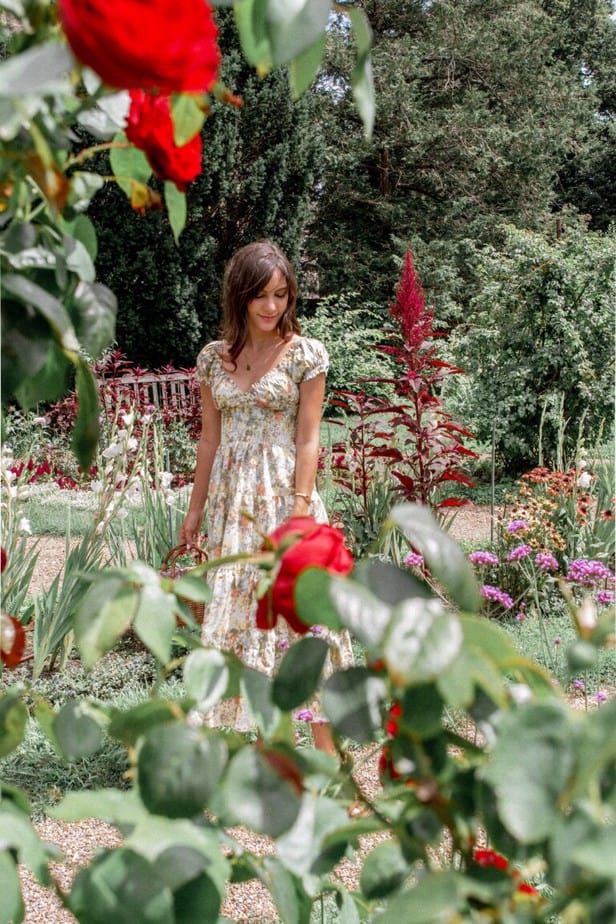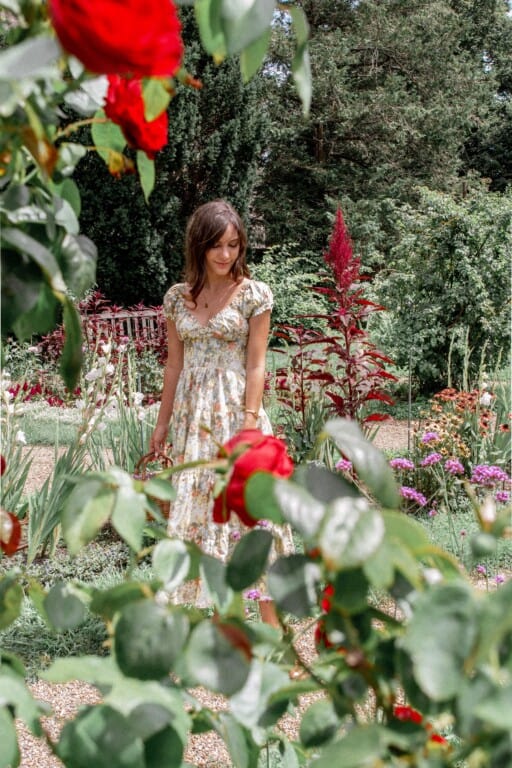 The Ropes Mansion Garden is really beautiful in the spring and the summer! It's a hidden gem – you wouldn't know it exists unless you know where to enter.
This is a great spot for photoshoots or just to check out the stunning flowers, plants, and fountains. It's free to enter as well.
13. Punto Urban Art Museum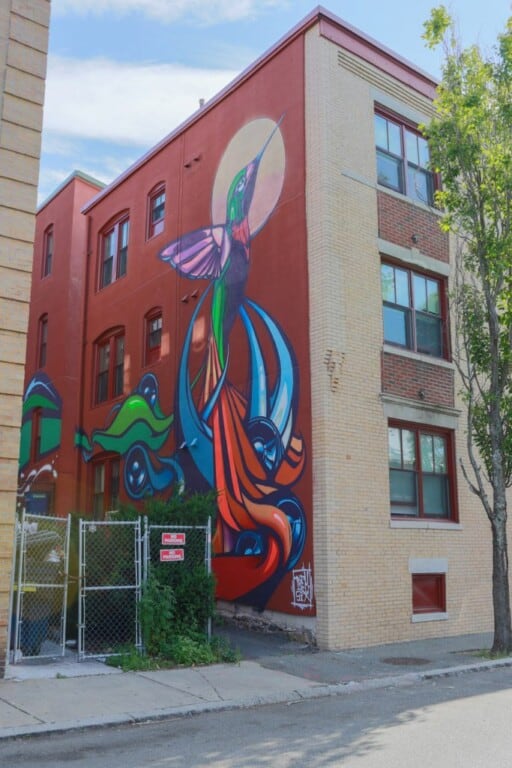 The Punto Urban Art Museum is an outdoor street museum that is in "El Punto" neighborhood. It's completely open air and is spread across many blocks. It's also totally free to check out!
You can walk along the streets or even drive through and still see many of the pieces. When available, you can also take a guided tour to learn more about the artists.
12. Walk Through The Salem Common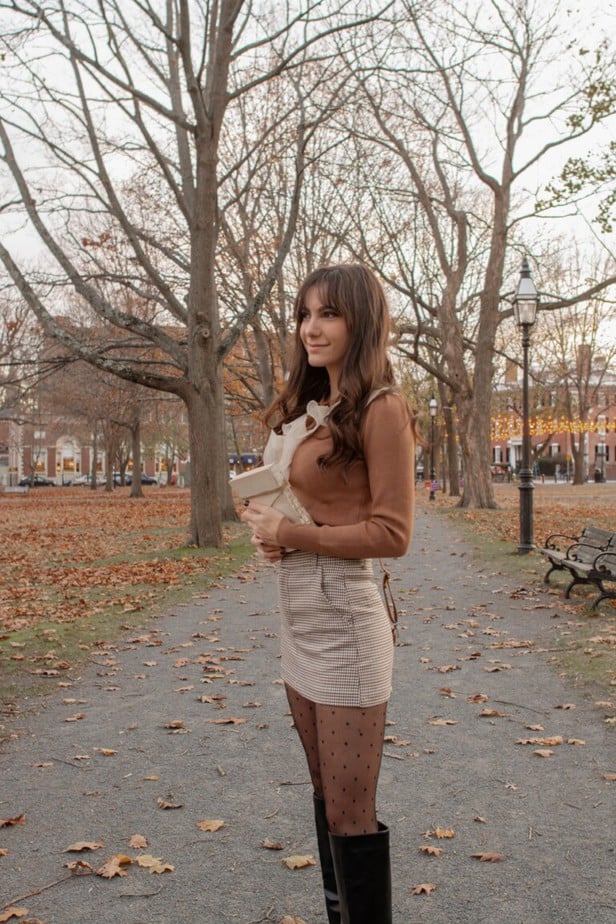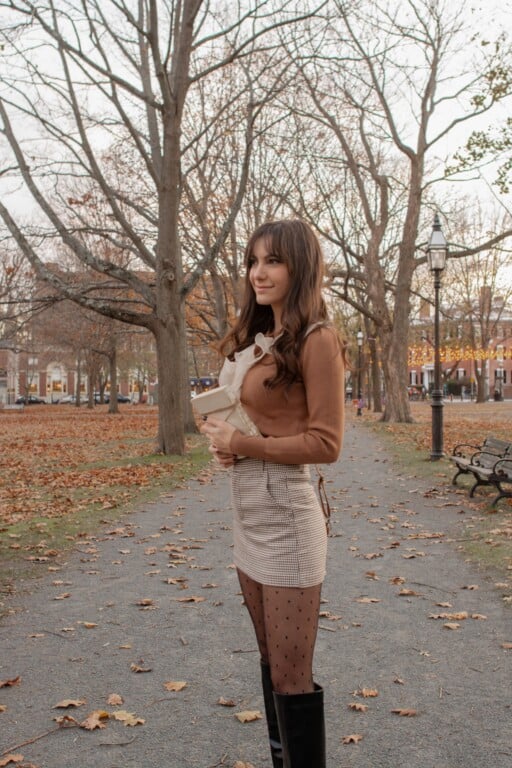 I love the common any time of the year. It's really beautiful in the warmer months (when the grass is super green and there are dogs and kids everywhere), but it's also stunning in the fall because you can watch the leaves change, or you can check out the beautiful white lights in the winter.
The common is located right near the Hawthorne Hotel and is the perfect place for a picnic or a stroll. It also has a great playground if you have kids who need to let off some steam.
During October, the town of Salem sets up rows of spooky orange lights and witchy attractions in the common. There is also a giant Ouija board that's in the common during specific weeks. Sometimes, we have events such as a food truck and beer garden festival.
11. Tour The Peabody Essex Museum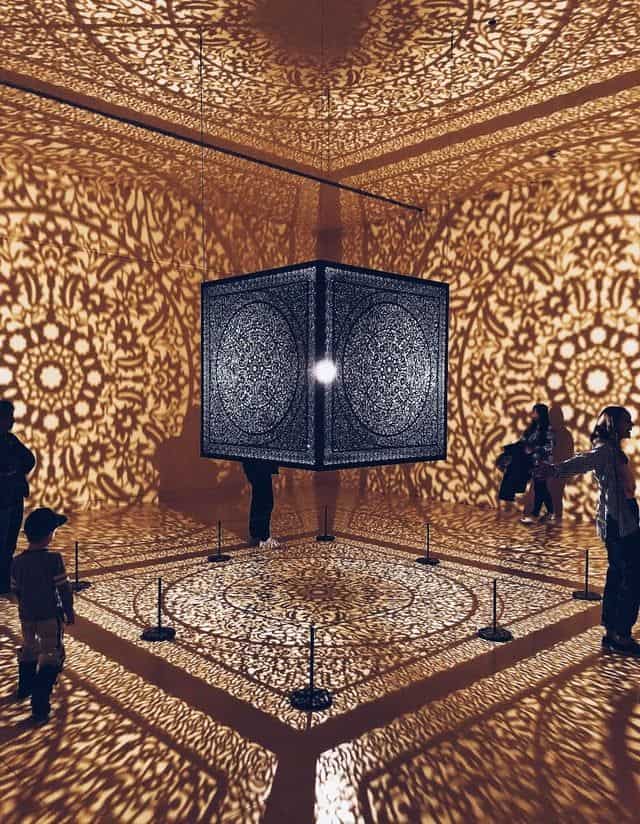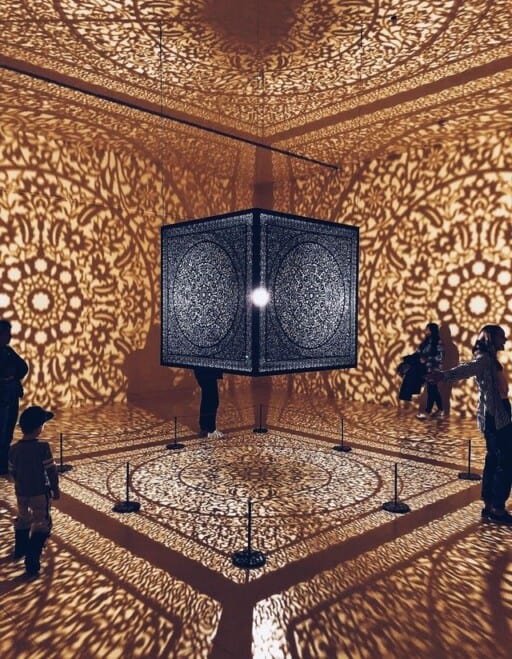 Visiting the Peabody Essex Museum makes for a great indoor day. The museum has a lot of eclectic exhibits that frequently change. I recently saw an exhibit on fashion design through the ages (super cool), then another on the Salem Witch Trials.
Tickets are a bit on the expensive side at $20 per adult, so you want to make sure you have at least a few hours to spend in the museum.
10. Visit The Cemeteries
The Salem MA cemeteries are super historic and quite old, dating back to the early 1600's.
There are three different Salem MA cemeteries that you might be interested in checking out. I personally like Howard Street Cemetery and Broad Street Cemetery because they have a lot of historical graves with interesting information for history buffs.
Keep in mind that certain cemeteries will be closed to the public during October, so look ahead to make sure the ones you want to visit are open.
9. Shop At Witchy Boutiques
I could write a whole post about shopping in Salem.
Shopping really is one of the best things to do in Salem MA because there are so many cool stores that you can't find anywhere else in the world. You can browse the whole day without buying a single thing and still have a ton of fun!
For the purposes of keeping this post (somewhat) concise, I'll just list a few of my absolute favorite shops in Salem (sigh).
Omen: Okay, so Omen is definitely a bit touristy, but this shop is also really cool if you haven't been in before. This should probably be your first stop to check out a variety of witchcraft-related items.
Artemisia Botanicals: This is by far the best apothecary in town! You can browse the many plants and herbs or you can check out the natural remedies. Artemisia is very authentic and well-loved by locals.
Pyramid Books: Located a bit off the beaten path, Pyramid Books has a huge selection of spiritual books. You can find everything from basic psychic development to books on crystals, yoga, and dark magic. They also offer affordable readings and a cute selection of crystals, rocks, and incense.
Enchanted: By far, Enchanted is my favorite traditional witchcraft store. It was originally opened by Laurie Cabot and is stocked with many of her spell kits and items. The vibe is super happy yet mystical all-in-one and the staff are all so pleasant. They also have really great readings, but you'll pay a pretty penny and need to book online since appointments fill up quickly.
Hex: This is the sister shop to Omen, but it's by far the better store, in my opinion. Hex is super small and creaky; you feel like you're actually in a shop straight out of Harry Potter. The store sells a huge variety of witchcraft and voodoo items and has a distinct Louisiana feel.
Emporium 32: This shop sells a variety of eclectic, vintage-feeling, speakeasy inspired pieces that have a witchy touch. If that sounds confusing then just trust me – you'll love it! Again, this feels like a cozy, cluttered shop right out of Harry Potter. There's also an ice cream shop attached with delicious sundaes.
HausWitch: This store is well-known in Salem for a reason. It's one of the best new-age witchcraft stores in the area! If you're into the white light, self-reflection side of witchcraft then this is certainly the store for you. They also offer readings; I have yet to get one myself but I've heard amazing things from friends and family.
Oak + Moss: Lastly, Oak + Moss is a really cute boho store with a variety of kitchen accessories, plants, and small knickknacks that make great gifts. You can always find something for the home here. It isn't technically a witchcraft store but they have such a lovely collection of plants and succulents that I wanted to include it.
8. Check Out The Willows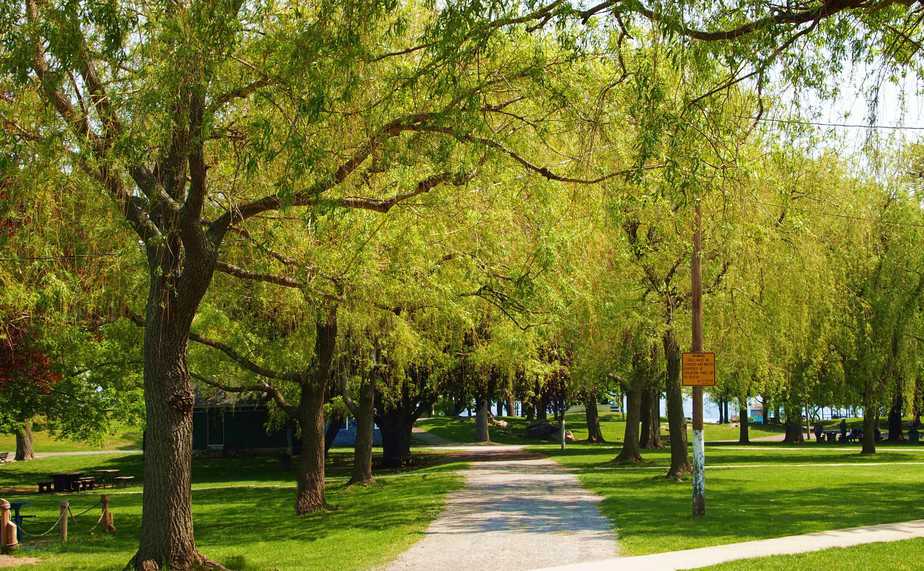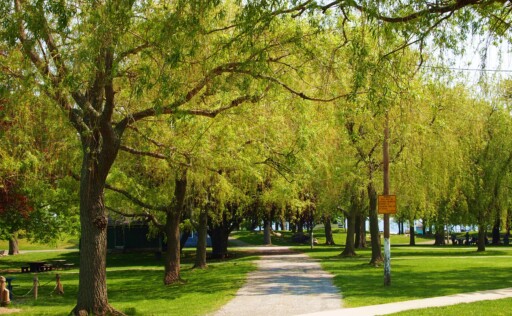 The Salem Willows is a fun thing to do in Salem MA during the summer. The whole strip is right on the water with grassy hills overlooking the bay. These hills are perfect for picnics, cookouts, or for throwing a frisbee or football around.
A bit further back is the road which is lined with arcades, outdoor pizza joints, ice cream shops, theaters, and more. It's a bit like a tiny Jersey Shore.
We love heading over to the Willows for a picnic when it's warm out. There's plenty of space and it's never too crowded, but the vibe is fun. We also enjoy the fried food shack that's near the water.
7. Visit The Witch Trial Memorial
I always take visitors to the Witch Trial Memorial because it's free to check out and really encompasses a lot of Salem's history in one place.
The Memorial has a stone dedicated to each of the 20 Salem Witch Trial victims to help you learn information about them. The Witch Trial Memory is also located right next to one of Salem's most famous cemeteries.
6. Taste Test Cider At Far From The Tree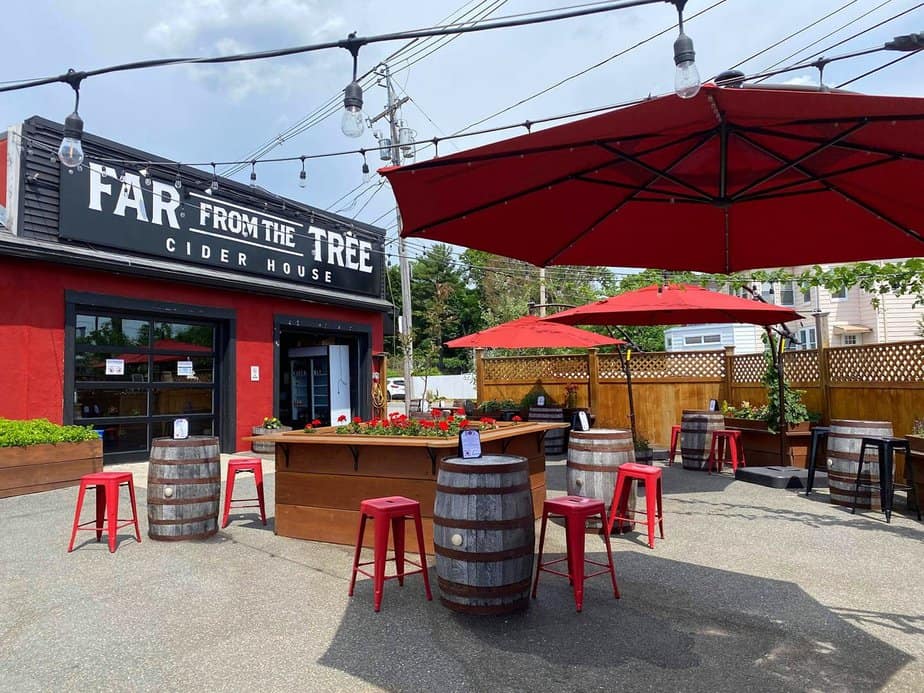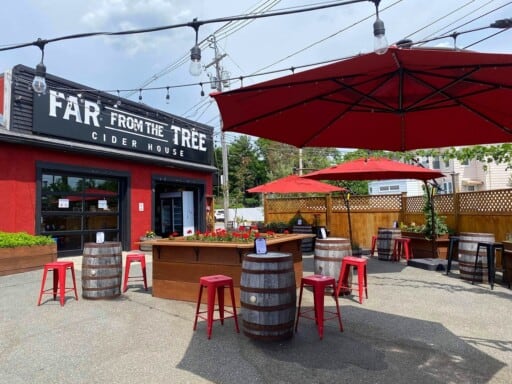 Far From The Tree is Salem's cider brewery that's just outside of the downtown area. We live on the other side of downtown, and it's a short walk for us, so it should be pretty accessible regardless of where you're staying.
We love getting cider for our house, but Far From The Tree is specifically fun when you want to sit outside and sip on some brews. There are a few different flight options and food trucks roll up on the weekends.
This is one of the best low-key things to do in Salem if you need a break from actively touring! Keep in mind that it is 21+ most of the time.
5. Walk The Salem Heritage Trail
The Salem Heritage Trail is one of the best things to do in Salem MA if you're big on sightseeing. You will pass a lot of the other spots listed in this post along the way.
It's totally self guided; you simply follow along the spray painted lines on the ground and use this link to check out landmarks. We do this walk once in a while and highly recommend it! You'll see all of the main areas in Salem without losing your way.
4. Tour The Salem Witch Museum
The Salem Witch Museum is one of the most classic things to do in Salem MA. Everyone knows about it, which means the lines are out the door very early in the day.
Right now, you can only buy same day tickets online, but this changes often. I recommend that you get tickets the second they're available if you don't want to wait!
Tickets are only $15/person, making this an essential activity for any Salem MA visitor. The tour is only an hour and a half, so if you're interested in the history of witchcraft and the witch trials, I definitely recommend that you check this museum out.
The presentation is super cool. You get to experience a dramatic reenactment (which could be a bit scary for small children, but it's not that bad), then you follow along the guided tour that tells about the European witch trials as well as the evolvement of the classic witch through time.
3. Eat Outdoors At Pickering Wharf
Pickering Wharf is a few streets away from Salem's main downtown, but it feels like another little center. The cute little stores (including Enchanted, which is a must-see!) and restaurants are all located around the marina.
I recommend taking a bit of time to walk around, check out the shops, and dine outside. I especially love Sea Level and Fins for great seafood and cocktails.
2. Watch The Cry Innocent Rush
When you sit down at the Cry Innocent performance, you're immediately a part of it. The audience as well as the actors observe and question Bridget Bishop during the trial. This is certainly the real deal!
In my opinion, this is the absolute best way to truly experience the Salem Witch Trials as a visitor.
1. Ride The Salem Trolley
The Salem Trolley is one of the most popular things to do in Salem MA, so it sells out super fast! You can book the trolley for a one hour tour which covers most of the popular Salem landmarks, or you can simply travel via trolley.
The tour guides are typically really good. I recommend that you either ride the Salem Trolley or take a ghost tour; you probably don't need to do both since you'll get a lot of the same info.
Looking For A Place To Stay?
Here Are Some Of The Best Hotels In Salem MA:
We don't have a ton of hotels here (and some aren't that great, to be completely honest) but these are all hotels I have stayed in and loved.
If you want to stay somewhere historical then The Hawthorne Hotel is a good option. It's located right near the Salem Common (which is really gorgeous) and is within a few blocks of the ocean.
The Hawthorne is a solidly 3-star hotel, but that's only because the lobby and other areas are rather Victorian instead of modern. It's very clean and the staff is always friendly.
There are a few restaurants in The Hawthorne that are super yummy and a little boujee.
Keep in mind that The Hawthorne isn't right in the heart of downtown, but is probably 3 blocks away. For me, it's the perfect distance.
3. The Hotel Salem
The Hotel Salem is a trendy, new hotel right in the middle of downtown. It's not super large, but it definitely has that city vibe.
For me, the best parts of The Hotel Salem are the chic rooms (that are super clean) and the rooftop bar/restaurant. This is a hot spot to be during the warm months and boasts incredible views of the city from all sides.
2. The Merchant
The Merchant is located in a huge, historic brick building right near downtown Salem. It's super cozy and quaint but is also quite updated.
I especially love the lobby, which is decorated in deep blues with comfy velvet chairs and a roaring fireplace. I also enjoy the eclectic decor of the rooms (which also have fireplaces).
The Merchant doesn't have a restaurant on-site, but you're literally right next to amazing Salem restaurants, so this isn't an issue.
1. Salem Waterfront Hotel & Suites
If you want a nautical, preppy Salem experience then the Salem Waterfront Hotel & Suites will be the spot for you.
This is one of the larger hotels in Salem; the property has a super cute, boathouse restaurant downstairs with amazing cocktails and a variety of different room choices.
I especially love the Regatta Pub during the summer, when the hotel offers outdoor seating!
The Salem Waterfront Hotel & Suites is also just a few blocks away from downtown and only one block from The Hawthorne. It's super close to the Wharf and a bunch of trendy restaurants!