The New Year is upon us and it's time to do the prettiest, sparkliest New Year's nails of the year! If you're looking for trending New Year's nail designs, we've got 40+ designs you're sure to love.
New Years Nails For Inspiration:
Here are my favorite 40+ New Year's nails inspiration photos, including design and colors. These are all really fun manicure styles that are trendy yet classy!
Feel free to save as many of these photos as you'd like to either reference them later or show your nail technician for your next nail appointment.
To save a photo, hold down with your finger then click "save to camera roll." You can change your home screen or lock screen wallpaper in your phone's settings.
Enjoy these NYE nail inspo photos!
Gold Snakes: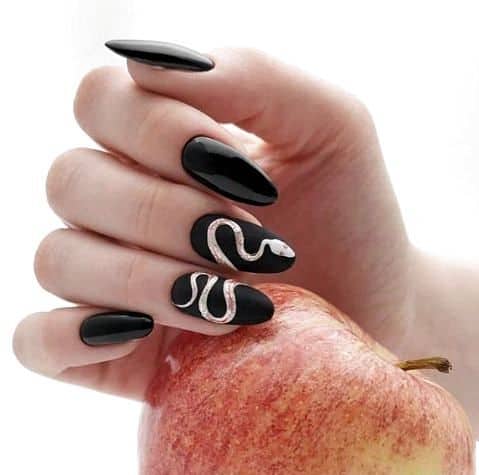 These snake tails are so trendy and risky!
I especially love how this manicure is done in classic and simple colors but is so unique.
Related: 30+ Super Trendy Winter Nails And How To Do Them
Black With Sparkle Accents: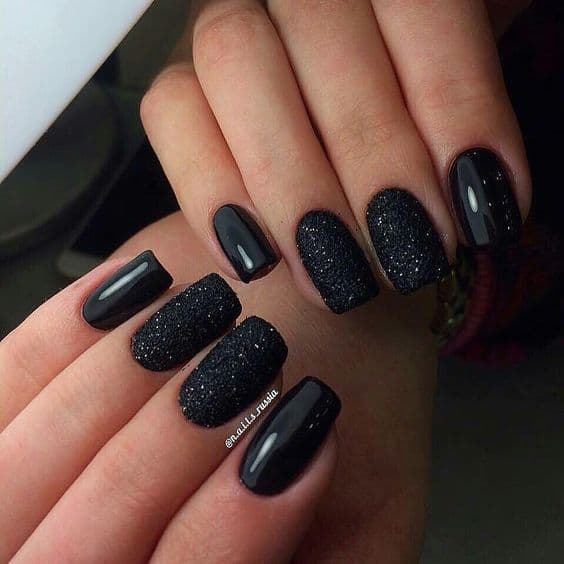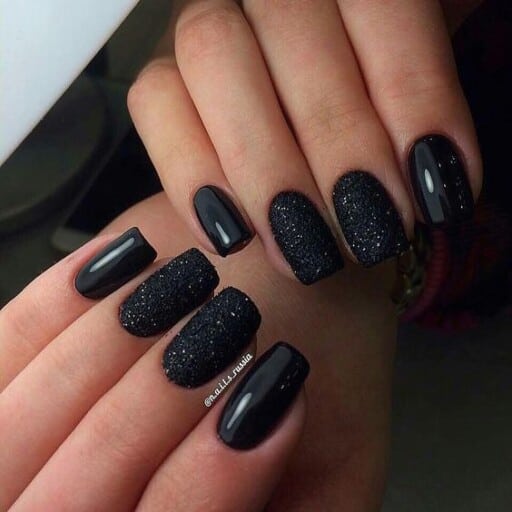 This is a great NYE manicure for a fancy night out, but it will also take a casual outfit to the next level.
Related: 40+ Aesthetic New Year's Wallpaper & Backgrounds
Maroon & Sparkle: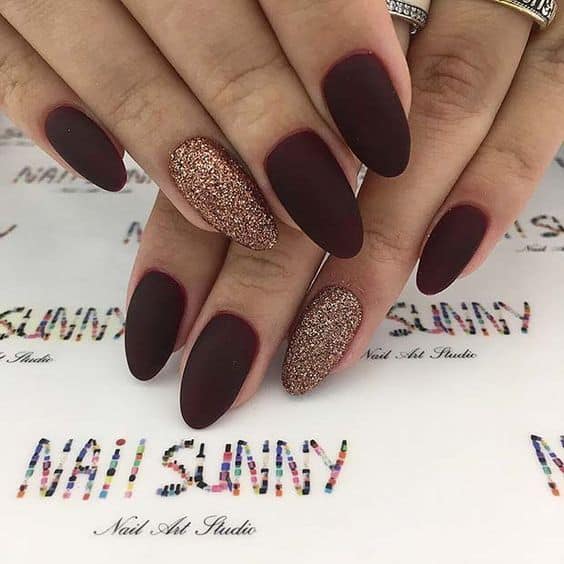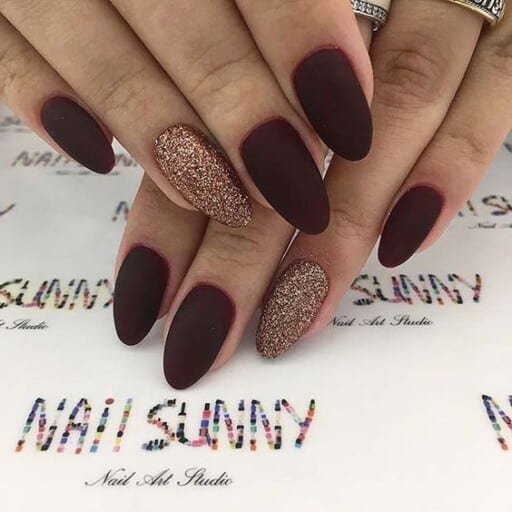 Here is a prime example of a lovely manicure with a sparkle nail accent.
I really love the copper gold sparkle tone!
Black & Gold Sparkle Design: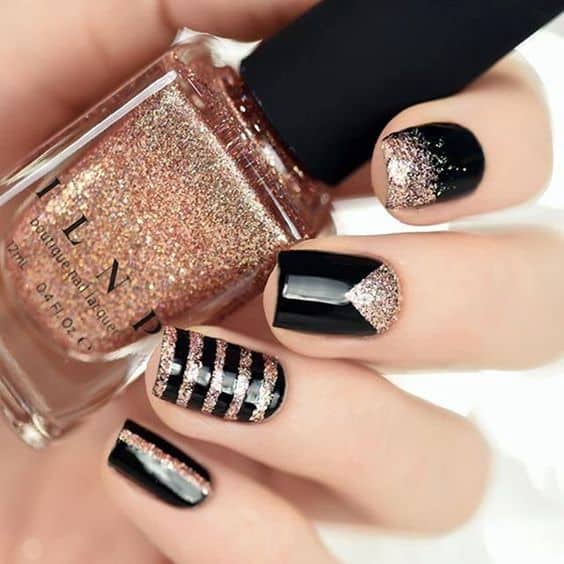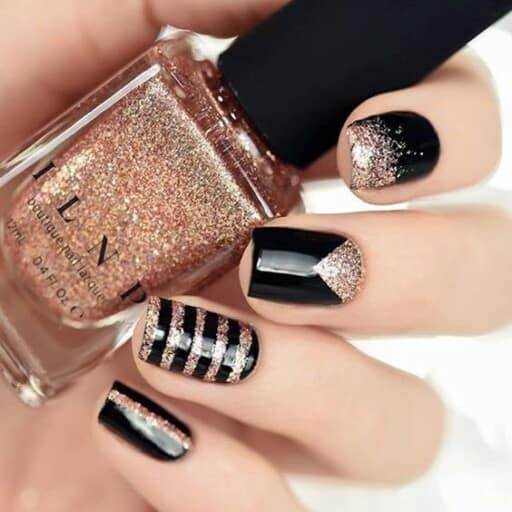 If you want a hint of sparkles on each nail then you'll love this manicure. You could easily swap out the gold sparkles for silver if you'd prefer.
Silver Sparkle Tips: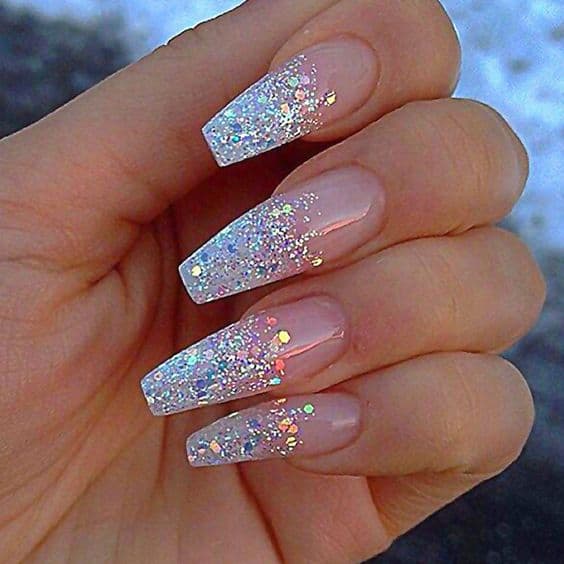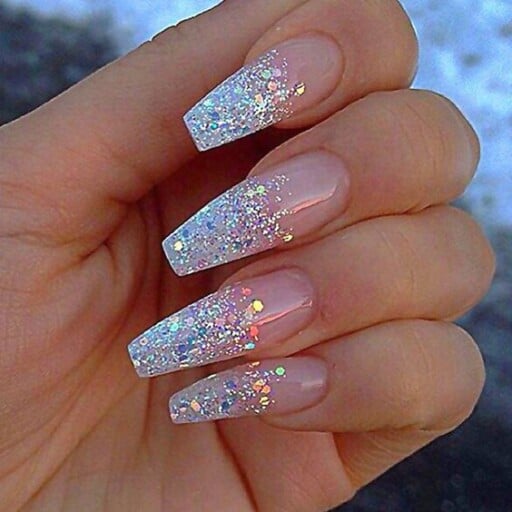 These silver sparkle tips are perfect if you want a bolder manicure for New Year's!
Green & Silver: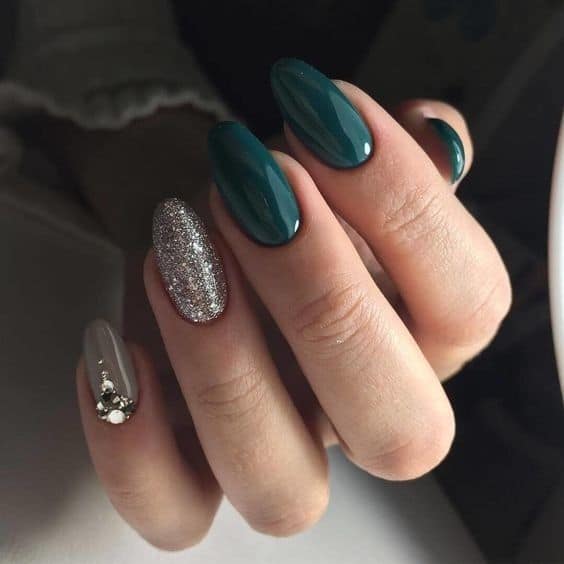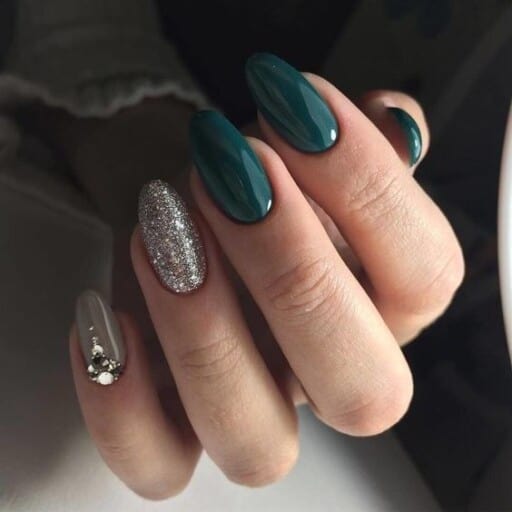 This is a cool multi-color manicure that's perfect for both Christmas and New Year's Eve!
I especially love the nude nail accent with beads.
Gold Bead Tips: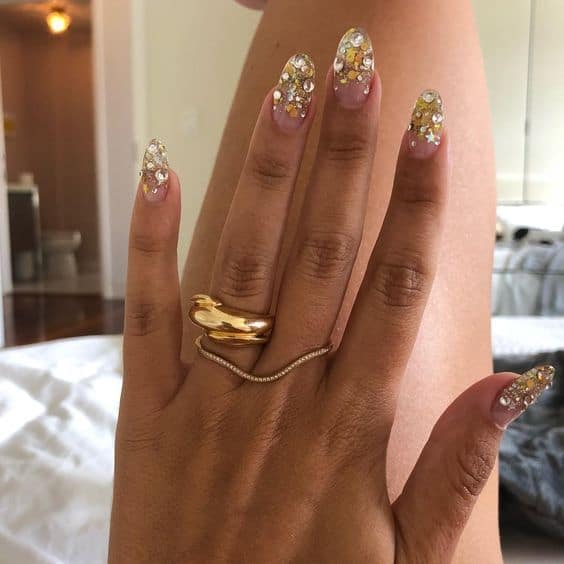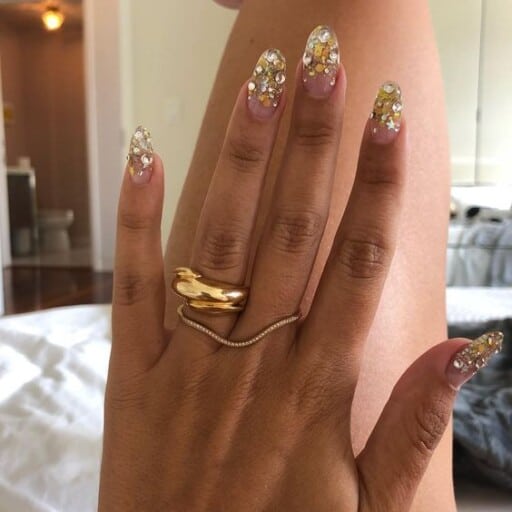 This manicure is sparkle tips as well in gold. It's neutral and can be either formal or casual.
Black Shimmer: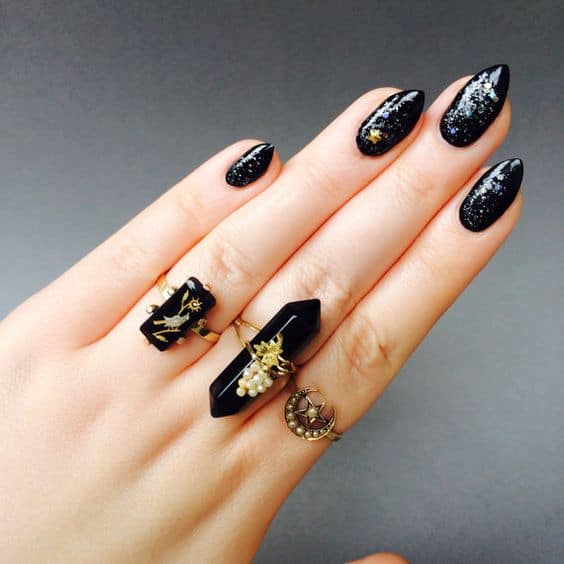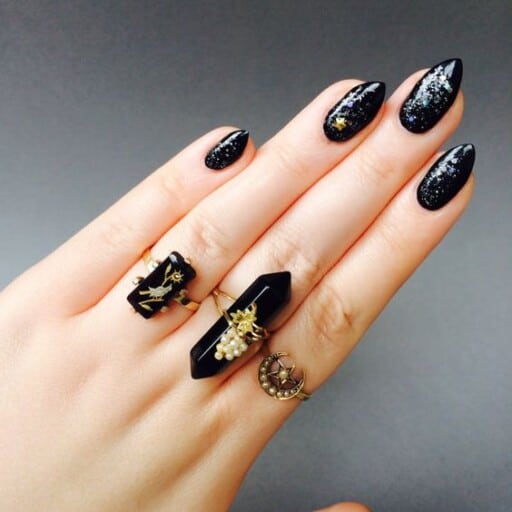 Go for something edgy and classy this coming New Year's Eve by wearing a black manicure with lots of shimmer in it! You can even accentuate this manicure even more by wearing black jewelry along your fingers to make it look even more cohesive and put together.
Personally, I love gold and black together. It creates such a glam and luxe aesthetic on your nails!
Pink With Gold Accents: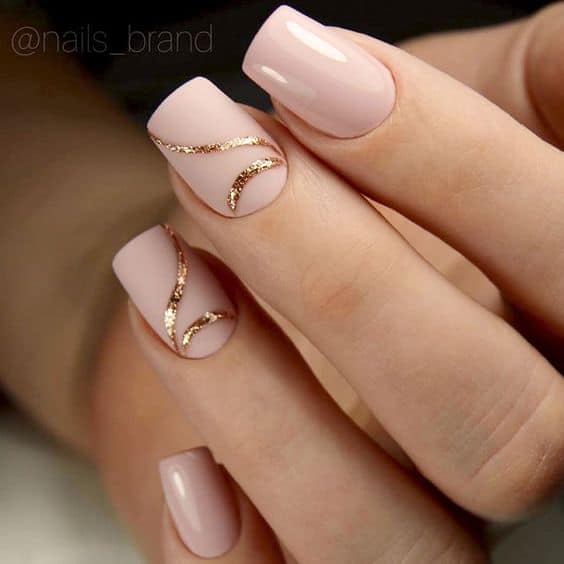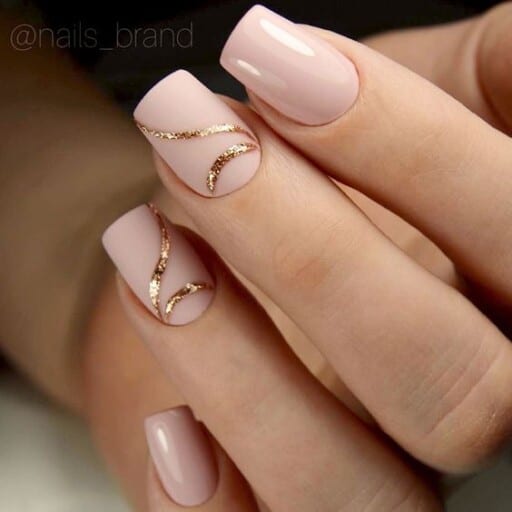 If you're not into the edginess that black polish creates for your nails, why not try something that's softer, more feminine, and even romantic for your New Year's Eve manicure? These pink nails would be so perfect for you if you're looking for exactly that! Accentuate them with some dainty gold linework for a touch of sparkle and elegance.
Black With Gold Accents: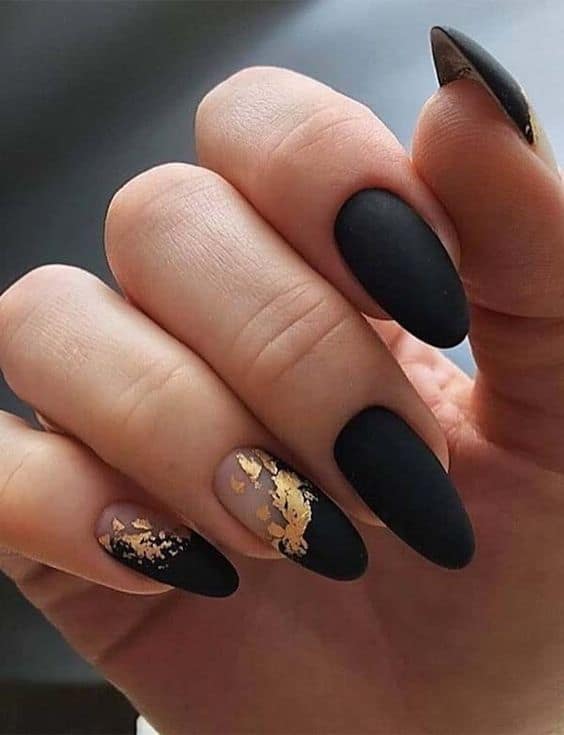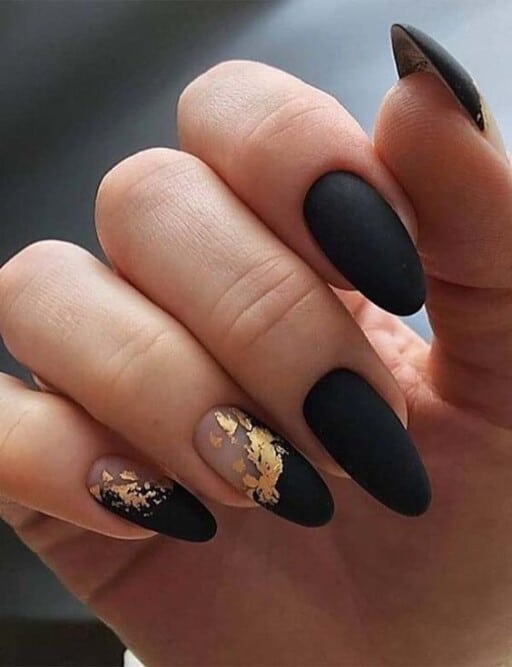 Tired of seeing the usual glossy finishes on every manicure? Let's go for something matte this New Year's Eve. This will give your nails that velvet-like texture that looks so classy, especially if you top it off with some gold flecks for your accent nails.
Silver Sparkle Coffin: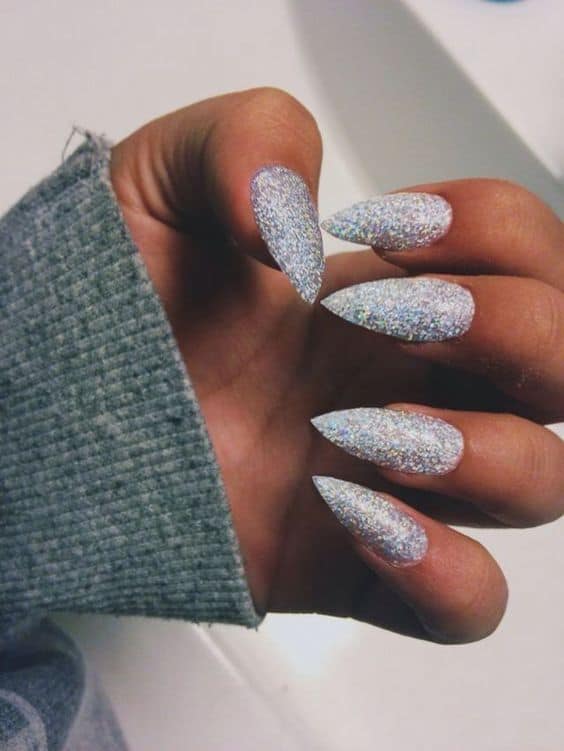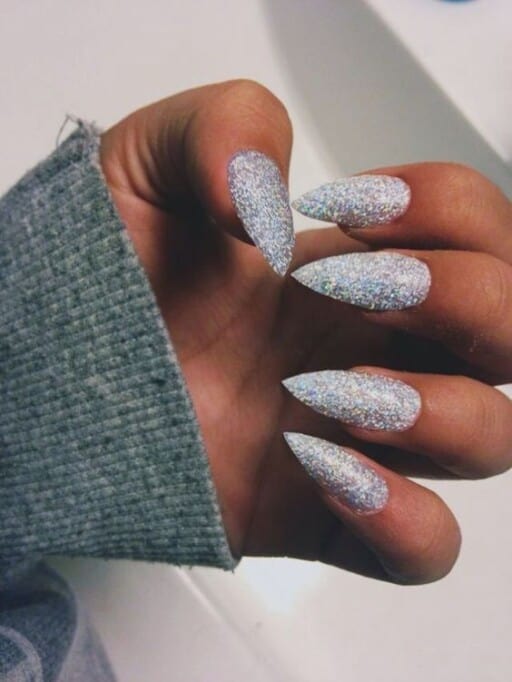 If looks could kill, these nails will be the death of me! I love this silvery and shimmery manicure that's so perfect for New Year's Eve. You're sure to catch everyone's attention as these will certainly make you sparkle with every move of your fingers.
Opt for a pointy stiletto cut on your nails if you want to get that edgy, femme fatale vibe for your manicure, but other nail shapes should work too if you're wanting to go for a rather soft look.
Grey Sparkle: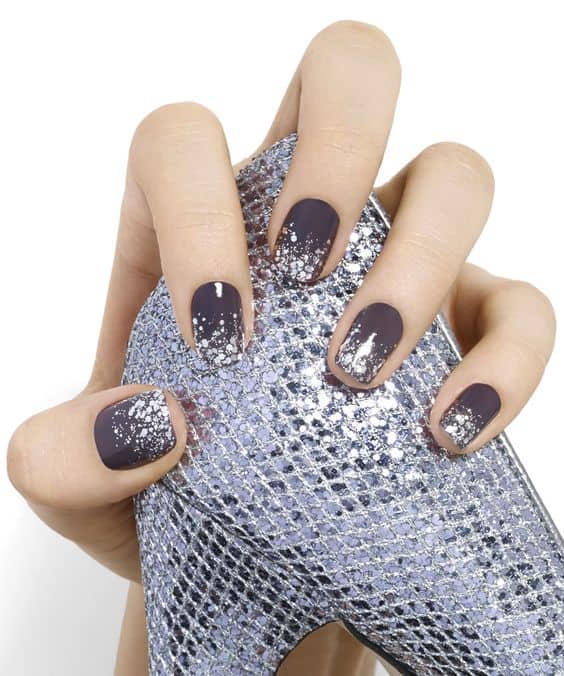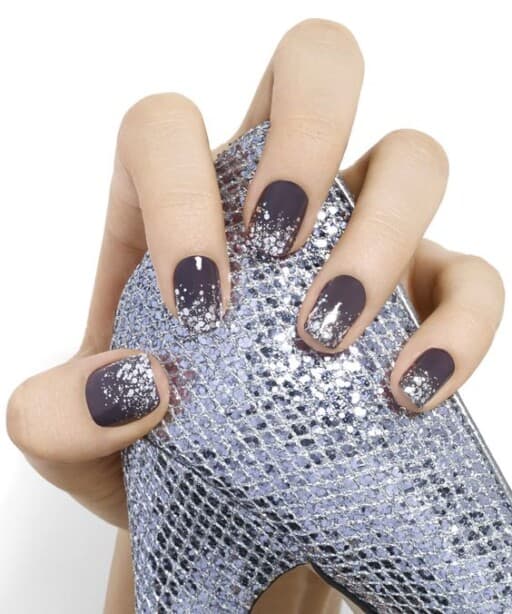 For an icy and cool manicure that will go well with both the upcoming New Year and winter season, try out getting a grey manicure with sparkly and shimmery tips. This will make your nails look like they were just dipped in the snow to get that gorgeous frosted look.
Sparkle W/ Tips: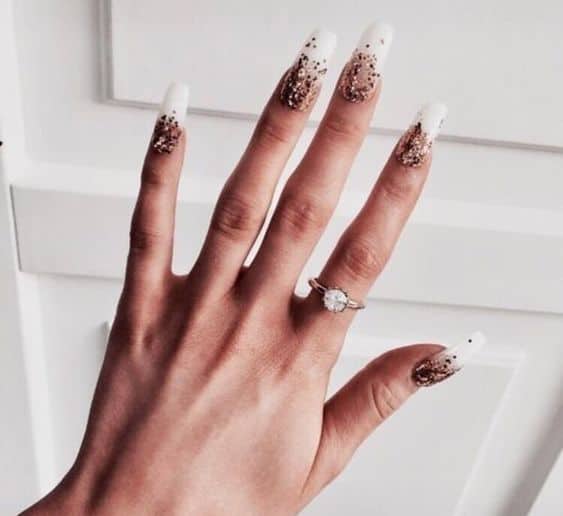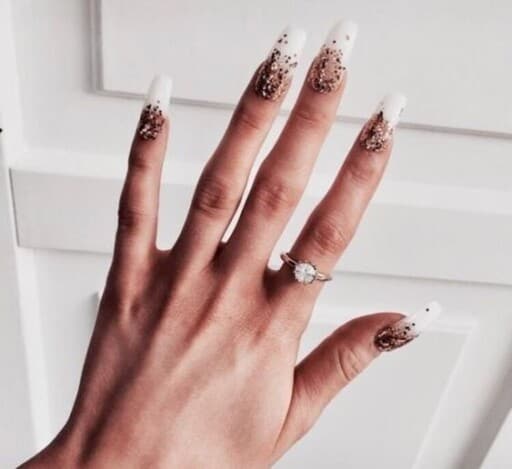 Want to go the classic route but with more festive cheer for your New Year's Eve party and celebrations? Try asking your nail tech to give you a French tip (you can even ask for nail gel extensions or acrylics if you want longer nails) then top it off with some champagne or rose gold sparkles to really suit the New Year vibe!
Nude Stars: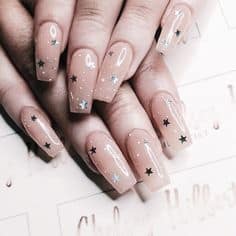 For something subtle but with still a little bit of sparkle. this starry nude nail art might just be the perfect manicure for you this New Year's Eve. By using a base coat that's close to your skin tone, you get this natural and subtle effect on your nails, making the stars on your nail art stand out even more.
If you're not too confident in your nail art skills just yet, you can always get star-shaped nail stickers so you get a much less fussy application if you're going DIY on this manicure.
Nude & Blue: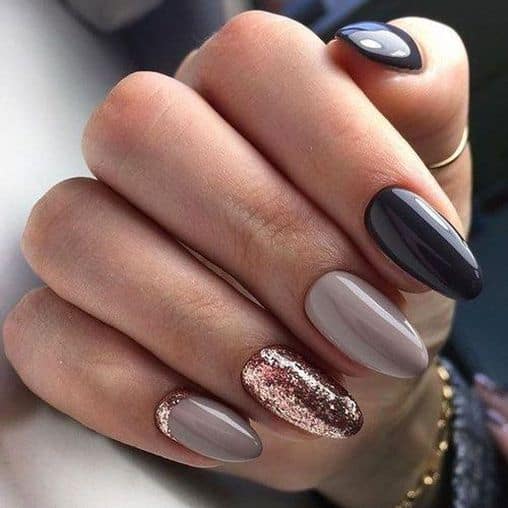 To create a gorgeous contrasting palette that has both light and dark shades of color, try this nude and blue manicure! No nail art skills are needed here, all you need are a few differently-colored polishes.
Opt for a stunning midnight blue and a cool-toned beige color to still get a cohesive color scheme that won't feel out of place. Then for your nail accent, you can use a rose gold shimmery base coat.
Black & Gold: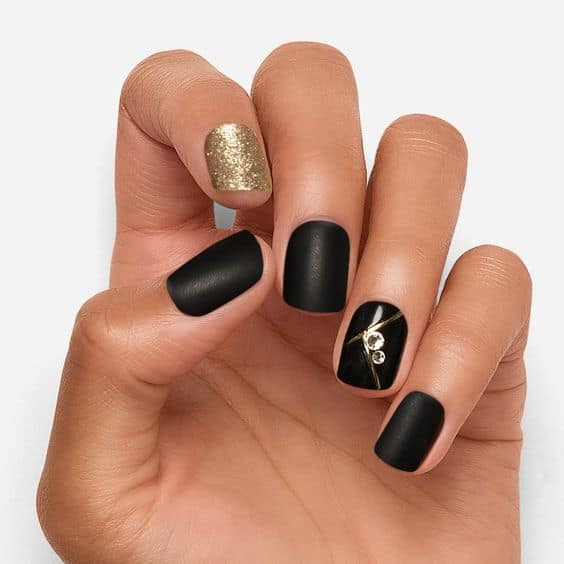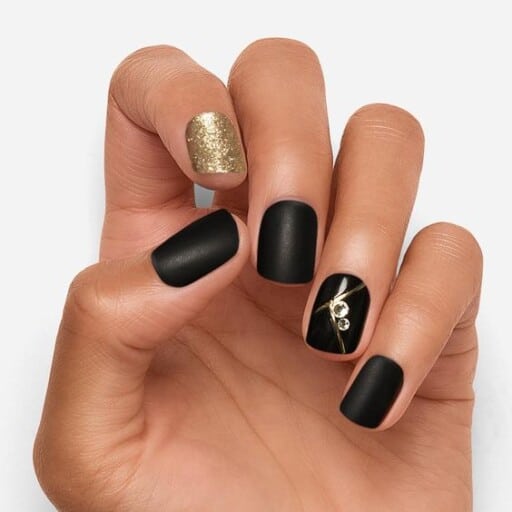 Black and gold are one of my favorite color combinations for any occasion. They give an effortlessly classy and chic vibe with a touch of edginess. Without a doubt, these nails are the perfect accessory to any outfit.
So if your New Year's Eve celebrations are leaning to the formal side where you have to dress up all glamorous, these nails won't do you wrong!
Black Sparkle: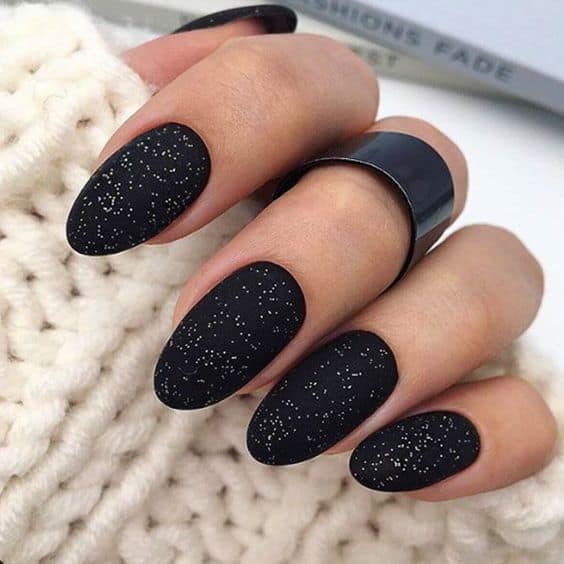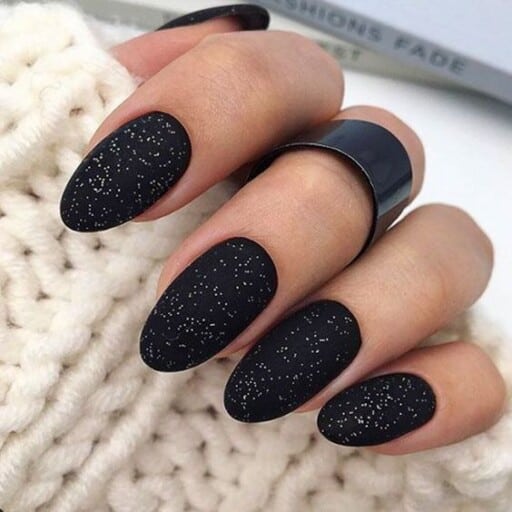 From afar, these may look like your typical shimmery black nails. But to those who look closely enough, it'll be such a delightful surprise to see that it's actually a really dark blue! It's a really unique color that you might love to wear on your nails for New Year's Eve.
Silver Coffin: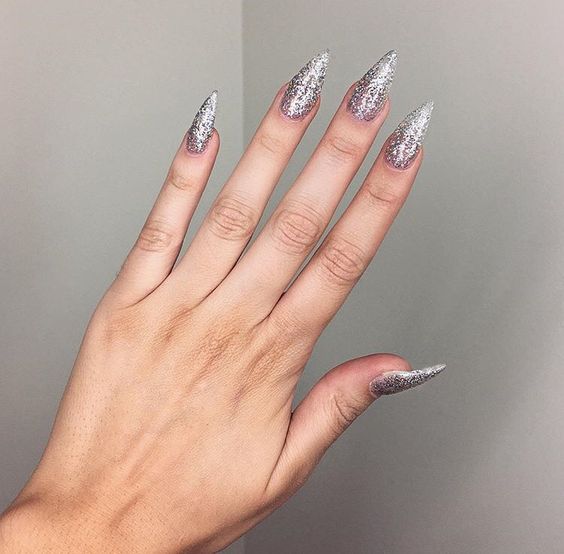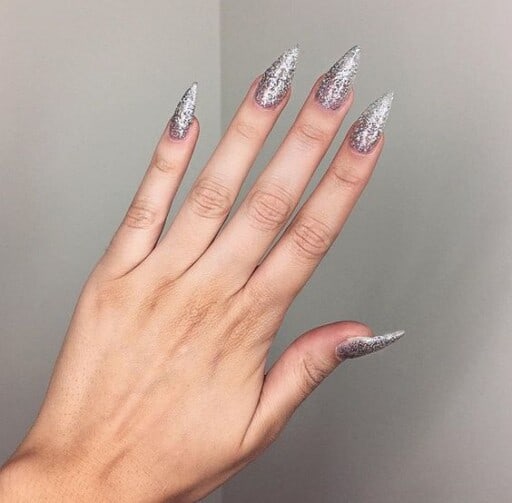 I love this frosty silvery look on the nails! It gives off such a winter wonderland effect that also suits the vibe of any New Year's Eve party you might be planning to go to, whether it's something casual or more formal. This glittery manicure will make your nails look o sparkly and a lot of fun!
Black & Gold Ombre: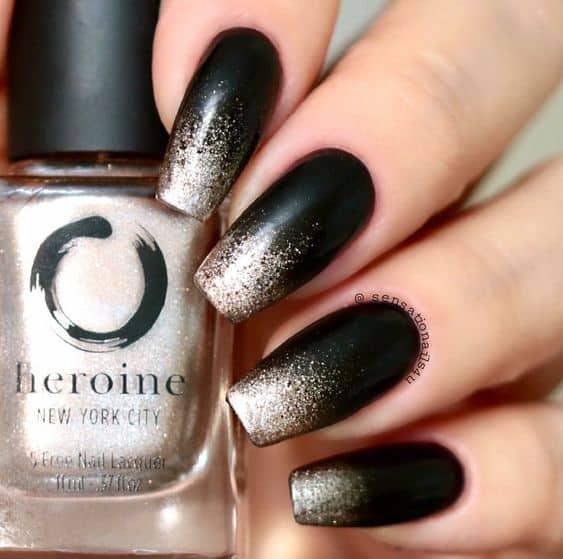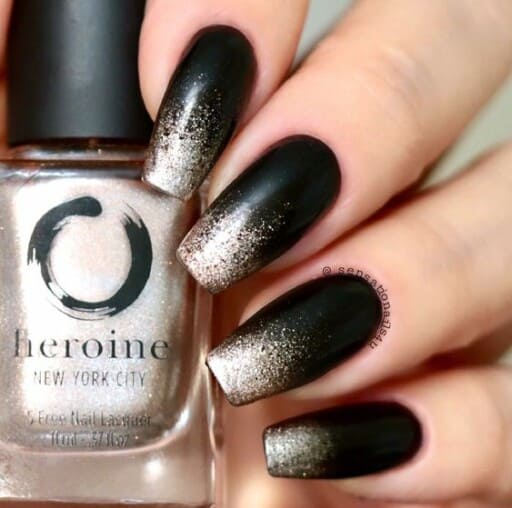 Forego the classic French manicure this New Year's Eve, and instead, go with these shimmery ombre black nails. I love how the gradient effect goes from dark to light from the base to the tips. It's such a creative and fun twist on the usual French tips.Gold Sparkle: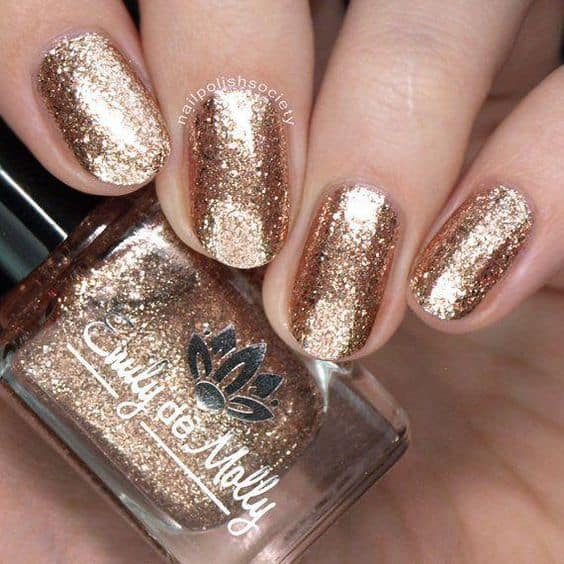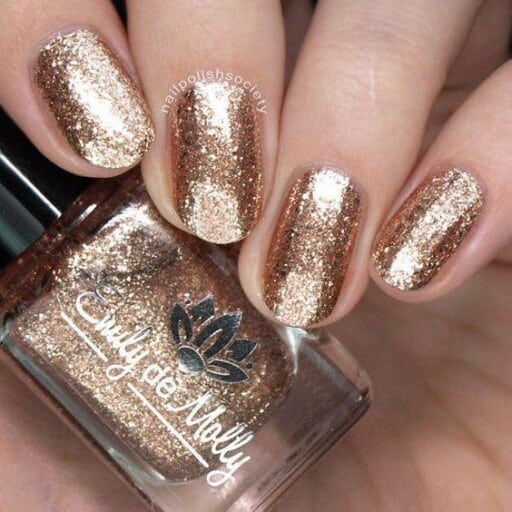 If you want a manicure that you can do last minute and without needing to do any intricate nail art for your New Year's Eve party, then definitely opt for a shimmery gold polish. This will make your nails look effortlessly glamorous with all that shine and sparkle!
Black Sparkle: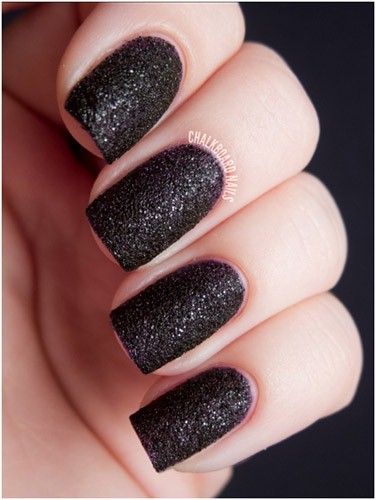 If you want something a little bit more understated but still want that same sparkle, why not go for a sparkly black polish? This particular manicure will give you a more subtle hint of sparkle that won't be too overwhelming on the eyes.
Gold Sparkle Tips: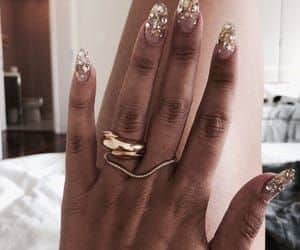 Aside from a chic ombre look, you can also go for sparkly tips for your New Year celebrations. This will make your nails look like they were dipped in liquid gold or even diamonds as you leave the base of your nails either naked or coated with a natural sheer polish.
Silver Ombre: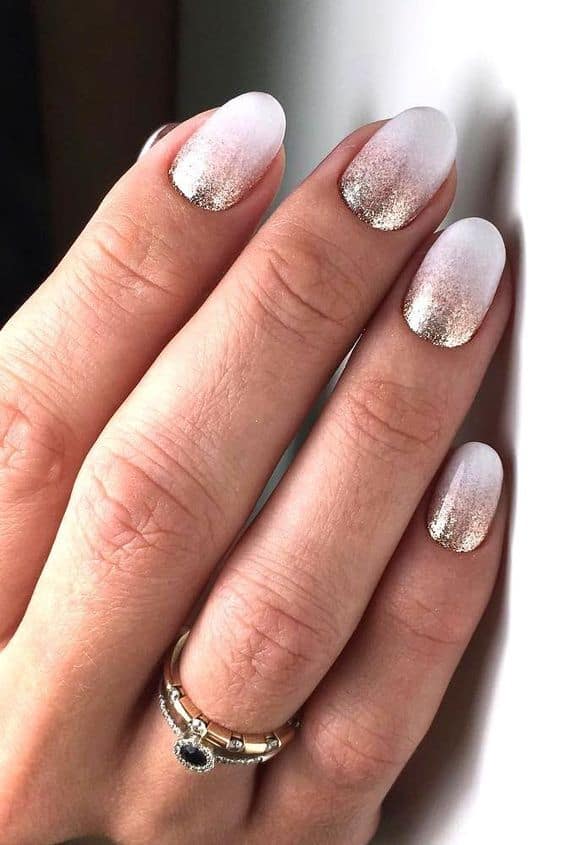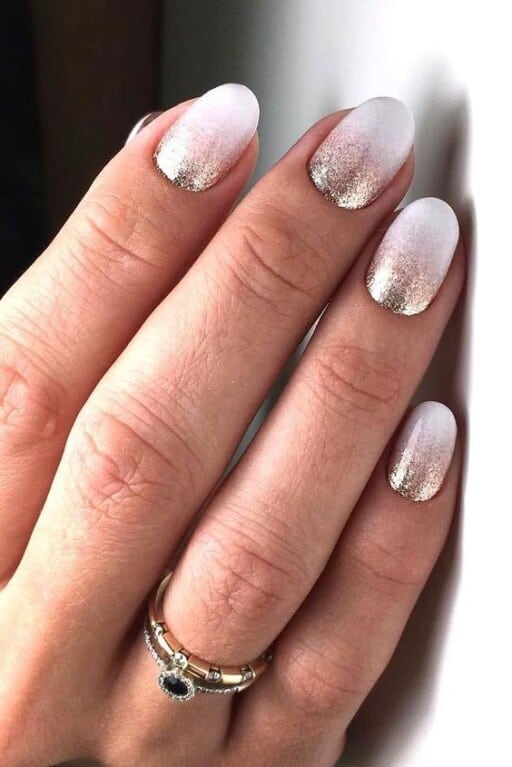 Here's another iteration of the trendy ombre nails. But instead of using a dark-to-light combination, you can also do both light colors! To give it more dimension, you can give the base of your nails a shimmery coat while the tips get a solid silver polish or even a white one if you want to make it look like a more festive, gradient French manicure.
Black & Silver: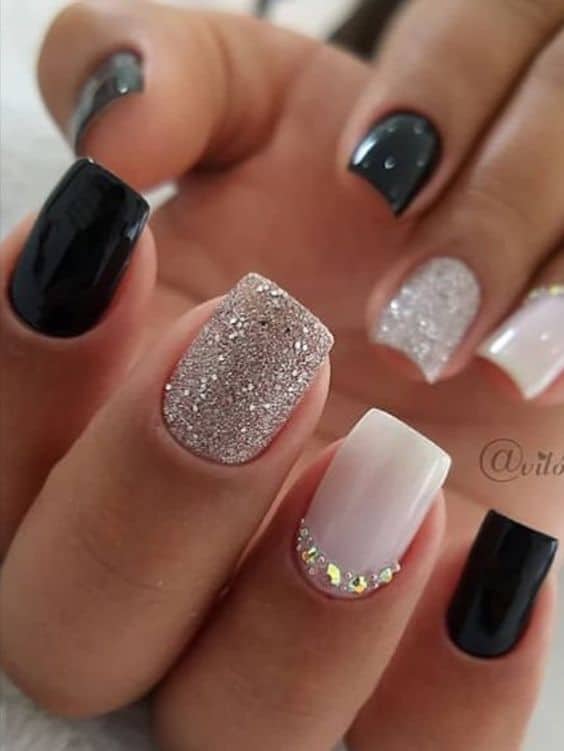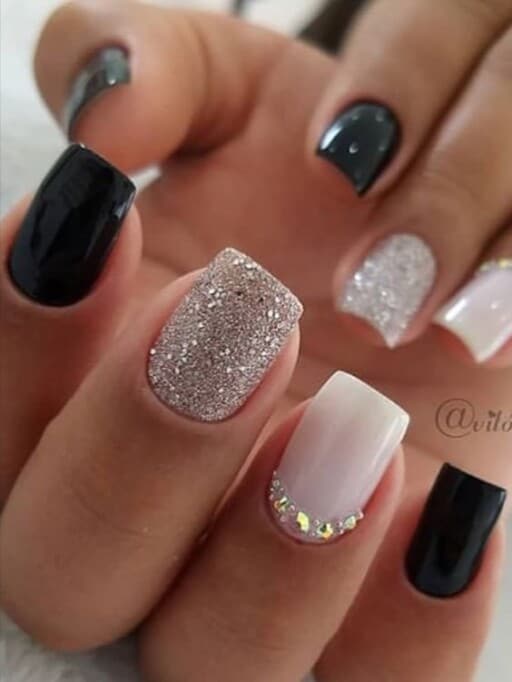 Can't decide on the pattern or texture or colors to pick for your manicure this New Year's Eve? Why not go for a different design for each nail? You can pick monochrome or neutral colors so they still look cohesive even with the varying textures and patterns.
Nude Sparkle Accent: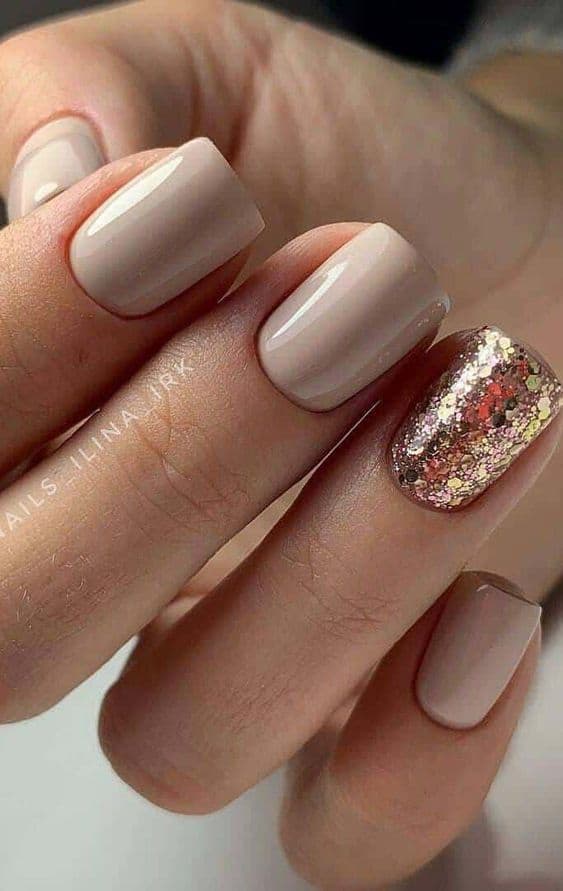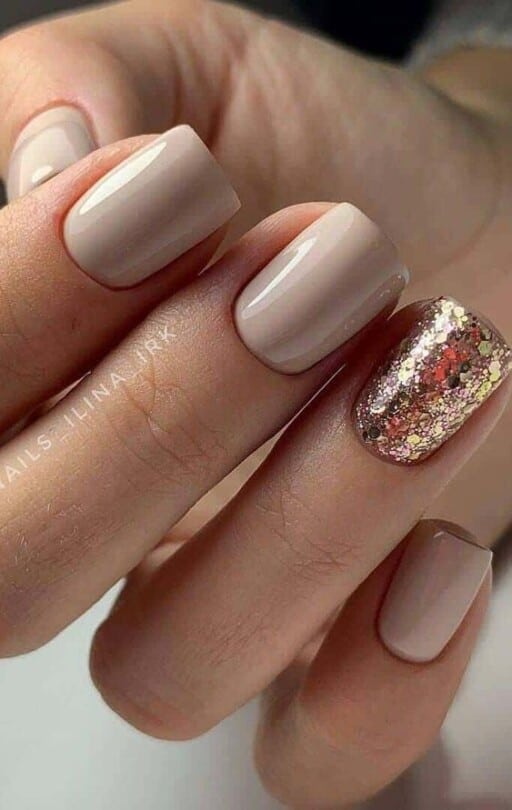 For a New Year's Eve manicure that you can wear even after the party has finished, opt for a regular nude polish and then coat your accent nail with a shimmery top coat. The nude-colored nails will make the whole look ideal for everyday wear with a touch of sparkle from the accent nail.
Silver Coffin Nails: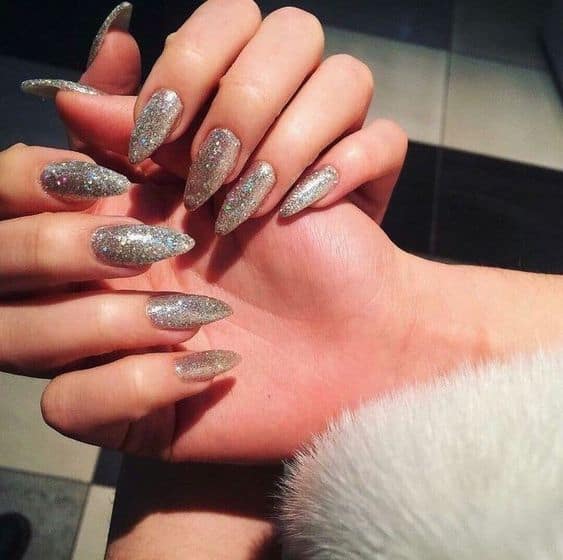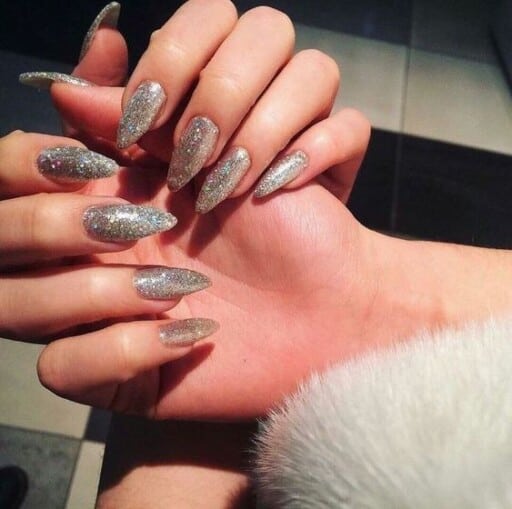 Here's a favorite silvery manicure of mine from this list. I love how the stiletto cut of the nails gives it a more feminine look while the shimmers you get from that metallic silver make the whole manicure a lot more festive!
Nude Silver Sparkle: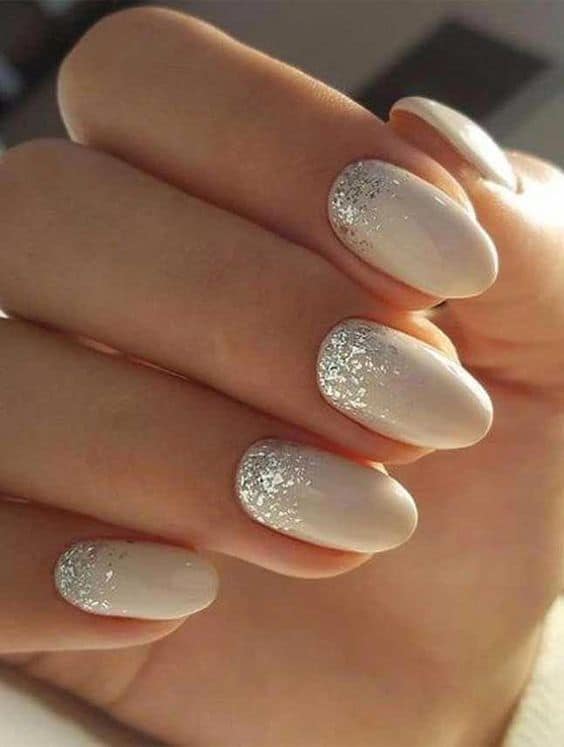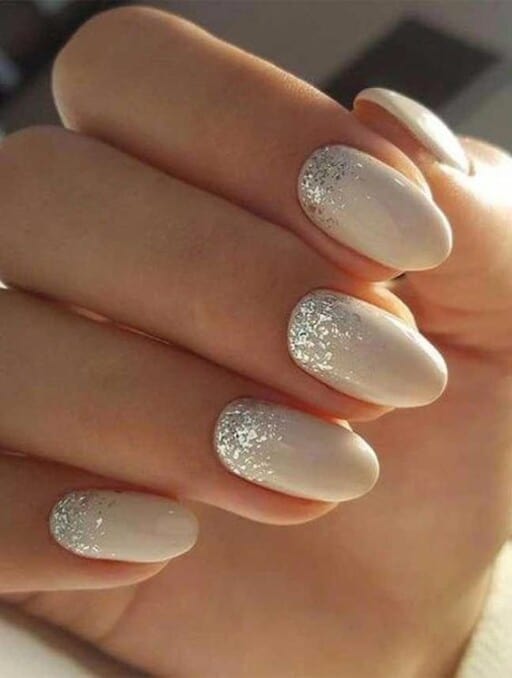 If you're looking for a more subtle aesthetic for your nails and don't want anything too vibrant or eye-catching, try putting some silvery glitters on the base of your off-white nails. This will give your manicure an understated yet still festive look that's perfect for any New Year's Eve party.
Pink Sparkle: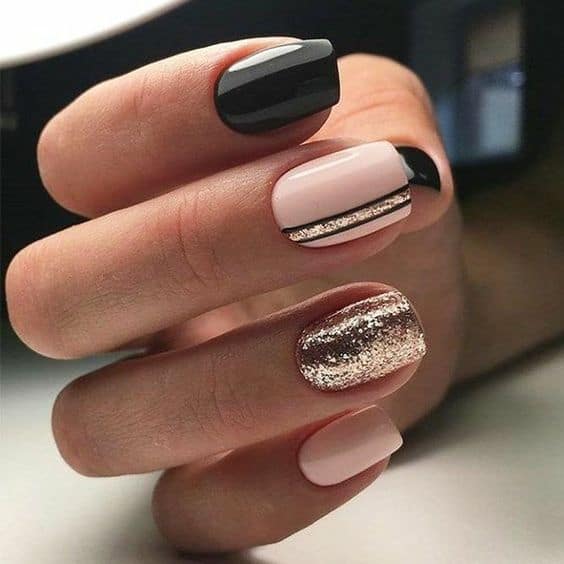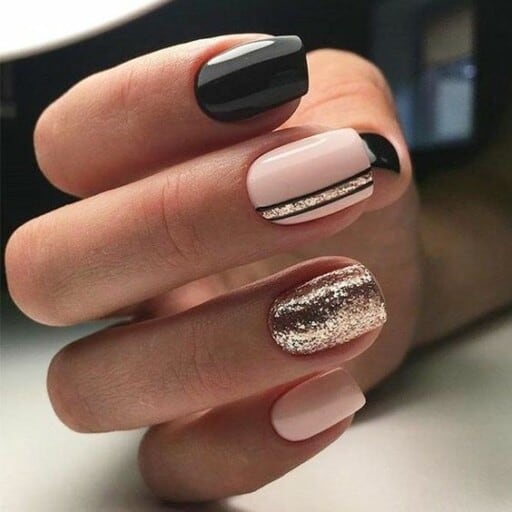 Create gorgeous contrasts with your nails by combining soft colors like pink and rose gold against a really deep black color. This will make your nails look instantly chic and ready for any celebrations for the New Year.
Nude, Gold, Black: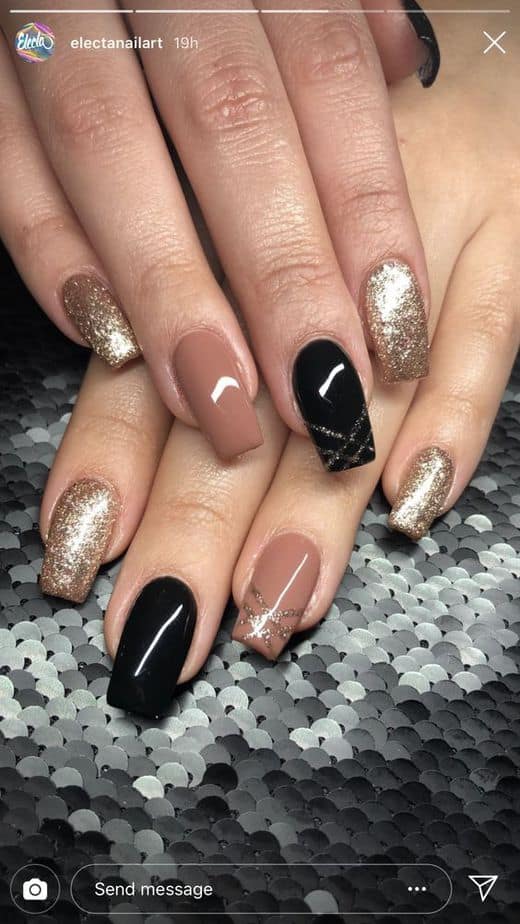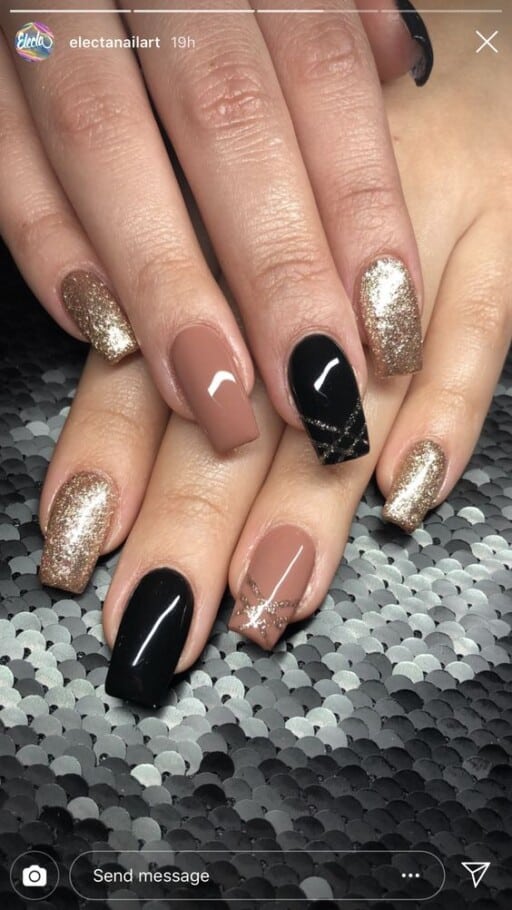 Here's another stunning and elegant manicure with a lot of contrasts. From the regular glossy finishes to the shimmery top coats, this manicure is absolutely beautiful!
Deep Winter Colors:

Since the New Year is also set in the winter season, burgundy polish is also a classic choice for your manicure. So if you're looking to go red, opt for a shade with a deeper tone like oxblood and you can choose a white marbled accent nail to create an interesting contrast of colors.
Black, White, & Gold

If you can't decide on what color to choose from, why not go for the classic black and white? These colors go with any outfit and they're just effortlessly chic.
Frosty Silver

For a frosty, winter wonderland manicure that won't dampen your mood throughout the winter season and New Year celebrations, try this sheer, glittery design for your nails. There's something about this manicure that just looks so magical and ethereal!
Sparkly Nudes

For a manicure that'll make you party-ready within a few minutes, you can always opt for any regular base coat you usually use and then top it off with this sheer and shiny top coat from OPI! This will take your manicure to the next level without too much fuss.
Earthy Neutrals & Shimmers

Here's a cool-toned earthy neutral color palette for your nails this coming New Year's Eve. I love the moody vibe this gives off while still being festive at the same time.
Metallics

If you're looking for a rather futuristic vibe for your manicure, this gorgeous chrome silver color would be perfect for your nails this New Year's Eve!
Black With Champagne Shimmers

Mix and match sheer and shimmer accent nails with solid black nails to create these gorgeous dimensions on your manicure!
Metallics & Blacks

A classic color combo you can do with your New Year's Eve nails if you're running out of options is by pairing up a solid black polish with a metallic color. Silver is the perfect metallic and they make such a nice contrast together!
Champagne Nude

If you want a color that's not as intimidating as black for your manicure, then you always opt for a nude base coat. It's a lot more understated and subtle, and you can easily wear it every day without looking too flashy.
Frosted Tips

Here's another beautiful frosted manicure you'll surely love! I love the glazed gradient effect on these nails!
Muted Pink Shimmers

These muted pink nails with shimmers are utterly gorgeous! They look soft, feminine, and even a little bit romantic. They're the perfect nails if you're spending your New Year's Eve on an intimate date.
Pink & Dainty

For a dainty pink manicure, this is definitely for you! I love how the thin linework reminds me of a ribbon you pull from an expensive gift box.
Silver Glitters

For a fun and a festive manicure that you can do by yourself, try doing a simple shimmery glitter nail for New Year's Eve!
Frosted Black

Not a fan of silver or metallic colors? Go for a sparkly black polish instead! It's chic and it's edgy!