Looking for the top winter nails to try this season? We've compiled our favorite winter nail designs that are trending right now!
Fashion generally changes drastically once the cold weather arrives. Instead of pretty dresses, we wear scarves and sweaters out at night, and we worry about static cling in our hair rather than humidity.
One way to really up your game in the winter is by doing your nails. A chic winter outfit just looks so much better with trendy nail polish.
I personally love winter nails; I find that the colors are classy and warm and really make my hands look pretty.
I've tried out most of these colors and am absolutely loving them this season! Down in the color inspiration section, I've included 30+ colors with both the gel and regular color options on Amazon. If you're interested in doing gel nails at home, check out my simple how-to post here!
Right now, however, I get dip nails done pretty regularly. I find that most of these winter nail colors are available in dip powder at my regular salon.
So let's get down to it: what are the hottest winter nail trends this season?
Winter Nails For Inspiration: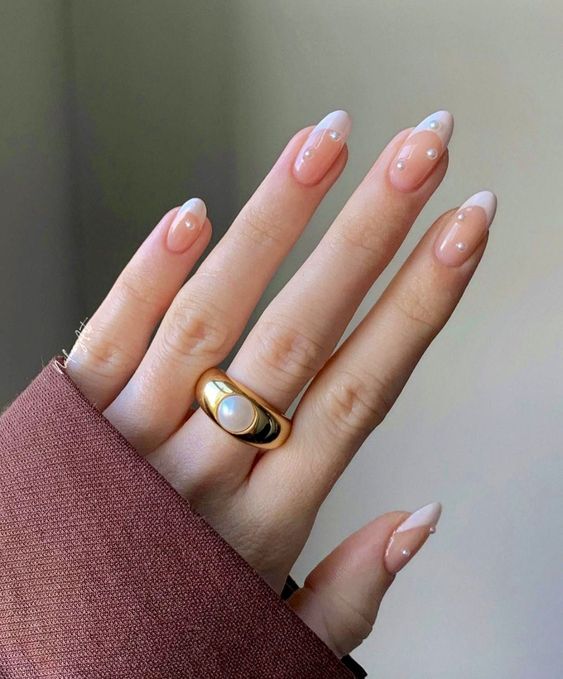 Starting off with something subtle and soft, why not try adding pearls to your classic french tip? This will give your nails that delicate and feminine touch. It has such a dainty vibe that's perfect for the cold weather!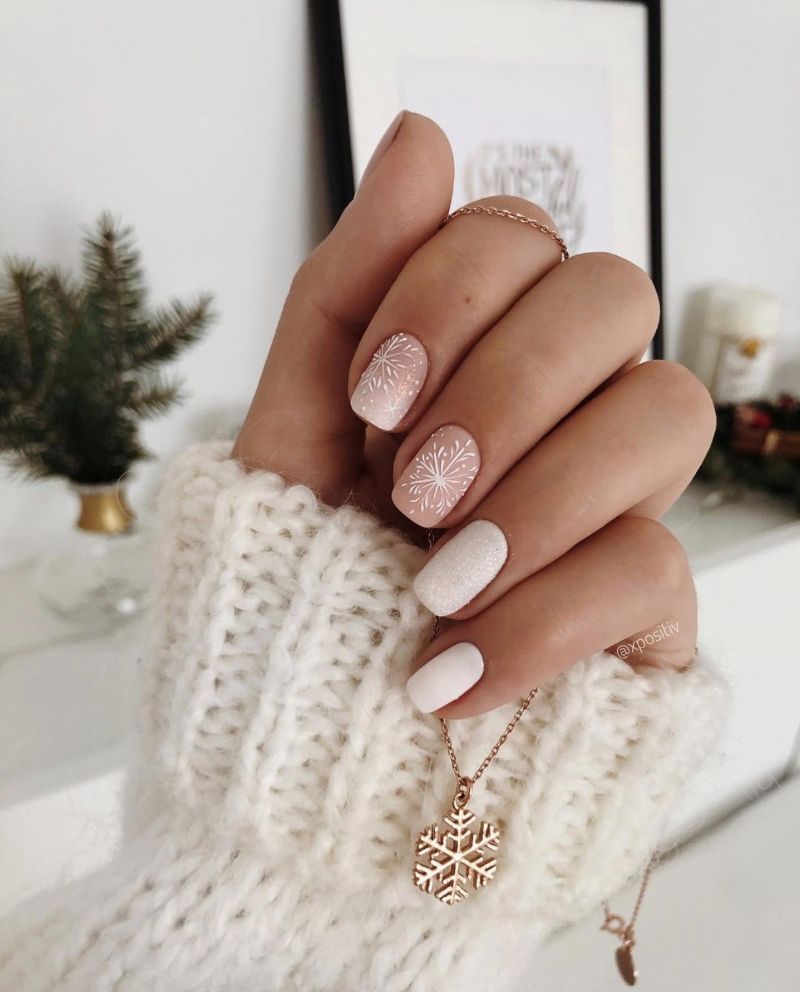 Let your nails match the winter season by incorporating seasonal patterns reminiscent of snowflakes into your next manicure! You can also use frosted nail accents for that extra chill! For the best frosty effect, make sure to use light colors like white, off-white, pink, and beige tones.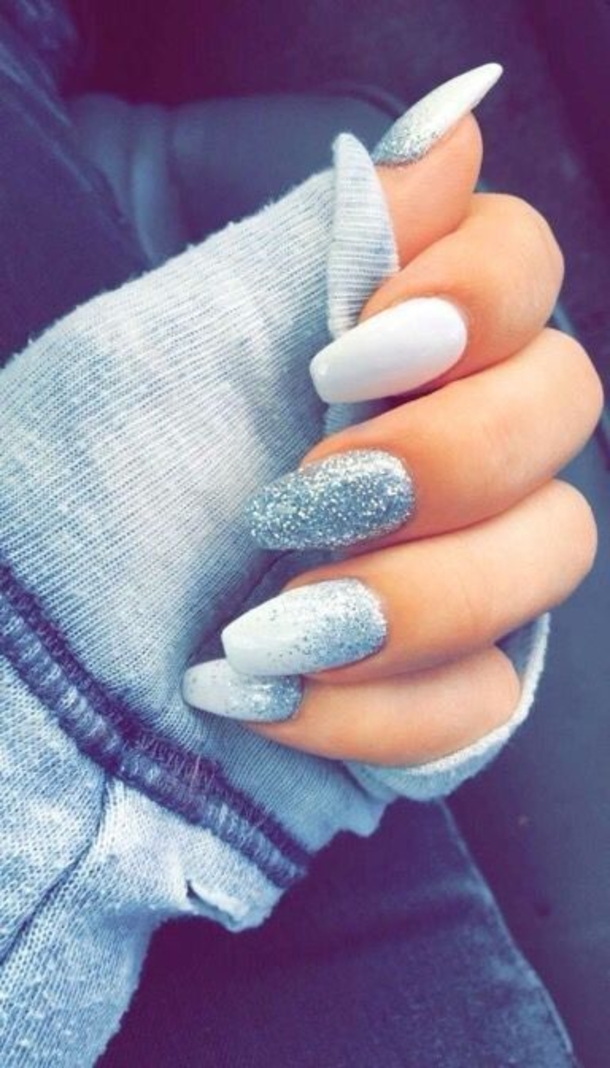 This winter season, it's all about the glitter! If you're looking to add some glitz and glamor to your nails, then I highly suggest going with fully glittery nails! Just look how those glitters sparkle and shine! You can even add a non-glitter accent nail if you prefer.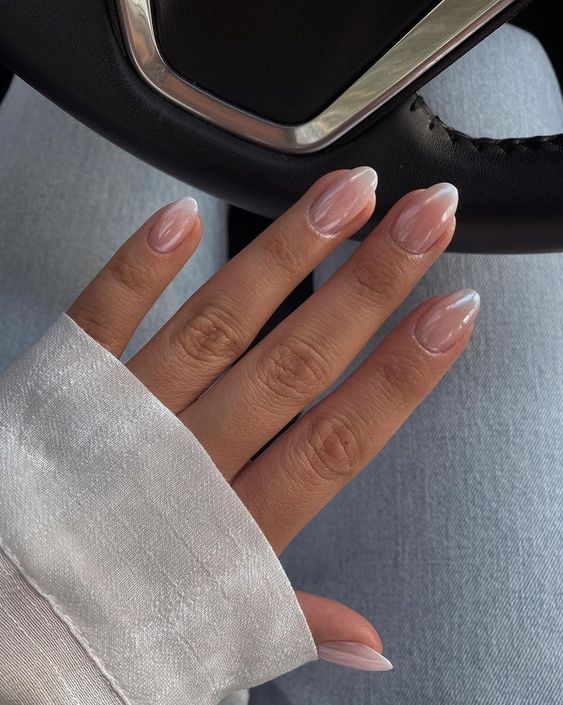 Thanks to Hailey Bieber, glazed donut nails have become quite trendy this year! It has been every it girl's go-to manicure and I can totally see why! It gives your nails that gorgeous glistening shine that I usually see in Krispy Kreme's classic glazed donuts.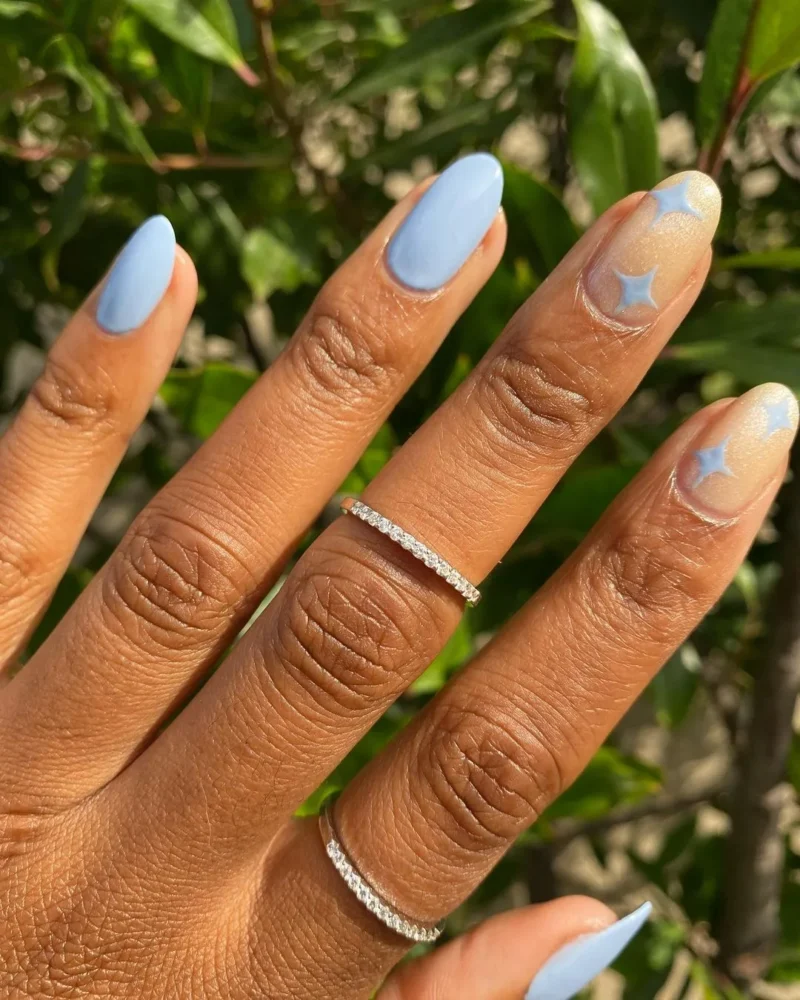 I just love a cute pastel blue manicure! Blue tones are so perfect for the winter season as they give off such a cool and chilly vibe. If you really want to get into the winter theme, try using subtle sparkle nail art for your accent nails!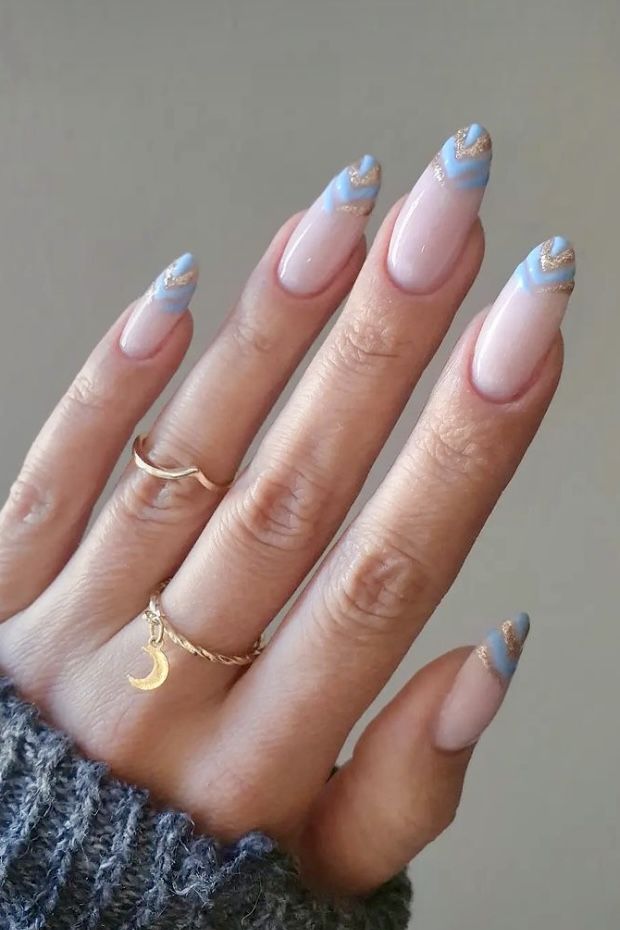 Put a twist to your classic french tips by using some dainty nail art instead on the tips of your nails! You can mix and match glittery and regular nail polish for them too!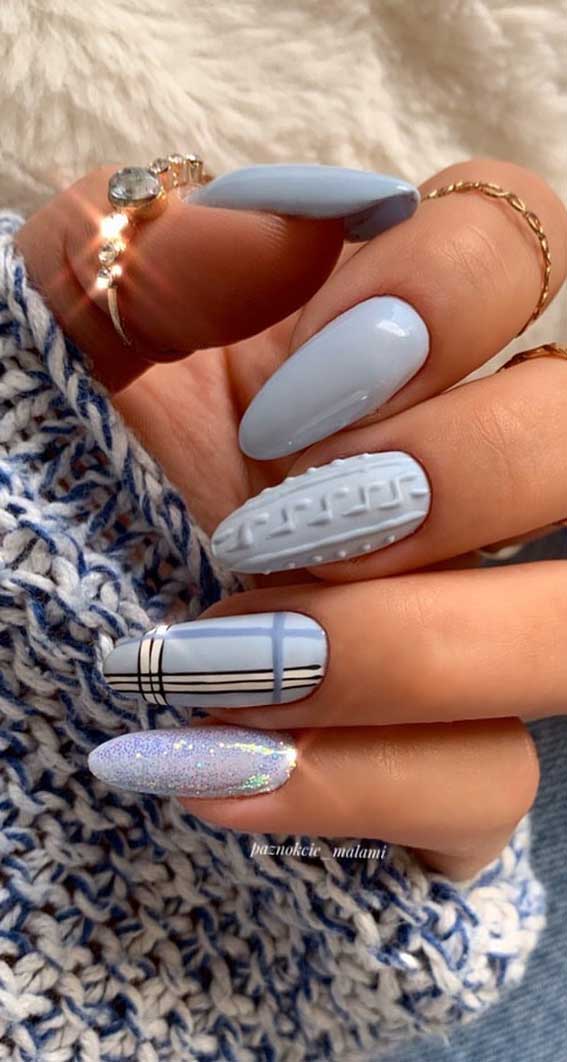 Mix and match different patterns and finishes for your next manicure to get these cool, eclectic nails! Instead of doing only one accent nail, why not make each nail different? You can get your seasonal plaids, sweater-inspired nails, as well as some sparkle!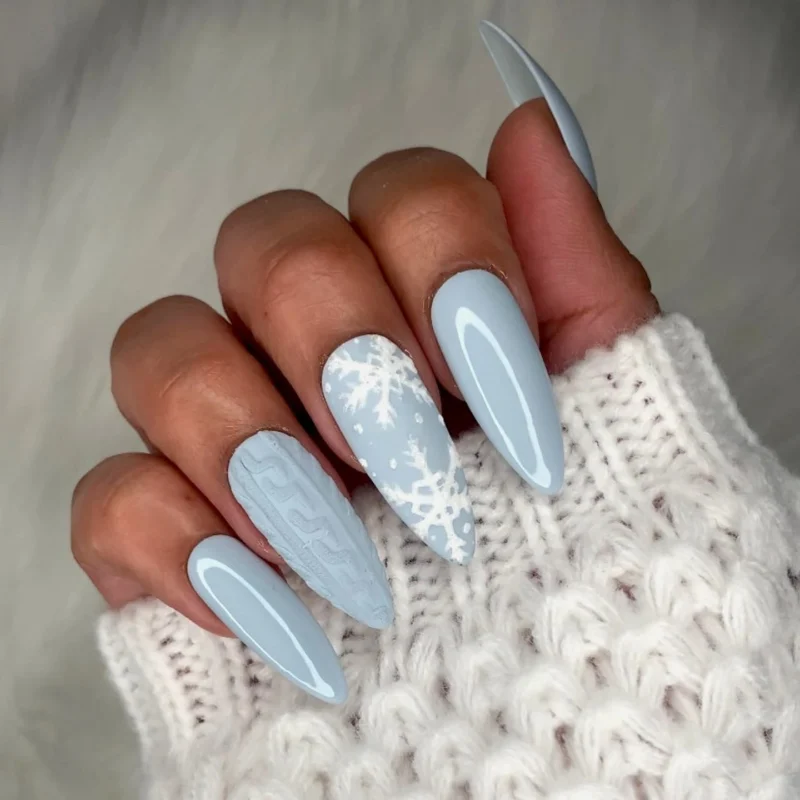 Here's another manicure you can recreate that incorporates different accent nails. I honestly love the sweater-inspired nail! It gives such a cozy feel beside the snowy accent nail.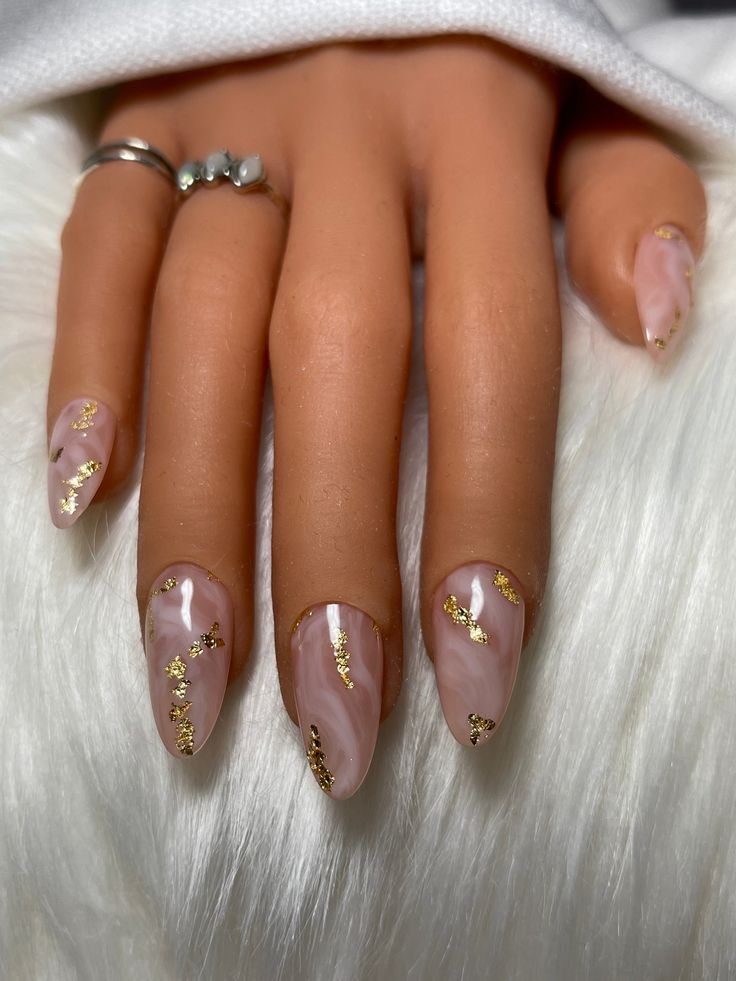 So dainty and feminine, if you're looking for nails that would be quite simple to recreate this winter season then you should definitely give these soft pink nails with gold flecks a try!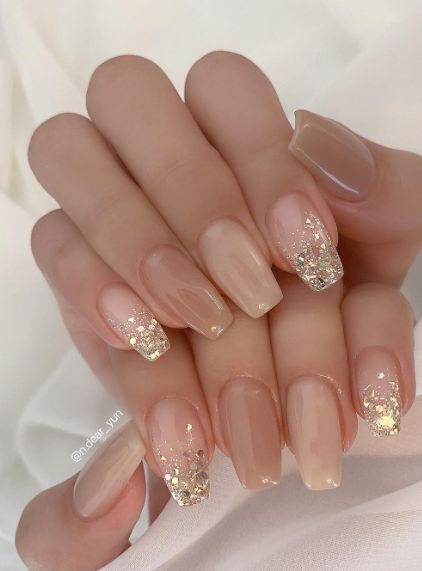 Here's another way you can spice up your classic french tips! By using glitter instead of the traditional white, you'd get yourself such a sparkling french mani that's perfect for any holiday and winter gathering.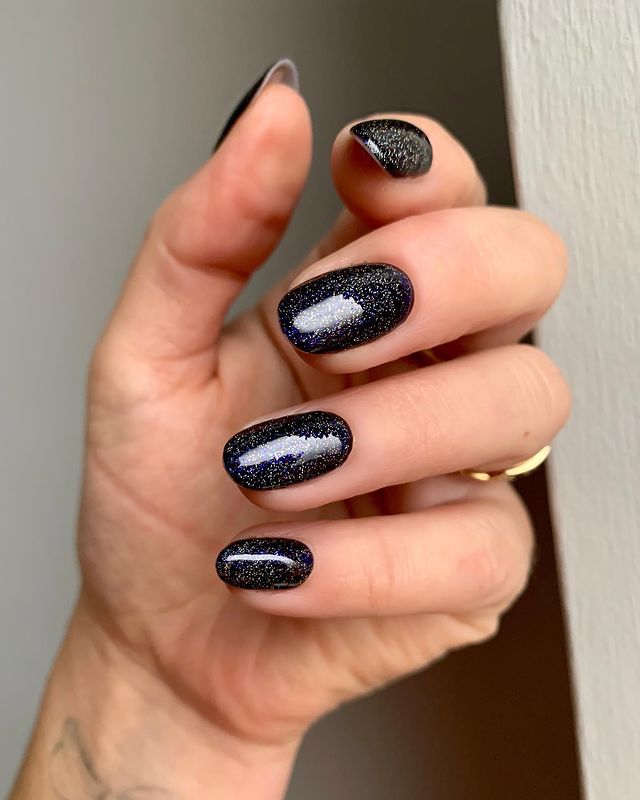 I honestly love black nails. They give off such an edgy vibe and if you're looking to make it more festive for the holiday, you can use regular black polish for the base and add glitters as a top coat! These nails are very low-effort and ideal for those who just want something easy to recreate.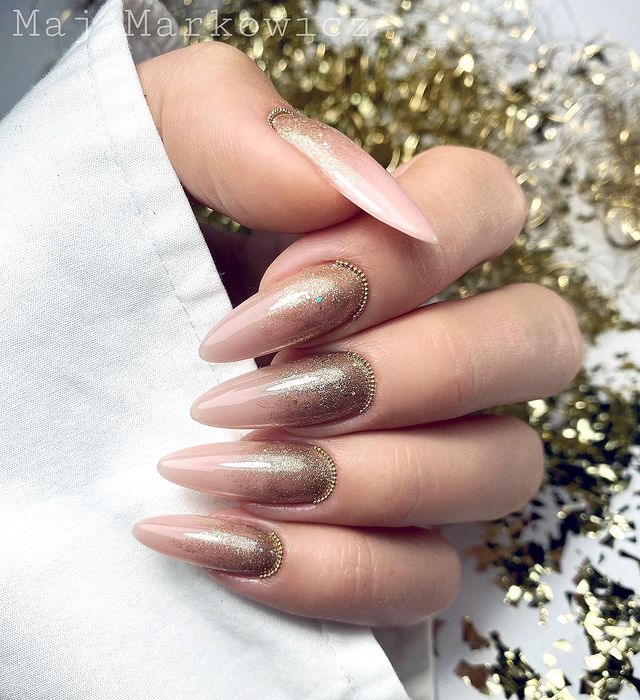 These shimmery gradient nails are to die for! I can't think of anything else that would be so perfect for the holidays and the winter season. And those small beads on the base of the nails make this manicure even more stunning!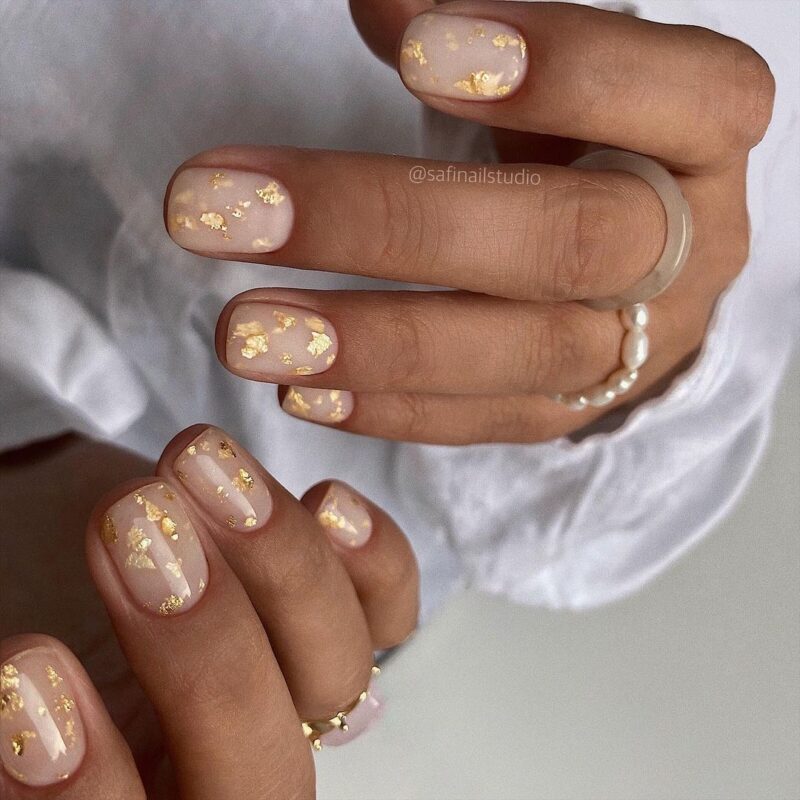 Another simple manicure you can emulate is these gold-flecked nails. All you need are some gold fails and a base coat of your choosing! For a more subtle and understated effect, I suggest using a nude-colored polish for a classier feel.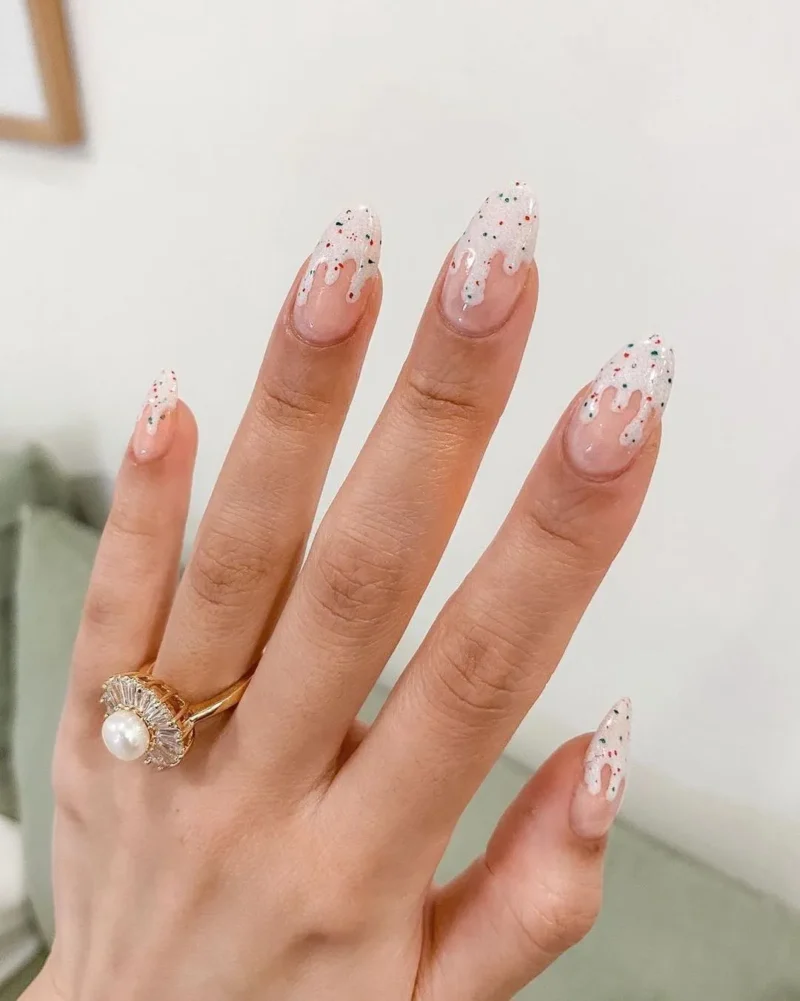 Get your nails to look like you just dripped them in sweet frosting this winter season! If you're looking to do something quirky and fun, then you should definitely give this kind of nail art a try! They look good enough to bite!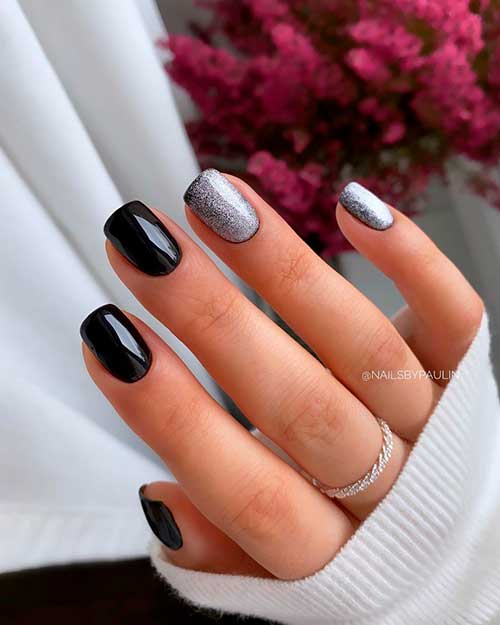 Switch up your regular black polish by adding shimmery, grey accent nails to your manicure. This will give your usual nails a more festive, but still edgy, appeal!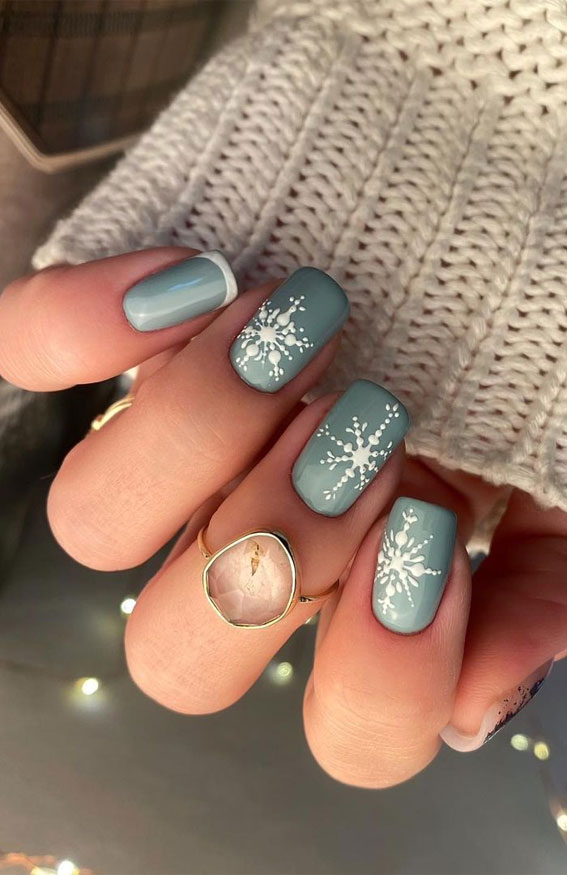 If you think you're ready to do some more intricate nail art for your winter nails, you should certainly try drawing gorgeous snowflake patterns to your base coat for a delicate look.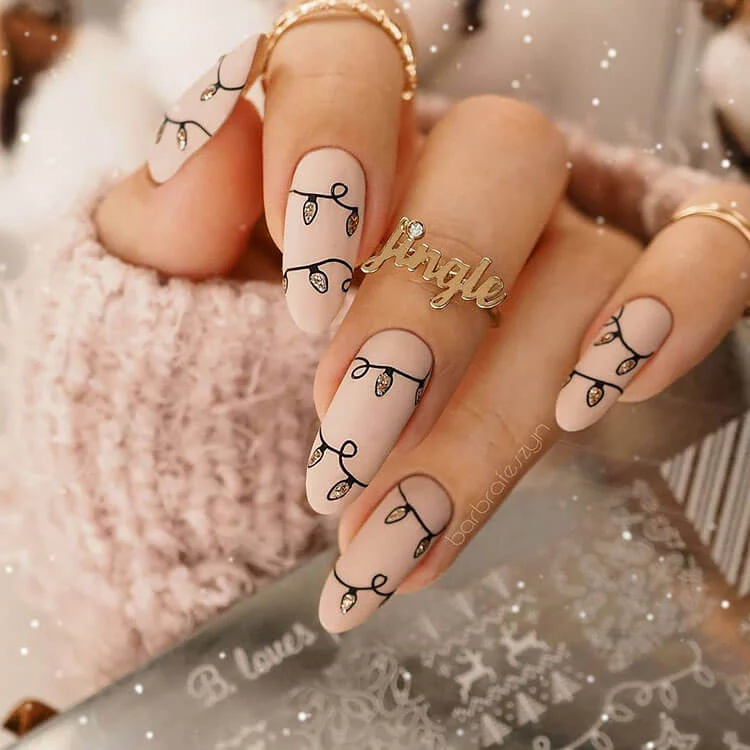 Light up your nails with these quirky, Christmas light-themed nails! These would be so perfect for the holidays!
Give your nails that icy and wintry feel by adding some holiday candy-cane stripes and snowflake patterns to your manicure! In between those accent nails, you can use a classic french tip or maybe even a regular white polish all over the nails.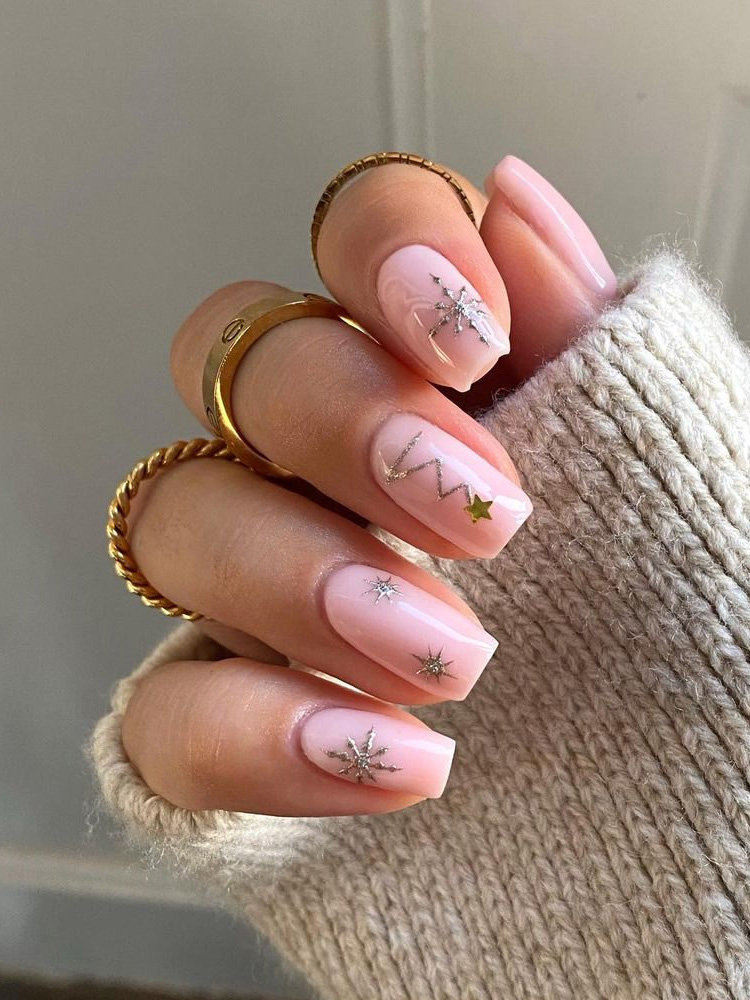 No need to be a pro nail artist in order to get those dainty and intricate sparkles and snowflake patterns on your nails. Sometimes, you can get away with some handy nail stickers to get those gorgeous designs!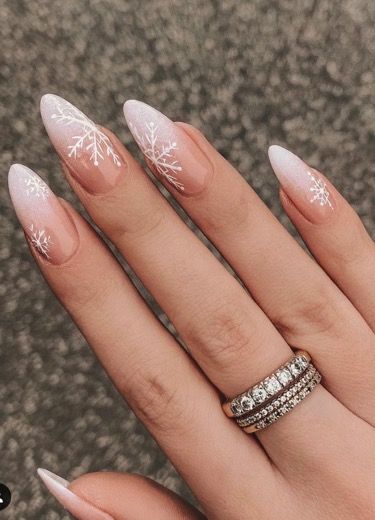 Gradient nails are just utterly beautiful. Just look how ethereal these are! And the snowflakes just really add an elegant feel to the overall look. If you want to make this kind of manicure more feminine, I suggest going for a long almond cut or a stiletto-type nail.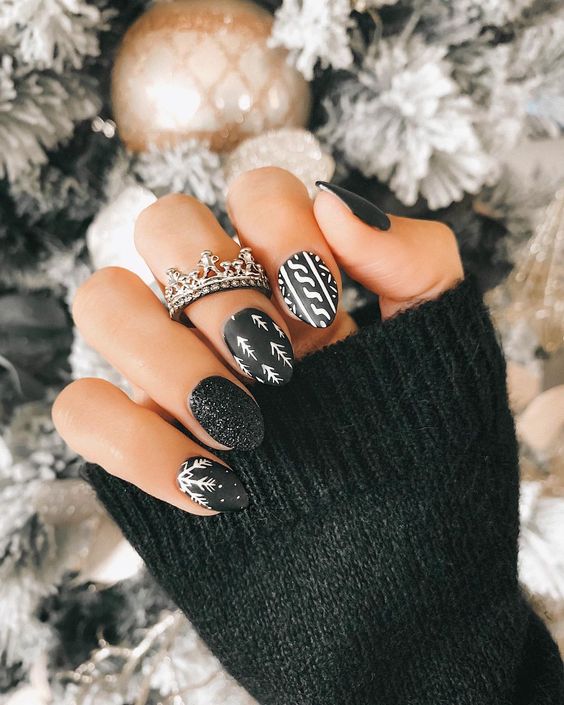 Who said black can't be festive? Just look how gorgeous and stunning this manicure is! If you're not yet confident with your nail art skills, do not worry! You can always use press-on nails instead! Just stick them on and you got yourself a complete manicure!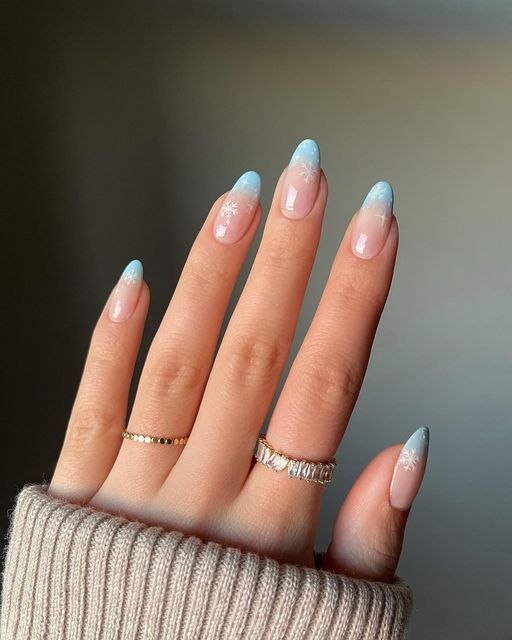 Instead of the traditional white French tip, try using an icy blue color instead for a more wintry feel! Then add some sparkling snowflakes afterward to really immerse yourself in the season.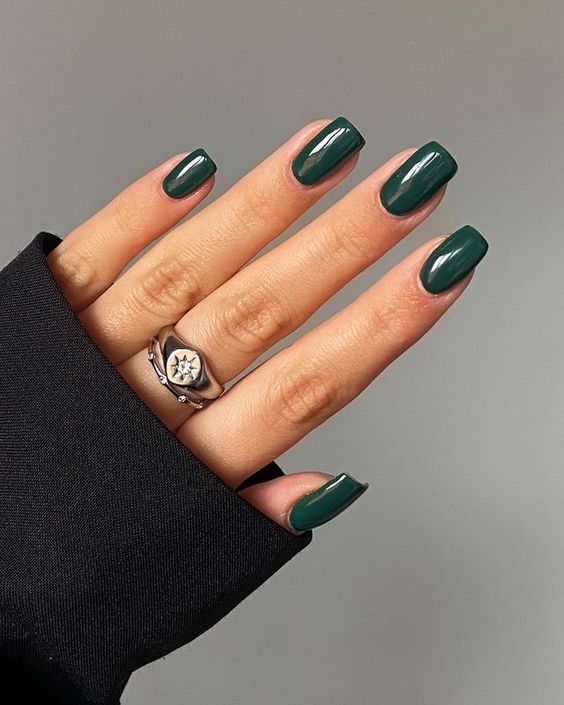 Classic and very easy to recreate, these green nails are pretty simple and straightforward. But the color is enough to give your manicure a festive touch! If you're not a fan of putting too many things on your nails, then this is perfect for you.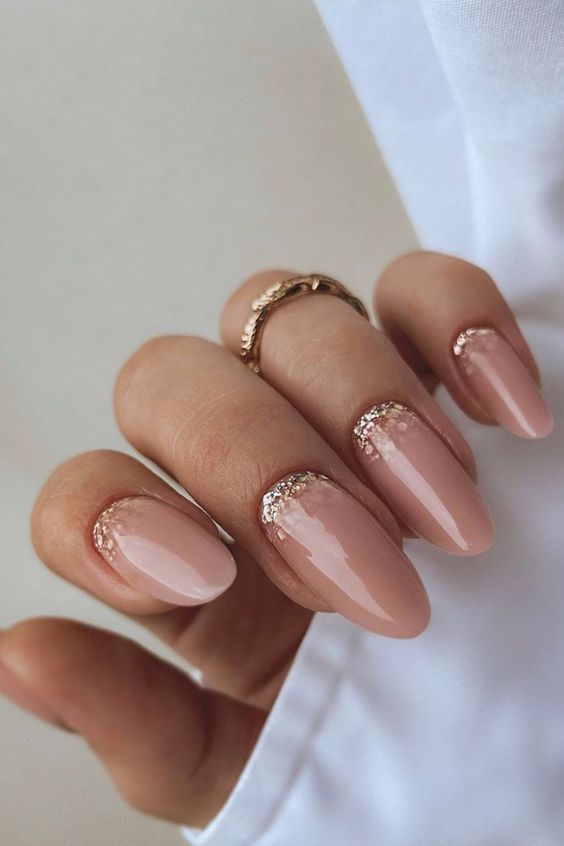 Instead of putting a French tip, why not try putting the accents on your manicure on the base of your nails? This will give you a rather unique yet delicate look!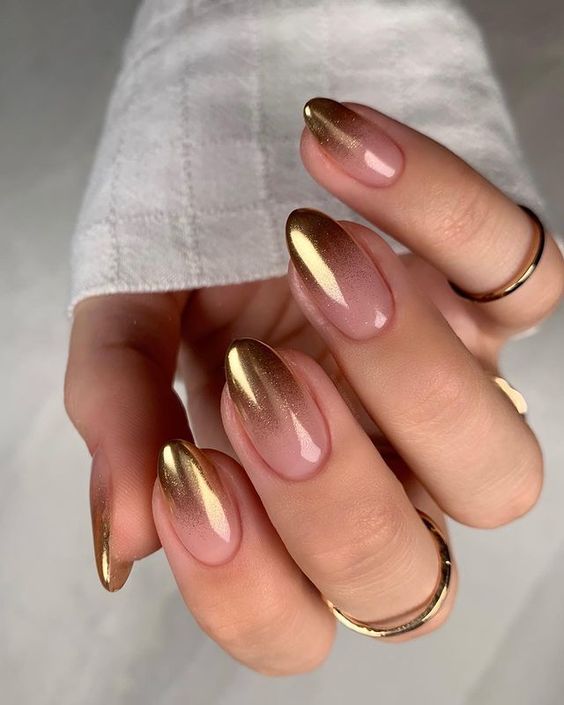 These golden gradient nails are going to make your nails look like you just dipped them in gold! I just love how shimmery and glazed these are. So festive and classy at the same time!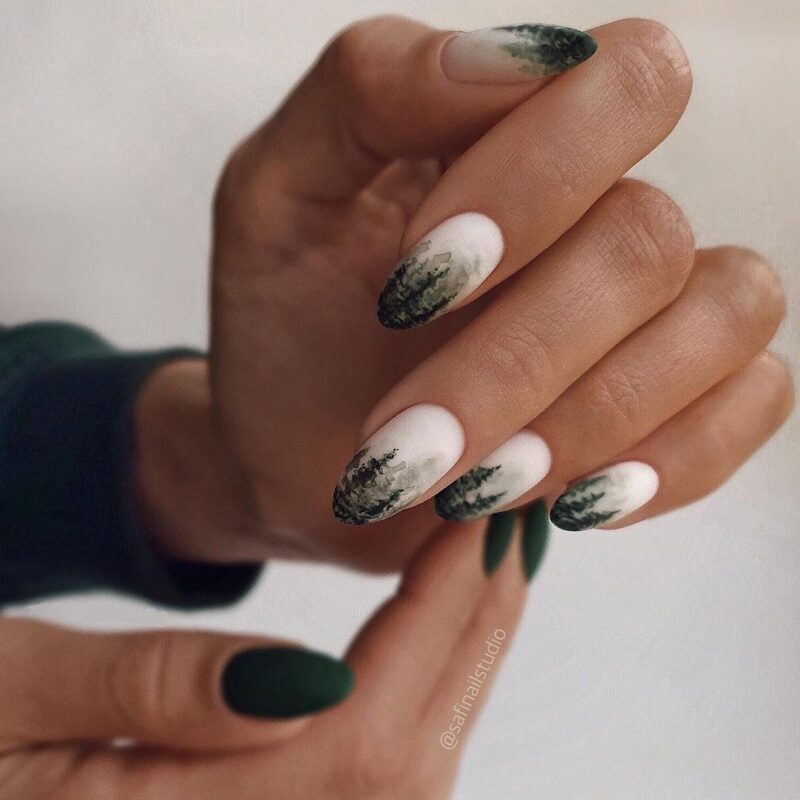 For that nice cozy feel in your next manicure this winter season, why not try opting to do woodland-themed nail art? Those pine trees honestly look so perfect against the white base polish. If you're unable to do this kind of art yourself, you can always go to a pro or get press-on nails for a less expensive and fuss-free experience.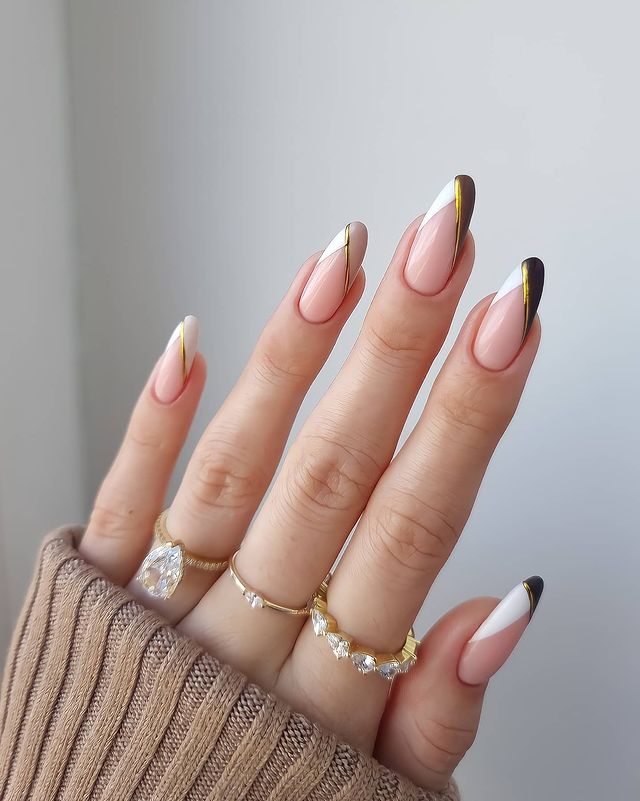 These white and gold gilded tips are utterly perfect for the winter and holiday seasons! They give your nails such an elegant and classic touch.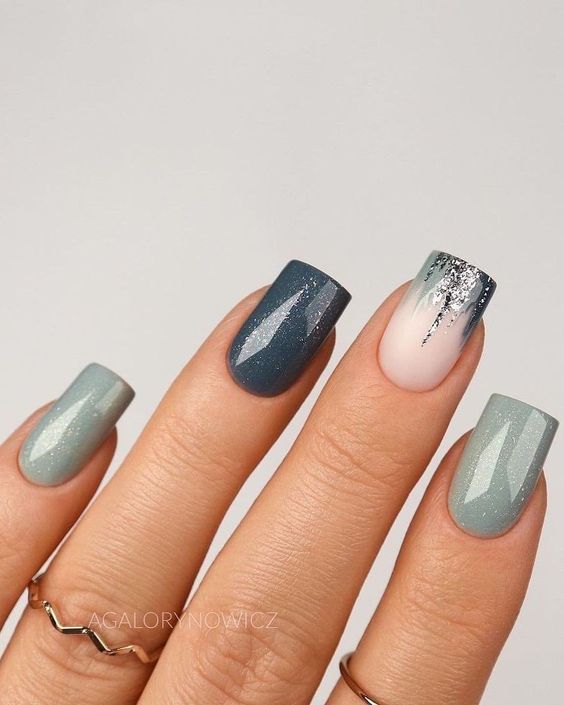 Something a bit more subtle are these shimmery nails with a sparkly and wintry-tipped accent nail. This mixture of cool-toned colors of grey and blue have such a cozy and cool vibe.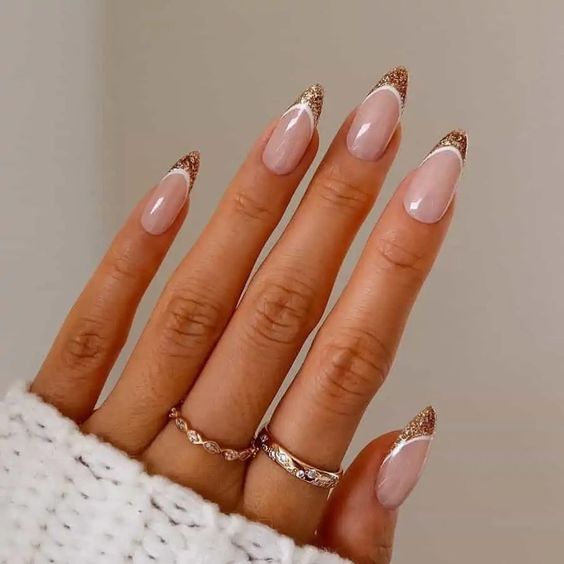 Leave the classic French tips for another time and try out these sparkling golden tips instead this holiday season!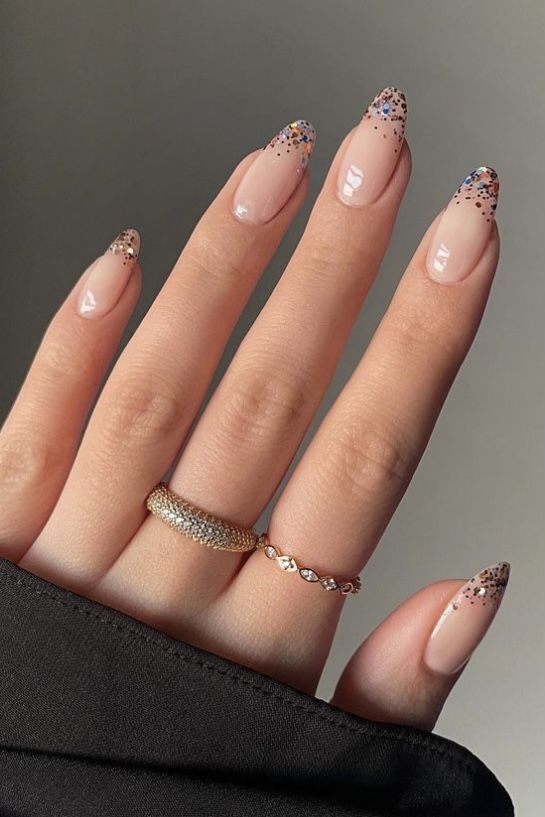 If golden tips are not your style but you're looking for something festive to try out, then how about these sparkling glitters for your usual French tip? They'll make your nails look like you dipped them in sprinkles!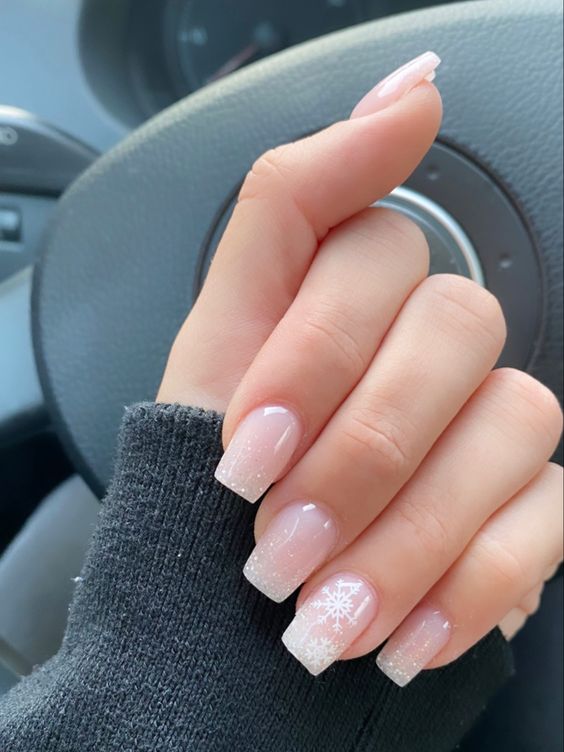 Here's another subtle nail art you can try out. With a sheer pink base coat, you can add some shimmer and snowflake patterns to your nails to give your manicure an icy yet feminine feel.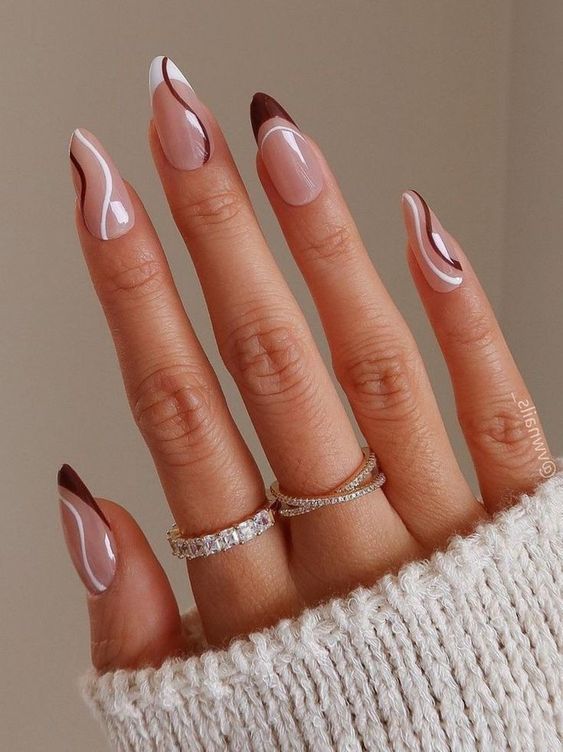 For an out-of-the-box nail art idea this winter season, try mixing your classic French tip with some abstract lines for a rather unique pattern. You can also opt to use winter colors like white and deep brown for a moody effect.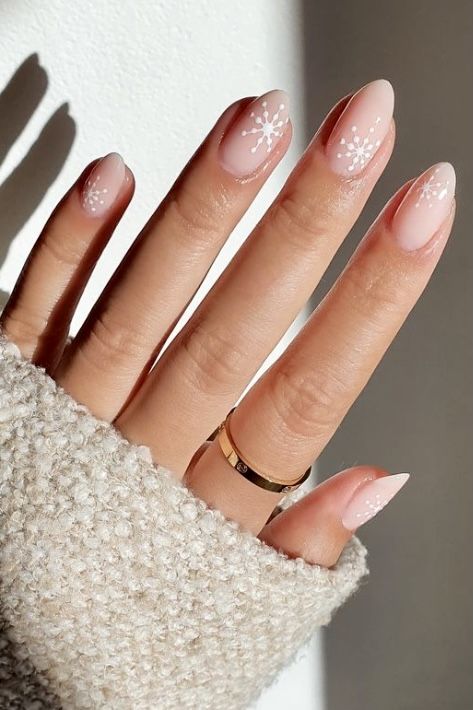 For a minimalistic approach, try imbuing your nails with intricate snowflake patterns like this one. They will give your nails a cool yet subtle touch!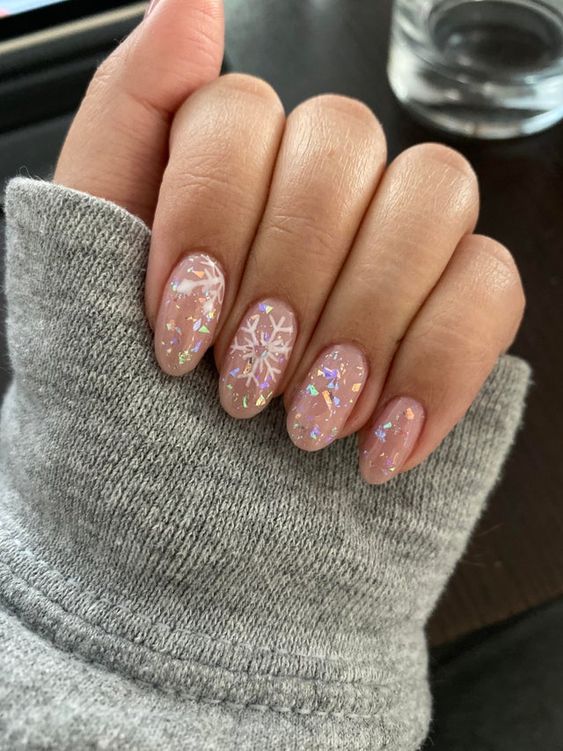 If snowflakes aren't enough for your nails, you can also add some more glitter to them for your top coat. Use ones that have an iridescent shine to them to get that aurora-like sparkle.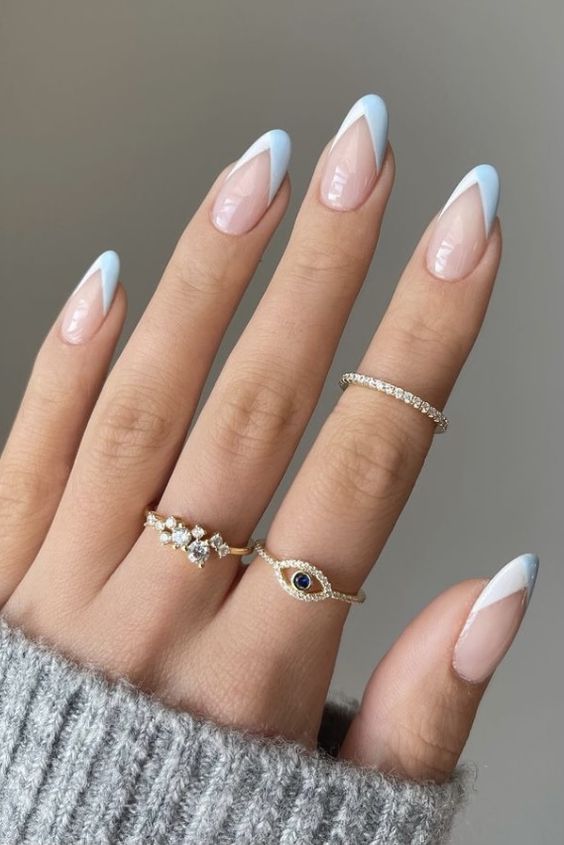 Here's another twist to the French tip! Instead of using an all-white tip, you can use two colors instead for a more modern and chic approach.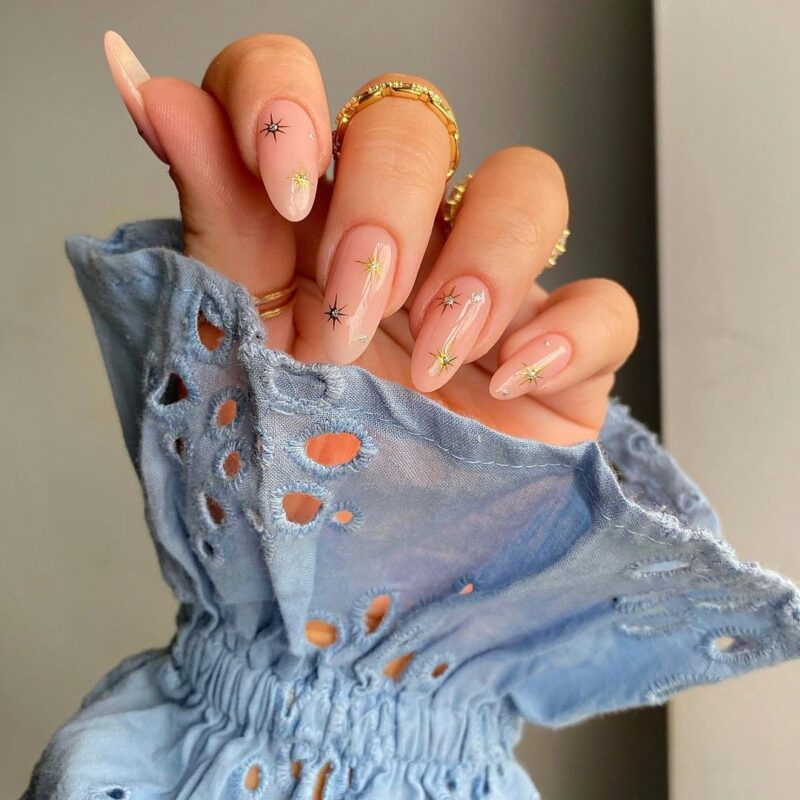 Give these minimalistic winter stars a try during this cold, icy weather! The delicate nail art will be so perfect for a more feminine aesthetic.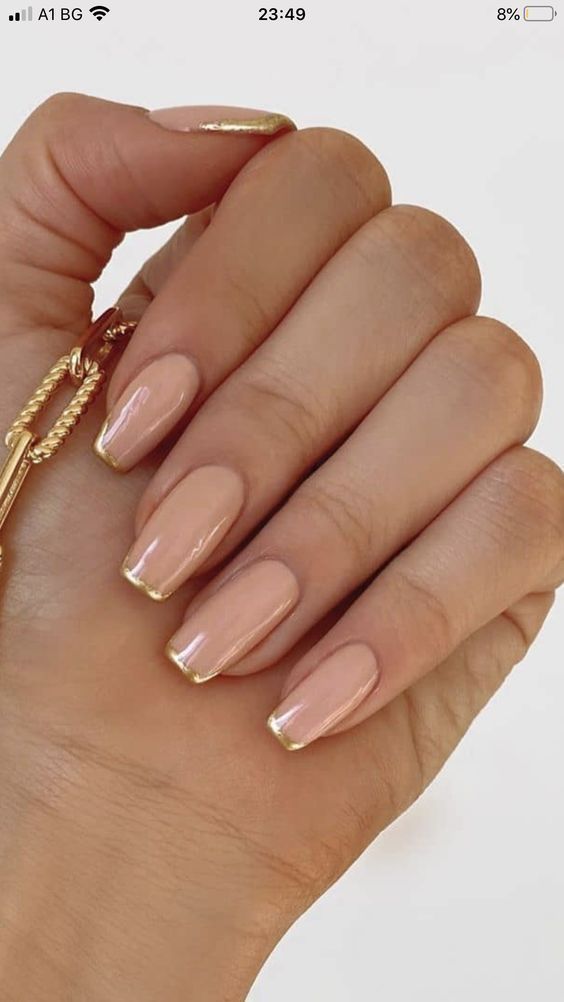 Probably one of the most minimalistic manicures I've seen, these understated golden tips will add a subtle touch of festiveness to your nails this winter season.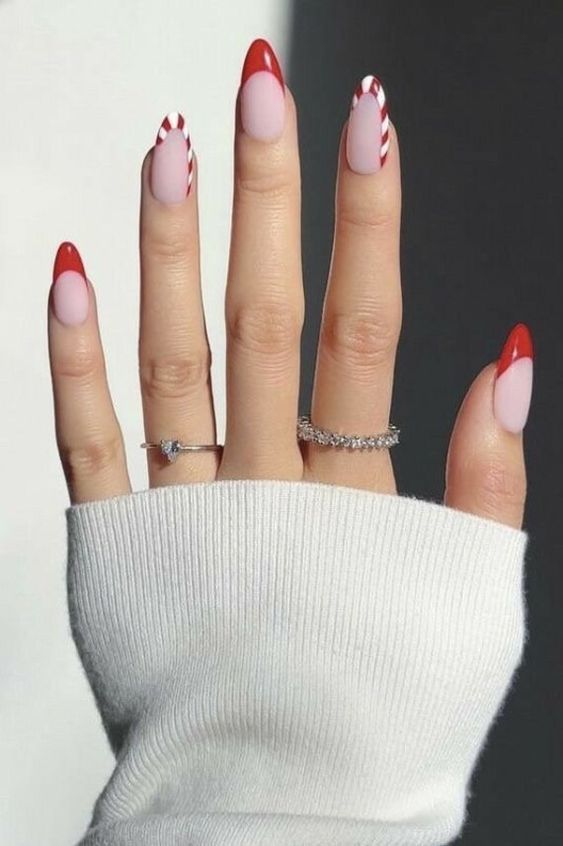 Get these candy cane nails for the holidays! These will surely make things festive, merry, and bright!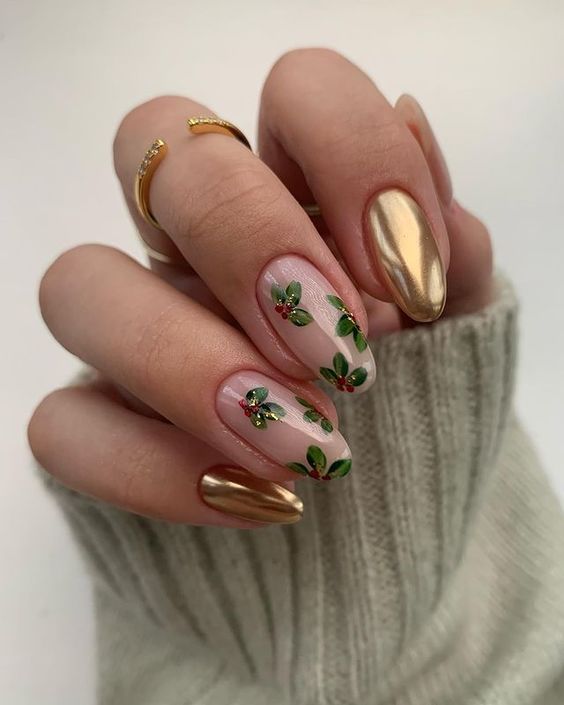 Here's another holiday-themed nail art this winter season! Use holly berries or mistletoes as your main inspiration for your manicure along with some gold nails.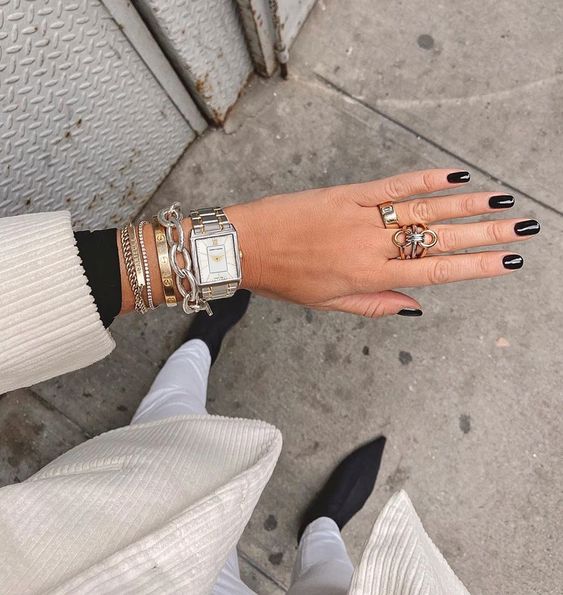 For a moody and mysterious vibe without the hassle, a classic black manicure could do the trick! You can also opt for other deep colors like burgundy, brown, or grey.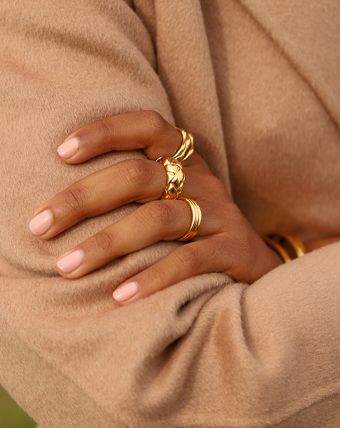 In contrast to the darker nail polish of the previous one, this particular manicure has a more natural finish that's perfect for girls who want an understated look.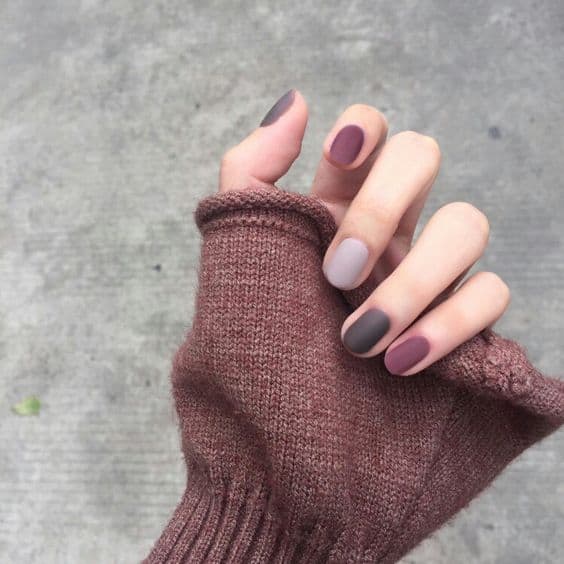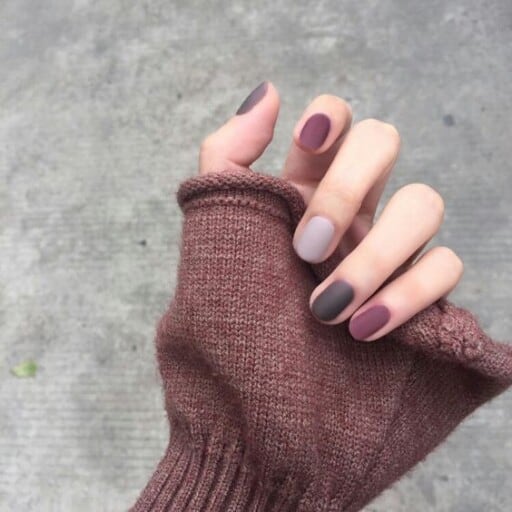 Can't decide between colors this winter? Why not opt for varying shades of purple for a moody vibe?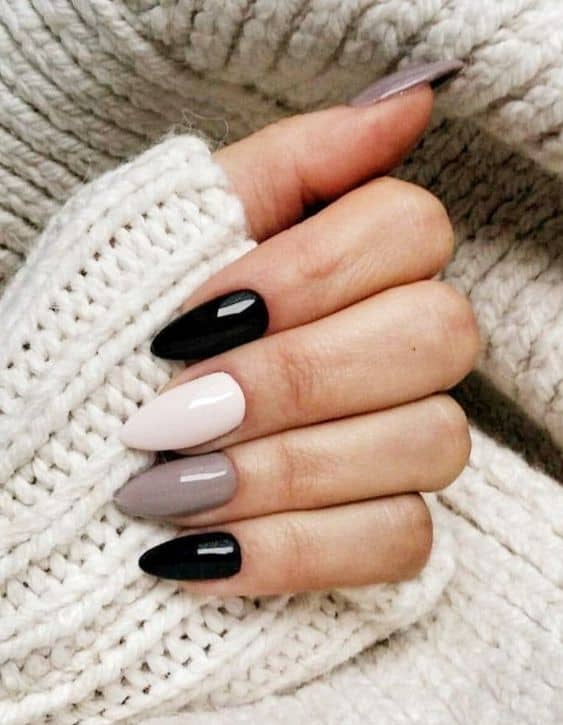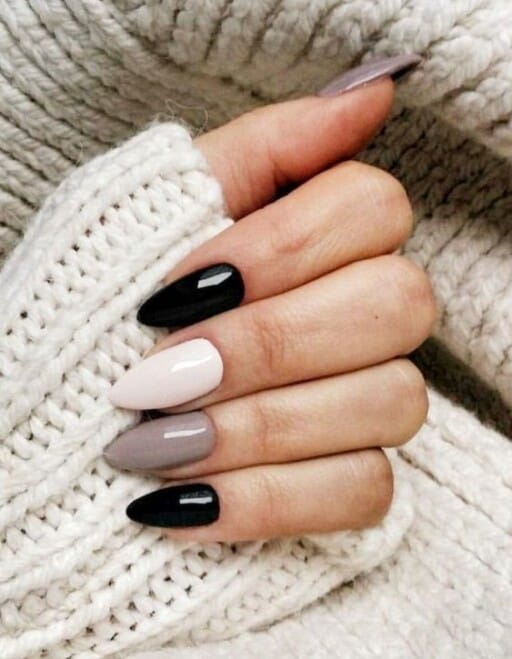 Neutrals are perfect for the winter season. Apart from your outfits, you should definitely match your nails with it too!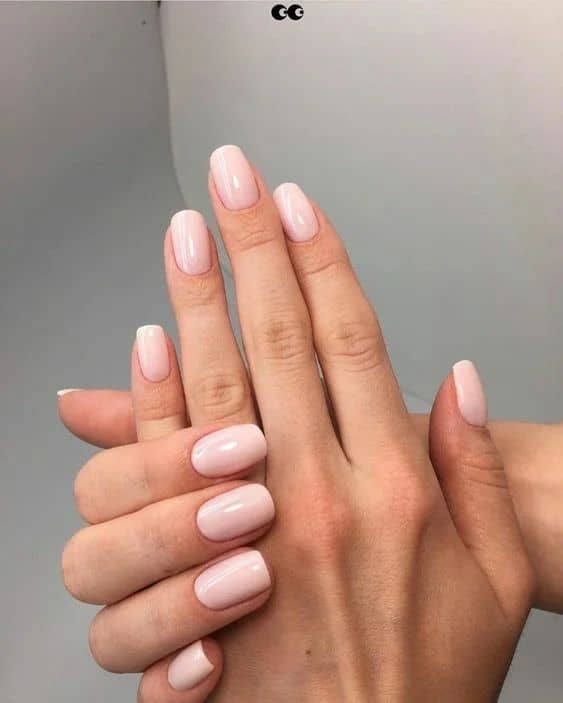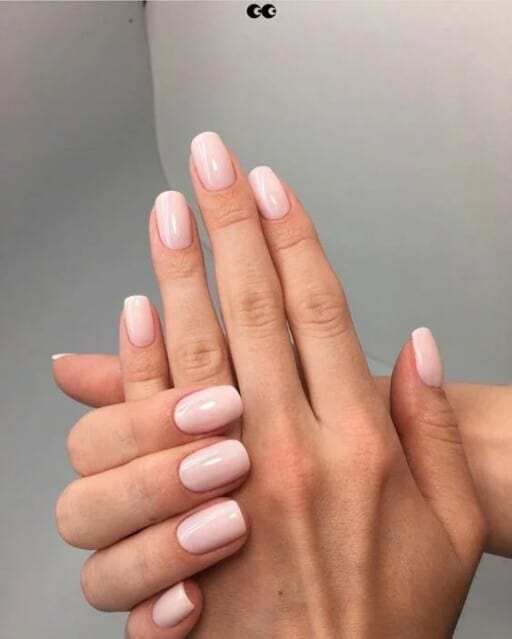 Pink tones definitely suit the winter season too! They're great if you're looking for something with a feminine touch that can be worn daily without looking too much.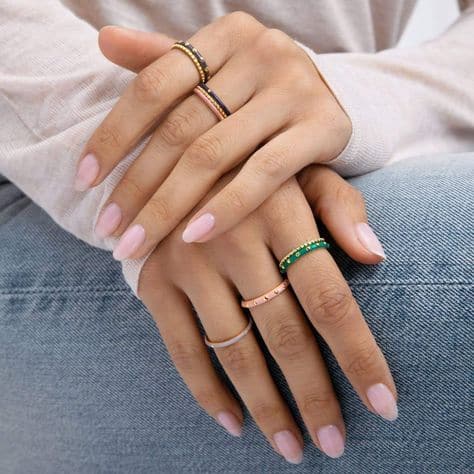 Another option for the pink nails is these jelly-like, transparent nails that look so natural and youthful!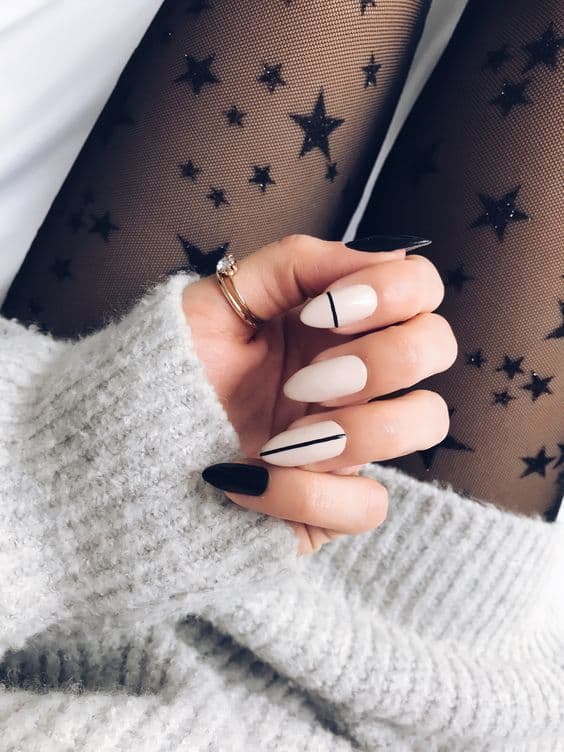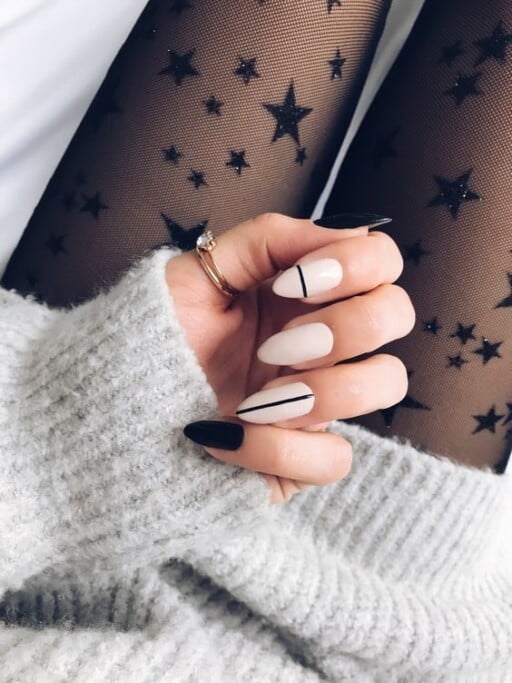 Make your usual winter manicure a little more interesting by adding some modern and chic linework to your accent nails.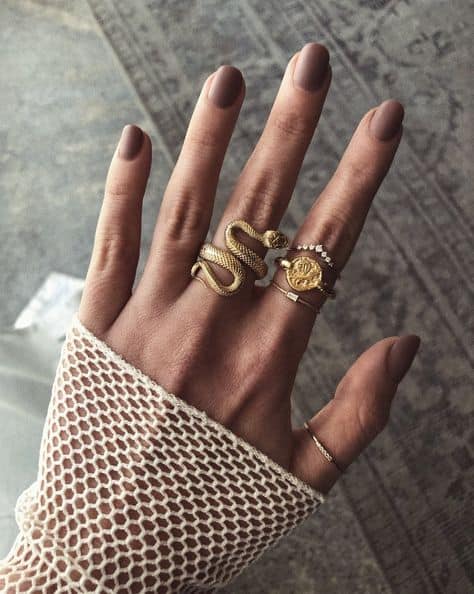 Simple yet chic, these nails remind me of a nice cup of coffee in the morning. I just love muted brown tones on any manicure.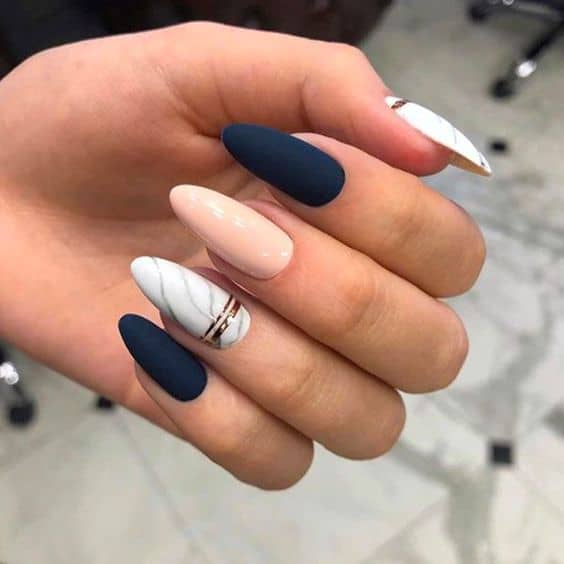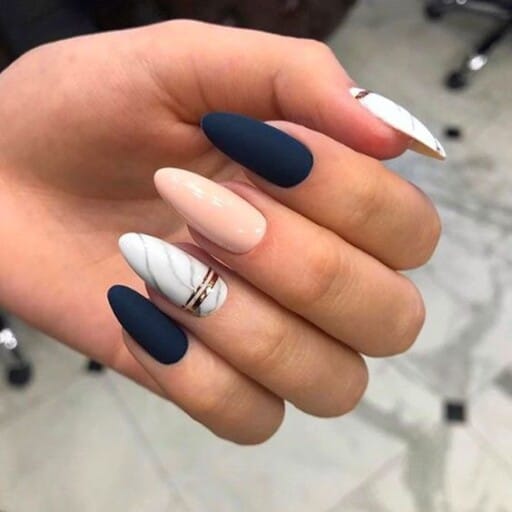 Give your next manicure an eclectic feel by mixing and matching different and contrasting colors just like this one. You can also add a marbled, accent nail for a modern feel.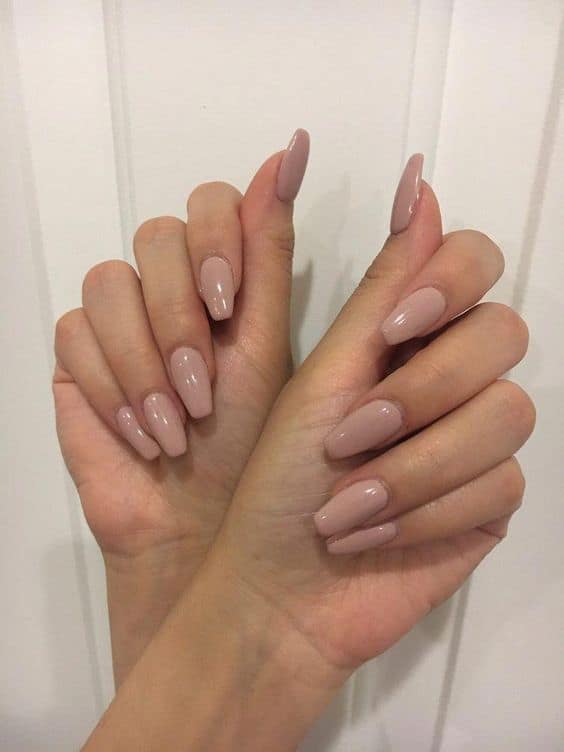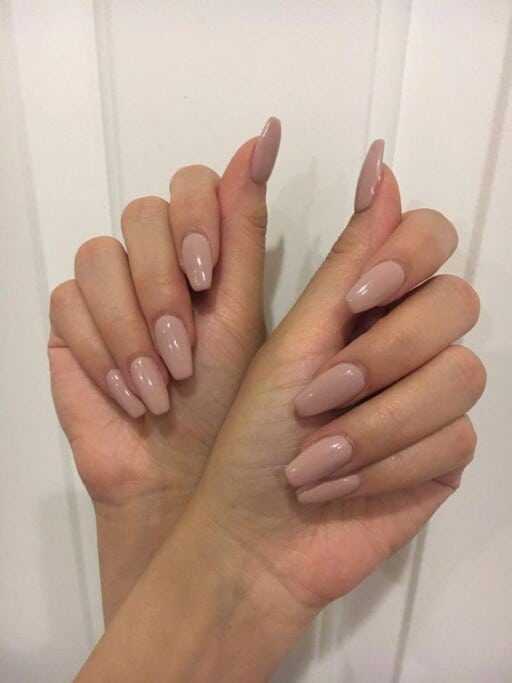 Another great neutral nail to go for is this gorgeous muted pink manicure! Get a longer shape or cut for the nail for a more feminine look.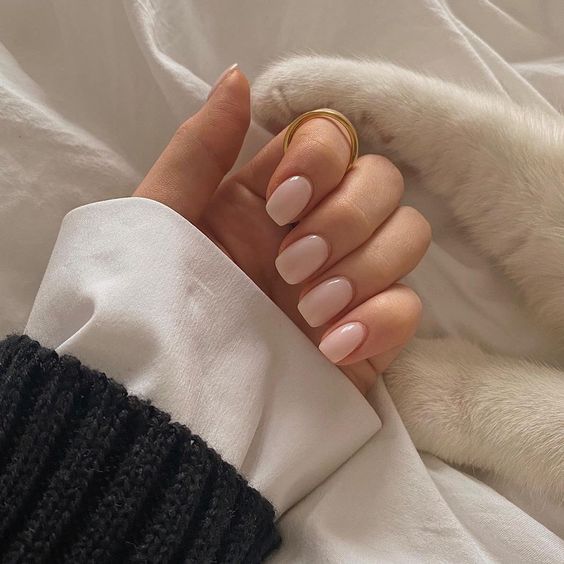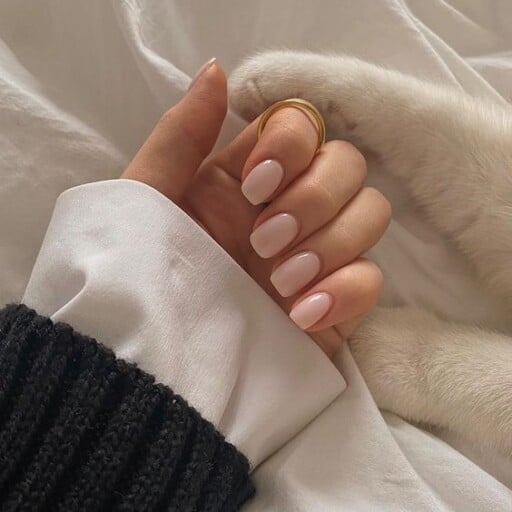 You can never go wrong with a light pink nail during the winter season. It can easily suit any kind of outfit and is wearable for every day.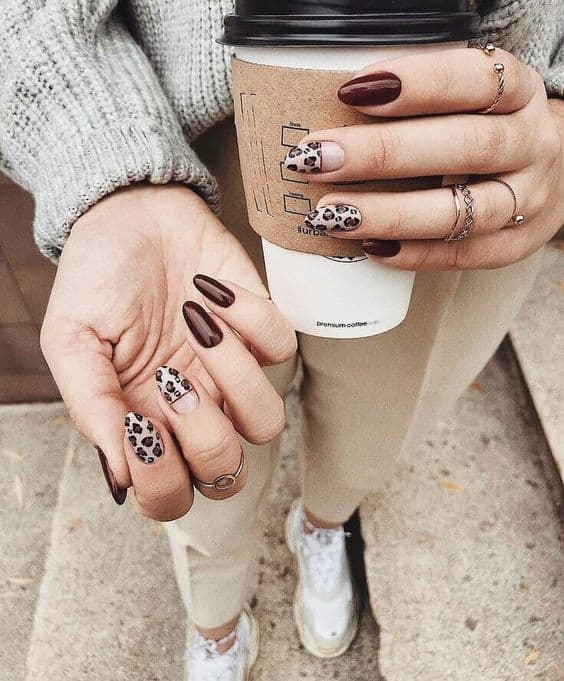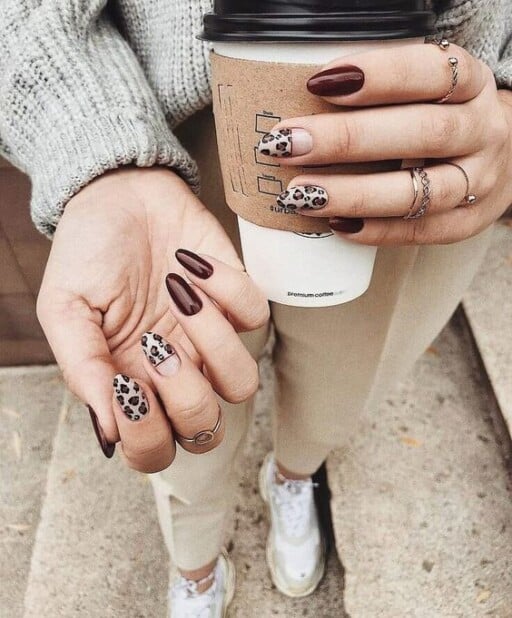 Animal prints are fun to do and they're also perfect during the winter season. They'll give your whole look a chic and stylish appeal.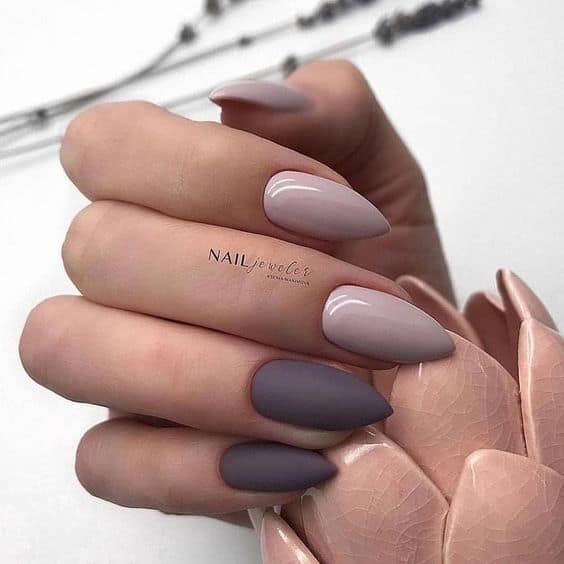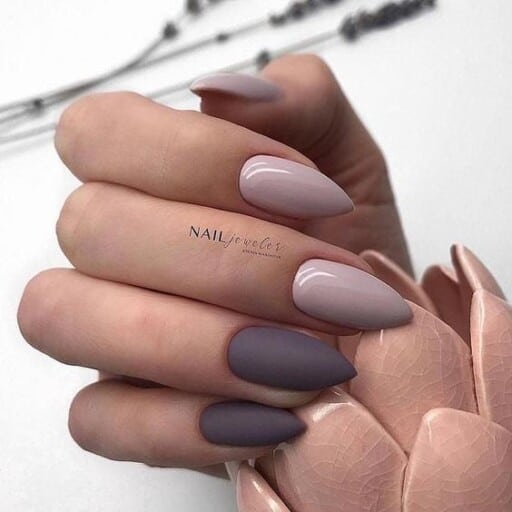 Add dimension to your manicure by using two different finishes on your nails, making some of them glossy and some matte like these gorgeous shades of purple.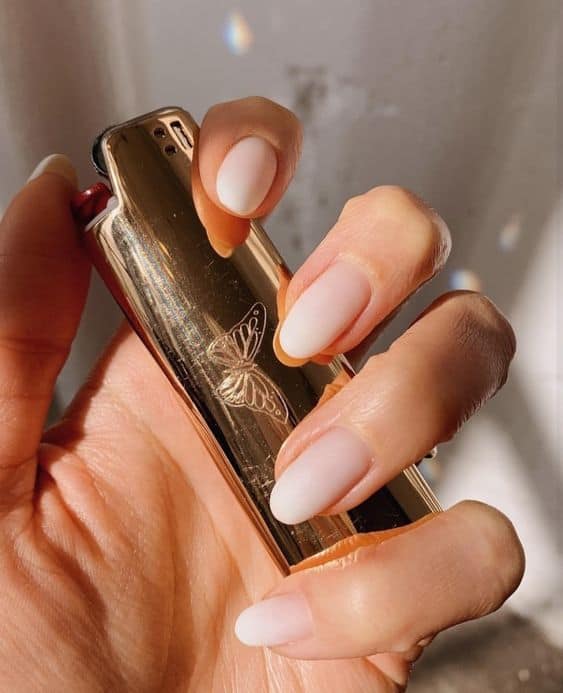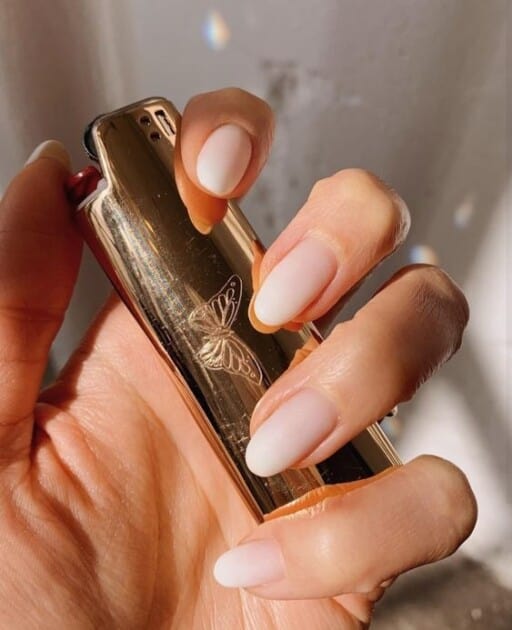 If you want to keep your nails looking natural but still made up and pretty, this kind of soft and gradient manicure could be for you.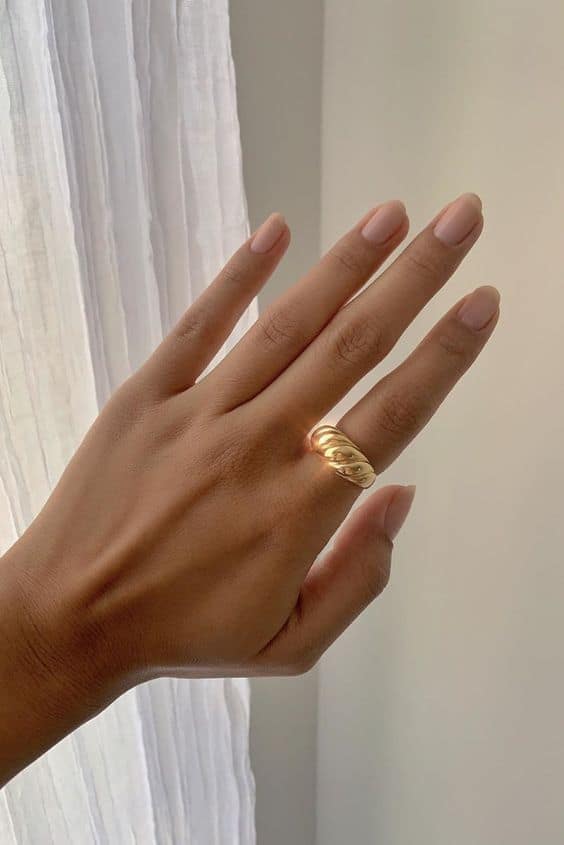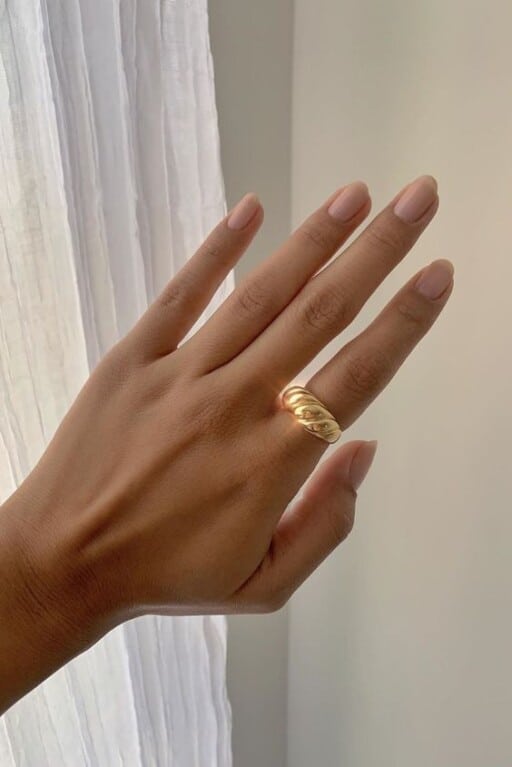 Here's another manicure with a natural finish, it's like your nails but better!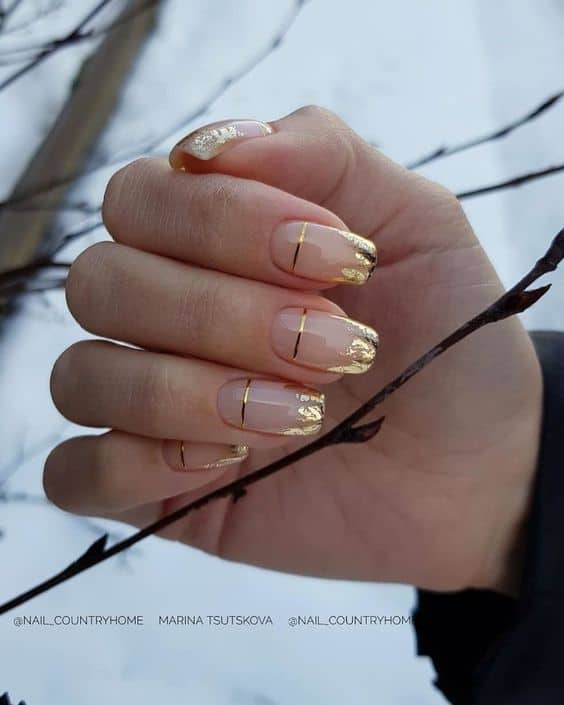 Aside from gold foils, you can also use gold for some delicate linework for a more modern touch.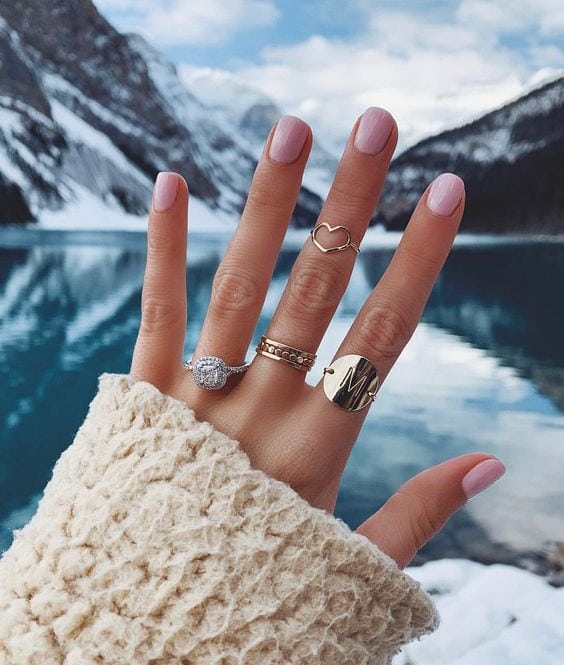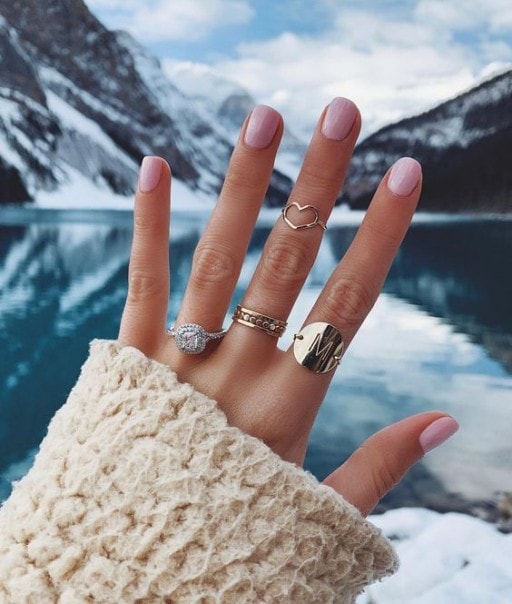 A simple, neutral pink for your nails is going to give you a natural manicure with a soft flush of color.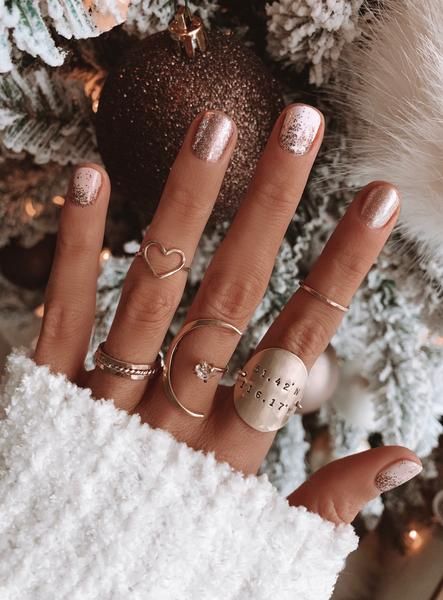 Add some sparkle and shimmer to your winter manicure by using a champagne-colored polish.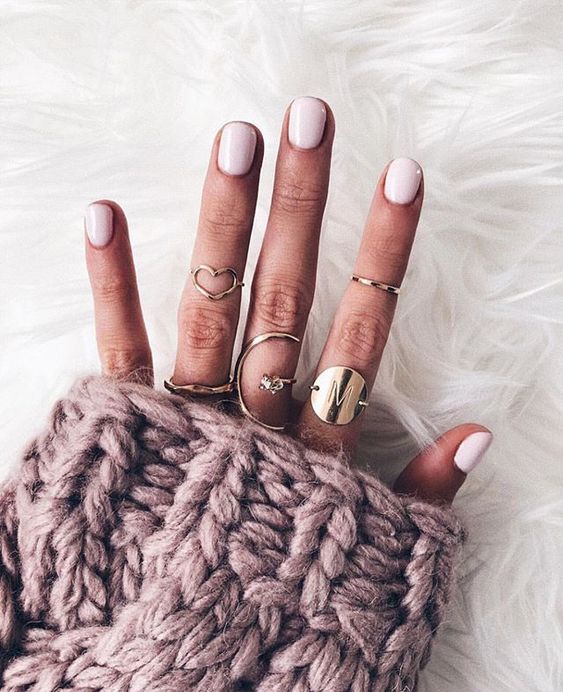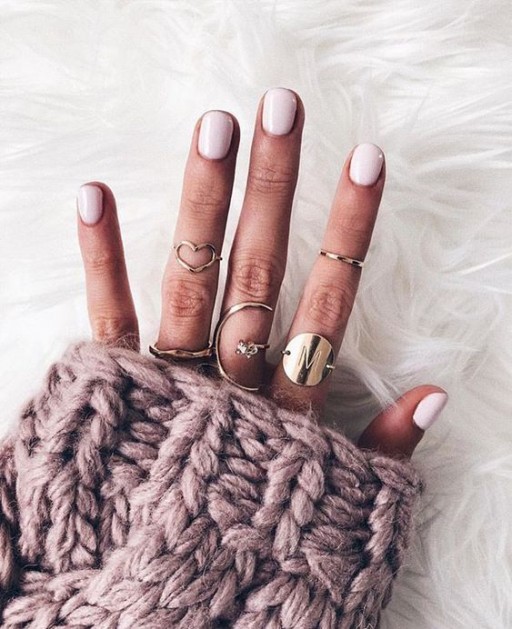 Here's a lighter tone of pink that would give you an icy effect for this winter season!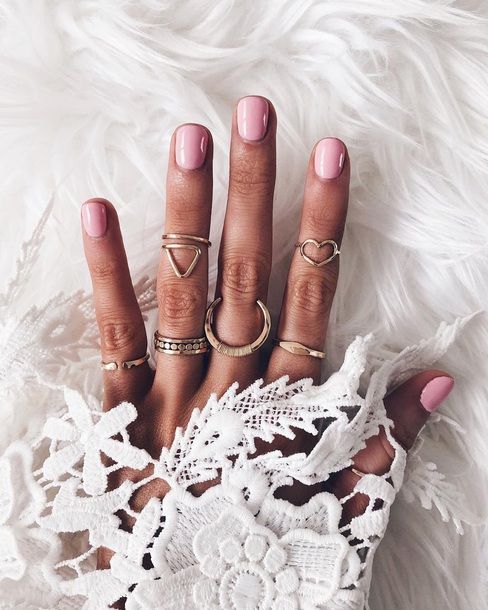 I can't get enough of some classy pink nails. They give off such a feminine and sophisticated vibe for the winter season.