This post has been sponsored by Nestlè Coffee Partners. All thoughts and opinions are my own.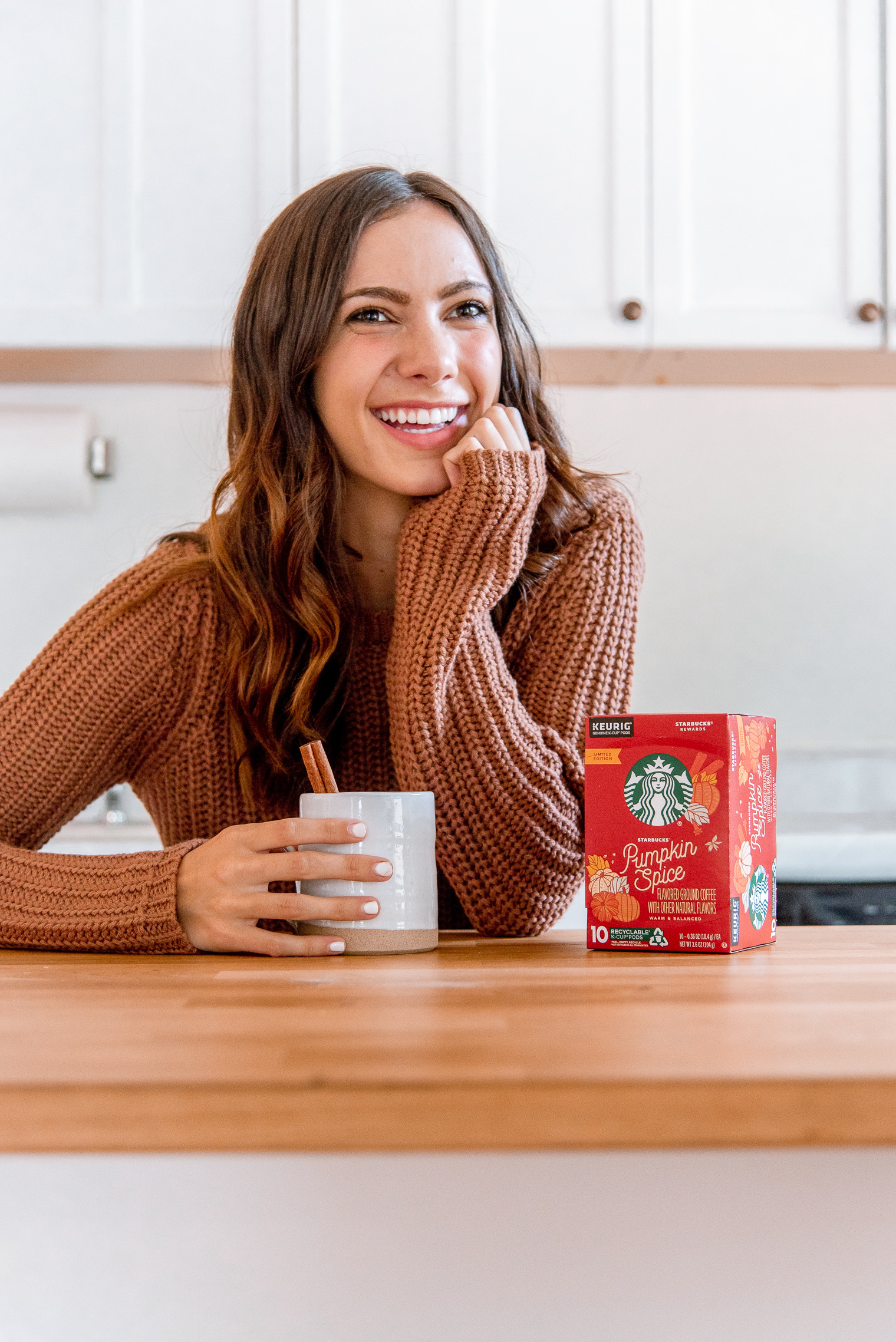 As a huge Starbucks lover, I get a vegan pumpkin spice latte at least twice a week during the fall months. Something about the blend of spices and warm milk gets me in the autumn mood.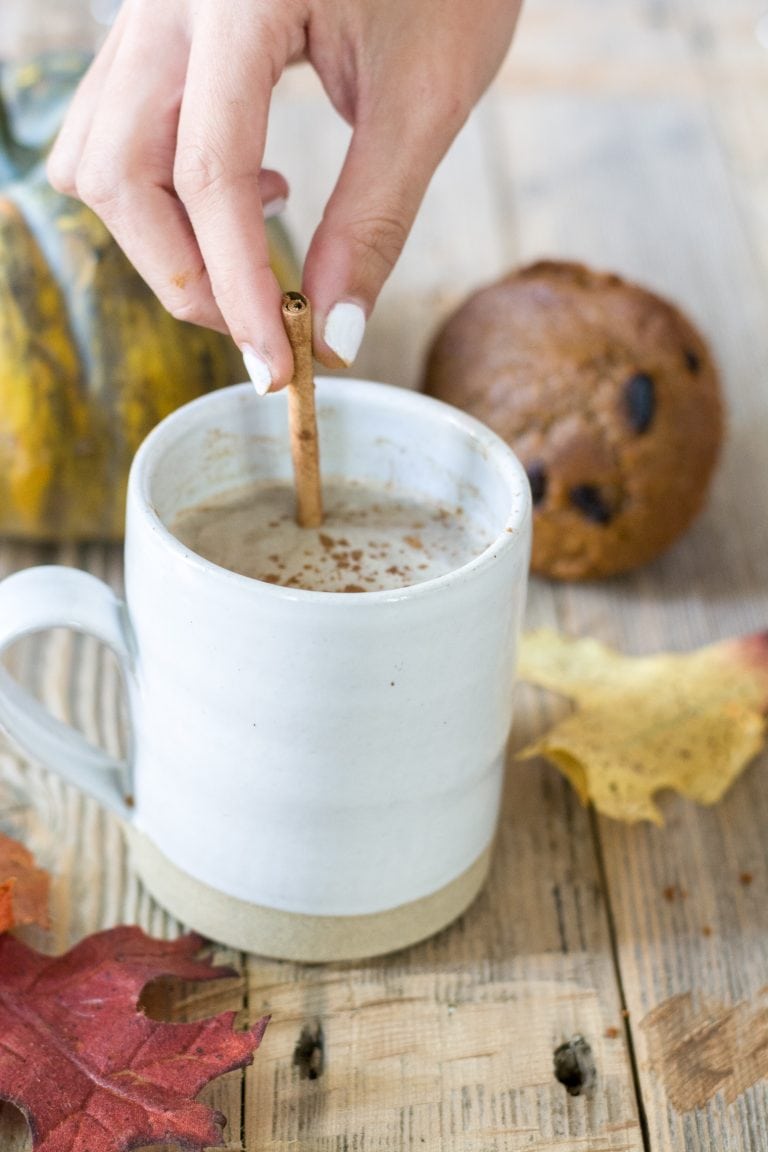 Our new apartment isn't within walking distance of a Starbucks and while I don't mind driving, it can be nice to make my own coffee at home. Some of my favorite mornings have been passed by bundling up, sitting out on our patio (that has a gorgeous view of the turning leaves), and sipping on a homemade pumpkin spice latte.
I've always preferred my coffee with almond or soy milk, but I've recently started eating 90% plant-based food, so a vegan pumpkin spice latte recipe was something I really wanted to come up with. The Starbucks® Pumpkin Spice Flavored K-Cup® Pods (purchased at Shaw's) were the perfect place to start! Click here for an awesome coupon offer.

I also like my recipes to be easy enough that I'll actually want to make them. This mixture is so simple (it literally takes 5 minutes to make) and tastes like the real deal.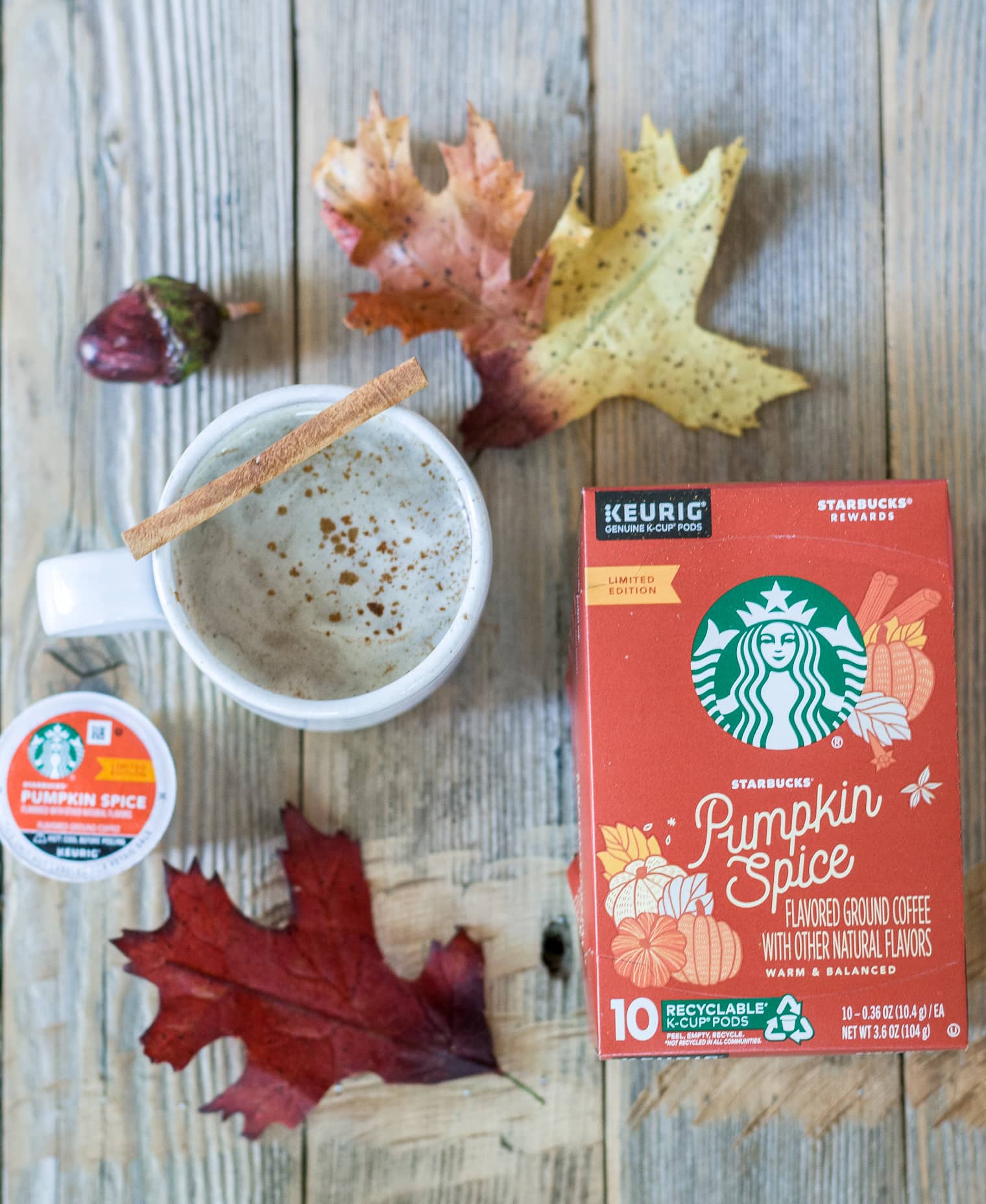 I've included lots of specific information about each ingredient here; feel free to scroll to the bottom and check out the printable recipe as well.
Related Posts:
The Coffee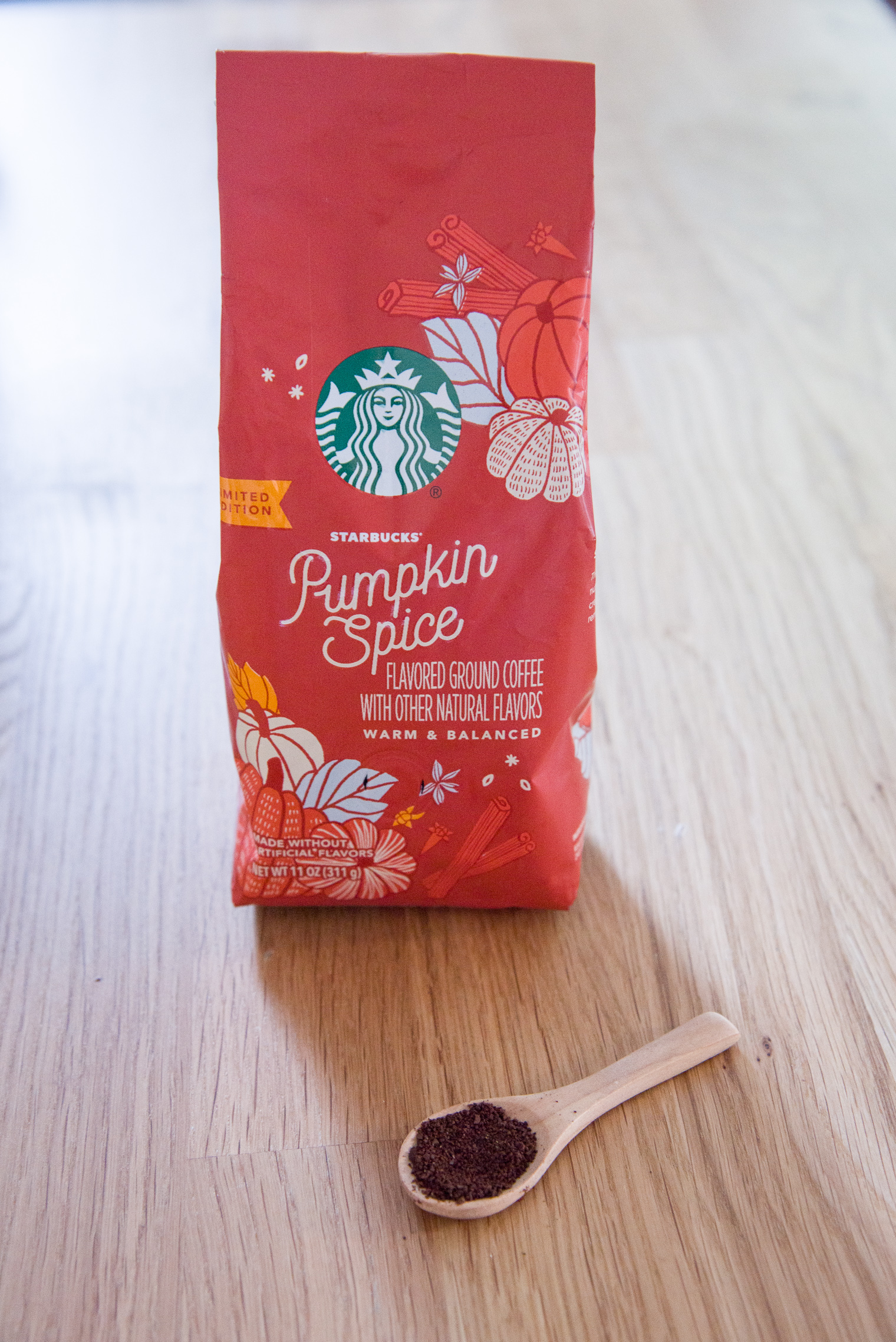 To make this vegan pumpkin spice latte recipe, I use Starbucks® Pumpkin Spice Flavored K-Cup® Pods (6-10 ct.). If you don't have a coffee machine that utilizes pods, you can also purchase Starbucks® Pumpkin Spice Flavored Ground Coffee.
This Starbucks Pumpkin Spice coffee is a light roast with with notes of pumpkin, cinnamon and nutmeg. What's great about this coffee specifically is that you don't need to add many other ingredients. Even if you make this recipe with only the coffee and milk, it still tastes like a great vegan pumpkin spice latte.
My favorite part about this vegan pumpkin spice latte is how insanely easy it is to make. Because this Starbucks Pumpkin Spice coffee is basically a full blend without milk and sugar, the recipe is much easier than starting off with regular black coffee.
The Milk
I chose to use almond milk for this recipe, but there are so many vegan milk options that would work just as well. You could follow the exact same recipe but substitute soy milk, oat milk, hemp milk, or a variety of other types.
I like the consistency of almond milk (it's light but not too watery), but that's totally a personal preference. I do recommend that you get unsweetened milk and then add sugar to this recipe until you achieve your desired level of sweetness.
If you aren't plant-based or like cow's milk better, you can substitute for dairy as well.
My one caution when steaming the milk is to be very careful not to burn it. You'll want to turn the stove off just before the milk starts to boil. I heat the milk on low so that I can watch it. I've found that if it does boil a bit, the latte still tastes fine.
The Pumpkin
Pumpkin puree definitely isn't necessary to make a good vegan pumpkin spice latte, but it can be a fun addition that adds an extra bit of truly authentic pumpkin flavor.
The coffee itself has a great pumpkin flavor, so whether or not you add this will depend on how strong you like your fall flavors to be.
I add a bit of pumpkin puree (about a tablespoon) into the milk blend before heating it on the stove. It melts quickly and blends in seamlessly with the coffee.
The Spices
I love a good blend of fall spices, but don't like them to completely overpower the taste of the coffee. For this recipe, I chose to use pumpkin pie spice (a pre-made blend of various fall spices), cinnamon, and a dash of vanilla to perfectly compliment the fall and pumpkin flavors of the Starbucks Pumpkin Spice coffee.
If you like your recipes to be heavier on the spice end, then feel free to add more. This recipe is a bit more cautious with each of the spice amounts, but play with it as you see fit.
If you don't currently own all of these spices, I recommend buying the smallest bottles you can find from Shaw's; they're super strong and will last you for quite a while!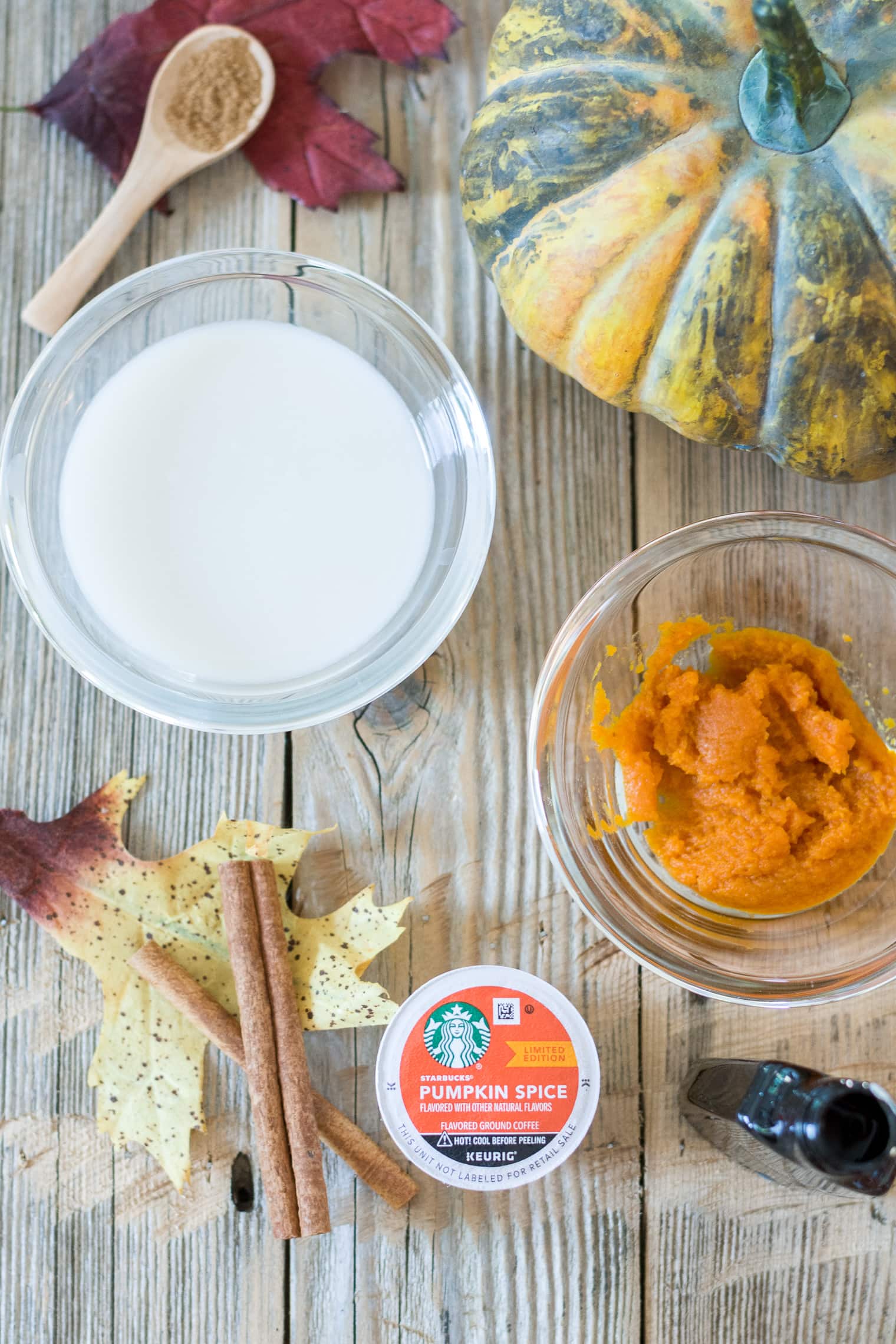 Where To Purchase
I purchased this Starbucks Pumpkin Spice Flavored coffee, along with the other ingredients for this recipe at Shaw's. This makes it easy to grab the ingredients for this latte all at once. The Shaw's mobile app is great as well because it offers a variety of coupons.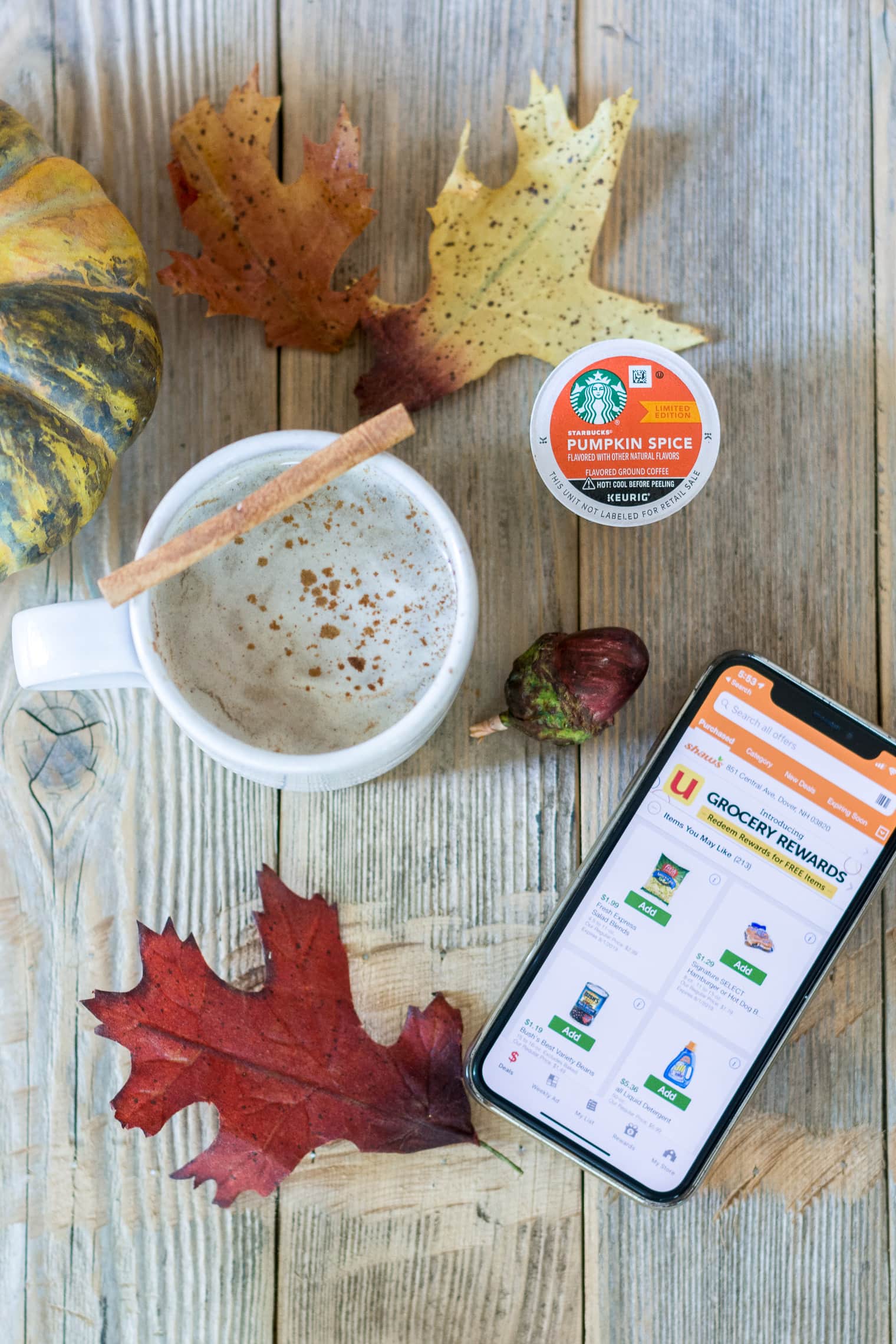 The Routine
Because this coffee is so easy to make, I'll whip it up for Shane and myself on a crisp fall morning. We love sitting outside and debriefing with a yummy fall coffee before beginning our day!
It's also the perfect latte to drink while cozying up indoors.
The Recipe
Yield: 1 mug
Vegan Pumpkin Spice Latte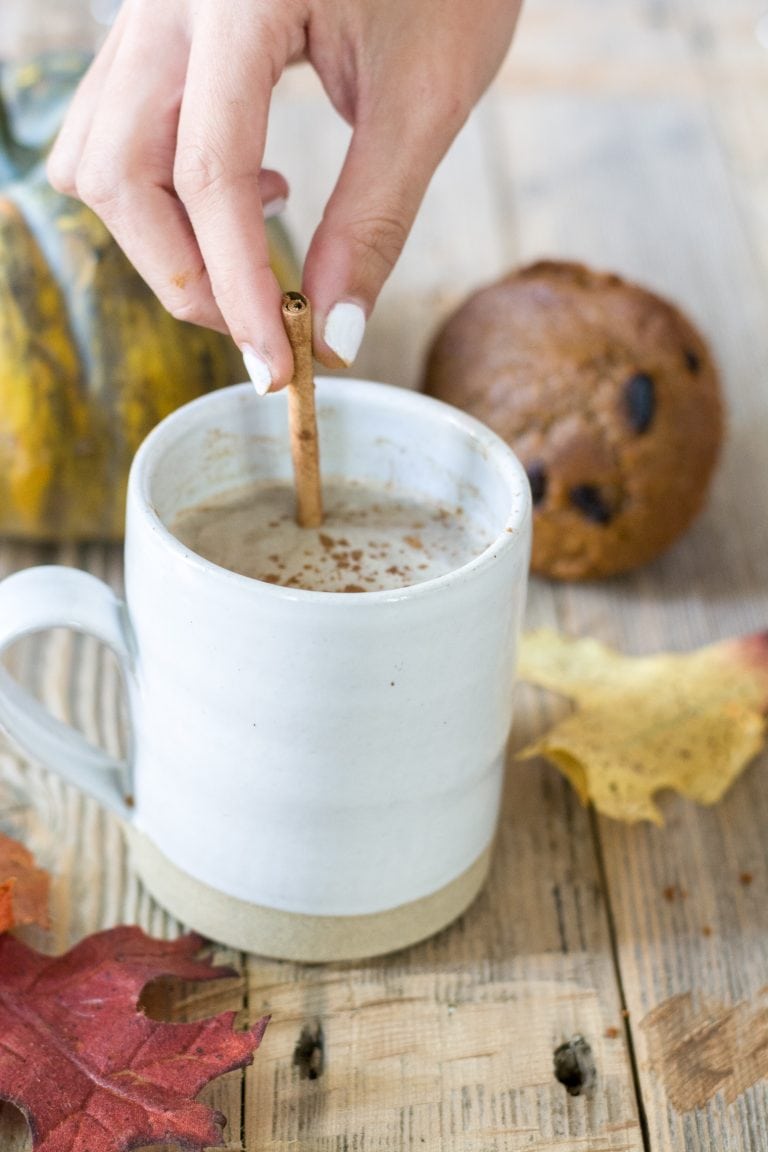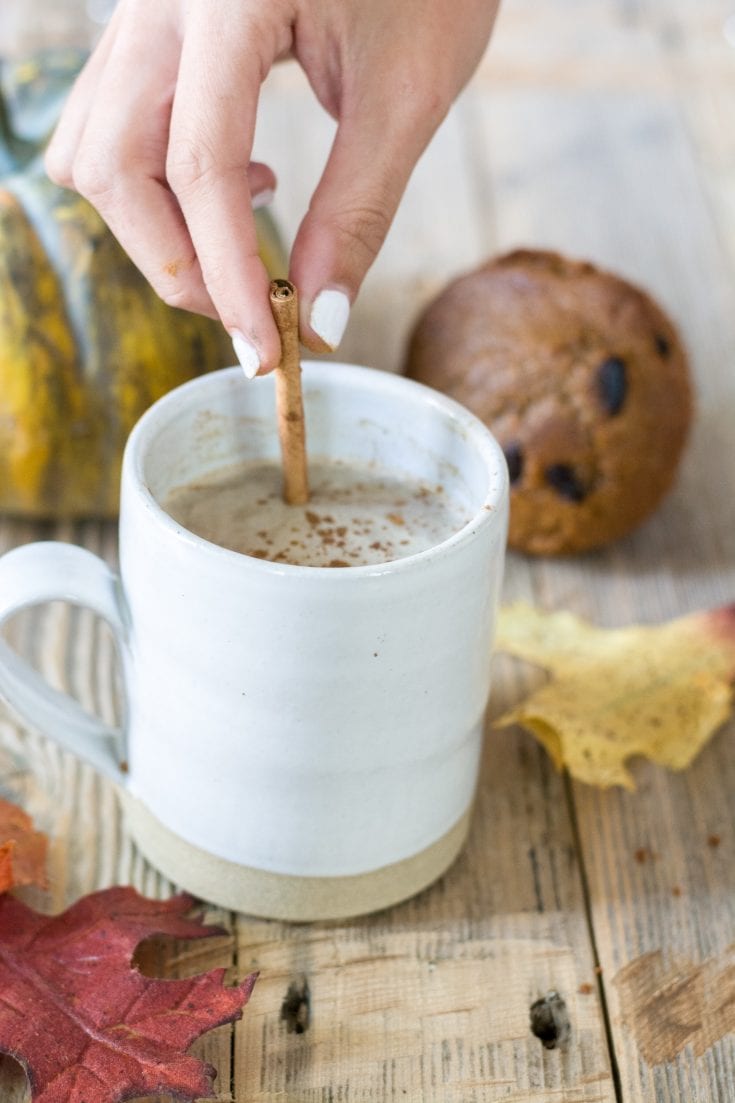 This delicious vegan pumpkin spice latte is light, warm, and feels like fall!

Prep Time 5 minutes

Cook Time 5 minutes

Total Time 10 minutes
Ingredients
1. Starbucks® Pumpkin Spice Flavored K-Cup Pods
2. 1 1/2 cup unsweetened almond milk (or whatever milk you prefer)
3. 1 tsp pumpkin puree
4. 1 tsp vanilla
5. 1 tsp pumpkin pie spices
Instructions
Brew a cup of coffee (I use pods).
While the coffee is brewing, in a small sauce pan, combine the milk, pumpkin puree, vanilla, and pumpkin pie spices over medium heat. Stir continuously until just before the milk starts to boil, then remove.
Pour the milk mixture into the cup of coffee (the ratio should be about half coffee half milk) and sprinkle more pumpkin pie spice on top. Enjoy!
I hope you enjoy this absolutely delicious vegan pumpkin spice latte and that it gets you into the fall mood!