After going to school in Miami and living in Florida for 4 years, I'm always up for a trip to the sunshine state. This past holiday, we passed a few days in Cocoa Beach, most of which was (unsurprisingly) spent on or near the Cocoa Beach Pier.
If you've ever been to Cocoa Beach, you know what I mean. The Cocoa Beach Boardwalk & Pier area is clearly the best attraction.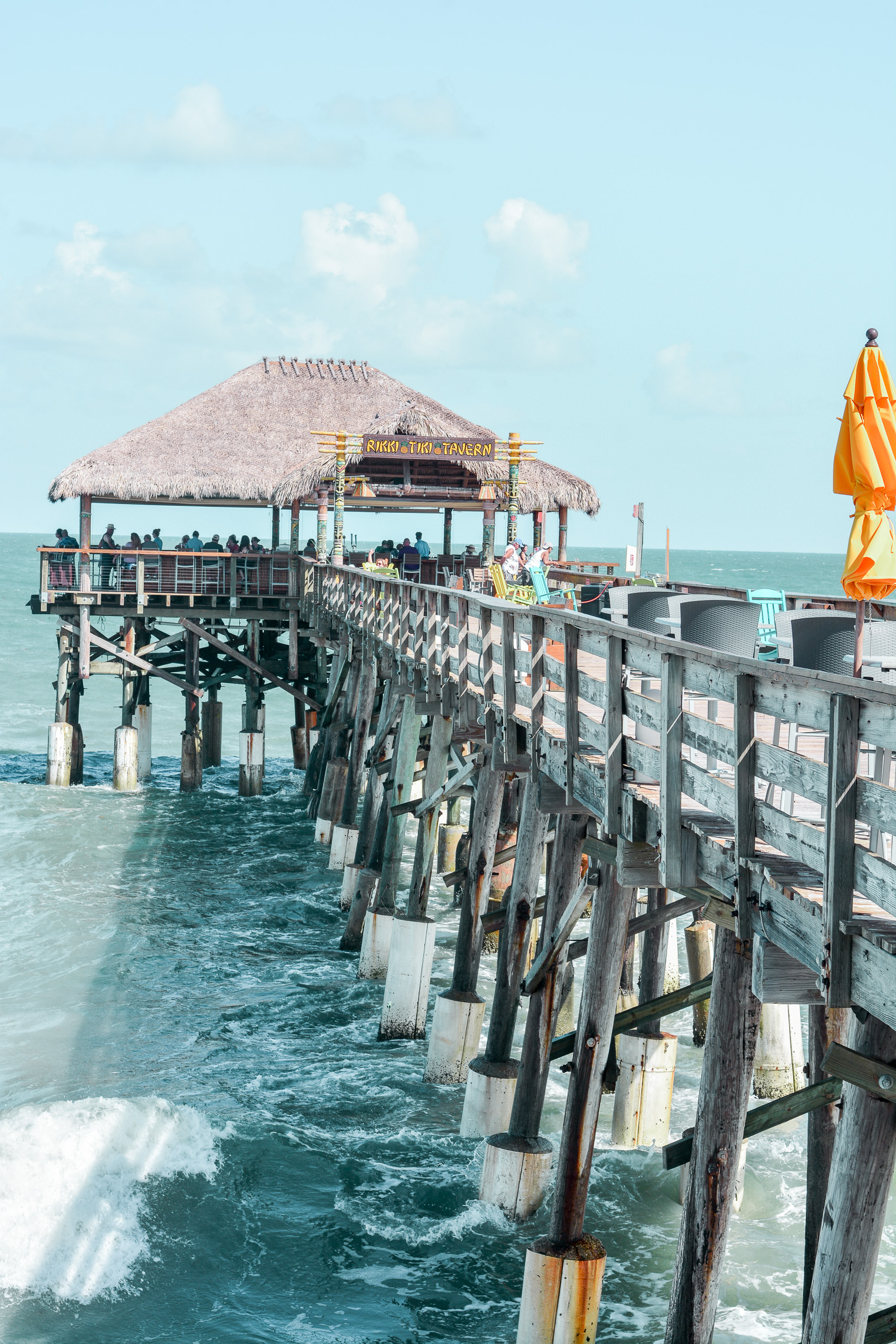 If you're looking to eat, shop, fish, surf, people-watch, take photos, or literally anything else, you can do it on or around the pier. Some of the best hotels are right next to it; this is clearly one of the main reasons why tourists come to Cocoa Beach.
I have to admit, the Cocoa Beach Boardwalk was really cool: it felt like we were in the Bahamas instead of Florida. If you want to feel like you're on a true tropical vacation, something that's lacking in certain areas of Eastern Florida, this is a great place to do it.
The Layout of the Cocoa Beach Pier
You'll park further away from the beach, then walk towards it and pass by all of the main hotels around the Cocoa Beach Pier. You'll then progress to the beach, where you can buy some food and ice cream, use the restrooms, or rent out chairs to tan on. You can also swim on the beach right near the pier, although the surf is pretty rough.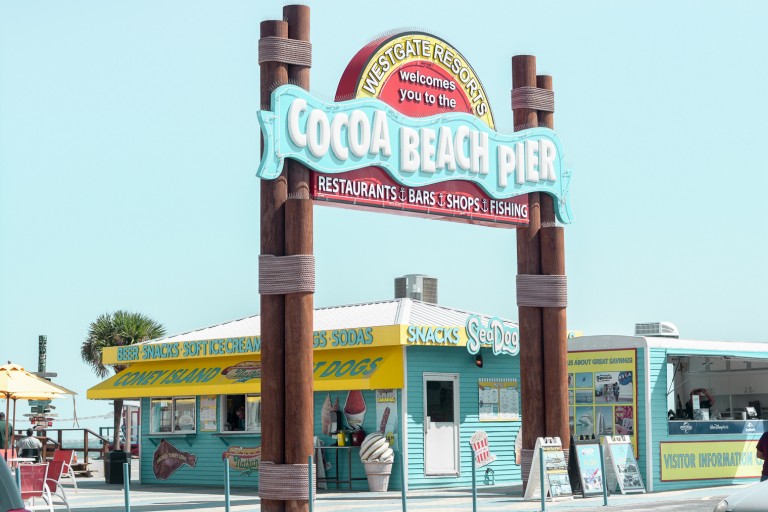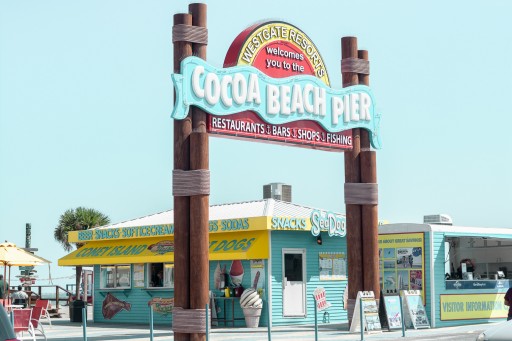 The beach isn't very long so there isn't much walking before you reach the beginning of the pier. Once you step onto the boardwalk, you can go about halfway (passing by shops and restaurants) before you have to pay a small fee to continue out onto the part of the pier that's open on both sides.
I think we paid about $5 each and it was definitely worth it! This is the area where you can fish, which is why you're charged at all. Down at the very end of the Cocoa Beach Boardwalk is the Tikki bar where you can sit and sip on a frozen drink.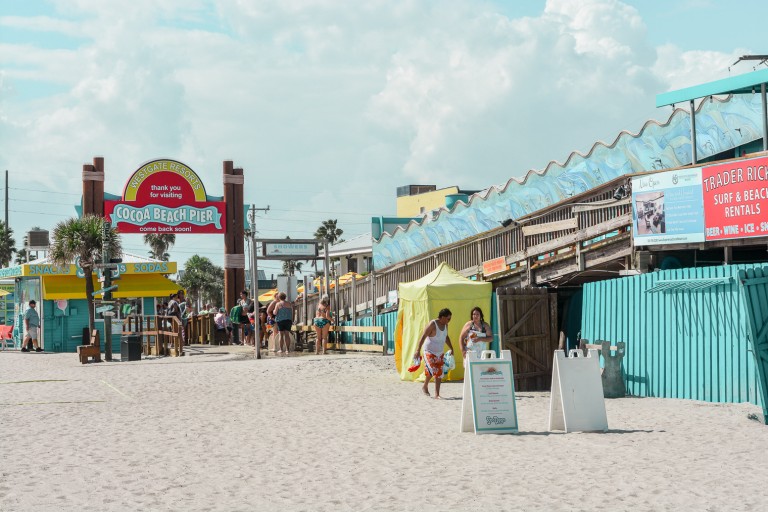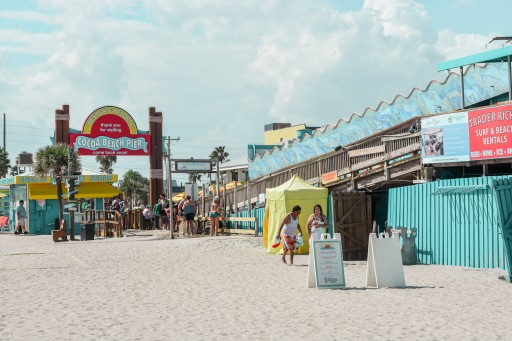 The Cocoa Beach pier isn't very long from beginning to end (even including the beach), but there's so much to do in this small area that you won't get bored throughout the day.
To get more of a real time sense of the layout, keep reading: I included a link to the Cocoa Beach Pier live cam at the bottom!
Cocoa Beach Pier Parking & Transportation
Cocoa Beach is a short distance from Kennedy Space Center, and the Cocoa Beach airport. Cocoa beach is located 20 miles east of Orlando in Brevard County.
You'll probably need a car to visit the boardwalk, but you can also take an uber since Cocoa Beach is definitely a city.
Cocoa Beach Pier parking is usually around $15 near the boardwalk. Once you're in, you're in, and you can't come back out unless you want to pay again. You can also park a bit further away (outside of the main lot) for $10.
The Cocoa Beach Pier parking area is pretty safe and easy to access. I recommend paying the $15 if you're able to get a spot! Other parking in Cocoa Beach will be further away and isn't nearly as convenient.
Food & Drink
There's some amazing Cocoa Beach pier restaurants, starting on the beach itself. We ate and drank our way out to the end of the boardwalk and did not regret it!
Not surprisingly, eating and drinking were one of my favorite things to do in all of Cocoa Beach.
Sea Dogs
Located towards the back of the beach, Sea Dogs is a spot I highly recommend visiting. Seriously, the chili dog I tried was absolutely amazing! Shane got one, then I ended up getting one, then we got a third to split (oops!).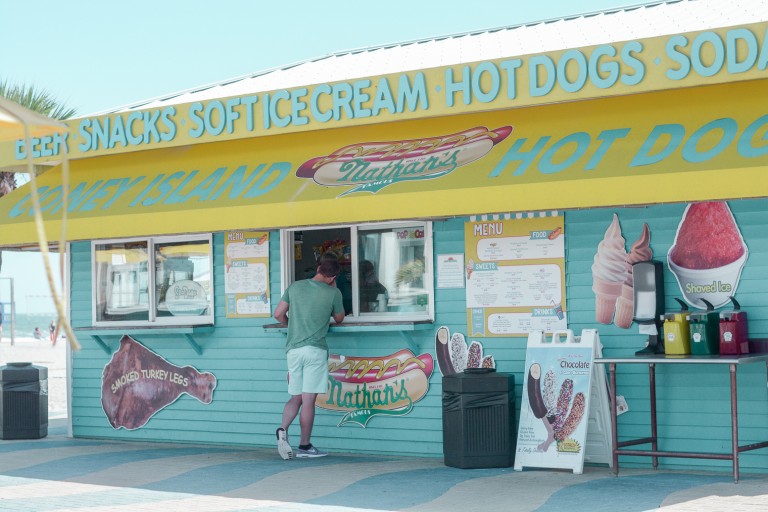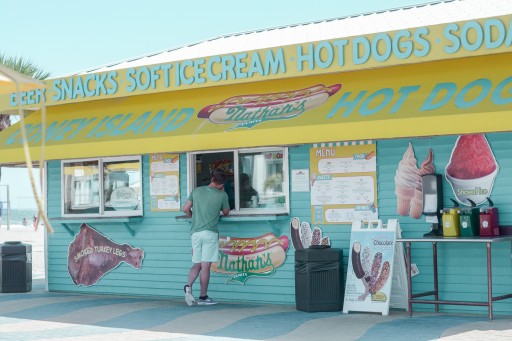 You can also purchase ice cream, smoothies, frozen chocolate bananas, smoked turkey legs, nachos, beer, and soda. There are some simple tables and chairs to sit on if it's not too busy, or you can take your food and drinks right onto the lower part of the beach and eat by the ocean.
Sea Dogs is open every day from 11am-8pm. It isn't technically on the pier, but it's still one of my favorite Cocoa Beach Pier restaurants.
The Boardwalk Bar
Walking down the Cocoa Beach pier, you'll quickly come across the Boardwalk Bar: it's located over the sand (not the water) and is semi-indoors, although the sides are all open instead of being windows.
There's an actual beach bar you can sit at or a dining "room" with tables and chairs.
Seafood buffs will love the menu: it's full of fresh fried fish, as well as some non seafood choices such as wings. You can get some great cocktails (I recommend the Build Your Own Mojitos!) or try a frozen drink.
The Boardwalk Bar is open every day from 8:30am-11pm and serves breakfast, lunch, happy hour, and dinner.
Keith's Oyster Bar
Keith's is also located over land, and is known for insanely fresh raw seafood. It's the only open-air seafood bar on the beach, and is more of an actual tiki bar vibe (you'll feel like you're on an island instead of in Florida).
There's live music some days during the week, and it's usually pretty chill reggae type stuff.
Keith's is a fun Cocoa Beach Pier restaurant to pass an afternoon if you want to sit and stay! For all you cocktail people out there, I recommend the Cool as a Cucumber drink.
Pelican's Bar and Grill
You'll find Pelican's just before you get to the long and narrow pier part of the Cocoa Beach pier. It's a huge restaurant that's gorgeous wood instead with floor to ceiling open windows.
Unsurprisingly, Pelican's is also known for great seafood. The beach tacos are especially good. Unlike other restaurants, Pelican's Bar and Grill is air-conditioned, so it's a great place to grab a bite if you need to cool off.
Rikki Tikki Tavern
Last but not least, my favorite spot (the Rikki Tikki Tavern) is located down the very end of the pier. It's all outdoors and is covered by a hut-like straw roof, so you really feel like you're somewhere far away and tropical.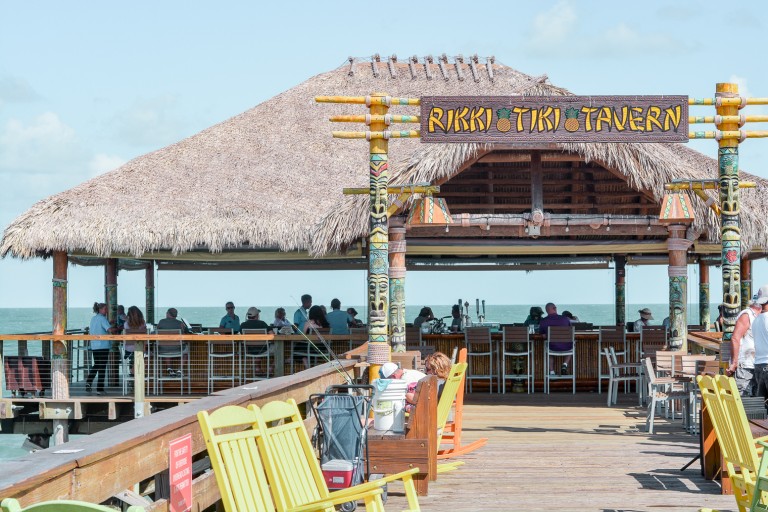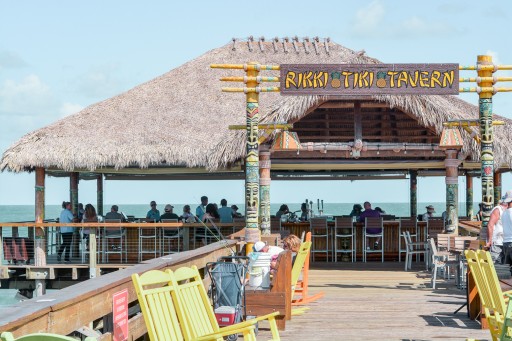 The Rikki Tikki Tavern (also known as the Tiki Bar) is a bit more adult-oriented and is past the point where you have to pay, but it's totally worth it to make the trek down. We sipped on frozen cocktails and snacked on fried calamari while watching the surfers right down below us. We also saw a shark!
If you're a couple or group without kids, I definitely recommend the Tikki Tavern. It's one of the most well-known Cocoa Beach Pier restaurants!
The Beach & Swimming
You can swim in the water right next to the pier, but on the right side especially, the surf is pretty rough. It's perfect for surfing but may be extreme for young children, depending on the day. Low tide is much more calm and has such a gradual slope that there will be plenty of water for kids to splash around in.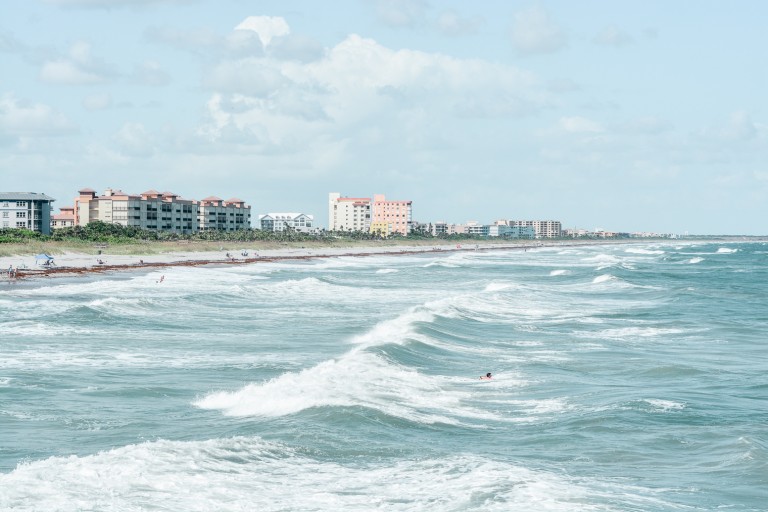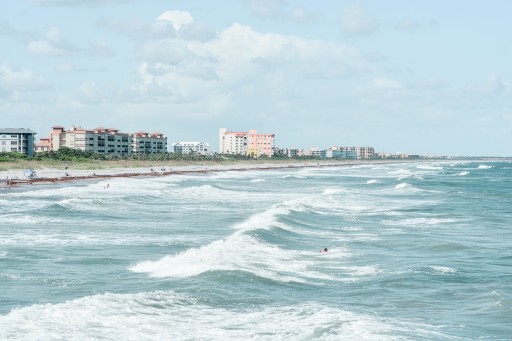 You can bring your own beach chairs or rent from the stand nearby. I recommend rental (I've included a pic with prices below) for convenience. We rented and then were able to go out to eat and shopping on the pier after we were done on the beach.
There's a super yummy hot dog stand at the end of the beach (the chili dog was amazing!) and the bathroom facilities are close by as well.
The beach does get pretty crowded on the weekends, especially during the fall and spring, so you'll want to plan ahead to make sure you get a spot.
Pier Activities: Things to Do in Cocoa Beach
There's surprisingly a lot of things to do in Cocoa Beach (specifically on the pier) beyond eating and drinking! We were only able to do some shopping, but there's many athletic and sport activities to do as well.
Shopping in Cocoa Beach
I will say that there isn't a ton of shopping on the Cocoa Beach boardwalk, but there are some cute knick-knack stores.
The Pier Shop
This shop is the best place to stop for typical Cocoa Beach memorabilia and cute homemade items from local vendors.
The Cocoa Beach pier shop has a variety of souvenir items and T-shirts, including the famous "I got kissed on the cocoa beach pier!" shirt. There are mugs with different sayings on them such as "Save our beaches," and other crazy or funny things. The shop has fishing supplies too!
Trader Ricks
Trader Rick's is a really casual shop for snacks, flip flops, sunblock, boogie boards, and anything other beach essentials you may have forgotten.
This probably isn't your first stop when shopping in Cocoa Beach, but it is clutch if you need a quick pair of sunglasses or bug spray.
Tropical Threads Boutique
This boutique has some really cute trendy clothing as well as some more casual Cocoa Beach pieces such as sweatshirts and t-shirts. I got a few cute sundresses here that I still wear!
If you're considering shopping in Cocoa Beach, you won't need to plan ahead a lot – everything is located right on the pier and in spots where you can easily browse the windows while walking the pier.
Fishing
You can fish right on the pier anytime after 6pm. There's a small $7 fishing fee if you bring your own equipment, or the price is $20 for a fishing rod rental that's good for 4 hours. You can also get frozen bait for $5.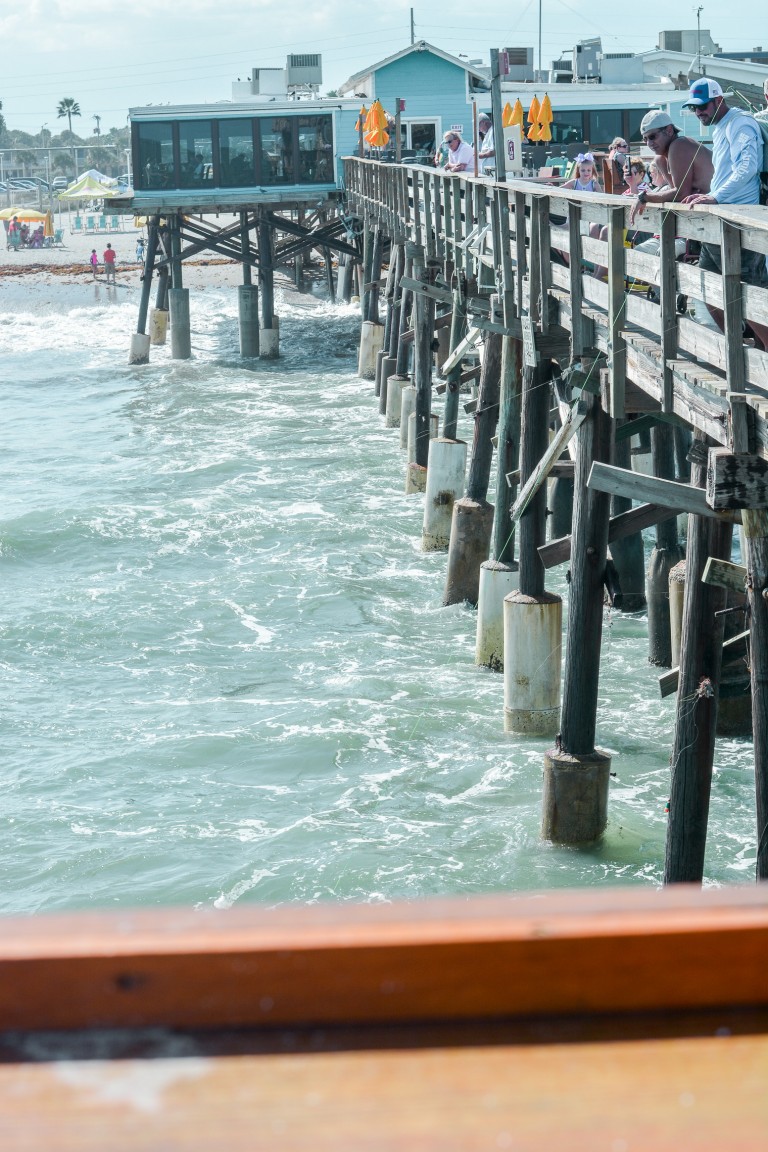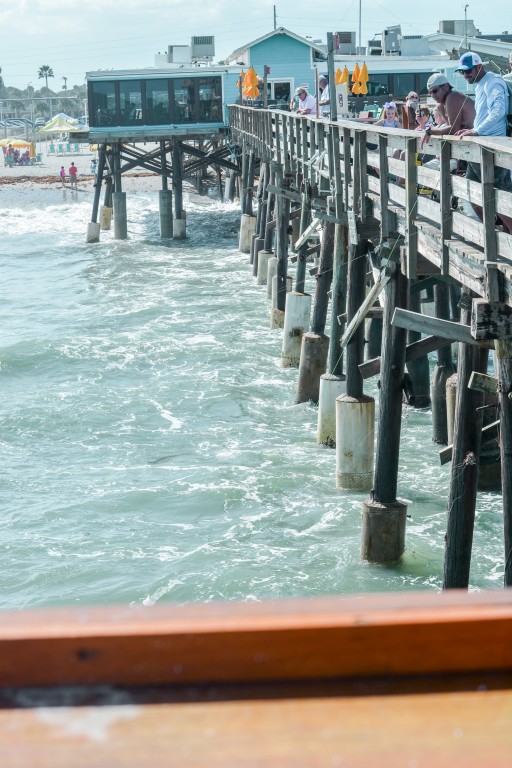 You can fish right on the pier anytime after 6pm. There's a small $7 fishing fee if you bring your own equipment, or the price is $20 for a fishing rod rental that's good for 4 hours. You can also get frozen bait for $5.
For locals, weekly, monthly, and yearly fishing passes are available, but a day long pass is really affordable as well for tourists.
The most popular fish caught on the Cocoa Beach Pier are Red Fishing, Whiting, Tarpon, Snapper, Flounder, Blue Fishing, Sea Trout, and Grouper. It's a lot of fun to even watch everyone else fishing!
If you are new to fishing, or want to improve your skills come talk to the captain who runs the Cocoa Beach pier shop. He has been here for years and can tell you anything about fishing in Cocoa Beach (he knows when is the best time of year, where is best place to fish at and any other thing that will make it easier for you).
He also tells stories and teaches you how to use the equipment properly! He's a super nice guy and is really helpful to newbies.
Surfing
If you bring your own surfboard, surfing is one of the best free things to do in Cocoa Beach. If you don't have a surfboard, there's plenty of equipment rentals right next to the Cocoa Beach Pier.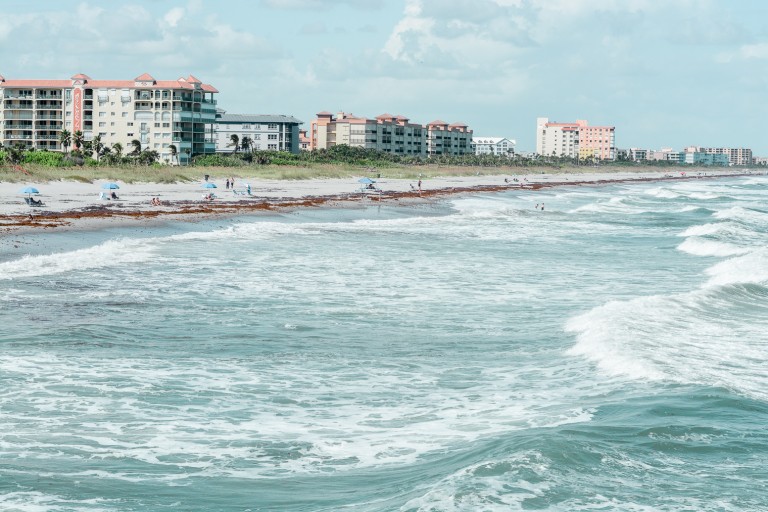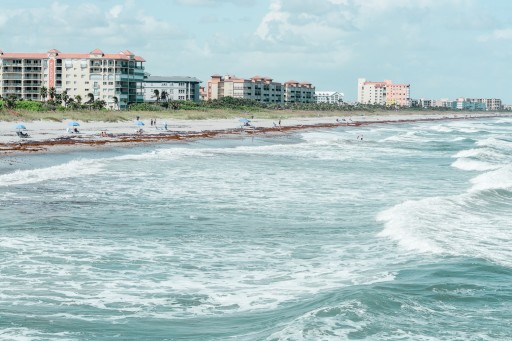 A surfboard rental is only $20 for 3 hours or $40 for a full day! Surfing is one of the most popular things to do at Cocoa Beach, so if you're interested at all you'll want to give it a try.
For those of you who are novices, the Cocoa Beach Surf School meets every day between 9am and 6pm for private, semi-private, and group lessons as well as clinics.
Sea Dogs Rentals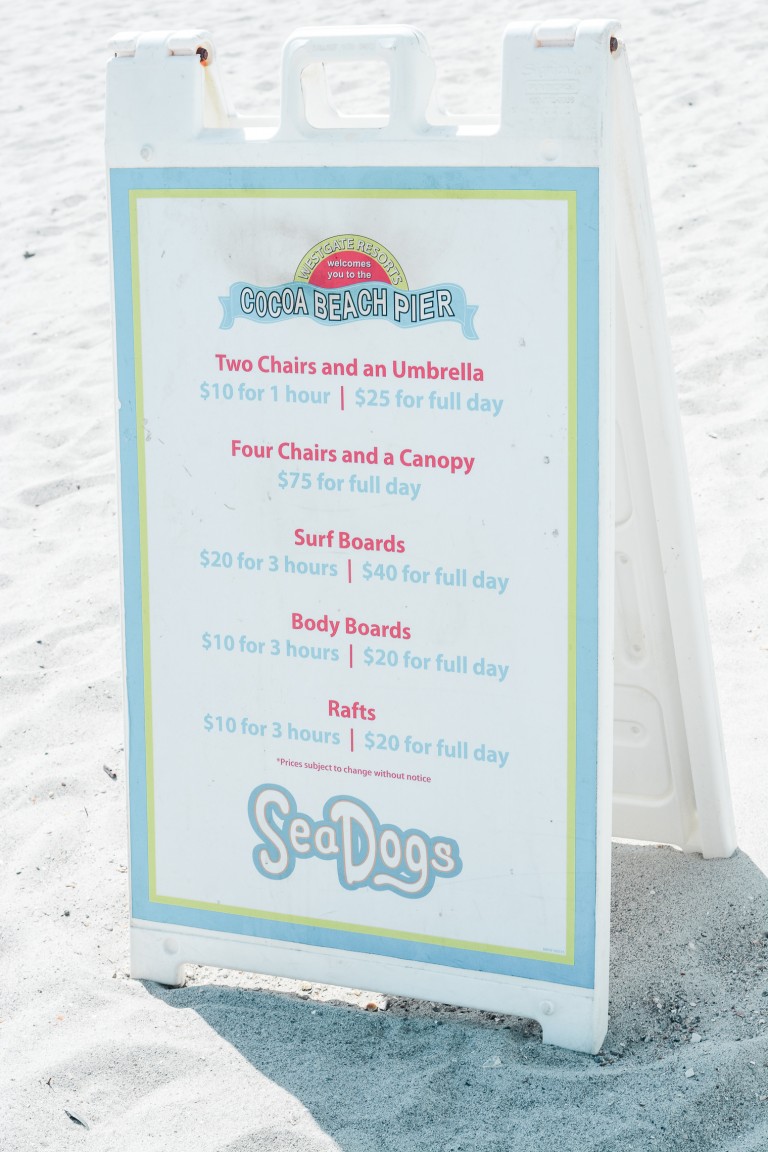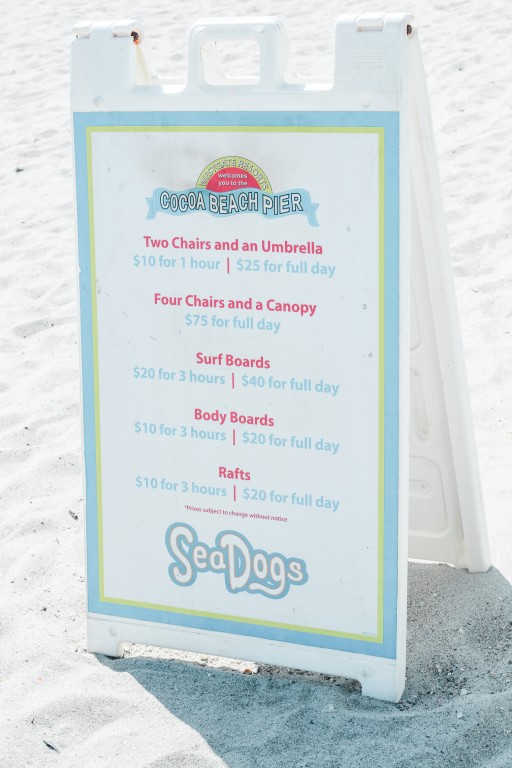 Sea Dog Rentals is located right next to the Cocoa Beach Boardwalk, so you can easily rent a piece of equipment during the day if needed.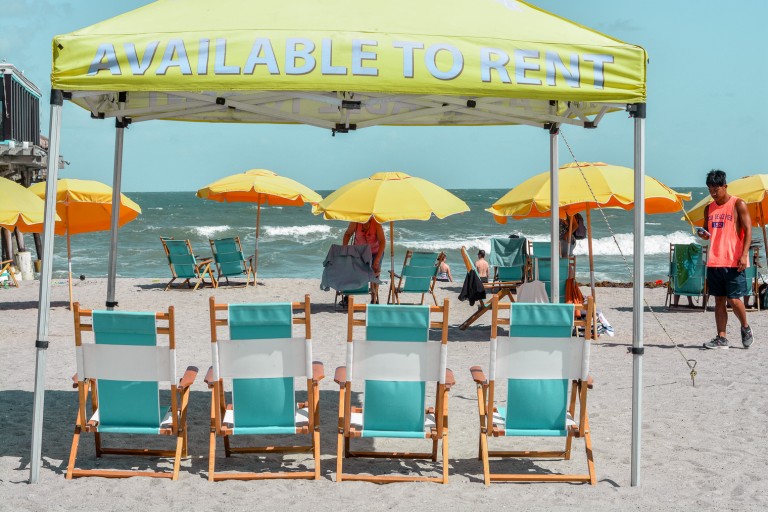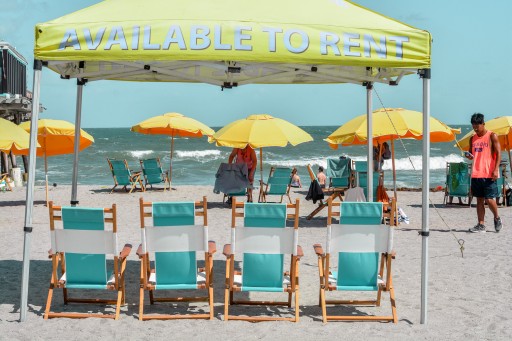 Nearby Hotels
Some of the prettiest hotels in Cocoa Beach are right near the pier, and therefore near the beach. Staying near the water is almost an absolute must here!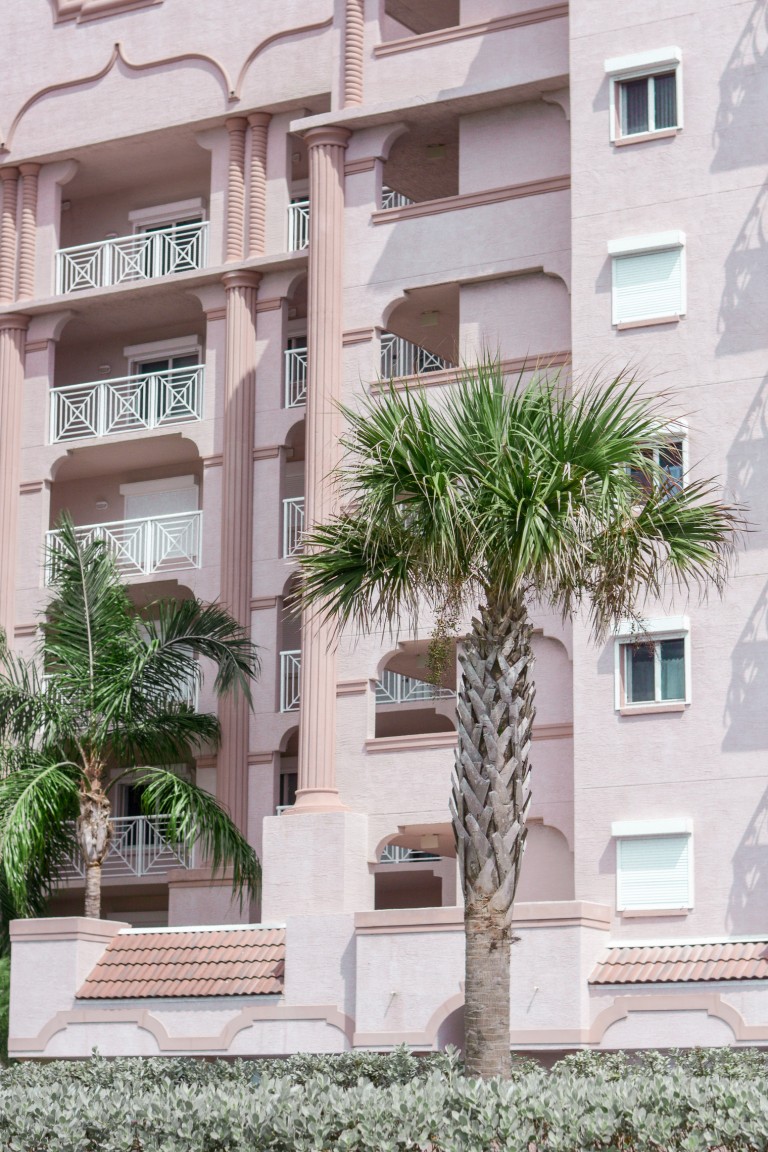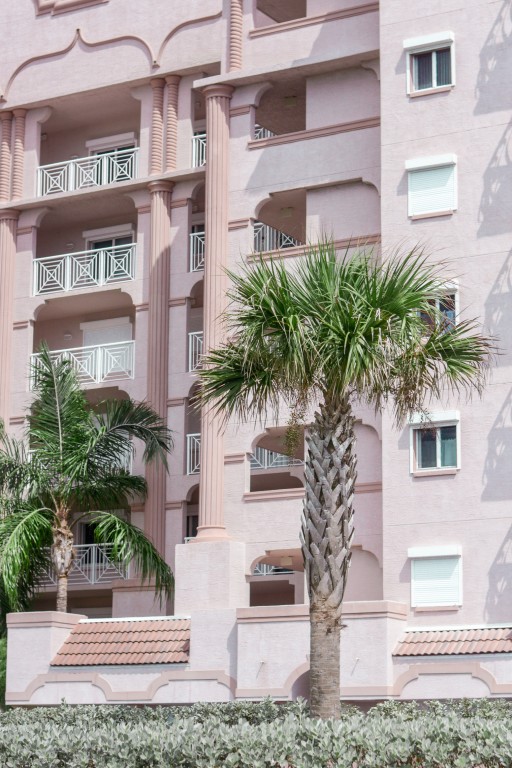 If you're planning to stay in the area, I recommend choosing a hotel near the Cocoa Beach Pier. The beach is beautiful, the hotels are upscale yet affordable, and there's a ton of fun stuff to do right at your feet.
Here are some of my favorite hotels near the Cocoa Beach boardwalk:
This is a mid-range hotel that sits about a block back from the ocean. If you want to spend under $150 a night but have clean and well-kept accommodations, check out this resort. It's also great for anyone staying near the Cocoa Beach pier for only a night.
The Best Western in Cocoa Beach offers a great place to stay if you're planning on visiting the Cocoa Beach pier briefly. Whether you plan on fishing off the pier or sipping a drink from one of their dockside bars, you can't go wrong staying at this hotel.
It's only blocks away from downtown Cocoa Beach as well as many restaurants and shopping centers. With over 100 rooms ranging in size and price, it has something for everyone.
This is my favorite on the beach resort near the Cocoa Beach pier. It's actually privately owned condos that are rented out by the night or week, so you'll feel like you're really living on the beach (similar to AirBnb). The condos are known to be well decorated, clean, and large.
You also get two parking passes with any condo rental, plus the complex has some great amenities like a pool and hot tub, lounge, basketball court, and fitness room. Amenities also include free fishing equipment, and every condo comes with a full kitchen.
This resort is another condo complex offering rentals with very similar amenities. The penthouse rooms are especially gorgeous (decorated in beach colors) and offer balconies that sometimes overlook the water.
If you'd rather walk right out, you can request a ground floor rental and have instant access to the beach.
In addition to a pool and fitness center, these condos have free WiFi, laundry facilities (sometimes in-unit), beach towels, and allow pets.
If you're looking for a budget option, check out La Quinta Inn & Suites. This 3 star hotel is known to be clean and family friendly, but doesn't come with a lot of bells and whistles. It also isn't right on the ocean, although walking a block to the beach definitely isn't the worst thing in the world!
The Cocoa Beach Webcam
The Cocoa Beach pier has a webcam showing what people are currently looking at in Cocoa Beach, Florida.
The camera is situated on the northwest corner of the pier and offers a view of Cocoa Beach which includes the Cocoa Beach boardwalk, Margaritaville, and other things to do in this area.
If you want to check out the pier area for yourself before actually going, check out a variety of Cocoa Beach webcam options here. You can see the actual beach itself or check out the Cocoa Beach Pier live cam.
I especially love checking the Cocoa Beach webcam a few days before my vacation! It's also super fun to watch during a storm.
History Of The Cocoa Beach Pier:
The Cocoa Beach pier is a 1,000 foot long structure that extends from the north end of the cocoa beach boardwalk out over the ocean toward the Atlantic Ocean.
The pier was built in 1925 by Del Webb and John Collins who visited the area for fishing as well as relaxation. Because this area has 2 miles of virgin beaches and many days of sunshine, they decided to develop an amusement park on this pristine coastline.
The first building erected at the site was called "The Surf Club" which offered refreshments like coffee, sandwiches, and drinks to visitors which soon became popular with locals and tourists alike.
Another exceptional feature of this area is its proximity to both Kircksey-Munroe State Park and Canaveral National Seashore; so if you want to do some kayaking, fishing, or take walks along the beach there are plenty of trails awaiting.
This area has always been a popular attraction for residents as well as tourists; even today there is still a large community of both those who live in Cocoa Beach and those who visit seasonally during the winter months.
In fact, this area has been so popular that it was added to be on the National Register Of Historic Places which means that it will be preserved and protected by law against any further damage or destruction.
In addition, this area now offers two golf courses, shopping centers, movie theaters, restaurants, and entertainment venues like clubs with live bands playing music; all these sights and sounds can be enjoyed when strolling on the clean white sand of the 2 miles of beaches.
The Cocoa Beach pier is not only an important landmark because it was the first major structure built on this coastline, but also it has enjoyed a long history as one of Florida's most popular and well-known attractions.
Cheers to Cocoa Beach!
Related: The Miami To Key West Drive: The Ultimate Road Trip Itinerary