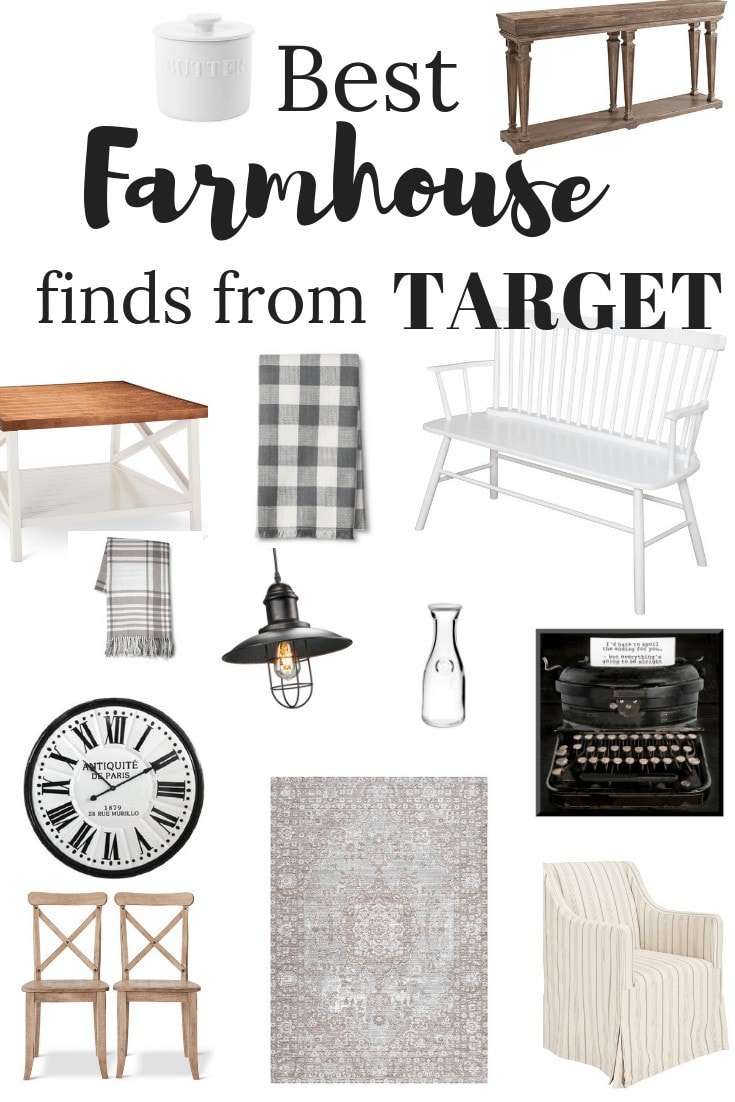 I'm decorating my new apartment in a mix of modern farmhouse and chic style, so I've been spending a lot of time shopping for basically everything. I had nothing moving in, which is great because I can start over, but bad because believe it or not, decorating a whole apartment at once costs a ton. I've looked literally everywhere for a great farmhouse decor store and guess where I ended up every time?
Target has really been my best friend! While that isn't surprising (I'm pretty sure everyone in the world is obsessed with Target right now), I've discovered a ton of amazing Target farmhouse furniture finds that I didn't know existed before.
Target farmhouse decor is great because there's a ton of classic farmhouse finds for cheap but also a bunch of pieces that add an extra element so you don't overdo the farmhouse home deoor. I've found some really awesome pieces, so I rounded them up for you guys to check out. Most of these items are available online or in the store (you can check and see if they're al your store). You can also get them shipped to you store (often for free) and head straight to counter to pick them up, which is really convenient. Here's my favorite Target farmhouse home decor finds!
Shelby Bench | Galvanized Oval Bucket | Stadium Throw Blanket
Butter Server | Reclaimed Wood Console Table | Crosby Large Pendant
Family Throw Pillow | Magnolia Lantern | Check Kitchen Towel
I love this checked cloth! The pillow is an easy add-on for any neutral room (it goes with beige or grey) and the lantern can go outdoors or in the corner of a living room.
Typewriter Photo | Upholstered Chair | Sugar Cellar
Stoneware Pitcher | Plant in White Pot | Hampden Barstool
These are some great add-ons if you want to throw in just a touch of farmhouse home decor. At this time, they're all free shipping from Target or available in most stores.
Porcelain Pitcher | Rustic Farmhouse Clock | Threshold Bookcase
This pitcher is one of my favorite farmhouse home decor pieces. Who doesn't know that a white pitcher is a classic? I especially like this Target one because it's a little bigger than the Ikea option, which can look super tiny depending on the room (something I didn't know until it arrived at my house 3 weeks after I ordered it).
Industrial Cage Light | X-Back Dining Chair Set | Water Glass
I really love these Target home decor pieces because they're inexpensive and easy to throw in almost anywhere!
Magnolia Floor Pillow | Larkspur Coffee Table | Vintage Beige Rug
The thing I love about farmhouse home decor pieces like these is that they're really classic and won't go out of style anytime soon.
They really add a great accent that isn't kitschy and keep things classy. Most of these Target home decor pieces are also pretty inexpensive, especially compared to stores like Pottery Barn or Birch Lane.
If you're interested in finding really cool modern farmhouse wall art, check out my favorite Etsy stores selling everything from animal canvases to inspiration prints!
What's your top affordable Target farmhouse furniture piece? What's you go-to farmhouse furniture store? Let me know in the comments!