I grew up on the North Shore in Massachusetts, so you'd think I know my way around every area. However, it's only since I moved to Salem that I've really explored Marblehead MA.
And I can't believe I had never ate, shopped, and beached in Marblehead! The town is just too cute.
As much as I love Marblehead Massachusetts during the summer, it's a great destination any time of year. There are so many fun things to do regardless of the season.
The town has a similar vibe to Salem, but is smaller and has less of an emphasis on witchcraft. I love Salem but also liked the opportunity to explore such a traditional New England town that feels more coastal and upscale. It's a totally different experience!
Marblehead Massachusetts is a great town to stop in for a night or two. I found that 48 hours was the perfect amount of time to get a feel for the area and hit most of the major attractions.
Things To Do In Marblehead Ma
Depending on the season, there's a wide variety of things to do in Marblehead MA. Whether you're more into shopping or want to explore the historical aspect of the town, there really is something for everyone.
The town offers plenty to do during the day. The numerous parks are popular for both tourists and locals who enjoy jogging, biking, walking and even fishing. There are also beaches as well as outdoor art exhibits throughout Marblehead that provide great photo opportunities for anyone looking to document their vacation in town.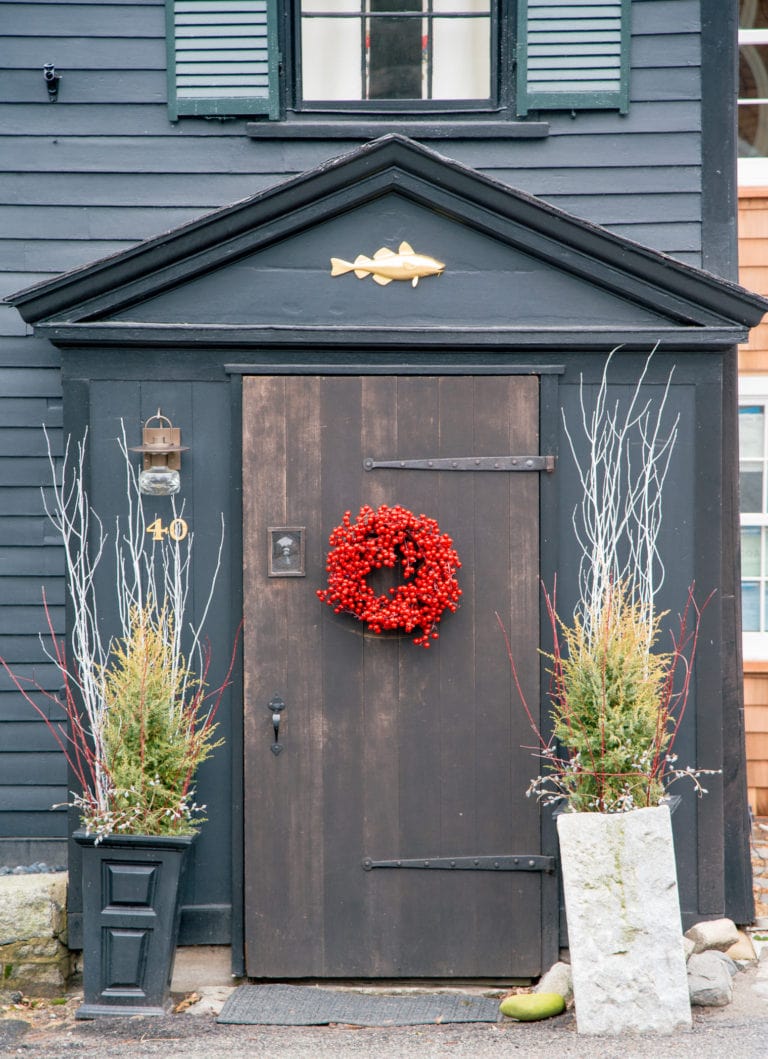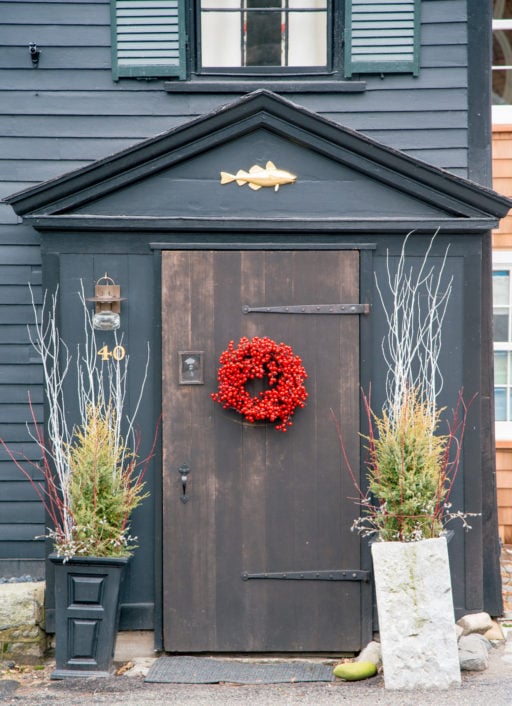 Sightsee Downtown
There are so many gorgeous old homes that give you a feel for the history of Marblehead. Washington Street is especially nice to walk down. Many of the homes are colorful and unique while maintaining the New England vibe.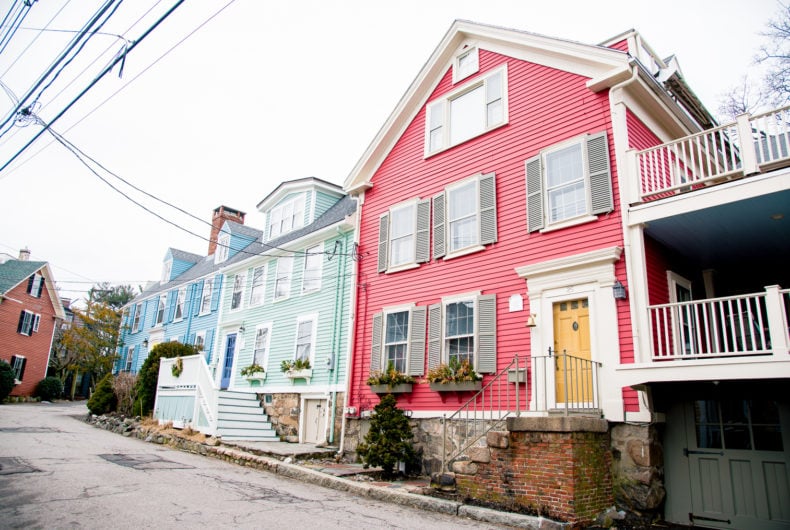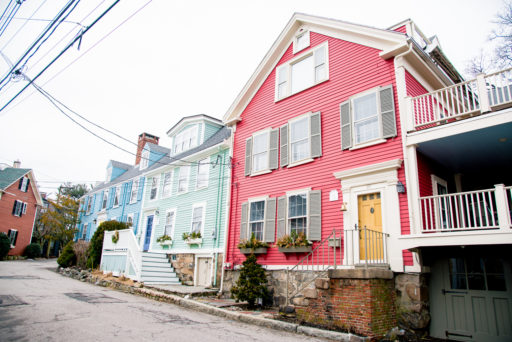 Checking out the homes and downtown was one of my favorite things to do in Marblehead Ma during this trip!
Atlantic Avenue is especially gorgeous and is one of the most upscale streets in the town. However, you can literally drive around and find gorgeous homes without needing specific directions.
Shopping In Downtown Marblehead
If you're out and about, you might as well stop in at some of the stores. The selections in Marblehead MA are great!
My favorite stores are Bobbles and Lace (an upscale and trendy boutique), Shipshape (a quaint New England-oriented gift shop with super unique items), and French + Italian (high end women's clothing).
Marblehead MA Museum
If you're at all into history, Marblehead Museum is one of the best things to do in Marblehead MA.
The museum comprises of three old homes that are connected and has a large collection of old photographs and paperwork that explain a lot about the town's history as well as the area.
The John Brown House Museum is the oldest house in Marblehead. The two-story, foursquare house was built about 1652 with materials brought from England on the ship "Whydah" by Captain Jeremiah Lee of Salem and his brother Nathaniel. The museum features exhibits on local history and maritime history using artifacts found in the house during an archeological dig. Drop off your bags here between tour adventures to rest up for more activity later!
Old Burial Hill
This cemetery is a super short drive from downtown and has a lot of history. Many Puritans are buried here, as well as 600 Revolutionary soldiers.
Old Burial Hill was most famously the setting for the daytime cemetery scenes in Hocus Pocus (the original one). It also has amazing views of the harbor since it's set up on a hill that overlooks that ocean and town.
If you're staying in Salem, then you probably know that Old Burial Hill is supposedly haunted. It's even one of the most haunted places in America. You may want to check out the cemetery during dusk if you're into ghost stories!
Marblehead Neck
This park offers great views of the harbor from its ocean outlook located on the tip of Marblehead Neck. A popular pastime among locals is sitting on this spit of land with their fishing poles trying to catch some local seafood.
This is one of my favorite areas in Marblehead MA. If you're looking for things to do in Marblehead, then you really can't miss the opportunity to drive out to Marblehead Neck.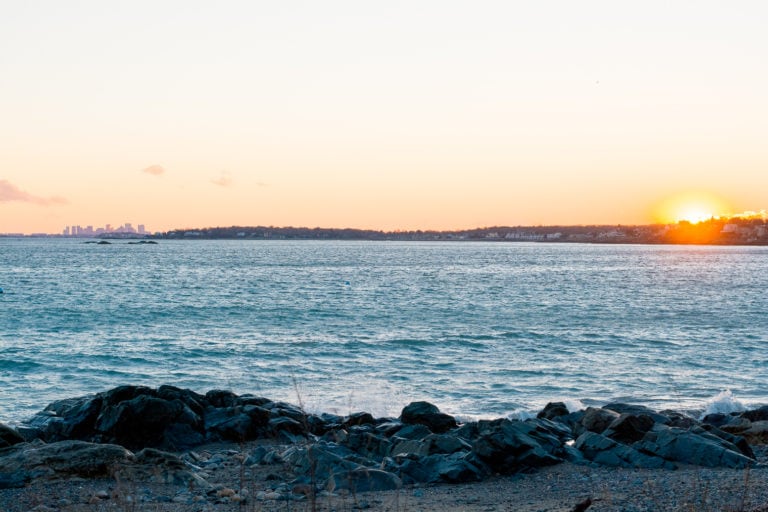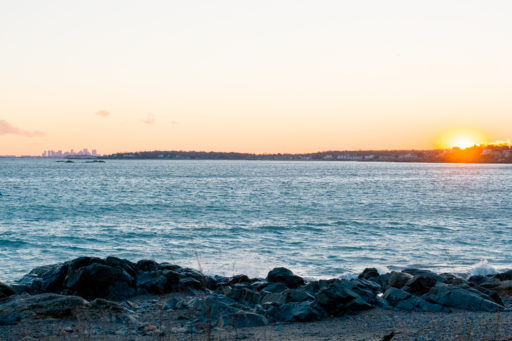 Not only is there a whole area to tour and spot wildlife, but there's an insane amount of massive homes if you choose to just drive around. It's really crazy to think that many of these homes (I'd consider them mansions) are actually only used in the summer.
We got the chance to see a gorgeous sunset over the Boston skyline here – if you time it right, the view is incredible.
Drummer Boy Park
Located on land formerly part of an area commonly known as Hell's Half Acre, this small park has a statue which was sculpted by Daniel Chester French who also created the Lincoln Memorial in Washington D.C.
It commemorates Marblehead soldiers killed during World War I and is dedicated to all soldiers from the town who served their country during times of war. The monument is located along Western Ave., between Eastern Avenue and Samuel Smith Road at the very northern tip of Marblehead Neck (where it juts into Salem Harbor), right next to where the old Putnam Place once stood.
The Jeremiah Lee Museum
If you like history then the Jeremiah Lee Museum will be right up your alley.
The museum is in a genuine old home and showcases real artifacts. However, the architecture is simply stunning, especially the sweeping staircase.
I've found that every guide at the Museum is really interested in the topics and extremely helpful. This is a little gem that can't be missed!
Lastly, make sure you check out the gardens. During the spring and summer months, they're simply stunning, which makes the Jeremiah Lee Museum a super popular place in Marblehead Massachusetts to host weddings.
Marblehead's Lighthouse
For those whom wish to have a spectacular view of the harbor, town and ocean there are two lighthouses within an hours drive from Marblehead.
Interestingly enough, both lighthouses are named Marblehead Light. One is located in Marblehead Harbor itself while the other can be found on Great Brewster Island which lies just off the coast of Cape Ann in Gloucester MA.
The lighthouse on Great Brewster island technically belongs to Salem Massachusetts, however it is accessible only by boat unlike the one in Marblehead Harbor which has a walkway down to it from the main land. Whether visiting for pleasure or business , stopping into one (or both) these prominent landmarks is a must do activity when in the Marblehead area!
Devereux Beach
Whether you're looking to spend a full day on the beach in the summer or just walk it during the colder months, Devereux Beach is the most popular in Marblehead for a reason.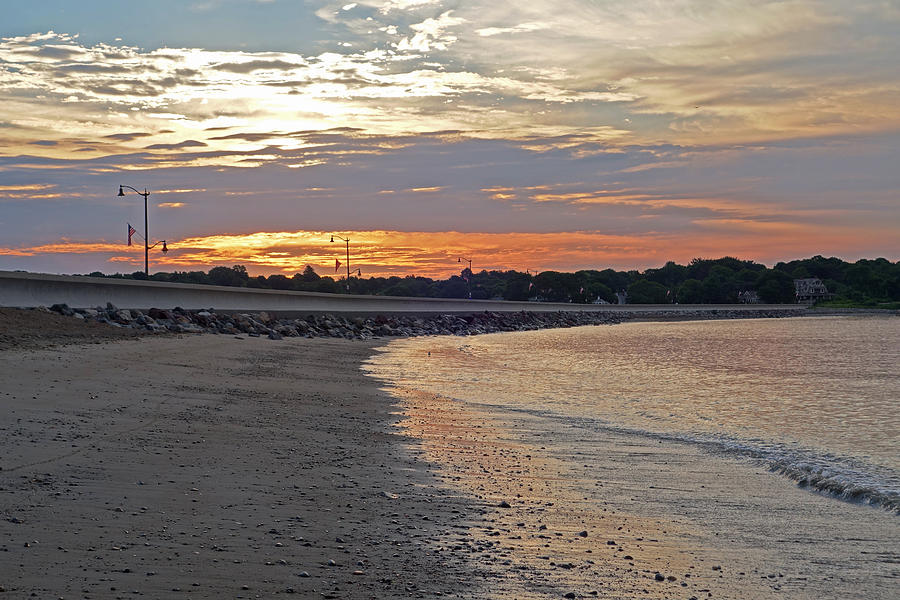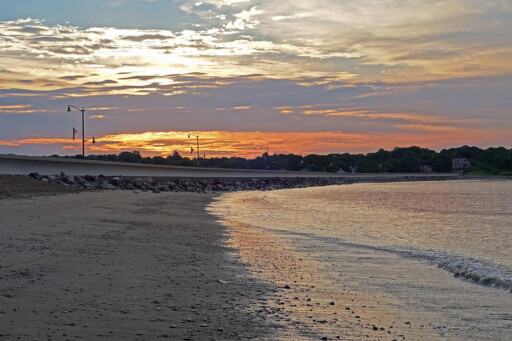 The beach over 5 acres long, meaning there's usually enough room for everyone (even on popular summer holidays like the 4th).
Rough Cut Park
Another popular spot within town is Rough Cut Park located right before heading into Marble Head Harbor itself. With picnic tables and benches along with beach areas for swimming and foot-in-the water recreation it makes for a wonderful getaway day.
Rough Cut is a great spot to learn more about Marblehead's maritime heritage. From Rough Cut you can see the USS Salem, an Oliver Hazard Perry Class Guided Missile Frigate and one of only 59 ships of it's kind in the US Navy.
Clay's Park
Located on the corner of Summer and Victory Streets it is a great place for small children to play. The park includes swings, a slide, a sandbox, basketball court, tennis court and paved area for walking or running in circles playing tag or whatever else your child's imagination can come up with!
Eastern Point Beach (dog friendly)
Go south on Eastern Ave., turn right at Captain Kidd Seafood, then left onto Western Ave. Drive about half a mile to find the beach access road on your right.
There are lifeguards during the summer months until 4 PM. Dogs must be leashed or under voice control at all times and you must clean up after them by using one of the trash receptacles that are available along the beach access road and parking lot areas before leaving.
Take A Harbor Tour
Take a tour of the harbor on one of the many unique and vintage boats that dock right in Marblehead Harbor! This is perfect for those who are looking to spend a day on the water enjoying the scenery while mingling with local boaters.
Head To Salem, Ma
Spend a day in Salem which is about 20 minutes away. If you like history visit Salem's Witch Museum. If art is more your taste, spend a day at the Salem Art Museum. There are lots of witchy things to do in Salem during every season!
Related: 24+ Fun & Affordable Things To Do In Salem MA
Where To Eat In Marblehead Ma
There's a surprisingly high number of cool eating spots in Marblehead. Eating is one of my favorite past-times anywhere, but was definitely high on my list for the best things to do in Marblehead MA.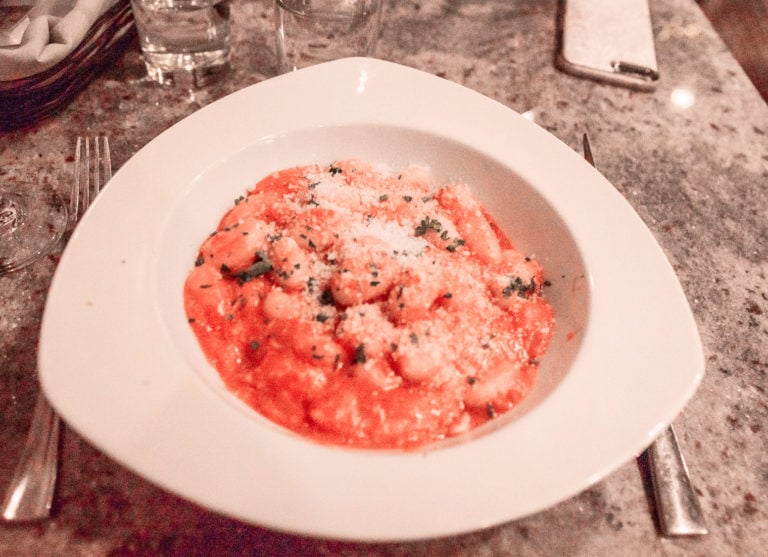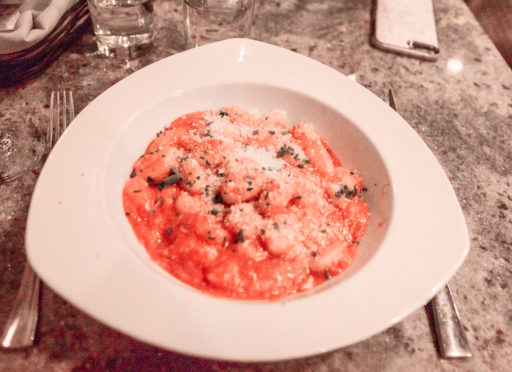 Here are my absolute favorite spots when you've only got 48 hours.
The Mugford
This place is an iconic breakfast and lunch spot with locals for a reason. It's a really cute cozy eatery that has a small town vibe.
I particularly love the grilled cheese and tomato soup combo. The lattes are amazing as well.
5 Corner's Kitchen
Known as the best high-end restaurant in town, 5 Corner's Kitchen is a great place to try if you're only in town for a few nights. The cocktails are trendy and delivered in a low-lit, upscale setting.
The food is gourmet (French-inspired) and is really fabulous, especially if you like to try experimental dishes. Make a reservation well in advance for any weekend evening – the restaurant books up quickly. They also offer a great brunch on Sundays.
Casa Mia Cucina Italiana
Casa Mia Cucina Italiana is a restaurant that has been serving food since 2007. Located at 12 Broad Street, it is a local favorite for the locals of Marblehead, MA.
The atmosphere of this restaurant is elegant and romantic with classy Italian cuisine. Casa Mia Cucina Italiana is the perfect place to have a nice dinner with friends and family.
This is by far my favorite restaurant in the whole town. I live over an hour away, and am actually considering driving back to Casa Mia Cucina Italiana every few weeks just for the homemade gnocchi.
It's a small and cozy Italian restaurant that is clearly family-owned (we literally met the whole family). The bartender was a fabulous mixologist, the bread was delicious, and the pasta was literally to die for. It was also pretty easy to get a table on a Friday night. 10/10 recommend!
Casa Mia has an outside patio with heaters so if you are looking for dining al fresco in the summer months, this is your spot. The inside also has a bar area where customers can sit above or below it while enjoying their evening cocktails.
There is also piano music each night at 8:00pm and 10:00pm but these times vary throughout the year; Casa Mia will give you this information upon arrival.
Three Cod Tavern
One of the best restaurants in Marblehead Massachusetts is a restaurant that offers seafood and bar fare. This restaurant is called Three Cod Tavern. The atmosphere is casual, welcoming, and fun.
The restaurant has a large menu with all different kinds of dishes. It was established in 1952 as a small fish market and then expanded to include the seafood restaurant.
The first thing you'll see when you walk into the tavern is an ordering counter on your right with a menu posted on the wall behind it. To your left will be seating for diners and tables for take-out orders. In front of you will be a large lobster tank with lobsters ready for cooking.
When I walked in, the first thing that caught my eye was the restaurant's cozy fireplace and seating area on the opposite side of it. There were booths there but they seemed to be a bit small, so we decided to sit at a table instead.
The interior decor of the restaurant is pretty plain but had a kind of down-home feel to it. The walls were made up of wood paneling and had pictures hung on them. On one end, there was some sort of stuffed animal heads mounted on the wall, which looked like something you would see in an old hunting lodge or fishing cabin. On the other side, there was a large flat-screen TV playing ESPN while we were eating.
If you want a cozy and ultra-casual tavern where the locals go, consider Three Cod Tavern in Marblehead.
The Landing Restaurant
If you're looking for a true local restaurant with lots of fresh fish options, check out the Landing.
The Landing Restaurant is a small restaurant that is located on Pleasant Street. The food served is seafood, as most of the land in this area is surrounded by water. The restaurant also offers other traditional American dishes like burgers and steak.
The inside has a rustic feel with its wood paneled walls and all of the decoration are from items that have been found in the oceans around Marblehead. You can sit at the bar or at a table to enjoy your meal.
Not only does the Landing have surprisingly upscale options, but they're known for serving a delicious brunch. Make sure to try the lobster eggs Benedict!
The clam chowder is also popular year round. Try to sit on the deck if the weather is warm enough; the views are truly stunning.
The Marblehead Cafe
The Marblehead Cafe is a laid-back joint with a menu that changes daily. There are always good brunch and lunch options, but the best time to visit this joint is on the weekend when they have live bands both local and acts to suit every mood.
Boulevard Lounge
If you are looking for a nice place to have cocktails with friends, Boulevard Lounge at the Grand Hotel can give you that chic look you are going for. With views of Marblehead Neck this is the perfect place to sit back after a long day of shopping and enjoy delicious drinks from their creative bartenders.
Nightlife
There is a great selection of places to grab drinks with friends. You can have a few drinks and split some appetizers at any of the seafood restaurants or you can go dance at one of the many pubs around town.
There are also plenty of live music performances going on throughout the weekend so you'll never be bored.
Where To Stay In Marblehead MA
There aren't many hotels in downtown Marblehead, so you definitely need to book ahead. However, you can also check out VRBO – there are tons of options in Marblehead that may be more to your liking.
Here are my favorite Marblehead Massachusetts hotels as well as a few VRBO condos that I love!
I was given the opportunity to stay at the Hotel Marblehead and can't say enough good things about it!
The hotel is located a short drive from downtown in a large old home (bordering on a mansion). It's very comfortable and clean, with a cool coastal decor vibe that is New-England and still super classy.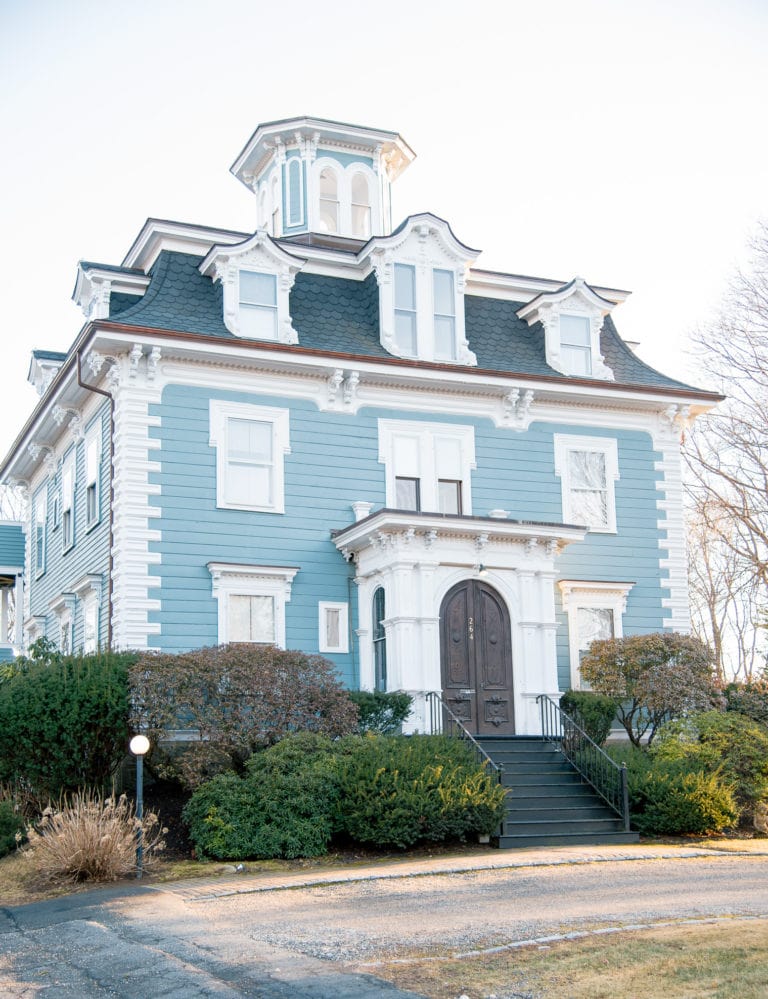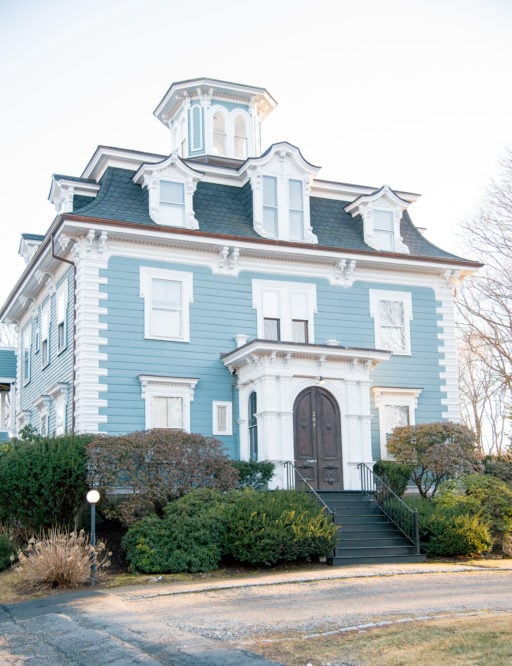 There's a lot of cute additional amenities, such as warm cookies and tea in the afternoon and free breakfast in the morning. The hotel definitely has an old-world vibe but is updated nicely.
Everyone at the front desk was really friendly and helped us plan and figure out the best things to do in Marblehead MA. They had some great suggestions for the winter months!
I highly recommend making a reservation well in advance, especially during the summer months. I just stayed here in February and the hotel was pretty booked, so I can't imagine what it's like in July.
Check out the lowest rates here.
If you're looking for an old-world New England vibe then you'll love the Harbor Light Inn.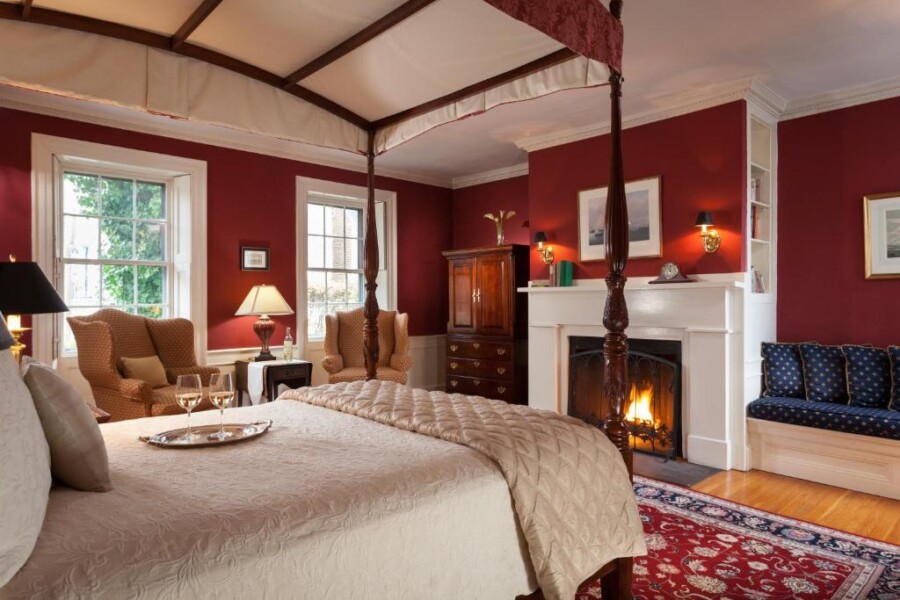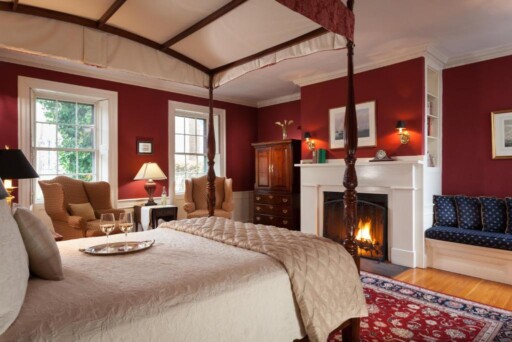 Located close to downtown Marblehead Massachusetts, the Harbor Light has a quintessential feel with four poster beds, in-room fireplaces, and antique furniture, yet the amenities are upscale and new.
The inn itself has been raved about by other travelers and guests alike who enjoyed their time at this bed and breakfast.
There are 3 separate buildings here, all pretty close together but not so much that it would feel cramped or uncomfortable.
This inn is decked out beautifully throughout, with antique furniture, decorator lamps, and fresh flower arrangements adorning each room.
There are rooms available here as well as different suites! Each one offers clean linens and comfortable and cozy decor.
If you're not looking to stay here, but rather want to take a break from the day, consider stopping in for one of the speciality teas or coffee drinks they offer!
One awesome convenience about this inn is that guests are able to rent bikes and explore the bay with ease– biking has been said by many guests to be an excellent way to see all there is to see while visiting Marblehead Massachusetts.
This historic Colonial town is home sweet home for this inn's owners: Lynn and Paul Krantz. The Harbor Light Inn offers visitors a warm and welcoming atmosphere where they can relax and enjoy their time away from everyday life, with comfort and hospitality at its finest!
I especially love how you can choose your own room at the Harbor Light. Because the rooms are so cozy, this is a great hotel for a vacation any time of the year. Plus, there's an outdoor pool and gorgeous deck for the summer months.
Check out the lowest rates here.
Like I said, Marblehead doesn't have a ton of hotels. However, there are some really great VRBO options. Here are some of my favorite places:
Or, check out other Marblehead VRBO options here.
I recommend renting a VRBO from someone who is local, and will be able to answer any questions you have.
If you're looking to get a VRBO unit in Marblehead MA, here are some tips for finding one:
– Check reviews and ratings on different listings to see which ones have been reviewed often by past tenants.
– Look for apartments that list an exact address in the description so there's no confusion about where it is located.
– The price quoted should include all fees (cleaning fee, pet fee or whatever). Also keep in mind whether prepayment is required before arriving at your new unit.
– Check when the apartment is available for rent, and if any discount rates are available to you as a new tenant.
– Make sure that the apartment is close enough to all of your favorite places in Marblehead MA such as restaurants, cafes, bars and shopping centers. You should also find out who is nearby and if you get along with them.
– Check that photos are of the exact unit that you will be renting so there's no surprises about what the place looks like when you arrive to Marblehead MA.
Parking/Getting Around
To find parking in Marblehead, MA, you can park at the Chamber Bridge Lot.
The lot is located on Liberty Street and is a two-minute walk to the Marblehead Harbor.
You can also park at the North Shore Medical Center, which is located at 600 Pleasant Street. This is only a one-minute walk from the Marblehead Harbor.
If you are using public transportation, take a bus to Railroad Square or the North Shore Medical Center.
A ferry to Boston is located at the Marblehead Harbor. It will take you fifteen minutes to get there by foot, and it's a pleasant walk along the harbor.
The Ferry terminal is located on Manchester Street. To catch the ferry, go down Long Beach Boulevard until you reach an intersection with Washington Street and turn left towards The Battery Center.
From here, there are two different types of ferries – one that goes to Rowes Wharf in Boston and another that travels from Castle Island to Rowes Wharf. There are other stops as well; consult your map for details! The service runs every hour, starting at 6:00 A.M.
Because of the various train and bus services that are available during off-peak times of the day, I sometimes feel that going by car is a waste of money at this point in time. You need to be aware that parking spaces are limited throughout Marblehead and an abundance of street meters exist. Finding free parking could take some time, especially if there is an event taking place downtown as well! Parking spaces are hard to find near the Ferry terminal too, so plan accordingly!
The History Of Marblehead Ma
Marblehead MA is a coastal city with a population of 20,000. It's best known for having the oldest continuously occupied European settlement in North America.
Nestled between the ocean and its harbor, Marblehead has been a fishing village since it was first settled in 1629. The town's location on one of the few islands off the Massachusetts coast led to its role as a major sea port in colonial times; today, it is best known for its charming features that make it New England's most popular resort area.
Through wars, fires and economic fluctuations, Marbleheaders have always managed to be hospitable hosts.
Their ancestors helped found the Plymouth Colony. They held their ground during King William's War (1689-92), when Wampanoag Indians attacked their farms along with those on Cape Ann . During Queen Anne 's War (1702-13) they remained loyal to the British Crown while the rest of New England rebelled; a year later, in 1704, they were badly damaged by a hurricane that killed over 100 residents. Yet they recovered from their losses and dedicated themselves to rebuilding their town.
The War of 1812 brought more destruction when fire swept through the harbor area, destroying shipping and valuable commercial buildings such as mills and warehouses. But it also brought profits: Marblehead 's shipbuilding industry flourished during this period with the construction of clipper ships.
There was another destructive fire in 1866 which severely affected the business district. Before long, however, many new brick stores had been built and prosperity returned once more.
During the 1920's and 30's, Marbleheaders enjoyed another golden age, when artists and writers added to the town's reputation as one of New England 's most attractive seaside communities.
Stephen Crane (1871-1900) spent some time there; Whittier visited frequently. Painters such as Childe Hassam and Edmund Tarbell found inspiration in the harbor scenes.
Since the 60's, however, with increased affluence, pressures from changing lifestyles, suburban expansion and old developments being torn down for high-rise apartments have transformed this once quiet community into a busy resort area.
However, Marblehead's harbor is still lined with fishing boats that appear much like those seen by the first settlers of over 300 years ago. The narrow streets are lined with antique shops, specialty stores and a variety of interesting restaurants and cafes – all within walking or biking distance from the sleek yachts now sailing into Marblehead Harbor.
Photos Of Marblehead Massachusetts
To give you a feel for what Marblehead Massachusetts is like, here are some of my favorite photos of the area.