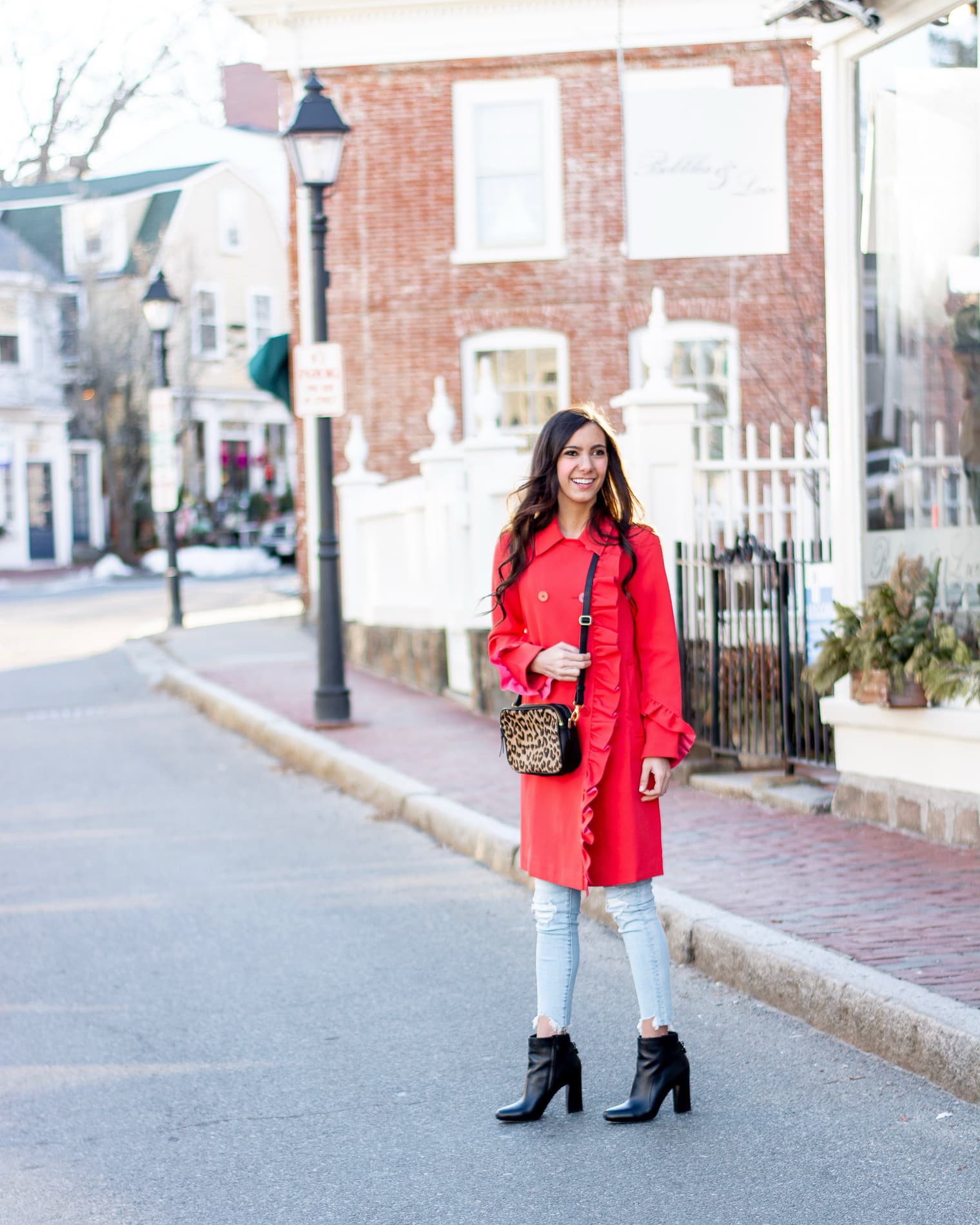 Coat (similar) // Purse // Jeans // Ankle Boots
I grew up on the North Shore of Massachusetts, so you'd think I know my way around every area. When the Hotel Marblehead reached out and offered me a weekend away, I was pretty surprised to realize that I've never explored Marblehead.
As far as I know, I've only stepped foot in Marblehead Massachusetts one day ever, and it was when I worked as a bartender at the yacht club. The drive was so far that it just wasn't feasible to continue.
I was so surprised by how cute Marblehead is! There's so many things to do in Marblehead MA that I hadn't realized, even in February. The town has a similar vibe to Salem Massachusetts, but is smaller and has less of an emphasis on witchcraft. I love Salem but also liked the opportunity to explore such a traditional New England town without seeing the witch trials references on every landmark. It's a totally different experience!
Marblehead is a great town to stop in for a night or two. I found that 48 hours was the perfect amount of time to get a feel for the area and hit most of the major attractions.
What To Do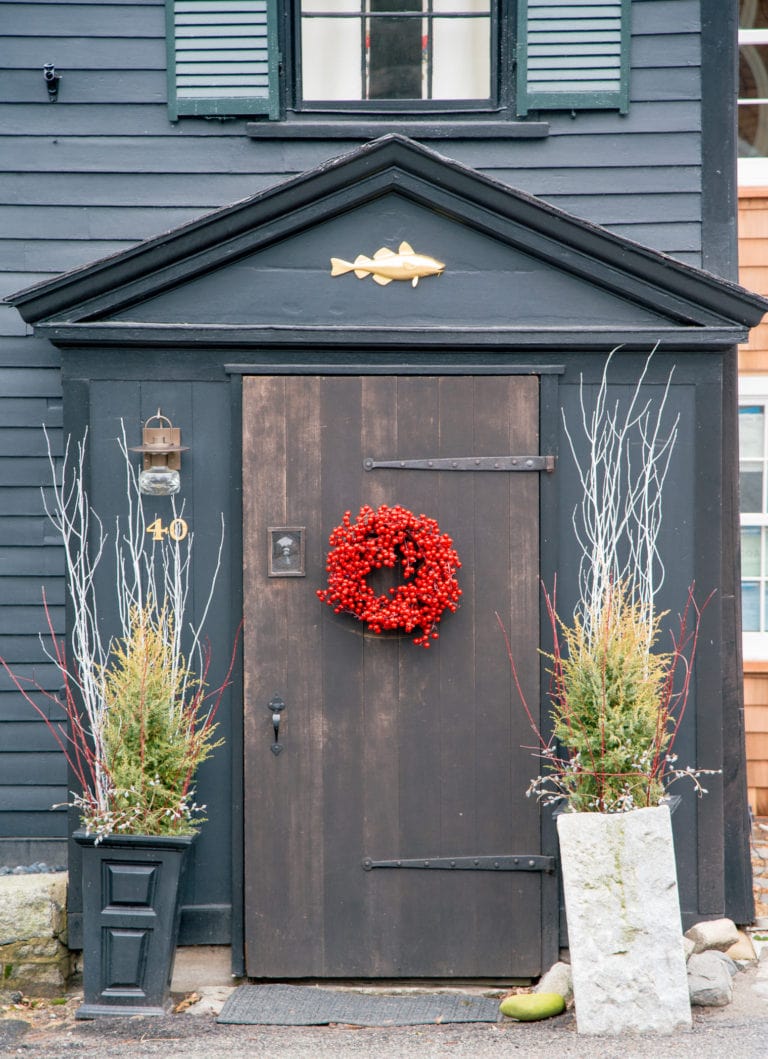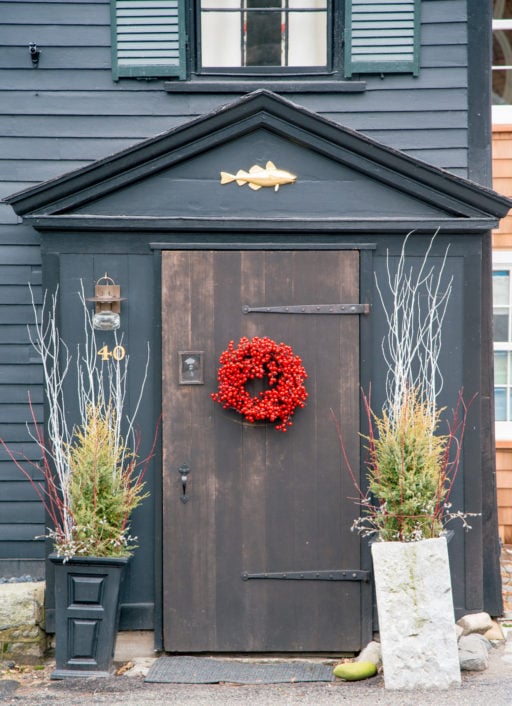 Depending on the season, there's a wide variety of things to do in Marblehead Ma. Whether you're more into shopping or want to explore the historical aspect of the town, there really is something for everyone.
Sightsee Downtown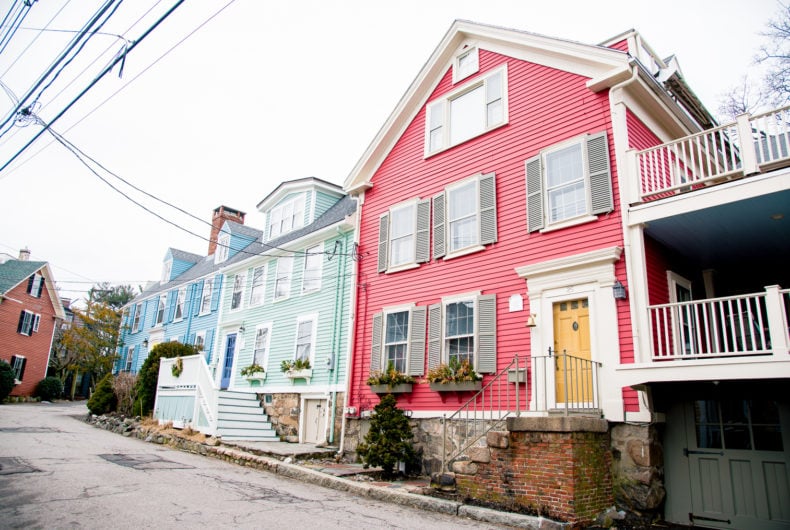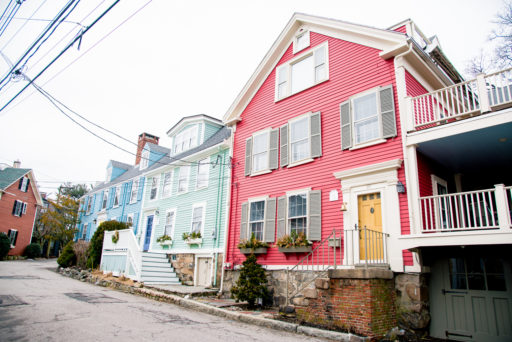 There's so many gorgeous old homes that give you a feel for the history of Marblehead. Washington Street is especially nice to walk down. Many of the homes are colorful and unique while maintaining the New England vibe. Checking out the homes and downtown was one of my favorite things to do in Marblehead Ma during this trip!
Shopping
If you're out and about, you might as well stop in at some of the stores. My favorites are Bobbles and Lace (an upscale and trendy boutique), Shipshape (a quaint New England-oriented gift shop with super unique items), and French + Italian (high end women's clothing).
Marblehead Museum
If you're at all into history, Marblehead Museum is one of the best things to do in Marblehead Ma. It's set up in three old homes that are connected and has a large collection of old photographs and paperwork that explain a lot about the town's history as well as the area.
Old Burial Hill
This cemetery is a super short drive from downtown and has a lot of history. Many puritans are buried here, as well as 600 Revolutionary soldiers. Old Burial Hill was most famously the setting for the daytime cemetery scenes in Hocus Pocus (the original one). It also has amazing views of the harbor since it's set up on a hill that overlooks that ocean and town.
Marblehead Neck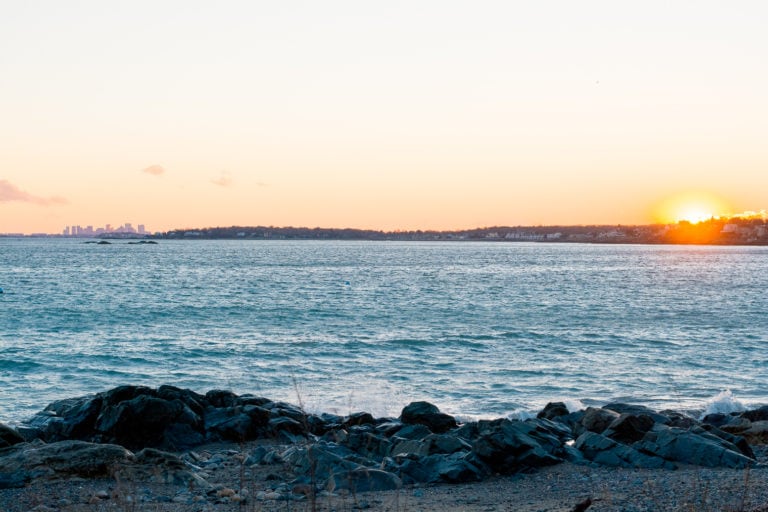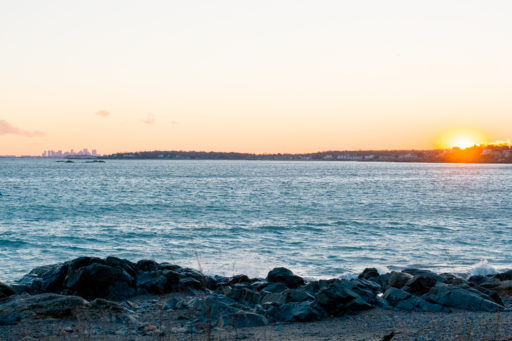 This is one of my favorite areas to sightsee. If you're looking for things to do in Marblehead Ma, then you really can't miss the opportunity to drive out to Marblehead Neck.
Not only is there a whole area to tour and spot wildlife, but there's an insane amount of massive homes if you choose to just drive around. It's really crazy to think that many of these homes (I'd consider them mansions) are actually only used in the summer. We got the chance to see a gorgeous sunset over the Boston skyline here – if you time it right, the view is incredible.
Devereux Beach
Whether you're looking to spend a full day on the beach in the summer or just walk it during the colder months, Devereux Beach is the most popular in Marblehead for a reason. It's over 5 acres, meaning there's usually enough room for everyone (even on popular summer holidays like the 4th).
Related: 24+ Fun & Affordable Things To Do In Salem MA
Where To Eat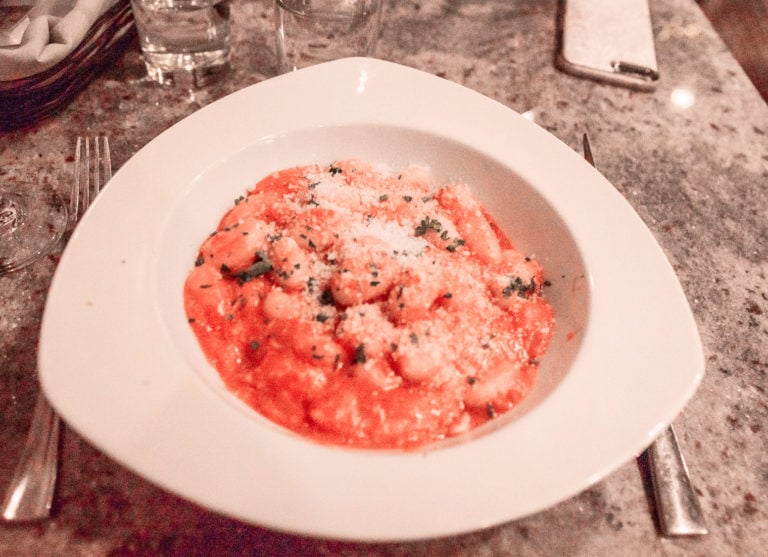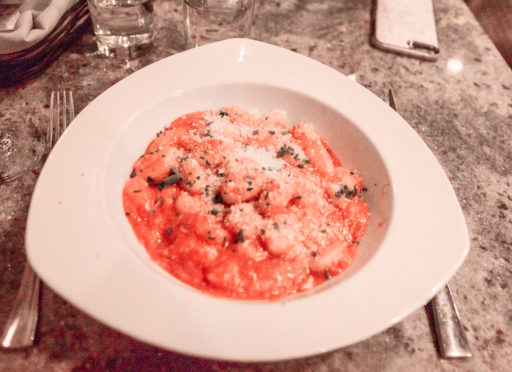 There's a surprisingly high number of cool eating spots in Marblehead. Eating is one of my favorite past-times anywhere, but was definitely high on my list for the best things to do in Marblehead MA. Here are my absolute favorite spots when you've only got 48 hours.
The Mugford
This place is an iconic breakfast and lunch spot with locals for a reason. It's a really cute cozy eatery that has a small town vibe. I particularly love the grilled cheese and tomato soup combo. The lattes are amazing as well.
5 Corner's Kitchen
Known as the best high-end restaurant in town, 5 Corner's Kitchen is a great place to try if you're only in town for a few nights. The cocktails are trendy and delivered in a low-lit, upscale setting. The food is gourmet (French-inspired) and is really fabulous, especially if you like to try experimental dishes. Make a reservation well in advance for any weekend evening – the restaurant books up quickly. They also offer a great brunch on Sundays.
Casa Mia Cucina Italiana
This is by far my favorite restaurant in the whole town. I live over an hour away, and am actually considering driving back to Casa Mia Cucina Italiana every few weeks just for the homemade gnocchi. It's a small and cozy Italian restaurant that is clearly family-owned (we literally met the whole family). The bartender was a fabulous mixologist, the bread was delicious, and the pasta was literally to die for. It was also pretty easy to get a table on a Friday night. 10/10 recommend!
Where To Stay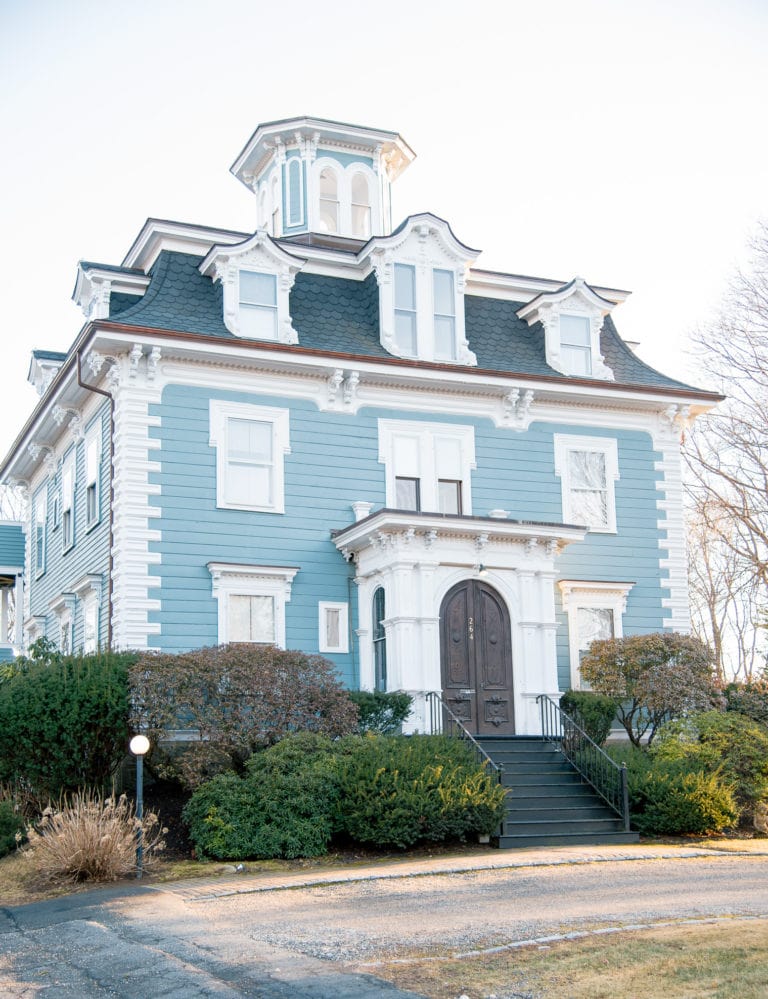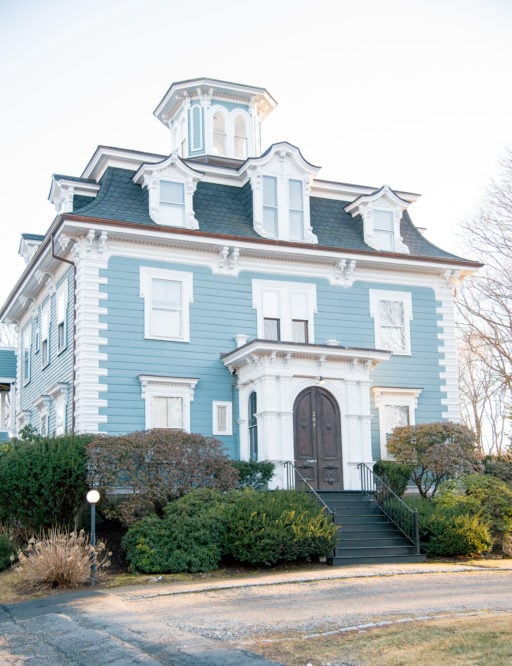 I was given the opportunity to stay at the Hotel Marblehead and can't say enough good things about it! The hotel is located a short drive from downtown in a large old home (bordering on a mansion). It's very comfortable and clean, with a cool coastal decor vibe that is New-England and still super classy.
There's a lot of cute additional amenities, such as warm cookies and tea in the afternoon and free breakfast in the morning. The hotel definitely has an old-world vibe but is updated nicely. Everyone at the front desk was really friendly and helped us plan and figure out the best things to do in Marblehead MA. They had some great suggestions for the winter months!
I highly recommend making a reservation well in advance, especially during the summer months. I just stayed here in February and the hotel was pretty booked, so I can't imagine what it's like in July.