Loafers are one of my favorite wardrobe investments of all time. Because they're both dressy and casual, it's not very hard to style them into an outfit – you can wear them with blazers or t-shirts!
Because loafers are so versatile, it's not surprising that they're becoming popular again. Designers from Gucci, Prada, to Bottega Veneta enjoy creating a variety of the original silhouette which bore to new iterations and fun remixes like the chunky loafers, embellished loafers, monolith platforms, and more.
In this article, we'll dive into the brief history of loafers, the different types, the best ways to style them, and over 20 awesome outfits with loafers for every season.
Ready? Let's hop in!
Brief History Of Loafers
The first ancestor of loafers was the moccasin, native Indian footwear made out of animal skin worn during the cold season for its flexibility, durability, and coverage. By the 19th century period, Norwegian sailors adopted the moccasin as practical working shoes. The shoe style was eventually coined "loafers" in the 20th century and came to mean general slip-on shoes for work, driving, and other supple uses. The first loafers became a huge hit after their appearances with various cultural icons such as Katherine Hepburn, Audrey Hepburn, Ernest Hemmingway, Michael Jackson, and more.
The classic and most popular design of this timeless trend is the penny loafers, a pair of shoes quite literally made with a coin slot for emergency pay phone calls.
During the 1950s, most people who were loafers were university students, which is why loafers became "preppy" for a time.
Today, loafers hold a place in fashion under limitless aesthetics and are considered a versatile must-have piece for both men and women.
Types of Loafers
Don't worry: we'll share our favorite outfits with loafers soon! But first, I want to go over the different types of loafers so you can discern what type goes best with each outfit
8. Tailored [Minimal] Loafers
If you're into minimalistic style, a tailored, minimal pair of loafers is your best friend. These types usually do not have embellishments, cuts, and/or "penny slots." The only distinguishable pattern that can be seen are the main stitches. Some loafers are designed like ballet flats, and some come with one-inch heels, just enough elevation for everyday use.
7. Penny Loafers
Penny loafers are recognizable with the horizontal strap or the saddle that comes in a "penny slot" cut in the middle. They usually come in dark brown or black leather and in leather or suede material. They come in elevated soles, lug soles, heels, and flats as well. Because of its popularity, designers have come up with endless creative options.
6. Chunky Loafers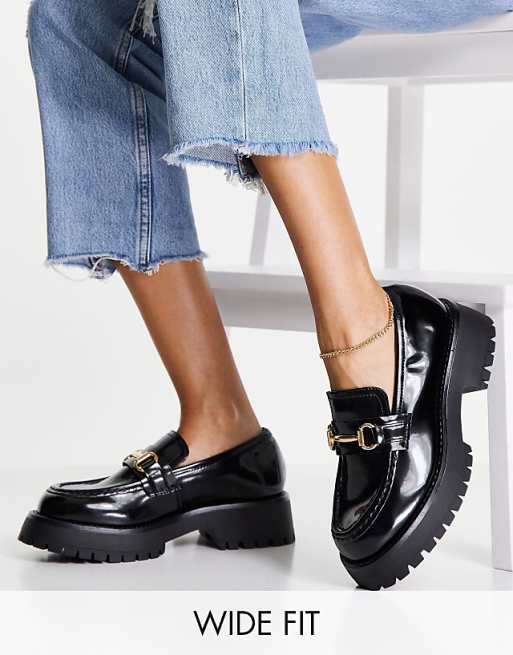 Speaking of lug-soles, there is a whole category of chunky loafers in the market – which is why it deserves an individual spot on the list. Since its popularity, chunky loafers have redefined the feminine street-style silhouette. With pride, chunky loafers are my personal favorite type.
5. Heeled Loafers
Heeled loafers are generally made with a slimmer silhouette and block heels no more than 2 inches. This type is well suited for those who prefer a polished but feminine workwear look. I commend heeled loafers because comfort did not compromise style here.
4. Flexible [Driving] Loafers
Flexible loafers usually meant for driving, are the nearest modern pair that can be compared to the native Indian "moccasin" shoes. This soft-type shoe is made with rubber pebbles along the soles and is made with a flat silhouette. Because it is less structured, this type doesn't need a lot of breaking in for a snug and comfortable fit.
3. Embellished Loafers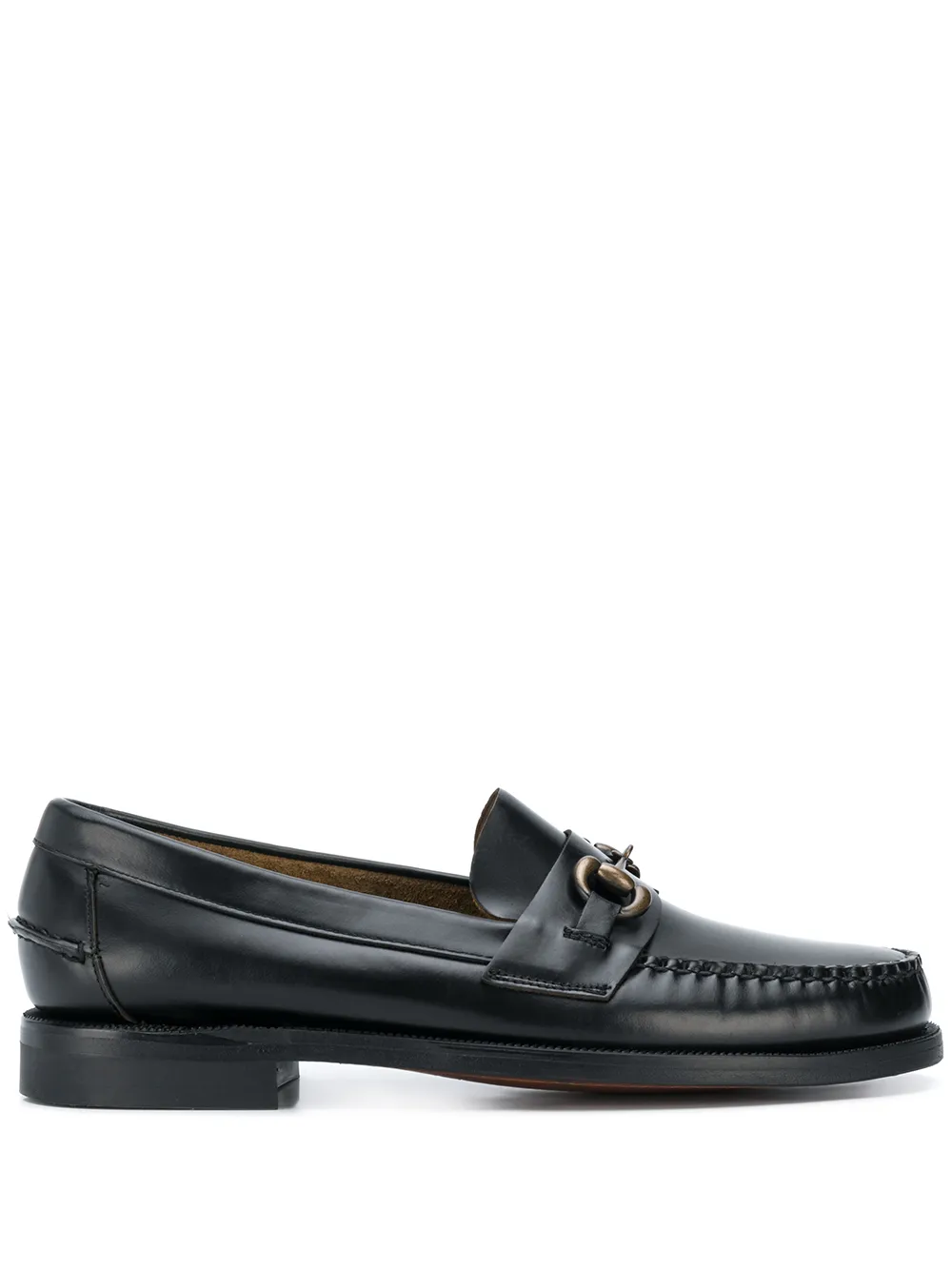 The designs of most embellished loafers are centered on sculptural metal work, usually in the form of subtle designer logos and chains. If you're not the type to wear jewelry on your neck, loafers with embellishments can easily add a statement piece to your outfit without having to bombard your wrist or your neck with jewelry.
2. Clog-Like [Backless] Loafers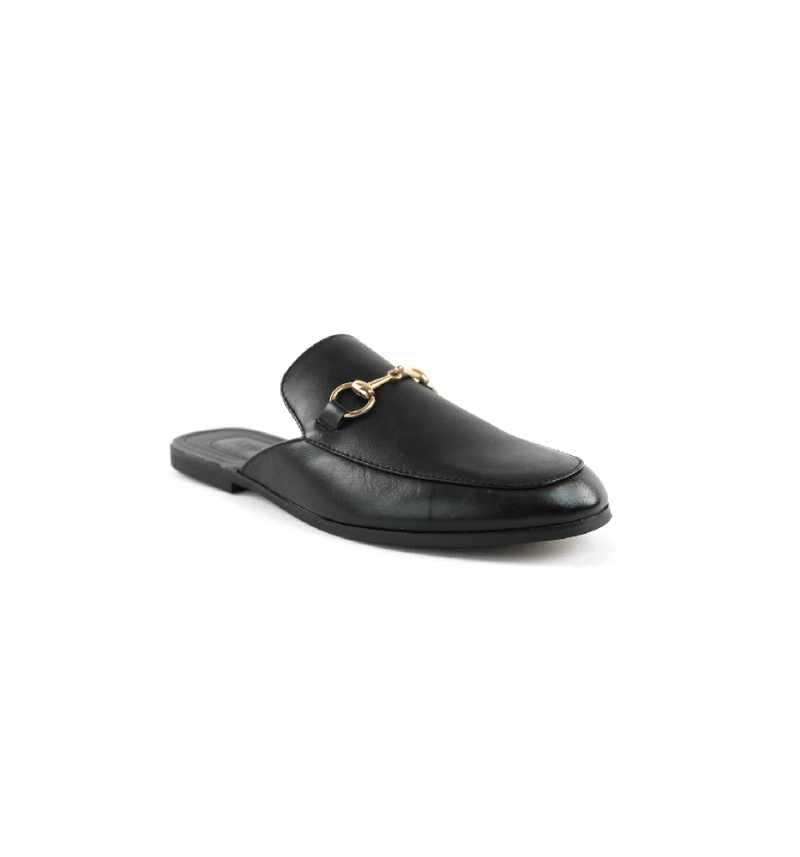 Nothing can replace the ease and comfort of a slip-on shoe. And nothing can do it as elegant as backless loafers. They're effortless but don't look too casual as sandals or clogs. Backless loafers are best worn with cropped jeans, dresses, and midi skirts.
1. Woven Leather Loafers
Probably the most underrated and unique type of them all! Woven leather loafers often come in intricate designs that make a great textured layer for a minimalistic style outfit. The woven design also makes this type breathable and comfortable. Perfect for running errands, city walking, and traveling.
How To Wear Loafers: Our Favorite Outfits With Loafers
Here are our top 20+ loafers outfits to help you get a visual for how to wear loafers!
If there's something in this outfit that stands out, it's her uniquely embroidered loafers! If you do get a pair of these, be warned that there are limited ensembles that look seamless with them. But if you naturally have a monochrome, neutral, or earthy wardrobe, these shoes will easily fit in your outfits with loafers.
What makes this outfit subtly sexy is the negative space between the slits of her jeans and her loafers. I personally think the way she came out with the outfit is brilliant and smart. And those jeans are absolutely gorgeous!
This outfit is a good starting point if you're wondering how to wear loafers. A bit of cushion and comfort to get through the day.
I love how these fuzzy loafers worked perfectly with her basic black tee, flare cropped pants, and a statement belt. These loafers are something I would wear during early spring or fall when the season is still a bit chilly but not extremely cold.
Wondering how to wear loafers with a skirt? This outfit should be a go-to.
Another way you can look smart with a mini skirt is by pairing it with a pair of loafers. To make it look less formal, you can opt for backless loafers, like she did with this outfit. Pairs well with her button-down shirt as well!
Who would have thought that something casual as a pair of culottes can be a workwear piece? With loafers, you can transform the vibe of any bottoms, even if it's usually worn during travel/vacation trips. She also chose her tidy white loafers – perfect with her navy blue culottes and brown leather purse.
Button-down, jeans, and white loafers. This outfit is perfect for running errands and catching up with friends. I love how versatile and chic this outfit looks and how well thought the type of loafers are. White loafers are great for looks when you want to look smart but not too formal.
Another great way to work with white loafers is by pairing them with a dainty floral sundress. If you're wondering how to wear loafers in the summer then this is your look!
Paired with a rattan woven hat, you'll look blooming as the spring/summer season. This outfit is a great way to feel the warm season without having to compromise foot protection and coverage.
Wondering how to wear chunky loafers? This should be your look. Chunky loafers can elevate your outfit and make it look like an ensemble for the runway or a model-off-duty fit. See this outfit for example. A button-down and an asymmetrical skirt can look entirely different with flat or heeled pairs.
Looking for a memorable outfit for an all-day hang-out with friends? Then this outfit is perfect! The unbuttoned top paired with an oversized blazer and chunky loafers is great for starting the day with a nice brunch, following it with an afternoon coffee trip, and a cocktail nightcap with the girls. I love how versatile this outfit is!
With the trench coat and the statement belt on, anyone could say that she already has all the necessary elements to complete this classy look. She would have worn subtle and flat close-toed shoes or heels, but she wore bold chunky loafers – which made this outfit a lot more daring than it already is.
Wondering how to wear loafers but still look chic with French-girl vibes? Now, here's a chic and cozy fall look for you! A white button-down top, an emergency knit tied on the shoulders, a pair of straight-cut jeans, and penny loafers. I would say this look is the LBD of fall loafers outfits. So classic!
This collared sundress looks light, chic, and stunning with white penny loafers! This ensemble reminds me a lot of slip-on canvas sneakers and dresses, except the loafers are more versatile and smart. Loafers are a great footwear choice if you're trying to pack light for a vacation since they blend in with almost every style or outfit.
I've said it twice and I'm saying it again. If you're looking for shoes that can easily complete a minimal and simple look, chunky loafers are the best statement caps to finish your outfit with sophistication. Take this outfit for example. This peplum dress would not look the same with subtle footwear or sandals.
Want to look like a '70s clique girl or make up a fictional Euphoria role? A halter top, green blazer, mini skirt, and elevated embellished loafers can do the trick. Touch up with some jewelry and you're ready to go. For this type of outfit, there's nothing called looking 'overdressed'.
This outfit is for you if you're down for a more hipster look. I love how color and print were played around with in this ensemble, and it reminds me that you'll never know how compatible clothes are until you piece them together. The mustard top, the green socks, and the camouflage purse. Who would have thought?
This outfit reminds me of a romanticized life, spending an afternoon at the cafe alone, visiting libraries to browse for books to bring home, and heading to the local museum to find inspiration to get by. It's one of my favorite dark academia outfits with loafers, a fall/winter go-to.
A black knitted sweater, a pair of slightly distressed jeans, a tote bag, and a pair of minimalist loafers is the best outfit to emulate this kind of life during me-time sessions.
If you find printed loafers that resonate with you and your wardrobe, it's time to get those loafers! Yellow snakeskin loafers look great with this matching top and black skirt. These would also look great with monochrome loafers outfits, which can serve as a nice popping accent.
Dark Academia is not just reserved for people who literally go to universities.
If you want to spice up your style with something preppy, classic, and subtle, a white button-down, a knitted vest, a pleated mini skirt, and black loafers can make it work for you. Add a leather tote bag to complete the look. For a fall rendition, you can add stockings or black thermal tights.
By now, you might have already guessed how much I love this ensemble! A white button-down, an oversized blazer or coat, and loafers with socks. The fuzzy hat is a nice layering piece too, as it adds a variety for texture. If you need a little leg coverage, you can opt for bicycle shorts or a pleated mini skirt.
This is how a model off-duty flaunts their style. Although this outfit can be described as experimental and trendy, the application of basic and classic elements are there. In this outfit, you'll notice that her base outfit is all black.
The accessories, such as the scarf, the puffer jacket, and the green socks, are only added later on. This is also the reason why the whole fit is visually easy to digest, despite the variety of accents present.
Another technique I love playing with is limited color blocking. While the previous loafers outfits showcased more than two colors/prints, this outfit only highlights two main colors: cream white/beige and vibrant blue. The black base, the button-down shirt, trousers, and loafers, make these bold accents stand out. The dramatic effect that chunky lug-soled loafers balance the whole outfit as well.
How easy it is to put on loafers! Like many others, this outfit is proof that loafers don't just look good with workwear and semi-formal outfits. A large knitted sweater, distressed shorts, and a green purse. They look good, even when paired with a lazy-but-chic ensemble like this. Loafers can easily make any outfit ready for anything that could happen.
A "smart but casual" semi-casual fit is what you need when you're out to meet a client off-duty or when you're simply looking for an "out-for-coffee" look. This outfit is also a modest counterpart of the previous blazer and loafer fits. You can also keep the socks on or leave them out since either way, the vibe of this outfit won't change that much. Touch up with a subtle piece of jewelry, like a minimalist necklace, and you're good to go.
This outfit is giving hippie-in-2022 vibes! Although it does not look "too much" or look heavy on the eyes, the small details can confirm that this outfit is a hundred percent hippie. The tousled hair, the mushroom-carved leather purse, the layered crystal bracelet, and those vintage loafers. So simple, yet full of fun details!
If you're into monochrome loafers outfits, then this outfit is perfect! I love how everything is uniquely crafted and handpicked. From her long leather coat, asymmetrical pleated skirt, sheer mesh socks, and her extra chunky lug-soled loafers. The contrast of her white collared shirt also looks perfect.
Her dark sunglasses also add mystery to the outfit – a piece that shows an important element for walking the stylish streets of New York. It's one of my favorite grunge loafers outfits out there.
If you're into girly colors, this should be one of your go-to outfits with loafers! Pink-colored loafers may be the last thing you need in your wardrobe but you won't regret getting a pair for special occasions or when you simply need a pair to cheer you up.
I love how she pieced this white blazer with a pink knitted top, a matching scarf, and a pair of undyed jeans for a contrast breaker.
White and plaid? Seems like a good idea! I love how everything from the white leather jacket, the white bag, and the white loafers are pieced together. Plus, the shades match too – something that's rare when wearing an all-white (or an all-black fit). You can see how well thought this outfit is!
If you're looking for fall/winter outfits with loafers, this should definitely be at the top of your list.
If Y2K style met Dark Academia, this is what the hybrid outfit would look like. It's definitely one of the cooler outfits with loafers I've ever seen.
A crocheted crop top with checkered and daisy pattern, a baguette bag, tailored trousers, and black leather penny loafers. She certainly has done a simple but classy rendition of this hybrid style!
Undoubtedly, when you have small tattoos, it's easier to wear simple fits without looking underdressed. I love how she touched up her outfit with oversized chunky jewelry. The chains also pair well with the embellishments on her backless loafers.
Since fall is my favorite season, it doesn't come as a surprise that this is by far one of my favorite outfits with loafers on the list!. But hear me out: loafers are made for fall. It's made to keep the feet warm and safe from natural elements that fall on the ground during this time of year. Plus, her brown hair matches her outfit!
The best part of modern fashion? Being able to match your partner's outfit! What many people don't know is that it takes someone with guts and an eye for detail to make it work seamlessly.