Wine tasting is more than just actually tasting the wine. Visiting a winery is the whole experience! Enjoy the crisp outdoor air, your favorite type of grape or fruit wine, rolling hills, and a fun afternoon with your favorite people.
Whether you're going out with a date, a friend, or colleagues, a wine and tasting tour is something you won't regret. It's one of our favorite activities year-round!
But if you're planning your wine tasting outfits for an upcoming winery tour, you might realize there just isn't much information out there. What does one wear to a winery?
Today, we're here to help you figure out what to wear to a winery and plan your wine tasting outfits for any future event! Read on to learn how to style your outfit, know the basic no-nos when tasting wine, and discover chic wine-tasting ensembles for every season.
How To Style A Wine Tasting Outfit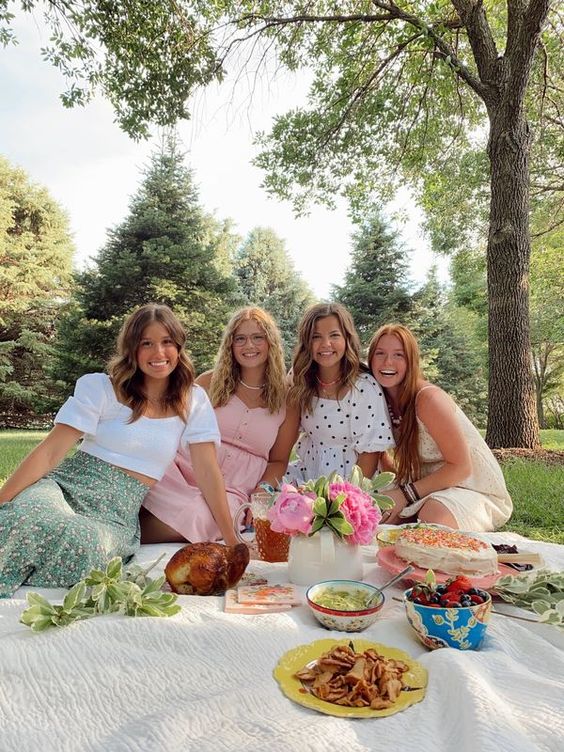 Chic but comfortable shoes
Wearing comfortable shoes on a wine trip is probably one of the most underrated styling tips I know. Some people turn up in the prettiest shoes but the most ridiculous pairs to walk on the grass.
You should only consider wearing heels when the tasting is expected to occur inside or on concrete. Trust me – you want to be sure before choosing heels!
But if your destination is within the vineyards or outdoors in general, consider that you might be walking on dirt, gravel, grass, or cobblestone. I recommend wearing flats, sandals, loafers, or slides for a chic but comfortable look. You can sometimes get away with wedges if you're an expert on heels.
If it has rained before your trip, expect lots of mud. Bring a pair of ankle boots or sneakers you don't mind getting dirt on for an emergency.
Small, fuss-free purse
During a wine tasting tour, you will be strolling around and active, which means you don't want to bring something bulky. A bulky bag is not only inconvenient but doesn't really go with the free-flowing wine-tasting outfits look. The ideal bag you can bring is a medium purse with a sling strap that you can carry your essentials along while holding a glass of wine.
Here are some of my favorite purses for classic winery outfits.

A cute sweater or jacket
A cover-up layer is unnecessary if the weather is super hot, but something like a wool shawl can keep you cozy from the breeze while strolling around the vineyards in the colder seasons. I recommend a lightweight sweater, jean jacket, or cute shawl that goes with your look.
A light or vibrant outfit with prints & color
When figuring out what to wear to a winery, you don't have to stay with basic and neutral colors. Most wine tasting outfits incorporate some sort of prints – check out the example photos below to see what I mean. They also incorporate a lot of pastel or French-inspired colors. My favorite prints in winery outfits are gingham, stripes, plaids, and floral.
Undyed linen clothing *at your own risk*
If you're not into prints and bold colors, there's really no harm in opting for neutral and earthy colors such as undyed clothing. Undyed clothing, like linen, is airy, fresh, and stylish. Plus, it looks good in pictures – very organic and natural.
But watch out for your outfit if you have a tendency to spill drinks or if you'll be sitting in the grass! A winery is an easy place to stain your clothes.
Tips For Choosing Wine Tasting Outfits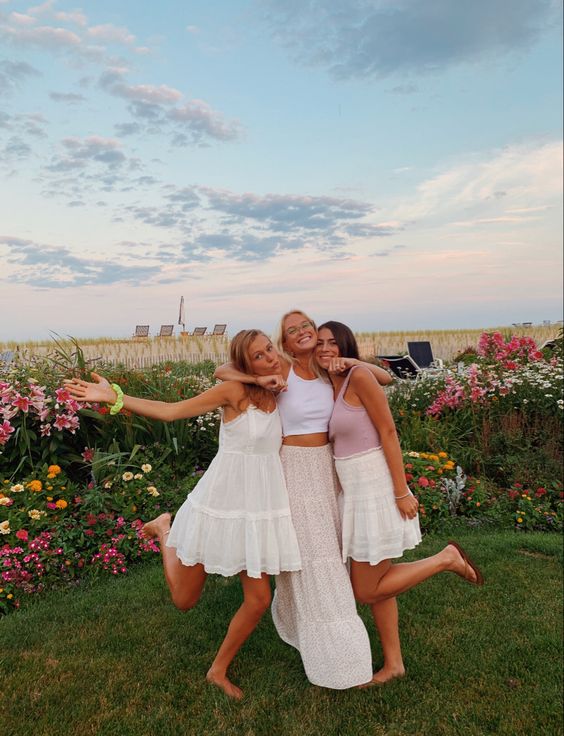 Aside from styling your outfit, there are some things that you need to know for a seamless wine tasting experience.
1. Put your hair up
When you're on a vineyard tour or participating in an outdoor wine tasting, you should consider putting your hair up or bringing a clip. You will have more freedom to move around and concentrate on the wine, cheese, and food. Additionally, this keeps your hair away from the wine.
Knowing all of this is helpful so that you can prepare your hair for a bun or tied-up look before you arrive at the venue. The ponytail or messy bun look is super trendy, especially at wineries!
2. Avoid wearing lipstick
We all love lipstick, but we don't love lipstick stains on wine glasses. Opt for a colored chapstick or non-staining lip tink so you don't have to keep reapplying.
3. Keep your scent neutral
Keeping your scent neutral is food and beverage tasting etiquette. Plus, no one is going to smell your perfume anyways when you're surrounded by the scent of wine!
4. Check out the winery ahead of time
When you're wondering what to wear to a winery, the first step should be to check out the actual winery online. Look on Instagram or Facebook to get an accurate vibe of how casual vs. fancy the winery is. I've been to wineries that range from super casual (literally a farm stand vibe) to incredibly fancy with a sit-down tasting.
While all of the wine tasting outfits we'll go over will work great, you'll want to dress your outfit up or down depending on the specific venue.
Wondering where to shop for wine tasting outfits? These stores are our favorites!
Cider: the cutest French-inspired dresses and corset tops. This shop has a gorgeous fairy vintage vibe! Click here to shop.
Abercrombie: If you're looking for natural, floral patterns, Abercrombie is your shop. I especially love the midi dresses and blouses. Click here to shop.
Free People: Into the boho, California vibe for your wine tasting outfits? Check out Free People. Click here to shop.
Lulu's: For more classically girly pieces, check out Lulu's. I love all of their dresses and some of the cropped blouses (they pair perfectly with a pair of mom jeans). Click here to shop.
What To Wear To A Winery: Outfit Combinations
Here are some of our favorite winery outfits and combinations to help you figure out what to wear.
Flowy Dresses
One of my favorite things on a vineyard tour is to imagine myself in fairytale land and recreate the look in pictures. I make this possible by wearing a flowy maxi dress.
If the wind cooperates, you'll love a patterned maxi dress. But really, any flowy dress makes it easy to move around and still feel like you're on a French villa.
You can opt for loafers, sneakers, or flats for your footwear. Bring a cover-up such as a shawl or a cardigan if the weather is chilly.
The flowy dress (of any length) is the classic look for most winery outfits. I recommend starting here if you're unsure what to wear to a winery!
Blouse & Jeans
Jeans are easy to move in and they look casually smart with a nice blouse. My 'nice blouse' capsule consists of off-shoulder tops, ruffled tops, and collared button-downs.
This ensemble gives you a chic but laid-back and relaxed style with which you would want to walk around the vineyard and taste the wine. If the weather permits, you can go for open-toed sandals. A pair of loafers will do otherwise.
If you're wondering what to wear to a winery that's more casual, the jeans and blouse look may work perfectly for you.
A Romper or Jumpsuit
Rompers are easy to put on and move around in. I see a romper like a dress that's not too dressy. They look smart, casual, and classy — perfect for a day for wine tasting.
When it's cold out, I usually wear a denim jacket or leather jacket over my romper. This completes the outfit as well. For your footwear, you can go for dainty open-toed sandals.
A romper is a great option when you're wondering what to wear to a winery and have no idea how fancy or casual the venue is.
Midi Skirt
A midi skirt gives the same magical feel that a flowy dress can provide. Plus, anything with one can make it feel like you're on a real vacation far away from home. While flowy dresses emulate a fairy-like vibe, midi skirts make you feel like you're in Paris — tasting the origins of the wine. It's a classy and elegant piece to play with as well!
While I'm a huge fan of incorporating the midi dress into my wine tasting outfits, I also love the midi skirt because I can style it more casual if I'm not sure what the winery looks like.
What To Wear To A Winery For Every Season
When picking an appropriate wine tasting outfit, it's not entirely about picking the right style. It is also about considering the location, the weather conditions, and the season you're going. Consider where you're staying, when you're staying, and the weather which you will be living with during your time of visit.
What To Wear To A Winery In the Spring
Next to autumn, spring is the best time to visit wine vineyards and experience wine tasting tours with friends. It may not be harvest season just yet, but it's the best time to plan picnics, hiking ventures, locals night, and outdoor drinking/tasting. With that in mind, it's a good idea to style outfits based on the activities that the weather and the season permit.
It's important to know that it can still be a little chilly outside at most wineries in the spring. A jacket, a wool shawl/scarf, or a sweater on hand is still a good idea. To keep your hands free, you can tie your sweater or jacket across your shoulder and your hips to act as a nice accent to your outfit.
For your shoes, loafers are ideal but if you can afford a bit of risk or if you won't be strolling a lot, you can go for open-toed sandals.
For your color palette, opt for vibrant, colorful, and floral colors to match the aura of the season. Floral prints, bold patterns, and pastel colors are also one of the best go-to's for spring.
If you're going for a picnic date, a nice floral picnic dress and a woven basket for lunch and snacks is a great accessories to spice up your photos. Hiking dates are also a different matter. Depending on the terrain, you will be needing good quality and dressy hiking shoes to avoid slipping. Typically, winery hikes are not as strenuous as peak/mountain hikes, so a pair of jeans can most likely work. Of course, a lightweight windbreaker or an emergency sweater can always come in handy.
Springtime is literally the perfect time to plan winery outfits: just about all wine tasting outfits have springtime patterns!
What To Wear to A Winery In Summer
As with all summers, summer in a wine-bearing town or city is beautiful, warm, and sunny. The temperature ranges from 80° to 90° and cools to 50° when the sun goes down.
Adjusting your clothing and adding a couple of practical (but stylish) accessories like a sun hat can do you good. While you don't have to worry about rain as much as spring, you need to worry about the sun. Grapes love hot days!
You would want to wear something elegant and casual for group wine tours. A linen blouse or top and dressy shorts will work great. If you're looking for a modest alternative, you can wear a maxi skirt or lightweight culottes.
If you're going on a more intimate wine date with an S.O., you can wear something more feminine, like a midi skirt and a tank top or a flowy dress.
The last thing you'd want to wear in the summer is jeans since they can feel sticky and heavy when worn in humid weather. When choosing a summer outfit, think airy, fresh, and sunny. Since you have more freedom in the summer, footwear can either be open-toed or close-toed. For summer hikes, you can opt for walking sandals if that's more comfortable.
You can apply the concept similar to spring outfits for the color palette. Floral, vibrant, and sunny. Personally, when I think of summer, the colors I imagine are yellows and greens. Perhaps a sunflower dress or a yellow gingham skirt – how cute!
What To Wear To A Winery In Fall
In most wine regions in the country, particularly Northern California, harvest season occurs during the fall. Like spring, fall is not exactly cold or hot – perfect for strolling and enjoying the outdoor breeze. Fall is also the best time to arrange picking activities if you visit a winery with a vineyard and want to get active.
If you ask me, the best time to visit a winery is during early fall, when the weather is crisp and breezy but slightly warm. And it's my favorite time to plan winery outfits! Nonetheless, late fall is great with the layers.
For me, it's the perfect time to dress up in gorgeous sweater dresses, burnt orange knits, and knee-high boots. We're also about incorporating more seasonal colors like red, orange, brown, olive green, and mustard.
It depends on the month you're going, but some cozy layers like a jacket, a knit jacket, or a wool shawl are ideal.
You should also consider the chance of rain during this time (which is highly likely). Bringing a mini umbrella or a pocketable waterproof poncho will be helpful, especially if it takes a bit of a walk from the parking area to the main vicinity. If you're going on a tour, a pocketable windbreaker or rain jacket will be handy when the necessity arrives. To make sure, always check the weather for the day so you can prepare ahead.
Although fall is not as sunny and warm as summer, it is a great time to sit by the winery patio, taste some wines, hear the rustling of the leaves and watch a breezy sunset with a friend or an S.O. Fall makes the best, photographic views that the mind can never forget. Plus, winery outfits in the fall are just too cute!
What To Wear To A Winery In Winter
Surprisingly, winery and vineyard visits during winter are possible! In fact, vineyards are very much alive even during this time of year.
Wineries and vineyards during winter are not like in other months. Unlike the boisterous crowd wineries usually have during summer and fall, winter visits are calmer and more peaceful. Although the weather might not be the most ideal, since it will be cold, there is nothing compared to a relaxing and memorable wine date with your loved ones. But your winery outfits should definitely be warm enough.
On days like these, you want to wear something snug, comfortable, and stylish. Instead of puffer jackets and sports sweaters, you can go for something tailored like a long coat or a leather jacket over a knit sweater dress for your winery outfits.
I also like to wear turtle necks and midiskirts with thermal tights underneath. This gives me the opportunity to wear something flowy during this time of year. If you're not feeling like wearing a dress, you can go for a thermal turtleneck top, a thick wool cardigan, and fitted jeans. If you're staying in for the night, it's better to overestimate the cold temperature than to find yourself in need of more layers in a cumbersome time.
Tip: When the weather demands layers, take the opportunity to combine varieties of texture, color, and fabric type for your wine tasting outfits.
For your footwear, opt for something with enough coverage to keep your feet from the cold. Also, skip the heels unless you're staying inside the winery. The cobblestone walkways and muddy floors can be troublesome with the wrong footwear.
Wineries during winter are a magical and special time of year. Because of the minimal crowd, couples flock to wineries in these months.