Skinny jeans are out and outfits with flare jeans are in. Luckily, you can style flare jeans outfits in just about every style to make them fit your personal look! If you're unsure how to style these trendy jeans, check out our guide on the best ways to style flare jeans.
Flared jeans are one of the early '70s trends that's recently made it back into the limelight. Compared to skinny jeans, straight-cut jeans, and baggy jeans, flare jeans are more comfortable, fun, and stylish. If flare jeans were a person, they would be an extrovert!
From subtle flares to wide-leg bell bottoms, there are many different types of flare jeans and ways to style them. As seen on catwalks and streetwear this year, there is no sign that this trend will disappear in the next months (or years). In fact, flare jeans outfits seem more popular than ever right now!

In this article, we'll show you different types of flare jeans and how to style them for every occasion.
Ready? Let's hop in!
Different Types Of Flares
Did you know that there are actually many types of flare jeans? Here are some of our favorites.
7. Basic Flare Jeans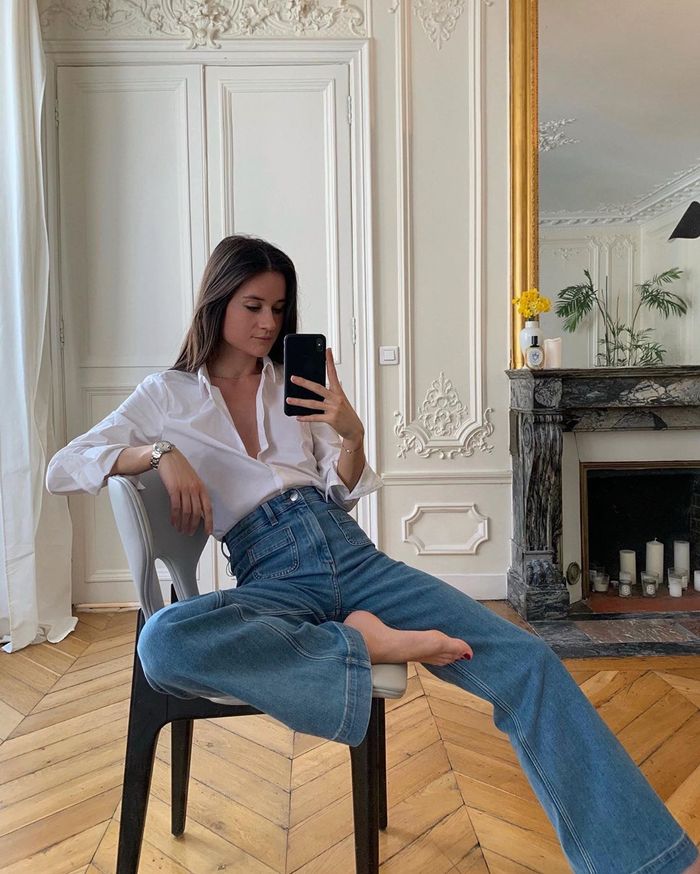 The most common of all types are the basic flare jeans made with denim fabric. The versatility and the quality of most jean-type flares are commendable, which is why a lot of people prefer investing in this type.
6. Semi-Flare Jeans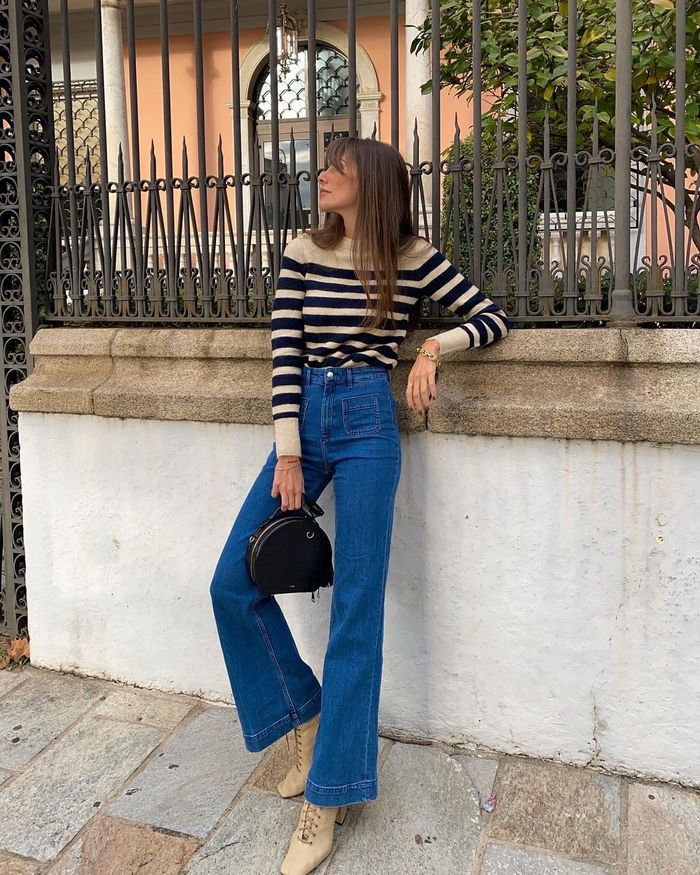 Semi-flare jeans do not look as flared as regular flared jeans. They are more subtle and are a simple nod to the '70s. These types can be worn in more formal settings because they don't have that strong "boho" vibe. If you're looking for everyday outfits with flare jeans then consider semi-flare styles.
5. Flare Leggings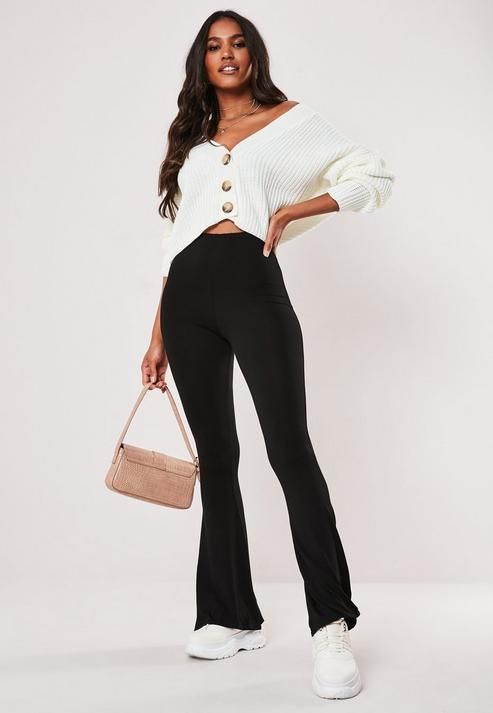 Flare leggings are a lot like leggings, but more dramatic. Flare leggings add "flair" (no pun intended) to the outfit regardless of what top you wear. This option is great for those looking for an alternative to jeans – they're perfect for comfy days.
If you want outfits with flare jeans but want to be a bit comfier and more athletic then opt for flare leggings with sneakers.
4. Bell-Bottoms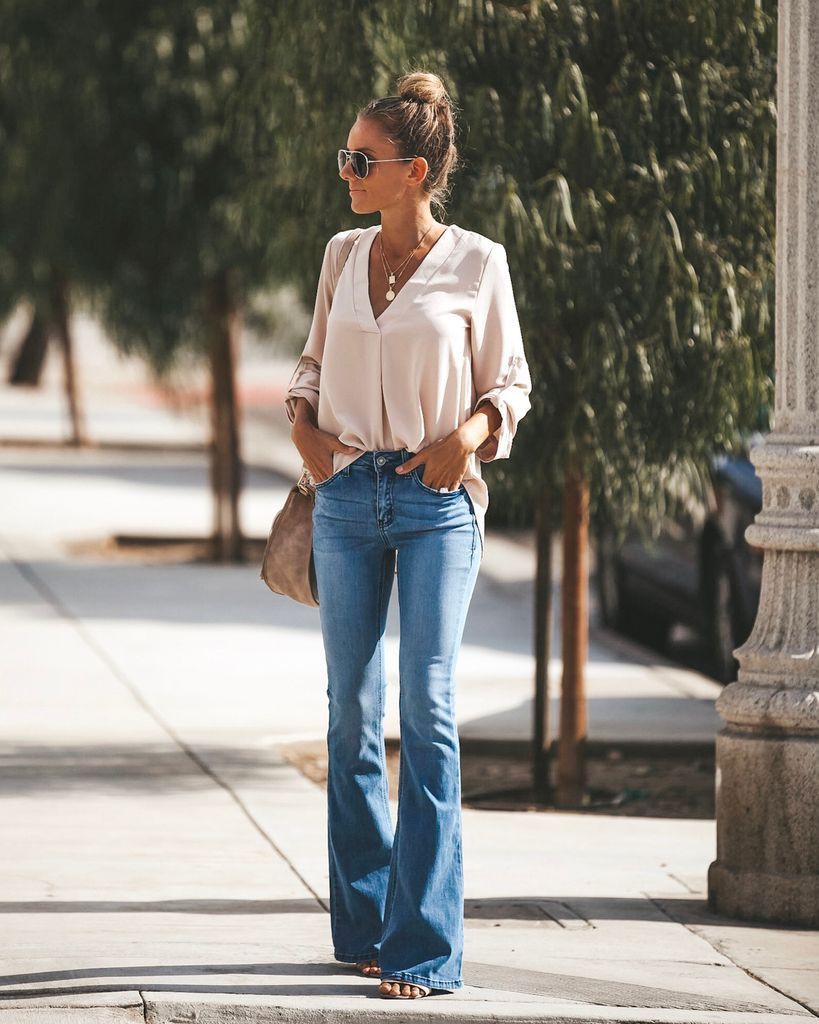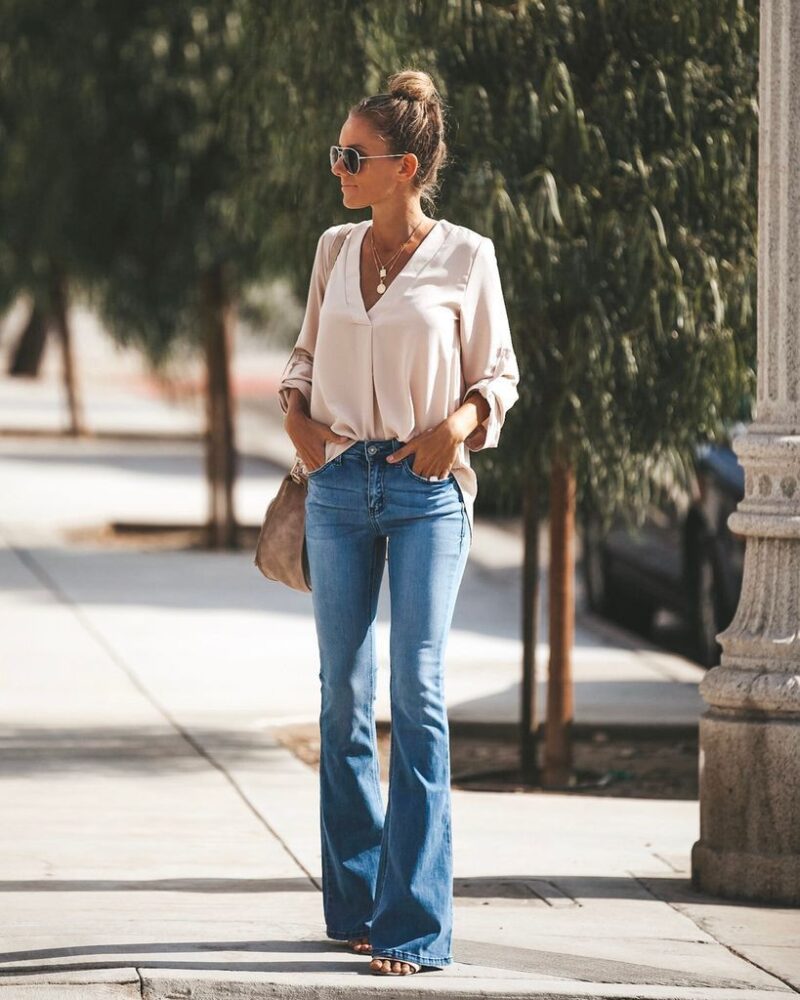 If you wear bell bottoms, expect them to be the main accent of your outfit. Bell-bottoms are extremely wide-leg flares that can help you stand out. It's also considered a classic silhouette which makes them a great staple to combine with basic tops.
3. Flare Trousers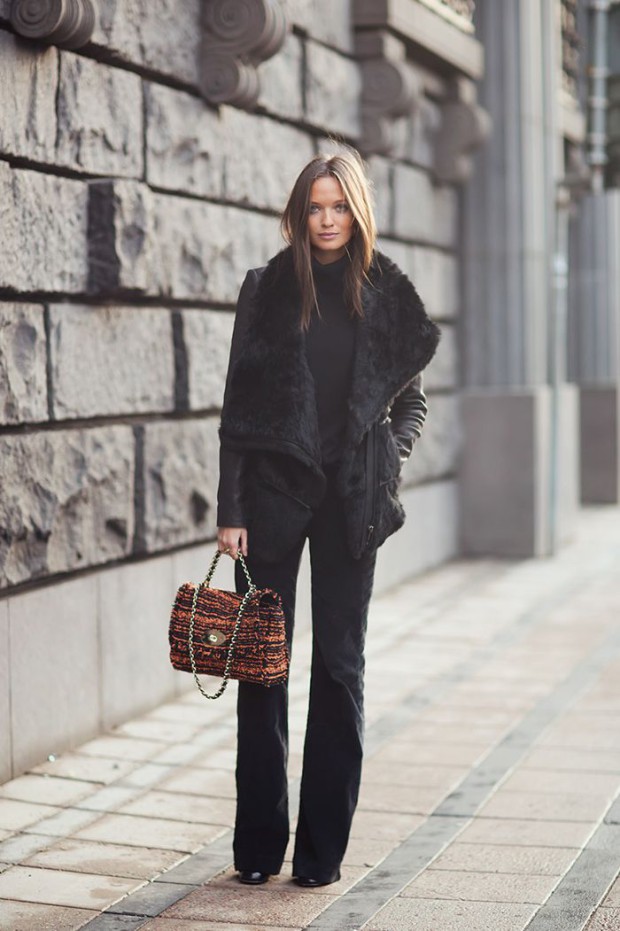 Looking for flare jean outfits that are appropriate for work? Consider trousers instead.
Although flares are made for casual styles, modern trousers have adapted to this trend. Now, you can even wear tailored flares to work. I prefer wearing mine with a ruffled blouse as it compliments it by drawing down the attention to the lower part of the outfit.
2. Bohemian Wide-Leg Flare
Bohemian wide-leg flares have baggy and loose silhouettes which are common in hippie communities. Bohemian wide-leg flare jeans often have embroidered designs, too, making them just so darling.
1. Flare Capri Pants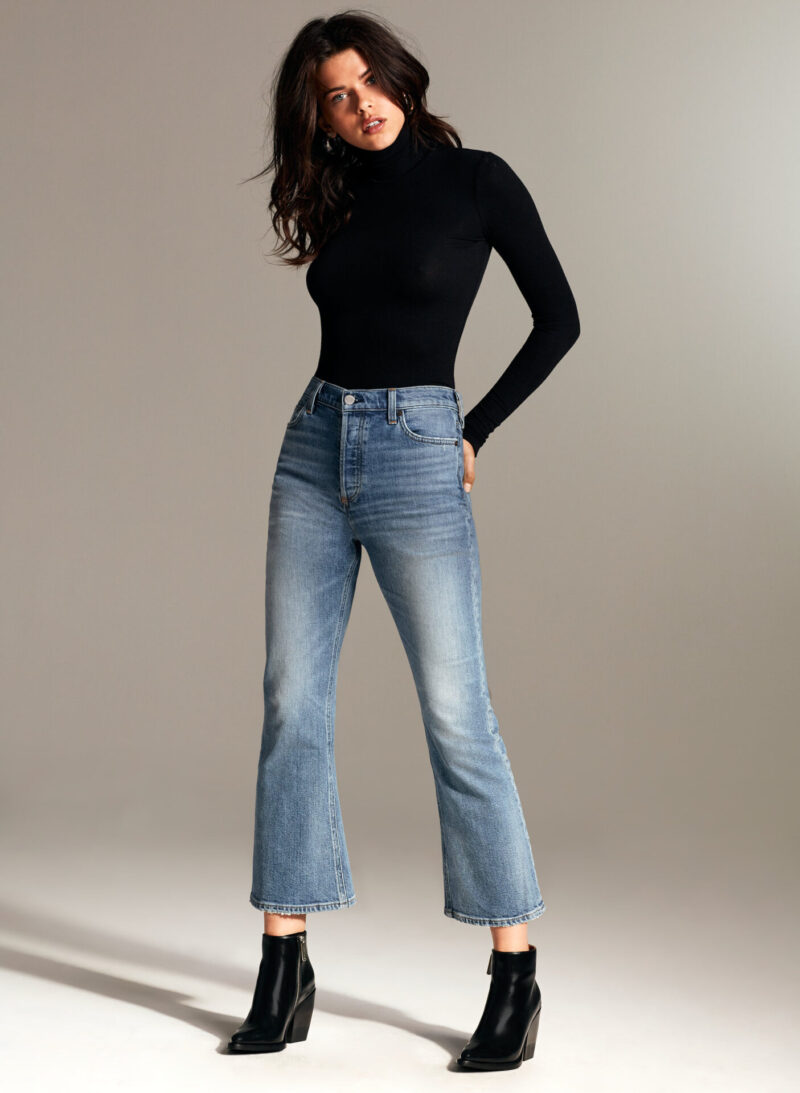 Capri pants are shorter than actual pants but are not short enough to be shorts. The original flare capris were popularized in the early 2000s and are usually sold in low-rise jeans.
We love flare jean outfits that feature capris! They're a bit more casual and are super trendy with booties or heels.
Styling Flare Jeans
Here are some of our favorite flare jean outfit combinations.
6. Go All Black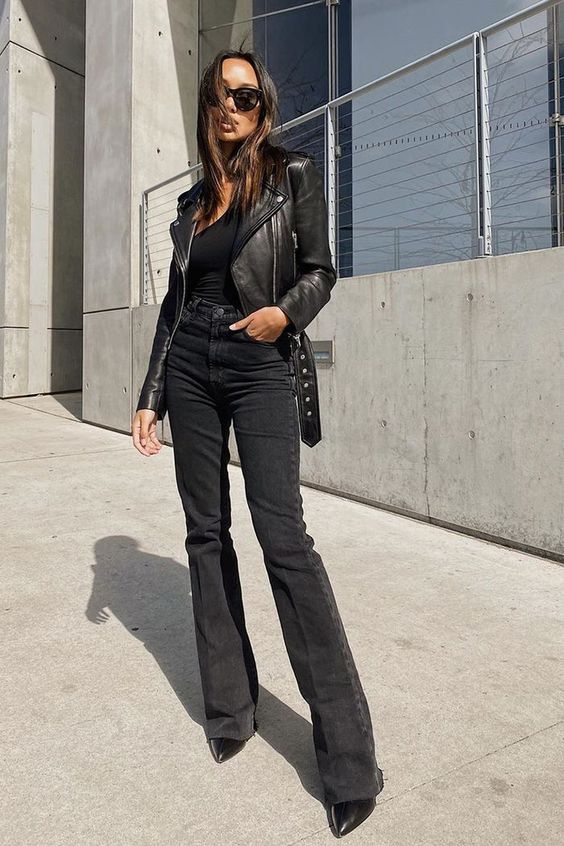 Let the flares talk! Going all black can divert attention to your silhouette, which makes flares a fun way to spice up your outfit. For an all-black fit, I'd wear a fitted turtleneck and ankle boots. In this way, I don't break the silhouette.
5. Pair With A Loose Shirt
A loose shirt is one of the most common ways to wear flared jeans. This is because a loose top can balance the volume of the flares. Wearing a loose top can also give an impression of rounder bosoms and slimmer legs.
4. Wear With Knit
Knitwear is one of my favorite tops to pair with flare jeans. It adds texture and depth to a simple pair. This is also a great alternative to loose shirts. Since most knits that you can easily get at the thrift are oversized, pairing them with fitted flares can make them stand out.
3. Pull Off An All-Denim Fit
Though as simple as it may look, an all-denim outfit can turn heads in a room. It can easily give an impression that you are a creative or an artist of some kind. The best time to wear an all-denim fit is during early autumn when the temperatures are not as cold as winter or as warm as summer.
2. Go With Retro Style
Since flare jeans were created in the retro era, it is just fitting to style them with similar pieces! For retro style, you can pair flare jeans with groovy prints and bright colors. For your footwear, you can either wear slim-strapped heels or chunky boots.
1. Wear A Bodysuit
A body suit can make any outfit look sleeker and more elegant. Because there are no breaks, you can easily look slimmer in a bodysuit and nicely fitted flare jeans no matter your body shape.
If you're going to a party or a nightclub, I would wear a lace bodysuit. A body suit does not come off easily which makes it a practical outfit to wear clubbing aside from its aesthetic effects.
Our Favorite Flare Jeans
Still haven't found the perfect flare jeans? Check out our favorite pairs for all types of flare jeans outfits right now.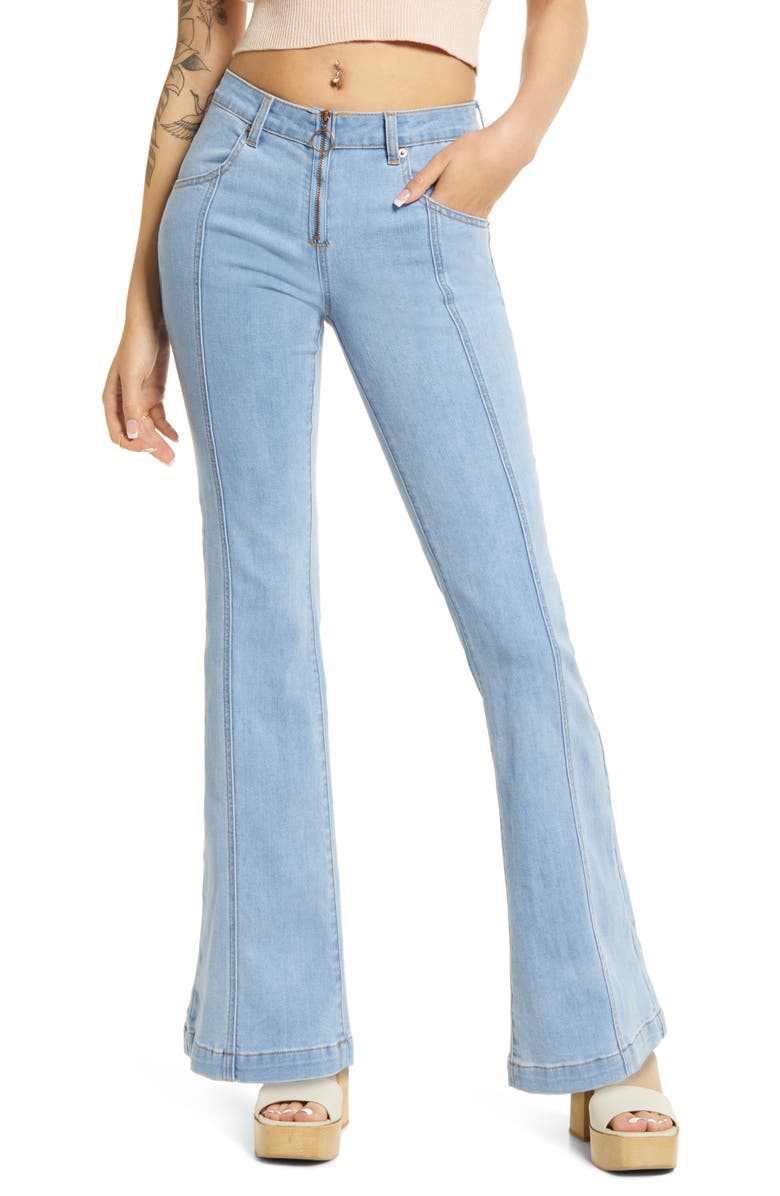 Outfits With Flare Jeans To Wear Right Now
The soft creamy top carries a bit more volume because of its color, texture, and fabric. But because of her flared jeans, the volume of her outfit is balanced. Her legs look a lot longer in this silhouette too.
A belt is all that you need to change the 'genre' of an outfit! With the belt, she transformed a typical all-black ensemble into a punk rock, gothic outfit. Her black-polished nails are also evidence of attention to detail.
In the earlier decades, it is believed that a dress or an outfit is not complete without a hat. I love how this outfit was made to match her hat like it's made for each other! The black flare jeans also quietly stole the show with their subtle and stylish flair.
There is nothing to fear with white flare jeans! Intimidating as white pants may seem, a little monochrome play can help you pull off a pair. You can achieve this look with a white turtleneck top, a black knit sweater, and chunky black boots.
One pair of classic, unbleached flare jeans can take you places! I love how masculine and feminine qualities are balanced in this outfit. A blazer matched with flare jeans – it's definitely the best of both worlds.
White tank top, beige cardigan, low-rise flare jeans, and black canvas shoes. This outfit is giving us 'girl-next-door' vibes! Who would have thought low-rise jeans were still stylable?
If you have short legs, pairing a large puffer jacket with fitted jeans can shorten them even more. A great way to elongate your legs and spice your outfit, in general, is by wearing fitted jeans that flare at the bottom.
There's more to black and white in monochromatic styles! Add depth and layer to your black-and-white outfit with a grey sweater coupled with gold accessories. This outfit is perfect for wearing in the early spring and autumn seasons.
Ripped jeans are good, but ripped flare jeans are better! Personally, I do not like how skin peaks out of fitted ripped jeans. A little space can give your legs to breathe and move comfortably.
I love how she paired her distressed jeans with a worn shirt. Her low-cut sneakers also gave her nice, sexy, and bony ankles a bit of exposure. Little details matter!
What's sexier than a cropped top paired with flare jeans? In this flare jeans outfit, her flared jeans enabled movement and flow despite the fitted silhouette of her upper body.
Though flare jeans can look limitedly feminine, this flare jeans outfit pulled off a sporty chic look. Her jersey-fabric cropped top (which I assume is a DIY) and her 'dad sneakers' look perfect with these classic, unbleached flair jeans.
How do you look like a Parisian while still pulling off flare jeans outfits? First, own one pair of unbleached flare pants. Wear it with a plain black blouse with puffed sleeves and a pair of black leather ankle boots. Add a brown belt for a chic accent and you're good to go.
This outfit is just perfect for the summer! This dainty floral tank top matches perfectly with this semi-cropped flare jeans. I would wear this to brunch with the girls or to an afternoon coffee date. With a top like that, you would mostly get chilly when the temperatures change, so a handy cardigan is nice to have.
Want to look like a model-off-duty while rocking outfits with flare jeans? Wear a white sleeveless undershirt, classic unbleached flare jeans, sneakers, and a pair of filtered sunglasses. If it gets chilly, you can always add a blazer. This can serve as your accent as well.
Wondering how to wear flare jeans for a date? Whether you're going on a first date or out with your long-term partner, this flare jeans outfit is just perfect.
A dress is not a requirement for having the perfect picnic date. A pair of flare jeans combined with a dressy blouse can make a perfect "dress fit" without the discomfort of finding a sitting position. Add a native rattan bag or a picnic basket to complete the outfit.
This outfit is a sign to go boho! Her flare jeans are definitely a pair that's hard to find, but I can't help but include this fun and hippie look on the list. Embroidery can add flair to flares! Her shoes match the outfit as well.
I would wear this outfit to a hippie music festival or during a summer trip.
If you're a street-style chic are are into outfits for flare jeans, this fit is for you! With beige flare jeans and a white tank top as your base, add a body chain, a bandana, and an animal-print purse for your accessories. Perfect for a coffee trip in the summer!
High spirits demand a splash of vibrancy! If you're feeling experimental, you could use a color-blocked outfit. This pink corduroy flare paired with a baby blue-colored purse is sure to turn heads.
This outfit reminds me of Rue from the popular series "Euphoria". If you want to add a feminine touch to Rue's tomboy-style outfits, wear flare jeans instead of boyfriend jeans. And of course, Rue's outfit is incomplete without a pair of canvas shoes.
A nice bandeau can be many things and one of them is to become a tube cropped top. I love how this outfit matches the silhouette of the flares by making an illusion of a cinched waist through its triangular seams. It reminds me of a corset top!
Feeling groovy? A printed mesh top paired with distressed flare jeans may be the outfit you're looking for. I love how she styled this outfit to make the visual volume drop at the bottom. This works best for inverted triangle body shapes.
This is one of our favorite outfits with flare jeans for the fall and spring months. It works for both daytime and nighttime events!
Y2K but make it cozy. I just love how this outfit harmoniously put these completely different pieces together. The grey sweater, the floral fuzzy handbag, the red-filtered sunglasses, the dainty clips, and the pink flares. I think it's creatively brilliant!
If you're into the Y2K Tiktok trendy vibe then style your outfits with flare jeans after this look.
This outfit is giving '70s hippie vibes. The green cropped tank top, the dyed flares, and the chunky boot. Want a unique pair? Freshen up an old pair of white flares by customizing your own with a bit of dye. You won't see anyone wearing the same pair for sure!
'80s flair is all about bringing darker shades of brown into your outfit. A little mesh, a groovy pattern, and a fun pair of wedge heels, and you're off to the streets. I love how fun and jazzy this whole flare jeans outfit looks!
I think these flare pants, styled perfectly with a red tube top, are out of this world! Reminds me of a waning moon. Her tattoos make a great complement to her outfit, but I think anyone can look good even without them.
I've never seen flare jeans that make you want to samba! Wide-leg pants like these are best paired with fitted tops. If you can get your hands on a more feminine top like this, the better. To reduce the visual volume of the lower area of the outfit, best pair it with dainty nude heels.
When wearing flared pants with catchy accents like a thick, studded belt, a subtle top like a white tube top is the best option to go with. Then, let your footwear decide your overall style. Going for a hipster look? Go with canvas sneakers. Going for a streetwear femme look? Go with strappy heels.
This is one of our favorite flare jeans outfits for the summer!
Feeling chic and casual? Then this is one of your go-to flare jeans outfits.
A relaxed-fitted shirt, flare jeans, strappy heels, woven rattan bag, and a cup of coffee in one hand. For me, this looks like an equation for a good me-time session! Perfect for strolling the streets, visiting independent book shops, and drinking iced coffee in the summer.
Looking for flare jeans outfits that are ultra classy and not boho? Keep it simple like a French woman would. A white blouse, semi-distressed cropped flares, close-toed sandals, semi-done hair, and you're good to go!
This outfit is giving "it-girl" vibes! This is probably something I would wear to school in late spring. Her cardigan's floral and vibrant color makes a pretty accent to her knit and flare ensemble.
Wondering how to style flare jeans with a trenchcoat? This should definitely be a go-to look.
This is an outfit I would wear in Paris! The white tee, the dainty flats, the cropped flares, and the trench coat – it's all perfect. This is also proof that you need a good-quality shirt to invest in. It'll get you places, for sure.
Vacation mode, on! A bright off-shoulder can turn an outfit into a vacay ensemble. The cropped semi-flares and the slip-on sandals give it a relaxed vibe. Not to mention the dainty anklet and the small go-to purse!
La Garçonne! I love how raw, carefree and confident she looks in this outfit. Plus, the matching fit!
When in doubt, wear white! A white-on-white ensemble can brighten your aura and make your skin glow. Pair with a woven rattan bag for a boho touch!
If you're looking for the summer-European vibe then this should definitely be one of your go-to flare jeans outfits.
Another way you can style colored flare pants is by choosing a top in a lighter shade of the same color. I love how she matched everything here from her knit sweater, to her bottoms, and to her sling purse.
As white as snow. Match the color of the winter season by wearing a white and khaki ensemble which in this case, a soft cream top, khaki/beige flare pants, and nude boots.
This is one of our favorite flare jeans outfits for the spring and the fall! It's just so classy and chic.
Wondering how to wear flare jeans in the summer? This look should definitely be in your closet.
Introducing a bit of flare to your outfit can redefine your summer outfits! I believe this outfit would not be as relaxed and sexy with fitted or straight-cut jeans.
This is one of our favorite flare jeans outfits for the summer. It's so European!
If you're pear-shaped with curvy hips and short legs, you'll love how flared pants can look on you! It can cinch your waist, define your hips, and elongate your legs.
What I love most about some flare pants is that it gives an illusion of a dress. Look how flowy and graceful she looks in these moss green flare pants! This is one of our favorite outfits with flare jeans that are chic and super comfortable at the same time.
Going on a work trip? Pair white flare jeans with a classic blue button-down, add pieces of jewelry, and you're good to go! The sneakers are optional, but I think it gives the look a casual and relaxed aura which I think is a nice "out-of-office" statement.
This is one of our favorite outfits with flare jeans for any business-casual event.
Wondering how to wear flare jeans to work? This is one of our favorite looks.
Flare jeans are so easy to style. Just wear a basic top with it and you have a well-thought and nicely styled outfit! Surprisingly, what I love most about this outfit is how her drink matches her shoes. Do you think she matched it on purpose? We do!
This should definitely be one of your go-to outfits with flare jeans for any work event where you want to look chic and a little trendy.
Hopefully, this article gave you lots of ideas for flare jean outfits! These styles of jeans can be dressed to fit just about any style, so make them your own.